A Dutch / German 'folk art' carving on wood panel, Circa 1870,  showing the Devil "getting his due", right at 12 midnight; while two fellow drunks are too far gone to notice it! Oh, the evils of wine and beer! [FWTD]
PLEASE NOTE

: I have for over a year now placed these three short "notifications" at the bottom of each page!
My web site was really started as an informational site for beginning beer stein collectors that would be looking for the info and not the general public.
My SO if one puts in "Wood Steins" or "Hand painted steins,"  it
STILL

 

  =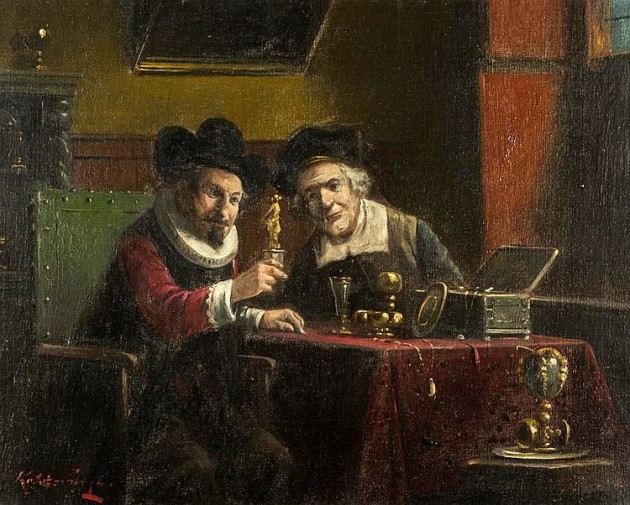 Lajos Kolozsvary, Hungarian (1871-1937), Figures in an Interior, oil on canvas,.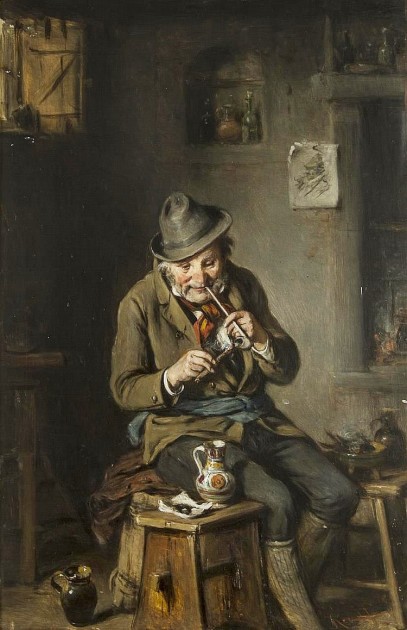 -Herman Kern, Hungarian (1839-1912), The Snuff Taker and The Smoker, oil on panel,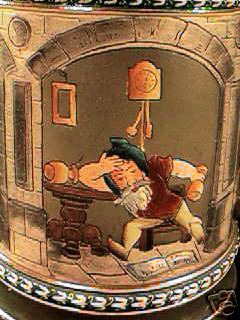 Along that same line as above is this pottery stein. Side detail of the Gerz stein: A gnome who has had his last drop (of wine !) . The time on the clock is past 12!  So the gnome  knows that there will be bad luck, as the devil harasses drinkers at that hour of the morning!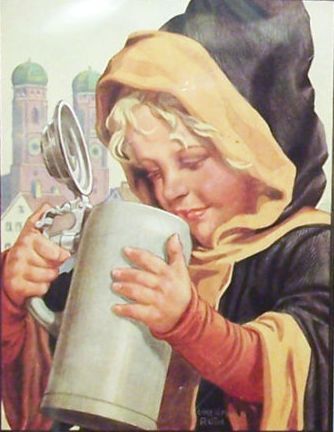 "The world famous "Munich Maid."
These art works, some questionable as "art" – will be here on site for research, or use in articles in the future. Feel free to copy and use yourself. All should be in the public domain. sls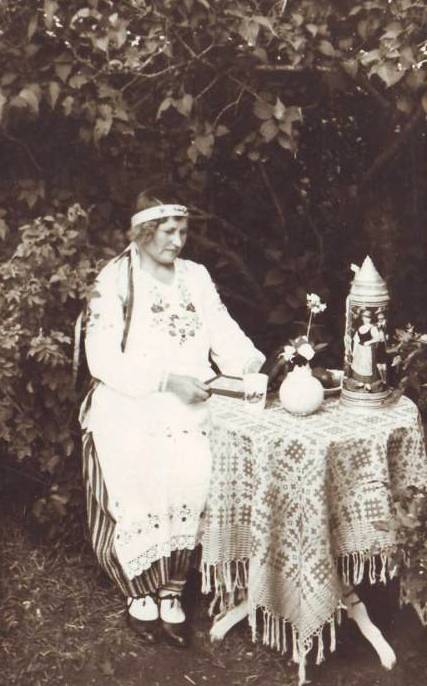 The not-so-famous "Indian Maid" with her beer stein.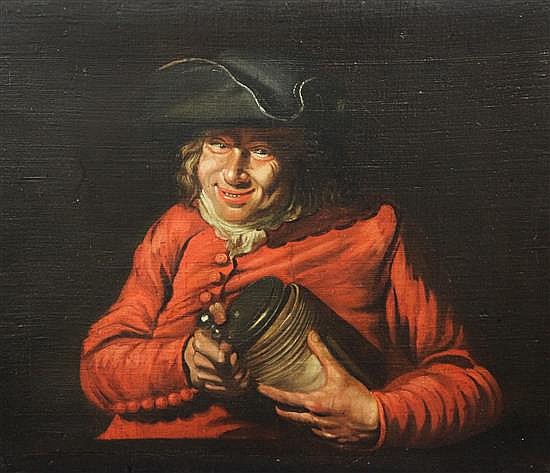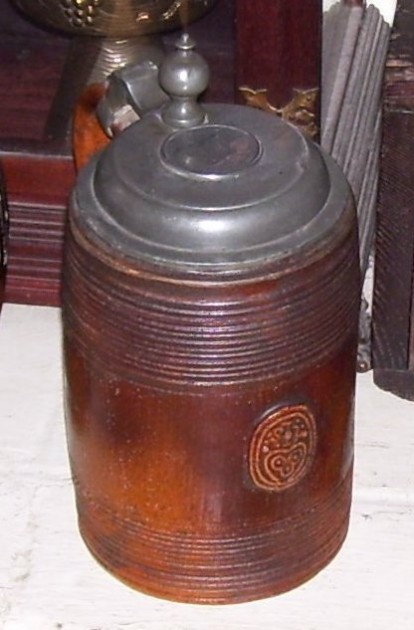 Duingen stoneware  1 liter stein Ca. 1700  [Stephen Smith collection]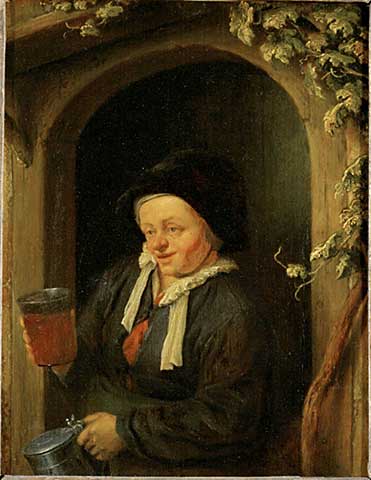 I'm guessing this "Maid" would have looked a lot better, maybe after about 20 of those glasses.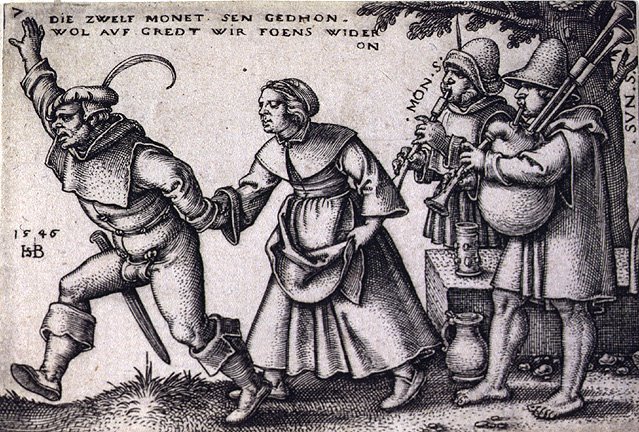 But then some guys don't care. they just want to dance and then go . to church!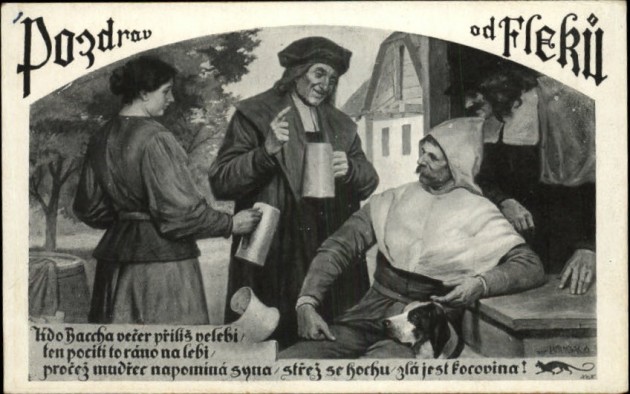 Polish or Russian Men,  Maiden & Dog – Drinking from beer mugs.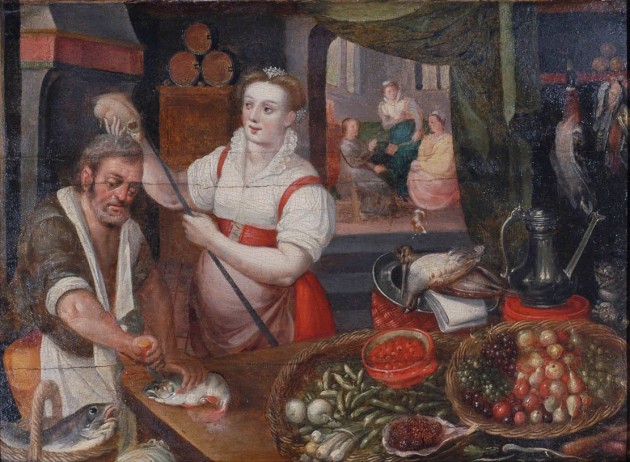 "Beats McDonald's!"


Duet anyone?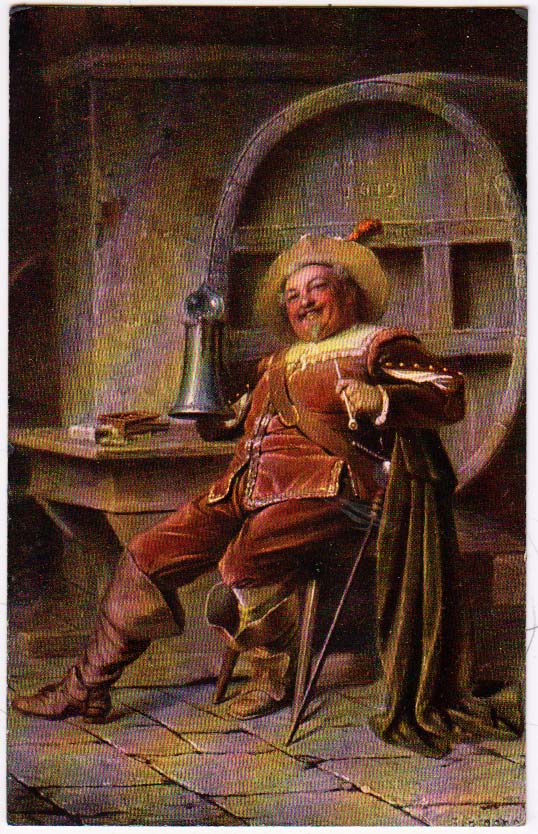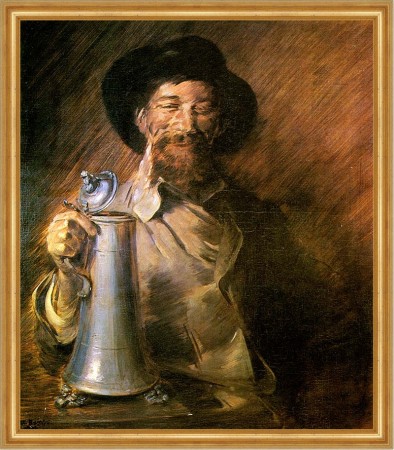 Der Trinker  by  Wilhelm Busch.    Another great pewter tankard. I wish I owned it.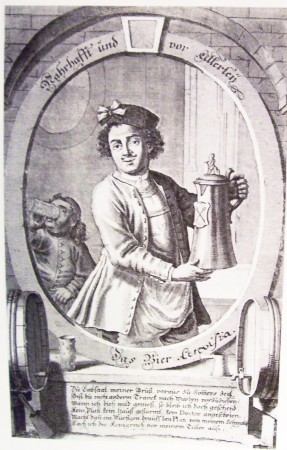 These guys above like their beer out of pewter, yes?
By knowing  the age of glass stein on the table, this print should date to the 1830-40′ s, but his dress indicates a much earlier time frame. An artists' prop no doubt!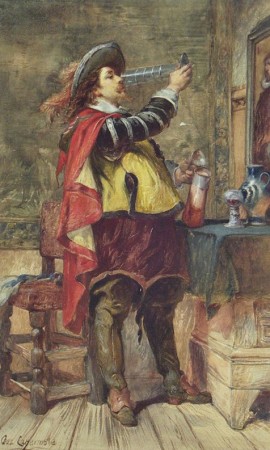 How many vessels does one need to quench a thirst?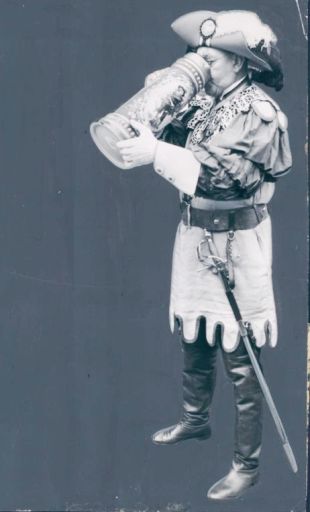 A fairly modern day "Moose-ka-teer" drinking from a large V & B, Mettlach stein.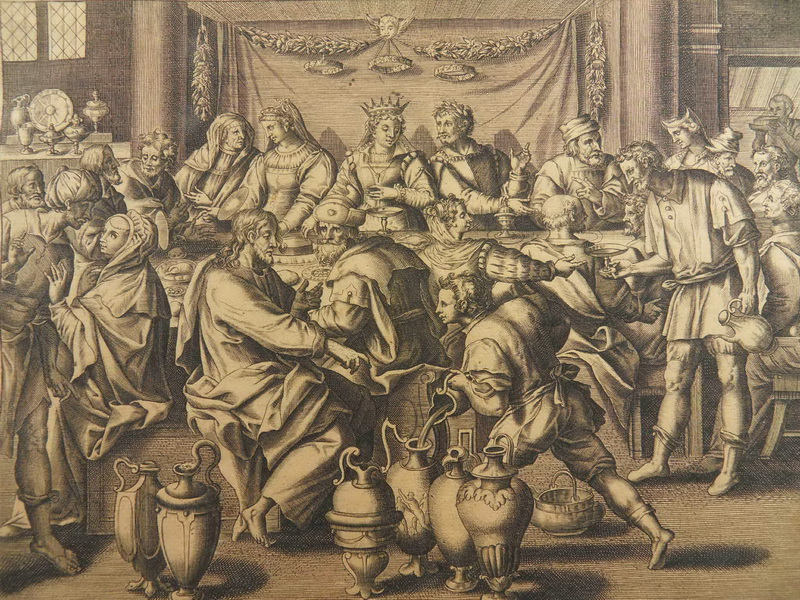 The marriage at Cana, with the six jugs of wine. Jesus is in his usual garb, everyone else is in medieval dress.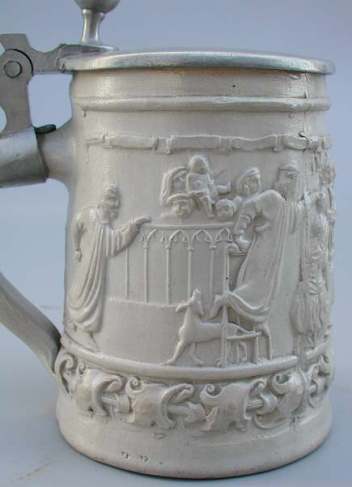 The .5 liter "Mud" stein ("Model krug"  – German) that celebrates the miracle.
.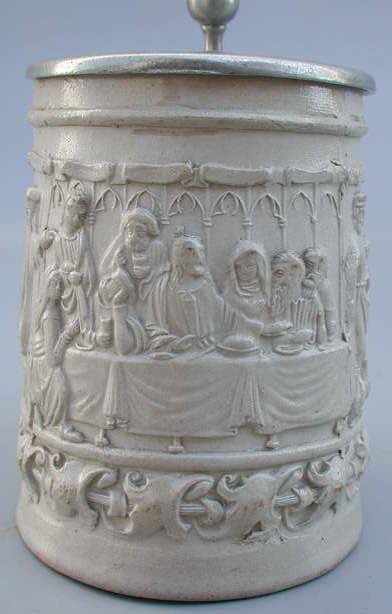 Not to be confused with "The Last Supper."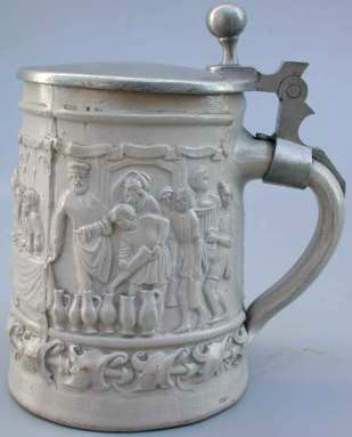 A city of Galilee, Palestine, famous throughout all ages as the scene of Jesus's first miracle, when He turned water into wine at the Marriage Feast (John 2). It is mentioned by the same Evangelist in two other passages, once (iv, 46) in connection with another miracle, when 'He' cured the ruler's son at a distance, and once (xxi, 2) as the birthplace of Nathaniel, or St. Bartholomew.
No direct indication can be gathered of its locality, except that it was not far from either Nazareth or Capharnaum, and higher than the latter city, as indeed all the land west of the Plain of Genesareth is; and that an ordinary traveler from Jerusalem to Nazareth would pass through or near it.
It is not mentioned by either of the Synoptists, nor indeed anywhere else in the Scriptures. An old tradition identifies the site of Cana with modern Kefr' Kenna, a village of about 600 inhabitants. This lies some four or five miles northeast of Nazareth, on the road from thence to Tiberias, at the foot of a short, steep hill. The tradition dates back at least to the eighth century, and probably a good deal earlier, while the site fulfills all the requisite conditions mentioned above.
At the time of the Crusades, or before, there was a church which was believed to be on the spot where the miracle  was worked. This site is now in the hands of the Franciscans, who have built a large new church. In recent years some interesting excavations have been carried out within its walls, discovering parts of the old church beneath. The fountain is still existing in the village, however,  and must have been the actual source from which the water was drawn.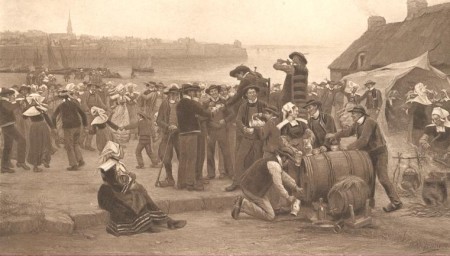 "TAPPING THE KEG   – A  MARRIAGE IN BRITTANY
"Something else" going on in Brittany. Nice jug she carries!

He is drinking from a French or Swiss pewter wine can.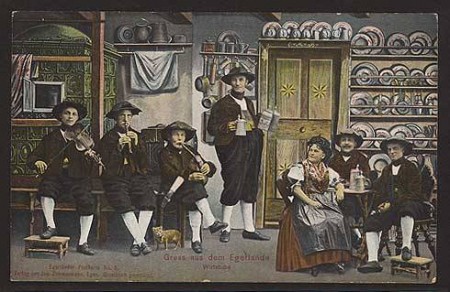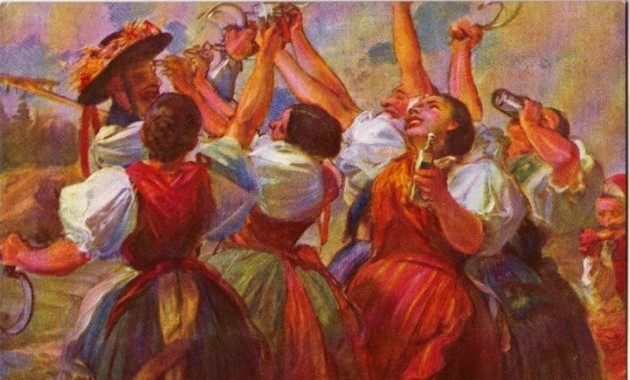 Czech woman drinking at a harvest party.  "Hay role" anyone ?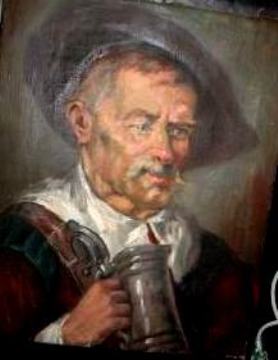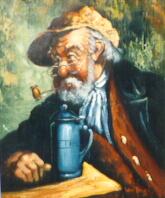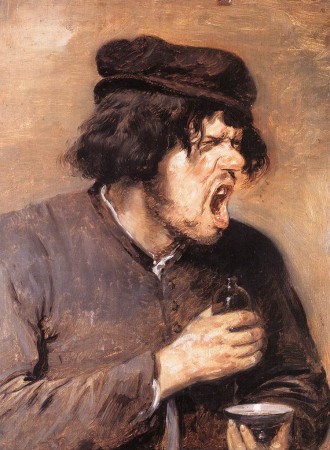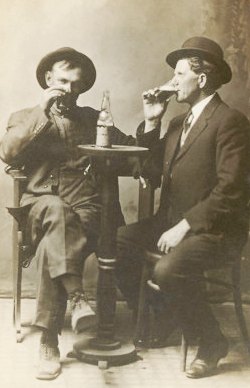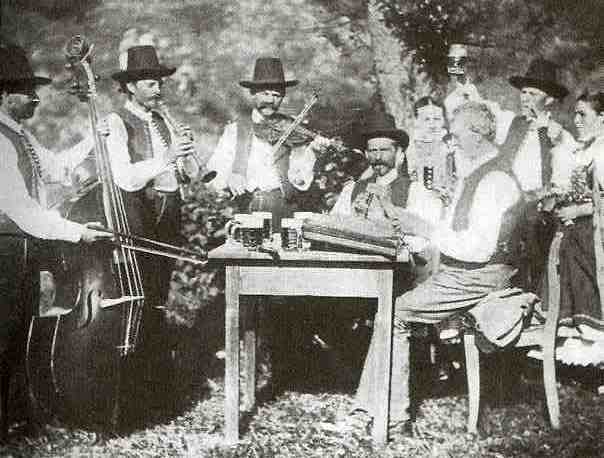 This photo shows a bunch of  late 1800's Moravain musicians drinking their beer. Moravia is only just east of Bohemia, yet no lids on any stein here!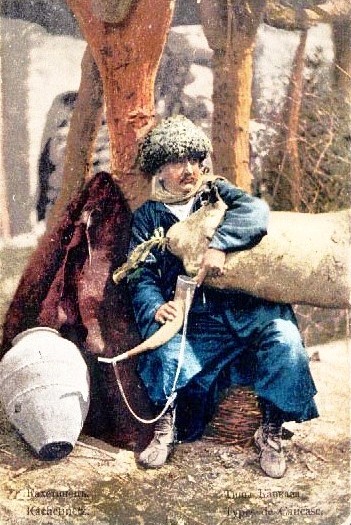 Oil on canvas. Probably from the Country of Georgia.


A boy with a beaker – 12 inches – German bisque porcelain.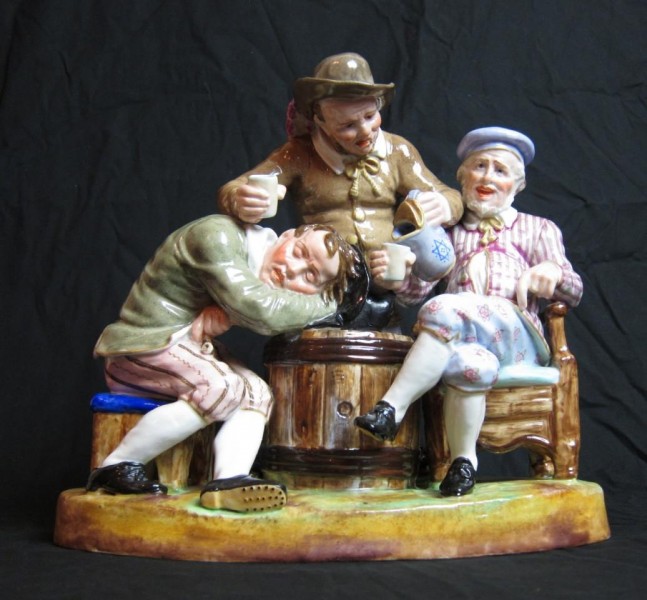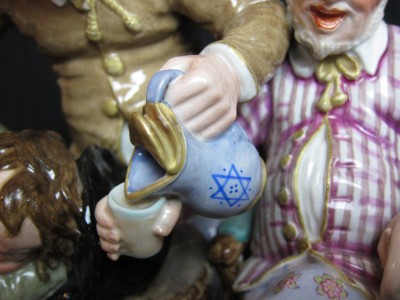 A Volkstedt porcelain group. Detail showing Brewer's symbol, not the Jewish star, on the server.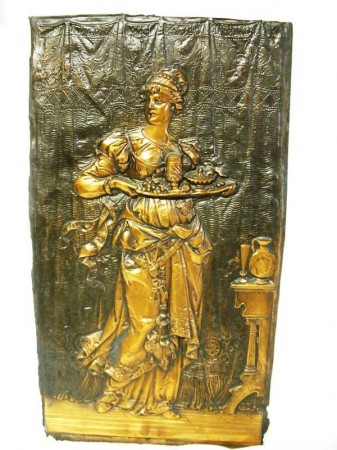 Bronze plaque, the original painting is often replicated.
The print above is entitled: "Claret and small beer."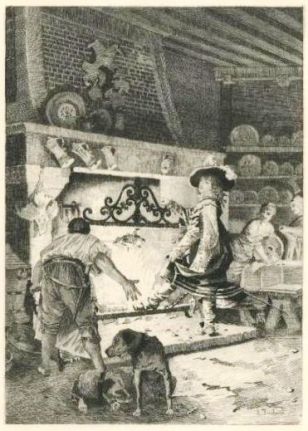 Steins hanging by the fireplace, and dogs. always dogs!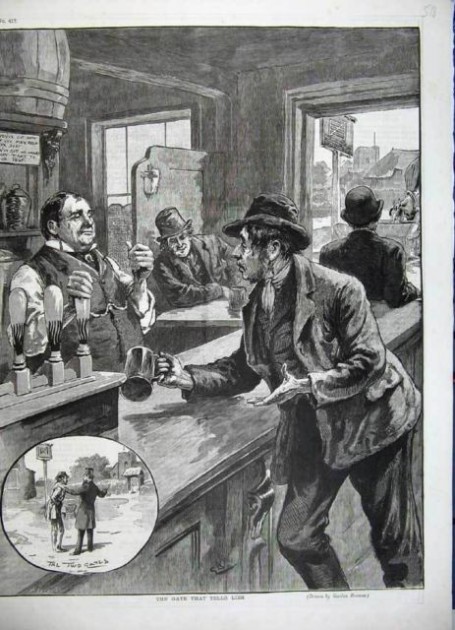 Public House,  Men Drinking, Gordon Browne.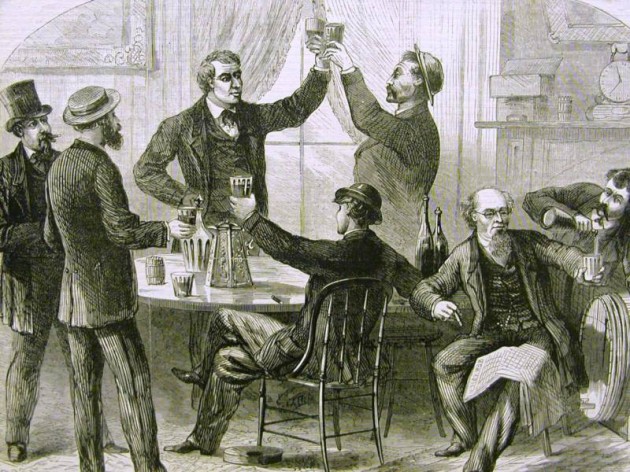 [IF THERE IS A LOT OF LOST SPACE AFTER THISDS ONE IT'S BECAUSE WORD PRESS IS FUCKED UP!  – I TRIED FOR AN HOUR TO GET IT RIGHT  sls]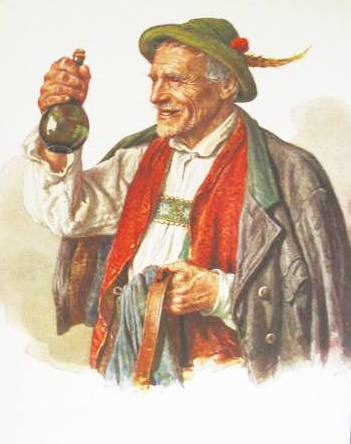 A little schnapps anyone ?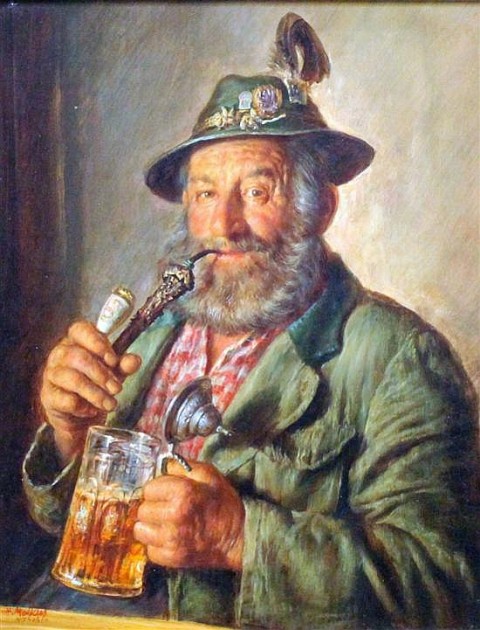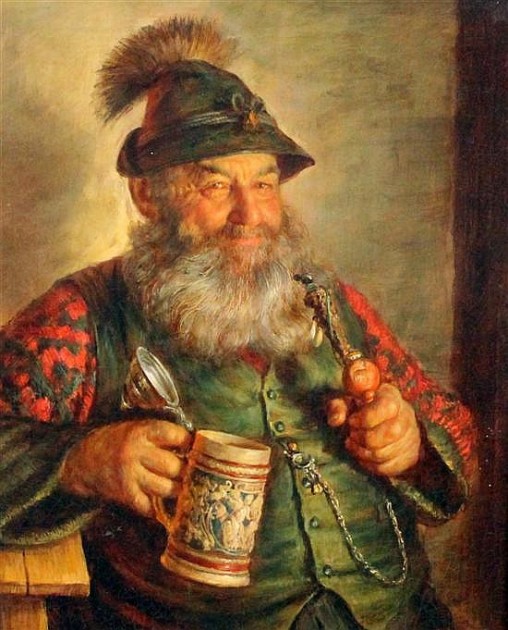 BOTH ABOVE: Hvvoj Melkus, Tyrolean gentlemen with tankards and pipes.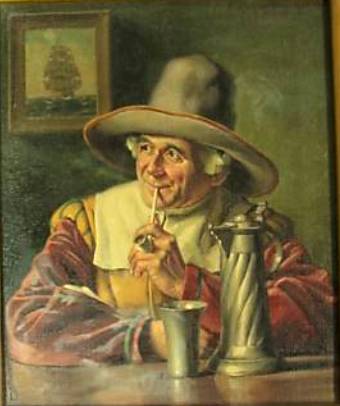 Drinking in Scandinavia.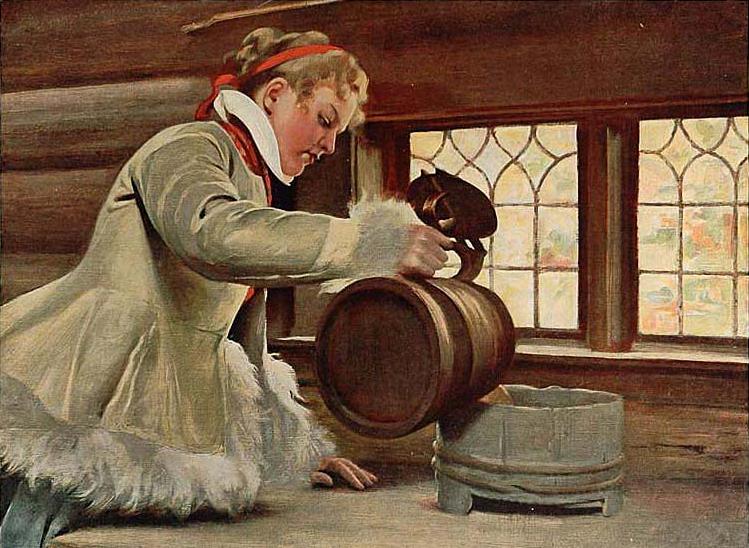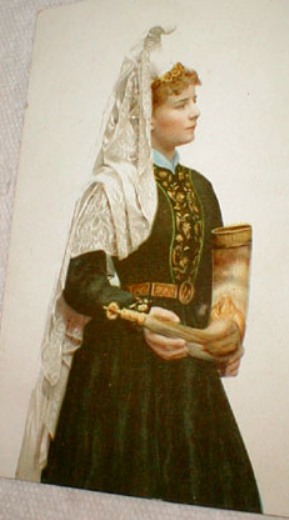 Now this sweet one could bring her "horn" to my party any day!
For more on Drinking Horns, see: http://www.steveonsteins.com/in-the-near-future-2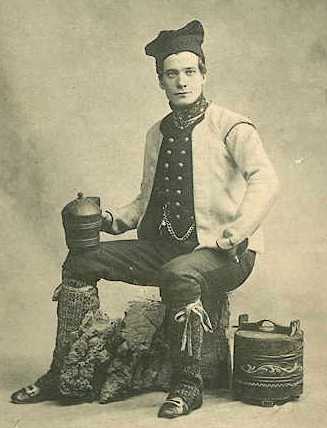 SEE:   http://www.steveonsteins.com/wooden-steins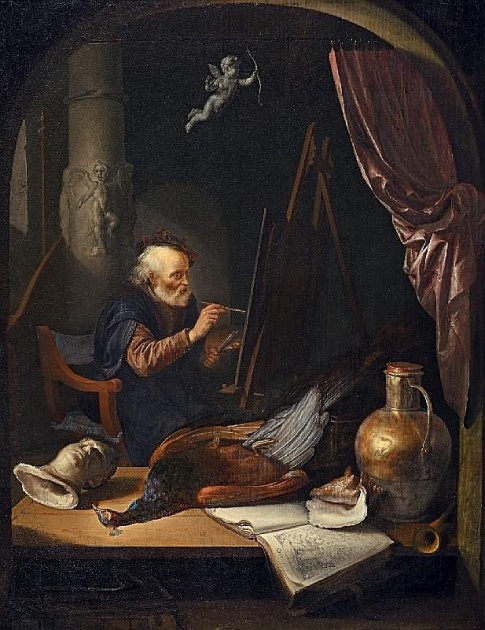 GERARD DOU,  "OLD MAN IN HIS STUDIO."
[END – SOK – 49 –  DD]

"This last recession has hit everybody really hard. A picture is now only worth 200 words."