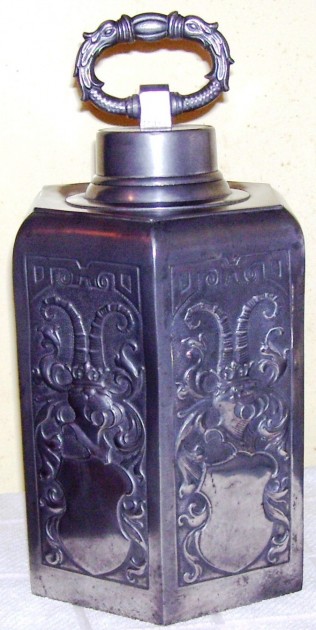 Schraubflasche – Shown: A large German or  Swiss wine / liquid carrying flask.  Normally with four or six sides, or a swirled body, and having a handle on the screw off cap. Some have rounded bodies (See far below.)

Above:The newest addition to this category at  "FWTD."  I looked at this one close and enjoyed they way the maker Weygang, (ot os not marked = which is a shame) chose to include an Art Deco border along the top of the other wise Medieval style panel. This and the wear on the bottom are both constant with my thoughts that this was made Ca .1915 – 25. Bought off eBay for what I think was a fair price in 4-12.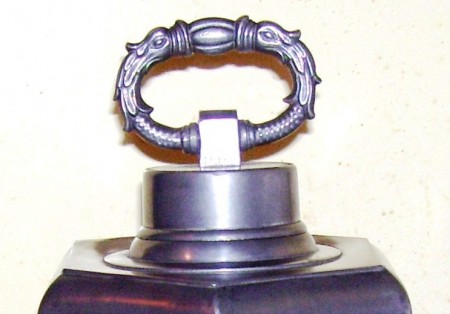 It has an excellent casting of the dolphin / dragon heads handle used since way back in the 1600 and 1700's.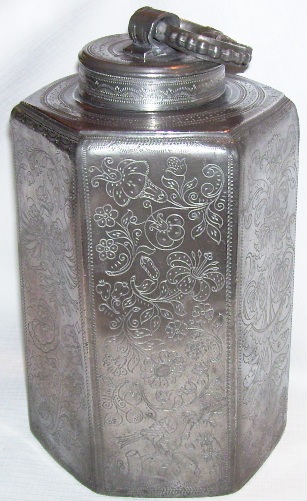 A beautifully engraved six sided pewter wine flask. These are called  "Schraubflasche" (screw top jug) in German. 10 inches tall to the top of screw-on lid [x] 6.5 inches wide.
A marriage gift; the front panel  is engraved with the newlyweds' initials and the "true"date  of 1694.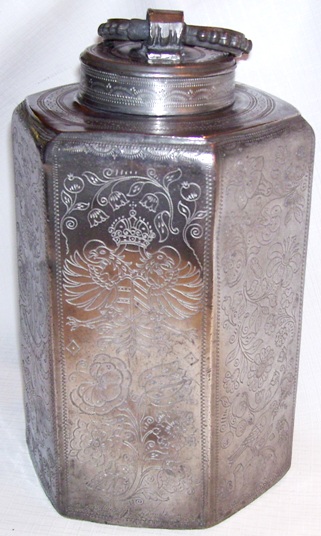 The reverse shows an engraved Holy Roman Emperor's  double headed eagle, so the new owners must have lived in Austria even though the jug was made by the Master pewter-smith E. Güntzer in Regensburg, Germany. (See Battenberg's "ZINN", page 106, illus. 129  for an almost identical piece.
.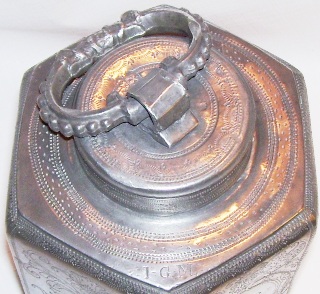 Detail of engraving all around the lid and the ornately cast dragon-heads handle.
A MUCH NEWER EXAMPLE OF SCHRAUBFLASCHE: MIDDLE JUST BELOW: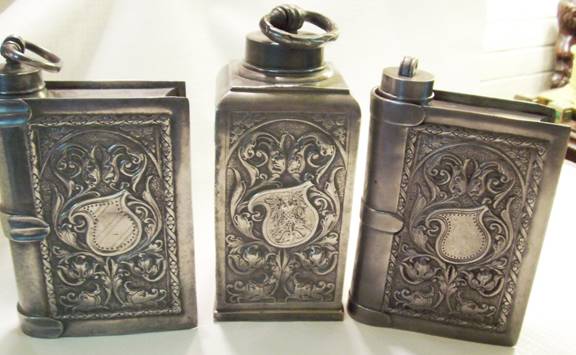 Shown center: A Weygang Schraubflasche:
Also shown in the book "ZINN NACH ALTEM VORBILD" (but not in the article that was published in "Prosit") are some flasks and wine "schraubflasche," or wine "cans." In his book, "Pewter of the Western World", Mr. Hornsby calls them that, and it's a wonder he didn't spell it: Cann! (He's got to be English!) All were made by the Weygang family. The two items, books and cans, are closely related as the molded relief side scenes are very much alike. I have included a few photos of some I have in "The From Which to Drink" [FWTD] collection.
This Weygang Schraubflasche has an engraved (actually molded to look engraved) "Harpie" from the City of Nuremberg.
The two "molded relief" book flasks have additional background punch work that details the swirling leaf design, where as the "Schraubkanne or Schraubflasche" (wine can) does not. Dimensions of above: Book flasks = 7.75 inches tall (cap is an extra 1.75 inches  [X] 6  [X] 2 deep.  The wine can is 8.0 inches tall. The two "Book" flasks, shows the very small difference in design; notice the stripes on the shield on the right, and the difference of the 3 book binder clamps.

A very tall rounded body "chraubflasche."This one is not part of the SM & T collection (although I have one ) Shown as I mention them above .
February 2012:  I just recentlly recieved this email from a German long time pewter stein collector who had a new twist on what these were originally made for, and it does make a lot of sense."
I have seen Schraubflaschen shaped as books in several sections of your homepage. And since you normally like to write about interesting stories behind the objects, I wondered if you knew the background of those Those book-shaped vessels are not actually drinking vessels, nor are they book related, even though I have seen dealers try to sell the as guild flask of a bookmakers guild. Their real use is as hand warmers. Filled with hot water they helped to sit through long sermons in cold churches during winter. In the shape of a book they looked like a prayer book, so it was less awkward to carry them around. But apart from the many modern reproductions, the authentic pieces are very rare, I have only seen a few genuine ones in my life.
All very interesting but being the boozer I have been, I'd like to think that if I went to that old cold assed church these would be filled up to the brim with warm Kentucky "Maker's Mark" Bourbon!  [SLS]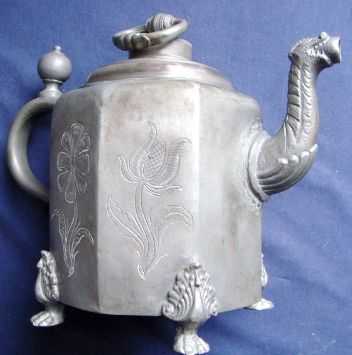 6-2011.  Above: An early 1700's south German or Swiss "Schraubkanne."  This is the second example the S M & T  has been lucky enough to find recently here in the States. With a cast dragon's neck spout and applied pewter feet supporters attached to the "Anfangs."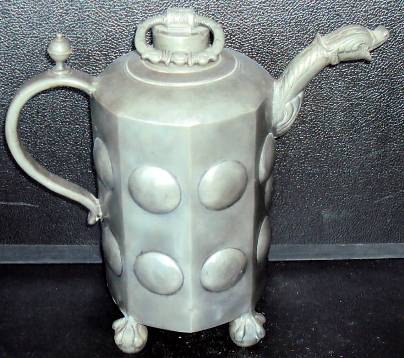 Here's the other Schraubkanne, very much larger, standing at 13 inches tall and 13.5 inches wide (handle to spout end.) South German or Swiss. Early 1700's.
.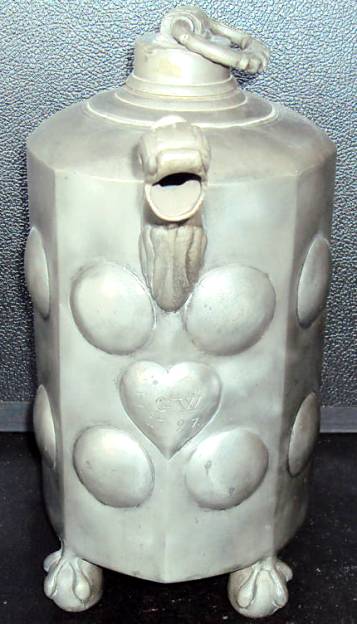 Detail of the claw and ball feet, and the added heart in the middle of the roundels = a love present of some sort probably.
Well if you knew what these two words meant before you got to this  page, you need to be nominated for an SCI's "Master Steinologis" award. That award and $4.75 might get you a "Small" coffee at Starbucks these days.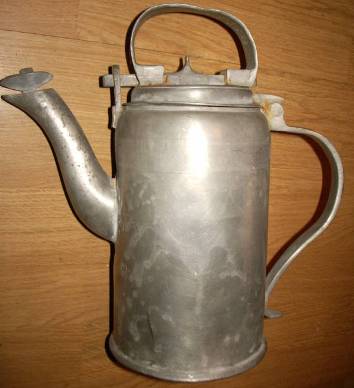 A 11 inch (to handle top) pewter "Schraubkanne", Dated "1633" on the front with initials. The front of the spout has been re-attached to the body; it must have fallen on the floor at one time in its 368 year history. Given the wear and usage indicators. I have no reason not too believe the "1633" date, but some others collectors do. But whatever, it is a interesting and quite different piece!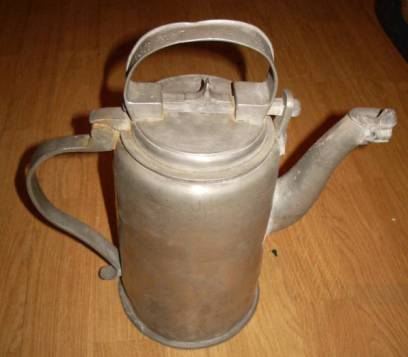 There is no comparable "Schraubkanne" shown in all the examples in "Pewter of the Western World" or any of my other pewter books. Given the flattened dome construction of the lid, the flip-over spout cover, the handle, the locking mechanism, and the Norwegian name "Harold" engraved on it; I believe this most probably is  a Scandinavian piece.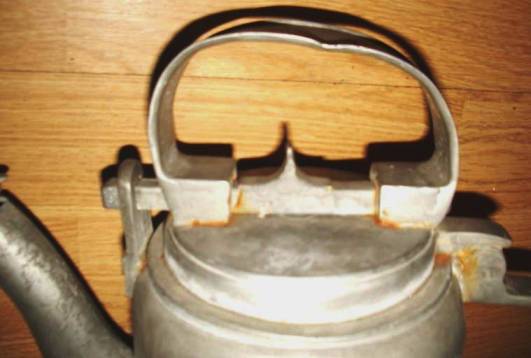 Detail of sliding bolt locking mechanism – even after 368 years this still work really well.
.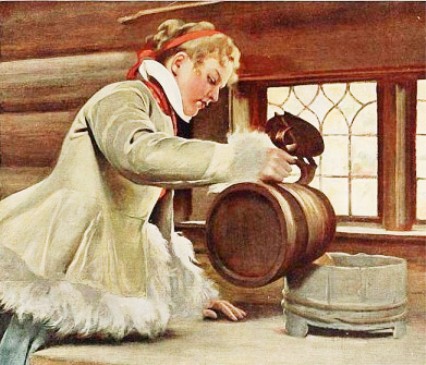 A comparable locking mechanism on a wooden Scandinavian piece. Shown: An old print showing the Swedish 'Pipstanka, with a wooden locking holding tight mchanism on the lid, but this one is without the usual spout.
[END – SOK – 16 –  3D]

The trouble with doing something right the first time is that nobody appreciates how difficult it was!