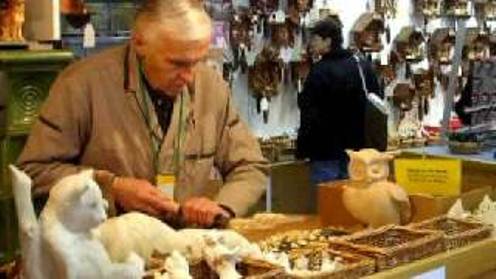 A typical German woodcarver at work .
Some of the carved  wooden wall mounts to be used as displays  at the S M & T three of these were bought in or around Denver the late fall of 2013.
Editor's Note 1: On this page only, instead of my going around and measuring all these mounts, whose numbers most people will ignore anyway (unless they are buying a similar one,) I am just going to describe them as:
Tiny    /   Small   /   Medium (or average)  /   Large    /   Extra large   /   Giant, and heavy! (or BMF!)
Note 2: These mounts are displayed on this page going from the lesser mounts (in my mind) on top to  the better ones, at the bottom. As usual no prices will be show as what one buys one of these for and what I pay will most likely be two completely different things.
Note 3: If one sees a mount with nothing on it, the reason is that the photo was shot in the last batch. I have spent way to much time on the development of this page. Taking the photos, editing, filing and modifying them is much more time consuming than just borrowing them, say from one of the auction sites. Also the mount's display most steins / vessels  that are probably located somewhere else on this site's pages, so why be redundant?
Also some show both the mount and the items displayed but comes with no detail photo. That is because I thought one large photo would be adequate for both.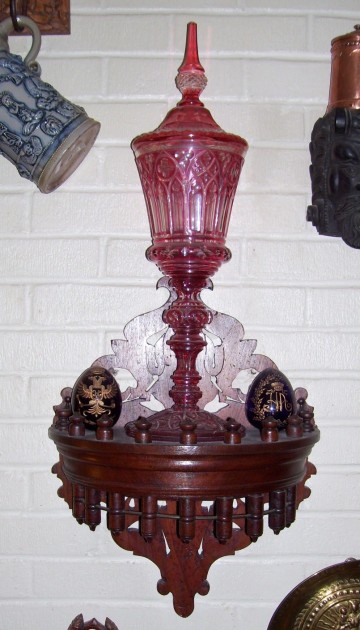 While not the least bit "Exotic" by anyone's standards,  this was the first real large wall mount I bought for as it turned out, the 2nd largest collection at "Smith's Museum and Tavern." Julia and I were spending a weekend  at Lewes Delaware and we stopped in a "so called antique shop." I brought the mount back  home for $85.00 which I thought was a lot but I hadn't bought anything all day as 'Tiquing" around that part of Delaware sucks for the most part; poorest state = poorest old family belongings.
Displayed on this mount▲: A pink cut to clear Bohemian hand blown "Pokal" in the Gothic Style, 16 Inches tall. Ca. 1850's. It is flanked by two blown cobalt blue glass eggs from Russia with the Monograms of two of the now long gone Czars. These are new, I just liked them.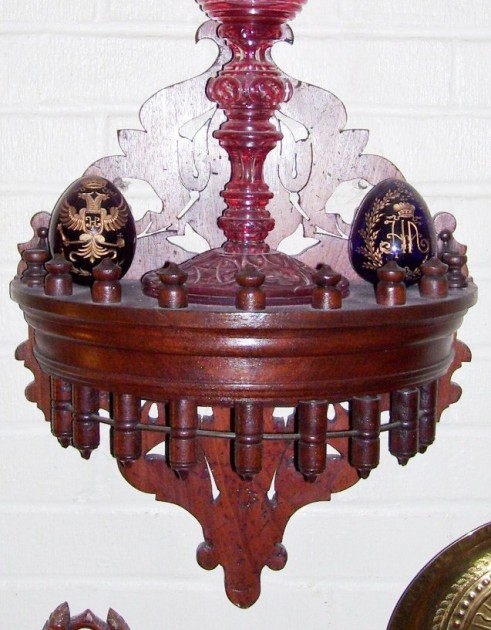 The mount: At least this mount has a lot of "wood turning" incorporated in it. The small knob barriers, top and bottom, were all hand finished and pegged in the the top to make the protective rim, with the row under the shelf being held together with a think piece of wire to make just a fancy add on.  LARGE

SO TO START, HERE ARE THREE  OF THE LESS THAN "EXOTIC"  WALL MOUNTS JUST HANGING AROUND THIS PLACE (PUN INTENDED.) THESE ARE SHOWN ONLY BECAUSE THE DRINKING VESSELS ON THEM ARE BETTER THAN THE MOUNTS!

First and third from the left: fayence "Puzzle Mugs" from Slovakia. Circa late 17oo's.  Second and fourth are fayence beer mugs from Hungary Same artist and dated the same year, 1889. The wooden wall mounts are carved wooden panels of the same size, (5 x 5) made in Indonesia I believe. I bought them from a eBay seller in England a few years ago, who wouldn't give up her source.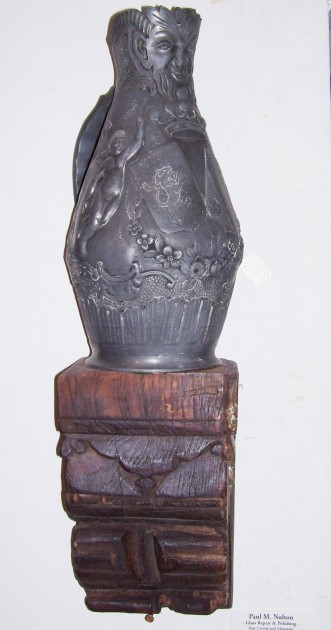 Shown on this mount: A two liter French pewter wine bulbous pitcher. In French one would just call this a "Croc au vin." Circa 1850. With the two coat of Arms shown this must have been a wedding present. 
The face on this server is that of Silinus and not Bacchus as most call it. Check it out, this guy is a satyr not a Greek God!
While the next photo would normally show a detail of the mount, this piece of some kind of element really would be a waste of space. Purchased in Colorado  about 3 years back It might have bee part of an old ranch home's support beams. LARGE  AND HEAVY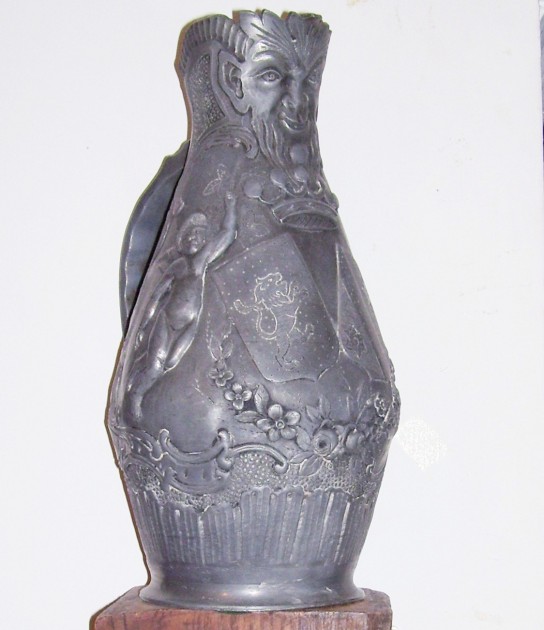 DETAIL: Showing the quality of the French pewter-smith's workmanship. Not all good stuff is German!
Displayed on this mount: A 1.5 liter majolica sever with a Green Man on the spout.         Small
See: http://www.steveonsteins.com/the-green-man-vs-the-wild-man
and: http://www.steveonsteins.com/german-majolia-beer-steins-new-7-24-12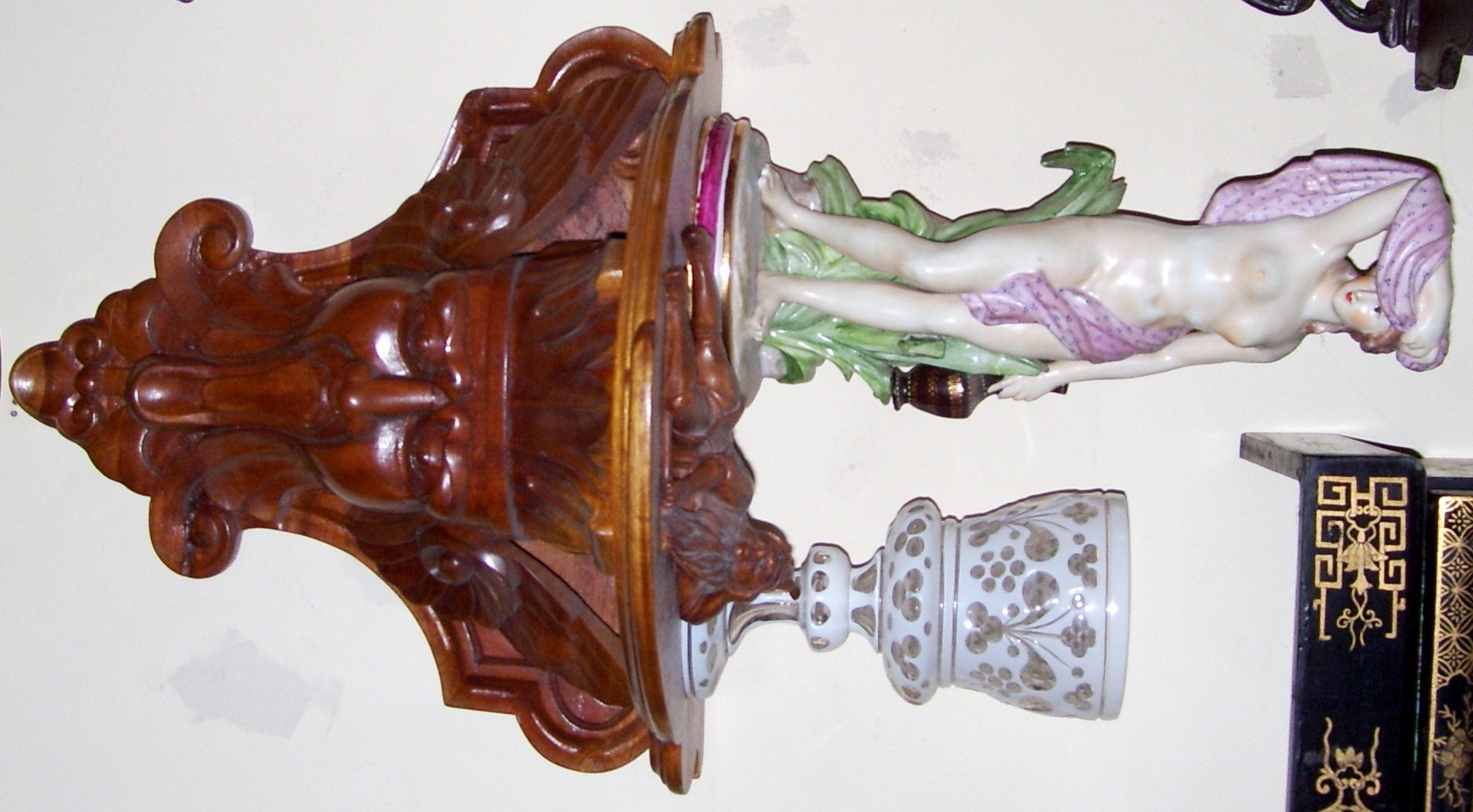 Shown on this mount: An 1809 Vienna Porcelain nude about 10 inches; a "Black Forest"- Swiss carved wooden gnome taking a break from his busy day; and a 1860's Josephinenhütte cased white over clear glass roemer.
I am not adverse to buying newer made wall mounts if they are distinctive enough. This is a large  hand carved one came from the Southern Pacific basin somewhere I believe. No "Made in China" markings on it!
NOW ONTO THE BETTER ONES:
***

Adjective:
Exotic -(comparative more exotic, superlative most exotic)
 1.Foreign, especially in an exciting way.
So: Exotic wall mounts from outside the USA  [Foreign,] and somewhat 

exciting

to look at!
Editor's notes: [1] These are arranged mostly from the lesser of my favorites to the highest in my esteem, and mostly because of the carving but sometimes as the theme is so different than the average – or both! [2] Because  a lot of these wall mounts are of the "Black Forest" type  (but really made on Switzerland) I have lightened the dark  color the cropped detail photos of the mounts themselves for a better understanding of the fine workmanship back then.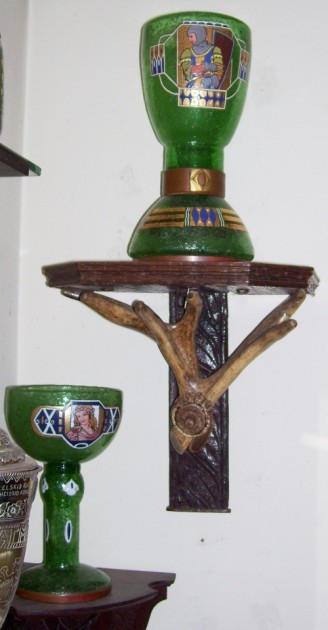 A custom  hand made wall mount with real deer horns. No marks or signatures but probably American and early 20th century. Shown above ▲ two Art Deco glass roemers with hand enameling. Smallest about 11 inches.     MEDIUM.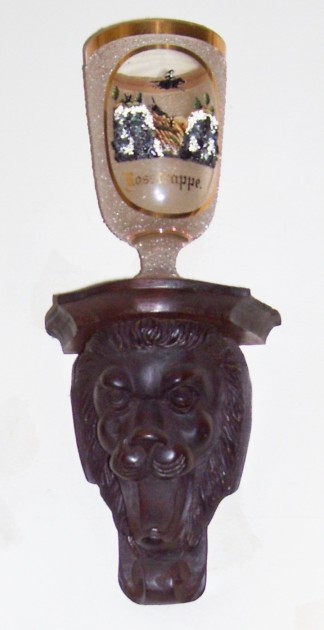 Displayed on this mount: A glass beaker showing the scene from the fable of  "Rosstrappe." This is a  famous mountain location in Germany where a woman on horseback out jumped a stupid male (who was after her body) making it from one side of a chasm to the other, while he did not! Her horse's shoes hit so hard they have left an imprint into the stone ever since (it is a natural rock formation – but a great story!) Applied crushed glass on clear glass beaker, about 5 inches tall with very heavy hand enameling showing the woman jumping the gorge. Ca. 1880. The mount is a salvaged architectural element with a new shelf added.    TINY TO SMALL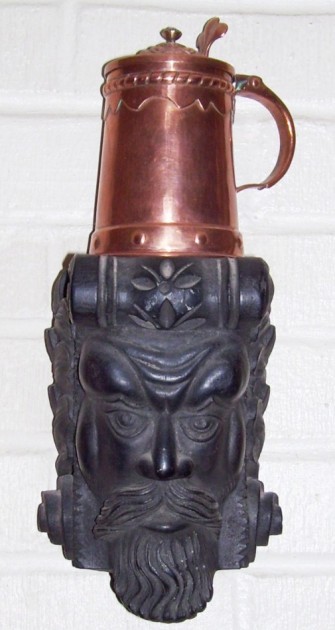 Displayed on this mount: A very well done Bohemian copper stein made for a lady. It has an embedded jewel in the finial. Stein is 6 inches tall. Ca. early 1800's.
The mount: A carved face placed on a scroll. It could be / most probably is oriental. Carved out of a heavy wood; as in Bog wood. Age is at least 100 years old.     TINY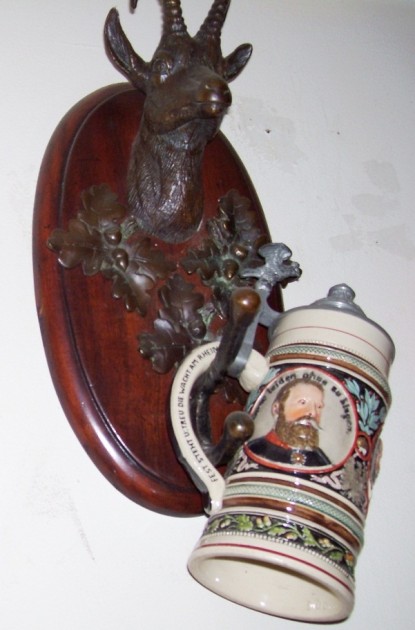 Displayed on this mount: .5 liter painted pottery relief showing the "Three German Kaisers of 1888." See more info in this site's  Compendium. The mount is a finely detailed cast bronze head of a Chamois and leaves, applied to a finished wall board.
The mount: A bronze Chamis'  head and trelief oak leaves make up the decor. The original use would have been a coat rack.    MEDIUM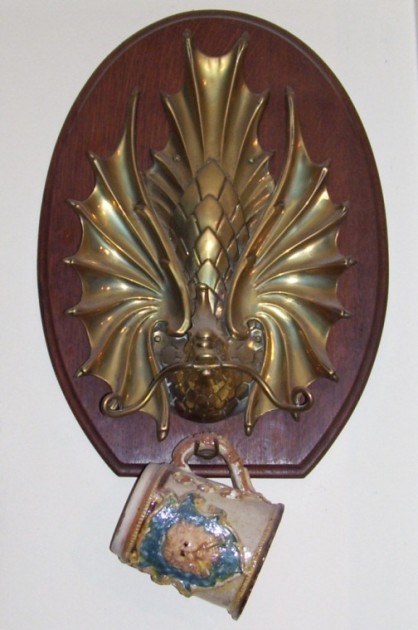 Displayed on this mount: A .5 liter Fayence mug with a Lion and Castle applied relief.  It looks more like Habnerware with a lead glaze. Spain, as a red wine country is not noted for it's beer vessels production.
This mount: Was salvaged from a junk pile in some shop in Kensington, Maryland. They had no idea what it was ever used for. It is a very well done Chinese brass casting of a dragon on  a board which would have been used to hold a brass gone and its striker.    MEDIUM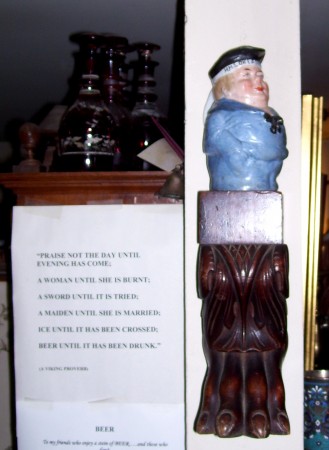 Displayed on this mount: A great "miniature" painted porcelain "Toby" of an English sailor who was assigned to the "HMS Dreadnought," the first real modern Battleship ever made.    TINY
Also please see "Toby Jugs" in the site's Compendium page "T" for the history of the jug and who he represents.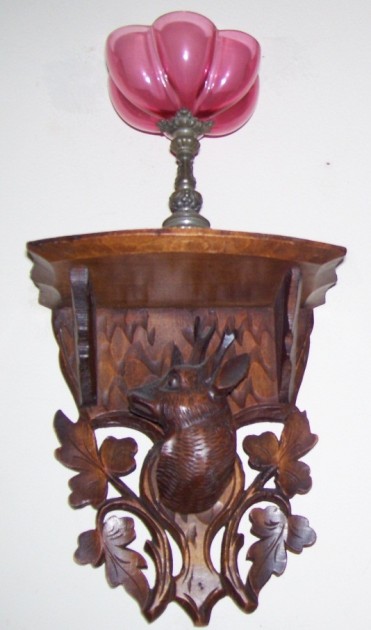 Displayed on this mount: Theresienthal pink glass; pewter stem was probably done by J. Lichtinger, Munich. No detail needed.
The mount: Moderately elaborate with carved young deer's head turned sideways which is a nice looking approach after seeing all the front facing ones.     SMALL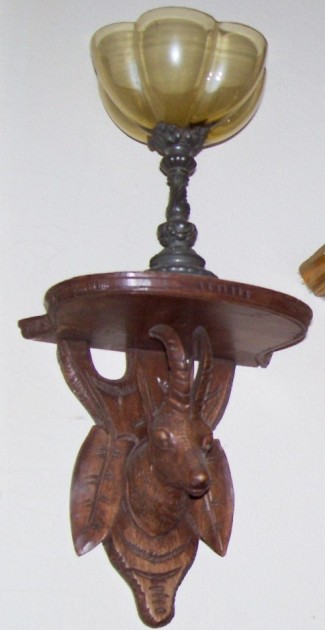 Displayed on this mount: The matching light green "Theresienthal / Lichtinger" wine glass / roemer to the pink one above ▲.
The mount: A pretty simple carved Ibex head. Ca 1900.     SMALL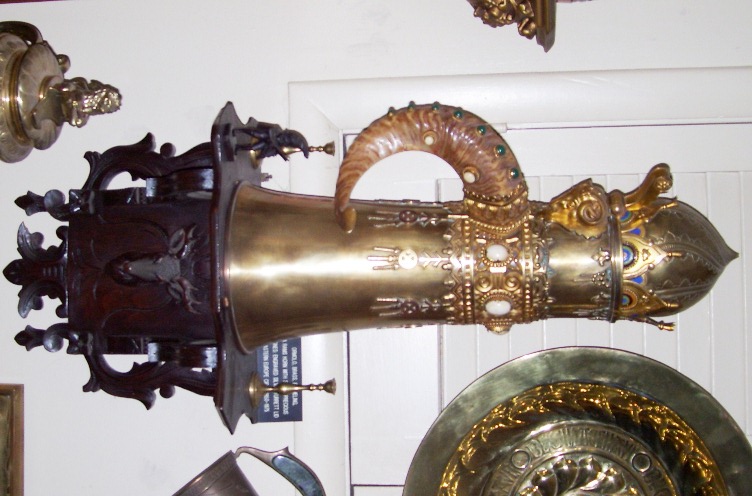 Displayed on this mount: A very large display stein. This is a one of a kind, hand made stein with a .800 silver doomed lid, its gilded mounts, ivory roundels, semi-precious stones and real rams horn handle. This stein might be rated a 9 (very rare) on the Smith-Paratore rarity scale. [FWTD]
It is still undetermined where this piece was made and by whom as there is none other in the literature. I think , a SWAG), because of the enameled rainbow half-roundels that go around the top (and alternates the colors between each) and all the mountain goat features that this could have been made in the region around Prague to Odessa.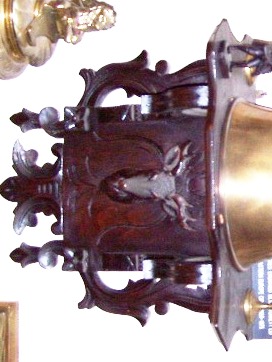 With only medium grade carving of the head and adequate carving around it, this mount is so very overpowered by the piece sitting on it, no one really notices it.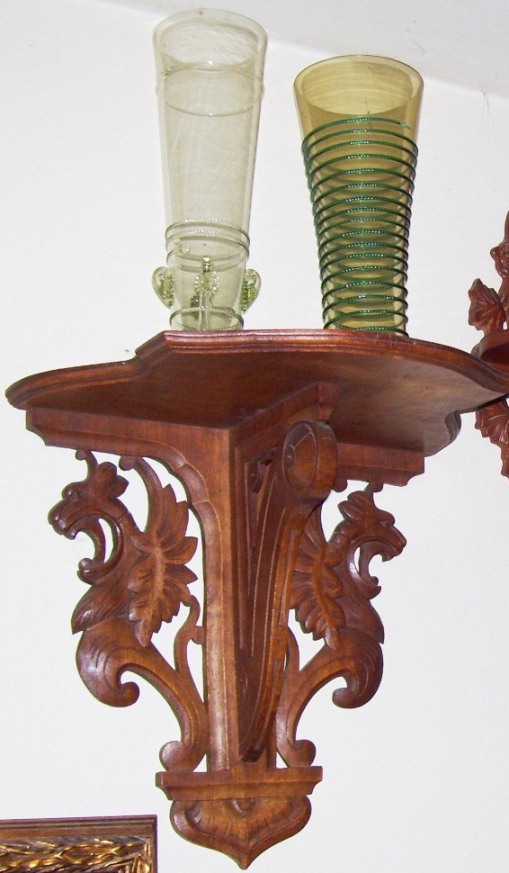 Displayed on this mount: [L] Modern day reproduction of a medieval pilsner Bought at Corning Museum of Glass. [NY state] just becuase of the very unusual "Kick" in the bottom of the glass. [R] A Theresienthal  "Worm Beaker", Ca. 1885. A replica of a much earlier piece.
.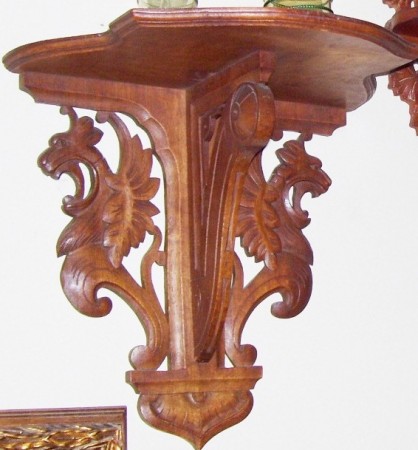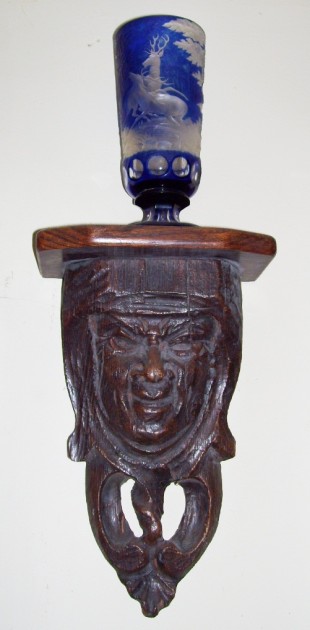 Displayed on this mount: An eight inch cased (blue over clear) blown glass beaker produced by the Josephinenhütte. Ca. 1840-60. But not signed by the artist, damnit!
For info on this firm, see: http://www.steveonsteins.com/josephinenhutte-glass-drinking-vessels-at-the-s-m-t-draft-3-30
. .
The mount: It is obvious the that the top shelf has either been replaced or it never had one and someone "Jerry-rigged" one up and used the wrong wood stain!  MEDIUM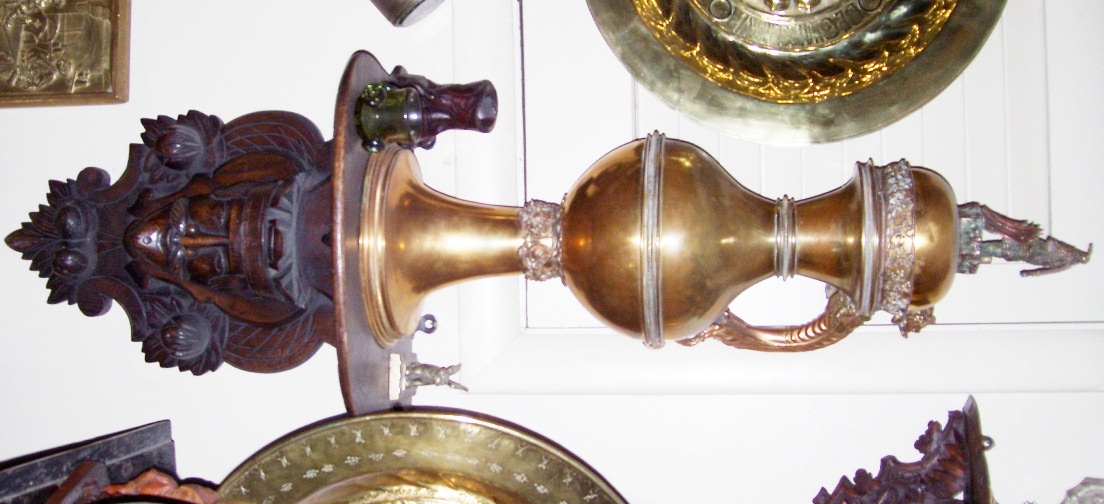 Displayed on this mount: A 22 inch tall copper server. This is a smaller replica of the one in the Cloister's Museum in NYC, which is done in gilded silver. The original supposedly was made for the Head of the Teutonic Knights in the 16th [?] century. Additional detail photos ▼.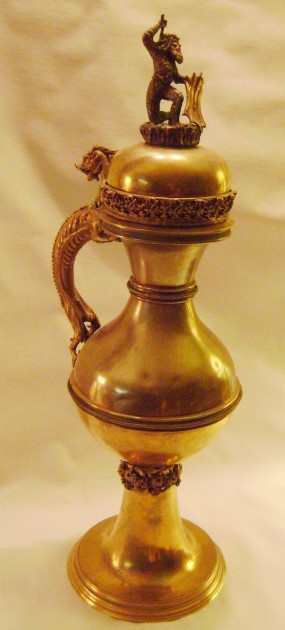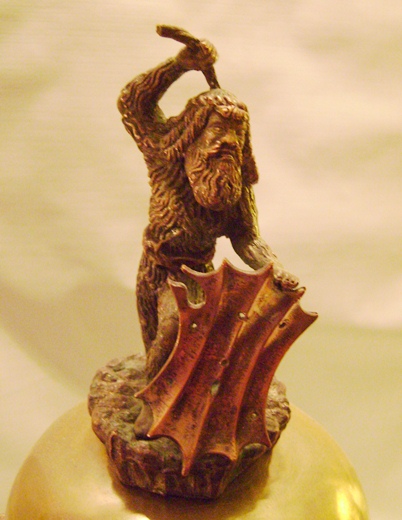 Detail: The "Wildman" as the enameled finial on the  22 inch tall brass replica of the gilded silver stein now in the MMA's "Cloisters," in NYC. This little guy is painted green and brown (not visible in this photo's light.)
For more info on "The Wild Man", please see: http://www.steveonsteins.com/the-green-man-vs-the-wild-man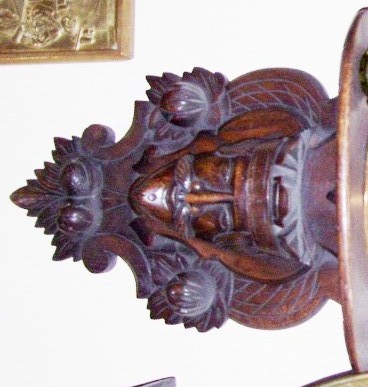 The mount: A devil's head with fruit side bars. I guess sometime in the near future I should dust these things.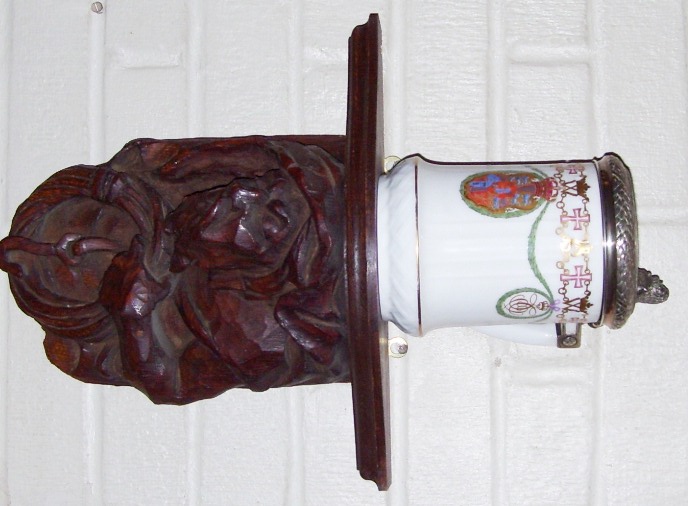 Displayed on this mount: A half liter Royal Copenhagen porcelain stein. The Royal Danish Porcelain Manufactory, started in the 1700's later became Royal Copenhagen. This hand enameled stein with the royal arms on the front also has an embossed (equivelant to Sterling) silver lid and was presented to an unknown member of the elite Danish "Order of the Elephant." Not too many of these around!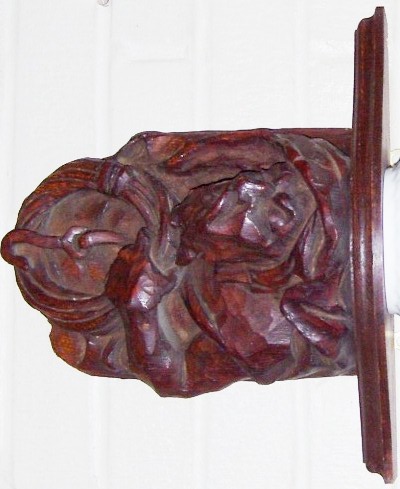 The mount: A somewhat rough carved man holding a coil of rope with large metal hook on the end of it. A few of us lately (5/13) have talked about what this guy was. We think that because of the rope having a large hook on it, it was probably used for wrapping around and hauling things upward. That he has his head covered protected would be protection from the sun, therefore an outside worker.  Therefore our best "SWAG" is that the mount represents a stone mason who would have been working on a cathedral or equivalent tall medieval building.    SMALL TO MEDIUM

Displayed on this mount: An interesting 13 inch tall blown glass server with  a hand painted enameled armorial scene. German. Ca. 1890. It comes with a flat silver plated brass [?] lid.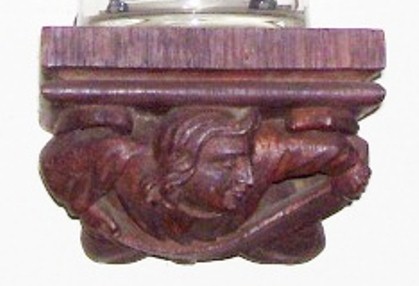 The mount: Copied from, and carved as, a medieval church "misericord" (subsellium) I believe. Signed by the artist in French. Bought off eBay for about 100 dollars?    TINY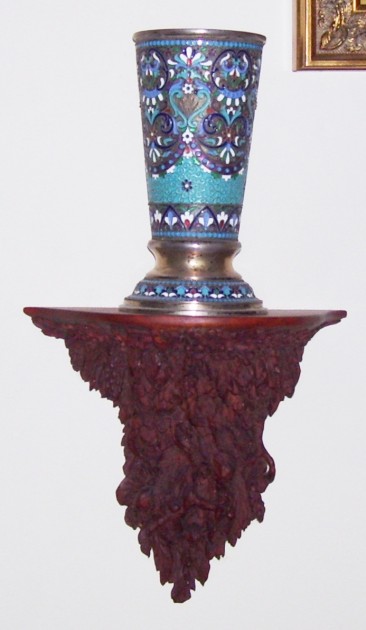 Displayed on this mount: A 6.25 inch tall Russian enameled silver beaker. This one comes with the Royal Warranty stamped mark and an an assay mark of 1884.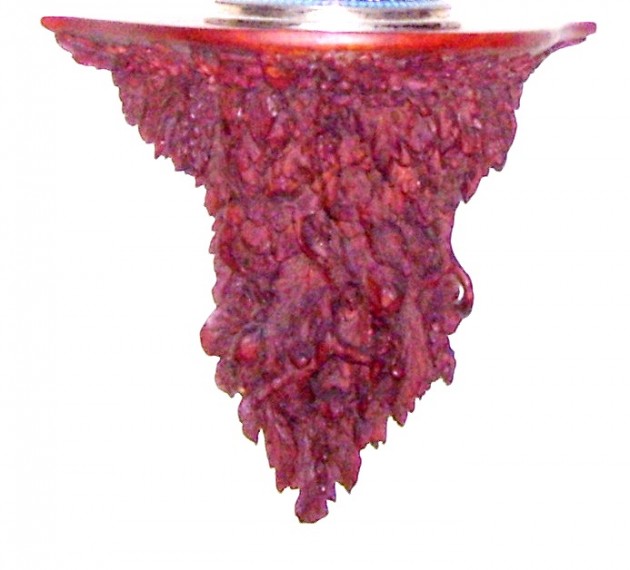 Photo with more than ample light to show details of the minute carving.  One really has to see this one close up to really appreciate the workmanship (as well as on that beaker.)  TINY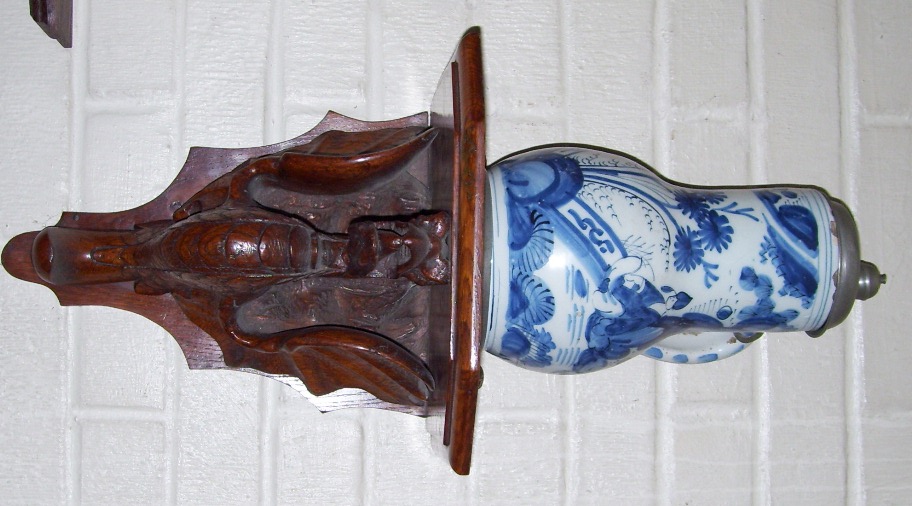 Displayed on this mount: A 9 inch tall Fayence stein done in the Chinoiserie fashion. Made in Hannover. Germany. Ca. 1780.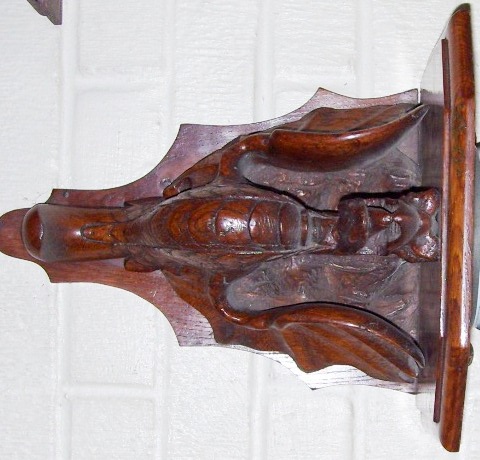 The mount: D & D = Dragon and Dust!          MEDIUM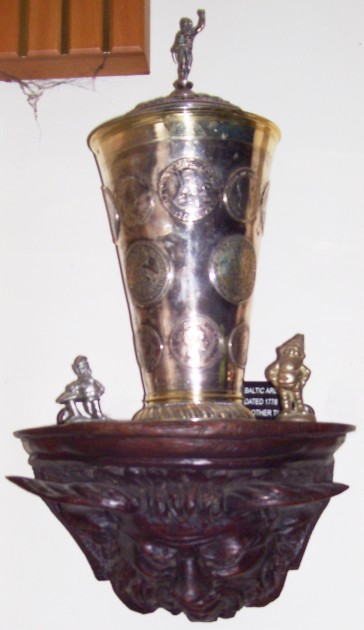 Displayed on this mount: A Latvian silver coin beaker  Ca. 1700's. Now the silver " purists" would probably look down on this piece due to the many additions. What I think makes this piece  interesting and unique, is that there are four separate and distinct time frames shown by the coins that have been placed in it,  If there were room I'd like to add a couple of the Susan B. Anthony quarter sized "silver dollars." I mean what else are you going to do with those coins [?], nobody likes the damn things! 
.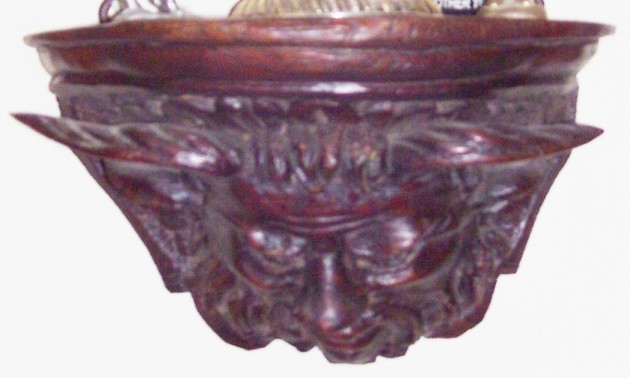 Soon I'm going to have get off my [now, post cancer] skinny ass and dust these things, hey?)    SMALL  TO MEDIUM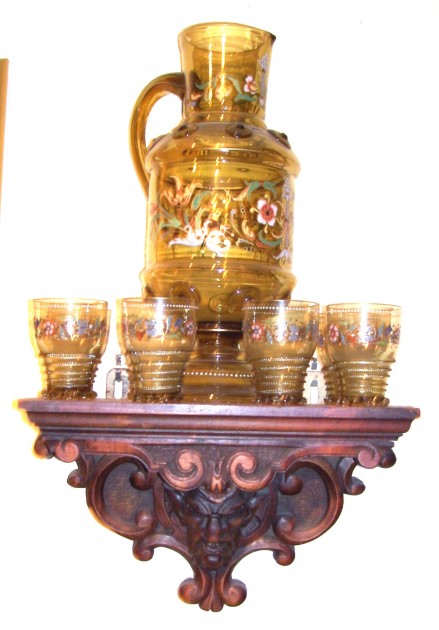 A 14 inch tall blown glass server made by Theresiental Glasshütte (not at all a good photo – will try to replace) with its matching ribboned wine glasses. Ca, 1880.
For info on this firm see:  http://www.steveonsteins.com/theresienthal-glass-steins-the-guide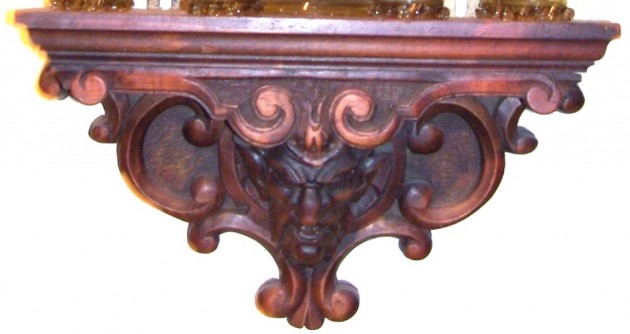 The mount: Another devil's face, this one with the front plate out in front of the head.   MEDIUM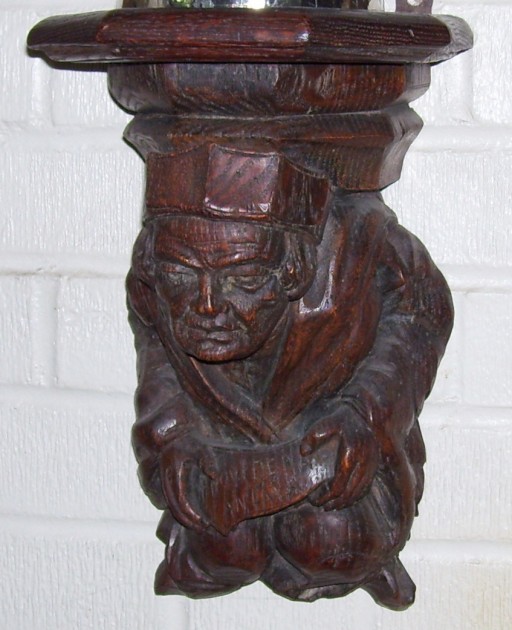 The mount: A church abbott reading a verse or singing hynm from a small page.   SMALL TO MEDIUM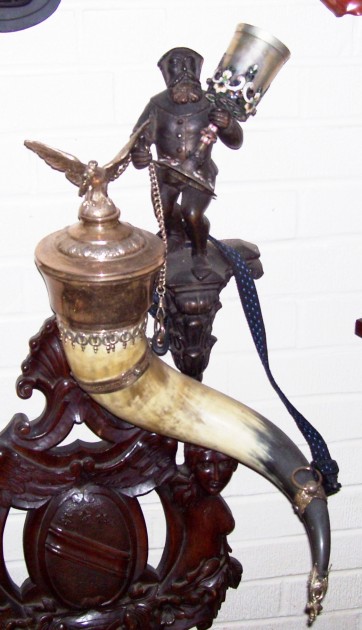 The mount: A cast iron  "Heinzelmänchen."  It was purchased from from Germany's Gnome Museum" when they went out of business. Not cheap! (The owner was: Guenter Griebel, who ran the German Garden Gnome Museum in the southern German town of Rot am See,)
He holds an Austrian silver cup with a small amount of enamel work on the drum and the foot. Ca 1870. The horn is a large WMF silver plated communal drinking horn. It never had a holding stand and would have hung on some club's / society's wall.      SMALL TO MEDIUM  AND HEAVY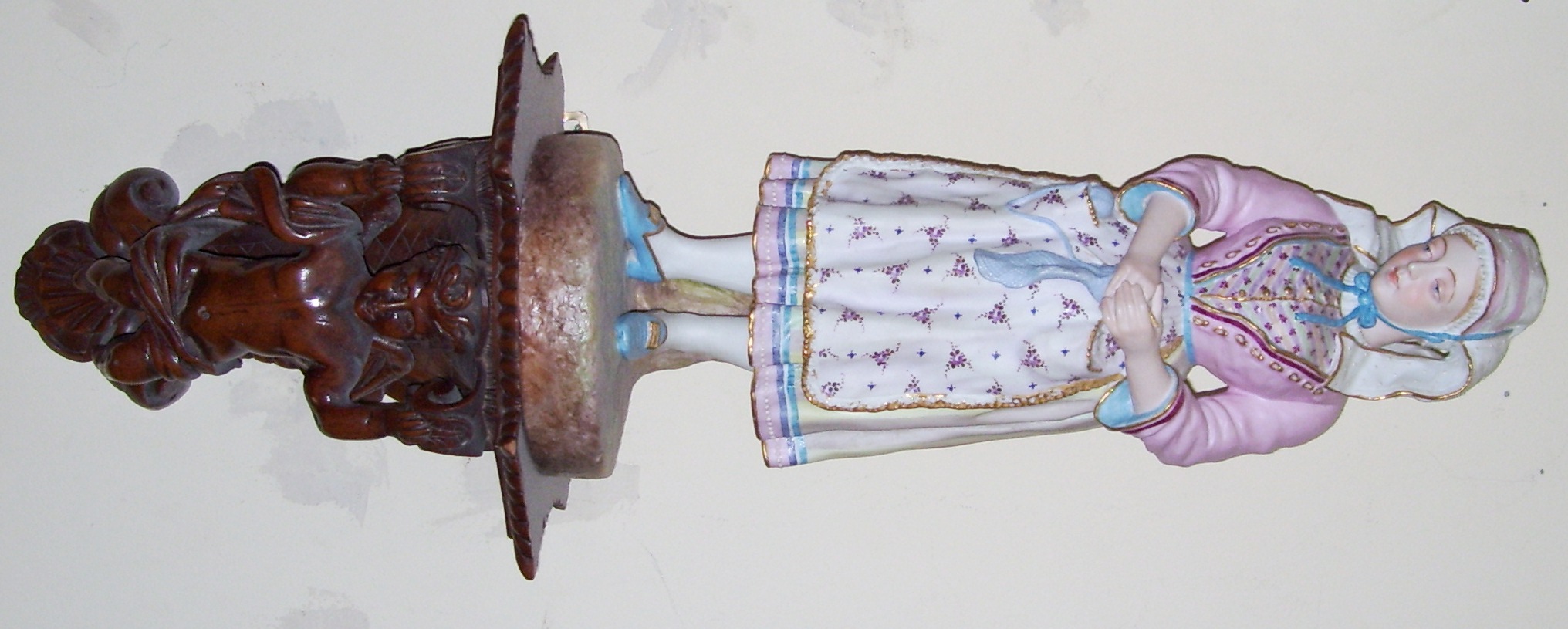 Displayed on this mount: A 13 inch tall German bisque porcelain figurine of a Dutch girl [?]. It was purchased on the return Colorado trip in 2010 for about $125.00.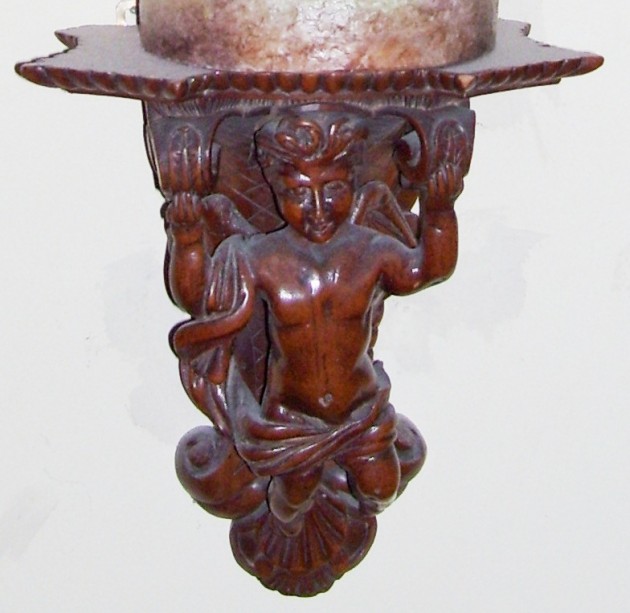 The mount: One of a pair purchased about five years ago [2008] at the 'Scarlett Fox' shop in Old Town Alexandria, Va.    SMALL TO MEDIUM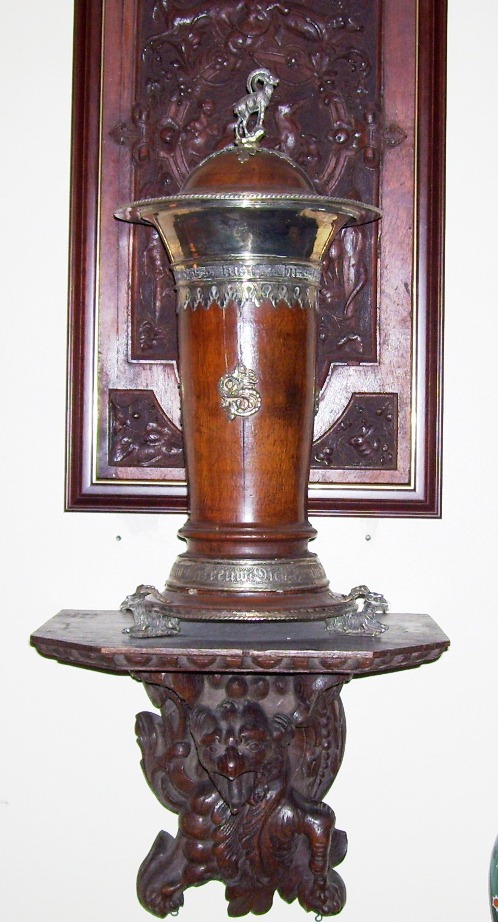 A" twig turned" wooden pokal. Unmarked silver mounts with  very old German inscriptions on the bands.  An Antelope as the molded silver finial and three molded silver mythological beasts as feet. Circa early to mid 1600's.
The mount: A carved grotesque's head and torso.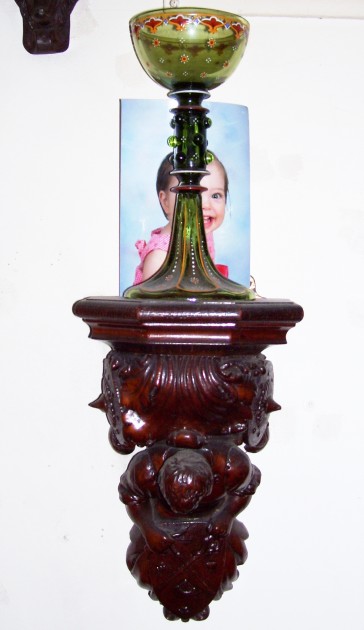 Displayed on this mount: A very well done blown glass enameled German Roemer with separator rings (filets) and prunts in the middle of the stem. Most likely made by Lobmyer. This roemer is 10 inches tall. Circa 1900.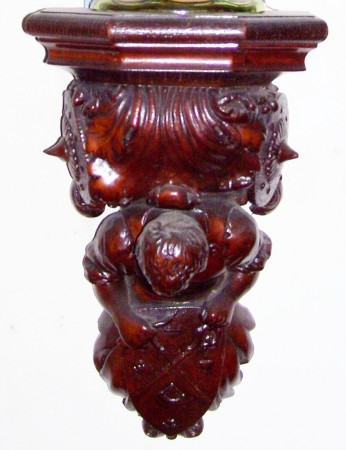 The mount: While it is not very apparent the figure is holding an armorial  shield which I presume to be of the family who custom ordered this piece back about 1830 to 1860. Two Persian type battle shields with large center spikes are on the top sides. SMALL TO MEDIUM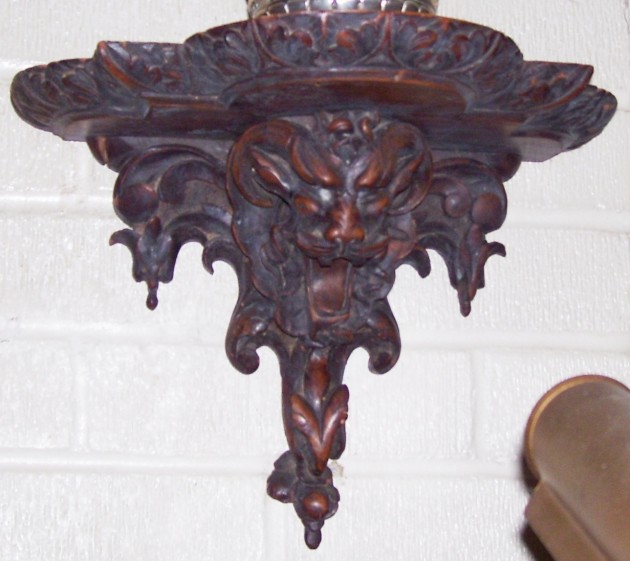 The mount: A grotesque in the form of a Satyr's head with a partial animal's face. Nice side carving.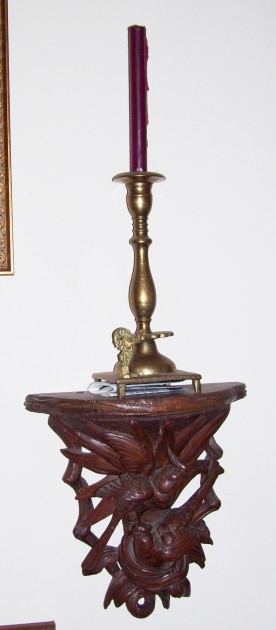 Displayed on this mount:  10 inches tall, very heavy Russian brass candle stick. Ca. late 1700's. Comes as a pair.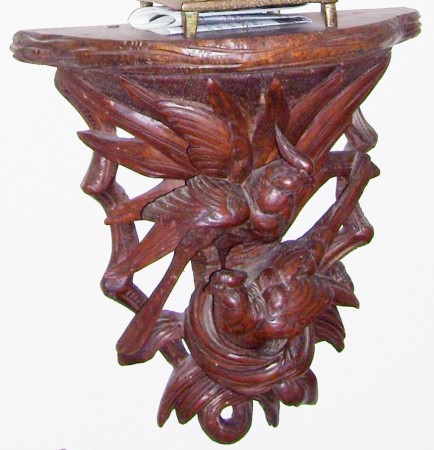 This is number one of a pair bought within the first 10 years or so of my starting  to collect. They were my first ones and launched this sub-set of Black Forest /French carved  Mounts at S M & T. Very minor losses.    LARGE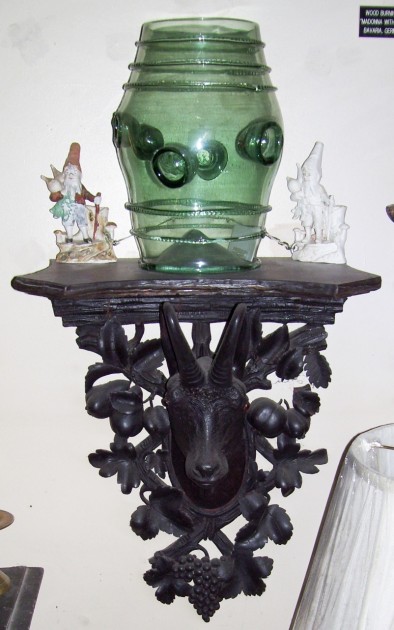 Displayed on this mount: Two German porcelain gnomes flank a blown green glass "Daubenbecher"  (Thumb-beaker ) This very large beaker made of "Wald-glass."  It is a communal vessel which iwould be passed from one to another by use of the large holes blown into the sides for thumbs and fingers. The originals are late medieval and usually a bit darker green. This one is a good replica  made in the mid to late 1800's.
The Corning Museum of Glass (New York State) was selling brand new ones of these in 2009, but in clear glass for several hundred dollars!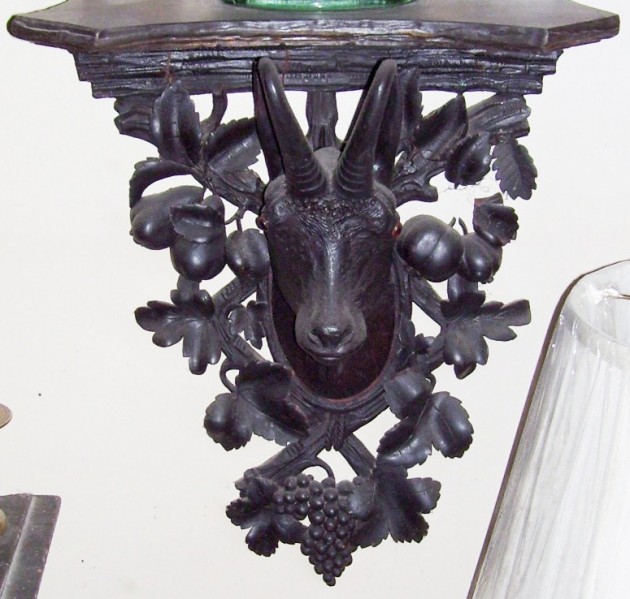 The mount: A typical "Black Forest" with Chamois' head, leaves, vines and grapes and simulated  tree bark ledge.
EXTRA LARGE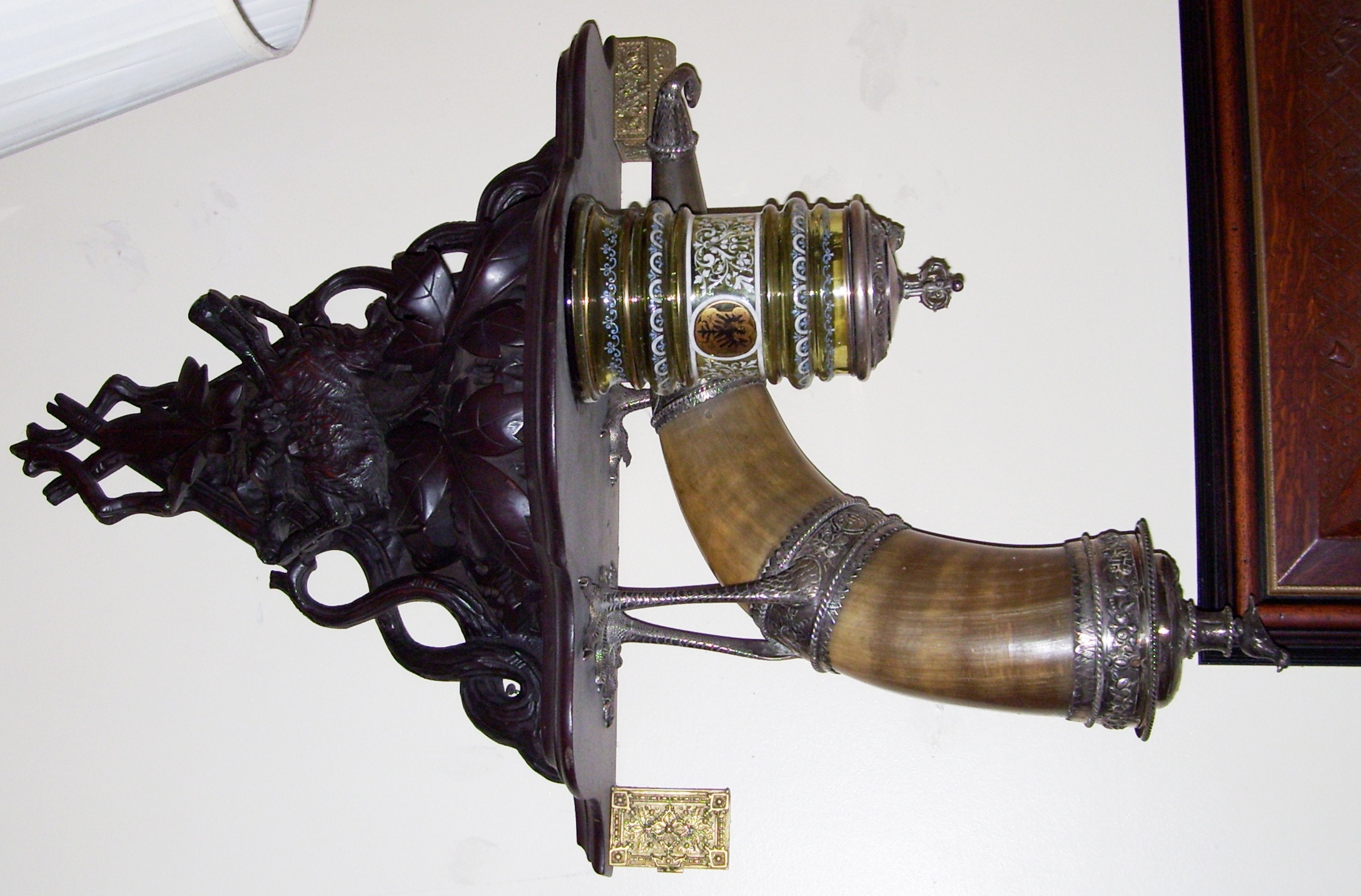 Displayed on this mount: [L] A seen once in 42 years of collecting, a silver lidded blown green glass with the enameled Coat of Arms  of Prussia . I believe this could have been custom made by Theresienthal Glasshütte, or Josephinenhütte  [2] A very old Baltic States drinking horn with silver mounts.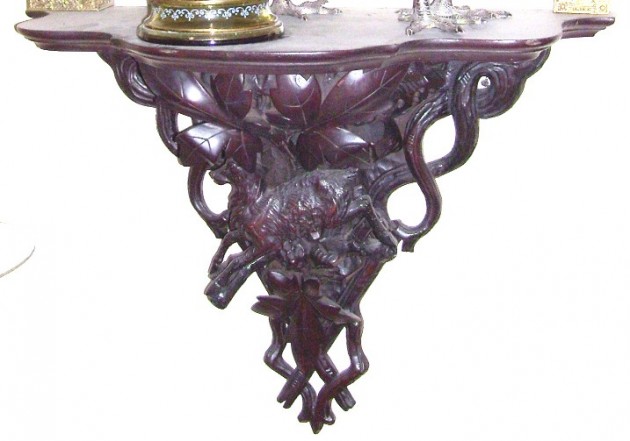 The mount:  Found at a "Junque Shop" in Richmond, Va. some years ago, with one broken leg and a few other small parts missing, BUT for only $75.oo! This"Black Forest" piece with a running Chamois, was later excellently restored by Barney at his "Antique Hospital."    LARGE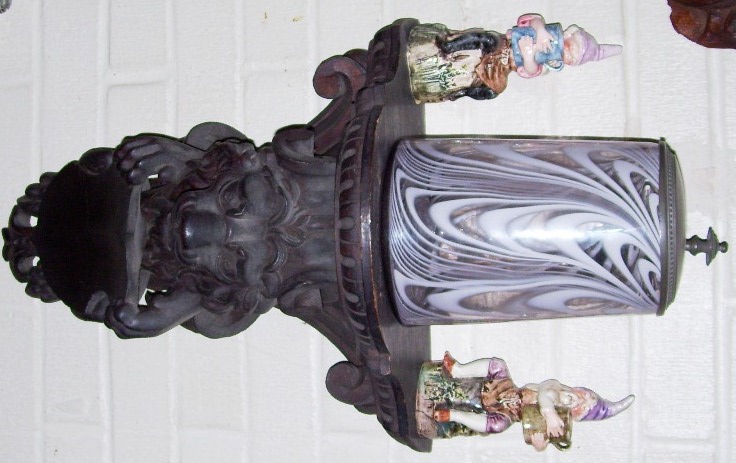 Displayed on this mount: A 1.75 liter Bohemian, with white glass swirled between two layers of clear glass. Circa 1820 – 30. Extremely unusual. and I might add collectable!
.

The mount: This extra large piece of "Black Forest" was found at an antiques show in North Carolina while on a vacation. Cost was about $600.00, which I thought was reasonable given how large, heavy and well carved it is. This wall mount, as one of my favorites, is in a four way tie I think [1] with the carved Goat, shown just below.   EXTRA LARGE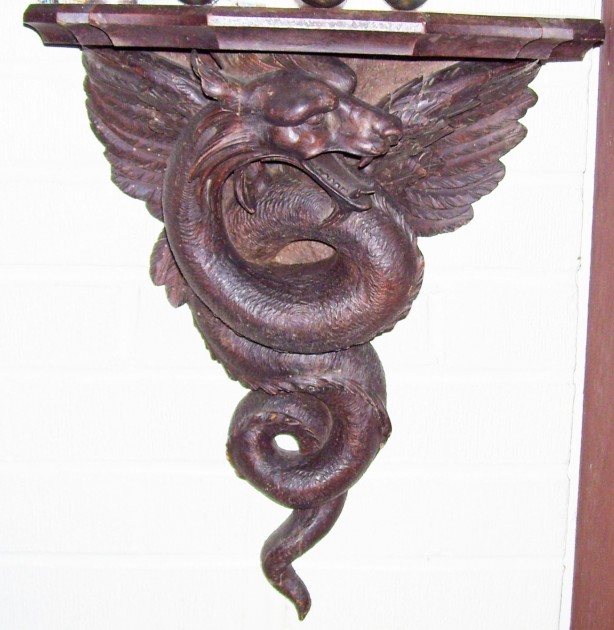 The mount: Found for lots of $$$'s (all relative!) years back in a great antique French furniture shop in Kensington, Maryland, long before eBay and the recent Depression (Recession hell!) overcame 75% of them in that city, and made them down and out! This is one of the ones tied for #1 in my collection.
EXTRA LARGE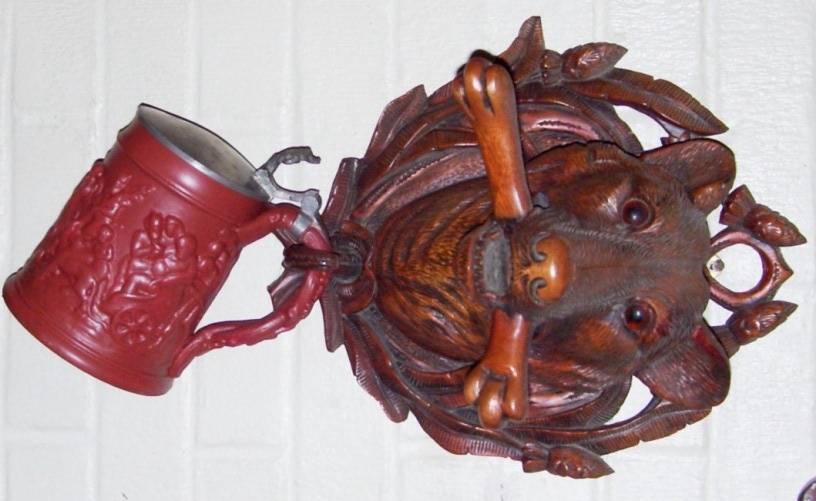 Displayed on this mount: This .5 liter relief beer steins regularly sells as "Terra Cotta" but isn't!  It is just a pottery (not stoneware) type 0f ceramic that was stained that color of Tera Cotta Red.
If one cleans it vigorously .as  I do my pieces The stain will come off! So do not do that !!
This photo  of the stein shows my restoration job, thanks to some good paints and brushes from Michaels, a USA chain crafts store nearby.
The mount: This "bear with the bone"is also from Switzerland. I have seen other animals done just like it recently advertised on the German eBay. While I really I can't afford them now; this on was picked up at a shop East of Dallas, Texas about 25 years ago. The hook indicates it was originally a coat rack.    LARGE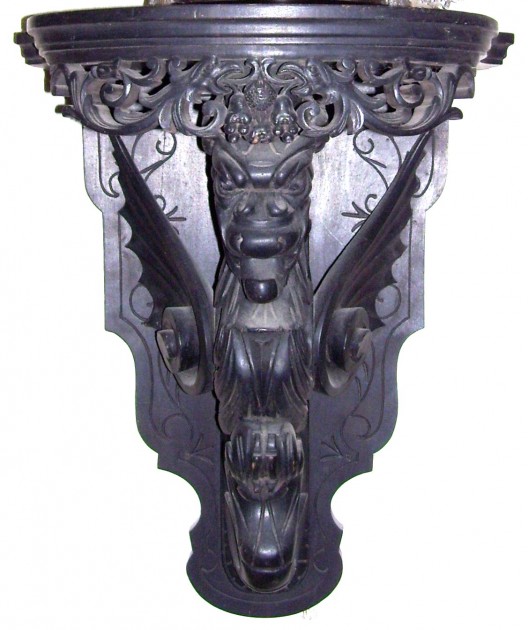 This mount: A One of a pair of French made  dark stained wood depicting Griffins. Ca. 1850-70.    EXTRA LARGE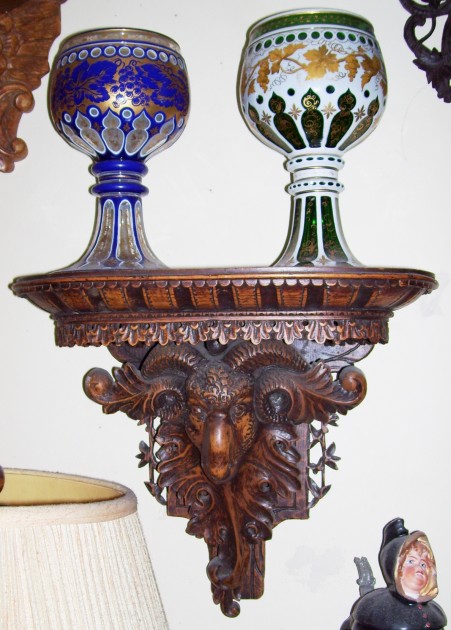 Displayed on this mount: Cased glass Josephinenhütte roemers. Circa 1850.   
For more info on this company and the above two pieces ▲,  see: http://www.steveonsteins.com/josephinenhutte-glass-drinking-vessels-at-the-s-m-t-draft-3-30
Also for much more info on Roemers see: http://www.steveonsteins.com/in-the-near-future-2-1-1-2
  .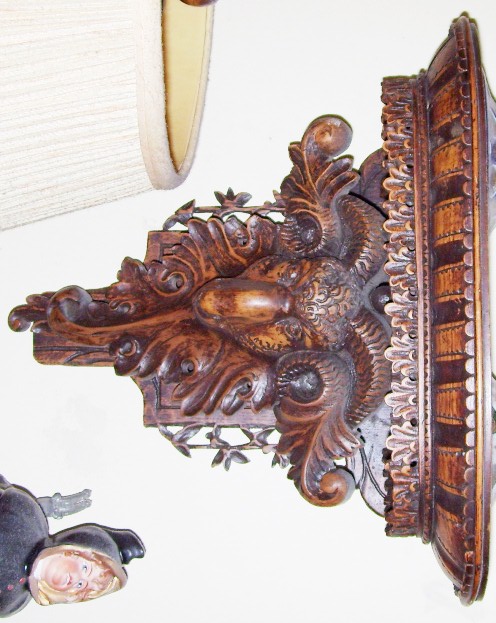 This piece was found in Georgia in or about 2008. It came as found and was missing a lot of small pieces but the idbody was very intact and  it was in the low 100's. So it found its way to Barney's for a little work also.     EXTRA LARGE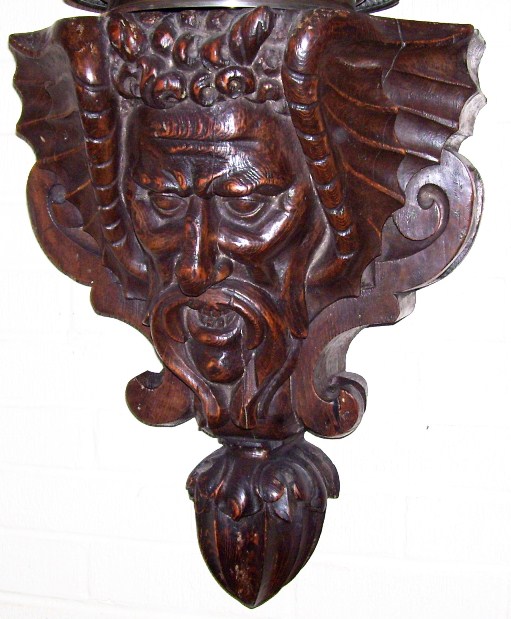 The mount: Carved out of one piece of Oak I think and not laminated wood as several extra -large ones I have seen were made of.  This "grotesque with bat wings for ears"  is the most massive wall mount  I have ever seen.  Barney and I had to bolt the supports well into the brick wall in my "Stein Room." This is also one that is tied for #1 in the mount collection.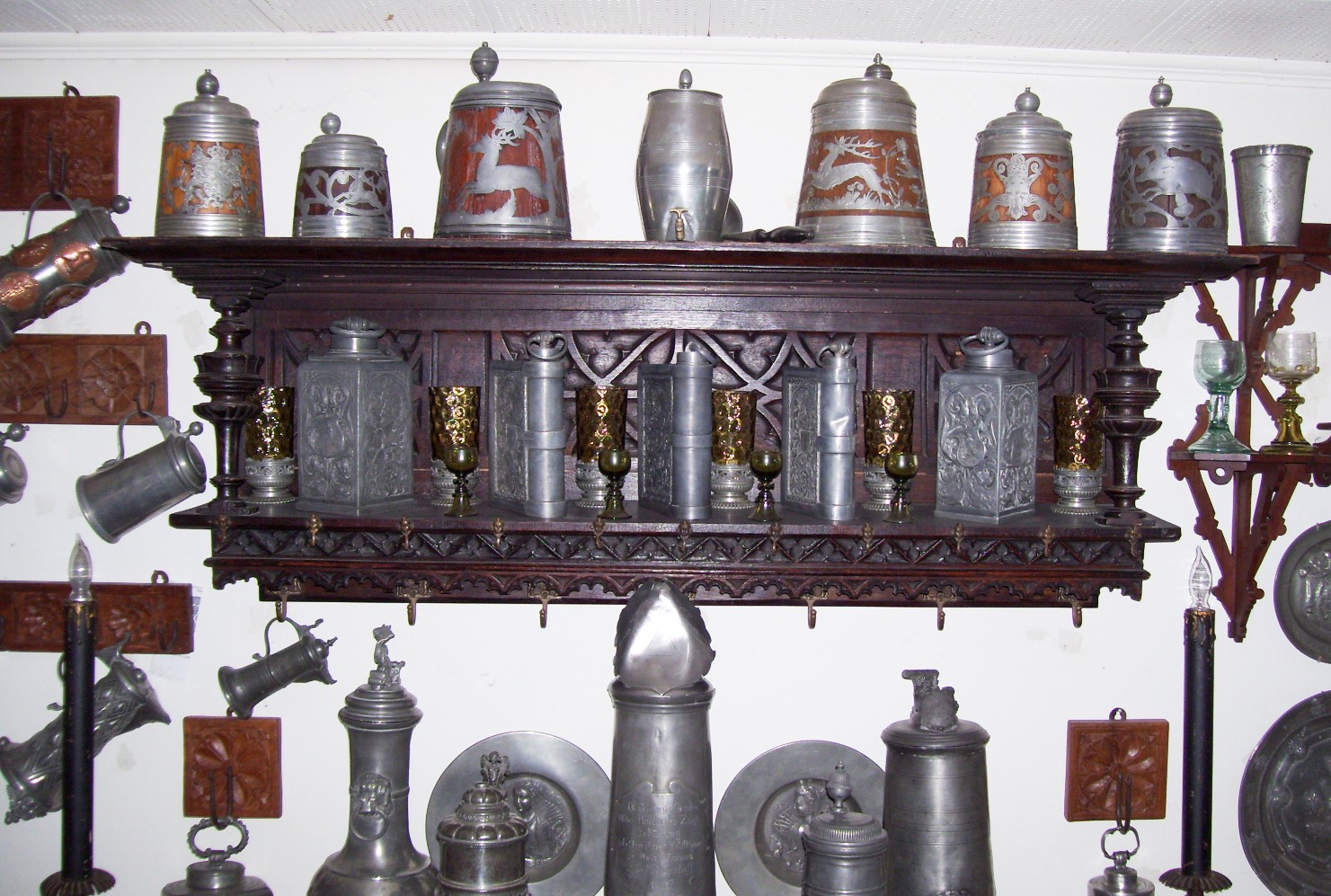 A European carved wood coat rack. A great looking display piece but it does take up a lot of space  It even comes with those lower hooks for much smaller pieces.    GIANT  OF COURSE AND HEAVY – IT WAS DOUBLY REINFORCED ONTO THE WALL ~  I HOPE TO HELL IT HOLDS !

needs newer photo so take one !

"And last but "
As one can see this is not a wall mount but it is a pretty extic piece on which to display some of my pewter "mugs."
"Even a blind dog gets a bone now and then!"  This  6 foot "Black Forest (really Swiss made) hall tree was found with only the surface in rather poor condition (It was left outside for some time I think) at a super, super low price considering what the old carved wooden ones normally sell for.
They [?] are now making copies out of resin / plastic that look really good . so be careful out there folks!

It is a six foot tall "Black Forest" (really Swiss made) carved wooden hat  rack / umbrella stand. Ca. 1850. Now used as a pewter "mug rack" at THE SM&T. These go for good money at the high dollar auction houses. Again I stress = be careful, as they are making very good replicas out of resin now.
[END – NOSP – 65 – R5] 

     As I sometimes say: "I never wanted to live to be 73 until I got to be 72!"