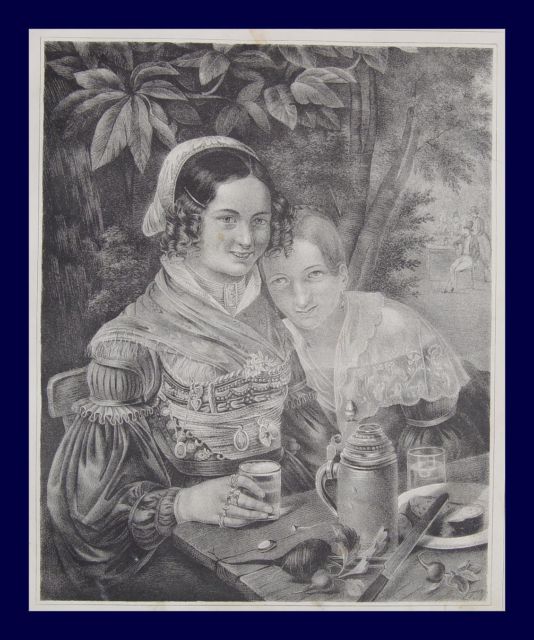 ▲  ▲Two Bavarian lady friends having a sip.
If you knew when that type of "Bavarian stoneware" beer stein was popular, then  you could estimate the date of the drawing.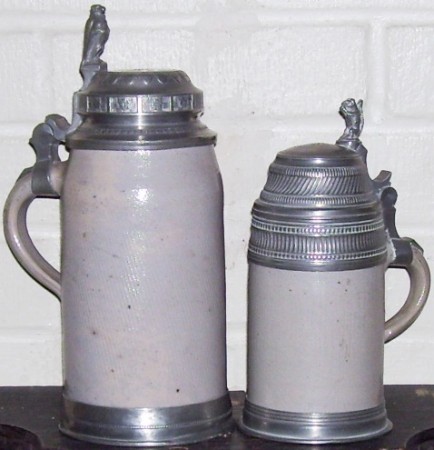 Here's a little help from this site's Compendium:
"Bavarian" style stoneware steins. Circa 1820-1850.  [FWTD]
---
  So if one puts in "Wood Steins" or "Hand painted steins," it will give one a list of all the pages that has that subject matter within them.
---
BABY JESUS –
EBAY AD SAID: Vintage 13 IN. Molded Beer Stein with 'Baby Jesus' .   Thorens Music (box) – Germany.
  So I'm guessing  his birthday is the first day of Ocktobertfest!!

---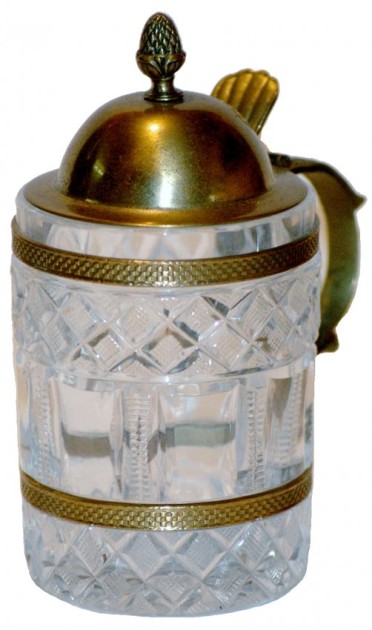 Baccarat  – Blown Cut Glass .25L. Detailed cut pattern with brass handle, straps and lid. [FWTD]
---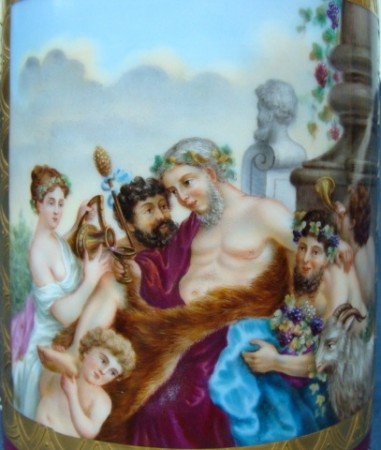 Bacchus / Baccus – The God of wine. In their book Page and Ingpen write of the God Bacchus: "Originally known as 'Dionysus,' he is the god who brought the double-edged gift of wine and its festivals to mankind. He is one of the many sons of Zeus born to mortal women. As a baby he had narrow escapes from death because of the jealousy of Zeus' wife Hera. Zeus protected him by giving him into the care of the nymphs of Mount Nysa where he enjoyed a carefree youth. The nymphs made him their brother and the Muses taught him to sing and dance, and old Silenus (TO HIS LEFT IN PHOTO ABOVE) inspired him with a love of glory. Bacchus was determined that men should accept his gift, even when he had to force it upon them. His mission had unfortunate effects on his character. The young man who had delighted in the glory of wine developed into a violent and surly rascal, accompanied by a crowd of centaurs, satyrs, nymphs, and Bacchanals who capered around him as he rode on his wild ass. Bacchus still wanders the world with his boozy mob of followers. They sing, caper, and hiccup their way from one community to another, supporting the gross form of Bacchus as he waves his antique wine cup and croaks some ancient drinking song. (Steve's kind of guy!) Shown above▲:  Bacchus as depicted on a hand painted Royal Vienna porcelain stein. For info on the Dresden's Green Vault's Ivory "Drunken Bacchus" stein,  please see this web site's tab:  http://www.steveonsteins.com/silver
---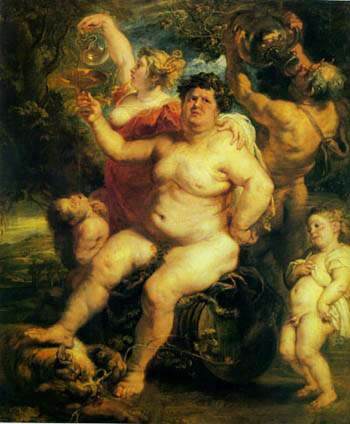 Bacchus – "Peter Paul Rubens" at the Heritage Museum. – Created in the last years of Rubens' life, this painting amazes the viewer with its virtuosity of style and unusual interpretation of the image of the god of wine and merriment. Bacchus is depicted as a grossly obese man, surrounded by a satyr, a maenad and putti. The rich palette, in which all the colours blend into one golden stream, and the natural, sketchy technique, enabled the artist to create a genuine sense of debauchery, or bacchanalia. This is a paean to human flesh. According to Rubens' nephew, Philip, this was not a commissioned work, and the artist kept it in his studio till the end of his life.
---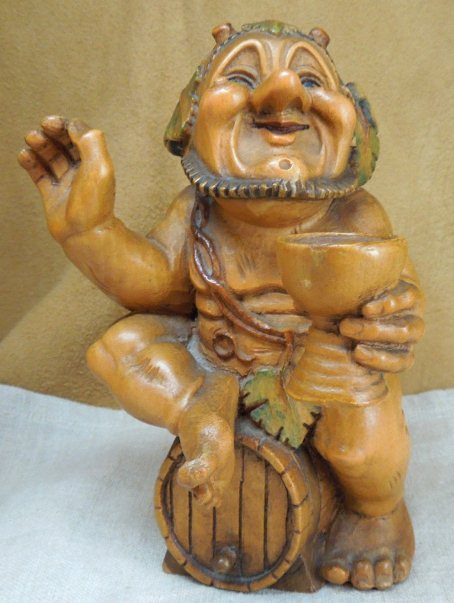 A carved wooden "Silenus" (without his usual animal legs, BUT see his horn stubs!); called "Bacchus" incorrectly. German. Circa 1950.
---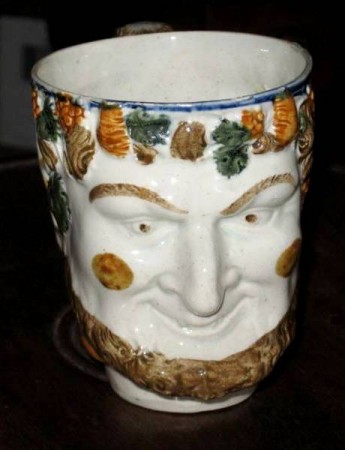 Bacchus mug  – Usually a Satyr mug (whose name was Silenus and a drinking buddy of Bacchus) and mostly English as in this example. Bacchus never had pointed ears! These are also called "Pan mugs", as he  was also a Satyr! See "Satyr mug" in the compendium. See also: "Dionysus jug."
---

Antique chalk ware / plaster figure of a young Bacchus.
---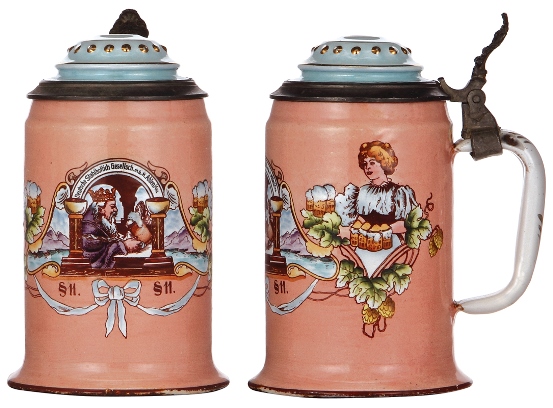 BAKED Enameled stein, 1.0L, metal, Gambrinus  TSACO
---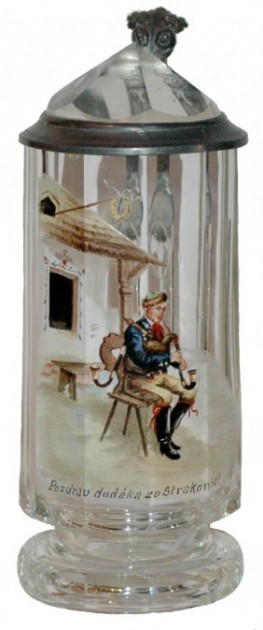 Bag piper – Of all the major musical instrument players there are depicted on beer steins, the Bag piper I think is the scarcest.
Above ▲. Half liter Germany. Ca. 1890, blown clear glass with so called "prism lid" = another Misnomer= see page: http://www.steveonsteins.com/beer-stein-dictionary-1
Below ▼. One liter German fayence beer stein. Bayreuth. Circa 1790. [FWTD]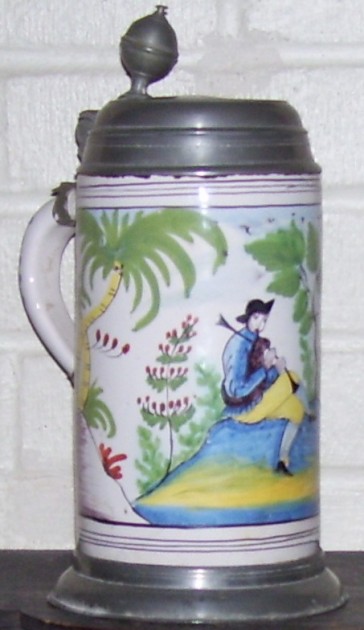 ---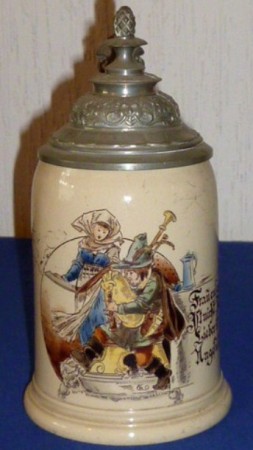 Villeroy & Boch Mettlach PUG stein. No.622.
▲ Porcelain, 16.3  inch  ht. [!] Unmarked but most likely Dresden, handpainted, figural floral wreath, man playing bagpipe for a woman, with a set-on lid, and a drinking putti as the finial, Figural  handle. (Not cheap my friends!)  [TSACO]
---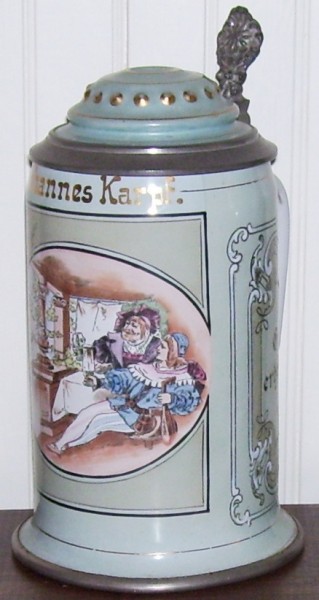 Baked enamel steins – [the other name for kitchen pots/ pans is "spatter -ware., (BECAUSE  THE ORIGINAL EARLY DESIGNS LOOKED LIKE SOMEONE SPLATTERED PAINT ON THE SURFACE.) "  These are PUGs on a totally baked enameled tin body, which are made like a thermos, with the inside cup coming down into the body, and no closed base so the air can circulate around it. (The one shown above  had a full metal base added later.
Both▲ & ▼, German, one liter. Circa 1900. There are other examples of steins done in baked enameled ware  that can be found from at least one different maker.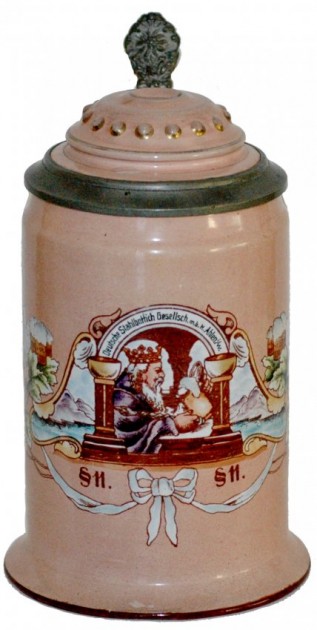 ---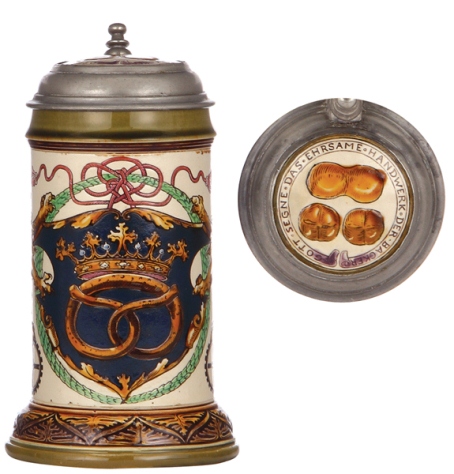 Baker's  Occupational stein  and symbol –  The most often used symbol is "The pretzel."as Shown above ▲ : V & B Mettlach stein, .5L, 2719.   Occupational for a baker.  Part of a series and very collectable.  Also see "Pretzel "  in this sIte's compendium.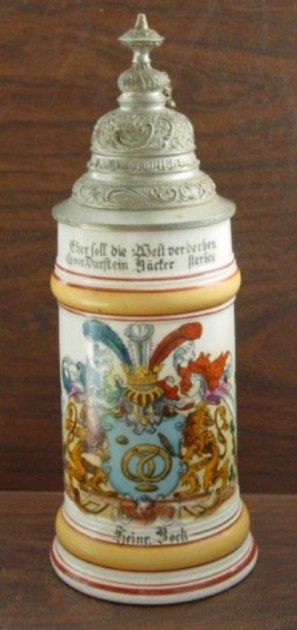 ▲ Above: A typical collectable "Occupational Porcelain Beer Stein, .5 liter with PUG main scene of baker activities. Style of about 1900-1916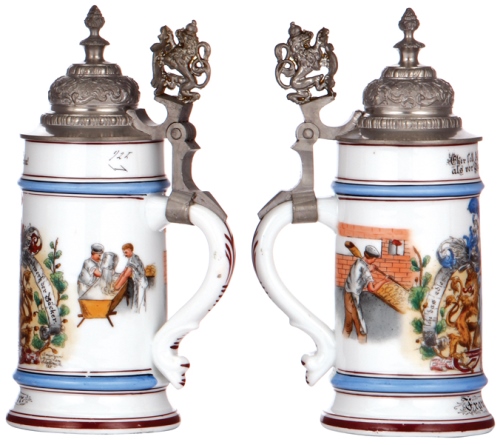 ▲  Side scenes from a Baker's Occupational  stein. The style is from about 1898.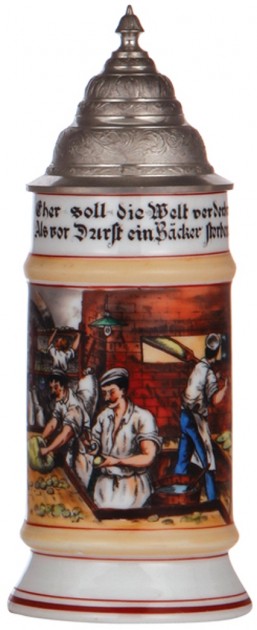 Another with the style  from about 1898.
---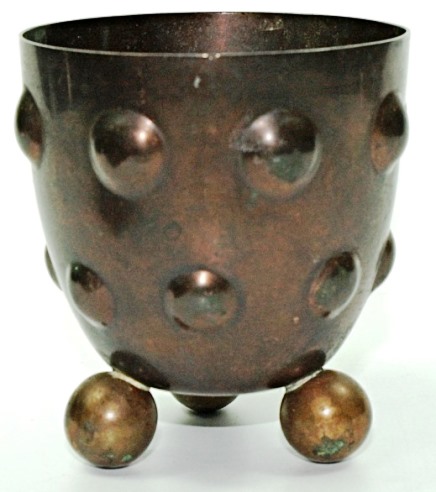 Ball feet – self explanatory.  Beakers and steins with ball feet can be found to have been made in Scandinavia, the British Isles  and the Baltic states as far back as the  1500's. Shown a 3 inch tall beaker of unshined copper  not marked but probably Scandinavia. Ca. middle 1800's.
---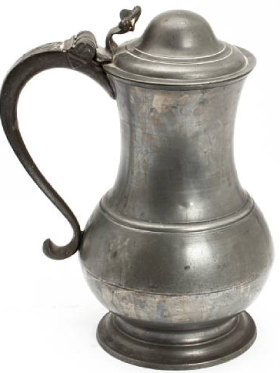 Baluster — A shape / form  of old English measures and steins  and some Bavarian pewter steins, in which the curved outline broadens above the foot and narrows towards the neck. Also a popular shape for early earthenware vessels.  I honestly don't know where this one stein was made. It has attributes of both Scandinavian and English vessels. Anyone want to help me / us out?  Email me please:  t[email protected]
Also see "Birnkrug" for a similar shape, different country, and a different name.
---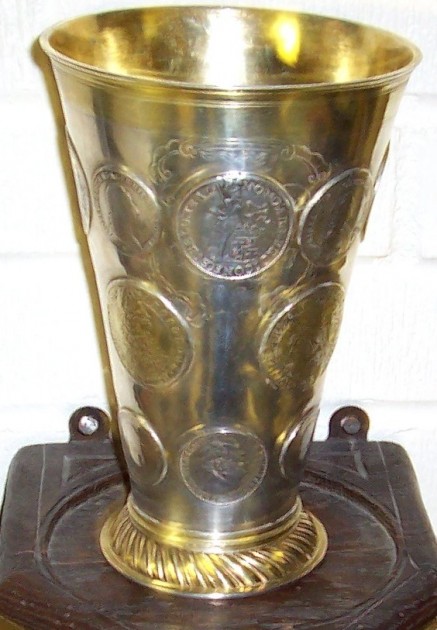 Baltic States (The)  – Not considered the exact same as Scandinavian, especially to the residents . The present countries of Lithuania, Latvia, and Estonia; all of which border the Baltic Sea. (Kurland was absorbed.) They are famous for their silver drinking vessels when they were part of greater  (old) Russia (not the USSR.)  Shown: The typical form of silver beaker from Estonia, Dated 1776.  A special feature on this large beaker is that four different generations of coins have been added. [FWTD]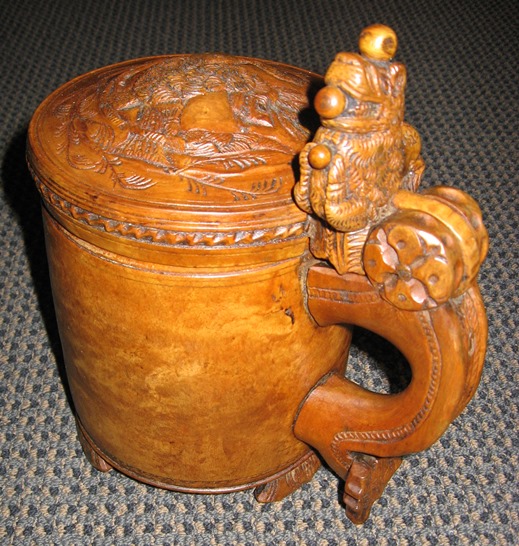 An extremely well done carved wooden stein  ca. 1700's Scandinavian and not "Baltic States" due to the lion finial and the carved balls [2 of them – which is very unusual!
---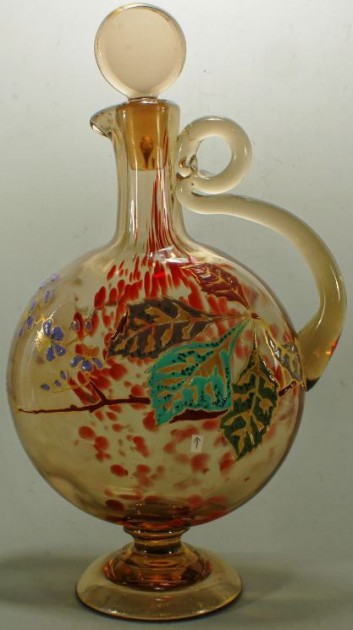 Banjo Flask —  A newer term for a "moon flask."   Hand enameled, looks somewhat like a banjo [?]  c.1880-1890
---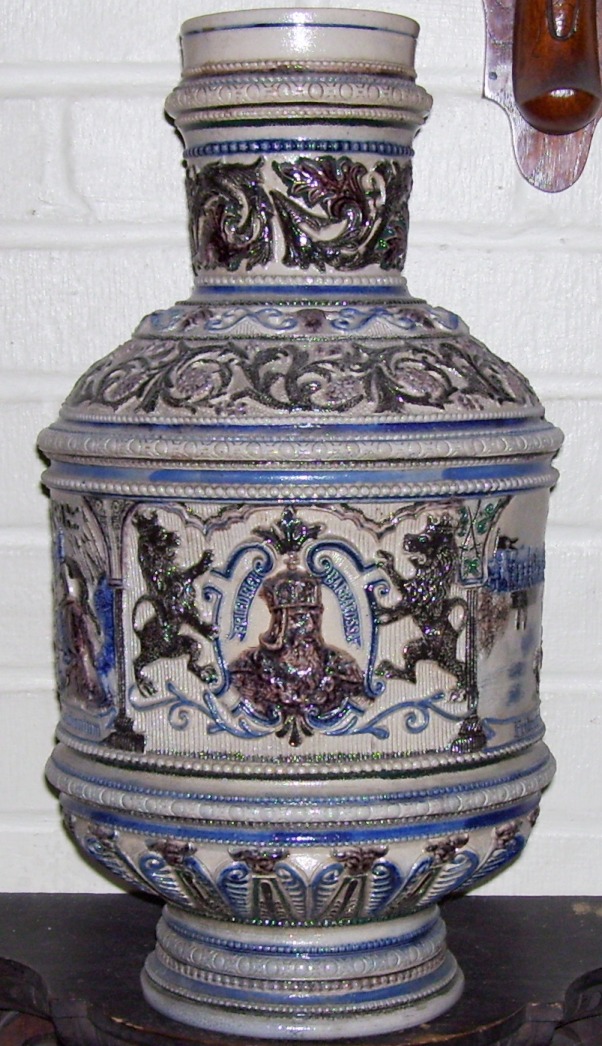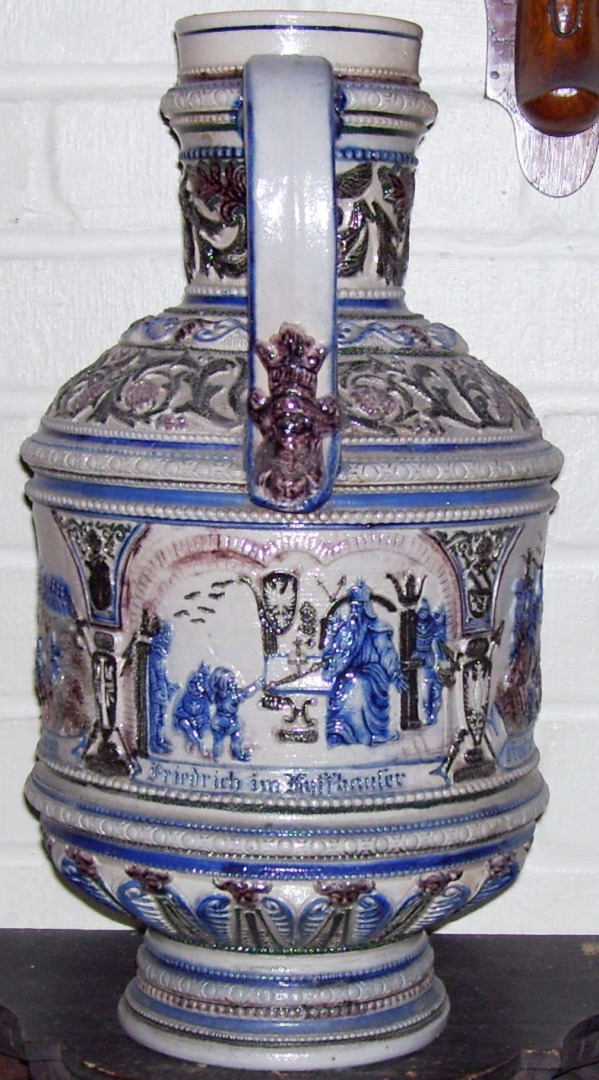 Barbarossa, Kaiser Frederick, ("The Red Beard Emperor Frederick")   Shown ▲: A massive 5 (five) liter Westerwald stoneware relief serving pitcher. (Blue and grey saltglazed) Circa 1885. The rear scene shows the Chief Heinzelmänchen  (dwarf) "Alberich", and others dwarfs that are to protect Barbarossa while living underground in the mountain, until he is needed by the Germans once again. That fable sounds a lot  like some other dead guy,  doesn't it?   [FWTD]
---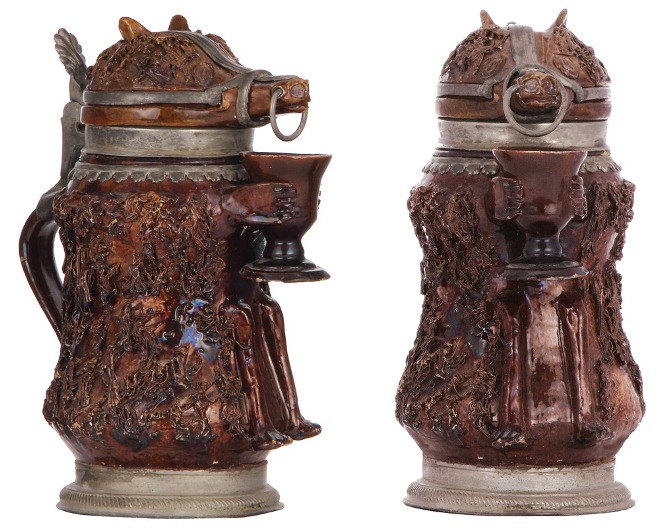 Bärenkrug,  (Bear stein) – A character stein well worth owning. Extremely rare now-a-days!. 9. in.  ht., c.1700, Bunzlau, Sächsischer  .[tsaco]
---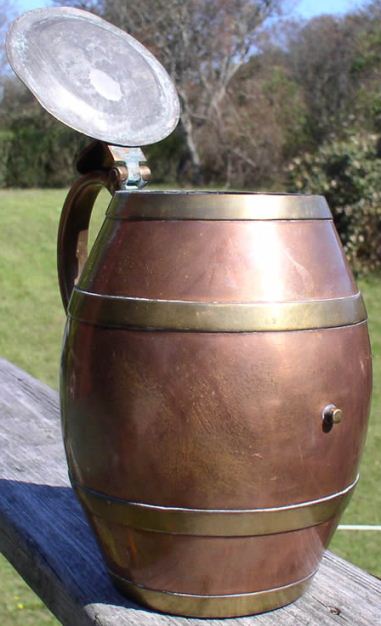 Barrel steins / Keg steins – As imagined.  Shown: A Russian made one liter copper barrel with brass, with bung hole (unusual). With a pre-revolution mark.  A new page devoted to these coming in early 2013 . Well it wasn't early but it is here now -=July 2013.
See: http://www.steveonsteins.com/roll-out-the-barrel-well-have-a-barrel-of-fun
---
Bartsmanns krug –  SEE Also: Bellarmine   An antique mostly Dutch made, stoneware jug with a bearded face on the neck. They were produced and exported for many years and come in all sorts of sizes. The custom of portraying a "Bartmann" character face on serving vessels was obviously enjoyed by other countries.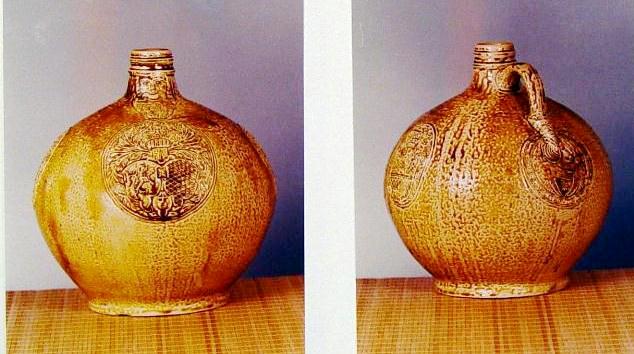 Shown above _ a newer  Bartmanns-Krug (jug,) made by Wick-Werke (Westerwald). Dates about 1950. 13.5 inches large! One of the nicest reproductions available I think.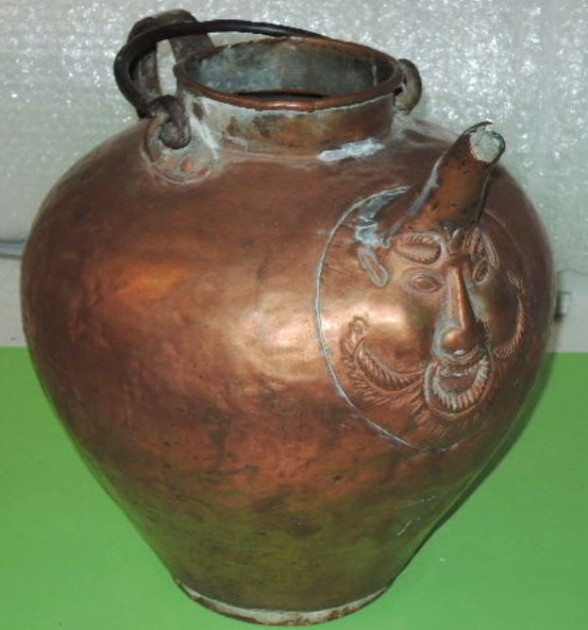 A copper beer jug with Bartmann mask in relief, very rare and very expensive (if not  – it would have been in S M & T  in 2013!!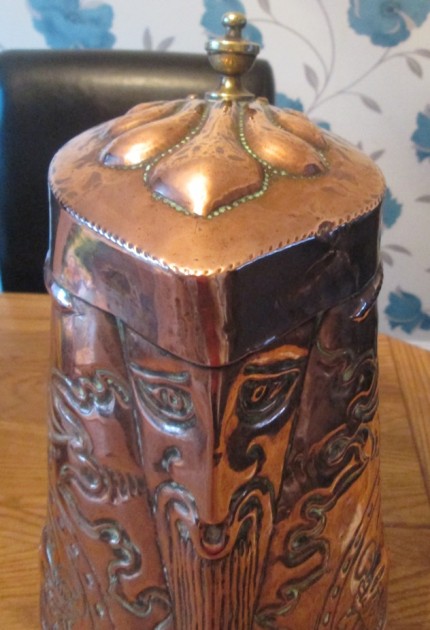 A stylized Bartman spout on a Bohemian copper beer server from the late 1600's, which indicates this was a popular characteristic that far back all over Europe, not just in Germany. [FWTD]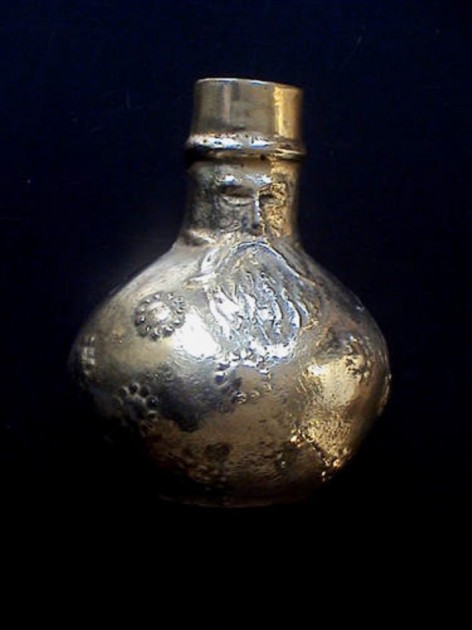 Bartmann  lip on a 5 inch tall bronze  schnapps or brandy mini -server  [FWTD]
To see the history behind these face spouts see "Bellarmine '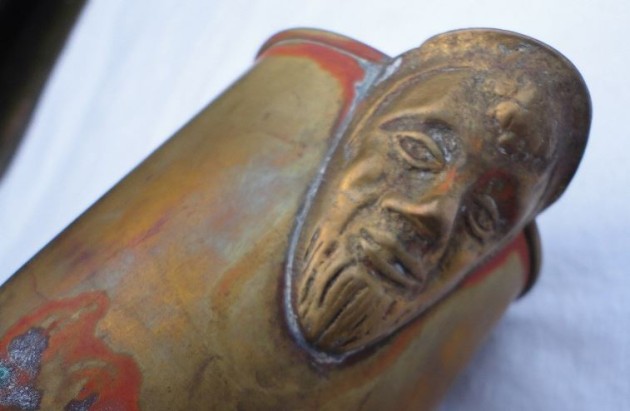 ---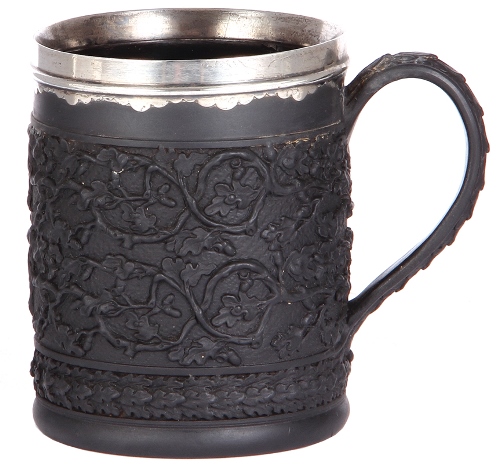 ▲Basalt steins or mug – – If it were real, then it would be a  super scarce piece – in fact I have never never seen a real one !!  This ▲  is a Wedgewood ceramic "Basalt"-mug, 3.7 in ht.-marked-"Wedgewood 2."  Ca.  late-1700s,   with a silver rim.
---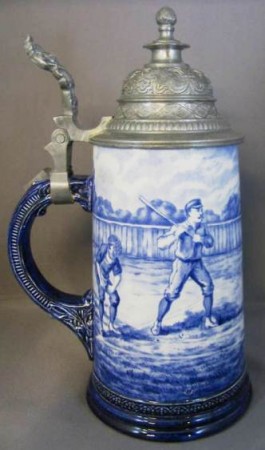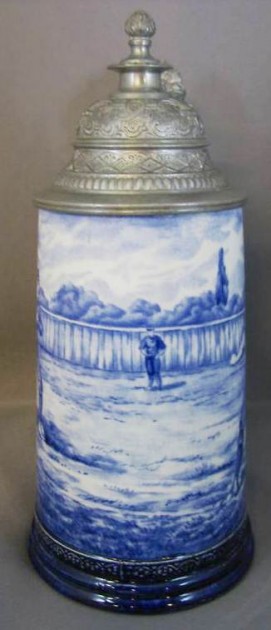 Baseball steins – Baseball was not a know sport in Germany until after the end of WWII. Therefore 99% of any old American sports steins were made for export. Here's a nice one looks like Lenox but it is a .5 liter German  porcelain,  marked Royal Bonn, no lithophane.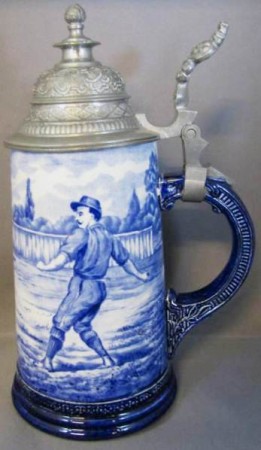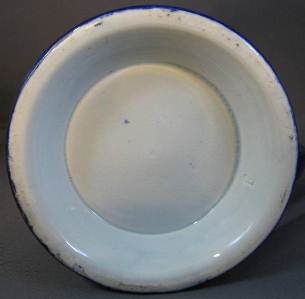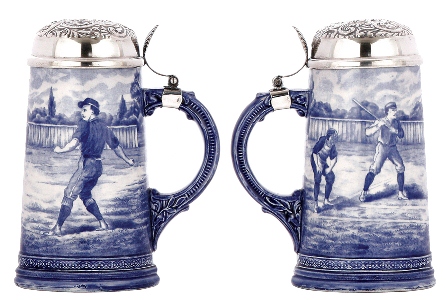 Same .5 liter, Royal Bonn Baseball scene but with a  silver lid.  [TSACO] See: http://www.steinmarks.co.uk/pages/pv.asp?p=stein148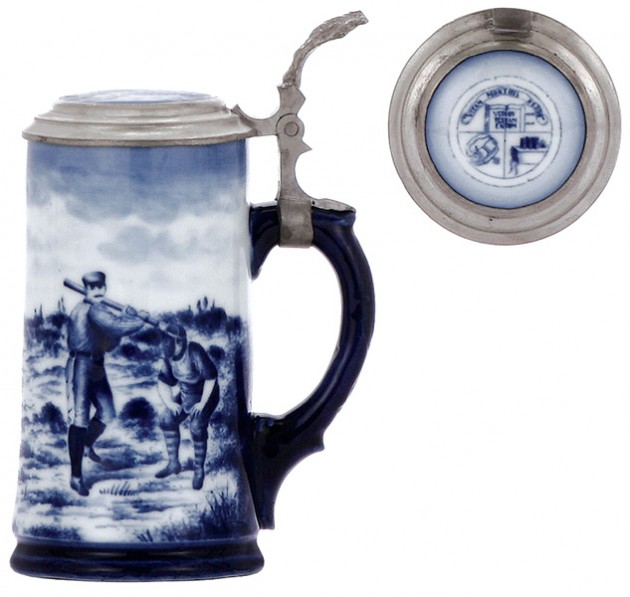 ▲ Above: .5 liter porcelain, a nice lid, Marked "Delft," by Swaine & Co.
---
Base Metal — An alloy or metal of comparatively low value to which a coating or plating is normally applied.
---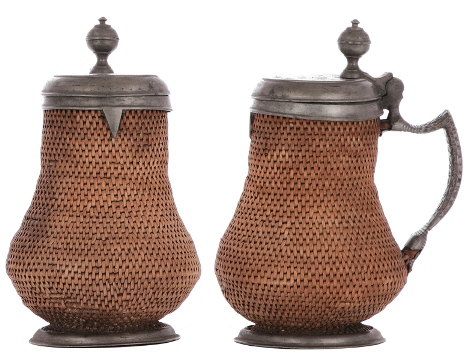 Basket weaved steins – See article, this web site: http://www.steveonsteins.com/guest-articles-on-beer-steins-etc-new-8-24-10,  [tsaco]
---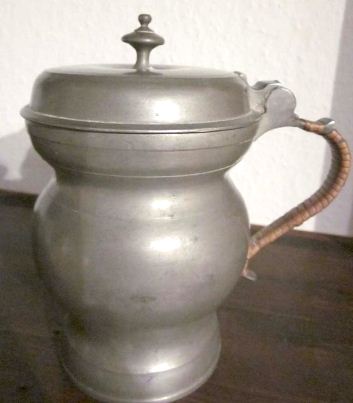 Bauch Krug – A  large bellied stein.  ▲One of German pewter, 6.6 inches. Ca. 1850. Also see "Baluster" above and "Birnkrug" below.
---
BAUER POTTERY LOS ANGELES . RINGWARE  JUG- – COBALT BLUE RINGWARE  SELF EXPLANATORY – A COPPER COVERED BEER SERVER
---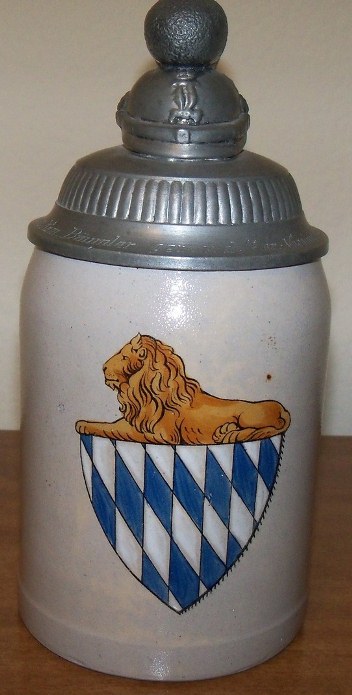 Bavarian Coat of Arms on steins  –  ▲ A modified version of the official arms; these are based on the Wittlebach's  (the leading family in Bavaria at the time of The Arms acceptance as the royal family line)  shown on  a .5 liter Westerwald stoneware, with a "Caterpillar" helmet. See: C in Compendium.
---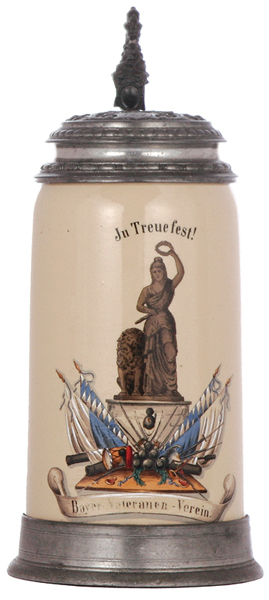 (The) "Bavaria"  statue – Steins showing , or about the famous monument in Munich. Because of its size the statue had to be produced in several parts; it is 18.52 metres high and weighs about 87.36 tons. It rests on a stone base which is 8.92 meters high. ▲ A 1 liter V & B Mettlach PUG and enameled stein, No. 1526, made for a War veteran's verein. [tsaco]
---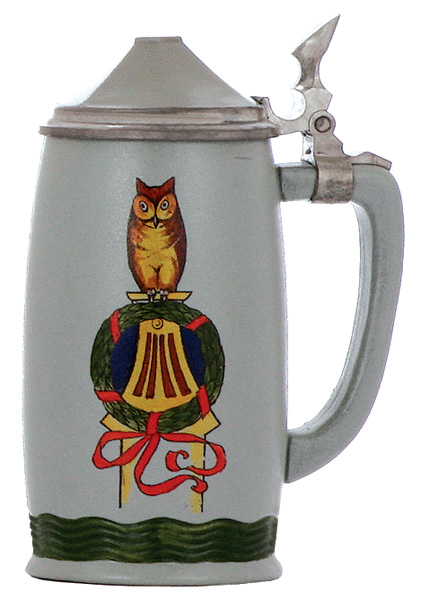 Bavaria Steins – Made for  V & B Mettlach. A series of grey colored stoneware, all with the same basic design.  
▲ Mettlach stein, .5L, 419(3078), "Bavaria."   [TSACO] 
---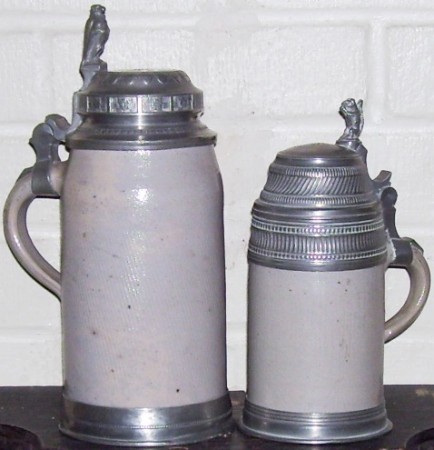 "Bavarian" style stone ware steins
– Circa 1820-1850: Plain gray with combed bodies; 1/2 and 1 liter steins often with an over abundance of pewter. The foot rings sometimes extend 30% or more up the body some have pewter coming  down from the top.) Excellent pewter work! [Both FWTD]  Source: See John McGregor's excellent web page:  http://www.thepatriotexchange.com/pss/wester.htm
---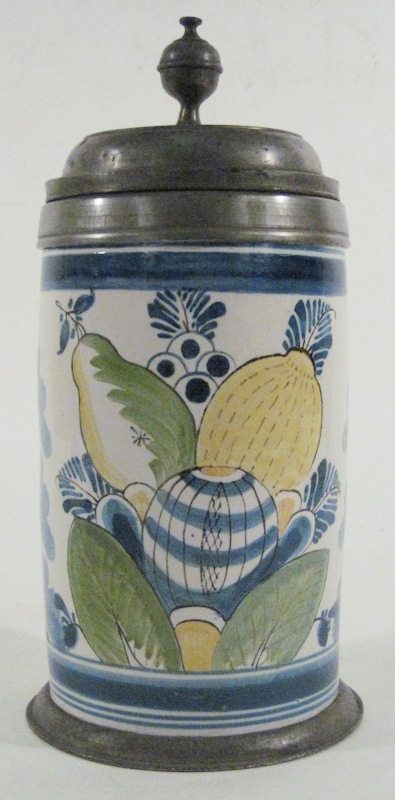 Bayreuth, 1714-1835 – City or town of major fayence stein production. [Both above  FWTD] For more info, see: http://www.thepatriotexchange.com/pss/hisfai.htm and also: http://www.steveonsteins.com/guest-writers-articles-8-identifing-faience-steins-part-1-comparisons-of-north-german-south-german-by-william-hamer-new-1-8-12
---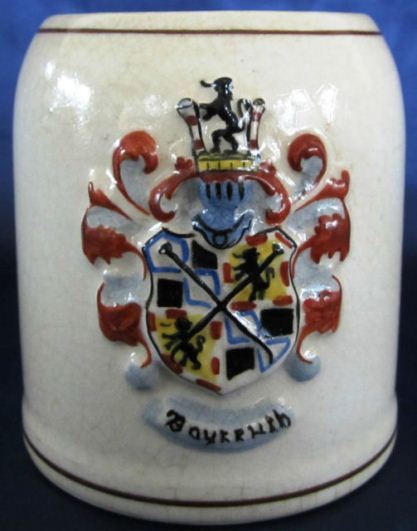 Bayreuth, Coat of arms – Shown: 5 liter relief porcelain souvenir mug by Seiler.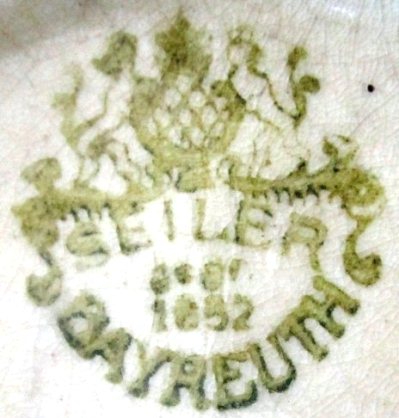 SEILER'S MARK –  INK
---
"Beak" or "Beaked" lidded steins – Lids that look like a bird's beak protruding out over the body. These were primarily made  and used in Bavaria out of wood. Several others have been seen made in pottery by the Zsolnay (Pecs) firm in Hungary. See more under Tab: "But will it float. Part 2" on this web site.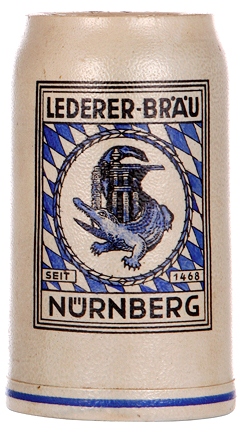 ▲ Above: "beaked stein" shown on a one liter brewery mug from Nurnberg, Bavaria.
---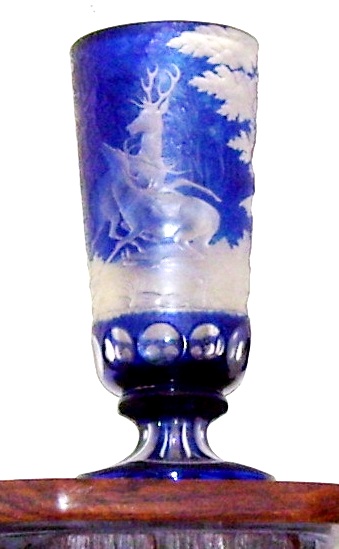 Beaker – Usually a smaller vessels,  mostly with slanted sides, less or about  1/2 liter used for wine and beer. They are often mistaken and called a "vase" at auction houses. If it has prunts on it it definitely is a beaker. There is lots of disagreement on what to call a beaker that has a stem, Some like 'goblet', I prefer calling it what it is =  "a stemmed beaker."
Shown above  ▲: Beaker, with stem, cased glass, German, C. 1840- 60, most probably made by Josephinenhütte. [FWTD] Beakers are perhaps the second most popular drinking  vessel in Europe next to the 'mug."  They were certainly easier to make in antiquity.
For many "very unusual" mugs please see: [1]  http://www.steveonsteins.com/a-few-unusual-beer-mugs [2]  http://www.steveonsteins.com/puzzle-mugsj-jugs-and-steins-novelty-mugs [3]  http://www.steveonsteins.com/kinder-steins-page-1-13rd-of-article-text-only
For a couple of imperial (Royal) beakers please see:  http://www.steveonsteins.com/two-european-imperial-beakers-11-1-x
For beakers that look like small windmills see:   http://www.steveonsteins.com/windmill-cups-these-are-wager-cups-new-8-25-2012
ALSO SEE  'Baltic States'  and  'Ball Feet' on this page for two popular styles.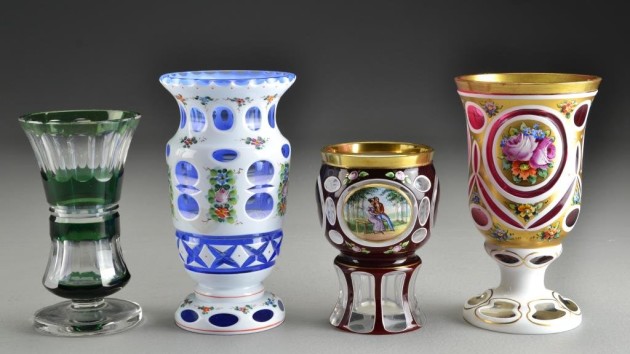 ▲ Above: All four of these were called vases at a Midwestern US  auction in early 2014  it is obvious to me the two on the left are vases and the two on the right are beakers! (Because of their shape and the right two having a lip rim!)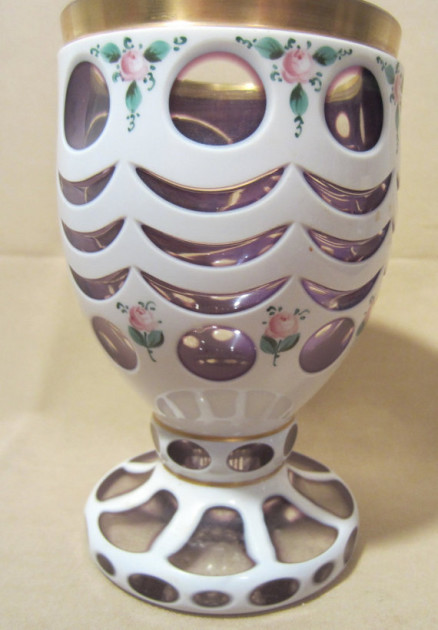 ▲ Above: As on the far right, in the previous photo above, this is Bohemian, blown glass; stained, cased  and wheel cut glass with delicate enameling. As these are so popular with the ladies of the world, they are still making these but their quality is not as good as this one;. Circa about 1900's I would think. Perhaps Josepheninhütte glass.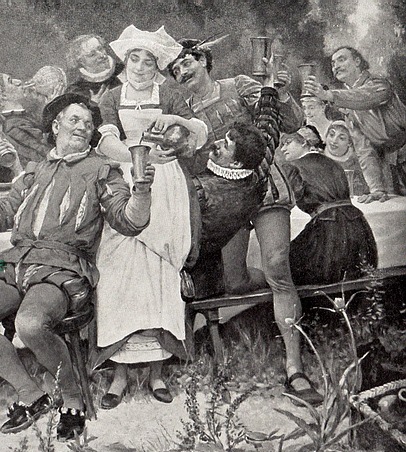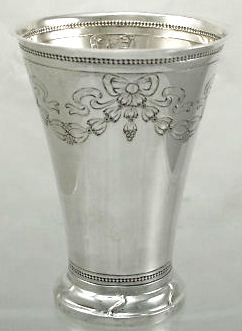 Is this a beaker or a vase? It is a Scandinsavisn silver beaker.
For more defining examples please see: "Vase" (versus beakers and flutes) in this site's Compendium.
---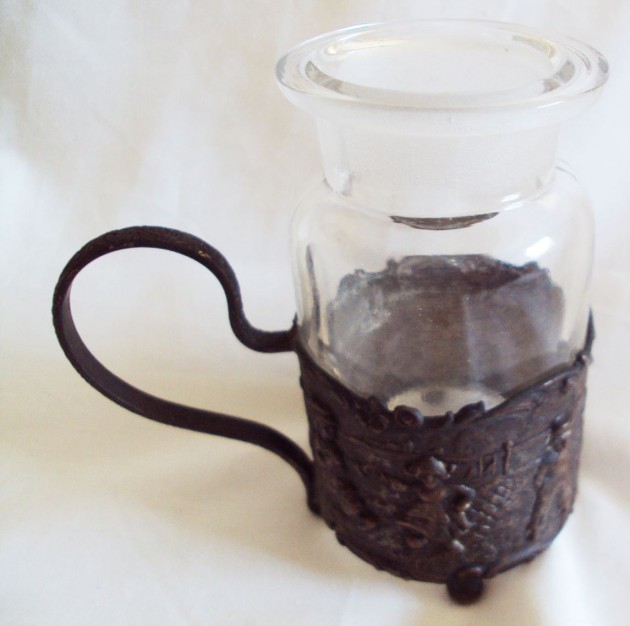 Beaker, Dutch (or glass holder) silver plated and stamped, or pressed  similar to some of the cheaper Russian ones.
---
CR- BEAR, BEGGING – Stoneware stein, 9.1ht., Bunzlau, Sächsischer Bärenkrug, c.MID 1600'S , brown glaze, pewter mounts including footring, VERY rare, TSACO.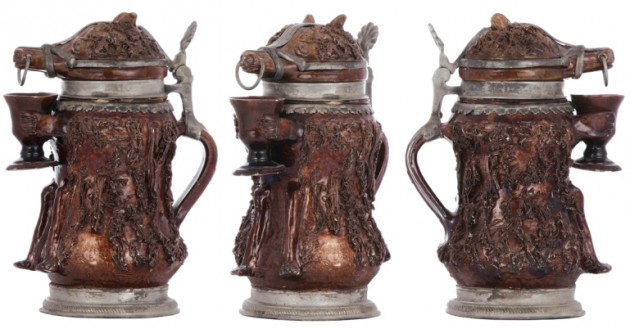 Bear stein (stoneware), Barenkrug –  One of the most sought after older Character steins! Expensive.
9.1″ ht., Bunzlau. Brown glaze, pewter mounts including footring, rare, Circa 1700.  While this is the same stein as shown above▲, there are several different versions out there (mostly) in German Museums.  [tsaco]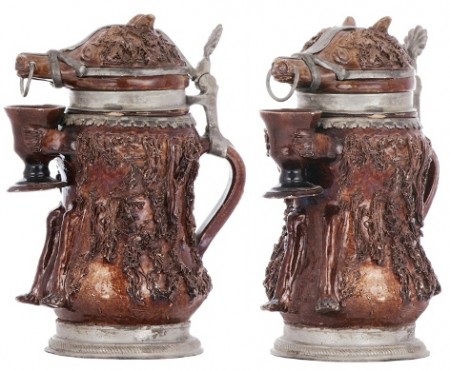 ---
Beer boot – See:"Boot" below.  Also see: http://www.steveonsteins.com/the-man-who-can-not-drink-his-boot-full-of-beer-is-not-a-true-bavarian-new-10-13-11
---
Beer bottle (German, pottery )- Not really a bottle but a canister with flip up top. Many of these were made for export to other countries. V & B Mettlach made several brands for Imperial Russian beers.
CR- BEER BOTTLE [1] – GERMAN STYLE OLD EXPORT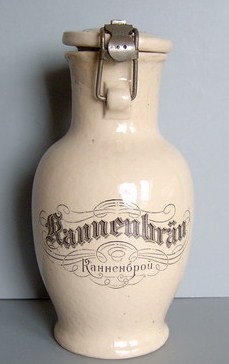 ---
Beer bottle – old style/ "snap cap" or "snap top"– This is another of the forms of the old German beer bottles. Ca. 1870 on. Of course they could be redeemed and reused. 
CR- BEER bottle [2] CERAMIC   MADE BY V&B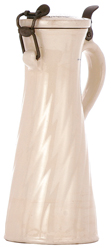 ---
Beer bowl – See "Drinking Bowl" in this compendium
.
---
Beer garden –A place, usually in the back yard where brewers sold their beer to the locals. Shown: Lone Star Brewery's German Beer Garden in Texas  Circa 1960. Most large breweries in the USA used to have fairly large beer stein collections, and have since sold them off. Reason: mostly that they had to pay an employee to maintain the room and watch for theft. The stein collection at this brewery, "Lone Star," in  San Antonio, Texas went to just two SCI members years ago at a private sale! Those collections of the two men have since been dispersed to the winds also. FWTD managed to get two of the nicer pewter pieces many years later.
Remember collectors, we just have these things "on loan!"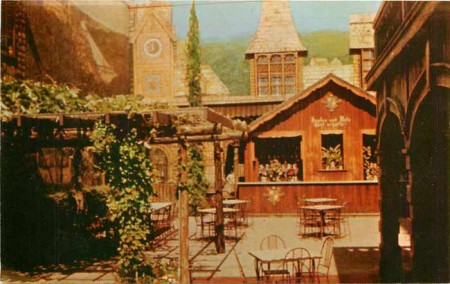 ---
CR- BEER REFRESHER -VERY  UNUSUASL , WITH THE KING OF BEERS(GAMBRINUS) AS SUBJECT  ASKING EUR 480  [HA] JAN 2015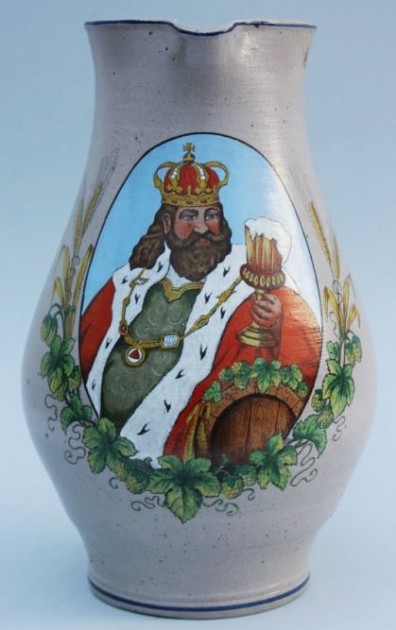 ---
Beer Stein –  Called a tankard almost everywhere in the world but the USA; a misnomer that will never go away. 
Below are the names of the parts of the Lid.   Illustration compliments of David Harr.
.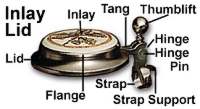 ---
Beer stein bank –A stein "go with." Self explanatory. Shown▲: A heavy tin, not pewter example. Circa 1910-30.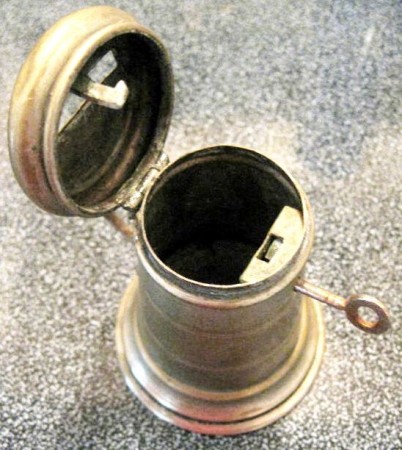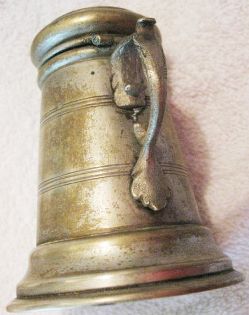 ---
Beer Stein College – A lose knit (no dues and only two rules) organization started in 1994 by Ron Fox, David Harr, Jim Sauer, and Steve Smith . The idea was for like minded collectors to get together for 2 or so days and talk and learn about many types  of steins, as the group felt that wasn't happening at the SCI Convention level. (And still isn't!) Go to: http://www.steincollege.com/ Shown above: One of the fabulous displays put on by David Harr at a Beer Stein College. He brought all those from his house for this one time display.
---
BeerStein game [the]- Actual photo of game  on Coney Island with real German steins – just  throw a fairly large  plate with a hole over them to win.- Notice some have their lids open!!  (Harder to hit ).Early 1900's. Just imagine how many are in collection around the USA now !!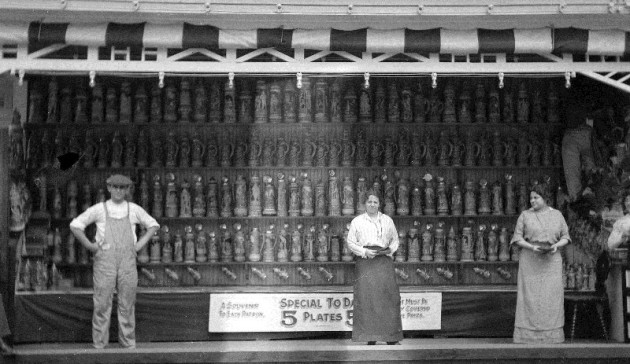 ---
Beer stein makers –  Please refer to my friend's Chris' web site. Chris Wheeler has done an amazing job in compiling information on most all makers of steins and tankards in Europe. And if your info is not listed  Chris will be more than wiling to help you out with any info he might have.
Go to http://www.steinmarks.co.uk/pages/pv.asp?p=stein1
---
Beer stein marks – See Beer stein makers above.
---
Belgium Brass. –  There are a few newer firms in Belgium that carried on producing copper and bronze work after the famous work of Dinant had come and long gone These firm were mostly started in the time frame of 1900 to The  1940's.   I will list more as I encounter them and have a chance to study the history behind these pieces.
Examples of their brass and copper work:
▼ Maudoux was ocated in Dinant and still trading of its name as shown on its hallmark.  A wine, water or beer server from a more modern day Dinant. (Medieval city renown for it's bronze – brass work )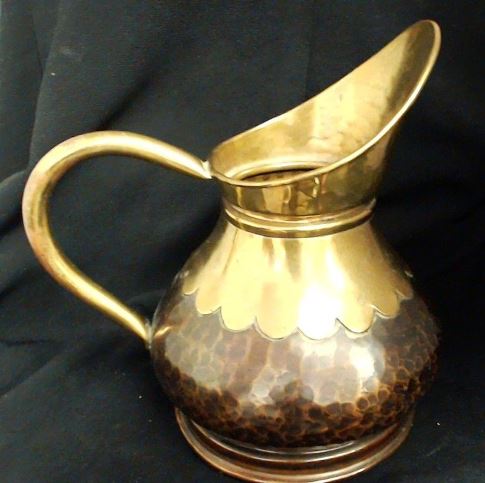 ▼ Mccan Wine pitcher – latter day firm with the "Made in" Designation as part of its hallmark .  A great small,  9 inch tall, wine pitcher with a "Bartmann"  type spout by "Mccan." Much corroded = I bought it as a challenge to clean up, and it was !  [FWTD]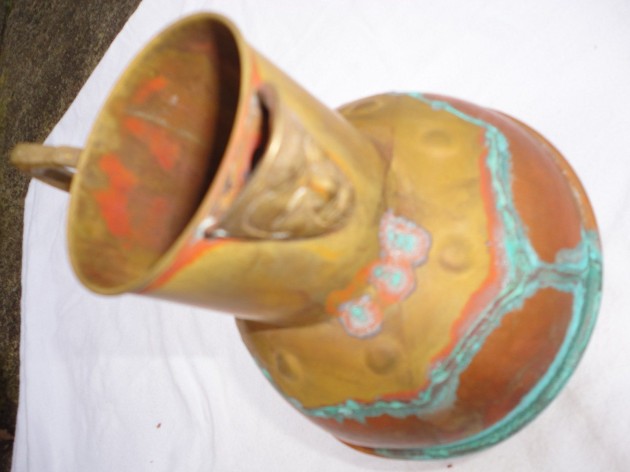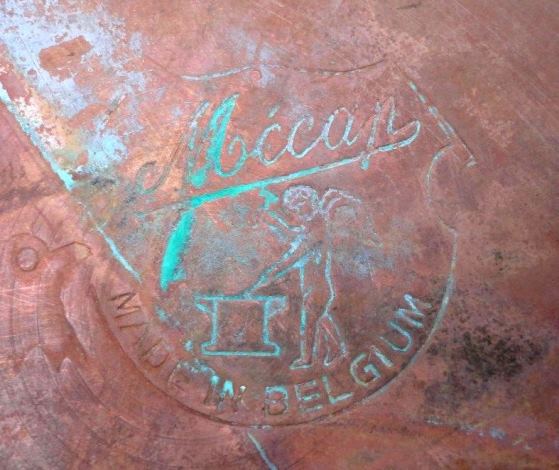 ---
BELL BOTTOM –
▼Glass stein .5L-blown clear wheel engraved "Brunnenplatz-in-Pÿrmont" with matching glass inlaid lid.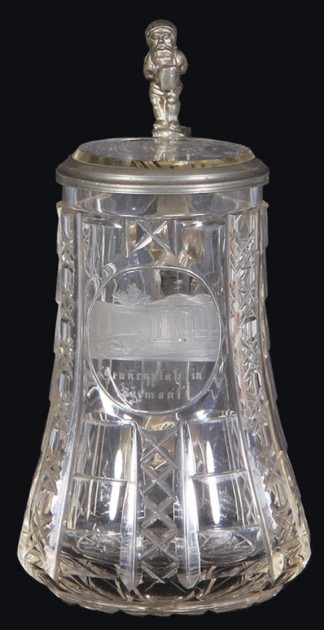 ▼Another hand enameled example.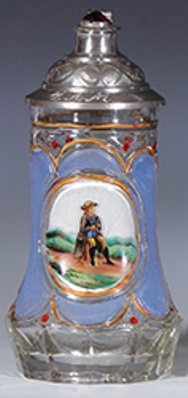 ---
Bellarmine – SEE ALSO: Bartsman /Bartsmannskrug  An antique mostly Dutch made, stoneware jug with a bearded face on the neck. They were produced and exported for many years and come in all sorts of sizes.
 ▼Antique version with applied roundel showing the City of Amsterdam Coat of Arms. Also called Greek Dionysus (Roman Bacchus) jugs. Ca. 1600's.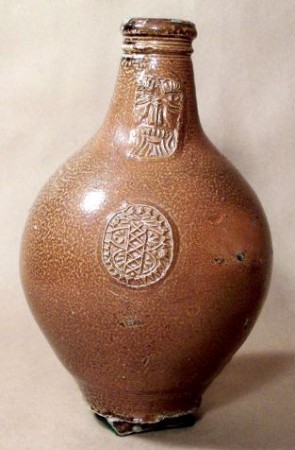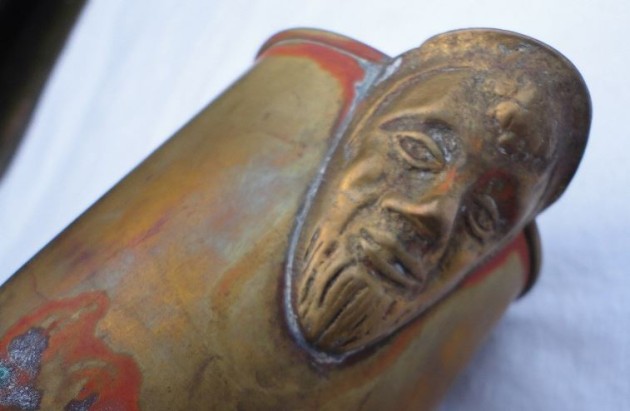 ▼  A 13 inch tall copper wine serving jug. Probably 17th Century. The seller on eBay called it Italian, but given the handle construction it well might be Austrian / Bohemian. I wish I had had the $1,900 [+] asked, to put this old  jug in "FWTD!"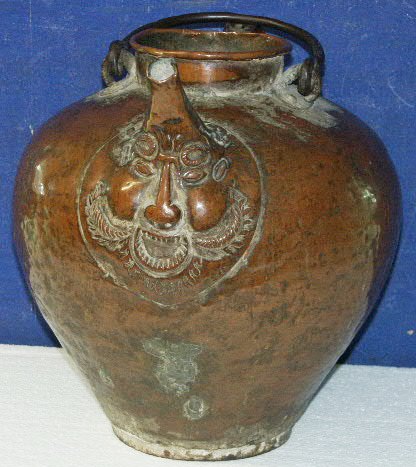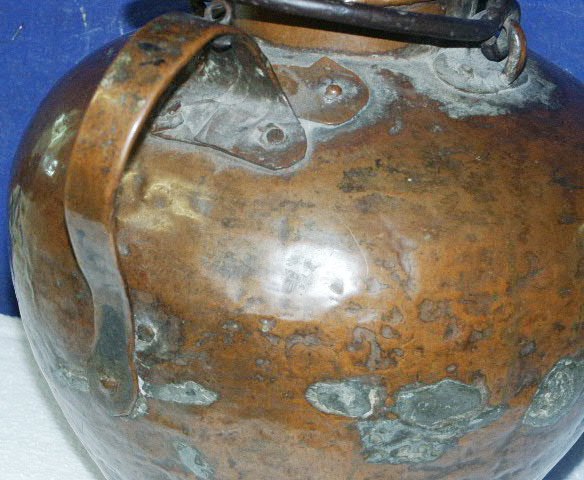 ---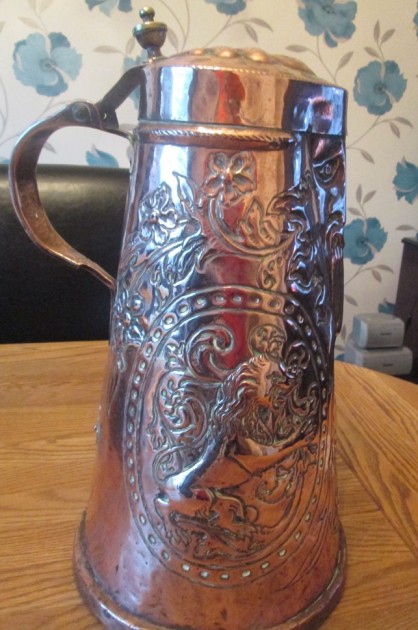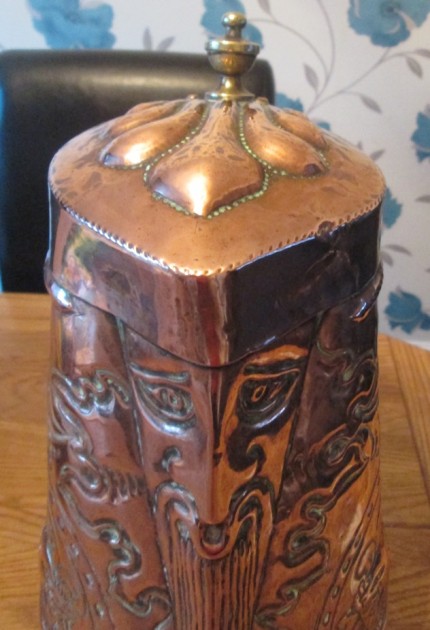 Shown above▲:  "Bartmann" on a 16 inch tall Bohemian copper server,  from the late 1600's . For more info on these large Bohemian copper vessels, see: http://www.steveonsteins.com/copper-stein-bohemian-vs-Bavarian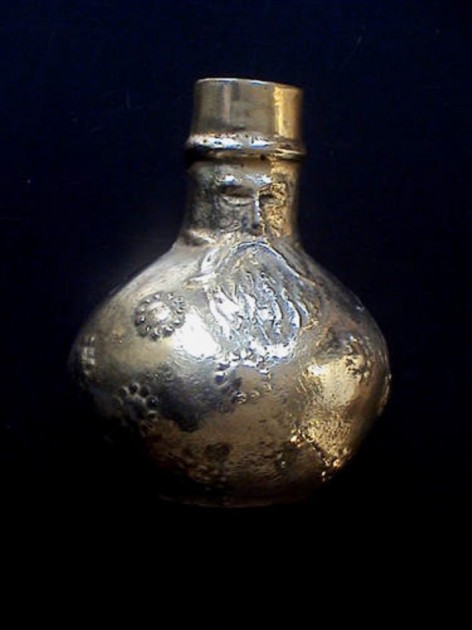 Shown above▲:  Bartmann  lip on a 5 inch tall bronze schnapps or brandy mini-server  [FWTD]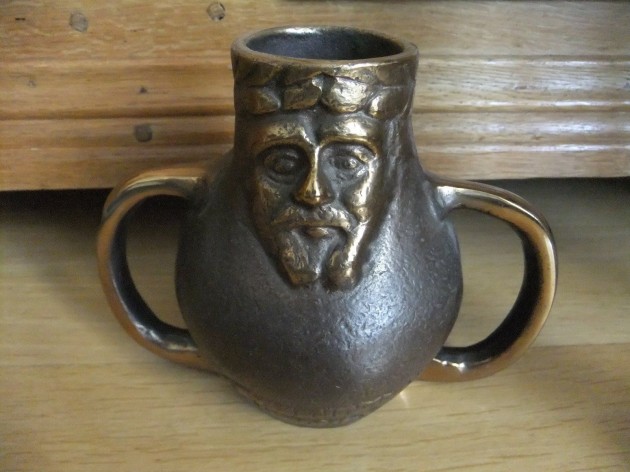 Shown above▲:  Bartmann small brass bronze pass cup [?]  – 6 inches tall. was in Germany and the seller wouldn't ship to USA  or it too   would be here  in FWTD! I think this is "post"  WWII , but cant be certain without my holding it.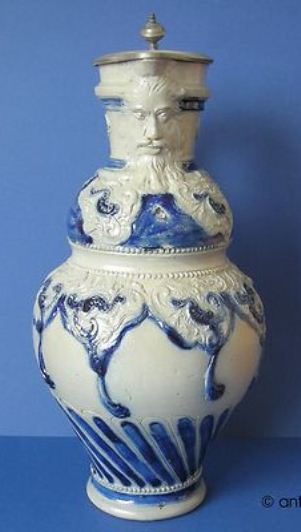 Shown above▲:  A Westerwald version, circa  1750.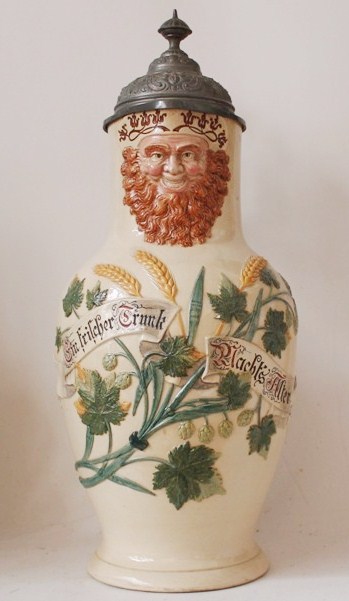 Shown above▲:  Bartmann, by R. Merkelbach #1488, Ca. 1910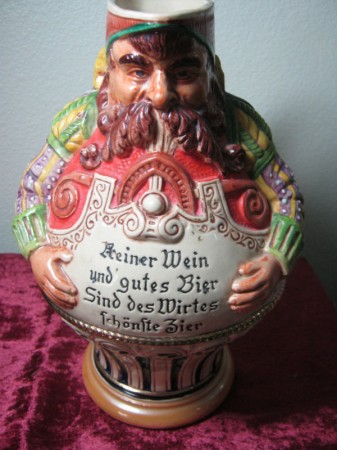 Shown above▲:  A much newer version, now called a "knight" ( Landsknecht) by collectors.  Made by 'Gerz,'  Circa 1950. The idea of a Bartmann face like other aspects in stein making, has really disintegrated in the last few years from that done in the "Golden Age".
---
Beham, Hans Sebald, his dancers:  The original four artwork prints found on lots of  early Raren vessels  (BELOW ▼) and also Westerwald steins and servers.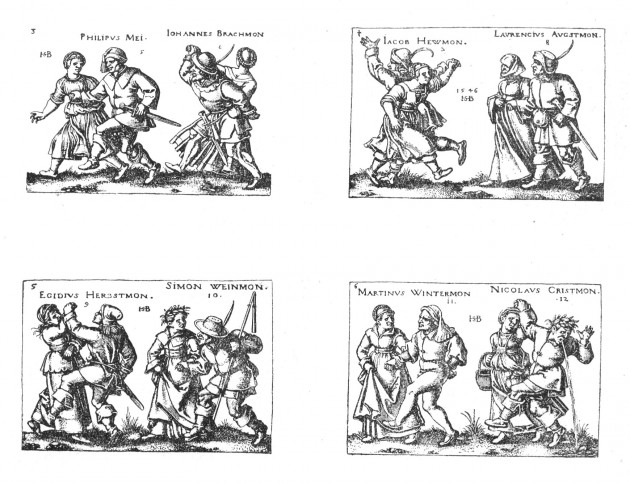 Above▲: A miniature Viennese porcelain enameled beer stein showing a pair of Beham's dancers.
Below ▼: Westerwald steins and servers
 .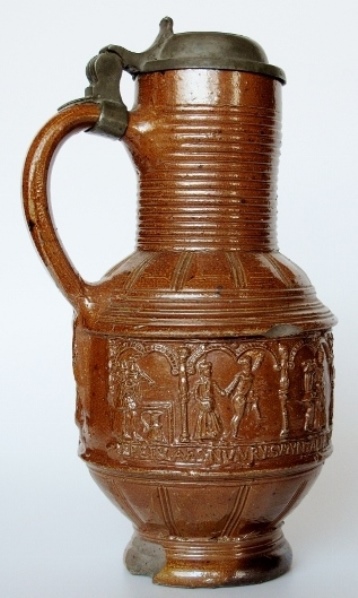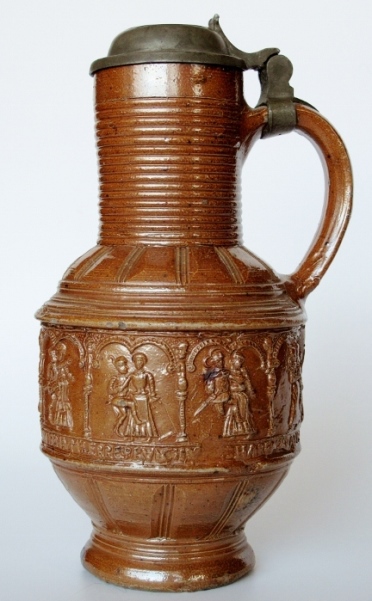 Below ▼:  A majolica  un-lidded example showing Beham's dancers (much copied since the 1600's.)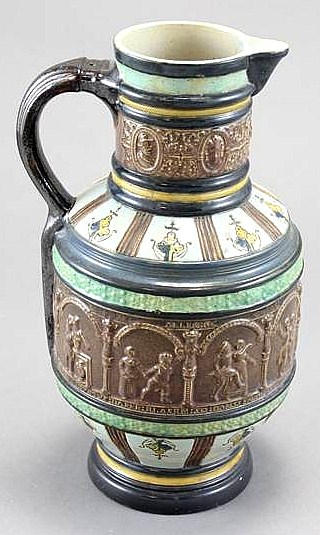 Below: ▼.  This  .5 liter relief shows  just how low the German stein industry has sunk in 300 years or  so years. Can it get any worse?  A very new version by Marzi & Remy,  Westerwald.  The dancers  have been rearranged. = Dumb!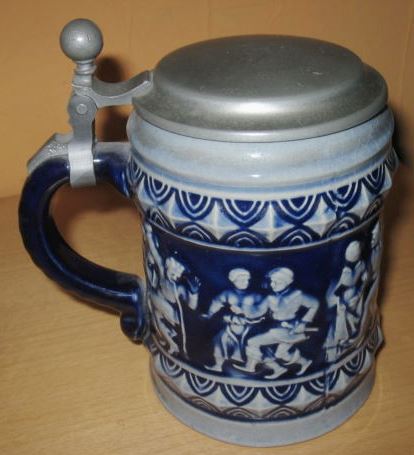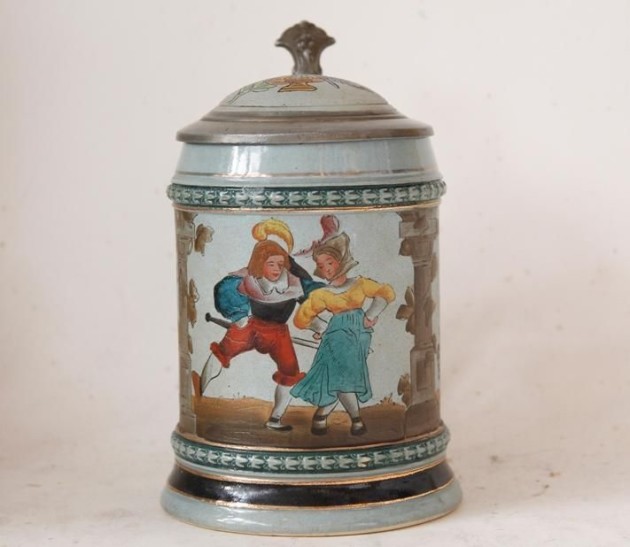 Stein's scene is not shown above but may be a copy of another drawing not shown;  or artistic license , produced by  Gerz , the maker .5 liter C., 1900. Very nice gold line work  can you image painting those  that all day long, and for years ??
---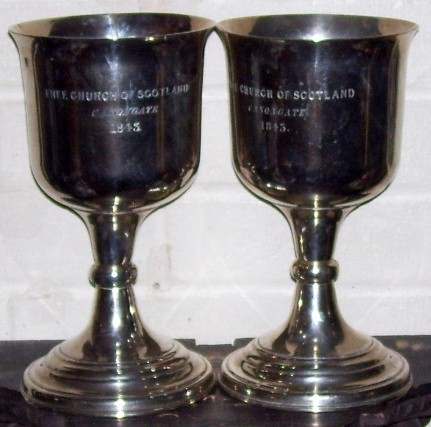 Bell-metal bronze – Bell metal Copper tin alloy with much higher tin content than conventional bronze in order to make it hard and sonorous.  It is too brittle to be used for many other applications.  See:  This site's web page called: The Original "Free Church of Scotland" Bell Metal Bronze Chalices." – http://www.steveonsteins.com/the-free-church-of-scotland-chalices-draft
---
Bell steins:  See "Come hither" stein.
---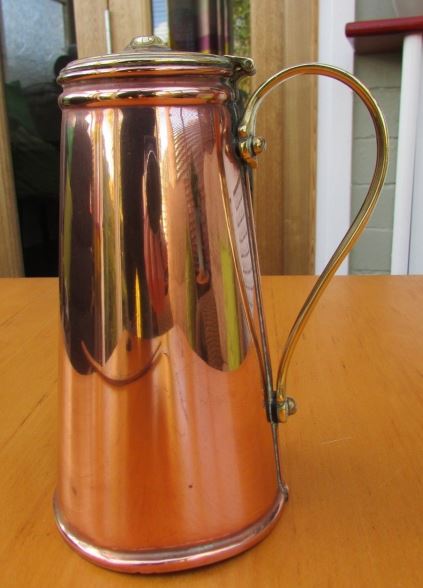 BENSON, COPPER TANKARD WITH BRASS LID & HANDLE   ENGLISH  NICE
---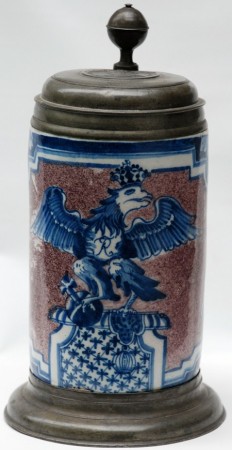 Berlin, 1678-1786 – City or town of major fayence stein production. For more info, see: http://www.thepatriotexchange.com/pss/hisfai.htm
Also see:  http://www.steveonsteins.com/guest-writers-articles-8-identifing-faience-steins-part-1-comparisons-of-north-german-south-german-by-william-hamer-new-1-8-12
---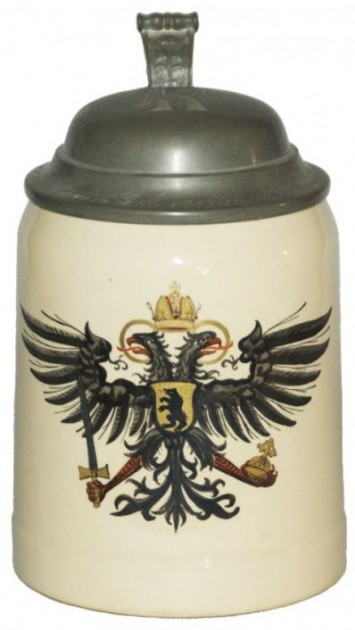 BERLIN BEAr on  imperial arms  shield  different   rfa
---
Berliner Kindl  – Given Munich's success with the Munich Maids / Monks, and beer steins, the city of  Berlin had to come up with something of a drinking logo. However this little dwarf  is not found on many steins. Shown is a small Bronze  stein collection "Go-with."
---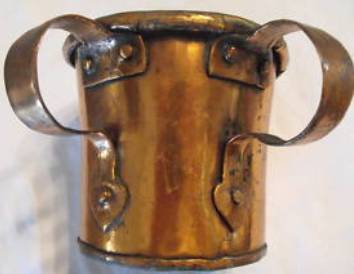 Betrothal goblet / cup / mug  (A pass cup ) – As the parish priest or pastor was hardly ever available in the 'hinterlands" of most countries, especially those way up north; betrothals were marked at a special occasion by elaborate gifts and exchanges within the families to be linked by marriage. These included cups and other drinking vessels. When one of these cups were then used by the couple, it signified that the couple would in fact be married at some a later date whenever the priest arrived on his rounds. One of these cups (and there were many types used in Eastern and Middle Europe) was the two handled cup, most often made of brass or copper but sometimes found in pottery within the British Isles and France. These are also now known as "Kissing cups " within the United Kingdom. These two  handled cups were also adopted by Russian Jews to use as "Netillat Yadayim Vessels" (hand washing vessels.) "Because happiness and joy are synonymous with Shabbat, it has become customary to begin the meal by reciting the blessing over a cup of wine, called the Kiddush. The Kiddush says thank you to God for creating the world and giving us Shabbat. Washing of the hands (netillat yadayiminHebrew) with a blessing follows the Kiddush. It is the Jewish way of sanctifying the act of eating." Shown: A Russian, pre-revolution two handled copper mug, with many uses. For more info on Pass Cups, see: http://www.steveonsteins.com/pass-cups-a-short-history-new-12-26-10
---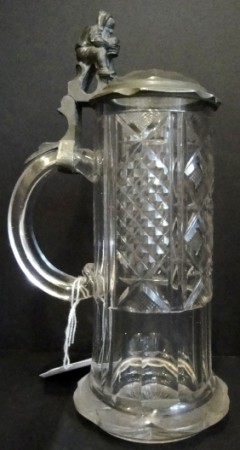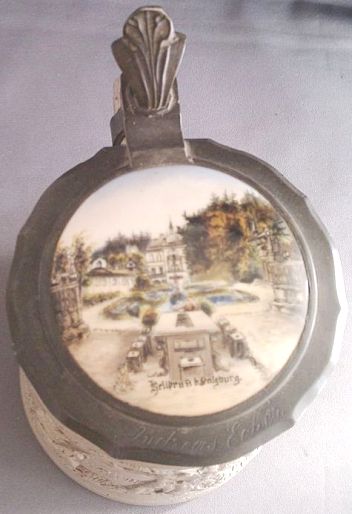 Beveled lid (edge) – The edge of a  pewter lid that was filed and polished off to make an interesting design with side cuts. A little more work but it does look nice.
---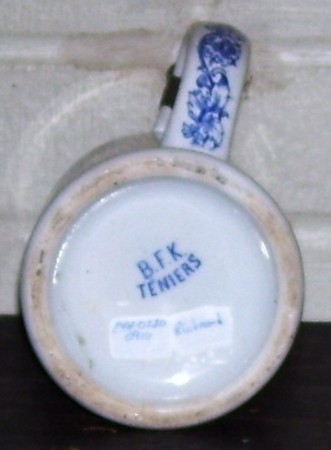 BFK  stein  mark bottom  HAVE [Q]
---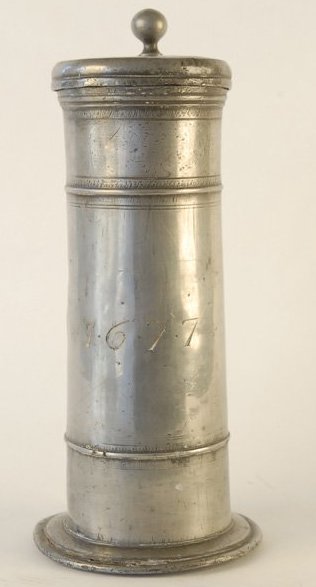 B.F.S. – Big "frigging" stein – Most any "personal" (not serving) beer stein that is over 10 inches in height, especially older pewter ones from North Germany and the Netherlands, as they were used and not just for decoration! Many, but not most were "peg tankards" ["pass cups" of a sort]  and when filled with beer are very heavy.
Above ▲: A North German pewter, from Ostfriesland. A "B.F.S.",  dated 1677, about 11 inches to top of its "BUN" lid.  NOTE: Should you buy one of these , when filling it with beer  when you start with the lid open [how else ?] expect the stein to be top heavy!! Most of these lids are very weighty!
Above ▲: a B.F. PEWTER STEIN —   Bremen [Germany] mark   C. 1790 – 10.5 inches tall to the top of the doublr domed lid, comes with the molded Herring bone design on the handle [one side only]    [FWTD]
---
Bicyclist's steins – A very large collectable group as there are hundreds of thousands of bicyclists who drink beer all over the world, but especially in Germany over many decades. Shown: A very interesting  one liter pottery, "Ist  Sanitäts Radfahrer Verein" or "First Red Cross Bicyclist Association. (Founded) Munich, 1900." Dated 1931.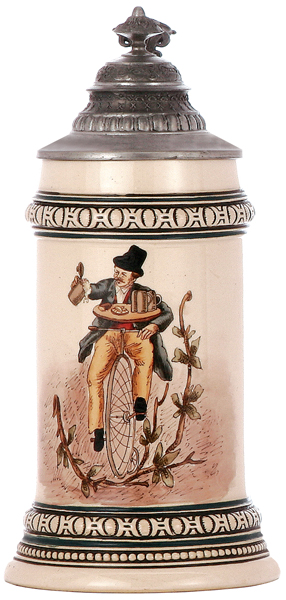 A more typical bicyclist's .5 liter stein, a HR 184A. BUT drinking and driving! Where is MADD when we need them?
---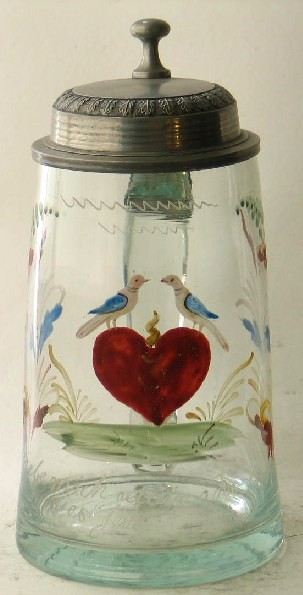 Biedermeier glass steins – "Biedermeier" = Relating to a type of furniture developed in Germany during the first half of the 19th century (and modeled after French Empire styles.) So beer steins that were made in the Biedermeier age are called this. Most glass stein experts claim that this to be 1820-1850 range.
Shown: two above  ▲  ▲: A cold painted "Heart and Dove" pattern, symbolic of "Love." 
Shown above ▲  An Engraved stein with gold leaf added., now somewhat worn  Both Circa 1830 – 40. [FWTD]  ALSO SEE:  http://www.steveonsteins.com/saxon-enameled-wedding-steins1820-1860-photo-review-new-11-17-11
Above ▲: A much fancier type of copper wheel cut Biedermeier glass steins, or so they are called by SCI  glass expert; and Master Steinologist Jim Sauer. 
---
Bierstiefel – German for Beer boot.  See: "Boot"
Also see: http://www.steveonsteins.com/the-man-who-can-not-drink-his-boot-full-of-beer-is-not-a-true-bavarian-new-10-13-11
---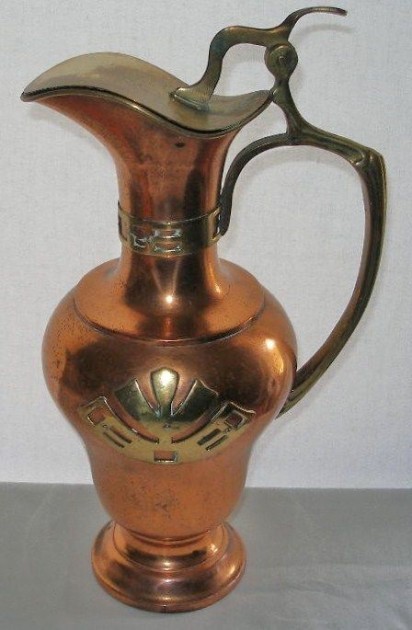 Bing (Brothers) –  "Gebrüder Bing" –  Coppersmiths located in Nurnberg. Makers of Jugendstil  and  Art Nouveau drinking vessels. in mostly copper and brass.
---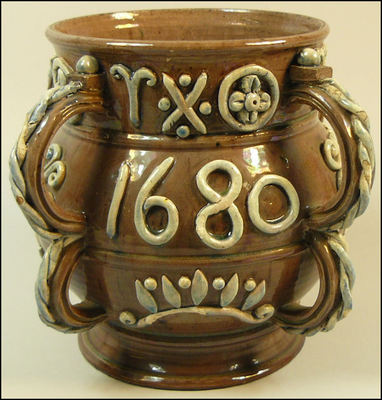 Bingham, Edward – An art pottery master who  founded a studio at  Castle Hedingham in Essex, England. For many examples of his work, please see: http://www.steveonsteins.com/several-well-known-english-castle-hedingham-e-bingham-pottery-late-medieval-style-drinking-vessels-awpd-new-3-9-2013
---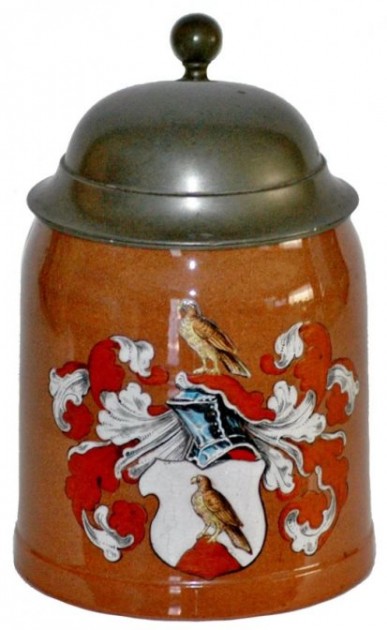 BIRDS  HAWK  AS A crest  ON A VAN HAUTEN DECORATED HALF L METTLACH  RFA 6-13
---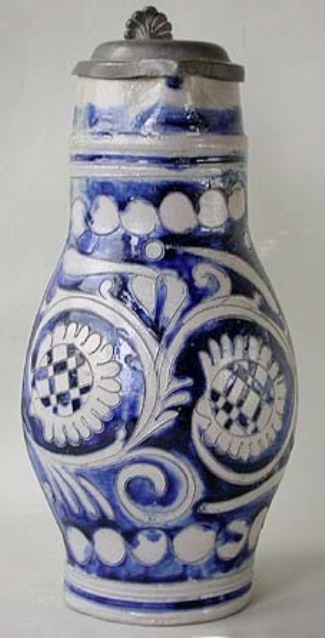 Birnkrug, or Birnkannen =  German for "Pear shaped jug," mostly made in stoneware the Westerwald from the early 1700's through today.
Above ▲: 3 liter. Ca. 1760.   But not all were stoneware.  Below ▼:  Pewter, German  Ca. 1825 -50.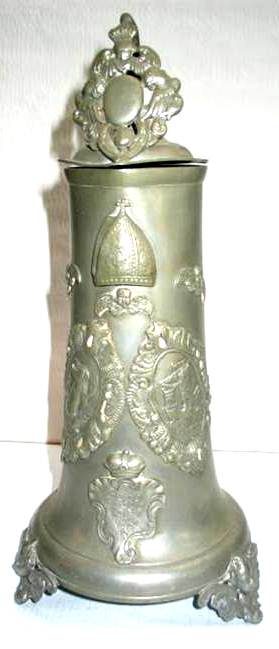 Bishop's (Miter) stein –  14.25 In tall, pewter stein made by Weygang. Mold number 435, Tafel 33 in "ZNAV" (See reference books) – [C & L Whitham's collection.)

Above ▲: The miter is the proper liturgical headdress for all bishops of the Latin rite, including the pope. The word comes from the Greek word 'mitra', meaning "turban." It consists of two stiffened flaps of material joined by a headband with two fringed strips hanging from the back base of the miter. The miter as we know it today developed from the conical head covering worn by the pope that appeared in the tenth century. At first, it was only used by the pope.
---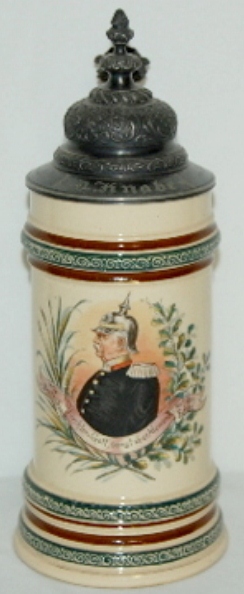 Bismarck – [Otto Eduard Leopold, Prince of Bismarck, Duke of Lauenburg (1 April 1815 – 30 July 1898)] – German statesman who dominated European affairs from the 1860s to his dismissal in 1890. After a series of short victorious wars he unified numerous German states into a powerful German Empire under Prussian leadership, then created a "balance of power" that preserved peace in Europe from 1871 until 1914.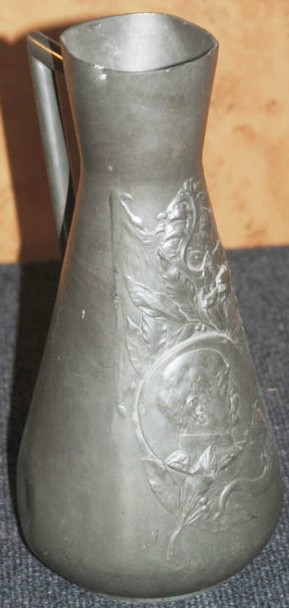 Above ▲: KAYERZINN #4100 – A 12 inch serving jug. Bismarck in relief on the front.
For more on this maker see: http://www.steveonsteins.com/kayserzinn-serving-steins-beakers-etc-partial-catalog-new-9-3
---
Bismuth — A brittle,  natural metal; chemical symbol is Bi; used in alloys to strengthen a softer metal, such as mixed with tin in some pewter. Historically known as 'tin glass'.
---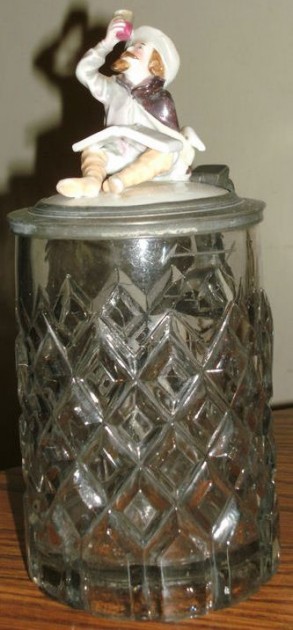 Bisque (biscuit) lid, on steins – Porcelain lid inserts that have been  fired only once with no glaze. Shown above: Bisque cavalier mounted on a .5 liter  "pressed glass" stein. Circa 1860. (That lid is probably worth more than the whole stein!)
Shown below ▼: An early bisque lid on a .5 liter V & B Mettlach No. 675.  Early 1870's.    For more on steins shaped like beer barrels, please see: http://www.steveonsteins.com/roll-out-the-barrel-well-have-a-barrel-of-fun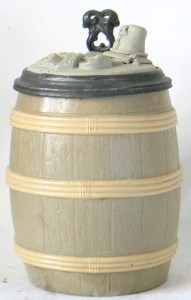 .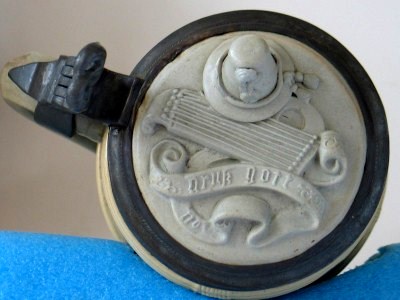 ---
Bisque (biscuit) steins – Porcelain steins fired only once with no glaze put on the body, or lid.  These are scarce. Shown: an Italian .5 liter  (5 inches tall) with applied decoration, and brass rim and body mounts. [Stein Center]
---
[END – SP104 – [r5]  REV 11-15          

"I have to exercise early in the morning before my brain figures out what I'm doing."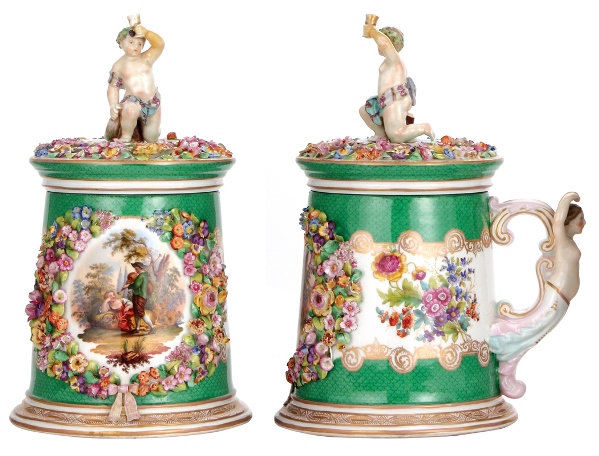 W T F IS THIS 1 4