---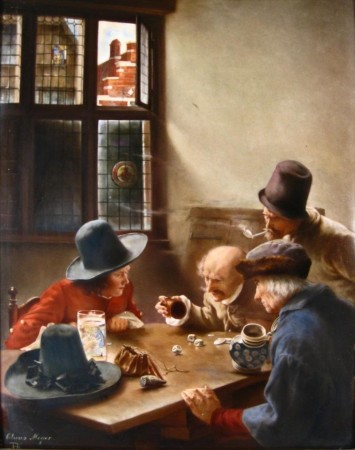 Dutch drinkers one in front with a Lidless stein, made with an anchor hole in the handle [now called a mug.]
---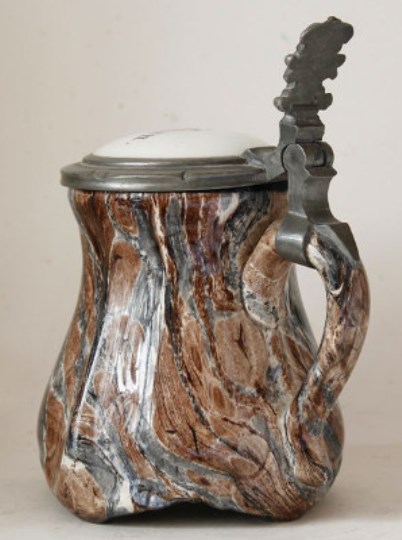 ---
Lady Justice  –  A goddess and personification of Justice, often portrayed as wearing a blindfold.  [Steve's note; "Blind Justice" is the legal concept regarding the neutrality of the dispensing of justice.]

V & B  Mettlach hand-painted (perhaps van Hauten?)  No. 280,   .5 liter. "Corpus Juris."
Below ▼: Two versions of a very large two handled wine server with "Lady Justice" as the subject matter. I believe both are by "Gerz", in the Westerwald.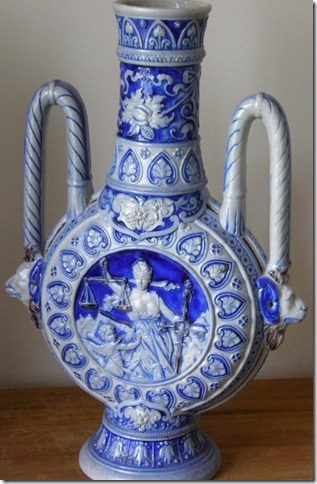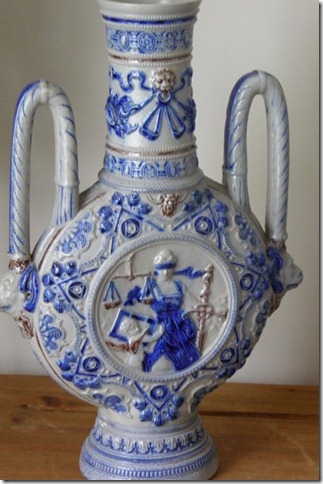 ---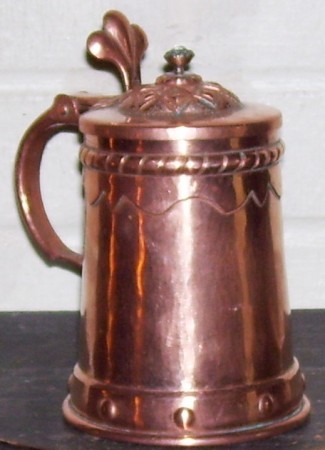 Lady's stein – A term used for just about any stein that is about 1/4 liter in size and bigger than a kinder stein. Although lots of "ladies" liked their beer in men's steins. See: "Women and Beer" this web site: http://www.steveonsteins.com/women-and-beer-draft  Shown ▲: This Bohemian copper one has a small 'jeweled finial' on its top. Most definitely made for an older teenaged girl or a young lady. Circa 1830-60. [FWTD]
---
Lalique style or type – These pieces got their name because they look like the early glass hood ornaments for cars in the twenties, made by that glass company.
▼Large relief faces on a .5 liter pressed German, not French, glass stein.  [SA]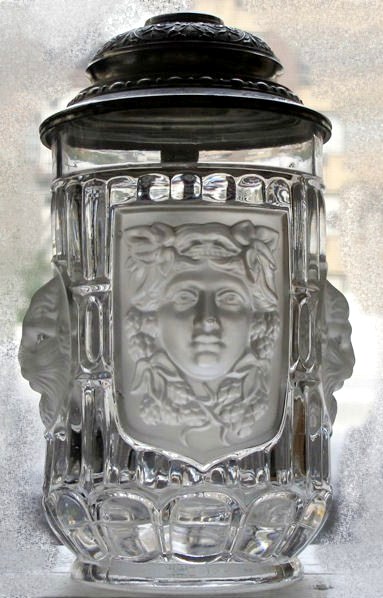 ▼ Side relief profile of the Katzenjamer.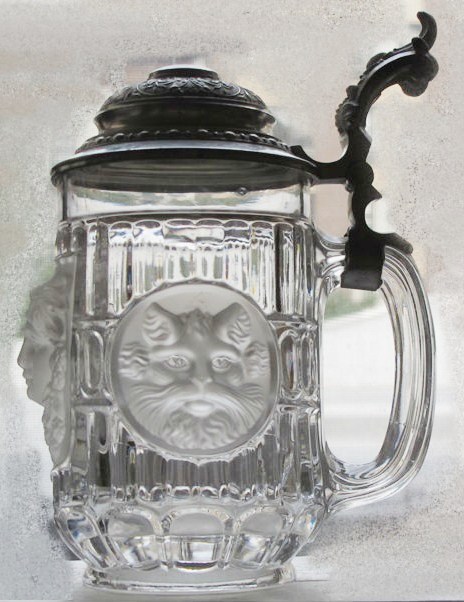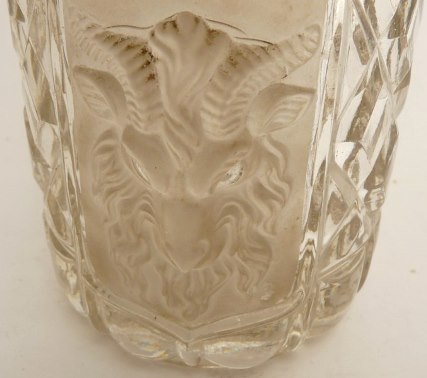 There are about a half dozen designs to be found all made of pressed glass.  Above one for a  Ram AKA "bock" = from bock beer.[FWTD]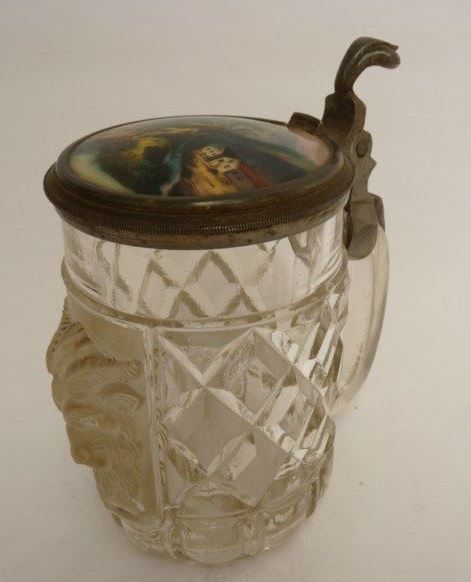 No side scenes in relief on this one just diamond cutting.
---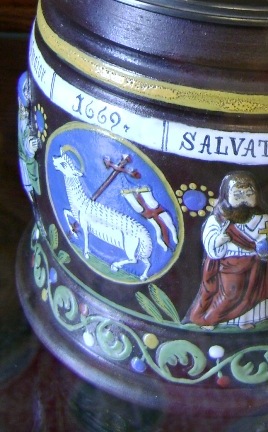 Lamb of God – A Catholic symbol for Jesus. Shown above ▲: Detail from a Saeltzer reproduction "Apostles stein."  Circa 1890. [FWTD]
Shown below ▼: Lamb of God on a Lowenbrau Brewery sponsored stein. Dated 1910.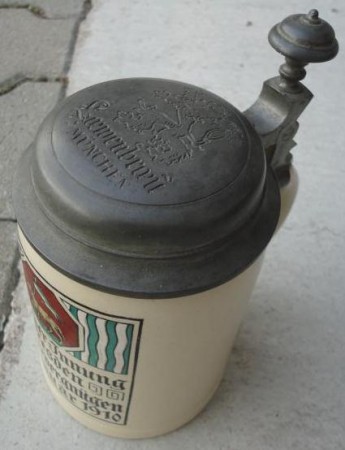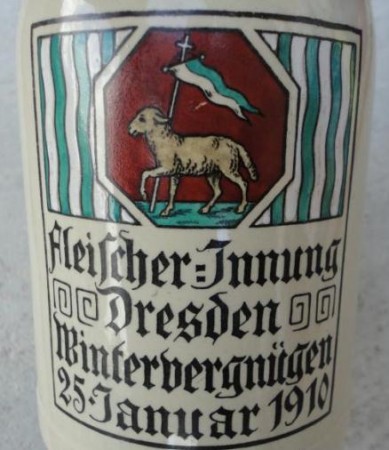 ---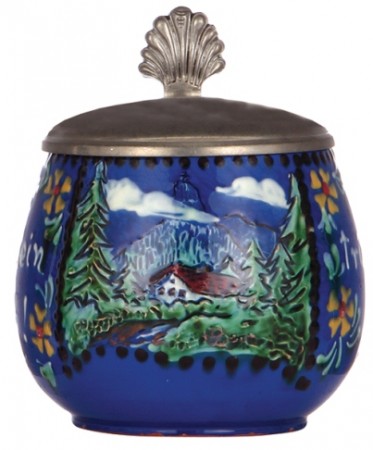 Lang, Anton – New pottery stein maker , .5L, hand painted, signed.
See: http://www.steinmarks.co.uk/pages/pv.asp?p=stein1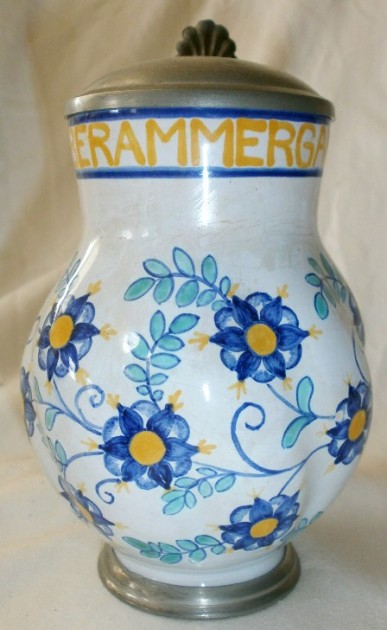 An Oberammergau souvenir beer stein by Lang, made to look like Fayence. It has a closed hinge pin making it appear older too.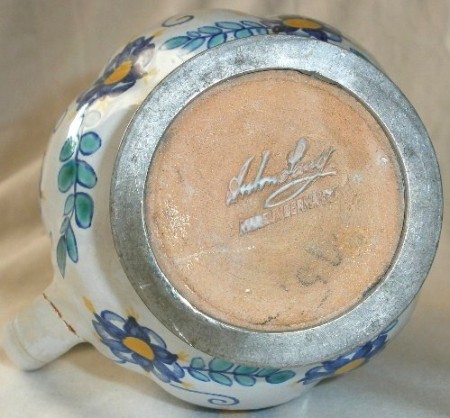 ---
Lansquenet / landsknecht – A medieval foot soldier whose primary weapon was the lance or a halberd. Shown left: Detail from a Theresienthal wine flute, he holds a halberd. Shown right: A landsknecht on a Theresienthal enameled glass stein. Lid by G.Th.M. Circa 1890. [FWTD]
SEE MORE on this subject at: http://www.steveonsteins.com/lansquenets-on-beer-steins-etc-started-10-30-xing-as-i-go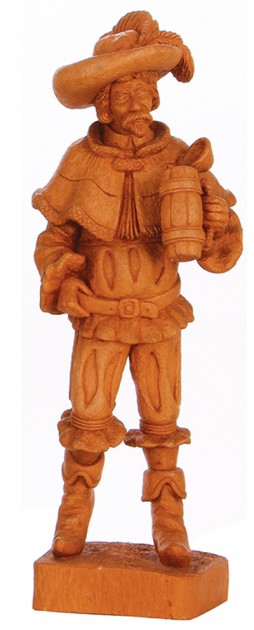 ---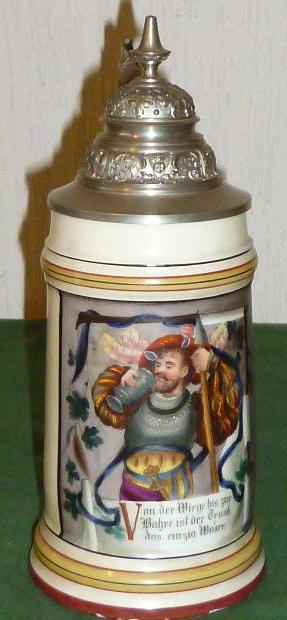 Lansquenet on  a .5 liter porcelain stein. Ca. 1885
---
Last Drop, The – A very popular British double meaning of  words, and drawing. Scene seen on all sorts of drinking vessels. Shown ▼: On the inside of a  pottery witty / motto mug. Early 1900's. [FWTD]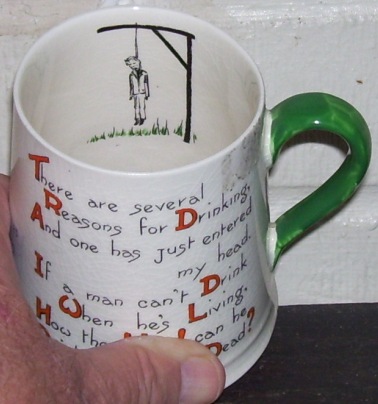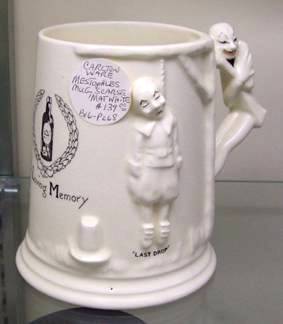 Top three examples are from the British firm of Carlton Ware, Eng.
.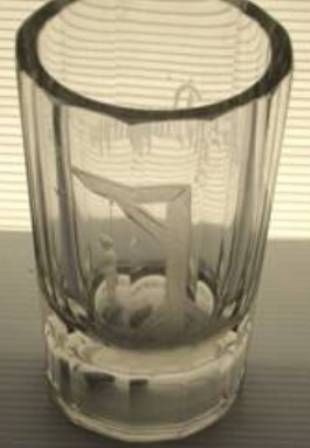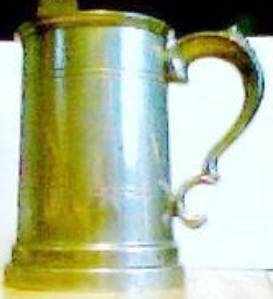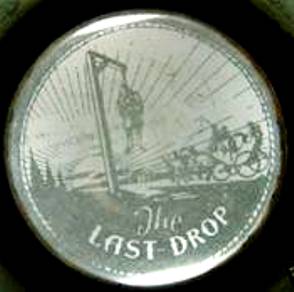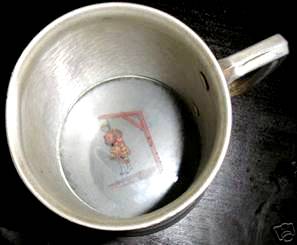 And one with a decal added to the bottom – don't ever bother to wash it!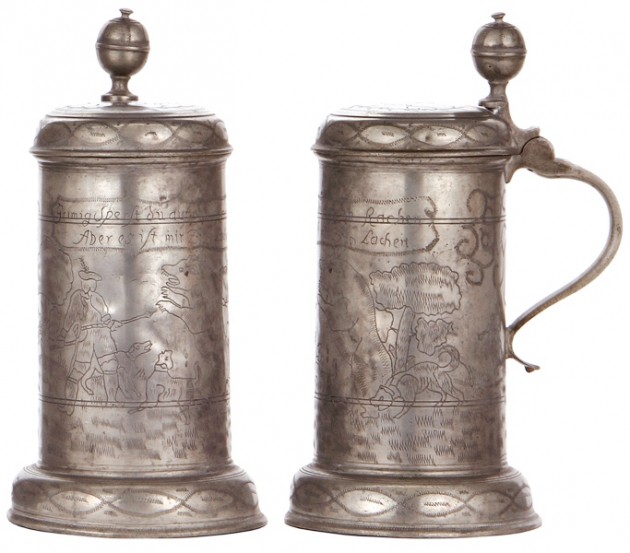 Later additions, and modifications (called "add ons.")  –  Shown above: A German pewter stein on which the entire engraved scene has been added sometime after manufacture. How can one tell? The pair of two striped filet lines, at about 1/5th and 4/5ths  down the drum would not have been placed there if the pewter maker was going to engrave on the body originally. Additions to old pewter steins has really become an issue to look out for, as historically the stein auctioneers never "call" this type of problem!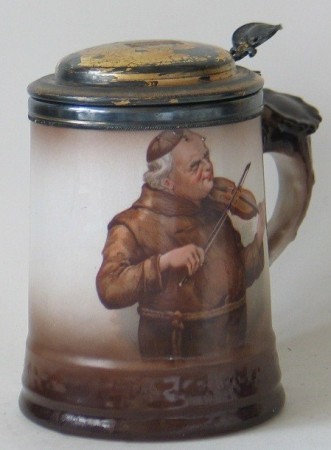 .5 liter hand painted  stein by  Homer Laughlin. Ca. 1900-1920s.
Laughlin Homer – Homer and Shakespeare Laughlin, two brothers from East Liverpool, Ohio, formed a partnership in 1871 to sell pottery ware, which was made in the factories located in their hometown. Not known in stein circles for outstanding work.
See company's history at: http://www.hlchina.com/company.htm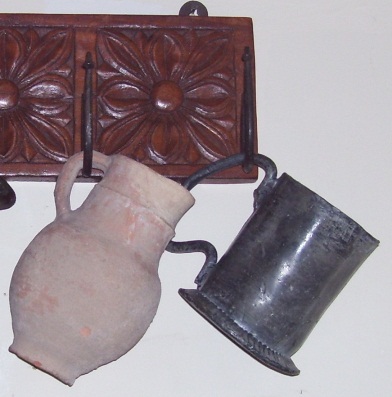 .
Lead mugs and cups – Below: A well  researched article by Melissa Snell. (see:  http://historymedren.about.com/b/?nl=1)
Shown ▲: A solid lead, and heavy, "grog or rum mug." This  piece was found on the Florida shoreline. Quite possibly it is Dutch or Spanish, from the 1500's. See the crimped base, as was done on Dutch pottery at the time. [FWTD]
Hoax:   Lead cups (mugs)  were used to drink ale or whiskey. The combination would sometimes knock them out for a couple of days. Someone walking along the road would take them for dead and prepare them for burial. They were laid out on the kitchen table for a couple of days and the family would gather around and eat and drink and wait and see if they would wake up – hence the custom of holding a "wake."
The Facts:  As mentioned previously, lead poisoning was a slow, cumulative process and not a fast-acting toxin. Furthermore, pure lead was not used to make drinking vessels. By the 1500s pewter, which had at most 30% lead in its makeup,1 horn, ceramic, gold, silver, glass and even wood were all used to make cups, goblets, jugs, flagons, tankards, bowls and other items to hold liquid. In less formal situations, folk would forgo individual cups and drink straight from the jug, which was usually ceramic. People were not commonly knocked out by the combination of whiskey and lead, and those who overindulged in liquor to the point of unconsciousness generally recovered within a day.
The consumption of alcohol was a popular pastime in both the countryside and town, and coroner's records are filled with reports of accidents, both minor and fatal, that occurred to the inebriated. Anyone discovered in an alley or by the side of the road could be quickly determined alive or dead by whether or not he was breathing, and you can be fairly certain that medieval people were bright enough to observe this symptom. It was never necessary to lay out hung-over carousers "on the kitchen table" and wait to see if they woke up — especially since poorer folk had neither kitchens nor permanent tables.
The custom of holding a "wake" goes back much further than the 1500s. In Britain it appears to have its origins in Celtic custom, and was a watch over the recently-deceased that may have been intended to protect his body from evil spirits. The Anglo-Saxons called it a "lich-wake" from the Old English lic, a corpse. When Christianity came to Britain, prayer was added to the vigil.2
Over time the event took on a social character, where family and friends of the deceased would gather to bid him farewell and enjoy some food and drink in the process.The Church tried to discourage this, but the celebration of life in the face of death is not something humans easily relinquish.
Leather steins – Mostly favored by the English for centuries. Also see: Blackjack and Bombard.
Also see more leather drinking vessels at: http://www.steveonsteins.com/so-you-think-being-into-leather-is-sexy-draft-11-16-11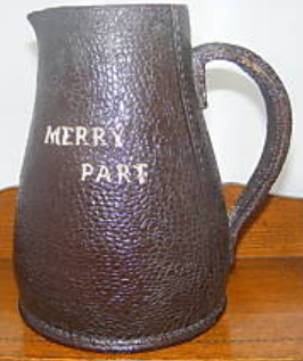 Leather ware – Pottery vessels made to simulate leather goods. Doulton, Lambeth (England; later Royal Doulton ) made several in all sizes, and mostly with humorous sayings; some with silver rims. Shown ▲: A Doulton ale jug = "Merry Meet – Merry Part."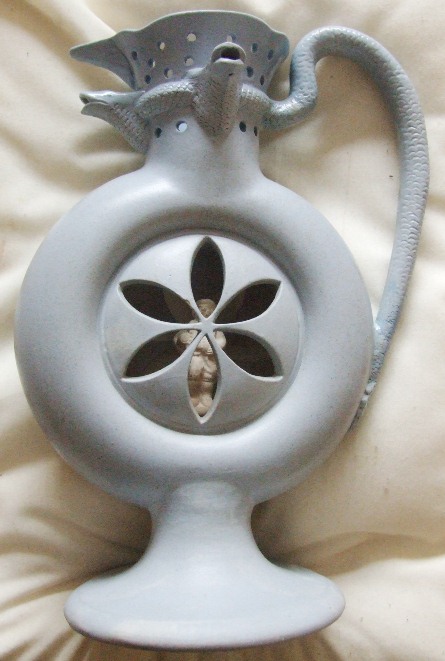 .
Leeds Pottery Puzzle jug. (Photos compliment of Mr. PM,  in England.)
)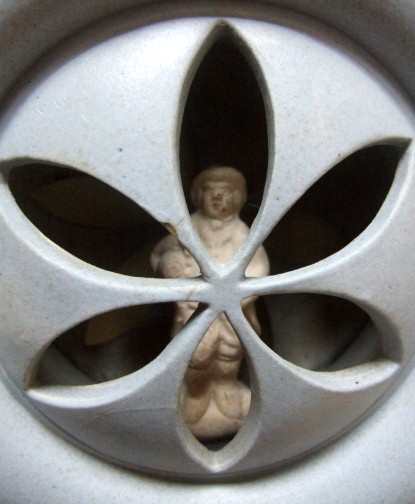 Detail of small figure in niche.
Leeds Pottery – England —   Most people are unfamiliar with the great variety of types made by Leeds Pottery. To some, Leeds means blue or green shell- or featheredge ware with a flower painted under the glaze in characteristic blues, greens, and yellows; to others it means the Willow pattern; while to others Leeds means only the rare and expensive hand-painted pieces with names and dates. Indeed Leeds Pottery made all of these wares, and to tell the story of Leeds is to give a picture of the pottery industry in England from 1760 to 1820. The wares made at Leeds followed the styles and patterns of the pottery industry in general, and the factory made almost all of the wares currently popular. However Leeds Pottery pieces were better than average and their wares even rivaled some of Wedgwood's pottery. Leeds Pottery was also successful commercially and carried on a flourishing trade with America.
Although the Leeds factory first established by the Green brothers may have made a more primitive pottery, the ware we know today as Leeds is a decorated creamware. It is thin and delicate in texture, with a heavy glaze which has a greenish cast. The variations in the different types of Leeds ware are in the decoration rather than in the pottery itself.  (Information comps of : http://www.oldandsold.com/articles/article441.shtml)
Leigh, L. – A German pewter-smith who is known for the outstanding quality of his minute relief work on pewter beer steins. Active Ca. 1880-1920.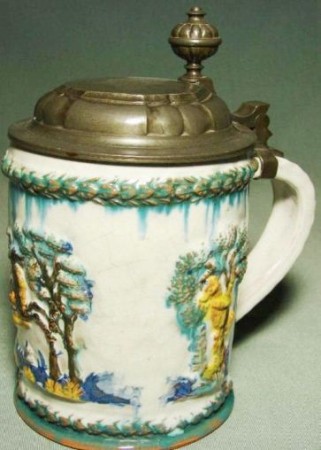 Leipfinger, Josef – Thought by some to be the chief designer for the "Münchner Werkstätten für Keramische Kunst (The Munich Workshop for Pottery Artwork)" , which he started  with his brother Karl.  Some German auction houses credit him with such anyway. See photo of basically the same design on a different body from a 2011 catalog below:

This has not been substantiated by January 2013, primarily because the frig .firm, which is still in existence, will not answer repeated emails from the editor!
FOR MORE ON THIS FIRM, SEE:   http://www.steveonsteins.com/majolica-english-type-or-lead-glazed-drinking-vessels-from-the-munchner-werkstatten-fur-keramische-kunst-the-munich-workshop-for-pottery-artwork
AND: Chris Wheeler's "Stein Marks":  http://www.steinmarks.co.uk/pages/pv.asp?p=stein1
Lenox (Also called CAC which was its forerunner.) – A very good American porcelain stein maker.  Their sports illustrated steins sell for high prices.  Shown: Two Silver lidded porcelain steins by Lenox; Rugby on the right. See: http://www.steinmarks.co.uk/pages/pv.asp?p=stein1
Letters in old German print/ script (on steins) – See article written by SCI'er WALT VOGDES  on this , not his, infamous  "pay for beer stein information "web site.   This info is  however on the free list:  http://www.beerstein.net/articles/s9412a.htm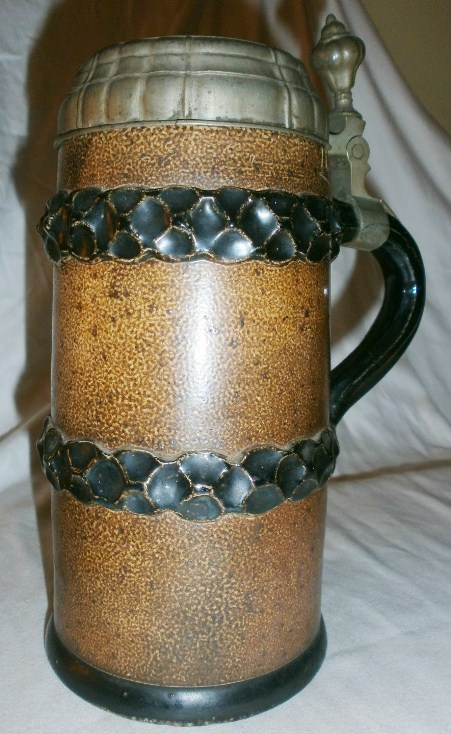 Leybolt, Ludwig = A German designer of Jungenstil steins. Shown: One liter stoneware.

Leykauf, George = Distributor of steins and other art work in Nurnberg.

.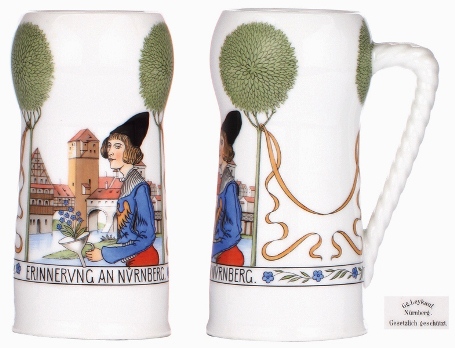 Deco , marked with  Leykauf 's label  See: http://www.steinmarks.co.uk/pages/pv.asp?p=stein1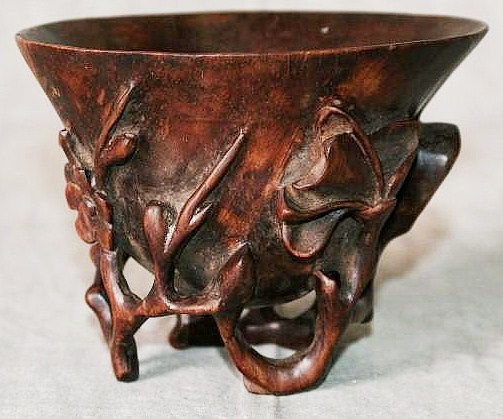 Libation cups – A carved a Rhino's  horn popular in China (where the male A/H's think it will increase their sexual stamina) and not so popular with the rhinos in Africa!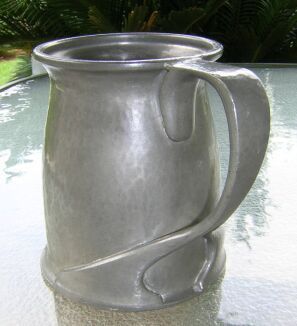 Liberty and Co. – Maker of pewter Art Deco / Arts and Crafts vessels. Shown: Pewter mug by Liberty and Co. Circa  1920. 
See: http://www.steinmarks.co.uk/pages/pv.asp?p=stein1
---
Liberty Tudric Pewter HAMMERED Lidded Jug 7 INCH TALL (2)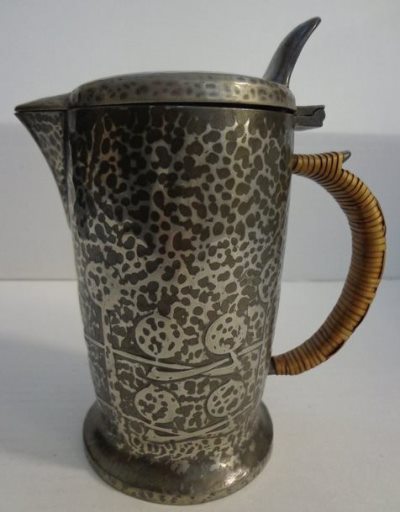 ---
Lichtenhainer – Literally "cleared away (cut) groves:";used on wooden steins' staves that then have a pewter design implanted in them. Shown: One liter "lichtenhainer daubenkrug."  Circa late 1700's. [FWTD]
These are all about 1.5 liters in volume.
.
Lichtinger, Joseph  – An outstanding pewter smith located in Munich. Known for all his work but especially his beer steins combining pewter mounts and overlay on colored glass (supplied to him mostly / all?) by the Theresienthal glashutte.)
 

See:

http://www.steinmarks.co.uk/pages/pv.asp?p=stein140
Joseph Lichtinger (1851-1900) opened his factory around 1873 "Die zinnwaarenfabrik Lichtinger & Cie". The factory made pewter (glass and stoneware =?) In 1896 Joseph sold his factory to Otto Löwenstein who was also the owner of the Jacob Reinemann glas factory.[Note (6–17-13): I have not been able to see the documentation on this. As far as I can tell they still bought their glass from Theresienthal. ]
Around 1902 Otto Löwenstein re-opened the factory under the name "Reinemann und Lichtinger". Joseph Maria Olbrich was the first designer who worked for the new company. Other designers were Friedrich Adler, and Franz Ringer.     The factory closed in 1934.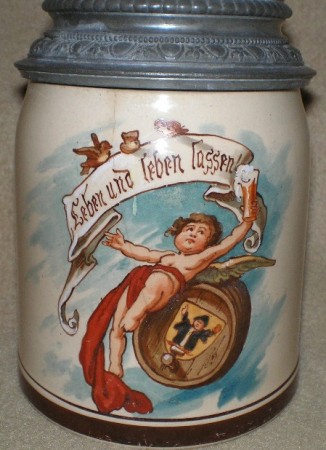 .5 liter stoneware decorated by Lichtinger's shop. Made by Merkelbach and Wick.
.
Mark in relief, inside of lid.
.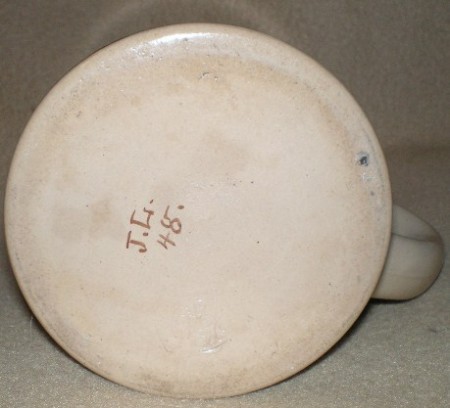 Both his mark and the stamped mark of Merkelbach and Wick.
Lidless stein – Same as a mug, but it has an anchor hole in the handle  indicating it "could grow up to be a stein" if it wanted to be (or if a glass stein, a small flat surface on the top of the handle!)
Lid – It is  of course what makes a 'stein' a "stein."  Shown: A very intricate carved deer horn showing alpine climbing tools and appropriate dress. 
Lids being placed on steins had nothing to do with the Plague (Regardless where you have read that.!)  IT is one biggest  Urban MythS! !!
SEE The page  ON this web site: "Why the lids "  =  http://www.steveonsteins.com/why-the-lids-real-reason
Lids – for types of and brief history article provided by a  German  items dealer, please see:
http://www.deutscheshaus.cc/html/library_beer_steins/stein_lids.html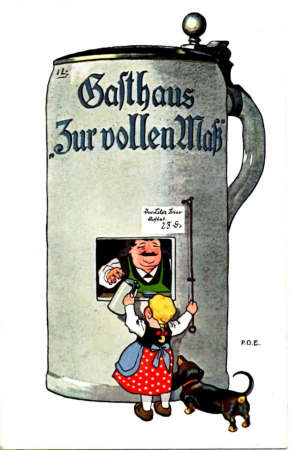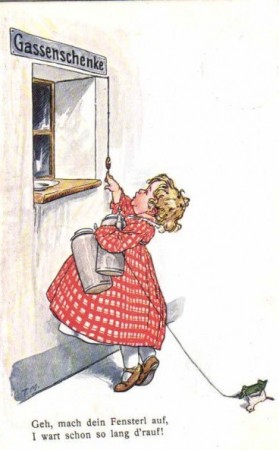 ▲ Evidently quite a likeable scene = Both blondes and almost the same dress.
Lidless steins  – now called mugs, ones  that have an anchor hole in the handle  which might never have had an original  lid (but the anchor hole was punched into the green ware – just in case) or it broke or was taken off.  for whatever reason.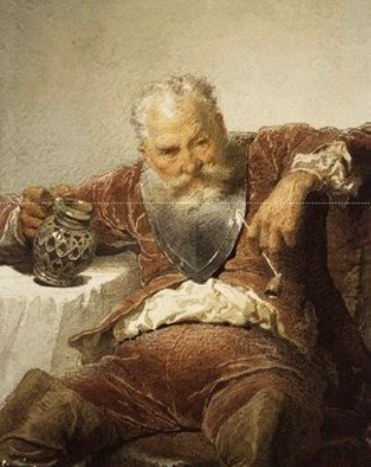 Lid types / styles  – No sense in me re-inventing the wheel -barrow!  So see a good illustrated definition page @ : http://www.steincollectors.com/steinlids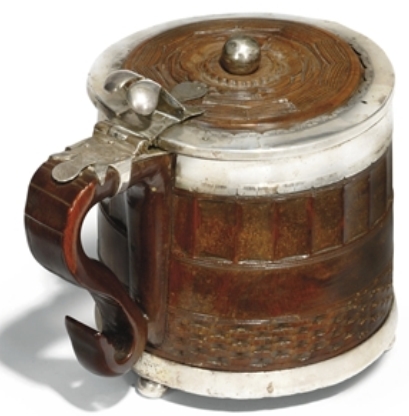 Lignum Vitae =- From Latin lignum ("wood") vitae ("of life"). Noun  1.The guaiacum tree. 2.The wood or resin from such a tree.  Shown ▲: Silver mounted, made of "lignum vitae" Unmarked but probably English provincial.
---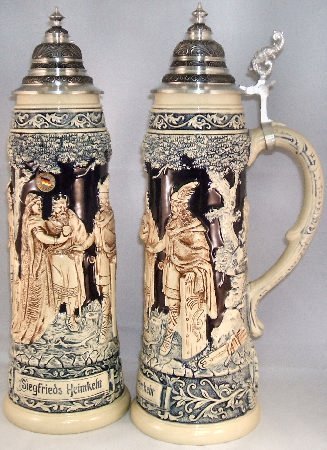 Limited editions – Several stein companies in the 1980's and 90's jumped on the "limited edition collector's plate market"  and produced limited edition beer steins to sell to naive collectors. These  were usually reproductions of older pieces such as shown above (Lohengrin being offered a drink from Elsa) copied on new molds from the originals made about 90 to 100 years earlier. This example is about the best copy made.

On the secondary market none of these that have sold 20 or so years later have approached 50% of the original selling price! Collector's that bought for a supposed profit in a few years these also have been known to have  invested heavily into "Beanie Babies!"
Limoges –   A French city famous for making fine porcelain. Limoges had also been the site of a minor industry producing plain faience earthenwares since the 1730s. The manufacturing of hard-paste porcelain at Limoges was established by Turgot in 1771 following the discovery of local supplies of kaolin and a material similar to petuntse in the economically distressed area at Saint-Yrieix-la-Perche, near Limoges. The ingredients were used for the production of hard-paste porcelain similar to Chinese porcelain. The materials were quarried commencing in 1768. Lots of Limoges' hand painted mugs have been converted into beer steins.
CR- LIMOGES ENAMEL CHALICE 16TH CENTURY STYLE   christies USE THIS ONE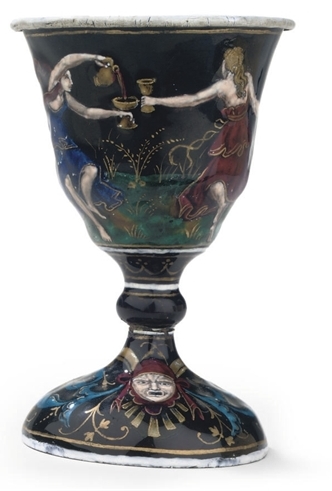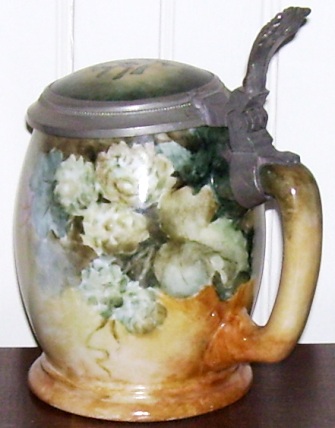 ---
Liter – [ 1 L ] – Stamped on drinking but mostly not  serving steins. The metric measure of capacity, slightly more than a quart (1.057 quarts = 1 liter).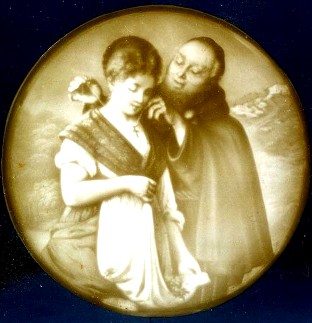 Lithophane (light picture), older versions – A picture made of porcelain that gets its effects by varying the level of porcelain in the mold.  These were then inserted into the bottom of porcelain steins while they were being made. Shown: One of the best quality "lithos" to be found in steins.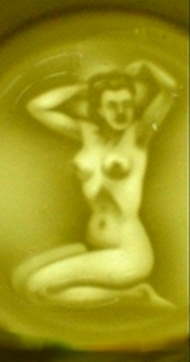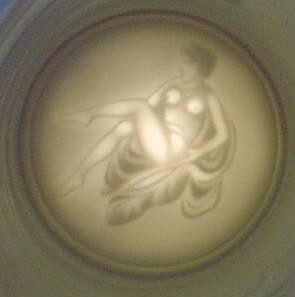 Lithophane (light picture), newer – When compared to the "old" work the newer stein litbophanes leave a lot to be desired.! However the nude woman shown at the top (two up)  is at least pretty interesting. It was found in a 1957, USA Post War  (Cold War ) stein. It is very scarce.  I have never seen another. I believe the Germans substituted the less overt "girl with the drape"  (See just above  photo) soon after, and that became their standard 'litho' for quite some time. 
For more lithophanes, see the page on  this web site: Reservist's (Regimental) Reproductions, how to tell."  = http://www.steveonsteins.com/reservists-regimental-reproductions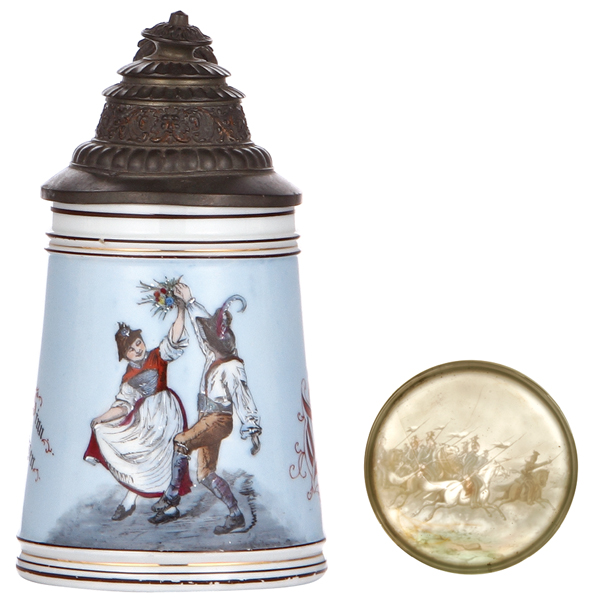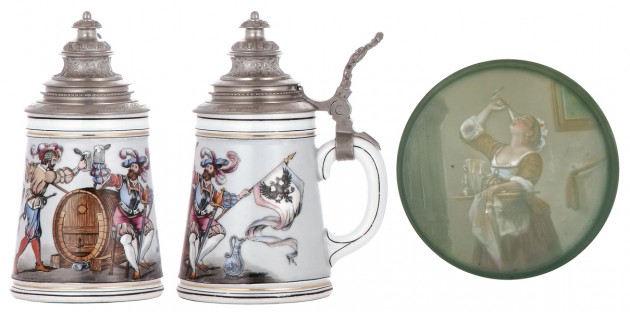 Lithophane, colored – A scarce technique where the image of a lithophane is enhanced by thin enamels being painted on the bottom. It appears that only one company produced these. Some painted glass panels have been placed in pottery steins about the early 1800's, but these are not lithophanes!  Made by: R.P.M., Rheinische Porzellan-Manufaktur (Oscar Erck) 1861 – 1910.  [TSACO]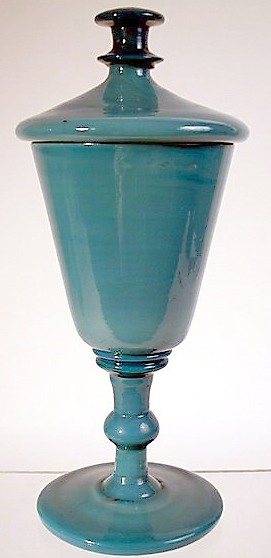 Lithyalin glass – A glass process developed by Eggerman in 1829and highly collectable today. Shown: German pokal of aqua / bluish lithyalin glass, unknown maker, mid to late 1800's.
PHOTO COMING SOON  FEB 2015
Little boy peeing  (MANNEKEN PIS) – A small famous statue located In Brussels. Lots of souvenirs including beer steins produced show this little guy taking a wiz.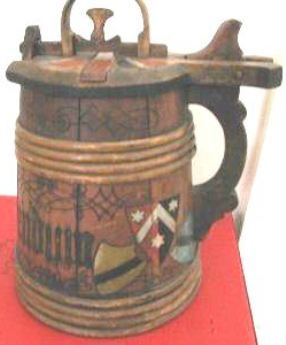 Lock top stein / jugs – Steins from Scandinavia and the Baltic States made of wood (and a few in pewter), most often found painted in soft colors, that come with a sliding piece of wood on the top that slides under the holding hole that was carved out of 'the larger than others' front stave. Most  of these found without pitch on the inside indicating they were used for other materials such as grain storage and not to drink out of.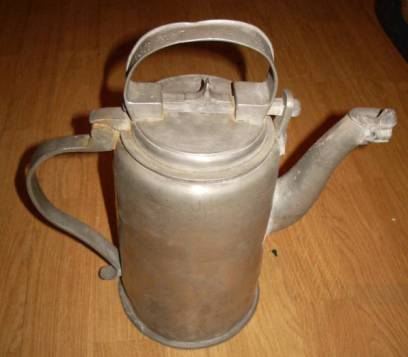 Shown: Lock-top beer jug or wine server from Scandinavia / Baltic States,  probably Swedish. 10 inches to the top of handle. Dated on front: "1633." I believe it is an authentic date!  [FWTD]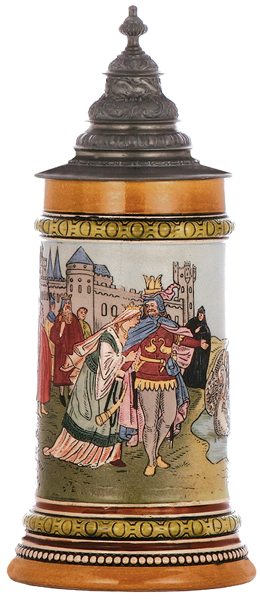 Lohengrin   – "Lohengrin 'is a romantic  opera in three acts composed and written by Richard Wagner , first performed in 1850. The story of the eponymous character is taken from medieval German romance, notably the "Parzival of Wolfgang von Eschenbach" and its sequel, Lohengrin.  written by a different author, itself inspired by the epic of Garin le Loherain.
Many, many beer steins were made to celebrate this hero of the Wagnerian operas. Shown above: HR ( maker) No. 417,  a .5  liter stoneware.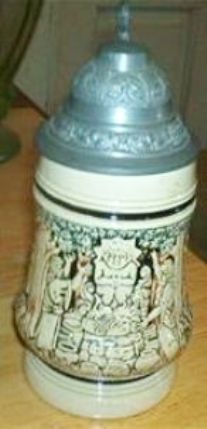 "Loki" (on steins) – A Norse God –  This is on a /18th liter kinder mug.  While this figure is certainly 'wild', it is not the German "Wildman" and in fact several of us collectors had no idea who or what he represents.  Some said he is being sacrificed. If so, why all the stoneware jars in front of him?
Editor's note:  On 5/24/13:  I have  a lidless one of the in [FWTD]  at home and finally got it out and studied it for a few minutes  and soon figured out this was a depiction of the Norse god Noki =  Their God of fire! The key point which not shown  on this photo are the side scenes with several of  the Norse or Teutons warriors kneeling down to him.This along with the Priestess with her arms outstretched towards him and him not having  a halo (a Christian attribute) but a star behind his head finalized it in my mind. The pots are a clue as they need "firing" to become hard.  I will shortly attempt to take photos to show the sides scenes.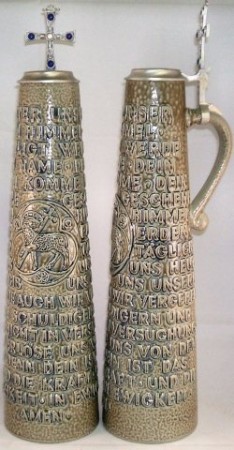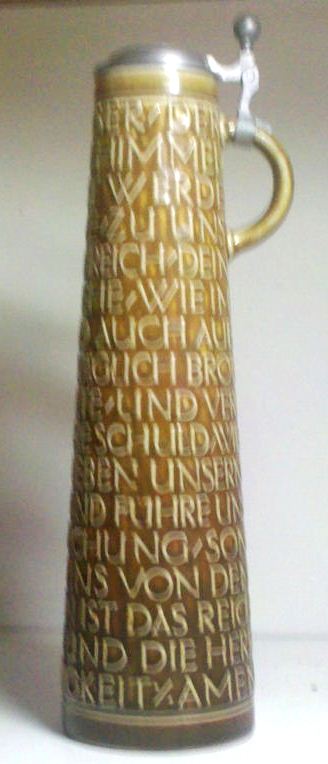 Lord's Prayer, The,  stein – A pottery relief stein with raised German words of the Lord's Prayer.  [R] These were  sold in the major US department  stores in the 1960's . They are NOT based on any known earlier Siegburg or Cologne "schnellen". [L] Circa 1990, an even  newer copy.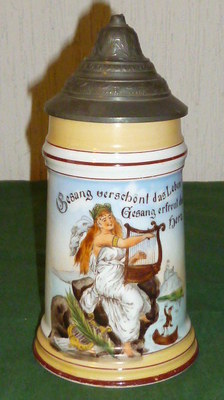 Lorelei, The (German: Loreley, (German pronunciation: loːʁəˈlaɪ) – She  is a rock on the eastern bank of the Rhine near St. Goarshausen, Germany, which soars some 120 metres above the waterline. It marks the narrowest part of the river between Switzerland and the North Sea, and is the most famous feature of the Rhine Gorge, a 65 km section of the river between Koblenz and Bingen that was added to the UNESCO World Heritage Sites in June 2002. A very strong current and rocks below the waterline have caused many boat accidents there.
For even more info see: http://www.steveonsteins.com/the-loreley
Love symbols / icons – See:  "Hearts and doves" in this Compendium.

and also: http://www.steveonsteins.com/other-fellowship-and-for-love-affection-symbols-on-beer-steins-draft-12-22-11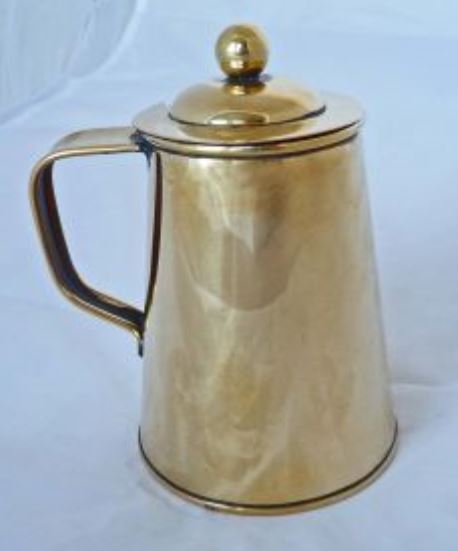 Loveridge, Henry –  English copper- smith in the Arts and Craft's era who made very well done and  brass tankards and other copper drinking vessels  Shown:  A typical Brass tankard with set-on-lid.  some did come with hinged lids.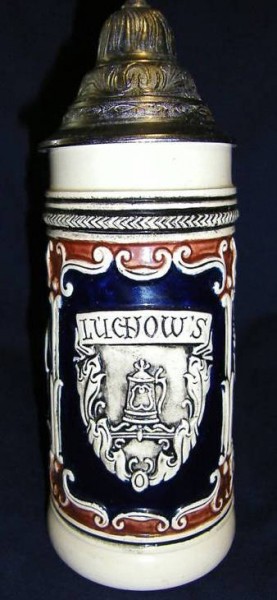 .
"Luchow's'"steins – Steins made for perhaps the most famous German-American restaurant in New York City. In service from 1882 to 1982. Formerly located at 110-112 East 14th Street, with the property running clear through the block to 13th street. The decor included over sixty oil paintings, many by well-known artists including Francisco Goya and Anthony Van Dyck. There was also a collection of over 200 beer steins.  Shown: A pottery half liter stein, Circa 1950.  Customers could buy these there at the restaurant. Lots of these are still around! There was alsoa small pottery ashtray with a mini beer stein model in the center that was a popular "take home."
Editor's note: I was at Luchows one night with the SCI Convention in NYC crowd. When we left someone was pistol shot about a half a block down from all of us. Very shortly after we heard the shot we then one hell of a noise  / racket, and just as I turned to my left to try to determine where it was coming from  I saw the biggest damn horse mounted policeman I have ever seen in my life! He coming right in front of us and going full speed! 
It took that incident to make me understand why the big cities have mounted patrols. Damn he was fast.!And no, I don't know if the shooter was caught as we didn't stop; We were going  back to the hotel to drink even more German beer at the Convention's Hospitality Room.
.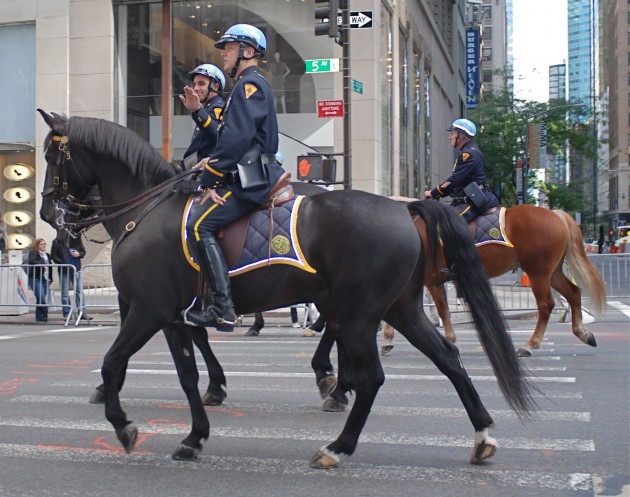 Ludwig II, King of Bavaria (König Ludwig von Bayern), (25 August 1845 – 13 June 1886) – Shown: New [Ca. 1990]  .5 liter porcelain stein.  As Bavaria was and  is the beer (stein) drinking capital of the world and he was Bavaria's most known (not liked) King, new stein collectors may expect to see many images of him  and/ or his numerous castles. His face is in lots of lithophanes on steins from Bavaria or Munich of cpus e. 
SEE: http://en.wikipedia.org/wiki/Ludwig_II_of_Bavaria
.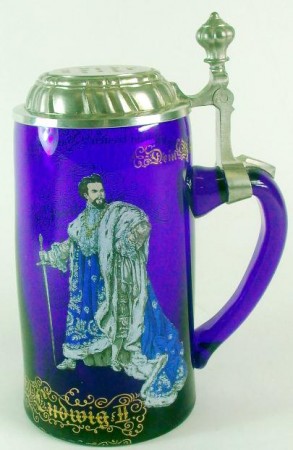 A new one liter blown blue glass with the most copied pose of Ludwig II , in his royal ermine cape.
Ludwigsburg,  1732-1824 – City or town of major fayence stein production.
For more info, see: http://www.thepatriotexchange.com/pss/hisfai.htm
---
CR- Luftschiffer – RESERVIST'S Military Beer Stein Kgl Luftschiffer 1893-1895 Pionier Thein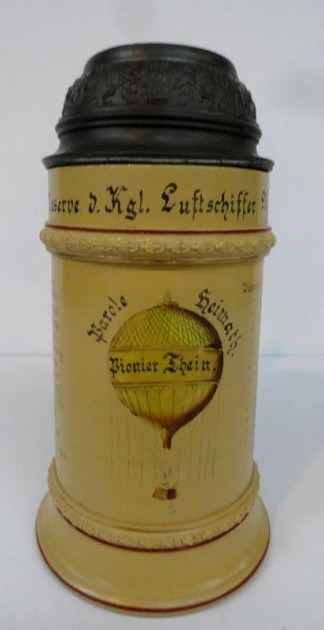 ---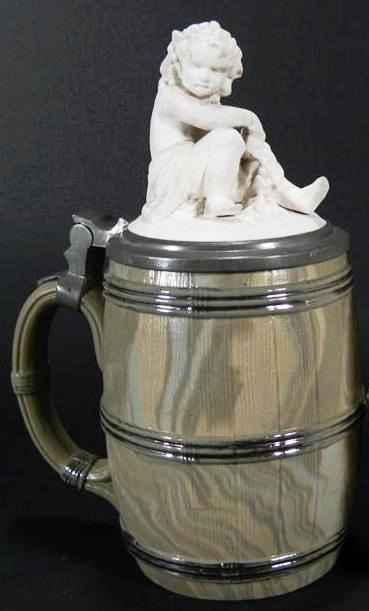 Luster — A metal oxide decoration fired onto a stein; including occasional platinum accents on early pottery ware as above on the Early-ware stein byV& B Mettlach.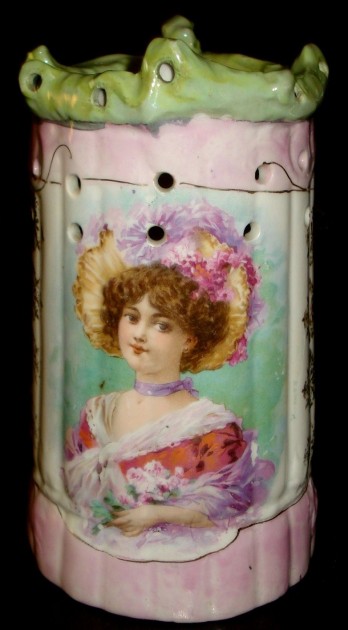 Lusterware vessels –  Pottery / porcelain that has been treated with a shinny surface. A misnomer again, but, what the hell?  Shown: A small  porcelain puzzle mug in Lusterware. Ca 1880. I think created by Zimmerman-Schroben Hausen in Bavaria, Germany.
Print of the "supposedly" original stein used/ and owned  by Martin Luther. This one was carved  out of ivory and would have been Circa: after 1520. Pretty damn expensive for a monk!
Luther, Martin – His personal stein▼  (? ) – According to the print shown above. ▲ – I have no substantiating evidence that this is true. This is a  one liter stein made out of "French Ivory." (That is a  term used to describes items made using  the earliest plastic 'Celluloid,' which has the color of ivory.)  The stein is a replicas of the original done in Ivory [FWTD]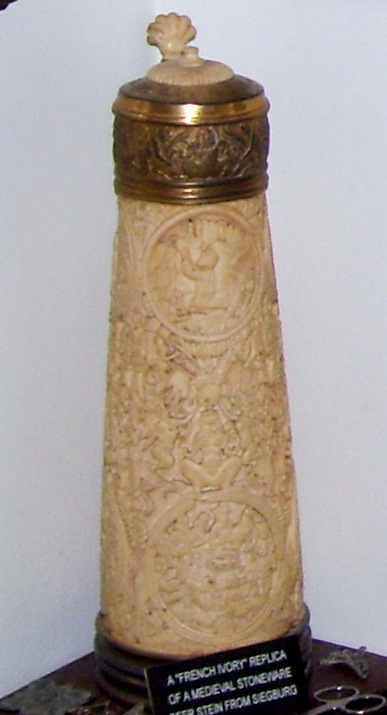 Luther, Martin – On steins – Not seen too often. I have seen only one  on a later day Siegberg style "Schnellen"  with his face on it. I am certain there are many more out there, I just haven't been looking.
---
Luxembourg – An European Country, also home to one of Villory and Boch's oldest factories. Made only one stein:  a No.24 with multiple shades of brown and surface design (swirls) Often confused of being the Dorfner  steins, which was  a separate and distinct firm; but who used a form very close to No. 24.  slightly as it was porcelain and turned so that the four corners make a diamond and not a square as the V & B  L does.  see below ▼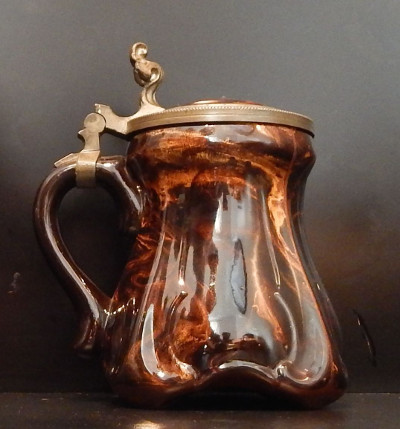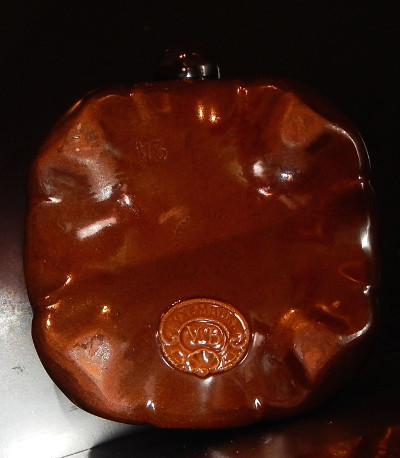 "Chewing gum" mark on No. 24
---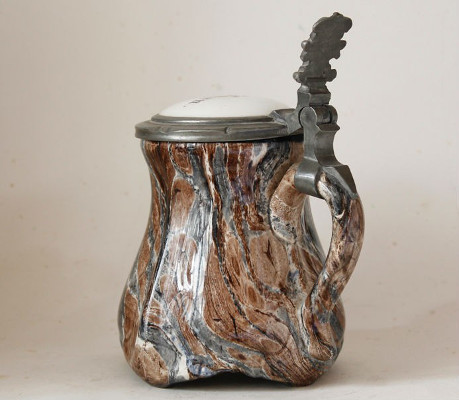 MARLELIZED STYLE "DORFNER" VERSION –  C.1860
---
[END – SP104 – 87 – R5]

     "Why do they use sterilized needles for death by lethal injection?"
LOST PHOTOS BY WORD PRESS  FOR 100TH TIME