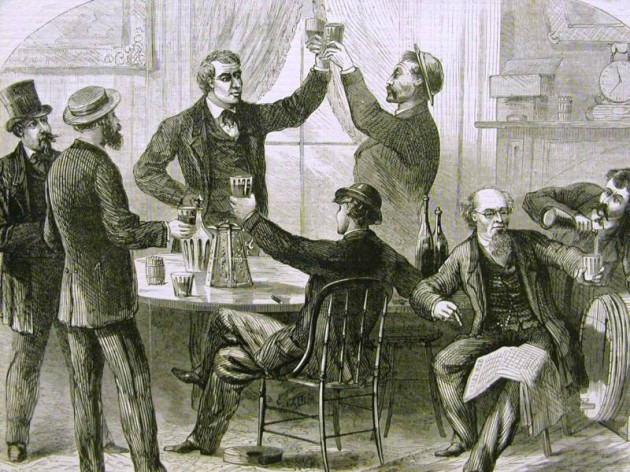 for the future selling of steins on auction sites such as eBay, etc. My web site was really started as an informational site for beginning beer stein collectors that would be looking for the info and not the general public. This
STILL

 

  =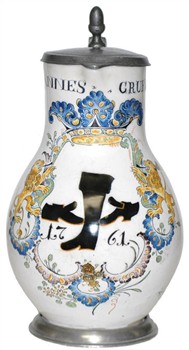 Occupational steins – Steins made to celebrate the owner's occupation; having symbols or scenes associated with it on the front of the stein.  This is one of the  five major type of steins collected  now a days.   They have been around for hundreds of years, mostly in glass or fayence (as in the example shown) yet there are some SCI collectors have said – and in public –  only the 1/2 liter porcelain steins made in the late 1800's – early 1900's qualify as being called "Occupational Steins."  whicj is absolute horse shit!
Shown▲ ▲: A 1/2 liter Fayence Occupational for a boot maker. Made in Durlach. Circa: 1840 – 50.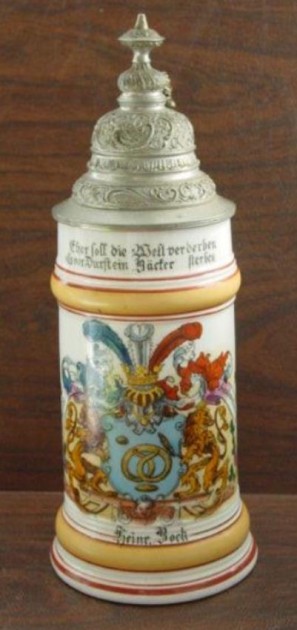 Shown above ▲: One of the (supposedly) only true form of an occupational beer steins. This one being for a baker ( otice the pretzel .)
---
 From a very small study I did years ago (never published) ;   All these are scarce!  Good luck in collecting these guys.
BELLMAN —BLADE SHARPENER—CHAUFFER—CHICKEN BREEDER—COOK—ELECTRICIAN—ELECTRICAL ENGINEER—–GUTTER MAKER—LUMBER-JACK—NIGHT WATCHMAN—PLUMBER—STREET CAR  CONDUCTOR OR DRIVER—TEACHER—CLOCK MAKER—-COAL SHOVELER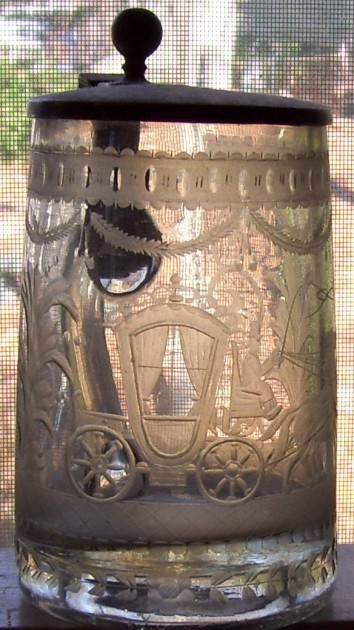 A very nice old early glass occupational stein.  .5 liter, engraved clear glass from about 1840, made for an early  "chauffeur" or coach driver.  It has " Ch." and then  the owners name engraved on the pewter lid.  Fine detail work. [One of the "stars" in FWTD!]  Slightly enlarged  to show the fine detailed work.
---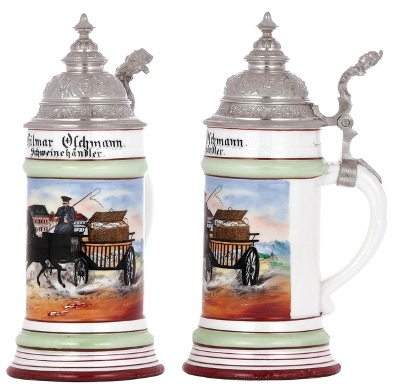 Here is  another rare one, but circa 1890. A Schweinehändler (Pig Dealer.)  [tsaco]
For some of the reproduction Occupationals, see: http://www.steveonsteins.com/reservists-regimental-reproductions-1-2-1
Occupational thumblifts – Pretty scarce. Shown: A wooden stein, circa 1850, with a pretzel maker's (baker's) pewter thumblift.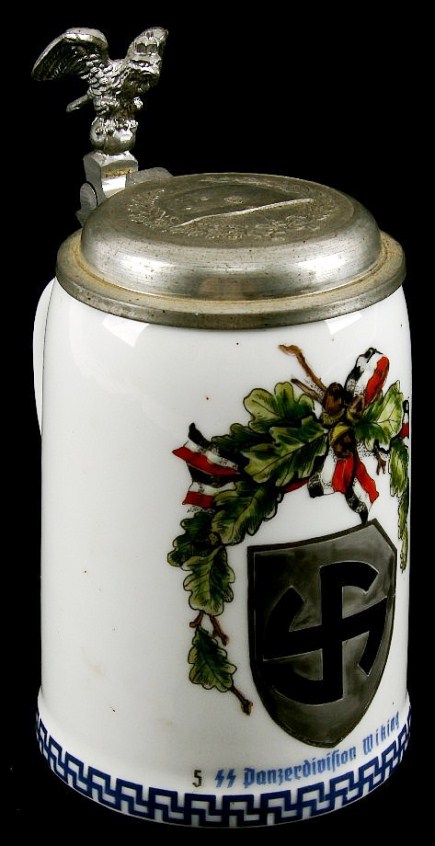 Officer purchased steins given to enlisted men as presents. = MORE TALL TALES;  BULL SHIT! 
.
Below; Taken from actual auction ad seen in 9-2012:
MILITARY & FIREARMS AUCTION
September 22, 2012, 10:00 AM EST | Tallahassee, FL, USA
Lot 5592 | WWII GERMAN STEIN 5TH SS PANZER DIVISION WIKING
"WWII German beer stein commemorating 5th SS Panzer Division Wiking, one of the elite panzer divisions of the Waffen SS, composed mostly of foreign volunteers under German officers. Mug is typical of the type given to enlisted men by their officers during Christmas.  Estimated Price: $500 – $600."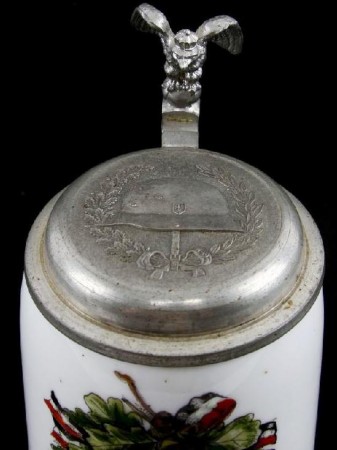 People, ignorant or just trying to make a dishonest buck have said this about Imperial and Nazi era steins for years!
As the "General Rule" military officers only gave presents to officers. There are a very few exceptions of course as when an exceptional NCO was honored by his officers, but non the less this is a fake stein!  See also : "Hitler Steins "in this site's Compendium.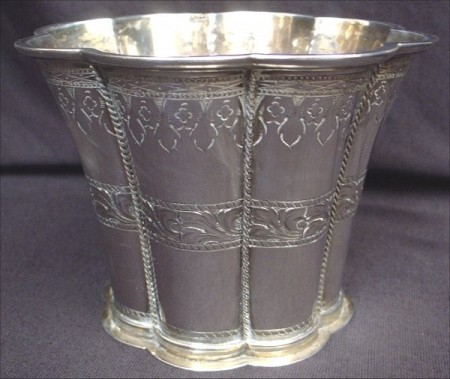 Octagon beakers. – Hard to find and harder to drink out of.  Shown: Silver beaker, Denmark, Post 1940.  See "Hexagon beaker" also.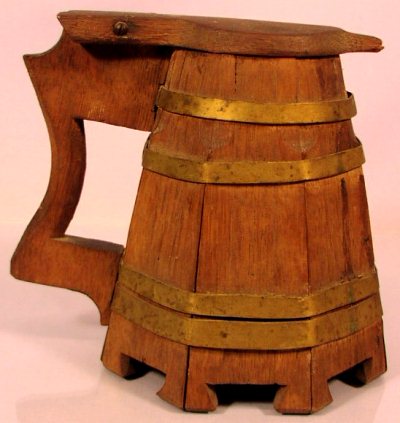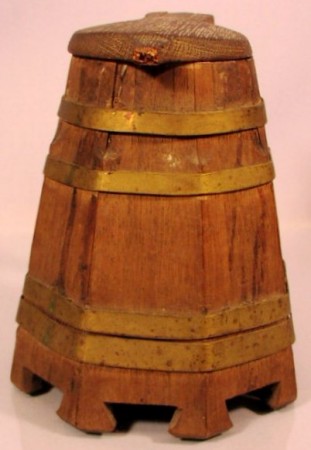 Octagon steins –  Shown: One liter "beaked lidded" octagon cut wooden stein.Circa 1890. Very unusual and not the easiest to drink out of.  Most probably Bavaria / Bohemian made. A slight chance this is Scandinavian as they were  known to have beaked lidded steins also.

Octoberfest – See: Oktoberfest
Oettingen-Schrattenhofen 1735-1830 – City or town of major fayence stein production. For more info, see: http://www.thepatriotexchange.com/pss/hisfai.htm
O.E.W.S. — Old English Wine Standard; Pre-Imperial capacity, pre-1826.
Offenbach 1739-1807 – City or town of major fayence stein production. For more info, see: http://www.thepatriotexchange.com/pss/hisfai.htm

O'Hara Dial Co. – USA Porcelain stein makers that made one or two lines of less expensive steins. Mostly looking like the examples shown.  See: http://www.steinmarks.co.uk/pages/pv.asp?p=stein1
.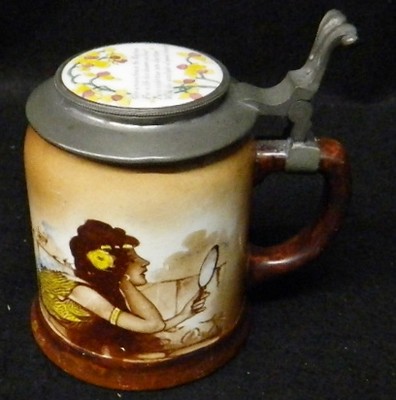 .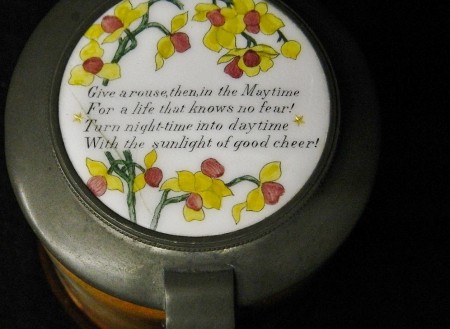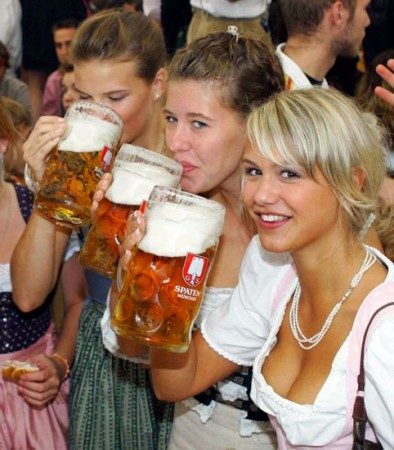 Oktoberfest – Pretty women, pretty breasts  and pretty good beer! What else do you need to know?
(Except maybe that it starts in September!)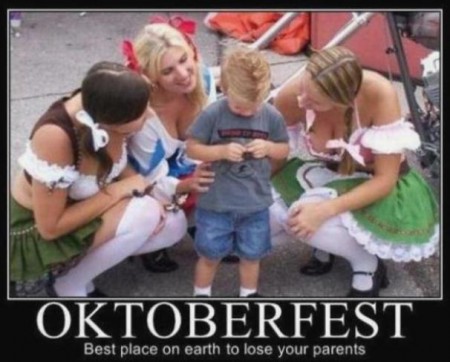 .
put copy here./ . missing  4 – 2013

.

Oktoberfest steins, older ones  –  getting washed to use again and again – Self explanatory/ but really mugs. (And what happens when the "girls" get old! A pity.)

See:  The Oktoberfest Shop in Munich: http://shop.oktoberfest.de/  for photos and list of much newer Oktoberfest beer mugs and  steins for sale. I am not recommending this site over any of the others selling these pieces.
OCKTOBERFEST, OFFICIAL MUGS AND STEINS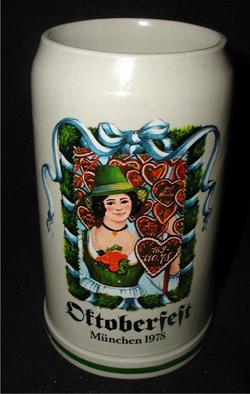 The first of the newer  ▲(since 1978)  "OFFICIAL" Oktoberfest beer mugs and later steins. This one WAS  NOT  done by "Rastal," but most are!  Some were made in later years by a firm whose mark is "FS" in a square  This first one above ▲ can be s quite pricey on the secondary market , mostly as a collectible, and not for any other reason. (certainly not a great piece of art !)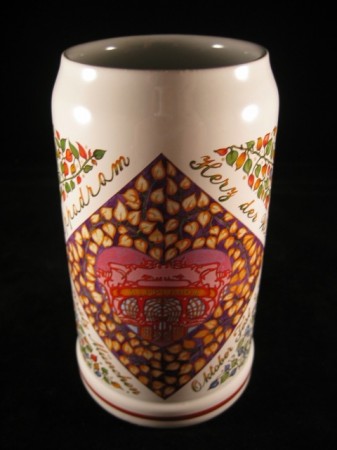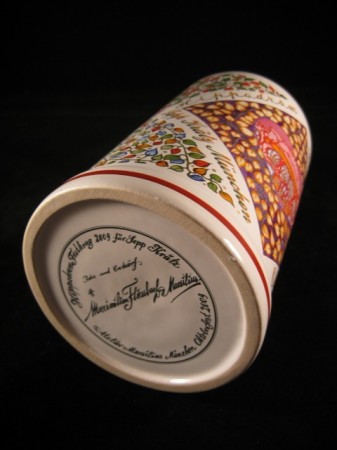 Following the lead and success of the above, the German beer companies produced their own Oktoberfest beer mugs and also lidded beersteins  This one ▲ is  from Spaten Brau, in   2009.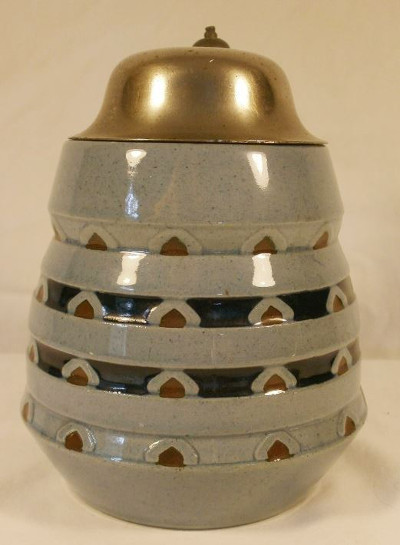 Olbrich, AJoseph M.  Jugendstil-Beer-Stein designer,
---
Old German print/ script (on steins) – See article written by SCI'er WALT VOGDES  on this infamous  "pay for beer stein information " web site.    This info is  however on the free list.:  http://www.beerstein.net/articles/s9412a.htm
---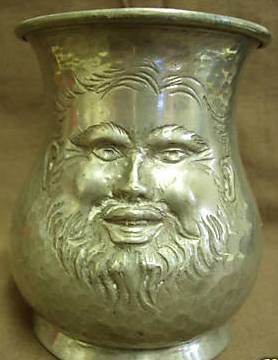 ---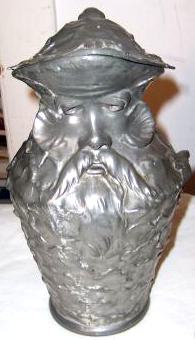 Old man jugs / servers – These pewter servers always seem to be an old man. I am to wonder why never an old woman?  The  Bacchus influence perhaps?
---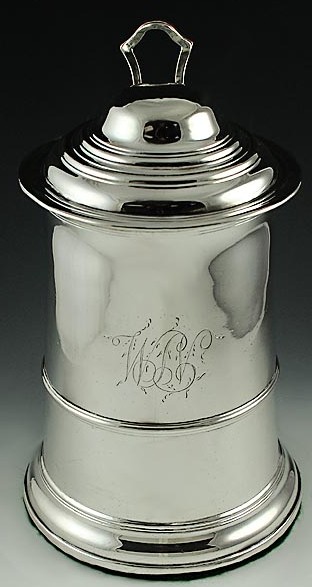 Old Sheffield Plate – Tankard's and "Canns" made in England, Circa 1750's through about the 1860's when "Electroplating" took the lead. Also called "Rolled plate", meaning an ignot of copper and one of silver heated together then pressed under heat to make sheet that were then hammered in the shape of 'Sterling' items – at about 1/8 the initial cost. As these are quite light, many of the early tankards and canns have wooden bases for additional bottom support weight. 
---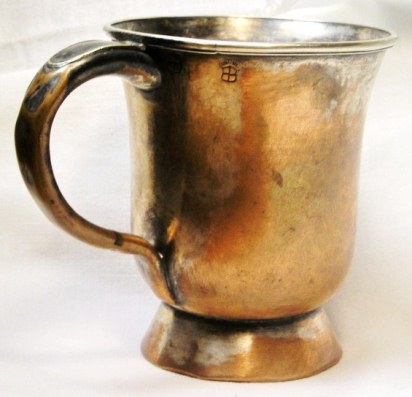 Most of the well used  "Old Sheffield Plate" drinking vessels end up looking like this and are called "copper "by the uninitiated. This example  ▲still has some silver left on it.
---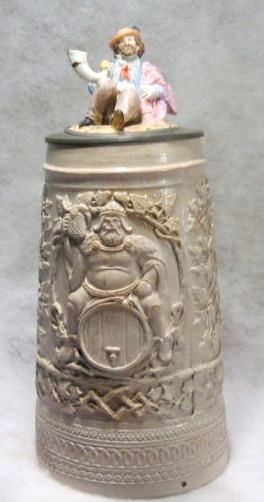 One and a quarter liter – relief stoneware steins made in the Westerwald. These can be told by the extra ring added to the bottom of the stein under the main body décor. This size is not found often in other series produced, in stoneware or otherwise.  
---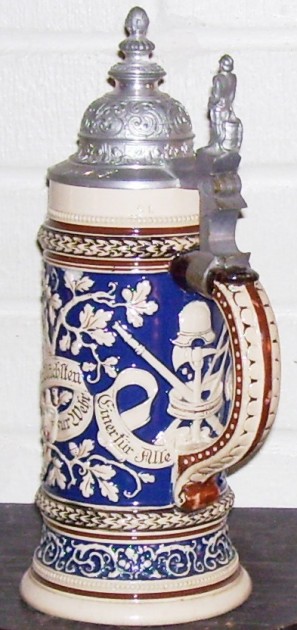 The Motto: "One for all."  is shown on the scroll on the rear of this  half liter pottery relief firefighter's occupational beer stein just below.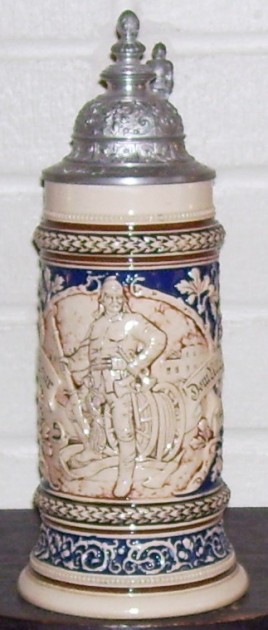 "One for all / all for one" – One of the mottoes of the German Fire Service for years (as well as other European countries too. It was not copied from the movie "The Three Musketeers" but probably the other way around.
---

Onion domed steins – Pertains to the lid design, pretty self explanatory. Also mislabeled as  "tower steins," even though the body is not made to look like a tower.
---
CR – ORIVIT METALLWARENFABRIK Also known as ORIVIT (1894-1905) THE ONE TO SAVE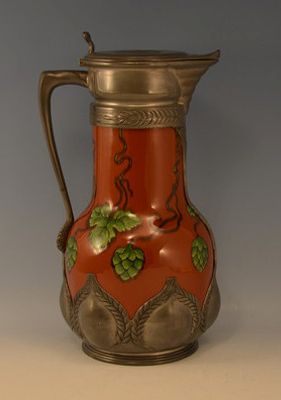 ---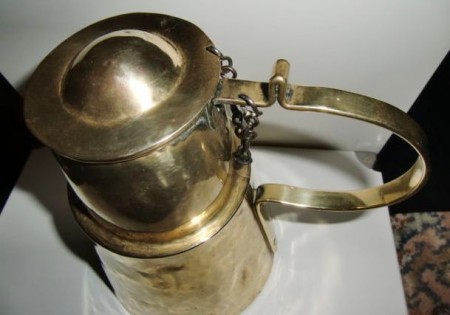 Ottoman style thumb-rest – Not a thumblift as on a German stein but a horizontal  loop on the top of the handle.
A similar thumb-rest,  but one that is later  attached and not bent is quite a popular feature all the way from the Caucasus regions through the [old] Russian area of influence and used on mugs and pass cups as well. As shown below: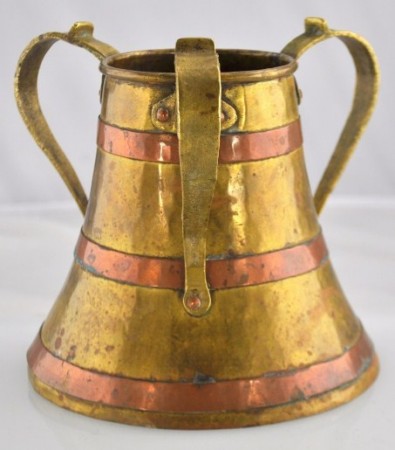 ---
[END – SOK – 31  – R5)   photos edited / re-spaced 10-28-15.

    "The trouble with being punctual is that nobody's there to appreciate it."