~~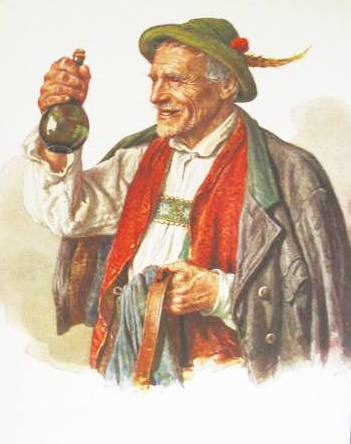 There are way too many variables: condition, location, time of year, present trends in stein collecting, local (and now national) economics, never seen before (therefore no comparables); but most of all = prior expectations by the owner, are among the reasons!
t is now obvious to me the general public never gets that far before wanting to ask me a question on beer stein dollar values.
I just do not have the time. My web site was really started as an informational site for beginning beer stein collectors that would be looking for the info and not the general public. This SO if one put in "Wood Steins" or "Hand painted steins,"  it
STILL  

 

EMAIL: STEVE (STEPHEN)  =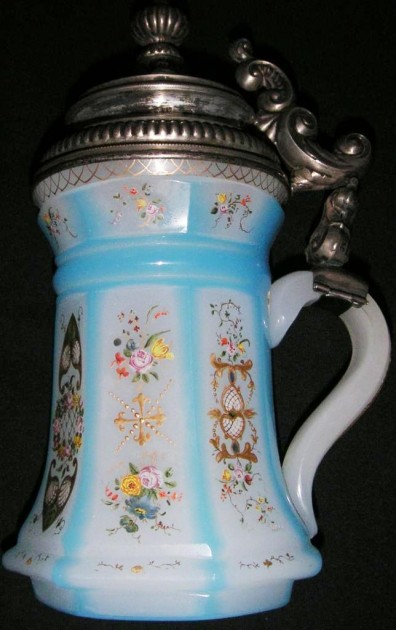 Opaline Glass steins – Steins that look like milk glass but are not. Shown with hand applied enameled flowers, Bohemian Circa 1840.  Silver lid. (Comps of Doris)
Opaque twist -see twisted stem  or ribbon glass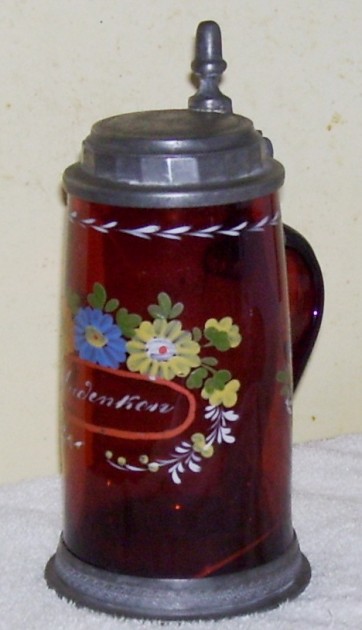 Orange glass  –The rarest color of glass to find beer steins made out of.  Perhaps because one can not see the true color of the beer in the stein. 
Shown above LEFT: : .5 liter  blown orange glass.  Circa 1840 and from another part of Germany, not Saxon but very much along the same lines as the Saxon "celebration" steins. The saying is a simple "In Memory" therefore this one could be a wedding stein BUT I would think maybe it was something else. [Stephen Smith Collection[ Shown above RIGHT a variant of orange, leaning towards a real amber. mid 1800s, hand painted, floral pattern with  "Zum Andenken," again. [tsaco]
"ORIGINAL KING" – Modern day stein manufacturer in Germany. The quality of vessels produced varies.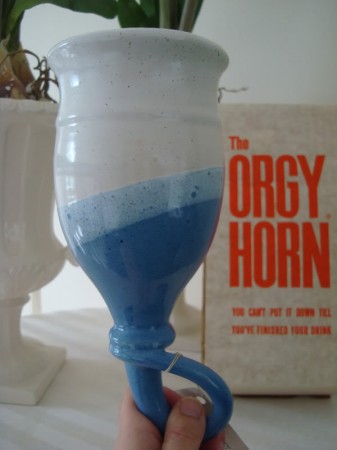 Orgy horn – A most modern glazed pottery version of the old "stirrup cup."
See:  http://www.steveonsteins.com/stirrup-cups-the-little-gems-of-thirst-quenchers
Orivit – Jugenstil (Art Nouveau  and Art Deco all in one) pewter stein manufacturer.  Usually the pewter is stained very dark. Bought later by WMF.  Shown above: two typical serving vessels. Below: Perhaps their most desirable stein, a 1/2 liter "Historismus" piece showing medieval scenes in relief and a grotesque as a thumblift.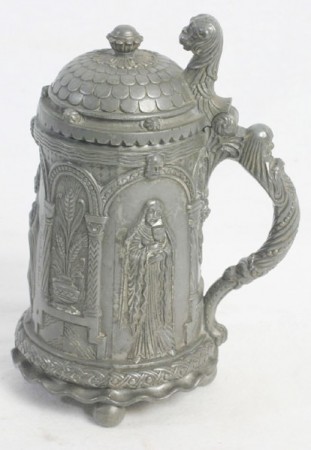 I lightened this photo so one could see the detail.
.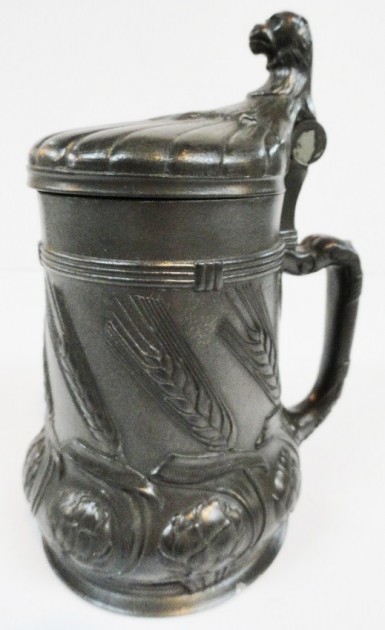 "Wheat and Hops" – An Art Nouveau design.
---
ORIVIT METALLWARENFABRIK Also known as ORIVIT (1894-1905)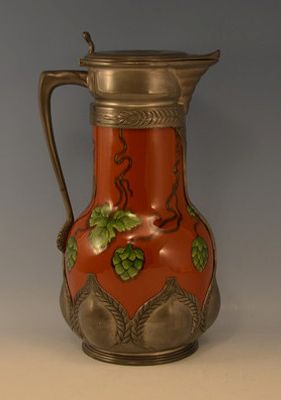 ---
Ormolu — Literally, "ground gold." Ground gold leaf used as a gilt pigment. Also, brass made to look like gold. Introduced in the mid 17th century using powdered gold in a mercury amalgam applied to metal and then heated to evaporate the mercury as a very toxic vapor.
---
OSFRIESLANDER PEWTER TRIO, THE LARGEST FOUND THESE DAYS, ALL CIRCA VERY LATE 1799'S -1830. MIDDLE IS OLDEST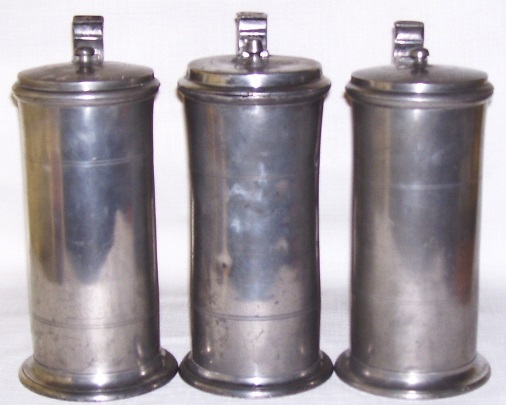 ---
Ostermayer  – A very large  retail souvenir sales shop in Nurnberg,  Ca 1890 – 1920, that ordered and sold steins from several manufactures.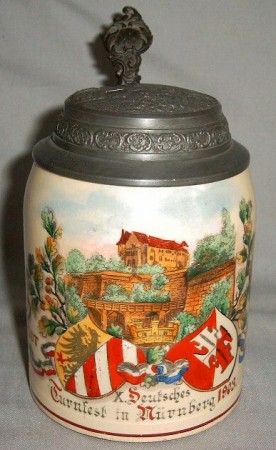 ▲ A .5 liter pottery PUG stein made for the 1903 Turnfest  (Turner fest) in Nurnberg and sold by Ostermayer.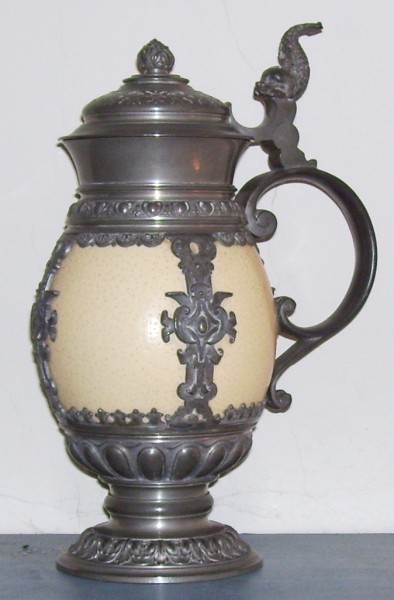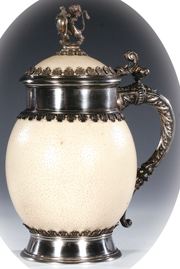 Ostrich egg steins /  drinking vessels – These have been popular since shortly after Australia was discovered in 1606. Steins, pokals and beakers have been made from these eggs. Finding one without a crack in an old egg (lots have been replaced) is mostly a fluke.  Shown far top: An ostrich egg stein with pewter mounts made by J. Lichtinger, Munich. Circa 1890. Shown just above: One with silver mounts sold for about 3k in 2010- with a crack on the egg!   [tsaco]

A massive pewter and ostrich egg pokal, by J. Lichtinger, Munich. A "classic" at 25.5 In., late 1800s.  Some authentic lids do not have the ostrich as the finial! Some have a small horse shoe in the bird's mouth, others do not. I do not know the significance of the horseshoe.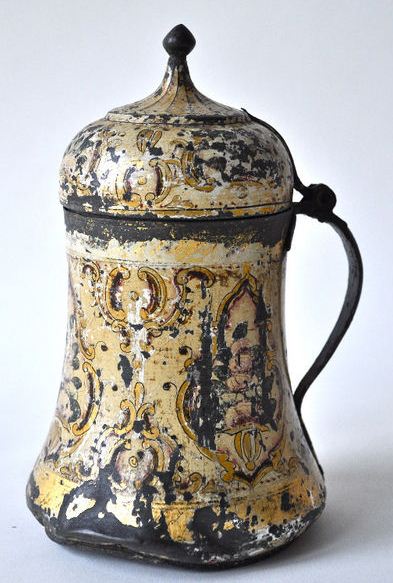 Ottoman Empire (Modern Turkey plus a lot more land) steins – Most done in copper and highlighted with tin, not silver! All have what I call "Condor Wings" attachment to the top of the body (very distinctive.) Shown above: An exception where the body was enameled and then painted. About a half liter, although they didn't mark their pieces for volume. Some people have called these Islamic, this is not correct as Islam is not a place but a belief.
Below: A smaller stein done with tin highlights on the copper and showing one of the "Condor Wings." [FWTD]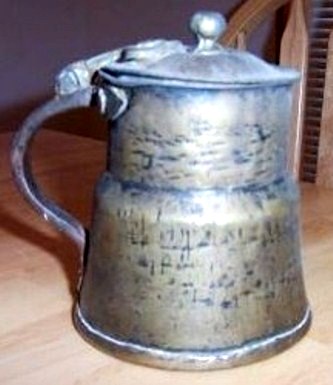 Circa 1700. [FWTD] This is another whole area of stein collecting that to mt knowledge has never been explored by steiners here in the USA; of course mostly because they are not European!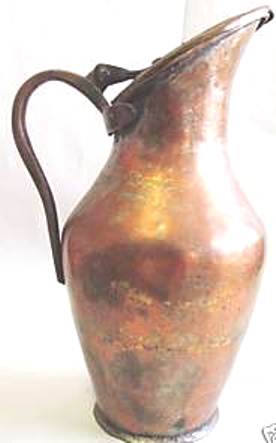 Ottoman  wine / water  server – A 14 inches tall. This form is almost identical to a pitcher made by V & B Mettlach many decades later.
THUS FUBARED  "WORD PRESS" LOST ANOTHER  PHOTO –  –  THIS IS THE WORST PROGRAM EVER

!!! 
IT  MUST HAVE LOST 50 PHOTOS IN THIS LAST  YEAR ALONE.  
I POST THEM  CHECK BACK  AND THEN  THEY ARE THERE . AND THEY "POW" AND JUST DISAPPEAR –  GONE ON NEXT TIME I GO TO THE PAGE !
WORD PRESS SUCKS.
Of course the Ottomans made some beautiful pieces of art for drinking also.
Shown: Copper based, "made for an Ottoman sultan in the late 16th century, the tankard is a spectacular example of how the Ottoman court borrowed forms from everyday life and turned them into luxury items." [Photo:. Victoria and Albert Museum.]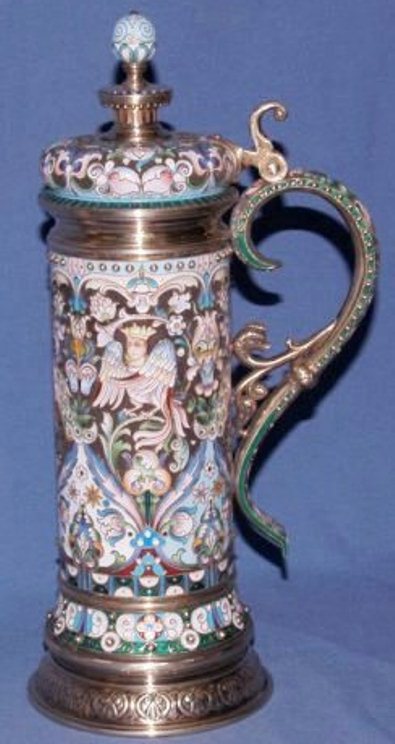 Ovchinichov, Pavel  – The second best (some say best) Russian silver smith –house in Imperial Russia. The firm made many beautiful tankards, both silver ans enameled silver as shown here.  Had shops in both Moscow and St.  Petersberg before the Russian revolution.  
Also see: "Barrel steins" in this site's Compendium.
Also see: "Assay marks" in this site's Compendium.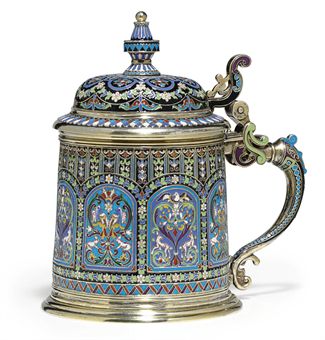 Small stein, about .5 liter, with the Imperial warrant Moscow. 1896-1908; sold  for only [!]  $11,110  in  2009.
.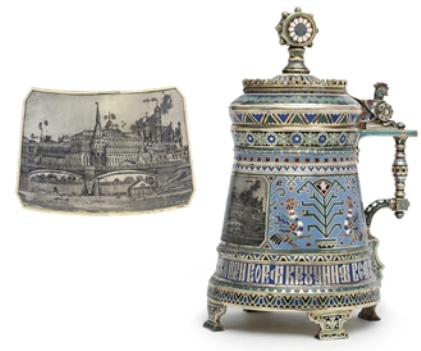 Larger, silver-gilt, niello and champlevé enamel, OVCHINNIKOV, IMPERIAL WARRANT, MOSCOW, 1876 sold at Christies  for £55,250 !! [That is  in British  Pounds folks !!!]
Over glaze — A special glass and flux mixture that provides a clear glossy coating that provides extra sheen and vividness to ceramic materials.
Overlay –  This word applies to several types of antique beer steins: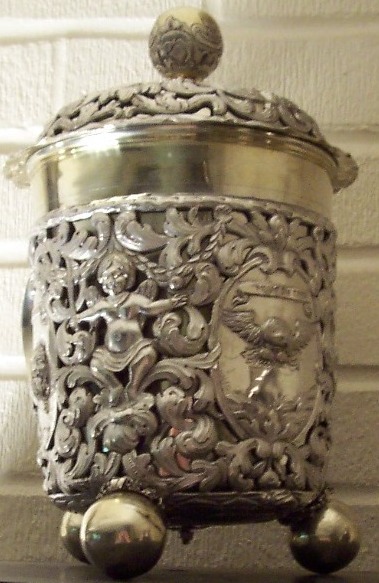 [
1] Metal overlay – As shown on this Russian silver stein, the overlay is a distinct separately worked piece of silver. It is very scarce, as it is the same as making 2 steins at once. Russian, .875 silver. Marked 1762.
.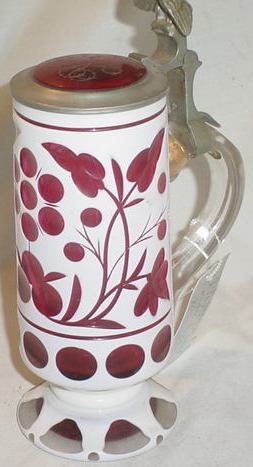 2] Glass overlay – When it is glass over glass and then cut  / ground away, it should be called "Heavy Enameled",or  "Flashed" or "Cased", all depending on the process.
..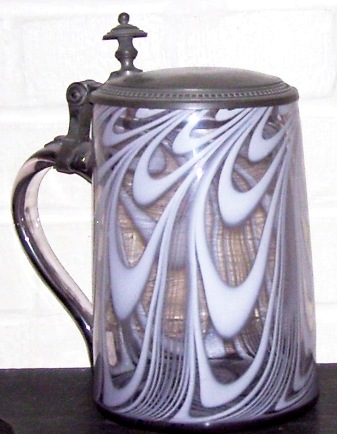 [3] Layered overlay – Layers of glass overlaid each other. This is not the same as cased glass. The example shown has three layers of glass: Clear glass, white glass swirls, then clear again on top layer. Bohemian. Over 1 liter. Circa 1830. [FWTD]
[4]  "Caged overlay" (or Cage-work) – When metal mounts encapsulate the body of the stein. Shown:Brass mounts. Circa 1910. This design has also been seen in a larger size with  turquoises glass.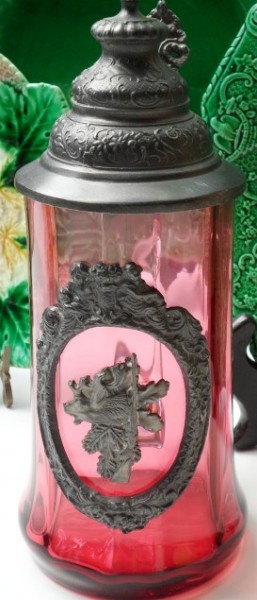 [5] Hot glue overlay =  stuck to the body by a glue.
.
[6] "Overlay; extreme!" – Pewter overlay and lid by J. Lichtinger, Munich and glass by Theresienthal. Check out the male grotesque with large breasts on the handle! 1/2 liter. Circa 1880.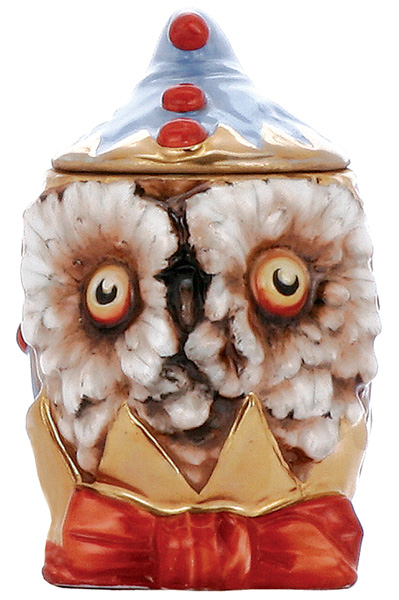 Character stein, .5L, porcelain, unmarked, probably by Bauer.
Owl(s) – Another favorite German  beer stein collector's subject and sub-set of Animals found on steins. Here are but a few examples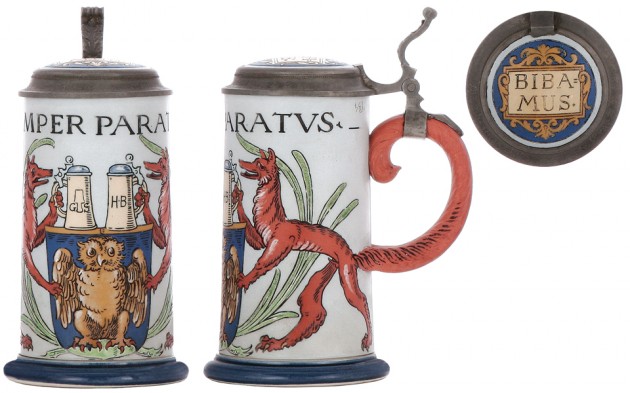 An owl as a supporting shield, the actual supporters are the two foxes on a V & B Mettlach incised stein. The two HB steins would be the crest.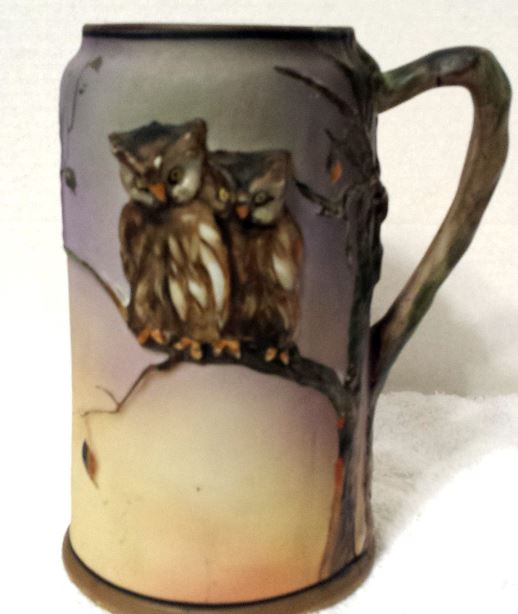 7 INCH ANTIQUE NIPPON (OLD NORITAKE) molded and enameled  porcelain. A very nice go with.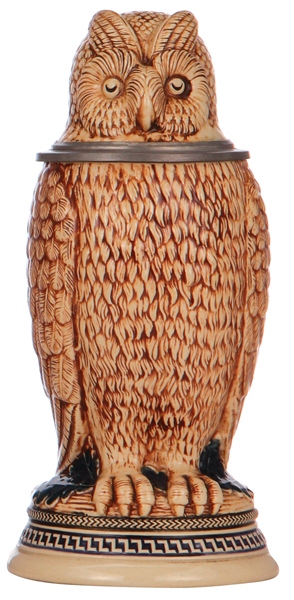 .5L, pottery, marked 922,  [TSACO]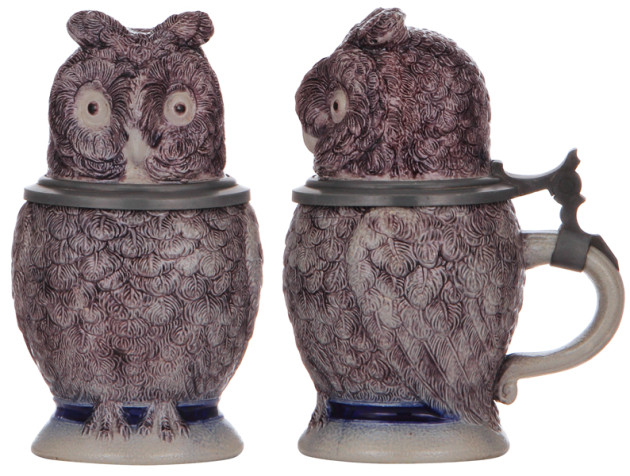 .5L, stoneware by Hauber & Reuther, Owl, blue & purple saltglazed.  [TSACO]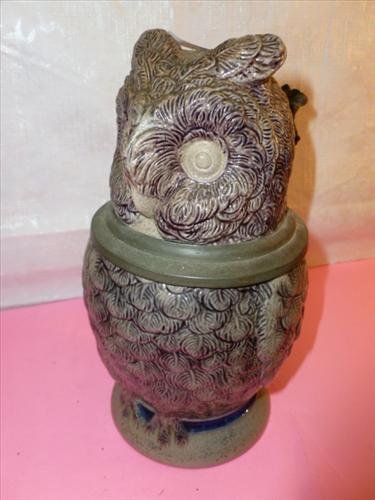 Check out the eyes on this bird. An unmarked version  of above  only "L" on bottom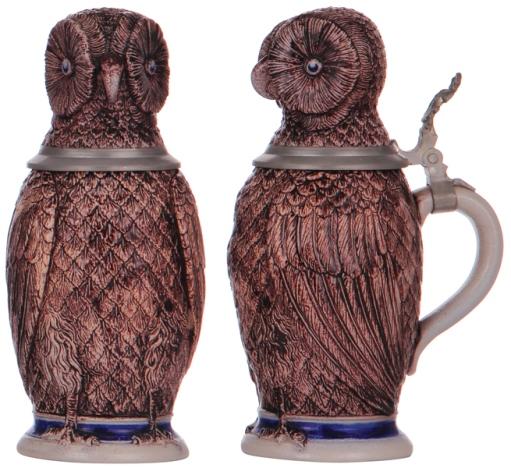 Marked Gerz  no. 444.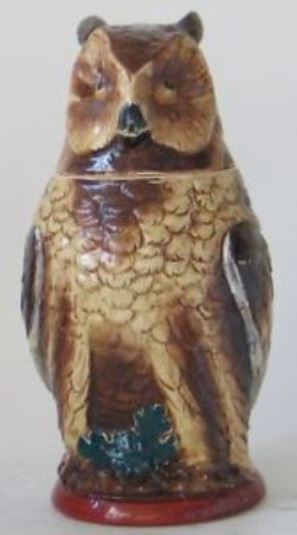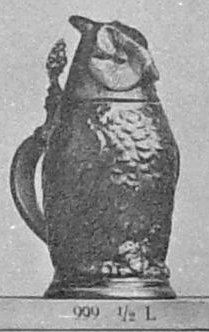 This one was done by Hanke.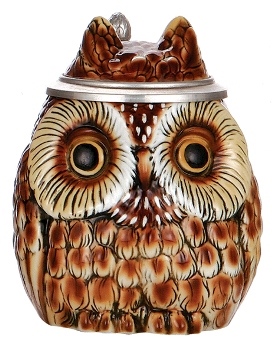 – 5L, porcelain, marked Albert Stahl [tsaco]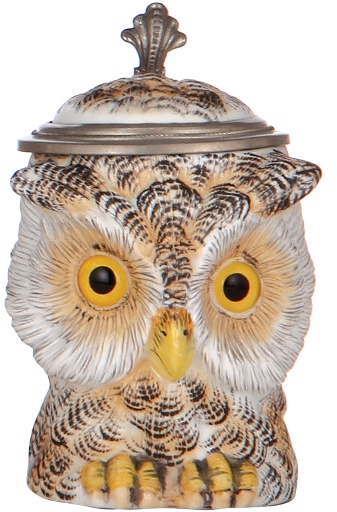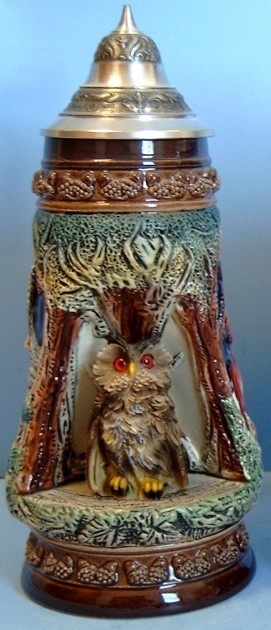 New pottery Beer-Stein-Wildlife-Wilderness series 10.2-inches tall.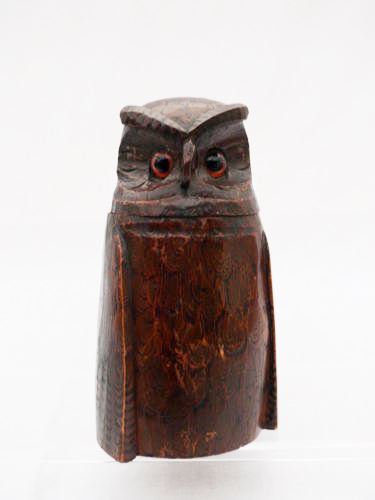 Hand craftefrom one piece of wood, this  bird is only 8 inches tall [FWTD]
Description posted on the web when this was sold:  Owl with real glass eyes, lined inside with pitch Approx . 205mm high and approx . 115mm diameter on base . Some signs of age and usage are visible. Wood has no cracks or heavy damage .He has received the pitcher many years ago (before 1945) of a war buddy . According to its description, it is the pitcher from Silesia and was probably made ​​in the 1910s. The pitcher stood for many years in his office in a showcase. Probably a memento from the First World War.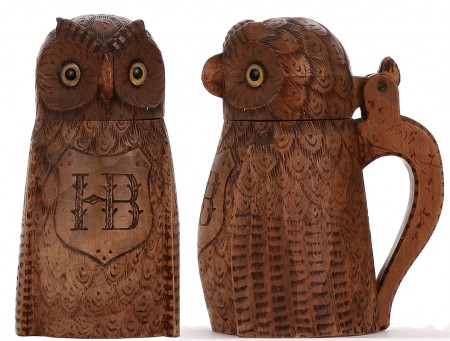 There are many Character steins found in carved wood also. [tsaco]
\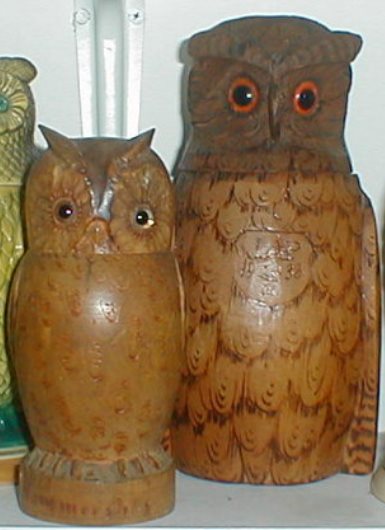 A pair of wooden owl steins. The only real problem with carved wooden  character steins  is that unless signed and recorded where it was originally made;,it is too hard to tell just by looking at them. What I am saying is that I don't have a clue where these  [all four above] three  came from, nor does the owner. [ ▲ Comps of W.B,] 
 EDITOR'S NOTE: if you are into  / just like owls as a bird of prey or just like birds, or would like to learn more about them,  I recommend you get a copy of " OWL" by Desmond Morris (he also wrote "The Naked Ape", "The Human Zoo")  it is a fascinating read and not expensive!! Paperback copies on ebay from about $5.00 up.
END – SOK – 315- R5]

    "Sometimes I'll look down at my watch 3 consecutive times and still not know what time it is."