A beautiful gilded silver "pokal" along with a couple of other beautiful things. By Jan Rutgersz Van Niwael (c.1610-c.1665). A 17th Century Oil on Panel, 'Allegorie Des Reichtums'; Portrait of a woman holding a 'goblet' and a pile of coins. Signed and dated lower right, 1653.
for the future selling of steins on auction sites such as eBay, etc. My web site was really started as an informational site for beginning beer stein collectors that would be looking for the info and not the general public. This
STILL

 

  =
Painter's emblem / icon – Shown: Smaller  lidded, 'Heckert' style enameled Humpen with Coat of Arms to a painter's family (three small shields on a larger one). [FWTD]
Paktong (cupronickel) – The name "German silver" refers to its development by 19th-century German metalworkers in imitation of the Chinese alloy known as Paktong.
Palatine way (the) –  An inscription on a Bohemian glass flask, by Ignaz Priessler, 1720- 1730,  in the Corning Museum of Art. New York State.  The inscription is translated, "We drink in the 'Palatine way' so that not a drop is left from which a fly could quench its thirst."
Pan (The God) mug – See "Satyr mug" in this Compendium's "S"
Parcel Gilt — An object that has been gilded, most often silver, sometimes copper (but this mostly in the olden European days when good copper was a rarity.)  It is not PARTIAL GUILT!

Paragraph 11 -A German symbol found on beer steins (and other related items such as this barrel)

The "paragraph 11" symbol (two large S's , one above the other, is found mainly on thumblifts. Jack Lowenstein, a Master Steinologist of SCI had this to say in an article years ago; "The beer code, or 'Bier-Comment' of the Senior University, Heidelberg, as it is officially known, has passed through several revisions and editions since 1829. In common with other university beer codes, however, the Heidelberg laws begin with paragraph 11. Paragraphs 1 to 10 are left blank, being presumably the ten commandments of the Old Testament. The eleventh paragraph, or commandment of Heidelberg University reads: Es wird fortgesoffen, or, freely translated, "Keep on drinking."  Most stein collectors agree with this explanation.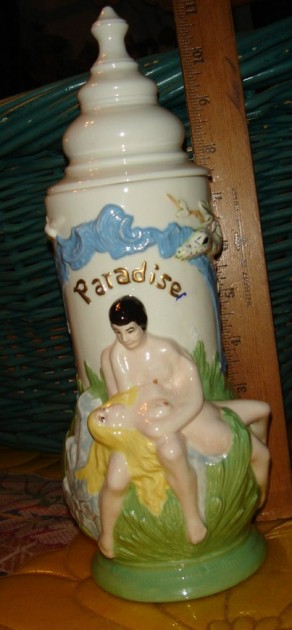 Paradise stein – Shown: About a 3/4 liter stein made of some sort of cheap, not heavy  pottery. I normally wouldn't show a stein as this one by itself, but I have seen so many versions of this ▼  ▼ and not just in ceramics.  I would really like to be able to ascertain what and where the original came from! do any of you readers know, or have a SWAG?
.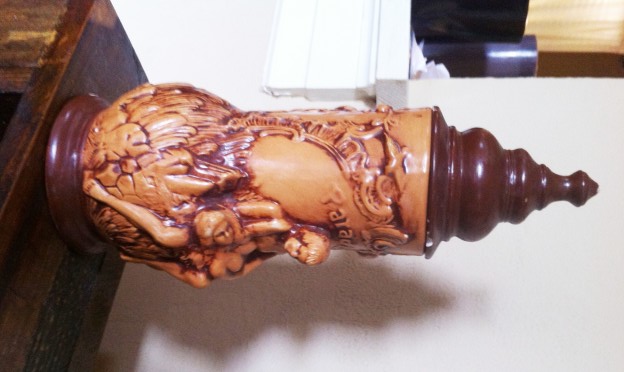 PARADISE STEIN –   another version compliments  of  CHAD O FROM ST.LOUIS, thanks chad !
"Parting Glass" –– The final drink of the evening at Irish and some English pubs. Used as a toast and sung to good and continual friendship.          
The words:  "Oh all the money that e're I spent /  I spent it in good company /  And all the harm that e're I've done / alas it was to none but me / And all I've done for want of wit / To memory now I can't recall / So fill to me the parting glass / Goodnight and joy be with you all / Oh all the comrades that e're I had / They are sorry for  my going away / And all the sweethearts that e're I had / Would wish me one more day to stay / But since it falls unto my lot / That I should rise and you should not / I'll gently rise and I'll softly call / Goodnight and joy be with you all  /
If I had money enough to spend / And leisure time to sit awhile / There is a fair maid in this town / That sorely has my heart beguiled / Her rosy cheeks and ruby lips/  I own she has my heart in thrall / Then fill me with the parting glass /  Good night and joy be with you all."
For a great rendition please go to:   http://www.youtube.com/watch?v=dvyX6jrxEdM&feature=related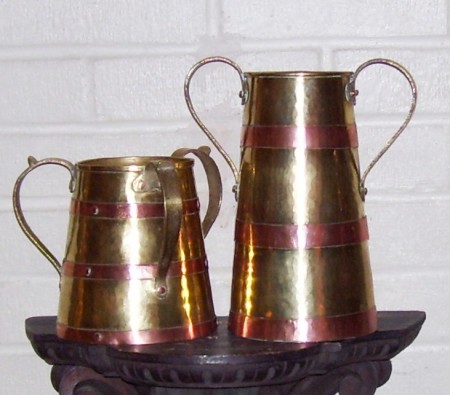 Pass cup – A drinking vessels that has two or more handles which allows it to be passed from one drinker to another without setting the vessel down. Most have two or three handles, but some medieval pottery forms had up to eight.The English call theses "Tygs" or "Tyges." The English and American's also call them "Loving cups." The idea of communal drinking in the USA mostly died after 1918 along with millions of people in the great flu epidemic. This custom is still practiced here sometimes by winning sports teams drinking champagne out of the winning trophy. Shown above ▲ ▲ : Two pre-revolutionary Russian brass and copper Pass Cups.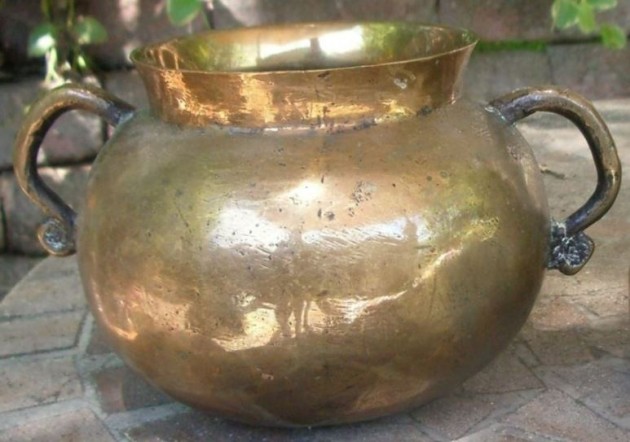 Shown ▲ A Renaissance bronze version.   [ALL FWTD]
FOR MUUCH MORE. SEE: http://www.steveonsteins.com/pass-cups-a-short-history-new-12-26-10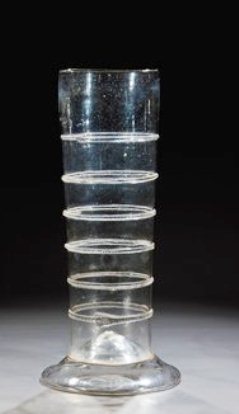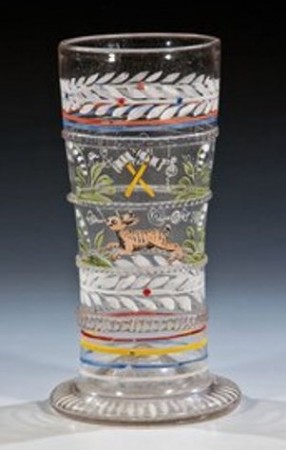 Pass glass –  Originally  started about 1600. Tall glasses with divided  rings indicating to the communal drinkers how much is alloted to them. [L] 1600's – no size given. [R] Enameled, dated 1720, H= 6.8 inches.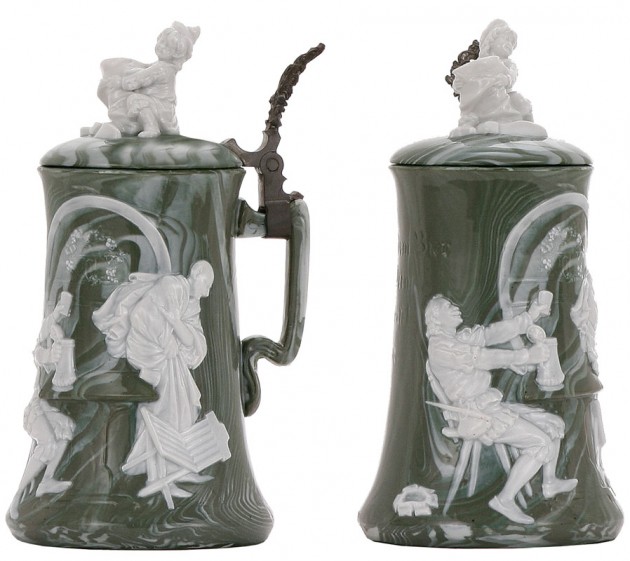 –
Pate-sur-pate — This style shown above (marbleized porcelain, usually green and white) is so called by SCI'ers but it is another misnomer.Pâte-sur-pâte (a French term meaning "paste on paste") is a method of porcelain decoration in which a relief design is created on an unfired, unglazed body by applying successive layers of white slip (liquid clay) with a brush.
The effect is somewhat similar to other types of relief decoration such as Jasperware, but as a mold is not normally used, the artist is able to achieve translucency. Shown: Porcelain stein, .5L, mild relief, with a porcelain lid. As the figures are added and not applied by brush as in the definition above, these ARE NOT real Pate-sur-pate.  [TSACO]
Below▼: A  true Jasperware  beer mug.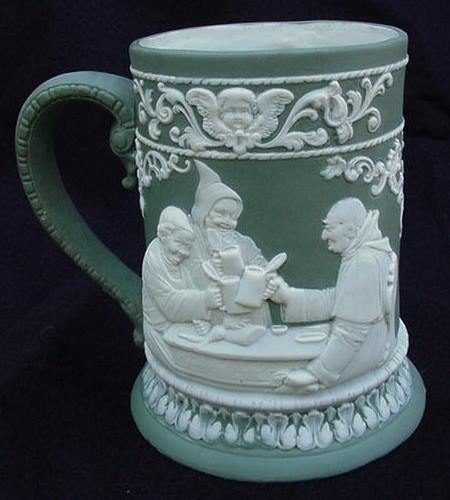 Patent and copyright marks,  Germany – Click on  "Logo Identification" at:  http://www.steinmarks.co.uk/pages/pv.asp?p=stein7
,and go to the bottom of page .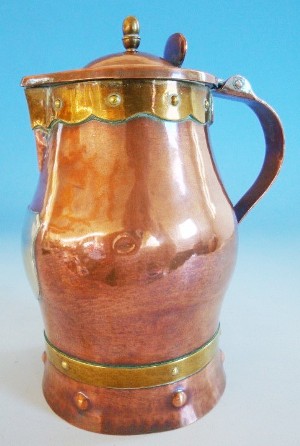 Patina  –The term used by most uneducated dealers for steins that have lots of dirt and grease on them. A real patina is a fine, even-all-over coating of oxidation that softens the tone of the metal, and will reflect light.  Shown above: A Bohemian Copper server, Circa 1850, with a great natural patina.
Shown below: This copper piece (it is not a stein folks!) is covered with heavy oxidation and dirt, not patina! These were decorative, stamped brass or copper pieces that were to be placed by a fireplace, used for kindling or other mundane uses. It is not made strong enough to hold beer! Most designs on these pieces were however copied from real steins. This one of the three early Frankish / German kings was taken from a large Westerwald stoneware master stein. This piece (and most like it) is Dutch made I believe. Circa 1885 – 1900. [FWTD]
.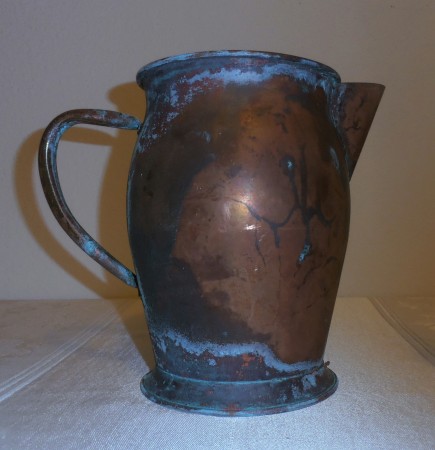 Another case of  dealer's "patina" = NOT!!!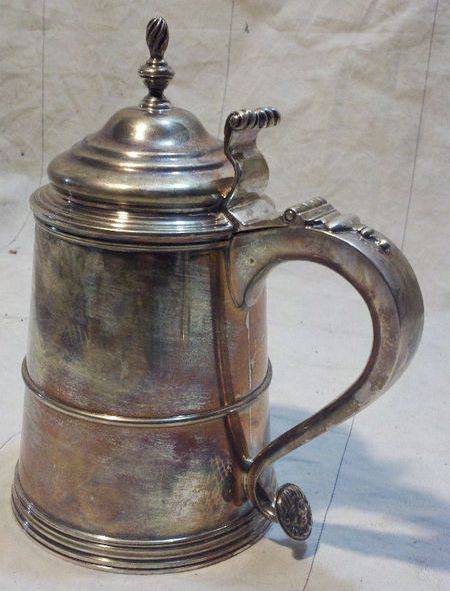 Paul Revere tankard – See Revere, Paul.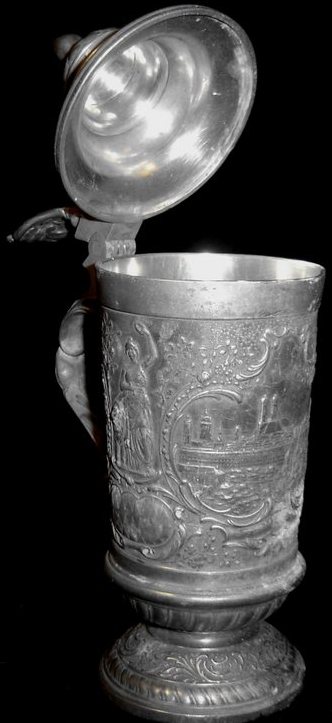 Paulson, Martin  – A beer stein distributor in Munich. Steins made for him – by others  – bear his name, mostly impressed on the tang. It is  still being debated by some if Paulson actually had his own pewter shop. Shown: A  1/4 liter pewter relief stein showing scenes from Munich, distributed by Paulson.
PDG = Pretty Damn Gaudy –  Shown above: ROYAL BONN Pottery stein, .5L, marked Royal Bonn, Old Dutch, hand painted, [tsaco]
Below – A modern PDG Crapo-de-Monti stein.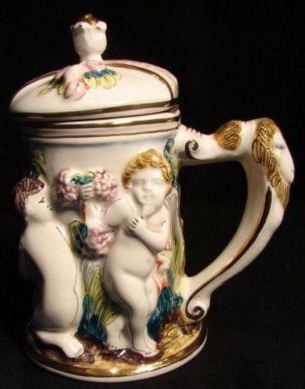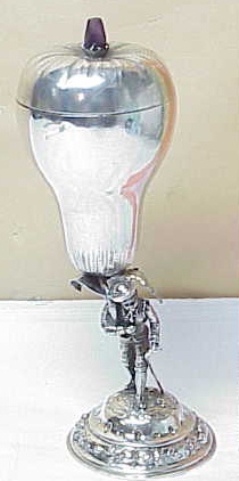 Pear cup – Self explanatory. Shown: A post 1888, German .800 silver pear cup. 7.25  inches tall. See "Pineapple cup" also.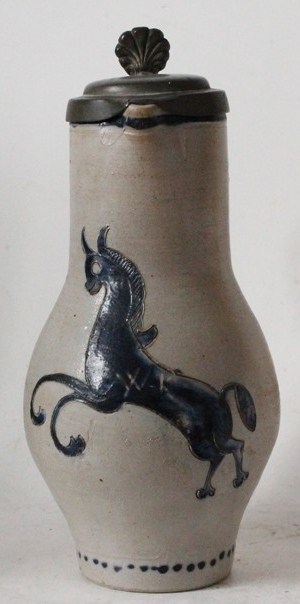 Pear jug- (Germ: Birnkurg) – Jugs (a great many made in the Westerwald in the 1800-1920's ear) that has a bulbous center  and narrows at the top and bottom. These are sometimes incorrectly called (even by the Germans ) "Engelhals krug  which means Narrow Neck Jug.
Domestic scene with a pear jug  by Wilhelm G. Hasemann
Pear jug – Westerwald type – The German name is Birnkrugs / Birnkannen
For much more info see:  http://www.steveonsteins.com/some-of-the-beauties-of-the-westerwald-3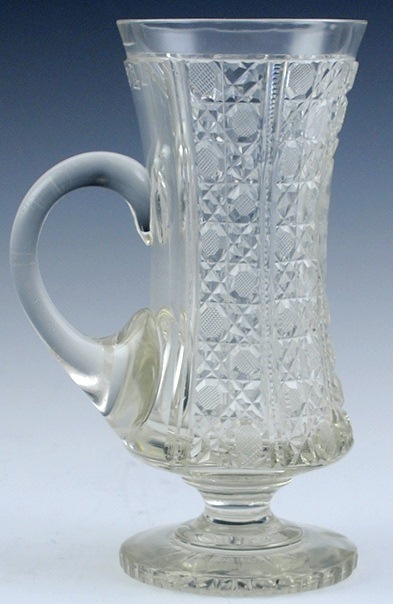 Pedestal base- self explanatory. This style of glass mugs / steins became popular about 1885 and lasted until about 1900.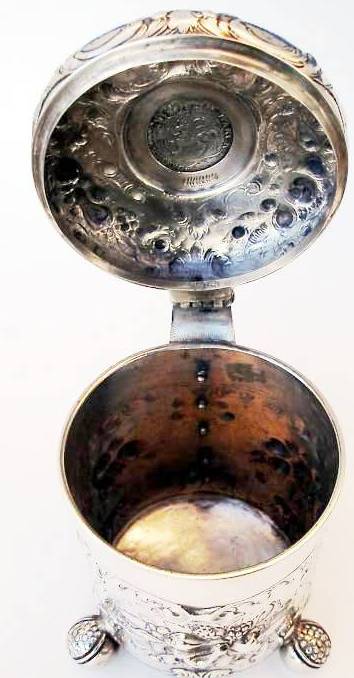 Peg Tankard –  or "Pin" tankards – A stein / tankard usually of wood, silver or pewter with a line of applied small pegs sticking out from the body on the inside. On some wooden Scandinavian steins wood burnt circles inside substitute for the pegs. The expression: "I'll take you down a peg or two!" comes from using this type of vessel."  Shown: A Silver "Peg Tankard" from Denmark, late 1600's.[FWTD]
From the book "Drinking Vessels of Bygone days, the author, Mr.  G.J Monson-Fitzjohn, has this to say: "About the year A.D. 960 wood tankards were in everyday use in all households, large or small, the early specimens being made with small staves held together by hoops of wattle or hide on a solid wood base, the inside being well lined with pitch. These tankards were fitted with wood handles and lids and were recognized drinking vessels in taverns and inns during the reigns of the last Saxon kings. They were made to hold two quarts of liquor and contents were consumed at such a speed that both the State and the Church had to step in. King Edgar, the son of King Edmund, was the originator of the idea of decreasing drunkenness by limiting the quantity to be drunk at one time; thus we read that he: "Ordained certain cups, with pins or nails set in them, adding thereto a law, that what person drank past the mark at one draught should forfeit a penny, whereof half should fall to the accuser and the other half to the ruler of the town where the offense was done."
.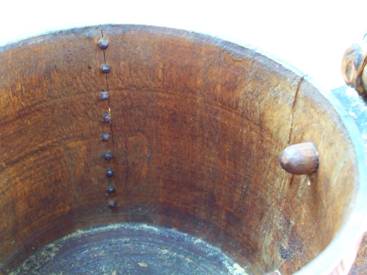 wooden pegs / pins . on the left rear. [FWTD]
.

These vessels became known as "peg" tankards, or "pin" tankards and were divided into eight sections, each marked off by a peg driven into the wood on the inside of the tankard The theory was to prevent a member of a company drinking more than his share, or to a point below the nest pin, but apparently it did not have much effect, for we read that in later years Archbishop Anselm found it necessary to inveigh against the practice of over-drinking, also decreeing: "Ut presbyteri non eant ad potationes, nec ad pinneas bibant", which being translated means that priest shall not resort to taverns and banquets, "nor drink to pins"!
(To my knowledge those statements above by Monson-Fitzjohn have never been verified by anyone else, so tread lightly should you wish to use them!  SLS)
.
Another gathered  comment  on the origin of English copies,  this wording is not mine.
Peg tankards have a long history in the Scandinavian and Baltic countries. In England peg tankards were made from the mid-1650s through to the 1680s in York, Hull and other north-eastern towns with close cultural links with northern Europe. They usually follow the Scandinavian form, incorporating floral engraving and pomegranate feet. Here  is a plain example in the Metropolitan Museum of Art , for info ref: http://www.metmuseum.org/collection/the-collection-online/search/195229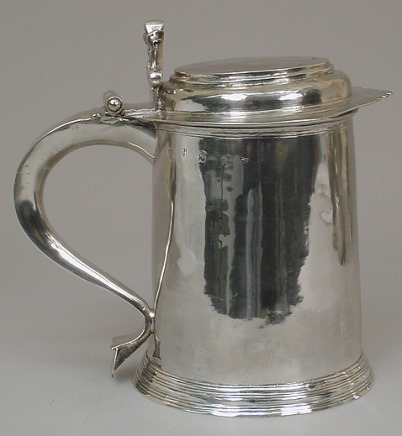 Penis Stein – See Phallic stein below ▼.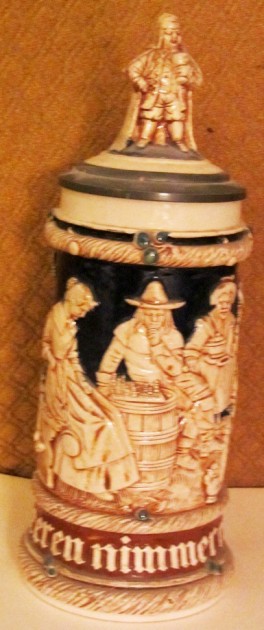 Perkeo –  A dwarf whose job it was to guard the large barrel of beer in the castle's "keller." Now a well known symbol of the City of Heidelberg. He is seen on almost every souvenir stein produced for that city, along with the castle and the large barrel ("das grossefass") Shown: .5 liter pottery relief (with false bottom) with Perkeo as the lid's molded  finial.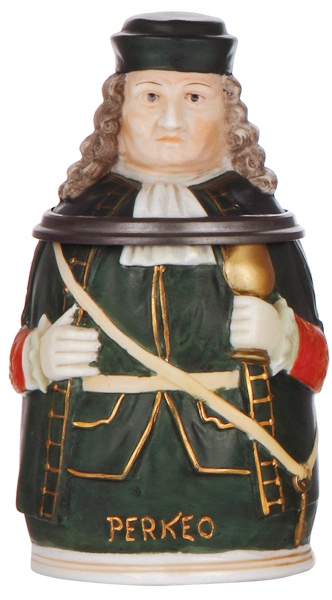 Character stein, .5L, porcelain, marked 613, Perkeo holding a golden roemer.
Perkeo of Heidelberg (born Pankert Clemens or Giovanni Clementi) was a notable court jester in 18th Century Heidelberg, Germany. He has since become an unofficial mascot of the city and region, as his name, story and image have been connected with a variety of festivals, traditional songs, cultural and scientific institutions, hotels, restaurants and private companies (in and out of the region) ever since.
Pankert was (apparently) born with dwarfism, in Salurn in the County of Tyrol, where he worked for the regional Prince Charles III Philip, Elector Palatine. In about 1720, Prince Philip took an interest in Pankert, and brought him along to the Heidelberg Castle (in what is today Germany) as an official entertainer for the court.
In Heidelberg, he allegedly adopted the nickname "Perkeo" after he famously replied "perché no?" (meaning "why not?" in Italian) many times after being asked if he wanted another glass of wine at various court events.  ;http://en.wikipedia.org/wiki/Perkeo_of_Heidelberg]
Periods or styles —Names of the different types and times of fashionable art. Gothic, Renaissance, Rococo, Jugendstill. Art Deco, Art Nouveau, Baroque, Biedermeier, Chinoiseries, and Historicism, are the most important stein styles.

A pewter pokal –  an unknown  guild's "Welcome Cup," 16.5  inches tall and dated 1636 (real date)! It has six individuals' coat sof arms , and associated figure in relief. Also six names on finial's shield .[FWTD]
.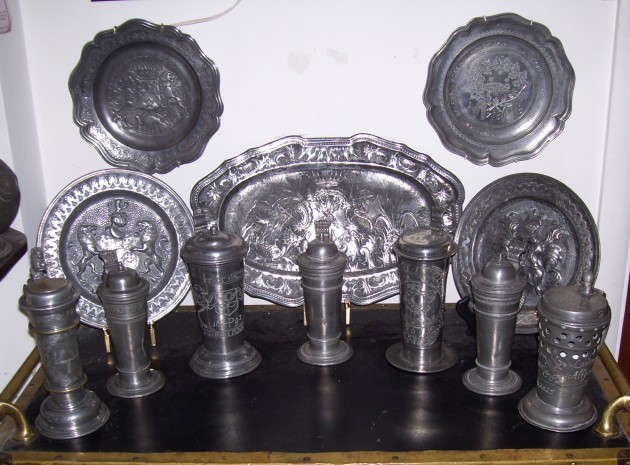 Pewter — An alloy of tin and copper or any alloy of the low-melting-point metals, including tin, lead, bismuth and antimony. The higher the tin / copper  content and the lower the lead content, the better the pewter.   Above a few of some Baltic area 1600's pewter roerkens  zFirst 6 from left to right. [FWTD] .
For a very brief  but intriguing article on old pewter please see:   "A Short History of Pewter Tankards ."   @http://ritaroberts.wordpress.com/2012/07/27/a-short-history-of-pewter-tankards/
Pewter mountings — Includes the foot-ring and all the pewter work that is used to attach the lid to the handle of a stein.  The attaching pewter work has its own terminology that is important in describing damage and repairs.
The "strap" encircles the handle, and a usually triangular strap support runs somewhat down the outside of the handle.
The "shank" goes from the strap to the hinge.
A "hinge pin" will show on most (pewter lidded) steins made after about 1865; it will not show on earlier steins; an odd number of rings or teeth make up the hinge.
The "tang" proceeds from the hinge to the lid rim.
The "thumblift" can be over the hinge or fastened to the rim, If there is an inlay, a pewter flange will hold it in place; the top of some – pewter lids may contain an ornate pewter finial. (above terms are from an article by Gary Kirsner.)
Most of this definition applies to brass and silver mountings also (sls).
For information on pewter thumblifts and dating, please see: "Pewter fittings through the ages." @  http://www.thepatriotexchange.com/pss/ages2.htm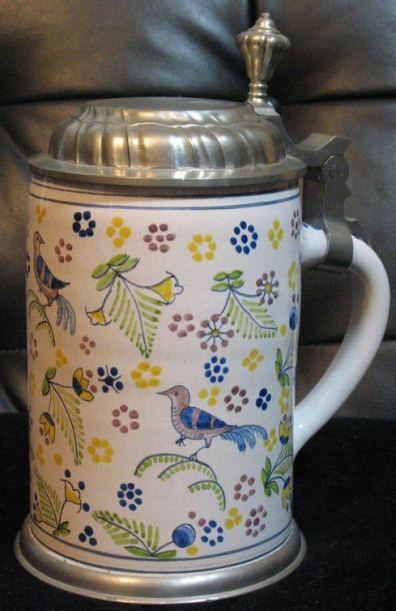 "Pewter is still warm, The"  – A colloquialism used by stein collectors to indicate the piece being examined is "brand new."
.
Shown: A "new" but well done fayence stein, but not made to look older than it is, as it wasn't stained dark and scratches added. The pewter mounts viable hinge, and no wear marks almost always gives them away! 
Also see: http://www.steveonsteins.com/pewter-rules-for-dummies.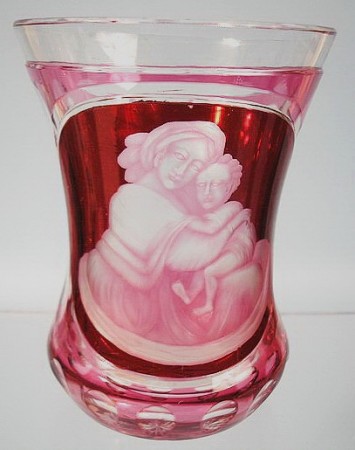 Pfohl, K. – Master Bohemian glass engraver. Shown: Madonna and her baby, on a Circa 1840's beaker by him.
Phallic stein – What more can I say? At least it has two handles, hey?
See page on "Risque steins," this web site =  http://www.steveonsteins.com/in-the-near-future-2-1-3-1.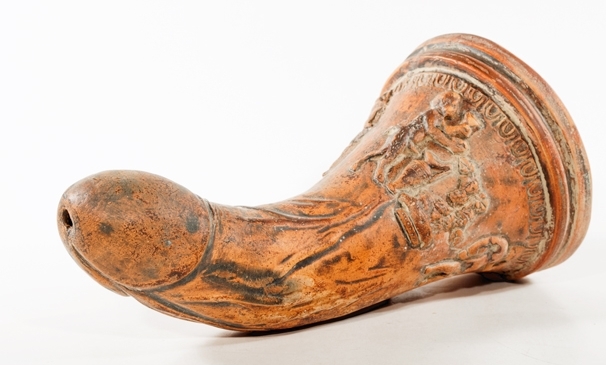 Phallic drinking vessels go a long way back in European society well back into the Greek and Roman times. A modern copy of a Roman example of a  penis beaker called a Rhyton or what we now might  call a "stirrup cup" is shown above ▲ .  As with other cultures before and after them the  Romans seem to be obsessed with the male sex organ . here is an excerpt from a BBBC News article about roman art . I found what is highlighted in blue as very interesting. and  I now wonder if drinking spirits from one has a close connection? 
" As the sculpture of Pan and the goat attests, sex pervaded Roman culture as much as violence. A year and a half ago, I visited Pompeii, while filming a BBC documentary series called Treasures of Ancient Rome. While it wasn't surprising that one of the town's brothels was painted with sexually explicit frescoes, I did find it bizarre that so many buildings were decorated with plaques depicting erect phalluses.
It used to be thought that these pointed the way to one of Pompeii's many brothels: according to some estimates there were as many as 35 in a town with a population of around 12,000 people. But most scholars now believe that the phallus functioned as a kind of amulet, warding off evil forces."
for more on the subject please  see: http://www.bbc.com/culture/story/20130419-the-shock-of-the-old
Phoenix Pottery Co.- See Brunt, William 
"Photos from the Road" – A great series (20 pages) of stein photos taken by Ron Fox on his travels around the USA. Besides being  a  stein auctioneer, Ron is a SCI Master Steinologyst and has been Editor of SCI's "Prosit" magazine twice.
Wonderful to look at, and dream. It will give the new stein collector , as this site has tried to do, a better  understanding of what all is "out there!"
See link  –  go to the bottom of the page:  http://www.foxauctionsonline.com/
Here are some of the photos shown on this web site from friends of mine and members of  "The Gambrinus Stein Club" (of Va. Md. and DC.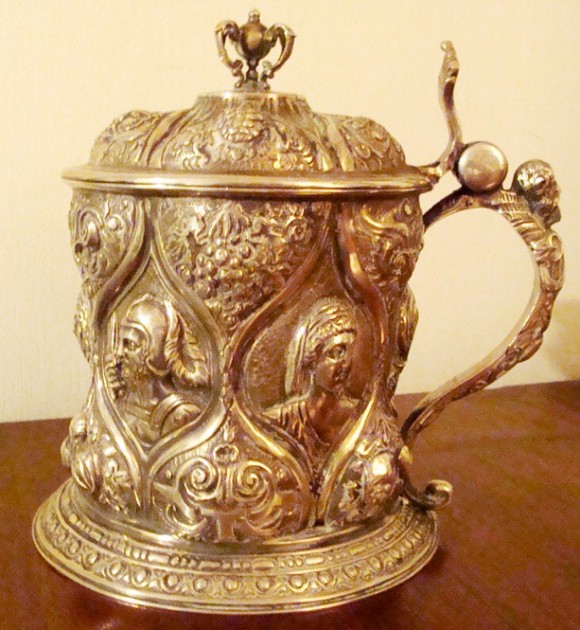 14 Loth silver, German 1700's,  with great chasing and detail work. [JS]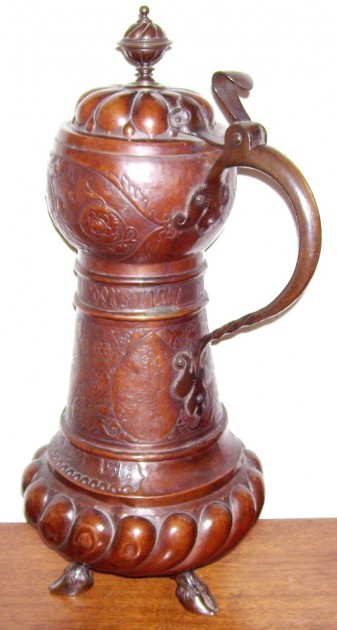 5 liter  Bohemian Copper serving  or display stein.   Attributed to  F. X. Kusterer, MUNICH    [RK]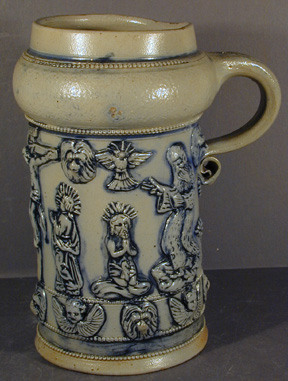 Pig tail handle – Older style of a stoneware handle's bottom finial, where the clay was wrapped around itself, supposedly looking like a pig's tail.  Shown:  One on a Regensburger one liter (lidless) stein with applied religious reliefs. [FWTD]
Pilgrim's flask – Ceramic flasks made with loops on the side to put the  rope through to carry on ones shoulder or saddle. The distinctive shape of the flask, particularly the ring handles, is based on contemporary tin-glazed earthenware that was extremely fashionable in northern Europe in medieval times. Shown: A Regensburg copy of a flask but with an added base.  [FWTD]
(Ed. note: THIS IS MUCH DIFFERENT THAN A TYPICAL "MOON" JUG.)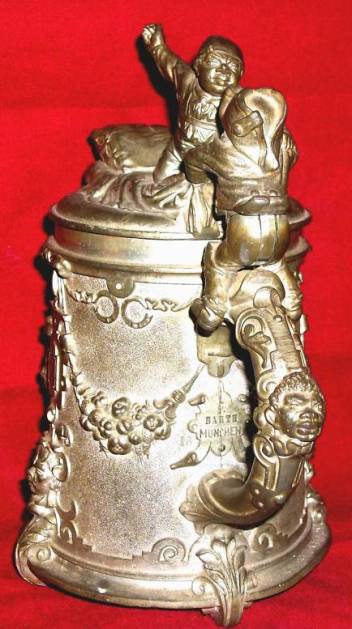 "Pillow fight" stein– A very heavy 1/2 liter pewter relief stein that is symbolic of Germany and France fighting in the war of 1870-71.  
See "Misnomers" this web site:
Chris Wheeler describes it as such: " Der Deutsche Michel." (Michael) is holding off the French invader, Napoleon III.  See  http://www.steinmarks.co.uk/pages/pv.asp?p=stein744
This stein was made in 1871 to commemorate the German victory over the French in the
Franco-Prussian War of 19 July 1870 – 10 May 1871.

(Marked "BARTH – MUNCHEN")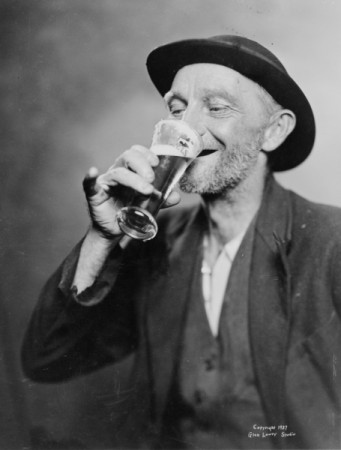 Pilsner – A German city, beer, and a tall, thin 'V' shaped beer glass. Shown: A "short" Pilsner. (Have to love that dude's little finger!)
Pin tankard –  See "Peg Tankard" .this page ▲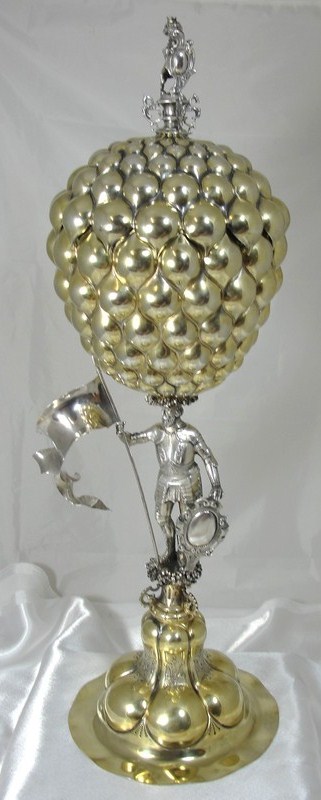 Pineapple Cup – The European silver collectors call this type of a cup / pokal  a "Pineapple Cup, " even though It doesn't look like a pineapple to me.
Shown: German, silver gilt, cup and cover with crowned lion cover and knight supporter. A very large 21.5 inches tall.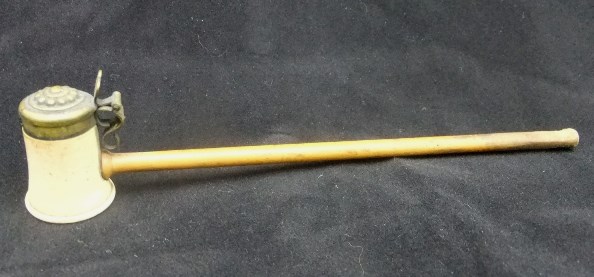 Pipe, stein  –  an interesting "Go-with""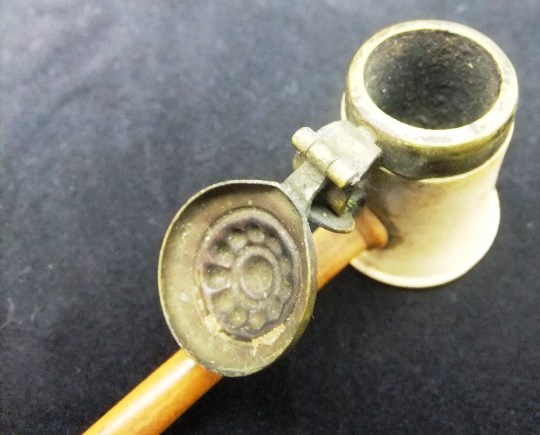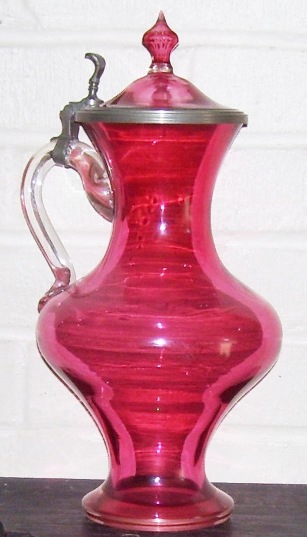 Pink glass – This is most often found stained in the inside of a stein. One can tell by looking through the clear glass bottom.This beer server  was not stained. 14 inches tall Circa 1850. [FWTD]  Very scarce, both in its color and in its shape!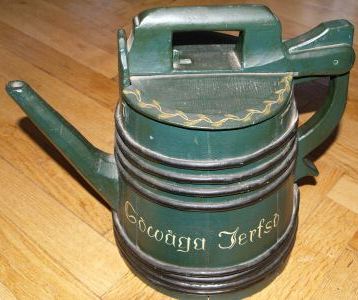 A Swedish 'Pipstanka,' used  to serve beer / liquids from. Circa mid 1800's. It is missing the wooden slide under the handle to make the lid secure. See photo, two below.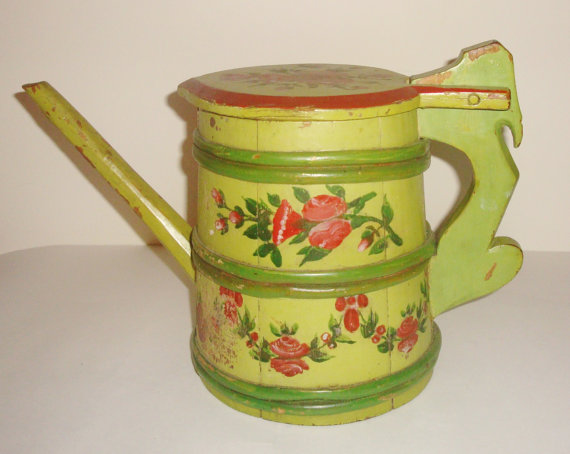 Another  Swedish 'Pipstanka' , a bit newer, say 1910-30. It was called a watering can on the net.
.
Pipstanka -A large wooden  Swedish serving vessel, some with spout, some without. Has a sliding  locking mechanism on the lid.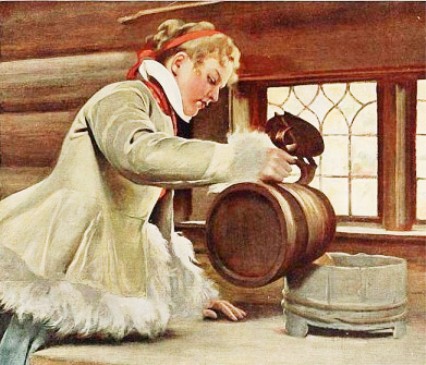 Pique-a-jour — Translucent enamel without a metal backing, enclosed within metal frames, giving a stained glass or jewel-like effect.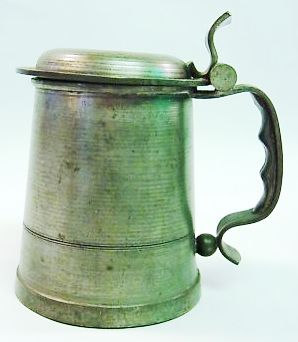 Pistol grip – Self explanatory – These are unusual as most everyone's hands are a different size. Shown: A Norwegian pewter stein  c.1890's, called a  'HAVSTAD'.  
Reservist steins found with "pistol grips" are reproductions. 
See: http://www.steveonsteins.com/reservists-regimental-reproductions

Pit marks — Minute holes usually found on pewter, lead or other soft metal borders (edges), and sometimes on copper and silver steins when some acidic liquid is left on it for  months or years.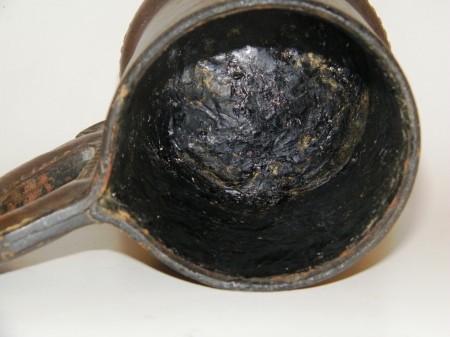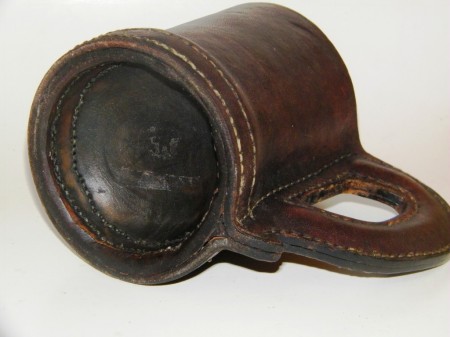 Pitch –  A  dark , extremely viscous  material remaining in still after  distilling crude oil and tar.
Shown above ▲: Pitch added to the inside of a circa 1879's English Pub mug made of stitched leather.
[END – SOK –  52 – no R5 ]

"Going to church doesn't make you a Christian any more than standing in a garage makes you a car."