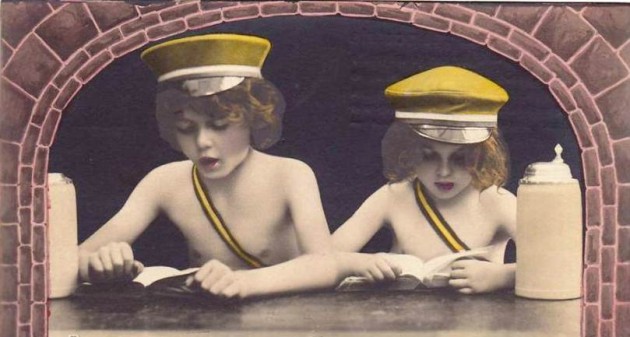 ---
---
F & M, N – The  symbol / mark of Felsenstein & Mainzer, Nurnberg.  A well known pewter stein and pewter beaker production company. Shown above: Relief scene of the old knight Falstaff with Miss Quickley, drinking from a German pewter beer server!
For more info on Falstaff see: http://www.steveonsteins.com/falstaffbeer-steins-not-as-english-as-one-might-think-10-31x
See: http://www.steinmarks.co.uk/pages/pv.asp?p=stein1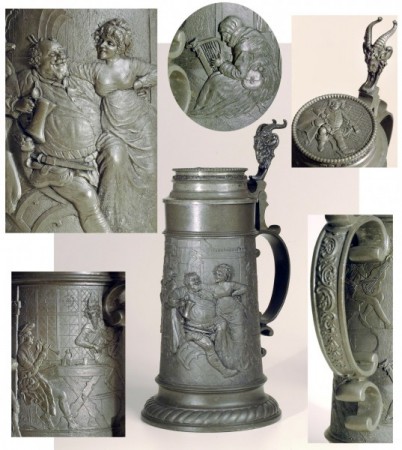 Shown: Their mark in the center of a distributor's name.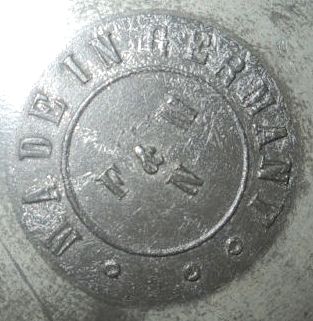 Another of the same series by F & M, N. This one with a Bacchanalian scene (showing Silenus on the front (and with the same lid and thumblift as above. I believe there are at least two more scenes in this set.
VERY HEAVY PEWTER . PART OF SERIES  OF  XX STEINS  – AT LEAST 3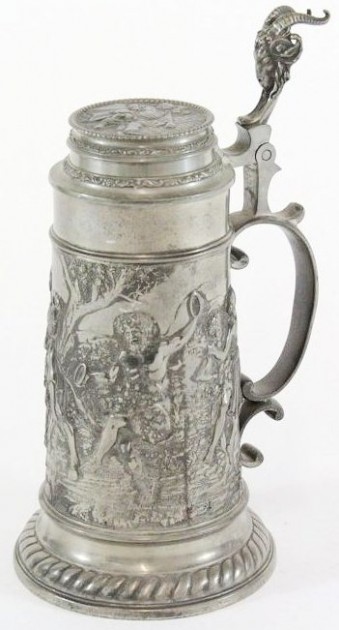 ---
[Full] Face stein – Shown: Pretty much self explanatory. Below ▼ another. Both in nice heavy relief.

.
.
Face Jugs (USA) – "Down in rural North Carolina there use to be a thriving moonshine industry and since in rural North Carolina lies the little pottery crazed town of Seagrove there was bound to be a connection between Moonshine and Pottery.
Now Seagrove doesn't claim to be the first to make the face jug but it does have its place in the face jug history. There are many tales behind the face jug so let me share the two that I best know are true.
Theory #1
It is believed that the face jug was first created as both storage for illegal moonshine and a child preventative. Old Grandpa use to brew him up a batch of his finest moonshine and pour it into a devil or some other monster face jug and cork it. Now when the kids came round, grandpa would say, Kid's now ya'll don't go in my bedroom, cause the Devil is in there. So in essence, grandpa got to drink his moonshine, hide it from the law, and scare the kids away from a gut wrenching. "Smiley" on the other hand is a happy version of a face jug, perhaps to lessen the anguish of cough medicine, or to serve drink, punch, or something pleasant from.
The above quote from and for more info please see:  http://www.face-jugs.com/history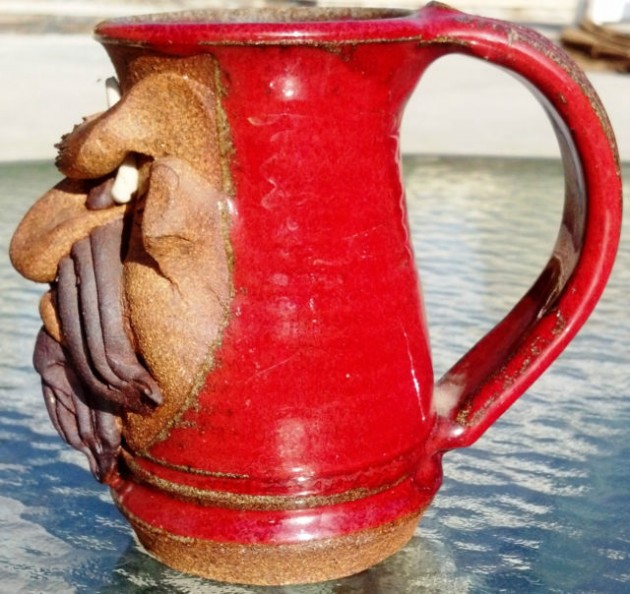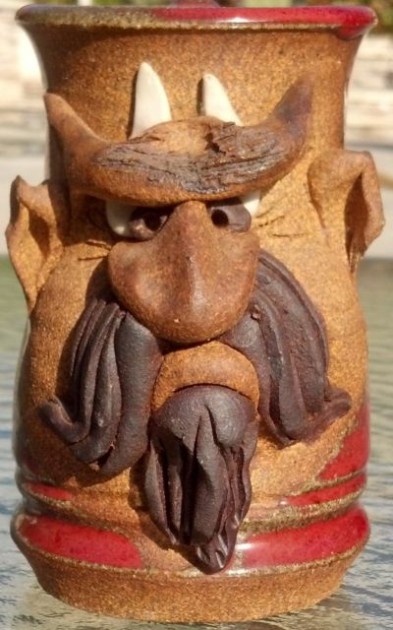 Face mug – ▲ A newer form of Southern American art work , probably based on the success of "Face Jugs." A couple of  USA  examples by "MAHON" are here.
Facon de Venice – (Antique glass work, done) "In the style of Venice."  Very light weight glass and very fragile ! Shown: A "cold painted" Coat of Arms on this circa 1500's pokal.  See: Hall in Tyrol in this Compendium.  [FWTD]
---
Fantasy stein – A new design, not based on older examples but made to look like it was. Not quite a faux!  See "Lord's Prayer stein."   
---
Faience / Fayence (Germ.)  beer steins; general definition and information. – 
See all articles  on this web siteby Willaim Hamer,   starting with:
http://www.steveonsteins.com/guest-writers-articles-8-identifing-faience-steins-part-1-comparisons-of-north-german-south-german-by-william-hamer-new-1-8-12

[A] A  recommended reading   See:  http://www.thepatriotexchange.com/pss/pottery.htm
[B] Here is another good beginners article by Herr J.  Vogt:  http://www.beerstein.net/articles/bsj-1c.htm
---

---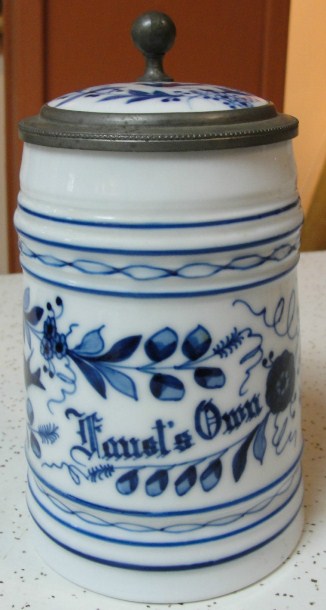 Faust's Own – An American brewery and oyster house located in St. Louis in 1871.  It was owned  by Tony Faust. They ordered .5 liter porcelain steins  from Rauenstein. A couple of versions can be found.
Some history:
Anthony Edward Faust, born in Germany in 1836, arrived here at age 17 as a plasterer. He opened a small tavern on Russell Boulevard in 1862 and, nine years later, moved to the northeast corner of Broadway and Elm (now site of the Stadium East Garage).
An unusual menu specialty was quail on sauerkraut. Faust entertained with his live-crab test for personal checks. If a crab's claw grabbed the check, he'd accept it.
The fare included caviar, $1.50; lobster, $1.25; broiled duck, $1.20; a dozen oysters, 25 cents; gumbo chowder, 20 cents; custard pie, 10 cents. Visitors often proclaimed it the best food and atmosphere west of Delmonico's in New York City.
xxxxxxxxxxxxxxxxxxxxxxxxxxxxxxxxxxxxxxxxxxxxxxxxxxxxxxxxxxxxxxxxxxxxxxxxxxxxxxxxxxxxxxxxxxxxxx
Louie, the headwaiter, gathered his staff and counted to three: "Eins, zwei, drei." They serenaded diners with "Die Lorelei," a mournful German ballad of a boatman dashed upon rocks.
It matched their melancholy on June 30, 1916 — last call at Tony Faust's Oyster House and Restaurant, Broadway and Elm Street. For more than four decades, Faust's was the city's premier place to eat and be seen.
[Comps of the St. Louis Post.]
. .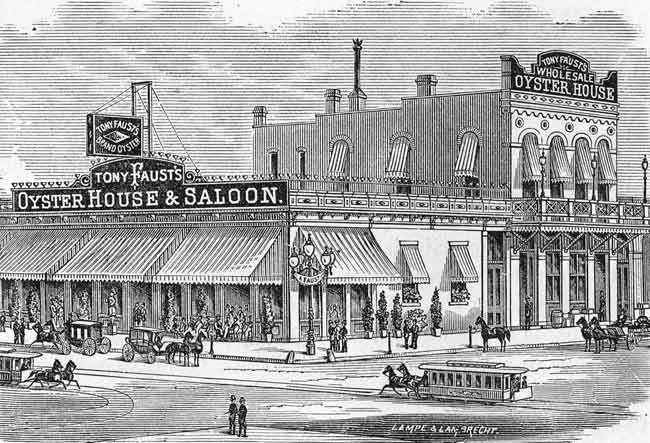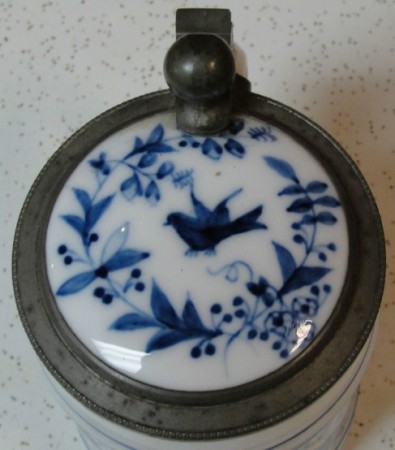 .
Tony Faust's Oyster House and Restaurant, was at the southwest corner of Broadway and Elm Street, some time after he rebuilt following a fire in 1877 that began in the Southern Hotel next door and destroyed both buildings. The fire killed 21 hotel guests and employees. It also produced two heroes of the St. Louis Fire Department — Phelim O'Toole and Michael J. Hester, who scaled ladders to reach people trapped on the top floors of the Southern. 
Adolphus Busch, a close friend of Faust, had lunch every day at Faust's and washed it down with fine wine, never beer.!! Busch's daughter Anna married Faust's son Edward in a lavish wedding in 1897. Edward and Anna Faust lived at 1 Portland Place. (Missouri History Museum)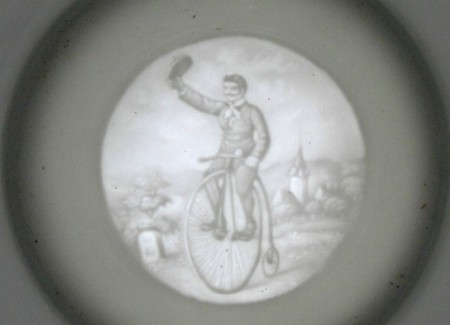 Lithophane for above ▲. There was no stock lithophane as different ones have been seen such as the one below  ▼in the identical stein body as the one above.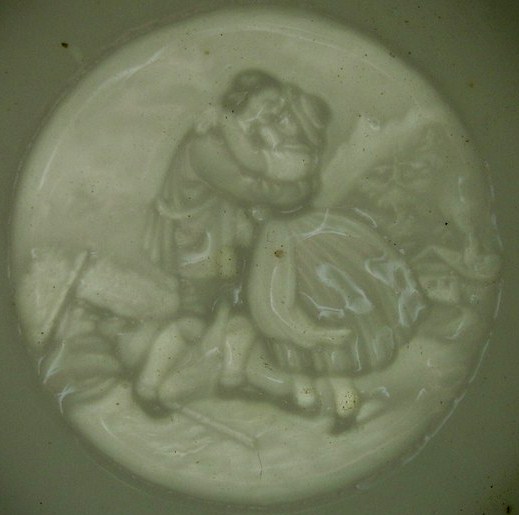 ---
Faux —Literally "false]"or "fake"  as in "faux-cut card work around the base."Sometimes as in the case of the deer antler's  handles (on the European copper  and brass beer mugs mostly) it means "a life like replica.".   See also : [1] vintage  [2] French Ivory
---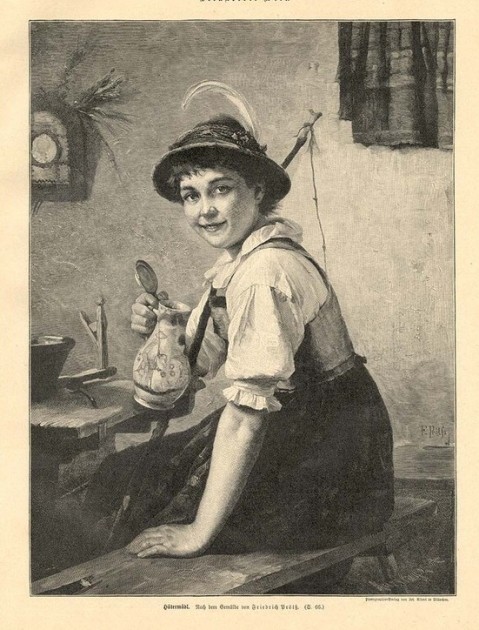 Fayence/ faience; Austrian steins –  Typical Austrian pear shaped body. Flat pewter lid and  acorn thumblift. Circa 1840-60.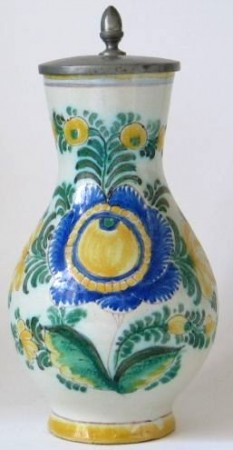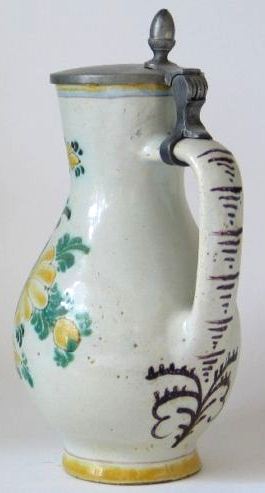 Another Austrian style, same time period,  with hand incised lines and designs. (Damage to the upper body.)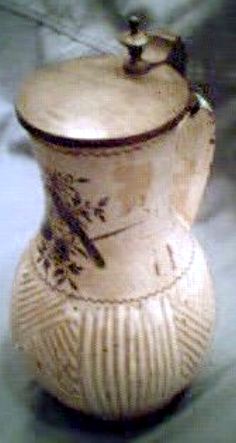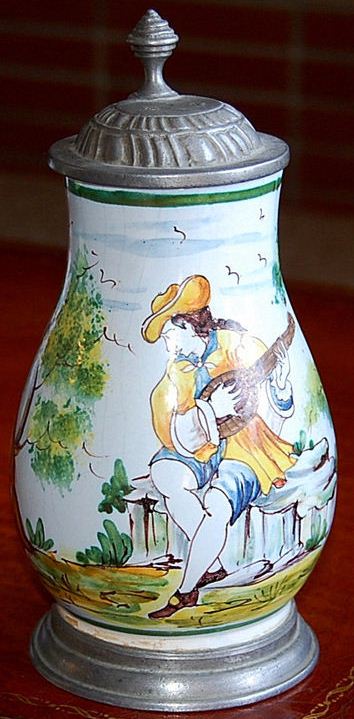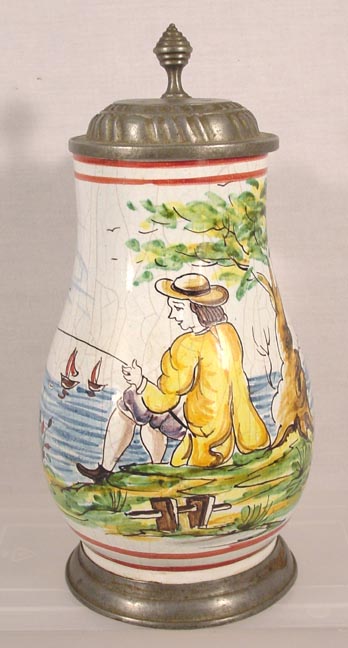 Fayence steins , German, – Fake  (Faux)- Made sometime in the mid 1900's  (60's to 90's) these, not all , come with really terrible lid pewter work; indistinguishable maker's marks on the lid; faux crazing;  and a body style (pear shaped) not much seen in Old Germany per se.  Photos blown up so hopefully one can see the crazing.
.

Some of these have been offered on eBay for 1000's of bucks.  Be VERY careful out there folks!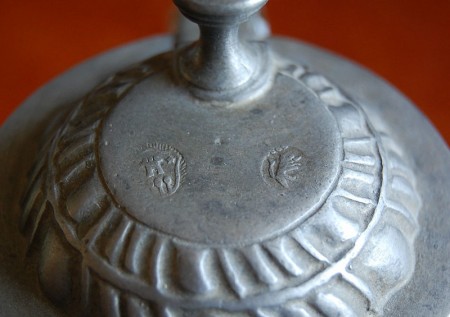 A piss poor quality molded lid and the marks are terrible too;  besides being in the wrong location.
EDITOR'S NOTE: AS THERE ARE NOW SO MANY BEING SOLD AS REAL, SOMETIME IN 2015 I HOPE TO HAVE A SEPARATE PAGE JUST ON THE GERMAN FAKE FAYENCES
BUT IN THE MEANTIME I WILL POST PHOTOS OF THE ONES I HAVE LOCATED AT THE BOTTOM OF THIS PAGE
REST ASSURED THAT IF YOU SEE YOUR STEIN  (OR ONE FOR SALE THERE ,)IT IS GUARENTEED  BY ME TO ABOUT 99.5 % TO BE FALSE OR ONE MADE IN THE EARLY 1900's .  MANY OF THESE ARE PRETTY  BUT NOT CONSIDERED "NOT TO BE THE REAL THING!"  BY TODAY'S COLLECTORS.
---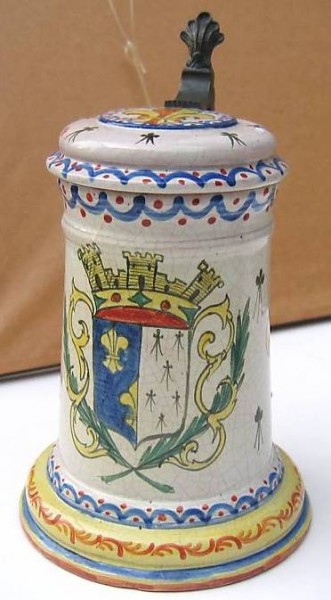 Fayence/ faience; French steins – Shown: 1/2 liter an off white with muti-colored designs and most often at least one Fleur-de-lis. The produced by  Alcide-Chaumeil. – French fayence stein maker  see "CA "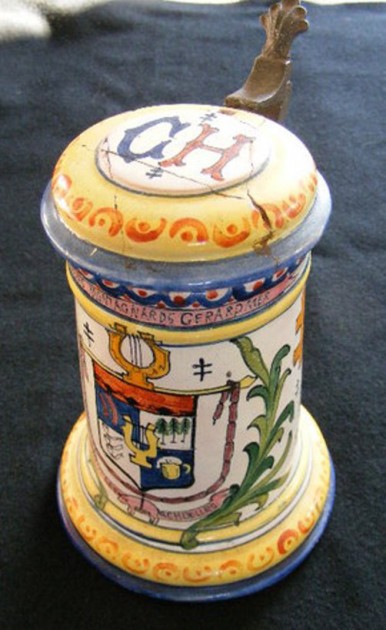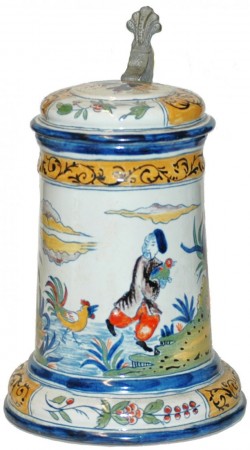 Another example, same firm.
---
Fayence / faience; German steins  -There are hundreds of cities / locations that produced Fayence beer steins (German spelling) for well over 100 years. It is basically a tin glaze applied over a thin pottery shell. (See also Habnerware and Majolica.)  For more info about any type of fayence, I recommend you look under the "Stein Links" Tab and contact Mr. William Hamer.  My friend Bill has forgotten more about Fayence than most collectors know!
SEE: http://www.steveonsteins.com/guest-writers-articles-8-identifing-faience-steins-part-1-comparisons-of-north-german-south-german-by-william-hamer-new-1-8-12
▼A couple of the different styles and decor.  Better photos coming soon I hope.  Both [FWTD]
For a list of German fayence [faience] factories, I refer you to Mr. McGregor's site: http://www.thepatriotexchange.com/pss/hisfai.htm
---
Fayence / faience; Hungarian steins – Very light weight coating and easily chipped compared to the standard German variety.
▼ A mug with a very light fayence covering on a grayish sandy clay. The colors are not very bright. Dated 1898. [FWTD]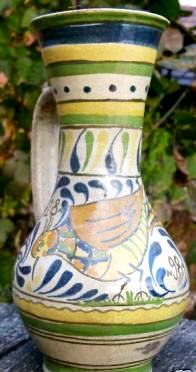 ▼ Hungarian  Fayence Reproduction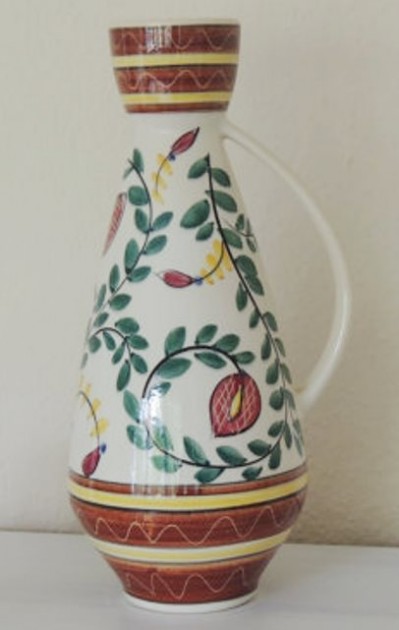 ---
Fayence/ Faience: Iberian Penisula (Spain Portugal) 
▼ Stein dated on body 1572  on the relief cartouche, with later Pewter lid with Portuguese Copper coin of monarch. Colors are quite faded but like hen's teeth, rarer than XXXX?  [FWTD]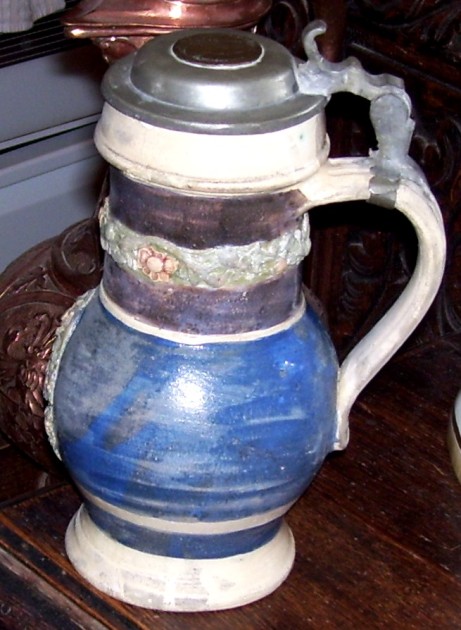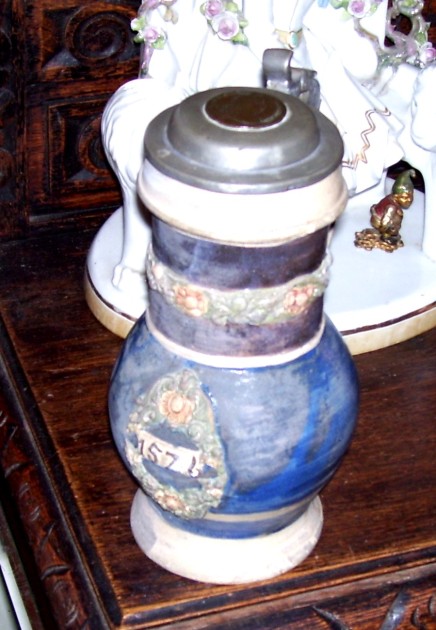 ---
Fayence / faience Italian vessels – As Italy has thrived on the wine trade for centuries, there are very few steins that were ever made there. Shown: A nice (but badly chipped) Italian wine server. Ca. late 1700's.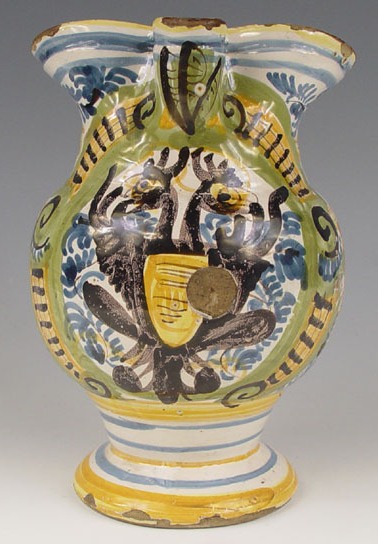 ---
Fayence /  faience – V & B Mettlach steins  – The factory assigned the '5000 number series' for these pieces that replicate fayence, but in fact are not. Watch for a full page on this series mid to late 2013.
▼ V & B Mettlach stein, 1.0L, 5394, called Faience, pewter lid. [tsaco]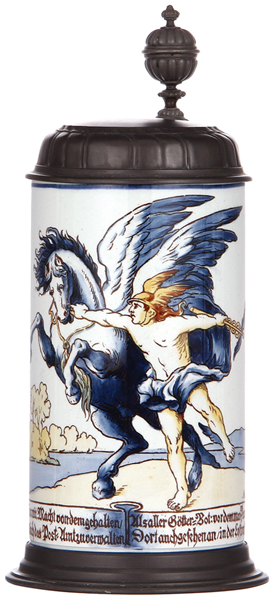 ---
Fayence / faience: Russian – There are not many examples of steins found that can be documented as from Russia.
▼ Two examples of Fayence serving vessels, very heavily Chinese influenced.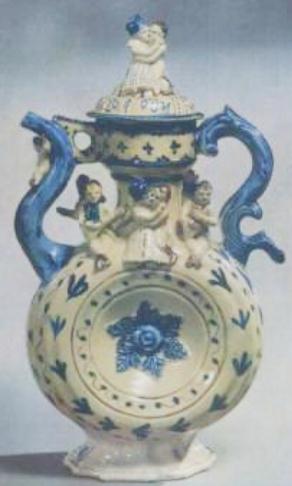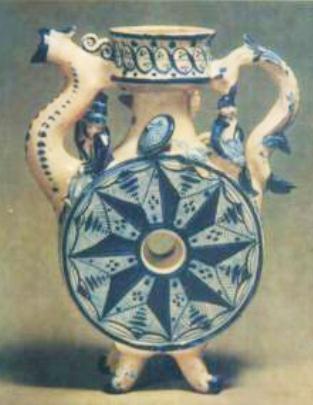 ---
Fayence / faience;  Slovakian steins  – Slightly brighter / bolder colors than most old Hungarian, and lots of greens and blues as the Austrians.  
▼A puzzle jug, Dated 1851. [FWTD]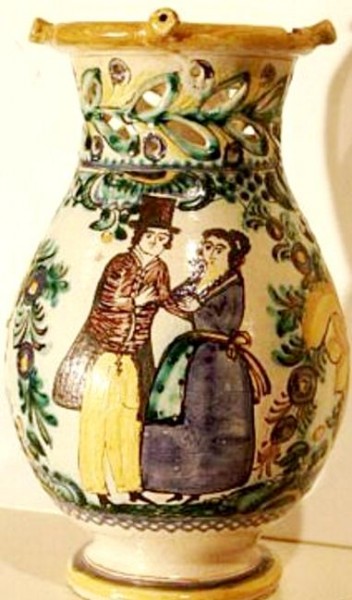 ▼ Next 3 Pictures: Fayence mugs and stuff from Austria, Hungary and Romania.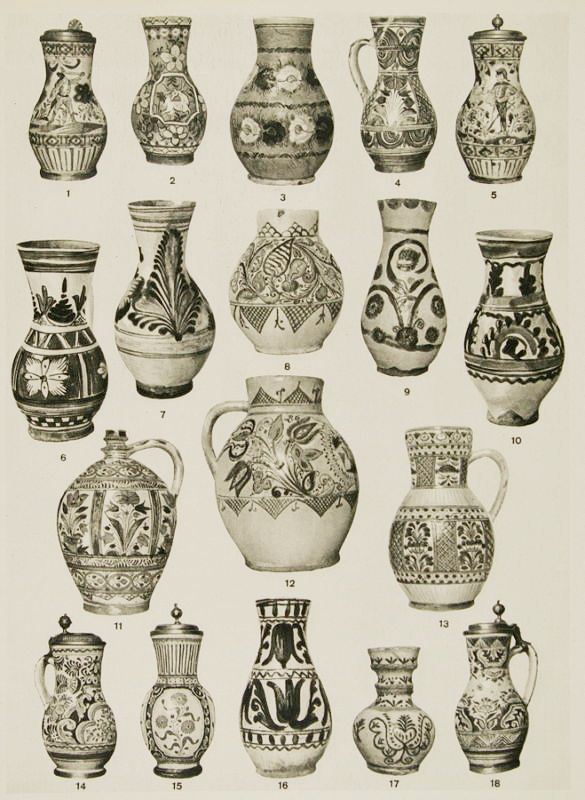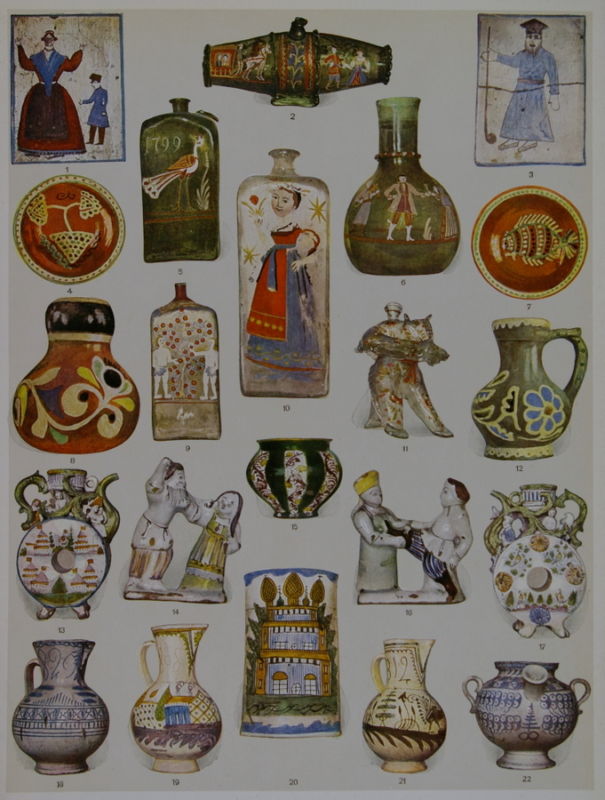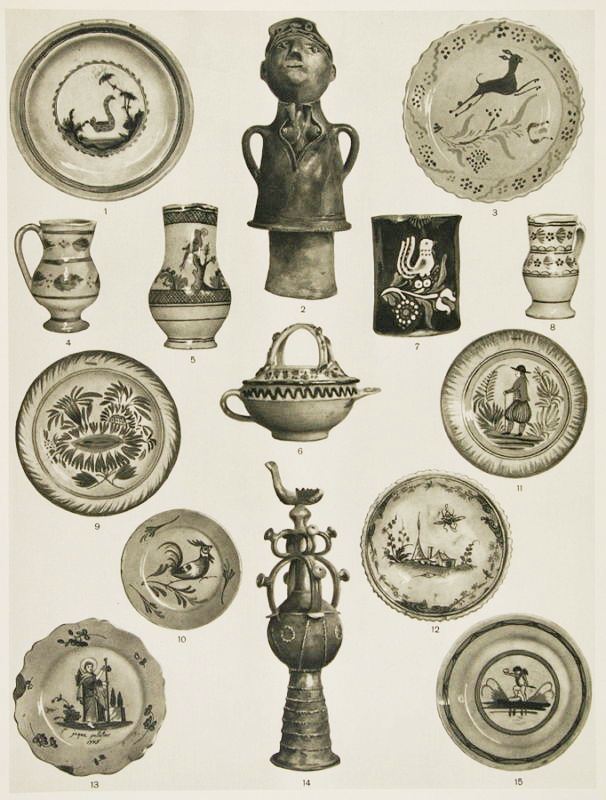 ▼Fayence, probably Slovakian or Hungarian. Somewhat newer I think, say Circa 1900.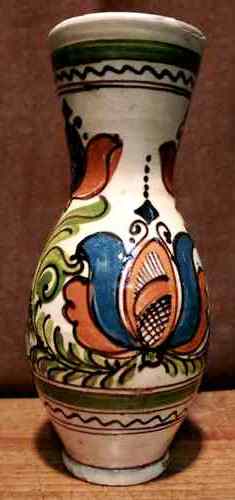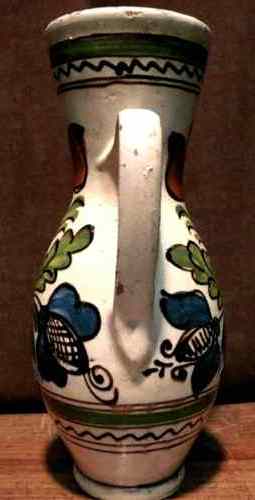 ---
Fayence / faience; Spanish steins / mugs  –  Spain, the red wine country is not noted for it's beer vessels production.
▼ .5 liter Fayence mug with a Lion and Castle in relief (Leon and Castile.) It looks more like Habnerware with a lead glaze.  [FWTD]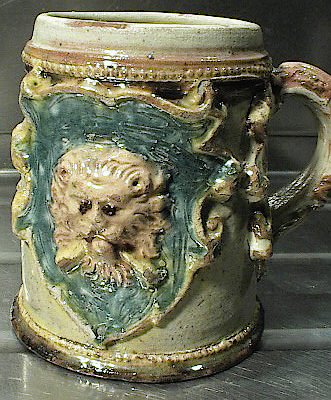 ▼A much newer Spanish hand made mug with building decor reminiscent of German Fayence from Braunschweig.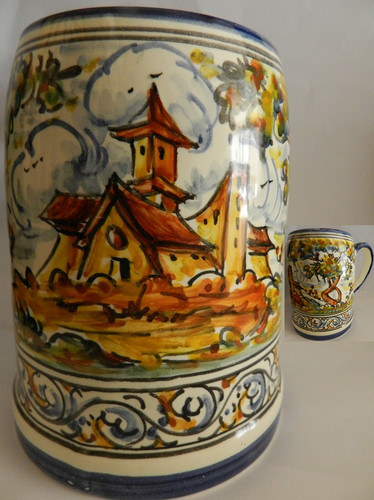 ▼ Small Fayence wine jug, Spanish [or Italian] – 6.5 inches. Mid 1800's.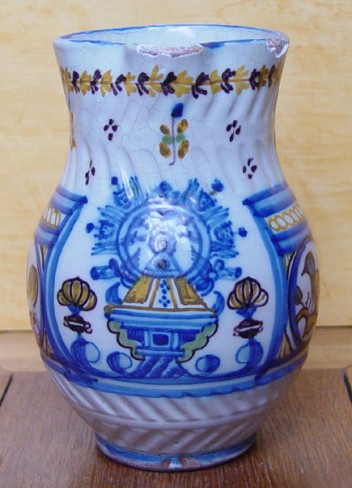 ---
Fellowship symbols – See page this web site: http://www.steveonsteins.com/ruby-cut-to-clear-fellowship-symbols-1 
▼Ruby cut to clear  [FWTD]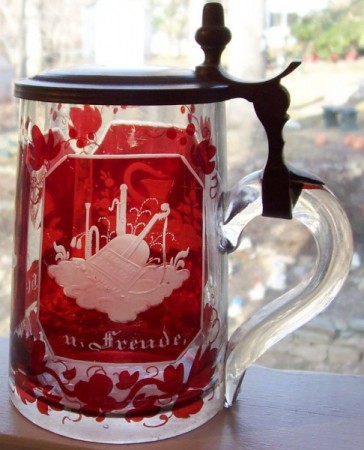 ---
Feinzinn — A mark of high quality pewter.
---
Fifteen eighty eight  (1588) and Fifteen ninety nine (1599) – On lots of  slip applied roundels.  A date found on the Coats of Arms, on wine servers mostly. It is unknown to me what those dates signifies or who the Coats of Arms are for. Perhaps one of you readers could help me out?  
▼ Double ring  jug from R. Hanke in the Westerwald.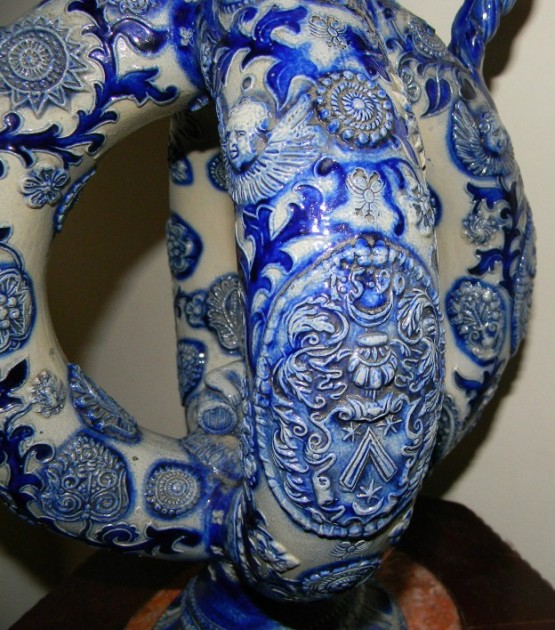 ▼ Coat of Arms with 1588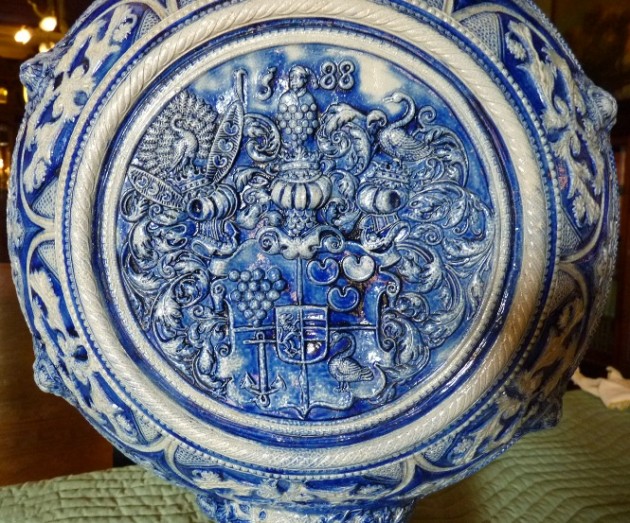 ▼The closest I have come to tracking down these Arms is thanks to a nice reader sending me this photo of this family: The Bentheims!
Many of the sub -quarters are the same.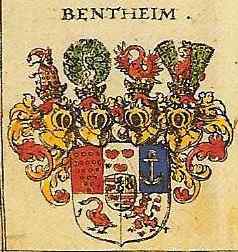 Also See: http://www.steveonsteins.com/some-of-the-beauties-of-the-westerwald-2
---
Figurenkrug  (Germ. ) – Character stein  (Eng.).
▼ A .5 liter of a (Munich) barmaid  attributed to R Hanke. Mold No. 1089. [Larry R]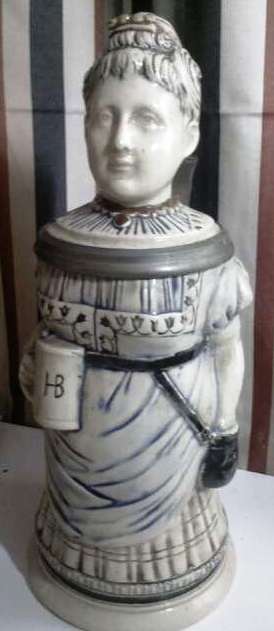 ---
Filigree — Fine silver, gold or silver-gilt wires twisted and built up in curvilinear designs kept in place with solder applied at points of contact.
---
Fillet – A narrow, slightly raised band often used around the body of a  tankard, mug, measure or flagon for decoration and to strengthen the cylinder wall. Also called a rib.
▼A 9 inch, dated '1677' pewter roerken with two fillets on its body.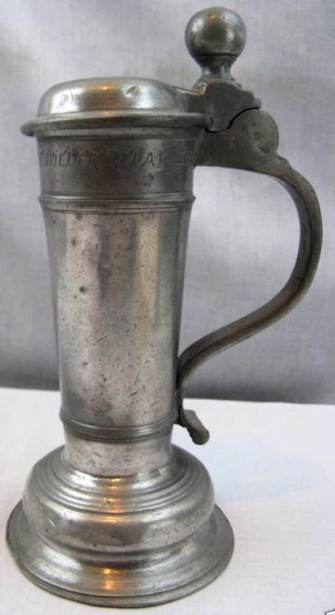 These are sometimes called "separator rings", usually on glass items such as below ▼.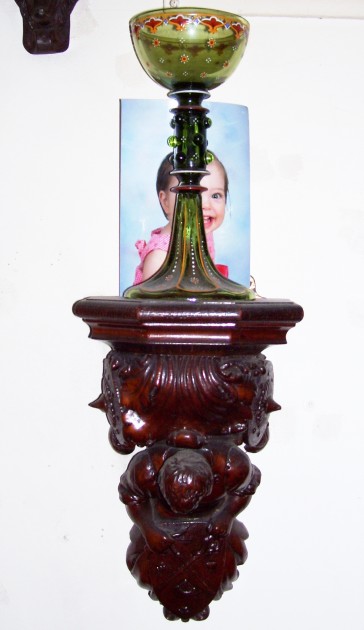 A very well done blown glass enameled German Roemer with separator rings and prunts in the middle of the stem. Most likely made by Lobmyer. This roemer is 11 inches tall. Circa 1900.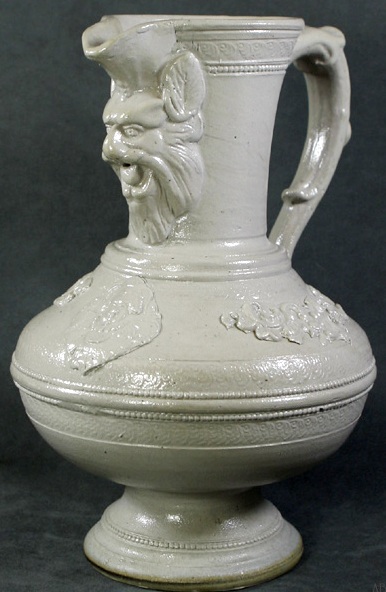 Finger hooks- The small protrusions on a molded handle, mostly found on the stoneware steins and servers from the Westerwald and Regensburg sometime in the late 1800's. It is not exactly certain what year or even in what decade these came into being.
.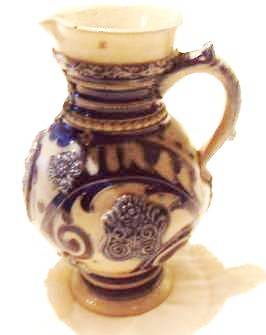 Small wine jug. Probably Regensburg.
For more unanswered questions about some steins please see: http://www.steveonsteins.com/unaswered-questions-about-beer-stein-and-drinking-vessels-draft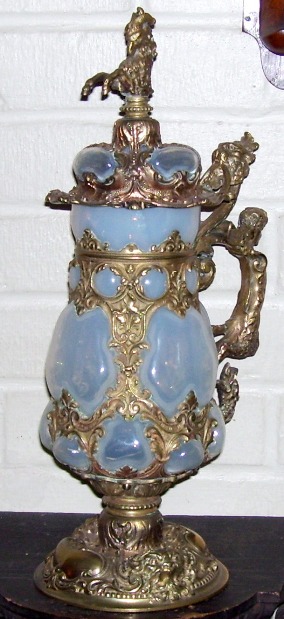 [A]
[B]
Finial — Top most feature of a piece, or centering the lid of a beer stein. Sometimes  cast separately and often figural. Shown: [A]  On this stein the finial is the cast Ram's body. [FWTD]- [B] This  finial of the cup and dice is cast as part of the lid.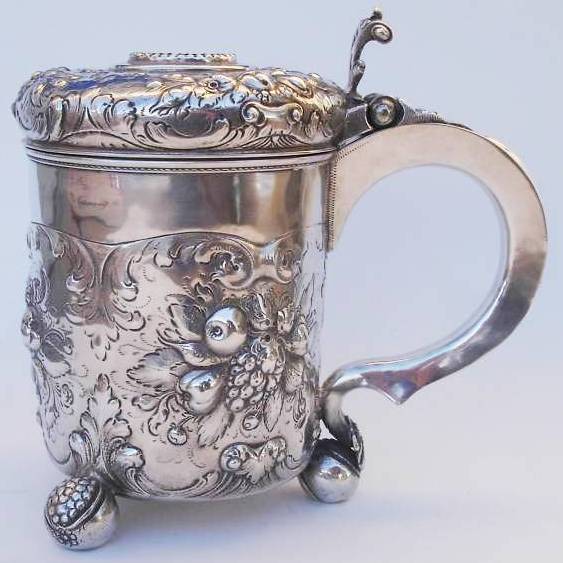 DANISH – PEG TANKARD LATE 1600'S. IF THE HANDEL'S  FINIAL IS NOT DIRECTLY OVER THE BALL / CLAW FEET,  THEN THE PIECE MIGHT WELL HAVE BEEN CONVERTED FROM A LIDDED BEAKER.
Finial, handle – The end section  of the handle that is not attached to the body. Most often  seen on metal beer steins as a shield, heart. or a flatten relief medallion. On old glass the twisted up finial is called a pig's tail.  Shown: 1600's silver stein from Denmark  with a small "shield" handle finial.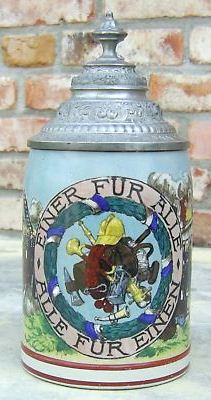 "ONE FOR ALL,  ALL FOR ONE!"  A .5 liter pottery, PUG, ▲showing  the typical "Occupational" tools.
.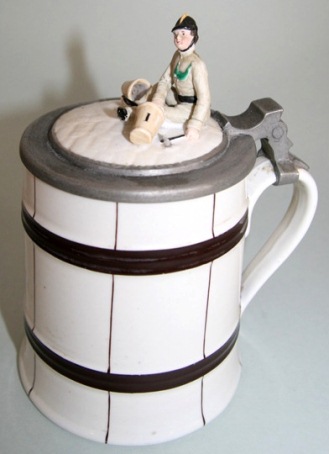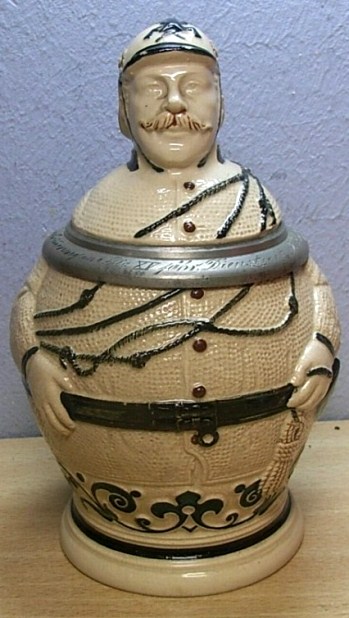 Fireman (Firefighter) beer steins –  As the German fire fighting forces of pre 1914 were mostly volunteer  (and somewhat prestigious)  there are very numerous occupational steins to be found in this category of work   The big cities like Munich and Berlin has  token paid forces, but were supplemented by volunteers. The term Fireman was used well into the 1960's when women stared to become something they shouldn't, and to be PC the name of such a person was changed from Fireman to Firefighter to accommodate them!  The idea that it was changed to distinguish between Firemen and  Train Engineers is all bull shit and was used to c over up the political bull shit of the name change!  It did matter to some of us, and  a lot !! [L:  TSACO]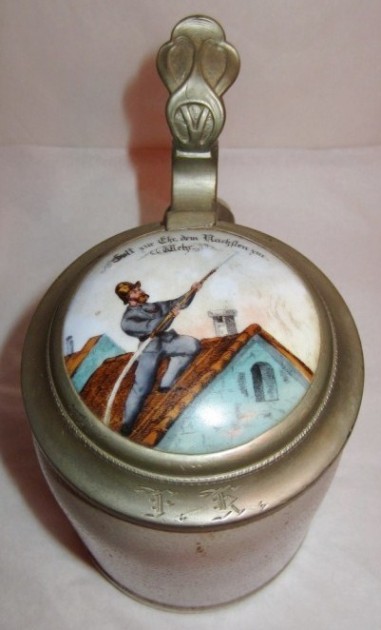 This lid  ▲ is  very unusual  for a Fireman's occupational! Why? Because it shows the "real duty" of any  fire department:
WHICH  IS NOT TO SAVE THE HOUSE THAT IS BURNING, BUT TO KEEP THE FIRE FROM SPREADING TO OTHER  HOUSES, THEREFORE SAVING THE BLOCK OR TOWN. (I'll bet 99.9 % of my readers didn't know that! )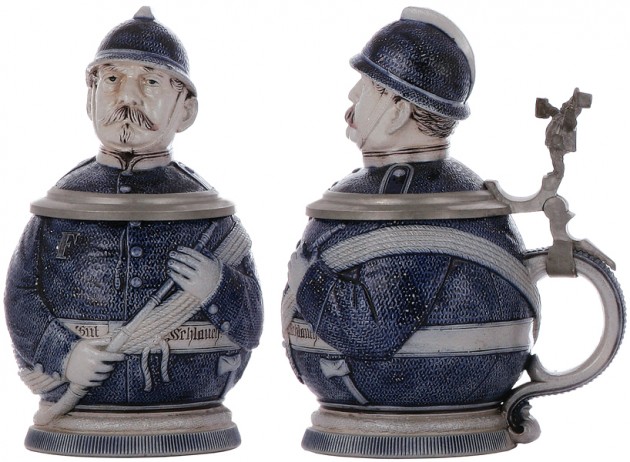 Another character stein , .5 Liter salt-glazed stoneware version.  Ca. 1880
.

A scene such as this are usually found on Fireman Occupationals. The almost world wide motto is "One for all, all for one!" [TSACO]
. .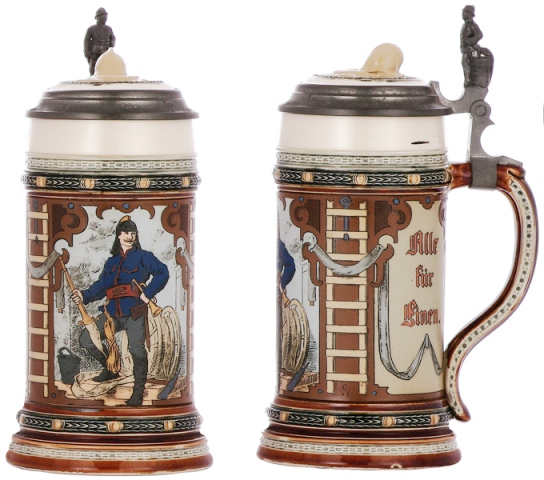 Perhaps the most sought after Fireman's stein is this  V & B, Mettlach stein, .5L, # 1724, incised, with  an inlaid molded lid of a helmet.

Fireplace /mantel steins (display steins) – Thin stamped copper items copied from steins .See: "Stein Myths" page , this web site. [FWTD]   Also called and used for  kindling,  steins.

Firing glass –  A small English after dinner = sherry or port wine glass with an extraordinary amount of glass on the base  to keep it from breaking after the drinker slammed it down hard on the table making a loud noise which was said to sound like a gun firing!  This would have been down at the end of a toast and if some speaker made a point that the audience liked = instead of clapping.  [Steve's speculation – these  may also have been used at weddings similar to our custom of ringing a glass with a fork or knife signaling the newlyweds to kiss!!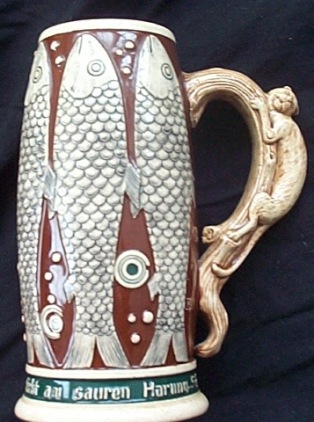 Fish – Multiple fish on a relief stein is symbolic of Herring, a  German food thought to be good for a  hangover. The monkey is symbolic of alcoholism ("a monkey on your back.")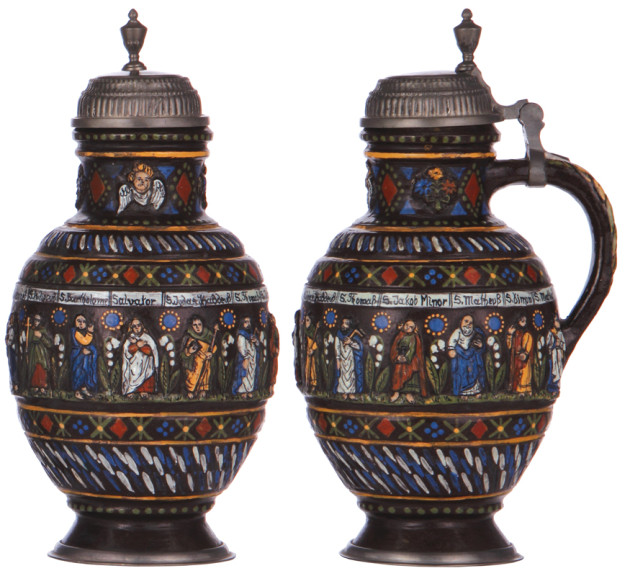 Fischer, Bamberg  – A small pottery/porcelain   firm that made very few [marked]nice looking steins in the 1950's era.  Now making mostly porcelain dinnerware.  Shown above ▲ a repoduction Cruessen Apostleskrug.(server.)  tHIS IS not the samE firm of Fischer & Anhäuser which came much earlier,  [tsaco]
Five percent mark  (5%) –  very seldom found on pewter steins, that indicates there is no more than 5% lead in the pewter mix.
It is the opposite mark of the 95%  mark which indicates the pewter is 95% with out lead.  
[END – SP104 – 67  – R5]

     "I have all the money I'll ever need – if I die by 4:00 p.m. today!"
(