---
CR- Dancing Couple Amber Glass Stein  AN  Enameled t -h  [q]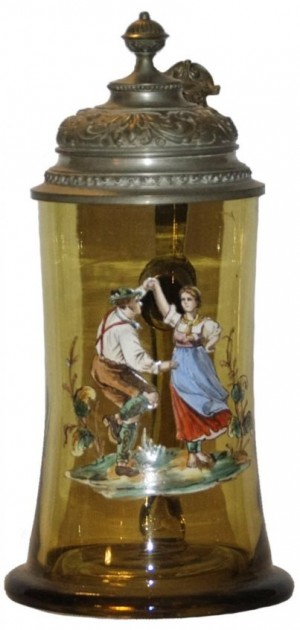 CR-DANCER Schrattenhofen bill hamer (2)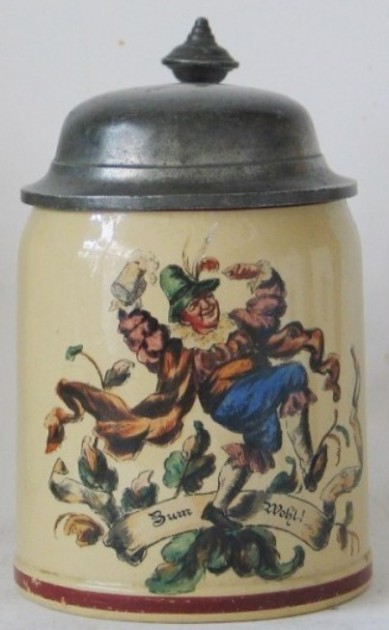 ---
Date mark  — The date included in the maker's mark in many countries either indicates the date of the legislation under which the piece was marked, or it records the date of the master's entry into a guild. Sometimes, however, succeeding generations of a family continued to use the earlier dates of their ancestor's admission, as if to say "Established since .". The date does not indicate  the year in which the piece was made. Pewter was generally not marked with date letters in the same way as several countries' silver pieces were marked. Sweden is an exception, and the same marks were used for both pewter and silver articles!
Also see: Year / letter date,  in this Compendium.
---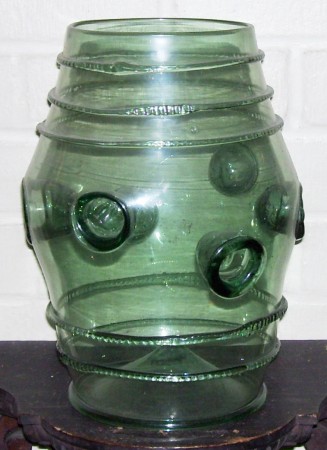 Daubenbecher = Thumb beaker  – A very large beaker made of "Wald-glass." A communal vessel which is passed from one to another by use of the large holes blown into the sides for thumbs and fingers. The originals are late medieval. Shown above ▲: A copy made in Germany in the late 1800's. The Corning Museum of Glass (New York State) was selling brand new ones of these, but in clear glass for several hundred dollars in 2009. [FWTD]

---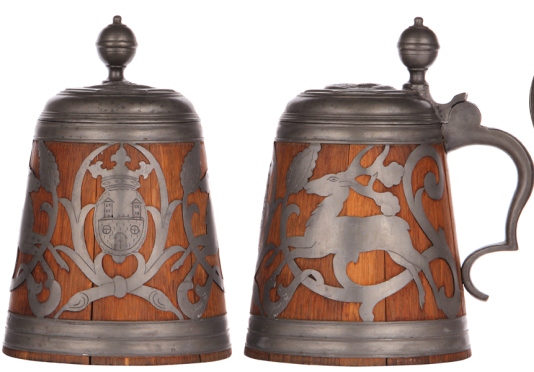 Wooden Daubenkrug. Unknown German city's Coat of Arms in cartouche. Ca. 1750  [tsaco]
Daubenkrug  – A staved tankard, filled in with a pewter design, most usually of a hunting scene. Made in Germany from the late 1600's to the present day. Shown above▲: One from Germany, made in the 1700's [FWTD]  
'Santesson' located in Stockholm, Sweden in the late 1800's – early 1900's made a line of these, some squat and some tall as in a giant roerken. 
See page: But will  it float .?", = http://www.steveonsteins.com/wooden-steins-1-2

.
Shown below: A much newer, circa 1880's version. Only 7 inches tall. Made by J Seestaller. Unknown city bridge shown but with very good detail work. One can even see the minute houses on the far bank, under the bridge! [FWTD]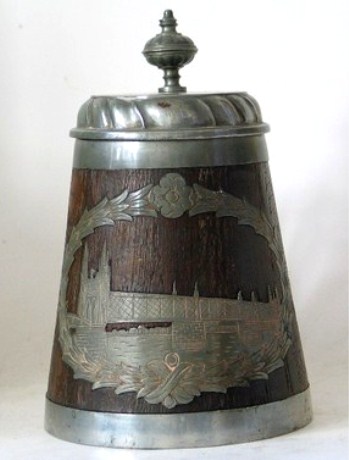 ---
D.B.G.M. – Deutsches Bundes Gebrauchsmuster. (German Federal Registered Design) – Post 1949, essentially "copyright."

---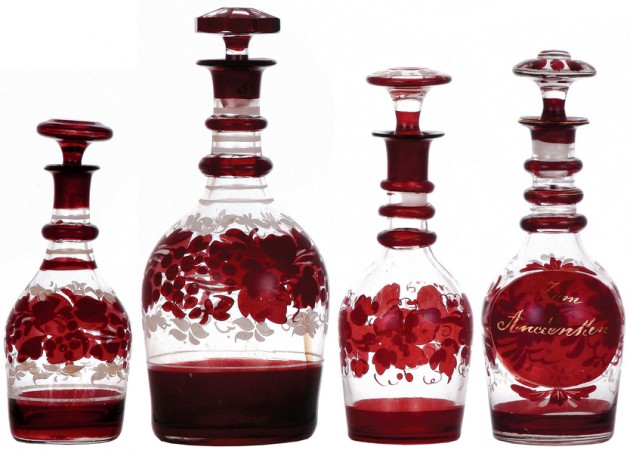 Decanter, wine  – Originally (medieval) any bottle used for the sediment to settle after the wine was loaded from a server, after being taken from a barrel. For the upper middle and merchant class these decorated decanters with little silver labels became status symbols and were used for just sitting on ones sideboard or cupboard to make a wealth statement. Shown above ▲: Four hand painted blown clear glass decanters from Bohemia, all circa 1840 -70. They all have applied blown glass rings around their necks. These were of course less expensive than the ruby cut-to-clear ones of the same period. Many were given as gifts, such as the last on the right that has "Remembrances" (but in German) painted in gold leaf.  [FWTD]
..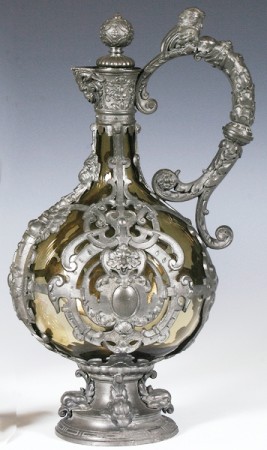 An entirely different type of wine decanter. These were made by J. Lichtinger in Munich, Ca. 1885. There are at least 30 different variations and sizes and glass colors of these pewter overlay types that were made by his firm. Look for a separate page on this great pewter-smith sometime in the future = late 2013?

Deckel – German for Lid / Cover – They started out many moons ago on top of the beer mugs, and are now used on the bottom to keep the table from getting wet! Great advertising pieces too. Lots of collectors for these. Shown above ▲: A modern day beer "Deckel."
See: http://www.steveonsteins.com/why-the-lids-real-reason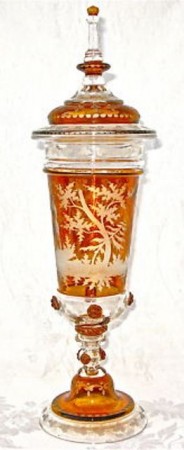 Deckelpokal (Germ. ) – A pokal with a matching lid. Shown above ▲: Bohemian, Circa 1860. 14 inches tall with unusual orange coloring.
---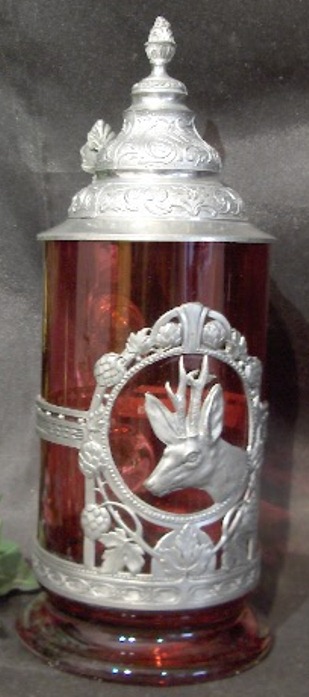 Deer (on steins) – Can mean one of two things: [1] Success to the hunter, this usage usually comes with a hunting scene; and [2] "Fellowship / In Friendship." Shown above ▲: .5 liter, ruby stained glass with pewter mounts. Ca. 1980. Unknown maker.

See: http://www.steveonsteins.com/other-fellowship-and-for-love-affection-symbols-on-beer-steins-draft-12-22-11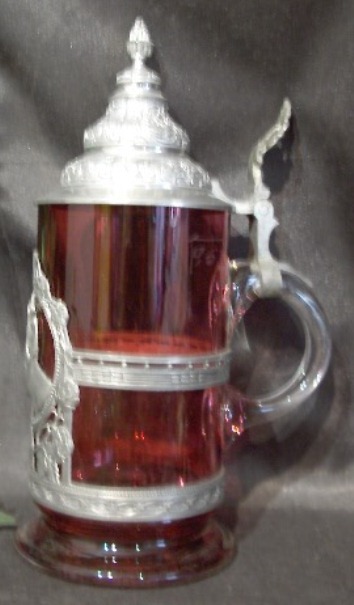 ---
Deer with cross on its head – This alludes to the legend of St. Hubertus or St. Eustus (the same legend only different man and earlier.) Shown:  .5 liter Pewter stein with overlay by Lichtinger on glass drum made by Theresienthal.  Ca. 1890.
see St. Hubertus within:  http://www.steveonsteins.com/when-the-saints-come-marching-in-singing-ein-prosit-ein-prosit-new-12-14-11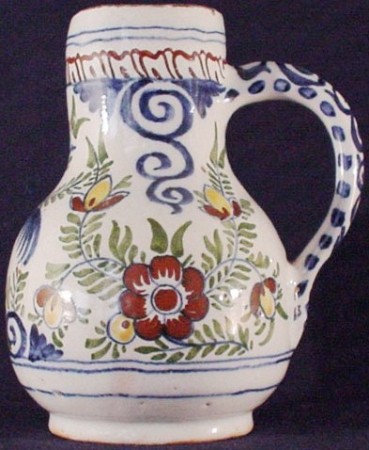 A pretty little hand painted Delft mug. Ca. early 1800's.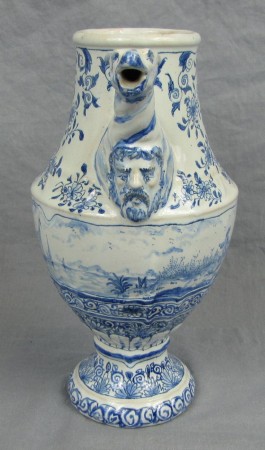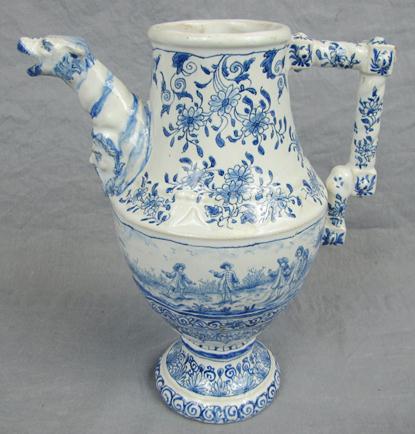 Delft, Delftware –   Blue and white painted pottery made in and around Delft in the Netherlands. The tin-glazed pottery was made in the Netherlands from the 16th century. From about 1615, the potters began to coat their pots completely in white tin glaze instead of covering only the painting surface and coating the rest with clear ceramic glaze. They then began to cover the tin-glaze with clear glaze, which gave depth to the fired surface and smoothness to cobalt blues, ultimately creating a good resemblance to porcelain.

Drinking vessels marked "Delft" are usually post 1890. Shown above ▲: 18th century Delft wine pitcher with figural spout, 9.5 inches x 7.75 inches x 5 inches.
.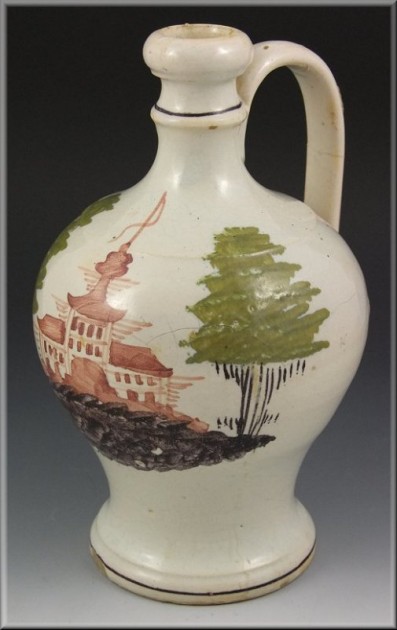 A small 18th century polychrome painted Delft pottery wine jug. (Photo: coasttocoast_antiques/ nh )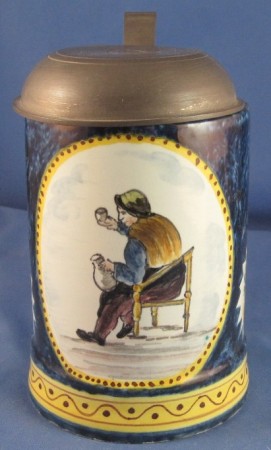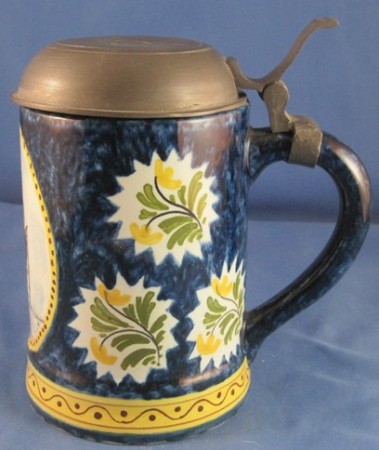 An 1890's version of a hand painted Delft "mug," on which someone has added a lid; and not well as the lid doesn't quite fit and the hinge connector is off.  Mark below. Please notice the crossed 7 = a definite sign of manufacture after the 1870's.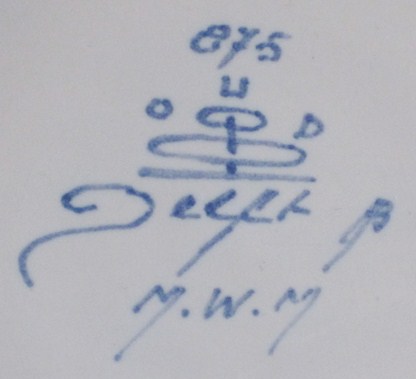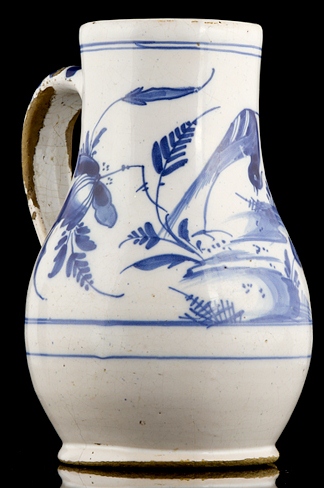 Ca. 1750. English delftware, blue and white beer mug. Notice the difference in the clay and the finishing on the bottom.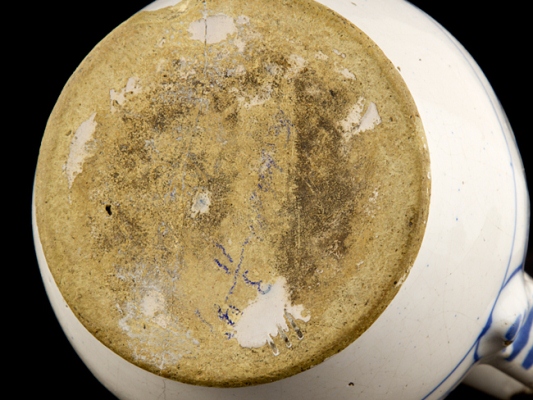 .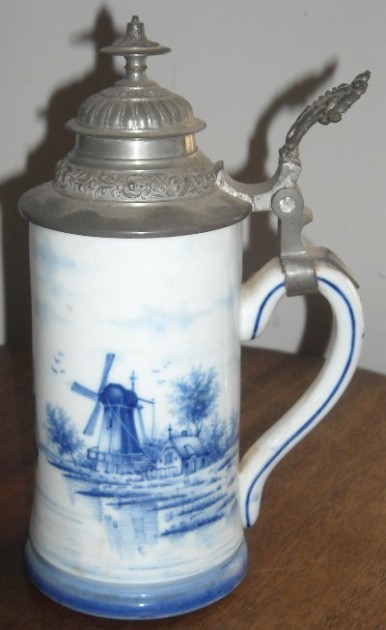 Not Delftware, but the colors do look like it. This .5 liter porcelain stein was made in Germany. Circa 1890.
.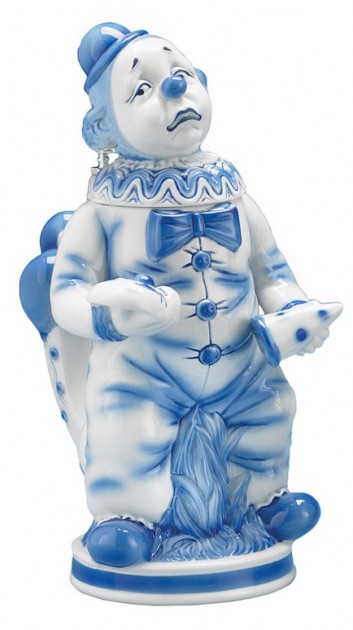 Delftware colors, but not one also! – This is a great new character stein (one of two, each with two color variations), recently designed by David Harr. See the "Links" page for info on David.

---
DEP  (French)  – Déposé. Modèle Déposé Française – French registered design.
DEP  (German)  – Deponert / Deponiert – Copyright – replaced after the 1874 Reichs Markengesetz  (Trademark law).
---
CR-  Der Deutsche Michael  TSACO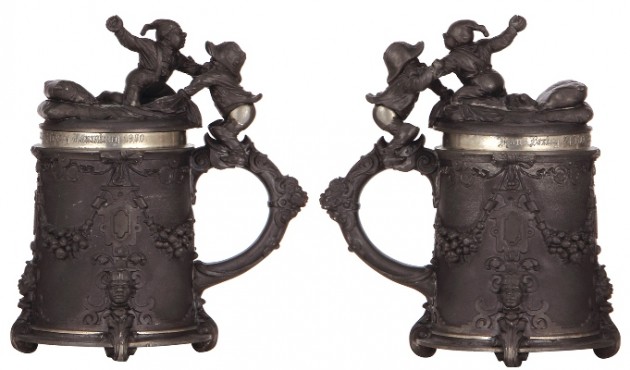 ---
Derby Silver Co. – The Derby Silver Company was founded in 1872, and began operations one year later. The company made toilet articles, mirrors, combs, clocks, brushes, table and flatware, tea sets, children's cups, loving cups (trophies), candlesticks, fruit baskets, dishes, basically anything which was plated by or made of silver. Special orders were commissioned as well. The factory manufactured items for the Sperry and Hutchins trading stamp stores.("S & H green stamps") The Company was noted for its large line of silver plated toilet ware and an economical line of plated hollowware sold under the popular trademark of the Victor Silver Plate Company.
▼ A small silver plated beaker. Ca. 1890. Not the best workmanship.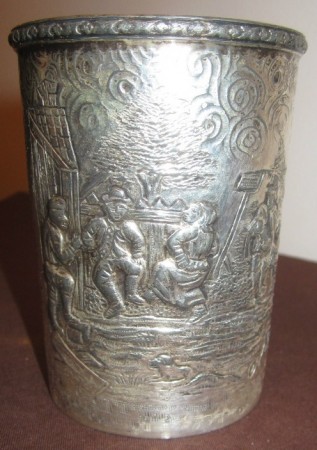 Other side of the beaker.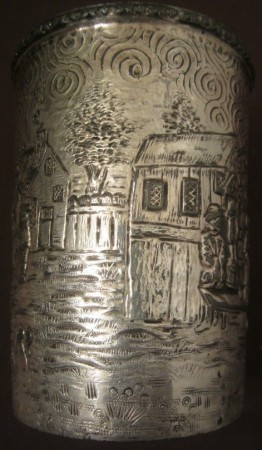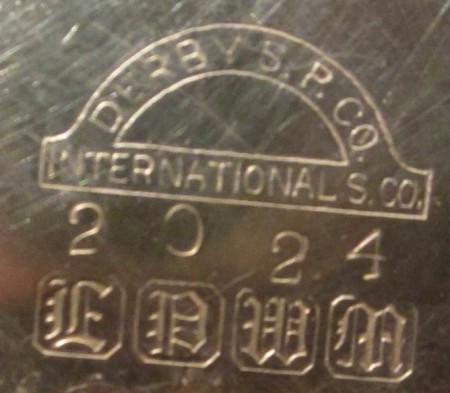 ---
Design deficient (or = real stein beauty is always in the eye of the beholder!) – I think self-explanatory. BUT some "Deco" collector out there might get a "woody "over this one. A good candidate for the Stein Posse's "Ugly Stein of the Month."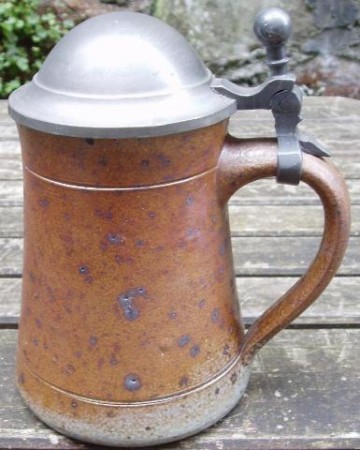 ---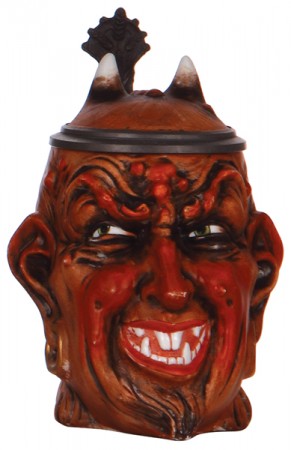 Devil's Head Character stein – Self-explanatory.  One of the most popular Character steins. Shown above ▲: The original, made by E. Bohne Söhne.
.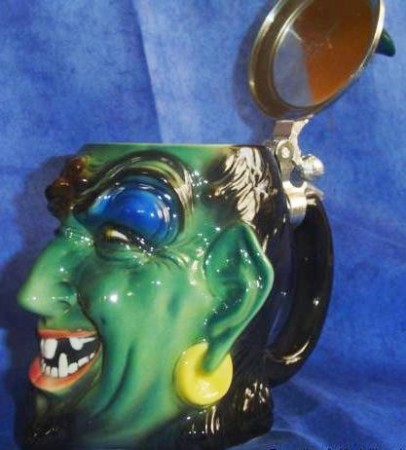 New version made by Stahl & Co., Rudolstadt.
Diesenger, Adolph – A very collectable  stein maker. See DRGM 154927 (see below ▼ ▼)
For more info, see: http://www.thepatriotexchange.com/pss/hisfai.htm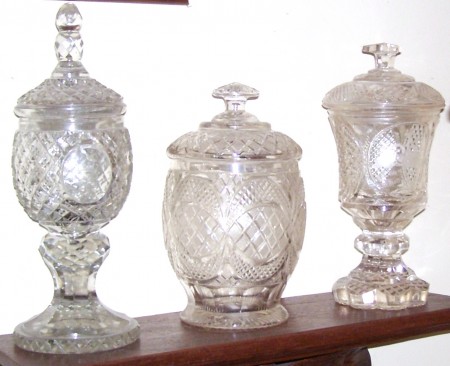 Diamond cut – The form of copper wheel cutting making any number of diamond point designs on blown glass drinking vessels. Shown above ▲: Three set-on-lid drinking vessels, all from Bohemia, about 1830 -50. [FWTD]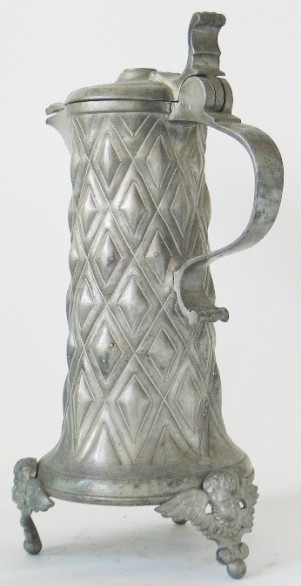 Diamond cut pattern – Self-explanatory. Usually found on silver, pewter, or any other metal stein. Show above ▲: A double cut diamond pattern. Most likely Austrian. Circa 1850. This is not a Weygang piece! The angel feet were added later. [FWTD]
▼ Almost the same pattern on this blown glass as on the pewter server above.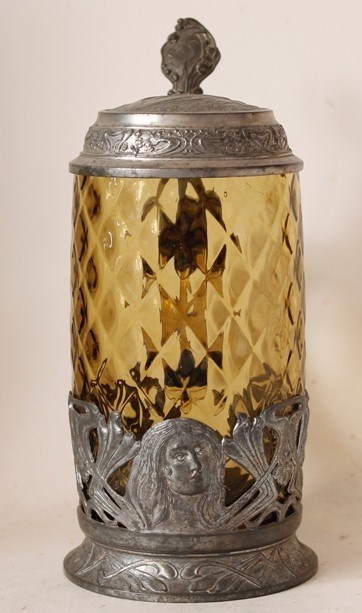 Body is probably by Theresienthal glashütte. Pewterer unknown.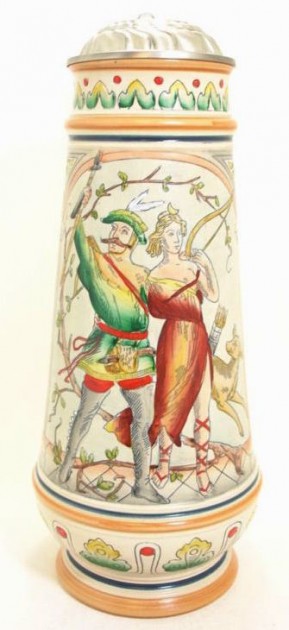 Diana  – Roman Goddess of the Hunt – Wikipedia says: In Roman mythology, Diana ("heavenly" or "divine") was the goddess of the hunt, the moon and birthing, being associated with wild animals and woodland, and having the power to talk to and control animals.
As Germany was known for its woods and hunting of deer, boar and other animals, lot of hunting motif steins feature Diana. She is most always [100% = ?] represented by having a bow and arrows. Shown above ▲: A much newer 2 liter pottery stein showing a medieval hunter and Diana.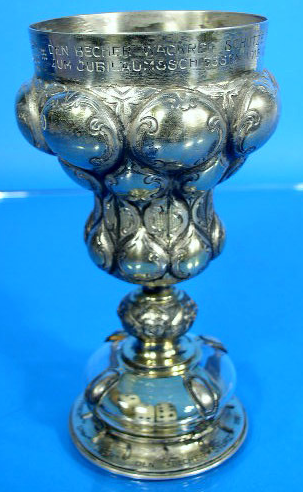 Dice (Wager) cup – Shown above ▲: A 6 .75 inch tall German marked gambling cup of silver, with three dice in a blown clear glass semi-ball at the bottom of the cup. Circa 1850. Rare!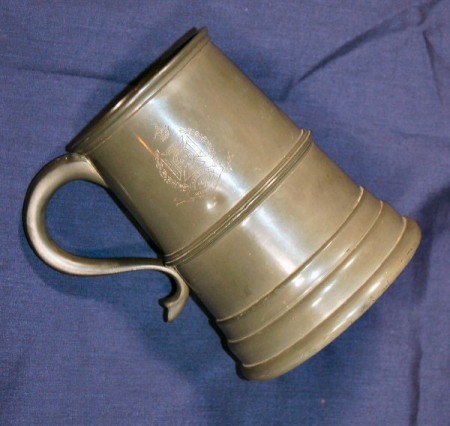 Dice (Wager) mugs – An olde time English gambling devise. Most of these are in pewter but "Old Sheffield Plate" beakers with dice were also made in the early 1800's.  SEE PHOTO  5  BELOW.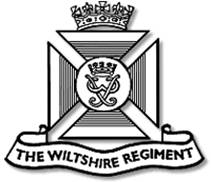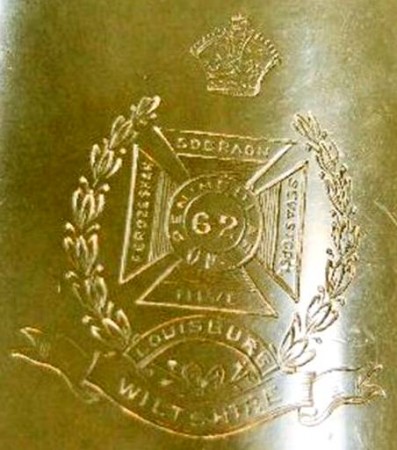 A 5 and 3/4 inch pewter Dice mug made for the a member of the Wiltshire Regiment. It has a glass bottom with three tiny dice made of bone.  [FWTD]
.

Shown below ▼: A much newer version of the same thing, this one with five dice. These are quite common.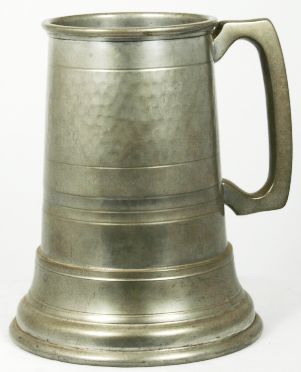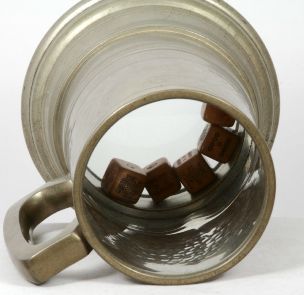 .
Here's another version below ▼. Pewter pint with a spun or "butler" finish. Modern. Unknown maker but American made I think.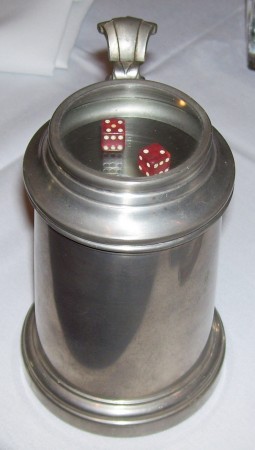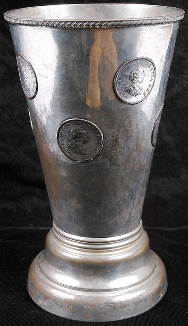 Shown above ▲: An "Old Sheffield Plate" (Rolled plate) Dice / Wager Beaker. Used in the taverns, these come with three dice in the glass bottom, and coins of the realm (colored silver separately) embedded into the body. English and Irish versions (identified by the coins used) are known with the Irish one being very, very desirable.  These cannot be found on every street corner, most being worn of their silver plating and tossed away years ago! Made from the early 1800's to the 1850's when electro-silver plated articles took over the market. [FWTD]

.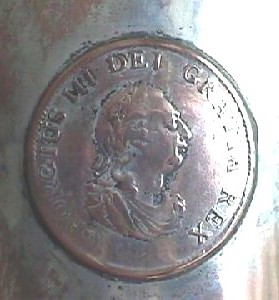 Detail of an embedded coin, with some solder showing. They are not normally found in this good of a condition.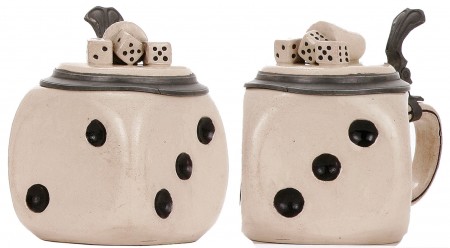 [
tsaco]
Dice steins / Characters – These character steins are pretty self-explanatory, yes?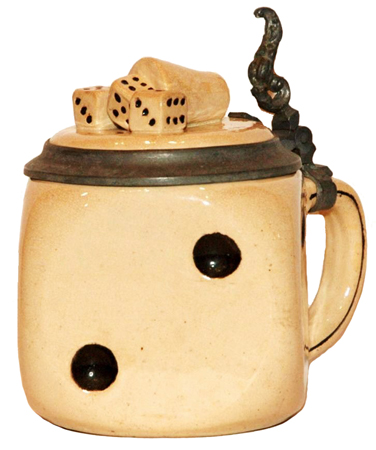 Just a different thumblift. 0.5L. Die with dice on inlay lid. [RFA]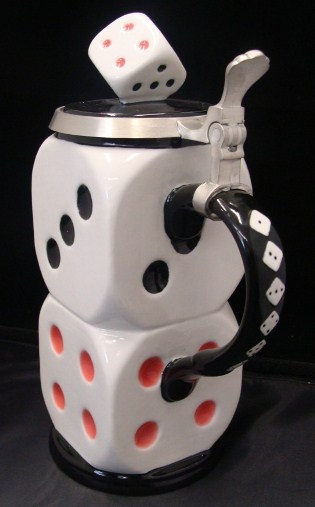 A new entry into this category and a bit of "over kill."  Of course, it probably would be hard to drink out of, but not as bad as a lot of the newer ones such as the  new Neuschwanstein Castle character stein ▼.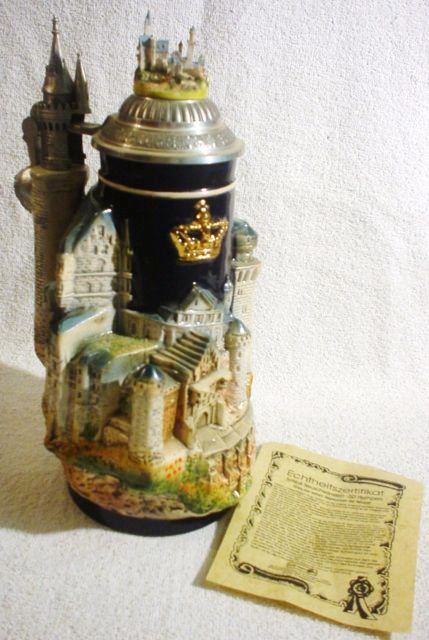 Diesinger, Adolph  – Stein maker – Responsible for DRGM 154927 (also DRGM 250635)  "Duetsches Reich Gebrauchmuster" is a patent claim, protecting the manner in which Diesinger decorated his pottery pieces.  [SCI]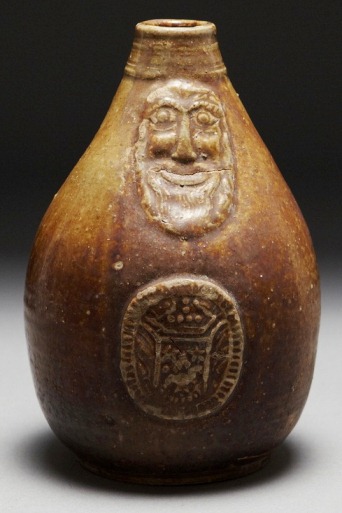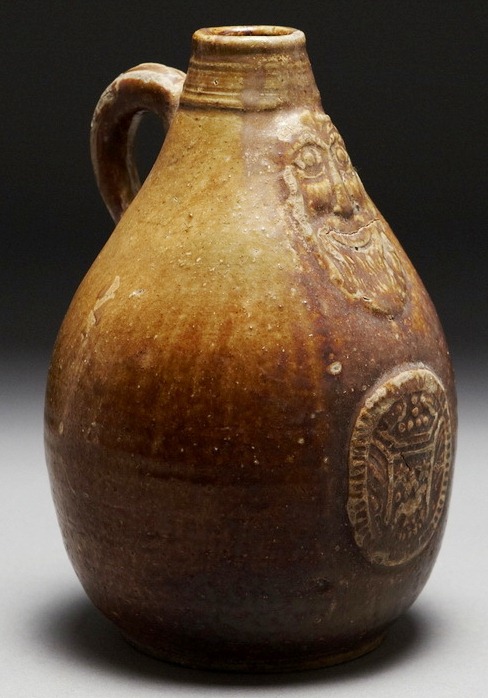 Dionysus jugs – The Greek name for the God Bacchus (Roman). Shown above ▲: 17th C, stoneware wine Jug (pitcher) applied Dionysus face with a city's Coat of Arms. These are also called Bellarmine (also Bartsman /  Bartsmannskrug –  Also see that listing in this site's Compendium.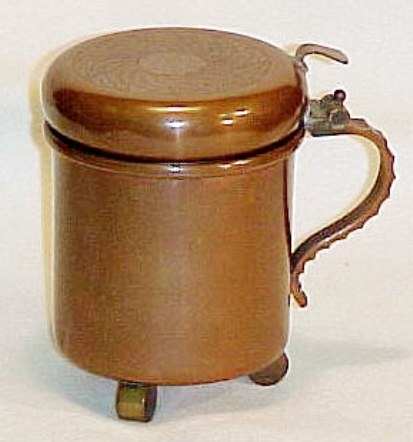 Disc feet – A modification of the totally round ball feet on steins usually found on Scandinavian examples. Shown above ▲: A copper "kinder stein" from Denmark. Circa 1950, with an interesting ridged handle, an easier grip for the child. [FWTD] For more on "kinders" see: http://www.steveonsteins.com/kinder-steins-page-1-13rd-of-article-text-only
---
Display (only) stein (s)- Any beer stein that is too large, too cumbersome / heavy or designed not to be used.
CR-  DISPLAY STEINS, ITS  ONLY USE –  – DO I HAVE THIS ONE -3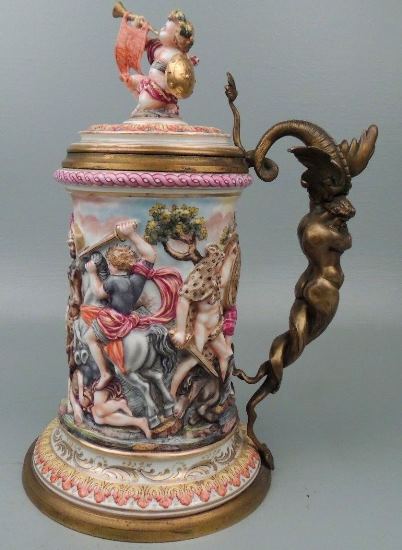 Shown above ▲: A massive Dresden (NOT CAPO-DI-MONTE!) porcelain stein that meets all the criteria. The lid cannot be opened all the way as the design / placement of the bronze handle prevents it from doing so.! See the last photo; that's as far as the lid will open, the lid would hit you in your eye if you tried to drink out of it.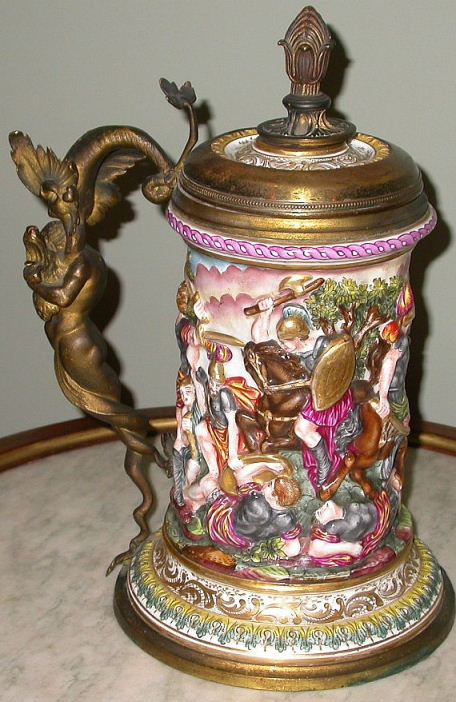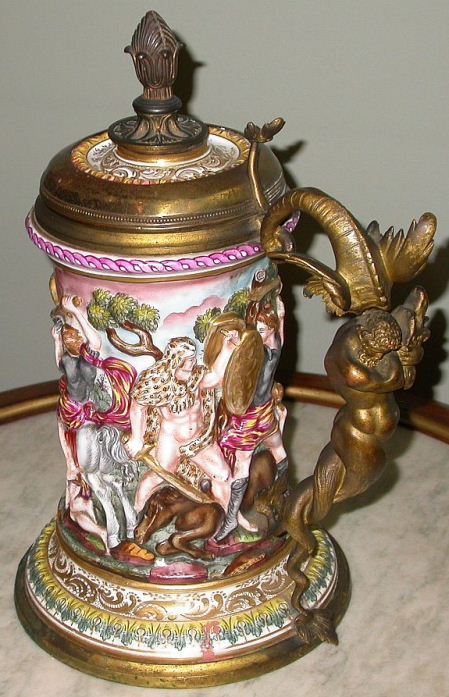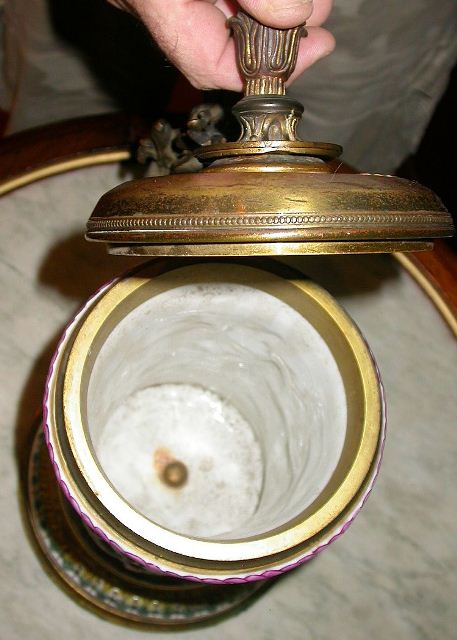 .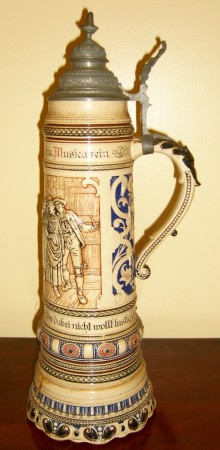 At 3 liters this pottery relief stein looks fine but is not very functional.
.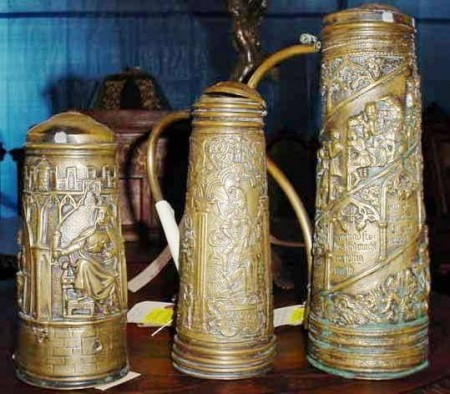 [2] Tinder – ash can steins /  fireplace display – These items are not steins at all but display pieces made out of stamped brass. While the scenes were copied from real steins (lots of them V & B Mettlach), the seams do not hold liquid (beer), nor will the base, and if full the larger ones' handles would rip off!
They could be used for storage of anything not heavy, but one of the primarily uses was for tinder next to the fireplaces in late 1800′s European homes; the other for display on a mantle when polished.  One may be surprised at the number of these seen for sale as steins , even within  the main USA stein auctioneer's catalogs. Sometimes with very expensive asking prices on ebay, etsy,  etc!!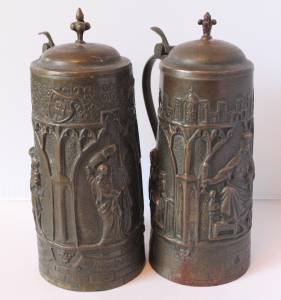 A pressed / stamped copper pair ▲  somewhat different version of one shown in photo  just above on the left , . [FWTD]
.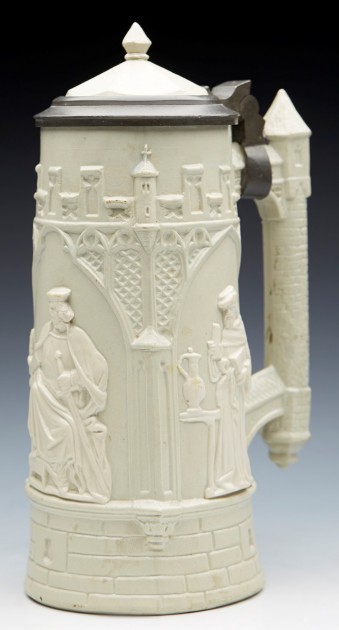 Above ▲the original early vesion of a V& B Mettlach No. 32 from which design the two referenced cooper ones above was copied .
See also "Not a stein" in this site's compendium.
---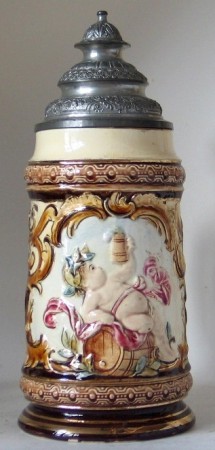 Ditmar, R – Fairly well known Austrian company of Rudolf Ditmar (1881 – 1919), maker of majolica steins. Shown ▲ and ▼: The figure could be either "Baby Bacchus", with his laurel wreath, or "Baby Gambrinus,", who should have on a regular crown but this could be Artistic license = ?"  [SA] 
See:  http://www.steinmarks.co.uk/pages/pv.asp?p=stein1
For more on Ditmar and/ or Majolica steins, see: http://www.steveonsteins.com/german-majolia-beer-steins-new-7-24-12
.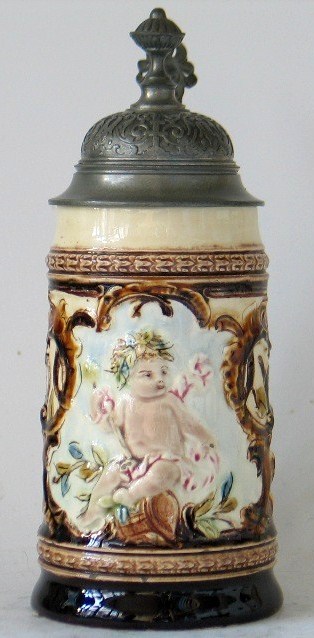 ---
CR- DIXON;  JAMES AND SON, SONS ENGLISH  COLLEGE COAT OF ARMS, BRIGHT CUT   this is OXFORD  NEED OTHERS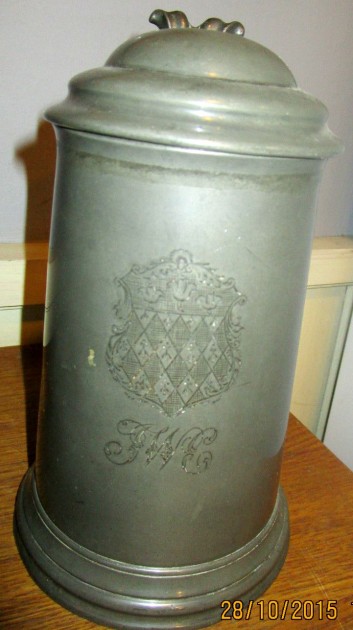 ---
[END – SP104 – 560- R5]

"I'm a humble person, really! I'm actually much greater than I think I am."
move – out of order Drillingskrug (German)  = Fuddling cup ,see "Fj – Fz"  compendium page for photos .