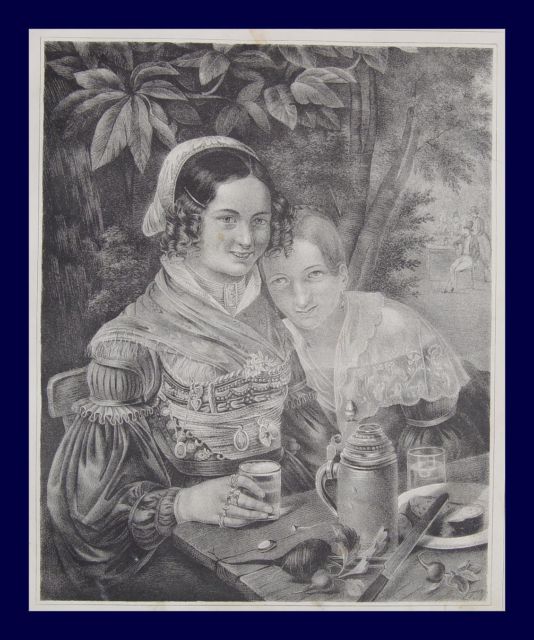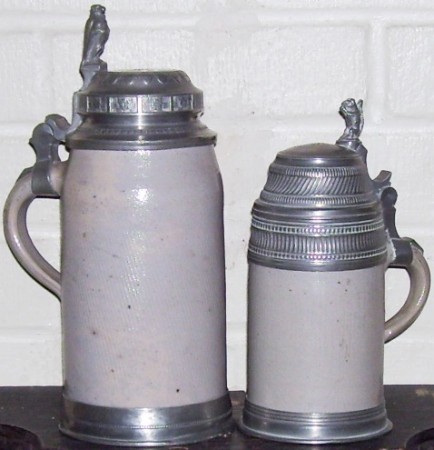 "Bavarian" style stoneware steins. Circa 1820-1850.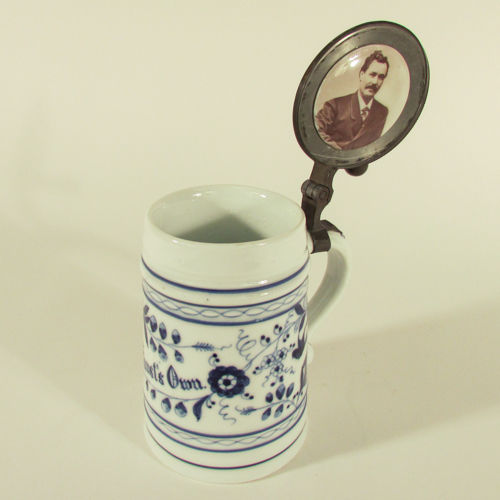 "Faust's Own – a  .5 liter porcelain Faust brewery stein dune in "Blue onion décor"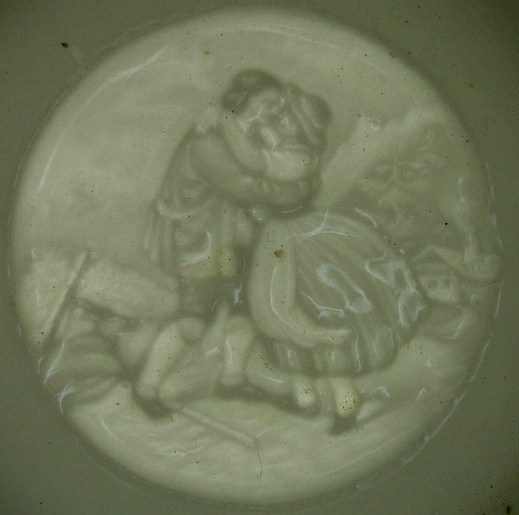 A nicely done lithophane in the stein above.
---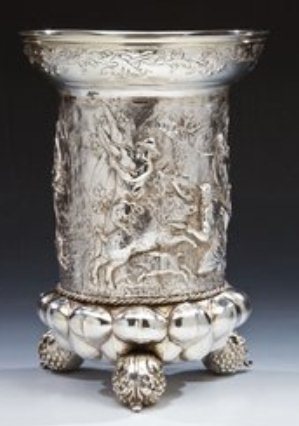 Flaschenkühler (Germ.) –Wine bottle cooler.  Shown: ▲ One done in .800 silver with a hunting scene  in relief, with lobes and pomegranate feet .
---
Flagon – The English word for what US beer stein collectors' call "Master" or "Serving steins."  Usually it is a larger vessel than a stein or tankard.  Word was used primarily for  vessels of the church.
Editor;s note: The listing / posting  of jap tea pots under the search word  "Flagon "on eBay is ludicrous !!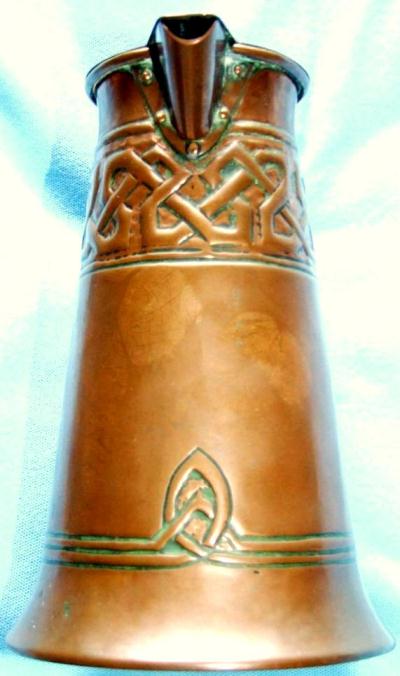 .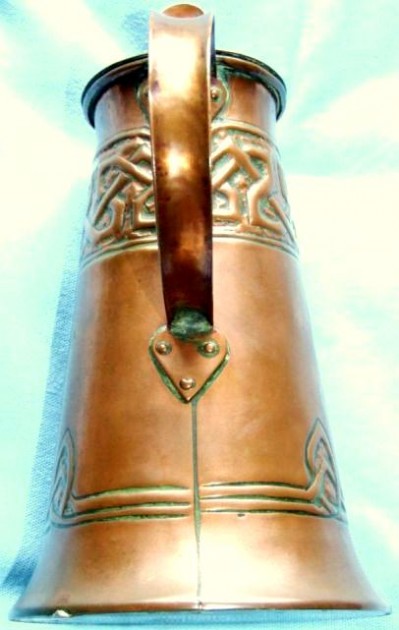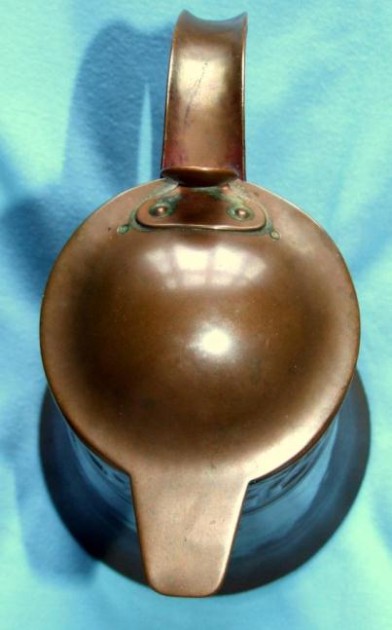 Shown above ▲: A copper flagon advertised as English, but due to [1] the design of the thumbtack,  [2] the riveted heart attachments, [3] the curvature of the handle and [4] no  English marks,  I'm not at all certain that country of origin is correct!  I'm thinking Austrian /Bohemian,  Ca. 1910-25.  Height 22cm (8.75″), Base approx. 13cm (5″) in diameter.
---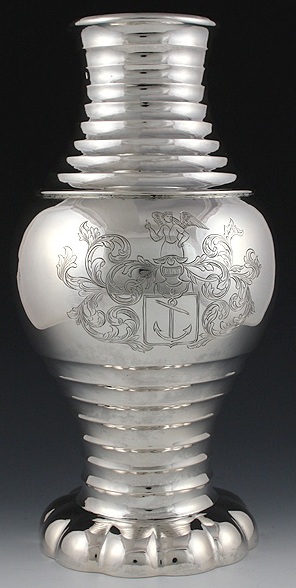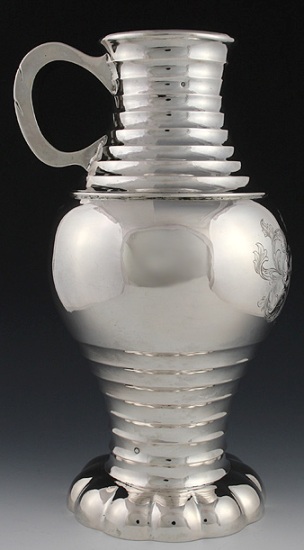 These taller servers without a lid might  also be called  "flagons."  Shown: Dutch, .833 silver small wine flagon, 9.25  inch. Dated 1907.  The handle being up so high on the body makes it easier to pour and harder to drink from.
.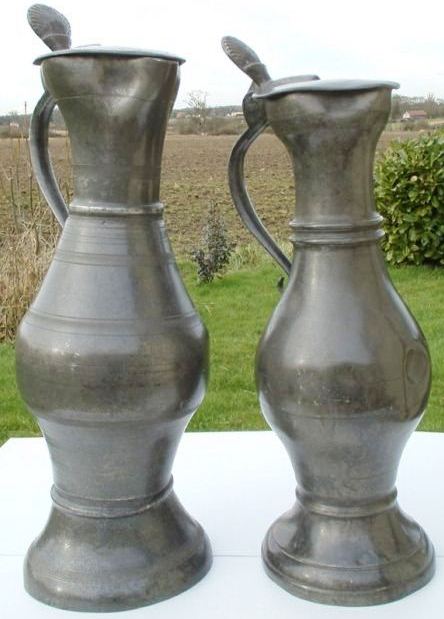 From Normandy France,  Ca. late 1600's . Left is 16 in.- Right is 15 in.
---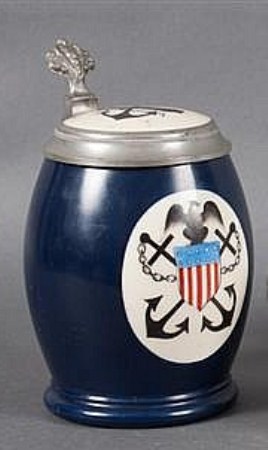 Flags (on steins) 1- Shown: USA Naval Ensign – .5 liter porcelain. Ca 1890.
---
Flask –  ▼ ▼ ▼ – Also See: "Book Flask,"  &  "Bottle flask." 
Also see "Brewer's Paddle."
Flask, Greek – 7.75 inches (Made of lead).  Such lead, silver or tin flasks for brandy were manufactured in large quantities for Christians in the late Ottoman Empire. The saints depicted on them were meant to protect the owner. Images of Saint George were particularly popular. Here, the saint's name is accompanied by the abbreviation IC XC (Jesus Christ), the name "Joseph" (probably the owner's), and on the other side, above the head of the order seated behind St George, the word "Hadji" (meaning, for Christians, "one who has made a pilgrimage to Jerusalem"). All  photos comp's of Walter's Art Museum Baltimore, Md.
---
Flask, table – a large round  server primarily used for wine It sits on its own BASE and can be carried by the use of an attached  chain. They have made these in pewter since the early 1600's.  Shown above ▲: A newer version made by WMF; part of the Durer series of vessels.
.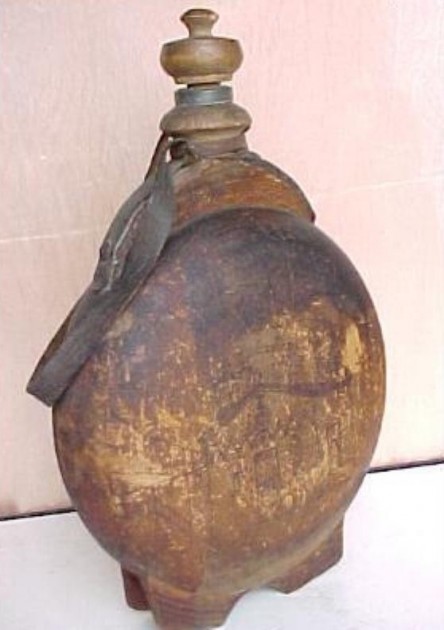 Treen table flask, dated 1921.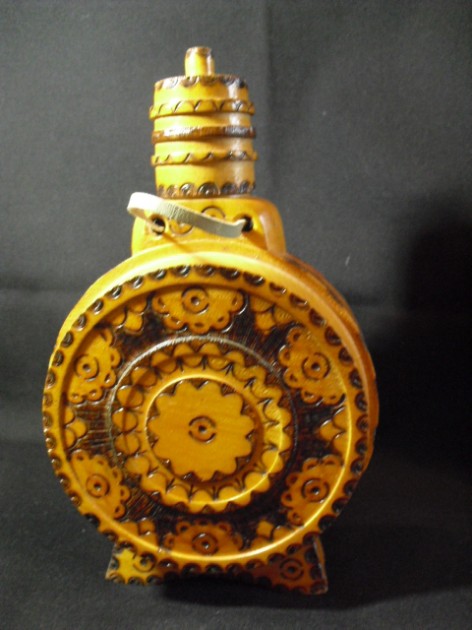 A carved and burnt wooden (treen)table flask-very new.  Scandinavian design.
.
Below ▼: Also newer. Pewter one made in Switzerland, with  the Arms of the Swiss Cantons incised but not engraved . 11 inches.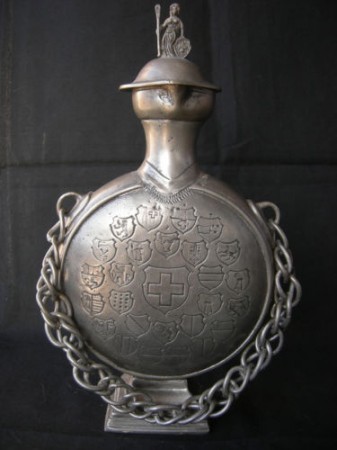 ---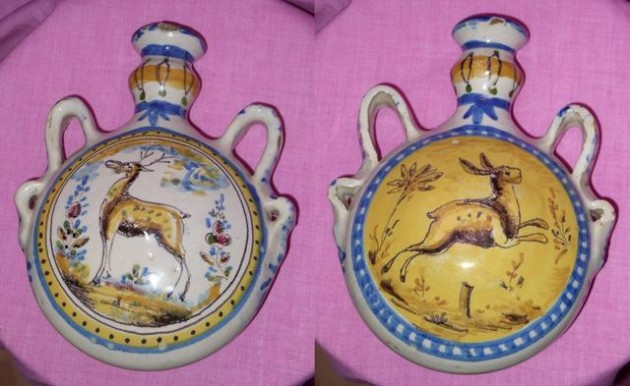 Flask, Pilgrims' –  Mostly ceramic flasks with  rings on the tops to hold the cord which was strapped to the body or over the neck; for walking long distances on a pilgrimage. Shown ▲: A pair of hand painted Italian Majolica "Pilgrim's Flasks. Most likely Ca. 1950-1970.
---
Flask, Pretzel – Used for whiskey or schnapps.  Shown ▲: 6 inch wide pottery. This has some small crushed rock type substance baked into finish to simulate salt.
need photo
---
Flat Chasing — Chasing in very low relief worked from the front, pushing the heated metal aside  giving a less sharply defined, but much more positive, outline than engraving. Always visible from the back.
---
Flip glass  – Originally, 17th, 18th, and early 19th century flip glasses held a hot mixture of beer, molasses, lemon peel, perhaps sugar and spices, and were heated by plunging a red-hot poker or loggerhead into the mixture. By the mid-19th century, the drink type (but not the glass) had changed utterly to a dessert drink style that was typified by the ingredients wine or spirits, spice, sweetening, and egg. Only the name, glass, and foamy head connected these two distinctly different beverage types.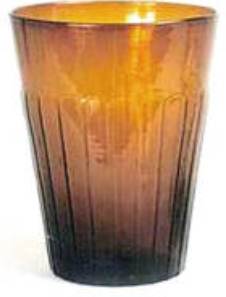 ---
Florida, (State of)  Souvenir steins – As with most poular vacationing spots in the western part of the world, the local sold souvenirs tot he tourists. During the golden age of stein production , millions it appears were made fot the State of Florida's market, Many, if not most, of them featured Florida's main animal attraction: the alligator.  Shown,  ▲ &▼,  a later day version of the early 1900's version which as done in porcelain character.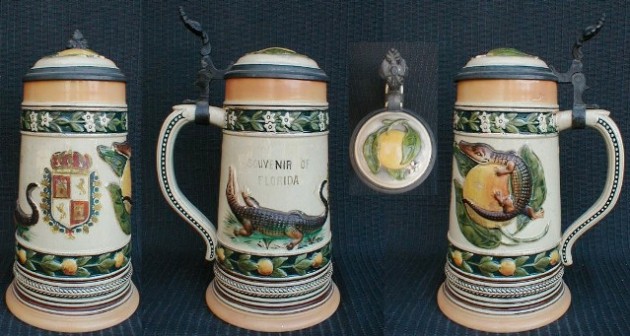 Original and copy were  both Made  by Albert Stahl.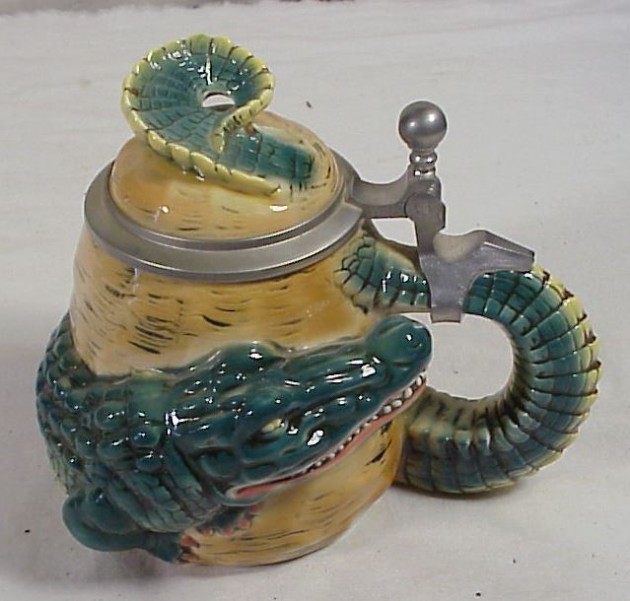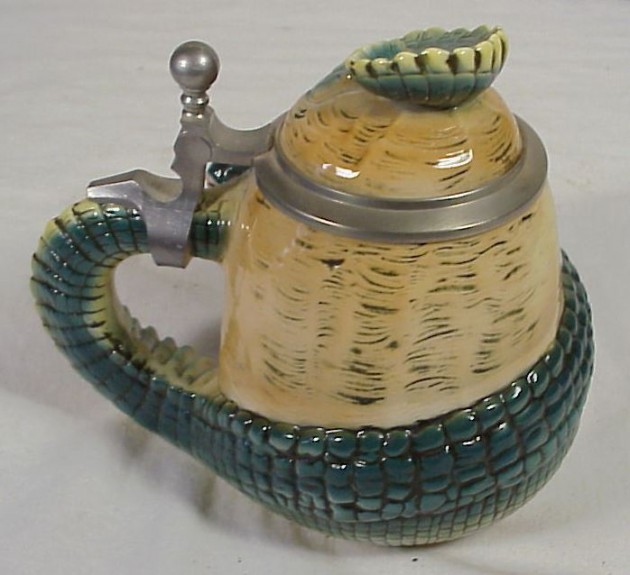 ---
Florsheim 1765-19?? – City or town of major fayence stein production. For more info, see: http://www.thepatriotexchange.com/pss/hisfai.htm
---
Flute – A tall thin glass for drinking beer, body is similar to a Pilsner glass. 
See also "Vase" (versus beakers and flutes, this web site.

 Shown above ▲: A Theresienthal [?] 10. 5 inch flute with minimal decoration with many applied prunts.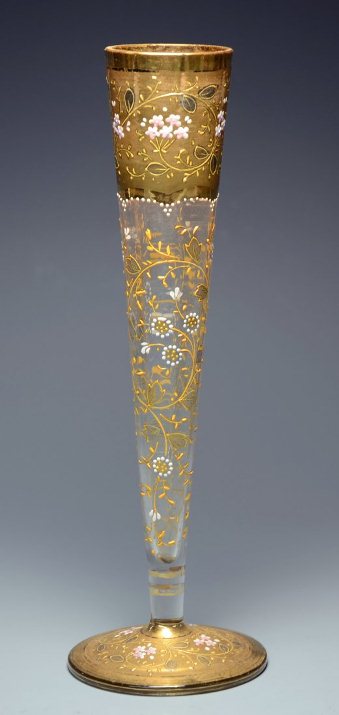 A "Flute" or a "Vase? " You decide!
.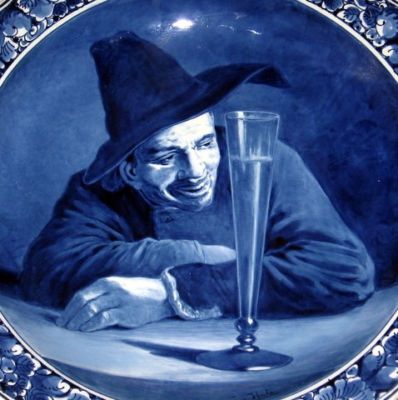 No doubt as to what this is being used for! On a blue / white 1904 Royal Delft charger, scene was originally painted by Frans Hals.
---
Fluted – Official definition: Having flutes or grooves, either for decoration or to trim weight.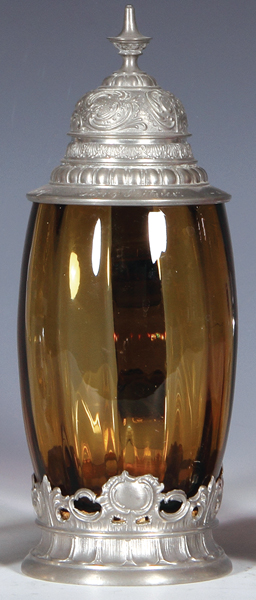 Shown above ▲: A .5 liter Theresienthal glass stein. At a recent USA stein auction it was described incorrectly as "Ribbed" which of course means on a means horizontal to the ground plane as one's rib cage is.
---
Fluting — A surface decoration composed of a series of parallel, usually vertical,  mostly concave channels. Derived from classical architecture, fluting was used to ornament the shafts of columns and pilasters.
 A circa 1850 Bohemian or Silician cut glass stein with squared fluting going around the bottom one third. [FWTD]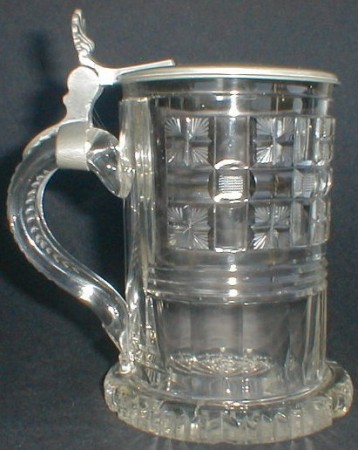 ---
Foehr, Eduard – "The" silver-smith to the King of Wurttemburg; an Imperial State of Germany. Shown: .800 silver cup, a shooting prize made by Foehr. "V.DEUTSCHES BUNDES=SCHIESSEN STUTTGART 1875."
Goblet is a large one, standing 8.5 inches tall.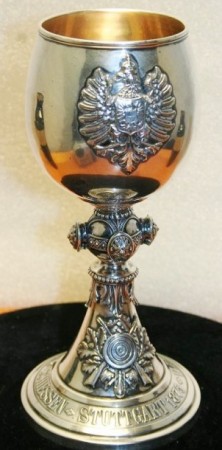 ---
Footring — A metal (pewter, brass, or silver) collar applied around the base of some steins to protect them from chipping and wear. Shown ▲: A fayence stein with a larger than usual footring. [WH]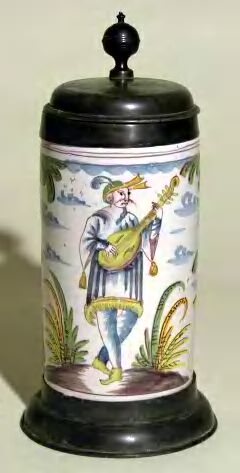 ---
FOREIGN mark on steins , etc. .  – McKinley Tariff Act: Origin of the 'FOREIGN' marking:
On October 1st 1890 the Congress of the United States passed the so-called 'McKinley Tariff Act', a law that was introduced by the 25th President, William McKinley. This law not only imposed the highest tariffs that the United States had ever placed on imports it also demanded that regardless of country of origin all items imported to the US had to be marked as such, 'FOREIGN'. The act was later revised in two steps and while the first allowed the real country of origin to be used, based on the fact that Great Britain had already forced Germany to use 'Made in Germany' for their goods. The second change introduced the regulation that only standard English terms and characters were legit after the newly-founded state of Czechoslovakia in 1918 had started to use foreign characters (see 'Čechoslovakia' on marks (1918-1920)').
[Steve's note: All the above information ▲per "P M & M": 

http://www.porcelainmarksandmore.com/resources/historical.php

  What a great informational web site!  It clears up a lot of misinformation
---
Form number or mold number — usually an incised or stamped number in the base of a stein used to identify the mold from which it was made, thus providing a number for cataloging. In some stein  making companies the form number is different than the mold number by use of pugs or decals or hand painting
---
Four  [The number four: 4] – An early  (medieval) mark used on all sorts of items including beer steins, that indicates the maker / master was a Christian, sort of like the stylized fish found on car trunks today.
Shown on this 6 inch ceramic monk's mug.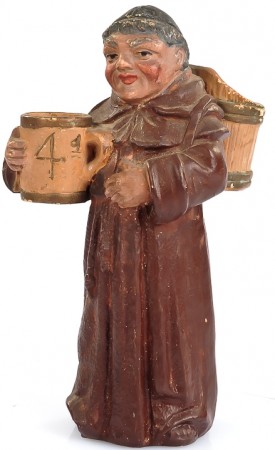 ---
FOUR HANDLED POTTERY JUG, TYPE,  ITALIAN
HAND CRAFTED & PAINTED ITALY  10 3- 4 " x 8 "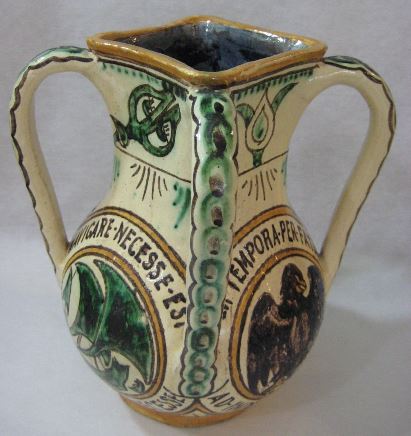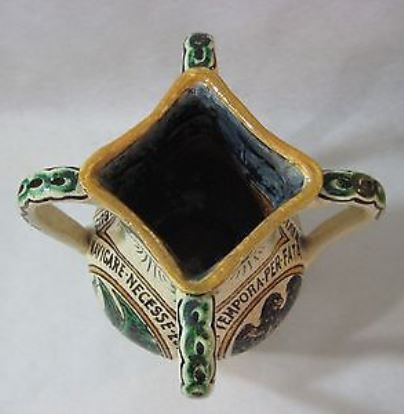 ---
Four "F" steins – (Guy's these are not the same 4 F's that we learned early on in high school!)  The 4F symbol,in German  stands for Frisch, Fromm, Froh, Frei (fresh, pious, happy, free.)
For more info, please see article in SCI website's Library / Reading room called: 4F (Gymnastic) Steins.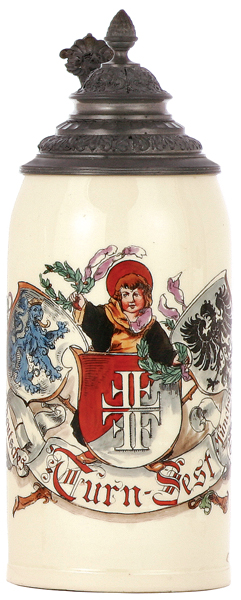 A more than slightly different version from a munchen verein. [tsaco]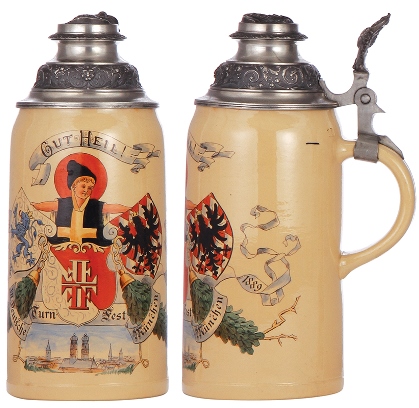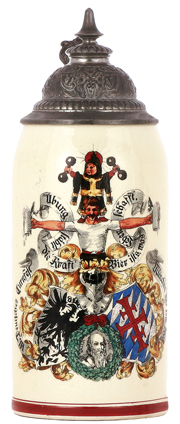 2 liter,  FOUR F, AND GERMAN FIREMAN'S STEIN .  Merkelbach and Wick – C 1915.  (Editor;s note:   Not a firefighter – they had no "girls" back then — Thank God!)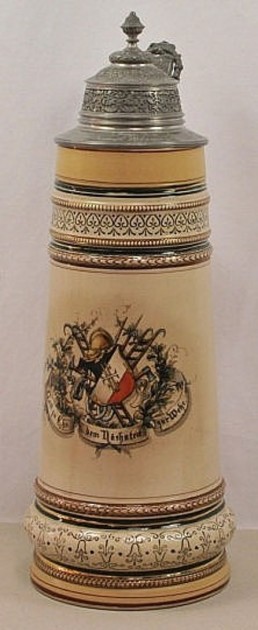 [Page on 4 F 's planned for late SPRING 2014
---
Four seasons steins – A series of four (duh!) produced by V & B Mettlach in their attempt to create a new steins market. These  was made in the summer of 1980.They called this "Cameo" but when compared to the older version of "Cameo" it leaves a lot to be desired. These ar enot too expensive  = good for gifts!!
SPRING
SUMMER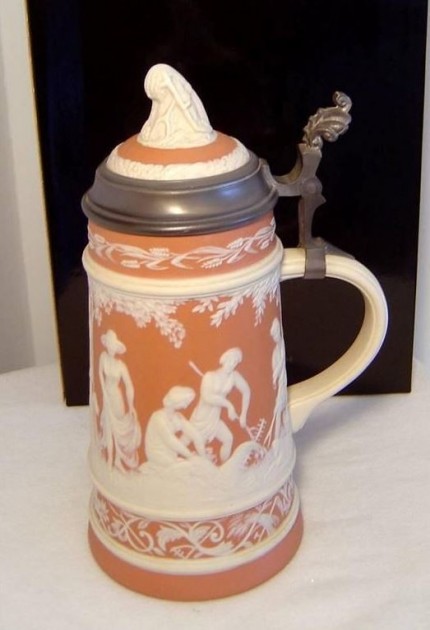 AUTUMN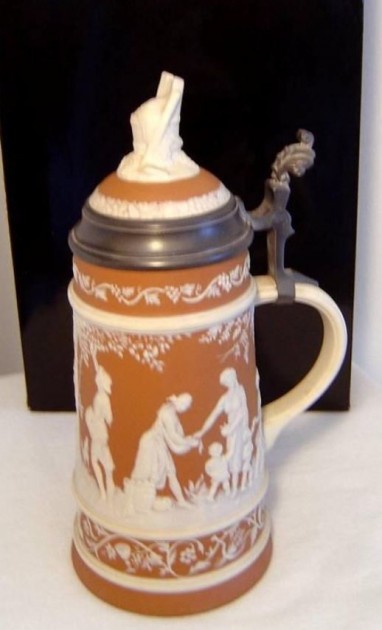 WINTER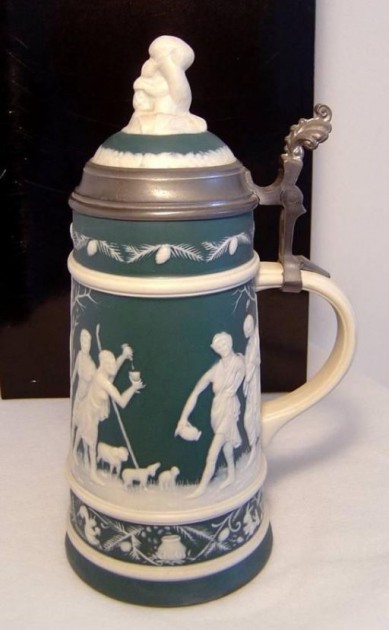 Another Set
SPRING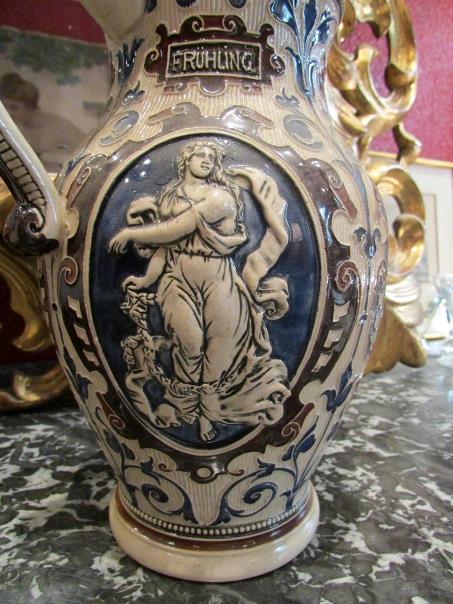 SUMMER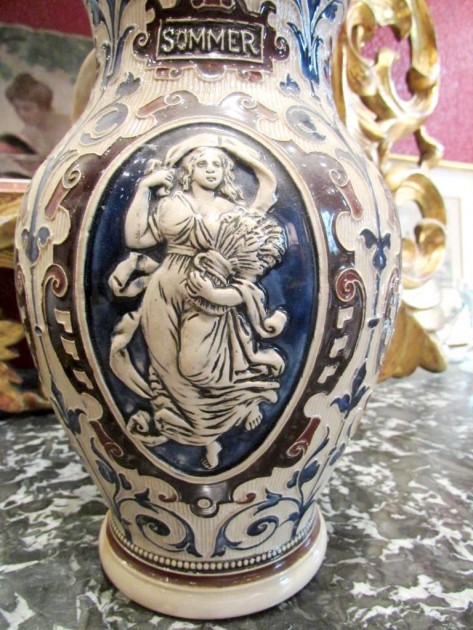 AUTUMN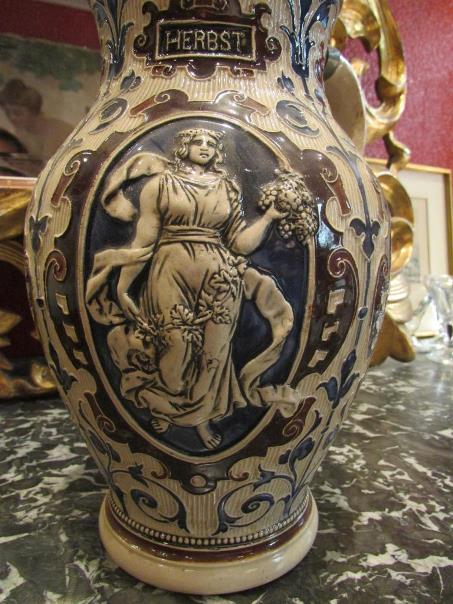 WINTER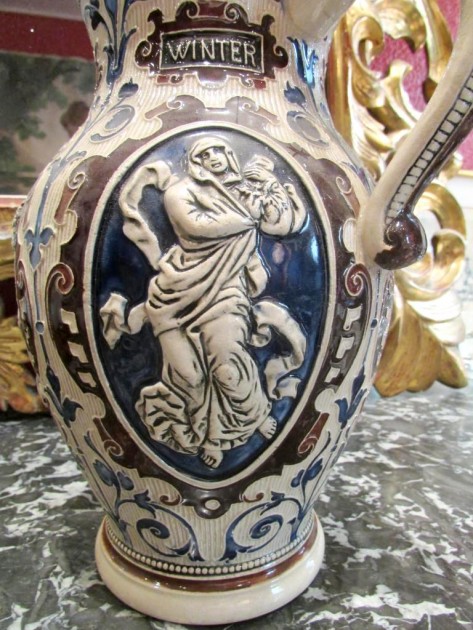 ---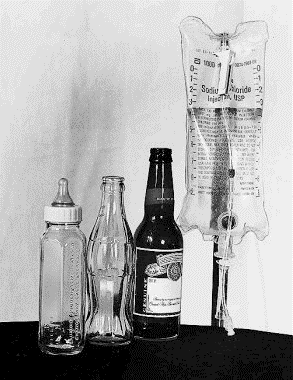 Four stages of a beer drinkers life – No comment needed!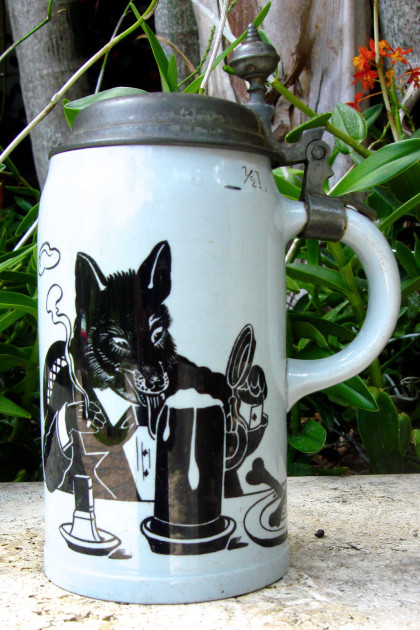 V & B Mettlach, Form 1909/ 1808.▲ A "Gentleman Fox."
Fox – See "Fuchs ", below ▼.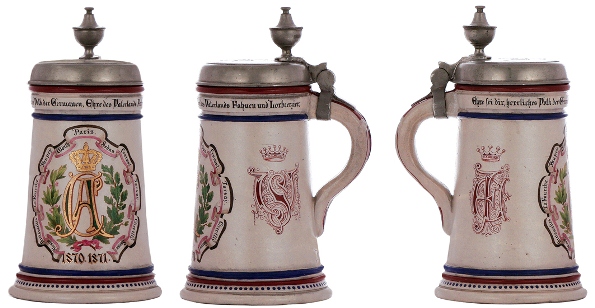 Franco-Prussian War steins – Beer steins that were produced in Germany in 1871 ( or very close to that year) celebrating the defeat of the French in the war of 1870-71. Shown above: 1.0L,  handpainted, marked Saeltzer. It celebrates the War of 1870 – 1871, cities of major battle engagements listed include Paris, Sedan, Wörth, La Fourche & Pouprÿ. Pewter lid with the 1871 Iron Cross, [tsaco]
Shown below ▼: A hand painted porcelain lid insert, which shows Napoleon III getting his ass kicked at the Franco-Prussian War's end. I believe that the "camp follower" is a representation of Eugénie, his wife. Note the French Imperial crown is in her carry bag! [FWTD]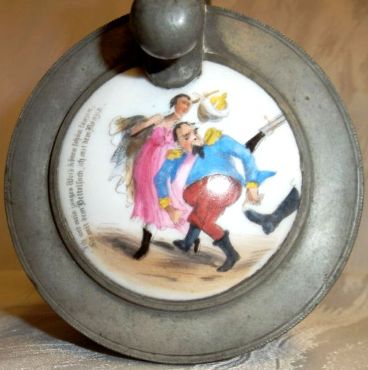 I really enjoy this scene. [FWTD] Photo of Napoleon III with his weird assed beard below:
.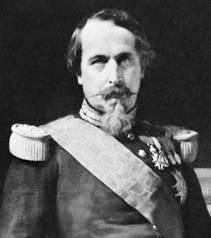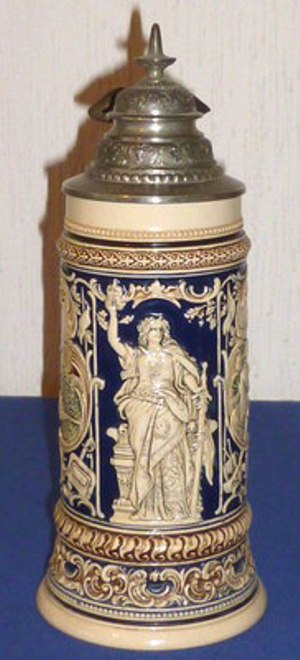 Franco – Prussian War, 25th year anniversary steins. – A little written about sub-set of beer steins bought by F/P W vets and the members of German war vereins in 1896. Several of these show soldiers in their old uniforms and the statue of Germania. The stein maker, Reinholt – Merkelbach produced a very nice looking one as shown above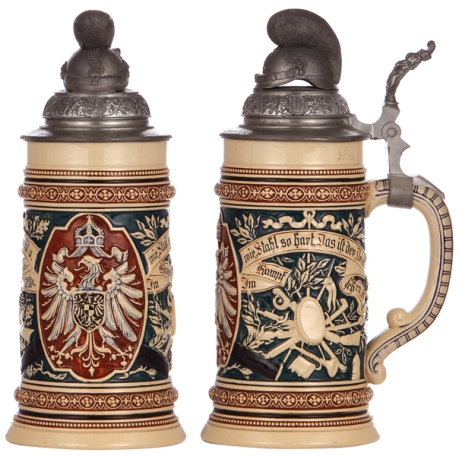 Some of these steins can be misleading as they have a referenced date to 1870-1871. This is when the war was waged and not when the stein was made. Shown: A pottery .5 liter with the old   (pre 1871)"Caterpillar" headdress on its lid. [tsaco]
.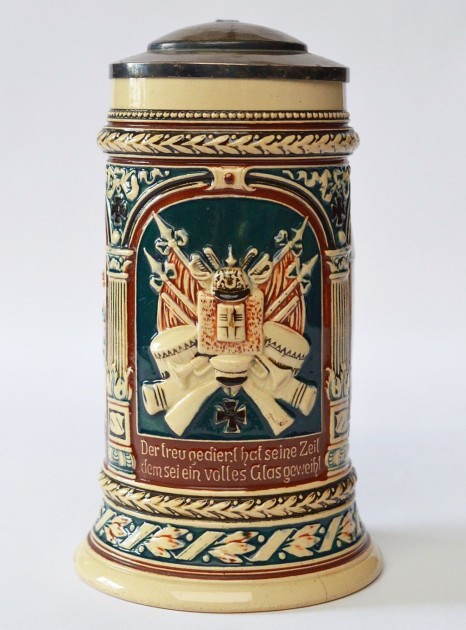 Another, but with a cheaper stamped tin lid.
---
Frankfurt a. Main 1666-1772  – City or town of major fayence stein production. For more info, see: http://www.thepatriotexchange.com/pss/hisfai.htm
---
Franklin Mint steins – A New York firm that has produced many new steins in the last 30 years.  Some good . some not so good.
For a few very  nice FM steins, please see:  http://www.steveonsteins.com/the-bobwhite-quail-a-hard-bird-to-catch-10-18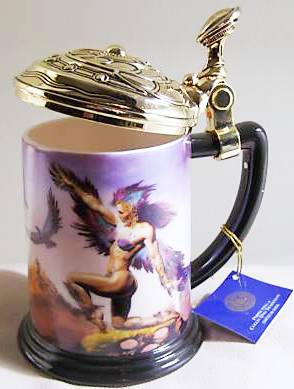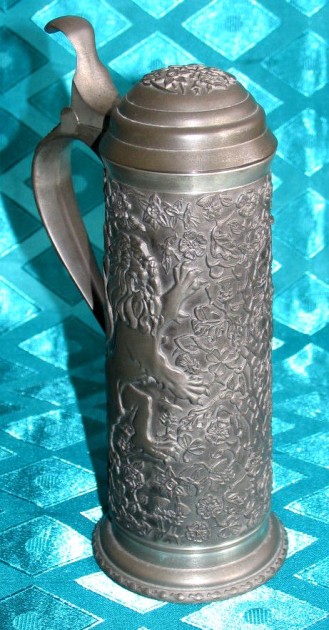 Above once in awhile  [1979] FM did make a piece worth collecting. Even though I am partial to pewter steins   this one was done with nicety molded scenes in relief and good diminutions overall, and probably quite serviceable.
---
Franklin Mint "porcelain" beer "mugs." – Large beer drinking mugs made for several years starting with  a series of father's day presents. Above: 1 liter PUG with a whaling scene.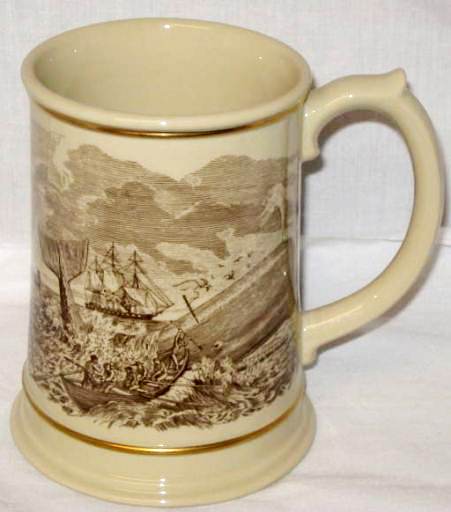 I think the most collectable mug  shows the story of William Tell. It was produced  in 1979.  ▼  ▼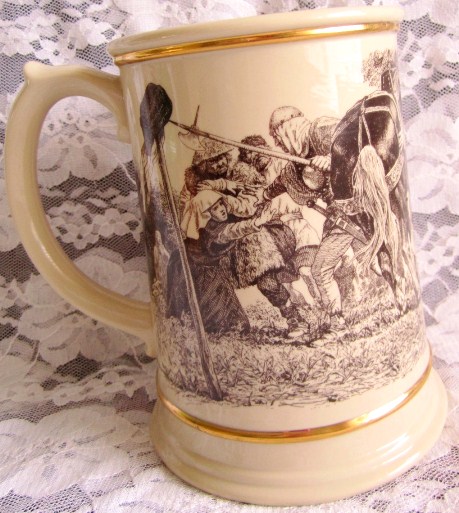 Scene of Tell's son standing under the tree awaiting his father's arrow shot at the apple sitting on his head.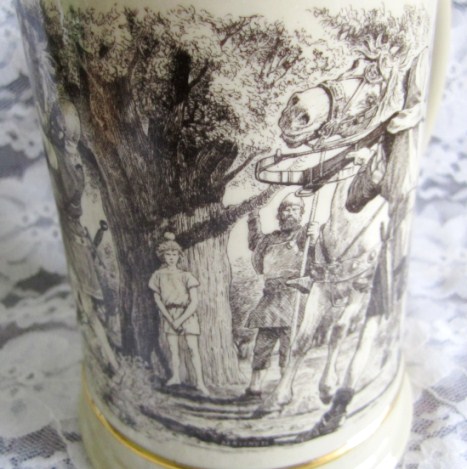 Editor's historical note:  Evidence has been found that William Tell and his family were avid bowlers (kegels). Unfortunately, all the Swiss bowling  league records were destroyed in a fire … and so we'll never know" for whom the Tells bowled!"
---
---
Frauenkirche Tower Steins – Very popular character steins made to resemble one of the twin towers of the Frauenkirche. Shown above: One liter, older version porcelain body. Highly collectable today! [tsaco]
The Frauenkirche (full name "Dom zu unserer lieben Frau", "Cathedral of Our Dear Lady") is a church in the Bavarian city of Munich that serves as the cathedral of the Archdiocese of Munich and Freising and seat of its Archbishop. It is a landmark and is considered a symbol of the Bavarian capital city.
The church towers are widely visible because of local height limits. The city administration prohibits buildings with a height exceeding 109 metres (358 ft) in the city center.
The cathedral, which replaced an older romanesque church built in the 12th century, was commissioned by Duke Sigismund and erected by Jörg von Halsbach. For financial reasons and due to the lack of a nearby stone pit, brick was chosen as building material. Construction began in 1468.  Since the cash resources were exhausted in 1479 Pope Sixtus IV granted an indulgence. The two towers were completed in 1488 and the church was consecrated in 1494. However, the building's famous domes atop each tower were not added until 1525. Their design was modeled on the Dome of the Rock in Jerusalem, which in turn took a lead from late Byzantine architecture. The cathedral suffered severe damage during World War II — the roof collapsed and one of the towers suffered severe damage. A major restoration effort began after the war and was carried out in several stages, the last of which coming to an end in 1994.
 CR- frauenkirche ORIGINAL VERSION   THIS GOES FIRST ONE OF TWO TOWERES TOWER   SOLD BY TW IN MUNICH.   C. 1890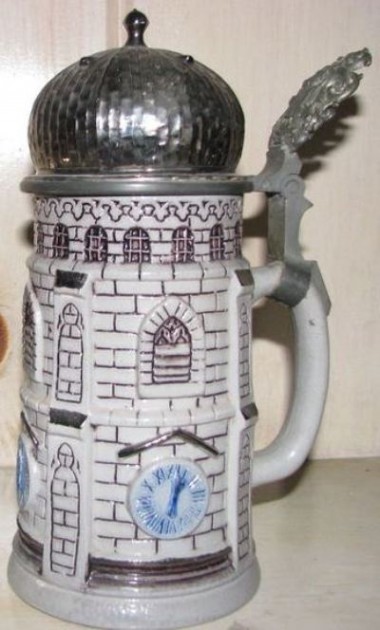 Sold / distributed by "TW" in Munich. .5 liter stoneware.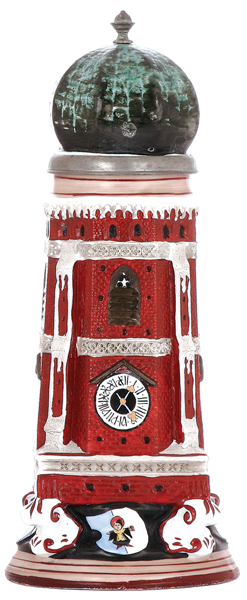 1976 version, a .5 liter, hand painted porcelain stein, made by [?], sold by"Rastal," (located in Hohr-Grenzhausen). THIS IS RASTAL (put with Rastal also)  Porcelain Beer Stein -1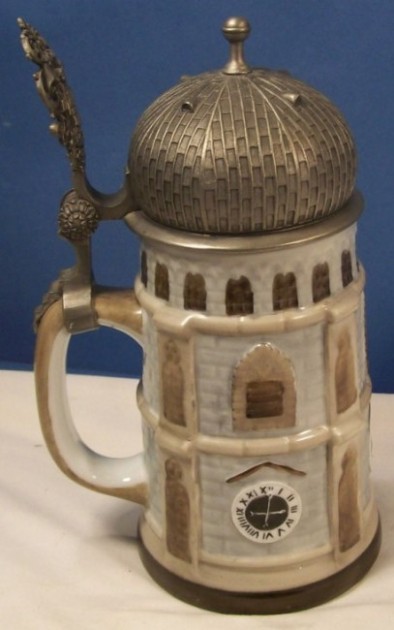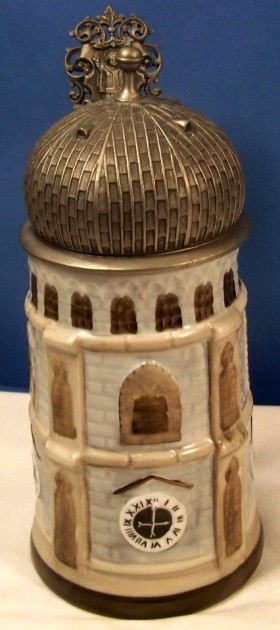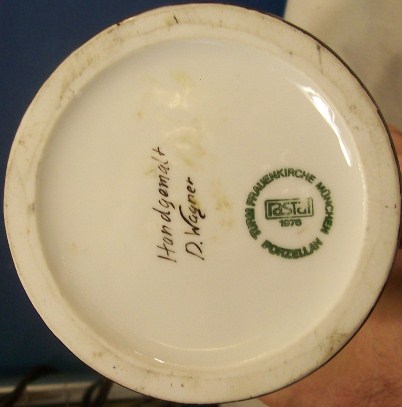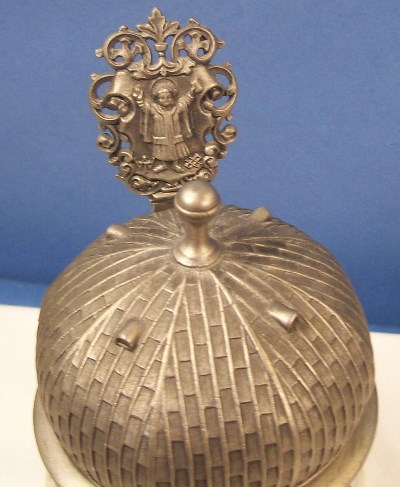 Shown: A 3 inch Westerwald miniature souvenir. Early to mid  1800's.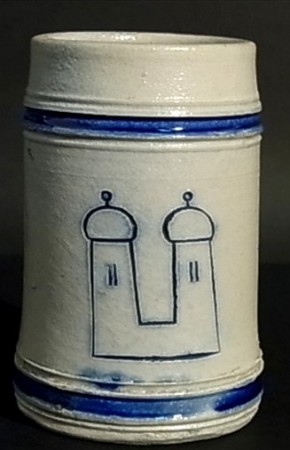 Another much, much smaller saltglazed version = .12 liter.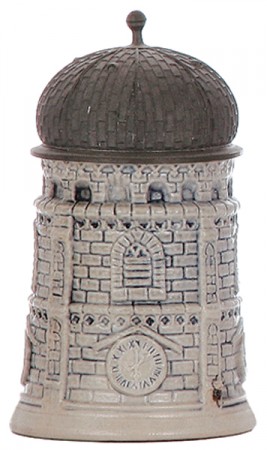 ---
French Foreign Legion Reservist Stein –  Shown: A possible unique example of a porcelain Reservist's stein made for a Bavarian who served time in the French Foreign Legion, both in Algeria and Tonkin (later called Viet Nam.)  Only one is known to exist. See write up in an early 2012 "Prosit"   [Ex- FWTD]
---
French Gold  – A gilding metal approx: Cu83%, Zn 17%, Sn 0.5%, Fe 0.3% also known as Oreide or Oroide.
---
French Ivory –   (plastic  – Celluloid) 
A term used to describes items made using  the earliest plastic , which has the color of ivory.
From Wikipedia, the free encyclopedia:  Celluloid is derived from cellulose and alcoholized camphor. John Wesley Hyatt invented celluloid as a substitute for the ivory in billiard balls in 1868. He first tried using collodion a natural substance, after spilling a bottle of it and discovering that the material dried into a tough and flexible film. However, the material was not strong enough to be used as a billiard ball, until the addition of camphor, a derivative of the laurel tree. The new celluloid could be Celluloids are a class of compounds created from nitrocellulose and camphor, with added dyes and other agents. Generally considered the first thermoplastic, it was first created as Parkesine in 1862[1] and as Xylonite in 1869, before being registered as Celluloid in 1870. Celluloid is easily molded and shaped, and it was first widely used as an ivory replacement. Celluloid is highly flammable and also easily decomposes, and is no longer widely used. Its most common uses today are in table tennis balls and guitar picks.[2]molded with heat and pressure into a durable shape.
AS MINE  NOW SOLD FOR ONLY $440  [ DAMN IT]  
ON EBAY 2ND ROUND DEC  2014-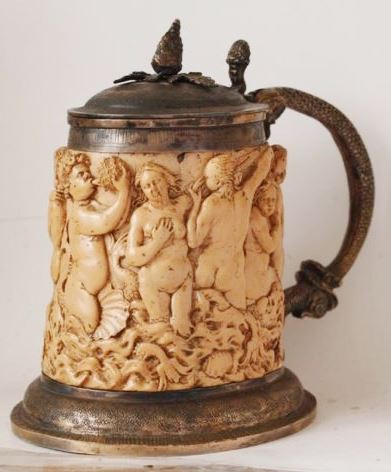 DETAIL SURFACE, BUBBLE BETWEEN WOMEN'S HEADS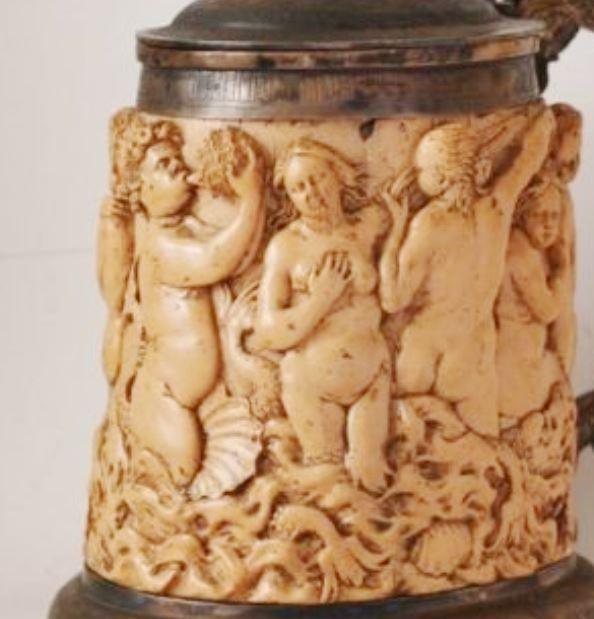 I have only seen this one stein made of it and none of the several other Master Steinologists who looked at it, could  figure out what the material was.  It is a copy of the steins supposedly owned by Martin Luther.  Now this stein is rare.  
For more on this one stein, see: "Martin Luther – His stein ", in this site's Compendium.   [FWTD]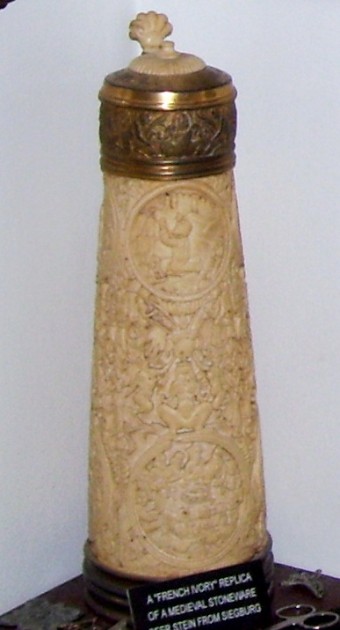 ---
Friedberg 1754-1768 – City or town of major fayence stein production. For more info, see: http://www.thepatriotexchange.com/pss/hisfai.htm
---
Frit — A mixture of previously made glass ground into a powder and mixed with oxides and oil to give enamel its glass base. Used in a paste form in Cloisonne.
---
Frog mug or stein –A drinking vessel with a small applied pottery frog  inside on the bottom of the piece, only apparent to the unsuspecting  drinker when the vessel is emptied. [L]: A relatively sedate Westerwald .5 liter stoneware relief beer mug. [R] What awaits the drinker on completion.
For more on frogs on steins,  please see:  http://www.steveonsteins.com/froggie-went-a-bier-drinking-and-he-did-booze-a-huh-a-huh-with-apologies-to-frog-went-a-courtin-new-1-16-12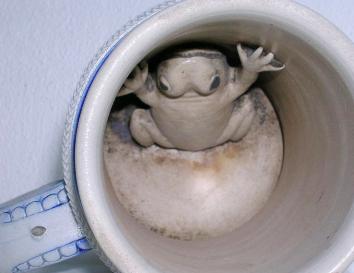 ▼FROG SURPRISE MUG – Oddfellows mug , English, a pass cup with frog and WITH a bonus lizard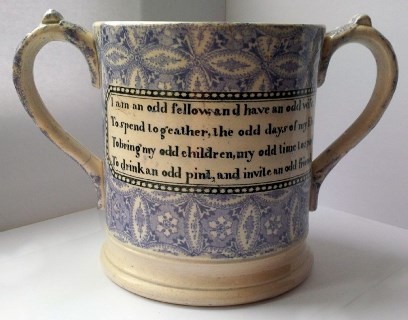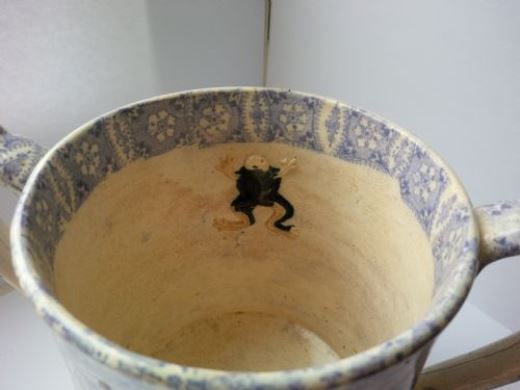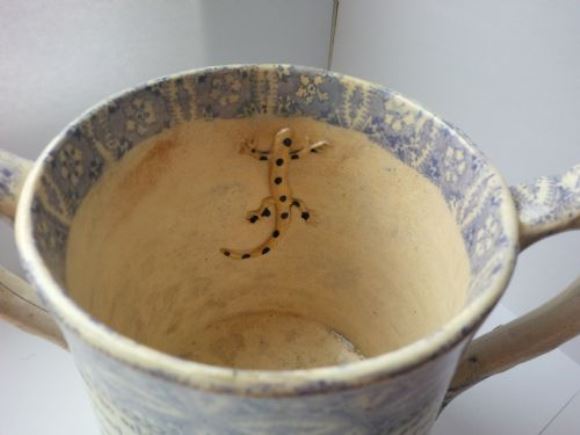 ---
Frosted glass steins – Steins made in the 1860 -80's period. The designs were made by painting glue on the stein's body in a set pattern and adding crushed glass to the glue, making a frosted effect. Lots of them, as in the example shown, also come with applied colored glass dots.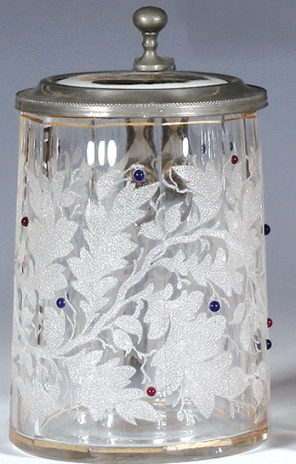 Bohemian beaker, circa 1860 with a cut-to-clear panel surrounded by frosting .I think the area outside the oval was acid etched to make the design look frosted.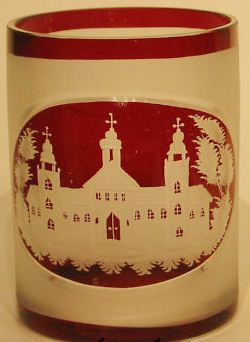 Frosting with applied enamel floral design. Ca 1900 – 20.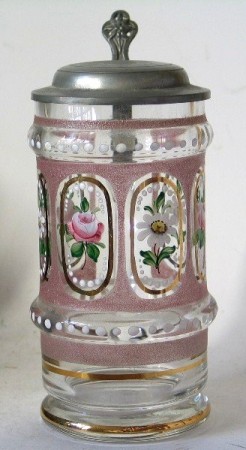 ---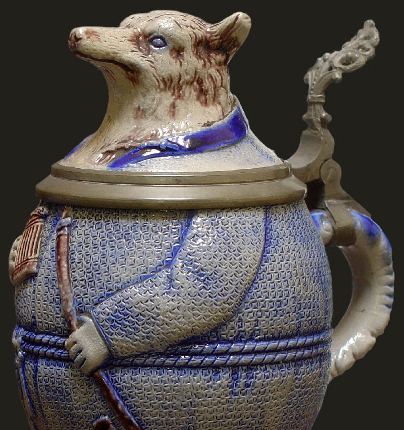 Fuchs – German for "Fox ." (Also See: Reynard the Fox.) Shown above ▲ 1/2 liter stoneware Fox Character stein made by Hanke [?]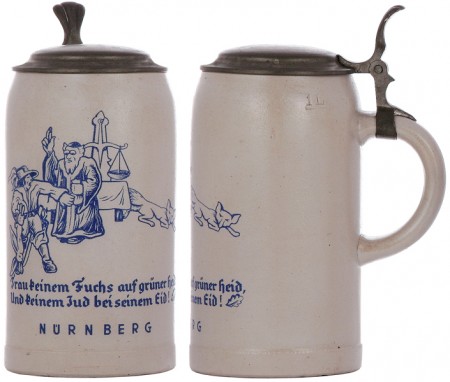 Stoneware stein, 1.0L, transfer, "Trau keinem Fuchs auf grüner Heid, Und keinem Jud bei seinem Eid" –Nürnberg, [tsaco]
I asked my fellow SCI Master Steinologist Roy DeSelms for an interp on this one and he said:  "Trau keinem Fuchs auf grüner Heid, und keinem Jud bei seinem Eid!" [Means] Don't trust a fox on a green meadow, and (don't trust) a Jew on his oath (word of honor)!  It rhymes in German.
Anti-Jewish steins are highly collectable (mostly I believe , through personal contact with several over the years ) by the American  Jewish stein collectors themselves.
.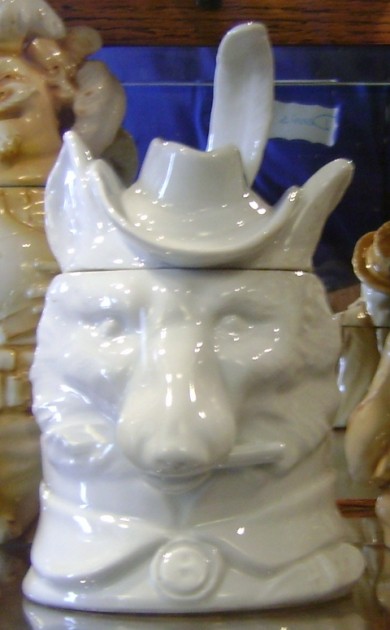 A very unusual version of Schierholtz's "Gentleman Fox" character stein. Now in a  Western Virginia Museum. [Photo comps of D. Hunnsicker.]
.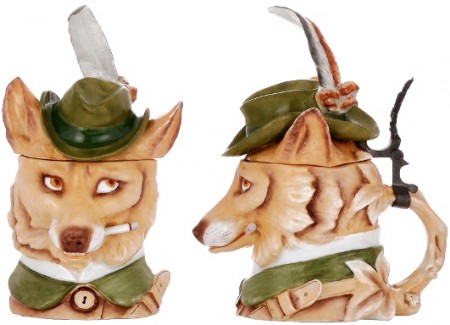 ---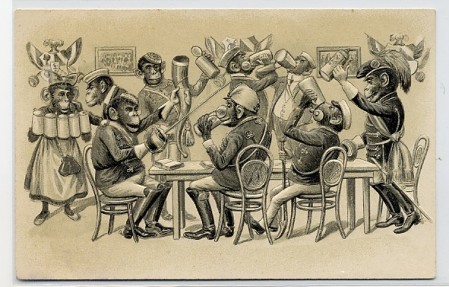 .
Fuchs – Also a nic-name for the youngest members of a German dueling society.
---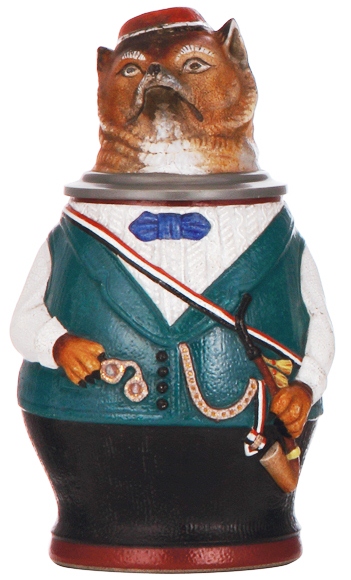 Character stein, "Student Fuch," .5L, stoneware, marked 54,  [tsaco]
---
 FUBARED  –    A military term = "Fucked up beyond all recognition"  May be applied to any really messed up average stein from about after 1850 [have their lid salvaged perhaps?] and then thrown away! Shown: An  Austrian – Hungarian fayence, the lid  is not even  worth saving except for scrap. 
 ▼An Austrio – Hungarian fayence stein in this case the lid is good only for use as scrap pewter.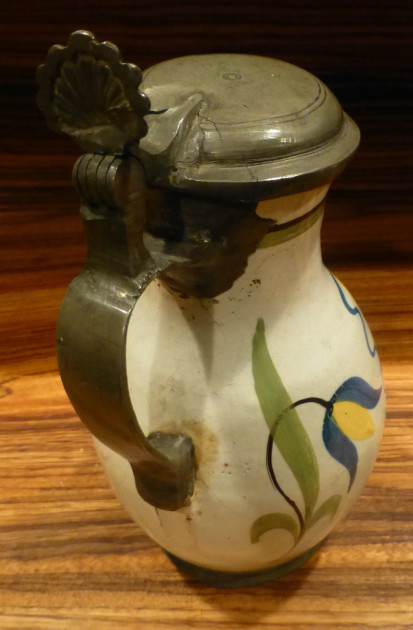 ▼ The inside view.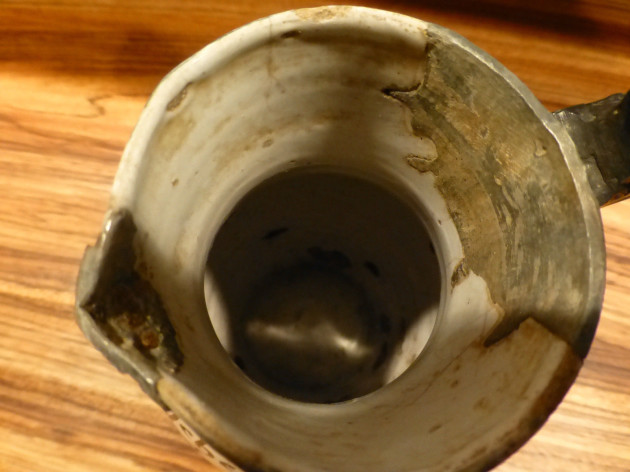 CR-  SIDE OF FUBARED STEIN ANN REGINA , asking $4,500 to start 2-2015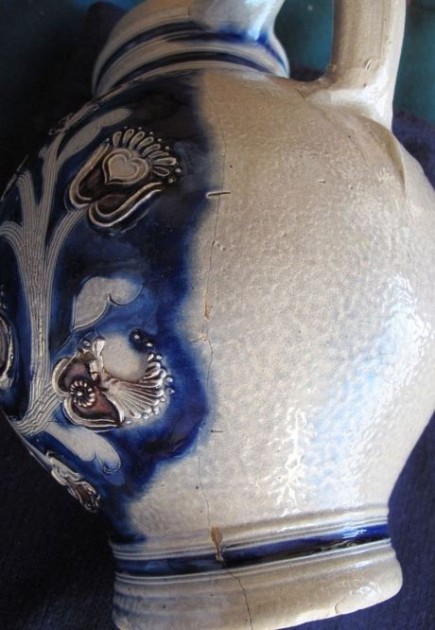 ---
Fuddling  cups / jugs   – [German – Drillingskrug  And aslo Brüderleskrug  = brother's jug ] A "trick" drinking vessel; (about in the same class as puzzle mugs) (see Compendium entry ) made of 3 or 4 identical bodies combined so that holes in the bodies inter-connect and the fluid runs from one container into the others while the person is trying to drink out of it. Many of these come decorated with flowers and people naturally think they  are vases (anything with a hole on top COULD be a vase, yes?)
The name supposedly come from the drinker becoming "Be-fuddled" while trying to drink out of the cup!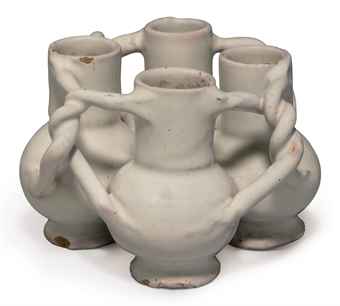 Shown above:  Rare London, white "Delft"  four part fuddling cup. Circa 1635-166, probably Southwark (England)  [Photo comp of Christies.]
.
"The Fuddling Cup, the Tyg, and the Puzzle Pot are all of Queen Elizabeth's day, when it was not regarded one of the sins to be seen going, as Sir John Falstaff would say, to take mine ease in mine inn. A fuddling cup consists of a series of mugs, the number varying from three to six, joined together by the handles interlacing each other and internally connected up one with another by small holes. It will therefore be apparent that if a drinker desires to empty the cups – he must drain the lot if he empties one – he must not by any means be a fuddler at the job or the contents will be hopelessly spilt."
["The art of emptying these fuddling cups is to stand up and suck in the liquor by the lips whilst the cup or cups remain stationary on the table in a horizontal positio."] Quoted from the book: "Drinking Vessels of  Bygone Days: by G. J. MONSON-FITZJOHN, B.Sc.,F.R.Hist.S.
Shown below: A scarce three part , V & B Mettlach 'Fuddling Cup.' 4.2 inch  ht., #5029, in the Faience numbering range (now this one does look like a vase to me!)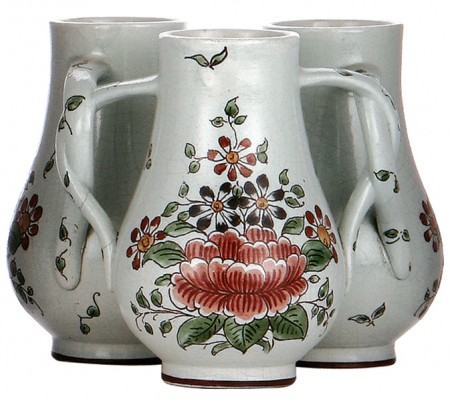 When seen for sale as on eBay and other for sale sites, this is almost always called a vase because of the flowered decor !
.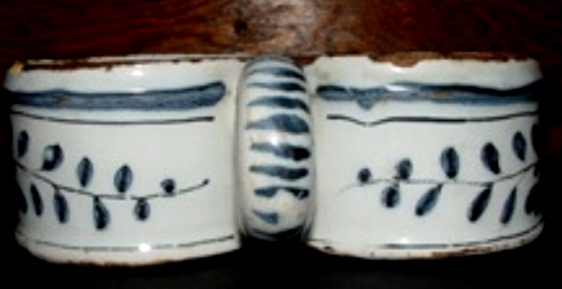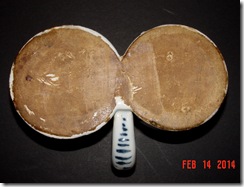 I was recently asked by one of my readers what type of "Fuddle" cup this was and where from?  When I asked him if it had interconnecting hole or holes he said no!. Well I didn't have a clue and even though some people call me "The oricle od the world"  That's usually right along with: "The center of the 'Known'  universe"   I have in many instances said I am not an expert on anything just a long time collector.
But as luck would have it within days- less than a week while surfing ebay for fayence / faince I ran actrooss this jewel  ▼and right away knew it was the same  sans the bottles and probably much earlier.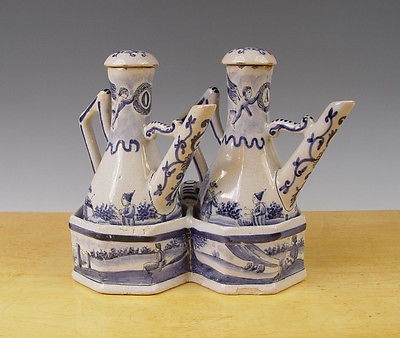 A Delftware [same as fayence] cruet set.
---
Fulda 1741-1758 – City or town of major fayence stein production. For more info, see: http://www.thepatriotexchange.com/pss/hisfai.htm
---
Fused plate – Same as, and see: "Old Sheffield Plate".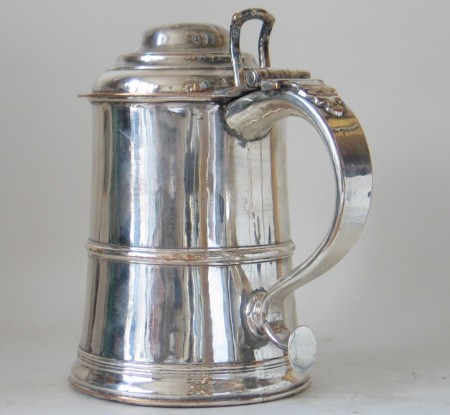 ---
Fusion — An act or operation of melting, as in the fusion of metals. Usually accomplished by the application of intense heat and pressure; as used in the making of "Old Sheffield Plate" English tankards.
---
[END – SP104 –  86 – R5]
WISH  TO CONTACT ME ABOUT SOMETHING ON THIS SITE ? 

I once won an argument with a woman .in a dream I had !
---