PLEASE NOTE:
I DO NOT DO VALUE ($$$'s) APPRAISALS!  OR DO ASSESSMENTS AS FOR INSURANCE OR ESTATES
FOR "POSSIBLE VALUES [PLEASE GO TO:  [1] the web site for "Stein Collector's International"   @ http://www.steincollectors.org/ AND CLICK ON "STEIN TALK" -IN THE 2ND ROW —UPPER LEFT
OR [2]: ANY OF THE RECOMMENDED STEIN DEALERS / AUCTIONEERS  AS LISTED ON MY "LINKS" PAGE.
= http://www.steveonsteins.com/links-1
I just do not have the time TO APPRAISE! a bunch of steins  there are way  too many variables►  condition, location, time of year, present trends in stein/ drinking vessel  collecting, local (and now national) economics; but by far the "biggest problem  of all ….in communicating  "so called values" are the prior expectations by the owner[s]! (which are usually based on hearsay and old, old rumors provide by other family members!!
Also to be considered for any type  of 'value" comparison / or value research  is from whom or where  are you buying the piece.or where and what for any one piecee sold for… There is a vast difference between buying Any given stein at a local auction  or antique shop and buying one from one of the  national or international stein auctioneers and of course the major USA auction companies such as Soetheby's OR Christies who now charge over 22% (I think)  just for "the privilege" of buying something from them!…… 
This  web site was  started as an informational site for beginning beer stein collectors that would be looking for the info and not the general public. but This site does have  its own search engine [top right on each page!] SO if one puts in "Wood Steins" or "Hand painted steins," it will give one a list of all the pages that has that subject matter word within i.  NOTE: I am sorry… but  this feature is case sensitive  (A "word press:  feature  not MINE  !!!!!
STILL WISH TO CONTACT ME ABOUT ANY INFORMATION ON THIS SITE?  EMAIL:  STEVE (STEPHEN)  = [email protected]  
…………………………………………………………………………………………………………………………………………………………………………………………………………………………………
 [1]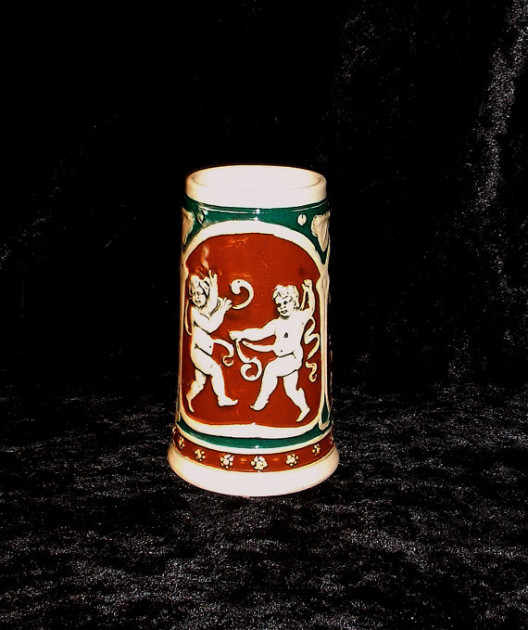 THE  AD READ: "Hand Carved

and Painted

Stoneware,

Ceramic Beer

Stien,

6oz. With Cherubim, Snail and Dragonfly Motif. Marked Germany"   
……………………………………………………………………………………………………………………..
 The depiction of Cherubum on this imbues a romantic quality about the stein. The motif and production quality indicate care for the artwork,and and the hand carved process while the clay is still wet. This is most likely a stein made in Western or Northern Germany. The artwork on this is amazing, as such work was carved into the pottey while it was still wet.
Resembles many very famous steins by Mettlach,Villery and Boch   (EDITOR'S NOTE:  in your dreams maybe!) and a few other very collectible steins from North and West Germany, yet without the official marks.[what official marks ???, what AB- Y !.] Or any others similar that I have found.
Playful Cherubs romp in a fantasy motif. Riding on snails, dancing and playing magical horns with a dragonfly prancing about. Deep embossed and recessed carvings. A Cream base with Forest Green and Burgundy background colors.
Lovley Vintage condition. There is crazing which is a bit more noticeable on the interior. There is a surface crack-NOT a chip, on the top lip above the Cherub riding the snail. It appears that perhaps at one time a lid may have been in place as there is a small intentional indentation on the top of the handle. Though in my research I did find others that were cap-less that indicated that this mark may have been part of the processing and manufacturers intent…
Fabulous artwork, this is what I suppose would be a miniature Stien as it holds only 6 ozs.
Beautiful vintage decor,as well as utilitarian art. Measures 4 1/4″ H X 2 1/2″ W. Handle is 2 1/2″ L with a 1″ space beween the handle and stein.
>>>>>>>>>>>>>>>>>>>>>>>>>>>>>>>>>>>>>>>>>>>>>>>>>>>>>>>>>>>>>>>>>>>>>>>>
[2]  AS I COLLECT ALL SORTS OF METAL OBJECTS , NOT JUST BEER STEINS I WAS INTETREST IN SEEING THIS DESCRIPTION AS WELL AS THE NUMBER THREE [3]  AD BELOW.
PHOTO COMING
 AD READ: Large Mission Era Hammered Copper Kettle Pot with Iron Handles
Available is this old copper kettle that is very typical of the styles that were created in the Mission period in the early 1900's.  It needs to be sand blasted and a new bolt put in the handle if you want to use it as a rich looking decorative planter, log holder or if you keep it as a collectors piece, it is best to not clean it up. There is a rivet that came out of its hole in the side of the pot and the rivet is still in place in the bracket. That repair would have to be made.  You can see a pretty border around the bottom in my last photo. The pot is very heavy and is 15 inches across the bottom, 14 inches across the top and 9 inches high. It has a beautiful shape and texture that you can't find today.  [U NLESS OF COURSE YOU WANT TO GO TO TURKEY OR THE MIDDLE EAST.[  
EDITOR: You could have buried this piece in a load of manure in the early 1900's and it wouldn't be this dirty! and with the construction of the iron ring inside the lip indicates it is at least from the later 1700's  and certainly not Mission !
>>>>>>>>>>>>>>>>>>>>>>>>>>>>>>>>>>>>>>>>>>>>>>>>>>>>>>>>>>>>>>>>>>>>>>>>>>>>>>>>>>>>>>>>>>>>>>>>>>>>>>>>
[3]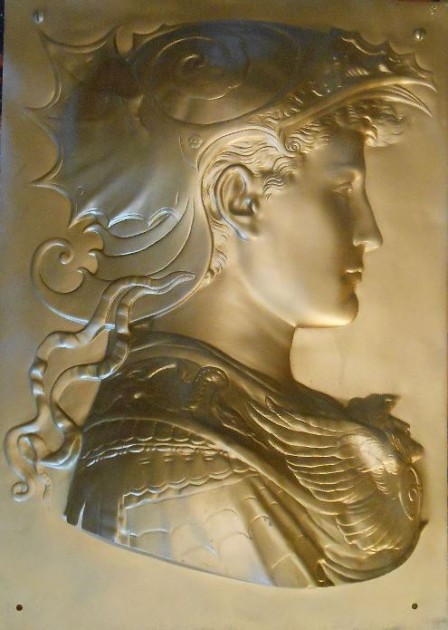 [3] AD READ: Antique Style Greek Revival Gilt Metal, Spelter Relief Plaque Depicting Soldier
Description : beautiful…very deep cast spelter figure of a Greek Soldier (I believe) in bas relief…his face beautifully formed…and his helmet and Armour in nice detail.  This is some kind of heavy cast metal…spelter or "French metal"…that is finished with a gold wash or gilt…the color is very attractive….it is appx 14″ X 20" …and there (now) is a pair of these listed on Ebay for Thousands of dollars…I'm not sure of age…just sure of GREAT look!   It has 4 small holes at each of the corners…that could have been used to mount it onto a board(wood)….but it now has a bracket across the back to easily hang it as it is…That can be removed…if you want to mount it directly to wood.  I was thinking it would make a CRAZY fabulous…0rnament…mounted directly onto a front door (Entrance door)..to your home.  Has a Classic Greek/Roman Male beauty and will look great where ever you use it….it's so deeply cast it catches light in amazing ways with shadows from all different directions.  It is very heavy."
Editor's note: This plaque certainly has the nicest set of male breasts I have ever seen …….. prior to today's she-male implant operations !!
<<<<<<<<<<<<<<<<<<<<<<<<<<<<<<<<<<<<<<<<<<<<<<<<<<<<<<<<<<<<<<<<<<<<<<<<<<<<<<>>>><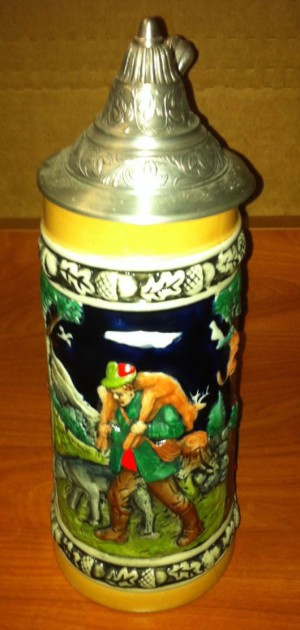 [4[  AD READ:  Lidded Authentic Vintage German Glass Beer Stein 11 IN  Tall Artistic Mug!  ……
Editor's note: And here for all these years I thought  one could see through glass!!
and  ~ "Vintage" is one of my least favorite words!      Why?  ▼  ▼Vintage – Perhaps the most overused "Nothing" word used by antique dealers and lots of new stein collectors." . "rare"  or "unique" may have it over shadowed.  ?  [see below***] 
Used  as in; "A  Vintage old German pottery stein"    THE USE OF IT HERE AS AN ADJECTIVE IS WORTHLESS!
"Vintage" must have a date / year or  era  indicator with it to have any meaning  The word  comes from the original usage with  group of wines from the same year. 
*** Editor's note: The day I wrote this I did an item search  on eBay for these three words  below  ▼  ▼, along with "beer stein" and in the "worldwide;" category (I did not do German eBay.)
and  surprising, even  to me "Vintage" won by a lot,  with 8,034 hits ,         "rare" got 719       and unique got only 120.
<<<<<<<<<<<<<<<<<<<<<<<<<<<<<<<<<<<<<<<<<<<<<<<<<<<<<<<<<<<<<<<<<<<<<<<<<<<<<<<<<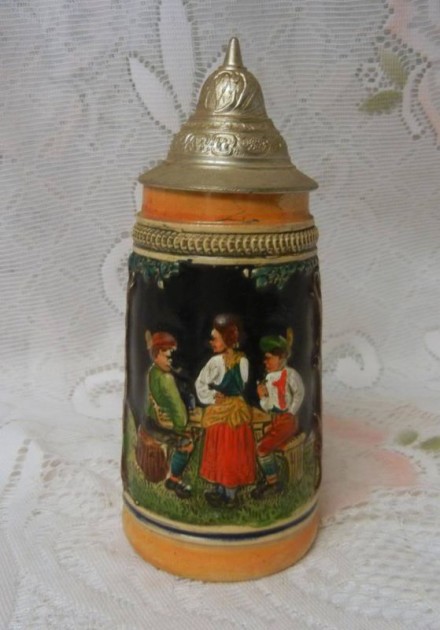 and price was an outstanding $390.00 to start – PLUS SHIPPING OF COURSE !!
EDITOR'S NOTE: I CANT REALLY MAKE UP MY MIND WHICH ONE OF THE TWO SHOWN ABOVE  IS MORE VINTAGE !!    🙂
<<<<<<<<<<<<<<<<<<<<<<<<<<<<<<<<<<<<<<<<<<<<<<<<<<<<<<<<<<<<<<<<<<<<<<<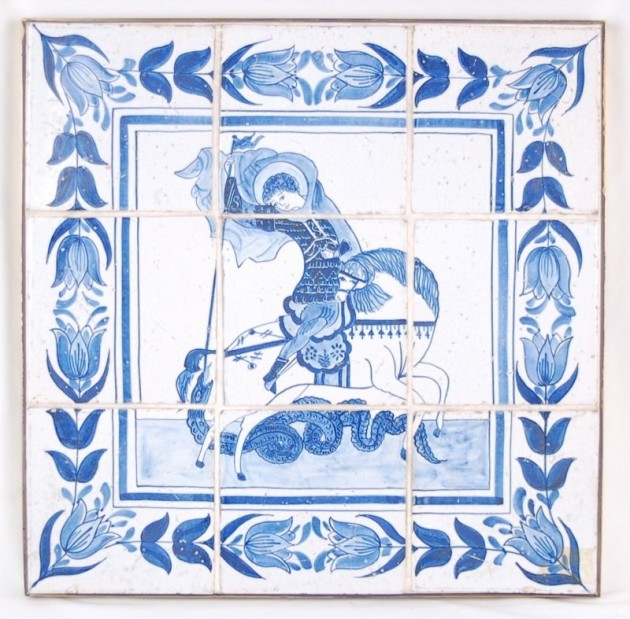 Delft hand painted tile picture  depicting  the biblical scene  of Saint George slaying the  Dragon.
Would one of you religious scholars out there PLEASE tell me where this saint who died in the 4th  century is written about in The Bible which was written (supposedly)  about200 to  300 years earlier ???
 >>>>>>>>>>>>>>>>>>>>>>>>>>>>>>>>>>>>>>>>>>>>>>>>>>>>>>>>>>>>>>>>>>>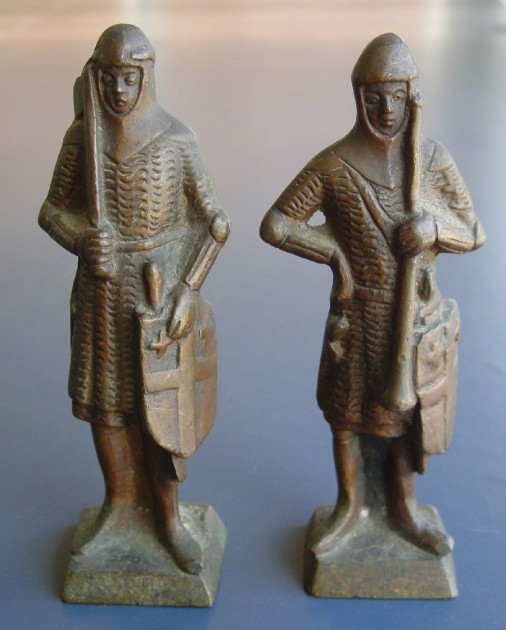 While these gentlemen shown above  have nothing to do with drinking vessels;  I thought my readers might enjoy seeing some 
chess-men advertised as "Bishops!"    (eBay  Nov 2014!!
>>>>>>>>>>>>>>>>>>>>>>>>>>>>>>>>>>>>>>>>>>>>>>>>>>>>>>>>>>>>>>>>>>>>>>>>>>>>>>>>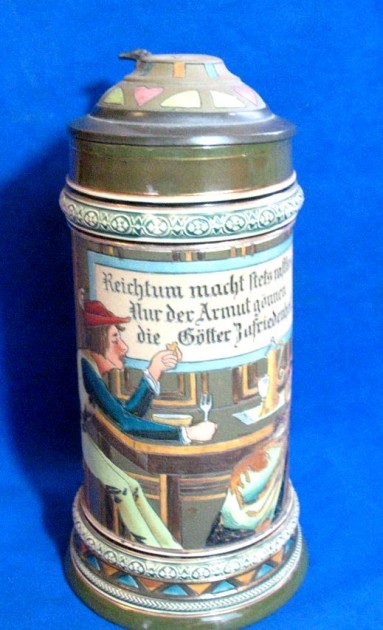 !
The ebay seller called this  ▲Gerz  incised stein "carved"  Well as in horse-shoes, hand-grenades and STD's  that's pretty close!!
BTW: This green body color is instantly recognizable as a Gerz piece of work,  I think no other beer stein maker ever used it
<<<<<<<<<<<<<<<<<<<<<<<<<<<<<<<<<<<<<<<<<<<<<<<<<<<<<<<<<<<<<<<<<<<<<<<<<<<<<<<<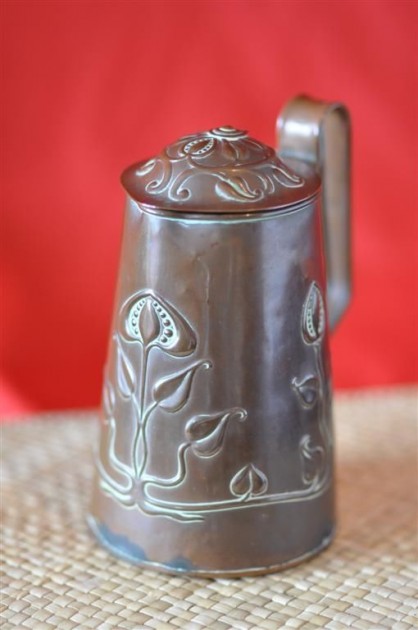 Ad read: Old-English-Copper-Coffee-Pot…-great-collector's-item. …STILL-WANTED-89.00-…
I really was tempted to email the seller and ask  "just how far do you think anyone would get carrying with this  all copper handled piece before they burnt their hand and dropped it.?"
>>>>>>>>>>>>>>>>>>>>>>>>>>>>>>>>>>>>>>>>>>>>>>>>>>>>>>>>>>>>>>>>>>>>>>>>>>>>>>>>>>>>>>>>>>>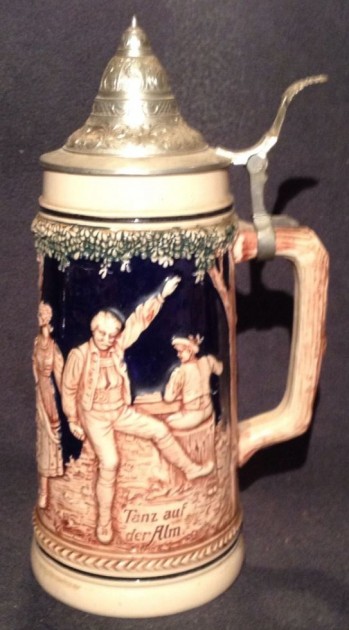 EBay -Dumb – Sxxx -ad said:  German Beer Stein With Etched Silver Lid.
<<<<<<<<<<<<<<<<<<<<<<<<<<<<<<<<<<<<<<<<<<<<<<<<<<<<<<<<<<<<<<<<<<<<<<
"ABSOLUTELY TOTAL BULL SHIT
              ON RECENT STEIN AUCTION   CATALOG  PAGES"
EDITOR'S NOTE:  I'M NOT NAMING COMPANY NAMES ~~ THE READERS WILL JUST HAVE TO LOOK AND LAUGH AS I DO.  (JUST ABOUT EVERY TIME A NEW CATALOG COMES OUT!)
| | |
| --- | --- |
| | Brass stein, 1.0L, 8.4″ ht., relief, four scenes including hunting, brass lid, very good condition (250-350) |
THE ONLY  "HUNTING SCENE ON THIS STEIN IS THAT OF THE SON TRYING TO GET BACK A POSITION BACK IN HIS FAMILY WHEN HE RETURNS THIS IS THE BIBLICAL STORY OF THE PRODIGAL SON!!
<<<<<<<<<<<<<<<<<<<<<<<<<<<<<<<<<<<<<<<<<<<<<<<<<<<<<
[END – SOK – 32 – NO R5]