All below is a little about Steve and some of those old German beer steins of his, and a whole bunch of other moderately 

favorite

 "dust collectors!"

Above: Himself, "a few" years back (way pre-cancer, pneumonias [3] mild stroke and congestive heart failure. ) at a PA. Keysteiners' meeting showing off "his stuff.".
So what's better than one? =  Two!  

  Matching Dutch relief brass serving steins. Circa 1860-80.

[FWTD]
---
 "Back In My Day, We Had Nine Planets!"
I have lived in Virginia since 1954; now for the last 26 with my new life mate (Wife only as of 22 Sept., 2012), my Lady Julia. 
My nickname is now "The Virginian." I have two grown up "kids", Theresa and Michael, one of which urged me to, and helped me to set up this web site, so if you see something you don't like, complain to Mikey!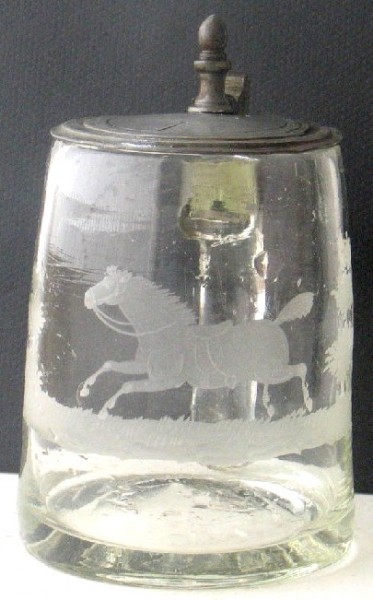 No. 1. What appears to be a plain old mouth blown German glass stein from about 1830-50, comes with an interesting engraving. The horse, though saddled, is riderless! This I surmise was a (loving / humorous) present to someone who had been recently been thrown by a horse. This stein's scene might be rated a 5 . (Uncommon-on the Smith-Paratore rarity scale, but again = not very valuable at all.) [FWTD]
---
Our house is now known as "Smith's Museum and Tavern" =  "SM&T" ; a name given to it by fellow stein collector Norm Paratore.
I have been retired for some 17 years now (in July 2014)  and have been a collector of beer steins  and other drinking vessels since 1971  but  I am not an expert or even close !
I joined 'Stein Collector's International'  (SCI) later that year and as they say, the rest is history. http://www.steincollectors.org/  They assigned me member number 0115. I believe they are now into the mid 4,000's.

Above ▲: Steve in retirement! 
Here is Steve's theme song: copy and paste and then sing along:
http://www.youtube.com/watch?v=kD0StmDskVo&list=AL94UKMTqg-9A4ufUbl05NUUELL0Kz1Qj–
---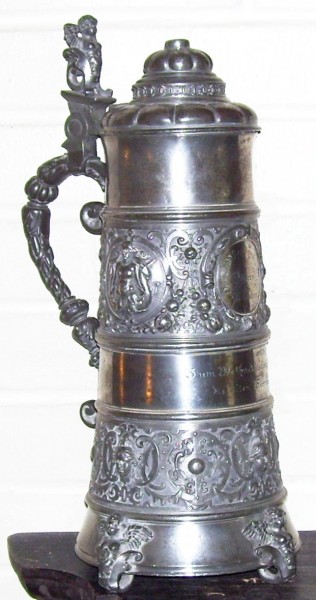 No. 2. A tall and heavy  pewter master stein with an inscription for a  Engineer's Verein. This size stein was used just like the "Guild's Welcome  Cups" of old; for when a guest or new member was there at the verein hall or for other special ceremonies. Dated 1889. Check out the cupid feet and the way the thumblift is mounted. This stein probably was  a special order done by J. Lichtinger, in Munich. This stein might be rated a 5  (Uncommon) on the Smith-Paratore rarity scale.[FWTD]
---
My first real old beer stein was in 1971. It  was a marked "J Rheinmann." It was  a 1/2 liter pottery PUG (print under glaze) showing two Bavarian gals reading  "Sepp's erste brief " (Sepp's first letter" ) This scene of the two young girls reading the letter is occasionally found in lithophanes (the light picture at the bottom of some porcelain steins.) The stein came equipped with a very good quality pewter lid. Along with that stein was a 1/2 liter blue and grey saltglazed stoneware beer stein with relief scenes, made in  the Westerwald. The cost for both back then = $65.00!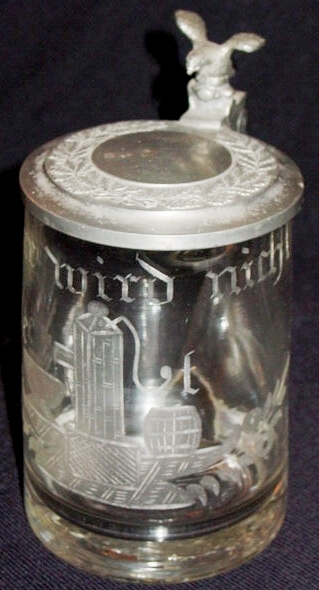 No. 3. A half liter blown glass stein. Engraved with an old  hand operated water pump, and the saying interprets as  something like: "The thirst quencher is not free!" This stein's scene might be rated a 5  (Uncommon) on the Smith-Paratore rarity scale. [FWTD]
---
In 1972 I founded the "Gambrinus Stein Club" (serving Virginia, Maryland, Delaware and D.C.) The first meeting was in my house with about a dozen interested stein collectors that had responded to an ad in the local paper.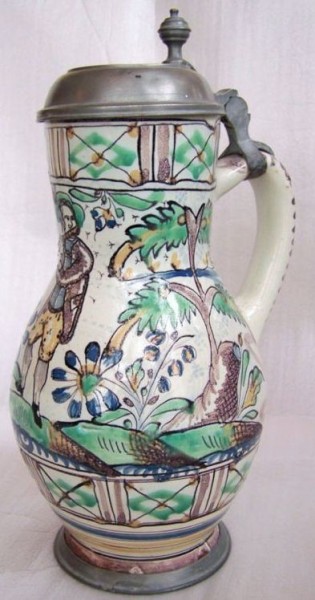 No. 4.  A very well decorated fayence from the town of Gmunden, located in Austria. Circa 1830-40. The front scene shows a pipe or flute player. Musicians on these steins are sought after. It is in super shape and one might rate it as a 5 (Uncommon) on the S-P rarity scale. [FWTD]
---
I was awarded the title: "Master Steinologist" by Stein Collectors' International in 1986 and have had articles published in 'The Mid Atlantic Antique Journal', 'Prosit' (the SCI magazine), ' The Beer Stein Journal',  'The Classic Collector',  the  SCI web site, and as editor of "The Pewter Beer Stein Collector's Newsletter" (2005  to 2008.)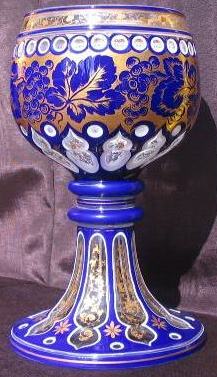 No. 5.  A double overlay glass roemer made by "Josephinenhütte", a large Bavarian glass firm. One might rate it as a 7 (Very Scarce) on the S-P Rarity Scale. [FWTD]  I now [ 2015]own three of these, all different color combination.
For more info on this firm;  please see: http://www.steveonsteins.com/josephinenhutte-glass-drinking-vessels-at-the-s-m-t-draft-3-30
---
Much later, along with Jim Sauer, Ron Fox and David Harr (three other S.C.I. members), I assisted in establishing in 2002, what is now called "The Beer Stein College."  Please see (Note : this may be outdated):  http://www.steincollege.com/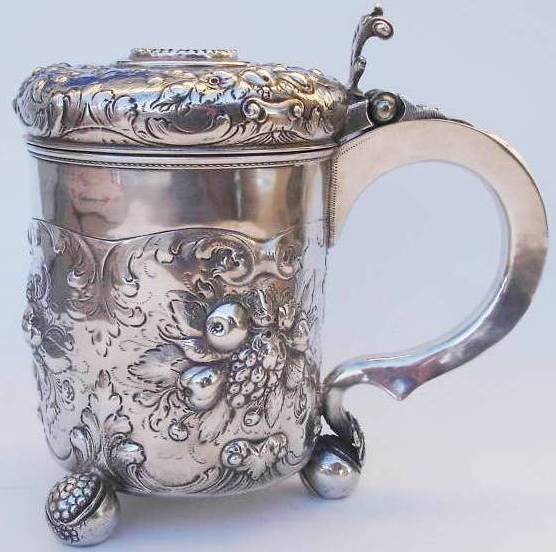 No. 6. – A Danish Silver peg tankard from the 1700's. Lots of relief work around the three pomegranate feet. One might rate it as a 7 (Very Scarce) on the S-P Rarity Scale. [FWTD]
Over the years I have given numerous lectures on antique drinking vessels at the following  SCI Chapter meetings: "Gambrinus", "Student Prince", "Carolina Steiners", "Sun Steiners", "Keysteiner's", "Upper-Steiner's of New York State", and the "Western Ohio Steinjagers", not to mention several local and national antique collector's clubs such as "The Questers."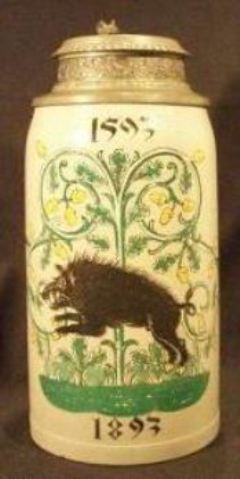 No. 7. –  A one liter stoneware stein with hand painted decor showing a wild boar. Dated 1593-1893. This is the symbol of the "Eberl-Bräu" brewery of Munich. Founded in 1593, this brewery operated in Bierstadt München for almost 330 years before being taken over by Paulaner in 1920. For more information on this brewery and another great E-B brewery stein, see the  short article at "Stein of the Month – March 2006" article on the SCI web site [see "Links" page.] One might  rate it as a 6 (Scarce), on the S-P Rarity Scale. [FWTD]
I also have given lectures at the "Gateway  Steiners" mini -convention and was an invited member of the "Stump the Experts" panel at one of those minis in St. Louis.
Note ,  again!: I do not consider myself to be an expert except in spending  good money on old dead man's things!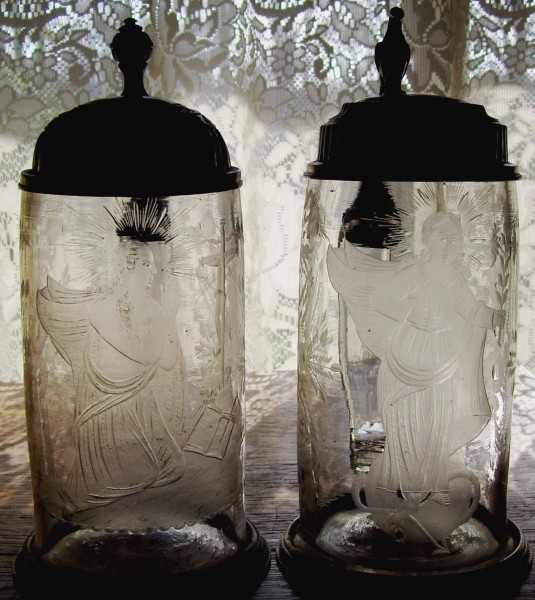 No. 8. –  A pair of half liter German blown and engraved clear glass steins. Left: portrait of Saint Mary Magdalene praying. Right: St. Catherine and her wheel. Both Circa 1790. These steins were engraved by the "Master of the Saint's Glass Steins" and at least one more of his is in the Bavarian Museum on view. One might rate each of them as a 7 (Very Scarce), on the S-P Rarity Scale. [FWTD]
I am known in SCI for collecting steins of metal such as brass, copper, bronze, pewter and a couple of  silver pieces, but I also have small sub-sets of ruby stained glass, 1700 and early 1800's fayence  and clear engraved glass steins,  and now very few "Reservist" steins  = "Regimentals", which has been a  SCI misnomer for years. see the page on  this web site = http://www.steveonsteins.com/beer-stein-dictionary-1 
I also have collected small sub-sets of  kinder mugs and steins, drinking horns and miscellaneous related drinking vessels such as the small salt-glazed wine pitchers, [see:  http://www.steveonsteins.com/1–   .chalices, humpens and roemers. Most lately  it has been old Russian copper tavern mugs and jugs. There is not much of anything  EUROPEAN I don't like!!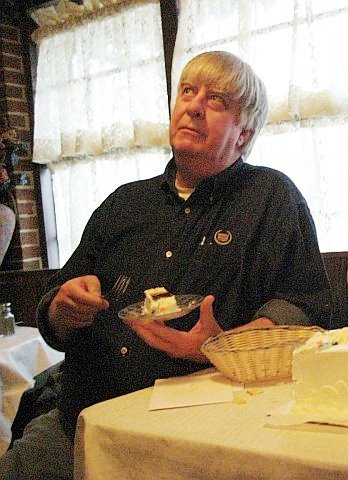 A SOMWHAT  more recent photo of himself, butstill  before the throat and lymph node cancer came along and tore my ass up, just getting older, and no wiser! I am still making mistakes with young women, and buying steins, and car tires!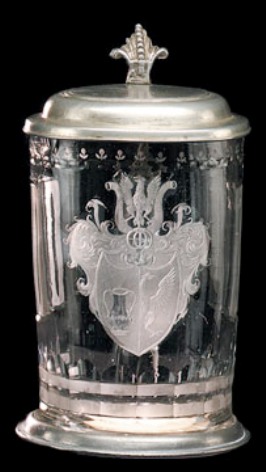 No. 9. – A one liter German blown and engraved glass stein with a beautifully cut family armorial. Circa 1750 . One might rate it as a 6 (Scarce), on the S-P Rarity Scale.[FWTD]
So why am I doing this? Why go to all this effort? ( Sometimes when this dumb ass "Word Press" program does or I do something even more stupid than the last stupid thing it or I did (as on 10-2-2010!) I really do wonder.
The only thing I can figure is that I'm the type of person that wants information (that certainly includes beer stein info) to be honest and not self-serving! When I die I wish my epitaph to read: "The one and only thing he ever wanted was a perfect world!"  I believe new stein collectors deserve to have the most reliable information available to them and not some of the "bull shit" that has been promulgated for the last 46 years (S.C.I. was started in 1965.) That is one of the primary reason why "Beer Stein College" was formed [See Note above.] and why it has been so successful.  And now  this web site –  I had almost  84,000 separate individual hits  here in 2013 !!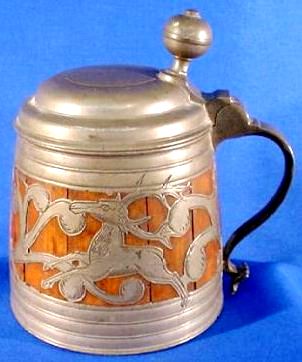 No. 10. – A South German Lichtenhainer (staved tankard), from the 1700's. The wooden staves are cut to match the pewter body surround that is attached to both the top and bottom pewter rims. One might rate it as a 6 (Scarce), on the S-P Rarity Scale. [FWTD]
I really hope you enjoy this site and learn a lot more about the wonderful world of beer stein collecting.
"Just remember: To steal ideas from one person is plagiarism. To steal from many is research!"
Therefore: I would like to thank the following people or companies, who have supplied me with photos, interesting web sites, or just a general overview of this project (and my past articles, some of which are reproduced at this site.)  Gary Kirsner and Andre A. of  " TSACO" =The Stein Auction Co. [see Stein Links tab], Stephan Buse (Germany), Ron Fox of Ron Fox Auctions = [RFA]  [see Stein Links tab]   and  J. Sipple of "The Stein Center" (TSC), [see The Stein Links Tab.] ALSO Dan Cipriano, David Harr, Neil Barton, Wendell Barney, Judy Stuart, Norm Paratore, Jorge Sutter, John McGregor, Jim Sauer, Jerry Berg, Serguei Artiouchkov [eBay's Beer-Stein],  J. Straussberger, Ginger Gerres, Chris Wheeler, Phil Masenheimer, Liselotte Lopez and Mike Tremblay.
And of course kisses to my Lady Julia, for helping me through some difficult times with "this Gremlin infested thing called my computer."  Also a big "???!!!" to my son Mike, who got me into this mess!"
Item Last: A very heavy, wall mounted, cast iron gnome purchased from the "Gnome Museum" in Germany, when it went out of business in about 2005. He is holding an enameled silver cup (I have the cover) not marked, but most likely from Austria. The gnome is Circa 1850. The cup about the same time period, maybe a bit earlier. The silver cup might be rated a 5 / 6 (Scarce), on the Smith-Paratore rarity scale. (The gnome a 7) [FWTD]
And so thank you for visiting this site! I hope you enjoy the effort.
STEVE
EDITOR'S NOTE: Requesting assistance from EBAY, ETSY, AND OTHER WWW ANTIQUES SELLERS;
My web site is not just a blog .my site was created for informational purposes too help combat all the mis-information, misnomers, myths and just out-right "bull crap" that has been promoted about beer steins, etc. for at least the last 100 or so years. I do not mind you using any of my published information, but would you please give my site the proper credit it is due!! 

(www.steveonsteins.com)
I have worked over 6 years providing all this and  as you know it is free! I believe that proper credit is the least you could do;  thereby helping  me promote my site and getting  good information about drinking vessels out to the public,  Thank you very  much;
Stephen L Smith, Editor.
MY HEALTH STATUS REPORT (FOR THOSE THAT CARE)  . I MOVED THIS PART  FROM THE WELCOME PAGE TO HERE ON 10-18-12 [ updated Aug and October  2013.]
Year 2012  ►
[a] I was diagnosed / treated for throat and lymph node cancer starting in Jan. thru mid – May.
and then had the following happen in this order:
[b] Fell down for no reason on the way to my first radiation appointment. I was diagnosed as having "Sudden Drop Syndrome." Yes, that is the name for it.
I cracked three ribs when I hit my brick patio wall when I fell!  Had to lie on the radiation slab at hospital for 7 weeks with those cracked ribs!
As a result of that, son Mike and I decided I should take all the treatment with the help of a wheelchair. Now both my legs are atrophied and very weak. I plan on being treated further for this as time goes by, if I/ we  ever get a break.  [b-2] I Actually fell down a second time at the bottom of my inside steps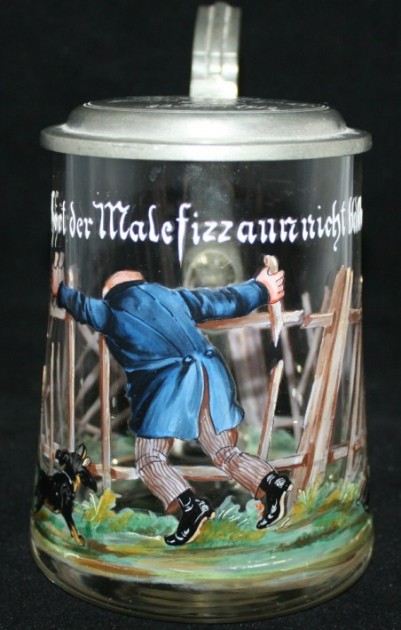 (using a Walking stick  and  still falling (like me) –  This one stein is Dtd. 1912)
---
[c] I got a very severe rash on my chest and face, from the damn chemotherapy [really now this was called bio-therapy: the medicine is called Erbitux. The rash  was so bad they stopped treatment for a week.
[d-1] Had a fxxxxxx stomach tube put in, and then had a reaction to the liquid food  they gave me=  at first was throwing up for a week before I could get some new stuff. [d-2] then I got dehydrated, the PA's  noticed it and treated me for it at my Chemo place.
[e] I then got pneumonia = in the hospital for just about  a week. Son Mike thought he was going to bury me this time.!!!
[f] As soon as I got out of Fairfax Hospital , I got a severe bowel blockage – no relief for over 3 weeks was a hurting puppy This was due to pain medicine I was on for the throat cancer!
[g] By the end of July the doctors all said all of cancer tumor in my neck was gone
[h] The last doctor, on the same day that he told me that the tumor was gone also told me I had come down with a case of "Shingles!!"
All over the back of my head (the exit site of the radiation.) From there it extended to my left ear and neck!  I still (11-2012) have itching on the back of my head.
[i] In mid August somehow I chipped my left foot bone. It became infected and blistered  then uclered  and 1/2 my foot was red with infection. So I go to PCP who sends me to a Podiatrist .who then sends me to a blood flow specialist who gives me an ultra sound test to my leg and finds a blockage .who then [j] puts me back into Fairfax. Hospital for leg surgery for all day for a "roto-rooter" and balloon artery stretch job . The foot "tumor" has still not healed all the way.  (As of 11-24-12 this is still ongoing !)
[j] A few weeks ago, I go to my dental hygienist as I think I see some gum lose due to the cancer screwing up my saliva.  She looks at the front left tooth and says: "You need a root canal," then she sends me right there to the dentist who says …….he now has to pull my four  [4]  front teeth and install a bridge – At a bargain price of only $5,000.00! I said "Bull shit!"; time for 2nd opinion!
[k] Second option was taken by me. Two root canals by the  specialist and then to another, "NEW" primary dentist for completion of needed filings. Cost so far "ONLY" $2400.00 (+ $900 for regular work) and I still have all my teeth!!  Now-a-days  always get a 2nd opinion!
[l] Very end of November. Just got a preliminary diagnosis of diverticulitis; left side of my gut hurts like hell and am now on Anti-bodies for that.
Am I looking forward to 2013, you ask??   I hope your 2012 was better!!
Steve
PS: The only really good thing that happened in 2012 is that Lady Julia and I got married  on 22 September after "living in sin" (as both our mother's would have called it ! ) for 24 years. See some photos below:  
My sincere thanks for all the kind thoughts  and prayers readers have passed on to me during this year = 2012 !
Steve
And damn-it,  2013 didn't start out much better for "us" here at the SM&T!! 
But I won't bore you all with that right now. [January]  I'm  really trying to get this messy site of mine cleaned up, I went way too fast in the beginning and now I have to correct a boat load of stuff and fix and rearrange lots of photos.
March 19 2013:  Well my lady is recouping from a very long and painful process to fix a massive stomach  rupture that occurred way back when she was getting out my wheelchair from the trunk in the summer of 2012 . She was in pain all fall and winter and so they finally operated to fix it. Her recovery time was to be 5 to 7 days . Well  Fxxx me [!!] it is now over 8 weeks and we just got her home last Friday from a "hell hole" called The Burke  Health and Rehab Center.  Too long a story to go over that. Perhaps by summer we'll be back close to normal (whatever the hell that means.)
Last part of April: Now the preliminary diagnosis of diverticulitis [above] has changed to for certain to: Acute Pancreatitis! "Acute" in this case means I will have it forever.

I WAS  about to say;  "Well  just F  it !" and go buy a coffin! BUT I BOUGHT THIS INSTEAD .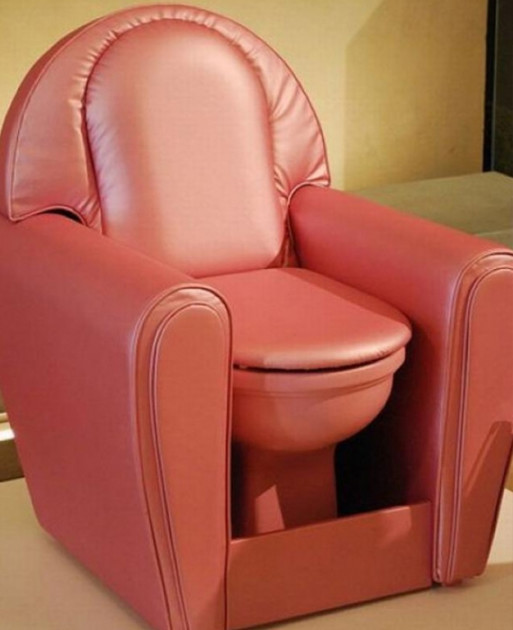 June  2013 – The cancer has taken its toll in my mouth, as I finally lose one of the two lower front teeth, even after all the $$$'s I had put towards trying to save them.
June 2013 – Lady Julia just recovered enough to go to work 1/2 days.  She has been coming  home exhausted.  What the Doctor said would be 5 to 7 days recovery time has now been 5 months and counting!!
SO ONE MIGHT THINK THAT WAS ENOUGH FUN FOR THIS YEAR ALSO – RIGHT ??  NOT SO!!
On  JULY 30th the 2ND DAY MY LADY WENT BACK TO WORK FOR A FULL DAY  I GOT UP ABOUT 10 AM AND THEN TWICE WITHIN ONE HOUR I SLIPPED OFF THE SIDE OF MY BED- WHAT REALLY HAPPENED WE THINK NOW WAS THAT I STOOD UP, THEN PASSED OUT  FELL  BACK ONTO THE BED  AND THEN HIT THE FLOOR ! 
AFTER MY SON  AND DAUGHTER CAME OVER ASAP ,  MIKE TOLD ME HE  THOUGHT I HAD SUFFERED  A STROKE.  THERESA TALKED ME INTO   CALLING  9-1-1- AND  I WENT TO FAIRFAX HOSPITAL BY MEDIC  403  THE CITY'S MEDIC UNIT  WHERE THEY [ALL THE DOCS]  SAID I HAD A RIGHT SIDED BRAIN STROKE MOST PROBABLY DURING THE NIGHT. 
NOW WHAT PISSES ME OFF ABOUT ALL THIS IS THAT I HAD BEEN TAKING COUMADIN [SP?) AND ONE MORE  BLOOD PRESSURE MEDICINE  RELIGIOUSLY FOR ABOUT THE LAST 5 YEARS !! – SO ANYWAY I DOGGED A DEVIL'S BULLET AGAIN, AS IT WAS A MILD STROKE [ IF  ONE  CAN CALL ANY OF THEM "MILD"  —  I DID  SO WELL,  SO FAST  THE REHAB HOSPITAL I WENT TO=  (HEALTH SOUTH HOSPITAL IN LOUDON )   GOT RID OF ME ONE DAY EARLY .
 HOWEVER : I LOST THE LEFT EYE TO BRAIN RECOGNITION ROUTE  *(WHICH IS STILL SHOT IN THE ASS  NOW 30 DAYS LATER!!)  
WHICH IS WHY ALL THIS IS WRITTEN IN CAPS . SO I CAN READ IT AND CORRECT ABOUT 5 MISTAKES IN EACH SENTENCE THAT  I TYPE NOW,   SO NO MORE EDITING ON THIS SITE, FOR ABOUT 2 TO 3 MONTHS I GUESS  – I'M SORRY  BUT YOUALL WILL JUST HAVE TO LIVE WITH ALL THE ERRORS ANF MISPELLINGS FOR A BIT LONGER!!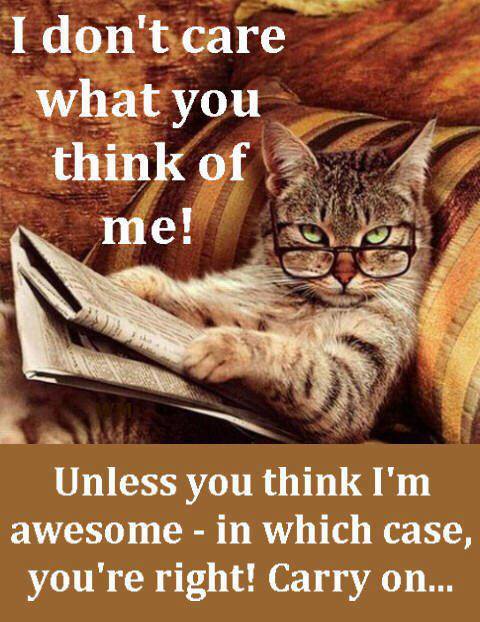 For those that are curious what this old Irish "himself" REALLY looks like after all this bad health B/S  see the  photos below ▼
I am now so old, I just fart dust!
.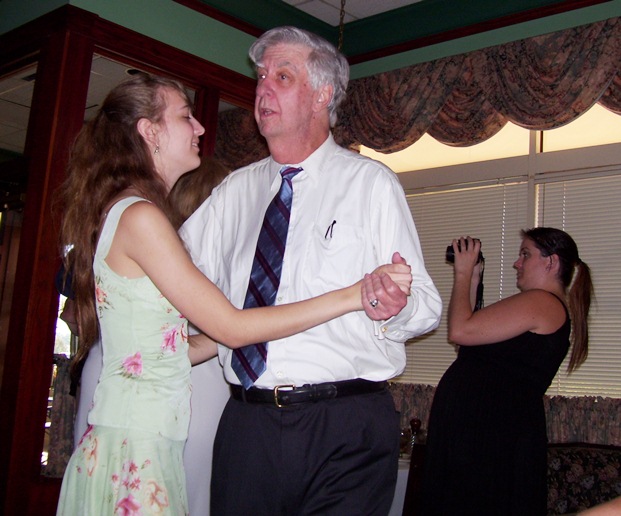 "Himself,"  at age 72  dancing with my 18 year old grand-daughter, Caitlin, at my wedding, 9-22-12.
and 85-95  pounds lighter thanks to the 2012 cancer episode, et al,!) 
And so 2014 wasn't much better.  The third tooth in front fell out [seems  the first dentist was right and it could have been cheaper in the long run. Oh well life is always 20-20 in hindsight!  So now also  so have to take good beer stein money and I  intend buy a couple of dental implants.
Somehow we made it all the way to late July and we were waiting for Julia's turn to come around again [!] ; when I noticed a pain in my  left foot[same].  Turned out to be a massive infection caused by some small metal Dremel Tool-like wire brush bristles implanting themselves in my diabetic  dead-to-feeling foot.
Okay,  so off  I go to the overpopulated, understaffed  and uncontrollable County Hospital for another 8 day stay !!  I ended  up having 13  different doctors  come in and talk to me / or theoretically examine  me. That was so they could all send me a bill that would be mostly  paid by Medicare or my insurance Co.  As of today  which is 16 November  the wound has only healed up  about 75%  of the needed size –  which is good ,[or at least better than the  20-to 30 % chance he gave me of saving that toe on the first visit!!  At least I can still walk around and maintain my balance  using my walking stick!
Okay now picture this senario.  there is a gasoline service  station on the corner of two streets [a T] .   Facing the station  to its right there is a steep hill and this  one lane road  leads to a traffic light at a two lane very heavily trafficked  major US numbered highway.  It is about 7:45 in the morning. when a car driven by "a first generation American" from somewhere  South of the Border comes barreling down the hill,   She tries to make a right turn on red, then realizes she is pulling right in front of a car  (which she later claims she didn't see when "she stopped" [HA]  for the light.  She  guns the car in the middle of the turn, turns, is NOW going  too fast, loses control,  jumps the curb and  enters the lot,  and heads her car right at one of the two standing gas pumpson one of the two islands.
Now guess who had just taken about three steps away from the pump to go around the rear of her vehicle so she could put her credit card back in her purse? Yeah,   you are correct ! It was my Lady Julia!  So the other car hits the pump so hard it bends over  and  bangs into Julia's while braking  off the "shear valve"  (which is built in for just such a happening,) it cuts off the supply to the pump but does nothing to abate the gasoline in the pump to the car piping or the hose   full of product . So  instantaneously my lady's  nice and shiny red Nissan is enveloped in flames.  The station's security video (later released to the local media) shows that  Mr. Fire was right at her feet as she was  exercising the one thing I had always told her to do if  she could when faced with any situation such as this , which was "RUN!!!!"
Luckily Julia escaped any injury from the accident and the fire ,  but was a complete basket case for a couple of weeks.  The other woman was  charged with Reckless Driving AND  Driving without a valid license!!   J's car was repainted and cleaned inside from where the fire broke out her left side windows, She still get her gas at the same station,  but is now ever vigilant.
My turn again;  in mid – October I had rectal bleeding  and was sent to the same hospital again [out patient]  for a colonoscopy. Turned out to be an injured  hemmoroid and nothing more serious But still scary. 
Now I am awaiting the results of a PET-CT scan of yesterday, as I am also having trouble swallowing  and coughing  hard about 23 out of every 24 hours .  Taking a pill make me choke so stand by.
Needless to say  we are both sick and tired of this crap  .AND fearful now of  2015!!!
So as of 11-16-2014  .and throughout all of 2015 –in hospital late 2016 for  pneumonia both lungs  along with congestive heart failure.  I am [somewhat] back to adding photos and updating this site.    but About the last 6 months I haven't done hardly anything as I was really feeling "mentally and physically shot!
[END – SOK – 14 – R5]

   I finally got my head together, and now my body is falling apart.
[end]