A group of the Ohio beer stein collectors saying a prayer for Louis.
A TRIBUTE TO MY OLD BUDDY LOUIS       .   OH, WHAT THE HELL WAS HIS NAME AGAIN?
      OH YEAH, LOUIS FOSTER, THAT'S IT HIS BEER STEIN COLLECTION.
                                 
By "One Who Cares!"
For those of you who don't know Louis Foster, from Ohio, I have to tell you that is a real shame!

Louis is a retired police officer now and every day after he goes to one of the local doughnut houses to stock up on almost half of his daily ration of calories, he will then proceed to the area's antique and 'junque' shops. By doing this he has been known to pick up some beautiful renditions of "beer stein art" for almost nothing. (Sometimes he trades the doughnuts!)

This web page is now a fitting tribute to that collection!



I am one of the few that has been allowed access to this wonderful collection and could only do so after bribing Louis with five, 7-11, "foot-long" hot dogs, and "with mustard, thank you!" Besides the doughnuts mentioned earlier, those dogs are Louis' other main food group. That they remind him of something close to one's manhood is immaterial for this article, but I sometime think that may be why Louis cares for them so much.
So here are some of the beautiful steins in his collection. I was so impressed when I saw those that as soon as I came back to Virginia, I immediately nominated Louis for "Master Stein Guy."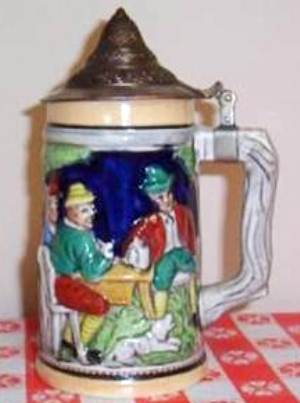 Shown is one of Mr. Foster's prized beer steins. He rates it as his "number one" for quality, rarity and drinkability in his collection.
After looking at the beauties in his collection and admiring how much effort Louis had expended acquiring some of these, the 'judging panel' unanimously voted Louis into this prestigious club of "Master Stein Guy." They were so, so impressed that they gave him two, not one but two, detailed "Stein Guy" crayon drawings with his new title and his favorite steins, unfortunately he had to pay to get them framed. (Marion lets him  keep them in his upstairs bathroom over the toilet!)
Shown is a scene on one stein Louis really admires as it shows three previous Ohio "Stein Guy" winners discussing how to play cards at the National SCI convention like some of the "In Crowd" always does. (That white hair does look familiar.)

Louis, as a "Stein Guy", of course, will now be remembered with such greats as Mr. "Fix-em-up" Murphy. Murphy was nominated to be a "Stein Guy" for making a 95% true rendition of the missing lid on Les Whitham's Mettlach stein No. 6969, known as "The Queer Dwarf", or as Mr. Floyd Dietlein later called it: "The alternative life style Heinzelmännchen!" There was of course a rebuttal penned by the prolific M.S. Roy DeSelms that brought up the point that this was the rare case of a "Deutchendwarfenfaggot" being mistaken for a Heinzelmänchen.
Louis told me the piece below reminds him of the splendid family home in which he grew up on, on the south side of Harlem, New York City (in the 1950's) with his two sisters (more on them later), nine brothers, mom and grand-dad, two uncles and a dog that was a mix between a Mexican Chiwawa and a Great Dane. (The Dane was the female!)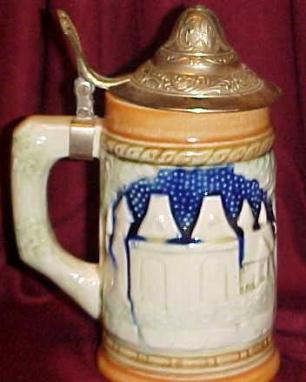 When the "Stein Guy" Beer Stein Museum Curator, Mr. B. "Eyebrows"  Bosworth was told that Louis was going to donate his fascinating collection to that organization, he wrote a great "Thank you note" to Louis in the name of the "Stein Guy's" Board of Directors. (He then went into his garage and promptly hung himself!)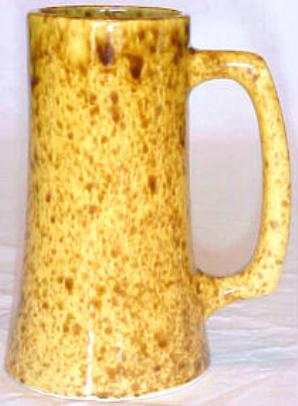 This beer stein /  mug is rated top number four in the collection of Mr. Foster. He says it always reminds him of the sheets on his bed!  Having been in his home until a strange odor drove me out within minutes, I can only say I don't doubt it!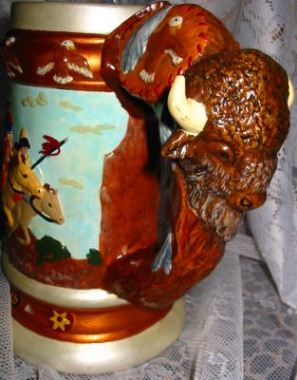 Now living in the near mid-west (Ohio is not "near" anything!) Louis and his cop buddies would often "troll the streets" of Columbus after midnight looking the famous lost herd of Ohio Buffalos. The closest they ever came was one night when Louis took home a certified female "Buffarillo."
Now for the uninitiated, this is a cross between a buffalo and a gorilla!  Their fathers load them up and take them to town in the back of their pick-up trucks!
In memory of that fine occasion she made him pay $10.72 at the downtown Dayton sea-side boardwalk for this tankard above. (And please note, there is no ocean near Dayton, but the Buffarillos  (and Louis) didn't seem to care.)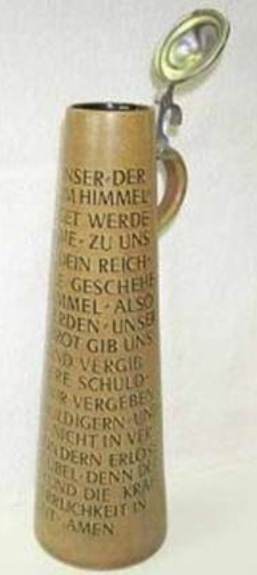 Once a month when Marion can get him to do it, Louis goes to church. He tells everyone he brings the stein because this one has the "Lord's Prayer" on it. To him it's really like taking a paper missal to church. (The minister has asked Louis to not to make too much noise when he opens the "snap-cap" on the four 16 ounce beer cans that stick out of his Sunday jacket's pockets.)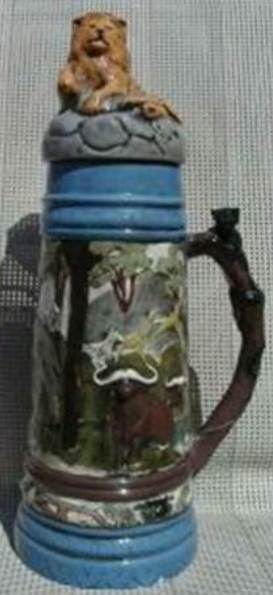 At my last visit to see this famous collection, Mr. Foster relayed the story that his father had once, when Louis was very small, (Louis was small once?) said "Son, you'll grow up liking the smell of  big cats." (Or something to that effect!) He now attributes this remark to his future desire to acquire steins such as the marvelous one hand painted jewel shown just above.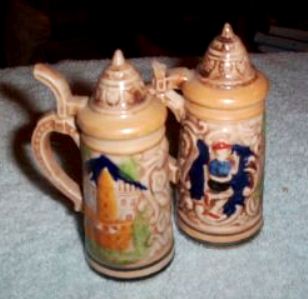 Louis' exquisite taste is not just limited to beer steins but carries over into the pleasure of eating (of which I must say he does quite well.) Once a year, he treats his friends (all fellow officers, 'retired-on-"buttocks disability" '  = too damn fat of an ass to sit in a squad car) to a catered lunch from McDonald's of McNuggets; and of course some 7-11 hot dogs (he really does love them folks) and he will get out his prized tableware. Shown ▲are some great examples of his spice servers.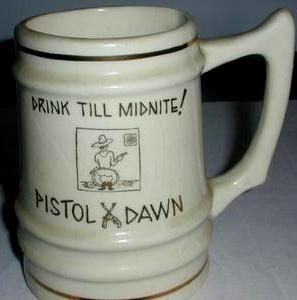 Of course once Louis left the police force, he felt that was no reason why he still couldn't have a gun. I believe this might have come from the fact that he was so used to playing with "his gun" about every four and a half minutes. Twenty nine (29)  female partners transferred within the first week of being assigned with him ( it was a a department record!)  So he joined the local Ohio "Pistol" club. This fascinating stein was awarded to Louis on his 3rd anniversary as "President" of this extremely prestigious organization, upon which Louis is quoted as saying: "Well I stuck with being "the Prez" longer than Frank Loevi ever did at Gambrinus!"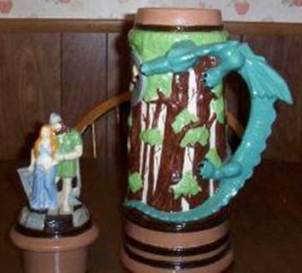 Louis was especially proud when he acquired this multi-colored gem. He even called Dave Harr long distance right after  he found it at Sotheby's (in the trash room.) You see Louis really believes in unicorns, dragons, gnomes, elves, and especially "fairies" (I think it was those long street patrols through the parks that convinced him of the latter's existence!)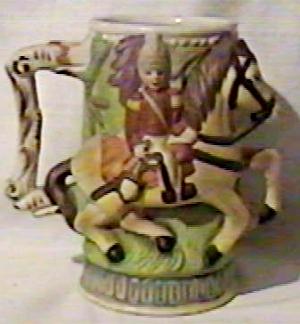 Study this great enameled relief drinking vessel above. Louis particularly likes it as it reminds him of his days when he was assigned to the Columbus PD's "mounted patrol," where every day he would jump on his whistle and blow his horse.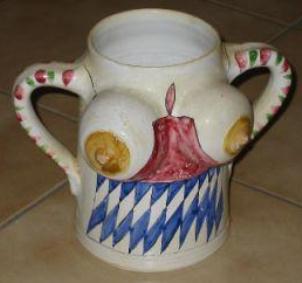 The stein shown just above a reminds him of old "Bavarian Bertha" down at the open-all-night "Do-nut shop". (Notice the Royal Bavarian Arm's colors: blue and white checkerboard.) She would use the ends of her massive breasts to punch out the middle circle to finish the newly baked hot round donut. Louis and all his cop buddies when they weren't out "at the park" would spend up to six out of their eight hour shifts eating these there at her shop. (The other two were spent in the bathroom.)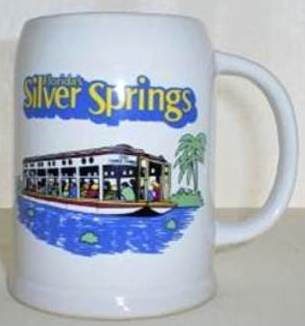 One day Louis took one of his favorite Buffarillos to New York (She had to pay for everything. He told her it was for the pleasure of his company!) The went to the "Cloisters"and saw its beautiful collection of medieval silver drinking vessels so her decided he must have a silver one too. Louis' prized, one and only "silver" stein is shown ▲: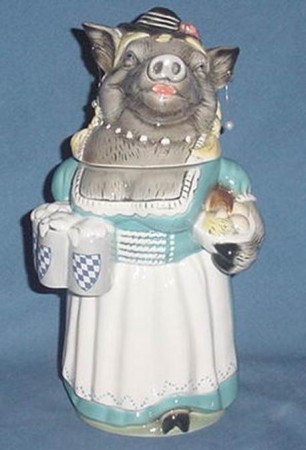 The stein above also reminds Louis of 'his' ex- 35 year live-in-lady "Frita," who would bring him some goodies after a long Friday night's bible studies meeting. (The real reason she went was cause she was banging the organist.)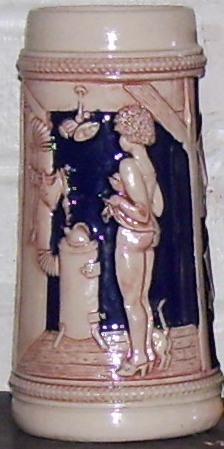 Louis also said this stein's scene reminded him of growing up and sharing a room with his "youngest sister," who sometimes would get real sweaty at night, and then would have to dry her hair by the room furnace, just after her boy friends went home. Louise recalls that sometimes there were four or five of them, invited over to eat some Pizza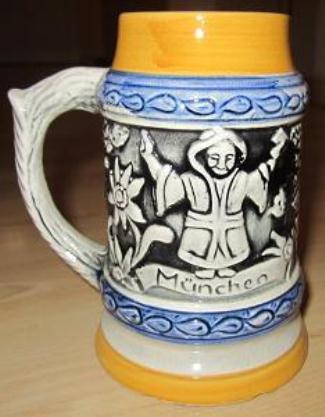 And speaking of Louis's younger sister, when it got cold outside she liked to put on a robe with a hood. She got the idea from this stein in Foster's collection ▲. She told  Louis that it got very cold at the submarines races down by the river, and when the cops would shine their flashlights in the car,  it would just look a robe on the guy's lap.
Louis bought this next beer stein ▼ because he said it remind him of his first date with a Miss T.V. Schwartz. Later, when he took her home and they parked out front, Louis felt under her skirt and he found out why her initials were "T.V."!
Not many of you know this, but Louis had to leave school while half way through the third grade in order to support his half breed "older sister,"  who had slipped off her horse while standing on it trying to straighten out the folds in the top of her boy friend's teepee. She was later known in the tribe as "one-who-falls-for-horses," which of course "falls" was a misnomer. (I do remember she loved  wearing her red hat and "riding those horses!")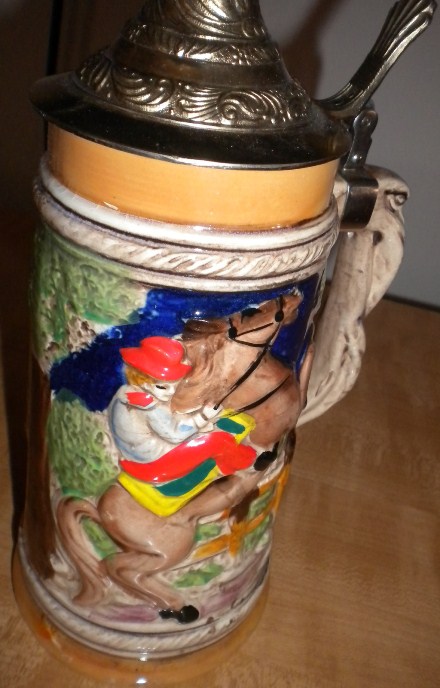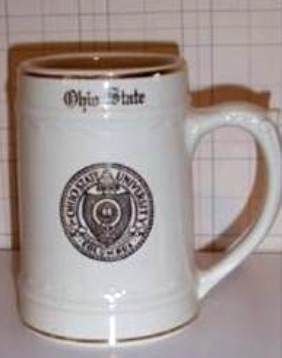 His idea was to one day own a beer stein from his state's prestigious State University. So  early on he got a part time job at the college bookstore and managed to save half of his weekly check, One dollar and 25 cents; and after only 9 years managed to purchase this ▲goody!
He is extremely proud of this one too and now uses it to take and place flowers to his older sister's  grave, just a few miles north of Sioux Center, Iowa on road B30. (She "fell off" one too many horses, but they say she was 'riding him hard' when it happened!!)
One particularly beautiful stein had eluded Louis for years. When he finally acquired it by rolling a drunken bag lady at the Springfield Ohio Antique Extravaganza, Louis was heard to say:  "That's it! It just doesn't get any better than this!"
So I am proud to present to you Louis Foster's latest and finest beer stein acquisition: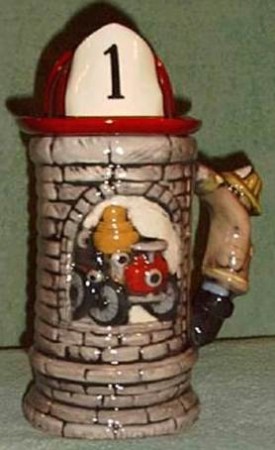 We always knew where his heart really lay!!
STEVE'S NOTE:
Several years back Mr. Louis Foster developed Multiple Sclerosis (M.S.) and has become inactive in collecting beer steins.
Louis had one of the, if not the best collection of "Munich Maid" steins and paraphernalia within SCI and the USA.
[For a few "Munich Maid" examples please see: http://www.steveonsteins.com/the-maids-of-munich ]

A few years back, well before this "no cost to collectors"  site was up and running, Louis "freely gave" all his information and photos on Munich Maid steins to the owners of one of a "pay-for-beer-stein information" site on the WWW.
This site  mentioned above is supposedly a "not for profit", although to my knowledge, and to everyone's knowledge that I have asked, NO PROOF HAS EVER BEEN SHOWN OR PUBLISHED of this type of IRS tax status! This could be done simply enough as there are free pages at the web site's home page, that way no one would have to pay to see some information!)

Now this was no small file, this was years of collecting data, articles and photographs, not to mention his years of learning what this all was. The owner of that "pay for information" site duly thanked him and then, I have heard this only second hand (but from Louis) when about a year had gone by, the site's  owner asked Louis to pay his dues and renew like everyone else. What a champ this guy is, hey?

It was a sad day when we who loved old Lou heard that news about his sickness! He now has a fine wife who is looking out for him very well we understand.
His wacky but good humor is sorely missed within the SCI organization. I too miss him dearly!

Steve
(END – SOK – 20 – R5)
I am getting tired of copying them and sending them back to people as an answer to their "stein value" questions. This was meant to be an informational web site only.

    "What lies behind us and what lies before us are small matters compared to what lies within us!