Below is a good starting example of what this page is all about. While I do not give value estimates to people, some of these for sale ads are worthy of being listed on a "Ridiculist!"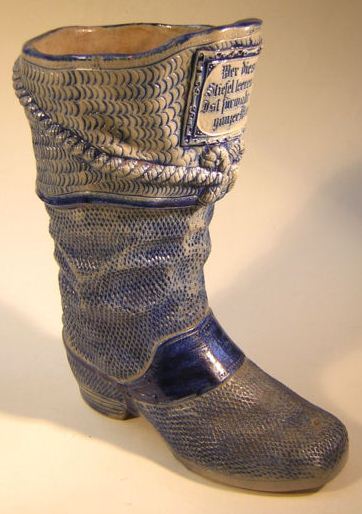 The asking price for this fairly common Westerwald stoneware "drinking boot" was

EUR 585, [$760.00]

on eBay in March, 2013!
I bought the one below for

$89.00

(shipping included) in the same month. My opinion is that this one is a lot nicer and certainly more detailed.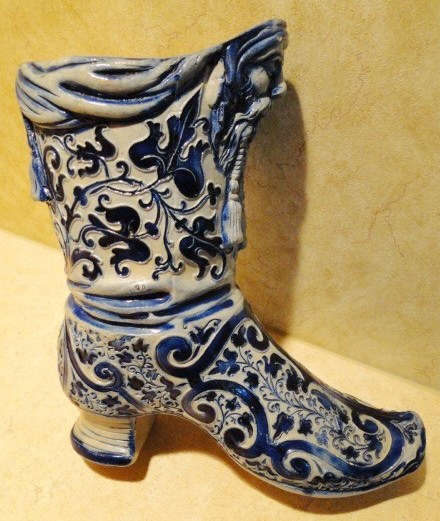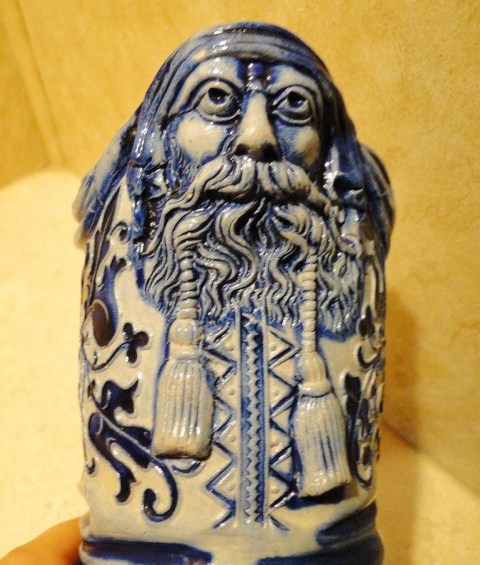 Detail of the back of my boot.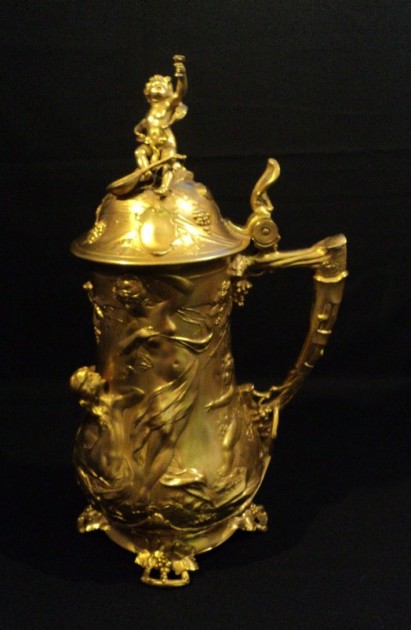 [# 1]The large stein above was on EBAY  3-18-13.

The asking price to start was US $4,245.00.
This is a WMF "Prize Tankard" (WMF's 1906 catalog calls it that) the one shown is a silver plated Britannia metal piece and was very popular gift / award in the early 1900's. If one looks for only a short time one will find many of these. I have even seen a couple with faked marks and for sale on eBay as solid silver! What a rip off!
W.M.F. – (Württembergische Mettalwarenfabrik) was the largest silver plating and other metal manufacturers in Germany in the 1800'S. it was larger than Elkington & Co. in England. The firm was recently sold (1990's?) and prior to that time they were still making drinking vessels.  In the early 1900's they bought V & B Mettlach un-lidded steins, attached one of their silver plated lids and sold them through their own catalogs.
Also see:

http://www.steinmarks.co.uk/pages/pv.asp?p=stein551
Same day and only one page lower using the same "SEARCH" words, AND in the highest price first / sorted page was this entry and described as in the same condition.
This one's a

sking prices was US $673.33. This is a difference of $3,571.67!
So which would you rather buy?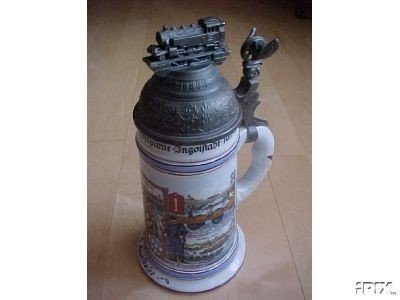 [#2] Spotted by fellow collector Barney on eBay 3-26-2013:
The "Buy it Now" price was only $4,895.00!!

(On a good day it might sell for the last two digits = $95.00!!)
Description was: Regimental, Corps of Railway Construction Engineers,railway constuction (sic) scenes  lithophane base, pewter lid w-locomotive finial,10 1-2 h.(sic= inches.?centimeters? miles?) WITH 1977 ANTIQUE APPRA.LISTING (sic) Grand father brought back from the post war Germany.
See:

http://www.steveonsteins.com/reservists-regimental-reproductions-1-2
,
where this exact stein is shown on photo 14. part of a set.

One can buy these on eBay every week for about $100.00 now.

    Needless to say, it didn't sell!
But yes, you just gotta love those appraisers, hey?! This is exactly why I have this posted on every page of this site:
"  There are way too many variables: condition, location, time of year, present trends in stein collecting, local (and now national) economics, never seen before (therefore no comparables); but most of all =prior expectations by the owner, are among the reasons."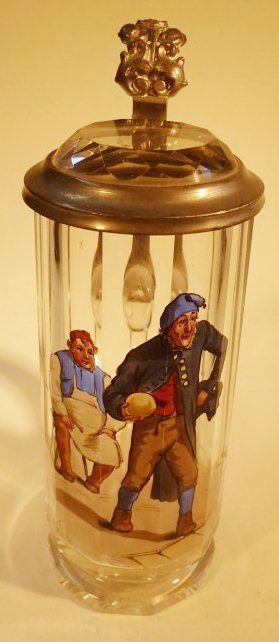 [#3]  A .5 liter blown glass stein with a glass insert in the lid . Ca 1890's. PUG scene celebrating the game "Kegels". A fairly nice beginner's stein.
The German eBay seller was asking: EUR 2.850,00 (in March, 2013) = approx: $3,670.68!!
This might sell for $100.00 to $150.00 on a "very" good day to a collector of bowling steins.
Where do these people get their drugs?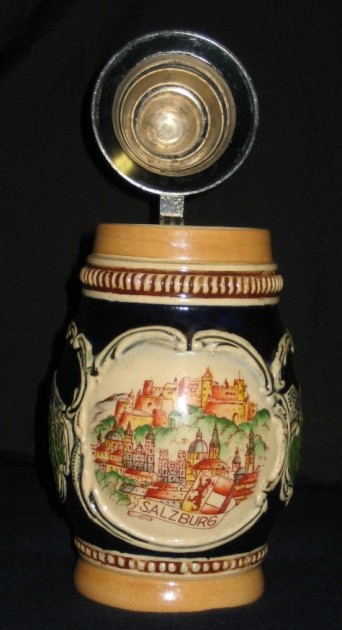 [#4] The eBay ad,  3-29-13, said: "Porcelain Stein with
"Sterling Silver Top."
 Depicting Salzburg, Austria (Germany)," Buy it now price was: US $728.25!!
WHY DUMB?:  [1] The body is pottery [2] the lid is cheap flimsy alloy which is not even pewter let alone silver. [3] They didn't even know what country it really came from. And as it is a specific city's souvenir stein, on a good day it might sell for those numbers (728.25).  but move the decimal over two places to the left!!

[#5] eBay ad said:

"PEWTER WHALE OIL CONTAINER"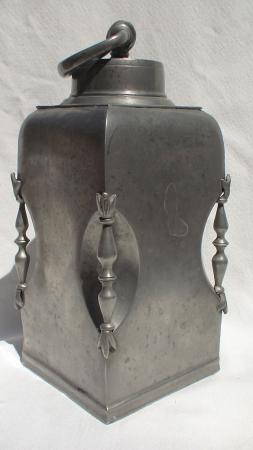 What it really is: Schraubflasche – A German or Swiss wine / liquid flask with four or six sides  or spiraled.  Some are rounded like a modern day tin can, For more info please see:  http://www.steveonsteins.com/schraubkanne-schraubflasche-in-the-s-m-t
I'm thinking, it must have been pretty tough to drag a whale up those Swiss mountains, hey?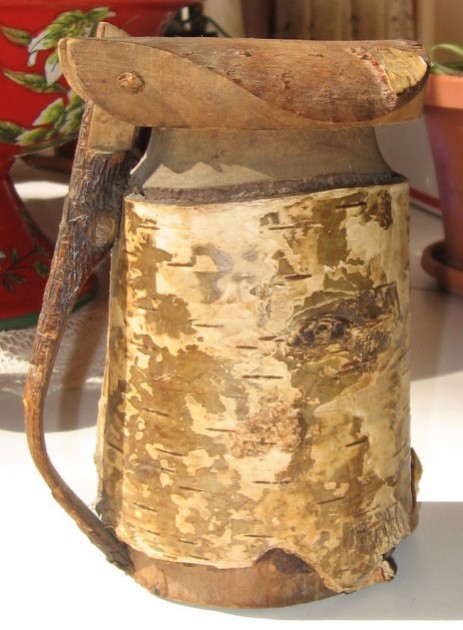 [#6] April 2013 started off with this little gem: The eBay ad said:
"Antique Beer Stein Germany Wooden Stein Baslei

16th century"
"This is a very very old Antique Wooden Beer Stein. I am not a dealer or a German Stein expert, but I am selling some of my own personal treasures.  I did a little research, and this is what I was able to find out about it. It is clearly marked  Baslei (the marking on the front) and wikipedia said 16th Century, Germany.  Most of the info I found on Baslei was all in German so I couldnt read it. I believe it was a little town by the Danube River known for wooden steins.
 I was able to find out that Beer Steins were made as a result of blubonic plague outbreak in mid 1300's. [EDITOR'S NOTE:  NOT ONLY WRONG!  BUT GROSSLY WRONG!! ]
The wooden steins are the rarest, since they predate the 1800's.  The lid was meant to maintain cleanliness.   I found it in the attic of my garage when I lived in Hermosa Beach in 1976. I have had it all these years, in with my glassware packed away. My landlord at the time collected antiques & moved to Hawaii.
If anyone knows anything else about it, plz email me & let me know your thoughts on this rare wooden stein. It is marked on the front Baslei."
So now I ask my readers how many steins of wood with no preservatives (such as lacquer) on them are still around from the 1500's?
Maybe the Walter's Museum in Baltimore will buy this for their medieval collection?  But I kind of doubt it!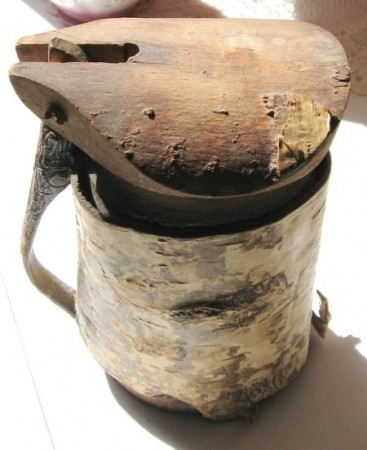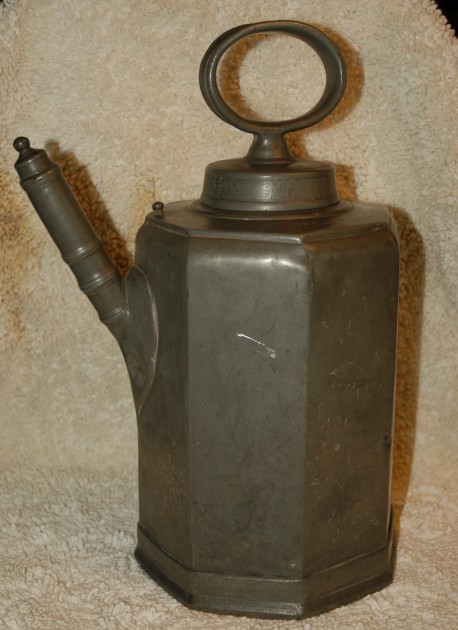 [#7] On eBay, 4-4-13 , Ad read: "Antique Swiss pewter jug wine flagon kann – dated 1843-  engraved 8 sided oval top."


Asking  price was:

$3,500.00.
.
On the same page, same day was this one (and 23 years older?) :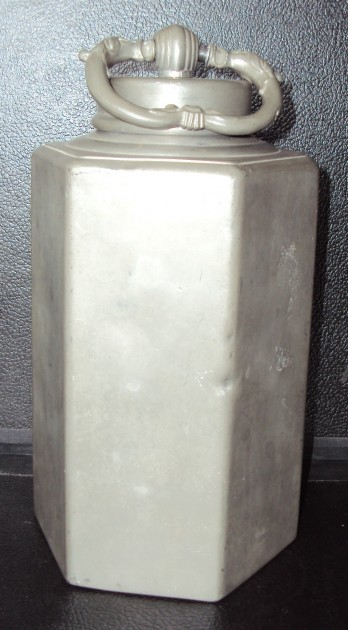 Large Antique Pewter Wine Flagon or Canteen w  Screw On Lid, 'Block Zinn' 1820. 
Above ▲. Same "SEARCH" words, same day, asking  price was $120.00!  [without a  spout . but also $3,380.00 cheaper!]
Continuing along in April we found this "prize":
[# 8] Ebay ad read : "RARE 18c. Polish-Russian Wrough (SIC) copper Netilat Yadaim LAVER fish engraving 6.5 inches tall,8.5 inches wide."
ASKING price was $777.00   plus 15 for shipping total is $792.00 .4-13-13  
.
There was an addition to the bottom of that ad:  "Last updated on Nov 29, 2012 05:44:50 PST "  
So this pass cup has been around for a while; the reason (fish or no fish) might just be the (real) prices of lots of comparable pieces, such as below▼.

An eBay ad using  the same "SEARCH" subject on the same day:  "A Primitive Heavy Dovetailed POLISH-RUSSIAN JEWISH CEREMONIAL CUP c.1850 .5.12 in  tall  X 6.12."  The asking price was: $77.00 plus $15 ship is $92.00 total.
Or a difference of ONLY $700.00!  
For more info on this type of vessel, please see: http://www.steveonsteins.com/pass-cups-a-short-history-new-12-26-10
[#9]  Asking price on eBay at the end of March 2013

for this American made pewter stein was $2,495.00 !!!

 
Ad read: 1898 Harvard Class Baseball Trophy Stein with  '99 Team Photo on Glass.
Now while the Team 's photo adds a bit, as does the Harvard name, this style stein can be found in the $150 to $250 range 364 days a year! If your great-grandfather played on the team, and it was the 365th day, then it might be worth a bit more!
[#10] A minor infraction in this "Ridiculist"" world, as these goofy ads run all the time!
The  4-15-13 eBay ad read: "Early 17th-18th Century StoneWare ?? Faience ?? Lidded Beer Stein #2 . $845.00 

(Starting bid
)
Now the seller doesn't know [a] what it is made of, [b] doesn't know how old it is, [c] and doesn't state the country of origin [d] nor the size of the piece. BUT HE KNOWS IT IS WORTH  $845.00 !!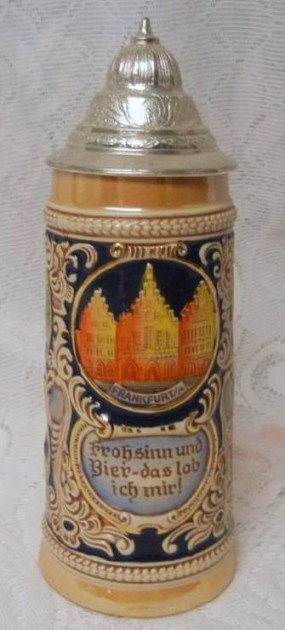 [#11] THE WINNER  (SO FAR) . THIS MONTH = MAY, 2013 but still a far second to the pottery 1/2 liter shown above in #4!!

On eBay, the "Buy it Now " price was: $699.00.    Now tied for 1st place ▼.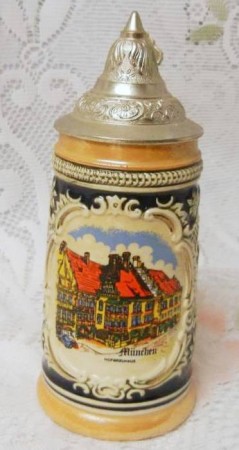 [#12]
Tied for "The Winner, this month"  was this one, also in May. It shows the Hof-Brau house in Munich. I think maybe only about a quarter of a  million of these were sold, hey?  Asking price. Again: $699.00
Note that both have nice shiny silver lids – NOT!!!!
[#13] Below ♥: A  copy from a  S/ O /S Compendium entry I had added months before this page was thought of: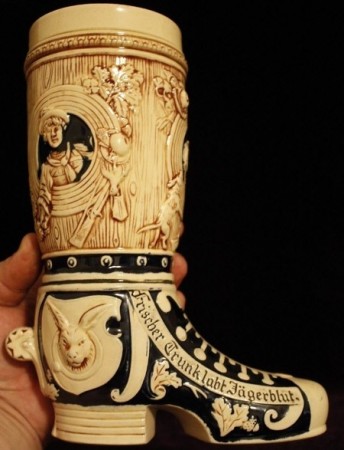 Appraisals – Certified Appraisals – Warning everyone –Unless the appraisal is done by one of the known Beer Stein Auctioneers (see "LInks"), the appraisals are only good for insurance purposes, and certainly not for any drinking vessels / stein's real value! And even then those auctioneers  don't get the selling price  = the value that day, at wherever it was, quite  right a large percentage of the time.
As an example, above is shown a two toned pottery relief  drinking boot,  "Made in West Germany", so the Circa would be: 1949 to 1990. 
It was advertised from an overseas seller on eBay as:

"All our antiques for sale will come with a certified legal appraisal that shows the value to be between $500 to $1,500

" and was discounted for sale on eBay for ONLY $179.00! 
Would sell, maybe on a real good day . for  40 to 60 dollars!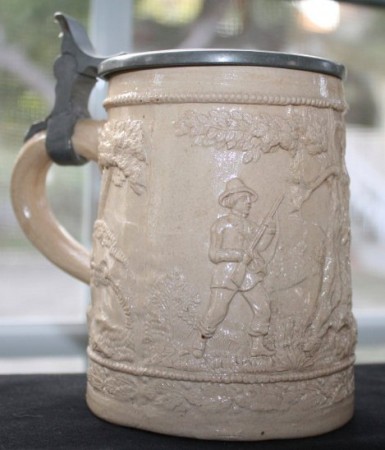 [#14] Not too bad. The $225.00 the seller was asking is only about $100 too high! 
What caused me to laugh was the ETSY seller calling this Westerwald stoneware:  "soft paste porcelain!"
Sellers: If you don't know what something is, don't make an ass out of yourself by picking a description at random!
[#15] & [#16],   Okay readers, take your pick; $600.00  for either one ▼.  On eBay, in May 2013. A little bit cheaper than the other two new ones above = #11, and #12.
I don't think the paint is dry on either one of these!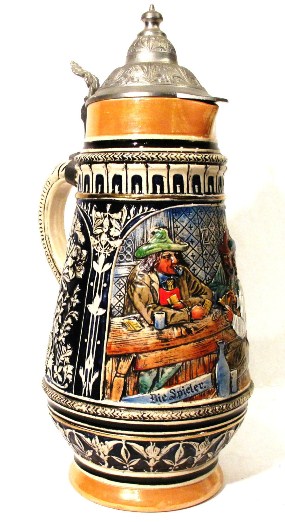 Ad: "Rare",  "Vintage"  German "Porcelain" Pewter Beer "Mug" Stein -Male Card Game "Portrait" Art .
(but made in "Western Germany!" ) So how many descriptive mistakes are on on this one?

[#16] The other $600.00  eBay winner: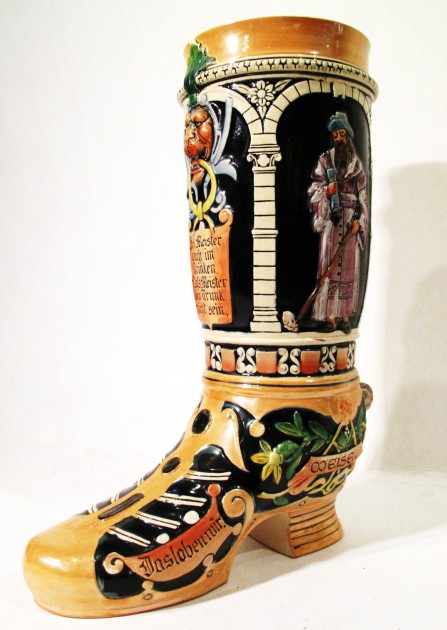 "Large" , "Vintage", German "Porcelain" , Beer "Mug" – Male King-  Gargoyle – "Shoe"  Boot "Stein" Art . ASKING $600 .00  5-6-13  (again marked "Made in Western Germany! "
And you thought the 4 mistakes just above were bad?! Thirteen words in this ad, and six (not including the "Western Germany") were incorrect!   AND WHAT HAPPENED TO "RARE" ? 
So if one put them both together do you think one get $100.00?  (Postage included?) Yes it is the same seller for both.  I think these two  could take the title for the biggest dumb shit ads, at least for this month.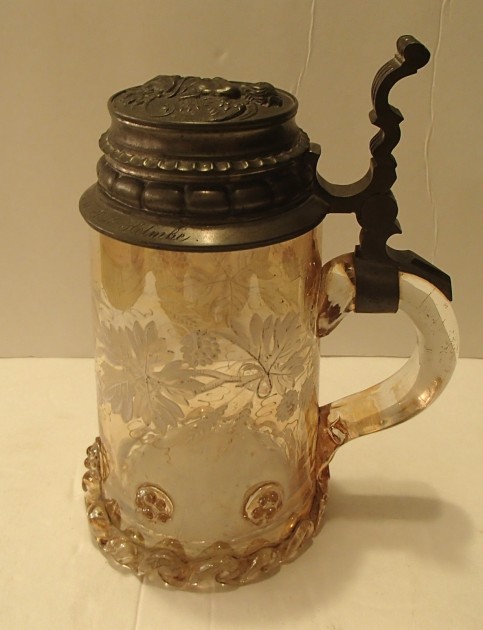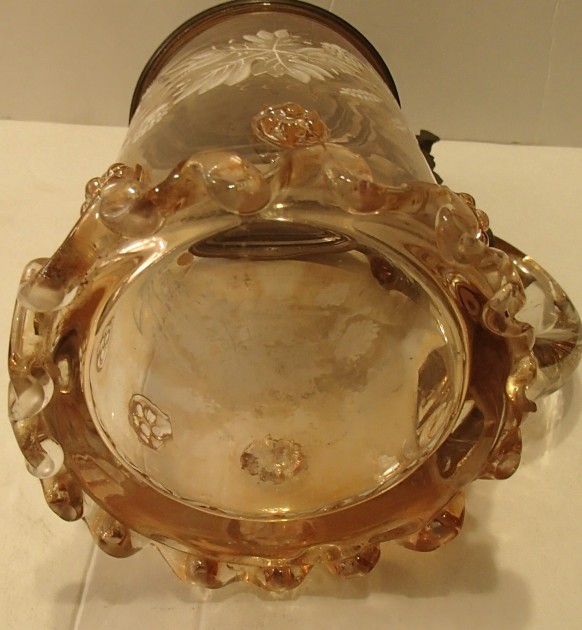 [#17] Well not to be outdone by any of its predecessors, here in late May comes along this bargain Theresienthal .5 liter glass stein Ca. 1890.
Asking  / starting bid price: $200.00 ? (a little high but realistic!), nope !
Asking  / starting bid price: $500.00 ? nope !
 Asking  / starting bid price:  $800.00 ? nope !
Asking /  starting bid price:  $1,000.00 ? nope !
This nit- wit wanted $1,450.00 to start the bids rolling. Needless to say he will most likely die with that piece! Maybe someone will put his ashes in it ?
And so we continued into June 2013 with no change in pace for the "Ridiculist!"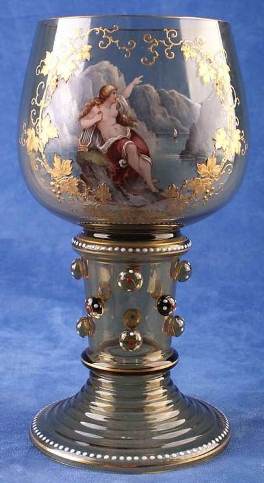 6-13  An enameled "Lorely " on a blown glass roemer.  A nice looking piece. The U S  eBay seller only wanted  $2,339.00. to start.  Only about 1,800.00 to $2,000.00  off real retail I would think. 
Early December of 2014 brought the one "Ridiculist" beer stein sale that will forever be hard to beat  this year=The regimental repro way above has it beat in the all time total! This one was  was made in "Sally- Lou's Pottery Barn" (a generic name used by the "Stein Posse" for all the learn-how-to "pot  pottery,  paint and glaze," establishments throughout the USA . Where one can use the house owned molds under coaching to produce really brand new P O S !!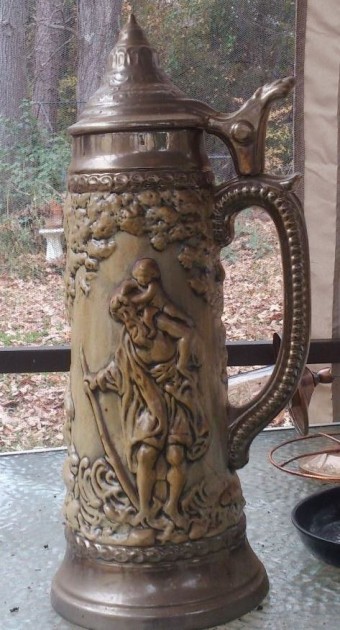 Advertised on eBay as  a "handmade  Stein, the starting price was only $3,000,00!!! You might think it could at least be used as a religious  icon, but it shows the " DE-SAINTED SAINT"  CHRISTOPHER (carrying baby Jesus.) So now how does one pray to a "de-sainted saint "to assist you ??
NOTE: Also please be certain to read "Fakes and Scams": http://www.steveonsteins.com/photo-drafts-fakes-scams
 THIS LATEST ENTRY  ▼  IS NOT ABOUT PRICES , BUT THE LACK OF KNOWN HISTORY AS SHOWN BY  EBAY SELLERS. 
The eBay ad said this.    
" Very Unusual Ruby Red Bohemian Moser Lidded Glass Vase of Former USSR Leaders. "
Now  MY questions are,  one  [1] : Bohemia was a country until the end of the WWI  1918;  
So then by by definition:  any glass produced after that time  becomes  known as "Czech glass"  (Czechoslovakian)
  So after that date: "1918  how can one call it Bohemian  if there was no Bohemia?
and  question [2] :  how likely would it be that any Czech  glass workshop would have produced this piece that shows the leaders of the communist party in Russia, The country that totally destroyed Germany, Austria  and  Czechoslovakia in World  War II ?    Just maybe,  perhaps, it could have been made elsewhere??    Like  even in  Russia ? and maybe even after WWII?
[END – SP104 – 28- R5]

     "But do not argue with an eBay idiot. He will drag you down to his level and beat you with experience!"