A Mettlach stein, 3.0L, 983 [1526], showing the German and English hero drinking from a leather boot! For more on Sir Falstaff , please see: http://www.steveonsteins.com/falstaffbeer-steins-not-as-english-as-one-might-think-10-31x
---
---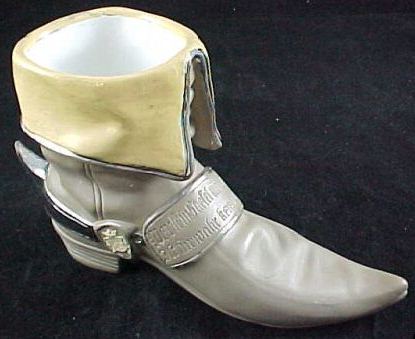 "Trinkenstiefel" = drinking boot.
Above ▲, is perhaps the most well known drinking boot, a .5 liter  V & B Mettlach, with early stick-on [gummed] mark. Enameled silver spur.
I had a colored porcelain version of one such as this  early in my collecting career and "The man who can not drink his boot full of beer is not a true Bavarian!" is the interpretation of what was written on that  boot's strap.
I assume the V & B version's  hard-to-read wording is similar.
FOR INFORMATION ON SHOE MAKERS GUILD'S PEWTER DRINKING VESSELS  SEE:  "SHOE MAKER'S GUILD" IN THIS SITE'S COMPENDIUM.
---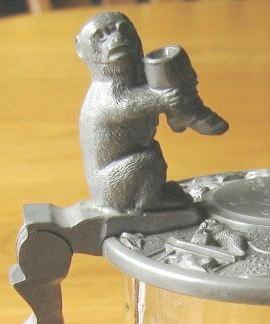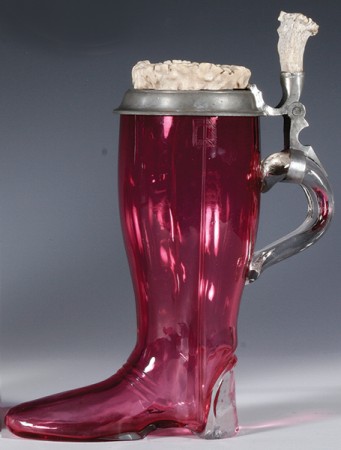 An excellent "boot" beer stein. I am not certain I 'love' that clear heel done like that like that, but the carved deer horns on the lid more than make up for it.  Circa 1870-80 I would think. [tsaco]
---
? = The custom of drinking a boot of beer (German: "Stiefel," = boot) from a boot-shaped glass is common in German themed bars, colleges, beer gardens, and the like. As with pints and other vessels, Insignias, logos, and markings of varied composition are often engraved or fashioned on the boot. Beer boots may be passed among drinkers as a drinking challenge, usually owing to the difficulty associated with drinking a larger than average quantity of beer and the added challenge of the boot's shape. A common variation of this challenge is to have multiple players taking turns. The person who took the penultimate drink loses. Thus the challenge is to either finish the beer or leave a challenging quantity to the next player to try and finish.  [wicky]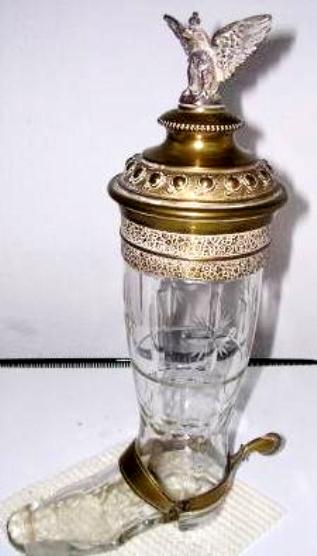 A set-on-lid  beer boot. A large (2 liter?) "WMF" silver plated brass and blown and cut glass drinking boot. The white"stuff' on the bands and lid is where the owner didn't take a toothbrush and "Windex" to clean off the dried polish, which makes it look like poop! 
See: http://www.steveonsteins.com/how-i-clean-old-copper-brass-pewter-and-silver-10-20
---

If one has not been schooled in how to drink from one of these boots, one can get very wet with beer in a second !
The secret to drinking from one of these boots is simple; twist it to at least a 60 to 90 degree angle, so the beer is level (flat) throughout the boot. That way there are no sudden rushes of beer when it empties out of the toes end with the toe mold.!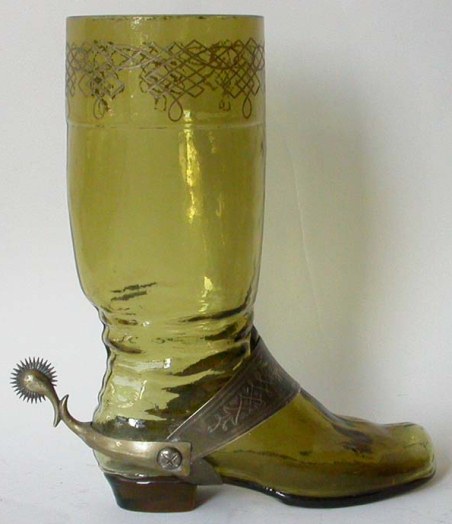 An enameled blown green glass with great silver plated (?) spurs and ripples in the leather as real ones show. Very nicely done. Maker unknown. Circa 1870 – 85 I would think.
9 inch  slipper or shoe. Quilted diamond pattern to glass. Signed "WMF"  on the slipper and top rim. Engraved dedication on bottom. Dated 9-28-1896. A very distinctive piece of glass and metal work! And I might add hard to find !!
A Reservist's (Regimental) boot, .5L, 7.5 ht glass, 1. Esk., Jäger Regt. zu Pferd No. 2, Langensalza, 1907 – 1910. Scarce, especially  with the spur attached. [tsaco]

---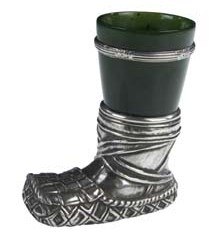 A Russian silver "vodka / schnapps" boot. Only 3.5 inches tall. Circa 1980-2000.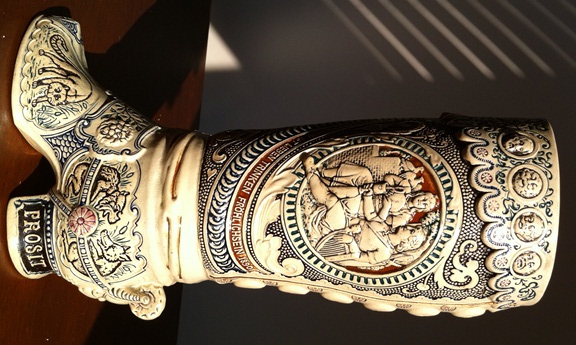 A nicely done 2liter pottery relief boot,  a welcome addition to any collection.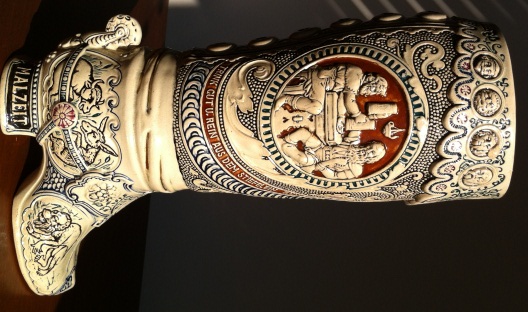 A very well done one liter drinking boot, by Dumler and Brieden.  Ca. 1890. Photo compliments of a "Steveonsteins" reader.
---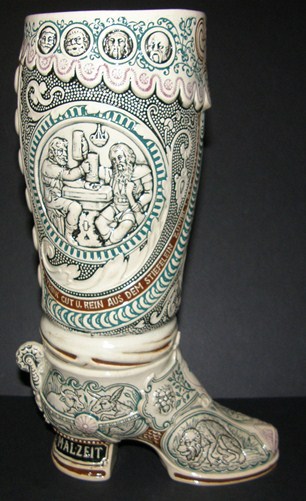 Pottery boot as above but different color scheme. It does have  some interesting scenes in relief on it .
This one was advertised on eBay as a vase!
---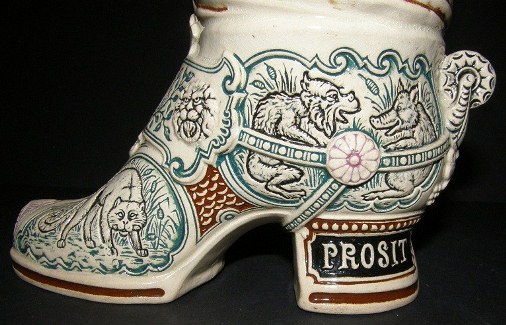 Detail showing  a cat, monkey and a pig. All symbolic images related to drinking.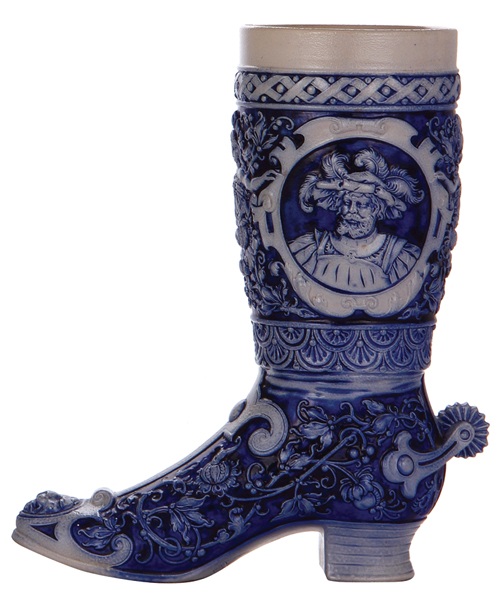 Another well done boot with spur but done in stoneware, 1.0L, 10.3 ht., marked Gerz 202.  [TSACO]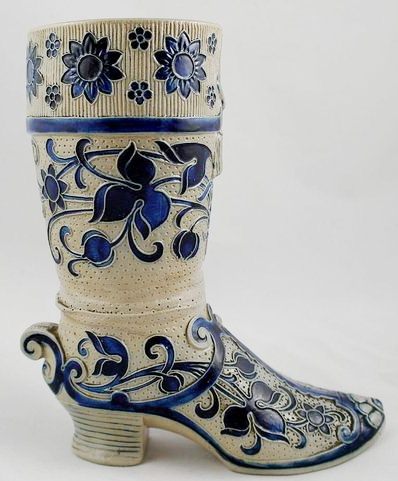 "Stiefel  – Westerwald stoneware  um 1880." Undetermined maker.
I think every factory in the Westerwald put out at least one drinking boot. [comps of  eBay's:  "langorium"]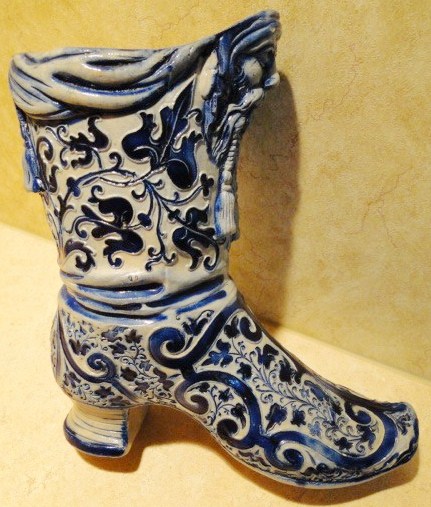 Yet one more Westerwald  maker's version. Probably R. Hanke.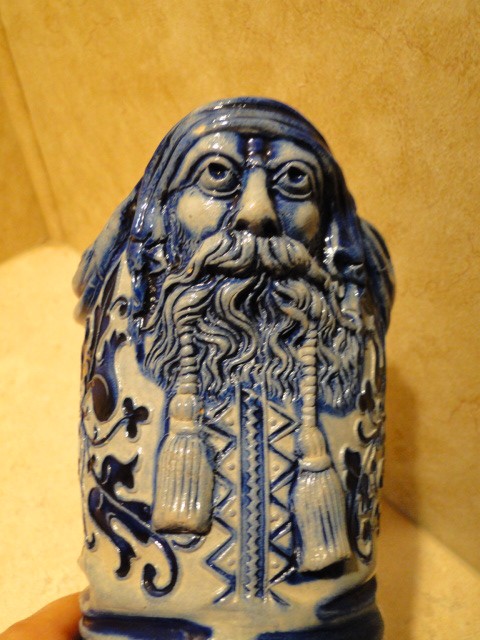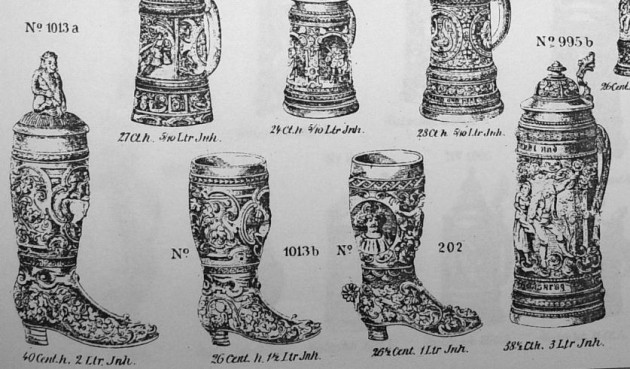 ▲  ▲Pottery boots from an old "Gerz" catalog  [DH].
Westerwald stone ware, 1 liter. Undetermined maker. No. 204 in ad below ▼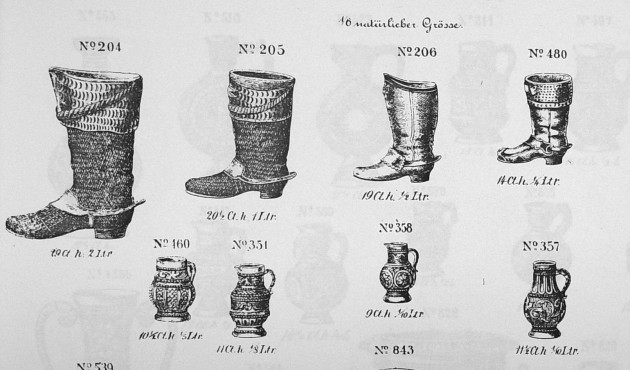 ▲  ▲Old stoneware boots. Unknown Company. [DH]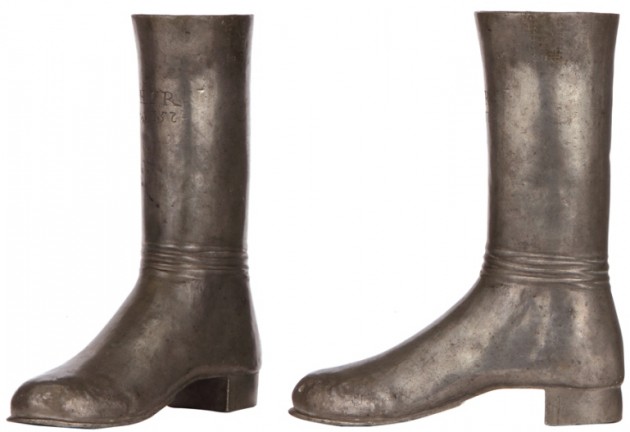 The oldest true drinking boot found so far. A Shoemaker's pewter guild cup. Old style initials and dated "1766".  A true date.  [FWTD].
---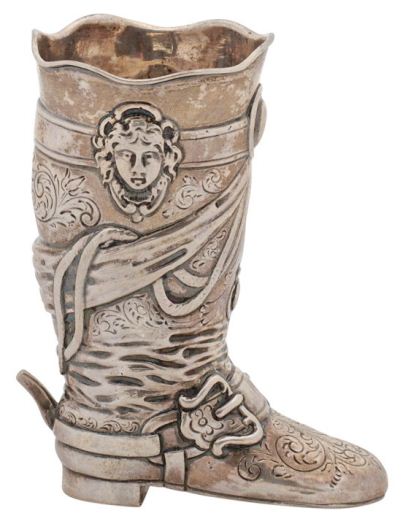 And of course if one has the money = .800 Silver boot, German, 1880s. Length 6.25 In.
SOME NEWER GERMAN BEER BOOTS – Nowhere near the quality of the older ones!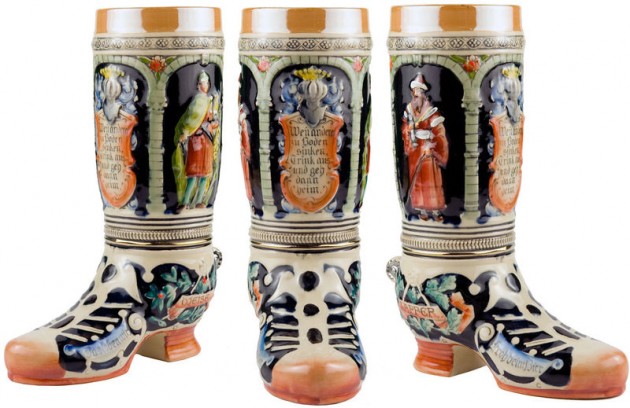 Pottery,  2 liter painted relief beer boot.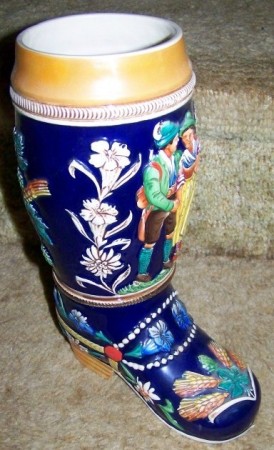 1 liter pottery. Circa 1960-80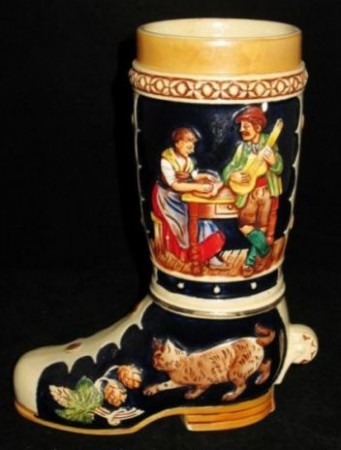 A newer version with a cat (hangover symbol) playing with hops buds. 
SOME NEWER AMERICAN BEER BOOTS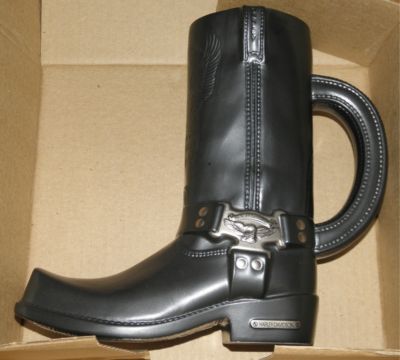 A ceramic, fake leather motorcycle boot, sold through "Harley Davidson." This is quite well made.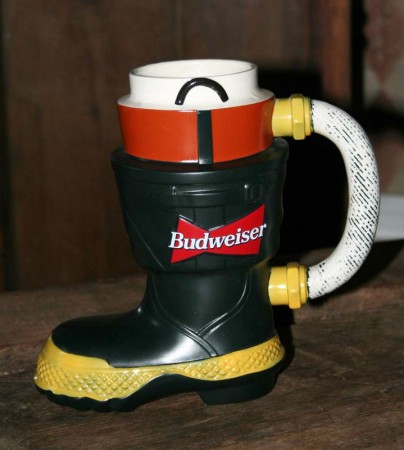 Seems like everyone wants in on the action. A true "BOOT! [I used to wear some like these = many many moons ago!)
From the Budweiser  "SALUTES THE FIRE FIGHTERS" series.
Below is a fairly well done newer pottery relief boot, made in Germany but for a USA beer.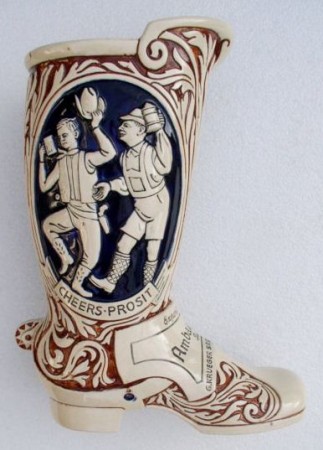 Krueger Ambassador Beer Ceramic Boot 1950s.  Newark, NJ,  11 inches tall; 8.5 inches in length. Marked on bottom: "Made in Germany."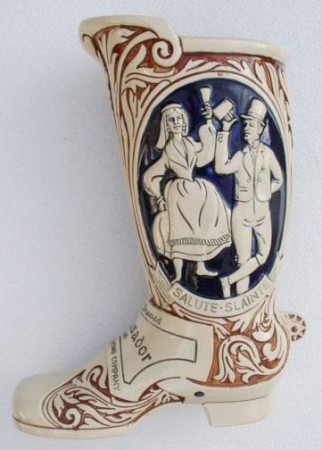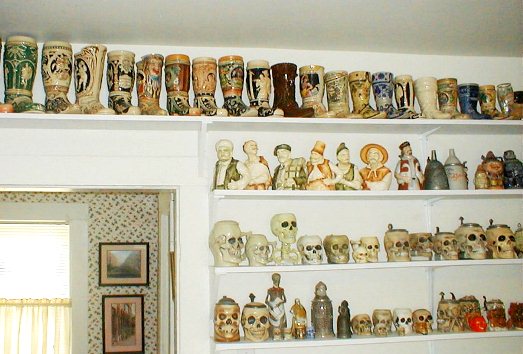 A small part of as large "Character Stein" collection, showing various "Beer Boots" on the top row. (Photo compliments of W. Barney – Gambrinus Stein Club.)
I would also recommend that the readers review John Stuart's fine article on this subject at the SCI web site = 
http://www.steincollectors.org/  –  go to the  "Reading room" tab .then click on:  "Give 'Em The Boot!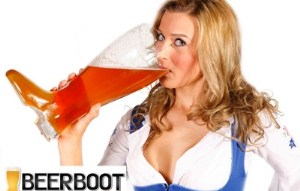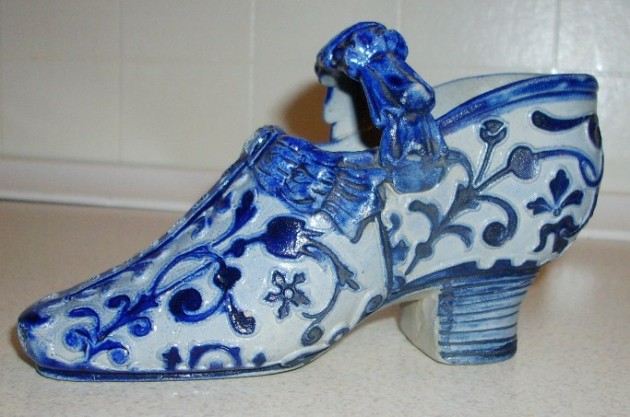 Note: This one is a Shoe – These were not made for drinking beer out of such as the drinking boots were! These older Westerwald pieces were actually made to be flower pots. Battenburg's book "Fayencen"  show two examples made in Fayence from the early 1800's. This one was made by Hanke from about 1880.
"And last but not ." 
Some 'nit-wit' actually had this advertised in eBay as a Beer Boot Stein! [1-2013]:
It could only fit Martin Short who played "Firk"  (a dwarf) in the TV series "Merlin."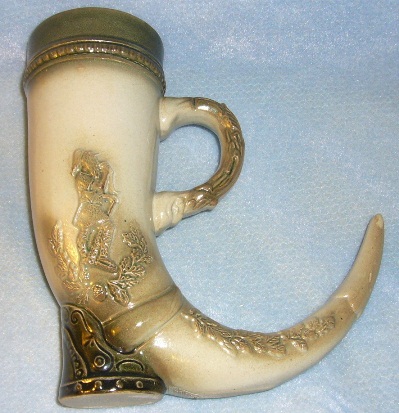 [END – SP104 – 38  (and 20 MORE shown on Mr. Barney's displays) – R5]

     "When a man talks nasty to a woman, it's sexual harassment! So what is it when a woman talks nasty to a man? $5.99 a minute!!"
.