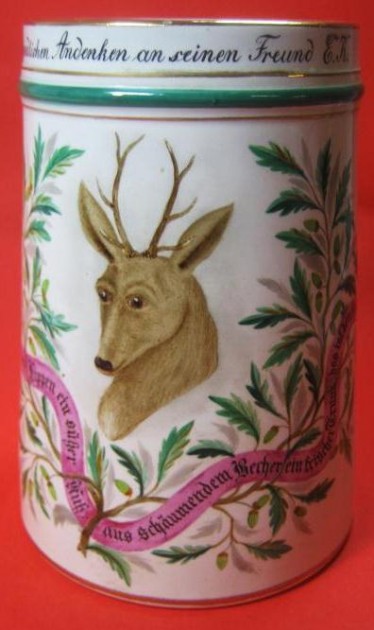 .5 liter hand painted German  porcelain beer mug. Ca. 1910. "In memory of our friendship" and more painted on the scroll.  From "E. R."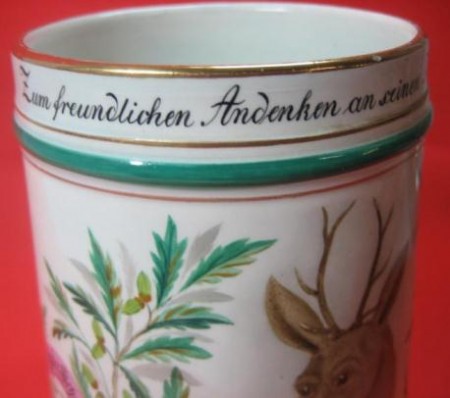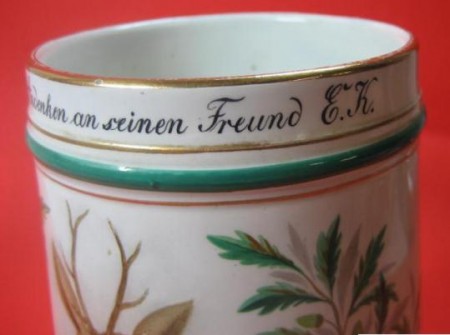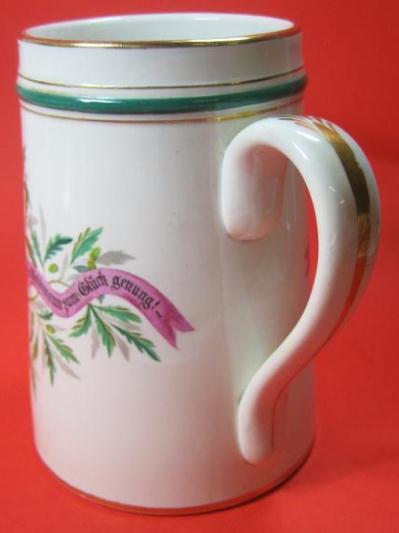 If the scene shows a solitary deer (a few show two with usually one laying down) and no hunter or hunting scene, the stein was probably given as a gift of affection. The symbol of deer, being  a beautiful animal and most highly respected in Germany, also means friendship / admiration / love.
Now I am not saying every stein with a deer originally met this criteria, as there were certainly some that were given to hunter's and woodsmen.

Another point I found interesting on these deer steins is that they show both sexes of deer. This indicated to me that  the  sex of the recipient was also taken into account.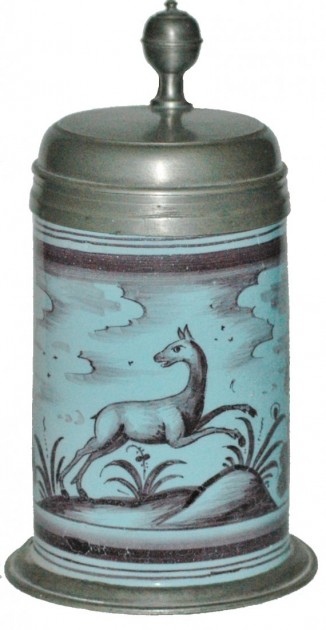 This fayence stein is one that plainly shows a doe, and therefore could quite well have been given to a German lady. One liter. Bayreuth. Ca. late 1700's .[RFA]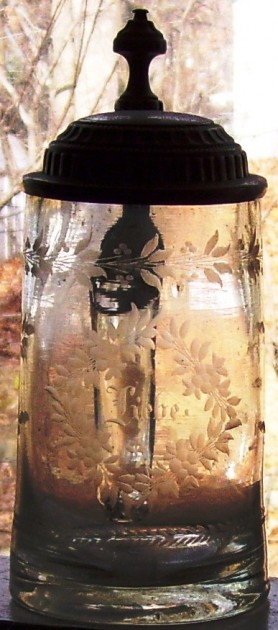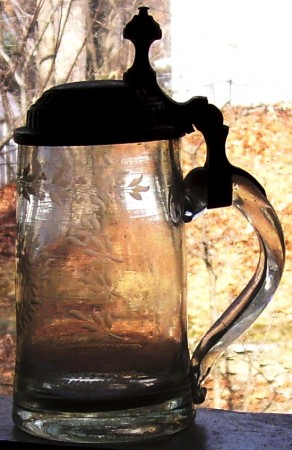 These photos are best seen under a higher magnification.  I can never seem to get the artificial lighting correct for glass  stein photos at my home.  Shown: A .5 liter clear blown glass, very simple "Liebe" engraved  in a wreath. Semi -round handle, with urn type thumblift, so it is circa 1820-40. [FWTD]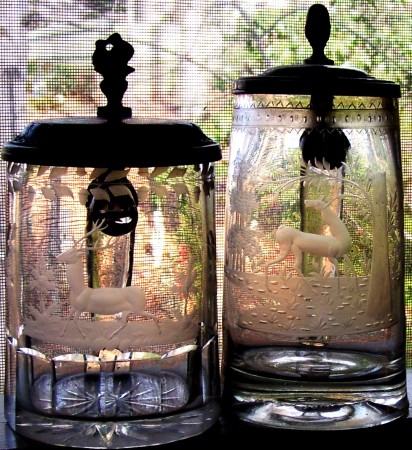 An engraved  (or enameled) deer on a glass stein is also usually taken as a "friendship" symbol.
Shown above: [L]  Male deer (buck) Circa 1840-50, which comes with the "kissing dove thumblift"  which was very popular at the time, which also indicates more "love" than it does  friendship or admiration. [R]  A nice .5 liter, fancifully engraved with a 'female' deer. Circa 1820 – 30. [BOTH FWTD]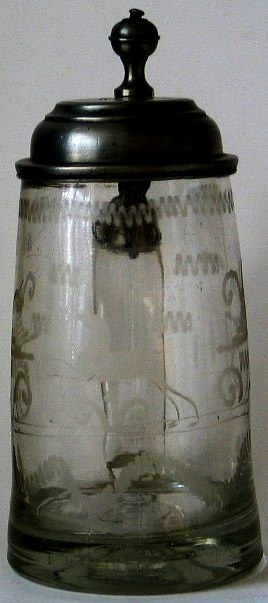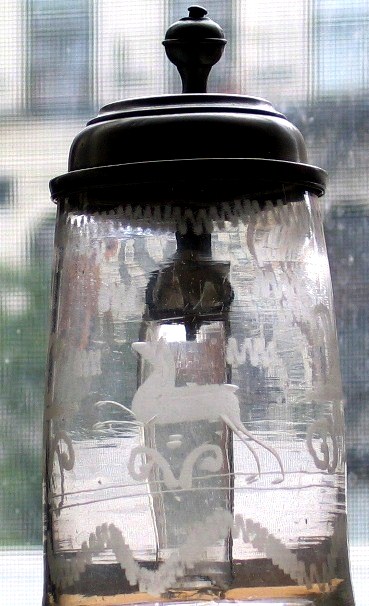 Shown above ▲: One liter blown with an engraved 'female' deer. Detail on right above. Circa 1810 -1830. [FWTD]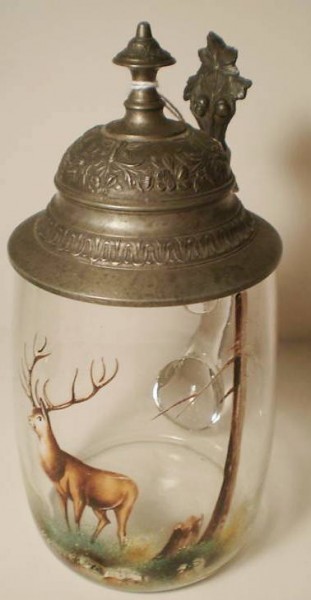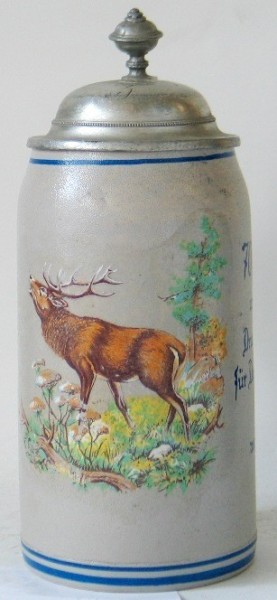 Above and below: A couple of other examples of the solitary deer.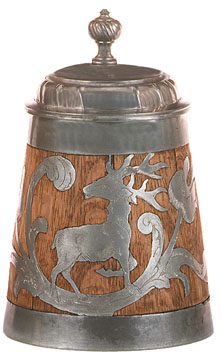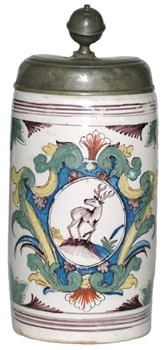 [l] "Newer" version of a Thurigian Daubenkrug, about .75 liters.  Made in the mid to late 1800's.
[R] Half  liter fayence,  Erfurt,  Dtd. 1767  [RFA]
V & B Mettlach stein, .5L, 406, transfer & hand painted, stag, with a  silver-plated lid. [tsaco]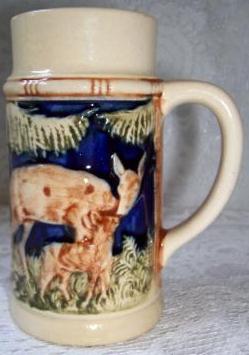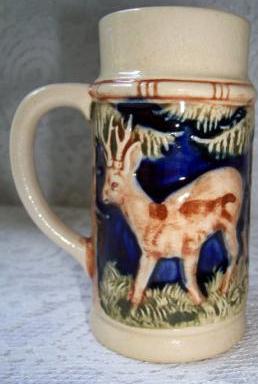 Even the "tots" would get a love present = .25 liter pottery relief "kinder mug."  Circa 1910. [FWTD]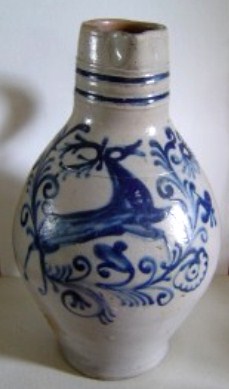 A large Westerwald stoneware jug.  Hand painted. Circa 1900 I think.

Another beautiful example. 15 inches (1.5 liter) blown pink stained glass with enameling. Circa 1880-90.  Quite possibly Theresienthal's work. I would be very happy and proud if  one of my friends gave this one to me.  [tsaco]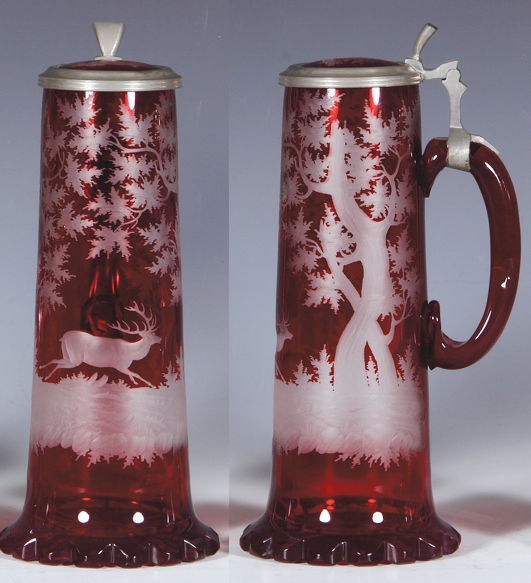 And if you have a really nice friend, you might have bought him this  Bohemian ruby stained cut-to-clear stein. Circa 1850. [tsaco]
As can be seen this tradition has been carried on. This is a Art Deco or Jungenstil .5 liter stoneware stein. Ca 1920-30's,
HUNTER'S STEINS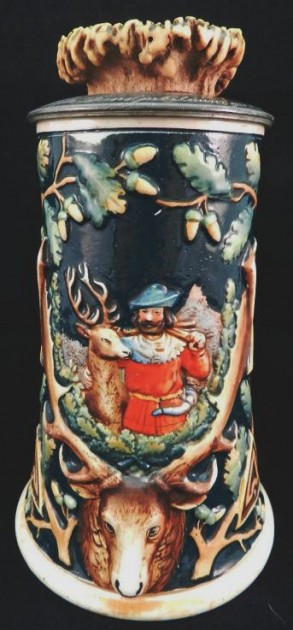 This is very definitely a "hunter's or hunting"  piece and has nothing to do with friendship.  (This is not St. Hubertus either.)  I think one can readily see the difference in the intent of this stein.
More" Hunter's " steins for your perusal ▼: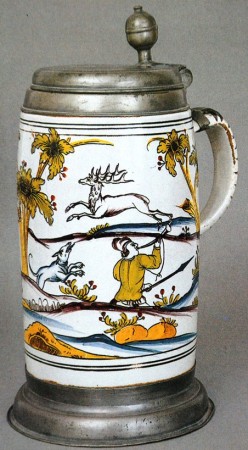 An Erfurt faience stein showing a deer, BUT with hunter and dogs. No love present here only the desire for a "venison burger ."[Comps of William Hamer.]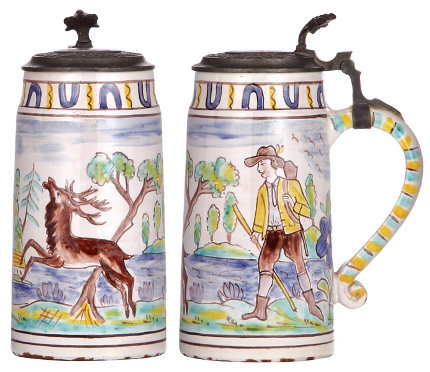 Fayence, 1.0L, 8.6 ht., Austrian, late 1800s,definitely a hunter's  stein. [tsaco]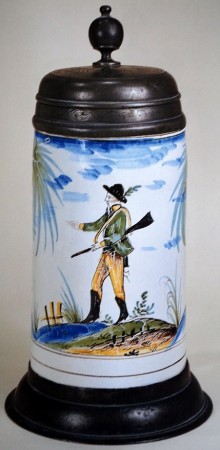 Offenbach faience. [Compliments of William Hamer.]
Here are some examples of other "friendship steins":
Anytime the "kissing doves" thumblift is shown it should be interpreted as a "Love" token  (or very severe friendship.)
Doves, kissing  – Shown above ▲: Different varieties of "the kissing doves." They can signify love / marriage and are usually seen on glass steins from the alpine regions of Bohemia. Circa 1830-60.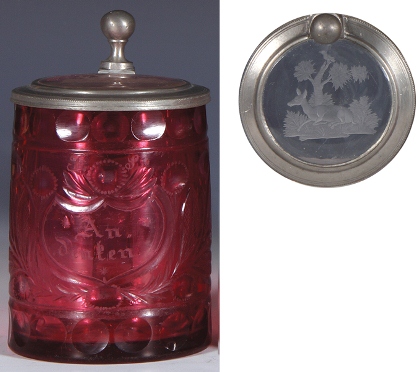 Ruby stained, .5 liter – 'Andenken' on front, with engraved deer just on the lid.   [tsaco]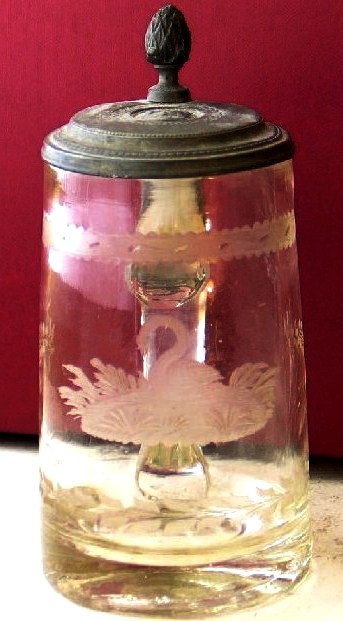 The Swan's meaning,  "Wishing you serenity!" .5 liter, Engraved blown glass, acorn thumblift. German, Ca. 1830 –  1850.[FWTD]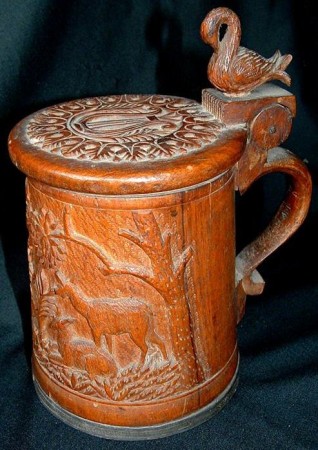 This stein has just about everything one can need to declare friendship and love. Music, deer and a swan for the thumblift!   .5 liter carved stein acquired from the auction held at the Schloss (Castle) Marienburgin late in 2005.  Obviously custom made for a musician associated with that castle in Hildesheim, a city in lower Saxony. Circa 1860. [FWTD]

[END – SP104  – 22  – R5]

" It may be that my sole purpose in life is simply to serve as a warning to others!"