The occupation of being a grandmother. Check out the old stoneware water / wine jug with a rope handle to the left.

"Occupational" reproduction beer steins are done in the same style as the "reproduction -regimentals."
These, should you wish to own them, will be hard to find. Not too expensive, just hard to find.
OLDER VERSIONS ARE FIRST, BELOW ▼: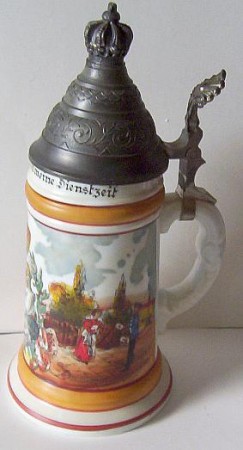 One made to celebrate being with the German postal service.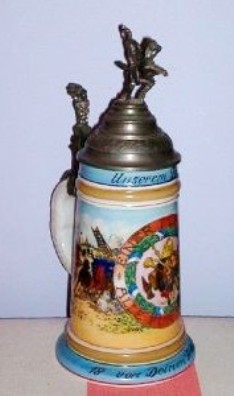 A Fireman's Occupational repro. Unknown maker, probably Karl Rau.



A boot maker – with an oldeer "Prism" lid re-attached. Again unknown maker but probably Karl Rau.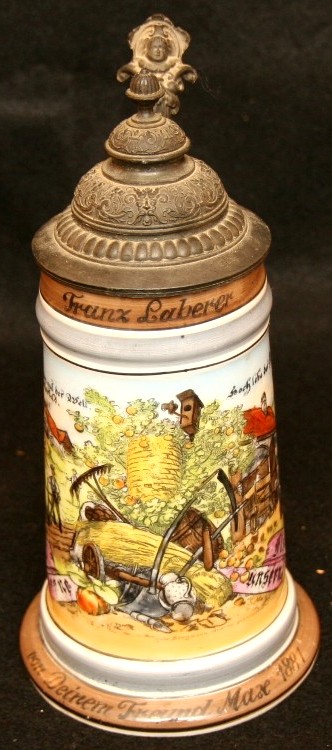 A farmer's reproduction with another older lid re-attached. Made by Rau.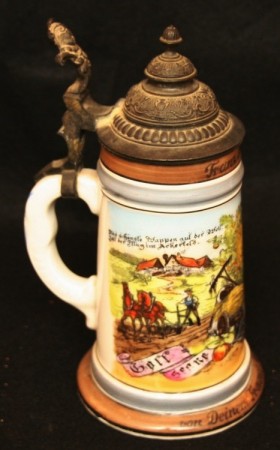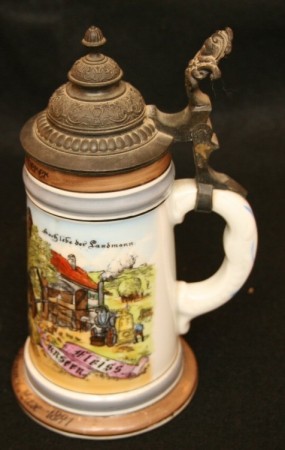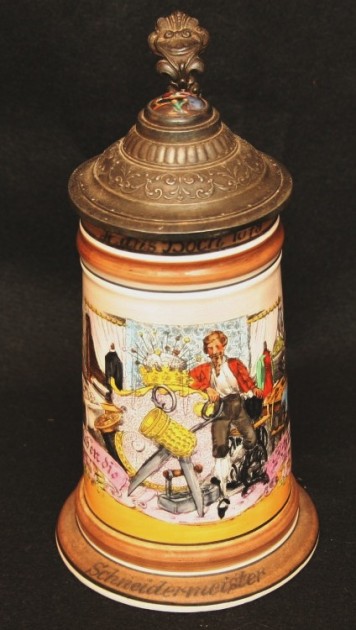 A tailor's reproduction with yet another older lid with a glass "jewel" on top attached, which is  much too big. A waste of a good lid! Body made by Rau.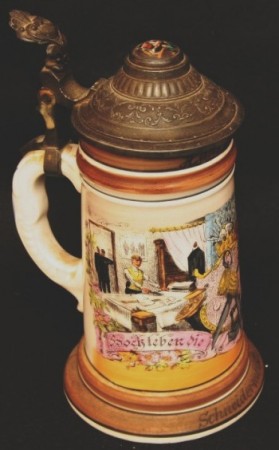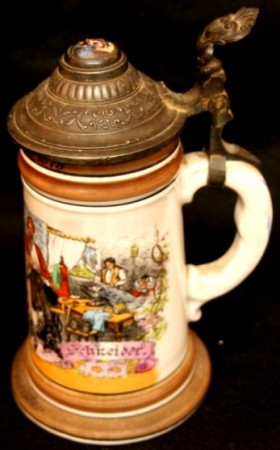 For more mis-information on this subject please see this You-Tube video where unfortunately the author = in New York City, believes the Baker's Occupational shown (not above) to be an authentic one .  There are a bunch of other occupational  reproductions shown by them on other videos listed to the right of the screen. Their prices being asked reflect that they think these are real.

http://www.youtube.com/watch?v=fT3oK3kSnQE&feature=related
NEWER REPRODUCTIONS: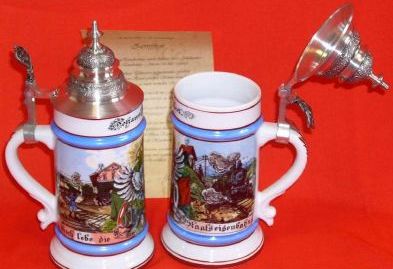 RAILROAD WORKER –  A brand new version. Unknown maker, but probably Rastal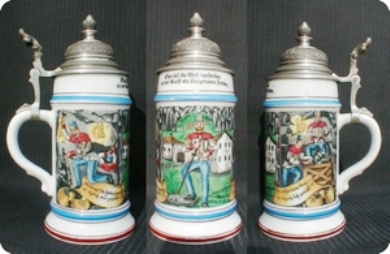 Coal miner's occupational stein. .5 liter, porcelain, 1977, made by Rastal. 9.5 inches. (SC )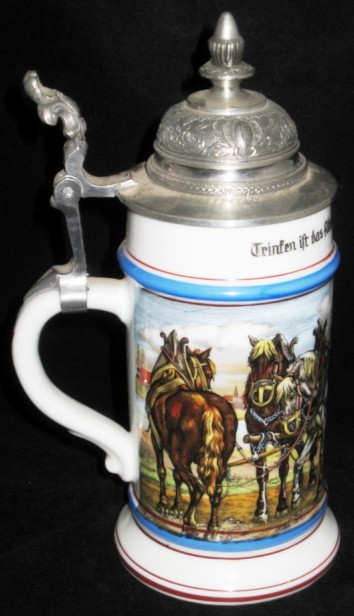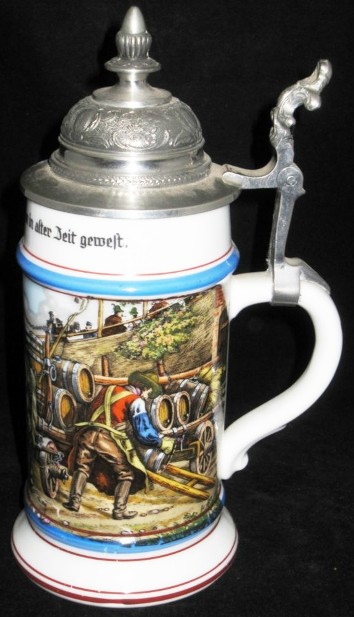 .
Another 1/2 liter porcelain stein by Rastal. "A beer barrel wagon driver."  Unknown date of issue but new = 1970's probably.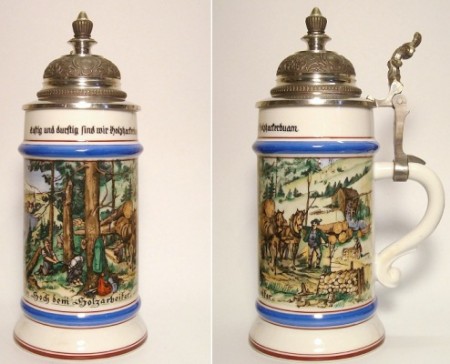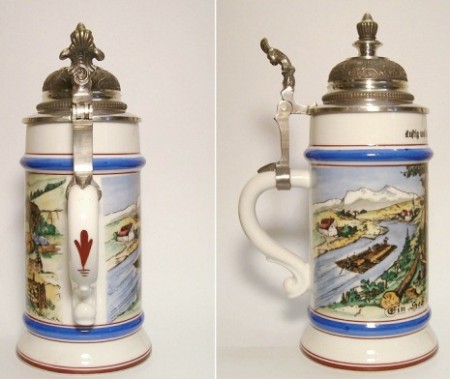 Logger occupational. Made by Rastal. Issued 1976.  .5 liter porcelain.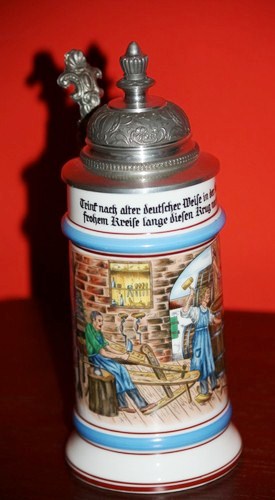 Again a .5 liter porcelain. Designed for a woodworker / carpenter. By Rastal. Unknown date.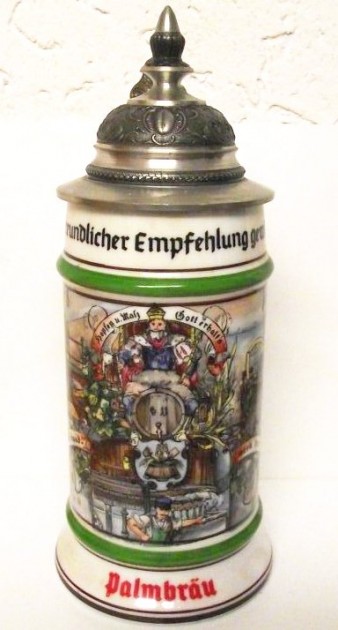 For a Beer brewer. Rastal again.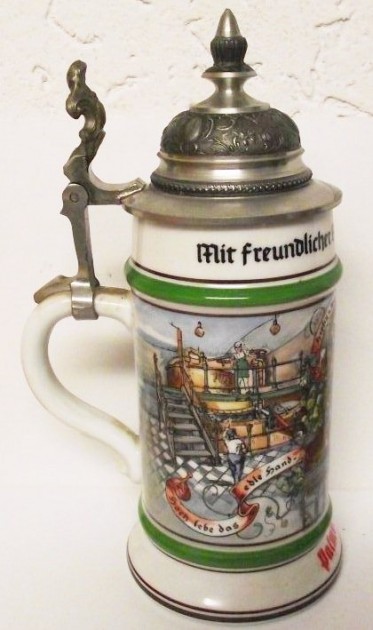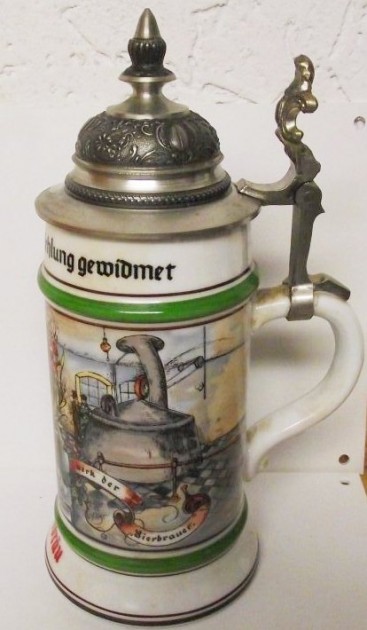 MISSING   PHOTO 
WORD PRESS DROPSDPHOTOS  ALL THE TIME FOR NO REASON    A LOUSY BUT FREE PROGRAM
Occupational beer stein for a tailor) Ca. 1990 [SC]
Shepherd's stein – no photo – The following ad was seen on a web site which will not allow copying of photos:  Offered is a beer stein by the Rastal Sahm Company from Germany. They are known world wide for their porcelain steins. This one was made in 1977 and shows a sheppard [sic] with his flock and dog. It is about 9 1/2 inches tall .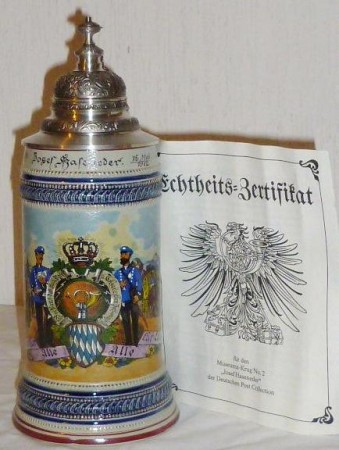 .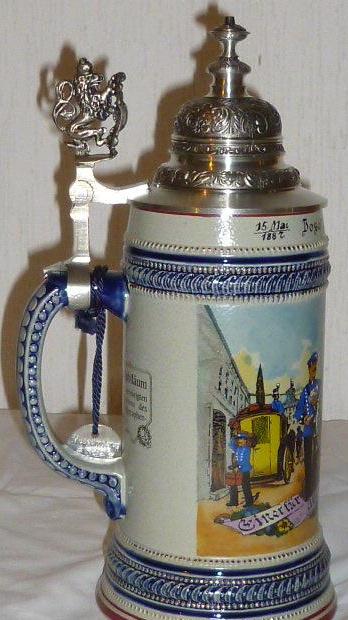 A superb copy of an older stoneware PUG occupational stein for a Bavarian Postman. Ca. 2010. It even comes with a "Certificate of Authenticity. (Whoopie shit!)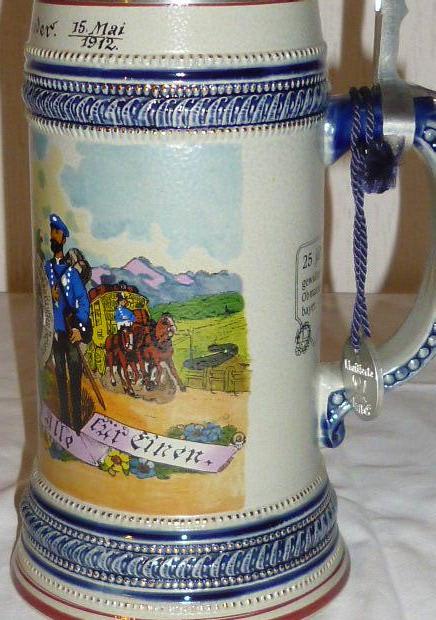 Detail. The stein comes with a lead seal indicating the limited edition number of that one stein.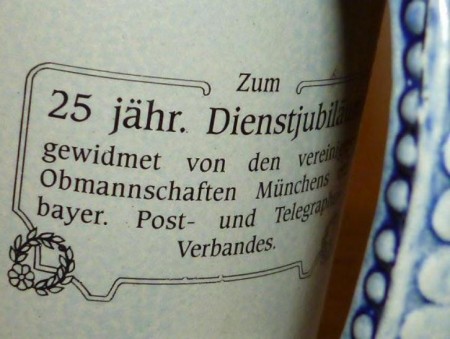 .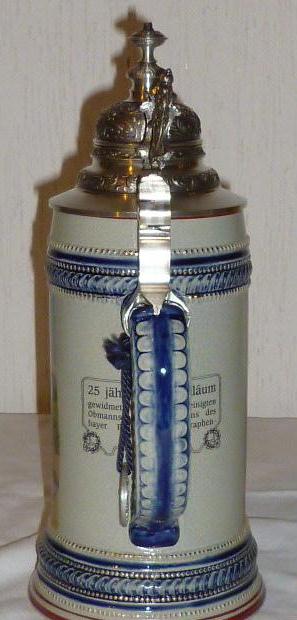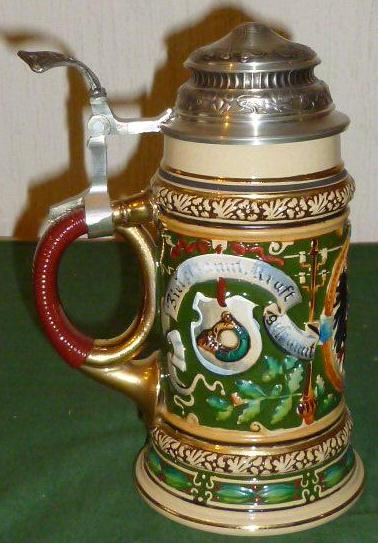 A most recent  example, made for a Prussian Postal worker. At  least they  didn't darken the lid with chemicals.
.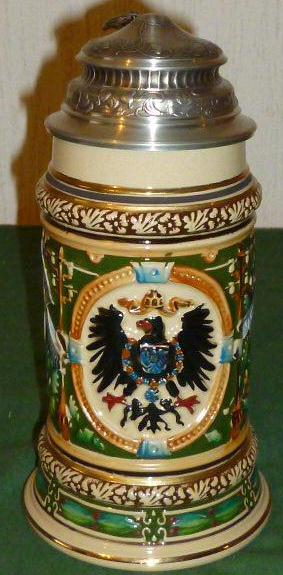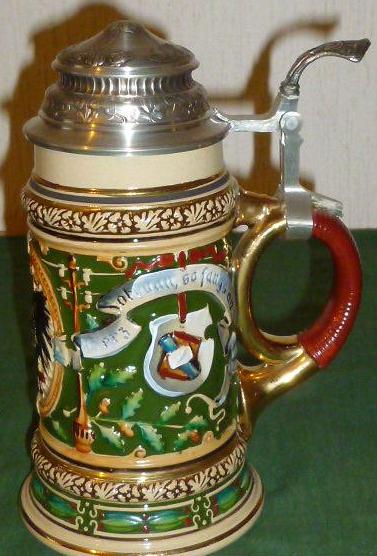 [AWPD – SOK – 35  – R5]


"You're never too old to learn something stupid."