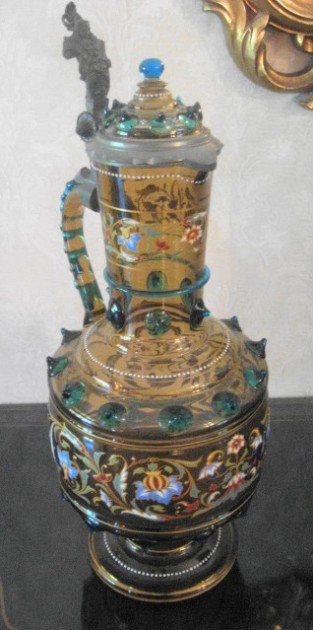 I believe this was the most decorated beer servers Theresienthal ever made. It sold for $998.00 in summer of 2012.
SERVERS  – "MASTER  STEINS."
This plain,  colored serving stein is about as inexpensive as Theresienthal could make them.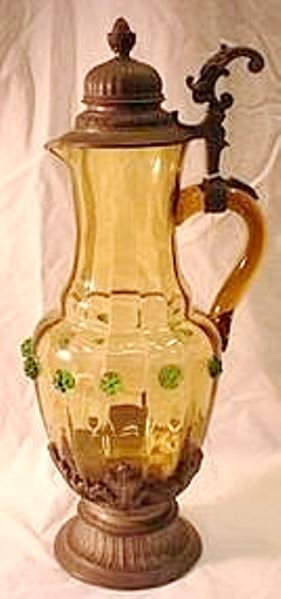 But – Just add a few prunts and a nice pewter base and it's a  much different approach to selling than above.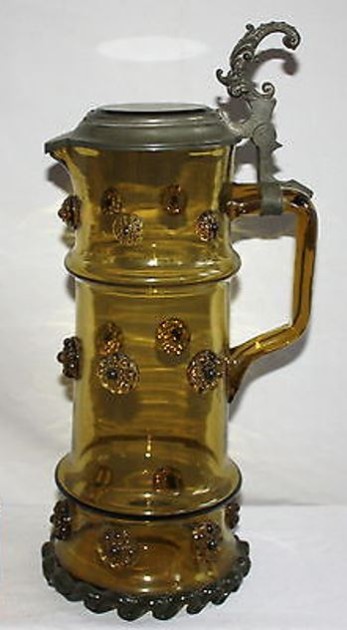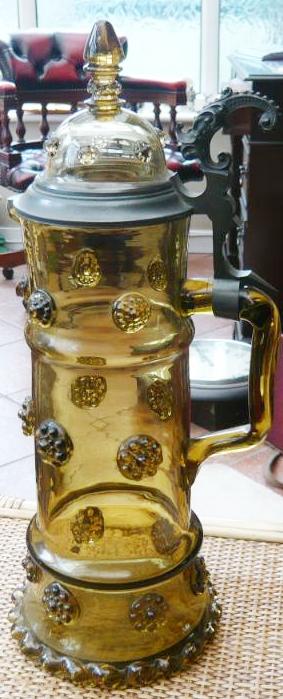 AS above but with more prunts and a glass inserted lid. Both with a grotesque thumblift
 See:   http://www.steveonsteins.com/unusual-stein-thumblifts-1-3    for more examples of Grotesques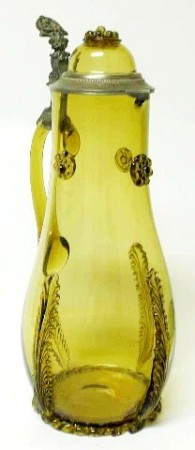 Just a bit better than the first one shown as far as decoration is concerned.  I think still impressive pieces just to pour beer from! [top] Pewter by G.Th.M.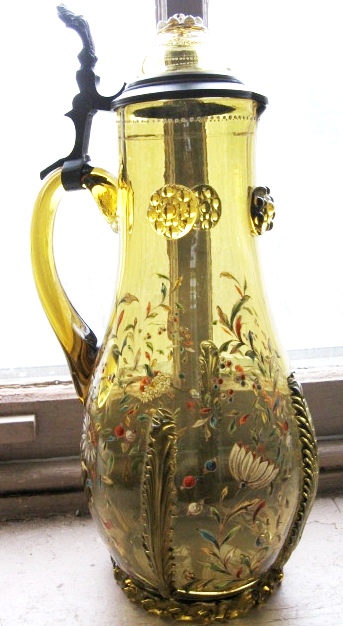 Same server as above, on right. But with the gold leaf decoration added. It makes one hell of a difference  (in price too.)  [FWTD]    Below the detail: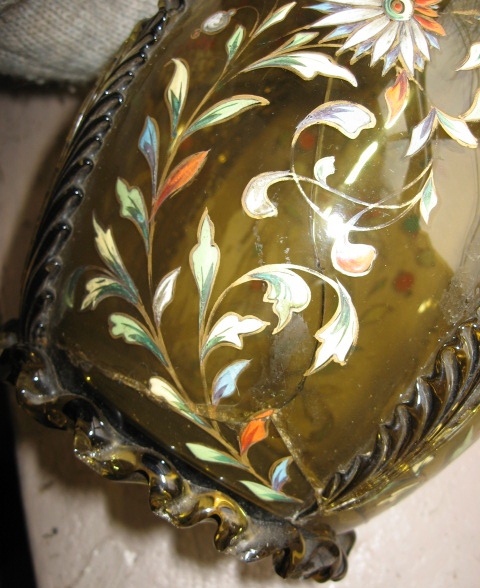 Transfer scene [PUG] showing "The Trumpeter of Sackenggin" in the snow.
Unusual design with an usual pedestaled  base, base with rounded edges (usually found on 1500-1600's glass pieces.) Also see pedestaled server with crimped edge below. This one ▲also has a G.Th.M. grotesque thumblift as do examples #1 and #2.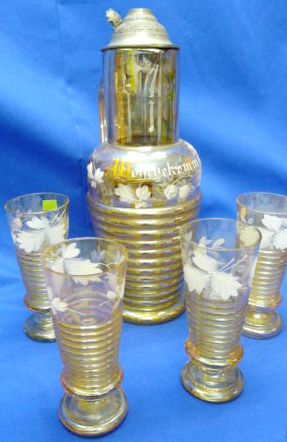 A fairly inexpensive set with only white enameling and red first letters.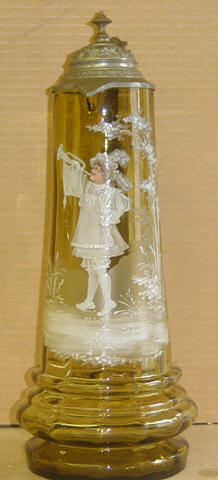 "The Trumpeter of Sackingen" and detail below.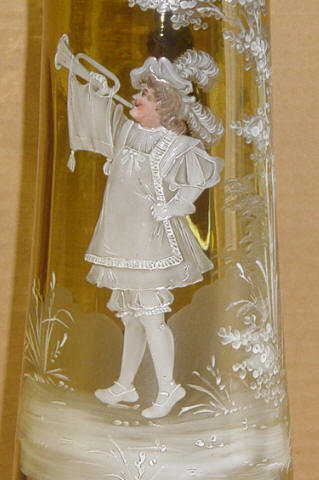 Master stein, sans beakers.  (SC)
[L]  Quite a variety of glass additions onto the bodies.  [both tsaco] Notice the workmanship on the hand applied, hot blue glass trails.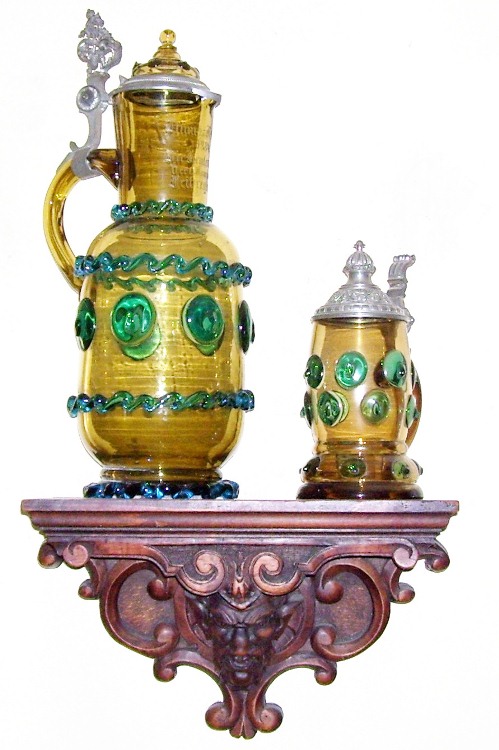 Also see this TH server / stein arrangement with another TH server further down the page.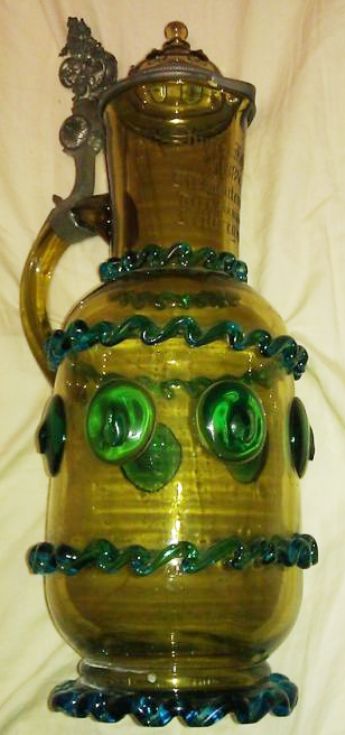 Detail showing the crimped glass ribbons and "prunts" are really blue.
L – FWTD – DTD 1897


Three custom ordered [unknown] families' Coat of Arms.  [FWTD]
.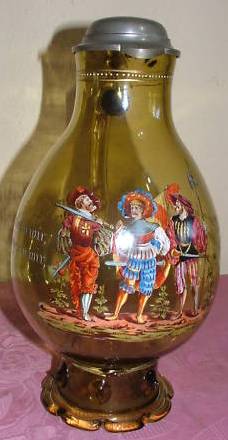 [L] Enameled medieval "Lansquenets"  on a large server.
See: http://www.steveonsteins.com/lansquenets-on-beer-steins-etc-started-10-30-xing-as-i-go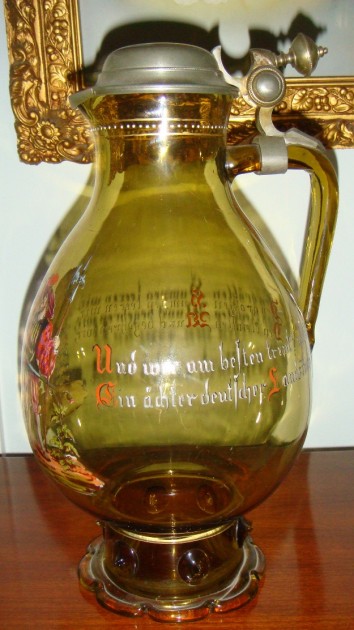 Same stein as above but with a novel thumblift arrangement. by G. Th. M. Never seen but this one in 42 years!
[Photo comps of James Jollie]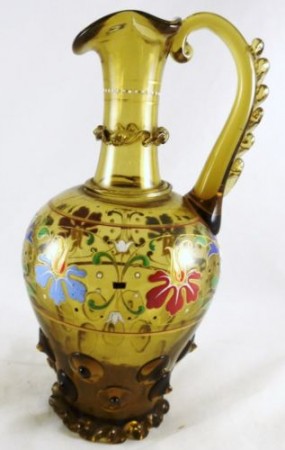 Un-lidded server – 10 inches tall.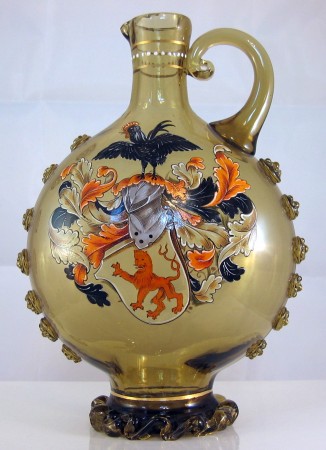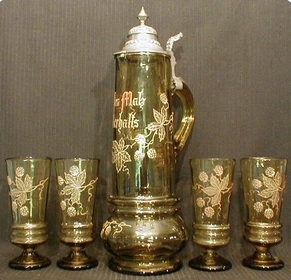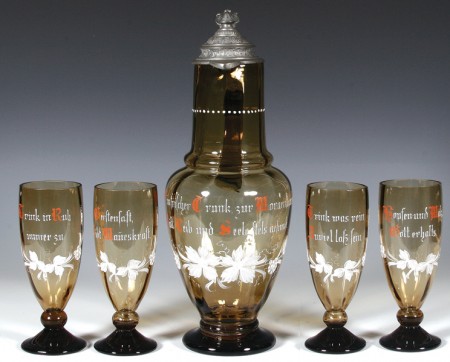 These could be ordered separately or as a large set. An unpainted version is shown at the beginning  of this page.

The finial is most likely ground down. A very common fault with these big guys. Compare with the next server below.But with a great thumblift.
: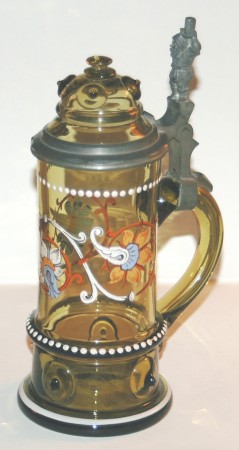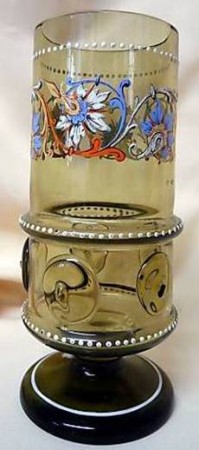 Neither of these three .5 liter steins or beaker quite match the decor of the server above, but one can get an idea of just how impressive six of these sitting around a server would be.
stopped revision here   3-28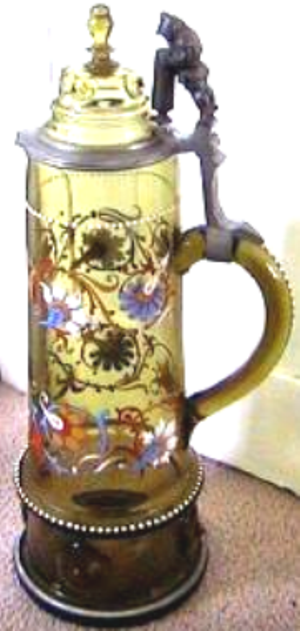 [FWTD]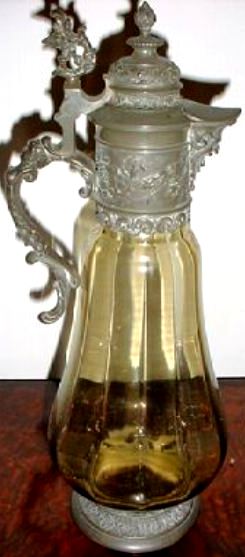 Wine server: 15 inches tall, with fluted glass on the inside.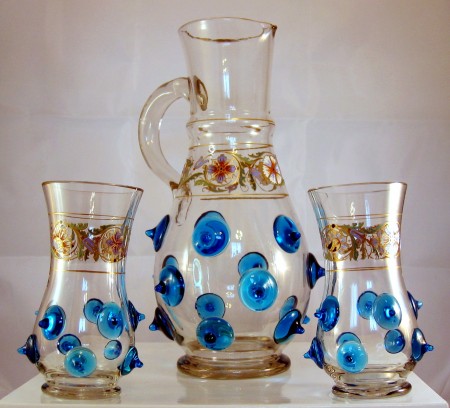 A breast man's delight.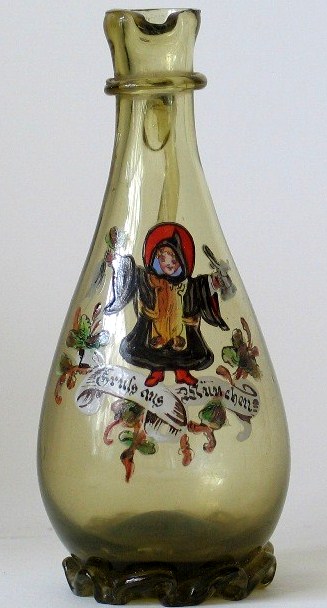 Even  several were "made"  for the "Munich Maid."  ▼

For Munich Maid steins see page: See page http://www.steveonsteins.com/theresienthal-glass-steins-photo-examples

SEE PAGE:  . http://www.steveonsteins.com/theresienthal-glass-steins-photo-examples   FOR MANY MORE MUNICH MAID DESIGNS
Same style server.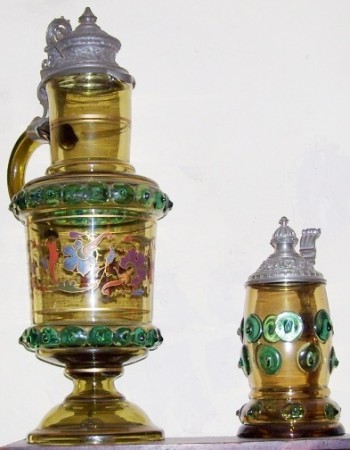 A Server with the flattened body middle body (as below), but with  a lot of blue prunts added.[BOTH FWTD]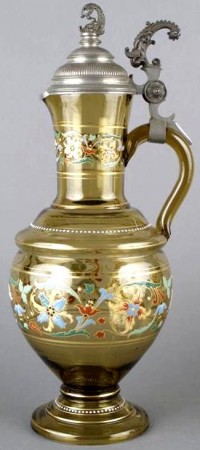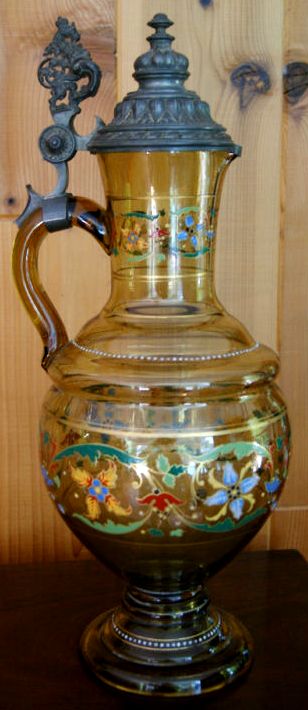 The same body as above but with a different lid and thumblift. = FOR SALE  = eBay's  Seller is: ANTLEA1  —  END OF  JULY 2011  AND STILL FOR SALE JUNE 2014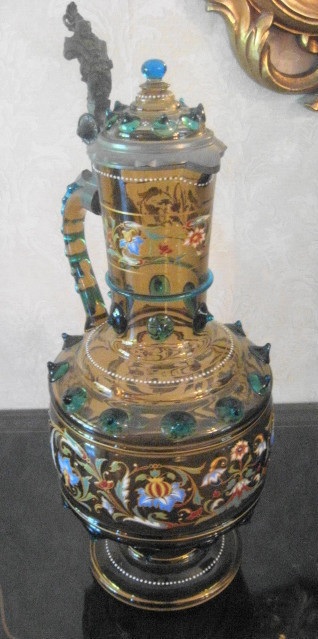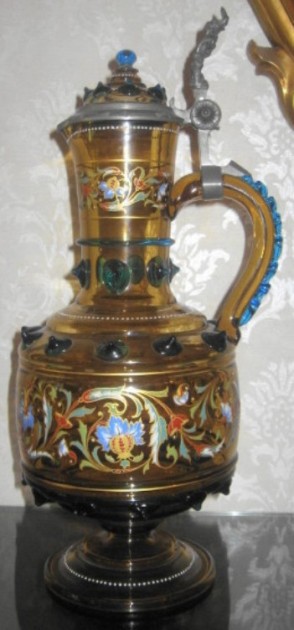 A full blown photo as I think this one is gorgeous and my favorite, with lots of blue prunts and a glass insert on the lid, sold  in July 2011 for very close to $1.000!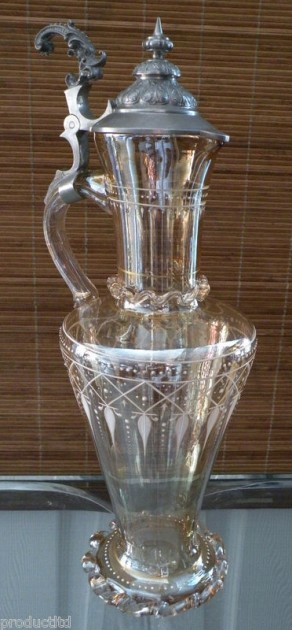 SERVER,  "LUSTERWARE" [Q] AND WHITE ENAME,  15.5  INCHES TALL
POKALS  – (German for the English "Cup and Cover") Note lots have lost their cover over time, but  they are still called pokals.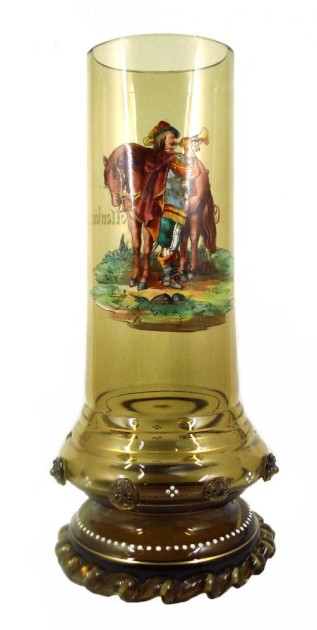 A very nice T-H version of the trumpeter of Sackinggen

I think and not just because I own it, This is one of the nicest Pokals one could display . [FWTD]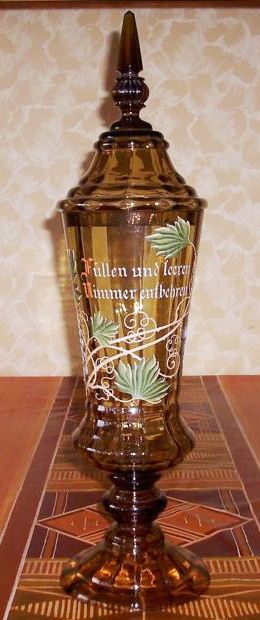 13 inches tall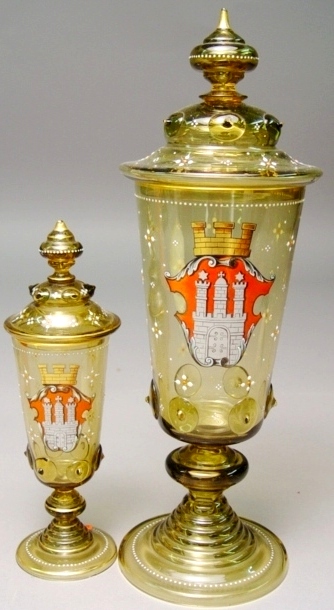 Hamburg City's Coat of Arms. [FWTD]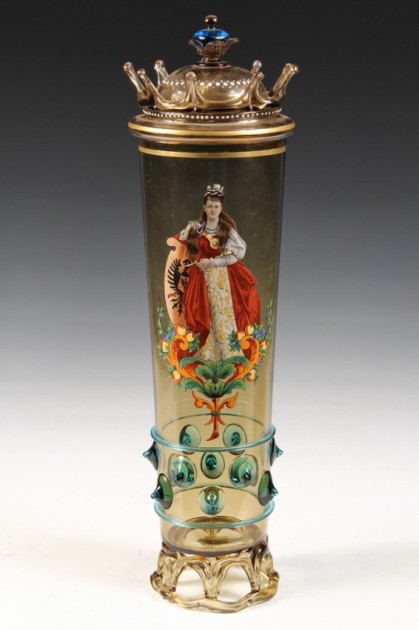 A fabulous glass pokal with  prunts, trails , and an enameled scene of the Kaiserin.this open bottom is seen on another smaller piece below.   [PHOTO SOURSE = UNRECALLED, SORRY]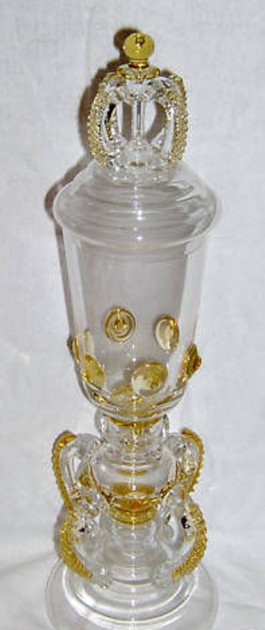 Pokal , new maDe in 1995;  cost then was DM 1,750.

I'm not 100% certain this is a Theresienthal piece as the eagle was done in a much different style than usually seen, but a lot of other  TH's elements are present.
 Comment's from the readers are welcome.
BEAKERS / FLUTES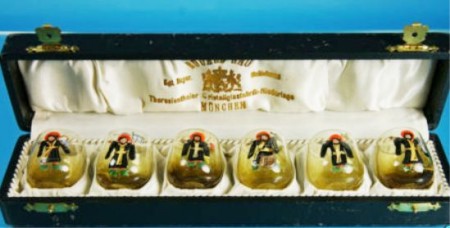 Yet a third set (on this web site)  of miniature Munich Maid beakers (made for schnapps.) These complete sets, with boxes can be very expensive today. I believe the asking price  for this one  was over $500.00 in 2010.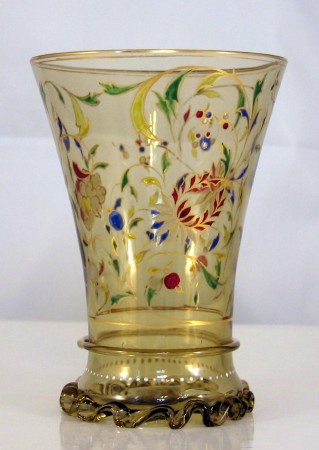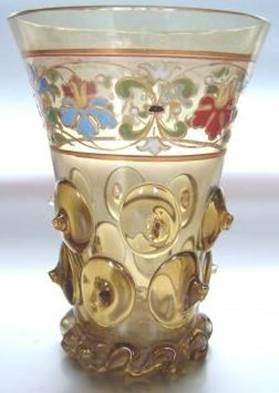 Smaller beakers used for wine.
[L] Called a "worm beaker for obvious reasons, [FWTD] and mostly found with part of the very thin glass worm broken off. [R] A beaker [FWTD]showing a good example of  T-H's  tan and cream colored enamels.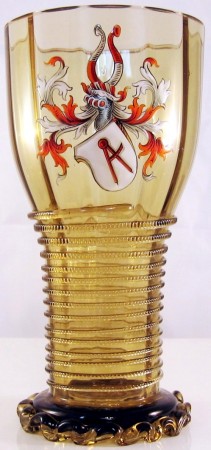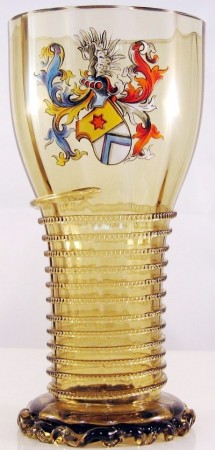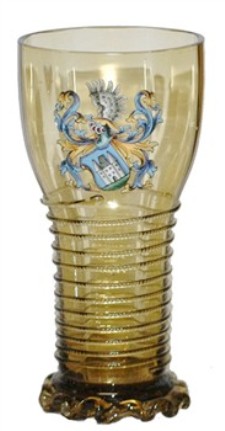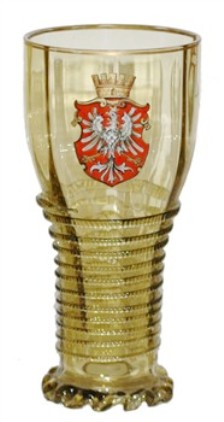 Not  very common, especially without damage, these  "armorial worm beakers "can make an impressive display when six  or more are involved. [FWTD]
[L] Flutes with medieval figures, [R] A copy of a medieval beaker with large nipple prunts, to keep the glass from slipping out of one's hands while eating.  (Napkins? Not invented  yet! )  Both of unknown size but I think the one on the right is sizeable like the one shown far above it.
A couple of pedestaled beakers.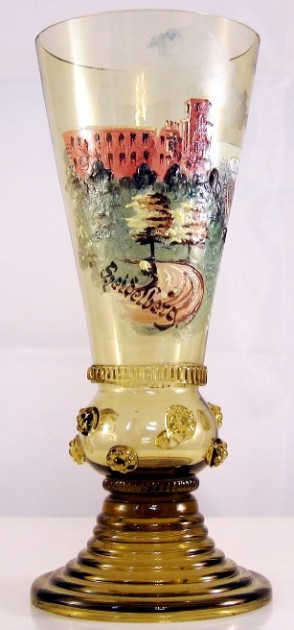 Beakers [L] Medieval serving maid  [R] The  Heidelberg  castle

Extra large and well done "Humpen" (or lidless pokal) of an old German (not a Viking) warrior.
Probably "Hermann." See Herman's Story = http://www.steveonsteins.com/hermanns-story
PUNCH  / WINE BOWLS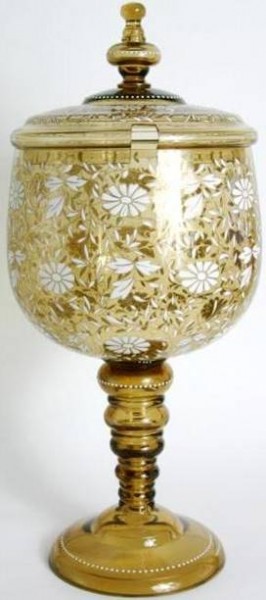 Done in the form of  a large roemer, but there is a ladle hole in the lid.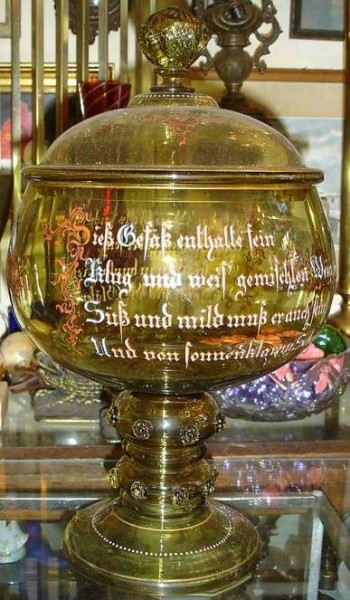 Another roemer shaped wine / punch bowl, 18.5 inches tall!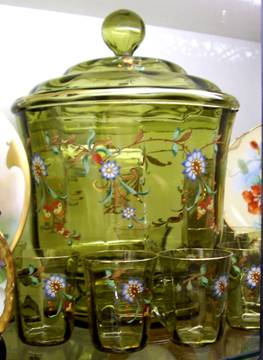 Just a nice "punch"  / wine set!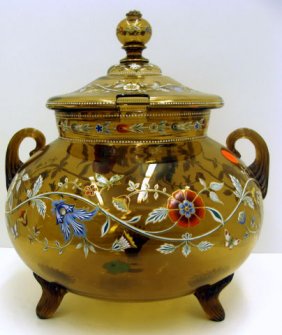 Nicer ?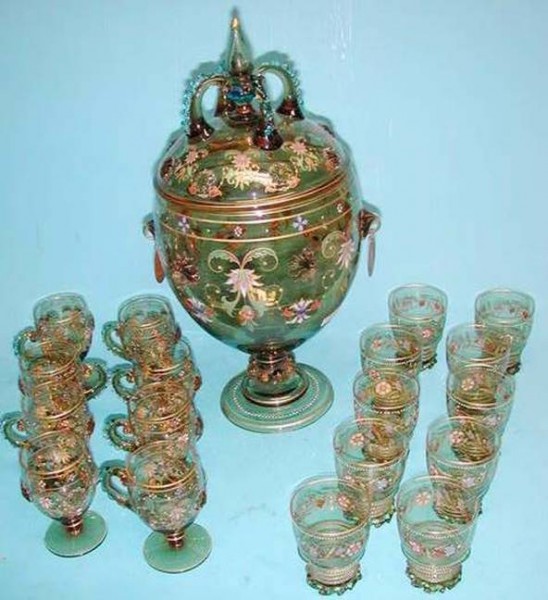 Nicest ??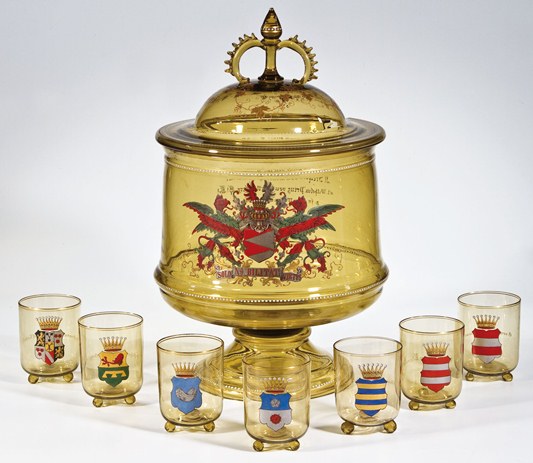 Liking armorials, I am partial to this set by Theresienthal. Very nice enameled work.
DECANTERS / WINE JUGS
There are at least 25 different decanter designs and colors made in this series. While I have seen no advertisement or catalog I am almost 100%  positive the glass for this series was made by Theresienthal and the pewter work was done by J. Lichtinger of Munich. [R] 12.8 inch high.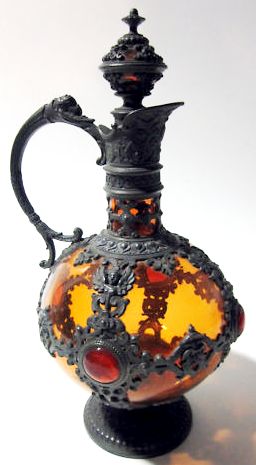 A neat addition is the dark orange glass roundel inserted on the side.
.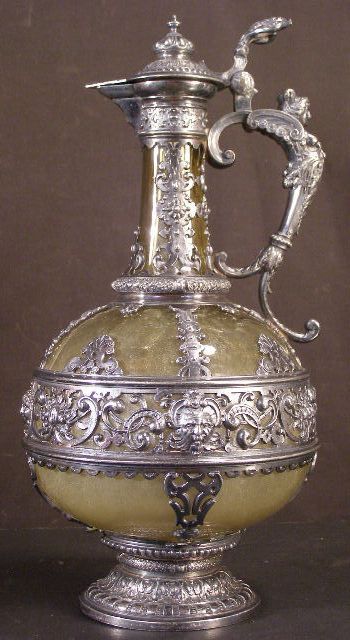 Smokey glass and yet one more different lid arrangement.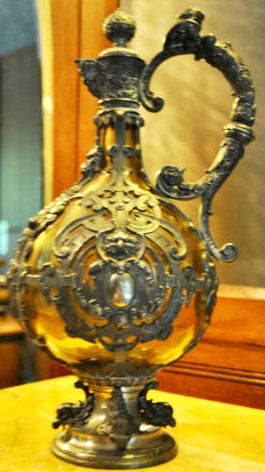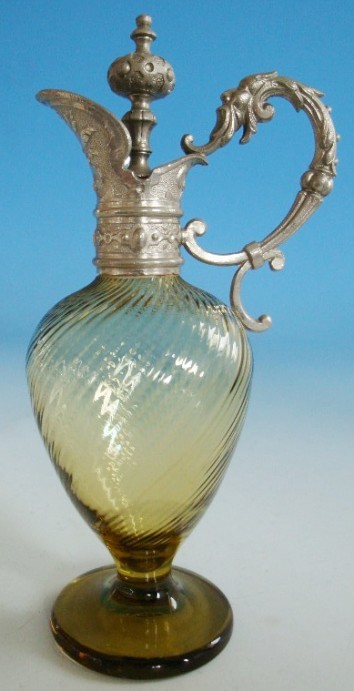 Notice the similarities between all the handles and the way they split.
BELOW  = I HAD BEEN UNDECIDED IF THERESEINTHAL OR NOT – BUT NOW THESE I THINK AFTER LOOKING AT THEM FOR A COUPLE OF YEARS  WERE DONE BY JOSEPHINENHÜTTE . ANY COMMENTS FROM THE JOSEPHINENHUTTE COLLECTORS ??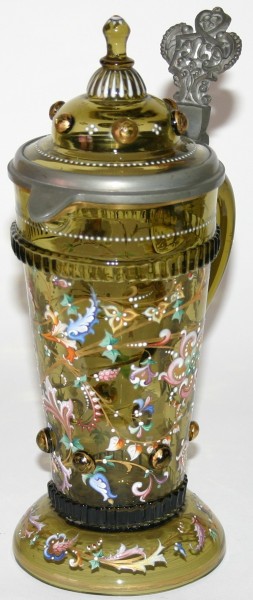 The jury is still undecided about this server. It has many of the attributes of a TH stein but the colors on the enameling are a bit different, and the small 'round' prunts are unusual. If it is not a Theresienthal – it should be !

Same question as above.
A pair of custom made and hand painted  "flutes" for a wedding. These are 25 inches tall!  Notice he and she both carries their own Arms and their mate's Arms are subservient. [FWTD]

  "Light travels faster than sound. This is why some people appear bright until you hear them speak."