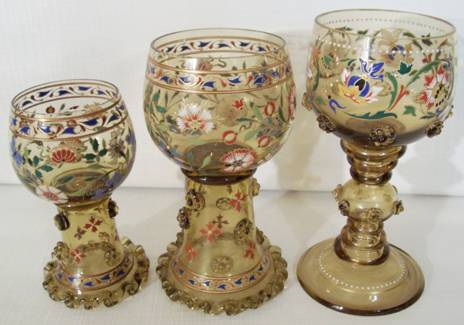 German white wine tastes much better served in a roemer!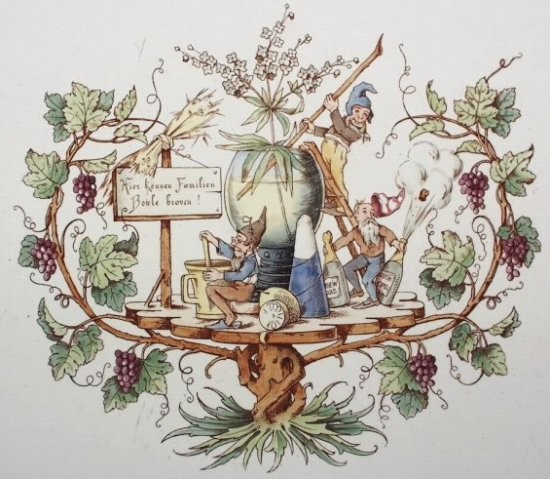 A  V & B, Dresden, P.U.G. Plaque. Circa 1890.
Below: Some of "Theresienthal's"  enameled leaves with gold trim Roemers: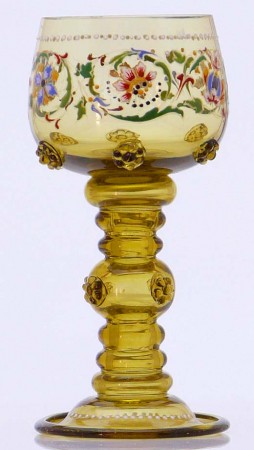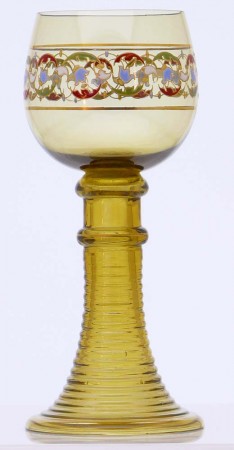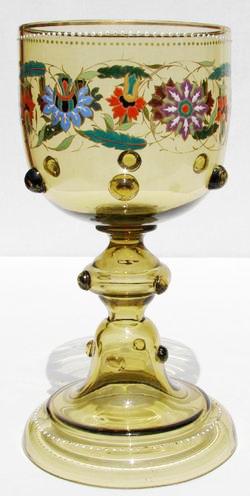 Pair – 6.2 inches [FWTD]
.
Exact size unknown. Not seen often with the "worm" ribbing.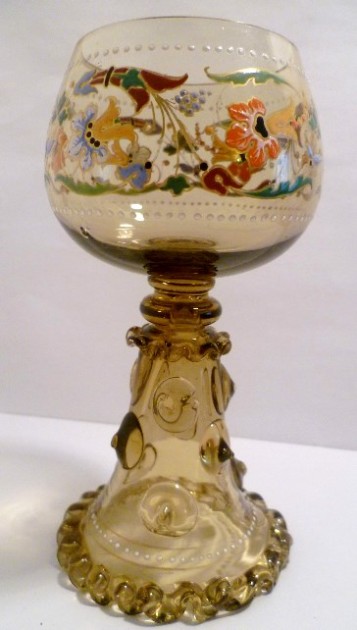 9 inches tall with a little bit of everything on it.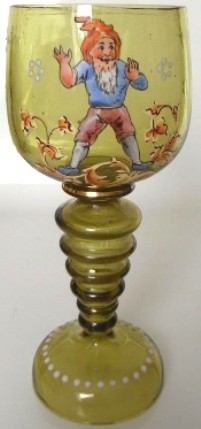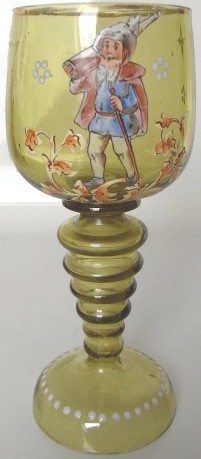 .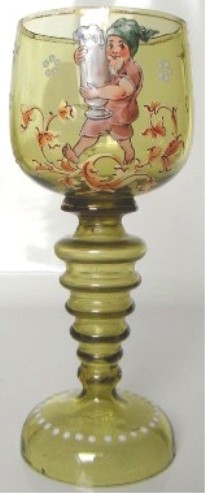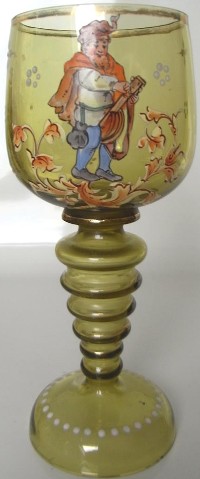 Set of four roemers with enameled "zwergs" (dwarfs/ gnomes.)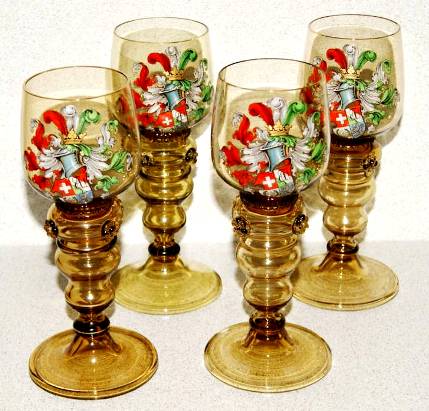 A set of 4 for a German dueling society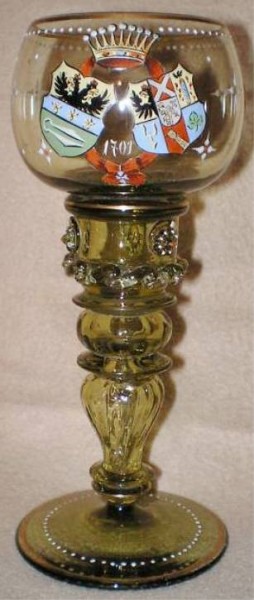 10 5/8th inches with  two coat of arms linked together by a red ribbon. Possibly a wedding goblet.  [SD]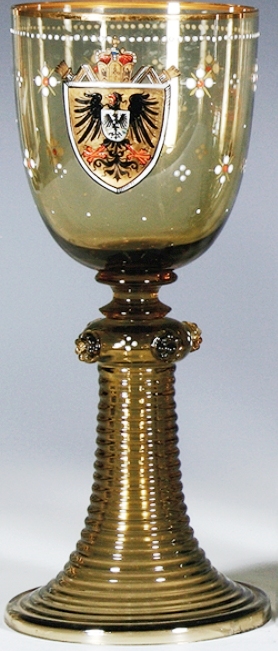 The Imperial Adler.  The eagle was produced  in about 20 different sizes and widths. [FWTD],  [tsaco] –
 A city of Hamburg souvenir. TH also made these in great numbers and different sizes.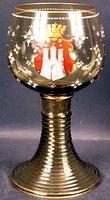 Very interesting  and bright decor. I don't know if this is a family's Coat of Arms, or just fantasy.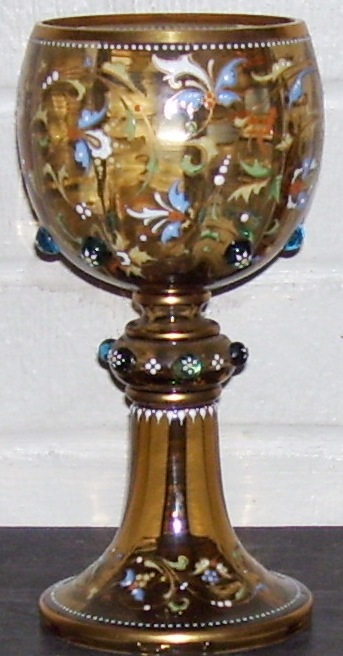 With a slightly different pattern than that usually found with the gold leaves and flowers. [FWTD]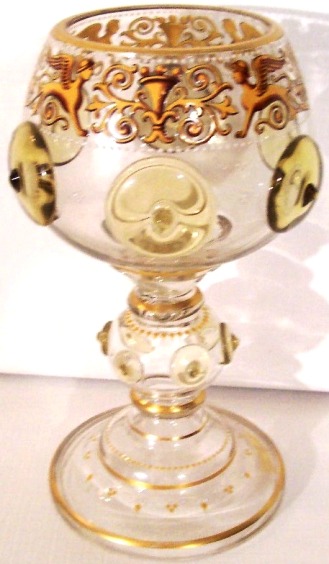 With an ancient Greek motif [FWTD]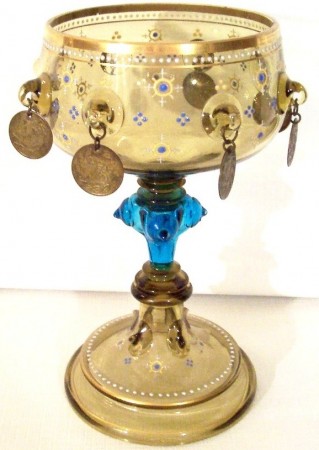 Comes with unknown country's copper Mideastern coins. [FWTD]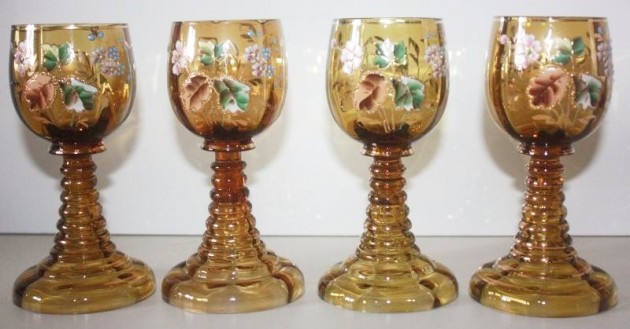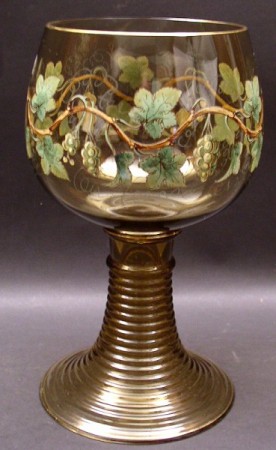 A pretty typical roemer celebrating the grape. Most probably Theresienthal's  work.
I think these "Red Seals" are Theresienthal's work also.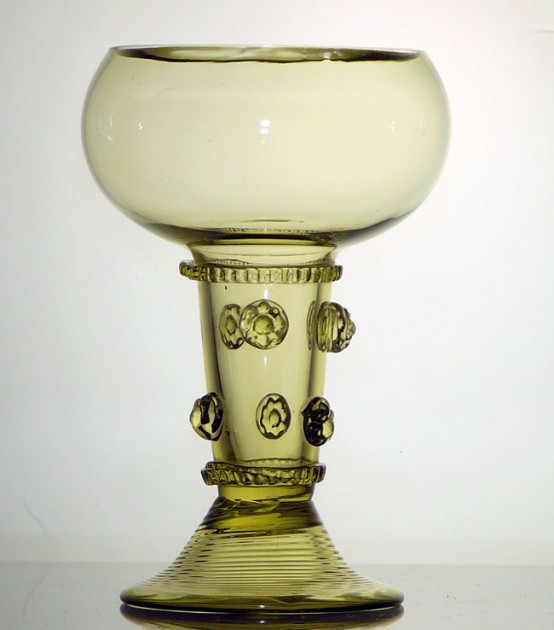 Olden style roemer, but a  Theresienthal Form number 490 II,  only 4.4 inches tall.
I can't prove this, but I believe van Hauten' decorator shop, got most of their glass from Theresienthal. Shown a hand painted roemer with strange religious  / friendship scenes by "van Hauten."  
See page this web site: http://www.steveonsteins.com/friedr-van-hautens-enameled-drinking-vessels-many-examples-of-his-work
[L]  An 18.5 inch tall punch bowl, part of a set. [R] One of the matching roemers in the set.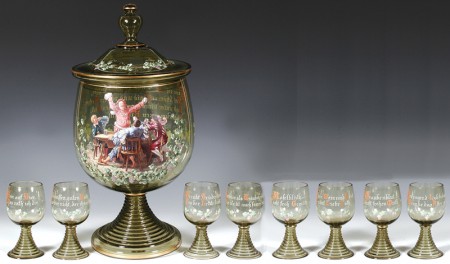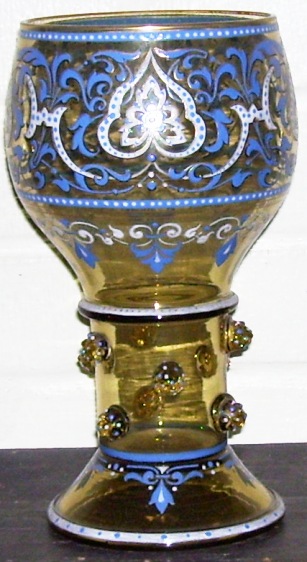 A very well done roemer. I believe it to be Theresienthal's work, or perhaps Josephinenhütte.  [FWTD]
Below: Some newer TH roemer designs: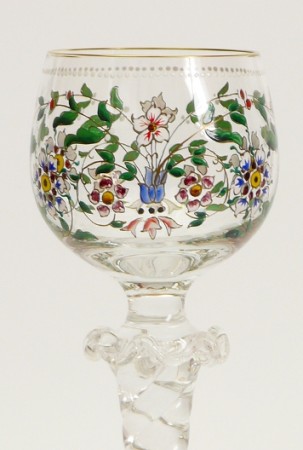 .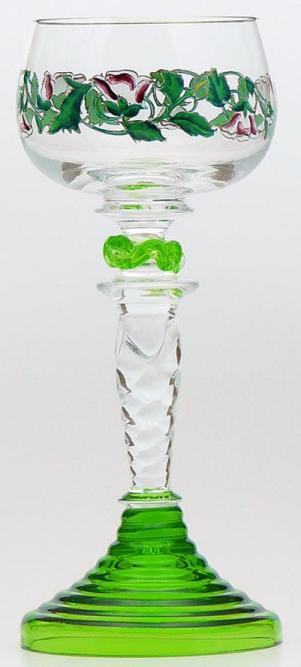 Roemer,  7.0 INCH,  FORM  3435
____________________________________________________________________
LIMITED EDITION – THERESIENTHAL ROEMERS – BY YEARS,
NOT MUCH DIFFERENT FROM THE OLD ONES.
YEAR 1998
..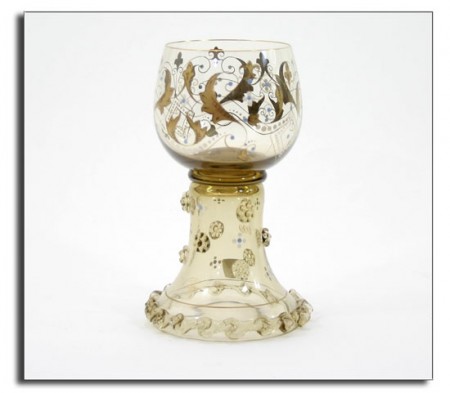 YEAR 1999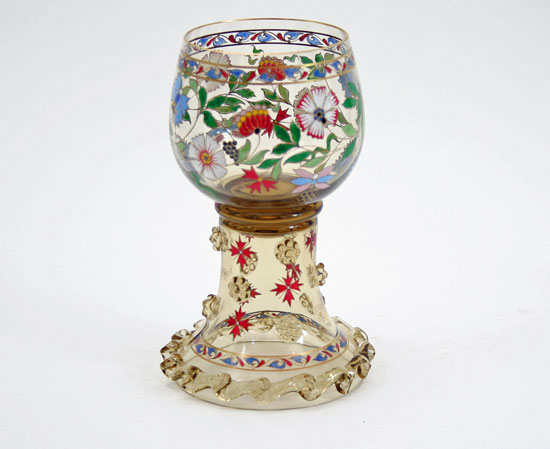 YEAR 2000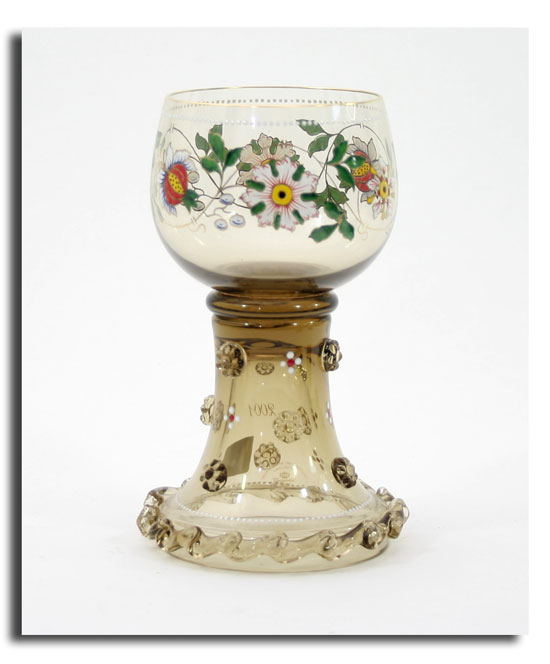 YEAR 2001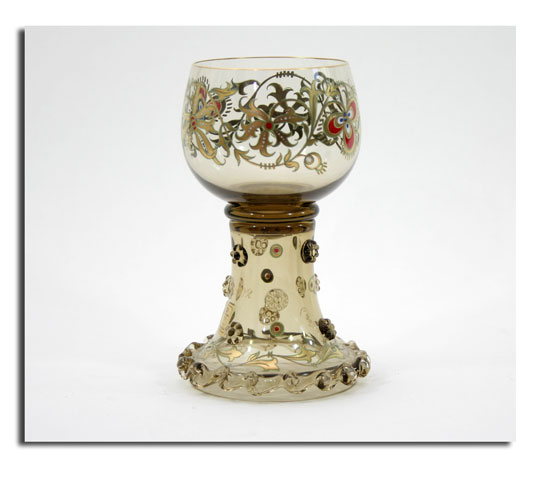 YEAR 2002
.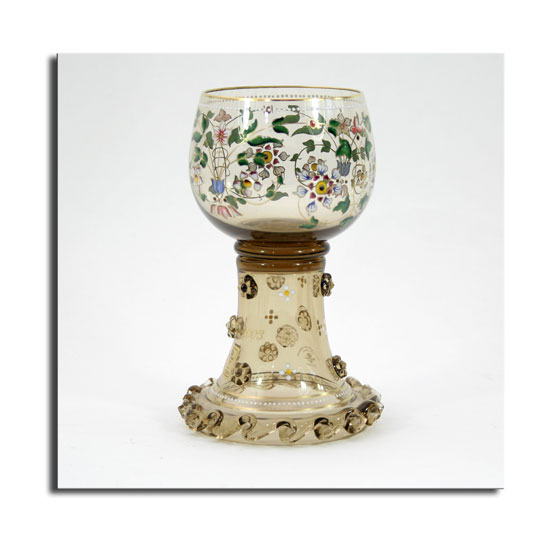 YEAR 2003
BELOW: A private collection of Theresienthal roemers   Courtesy of "Joerg",  a serious TH collector living in Germany.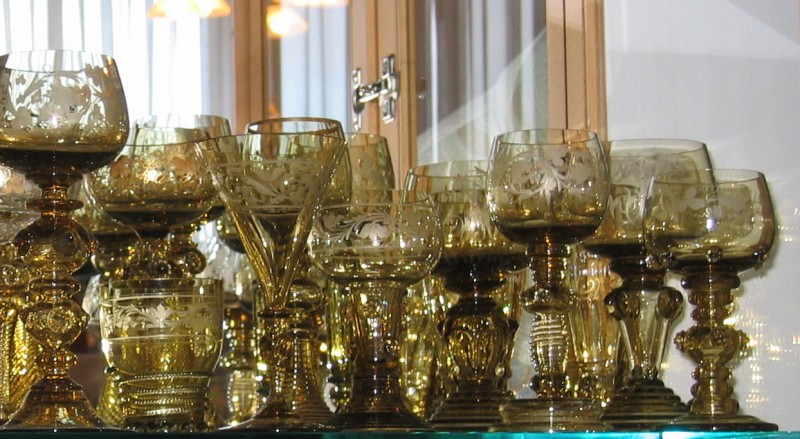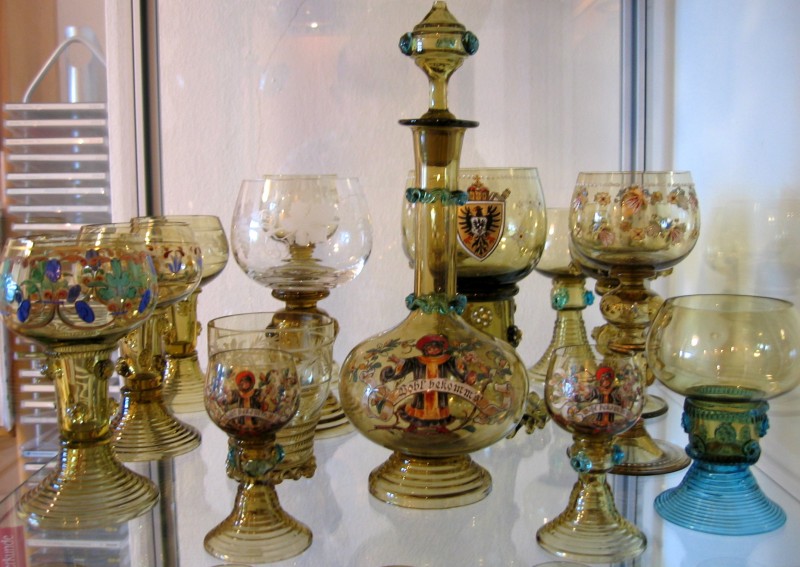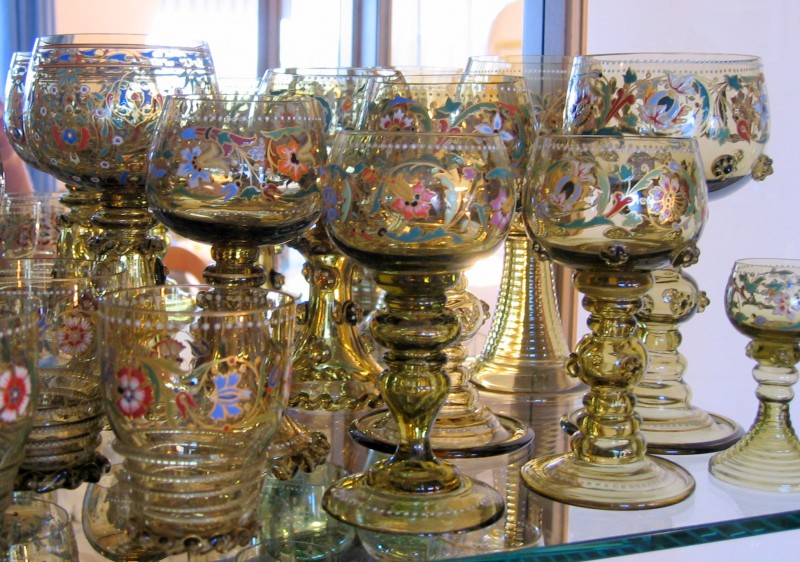 .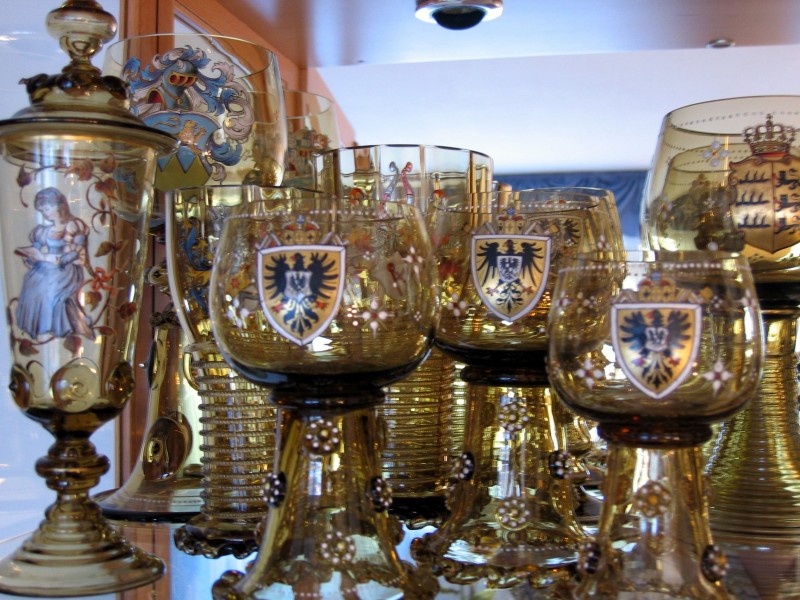 What a great collection! Thank you for sharing Joerg!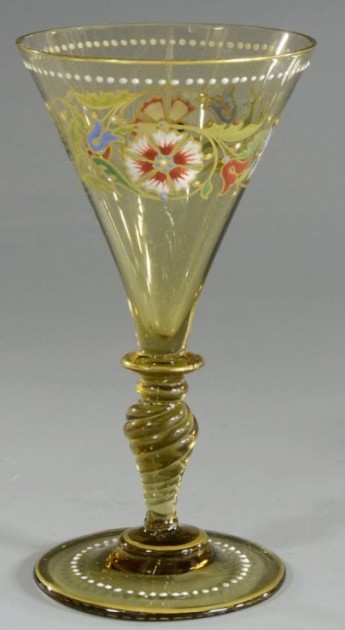 While not a roemer, I felt  this  4.75 in. ht., cordial deserved a little recognition.
[END – SP104 – 54 – R5]

  "I didn't fight my way to the top of the food chain to be a vegetarian!"
,