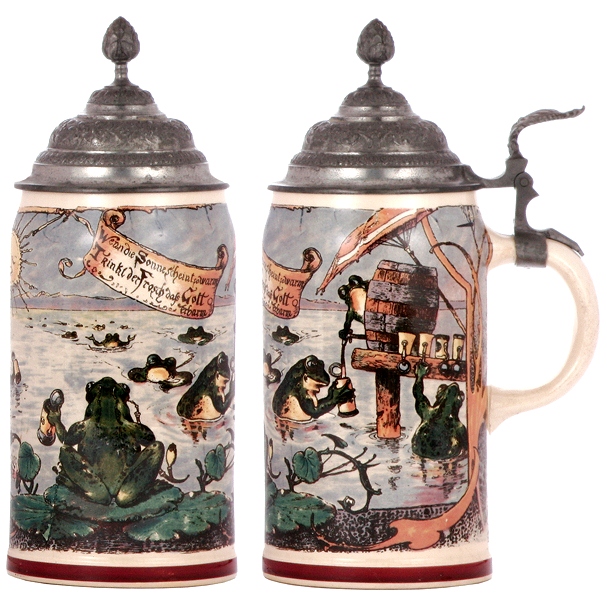 .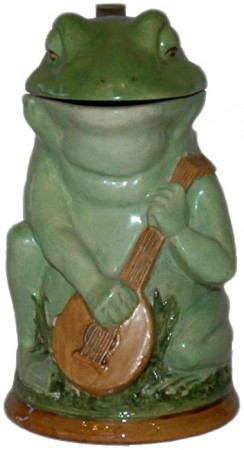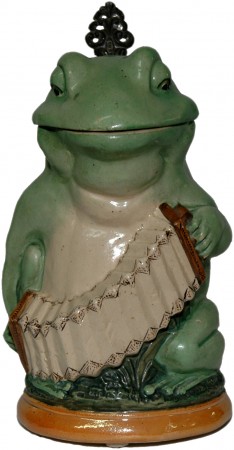 [ L] " Common Hanke"  Frog [DH]        [R]  -" Rare Hanke" Frog [DH
Frogs / frosch   are frequently depicted on beer steins, and while they don't have specific symbolic meaning, they do suggest a life immersed in fluid, as shown above on the V & B stein.

("Willst du nicht dem Frosche gleich im Sumpf versinken steige in Gambrinus Reich wo volle humpen winken." = If you don't want to sink into the swamp like a frog, climb into Gambrinus' empire where full steins beckon. Quoted from:  "The Symbolism of Animals  Appearing on German Beer Steins " compiled by Walt Vogdes, SCI Library.
One of the most common questions is, "What is the difference between Frogs and Toads?" 
Most are surprised to hear that all Toads actually are Frogs! Hey, I'm not making this up! See: http://allaboutfrogs.org/weird/general/frogtoad.html    –
Shown: Full color version of Dumler and Breiden's pottery, .5 liter, called: "The Roman Frog Beer Stein." [3 others photos shown below.]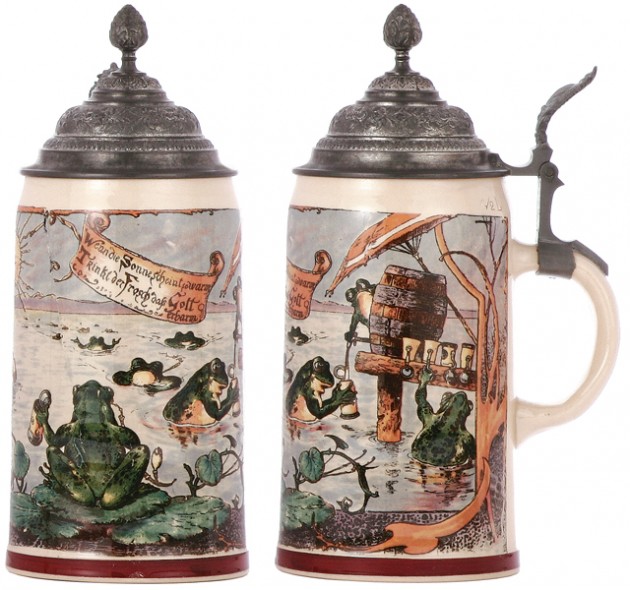 V & B Mettlach, .5L, 1038 (1909), PUG, scene by H. Schlitt.
    
[L]  .5 liter pottery character, an older one. Marked "GERMANY." Frog is 7 inches tall. Maker being researched. Very close in appearance to the Germscheid to the right  [R] Common Girmschied Frog [DH]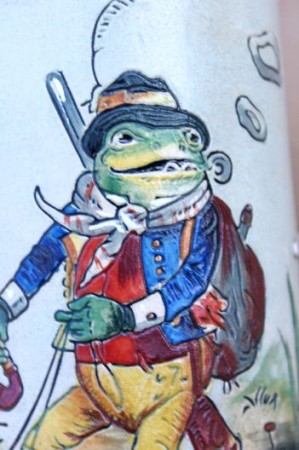 "Frog Went A-Courtin"

Written by:Traditional; Published: 1548; Written: Scotland; Language: English; Form: Nursery rhyme.] Below: One of the 1,000's of  versions out there:

"Froggie went a – courtin and he did ride, a – huh.  Froggie went a – courtin and he did ride, a – huh.
Froggie went a – courtin and he did ride,  Sword and pistol by his side, a -huh, a – huh, fare the well.
Well he rode down to Miss Mouse's door, Where he had often been before-
He took Miss Mousie on his knee, Said "Miss Mousie will you marry me?"
I'll have to ask my Uncle Rat, See what he will say to that?
Well, Uncle Rat laughed and shook his fat side, To think his niece would be a bride.
Well, Uncle Rat rode off to town, To buy his niece a wedding gown.

Where will the wedding supper be, Way down yonder in a hollow tree.
What will the wedding supper be, A fried mosquito and a roasted flea.
First to come in were to little ants, Fixing around to have a dance.
Next to come in was a bumble bee, Bouncing a fiddle on his knee
Next to come in was a fat sassy lad, Thinks himself as big as his dad.
Thinks himself a man indeed, Because he chews the tobacco weed.
And next to come in was a big  tomcat–
He swallowed the frog and the mouse and the rat!"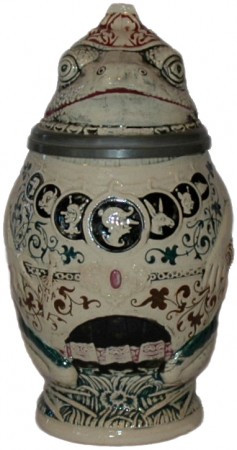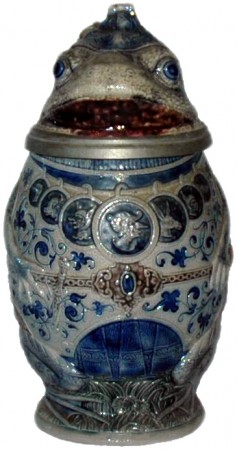 Comparison of color schemes. [Both DH's] –    I have seen other photos of this frog to the right , his lower lip is colored like that on purpose. (This one looks like a Friday stein!)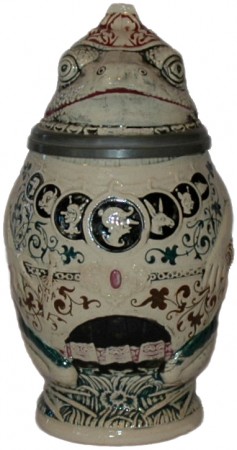 [DH]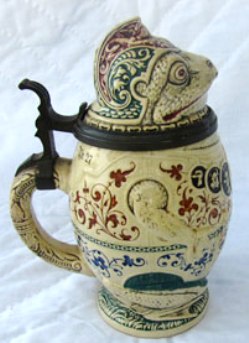 Three  versions of one stein base from the Dumler and Breiden pottery firm;  .5 liter, called: "The Roman Frog Beer Stein."
f
A frog telephoned the Psychic Hotline and was told, "You are going to meet a beautiful young woman who will want to know everything about you."
The frog said, "That's great! Will I meet her at a party, or what?"
"No," said the psychic, "Next semester in her biology class!"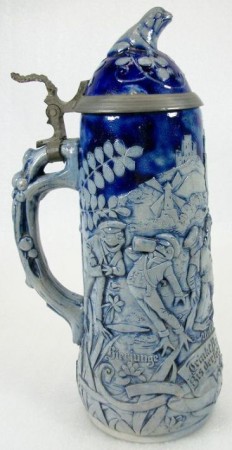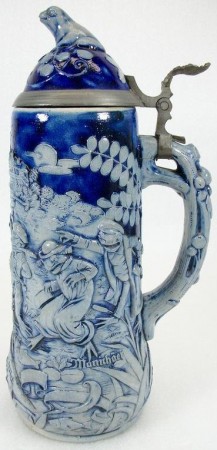 A 1 liter blue and gray Westerwald stoneware stein. Ceramic lid insert of a frog.  "Drink Brother Drink, Until The Last Drop" is on the banner.  It's a full moon when the frogs came out to drink: Two frogs are drinking (left), two 'student frogs' are having a duel (one with a cigar in his mouth)  and on the right side, the "Bogs Inn and  Tavern's bartender is throwing one frog out of the bar!  The item is stamped 'Germany' on the bottom and  near the bottom of the handle is a number 11195.  Maker unknown to me. A very interesting "frog" piece.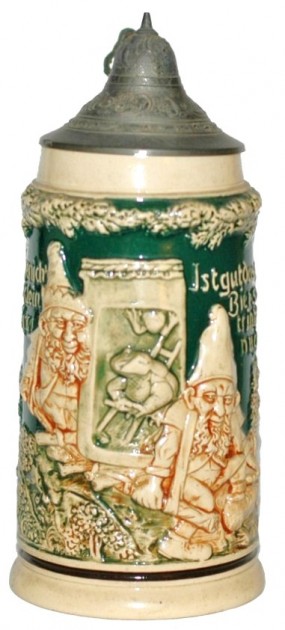 Two gnome transporting "The Weather Frog" in his jar. The fairer the weather the higher the frog will climb the ladder.
Storm coming? He's down in the bottom, in the water!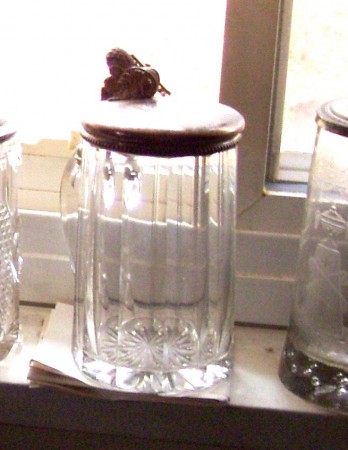 Photo of a weather frog on his ladder. Cast in enameled (.800) silver, on a silver lid. Cut clear glass with faceted sides. Bohemian Ca. 1860.
[EX-FWTD]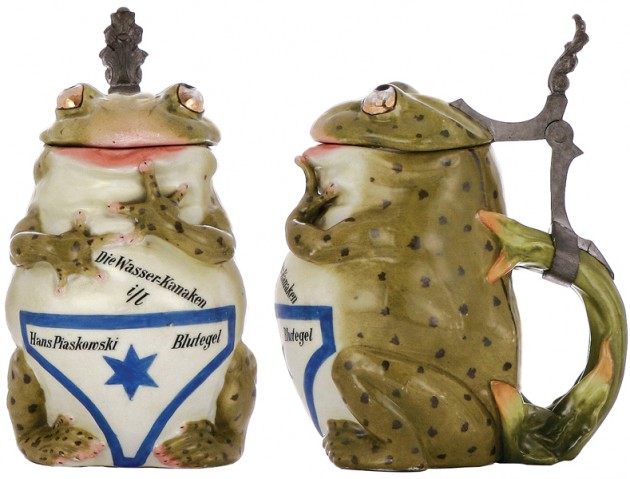 This stein is a "special order" made for a swimming group called " Die Wasserkanaken"  Each member's name is on the white suit rigth side facing the frog. [Source: Editor's article in PROSIT, Dec 2008    Made by Sheirholtz.  The mark on it is  'MUSTERSCHUTZ' = Registered design.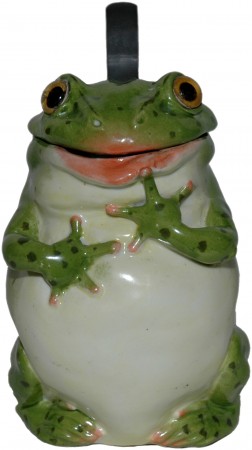 The plain Schierholz Frog. .5 liter. It comes  with glass eyes [DH]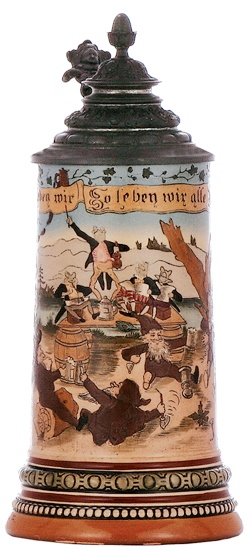 The frog is the orchestra leader on "HR" No. 419
 In medieval Europe, toads were viewed as evil creatures whose blood was a potent poison and whose body parts had strange powers. Some of these views were created by writers from Classical Greece and Rome, whose opinions held great sway. Pliny the Elder imputed many strange powers to toads: a toad's presence will silence a room full of people; a small bone from a toad's right side will keep water from boiling; a bone from the left side will repel the attack of dogs.
A widely held superstition concerned the fabulous "Toad-Stone," a jewel that was supposed to be found inside the toad's head. This jewel, placed in a ring or a necklace, would heat up or change color in the presence of poison, thereby protecting the wearer from foul play. In Shakespeare's play As You Like It, the Old Duke says,
"Sweet are the uses of adversity which, like the toad, ugly and venomous, wears yet a precious jewel in his head."
Toads were also commonly seen as evil spirits, or as the "imp" or "familiar" who accompanied witches, assisting them in their evil designs. These familiars could also be cats, crows, insects, or dogs. In the annals of the witch trials at St. Osyth (England), Ursula Kempe's young son testified that one of her four familiars, a black toad named Pigin, had once called illness in a young boy. Toads were also popular as poisonous ingredients in potions. It was said that "the women-witches of ancient time which killed by poysoning, did much use toads in their confections." Male witches were also purported to use toads for their poisonous magic. Such folklore and popular mythology is the result of Inquistion propaganda and does not reflect Pagan religions.
(http://www.exploratorium.edu/frogs/folklore/folklore_2.html)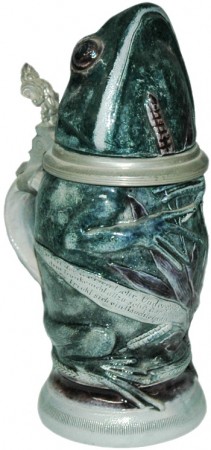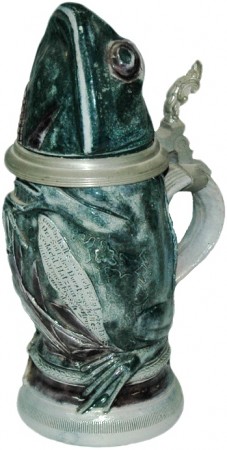 (A very rare one says D. Harr)  = .5 liter, saltglazed stoneware FROG (two views.) Unknown maker. [DH]
This is Steve's most favorite frog stein.

Now if we slip across the "Channel" for another bit of  ale / beer drinking history. The Brits have been making mugs with frogs in them for a long time. Assuming  the drinker(having never heard of this)  would be drinking his ale, when low and behold there was "a frog in his grog" might be a little startled!   A few German firms did this to steins over the years also. These are fairly hard to find.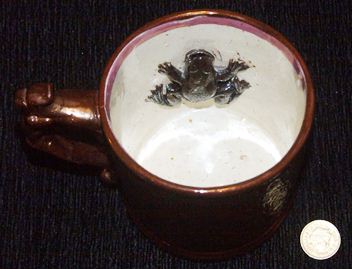 This copper lustre mug is 4″ tall, and 6″ wide including the handle. It  dates from around 1840. British, from Staffordshire or Sunderland. [DARREN B]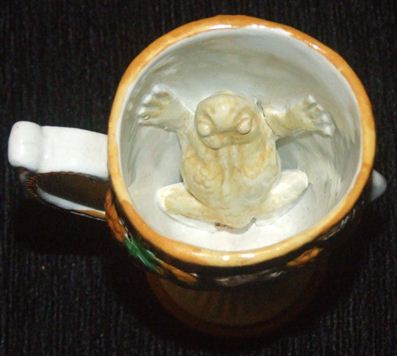 A "Satyr" mug, English, 5 inches tall. It has typical Prattware colors,  not marked (as much early English pottery wasnt, but they are always described as Prattware. Dates from around ca. 1800,  5″ tall.  [DARREN B]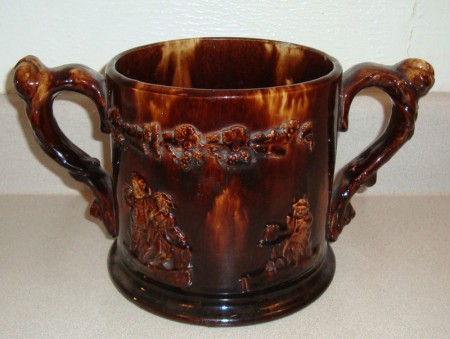 .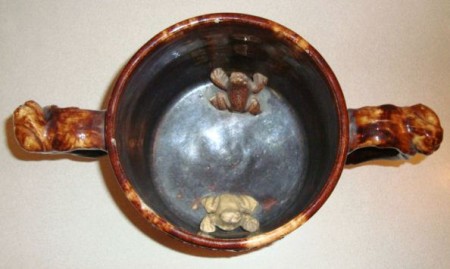 Shown above: A 'Rockingham" pottery two handle "Tyg" (pass cup), with not one,  but two small ceramic frogs inside! Very rare piece, should you collect Rockingham or frogs!  The factory was located in Swinton, near Rotherham, South Yorkshire, England
This inside the mug frog tradition still exists today albeit somewhat modified just a bit at times. Below is a brand new pewter beer/ ale mug with a small pewter frog  attached to the side of the mug. I'm  not certain it would have the same effect the old ones did!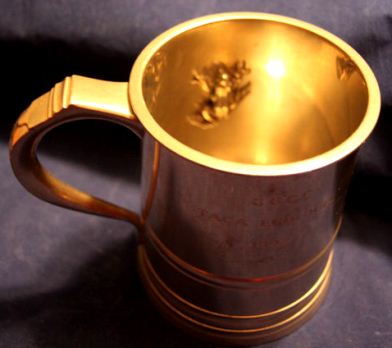 HOW TO PISS OFF A FROG!  WATCH IT ALL THE WAY .FUNNY!
https://www.facebook.com/photo.php?v=3649169309116
Meanwhile, back to the old days of "The Fatherland":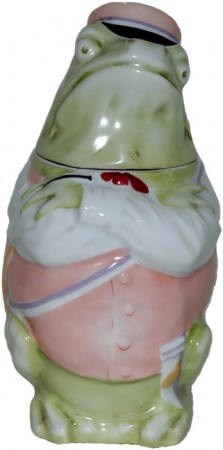 A Bauer, .5 liter porcelain frog stein.  [DH]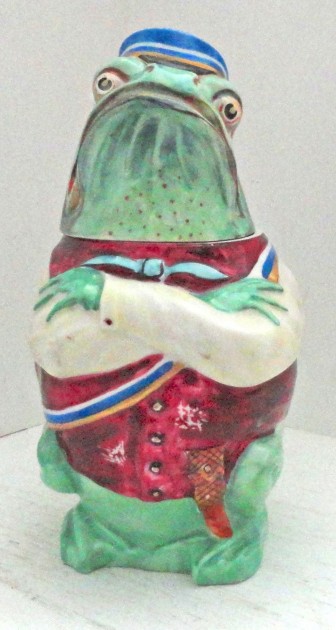 My friend and fellow collector  Jerry Berg,  has this version of the student frog  in his collection and sent me these photos of it.
Notice the  Frog;s dueling society's shash has different collors than David;s shown  just above, as well as the "frog " on his belt line.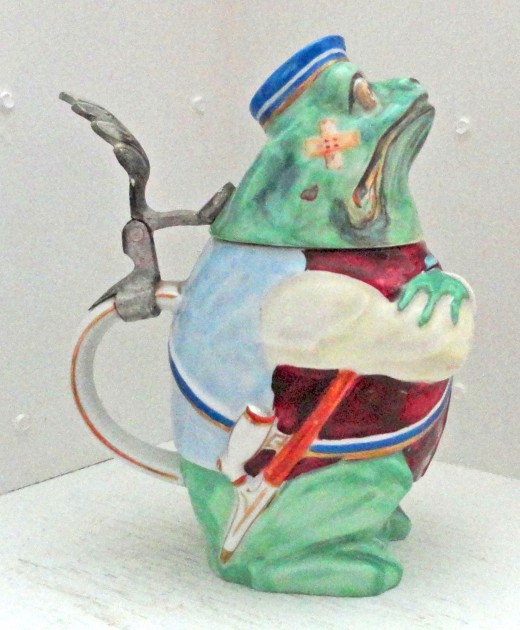 This character student frog stein  because it is a "triple cross over" piece is extremely  hard to find.
.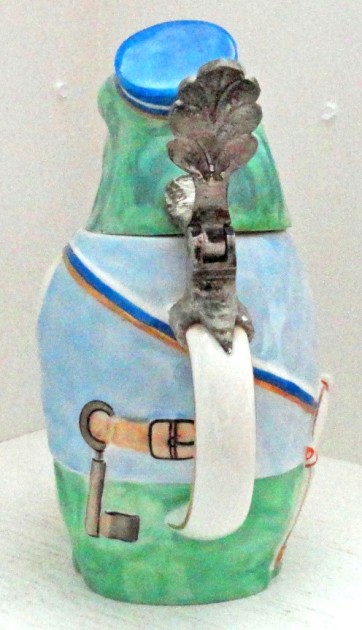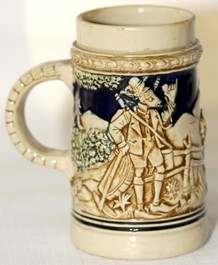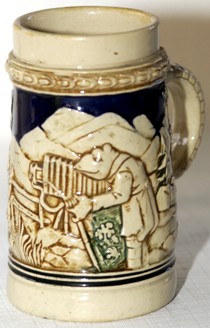 A .25 pottery relief  "Kinder mug" – showing a frog photographer. For more on the German "kinder mugs and steins," please see: 
http://www.steveonsteins.com/kinder-steins-page-1-13rd-of-article-text-only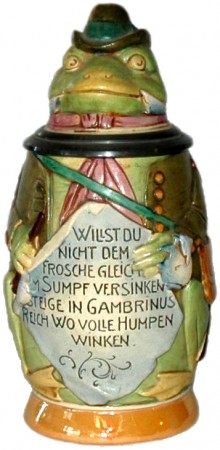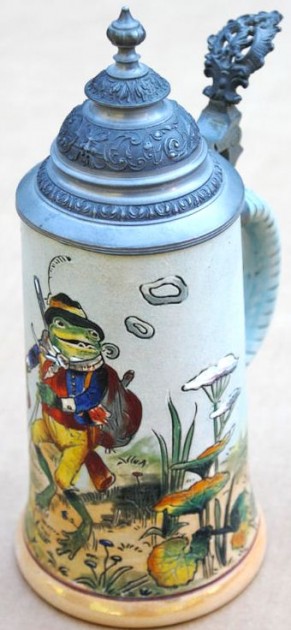 [L] Circa 1910,  J W Remy pottery frog.  [R] .5 liter, incised stein by Merkelbach and Wick, blowing smoke rings. (Detail shown far  above.) Check out how closely the two are dressed, items, not colors.
A nationally known political writer, TV "talking head," editor, and sometimes stein collector happens across a frog in the middle of the road. So he stops his car, gets out, and picks the frog in the road up.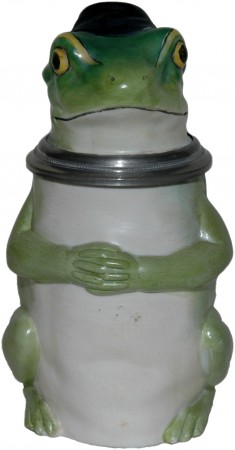 The frog pipes up, "I'm really a beautiful princess and if you kiss me, I'll hang out with you for a week". The editor shrugs his shoulders and puts the frog in his pocket.
A few minutes later, the frog says "OK, OK, if you kiss me, I'll be your girlfriend for a week.".The middle aged  man nods and puts the frog back in his pocket.
A few minutes later, "Turn me back into a princess and I'll be your girlfriend for a whole year!"  The guy just smiles and walks on.
Finally, the frog says, "What's wrong with you? I've promised lots of fun with a beautiful princess for a whole year and you won't even kiss a frog?"
"I'm a  writer and traveler he replies.  "I don't have time for women but a talking frog for my collections, now that's  pretty neat!"
Shown: E Bohne Frog [DH]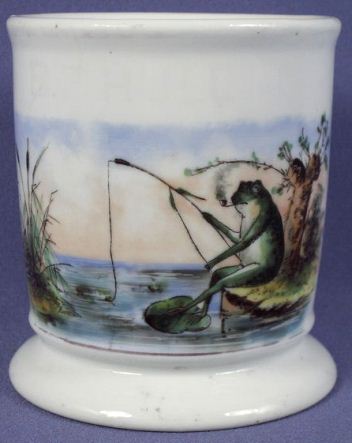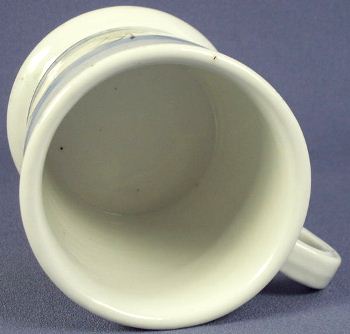 Old time hand  painted porcelain mug. While it could be used for beer, I believe this little guy was made for use as  a shaving brush holder / a shaving brush mug.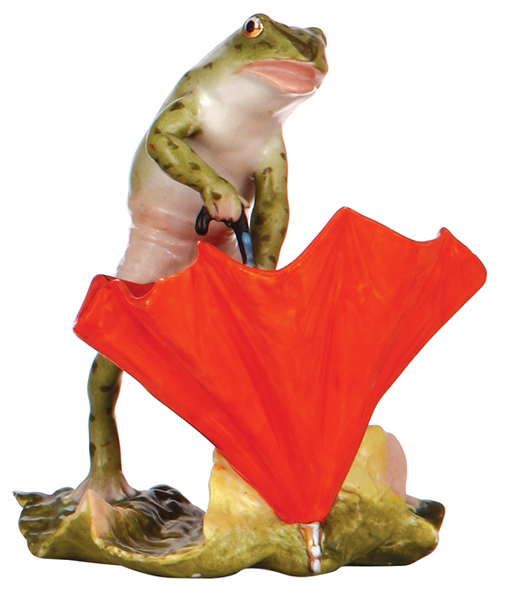 Some stein collectors also like to buy "Go Withs", so here's a little (6.5inches tall) Schierholtz porcelain frog who is not "under the weather" any longer! 
It seems there were two frogs sitting on a lily pad, when all of a sudden, a fly came along. One frog put out his tongue, ate the fly, and started laughing hysterically. Soon the other frog joined in the laughter.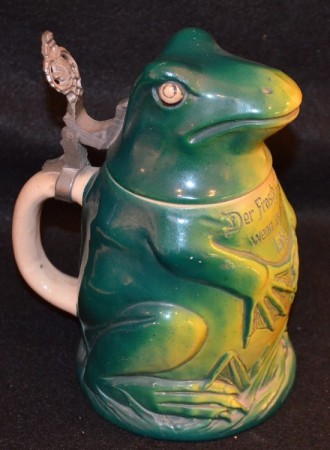 Later in the day, the other frog ate a fly and the two frogs burst out in laughter. As time went on, the frogs enjoyed the flies so much that the sight of a fly would cause them to double up with pleasure (if it's possible for frogs to double up!). But of course, the most pleasure came when the fly was actually eaten.
A third frog hopped up to the first two and asked what was so funny. The first frog answered "Time." "Huh?" asked the third frog. The second frog explained:
"Time's fun when you're having flies!"
Above [L] .5 liter pottery Character Frog.  New = Circa 1970-80.  [R] One of the newest entries into the Frog Character stein group is this little fellow, Circa 2000. Unknown maker at present.

Budweiser Beer (USA) revived the Frogs and Beer combination in historic proportions on December 31, 2006 !
See it here:  http://www.youtube.com/watch?v=pVcbasIb8lQ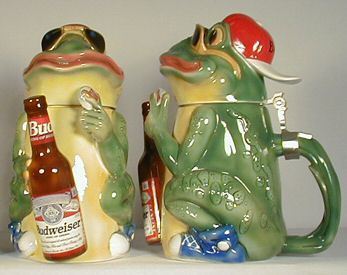 NEW- Budweiser Frog Character Stein CS301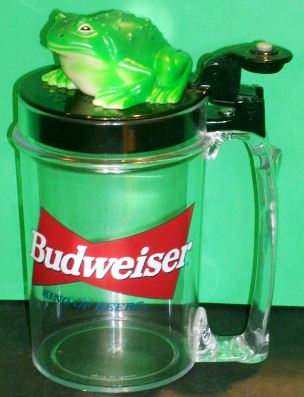 Budweiser 's "Talking Frog" mug. 6.1/2 inches high. Instal batteries, push button on top and it says "Budweiser" in a frog's voice.

 AND LAST (and my favorite frog story!)

"FELIX THE FLYING FROG" A PARABLE ABOUT SCHEDULES, CYCLE TIMES, AND SHAPING NEW BEHAVIOR:
Once upon a time, there lived an old Dutchman man named "Hans" who had a pet frog named "Felix."
Hans lived a modestly comfortable existence on what he earned working in the red light district of Amsterdam collecting the used towels and wash cloths, but he always dreamed of being rich.
"Felix!" he exclaimed one day, "We're going to be rich! I'm going to teach you how to fly!"
Felix, of course, was terrified at the prospect: "I can't fly, you idiot .I'm a frog, not a canary!"
Hans, disappointed at the initial reaction, told Felix: "That negative attitude of yours could be a real problem. I'm sending you to class!"
So Felix went to a three day class and learned about problem solving, time management, and effective communication but nothing about flying.
On the first day of "flying lessons", Hans could barely control his excitement (and Felix could barely control his bladder.). Hans explained that their apartment had 15 floors, and each day Felix would jump out of a window starting with the first floor eventually getting to the top floor.
After each jump, Felix would analyze how well he flew, isolate on the most effective flying techniques, and implement the improved process for the next flight. By the time they reached the top floor, Felix would surely be able to fly.
Felix pleaded for his life, but it fell on deaf ears. "He just doesn't understand how important this is ." thought Hans, "but I won't let nay-sayers get in my way."
So, with that, Hans opened the window and threw Felix out (who landed with a thud!)
Next day (poised for his second flying lesson) Felix again begged not to be thrown out of the window. With that, Hans opened his pocket guide to "Managing More Effectively" and showed Felix the part about how one must always expect resistance when implementing new programs.
And with that, he threw Felix out the window.  (Another THUD)
On the third day (at the third floor) Felix tried a different ploy: stalling, he asked for a delay in the "project" until better weather would make flying conditions more favorable.
But the old Dutchman was ready for him: he produced a timeline and pointed to the third milestone and asked, "You don't want to slip the schedule do you?"
From his training, Felix knew that not jumping today would mean that he would have to jump TWICE tomorrow so he just said: "OK. Let's go." And so out the window he went.
Now this is not to say that Felix wasn't trying his best. On the fifth day he flapped his feet madly in a vain attempt to fly. On the sixth day he tied a small red cape around his neck and tried to think "Superman" thoughts.
But try as he might, he couldn't fly. By the seventh day, Felix (accepting his fate) no longer begged for mercy he simply looked at Hans and said: "You know you're killing me, don't you?"
The old guy pointed out that Felix's performance so far had been less than exemplary, failing to meet any of the milestone goals he had set for him.
With that, Felix said quietly: "Shut up and open the window," and he leaped out, taking careful aim on the large jagged rock by the corner of the building And Felix went to that great lily pad in the sky!
Hans,  the Dutchman  was extremely upset, as his project had failed to meet a single goal that he set out to accomplish. Felix had not only failed to fly, he didn't even learn how to steer his flight as he fell like a sack of cement nor did he improve his productivity when he, Hans,  had told him to "Fall smarter, not harder."
The only thing left for Hans to do was to analyze the process and try to determine where it had gone wrong.
After much thought, Hans the Dutchman smiled and said: "Next time . I'm getting a smarter frog!"
PHOTO IN FILE
R- Frog  Merkelbach & Wick Lidded Stein no 1171, Z, Toad Smoking Cigar 1879-1921  PUT HERE
[END – SOK- RD – 48 -NO 3D ]


    "A bank is a place that will lend you money, if you can prove that you don't need it."
 ALSO RON FOX  CALLS IT Story of Princess Sangor = ?