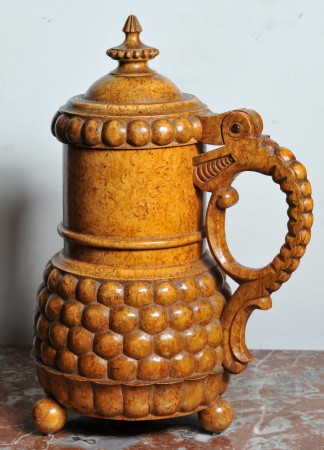 SEE DESCRIPTION BELOW:
There are way too many variables: condition, location, time of year, present trends in stein collecting, local (and now national) economics,  never seen before (therefore no comparables); but most of all = prior expectations by the owner, are among the reasons!
I have for over a year now placed these three short "notifications" at the bottom of each page.
I just do not have the time. My web site was really started as an informational site for beginning beer stein collectors that would be looking for the info and not the general public. This So if one put in "Wood Steins" or "Hand painted steins," it
---
WOODEN "BEAKED LID" BEER STEINS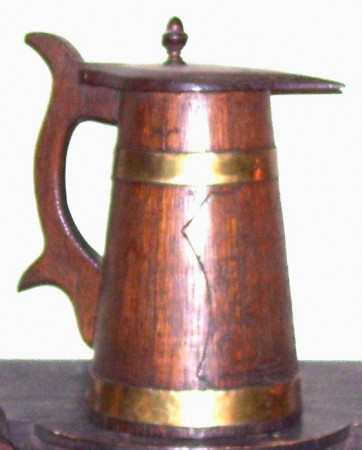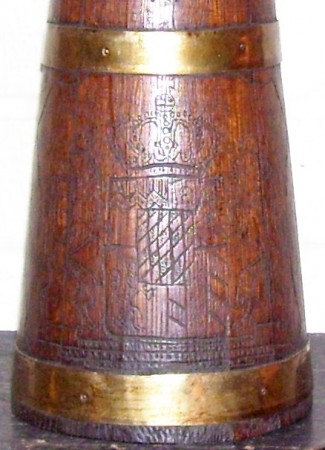 The typical brass bands, holding the staves together on this "dated 1909" hand made stein from Munich. This was given to me years ago by SCI's Master Steinologist Mike Wald (LI, NY) and I have treasured it ever since. The Bavarian Coat of Arms has been engraved on the front body of the stein. [FWTD]

Almost all of these type (beaked) wooden steins were produced in Bavaria in the area around Munich, mainly in the time frame of 1850 to 1920.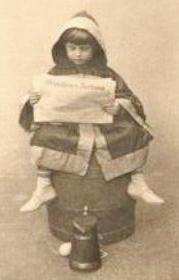 A copy of an old Munich postcard showing "The Maid" on a barrel, reading a paper with a wooden tankard, almost identical to the one above, just below her.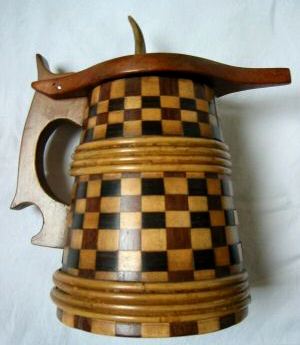 A hard to make checker board pattern  'beaked lid'  wooden stein. Circa 1920.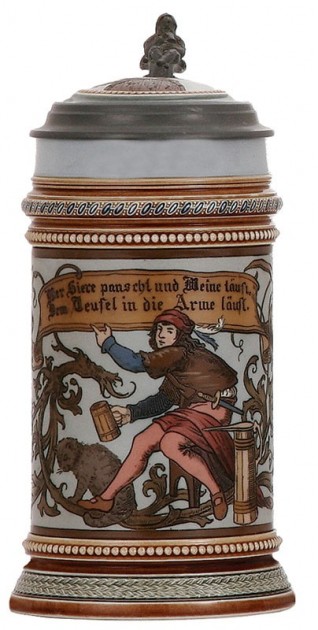 ▲  ▲A V & B, Mettlach stein, No. 1947 showing a beaked wooden stein to the lower right of the scene, and about as tall as  the one shown just below.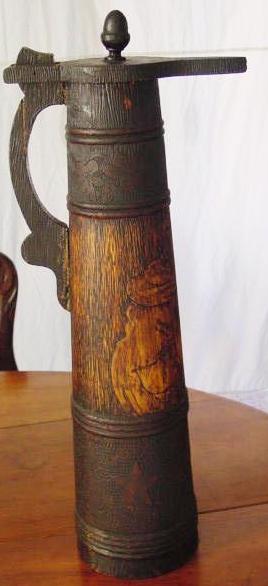 Several of these "beaked lid " steins were produced in pyrography kits for the young adults. This one is 22 inches tall, and lots of these were made as souvenirs, such  as shown  below  ▼


▲  ▲This example is more professionally made.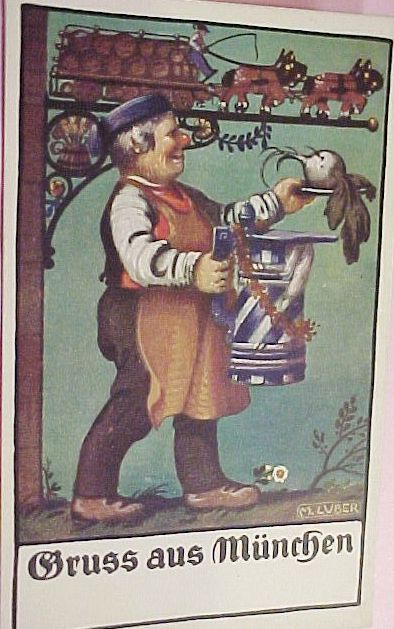 A print showing a painted "beaked lid " stein with the Bavarian colors of Blue and White (really silver.)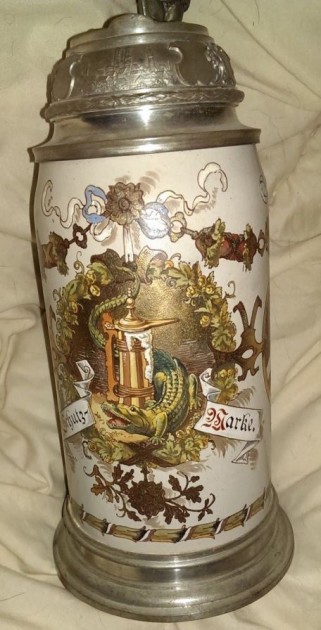 BEAKED STEIN WOODEN STEIN – LID FROM PEWTERER J. LICHTINGER, MUNICH.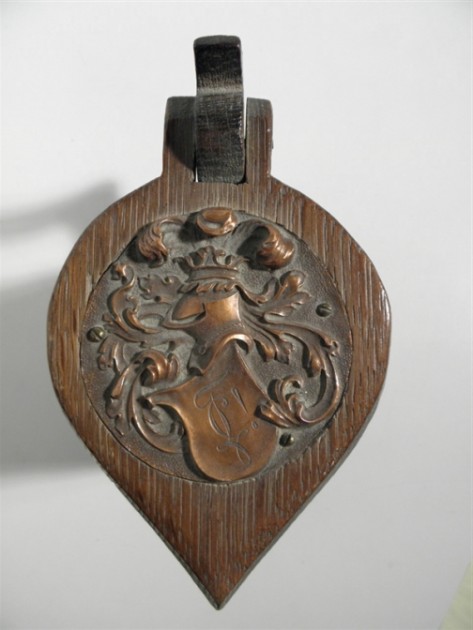 BEAKED WOODEN DUELING STUDENT STEIN lid , UNUSUAL BEAKED WOODEN STEIN WITH BRASS-STUDENT SYMBOL ( ZIERKEL) On shield. same body as first on this page.
---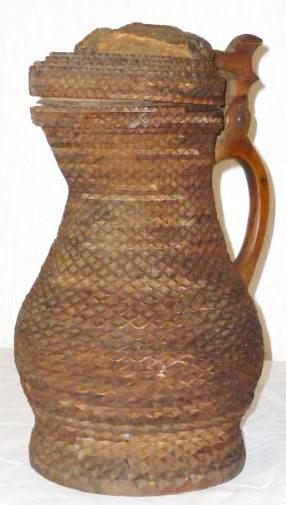 A "TRAMP ART" STEIN – About a one liter German "Tramp Art" stein. This would have to rate at a least as a  "7" on  the Smith-Parator Rarity scale. But please remember just because something is rare doesn't make it valuable! I do believe this is the only one I have seen in 42 years of collecting.
For a couple of very interesting article about the origins of "Tramp Art "and "The Real Tramps", I highly recommend:
[1] http://www.folkartisans.com/sup/tramparthistory.html
[2] http://www.folkartisans.com/sup/tramhist.html
and for another side of the story:
[3] http://www.catchwestbound.com/hoboTrampArt/index.php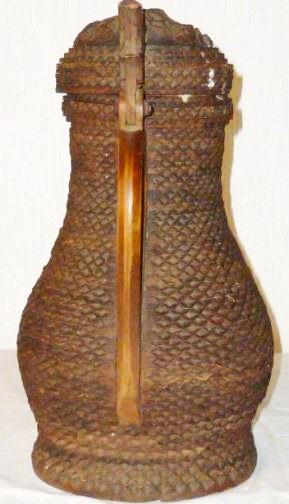 Given how thin the handle is, I am not at all certain. that this stein was made for use. Perhaps it was .but I think a display stein would be more likely its fate.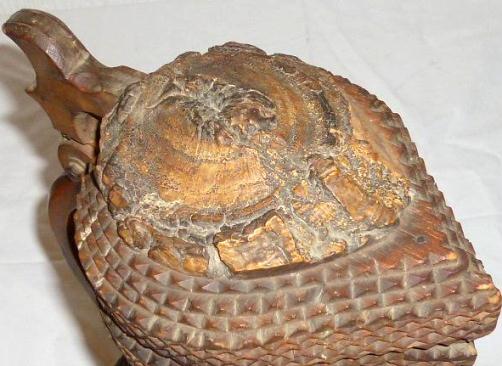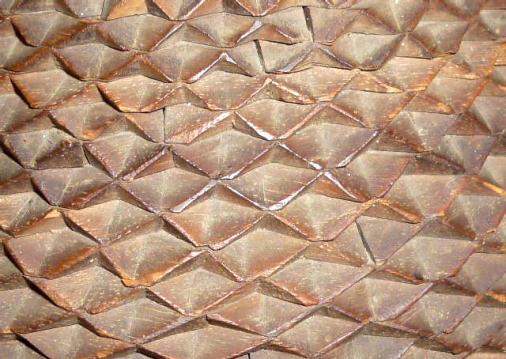 Detail of the "Tramp Art" carving ~ not as easy as it looks.
---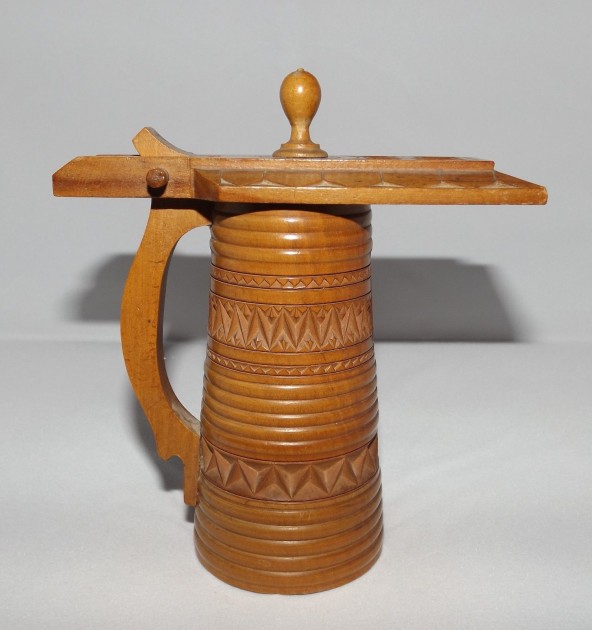 What appears at first glace to be a Bavarian beaked  lid stein is not. This is very unusual "chip carved"  Norwegian [I believe [or Dutch] "creation" .  I just had to included it for my reader's pleasure.  It is so unusual, I do wish this one was in the SM & T!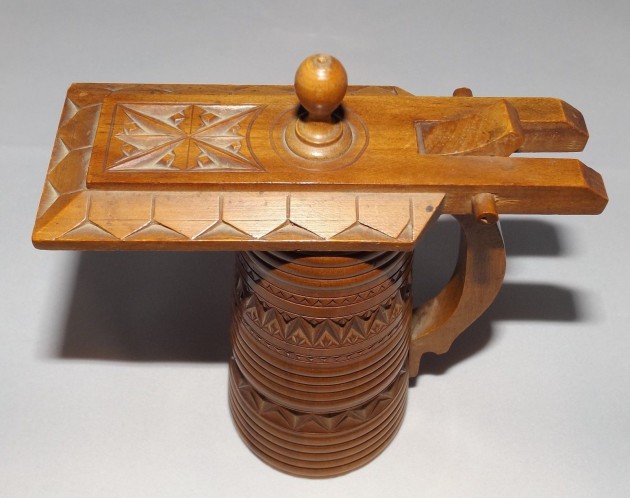 ---
SOME (SO CALLED ) BLACK FOREST STYLES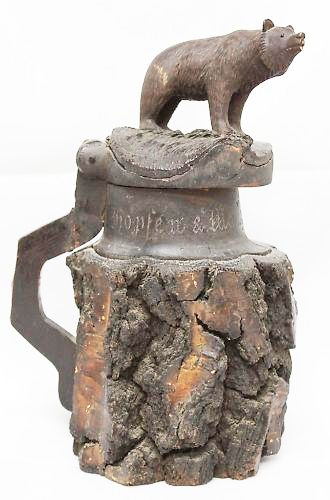 A very unusual,(and scarce) "Black Forest Hunting" type  hand carved beer stein. 9.5 inches with a carved verse: "Hopfen & Malz./ Gott erhalt's"  (Hops and Malt – God  preserve them.) Probably made more for display than use.

---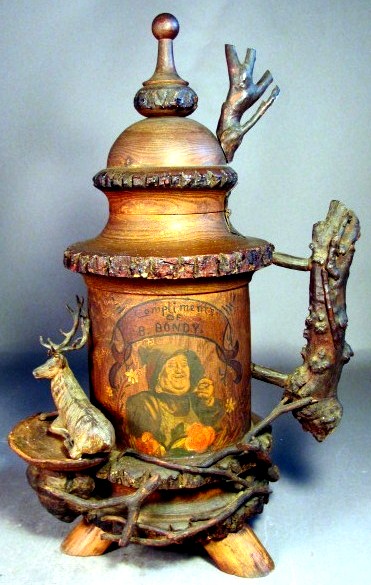 This pair of 18.5 inch hand made wooden steins was recently on eBay. No one  knows who B. Bondy was!
Talk about "folk art!"  (Assumed to be German only because of the painted spelter deer that were made there, pre WWII,  mostly for use in Christmas gardens.)
---
WOOD AND PEWTER,   "DAUBENKRUGS" (STAVED  TANKARDS)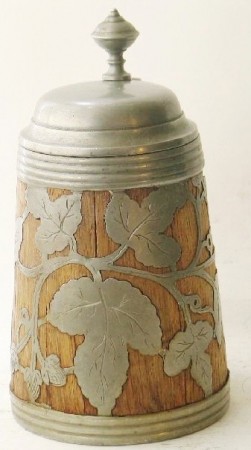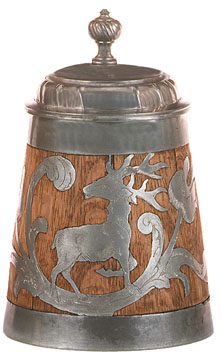 Above ▲: Two "newer" versions of Thuringian Daubenkrug, both about .75 liters. Made in the mid to late 1800's.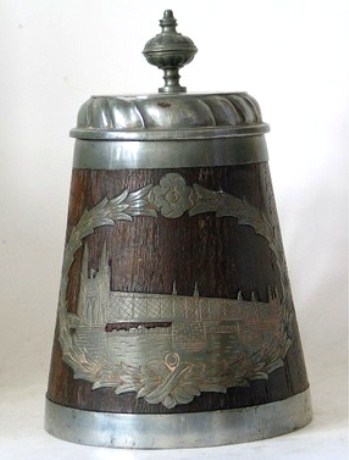 A .5 liter Daubenkrug , Ca 1880. This one is stamp marked: "J SEESTALLER," underside of lid,. Unknown pewtersmith location or history at this time (No info about him in Stein Marks either).
---
So where or what is Thuringia? (as in Thurigian Daubenkrug?) The THURINGIAN FOREST (Thiiringerwald), is a range of hills in Germany, extending in an irregular line from the neighborhood of Eisenach in the N.W. to the Lobensteiner Kulm on the Bavarian frontier on the S.E. On the S.E. It is continued directly by the Frankenwald Mountains to the Fichtelgebirge, while on the N.E. it approaches the Harz Mountains, and thus takes its place in the great Sudeticchain of central Germany. The length of the Thuringian chain is 70 m., and its breadth varies from 6 to 22 m. It nowhere rises into peaks, and only a few of its rounded summits reach 300×5 ft. The successive hills form a continuous comb; the north-west slopes are precipitous and seamed with winding gorges.
THE FOREST IS THE HEAVY AREA IN GREEN (THE DARKER AREA IN BLACK AND WHITE) TO THE S.E. OF EISENBACH RUNNING ALMOST TO THE CZECH BORDER.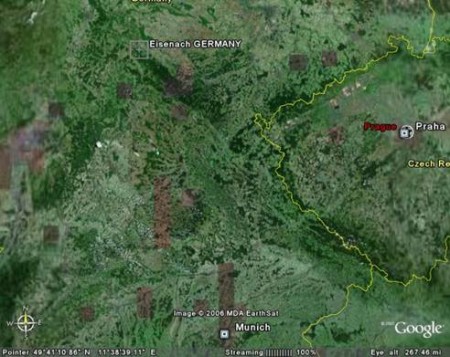 ["GOOGLE EARTH" PHOTO]
This range encloses many charming valleys and glens; the most prominent feature of its scenery is formed by the forests, chiefly of pines and firs. The north-west part of the system is the loftier and the more densely wooded as well as the more beautiful; the highest summits here are the Grosser Beerberg (3225 ft.), Schneekopf (3203) and the Finsterberg (3104), all in the duchy of Gotha.
The south-east part of the Thuringian Forest is the more populous and industrial; the chief summits are the Kieferle (2848 ft.), the Blessberg (2834 ft.), the Wurzelberg (2841 ft.) and the Wetzstein (2575 ft.). The crest of the Thuringian Forest, from the Werra to the Saale, is traversed by the Rennsteig or Rain-steig, a broad path of unknown antiquity, perhaps referred to in a letter of Pope Gregory III. dated 738. The name means probably " frontier-path "; and the path marks in fact the boundary between Thuringia and Franconia. http://1911encyclopedia.org/
It may be also regarded as part of the boundary line between north and south Germany, for dialect, customs, local names and costume are different on the two sides. The rocks are largely volcanic, the stratification being complex. The mineral resources have been nearly exhausted, but the district is an important center of small industries (glassware, earthenware, meerschaum-ware, iron castings and toys being among its principal products) and a favorite resort for tourists. (Compliments of the "1911 Encyclopedia":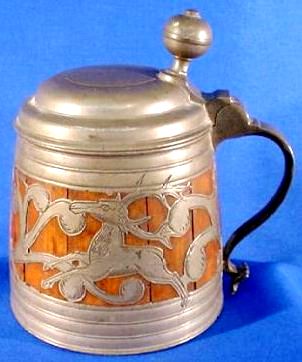 A Thurigian Daubenkrug.  5 inches tall. Circa 1780; with a very distinguishable handle end finial, usually in shield form.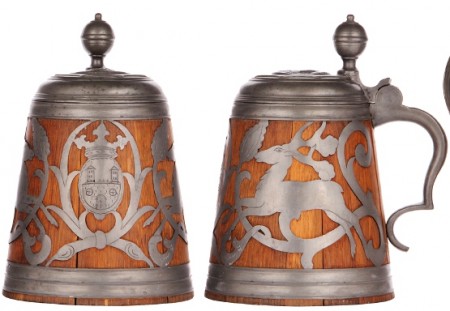 A typical Circa 1840-70's Daubenkrug, 2.0L, 11.5 "  ht. City Arms  on front with with stags on side scenes, relief pewter lid  with Maximilian Rex. [TSACO]

A rare Arthurian Daubenkrug with 3 ball feet. Germany. Circa 1750. I have only seen this one with the feet in 41 years of collecting.
Rare and extremely expensive!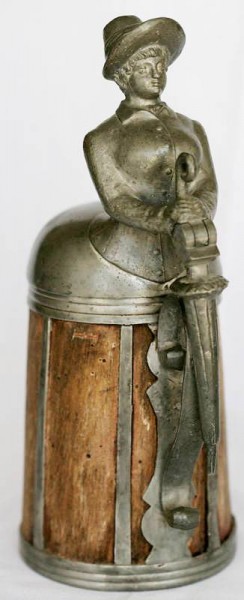 A Daubenkrug "Bustle Lady" character stein. German. Circa 1880. Extremely scarce.  [TSACO]
See: "Compendium – "B " for other Bustle Ladies.
---
F.  SANTESSON, STOCKHOLM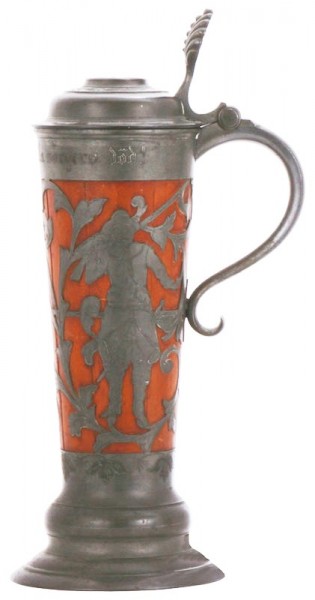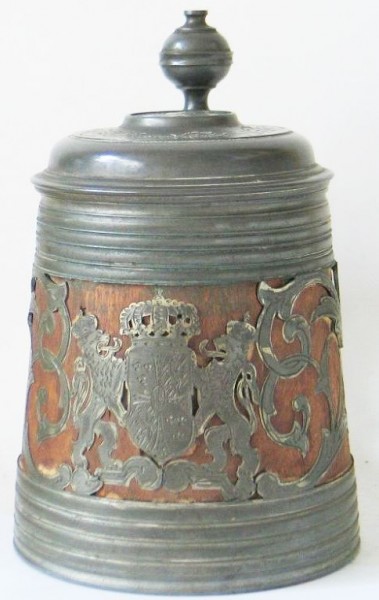 Some of the nicest late 1800's   Daubenkrugs were produced  by F. Santesson of Stockholm, Sweden in the late 1800's. Shown [L]  A tall one ( a little over a foot) in the roerken  form.  [R] A typical wood and pewter  stein from his shop showing the Swedish national arms (and not German as stated in "The Beer Stein Book.")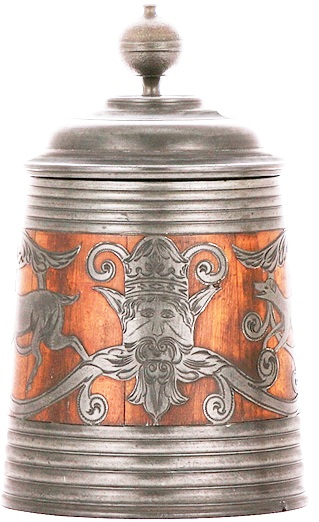 A very nice example by Mr. Santesson. Typical body and pewter work, with a great engraved Jester's head in front and animals on the sides. This version is very seldom seen. [FWTD.]
SEE ALSO PAGE:   http://www.steveonsteins.com/f-santesssons-till-eulenspiegels-daubenkrug-new-9-6-11
---
Other Misc . Pieces  – Non Daubenkrugs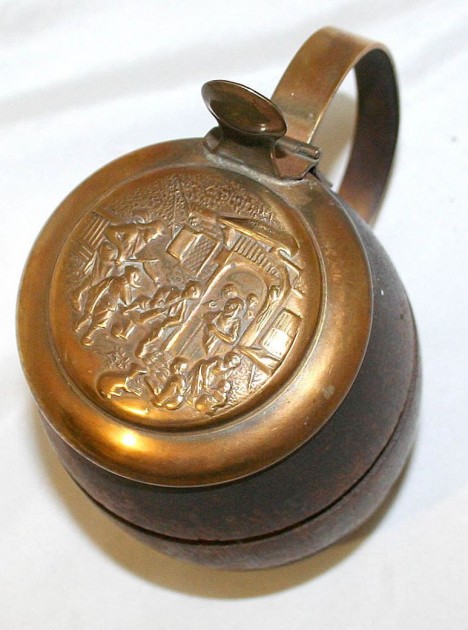 Dutch wooden stein, barrel form,  with a thin stamped brass lid, made very much like the Dutch wall plaques that celebrate drinking in the their taverns. ▼  ▼  Ca. 1870. While made to look like a stein I think it had to have another function as the lip is too thick to be useful in drinking beer.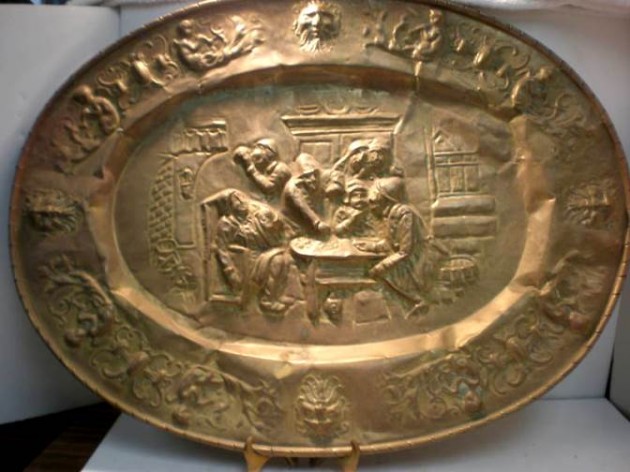 ▲ Dutch stamped brass wall charger  [go with] — 21  in  by 11 in.  This is older than the stein above.
---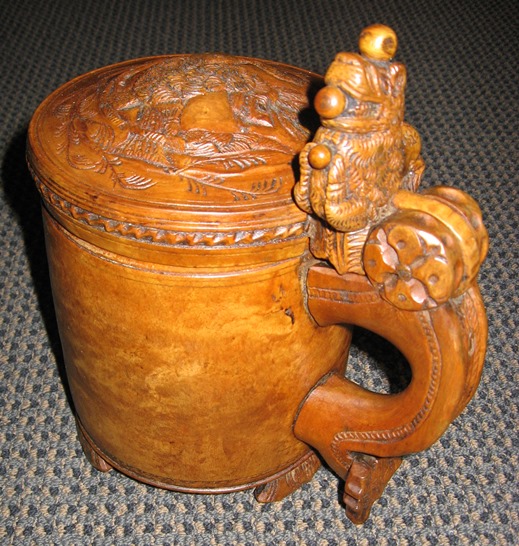 An extremely well done  Scandinavian  / Baltic States wooden stein  notice the second ball in his mouth [!] . Ca. 1700's.
---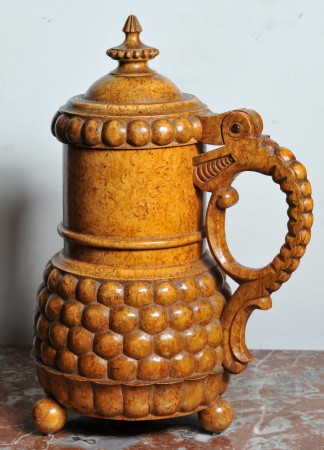 A very nice, latched finished, 13 inch tall Scandinavian / Baltic States  wooden stein with folk dragon as the handle. Circa 1820 -50.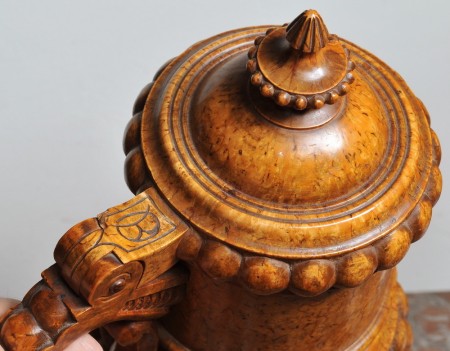 ---
▼  ▼ Just a short note about an old wooden vessel that well  might have been a stein some 400 years ago.
From the new York times–  through Google Published at 12:01AM, September 17 2012
Drinking habits in Shakespearean England may have led to some filthy hangovers,  judging by The very large volume wooden tankard found preserved in the mud of the River Thames.    A wooden tankard marked with the initials RH, pulled from the river bed in East London, can hold three pints, suggesting that its owner would routinely consume large quantities of beer in a single sitting. 
"The mug, **** which is made from beech, is thought to date from the late 16th or early 17th century.  It is the only surviving example from its era "
**** [Editor;s note:  given that handle design,  it ▲  well might have had a wooden lid attached (otherwise there is no reason for the top of the handle to extend pass the rin of the mug!)  In fact  there were many different styles and in better shape  found in the ship " Mary Rose"  salvaged  from the Thames.
FROM THE MATY ROSE 1600'S BOWLS, ANOTHER WOODEN-STEIN [R];  LARGE MUG ,  A WOODEN RUM SERVER  [MIDDLE LEFT ]
---
MORE AT  [subscription required]   http://www.thetimes.co.uk/tto/science/archaeology/article3540114.ece
Please go to page three of  "But will they float" for more.

[END – SP104 – 41]

"A TV can insult your intelligence, but nothing rubs it in like a computer."