[FWTD]
PAGE FOUR
— PRUNTS  AND TEARS = DONE "MOSTLY"  IN BLUE: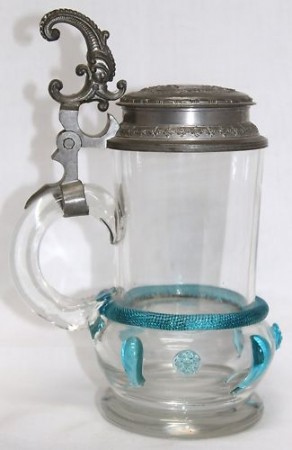 *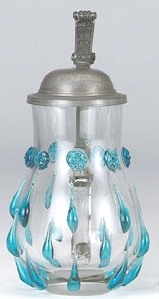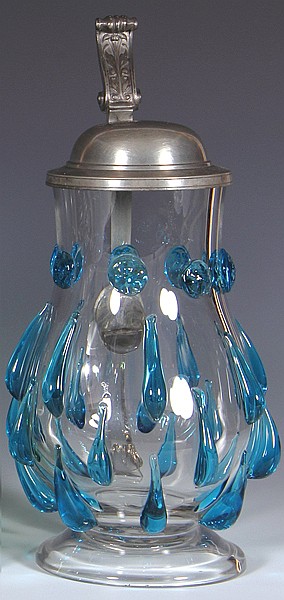 Applied blue "tear drop" prunts. One stein has a pedestal  base, the other doesn't.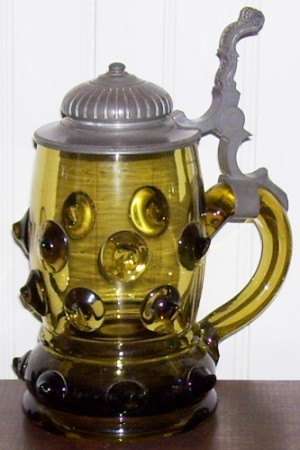 Here the prunts are the same color as the body. All of the three above have the standard .5 liter thumblift by G.Th.M.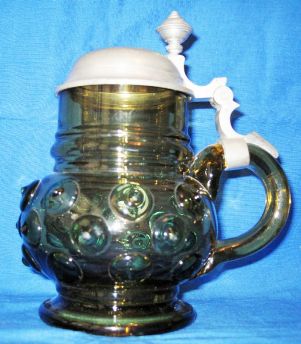 They had to work to get this "C" handle on this stein. A G.Th.M lid.
[Just above]  Lid and thumblift by J. Lichtinger, Munich. Not M. Paulson as one in SCI would have you believe. Note: One green glass stein with applied blue prunts has been found dated '1884', which is a lot earlier than I had thought. [FWTD]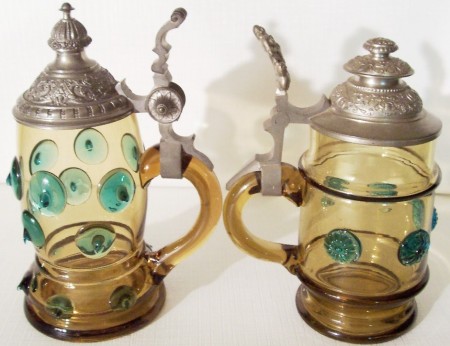 [L] .5 liter, small "Raspberry" prunts.[FWTD] – [R] .5 liter, "Starburst" pattern prunts.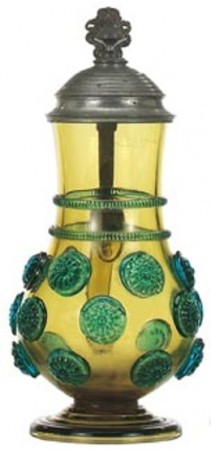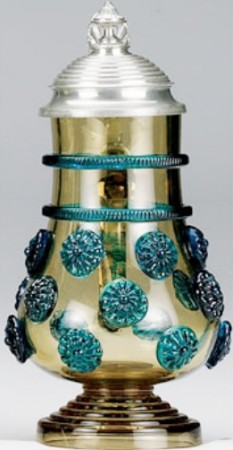 [R ] A  .5 liter. Same basic stein as [L] but with a different lid and a bigger base. "Raspberry" prunts, and a much more non-oxidized, cleaner pewter lid.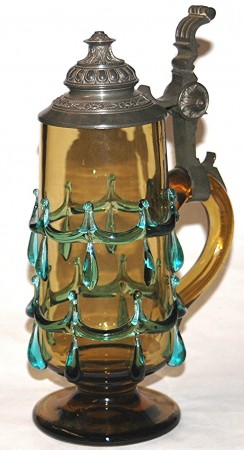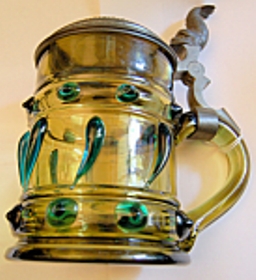 [L]  .5 liter "Drapery" prunts. Pewter lid by G.Th.M.  [FWTD]   [R] Reversed "Teardrop" prunts on the main body.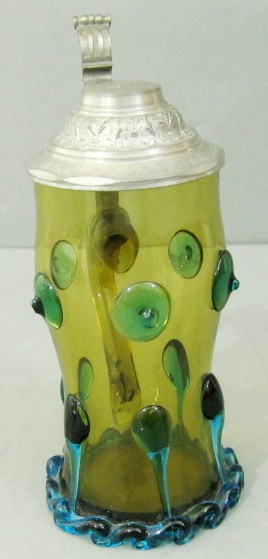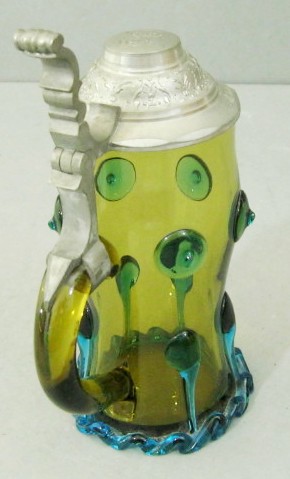 Above: Blue runts and teardrops with crimped base. Dated 1887. With standard G.Th. M thumblift.
The lid can make a significant impact on the price of a stein. [R] Notice the small "C" handle, [FWTD]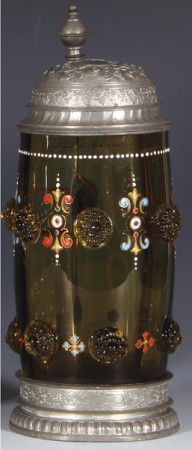 PEWTER LIDS, BASES  AND THUMBLIFTS BY J. LICHTINGER IN MUNICH.
The Imperial eagle (an adler — for more of the eagles, see page 2 of this series.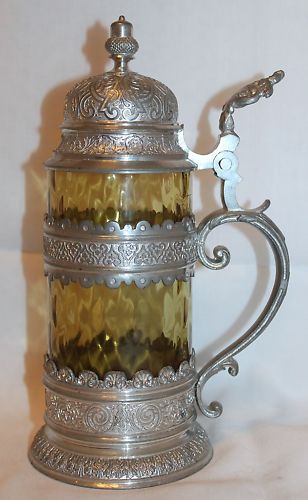 .5 Liter, pewter handle
[L]  .5 LITER ,   Glass  'C' handle                          [R]  .5 LITER,   Pewter handle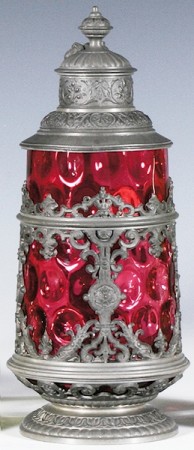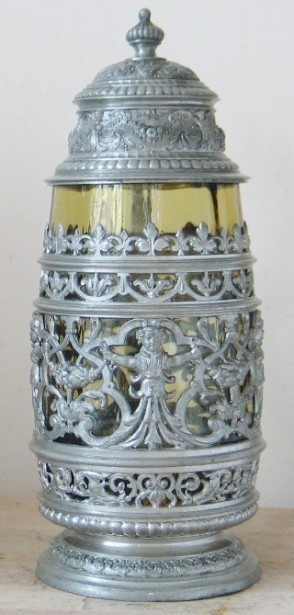 [L]  .3 LITER  Fantastic  pewter framework on both these  steins !     [R] .5 LITER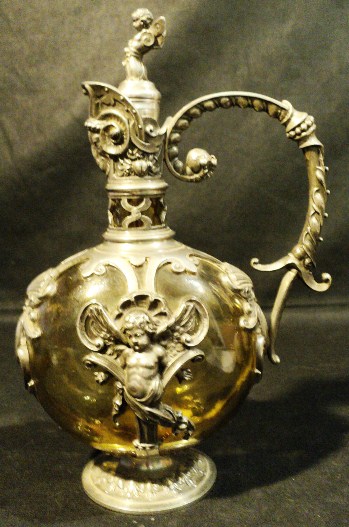 This decanter  is one of the smallest in this series.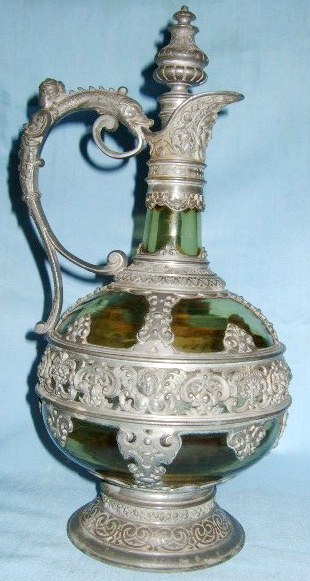 Two of Lichtinger's pewter mounted wine servers. There must be at  least 50 of these in different styles and colored glass.
An ad in "Life" magazine showing a stein of Johnny Ey's (a good, now past friend) in a National Bohemian setting. "Mr. Boh" was one of Baltimore's favorite beers for years. My dad used to drink it at the old Baltimore baseball stadium on 33rd Street.
.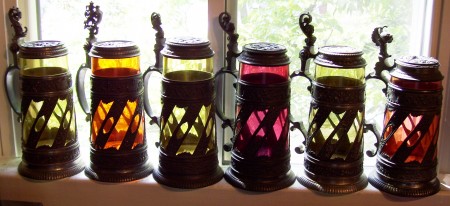 These are all about 1.5 liters in volume.
So because of that ad, I had to have one!  Ha!!  Here is  my present window display of six of the above, but with four different colors shown. Orange is the hardest color to find.  He also made a clear glass version. I have never seen one in blue.  They come with different heavy relief lids and great looking various thumblifts.[FWTD]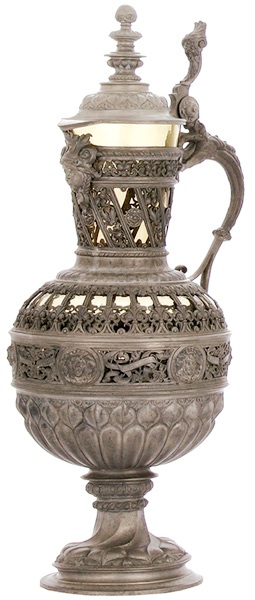 Three liter master stein by Lichtinger, Munich. Theresienthal glass. Circa 1885.
The reader will please note that on the neck portion of the server the diagonal design fret work is the same as it is on the body of the six stein just above.
DIFFERENT COLORED STEINS  [stopped edit here 4-4-2013]

[L] Clear glass -gold painted lid with blue mounted stones. [R] Reverse thumbprint with a nice shade of blue.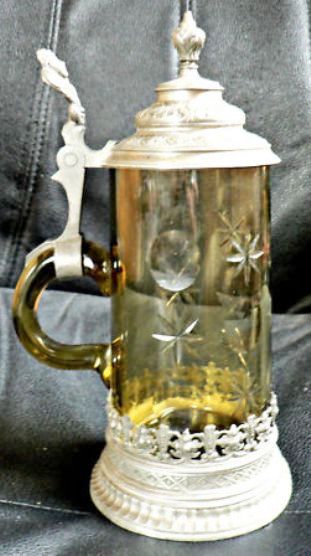 Cut star and thumb print design, with mounts probably by Lichtinger. Notice the "C" handle.
[L]Root beer color .   [R] Cranberry with a clear handle [FWTD]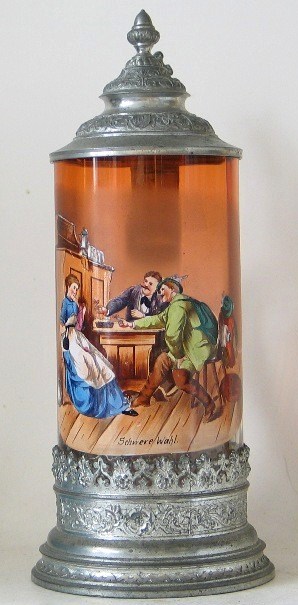 [L] Cranberry -with a clear handle, and faceted on the inside of the body. [R]  A brown with a little green in it. Unusual bulbous shape.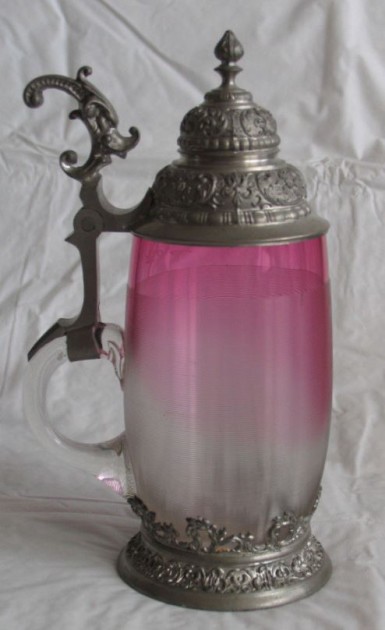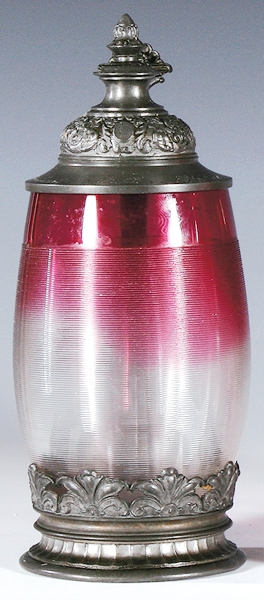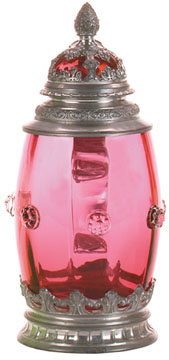 [R]    &   [L]  & ▲ all  .5 Liter
GERMAN VERSES  AND  SAYINGS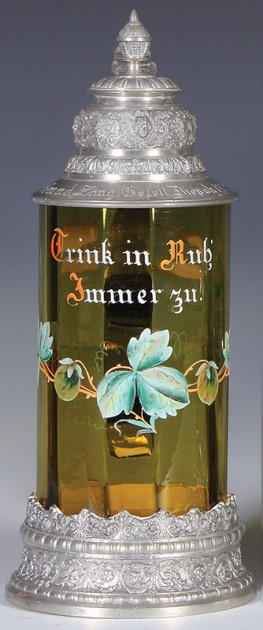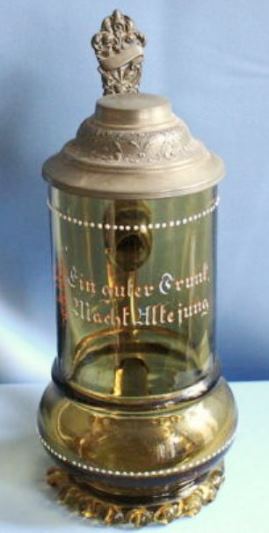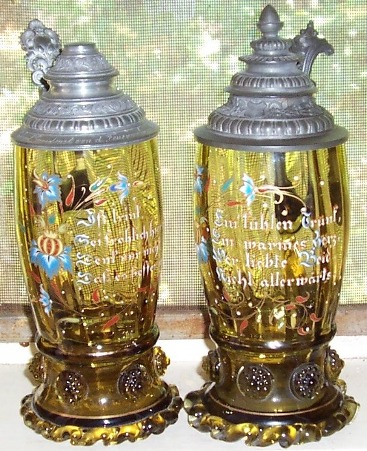 ART NOUVEAU / JUGENSTIL (IN GERMAN)  STEINS – MOST PRODUCED IN CONCERT AND SOLD BY, PORCHINGER GLASS .
.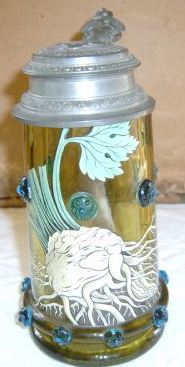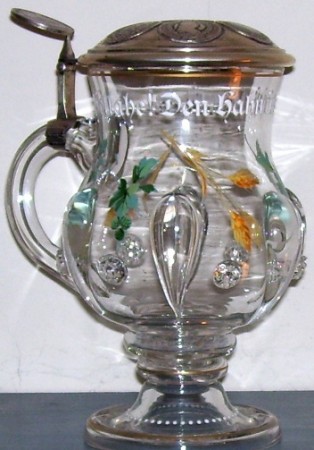 [FWTD]
Below are a few examples of Theresienthal- Posinger's efforts for Art Deco Steins: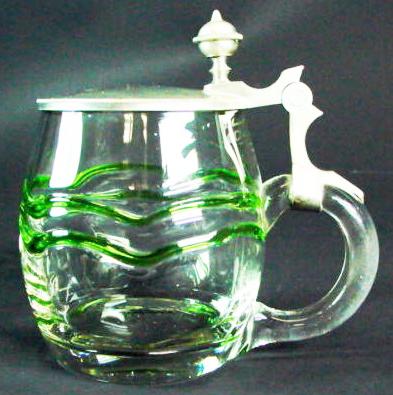 .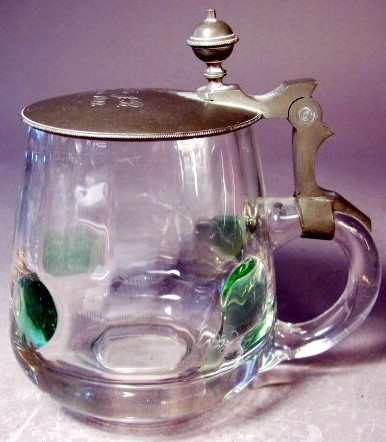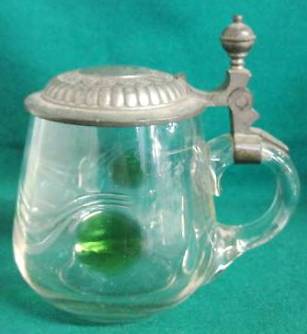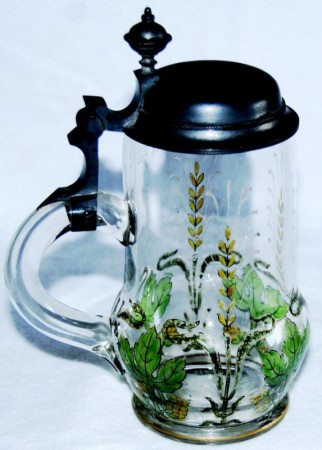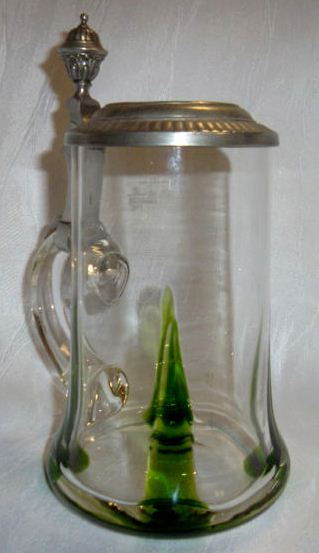 .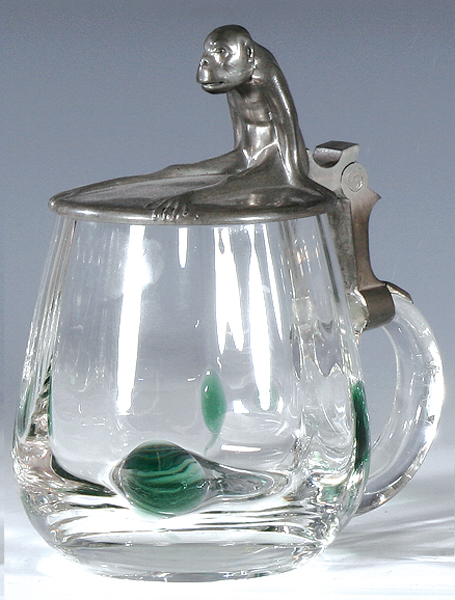 NOT THESESIENTHALS – Perhaps one of the best ways of learning what is a T-H is, is to also see (and learn) what is not one! Here are a couple of examples.

While this looks very much like a Theresienthal stein due to the glass color, I have never seen a T-H with a cut away lip, and blown ribbed handle with a star attachment to the body.[FWTD]
Pretty close, but the use of small gold dots, the unusual body style, and the handle shape make me think this beer stein was made elsewhere.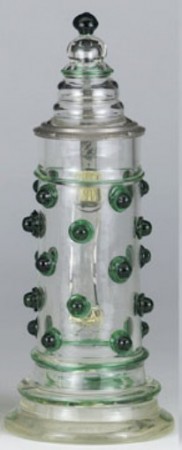 No matter how many prunts you put on this one, it will never be a Theresienthal .
This one has prunts, small white dots, red first letters and the roundels are close to T- H's  work. But this is Eggerman's work with much darker green glass and distictive gold "egg and dart pattern at the top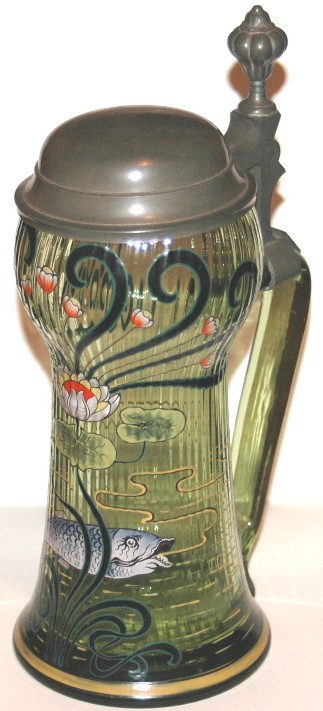 I originally had this listed as being from Theresienthal, but Stephan Buse (in Germany) advises it was made by Regenhütte, which was located nearby and made very similar wares.  Thanks Stephan!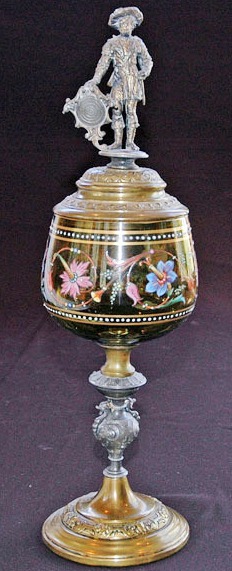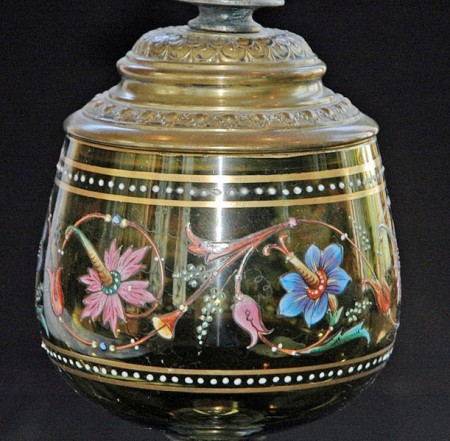 This pokal was made by WMF and while the enameled decor looks very close to that found on Theresienthal pieces it is quite doubtful that this glass portion is theirs as WMF also had it's own glashütte, and the colors don't really match those used on most TH pieces.
Any ideas from the readers ??

Questionable at this time. Especially with the pewter base rim.
AS ARE THESE TWO BELOW: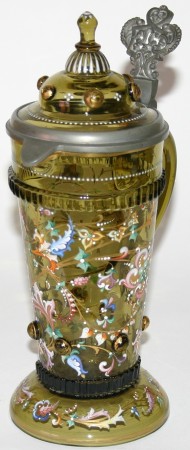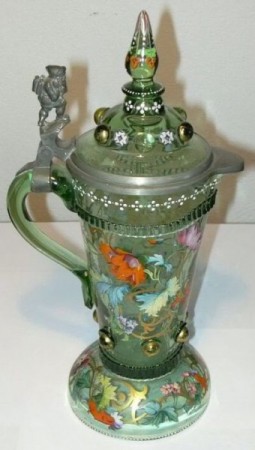 These xxx below  are also under scrutiny as to if they are in fact TH's  work. Any beneficial suggestions appreciated.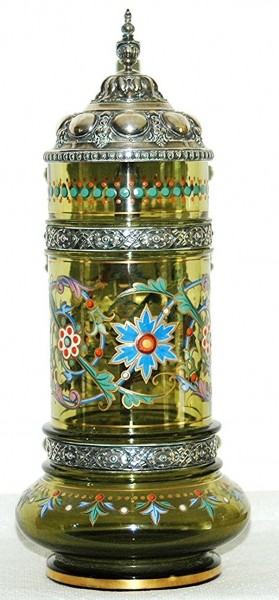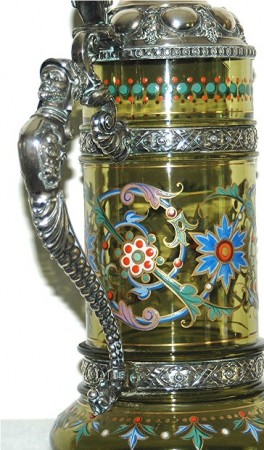 .5 liter. An extraordinary piece. Silver plated lid, handle, and ribs. [Detail right.]  (There is still some on-going discussion as to if this is a TH or not, given no white dots or blue prunts.  But it does have small gold lines, and the enameled colors of green, light blue and red match TH work, as does the gold lining on the flowers. Until "proven" otherwise, I'm leaving it here for collectors to look at. (sls)
[L] .5 liter. Has an engraved silver plated lid to a member of an Eisenbahn (Military railroad) regiment.[FWTD] – [R] .5 liter with gold leaf and enameling, silver plated lid.
Now these are of course,  the real thing: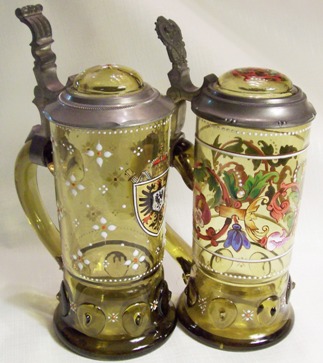 [END – SOK – 79  – 3D]

"The early bird might get the worm, but the second mouse gets the cheese."