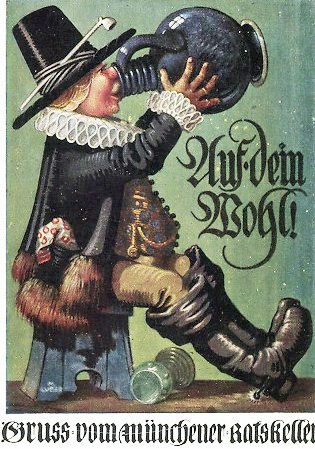 "OH TO HELL WITH THE ROEMER!"  Illustration by Max Luber.
An 1887 print of a 1600's Dutch diamond point engraved roemer with a silver lid.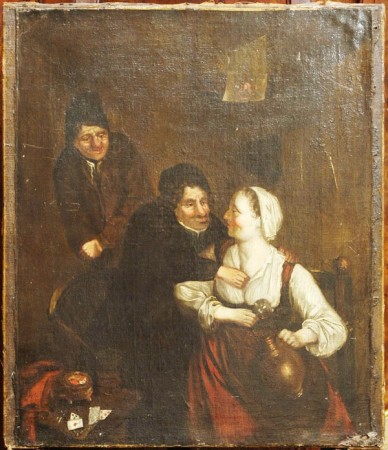 Look at how white her face is, BUT he really wants to get his hands on that .roemer!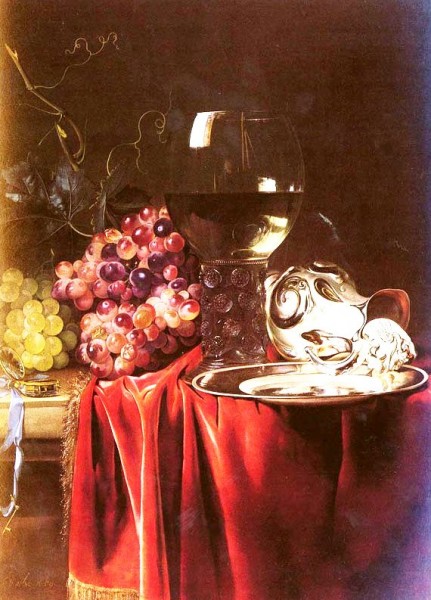 Here and below: Massive use of prunts" on the body so the roemer doesn't fall out of one's hands.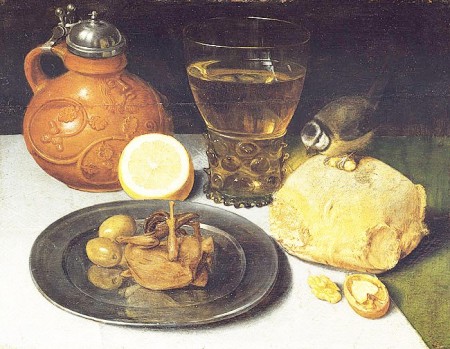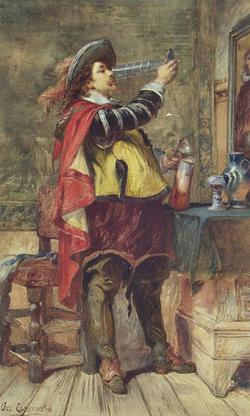 Top two:  Editor:  I wonder if they ever got feathers in their wine ?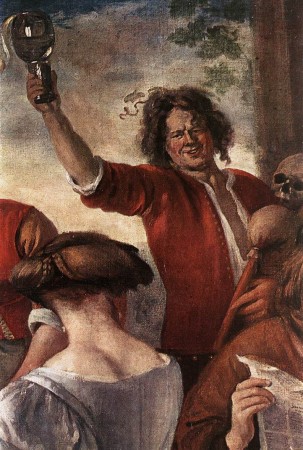 Is that skull in the background is trying to tell the viewer something?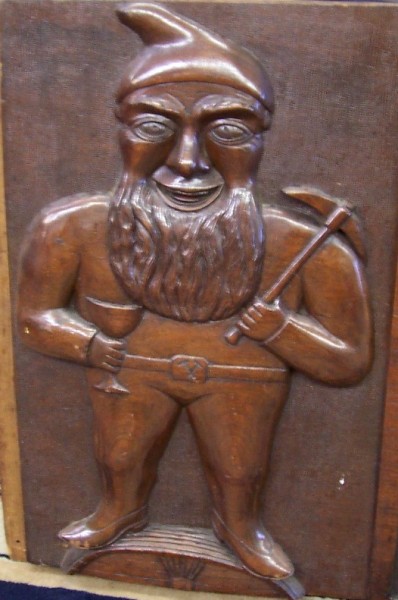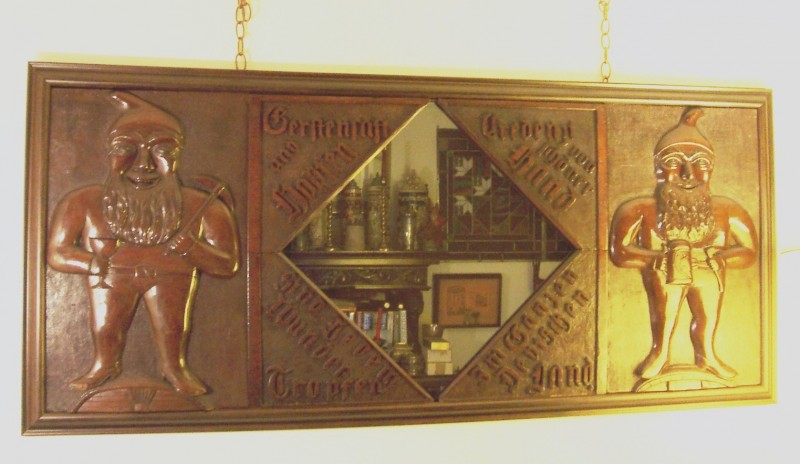 Miner's Guild Hall Mirror , C. early 1800's. Hand carved. About 2.5 ft by 4 feet. [FWTD]
A postcard showing a great collection of old German glass roemers at RATZSCH'S bar in Milwaukee.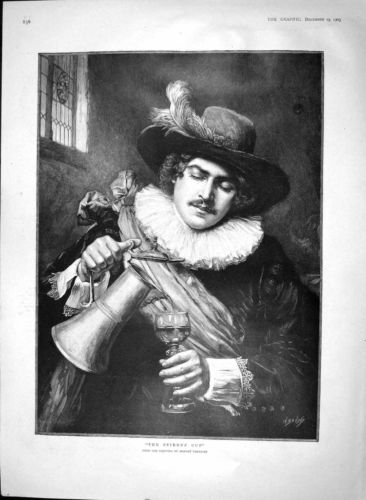 Using a pewter wine server. I think this is later day Artistic license =  as the server (German / Swiss   and mainly 1700's ) is not as old as the individual represented (Dutch 1600's !)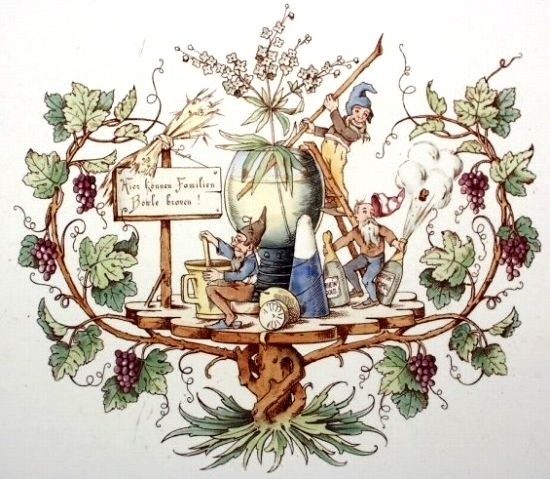 Detail: From a PUG scene on a V & B 'Dresden' serving tray.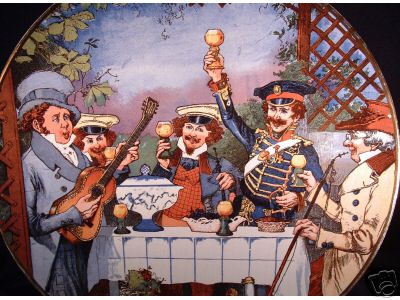 Detail: From a V &B 'Mettlach' wall plaque.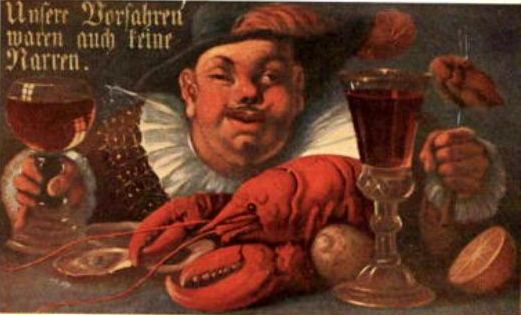 Just how much  can one person eat?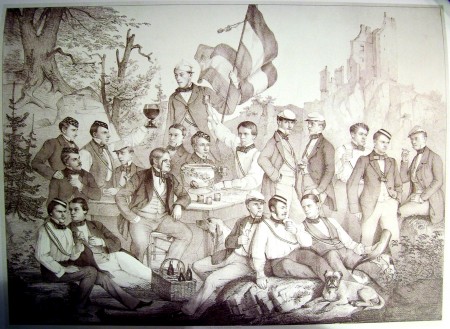 A student dueling society – check out the size of that roemer, top, middle left.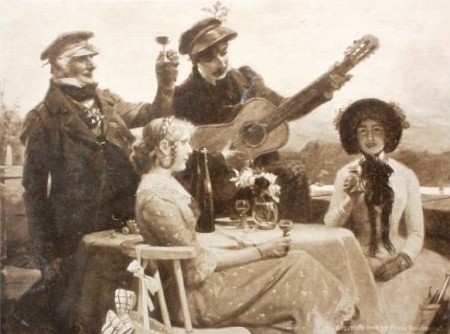 Any one care  to supply a caption for this photo ?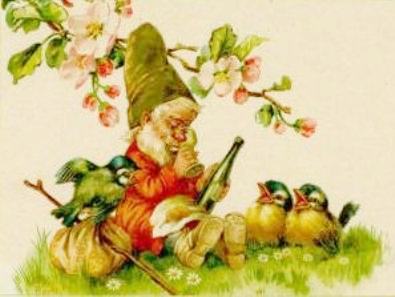 I knew that birds like cheese and crackers, but never knew birds liked wine.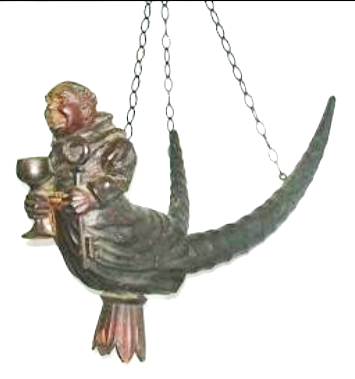 [L] These  "Leuchteman", (Monk?) made from real animal horns and gessoed wood, would hang from the ceiling in the old German Guest Houses. Originals with the lamps still intact, in good shape now sell for 1,000 of dollars!
Shown:  Holding a roemer, a German tavern's  "Lusterman" (made of molded gesso over thin wood, and real horns) which were hung above some of the favorite tables in the  German pubs. These usually had candles holders attached; later electric light. (This was in the S M & T, but I really had no place to hang it.) Originals are very, very hard to find nowadays.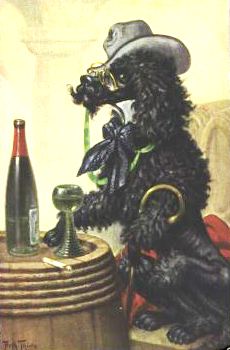 Dogs and beer are usuall subject for jest as on postcards. It is rare to see a wine drinking pooch.
The European kids start early and learn well. (The grey-white area is a glass reflection.)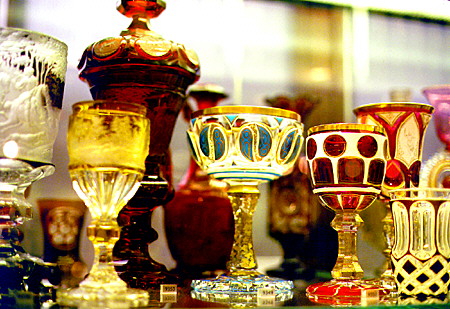 A small portion of the display of cut glass roemers at the V & A Museum in London.
.AND AS SEEN ON BEER STEINS AND OTHER VESSELS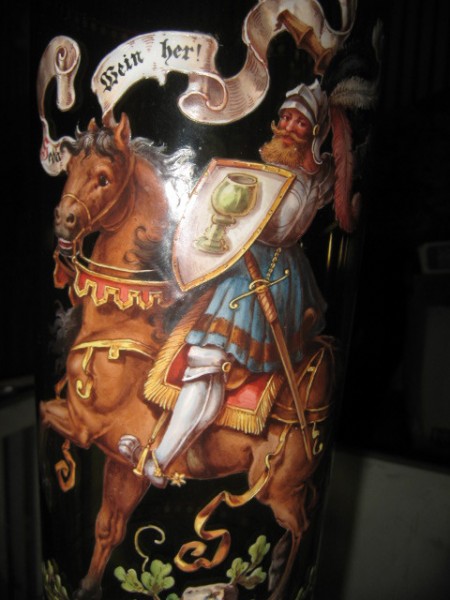 Detail:  Off a blown glass pokal, enameled in the late 1800's.
Putti drink from roemers on a German carved ivory stein. A great gilded lid with set in semi-precious stones  [Midwest Auction Galleries, Inc.  1 2014]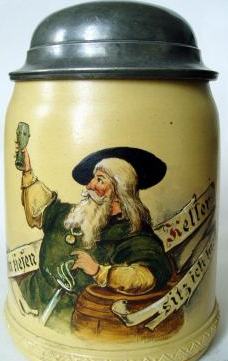 On a V & B Mettlach hand painted.  No. 15226, The verse says "I dwell in deep cellars."
[L] On a "Whites of Uttica"  (New York State) beer server. [R] A PUG beaker by V & B Mettlach.
.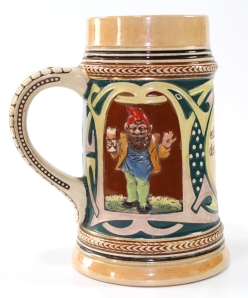 Gnome with roemer, unknown maker.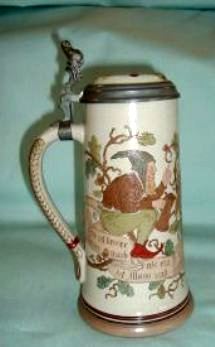 [L]  Marz- & Remi  .5 liter stein  [R]  On a V & B Mettlach # 2090, .5 liter   [TASCO]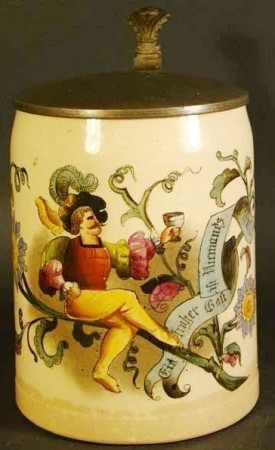 On a V & B Mettlach,  .5liter PUG stein.
Roemer on an enameled medieval scene beaker probably by Josephinenhutte.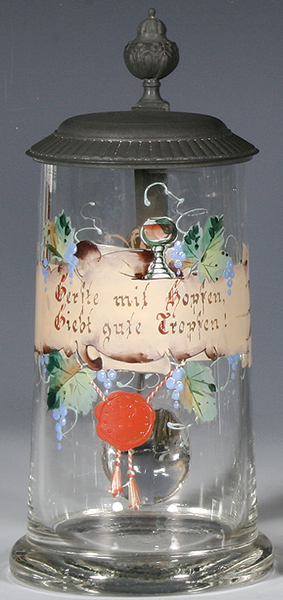 Red Seal .5 liter glass stein Ca. 1910.
AND THEN THERE ARE "WINE STEINS"
The scene on the body [only 1/4 visible] is  an adaption of the two Jewish men carrying the grapes back from the promised land.
See the Tab: The boys with the grapes. What is that all about? =

http://www.steveonsteins.com/1-3
.
[END – SOK -RD – 33]


  "Few things are harder to put up with than a good example."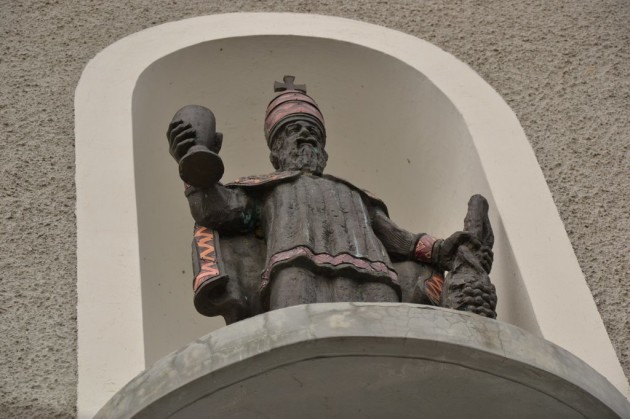 Pope and Saint 'Urban' holding a chalice that appears to be more of a Roemer. See the discussion under chalice in the Compendium