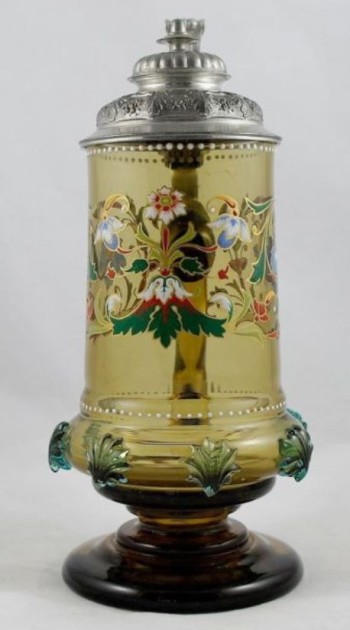 PAGE TWO – Collectors, also please remember because I am using a collection of photos taken at different times at different places, by different people, with different lighting; the colors of the "TH" light green-yellow steins are going to vary greatly.
Below: Non-server TH steins with the gold trim around the leaves and flowers:
Large "C" handle, .5 liter [FWTD]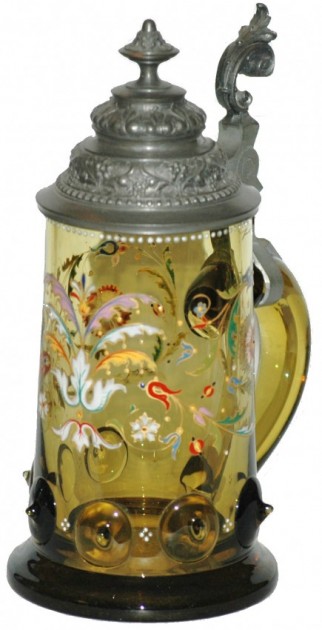 Nice delicate workmanship. [RFA]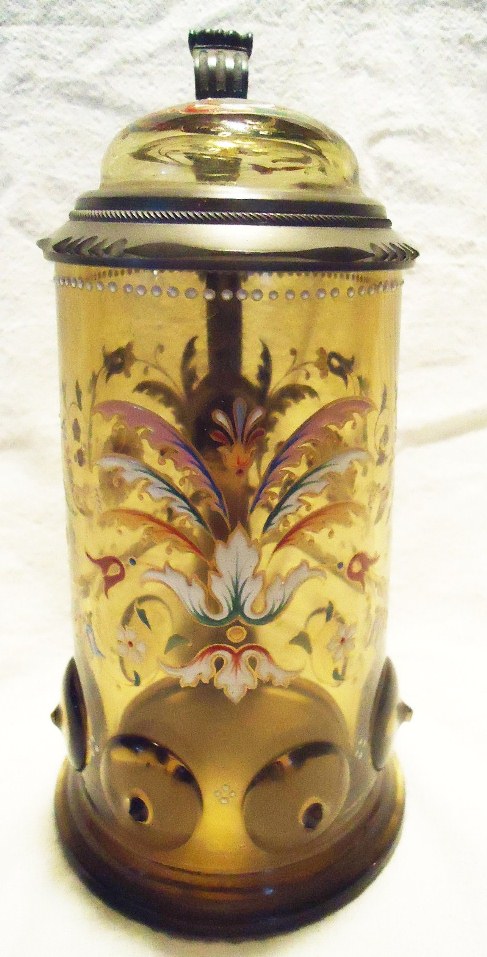 Same body as above, but with an enameled glass inserted lid which I assume was more expensive given the labor involved.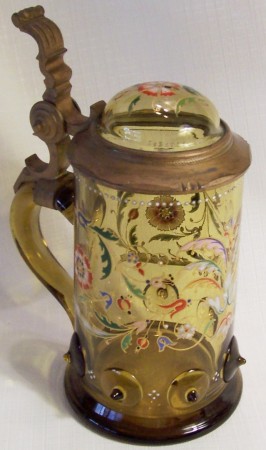 Side view of above.  .5 liter. The pewter lid was done by G.Th.M. [FWTD]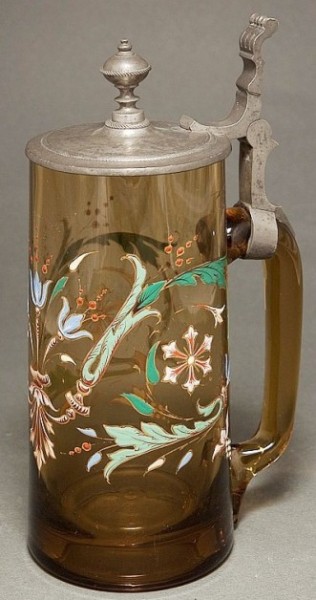 .5 liter. Lid by G.Th.M. 
.5 liter. [FWTD]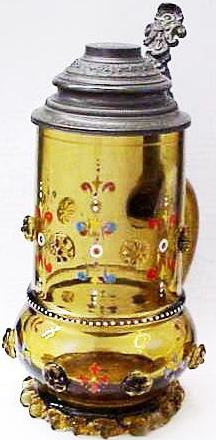 .5 liter, same stein body as above with a different lid.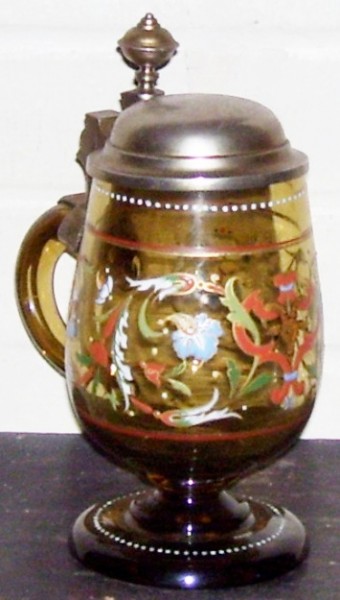 .5 liter, with (I originally said=(a seldom found body shape)   [FWTD] but now given two shown below / posted later ,  I am not too certain!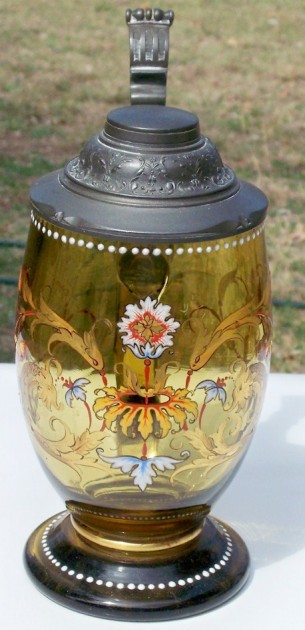 Same body style as just above with a different design.
.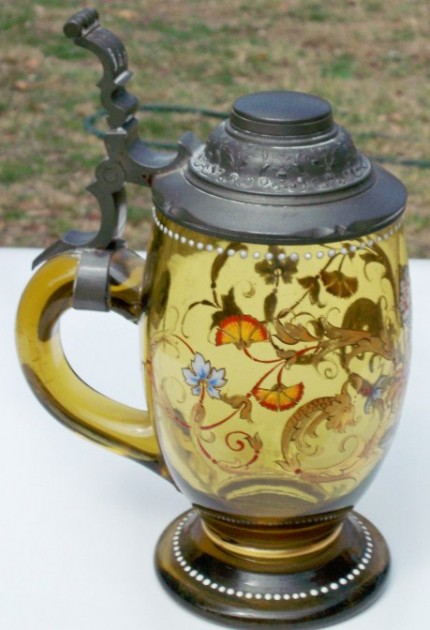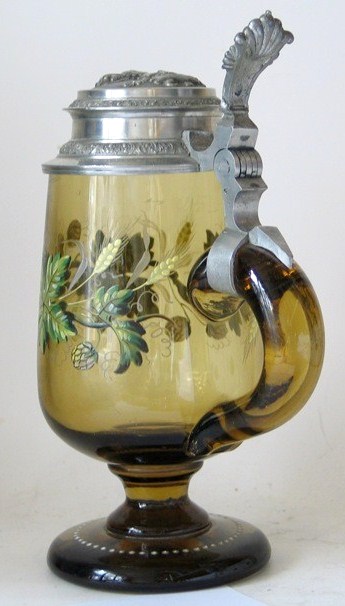 .5 liter. 'C" handle and  body style as the two above . [Photo: eBay's BEER-STEIN]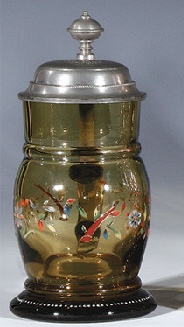 .5 liter. The gold flower trim is mostly worn off.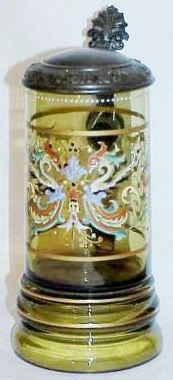 .5 liter. Silver plated lid.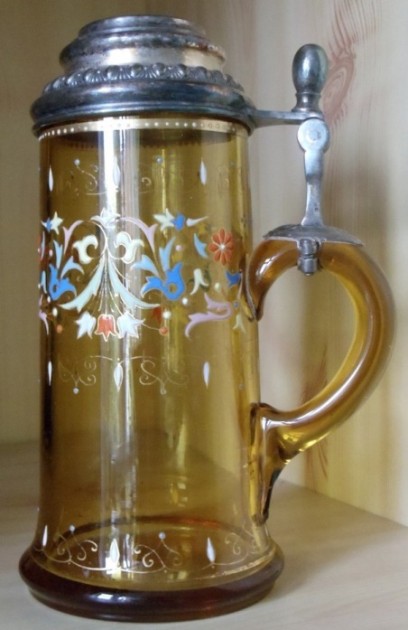 .5 liter. Very nicely done. Comes with a different body style and a silver lid. I wish it was here at the SM & T.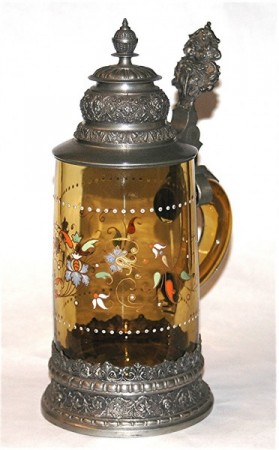 .5 liter. Not many TH's found with pewter bases = more costly! [FWTD]

[RFA]
Above,  just two great looking TH glass steins: Just above: .5 liter. It looks larger due to the pedestal base, with unusual "sea shell' prunts. A real eye and dollar catcher!
WITHOUT THE GOLD TRIM ON THE FLOWERS: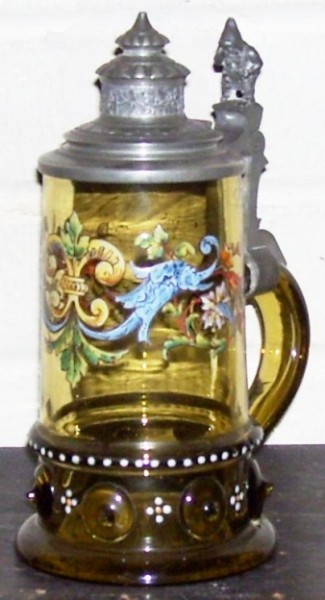 .25 liter. [FWTD]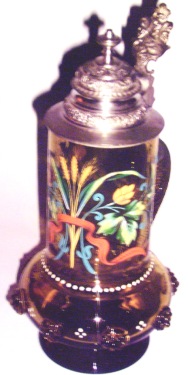 .5 liter
.5 liter.  With an unusual Mermaid thumblift. [FWTD] 
.5 liter.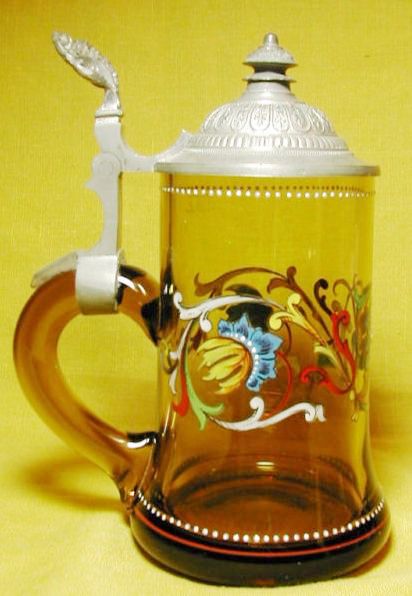 .5 Liter– The design is slightly different than both above. [FWTD]
Above and below: Both .5 liters.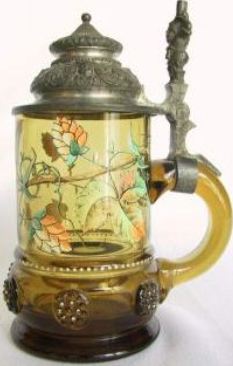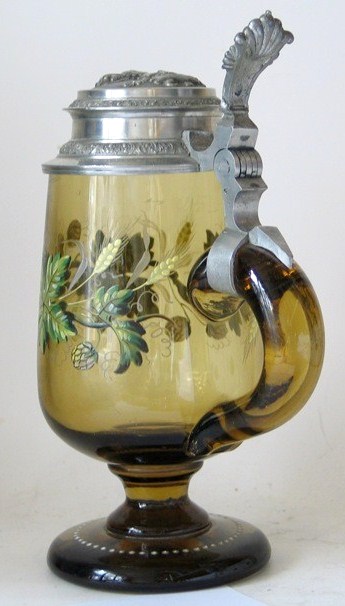 .5 liter. 'C" handle and different body style. [Photo: eBay's BEER-STEIN]shown above also.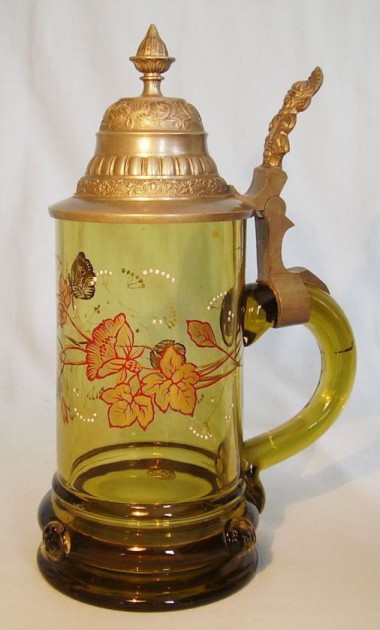 Another type of floral and not too exciting [for me!]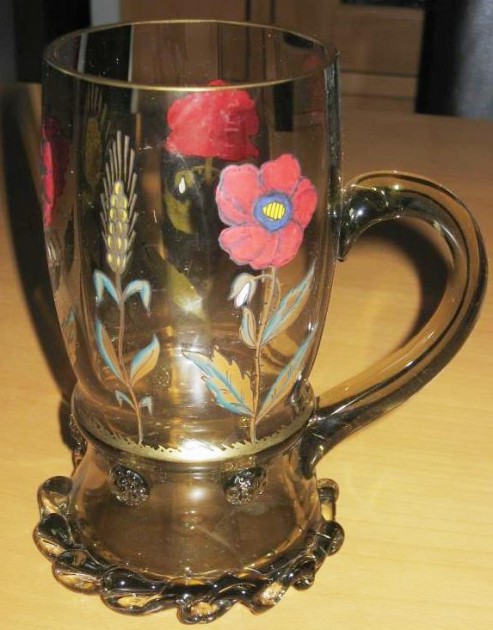 A ,5 liter "lidless" stein   – This piece has a indentation on the handle which servers the same purpose as an anchor hole. I think this was not too popular a design as I have only seen one of these since I started collecting TH pieces.
OTHER ENAMELED STEINS
Both .5 liter with different verses. [FWTD]
THE MUNICH CHILD
MUNICH CHILD STEINS  -these are  also called "Munich Maids " Please see the article on the proper name / history of 'this figure' at: http://www.steincollectors.org/  ** Library **, then: "The History of the Munich Child  – The Beloved Symbol of Munich."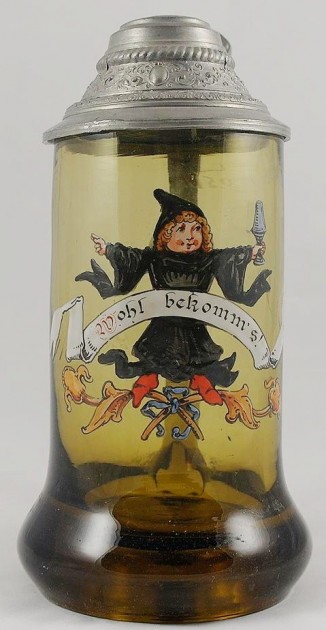 .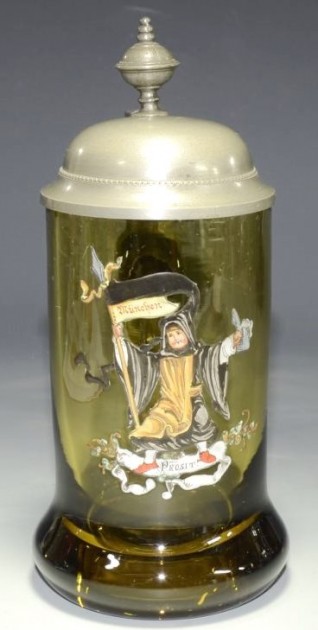 Not all Theresienthal's 'Munich Maids' have the "red halo," as the three above show. But the majority found will.     Notice that they all do have red shoes though.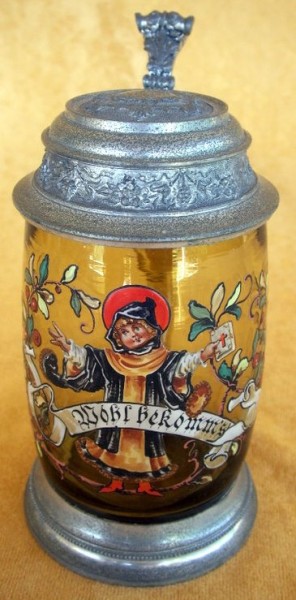 .25 liter. [FWTD]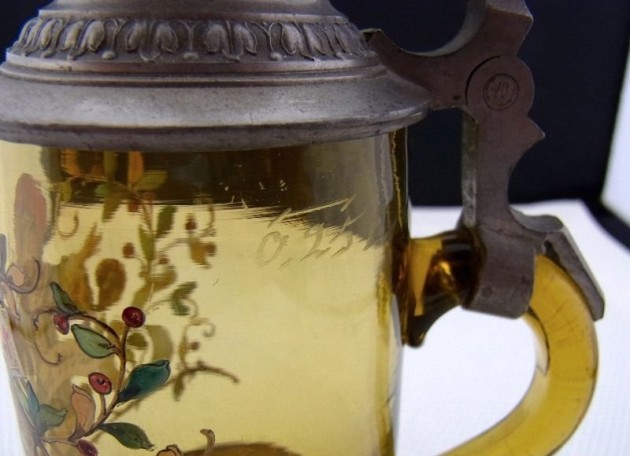 The capacity mark  so typical of  Thereseinthal work.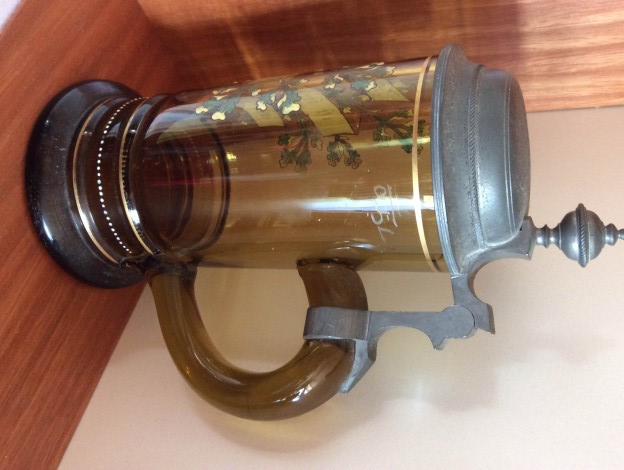 Above ▲Another version of the scene above but without a pewter base rim and it shows a  perfectly  mouth blown shaped "C"  handle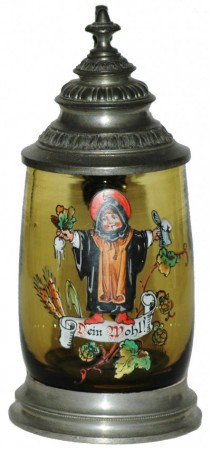 Essentially the same PUG scene as on the .25 liter just above,  but a beer stein takes the place of the bible with the Red cross on it.
All others below are .5 liter.
[BOTH FWTD]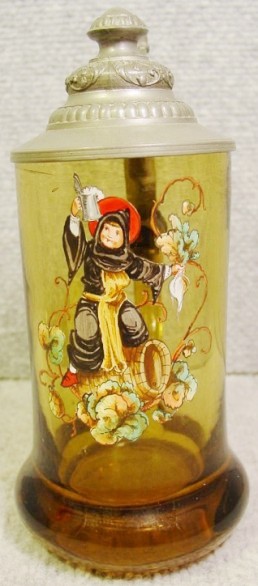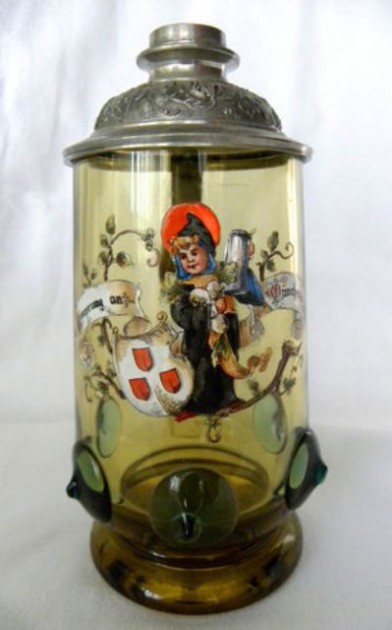 While this is a server (which are displayed on another page,  I have included it here also as another example of the Munich Maid and her relationship with the Munich brewers.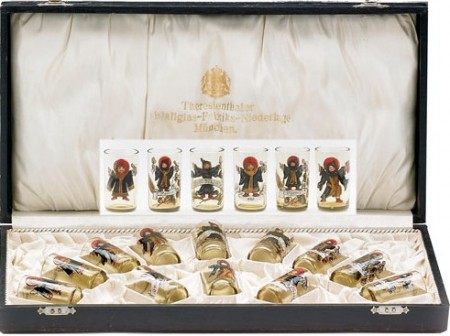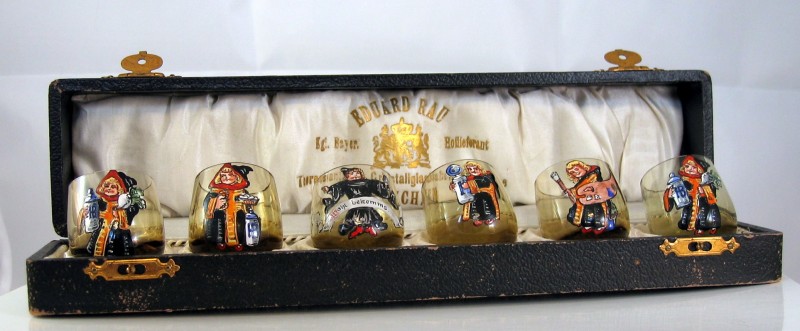 Set of "mini-beakers" for schnapps made by Theresienthal for the Eduard Rau Company.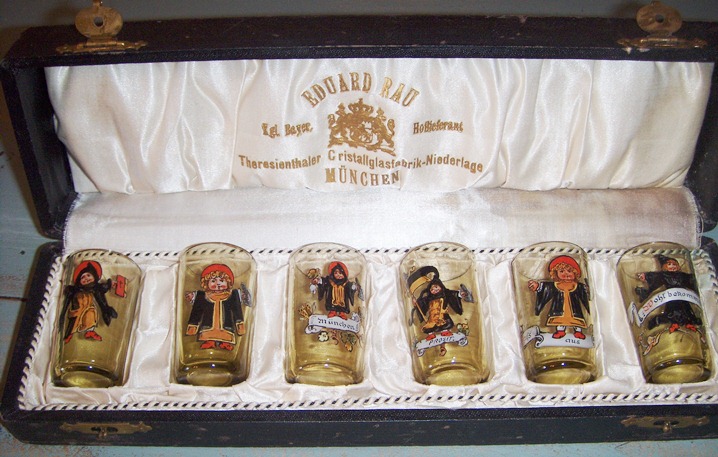 Set of beakers, shot glass size.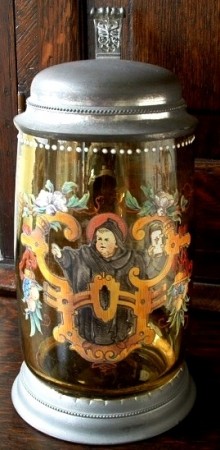 Editor's note:  A reader was nice enough to send me this photo of his Theresienthal Munich Maid stein. Unfortunately I do not think it is one.  Can you tell why? The red halo is not bright red and (hard to see) she has on dark, not red shoes!  The j ury is still out.  I'll  need to see more examples of this.
ARMORIALS  / STUDENT'S SOCIETY STEINS

[L] A nice notched lid, made that way. Not a number  of duels!  [R] Another student society (dueling) stein, notice there are no small pair of crossed swords, however it has the German saying of

[L] Unknown arms                                             [R] Hungarian Royal Arms.
MEDIEVAL PEOPLE 
[L]  A one liter with pewter base.  [R] A well done 1/2 liter TH stein. Not seen often!  Lid and thumblift by G. Th. M.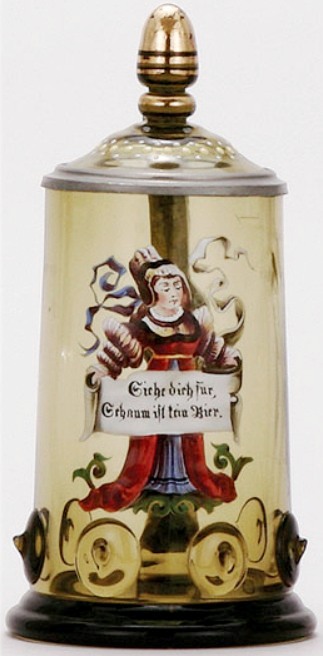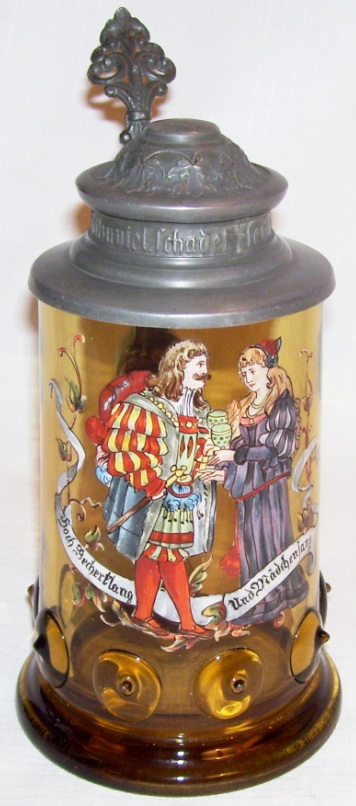 [L] No extra charge for the replaced wooden/ copper[?] finial. [Lousy photo]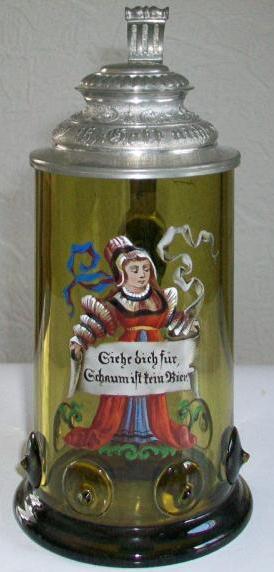 Photo as above, with much better coloration, and her colors have changed.
Two enameled steins of a series, scrolls and base prunts, same lid.
Both: More of the same series.
A different series and body styles.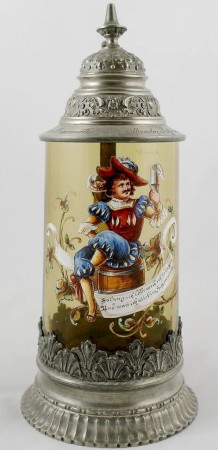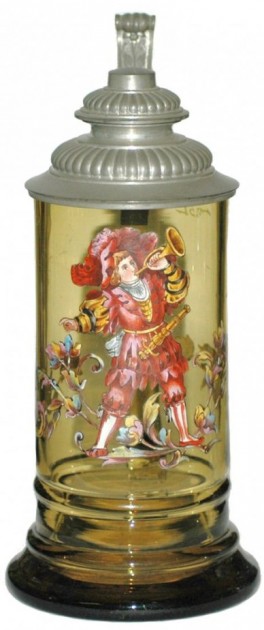 Yet another series. Lids are by G.Th M. (Brothers Tannhauser, Munich.)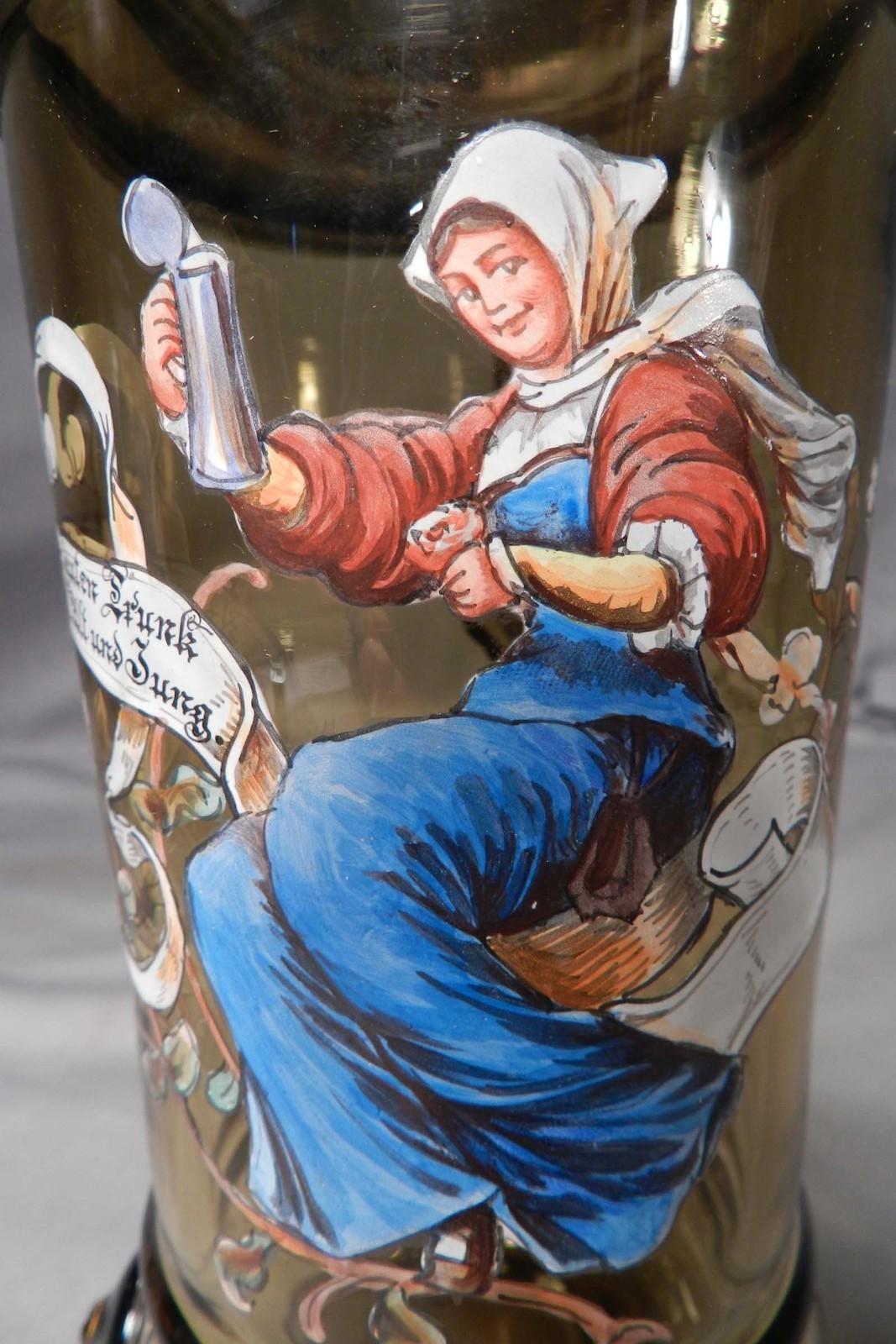 [END PAGE 2 – SOK –  65- R5]

""Why does someone believe you when you say there are billion – billion stars, but check when you say the paint is wet?"