DRESDEN CITY'S GREEN VAULT'S IVORY "BACCHUS" BEER STEIN (WITH OTHER OFFSHOTS (EXAMPLES) OF IT .)
The time was early winter of 1997; two not-so-young men were sitting in a car in an east side Washington DC parking lot, with a package! It's a wonder the DEA or the DC PD didn't pounce on us.
Mark Fiebrandt, a fellow "Gambrinus Stein Club" member from Maryland and I had agreed to meet in the parking lot in the early afternoon on Friday, just before we would attend the DC Armory Antique Show. He had said he had a "little silver piece" to show me. As was my custom, I asked him if he had bought it in Virginia, my home state, which is where he always said his purchases have come from. Mark was always trying "to get my goat".
As I pulled the stein from its bubble wrapper I remember my first thought was "I really hope he didn't get this in Virginia!" There in my hands was an antique German silver tankard, in nicely defined repoussé, a stunning copy of a 1650's ivory beer stein that I knew was in "The Green Vaults" of Dresden. I knew this due to having done research on a comparable piece, at least in design, but made in porcelain by the Ginori family in Doccia (near Florence) Italy.  Much more on that piece below.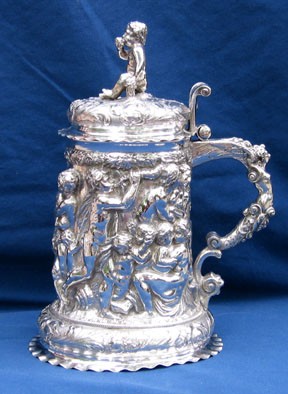 Mark never told me what he paid for it, nor did I ask. I do know that one exactly like it sold at Sotheby's in New York, Lot # 163, on April 12, 1995 for $2990, which includes premium. Sotheby's had it cataloged as: "A German Silver Tankard, Hanau, late 19th century, the oval barrel cast and chased with a Bacchanalian scene, putto finial, 36 ozs, Height 10.2 inches (27cm) (Est. $2,000-$3,000.)"
The Green Vaults: A Brief History
In his book "The Green Vaults", Herr J. Menzhausen writes: "In 1721 Augustus the Strong, Elector of Saxony and King of Poland, gave orders that a certain room of about 90 square meters (968 square feet) on the somewhat elevated ground floor of the Dresden Palace should have an opening made in its northern wall to make it accessible from the adjoining hall. Both windows of the room were secured by strong lattices and iron shutters. The room was vaulted, as were all the rooms in this part of the west wing of the palace. Its walls had originally been painted green, a fact discovered recently when portions added in the eighteenth century were taken down for restoration, and some bits of rough-casting, dating from the sixteenth century were exposed to view."
"The descriptive name 'Green Vaults'; sometimes spelt 'Green Vault'; for these rooms had very probably been used colloquially by the inhabitants of the Palace ever since this part of the building had been completed in 1554; the name appears in a document of 1572 for the first time."
"Officially the room was named "The Secret Deposit" in accordance with its function. It was the treasury of the Electors of Saxony. Reserves of money, jewelry, precious works of art and important official documents were stored there".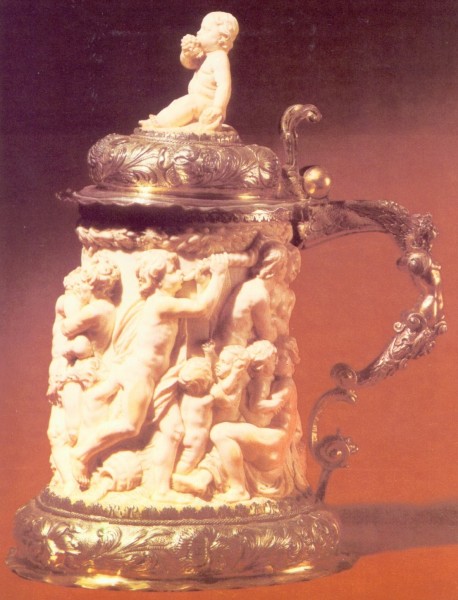 ◄   Ivory and silver. The Green Vault's piece is all Ivory.
Menzhausen further states: "The Green Vaults is (still) one of the richest treasuries in Europe. Its unique setting, dating mainly from the early eighteenth century, was more famous than that of any other (treasuries). A considerable part of its decoration was destroyed towards the end of the Second World War. (Author's note: not the collection.) What remains is being restored.
"The collection in The Green Vaults is one of the most outstanding of its kind because of the number and variety of the objects it contains. There are more than three thousand one hundred works made of gold, silver, or precious stones, of almost every kind of semi-precious stones, of ivory, amber, ceramics, mother of pearl, of coconut or ostrich egg, of enamel, bronze, iron, wood or glass. There are objects of first-rate quality in each of these groups and hardly any that are of inferior quality as works of art."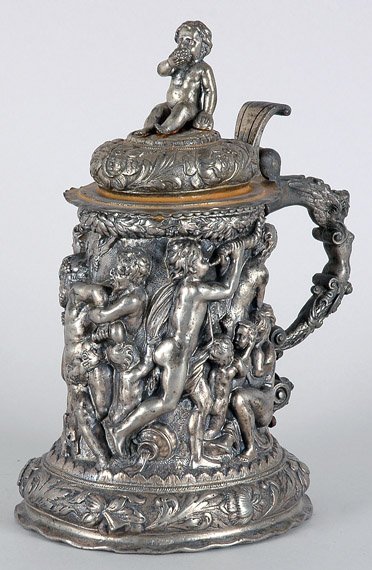 An interesting version. It appears to be a silver plated heavy metal (zinc?) with just one ring of copper around the lid to set it off.
The description of the Bacchus ivory beer stein in "The Green Vaults" book (catalog number 81) is as follows: "Tankard with relief of a Baccic (sic) Procession, after Georg Petel. South German, mid- seventeenth century, silver mounts by Daniel Harnischter, 1651, Strassbourg hallmark. Height 27 cm. (10.8 inches).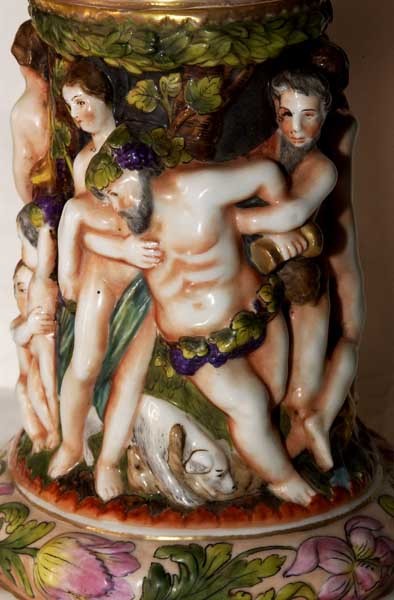 ◄  Detail  of the Ginori porcelain front  part of the wrap around panel, showing Bacchus being held up by Silenus.
BACCHUS .A Short History of Bacchus, the God of Wine: 
Page and Ingpen (reference 3) write of the God Bacchus: "Originally known as Dionysus, he is the god who brought the double-edged gift of wine and its festivals to mankind. He is one of the many sons of Zeus born to mortal women. As a baby he had narrow escapes from death because of the jealousy of Zeus' wife Hera.
"Zeus protected him by giving him into the care of the nymphs of Mount Nysa where he enjoyed a carefree youth. The nymphs made him their brother, the Muses taught him to sing and dance, and old Silenus inspired him with a love of glory.
"As a young man he experimented with the grapes which grew on Mount Nysa, and made a drink previously unknown to god or man. He sampled it so freely that the nymphs thought he had been stricken with madness. And when he experienced the world's first hangover he visited an oracle to be cured. She told him that his sufferings were a punishment for enjoying a pleasure unknown to the gods, but he replied that the pleasure had been worth the pain. On the way home he caught a wild ass, which became his eternal mount and companion.
"Bacchus was determined that men should accept his gift, even when he had to force it upon them. . His mission had unfortunate effects on his character. The young man who had delighted in the glory of wine developed into a violent and surly toper, accompanied by a crowd of centaurs, satyrs, nymphs, and Bacchantes who capered around him as he rode on his wild ass. Bacchus still wanders the world with his boozy mob of followers. They sing, caper, and hiccup their way from one community to another, supporting the gross form of Bacchus as he waves his wine cup and croaks some ancient drinking song." (This very closely describes the scene shown in relief on the Green Vault's stein.)
I was lucky enough to purchase my  Ginori porcelain stein at an antique show in Asheville, N.C. many years back. As I was somewhat knowledgeable about the so called "Capo-di-Monti" steins, having seen several dozen since I started collecting, I was thinking at the time that this one was perhaps one of the Dresden copies that were produced in the later 1800's.
(As the collector becomes more advanced he will realize these Dresden copies are related to the original Doccia's as the new reproduction regimentals, made from the late 1950 until present, are to the original reservist's steins made before World War One.)
I was then quite surprised and pleased to find out, after several months of research, that it is in fact a Doccia porcelain copy of the famous Green Vaults piece (mine circa 1840). Porcelain collectors use the location "Doccia", as we stein collectors use the word "Mettlach", as it designates the city in which it was made.
 GINORI FAMILY – DOCCIA, ITALY  – THEIR STEINS.
There is an excellent reference on" Capo-di-Monti" steins that I have used for the timeline part of this article. It was written by J. Joseph Hersh, for Prosit, September 1975, pages 283-285. The article is quite detailed, but too lengthy to repeat here. I heartily recommend that the readers avail themselves of this article.  This may now be readable on the SCI web site if you are a member and if the stupid web site will let you in (as there have been problems galore in Jan 2015)
Basically, what is called "Capo-di-Monte" now by collectors, is not! They never produced any beer steins, AND  they didn't use the Crown over the N as their mark!
However, the porcelain firm of the Ginori family, located in Doccia, near Florence Italy did all those things! These Doccia models were copied extensively during the later 1800's by firms working in Dresden and perhaps even Meissen, Germany. These vessels are what the 21st century beer stein collectors and stein dealers and collectors should be calling, at a minimum,  "Capo-di-Monti types".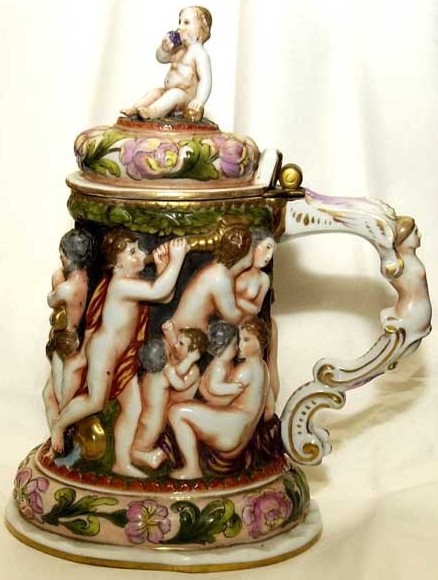 The porcelain stein in the author's collection is 8 inches tall and oval in shape like the original ivory piece it was copied from. Being oval it is 4.2 inches wide and 5.2 inches to its longest diameter, the end with the handle.
.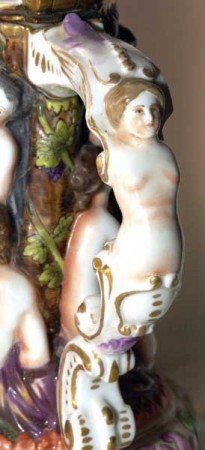 Many copies can be found in all types of materials !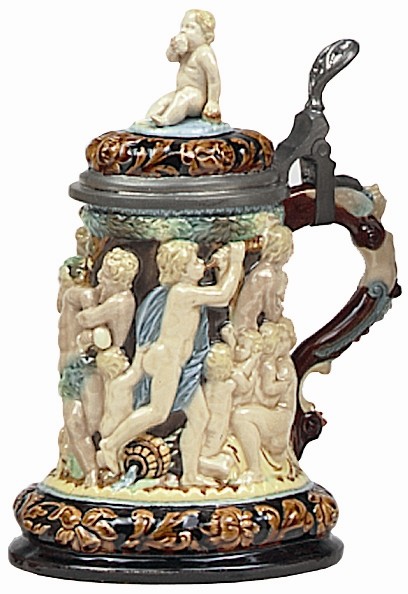 The Photo above  shows yet another example of a replica of the famous Green Vaults vessel. It is made of regular pottery, stands somewhat taller than my Doccia porcelain piece and is not marked. Circa 1890, these steins are valued in "The Beer Stein Book", 3rd Edition at $300 -$500. A few have sold in catalog auctions in the last year or so, please see below for prices realized.
(STEVE'S NOTE: I would certainly call this Majolica ware as it appears to have a lead glaze.)
.
timeline of major dates useful to this article:
1554- Original colored "Green room" built as part of the Dresden palace.
1721- Original room modified by Augustus the Strong to accommodate the state's treasures, with plans for two other rooms to follow.
1725-January, the finished inventory of the last of three rooms (The Vaults) was signed by King Augustus.
1735- Prince Charles of Bourbon, Duke of Parma, becomes King of Naples and Sicily.
1737- Carlo Ginori produces his first high relief porcelain at his factory in Doccia, a town near Florence, Italy.
1742- Charles, now the King of Naples and Sicily establishes a porcelain factory close to the Royal palace in Naples. The factory is called " Capo-di -Monti". (NOTE: The factory mark is not a crown over an "N"!)
1759- King Charles become King Charles III of Spain and relocates the porcelain making firm to Buen Retiro, Madrid.
1760-1789- King Charles of Spain possibly visits the Elector of Saxony and views the collection in the G/V, and copies ivory stein for production in his porcelain factory? (Author's note: supposition at this point, but the collection was shown to visiting dignitaries. This is a 29-year period in which to do so. However according to the literature, no surviving beer stein (lidded tankard) with the original Capo-di-Monti marks has ever been recorded.)
1740's – 1821 – Ivory stein is copied for porcelain production by Ginori family's craftsmen. (The most likely supposition. This is an 81-year time span in which to do so.)
1789- King Charles of Spain dies and in the early 1790's the Capo-di-Monti factory under control of Charles' widow moves from Spain to Portici, then later to Naples, Italy.
1821- Some of the original molds from the Capo-di-Monte firm, now back in Italy where it started, are bought by and transferred to the Ginori factory in Doccia, Italy, near Florence. (NOTE: this firm begins to use the Crown over the "N" mark.)
1813, 27 August, Napoleon defeats Schwarzenberg at Dresden.
1880's – 1914 – Independent Dresden and Meissen porcelain firms make copies of Doccia steins. (With no steins having ever been documented as being made by the original Capo-di-Monti firm in Naples or Spain, these must have been copies of Doccia pieces.)
February, 1945, City of Dresden bombed and almost totally destroyed by English and American Air Forces.
1945- Russian troops take the Green Vault's treasures for "safe keeping". (Author's note: These were later returned, mainly because Dresden was then in East Germany, another communist state.)
Other examples of this beer stein which have been seen on the US auction blocks lately:
A terra-cotta version with no lid, made by J. Maresch, mold 1475: a) Kirsner auction, March 7, 1992, #258, sold for $77. b) Ammelounx auction, May 20, 1993, #408, estimated $100-160.NOTE: The handmade mold for this vessel is shown in Prosit, June 1983, in an article about Jon Maresch, by Roland A. Henschen. In this article he calls the scene: "The Harvest of the Grapes" for the wine of the gods, but gives no attribution. The figures are harvesting grapes on one side, but the scene in total shows a lot more going on.
A multi-colored pottery version with white figures and a brown background on the body with a little blue-green for highlights. a) Kirsner auction, July 22, 1987 (live), #32, "Pottery stein, mkd. Colln-Meissin, Capo di Monte style, unusual, small glaze flakes", $308. b) Kirsner auction, January 26, 1997 (live), lot 4, "Pottery stein, .5l, relief, inlaid lid, glaze lines on finial & base, small glaze flakes", sold for $345. (This stein is pictured in figure 7.) c) Ammelounx (TSACO) auction, December 1, 1999, lot 790, "Capo di Monte Stein, 1L. Figural relief, Majolica glazed finish. Inlaid lid with figural child finial. Factory glaze firing line on underside of base. Mint", sold for $ 635.80.
Kirsner auction, January 23, 2000 (live), lot 1476, "Bronze stein, 1.0 L, relief, mint", sold for $547. (My catalog notes indicate it was constructed more like a flower pot, with a slide-out inside, making the walls too thick to reasonably drink from, therefore a mantle display piece.)
Les Paul auction, June 4th 1990, lot 83, "Early. 3/4L. Pottery, lead glaze majolica in a Capo-de Monte [sic] style. Very old lid (circa 1750) lid has original "G.W". initials. Age of ceramic is circa 1870. That is probably when the 100 year old lid and solid pewter base were added. Couple of minor glaze flakes & lines. Very unique stein." Sold for $549. (Authors note: I would have liked to seen this one in person. It's hard for me to believe that a correct sized oval lid was found to put on this stein, therefore either the estimated date of the lid or stein body would be incorrect.)
eBay auction, April 9, 2002 (from Sweden). A plain white, ceramic (probably chalk ware), 8" by 8", (2 liter?) mug (no lid). Condition dirty white, but no parts missing or cracked. Sold for $10.45 plus shipping.
eBay auction, September 1, 2002 (from Norway). A plain, off-white, chalk ware, size 11.2 inches tall, 2 liter, with a set on lid (see fig. 8). No broken parts, but poor original description offered on E-bay. Reserve was not reached, $10 was maximum bid listed.
Reference sources:
"The Green Vaults", Joachim Menzhausen, Edition Leipzig, 1970
"Capo di Monte Drinking Vessels", J. Joseph Hersh, M.D., Prosit, Sept. 1975
"The Time-Life Encyclopedia of Things That Never Were", Time-Life Books, Michael Page and Robert Ingpen, 1985
Photo of pottery stein compliments of Gary Kirsner, GK Auctions, Florida
Photo of silver stein compliments of Mark Fiebrandt, from his collection
Sotheby's Catalog "European Silver", Geneva, November 1993
ADDITIONAL VERSIONS SEEN AFTER THIS WEB SITE'S  ORIGINAL PUBLICATION: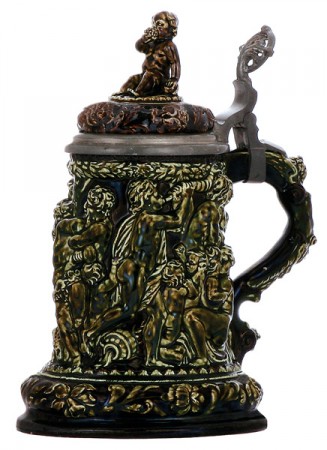 Green majolica stein- marked "Colln,  Meissen."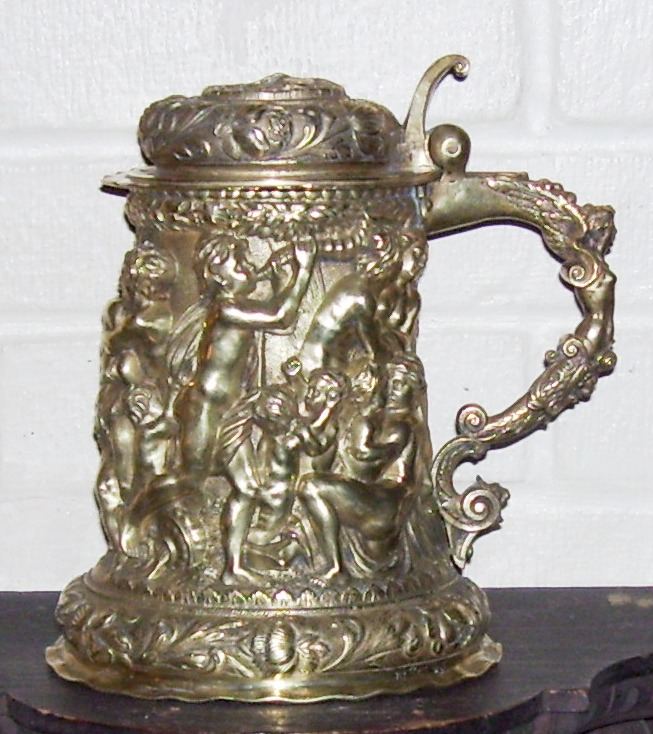 A very heavy bronze version, sans Iits finial. Display only – too heavy to drink out of. No marks, but probably made around Dresden / Meissen area. Circa 1880. [FWTD] Notice the rippled base, just as on the silver original.Unknown maker. [FWTD]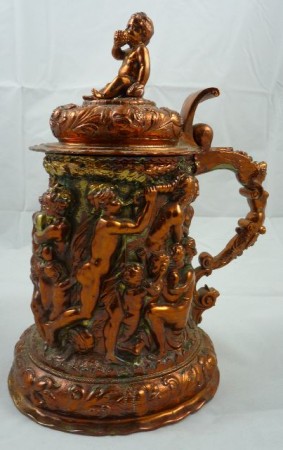 Silver plate on thin copper with most of the silver gone. Unknown maker.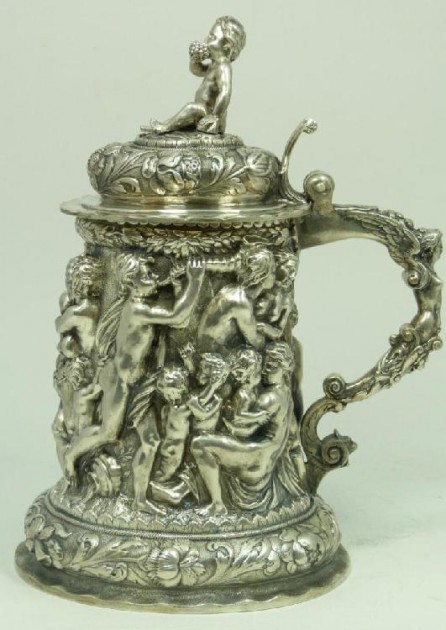 Another all silver plated copy . Unknown maker.   The same stein as just above  it I believe . Probably re-plated and called Russian by the Florida auction house that sold it in 2012.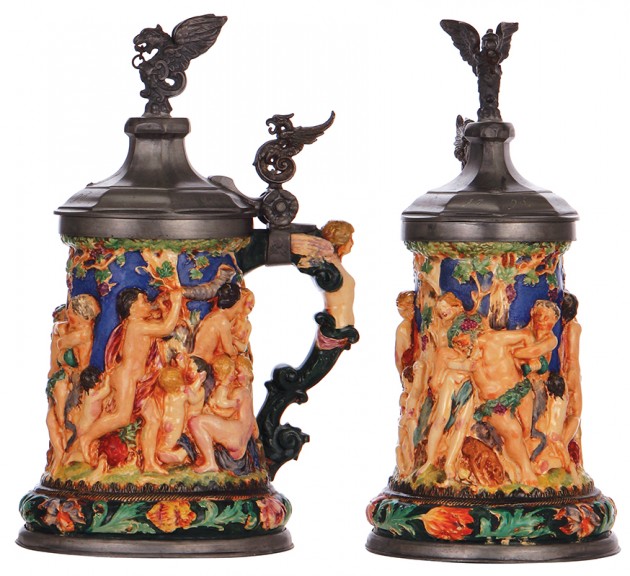 A large: 12.4 inches  majolica copy  1.5 liters,  no finial of  putti  Unknown maker . [FWTD] 
[END -SO104 -13 – R5
WISH  TO CONTACT ME  = ABOUT ANY THING ON THIS SITE – ONLY!! ?  STEVE   =

   The sole purpose of a child's middle name is so he can tell when he's really in trouble.