I have for over a year now placed these three short "notifications" at the bottom of each page!
 There are way too many variables: condition, location, time of year, present trends in stein collecting, local (and now national) economics,  never seen before (therefore no comparables); but most of all = prior expectations by the owner, are among the reasons!
I just do not have the time.
My web site was really started as an informational site for beginning beer stein collectors that would be looking for the info and not the general public. My So if one put in "Wood Steins" or "Hand painted steins,"  it
STILL  

  =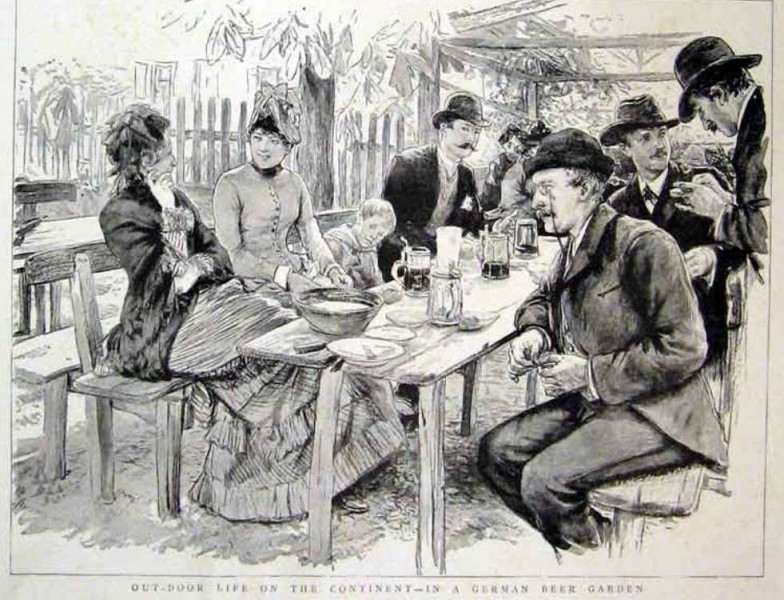 Newspaper print from (The) Graphic, 1890: "Outdoor life on the continent – in a German Beer garden." Editor's  note: Please notice the .5 liter clear glass beer steins of a slightly earlier period (as the thumblifts are still attached to the lid and not over the hinge.)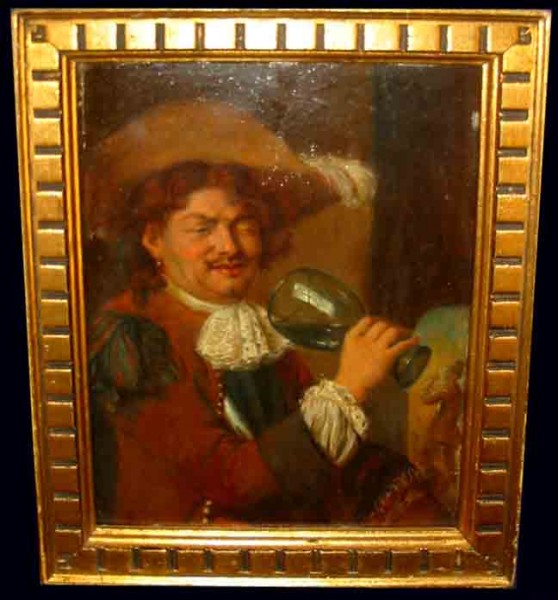 One of Bacchus' subjects.
Damn, I miss the old days! (Jan Rutgersz Van Niwael (c.1610-c.1665)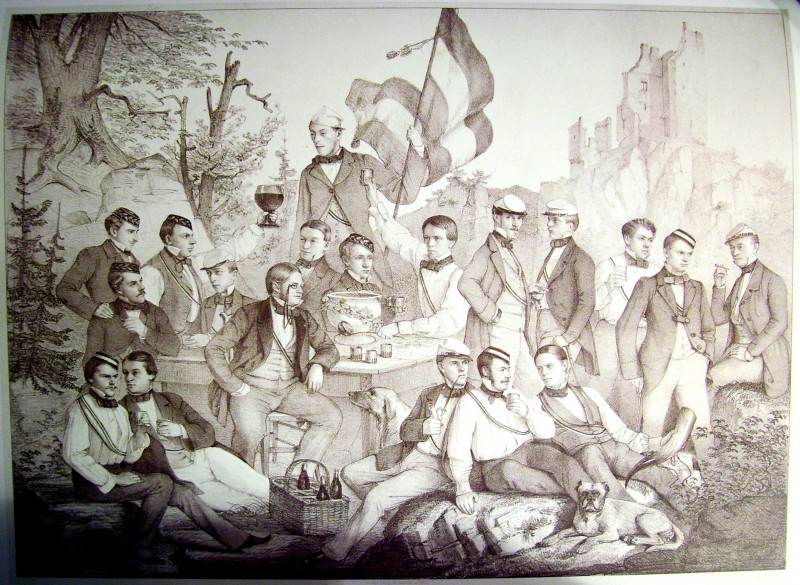 German students drinking.  Notice the large size of the roemer, top left; and the drinking horn to the bottom right.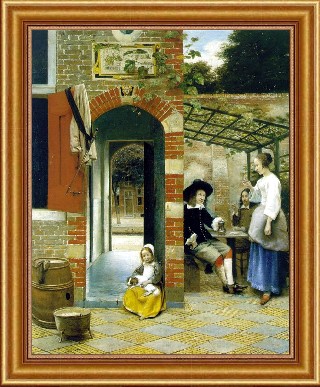 One of the reason for those lids on the steins, the birds in the arbor.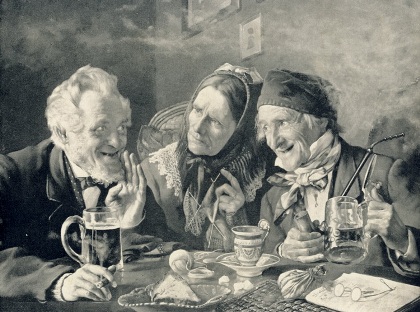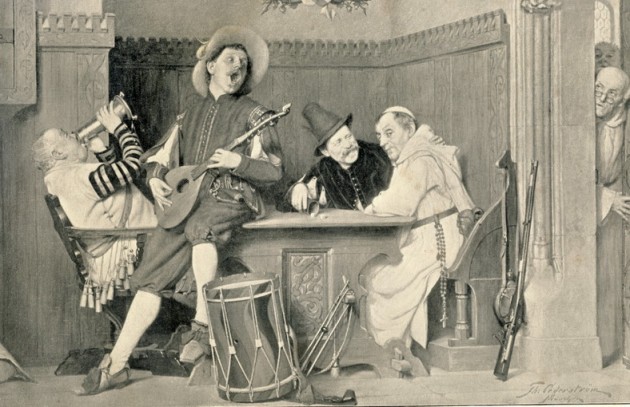 It  seems like a "good pipe" always had to come with a good  beer.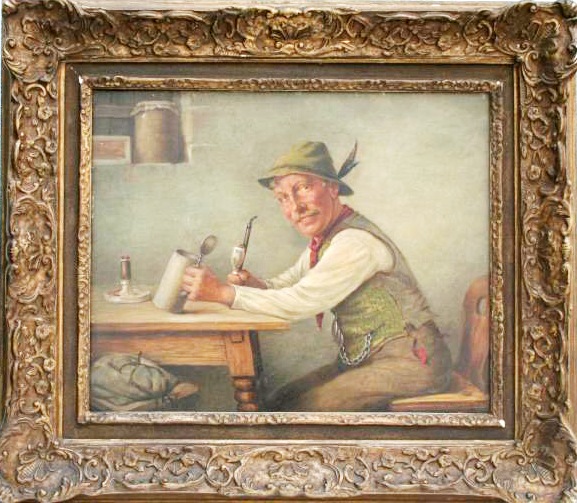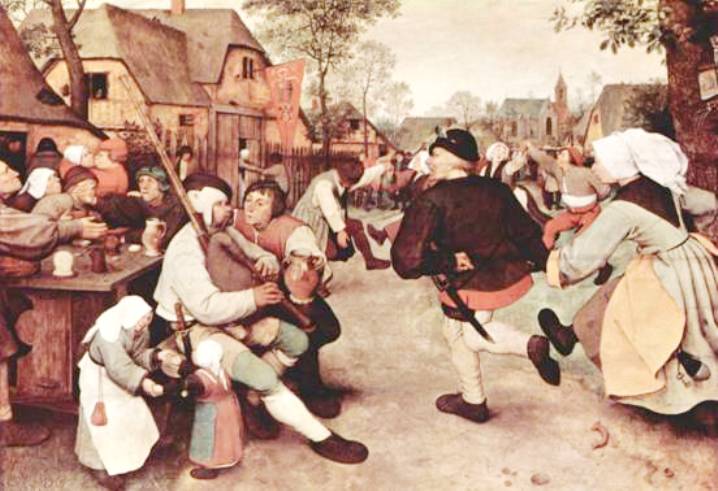 Breugel's art: Showing the beginnings of the European "Pass cup" (not a damn "Loving Cup!")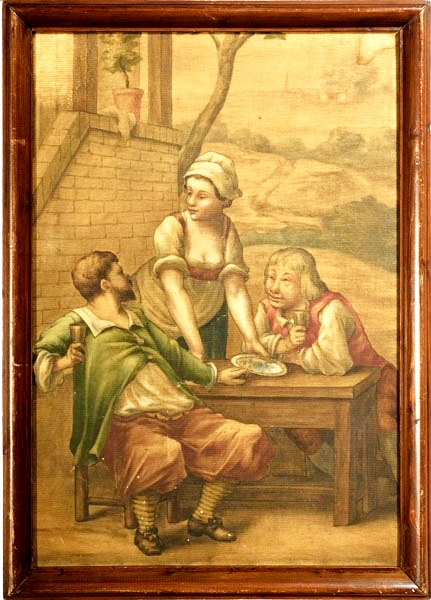 Westerwald steins and sevrers were very popular and represented well by the artists of the times on these next five photos. Today the lidded ones in excellent condition might sell for 800 to 1600 dollar range.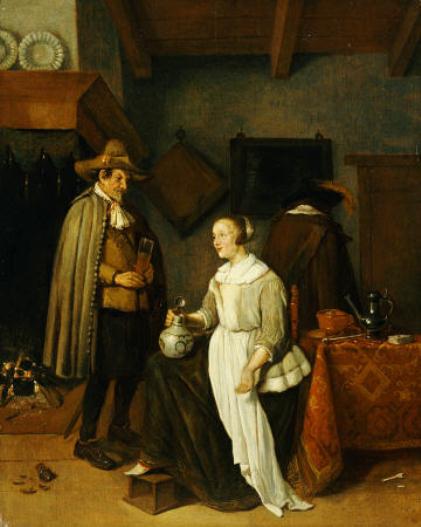 "A Soldier Drinking With A Young Woman In An Inn."  Quiryn Gerritsz Van Brekelenkam.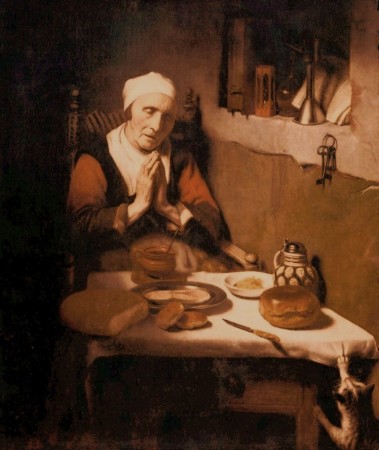 (Maes)-  "Old Woman at Prayer" – Notice the  Westerwald (perhaps Raeren)  stein on the table.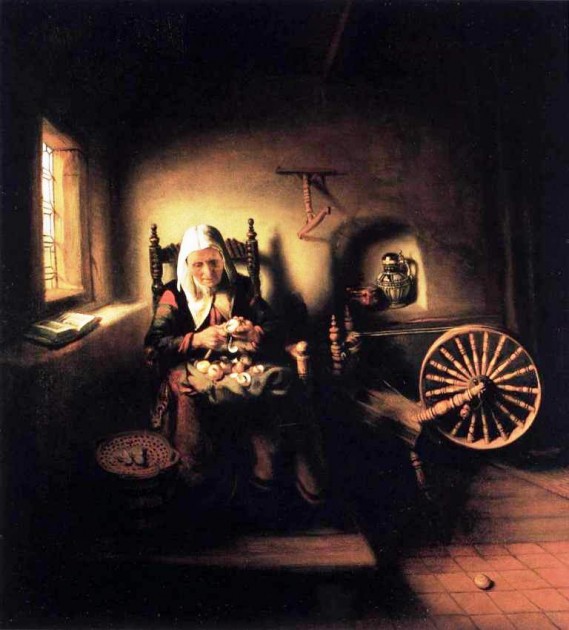 (Maes) – " Old Woman Peeling Apples"  – notice the Westerwald (perhaps Raeren) stein in the niche.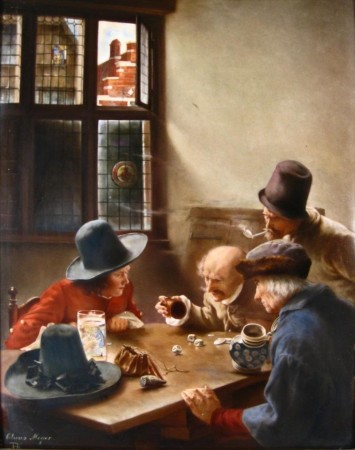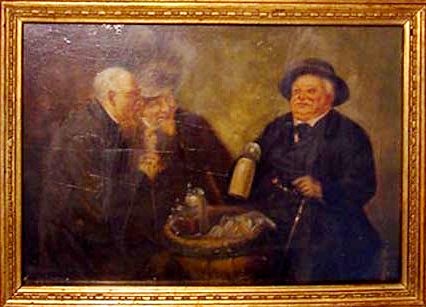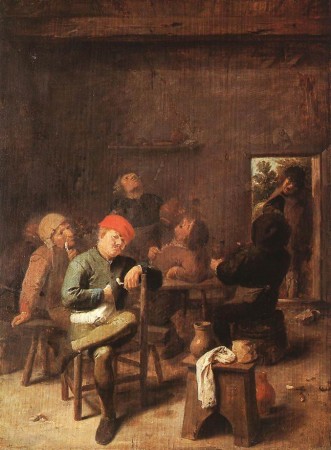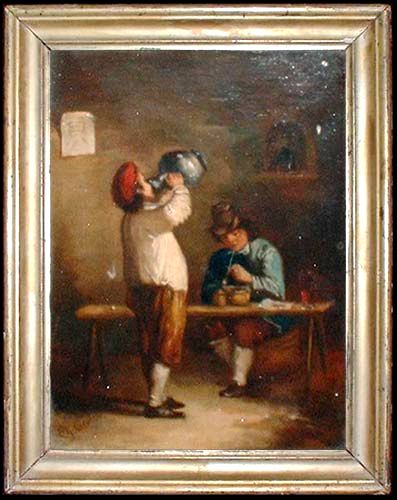 Prints of  old Dutch /German Masters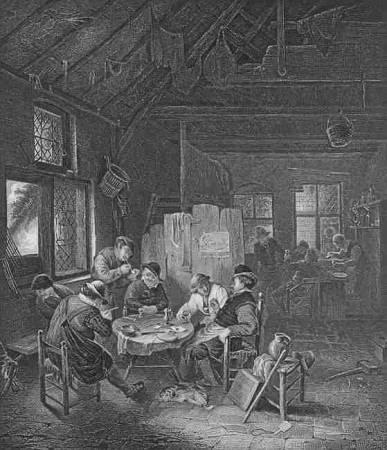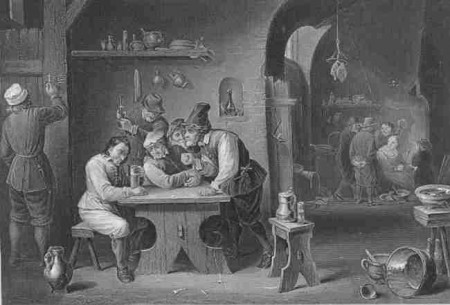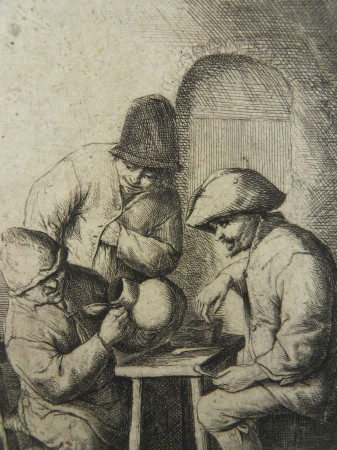 ADRIAEN VAN OSTADE =  DER LEERE KRUG, 1653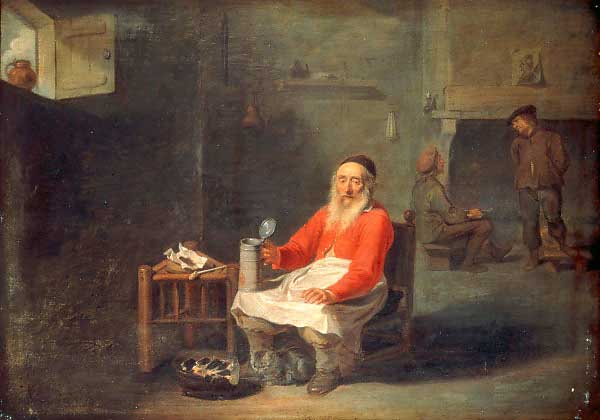 And now on to Russia .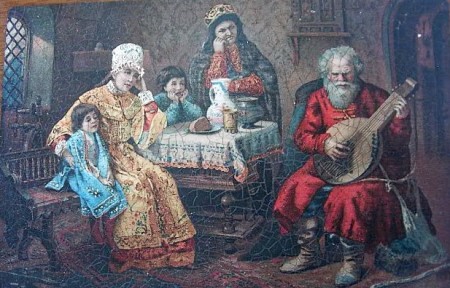 Russian family drinking, with a pitcher, "Bratina" and ball footed beaker – Lid of an old lacquered box.  Circa 1900.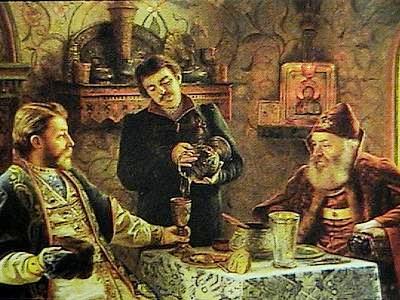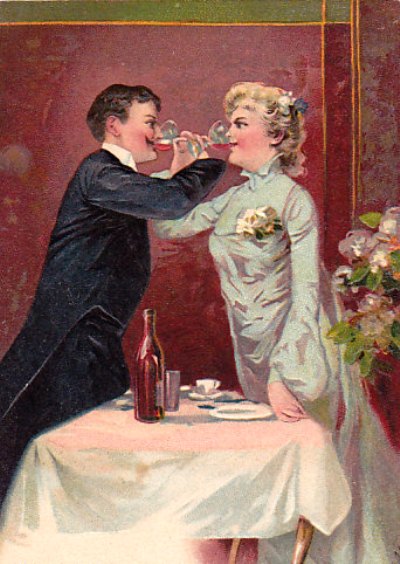 Now as opposed to the Flemish couple found above  this English couple are drinking their wine to a (loving) toast.
COPPER PLATED PEWTER WALL PLAQUE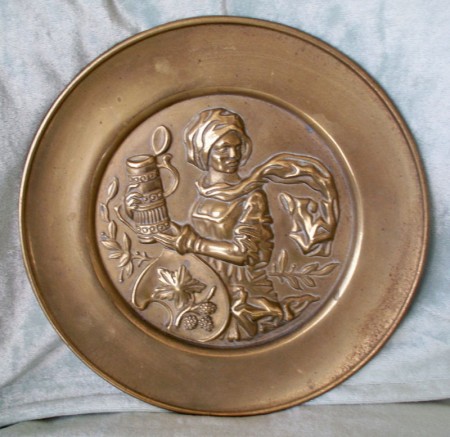 About a nine inch wall plaque, pewter with copper plating.  German.  Ca, 1900-30. I believe this is part of a pair –  if I remember correctly, but at my age who knows?  It would look nice cleaned up and in a "copper stein room."
RELIEF SHEET BRASS WALL PLAQUES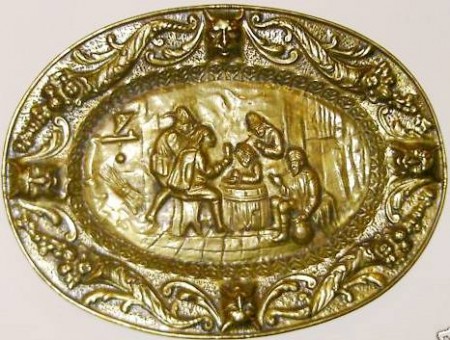 22.5 inch wide  Dutch [?]  relief brass wall charger. These brass wall chargers / plaques came in many different sizes and designs (mostly peasants drinking at a pub.)  Mostly made  in Belgium or Holland,  C. 1840- 70"s , and in England much later (and cheaper) , these can make for an interesting display in a bar area.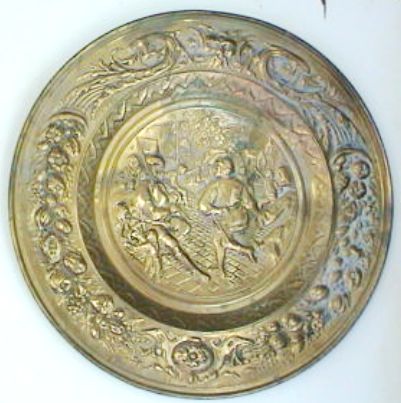 Below: Older Dutch  charger showing a detail from one of Brugels' paintings. C.1850- 70.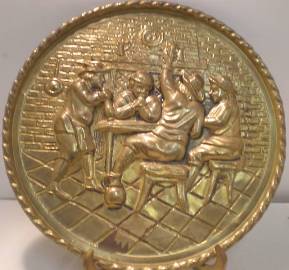 Shown: An English copy of an earlier Dutch piece, C. 1940. Most are marked Peerless.
AND JUST DIFFERENT: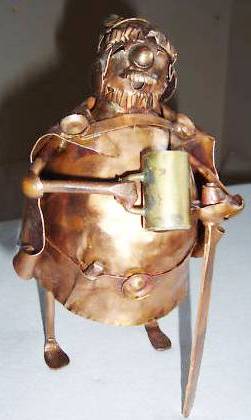 An unusual hand crafted all copper knight, German, new.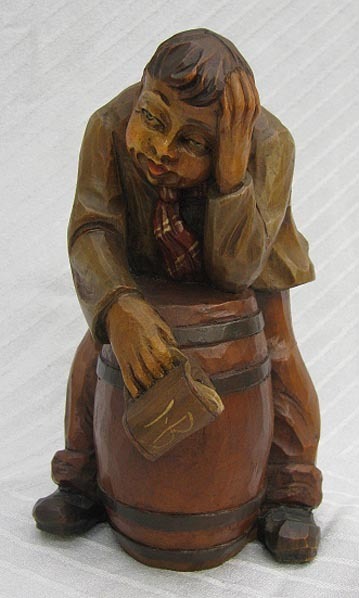 With "HB " on the mug, this is obviously a souvenir from Munich.
NOUVEAU ART WORK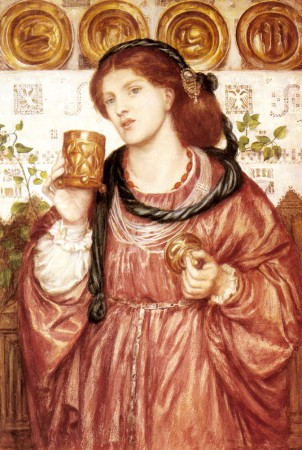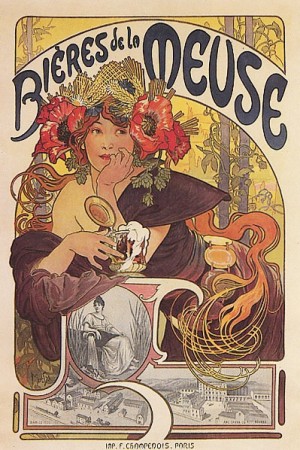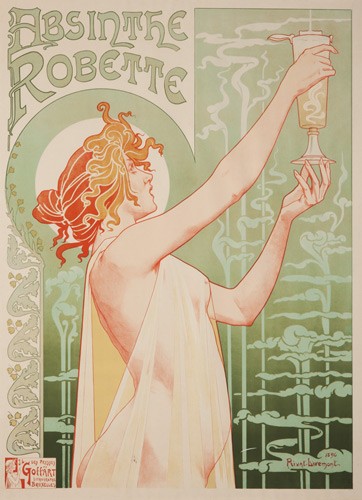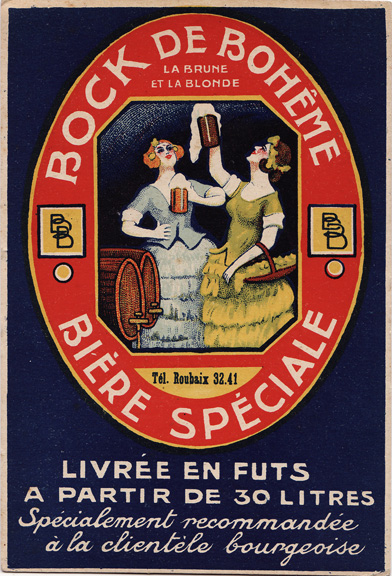 STILL LIFES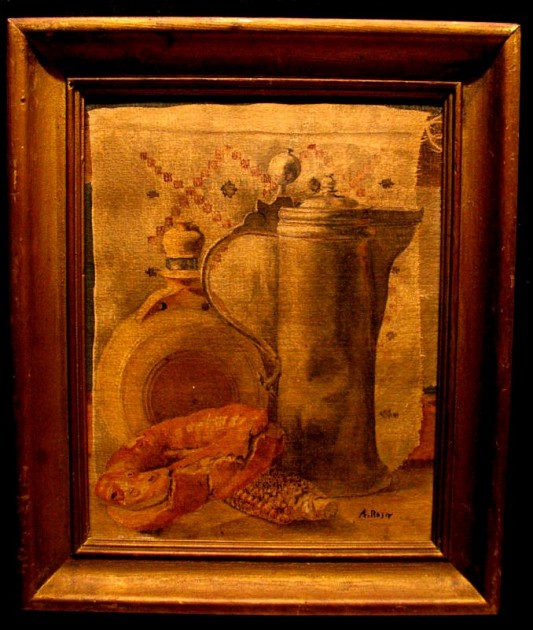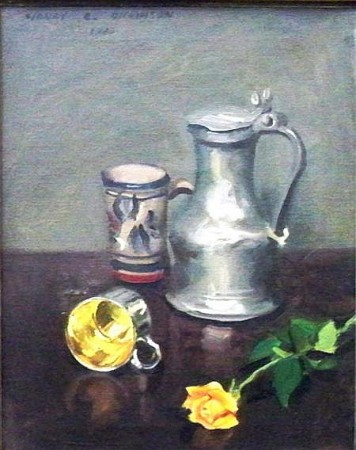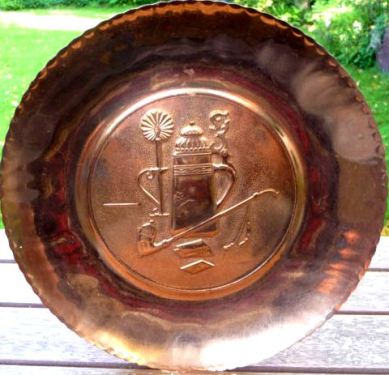 a 9.5 inch stamped copper wall plaque for a bar or kitchen. German, about 1900.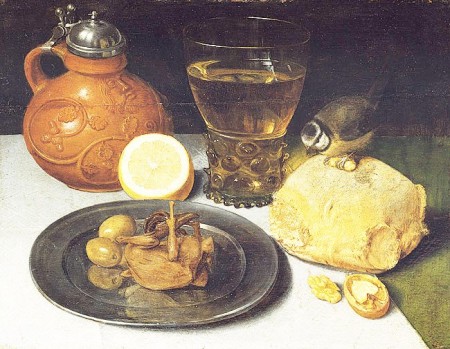 1600's server and roemer, with a house bird no less.
Below: Pokals (English = cup and cover) were a favorite still life subject.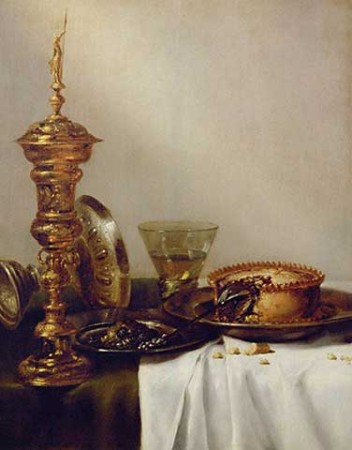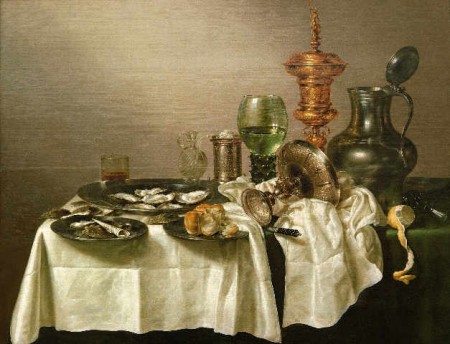 Lots of different types of drinking vessels in this one. Terrible table manner too!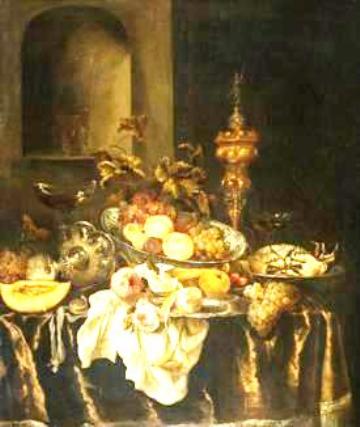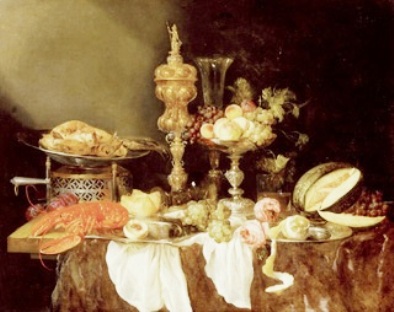 Columbine cup / pokal by Abraham van Beijeren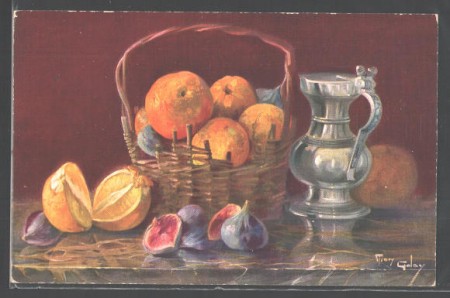 No attributon – Swiss pewter kann.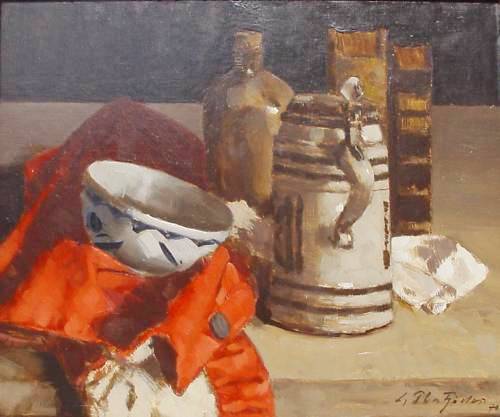 The beer stein is from the Westerwald. Circa 1800.   Ludwig Platzöder, München.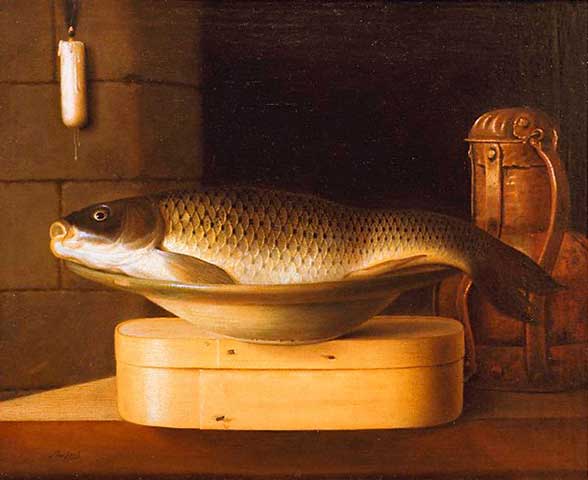 Another great gilded pokal scene.
A life size bronze of 'Dionysus' standing in front of the (old name) Qingdao Brewery; now called Tsingtao.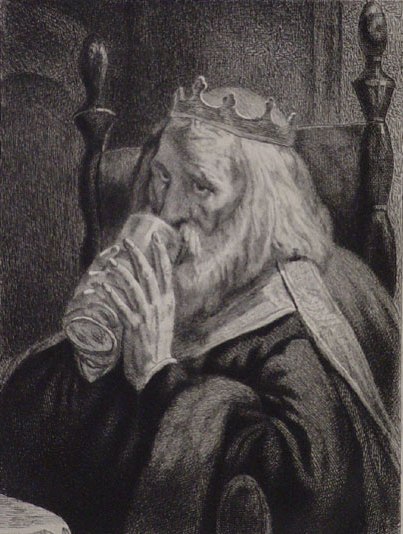 And finally . the old "King of beers" himself, Gambrinus!
[END – SOK – – 47  – DD – no R5 ]


"I keep some people's phone numbers in my phone just so I know not to answer when they call."