---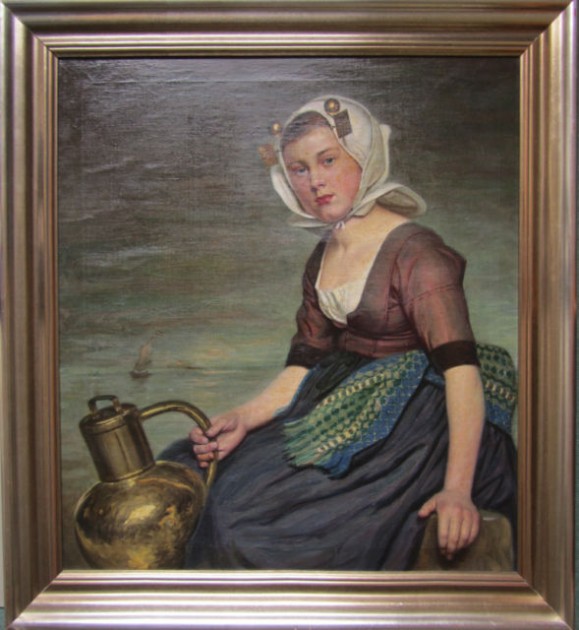 ---
CR- BLACK, STARR & GORHAM STEIN TANKARD [MADE FOR RETAIL AND NO MAKER INFO ON STEIN ]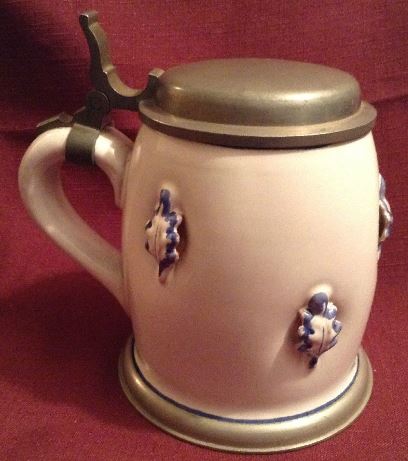 ---

Black people steins – Blacks on steins  –  See: "Negro steins" in this site's Compendium.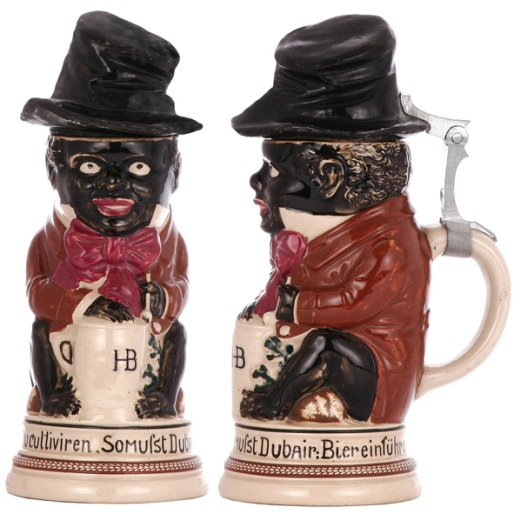 As one might imagine  this is now a big "cross over" category.= beer steins and American black memorabilia. 
Shown above▲:  .5 liter pottery. The original was Circa 1890. Maker was ?  = This one is a modern day reproduction=  look at how shiny the pewter is!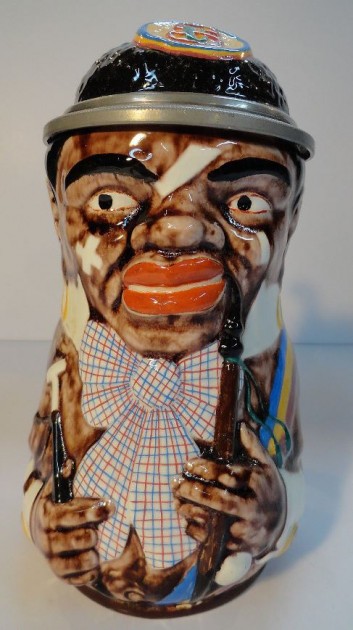 Shown above▲:  Character beer-stein a black man, (a German Student, majolica perhaps ?) I belive lead glaze over pottery only.
---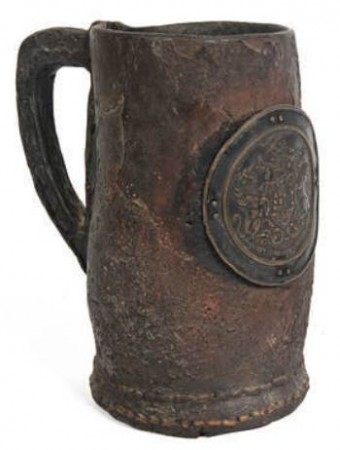 Blackjack – A large  old time English leather serving vessel used for serving beer / ale mostly at pubs.
Shown above ▲ : An antique leather Blackjack, with a (copper?) seal of Bristol added (later?) 1600's.
Shown below ▼: A Royal Doulton "Silicon Ware" copy of a blackjack with copper mounts. A very unusual version, as most are plain or have humorous white slip sayings painted  on them.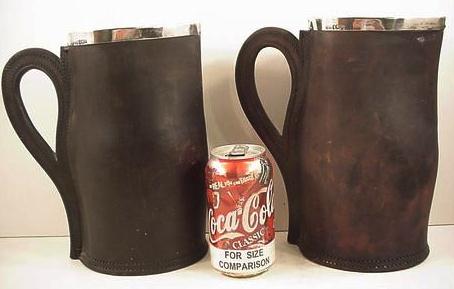 Shown above ▲ : A pair of more recent blackjacks, English with Sterling silver lined rims.
---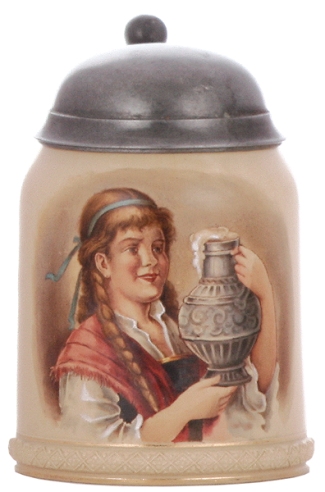 Blank steins – An undecorated stein bought for future decoration by another firm or 'Hausmauler.'
Shown above▲:  A V&B Mettlach stein, .5L, 284, a blank stein hand painted and marked / signed "Fried von Hauten." (For more on this artist: see: http://www.steveonsteins.com/van-hautens-enameled-big-question-drinking-wares-draft-2-3-2011
---
Shown above▲:  A silver plated example made by by WMF; shown below▼ with a little brass "bleeding"  through.
Bleeding — The technical term applied to pieces of silver-plate where the brass  or copper base is exposed due to minor wear, especially noticeable on  "Old Sheffield Plate."(thin Silver fused over copper.)
---

Blind Justice – Is the  legal concept regarding the neutrality of the dispensing of justice.  See: "Lady Justice" for the blindfolded female figure.
---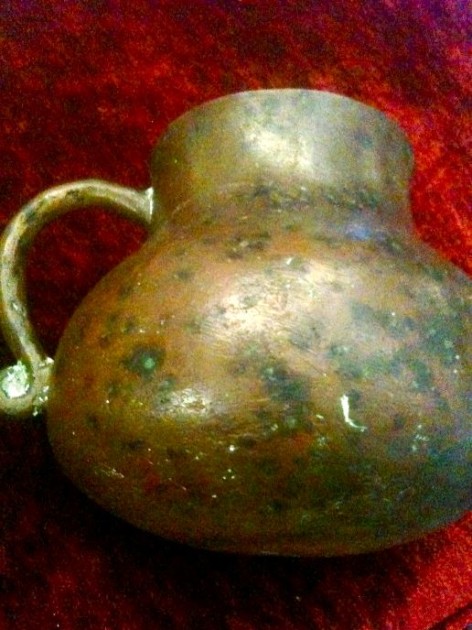 Blister marks –  this is not "Patina" folks ,  this is dirt, oxidation and years of neglect. All the green spots will clean up but they leave what I call "blister marks " which are small patches of eaten  away metal surface and can easily be seen with a magnifying  glass.  This is one method to assist in  documenting  really old age of brass, bronze and copper and even really old, old silver.
Shown above▲:  Ca 1400's. Bronze drinking mug. 

---

Blockzinn — Old German mark or part of one, indicating good pewter quality.
---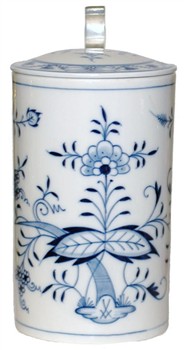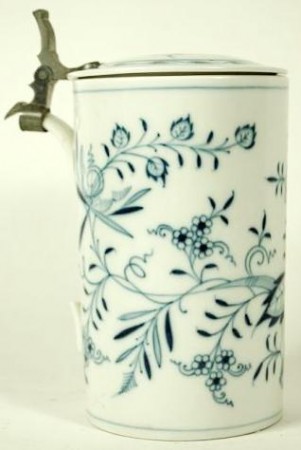 Blue Onion pattern – Another "misnomer", but not confined to steins however. It comes from an old Dutch design on painted tiles. Now most everything that is blue paint on porcelain with swirls or leaves is called "Blue Onion." 
Shown above  ▲: Meissen, made  a one liter. 
Shown below ▼: Two other non Meissen examples.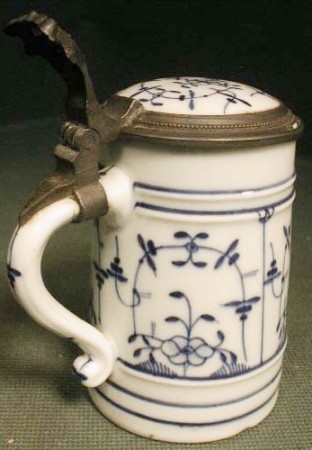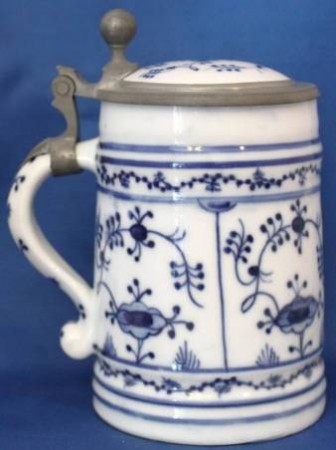 Shown below ▼:  Meissen porcelain's one liter server answer to the "Blue Onion " craze.  Or maybe they started it? I am not that familiar with that firm to make that call.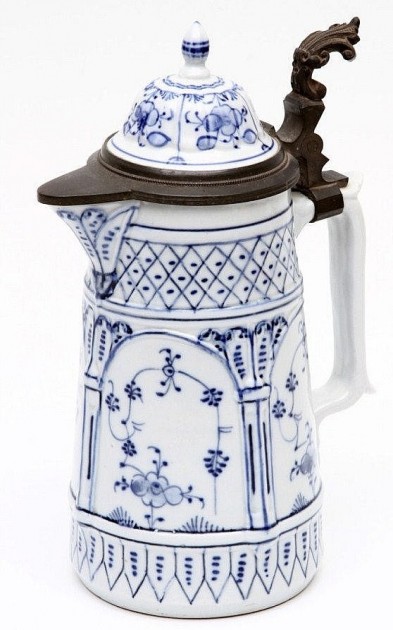 ---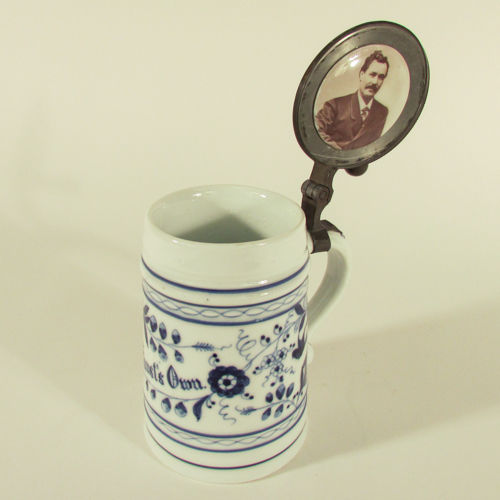 Shown above  ▲: "Faust's Own (St Louis)  A .5 liter porcelain brewery stein dune in "Blue onion décor"  Tony Faust was very successful and a big bigot (read his bio on Google !)  The beer was not his but was made by Anhauser Bush's !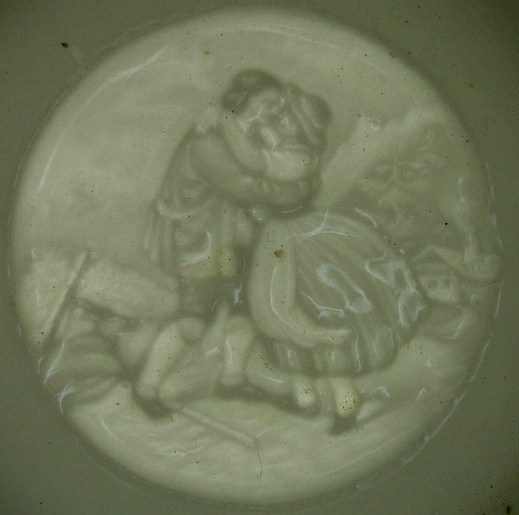 Shown above  ▲:  A nicely done lithophane in the brewery stein above.
---
BMF –A new firm that makes low end steins, mostly for the tourist trade in Germany. 
Shown above ▲:  PUG on white glass, BUT this is not milk glass!
Shown below ▼:  BMF Porcelain Lidded Stein (0.5L)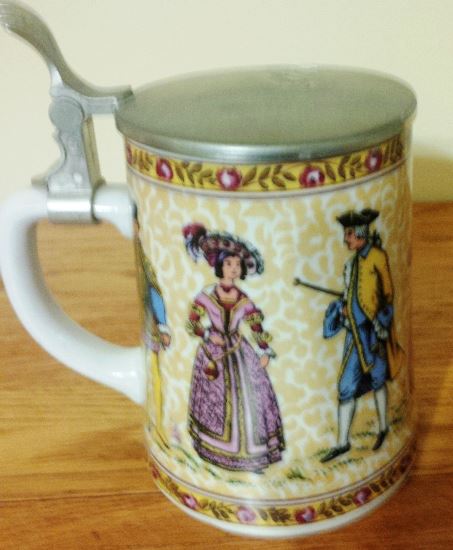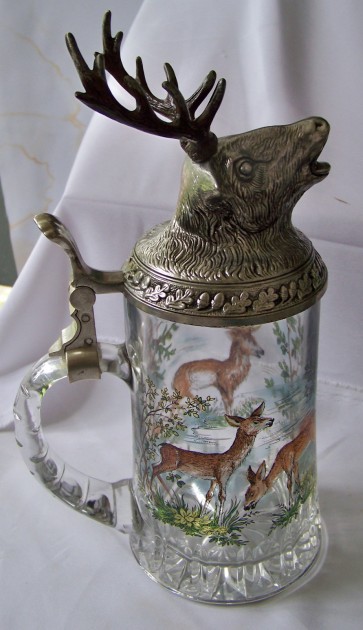 Another example of their work.
---
Boar steins,(wildschweinkrug) – Deer and horses on beer steins are probably the most favorite animals, especially on fayence steins. However, there are lots of German hunters / drinkers that worshiped "The Boar." 
Shown above▲:  A one liter stoneware brewery stein celebrating 300 years of being in service. The boar was their symbol. Dated 1893. Hard to find. [FWTD]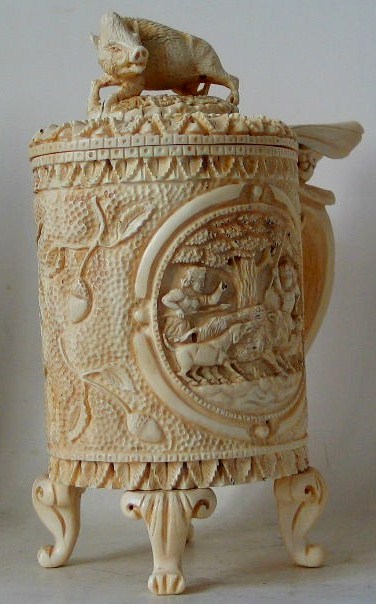 Shown above  ▲: A very delicately carved ivory stein celebrating a boar's hunt. One half liter probably, German Ca. 1800 -50.  (Beer-stein)

Shown above  ▲:  A modern day porcelain reproduction [but not cheap!] of the character stein, "Gentleman Boar." [FWTD]
---

Shown above  ▲: Bodenrosette on a ca. 1950's pewter tankard

Bodenrosette (Pewter)—[USA usage] – A quality mark usually found on the base of a hollow ware vessel in Switzerland, Austria-Hungary, Eastern France and Germany.   Now being used on many reproductions Also See:  "Rosette."  
---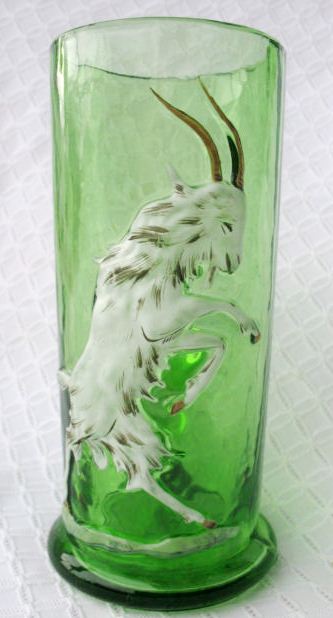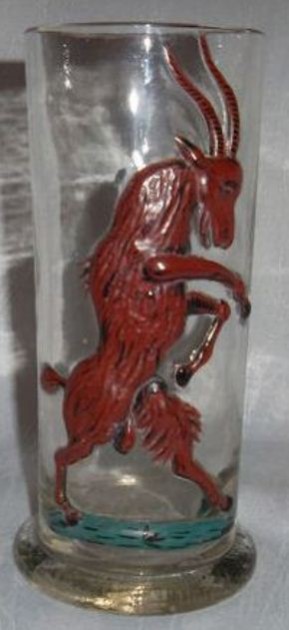 Bock bier – / beer –  The style of beer known now as bock was a dark, malty, lightly hopped ale first brewed in the 14th century by German brewers in the Hanseatic town of Einbeck. The style from Einbeck was later adopted by Munich brewers in the 17th century and adapted to the new lager style of brewing. Due to their Bavarian accent, citizens of Munich pronounced "Einbeck" as "ein Bock" ("a billy goat"), and thus the beer became known as "bock". To this day, as a visual pun, a goat often appears on bock labels.
Shown on right above ▲ ►: A heavily enameled .5 liter mug, showing a bock in his natural state. This was posted on eBay by the the seller as  RARE, and as a  "devil's 'mug." Neither apply. [FWTD]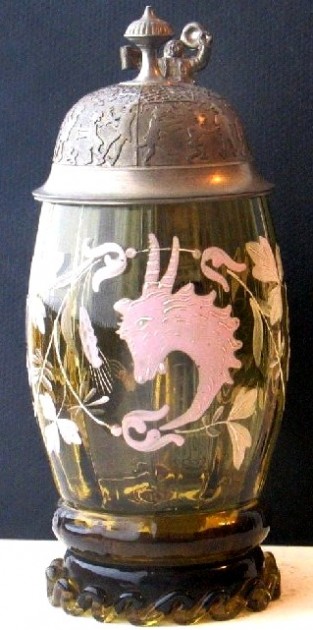 Shown above  ▲: A Bock's head done in white enameling on a Theresienthal .5liter  blown glass stein, Ca. 1890.
---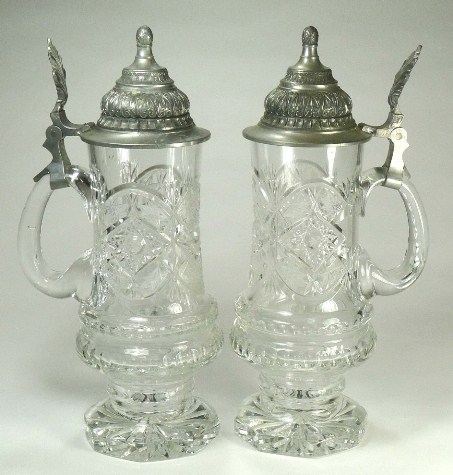 Bodenmats Bleijrkristall – German makers of (nicely done) cut glass beer steins. Ca. late 1960's on.
---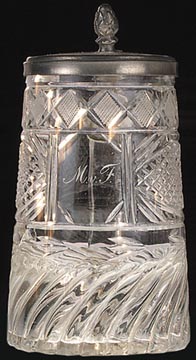 Bohemian – Drinking vessels made in the political sub-division of the Austro-Hungarian Empire. It lay just East of Bavaria. The area was well known for their great glass factories that made great engraved (not etched) glass steins from about the late 1700's through WW1. These can usually be distinguished by their having an additional cut rim at the top, for ease in drinking. This area is now part of the Czech Republic. Shown: A typical blown clear glass stein from Bohemia.  Circa 1820-40.  See 'Silesia' also.
---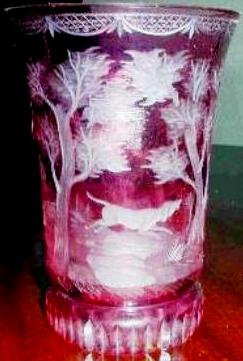 Bohemian Cut Glass, new style – Somewhere in the 1960's-1970's when Bohemian glass "took" off in popularity again, the new glass cutters either developed a new look or they just couldn't copy the old style correctly. This "newer" glass is wheel cut at a much less sharp angle than was done in the 1840's and onward. The effect is to make everything that was cut more cloudy as there is more surface that has been ground (cut.)
Shown above ▲:  An enlarged photo of a "new" style beaker. Look at the tree branches and leaves for the best example of this.
See below  for comparison purposes.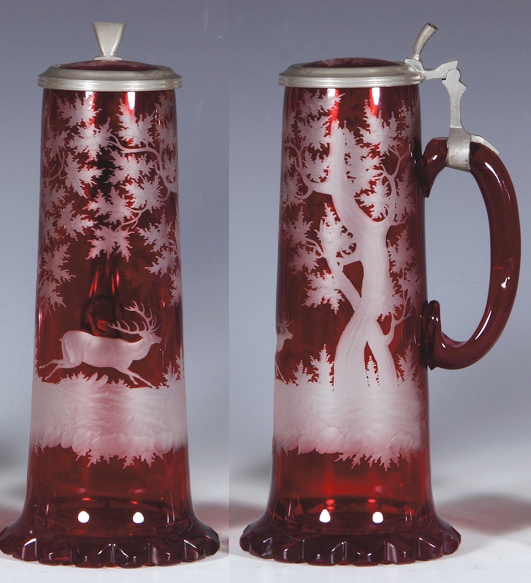 Shown above ▲:  Old style of wheel cutting
---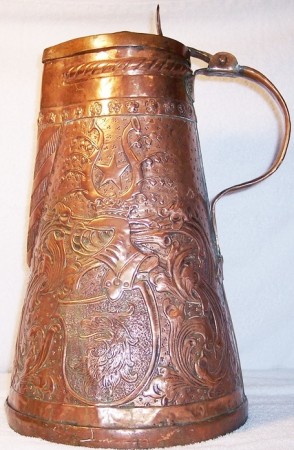 Bohemian copper steins and servers – This area of stein collecting  is also just now just getting recognition for its productions of fabulous copper serving vessels from the late 1600 to about 1850. I admire this  workmanship very much . Their highly engraved decorated copper serving and drinking vessels, with their distinctive rolled over sides on the handles, are mostly misidentified by  most of the German stein auctioneers as coming from Nuremberg.
Shown ▲:  A huge richly engraved  double armorial serving stein; a wedding present. Circa 1700. [Stephen Smith Collection]
Please see the page:  http://www.steveonsteins.com/copper-stein-bohemian-vs-Bavarian
---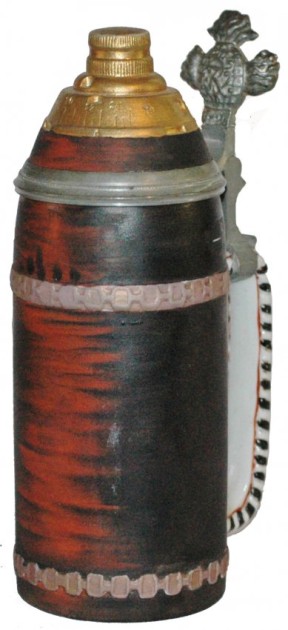 Shown above ▲ :  A .5 liter Character stein in porcelain,  By Bohne.  Germany. One of the most scarce and expensive when found.  Bohne , Ernst (& Söhne)  (pronounced 'bone') – Prolific manufacturer  of porcelain character steins.  Bohne , Ernst (& Söhne)
For maker info, please  See  http://www.steinmarks.co.uk/pages/pv.asp?p=stein357
---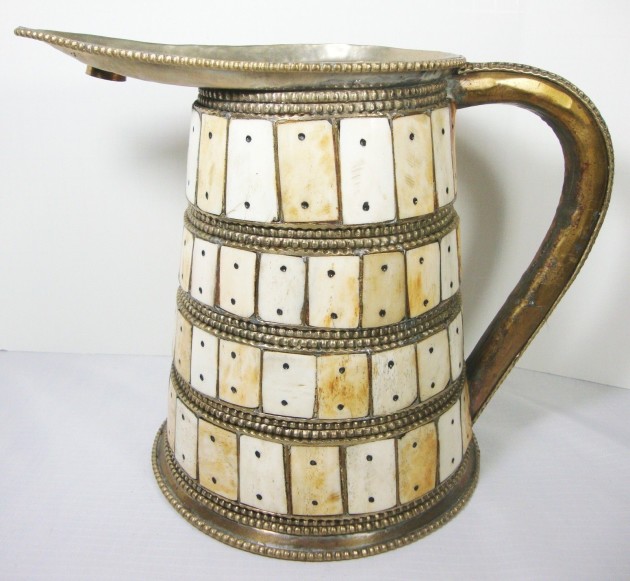 Bone stein –  Many collectors (and the US stein dealers) can not tell the difference between bone and ivory, yet the determination is easy. Bone has little holes in it where the small capillaries carrying blood were.  Ivory has no such holes and when looked at the ends of the piece  [where cut] will have a "tic-tac-toe" pattern within the material.

Shown above ▲:  A cut bone server – A very different approach to the use of bone.  Small cut and sized bone tablets attached to a brass body by what appears to be small brass pins, but are really only stained; and the shingles are glued to the body!  I am pretty certain (90%)  that this piece was made in Morraco.  Makes an interesting display.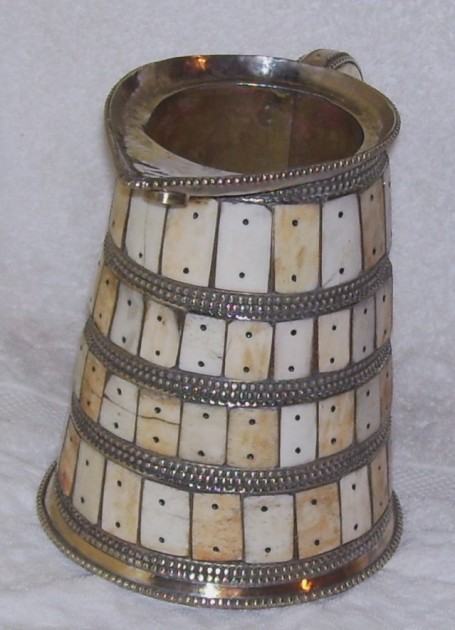 ---

Book flask – A spirits flask made in the shape of a book, with a small screw off cap having about a half liter or pint capacity. Later day ones are molded pewter and come with engraved pseudo armorials, but some antique ones exist of stoneware and pewter.  Shown: Two engraved, armorial pewter book flasks from the Weygang firm. Ca 1900. [Stephen Smith Collection.] 
February 21012:  I received this email from a German long time pewter stein collector who had a new twist on what these were originally made for, and it does make a lot of sense.  As in the vase versus beaker descriptions, once it is yours, you may use it for whatever the hell you wish!
"I have seen Schraubflaschen shaped as books in several sections of your homepage. And since you normally like to write about interesting stories behind the objects, I wondered if you knew the background of those ?" Those book-shaped vessels are not actually drinking vessels, nor are they book related, even though I have seen dealers try to sell the as guild flask of a bookmakers guild. Their real use is as hand warmers. Filled with hot water they helped to sit through long sermons in cold churches during winter. In the shape of a book they looked like a prayer book, so it was less awkward to carry them around. But apart from the many modern reproductions, the authentic pieces are very rare, I have only seen a few genuine ones in my life. R.W."
All very interesting hey? Being the boozer I've been, I'd like to think that if I went to that old cold assed church . my 'hand warming flask' would be filled up to the brim with "Maker's Mark Bourbon!" (we could pass it about before the lightening hit .from me being in any church!  (SLS)
---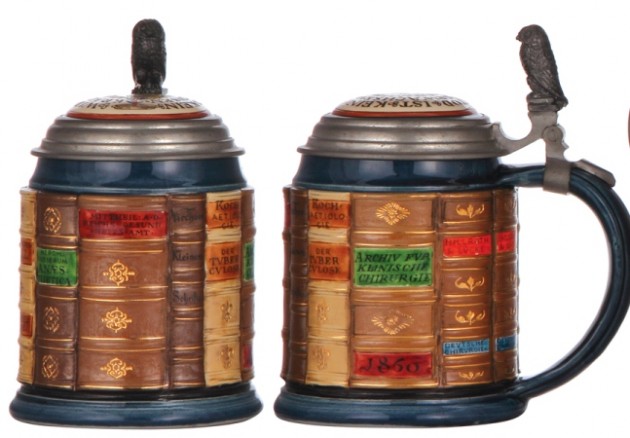 Book steins – The V & B Mettlach series. See: http://www.beerstein.net/articles/s9412a.htm
Also see "Knock offs" in Compendium for a copy!
---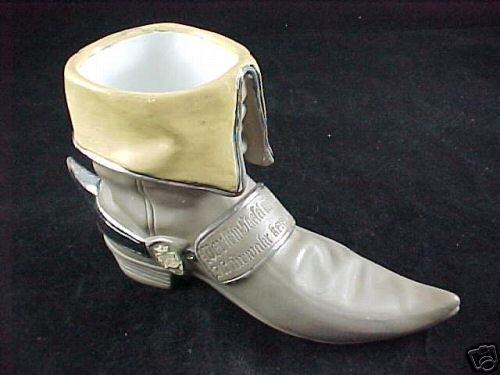 Boot, Drinking  (or) Beer Boot (or) Bierstiefel – Beer boots, have centuries of history and culture behind them. It is commonly believed that a general somewhere promised his troops to drink beer from his boot if they were successful in battle. When the troops prevailed, the general had a glassmaker fashion a boot from glass to fulfill his promise without tasting his own feet and to avoid spoiling the beer in his leather boot. Since then, soldiers have enjoyed toasting to their victories with a beer boot. At gatherings in Germany, Austria and Switzerland, beer boots are often passed among the guests for a festive drinking challenge. Since the movie "Beer- fest" appeared in 2006, beer boots have become increasingly popular in the United States. Modern Beer boots are now made of either manufactured pressed glass or mouth blown glasses by skilled artisans.
Shown above▲:  [ top ] A 'WMF' made glass and silvered brass drinking boot , c 1890 (having lost most of it's silver, with polish dust still on the piece.
Shown above▲:  [ bottom] A V& B Mettlach stoneware small dress boot. I think 1,000,000's of pottery and stoneware boots have been made ever since a visiting Roman wrote about the old German's while celebrating were drinking from their own shoes / boots.
Shown below ▼: An extremely different ands scarce and expensive olden drinking boot in copper. Great detail. 14 inches tall –   and C. 1850 I believe .  It is not in FWTD but I tried!!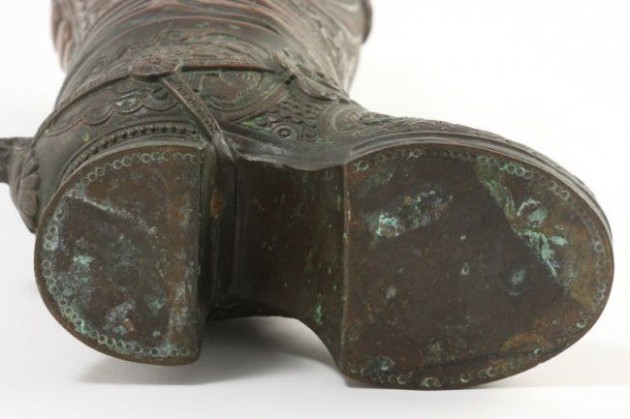 See also: http://www.steveonsteins.com/the-man-who-can-not-drink-his-boot-full-of-beer-is-not-a-true-bavarian-new-10-13-11
---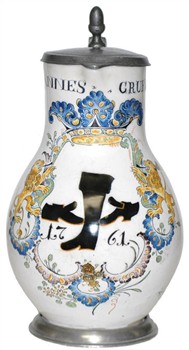 BOOT AND SHOE MAKER'S OCCUPATIONAL DRINKING VESSELS – As boot and shoes were essential in European culture the local boot and shoe makers enjoyed a fine reputation.  Their drinking vessels are highly sought out as occupational representatives or as early guild examples.
---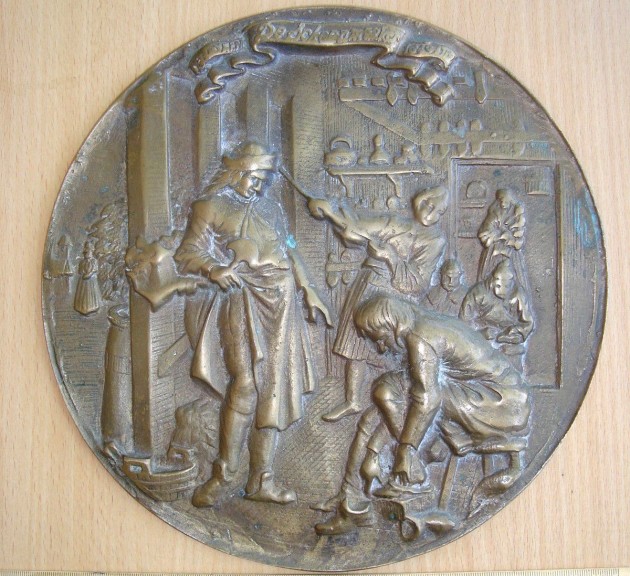 BOOT AND SHOE MAKER'S OCCUPATIONAL SCENE  – Dutch bronze plaque "De schoen maaker, Luyken. A small Dutch bronze wall late it is dated "1649" which could be the date it was made or the date the illustration was copied, if it was dated.  Given the wear to the faces and that I have seen on another plaque, made just as this was, but showing a pie maker; it carried the same year date, "1649", my SWAG tells me this is the date of origin!
Shown below ▼:  Jack Boot and leather tools on inlay lid to V & B No. 2722 – Boot /  Shoemaker Occupational with Hans Sachs (see compendium) as body's subject on the stein, as he was
one.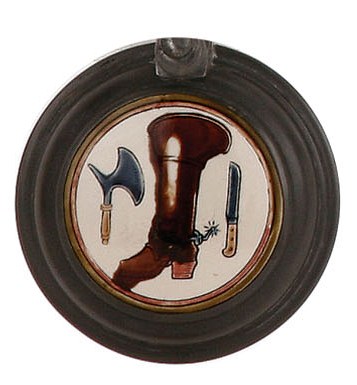 Shown below ▼:  Pewter Guild pokal for a bootmaker"s guild Dated  1713. [FWTD]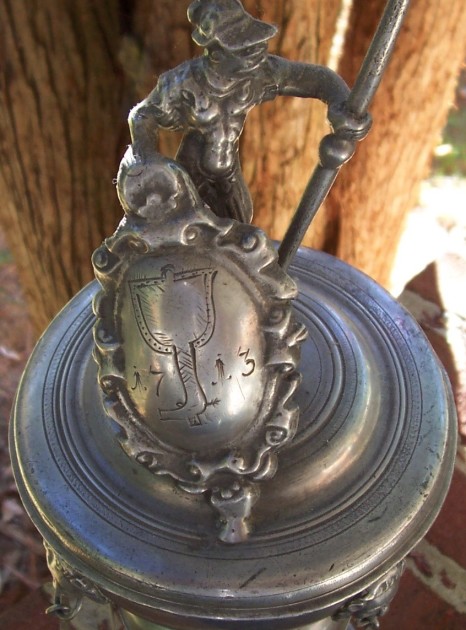 As boots have been used by animal riders for millennia, they were of course  used by medieval European  knights. As a consequence, albeit not too common, boots came to be used as charges in heraldry. Because of the origin of heraldry as insignia used by mounted warriors like the medieval knights, when boots are used in heraldry, they are often displayed as riding boots, even if the blazon might not specify it as such. They are sometimes adorned with spurs, which may or may not have another tincture (colour) than the boot and the background field. above taken from : http://en.wikipedia.org/wiki/Boot#Boots_in_heraldry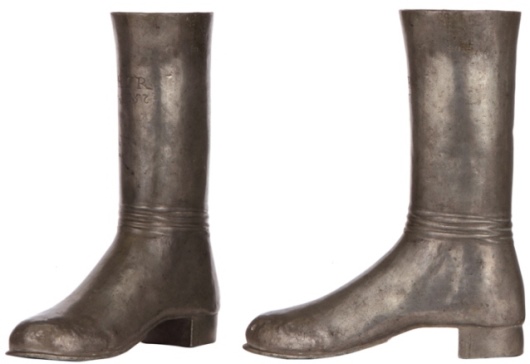 Shown above ▲: Here is one that didn't get away! A 9 inch tall, Circa late 1700's Pewter Boot maker's guild drinking boot in excellent condition. This one is personalized so it was probably one the guild member  had made to take home from the guild hall to use elsewhere.   [FWTD]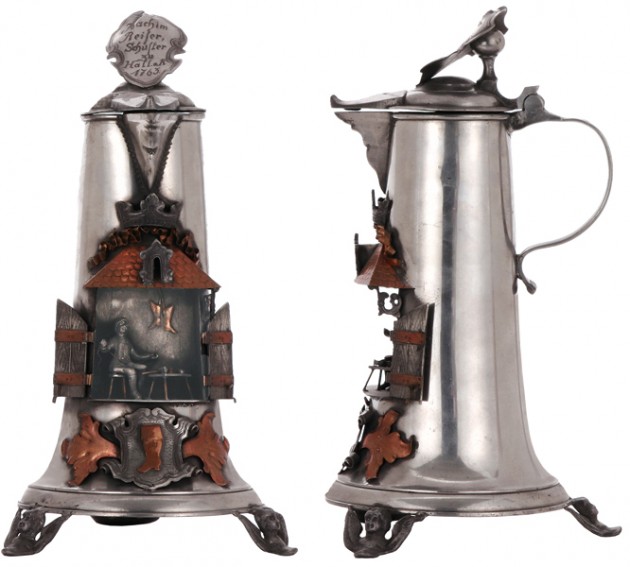 Below is an interesting and informative article that relates to the heels found on most boots even today.   I located it and the museum by searching "Google ."
Why did men stop wearing high heels?
By William Kremer BBC World Service  (Copyright  © by BBC and the author.)
For generations they have signified femininity and glamour – but a pair of high heels was once an essential accessory for men. Beautiful, provocative, sexy – high heels may be all these things and more, but even their most ardent fans wouldn't claim they were practical.
They're no good for hiking or driving. They get stuck in things. Women in heels are advised to stay off the grass – and also ice, cobbled streets and posh floors. And high heels don't tend to be very comfortable. It is almost as though they just weren't designed for walking in.
Originally, they weren't. "The high heel was worn for centuries throughout the near east as a form of riding footwear," says Elizabeth Semmelhack of the Bata Shoe Museum in Toronto. EDITORS NOTE: Please see: http://en.wikipedia.org/wiki/Bata_Shoe_Museum Good horsemanship was essential to the fighting styles of the Persia – the historical name for modern-day Iran. "When the soldier stood up in his stirrups, the heel helped him to secure his stance so that he could shoot his bow and arrow more effectively," says Semmelhack.
At the end of the 16th Century, Persia's Shah, Abbas I, had the largest cavalry in the world. He was keen to forge links with rulers in Western Europe to help him defeat his great enemy, the Ottoman Empire. So in 1599, Abbas sent the first Persian diplomatic mission to Europe – it called on the courts of Russia, Germany and Spain. A wave of interest in all things Persian passed through Western Europe. Persian style shoes were enthusiastically adopted by aristocrats, who sought to give their appearance a virile, masculine edge that, it suddenly seemed, only heeled shoes could supply.
As the wearing of heels filtered into the lower ranks of society, the aristocracy responded by dramatically increasing the height of their shoes – and the high heel was born. In the muddy, rutted streets of 17th Century Europe, these new shoes had no utility value whatsoever – but that was the point. "One of the best ways that status can be conveyed is through impracticality," says Semmelhack, adding that the upper classes have always used impractical, uncomfortable and luxurious clothing to announce their privileged status. "They aren't in the fields working and they don't have to walk far." When it comes to history's most notable shoe collectors, the Imelda Marcos of his day was arguably Louis XIV of France. For a great king, he was rather diminutively proportioned at only 5ft 4in (1.63m). He supplemented his stature by a further 4in (10cm) with heels, often elaborately decorated with depictions of battle scenes. The heels and soles were always red – the dye was expensive and carried a martial overtone. The fashion soon spread overseas – Charles II of England's coronation portrait of 1661 features him wearing a pair of enormous red, French style heels – although he was over 6ft (1.85m) to begin with.
In the 1670s, Louis XIV issued an edict that only members of his court were allowed to wear red heels. In theory, all anyone in French society had to do to check whether someone was in favour with the king was to glance downwards. In practice, unauthorised, imitation heels were available. Although Europeans were first attracted to heels because the Persian connection gave them a macho air, a craze in women's fashion for adopting elements of men's dress meant their use soon spread to women and children. "In the 1630s you had women cutting their hair, adding epaulettes to their outfits," says Semmelhack. "They would smoke pipes, they would wear hats that were very masculine. And this is why women adopted the heel – it was in an effort to masculinize their outfits."
From that time, Europe's upper classes followed a unisex shoe fashion until the end of the 17th Century, when things began to change again. "You start seeing a change in the heel at this point," says Helen Persson, a curator at the Victoria and Albert Museum in London. "Men started to have a squarer, more robust, lower, stacky heel, while women's heels became more slender, more curvaceous."  Association Elizabeth Semmelhack believes that high heels began to be seen as erotic footwear when they came back into fashion in the late 19th Century – the nude models on French postcards were often wearing them Biology Dr Helen Fischer, a biological anthropologist at Rutgers University, says that heels force women into a "natural courting pose" found amongst mammals, with an arched back and protruding buttocks Patriarchy Not only do heels transform the way women's bodies look to please men, they cause them pain and prevent them from running away – radical feminist Sheila Jeffreys says they are one way in which women are forced to "compensate for the lack of power that men may be having" The toes of women's shoes were often tapered so that when the tips appeared from her skirts, the wearer's feet appeared to be small and dainty.
Fast forward a few more years and the intellectual movement that came to be known as the Enlightenment brought with it a new respect for the rational and useful and an emphasis on education rather than privilege. Men's fashion shifted towards more practical clothing. In England, aristocrats began to wear simplified clothes that were linked to their work managing country estates. It was the beginning of what has been called the Great Male Renunciation, which would see men abandon the wearing of jewellery, bright colours and ostentatious fabrics in favour of a dark, more sober, and homogeneous look. Men's clothing no longer operated so clearly as a signifier of social class, but while these boundaries were being blurred, the differences between the sexes became more pronounced. "There begins a discussion about how men, regardless of station, of birth, if educated could become citizens," says Semmelhack. "Women, in contrast, were seen as emotional, sentimental and uneducatable. Female desirability begins to be constructed in terms of irrational fashion and the high heel – once separated from its original function of horseback riding – becomes a primary example of impractical dress." High heels were seen as foolish and effeminate.
By 1740 men had stopped wearing them altogether. But it was only 50 years before they disappeared from women's feet too, falling out of favour after the French Revolution. By the time the heel came back into fashion, in the mid-19th Century, photography was transforming the way that fashions – and the female self-image – were constructed. Pornographers were amongst the first to embrace the new technology, taking pictures of naked women for dirty postcards, positioning models in poses that resembled classical nudes, but wearing modern-day high heels. Elizabeth Semmelhack, author of Heights of Fashion: A History of the Elevated Shoe, believes that this association with pornography led to high heels being seen as an erotic adornment for women.
The 1960s saw a return of low heeled cowboy boots for men and some dandies strutted their stuff in platform shoes in the 1970s. But the era of men walking around on their toes seems to be behind us. Could we ever return to an era of guys squeezing their big hairy feet into four-inch, shiny, brightly coloured high heels? "Absolutely," says Semmelhack. There is no reason, she believes, why the high heel cannot continue to be ascribed new meanings – although we may have to wait for true gender equality first. "If it becomes a signifier of actual power, then men will be as willing to wear it as women." [END]
 THIS PAGE WILL GET NUMBER 4205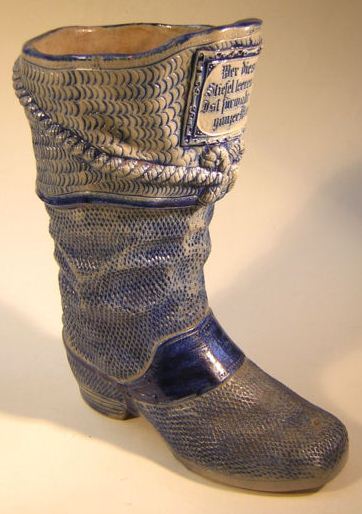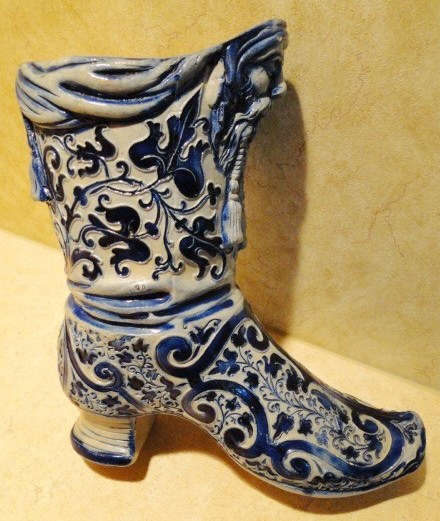 Shown above ▲:  A Westerwald salt glazed earthenware small boot with a high heel. Ca. 1890  [FWTD]
Shown below ▼: Detail of the back of the boot.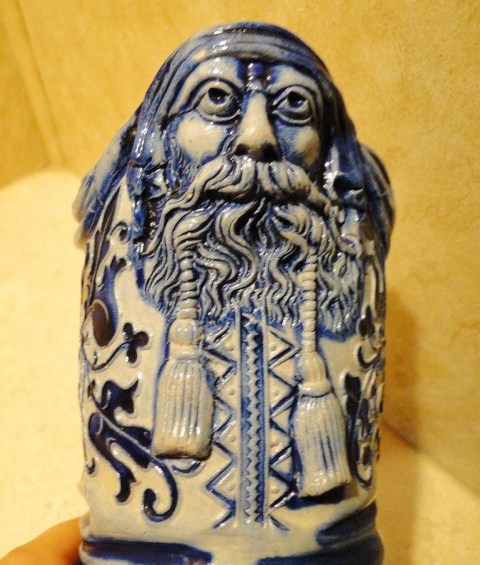 EDITOR'S NOTE:  hopefully ALL OF THE ABOVE  SHOULD  LEAD THE READER TO CONTINUE  FURTHER INTO  THE SUBJECT = "The Man Who Can Not Drink His Boot Full of Beer Is Not a True Bavarian!" AT: http://www.steveonsteins.com/the-man-who-can-not-drink-his-boot-full-of-beer-is-not-a-true-bavarian-new-10-13-11
---
Borrow them, we only. –  phrase (Sad but true). said about collecting anything.!! Here is a good article by another  SCI's Master Steinologist http://www.thepatriotexchange.com/pss/odds.htm
---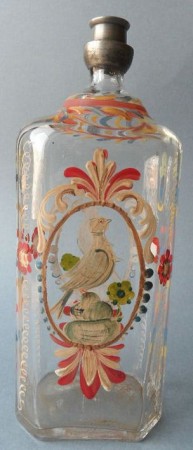 Bottle flask – While there have been many flasks made out of glass (therefore bottle flask) the collectible beer stein "go – with's", were mostly smaller ones, made in Bohemian and are hand painted. You will see them advertised as "Steigel's" (a USA glass blower) or "Steigel" type, but not so! The mistaken identity goes back to just one book published on this type glass in the early 1900's! The information was later found to be false.
Shown above ▲: Glass flask, 8 sided, Bohemian and not Stiegel.  22.7 cm.  Probably a love gift. Ca. early 1800's.
---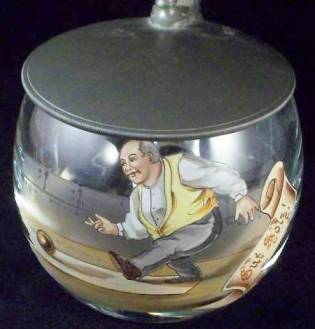 Bowling steins –  See "Kegels" :  http://www.steveonsteins.com/kegels-and-pigs-the-predecessors-to-our-10-pins
---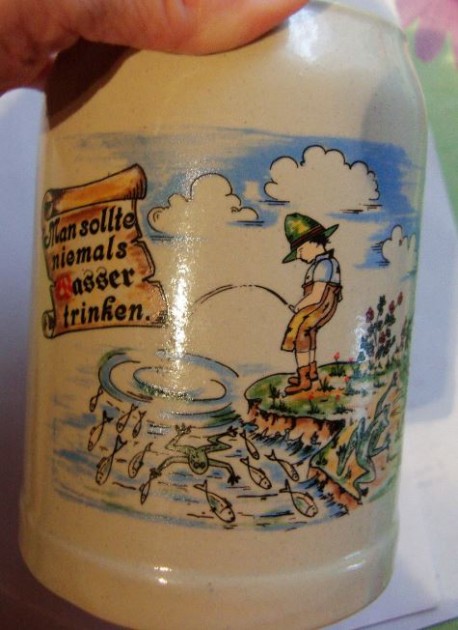 Boy peeing into pond  – A very much copied humorous scene  with frogs bailing out of the pond as fast as they cam  The German on it usually interprets to: "Don't drink the water!"  Most often found on a half liter s pottery PUG steins.  I once had one from a bar in Mexico  City with this scene on it.
---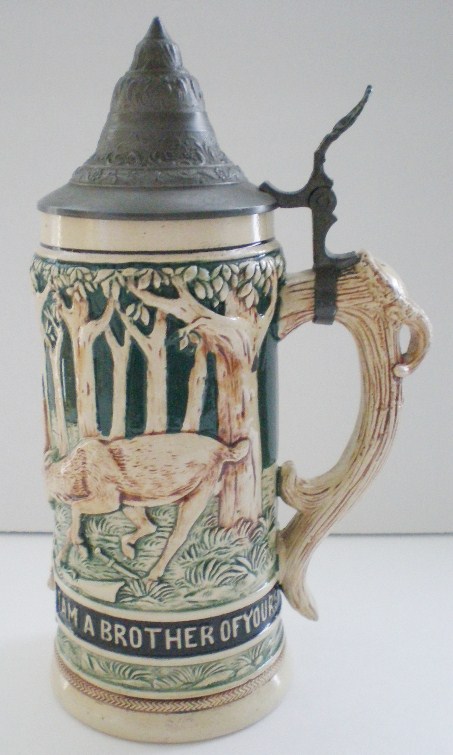 B.P.O.E.  – (BENEVOLENT AND PROTECTIVE ORDER OF ELKS ) –See:  "Fraternal Organizations."
"DON'T BUTT IN; I'M A BROTHER OF YOURS"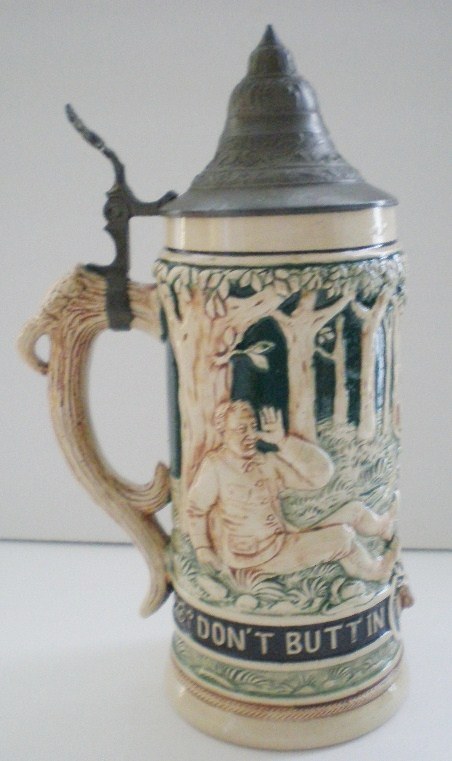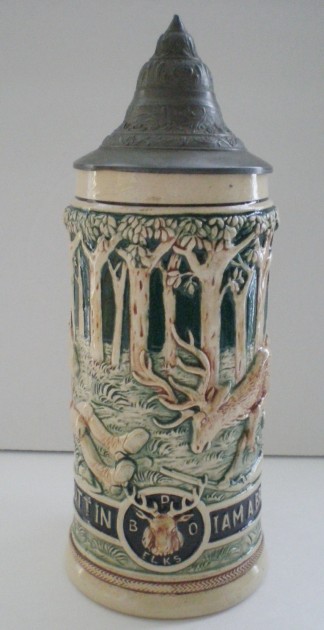 ---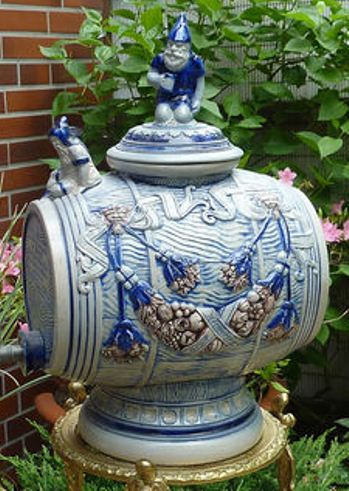 Brandy / schnapps barrel (Germ: Schnapsfass) – Now mostly found on wooden racks, these small barrels were placed on sideboards of homes and clubs, and used for after dinner "shots."  Shown: A Westerwald Brandy dispenser. Ca. 1890, S. P. GERZ  – No. 506  [?] or 789 [?] both similar. See also a German Guild one; http://www.steveonsteins.com/pewter-new-adds-to-ss-m-t . 
Shown below ▼:  A very nice, smaller than above, engraved glass "Schnapsfass", sitting on a carved neuvo-renaissance wooden rack.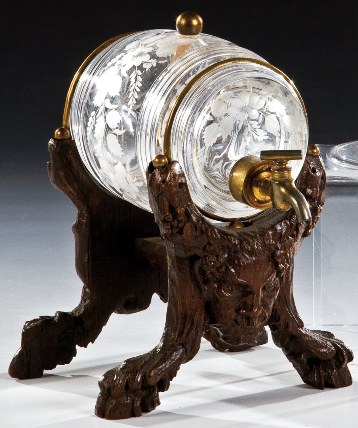 ---
BRASS BEER SERVER – CA. LATE 1600'S  (O/O/C By Hermann Knopf- Wien 1870 – München 1928).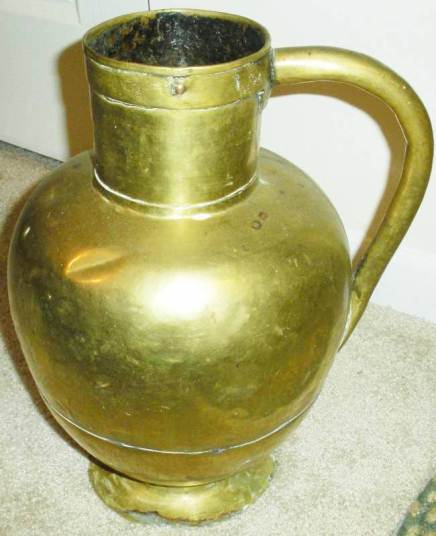 Brass wine / beer server or jug =  BEFORE CLEANING!! Marked from Lubeck (Germany), dated [16] 76.  [Stephen Smith collection]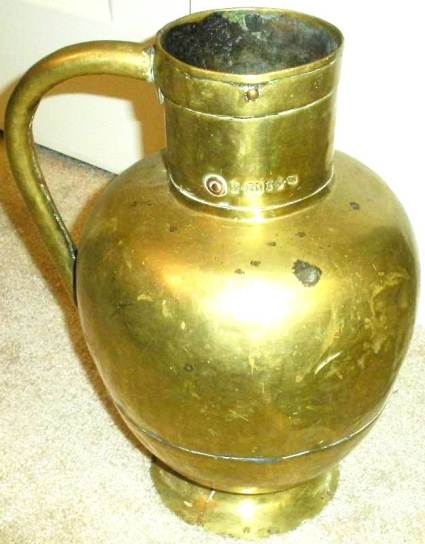 ---
Brass  steins — Brass is an alloy of copper and zinc, and  has been used since at least the 10th century BC. Impure zinc metal was not produced in large scale until the 13th century in India, while the metal was unknown to Europe until the end of the 16th century.
Shown above ▲:  A superior "Quart" brass stein made in England. Circa 1830-50.[FWTD] Real brass steins, not plated brass ones are fairly hard to come by, much more so than copper ones. See:  http://www.steveonsteins.com/how-i-clean-old-copper-brass-pewter-and-silver-10-20
Shown below ▼:  An unusual Russian, pre-revolutionary, brass stein. These are most often seen as a copper barrel form with several brass bands.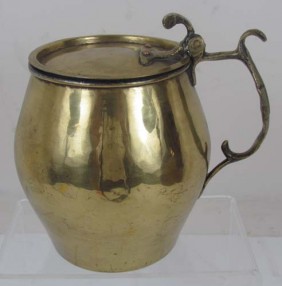 ---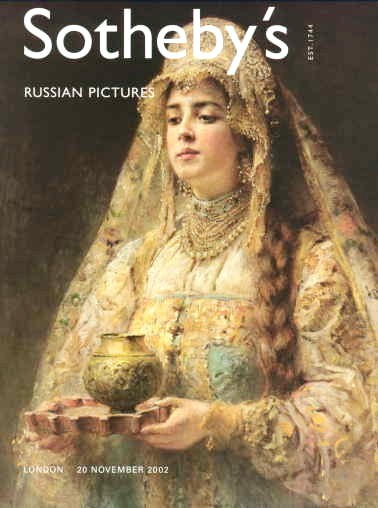 Bratina – A large Russian friendship cup (really it is a small bowl as it has no handles) with a bulbous middle. Made in all metals, but mostly silver with enameled designs.
Russian Enameled Bratina is quite difficult to find in any moderate range of cash. (or credit) 
Shown below ▼:  A Russian baked enamel, copper based Bratina, from the 1600's with symbolic scenes of Matthew, Mark, Luke and John.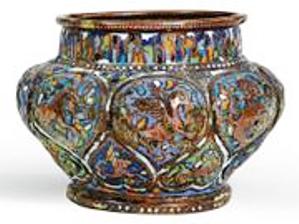 Shown below ▼:  While the Russians would still call this a Bratina, this one was made as a gold and silver inlayed in brass drinking bowl in Persia. I do not know the name of it in Persian.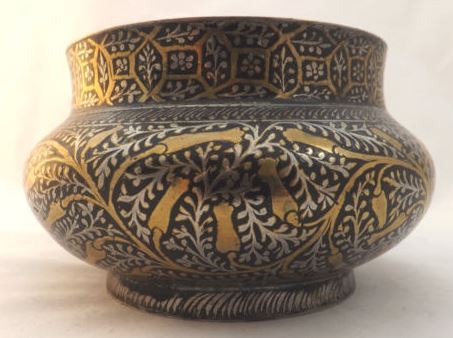 Shown below ▼:  Bratina 1893-Russian silver champlevé enamel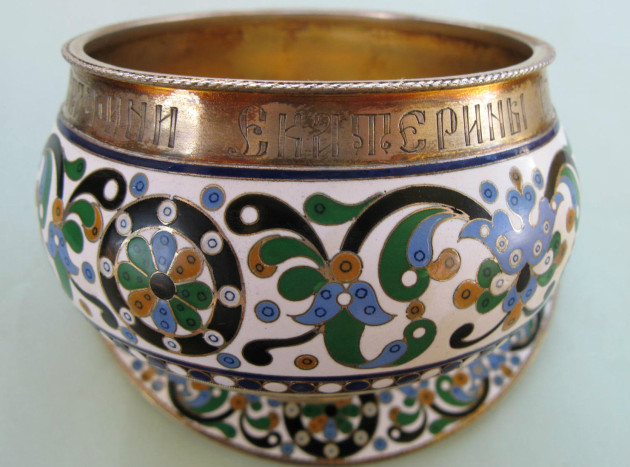 Shown below ▼:  Bratina with stand by silver-smith; Khlebnikov. Billed as a "Bratina" it makes this box made out of bone much more saleable!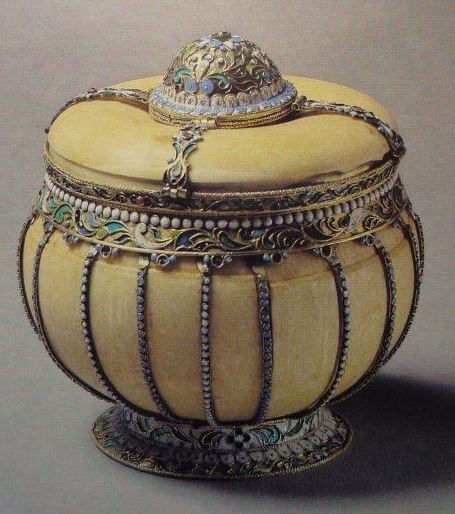 ---

Braunschweig 1707-1807  – City or town of major fayence stein production.
For more info, see: http://www.thepatriotexchange.com/pss/hisfai.htm
---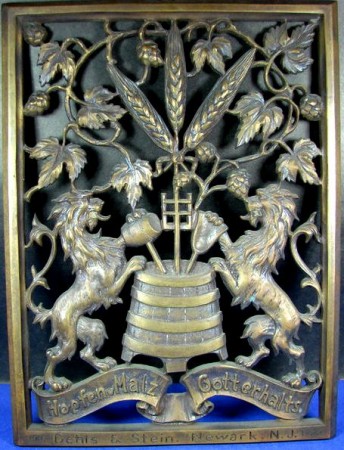 (Beer) Brewers' emblem / symbol/ logo –
Shown above ▲ : Bronze wall plaque made by Dehl and Stein in NJ /  USA (a chemical company)  in the early 1900's. With the German words: Hops and malts, may God preserve them!  See:  Brewer's paddle
---

Brewer's paddle – This is one of the tools a brewers uses making his brew (As shown in photo (Beer) Brewers' emblem / symbol/ logo, the bronze plaque.  
Shown above ▲:  A "Guild Flask" in the form of the  paddle. Dated 1590 . This one (recently sold at a US auction) has no signs of wear, no dents or dark spots and was the second seen at auction (both dated 1590) within one year. The other had a different cap so it was not the same one.     What I found interesting  is that the scene shows two "coopers" making a barrel and not the brewers.  Detail  . the figures are working on the top of the cask, but not brewing at all. Strange to me
Update 10-2015:  Okay  so I finally bought one of these; definitely a reproduction or a fantasy made by and marked "Weygang."
Shown below ▼: A blow up of the scene.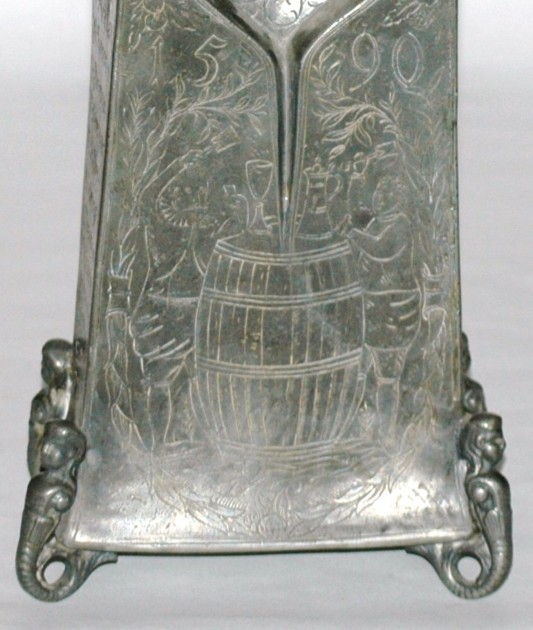 ---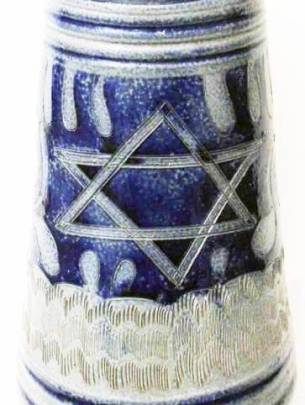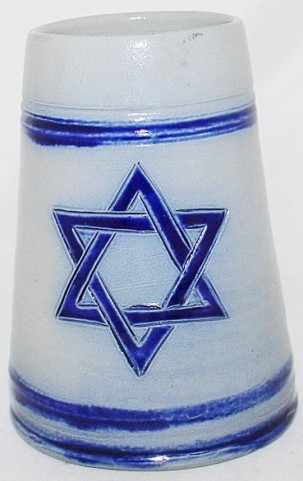 Brewer's Star, The Six-Pointed – For centuries, it was customary for brewers, particularly those in Europe and later, in America, to brand or paint a six-pointed star on the ends of their beer kegs. And, indeed, many brewers of the 19th and early 20th centuries actually fashioned their logos to incorporate the six-point star — THEN known as the "brewer's star."
Shown above ▲: Two examples of the "brewer's star" engraved on the bodies of Westerwald drinking vessels.  [L] On a beer server , Circa 1850. [R] Mug, Circa 1980. 
So, what exactly does the star have to do with beer or brewing? 
Of course, there has been much speculation that the brewer's emblem was somehow descended from the Star of David — a curious match to the brewer's star. It has even been suggested that King David himself was a brewer. But others assert that the emblem's use by beer-makers originated independently of the Jewish Star, and has no historical connection thereto. The latter have some historical facts on their side. This geometric figure, which is technically called a hexagram, has existed throughout the world for several millennium, usually as a talisman. This includes the Middle East, Africa, and the Far East. The earliest appearance in a Jewish context is in the 13-16 centuries BCE, but long after that it continued in widespread use in other circumstances not associated with the Jewish faith. The first use of the term "Shield of David" was about 1300 CE when a Spanish practitioner of Jewish mysticism wrote a commentary on the central book of that mysticism, the Zohar. The first actual linkage of the hexagram to a Jewish community appears in the early 1300s on the flag of the Jewish community of Prague, which was designed with permission of Charles IV when he became king of Bohemia. It is known that the star was the official insignia of the Brewer's Guild as early as the 1500s, and that its association with beer and brewing can be traced as far back as the late 1300s.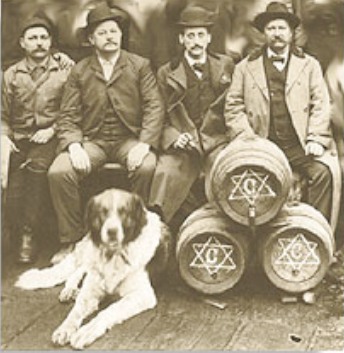 Shown above ▲: Some of a small German brewery's staff sitting by their newly kegged product. Whatever the case, it is clear that the brewer's star was intended to symbolize purity; that is, a brewer who affixed the insignia to his product was thereby declaring his brew be completely pure of additives, adjuncts, etc.
In fact, folklore has it that the six points of the star represented the six aspects of brewing most critical to purity: the water, the hops, the grain, the malt, the yeast, and the brewer. (Thanks to Stroh archivist Peter Blum and Brews Brother Steve Frank.)
---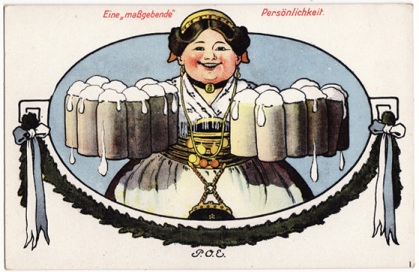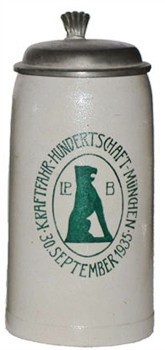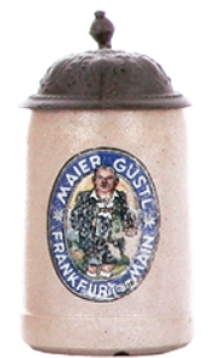 Brewery steins, old German – A highly collectible group of (MOSTLY LIDLESS) beer steins. These were produced to be purchased by the inn's customers and most were not giveaways! Too damn expensive to make and then give away, even back then. The German stein / brewery mug collectors are now buying these really old ones back at a very fast rate! The lidded ones, of course, usually sell for more.  I VERY SELDOM, IF EVER, RECOMMEND COMMERCIAL WEB SITES; AND I AM NOT DOING SO NOW. However, this seller on eBay consistently provides a varied source of brewery mugs and some steins for the beginning collector to take advantage of.
http://www.ebay.de/sch/Bierkruge-/93130/i.html
 
---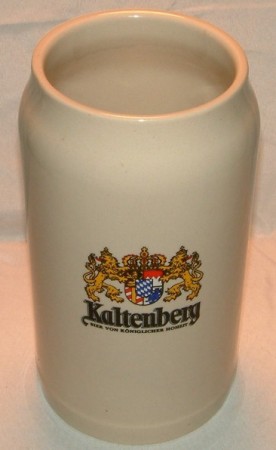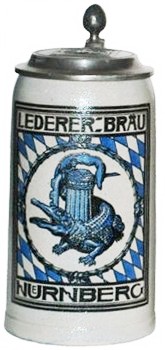 Brewery "mugs" – new  German ones – They are still creating ever newer ones.
---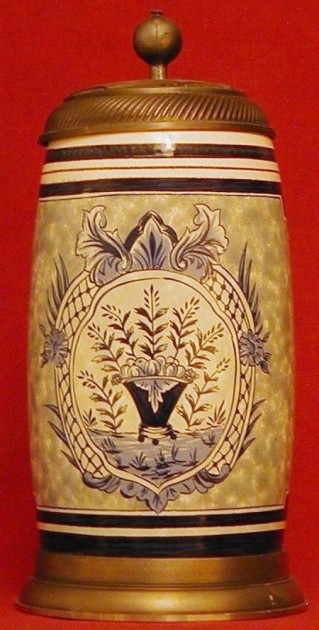 Brewery [German] reproductions of older steins –  Most of these are done yearly in the early 2000's. Many are limited.
Shown above ▲: One of the Set of four Binding Brewery (Frankfurt/Main, Germany) faïence style reproductions.  This has molded hand ridges on the inside (as found on the originals sometimes – but mostly found on pottery  the old faïence are usually found with a flat surface inside.  These are PUG's and  very well done and not light.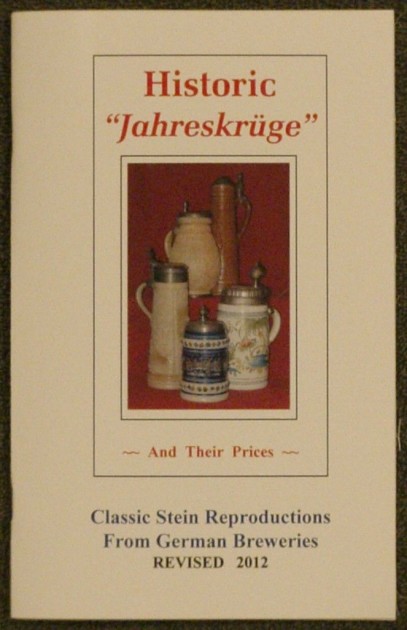 Shown above ▲: This book is the best reference I have seen on these and there is no need for me to duplicated Joe Beard's information.  This book was listed on Ebay in 1 -2014 . The seller [and author's] ebay name was:  mountainmanjoe .
also READ JERRY BERG'S article  on modern Brewery Characters:
http://www.steveonsteins.com/guest-writers-articles-7-jerry-bergs-charted-modern-brewery-character-steins
---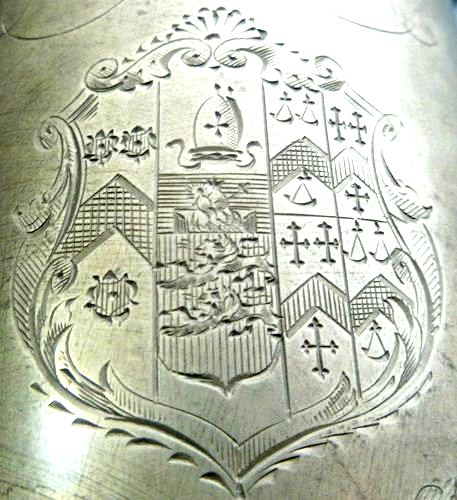 Bright-cut Engraving — A form of engraving popular towards the end of the 18th century through to thje end of the 19th., which burnishes one side of the cut while picking out the silver / pewter with a beveled edge on the other side. Seen on lots of early to mid 1800's English tankards, as above ▲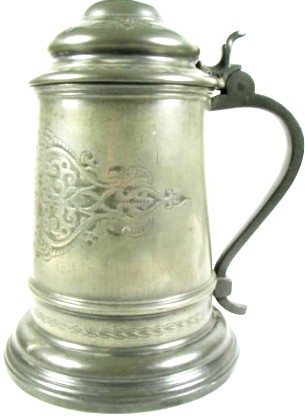 Shown above ▲: Dated 1873.  This is not  "bright cut engraving."
---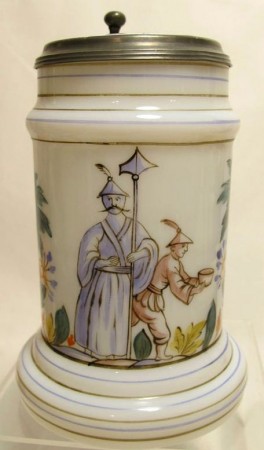 Bristol glass steins – Fairly scarce. Made in Bristol, England and produced 'almost' like Bohemian "milk glass." This firm was famous for their Chinoiserie scenes.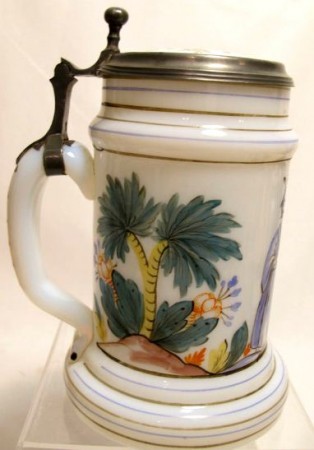 As one can see , the side and handle stripe designs are very much like the German 'fayence' / faience (Eng.) steins of the 1700 -1800's.
Also see: http://www.steveonsteins.com/pretzels-with-your-milk-glass-beer-stein-new-12-10-11
---
Britannia Metal — A silver-white alloy composed largely of tin hardened with copper and antimony. Closely akin to pewter, but differing in the higher proportion of tin. The addition of antimony and the omission of lead results in a more silvery appearance than pewter. It often also contains a small quantity of zinc and bismuth. A common proportion is 140 parts of tin, three of copper and ten of antimony. Popular as a base for silver-plating.
---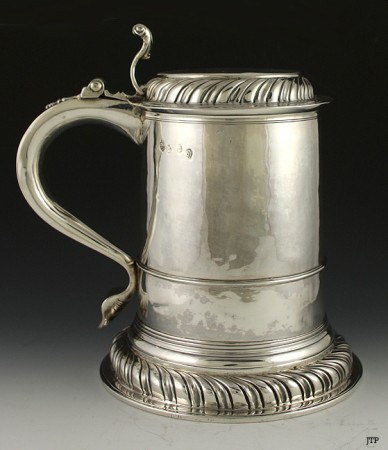 Britannia Standard — Silver of this standard is 95.8 percent pure, with 4.2 percent alloy. The Britannia standard replaced the sterling standard in England in 1697 and remained in mandatory use there until 1720. This standard was introduced in England by Act of Parliament in 1697 to replace sterling silver (92.5% silver) as the obligatory standard for items of "wrought plate." The lion passant gardant hallmark denoting sterling was replaced with "the figure of a woman commonly called Britannia", and the leopard's head mark of the Worshipful Company of Goldsmiths replaced with a "lion's head erased". Britannia standard silver was introduced by the English government as part of the great re-coinage scheme of William III from 1696,
Shown above ▲:  A 1712 Queen Anne Britannia silver tankard. Made by Payne. 6 1/8th inches tall.
---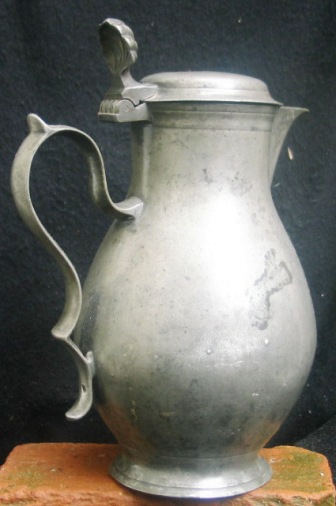 Broken handle – On metal steins / servers, this type of hand is called "Broken."
Shown above ▲: A Low Counties pewter server from the late 1700's.
---
CR- BROKEN STEIN, WHAT TO DO WITH IT.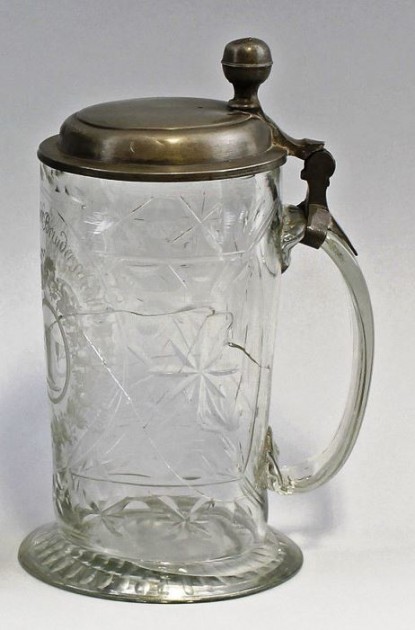 ---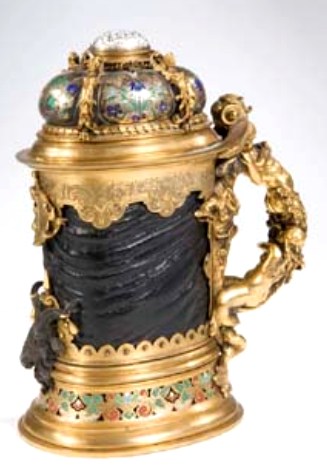 Bronze – Copper-tin alloy, the term also loosely used for some other copper alloys.  Oldest copper alloy, still ideal for statuary. The addition of tin to copper makes it easier to cast, strengthens and hardens the metal.
Shown above ▲:  A 13 inch City of Vienna guild stein, made of gilded bronze, body of carved horn with some cloisonné decoration around the bottom.  It sold for more than a new Cadillac DTS (Deville), but not to me! 
---
Bronze, Cold painted =  refers to pieces cast in Vienna and then decorated in several layers with so called dust paint; the know-how for the mix of this kind of paint has been lost. The color was not fired hence "cold painted". The painting was carried out mainly by women working at home, a typical cottage industry. Very, very  few steins exist in this mode.
---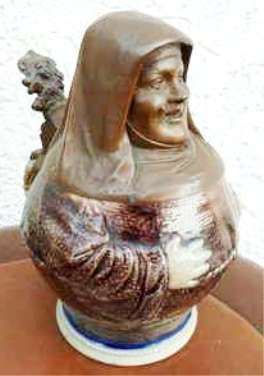 "Bronzed" – A process of plating  pewter or spelter with a thin layer of copper and then using  a light acid to turn the item darker, making it look  like a dark bronze. Done on lids and inserts.
Shown above ▲:  A stoneware .5 liter Monk character stein with most likely a pewter lid treated to look like bronze. 
Shown below▼:  A "Bronzed" lid insert – often found on hobnail glass steins.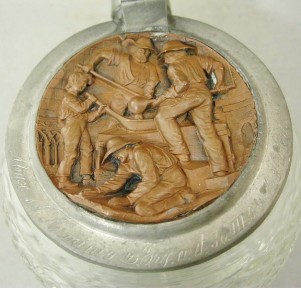 Also see the page on " Copper Clad steins " which when oxidized some will call bronze steins.
STEVE'S SPECIAL NOTE ON THESE LIDS:  DO NOT USE ANYTHING HARDER THAN A LIQUID SOAP AND A SOFT TOOTHBRUSH TO CLEAN THESE!! THE COPPER COATING /PLATING  ON THE MOLDED SPELTER  COMES OFF QUITE EASILY!!
See: http://www.steveonsteins.com/copper-clad-beer-steins-draft
---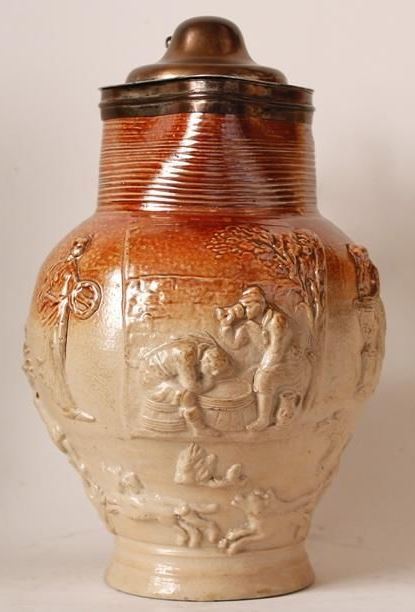 Brown Jug (Little) – also called "Harvest jugs" in England.  This is a perfect example of the so-called "British brown jug  with hunting motives that was so popular for over 100 year and manufactured by many different manufacturers. This one was made by J.Kishere from Mortlake that started making these vessels in the 1700s. Very similar pieces were made by Doulton Lamberth, Denby, Fulham and so on, but Kishere Mortlake was the one who made the original borwn jug. Judging by the sprigs and the style of the handle it dates to late 1790s – early 1800. (Sourse: Serguei Artiouchkov ).
---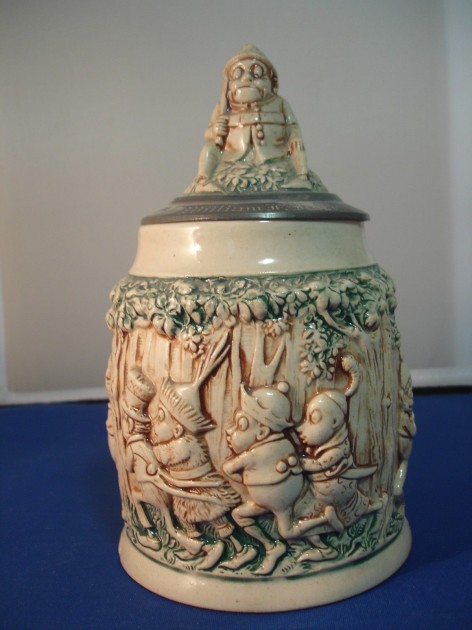 Brownies  [The]- Often mistaken for Heinzelmunchen (gnomes or dwarfs) These little guys are called Brownies. As far as I know this is the only beer stein devoted to them.  
History – From Wikipedia, the free encyclopedia:  The Brownies were a series of publications by Canadian illustrator and author Palmer Cox, based on names and elements from Celtic mythology and traditional highland Scottish stories told to Cox by his grandmother. Illustrations with verse aimed at children, The Brownies was published in magazines and books during the late 19th century and early 20th century. The Brownie characters became famous in their day, and at the peak of their popularity were a pioneering name brand within merchandising.
---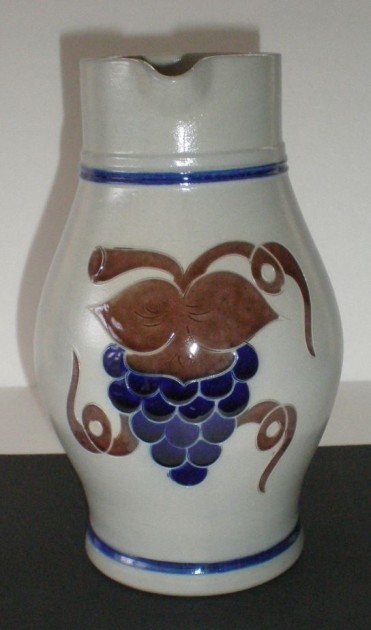 Brown /  Blue décor on Grey Westerwald saltglazed  steins –  I have noticed lately [end of 2014] that more and more of the Westerwald stein makers, while having to use the new tchnique of no salt added into the kilm,  have also  gone back in time to the 1600's when brown colored designs along with the cobalt color were used  a lot to decorated the plain grey stoneware. 

the Elector's of Germany server shown just above ▲ =  MISSING  6-6 
One can find few pieces with brown (more of a rust color / burnt purple ??) were made by the 1800's beer stein makers such as the Elector's of Germany server shown just above ▲.  So if one sees brown nowadays there is a much better chance that the piece is very new.  Shown below▼: A few examples.

Shown above ▲:  Zoller & Born Handarbeit . Keramik-Krug mit Zinndeckel Krug Kanne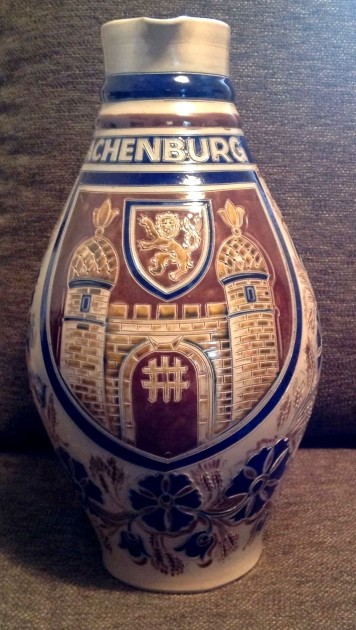 Shown above ▲:  Wappen-  Hachenburg Coty -A.Reineck-[maker],   Westerwald-  the mark is on the bottom of the handle.
---
Brüder (Josef & Albert) Thannhauser. München. –  Excellent pewter lid makers and decorators of steins purchased by them as well.
See: some of their lids shown on the Theresienthal pages: http://www.steveonsteins.com/theresienthal-glass-steins-photo-examples
and maker's info on : http://www.steinmarks.co.uk/pages/pv.asp?p=stein258
Shown above ▲:  A Theresienthal enameled glass stein with a typical B.Th.M pewter lid and thumblift. Circa 1885.
---

Brüderleskrug  (brother's jug)- Fuddling cup, see Compendium entry for photos
---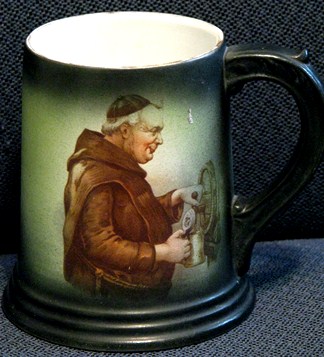 Brunt, William. /  Brunt Pottery Co. / Phoenix Pottery (East Liverpool, Ohio, United States.)  Maker's of colored mugs, (I think) a "knock  off "of Lenox ware.
For more info see: http://www.steinmarks.co.uk/pages/pv.asp?p=stein713
---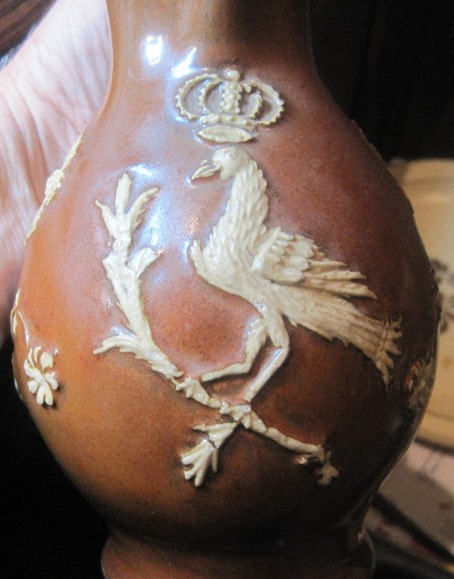 Brunzlau – Now Boleslawiec, a town located in old Silesia,  now Poland. For centuries one of the premier art forms in Eastern Europe has been the pottery wares created in the Silesia region of Poland. Ceramics have been produced there for over a thousand years.  They are a definitive part of the identity of the city. The town itself is often called Miasto Ceramiki (Town of Ceramics).  
Shown below▼: Trained bear steins  –  Brunzlau, Sächsischer Bärenkrug, c.1700,  Stoneware, 9.1ht. beer server with slip applied relief. Ca, 1780's . [John XX]  typical brown glazed, pewter mounts including footring, rare and expensive. [tsaco]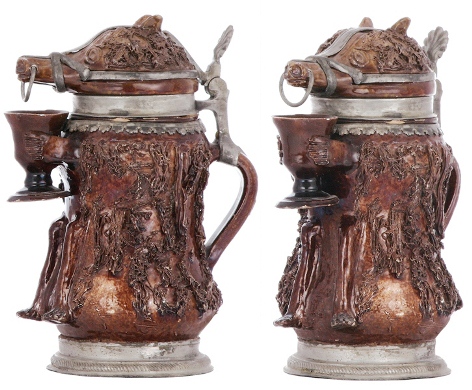 ---

B.Th.M = One of the marks for Brüder (Josef & Albert) Thannhauser. München.  See "Brüder ." above , and some of their lids shown on the Theresienthal pages:
http://www.steveonsteins.com/theresienthal-glass-steins-photo-examples
and: http://www.steinmarks.co.uk/pages/pv.asp?p=stein258
---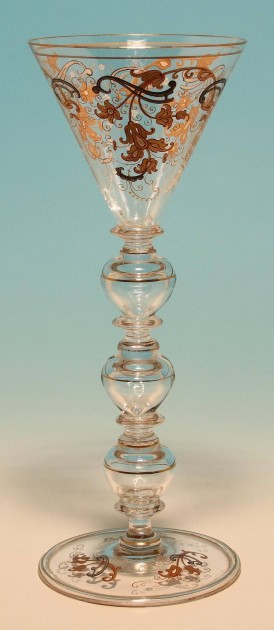 Bubble stemmed (wine) – 19.5 inches – By Fritz Heckert?
---
---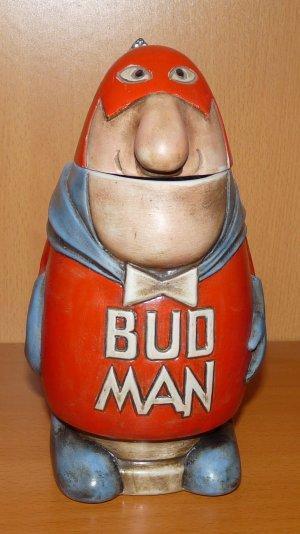 Bud Man Stein – A character steins first produced in 1975 (shown) to promote "Bud Light" by Anheuser – Busch. There  have been several versions made, and as it is "a cross over stein." (cross over = collected by more than one collecting group. For example, USA breweries, Budweiser, &  character stein collectors all like this one.) It is very popular and expensive when found.

Also see: " Guest writer's articles [7]: Jerry Berg's modern brewery character steins (charted.)
http://www.steveonsteins.com/guest-writers-articles-7-jerry-bergs-charted-modern-brewery-character-steins
And:
http://www.beerstein.net/samples/ab-cs0001.asp
---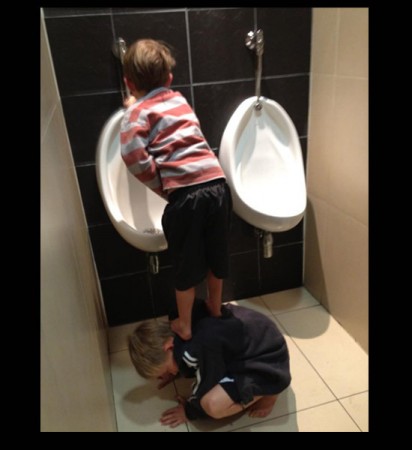 Buddy, (A true buddy!) – Self explanatory.
---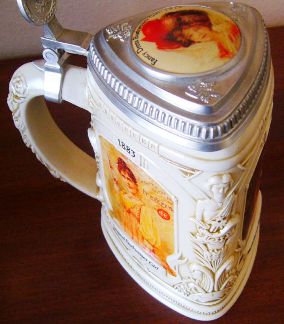 "Budweiser (USA) steins" (new ones) – Mostly limited editions, produced  by Ceramarte in Brazil. There is a big "disconnect" between collectors of these and collectors of the older German / European beer steins. Designs such as this may be one of the reasons! Try to drink from it!
Shown above ▲:  A 1997 limited edition.
---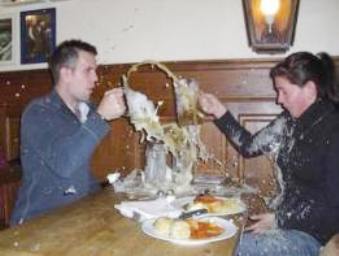 Bumper – An American Civil war era term meaning any drinking mug or glass one would "bump" together, as in a toast.
---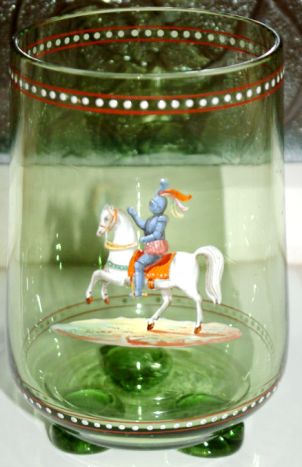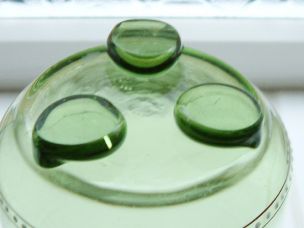 Bun feet /  bun footed – Button feet – Small round  finished globs of glass, mostly looking like a lozenge. Usually found on beakers such as this enameled one  but once in awhile they appear on blown glass steins.
---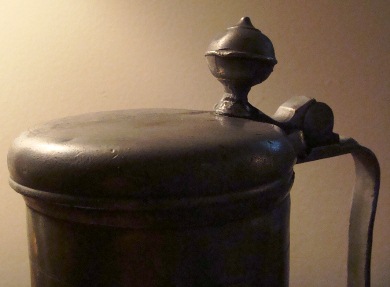 Bun (hamburger) lid –  Also calleed "muffin lid." Pretty self explanatory. They were popular  in England on flagons (esp. ones made for churches) in the  1600 's and 1700's They are also found on large pewter steins made in the Baltic Sea area from about 1670 to 1760.
Shown above ▲: A lid from a stein made in 'Friesland' (North Holland),  C. 1690. [FWTD]
---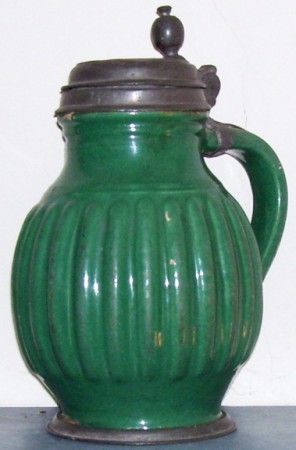 Bunzlau – One of the cities in Germany famous for producing early stone ware in the 1700's. Shown: A "melon jug'" (self explanitory), but unusual coloration, these are normally brown! [JS] 
---

Burin — A pointed steel cutting tool used in engraving or in cutting stone.
---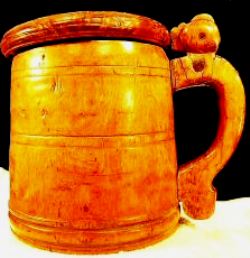 Burl wood steins – [1] See "Root  steins" in this web site's  "Compendium." [2] Also see web page: http://www.steveonsteins.com/wooden-steins

Shown above ▲:  A real Burl Wood stein; 1600's Scandinavian [FWTD]
---
Burnishing — Essentially a polishing process in which the rounded edges and point of a metal blade set in a wooden handle are used to compact and smooth the surface of a formed silver  or other hard metal object, or to brighten the dull surface of cast silver.
---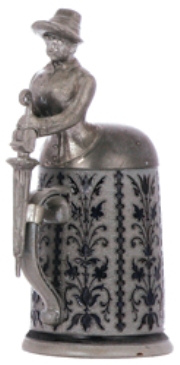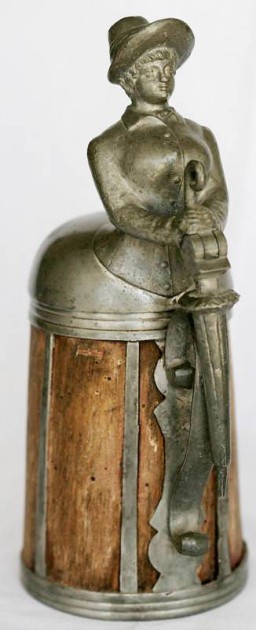 Bustle lady steins –  Character steins, with many different varieties, even one done with a glass body – pretty self explanatory. Highly  collectible!

Shown above ▲:  This one carries a Merkelbach and Wick mark .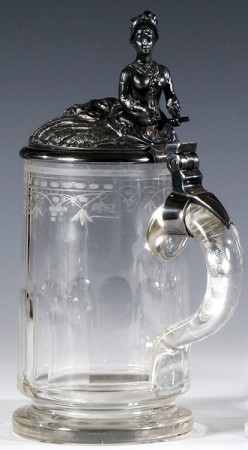 Shown above ▲:   Glass body and lid made by WMF.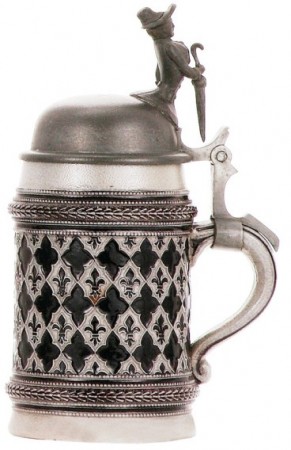 Shown above ▲:  .5 liter, stoneware, #139, by Hauber & Reuther. I am not certain that thumblift wasn't added at a later date, but it well may have been.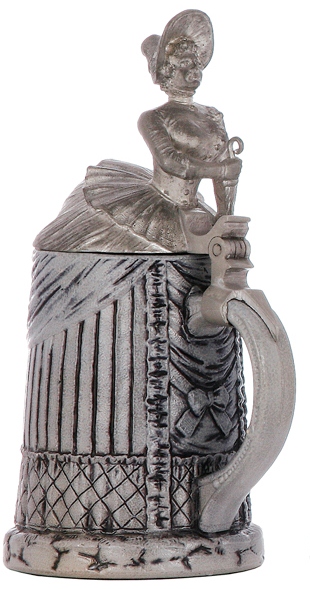 Shown above ▲:  .5L, stoneware, marked HR, by Hauber & Reuther, pewter lid.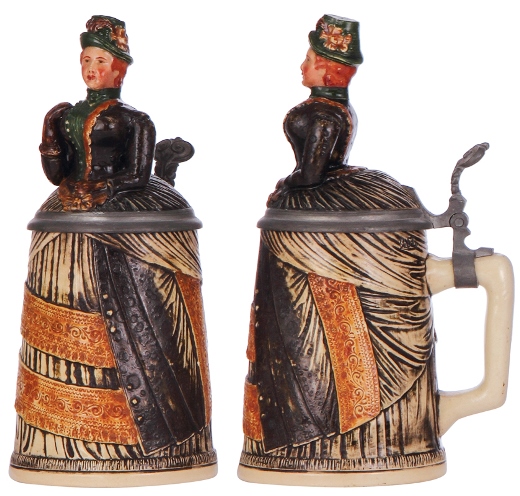 Shown above ▲:  Bustle Lady .5L, pottery, marked 895, scarce version. [tsaco].



Shown above ▲:  Another .5 liter saltglazed stoneware version. Maker unknown at present. Re-lidded?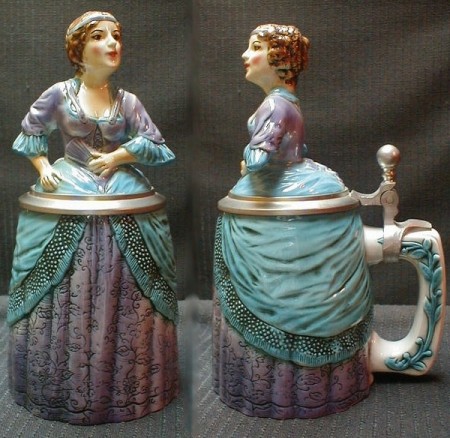 Shown above ▲:  An early twenty first century example made out of pottery.  5 liter. (Not too bad a rendition, I think.)
---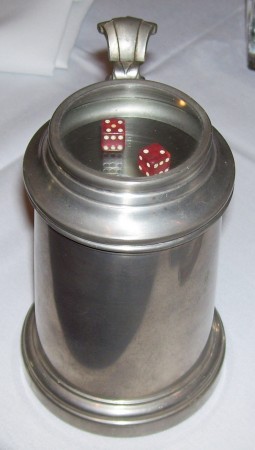 Butler's Finish — Satin finish produced by a revolving wheel of wire which makes many, many tiny scratches, giving the article a dull appearance (originally so the butler's were not obligated to polish it as often. Applies to both silver and pewter. Shown: The finish on this "Wager stein,/ Dice game cup." American I believe, and much newer as it  comes with with plastic dice, the older ones had dice cat out of bone.   For more like this,  see "Wager steins" in this Compendium.
---
Button feet – see "Bun feet /  bun footed" above
[END – SP104 – 105- no R5]
  STEVE (STEPHEN)  =



"Who was the first person to look at a cow and say, 'I think I'll squeeze these dangly things and drink whatever comes out'?"