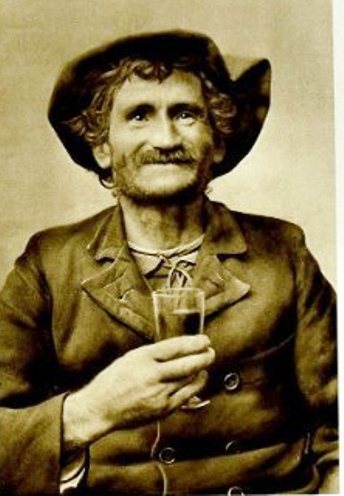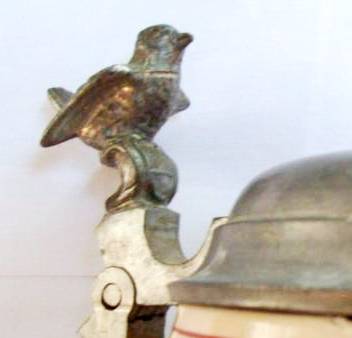 Ulm Sparrow -A  SYMBOL OF THE CITY OF ULM- figural pewter . thumblifts found on most  reservist steins from this  City –Around the city, there are many statues of sparrows (Spatzen).  Spatzen is a nickname for the residents of Ulm and a symbol of the city.  One of The legends is such:  that, while building the cathedral, the workers couldn't figure out how to get the long wooden beams into the church until they noticed a sparrow entering its nest while holding a piece of straw lengthwise, instead of sideways
also please read an interesting article by my long time Gambrinus stein club buddy, Walt Vogdes:
http://www.steincollectors.org/library/articles/ulm/ulm.htm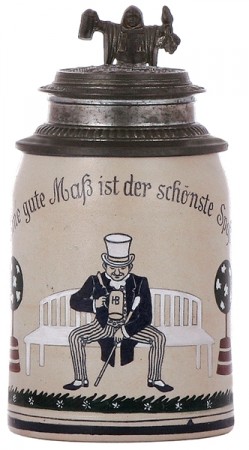 "Uncle Sam" steins – Self explanatory – see history notes below.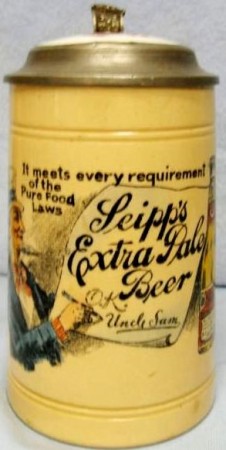 .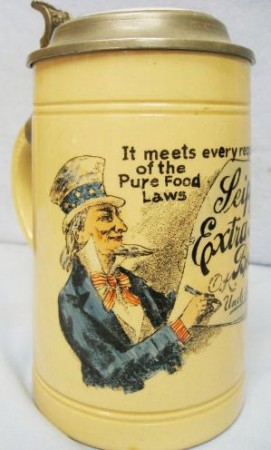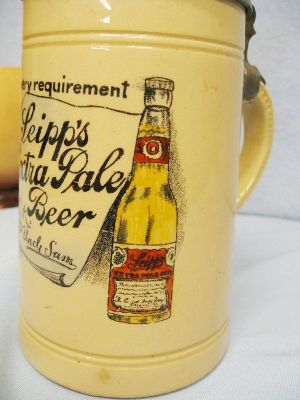 The below from :  http://www.suite101.com/content/uncle-sam-a42838
Origins of  the Uncle Sam Symbol:
" Who really knows where this glorified figure, in his colorful, patriotic clothes with his finger pointed accusingly forward, urging each of us to get involved in aiding our country through difficult times, really came from? Surely, no one does, because it is simply not known for sure (nor, it appears, will it ever, barring a miracle). There are, however, some very good guesses, at least one of which is probably correct.
Perhaps the most intriguing story of Uncle Sam's origin is the case of Mr. Samuel Wilson, a prominent meat-packer in Troy, New York during the first decades of the nineteenth century, a time when America was still in its infancy as a nation. During the rather anti-climactic War of 1812, Mr. Wilson was kind enough to try and help the troops fighting the British as best he could by sending them crates of meat, which he stamped U.S. (which presumably stood for United States, but, again, it is not entirely certain). The soldiers themselves, familiar with Sam Wilson's operation, perhaps jokingly, claimed the U.S. to stand for "Uncle Sam."
Exactly who came up with this has never been made clear, but nevertheless, it is said that from this point on, Uncle Sam (a man who did, in fact, bare a rather striking resemblance to that familiar image of the old, pointing gentleman, minus the fancy hat and patriotic flare) became a symbol of everyday Americans choosing to help their country in times of need. It is a wonderful story, whether or not it's true.
Actually, according to an official act of congress in 1961, it is the Samuel Wilson story which is the "official" explanation of the Uncle Sam legend. The issue wasn't exactly put to rest, though.
Alternately, and not without reason, there are some who believe that the Uncle Sam legend began with Irish Immigrants coming to the United States, who called the country SAM as an acronym for the Gaelic version of the name – Stait Aontaithe Mheiricea. It may be a bit more far-fetched than the story of Samuel Wilson, but who knows? It very well could turn out to be true.
Then there is the third – the simplest, and some would say most reasonable of all, explanation. Perhaps Uncle Sam was just some jokester's explanation of the common abbreviation U.S. After all, American's come up with some crazy names for plenty of things, the odds are pretty good that at some point in the early parts of American history (the name was first seen in print in 1842), some wise guy saw the initials U.S. and came up with the name Uncle Sam right there off the top of his head, not realizing just what kind of legacy his little joke would have.
Or perhaps there is even a fourth option – that being that none of the above is true.
"Sam Lives On:
To be perfectly honest, it doesn't appear that one can ever really know for sure. Americans just have to go on living their lives, not knowing where the image of their country's most recognizable citizen came from. But this shouldn't really change anything, should it?
Uncle Sam today is merely a symbol (well, technically speaking it would be considered a National Anthromorphism). A symbol that should remind everyone to do whatever they can to support what is right in this world, because this is what sets us apart from the animals – the ability to know and to do what is right, no matter what the cost. His pointing is not accusatory. It is a challenge."
Read more at Suite101: Uncle Sam: A Brief History of America's Greatest Symbol http://www.suite101.com/content/uncle-sam-a42838#ixzz1CTlpyaEV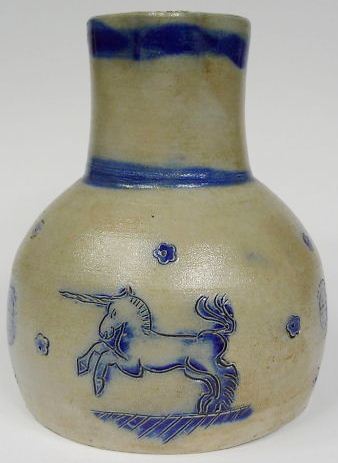 Unicorns [on steins]  As with the ral animal  Unicorns are hard to find on steins They were nowhere as popular with young people as they are now. I am only guessing here, but the oldsters  say only a "virgin" can capture a Unicorn and from the people I know who are steins collectors — ain't  any of them going increasing their collection with this one or one like it!! Shown ▲: A Westerwald incised main design with  stamped rosettes, stoneware narrow neck jug, C a. 1850.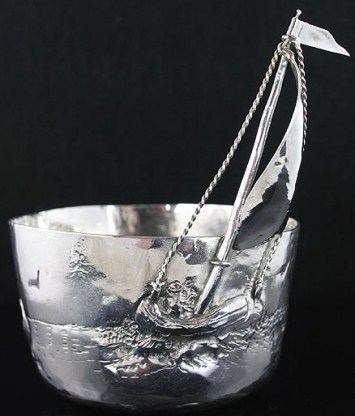 Unique drinking vessels – By definition these types of drinking vessels have to be one of a kind.  Of course it is always argumentative when one asks for more than one drinking vessel collector's opinion on anything!
Shown: Here's one I think fits the definition of  unique. I haven't seen anything like it in 40 [+] years of collecting. German silver Arts & Crafts cup made by artist Modell Wondra during the late 1800s; most likely 1885 to 1910. The sides of the cup are hand chased with a sailing scene, with gulls in the sky and rocks in the water. One side shows a sailboat and its skipper; the mast and sail are full bodied and rise up from the outside of the cup. The silver wires are beautifully designed to accurately replicate rope.  The underside is marked Modell Wondra, 800 for the silver purity and it has the German crown & crescent moon symbols. The cup measures 3 1/8 inches in diameter and weighs 109 grams or 3.8 ounces.
Unknown Makers of  steins. –  Since the start of SCI  in 1965 there has been an outstanding effort here in the USA to gain a better understanding  of who made theses  ols beer steins we collect, and when and where, as their was hardly anything to find as a reference – even in the major city libraries about beer steins. I know first hand having starting my collecting efforts in 1961.  First to reallyt help out was Gary Kirshner's The Beer Stein Book .  Most recently Chris Wheller (an English chap) was awarded  the  Master Steinologist's title (Well desrerved I might add!) for his work on tesearching and publishing his great effort labeled as simply "Stein Marks" = http://www.steinmarks.co.uk/pages/pv.asp?p=stein1
 "The trumpeter of Sackingon " – by Mr. Unknown.
But now it is 2014 – and to my limited knowledge no one has published or hinted at any ongoing research  into any information on who the maker of these large  series of porcelain steins was, or where or when !!   The majority found are .5 liter, have a rounded base colored either red or black and all come with lithohanes. All very nicely done. Several example are shown to show the reader the variety of subject matter

Unmarked steins – Every factory had a time making certain all there steins were marked. V & B Mettlach is notorious for not putting their Mercury mark on all their PUG steins. Some distributors, such as Paulson and TW, (Both Munich) didn't want their wares signed by the real makers; they wanted the recognition and repeat orders. Once one gets acquainted with the major characteristics of the firms and learns the capacity marking system (developed for and discussed at the "Beer Stein College,"  by David Harr) one will have a better chance of defining the maker of saltglazed stoneware. 
See: http://www.thepatriotexchange.com/pss/capmarks.htm
So who made this one? I haven't a clue,  as it has no capacity mark and I haven't spotted it in any catalog or reference . I tend to think it was an unsigned (unmarksed)  A. Saeltzer  piece due to the subtle coloring and the maroon stripe around the base.  A very pretty one though! [FWTD]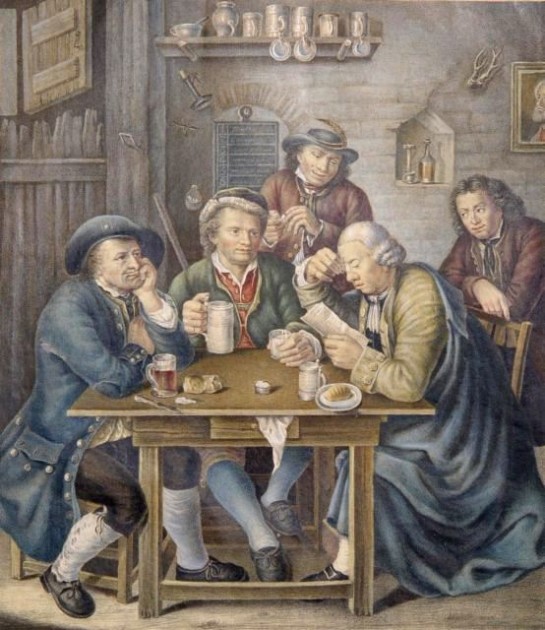 Upside down steins ▲. (Hanging steins is a misnomer) – Steins placed on a shelf so the fancy lids would be shown, and identified quickly by their owners.
In the very old German taverns, the personally owned 'mugs'  kept their for the locals, and some extras for travelers, were placed up-side down on a shelf. This  kept the spiders, mice and other crawly things out of them.
Later when mugs became steins, and the lids started to be decorated with heavy pewter relief names or scenes , or later with porcelain inserts; they were placed  behind the bar area so their lids would hang down in a display position. Those in the mid to late 1800's would have been mostly beer steins with porcelain inserts or the fancy dedicated pewter lids, especially brewery steins like Hofbrau. The customer would then not have to transport his stein home with him and it was available next time he frequented the establishment. This custom still prevails at some large  beer drinking establishments today, even here in the USA, however they have to keep them much higher now, due to constant theft! 
.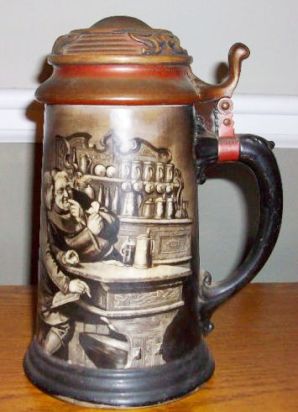 Shown: PUG of "Upside down" steins on a cupboard in a monastery. On a half liter Lenox (CAC) stein, American made porcelain, with a copper lid. Circa 1895.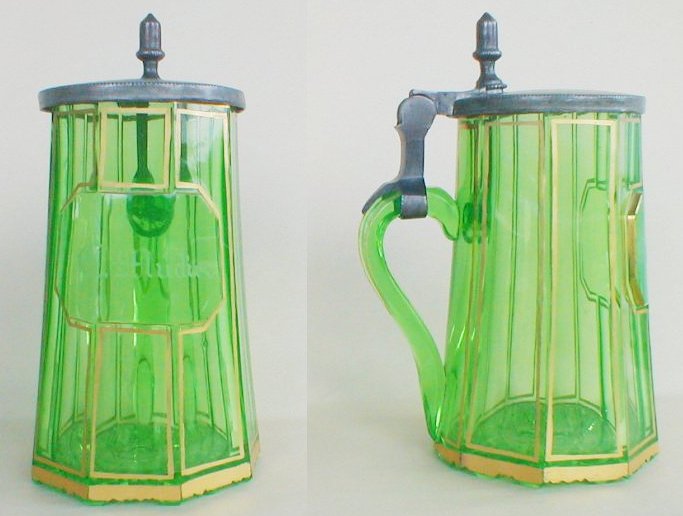 Uranium glass steins – Uranium added to the glass mixture to make a very distinctive coloration. Shown Bohemian .5 liter uranium GLASS stein. Circa 1840. It will look brilliant under a "BLACK LIGHT" = See just below ▼for a glass "stirrup cup" shown in black light.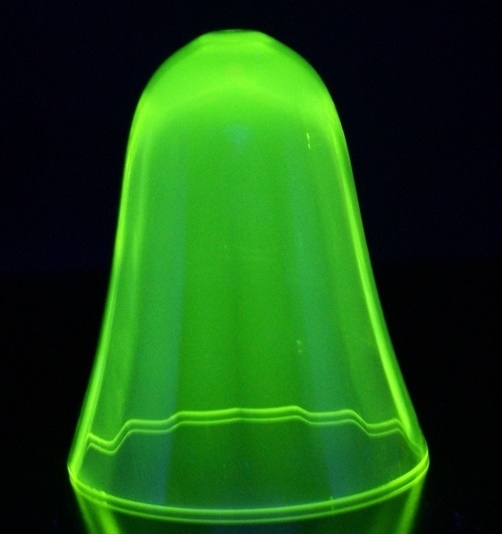 .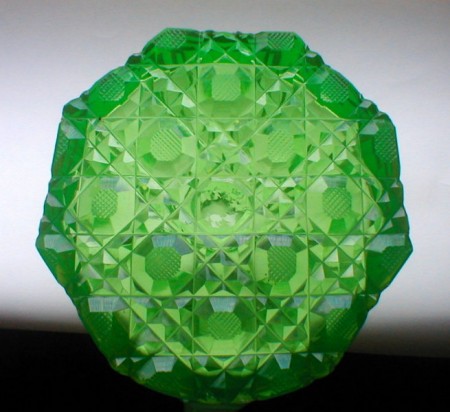 The cut base = superb workmanship. [WB]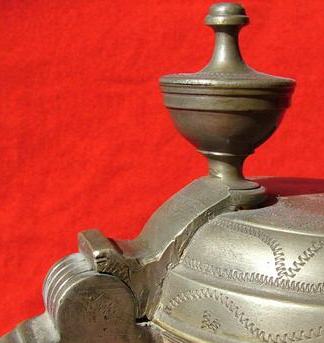 Urn thumblift – As shown above and below; most popular from about 1790 to 1840's.
.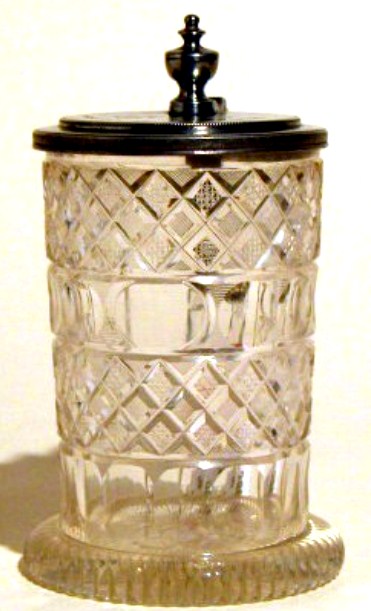 Smaller "Urn"  pewter thumblift on a Bohemian cut glass stein. Ca. 1830.
USA Souvenir mugs  – A series  of small pottery relief steins made by (being researched) in Germany. The salesman's route over the US can be traced by the number of the stein / mug, located in a small circle by the handle. Shown ▲: Number 63 in the series of well over 100. "The Royal Arch" in Chautauqua Park, close to Bolder, Colorado. [FWTD]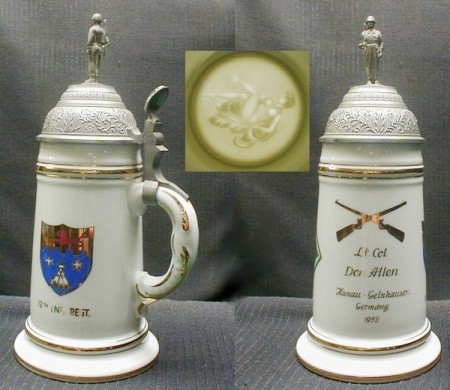 .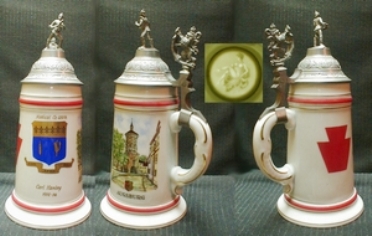 USA Military Forces steins  (in Post World War 2 ) – [also called "Post-War" and "Cold War" steins] – As shown: 1/2 liter porcelain steins decorated with American military unit's symbols, service scenes, and name of the individual stationed in Europe after World War II. It was the same tradition of buying a beer stein to celebrate one's time in the service,  just as the earlier German soldiers had done. The earliest seen are from 1953 I believe, and do not have a semi-nude in the bottom,  which came later. See photos under Reservist reproductions for the lithophanes used. The steins with the various pewter finials which represents which type unit= infantry, tank, planes, rockets, bulldozer, 2 1/2 ton trucks etc., are the most collectable. Shown: Two examples in .5 liter hump-in-handle porcelain with unit transfers. Above top ▲ ▲: Infantry –  Bottom ▲: A medical unit. [Stein Center]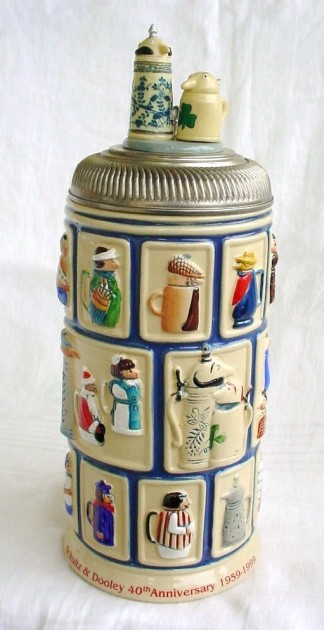 Utica Club Beer steins (Schultz and Dooley steins)  – Shown ▲: Utica Club 40th Anniversary stein, 1959 – 1999.   12″ high  and has  20 different character steins from the FX Matt Brewing Co; the character steins Schultz and Dooley on top as finials.  The numbered stein is marked on the bottom: "Numbered xxxx – WEBCO – Made in Germany Exclusively for FX Matt Brewing Co. Utica NY".
For more info please see: http://www.steveonsteins.com/guest-writers-articles-west-end-brewing-company-utica-club-beer-steins-by-john-manning-and-dennis-hunsicker-new-2-6-12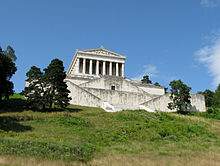 Shown ▲: The Valhalla Memorial in Germany.
Valhalla – (Old Norse "Valhall", i.e. "Hall of the Slain") – The name given by the Scandinavians to the abode in which the god Odin received the souls of those who had fallen in battle. There they are represented as spending their time in constant fighting and feasting in his service. Written on German steins made for export to Scandinavia as "Walhall".
See also: "Walhalla" in this Compendium.

V & B – see Villeroy and Boch below.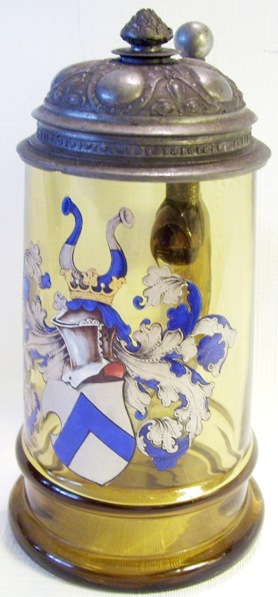 van Hauten – A well known  decorator of enameled steins. His firm did lots of Student society steins. Shown: A 1/2 liter glass (Theresienthal's) stein decorated with an enameled family's Coat of Arms by van Hauten.
See: http://www.steinmarks.co.uk/pages/pv.asp?p=stein1
Also see:  http://www.steveonsteins.com/van-hautens-enameled-big-question-drinking-wares-draft-2-3-2011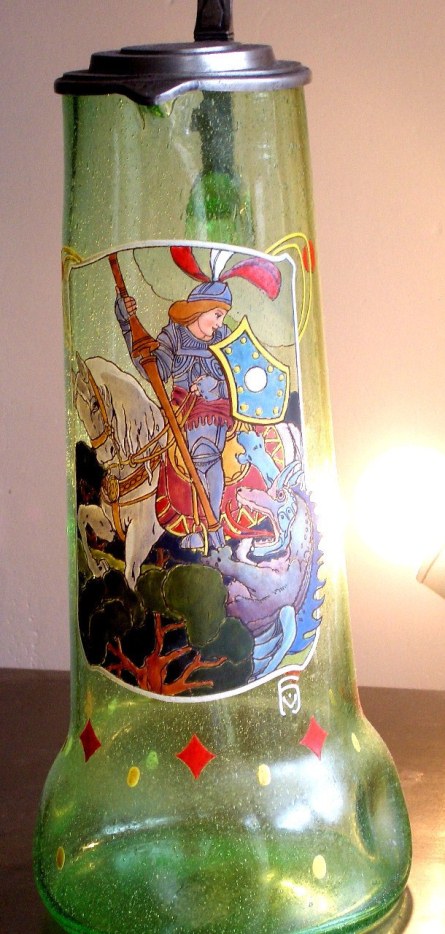 13 inch tall server probably by Poschinger [SP ?]. Enameled decoration of St. George by F. V. Hauten.
.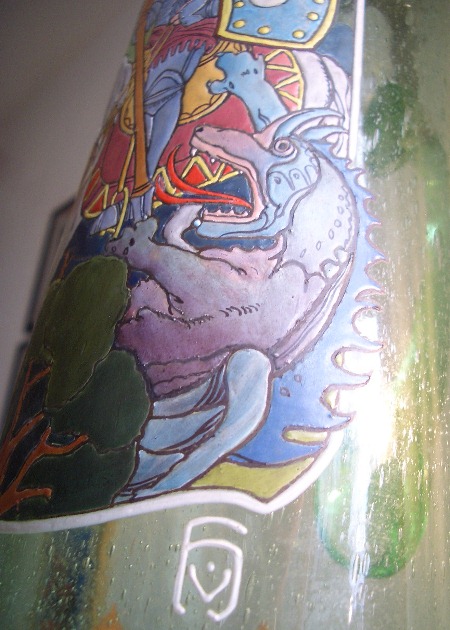 Detail: Frederick von Hauten mark  on the piece above ▲ = small v (with dot) /  h.
Vase – A term used unknowingly by some major auction houses to describe some drinking "beakers" and "flutes". I have picked up many a "vase" at a discounted price due to this mislabeling including a German silver coin mounted, ball footed example. Major USA auction houses are guilty of labeling such also. I use these factors to determine if the piece is a vase or a beaker: If glass, if there are flowers painted / engraved on it, or if the top rim has been beveled then it is probably a vase. Also if it has any type of uneven rim, then it is a vase. (See photo above for an extreme example .) Drinking scenes on any style of course should mean it is a beaker.  Here is one real good example,
see below ▼of what some might call a "flute", but because of the scene on it, I think it should be called a vase. [Comps of DEH]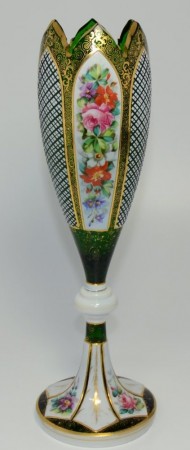 Any uneven rim or painted  / engraved flowers or cupids  / angels,  indicates the piece most likely is a vase. [▼Comps of DH]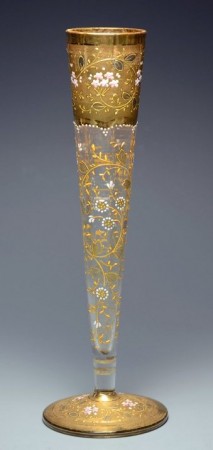 below,   your call:
BEAKER OR VASE ??
---
Venetian mAJOLICA tankard & cover, painted with
---
VERDEGRAS [SP]   WHAT IT REALLY LOOKS LIKE-   american made prob – 2 plain desifn left out side by the well. [q]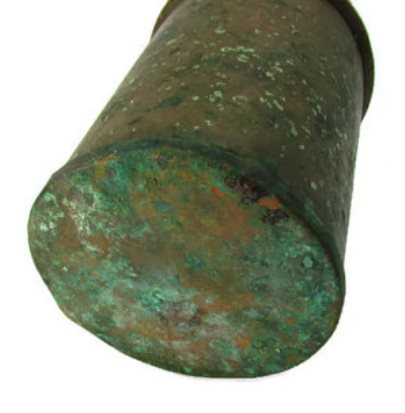 ---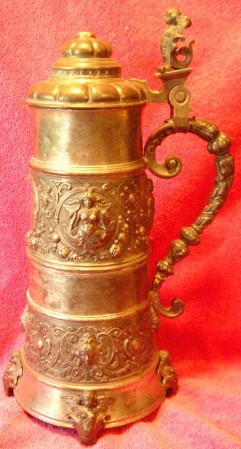 Verein –  A social club composed of like minded members, or same or similar craft / activity members, as in weight lifting. They mostly came into being after the "Guilds" were dissolved by Napoleon. Shown ABOVE: A large pewter tankard made by J. Lichtinger, Munich for an Engineer's Verein. The inscription I interpret as: The Academy (of) Machinery Engineers Association, Munich, on "White-night Fest", 1892, (from) The Seniors." [FWTD]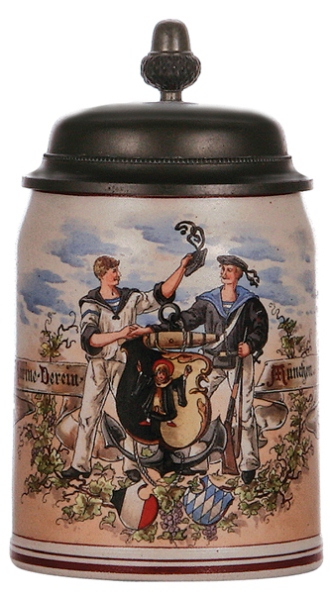 Shown; A Marine Verein stein. Very unusual as it shows the Munich Maid on the shield and smaller shields show the colors for [1]he Imperial Government (for the  Navy) and [2] of the State of Bavaria. As there is no other info, and Bavaria had no Navy, I am thinking the ex-sailors in the Verein held a meeting there in Munich. Ca. 1900. A great place to get together again.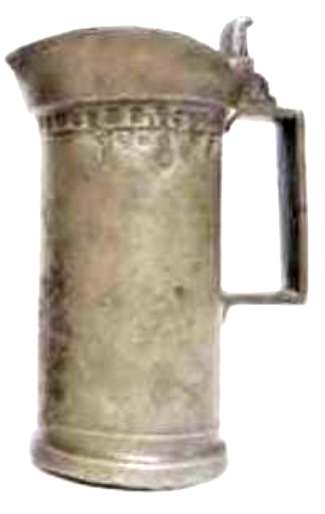 Verification Marks (Pewter) — Found on both British and French drinking vessels. The stamped marks indicate the vessel(s) so stamped hold(s) the amount of liquid marked on the vessel; e.g., "pint." Shown: The  whole upper body is full of verification marks on this French tavern measure.

Vermeil — Gold-plating process developed in France in the mid-1700s. France banned production of vermeil early in the 19th century because the process involved the use of mercury. Present-day vermeil is produced by a safe electrolytic process. Vermeil is NOT gold wash. Vermeil is 18-24 carat gold layered over sterling silver.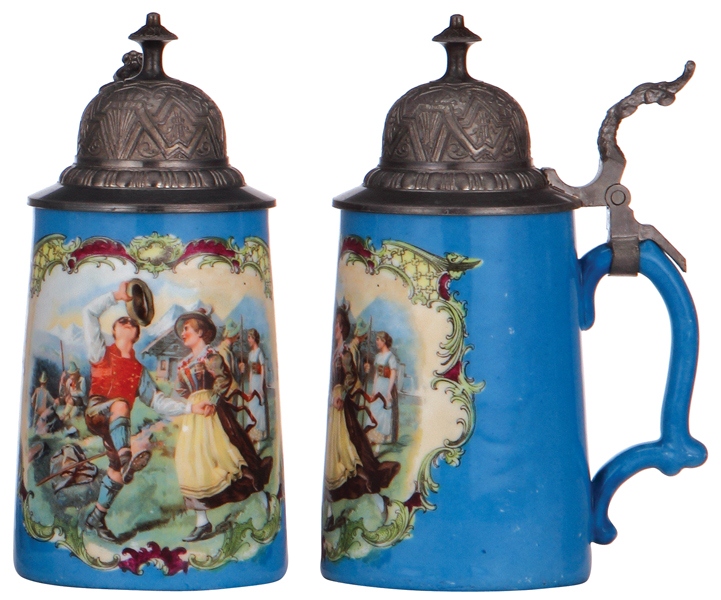 Shown above: Typical  V C /  .5 liter POG stein with standard handle design. Ca. 1881-1914. [tsaco]
Victoria, Carlsbad, Austria – Mark of a porcelain stein firm. They made mostly 1.2  and 1 liter steins with PUG scenes, have brightly colored borders and some with gold painted lids.
For maker's info, see: http://www.steinmarks.co.uk/pages/pv.asp?p=stein1 
A gold handle on a blue body is shown there.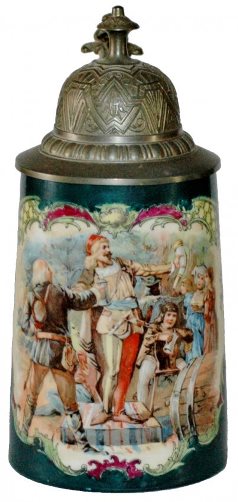 [RFA]
[RFA]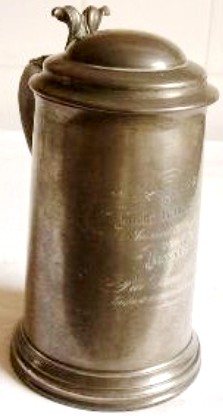 Victorian pewter "trophy" tankards – English pewter and Britannia metal tankards and mugs awarded for rowing, ground sports such as cricket, shooting, and other endeavors at England's colleges. These were all produced in the George II silver tankard style having the double "C" handle, in quart and pint sizes. Most all are found with glass bottoms. Many were manufactured in Britannia ware by Dixon and Son, and others. "Bright cut" engraved and popular from 1860's through the 1880's.
For more info, please see: http://www.steveonsteins.com/glass-bottom-steins-and-mugs-a-brief-discussion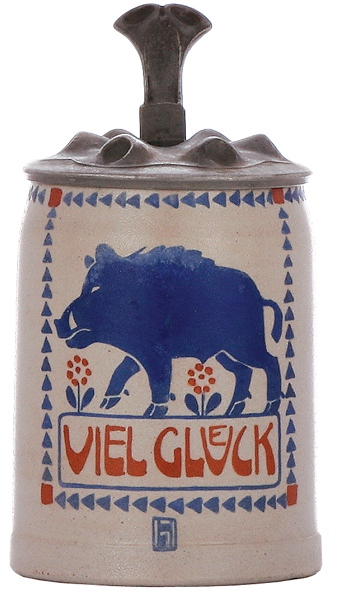 Viel Gluck – German for Good luck (or God speed). Shown ▲: A .5 liter stoneware stein by Merkelback and Wick, design by L. Hohlwein.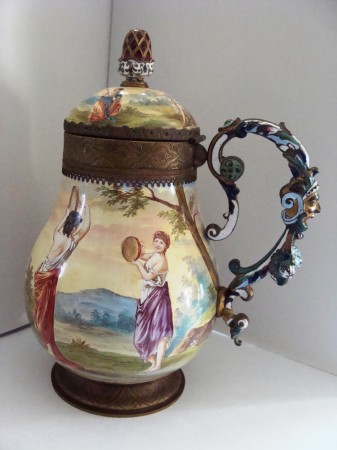 Viennese enameled steins– Usually handsomely done  enameled painting on a copper base. Many makers  for a long time. Now very expensive when found well done and with no chips, hairlines or cracks.
Shown above ▲: A half  liter, with a great cloisonne enameled handle and copper mounts. Circa 1850. [J. Stuart]

Be;ow ▼:  Miniature, Viennese enamel stein, 3.5″  ht.,  Ca.1850. [TSACO}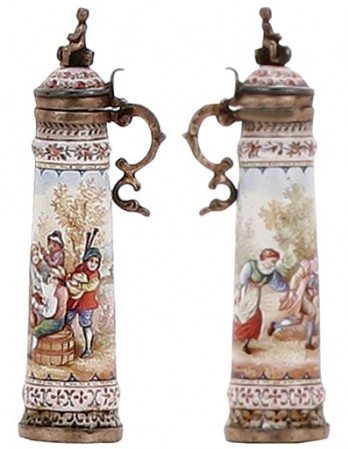 Vikings (on beer steins) –  A German made stein with an unusual scene. Viking scenes are scarce on steins, but not necessarily expensive when found, as most sellers won't have a clue as to what the figures represent. Shown  below ▼,  a 2 liter pottery relief entitled " WALHAL"  ("VALHALLA"  in English.) Circa 1900. This vine handle indicates it was made by J.W. Remi. [FWTD]

For info on the different twisted vine handles, please see: http://www.thepatriotexchange.com/pss/vinehand.htm
The characters represented on this stein: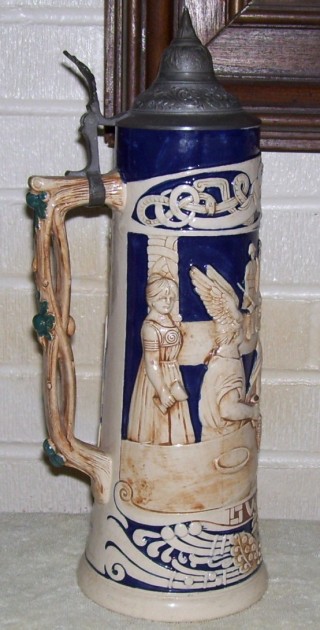 FRIGG / FREJA  [?]  [Shown holding a roemer on left side of the stein.]

Goddess of marriage. She is the wife of Odin, and Friday is named for her (according to some). Her abode was called Fensalir [The Ocean Halls] and she weaved the clouds
Another name for Frigg was probably Saga [ON Sága]. In the Prose Edda it states that Saga was an Aesir goddess who dwelt in a "big place" called Sokkvabekk. That is the only mention of her. In the Poetic Edda she is also only mentioned once:
Sokkvabekk called is the fourth, which cool waters ripple round about; "there Odin and Saga all their days drink, glad from golden cups".
That is all that is said about her in the Norse mythological sources. As Hollander points out she is probably identical with Frigg since she is said to drink with Odin (Frigg's husband) "all their days" and Fensalir, Frigg's hall, means "Ocean Halls" which is comparable to Sokkvabekk,"Suken Hall".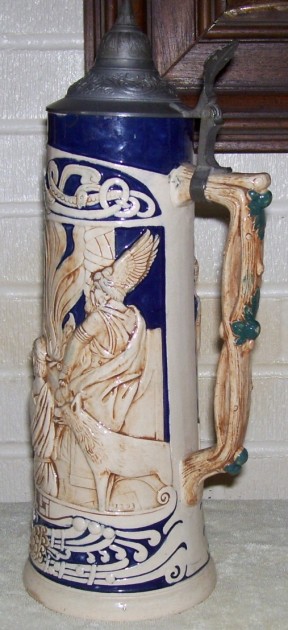 ODIN    [Shown seated on right side with the winged helmet.]
Old Norse Óðinn  – Leader of the Aesir. Odin had a myriad of names including Allfather, Ygg, Bolverk [evil doer], and Grimnir. He also had many functions including being a god of war, poetry, wisdom, and death. His halls were called Gladsheim Valaskjalf and Valhalla. [WALHALL] Odin's high seat, Hlidskialf, was in Valaskjalf. It was from this throne that he could see over all the world. Valhalla is where he gathered his portion of the slain warriors, Einheriar (Einherjar), whom the valkyries had chosen.
The valkyries would serve mead which forever flowed from the udder of Odin's goat, Heidrun. They also served the warriors meat that came from the boar Saehrimnir, which the cook Andhrimnir would prepare for eating by boiling it in the cauldron Eldhrimnir. The boar magically came back to life before the next meal. After eating, the warriors would go outside the hall and fight each other to the death. They were, of course, brought back to life before the next feast. All of this fighting was practice for when Odin would lead the Einheriar in the final battle, Ragnarok.
Odin had a spear named Grungir which never missed its mark and a bow which unleashed ten arrows with every pull. He also owned a magic ring called Draupnir which created nine of itself every night. It was this ring that Odin laid on his son Balder's funeral pyre and which Balder returned to Odin from the underworld. Another one of Odin's prized possesions was his wonderful steed named Sleipnir which had eight legs.
The horse was the offspring of Loki, who in mare form seduced a giant's horse named Svadilfari. Sleipnir could travel to the underworld and through the air.
     GERI- THE WOLF  [Shown next to Odin.]
Odin also had two wolves, [One shown  next to Odin] Geri and Freki, and two ravens, Hugin [thought] and Munin [memory]. He sent his ravens out every day to gather knowledge for him.
Odin sacrificed himself for knowledge by hanging on the world tree, Yggdrasil, which means Ygg's horse. Ygg is a name for Odin and horse is a metaphor for the gallows. He thereby learns the runes. Another sacrifice he made for wisdom was his eye. He gave it up in order to drink from the Well of Mimir which bestowed great knowledge. Because of this, he is typically depicted as having one eye. He is also depicted as wearing a cloak, being old, having a long grey beard, and wearing a wide brimmed hat down low over his face to conceal his one-eyed visage.
.
     VALKYRIES –  Maidens who chose which warriors on a battlefield would be slain. They also served the brave ones "mead" in Valhalla after their death. This is the reason for the "bee" in relief on the front of this stein, as mead is made from fermented honey.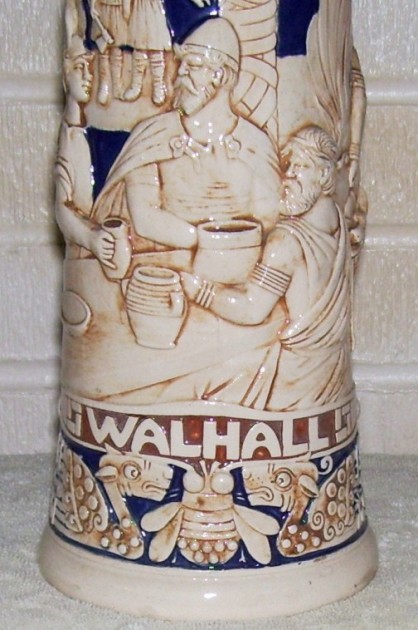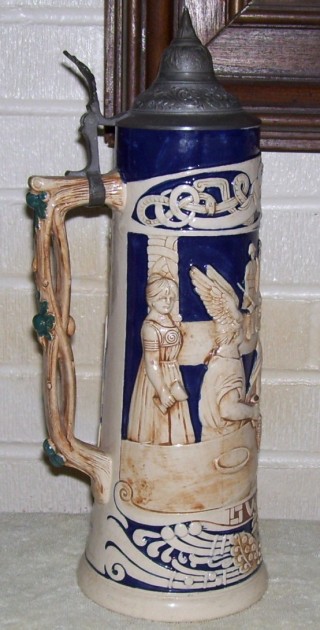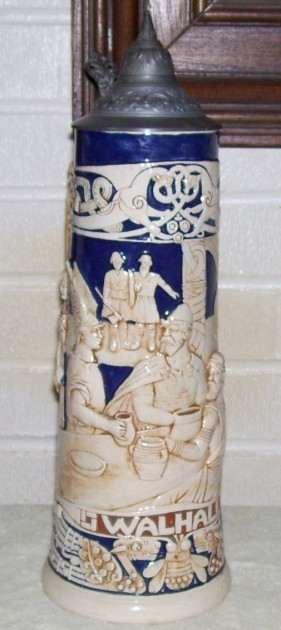 THOR  [On left of center, with a winged helmet on. Right above; he is holding mug of mead.]
The son of Odin, and a member of the Aesir, he was the god of thunder and the main enemy of the giants. He would smash their heads with his mighty hammer Mjollnir. To wield this awesome weapon he needed iron gloves and a belt of strength. Mjollnir would return to Thor's hand after being thrown and was symbolic of lightning. Thor would ride around middle-earth in his wagon drawn by two goats, His abode was Thruthheim [Land of Strength] and his hall, Bilskinir. His wife was Sif.
He was foremost of the gods to the common man, who would call on him to ensure fertility, and widely worshiped. Hammer shaped amulets, a symbol of Thor because it was his weapon, were worn about the neck well into the Christianization of Scandinavia. There are molds from that time which contain both cross and hammer shapes, side by side. His name occurs in numerous place names, and it was his statue which was central in the great temple at Uppsala.
Thursday is named for him and he was associated by the Romans with Jupiter, therefore also parallel to Zeus. They were the wielders of lightning bolts.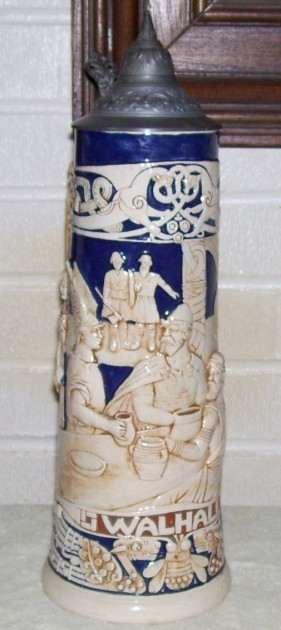 TYR  [Probably him seated next to Thor with conical helmet on, center of scene.]
He is the God of war. He was the only god brave enough to put his hand in the Fenris- wolf's mouth so the gods could bind it. The wolf bit off his right hand. There is much debate about his left-handedness. In the Norse culture the right hand was given for a pledge, which could be why the right hand was placed in the wolf's mouth. It has also been noted, however, that the offering of the right hand is to show that it is free of weapons. A left handed person was sometimes considered evil because he could use a weapon with his left hand even though he shook with his right hand.
Tuesday is named for Tyr who was known as Tiw, or Tiu, by the Anglo-Saxons. He must have been an important god in the pantheon prior to the mythology we were handed down in the eddas to have one of the days of the week named after him. Since Tuesday is the English name given in place of the name of the day of the week sacred to Mars for the Romans, we know that the old Englishmen thought of Tyr as being similar to Mars.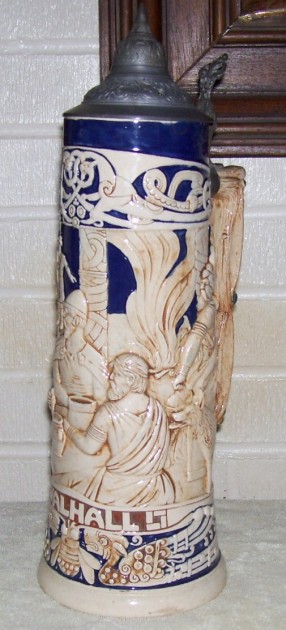 AEGIR    [Probably the God sitting down with the Toga on, large bowl in front of him.]
The meaning of his name is associated with water. He was also called Hler and Gymir [the Blinder] (the name of Gerd's father — it is not known if they are one and the same). Aegir was the god of the seashore or ocean, and called the ruler of the sea by Snorri. He was a personification of the ocean, be it good or evil.
He caused storms with his anger and the skalds said a ship went into "Aegir's wide jaws" when it wrecked. Sailors feared Aegir, and thought he would sometimes surface to destroy ships. According to Sidonius, early Saxons made human sacrifices to a god of the sea, possibly connected with Aegir. 
Aegir brewed ale for the gods after Thor brought him a big enough kettle. Every winter the gods would drink beer / ale at Aegir's home. He was, therefore, famed for his hospitality. Instead of having a fire, gold was put onto the floor of the hall to provide light. Gold is therefore called Aegir's fire. The cups in Aegir's hall were always full, magically refilling themselves. Aegir had two servants in his hall, Fimafeng [Handy] and Eldir [Fire-Kindler]. According to Lee Hollander, Aegir's function as the gods' ale brewer was suggested by the ocean's foam.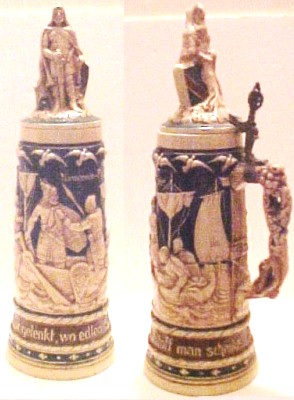 .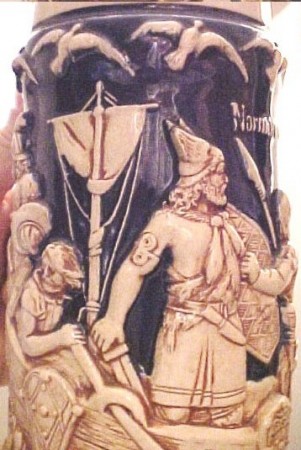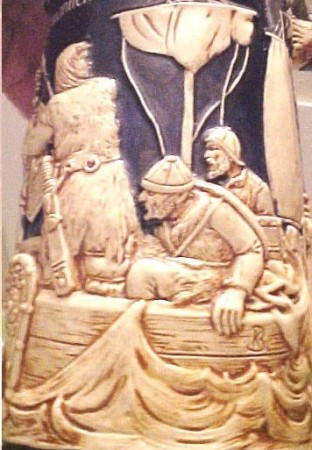 A Viking "coast raiders" scene on this .5 liter pottery relief stein.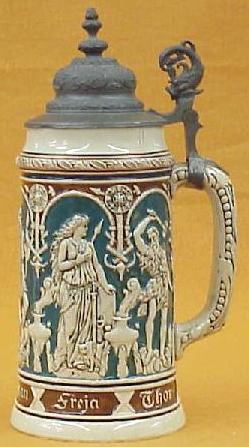 .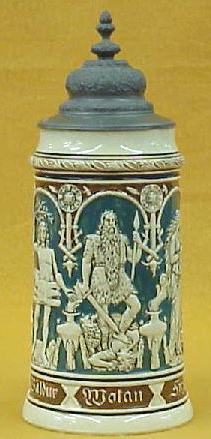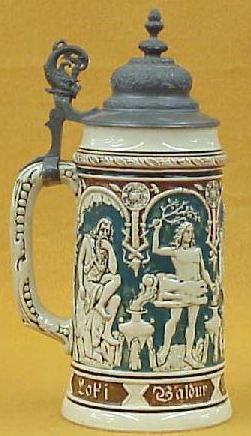 ▲  ▲ Another .5 liter pottery relief stein. This one show the names of the Gods just under their image.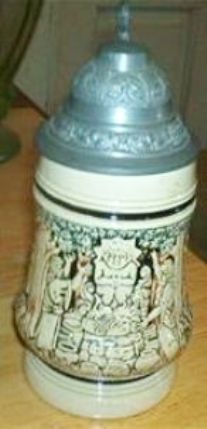 The  Norse God – "Loki"  –  This scene is on a  .5 liter stein.  While this figure is certainly 'wild', it is not the German "Wildman" and in fact for a long time  several of us local collectors had no idea who or what he represented. Some said he is being sacrificed. If so, why all the stoneware jars in front of him?
Late Spring of 2013: I have a lidless one of the in "FWTD"  and finally got it out and studied it for a few minutes and soon figured out this was a depiction of the Norse god Noki =  their God of fire! The key point which not shown  on this photo are the side scenes with several of  the Norse or Teutons warriors kneeling down to him.This along with the Priestess (just visible above to the right side) with her arms outstretched towards him, and him not having  a halo (a Christian attribute) but a star behind his head finalized it in my mind. The pots are a clue as they need "firing" to become hard. I will attempt to take photos to show the sides scenes sometime.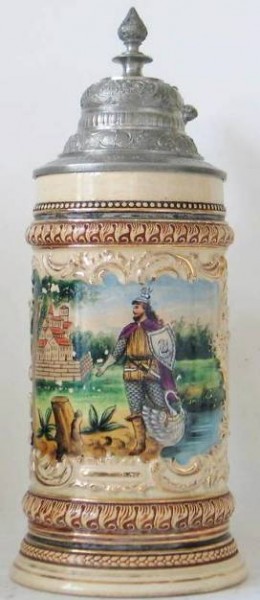 These scenes could be very confusing to some new collectors, that are not "into" the old Germanic stories. This is not a Viking stein per se, more of a ancient North German Norseman.  This ▲is a scene of Lohengrin's arrival.
Lohengrin besides being a story / fable, is a well known romantic opera in three acts composed and written by Richard Wagner, first performed in 1850. The story of the eponymous character is taken from medieval German romance, notably the Parzival of Wolfram von Eschenbach and its sequel, Lohengrin, written by a different author, itself inspired by the epic of Garin le Loherain. It is part of the Knight of the Swan tradition.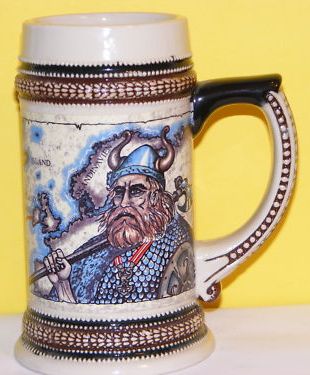 .5 liter Marzi and Remy (a new re-production) pottery PUG un-lidded stein. Entitled: "SCANDINAVIA" (to the left of his helm.) Black handled (some collectors care! Me = Nope!
When most people referred to as "Vikings" on drinking vessels, they usually are not!  They are usually "Old Germans" ('Ault Germanen' or 'Ault Deutcher') shown in a festive mood and drinking mead or beer from drinking horns. 
 As shown above, if a beer stein has a true Viking scene on it, it might  have the Scandinavian word "Wahalla" on it.  (Valhalla in English). Any bee (the insect) seen on the stein's body would indicate a relationship to mead [a fermented honey drink] and not beer. Or any showing the Vikings Gods. Shown ▼: A .5 liter heavy pottery relief, with unusual cut away base. Dumler and Bredin was the maker.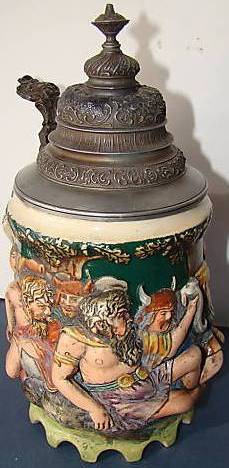 "Old Germans" ('Ault Germanen' or 'Ault Deutcher') also called Nordic Germans, but these again are not Vikings.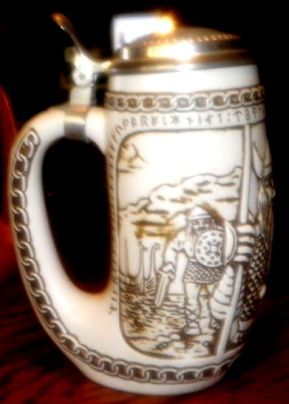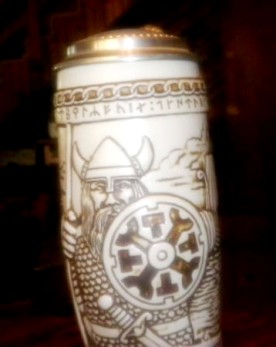 A much newer small ceramic drinking horn showing the much shown but false conception of a Viking helmet with horns. Circa  1970- 90.
For more info on the correct viking attire and other history, please see the last section in:  http://www.steveonsteins.com/hermanns-story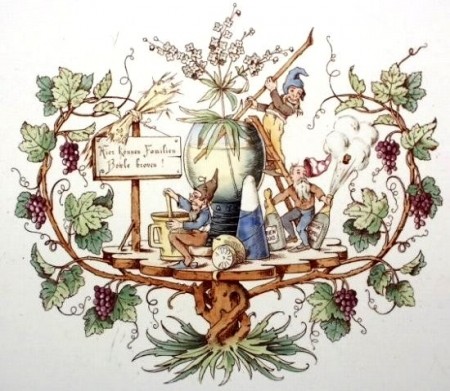 Villeroy and Boch – Dresden – Most collectible are this factory's hand painted (over a PUG) drinking themed plaques and serving trays. See: http://www.steinmarks.co.uk/pages/pv.asp?p=stein1
Villeroy and Boch – (V & B) Luxembourg; (The "Grand Duchy of Luxembourg")  Another of the Villeroy and Boch plant locations. Pictured above ▲ are a couple of variants, and ▼the typical mark for No 24. I believe this could be the one and only 1/2 liter stein (style / mold number) made at Luxembourg. If someone knows of more different styles, please email me.
Also see Dorfner and Co. ("D&C") in this compendium for very similar steins.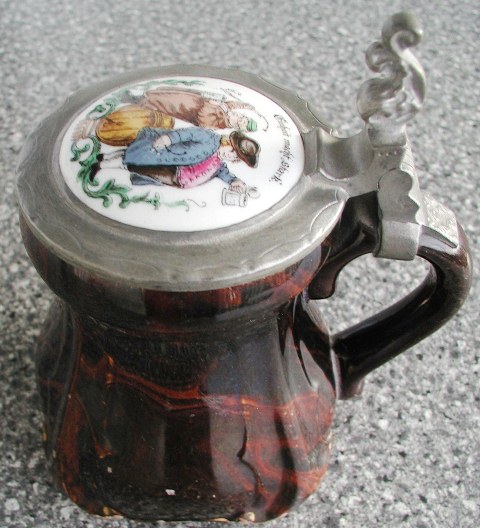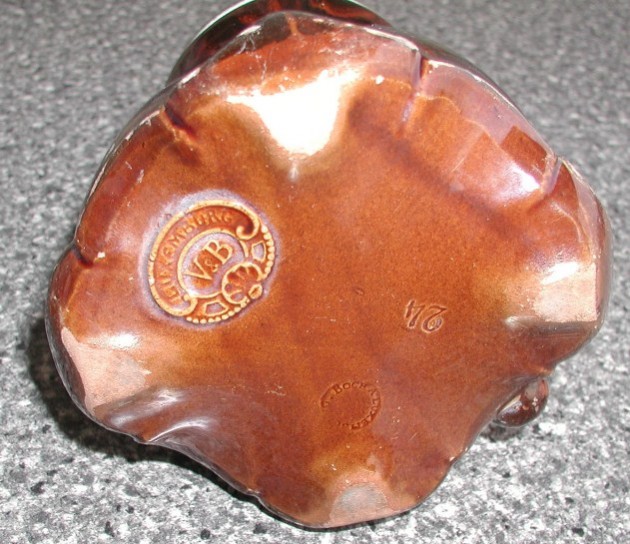 See: http://www.steinmarks.co.uk/pages/pv.asp?p=stein1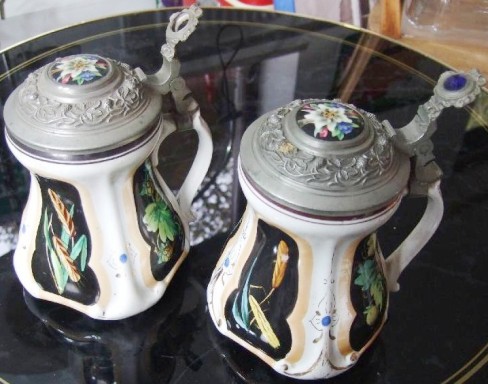 The same style but made of porcelain, but not by V &B ~AT LEAST THERE HAS BEEN NO PROOF OFFERED TO SAY THEY WERE! Some of these porcelain ones come with bisque porcelain full figurals mounted in the lid or as above ▲ with pewter and porcelain  inserts. The bodies are turned sideways from the way the No. 24 is found and they are a tiny  bit smaller.  
As I said: I and others believe to be made by another firm. ►  Update  10-15,  See Dorfner and Co. ("D&C") in this compendium.

Villeroy and Boch  – Mettlach- Mettlach is a small town in Germany's Saarland. It is the home of one of the Villeroy & Boch (V&B) factories, where stein production began circa 1840. V & B used coal-burning kilns which produced a more uniform product than the wood-fired process.  Other factories were located in Dresden, Wallingfangen,  Stephfontaines and other locations-  Mettlach also produced hand-painted, mosaic, tapestry, print-under-glaze (PUG) and relief items, sometimes incorporating more than one technique. V & B used an extensive marking system which included the incised old abbey tower (called a "castle") trademark, the year of production, form number, size number, etc. While some old time collectors  and dealers consider Mettlach steins the "Cadillac" of stein production, but many beer stein lore educated collectors would rather collect the MG's, Jaguars or Rolls-Royces of the beer stein world!
See: http://www.steinmarks.co.uk/pages/pv.asp?p=stein1
Villeroy and Boch – Wallerfangen – A  V & B factory location most famous to stein collectors because of their PUG plaques depicting Dutch type harbor, animal scenes, etc.  See: http://www.steinmarks.co.uk/pages/pv.asp?p=stein1
One of the few female steinologists recently wrote a book on wares from this factory.
Vintage – Perhaps the most overused "Nothing" word used by antique dealers and lots of new stein collectors." . "rare"  or "unique" may have it over shadowed.  ?  [see below***] 
Used  as in; "A  Vintage old German pottery stein"    THE USE OF IT HERE AS AN ADJECTIVE IS WORTHLESS! "Vintage" must have a date / year or  era  indicator with it to have any meaning  The word  comes from the original usage with  group of wines from the same year. 
*** Editor's note: The day I wrote this I did an item search  on eBay for these three words  along with "beer stein" and in the "worldwide;" category (I did not do German eBay.)
and  surprising to me "Vintage" won by a lot,  with 8. 034 hits ,
"rare" got 719
and unique got only 120.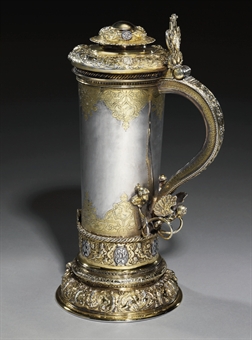 Correct usage. A" vintage" 17th century Baltic gilded silver tankard. (Soetheby's)intage
Shown below ▼ is an actual photo of a silver plated beer mug recently advertised for sale on one of the major "Buy it now " sales sites on the WWW.  Below is the ad.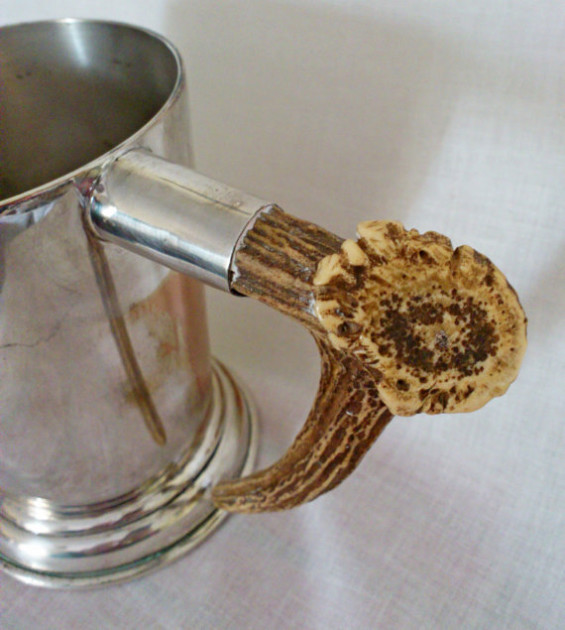 The  actual ad decription of above was: "Vintage Brass Unique Silverplated *[A]  Tankard Mug with a Handle of Deer Antler P.H.V & Co Birmingham"
This is a meaningless ad that tell the viewer almost nothing:   Vintage Brass Unique Silverplated Tankard Mug with a Handle** (with  a Faux [in this case meaning replica, left out ] Deer Antler  (next the word : "maker, retailer, orowner , etc " was  left out)   P.H.V & Co Birmingham.  About the only thing the seller had right was the for sale price
[A]  It also would have been more correct to say Silver-plated brass , then to start off with "Brass".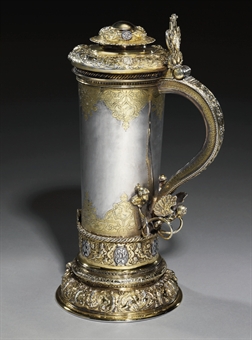 Correct usage. A" vintage" 17th century Baltic gilded silver tankard. (Soetheby's)
 "VIVAT  SEQUENS  –  Means:  "Long live the one who comes after [me]."  Found on some steins celebrating a birth, especially  older ones.

Vodka cup – Shown: Russian silver, 2.25 inch tall, enameled vodka cup. Dated May 1942 = which is an interesting war time date.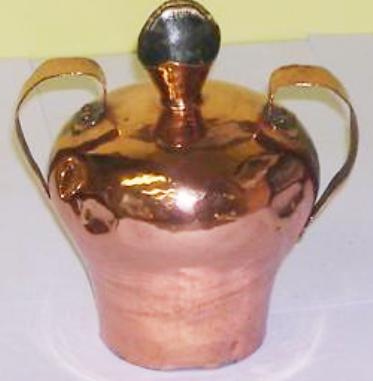 Vodka  jug – Self explanatory. Used in taverns, with a cork in the spot. Shown: Russian, copper with two handles (a very Russian trait), 7.5 inches tall. Circa: Late 1800's.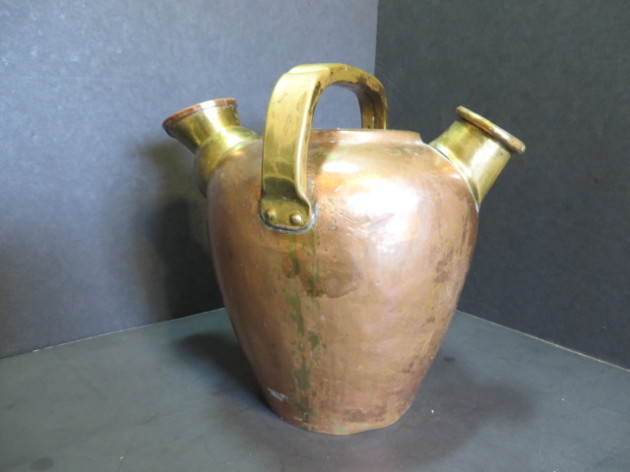 Another example,  possibly used for vodka , or some types of wine.   Russian pre -revolution mark.
.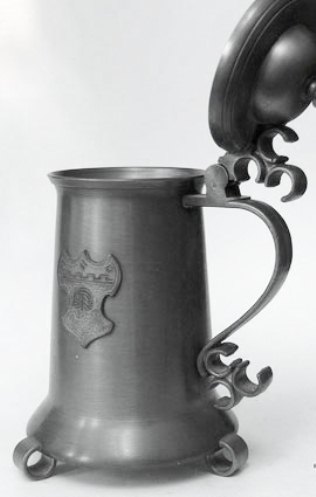 Vogel , Otto- Maker of new pewter steins and servers. It has rolled circled  feet which are seldom, if ever, seen on older pewter steins. Not listed at  "Stein Marks" web site.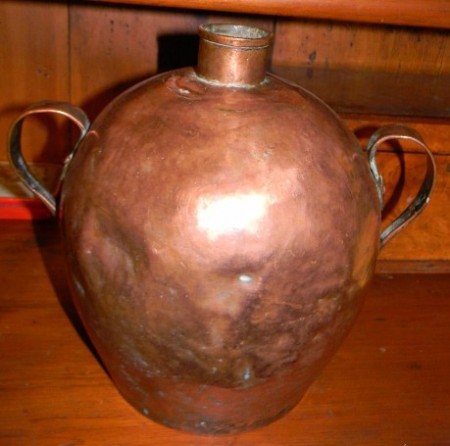 Another larger copper vodka jug with many more indicative of its past life!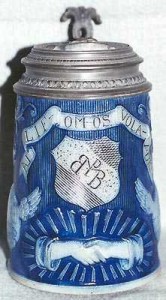 Volapuk  – Above ▲: A H-R stein [unknown mold no.] made to celebrate "Volapuk," (the 'universal' language mostly based on English). Heavily promoted in Germany, where it's inventor came from. The idea never really caught on.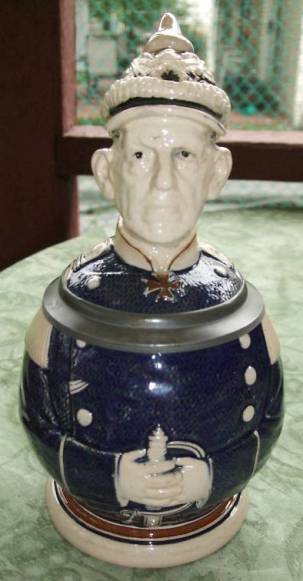 Von Moltke, Helmuth – A famous German General, Chief of the General Staff, who lead Germany against the French in the Franco-Prussian War of 1870-71. Shown: A 1/2 liter Stoneware Character stein. Circa 1885.
[END – SP104 – 73 – R5]

   "I like long walks, especially when they are taken by people who annoy me."
, ,