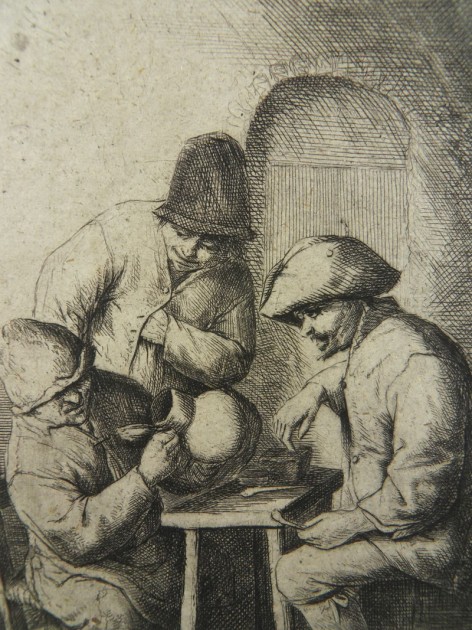 "DER LEERE KRUG"  ("The Empty Mug") – An etching by ADRIAEN van  OSTADE, 1653.
"S'  as in " S  1/2  L" – The "S" standing for the Latin: "Summa [or] Summe" [sum = total.] This is part of the capacity mark found on early "mud"  (modell) steins. Used before the makers all agreed to use the 1/2 L  designation. Also: "J" (interchangeable with I), when found stamped about the rim of an older stoneware steins (mostly the modell steins from the Westerwald, this is also part of the signification of measurement. It is the abbreviation of the old German word for 'Inhalt" which means 'capacity. So if one sees:  1/2 L J, it means one half a liter capacity. (Thanks to Roy DeSelms, Prosit, 12-2010.) Shown: A Gausthaus' bill with the word 'Summa' on it. From a 1 liter pottery PUG Stein. Circa 1890.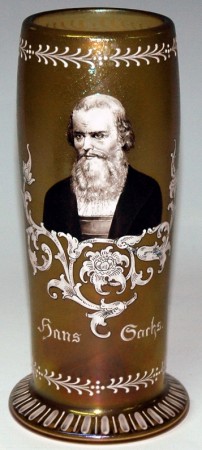 Sachs, Hans – The most famous Meistersinger from Nurnberg. Shown: A 7 inch tall hand painted beaker done by Heckert, 9" and signed FH 443/3. [DH]
For more info on this man see:  http://www.steveonsteins.com/the-funnel-man-and-its-relationship-to-the-the-minnesingers-and-the-meistersingers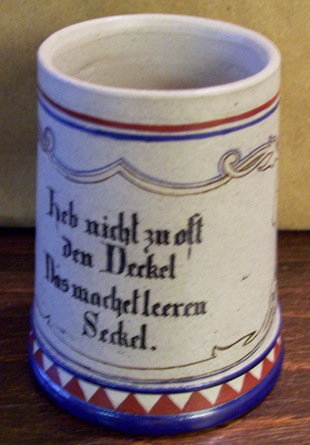 Saeltzer, August – Stein decorator. August Saeltzer's workshop was located in Eisenach, Germany. They decorated stoneware beer stein blanks purchased from various factories.  Shown: A hand decorated 1/8th liter. [Stephen Smith Collection] Please see: http://www.thepatriotexchange.com/pss/saeltzer.htm  for much more information and many photos.
Also see: http://www.steinmarks.co.uk/pages/pv.asp?p=stein1
Also please see Ron Fox's article:  http://www.foxauctionsonline.com/August%20Saeltzer%20Factory.pdf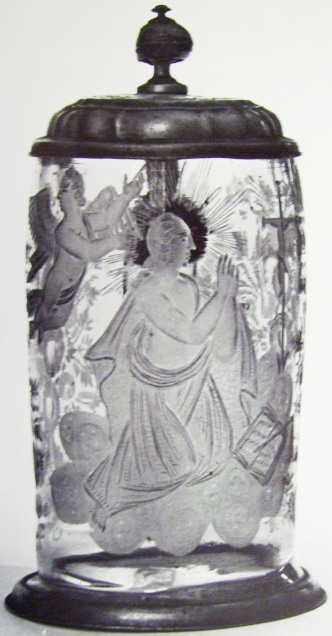 Saints on steins – Glass steins with engraved images of a person's favorite Saint, or often bought by one named the same as the Saint. Also many done in fayence and a few in pottery. These were very popular in the mid to late 1700's. Done by a few special artists, these steins are now hard to find and expensive on both sides of "The Pond." Shown: "St. Mary Magdalene," done by the artist I have dubbed "The Master of the Engraved Saints," as a few of his steins have surfaced at the major stein auctions lately. This stein is in the Bavarian National  Museum. Circa 1790. Note: I have seen (only) one Saint's stein engraved on cobalt blue glass; very interesting and pretty!
Please see more at this web site: http://www.steveonsteins.com/when-the-saints-come-marching-in-singing-ein-prosit-ein-prosit-new-12-14-11
 SOME OF THE MAJOR SAINTS SEEN ON VESSELS MOST OF THE TIME: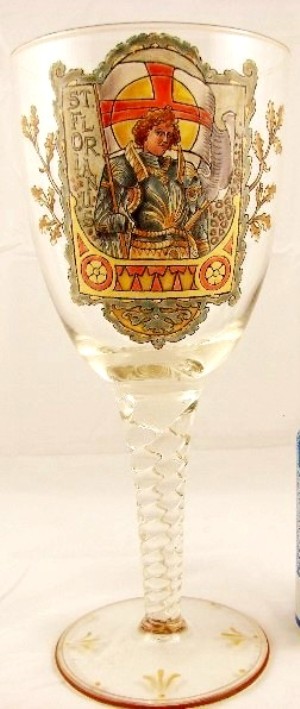 Saint Florian – Patron Saint of Firefighters, amongst other occupations. Shown: A large clear glass blown wine, decorated by Van Hauten [FWTD]
SEE:  http://www.steveonsteins.com/friedr-van-hautens-enameled-drinking-vessels-many-examples-of-his-work
and glass made by Josephinenhütte (also in this site's  "Compendium page "J" ."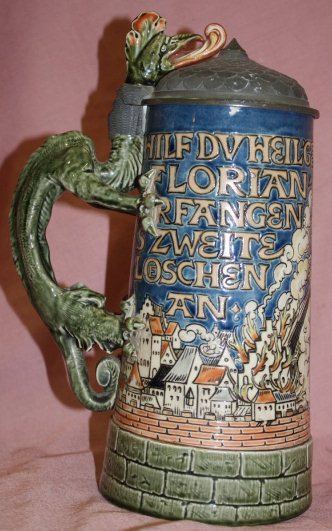 The one liter V & B Mettlach, No. 1786, celebrating St. Florian putting out a burning town (thirst) with beer. One of the most popular steins made at Mettlach. There is a good chance  (well over 20%) the head has been restored,  as they were not secured very well.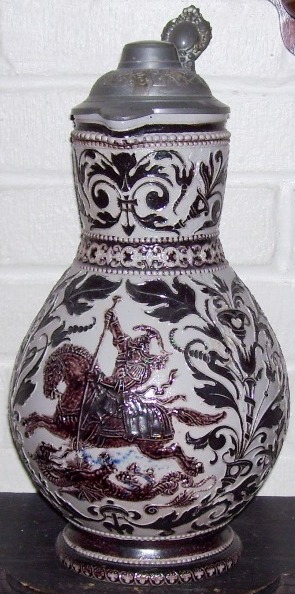 Saint George steins – Saint George was a Roman soldier and priest in the Guard of Diocletian, and who is venerated as a Christian martyr. In hagiography Saint George is one of the most  pictured saints in the Catholic, Anglican, Orthodox churches. He is immortalized in the tale of Saint George and the Dragon. The episode of St. George and the Dragon was a legend brought back with the Crusaders and retold with the courtly appurtenances belonging to the genre of Romance. By far the most revered Saint in the Christian world. He is the patron Saint of both England and Russia. Almost every stein maker made at least one stein to honor him (and to sell) including V & B Mettlach. Shown: A highly sought after two liter salt glazed serving stein by Reinhold Hanke. [Stephen Smith Collection]
.
OTHER "SAINT GEORGE'S ," ALL DONE IN OLD  FAYENCE.  I REALLY ENJOY THE VARIETY. I HOPE YOU DO TOO: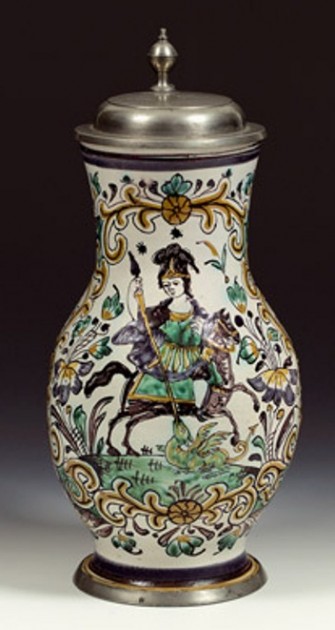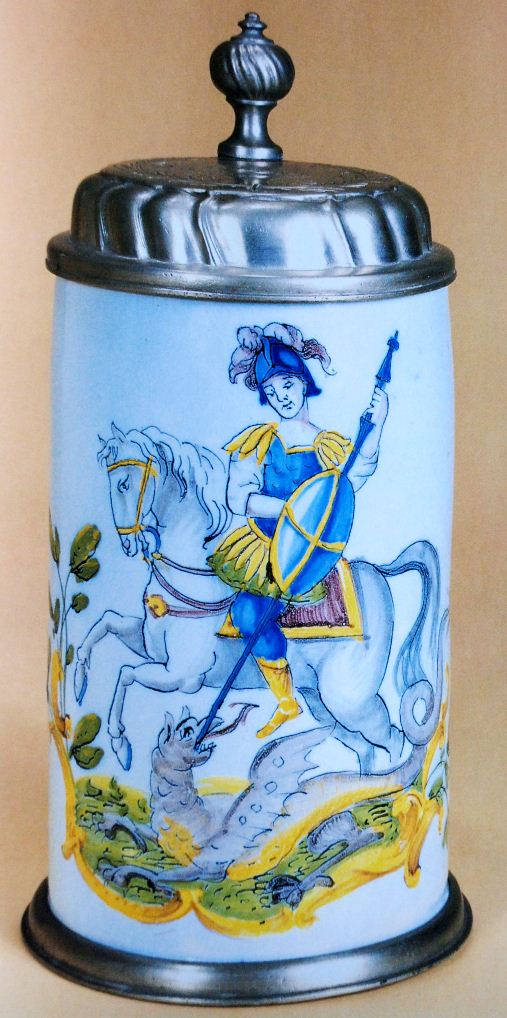 [L] Gmunden                            [R]  Schrezheim
.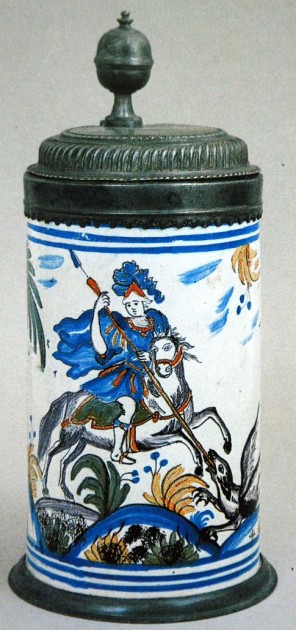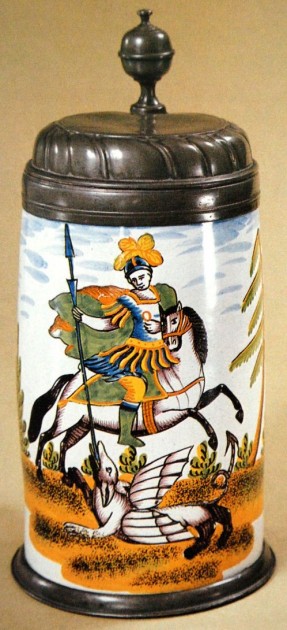 [L] Bayreuth                                       [R] Crailsheim
.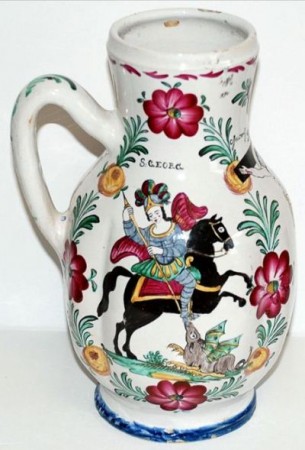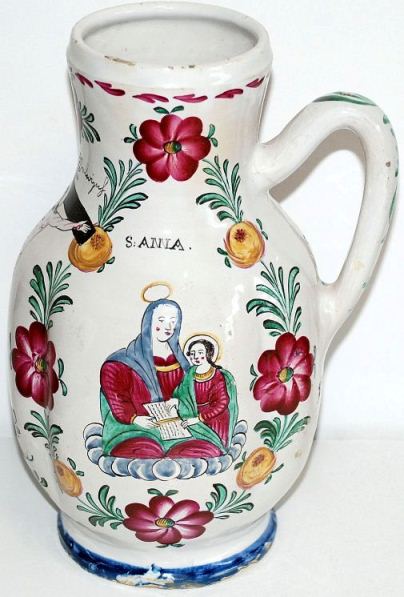 Above: The middle scene on this Ca. 1840's Austrian mug is Jesus, and on the other side is St. Anna, Mary's mother. See some other Saints at: http://www.steveonsteins.com/when-the-saints-come-marching-in-singing-ein-prosit-ein-prosit-new-12-14-11
[All six photos above are compliments of William Hamer]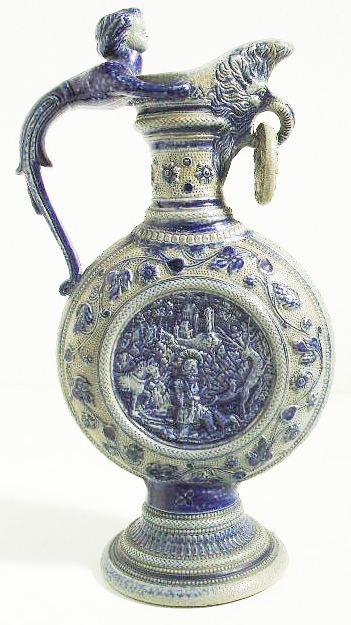 Saint Hubertus –  Legend has it Hubertus, born in the seventh century, sought comfort and distraction on lonely hunts after the death of his beloved wife Princess Floribana in childbirth. One Christmas Eve, he encounters on one of these hunts, the wondrous image of a splendid red albino stag carrying a shining cross between its antlers. Through this vision, Hubert is moved to transform his life. He lays down his high ranks of office and distributes his wealth among the poor and the church.
Detail of center scene. Shows the cross between the antlers.
St. Hubertus has been the patron saint of hunters and animal protectionists (Tierschutzverein) in northern Europe who attempt to honor him by sharing their feasts with townspeople, holding charity fundraising  festivals and being responsible for the care of animals on their lands, both domestic and wild. ▲ Shown: one and two above: Westerwald stoneware wine jug, Ca. 1880 with St. Hubertus scene in relief.
.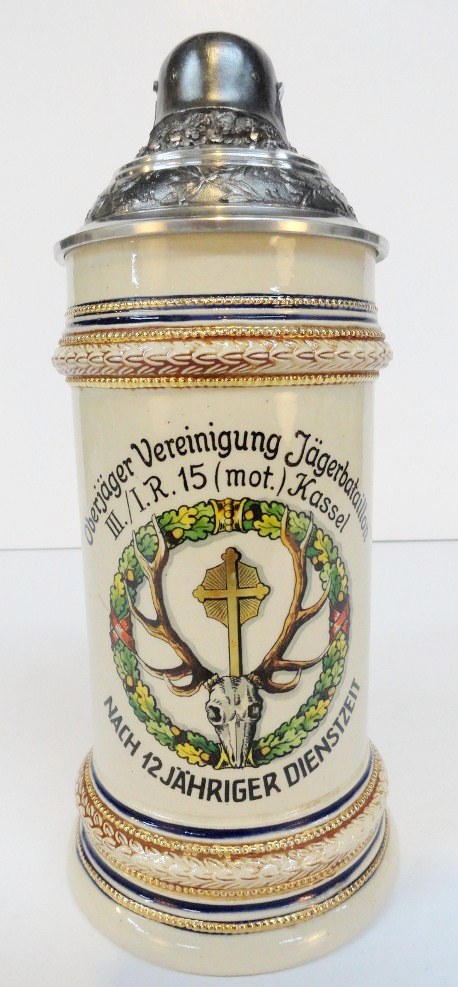 The holy deer with the cross emblem of St. Hubertus, on a reservist's .5 liter pottery PUG stein. For Oberjäger Vereinigung Jägerbataillon Kassel  for 12 years of service. This appears to be newer (see shiny pewter lid, no wear to the gold bands and no personal dedication) but I haven't seen another one to confirm that!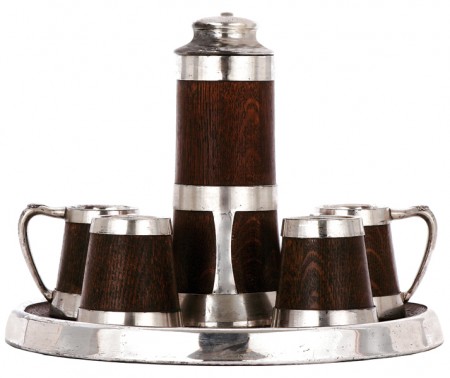 Saint Louis Silver Co. – A stein maker made a large series of wood [English Oak I believe] and silver plated steins, pass cups and other stuff.  Started in 1904. Most designs were patented by 1905. Shown top: A drinking set with server, tray and mugs. Shown below: a very scarce octagon stein = Art Deco. These are usually found with a round body; this is the only one I've seen in 42 [+] years of collecting.
.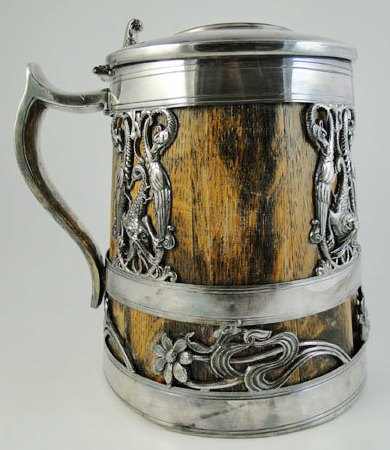 Very large piece, more like an ice bucket than a stein.
.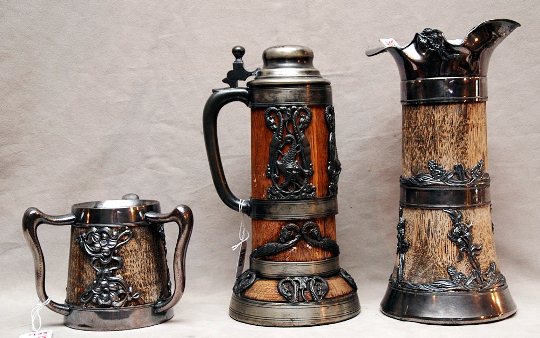 Three more example of St. Louis Silver's all oak bodies in various condition. All early 1900's.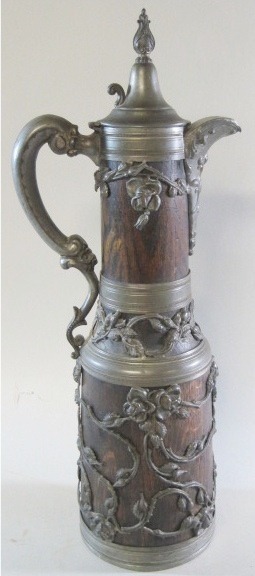 One hell of a big St. Louis beer server.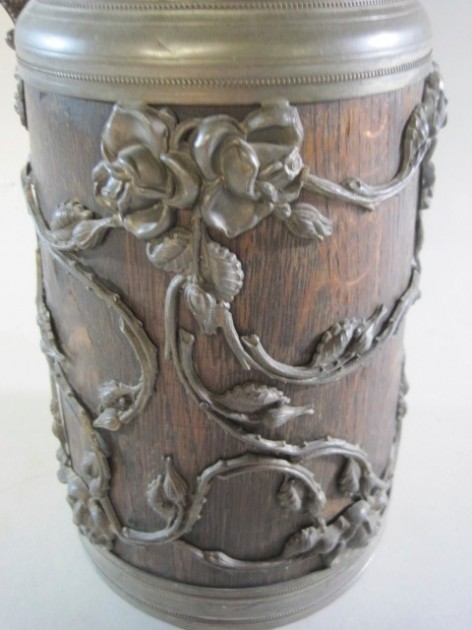 Detail of above.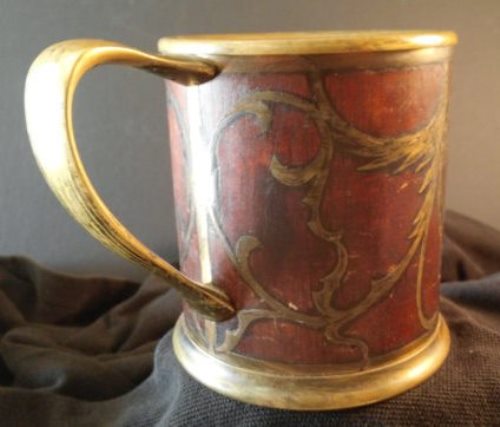 .
These two brass inlaid into wood mugs  ▲  & ▼were very probably produced in Vienna Austria, and retailed through the St. Louis Silver Company as they both carry the make shown below.  As they are nothing like the silver-plated wood examples that the company made, perhaps they want ed to expand their  catalog or storefront sales by offering something completely different .
.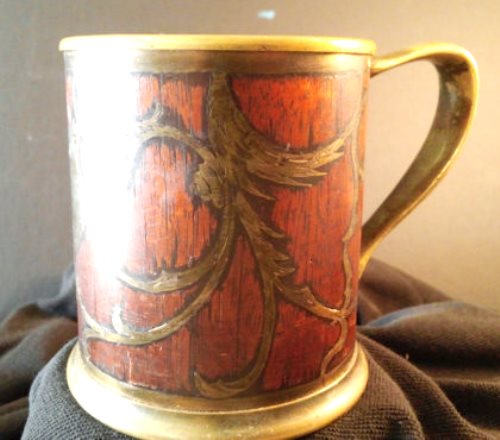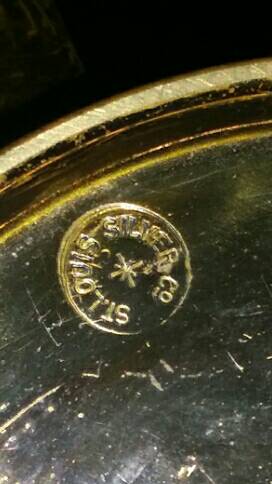 Mark as found on these two mugs  ▲ . Not seen elsewhere by me.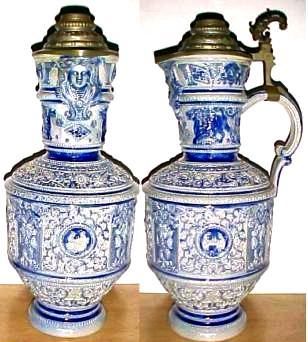 Salt glazed steins  – Basically clay vessels that have been fired in a kiln which had a large load of salt added that mixes with the air in the kiln and makes a chemical reaction with the clay. But it also releases acid / poison into the air (which the process is now outlawed in Germany.) 
It would produce a very hard glaze on the stein, which is then called "stoneware." Shown: An old 4 liter salt-glazed stoneware serving stein made in the Westerwald. Circa 1880.
.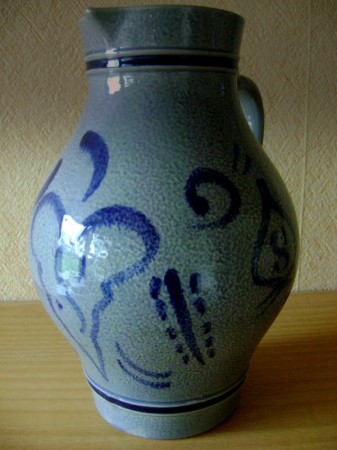 The new German environmental laws have recently prohibited the older saltglazing process, and this after 100's of years. They are now producing something that looks about 75% of the original (my observation). Shown▲ A new process "Saltglazed" stoneware jug by Reinhold Merkelbach.
Shown below ▼: A comparable older piece. 2 Liter  hand thrown. [FWTD]  Both are hand painted.

Also see the entry Broen, Blue Westerwals in this sites Compendium.
For much more good info on German stoneware please see:  http://www.thepatriotexchange.com/pss/wester.htm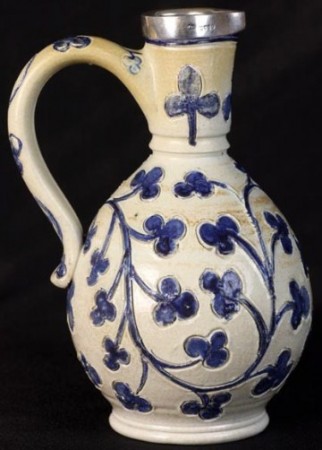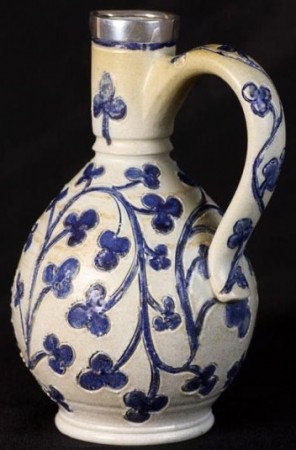 Germany was not the only country that made Salt-glass steins and servers. Here is a 7 inch tall Doulton Lambeth (England, late 1800's) ale / wine server made to specifically look like Westerwald stoneware. Sterling silver rim.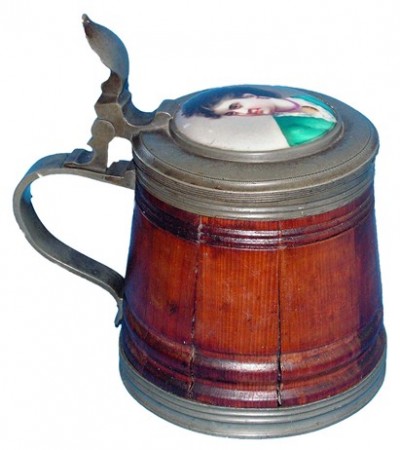 Sammer –  A stein maker or pewter smith? As of mid 2013 still not much is known about him. This staved stein is the only one example of his good workmanship that we have located. I am including  Cris's "Stein Marks" in the we!
.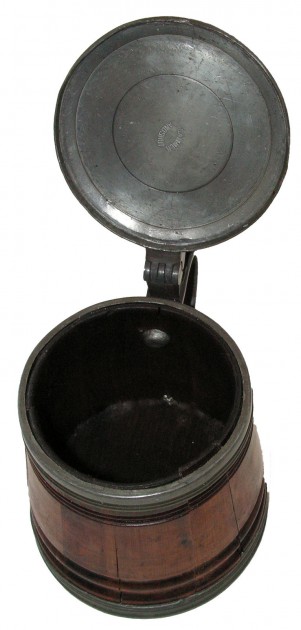 Samson porcelain –  A German firm that made nice porcelain wares, but copied the Meissen mark almost exactly. Shown: Hand painted armorial tankard. Ca. 1900. Decorated with flowers, with metal mounts and handles. H 7 1-4 in. Dia. 5in.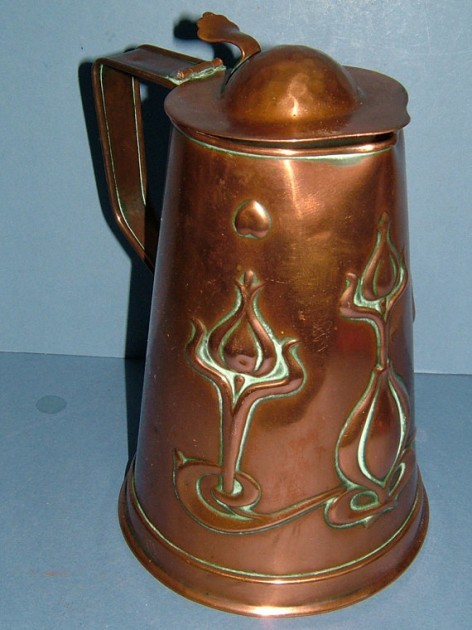 Sandkey, Joseph and Sons. –  Joseph Sankey & Son  Bilston, Wolverhampton (in The Black Country, near Birmingham), 1890-1932, copper and brassware, [PER OLDCOPPER.COM]
English maker of Arts and Crafts (or Art Nouveau) style copper tankards and servers, as shown. ▲ C.1910.   This model shows up a lot on the auction sites , One dumb ass Australian eBay seller in 2014 had this beer / ale  server  listed as a "  coffee pot." Now how far does one think anyone could get with this  pot full of boiling hot coffee before they dropped it on the floor or themselves??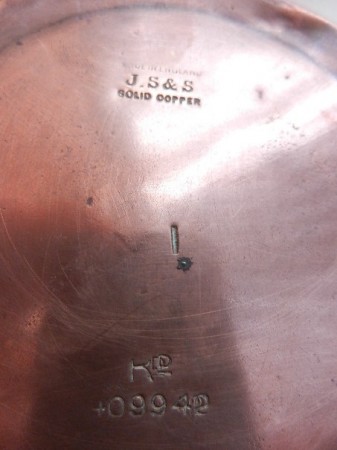 Their mark and English registration number.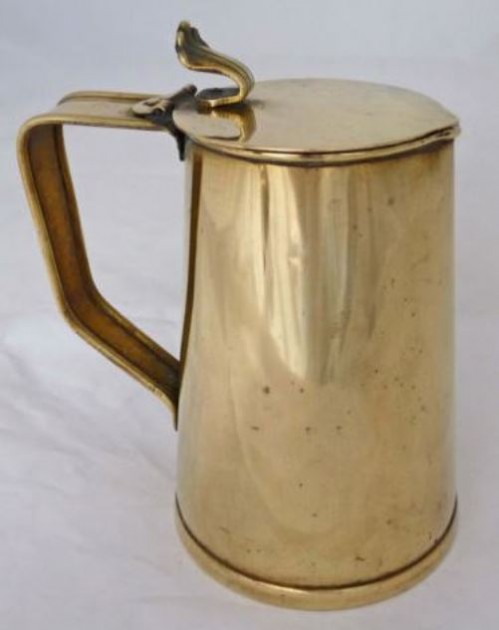 A nice simple design  brass tankard / server by Joseph Sandkey (see above entry).
Santesson, Franz –  A very well know pewter-smith in Stockholm, Sweden in the late 1800, early 1900's. His firm made lots of pieces with the engraved Royal Coat of Arms of Sweden, and they are also known for their Daubenkrug revival."
"A. B. Gamla Santessonska Tenngjuteriet – Stockholm," was his later firm's name.  Shown: [L] A tall Santesson Daubenkrug – Ca. 1900. [R] A "roerken" = A Baltic Sea, North German type of slanted sides pewter beer stein , this one with the national Coat of Arms engraved on it. Sizes of the two pieces are comparable to actual.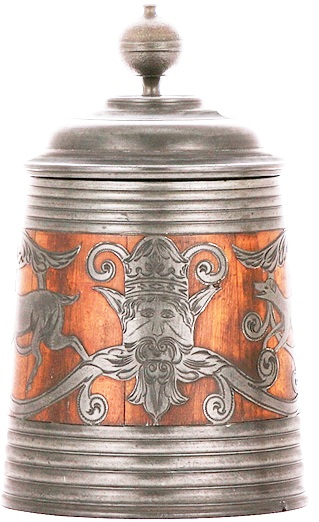 About a two liter. A very nice example of a "Daubenkrug" by Mr. Santesson. Typical body and pewter work, with a great engraved Jester's head and animals on the sides. This version is very seldom seen. (ED's)
See: http://www.steinmarks.co.uk/pages/pv.asp?p=stein1
And for more about this scene or the maker, see: http://www.steveonsteins.com/f-santesssons-till-eulenspiegels-daubenkrug-new-9-6-11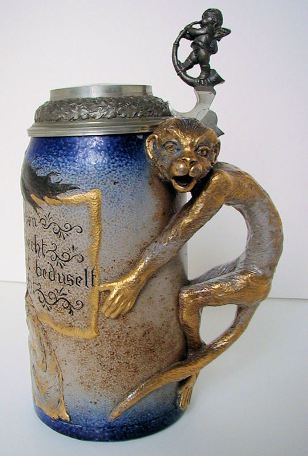 Sarrreguemines – A producer of highly painted blue – grey stoneware steins, most of this firm's wares are very collectible. Shown: One liter with typical coloration from this factory. For much more information on these steins please see the article [1 ▼] by John Lamb:
[1] http://www.foxauctionsonline.com/Stoneware%20Steins%20from%20the%20Sarreguemines%20Factory.pdf
[2]   Stein marks: http://www.steinmarks.co.uk/pages/pv.asp?p=stein265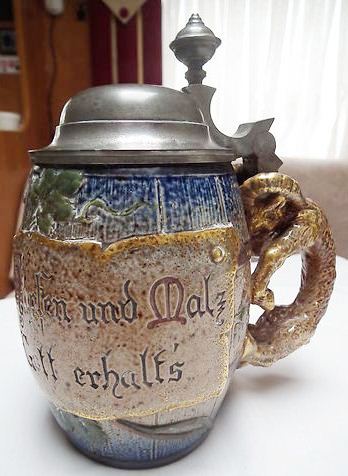 Another like example with the famous German drinking beer saying "Hops and Malts" on it.  
.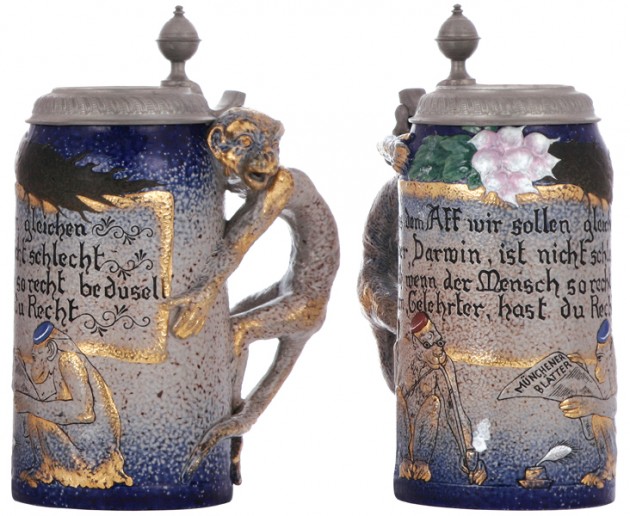 With an added verse and flowers
A much different offering by this firm, stoneware stein, .5L, decorated relief, marked Sarreguemines, No. 1114.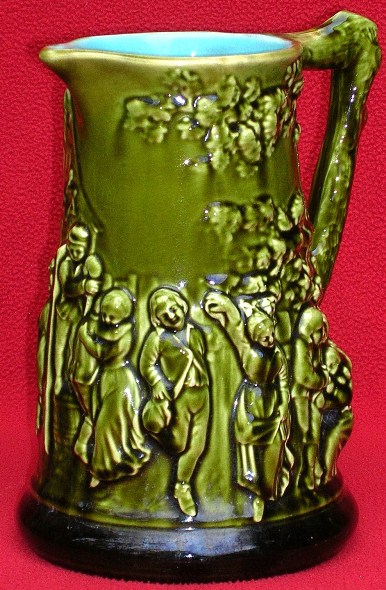 They made lots of other type wares in Sarreguemines. Shown ▲ and ▼, a Majolica server. Ca. 1900. This one has been seen in at least two  more other colored versions than those show here.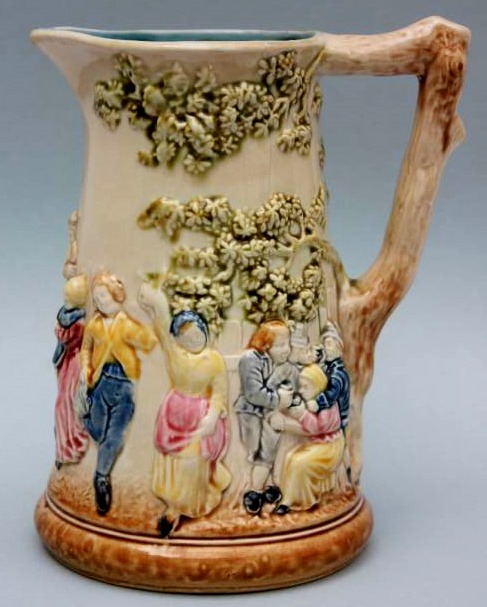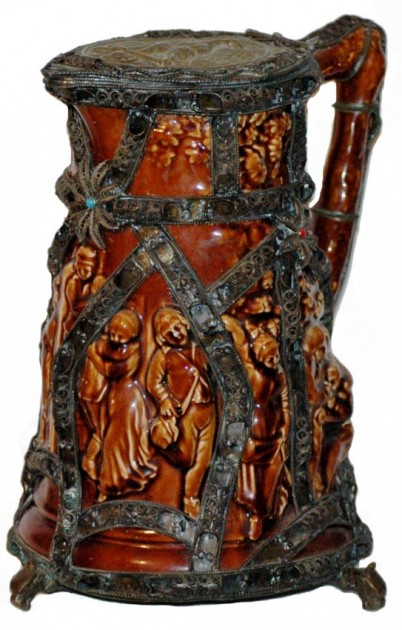 SARREGUEMINES  FACE JUG  -(ALSO MUG,  PITCHERS  –
 IMAGES COMING SOON  IN  5-2015-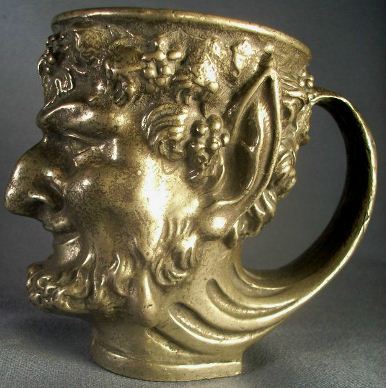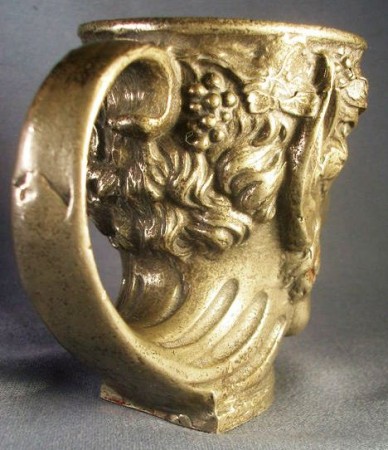 Satyr mugs and jugs – Most usually a full bodied face of the mythical  animal. Lots of people think a drinking satyr is Bacchus or the devil, when actually it is his companion Silienus, or the Greek god Pan, both of which were satyrs! Shown above: A small 'pot metal' cup of a satyr, not pewter as the eBay seller thought it was. His hint should have been when he noticed and said there was "Rust" on it. Circa 1890-1920.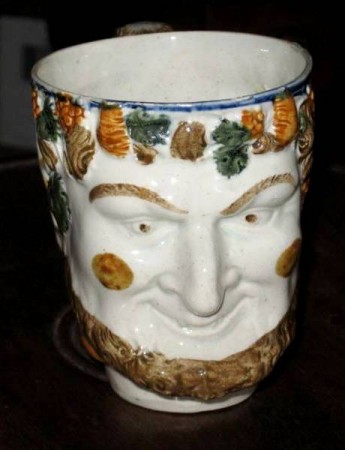 A so called "Bacchus mug" – which is really a Satyr mug, as Bacchus never had pointed ears! This is his best buddy, Silinus. Circa late 1790's but there are 100's of reproductions of this guy out there folks!
.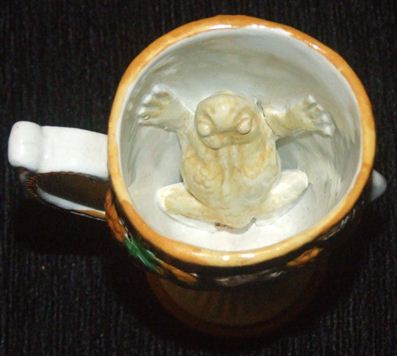 A slightly different "Satyr" mug, English, 5 inches tall. It has typical Prattware colors, not marked (as much early English pottery wasn't, but they are always described as Prattware. Dates from around Ca. 1800. 5″ tall. [Comps. Darren B]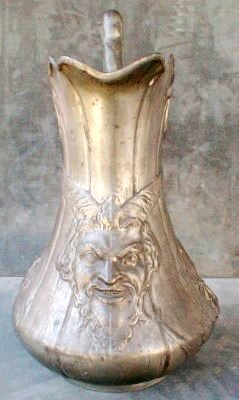 Shown above: Kayserzinn # 4061 – Wine Server. This is sometimes called a "Devil's jug." There is no indication that this is the Devil – really just a Satyr, and probably meant to be Silinus, companion to Bacchus, the God of Wine!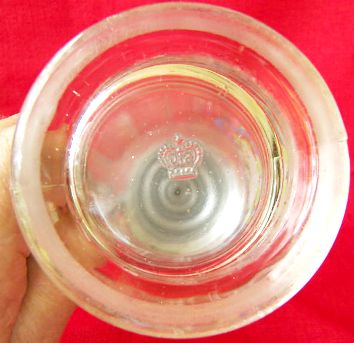 Saxon glass  (maker) =( Sachsische glas) – A German glass firm most known for producing post WW II pressed glass brewery mugs and steins. Most have the name or logo of the brewery on the pewter lid, made and attached elsewhere I believe. Shown above: The factory mark on the bottom of the piece with the molded crown with S – G inside. Shown below: A much nicer looking .5 liter glass stein by them with the same mark, closer up, taken from inside the glass.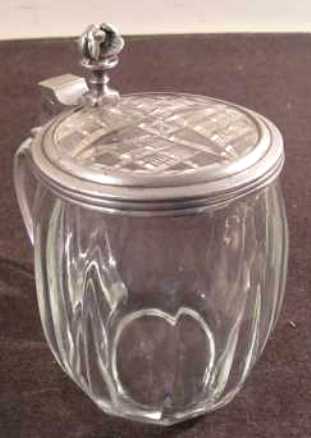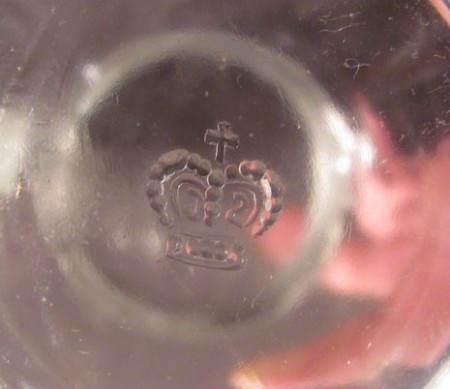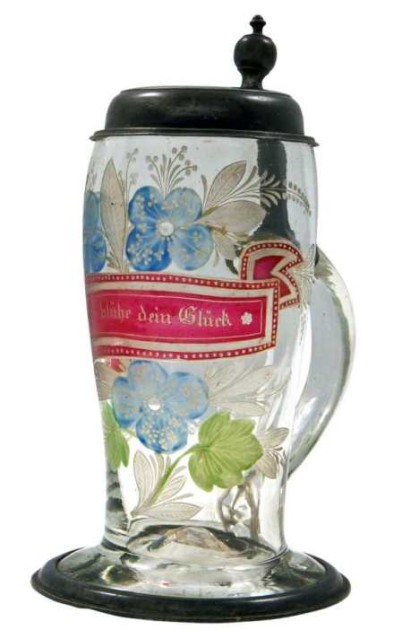 Saxon glass steins – As above▲.
See page:http://www.steveonsteins.com/saxon-enameled-wedding-steins1820-1860-photo-review-new-11-17-11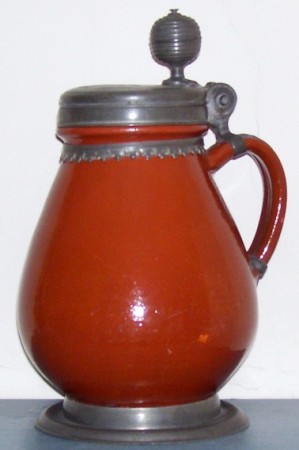 Saxon stoneware (early) – One of Germany's premier stoneware centers in the 1600 – 1700's. Shown: One liter, red glazed Saxon stoneware stein with well done pewter mounts and thumblift. This stein looks like it was made yesterday. Circa 1700-20. [JStuart]
SPLIT HERE SOON =  7-28-13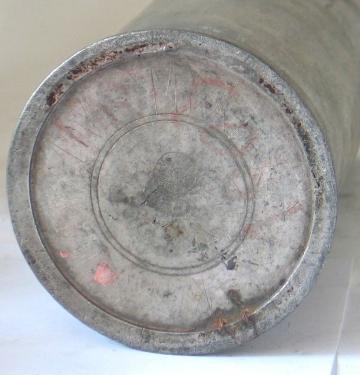 Shown: "Scabs" on a pewter stein's base; big one on the base at 5 o'clock.
Scabs & age marks – On pewter steins these occur when a liquid is left on the pewter surface and the pewter oxidizes over time, then turns dark, similar to rust on iron, but not as devastating. These are two  good indicator of age, once one is familiar with what real age marks look like and not ones made by applying acid, or "Pewter Black" = the same damn thing!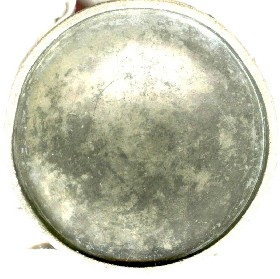 Age spots on base, lower center section.
[photo coming soon}mar 2015
Scagliola –

Scagliola is a composite substance made from selenite, glue and natural pigments, imitating marble and other hard stones. The material may be veined with colors and applied to a core, or desired pattern may be carved into a previously prepared scagliola matrix. The pattern's indentations are then filled with the colored, plaster-like scagliola composite, and then polished with flax oil for brightness, and wax for protection. The combination of materials and technique provides a complex texture, and richness of color not available in natural veined marbles. ( 

From Wikipedia.)  (JStuart)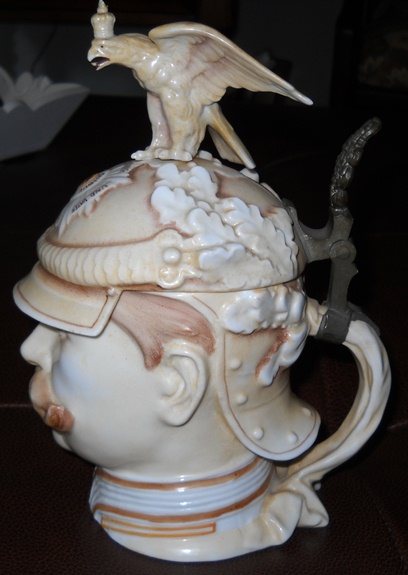 Schierholtz – Maker of porcelain character steins, marked "Musterschutz" (design copy written), some of these are now running into the thousands of dollars! See: http://www.steinmarks.co.uk/pages/pv.asp?p=stein1
Also see Ron Fox's article: http://www.foxauctionsonline.com/Schierholz%20Character%20Steins.pdf
Schleswig –  1755-1814 – City or town of major fayence stein production. For more info, see: http://www.thepatriotexchange.com/pss/hisfai.htm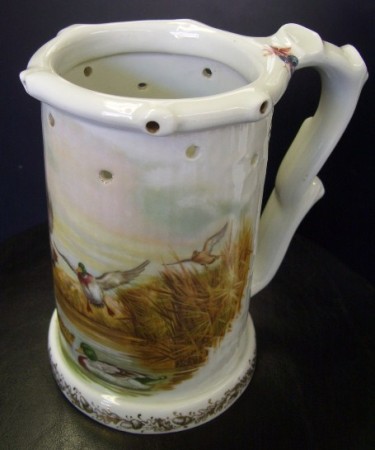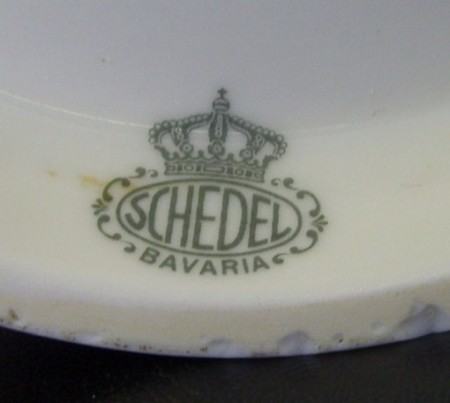 Schedel Porcelain – Bavaria – Maker of newer items such as the "puzzle mug" shown. As nice as the PUG scene is on the body, the lithophane here is rather crude!
See: http://www.steinmarks.co.uk/pages/pv.asp?p=stein1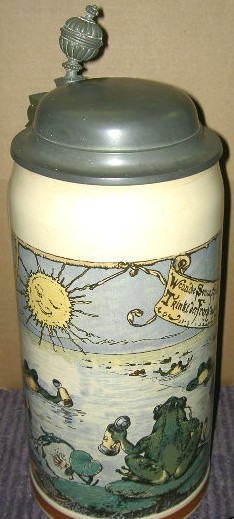 Schlitt, Heinrick – A well known artist and designer of mostly PUG steins for V & B Mettlach. Famous for his renditions of dwarfs and other comical figures, and not only on steins. Shown ▲: A signed three liter V & B Mettlach PUG, his name appears on over 30 steins produced by this firm.
.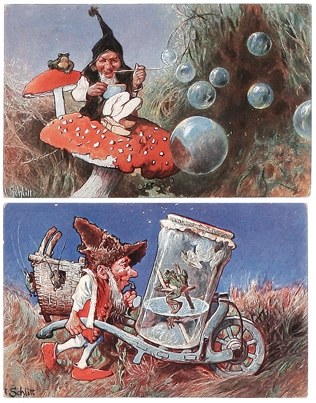 Most famous for his dwarfs / heinzelmänchen; the artwork reproduced on German period postcards. Please see: http://www.steveonsteins.com/dwarfs-gnomes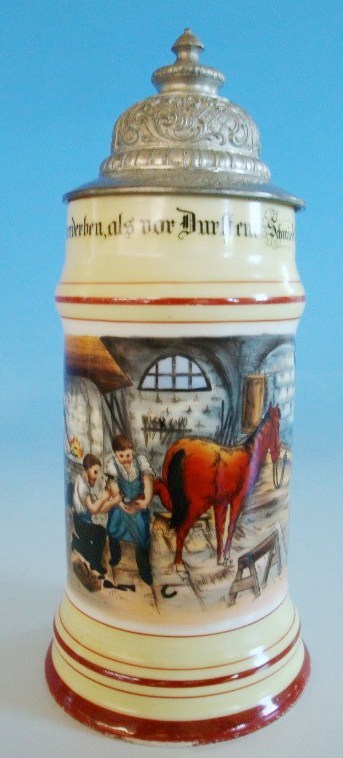 Schmied (Germ. for a Smith, as in Black-Smith) – Shown: a very typical .5 liter porcelain occupational stein for a Black-Smith. One of the most frequent occupations found on beer steins. (Ever wonder why the NAACP hasn't wanted America to change that title, as "BLACK" being racist?)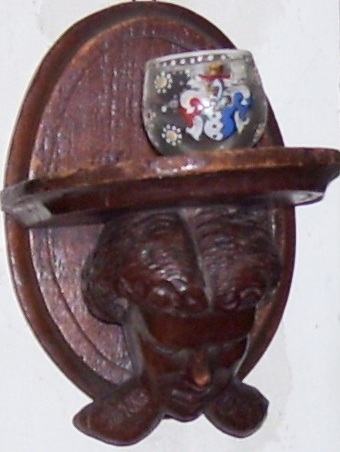 Schnapps glass / beaker – Very small glass, made for just "a little bit" of German Schnapps, most often taken just after a meal. Shown: The smallest enameled, armorial schnapps beaker I've ever seen. Only 3/4 of an inch tall! [FWTD] Probably made by Heckert.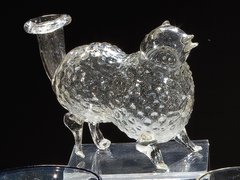 Schnapshund – A blown glass schnaps storage vessel, and server made in the form of a dog. 14 CM tall, German 1700's. One of the"Trick" drinking vessels.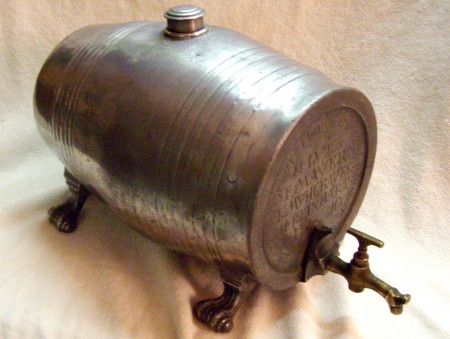 Schnapps Barrel  (Germ: Schnapsfass) – A small barrel, mostly found in early stoneware used with a spigot to dispense schnapps or any type liquor. Shown: A 1740 Barrel given to a brewer's guild by three of its members in 1740. [FWTD] (Also see Brandy Barrel.)
For more on "Barrels and Drinking" please see: http://www.steveonsteins.com/roll-out-the-barrel-well-have-a-barrel-of-fun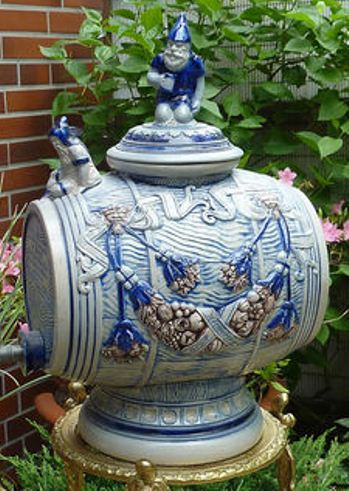 A much later version, done in Westerwald stoneware by S. P. Gerz, Ca, 1880. Notice the two zwergs (gnomes).
---
Schnapsbecher (SCHNAPS BEAKER) DONE IN .835 Silber – Neresheimer, Hanau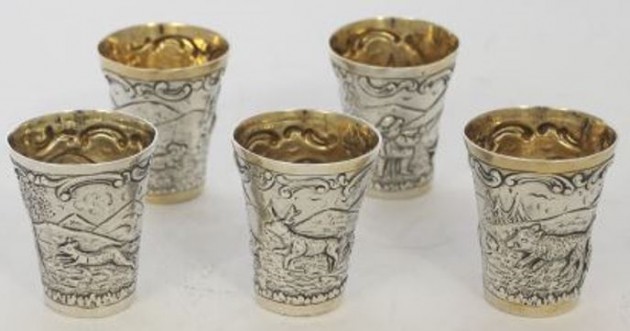 ---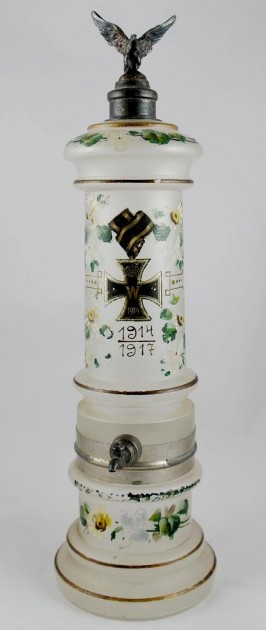 .
Schnaps / brandy servers –  The German term 'Schnaps'  refers to most any kind of strong alcoholic drink made from fruits. In northern Germany, almost all traditional distilled beverages are grain-based. The main kinds of fruit used for Southern German Schnaps are apples, pears, plums, and cherries. Apricots are another popular fruit; they are used to make an Austrian Schnaps called Marillenschnaps. Fruits other than these five kinds are rarely used for German Schnaps.
Shown above ▲and below▼: A WWI custom made glass schnaps server with owner's war dates and his Iron Cross 1st class. Possibly unique.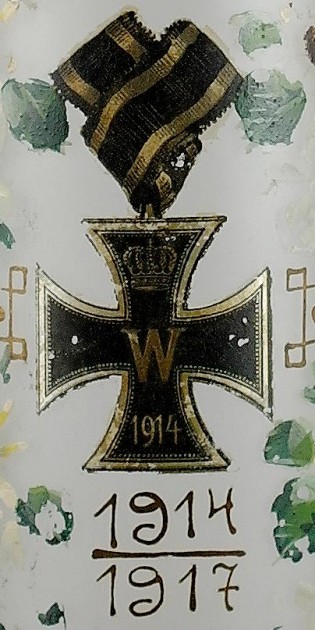 Detail of enameled Iron Cross on the server.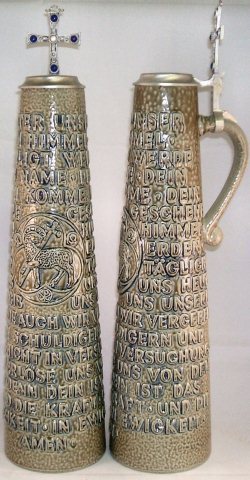 Schnellen – Tall, slender, wider at the base, colorless stoneware steins made in the 1500-1600 in and around Cologne and Siegberg. Shown above is a very modern "fantasy" stein (= new design, not based on older examples but made to look like they were) having the Lord's Prayer in relief. This one was never made in the olden days. I think the large cross thumblift makes it look stupid!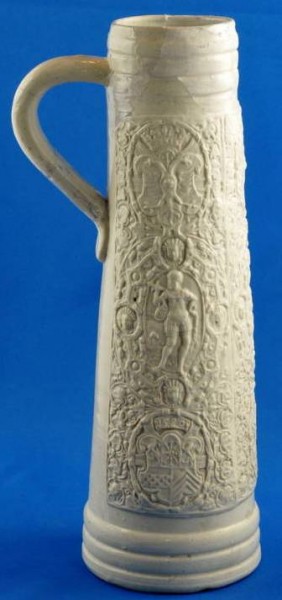 A reproduction Siegberg schnellen, but one of "older" reproductions. The base has not been added to the body when made = the No. 1 "key" way to tell old and new. No. 2 way is: old ones 'most always' have firing cracks in the base due to the heat in the kiln shrinking the ceramic. Circa about 1880 -1900.
Schney – Maker of nice porcelain steins with lots of blue, (and sometimes a bit of red) and gold finishing.  Shown: Three nice examples. These are not "Blue Onion pattern." Circa 1880. [both shown below ▼ tsaco]
Also see: http://www.steinmarks.co.uk/pages/pv.asp?p=stein1
.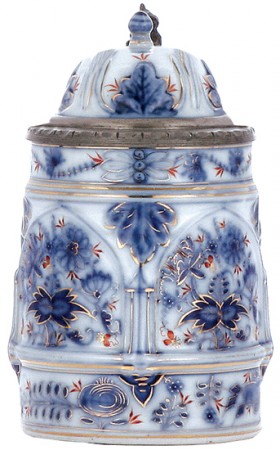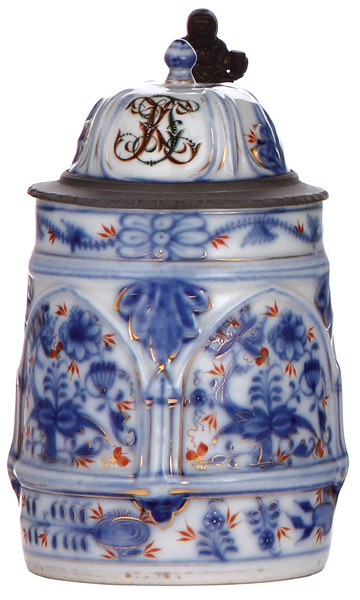 Very subtle difference in the hand painted design, but when compared side by side, there are many! For example the one to the left has about 20% more gold work.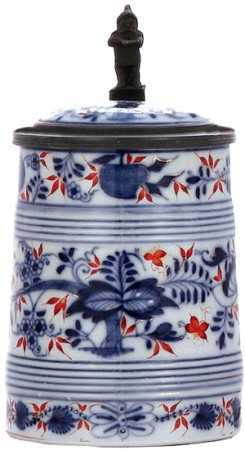 .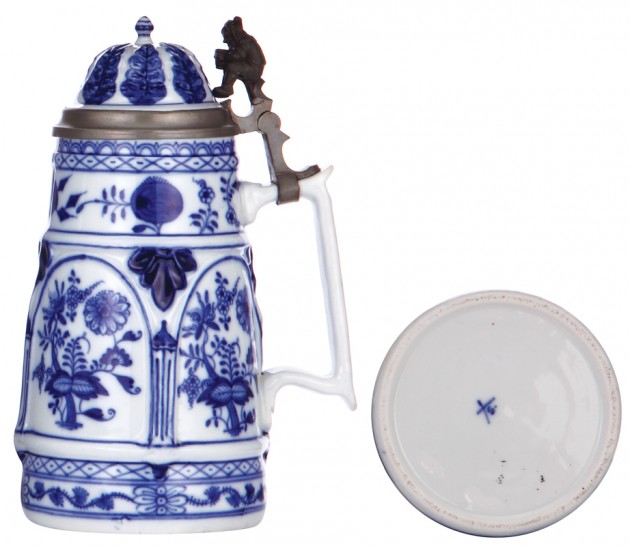 Another example of their good work  , all blue design on the white porcelain body.  [tsaco]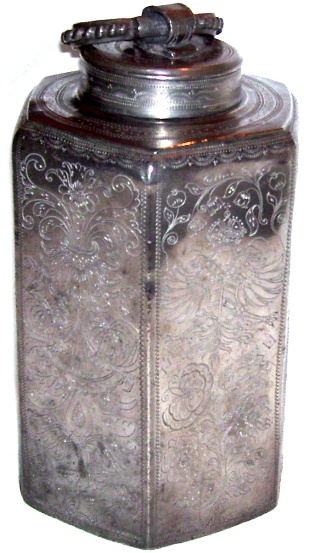 Schraubflasche–  A large German or  Swiss wine / liquid flask with four or six sides, or a swirled body and having a handle on the cap (lots with dragon heads.) Shown: A marriage gift of 1694. It has the Royal Coat of  Arms of Austria engraved on one side, but the Master Pewter-smith was in Regensberg, Germany. [FWTD] For more info please see: http://www.steveonsteins.com/schraubkanne-schraubflasche-in-the-s-m-t
.

Schraubflasche, cylindrical  – Self explanatory.

Schrezheim 1752-1852 – City or town of major fayence stein production. For more info, see: http://www.thepatriotexchange.com/pss/hisfai.htm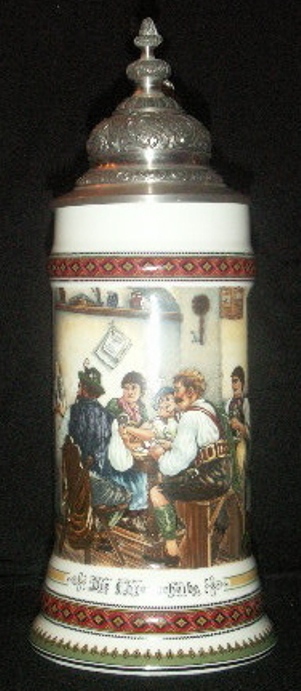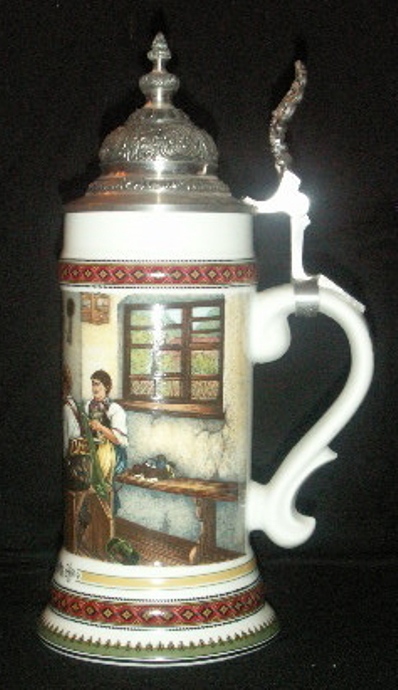 .
Schrobenhausen   (Z and Crown mark) – Named after the Germany town these are made in. Very new!  Shown .5 liter Porcelain Stein,  pewter "Rein Zinn" lid.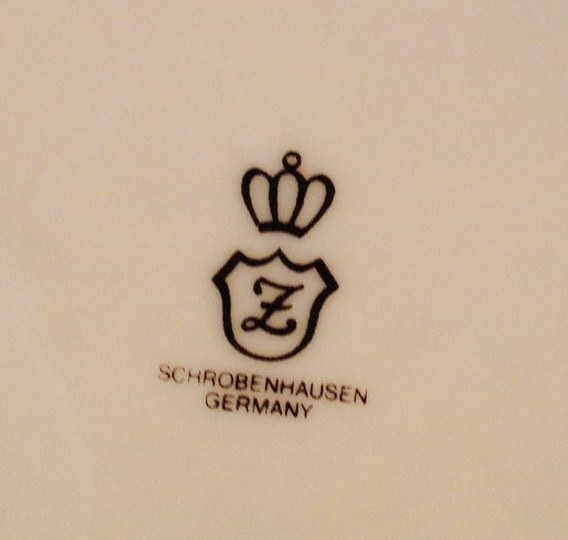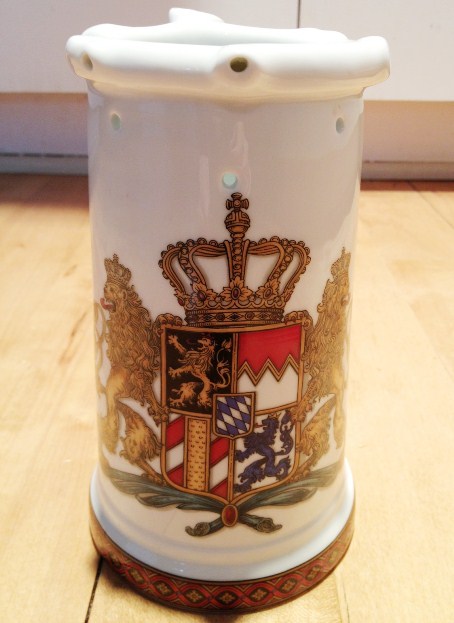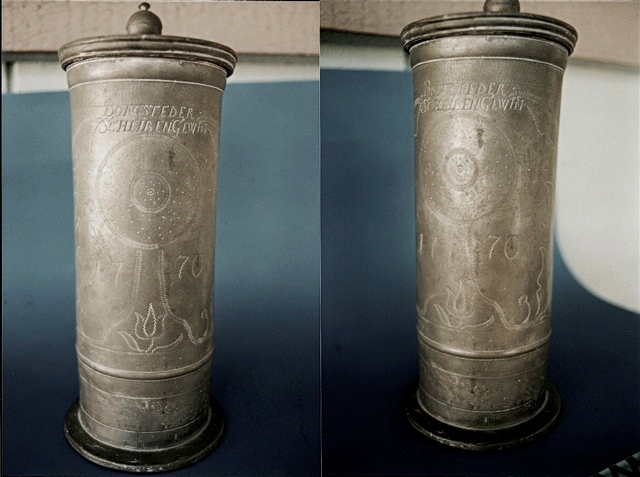 Schutzenfest –  A Schützenfest was a popular event in throughout Germany, and adjoining countries such as Switzerland and Holland in the late 1700's into the early 20th century. Shown above ▲: A tall engraved pewter stein for an award at a Schützenfest. 11 inch tall, dated 1770. This one is Dutch, but only a few miles away from the German border. [FWTD]
The matches were conducted in a formal judged, rules apply, with talented competition being very difficult to overcome to win. In Germany these shoots were mostly held on weekends in farm fields or at park open lands in the bigger cities.
Prizes often awarded at competition's end were the target itself and / or a several suitably decorated beer steins, beakers and pokals. If the competition was large enough to support one, then perhaps a large drinking horn to the winner.
.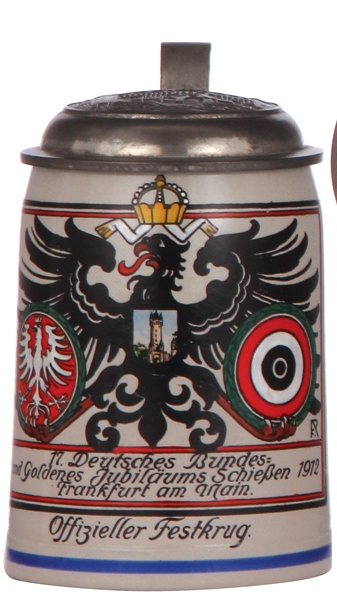 Stoneware stein, .5L, by F. Ringer, 17. Deutsches Bundes und Goldenes Jubiläums Schiessen,  Frankfurt a. M. 1912, [tsaco]
The German Imperial Army also had yearly shooting contests, and the award of a St. Hubertus' deer with cross was called "The Kaiser's  Prize." This can be found on some Reservists steins where the unit won the prize for that year.
In Switzerland they awarded elaborately designed cast silver and bronze medals, as below ▼: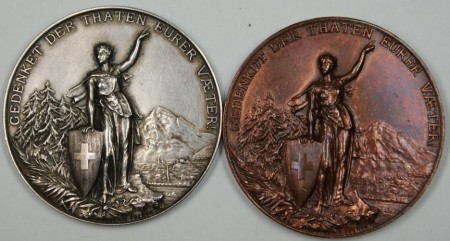 Shown: A 1892 Switzerland silver and bronze shooting medals, Glarus, Swiss  [Ebay seller PNG]
The arms used are now called "free rifles," some of which are still being manufactured in Germany today by replica gunsmiths. These rifles were fired from the standing position and only the marksman's hands and arms could provide support for the rifle. This is called "offhand" by shooter's now. The other shooting positions in matches now are called Prone. (lying flat), Sitting and Kneeling.
The Schützenliesls  (see photo below) wearing their wooden target type hats would mosey thru the tents hawking the local brew.
 It was easy to spot them by the target-shaped caps they wore on their heads.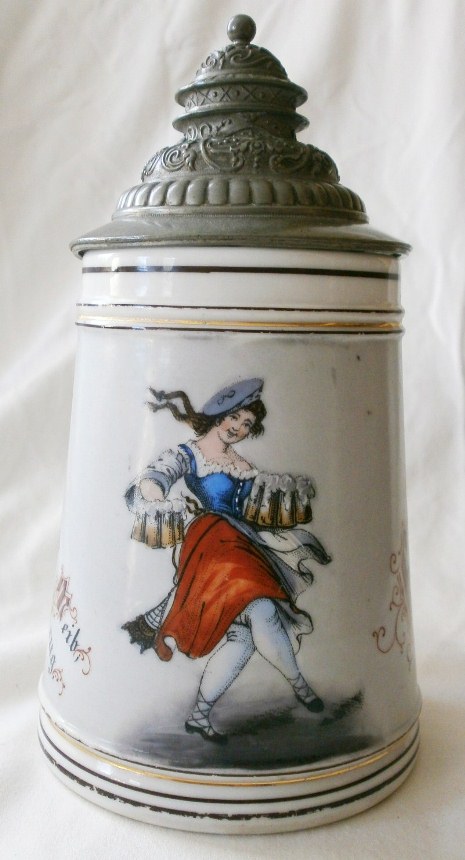 "Schützenliesl"  or the "Target Girl" (Munich). .5 liter porcelain. Ca. 1885. I do not know the maker.  For more history about this young gal, see Lotti Lopez's article "Schützenliesl . "  at the Reading Room on SCI's web site:  http://www.steincollectors.org/next_mo/1301/
Schutzen Liesl
INCISED ON TAPESTRYFORMAT.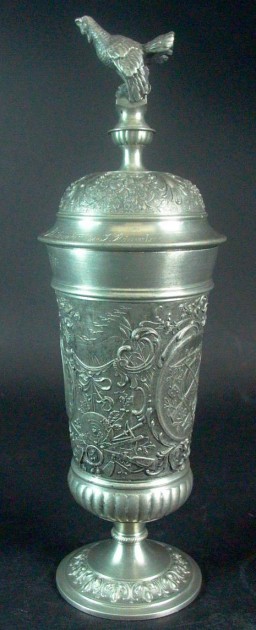 Schützenpokal– A pokal given as a shooting contest prize. Shown: A dated 1903 German pewter pokal with shooting  and archery elements in relief. Unknown maker.
.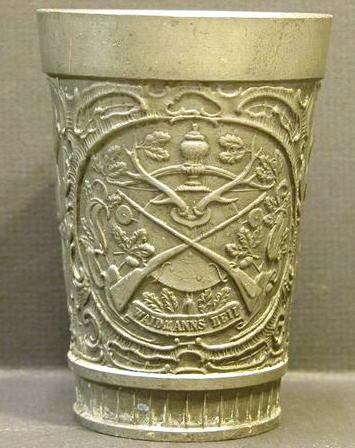 A pewter beaker shooting  prize, showing the same design as on the pokal above. Not dated; maker iunknown.
Schultz ▲  and ▼ Dooley steins – A newer series by Utica Club Beer steins. 
See page on this web site: http://www.steveonsteins.com/guest-writers-articles-west-end-brewing-company-utica-club-beer-steins-by-john-manning-and-dennis-hunsicker-new-2-6-12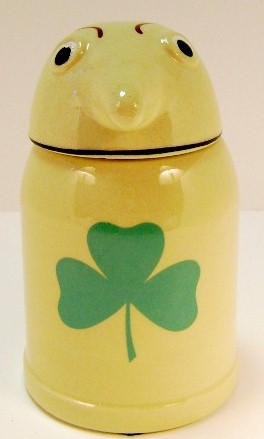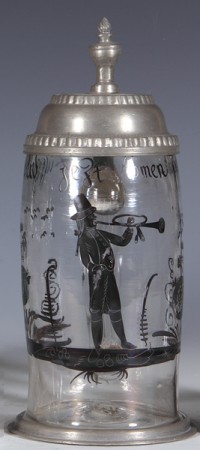 Schwarzlotmalerei – All black enameled decoration. Shown: A Circa 1830, German, blown glass stein done in Schwarzlotmalerei.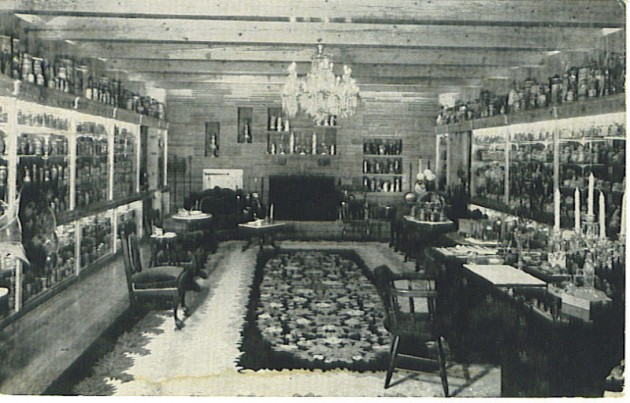 Schwartz's (fantastic) beer stein collection – By 1996 when he died, William Schwartz of Lancaster Pa. had amassed one of the largest collections of beer steins in the world. This ▲  is only one of  four rooms in his large farm house that held 1000's of old beer steins. Shown: The largest "stein room" was added on to the home just to display some of his nicer steins. They were stacked 3 deep inside those cabinets.
On one of our  Gambrinus Stein Club visits to this home his wife told us, while we were relaxing out at their "butler type" building (that housed "the world's largest collection of character whiskey bottles!", along with rare automobiles and a full size bar), –  that she and he used to go to New York, Philly, etc. If Bill didn't have the stein, he would buy it (therefore lots of pieces were damaged to some degree, BUT then again, lots weren't!)
They sometimes had so many steins boxed up on buying trips that they had to put the top down on their (50's something) Mercury convertible; which they later had displayed with 4 other cars in the middle of the bottle "shack", which took two Amish builders only a year to construct! It also had a full length bar and enough tables / chairs  to seat a  full bus load of stein collectors.
He wanted to give the collection to the City of Lancaster Pa. He would build them a building to house it on his property, but only if they would agree to take care of it, forever after that. The city turned him down (Jerks!).
Those five auctions to get rid of all those steins, done by York Auction Company in 1996 and 1997, made for some of the best auction  buying times in SCI's members lives!
[END  [S – Sch] – SP107 – 102 – R5]

WISH  TO CONTACT ME,  STEVE (STEPHEN) ?  =

      "I sometimes go to my own little world, but that's okay, they know me there."