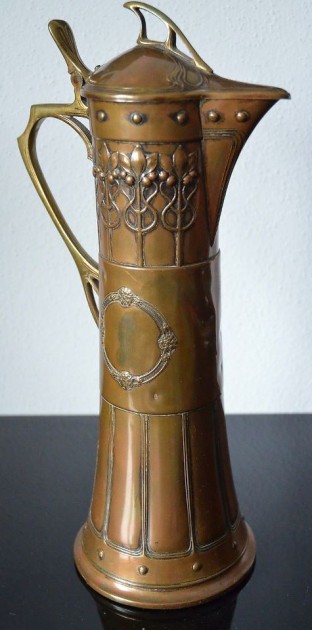 WMF I believe –
---
CLARET: A Bordeaux wine is any wine produced in the Bordeaux region of France,  centered on the city of Bordeaux and covering the whole area of the Gironde department, with a total vineyard area of over 120,000 hectares, making it the largest wine growing area in France. Average vintages produce over 700 million bottles of Bordeaux wine, ranging from large quantities of everyday table wine , to some of the most expensive and prestigious wines in the world. Eighty-nine percent of wine produced in Bordeaux is red  (called "Claret"  in Britain!!) , with sweet white wines (most notably Sauternes), dry whites, and (in much smaller quantities) rosé and sparkling wines (Crémant de Bordeaux) collectively making up the remainder. Bordeaux wine is made by more than 8,500 producers or châteaux. There are 54 appellations of Bordeaux wine. The vine was introduced to the Bordeaux region by the Romans, probably in the mid-1st century, to provide wine for local consumption, and wine production has been continuous in the region since then. In the 12th century, the popularity of Bordeaux wines in England increased dramatically following the marriage of Henry Plantagenet and Eleanor of Aquitaine.[4] The marriage made the province of Aquitaine part of the Angevin Empire, and thenceforth the wine of Bordeaux was exported to England.[4] At this time, Graves was the principal wine region of Bordeaux, and the principal style was clairet. This accounts for the ubiquity of claret in England. The export of Bordeaux was interrupted by the outbreak of the Hundred Years' War between France and England in 1337.[4] By the end of the conflict in 1453 France had repossessed the province, thus taking control of wine production in the region.[4] In the seventeenth century, Dutch traders drained the swampy ground of the Médoc in order that it could be planted with vines, and this gradually surpassed Graves as the most prestigious region of Bordeaux. Malbec was the dominant grape here, until the early 19th century, when it was replaced by Cabernet Sauvignon.[5] In 1855, the châteaux of Bordeaux were classified; this classification remains widely used today. From 1875–1892 almost all Bordeaux vineyards were ruined by Phylloxera infestations.[4] The region's wine industry was rescued by grafting native vines on to pest-resistant American rootstock.[4] SOURCE: WIKIPEPEDIA'S "CLARET" Being a somewhat metal arts collector in the world of stein collecting***, I was naturally attracted to these creations made of my two most favorite metals. But after collecting steins, etc., etc, , for over 40 years now. by the time I got here to really liking these  I had to show a little bit of restraint, so the  "From Which to Drink" collection has only one example.  and it is doubtful I'd have that one if it wasn't  so damn cheap.     ***(See the September 2015 inventory count at bottom of this page   do I really want to do this ??) I had a devil of a time trying to classify these;  by maker's name (= too many unknowns) by size (lots of that info unknown also.)  So I decided to show the reader this prolific collection simply  by the way I feel about each design. While I am certainly not an expert on Nouveau /Deco items I do know  what I would like to buy, had I [1] home big enough to display them  [2]  a bank account big enough [3]  a more understanding wife. they are therefore shown in sub sets that I have labeled: Premium. Moderate collectability. Dubious collectability. So here we go,  starting on the night  of Sept 27, '15. PREMIUM PIECES   (not in any ranking)   NOE TO STEVE ALL PIECES NEED TO BE BOXED CORRECTLY.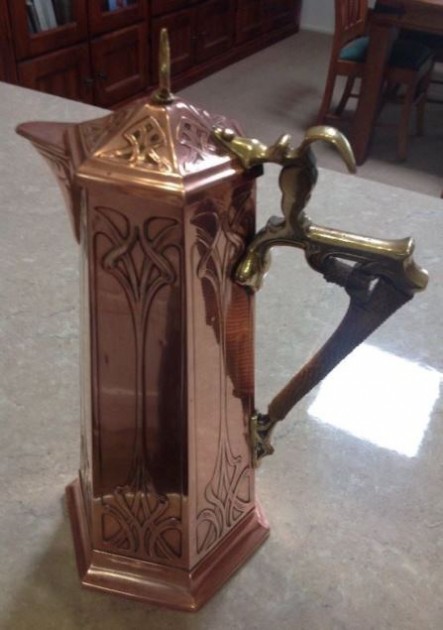 Art Nouveau WMF ,  Jugendstil Copper  / Brass
---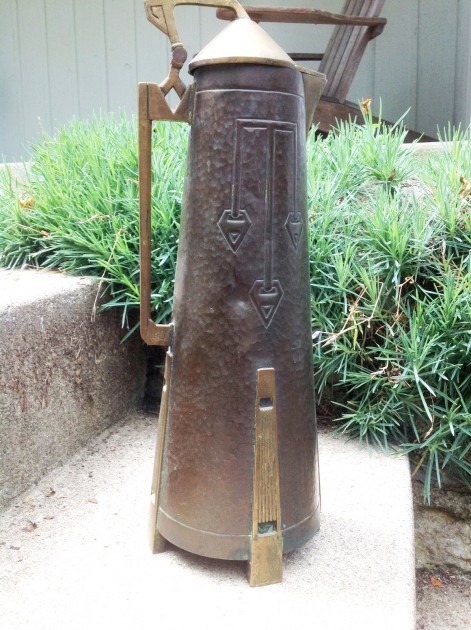 COPPER, BRASS LRGS AND HANDLE. NO MAKER GIVEN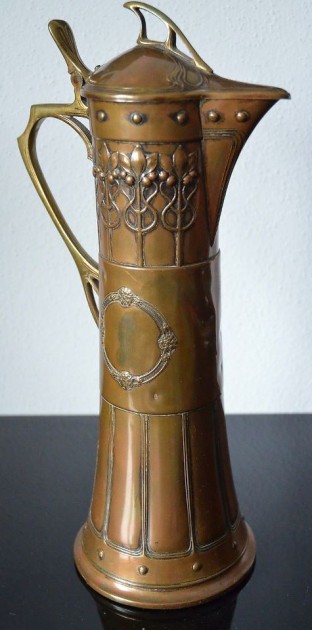 SAME AS PAGE HEADER
---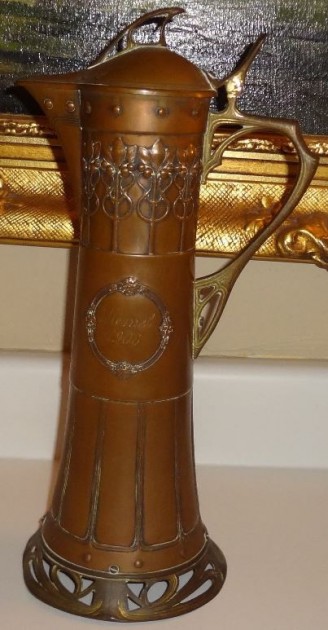 SAME AS ABOVE, BUT WITH AN ADDED OPENWORK BASE
---
---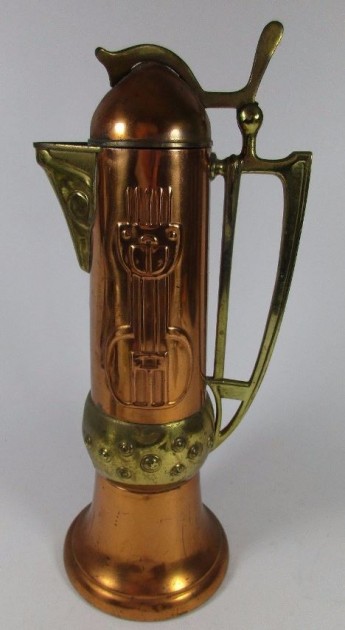 ---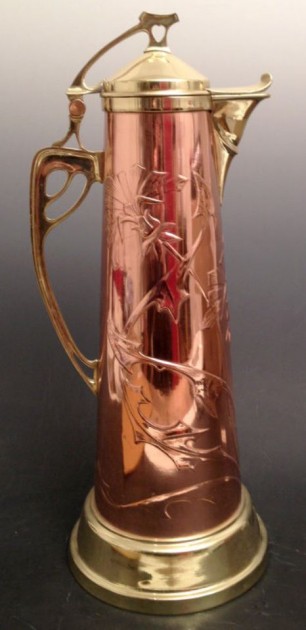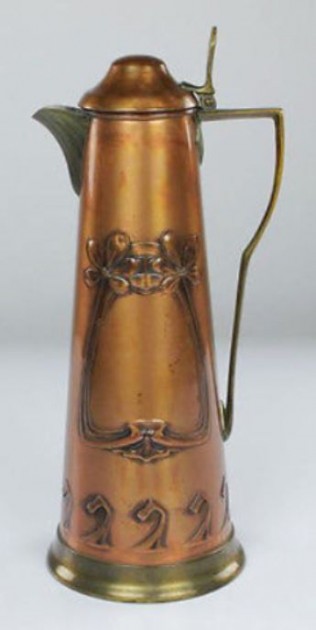 BELOW ARE ALL OF MODERATE COLLECTABILITY  ▼ ▼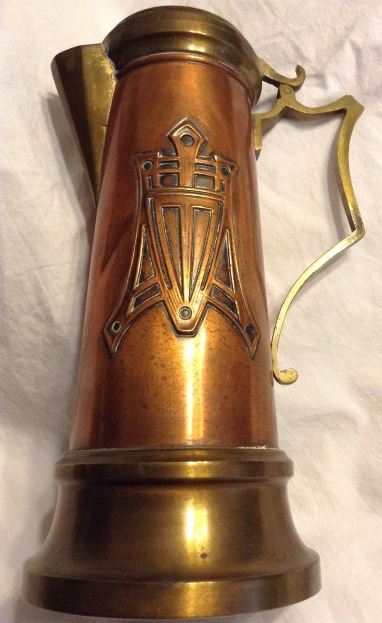 ---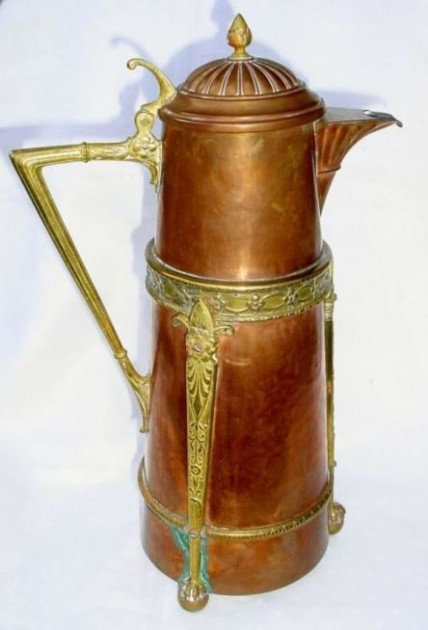 ---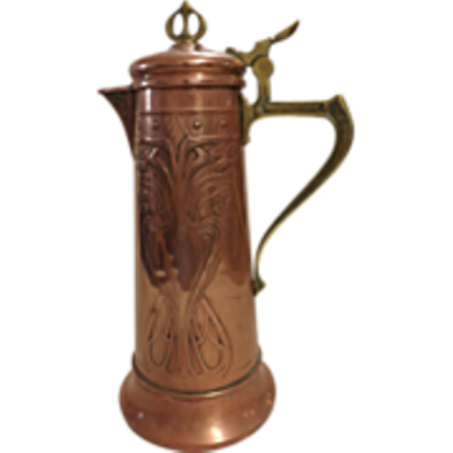 ---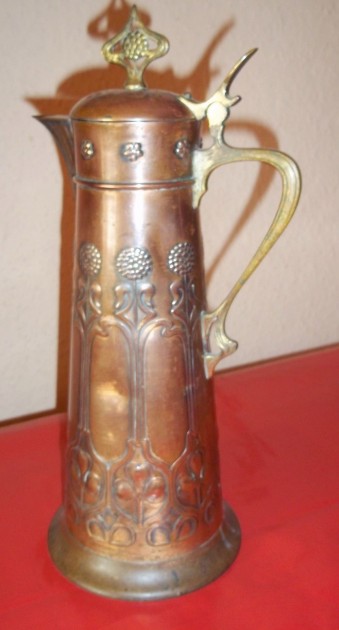 WMF NO. 117- 14 INCH
---
SAME AS ABOVE -DARKER PHOTO
---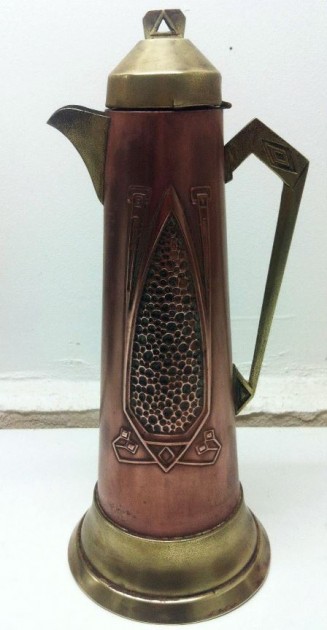 14 INCH  NO MAKER GIVEN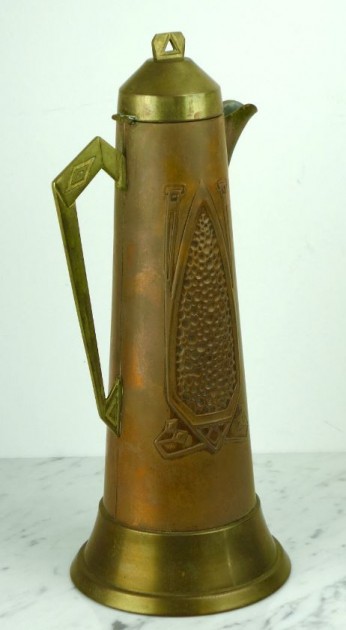 AS ABOVE
---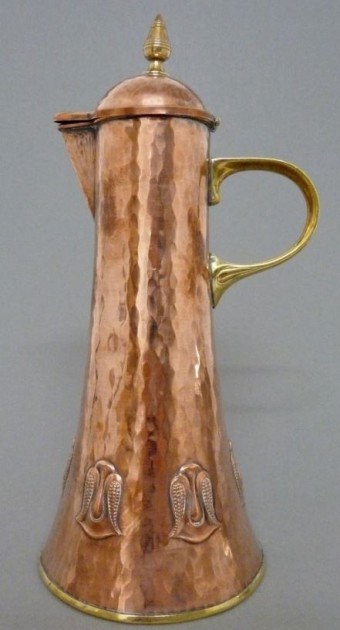 ---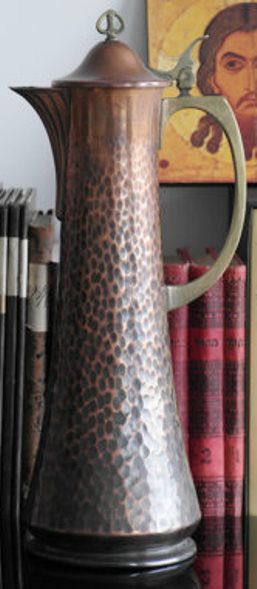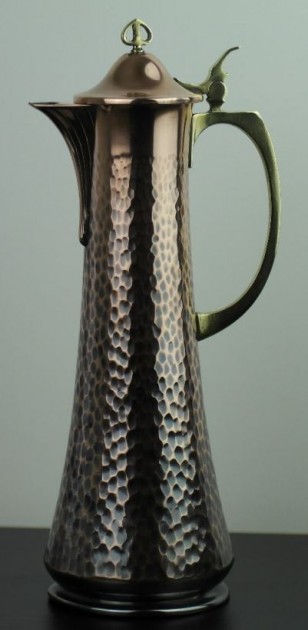 ---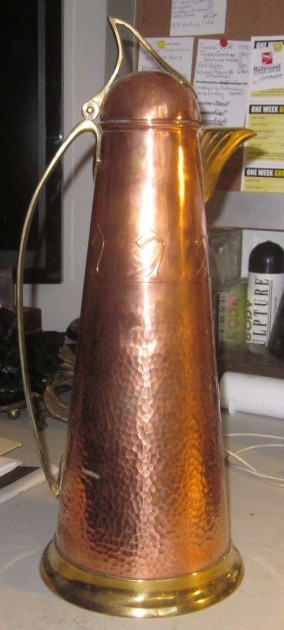 OF DUBIOUS COLLECTABILITY  ▼ ▼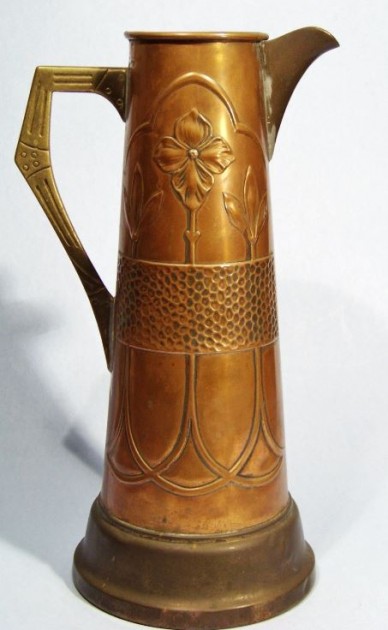 ---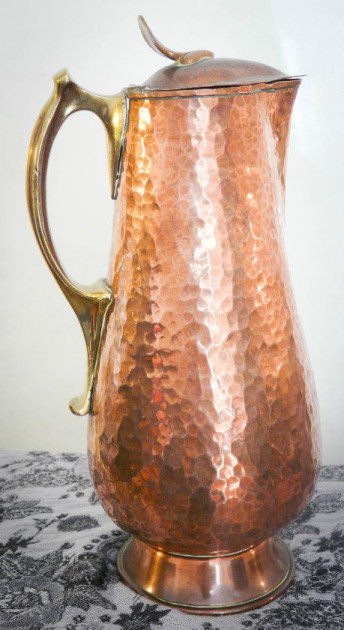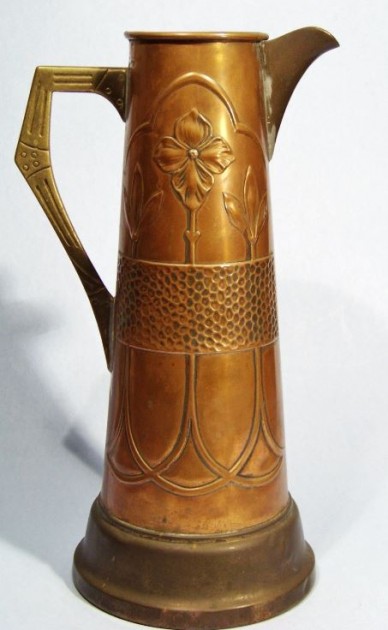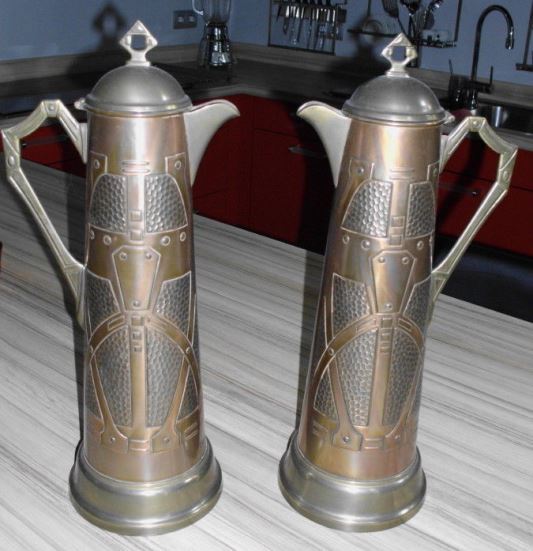 ---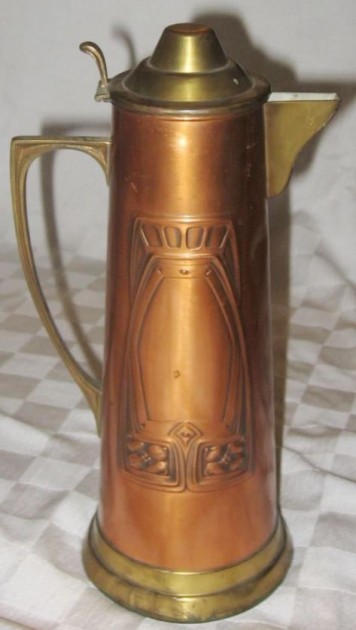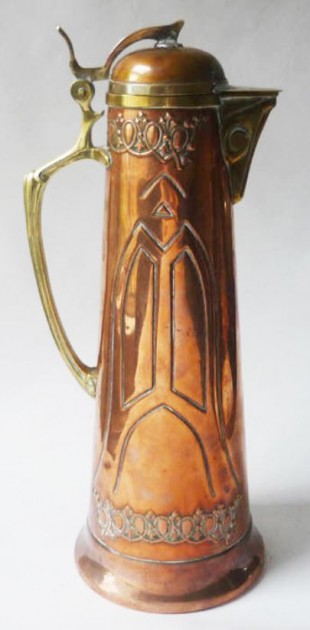 ---
---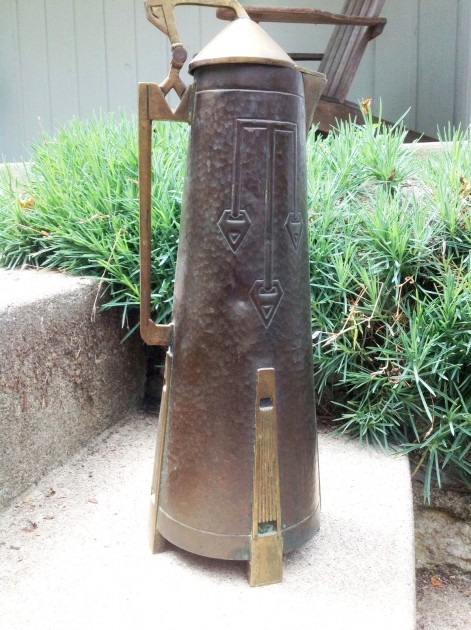 ---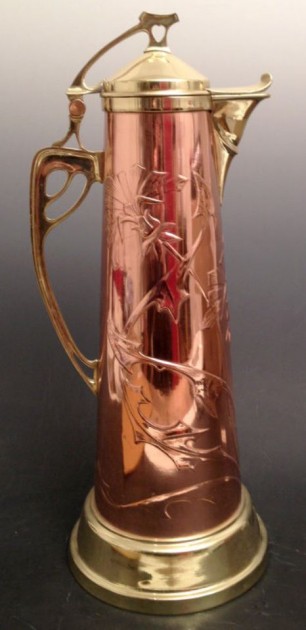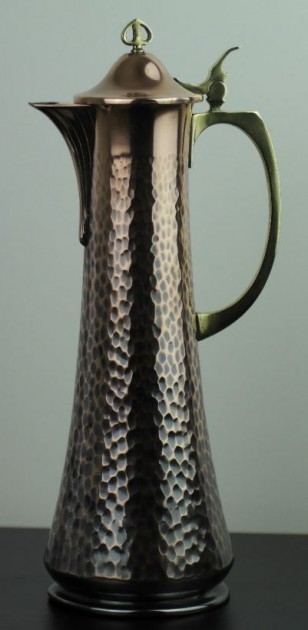 THE REST ARE JUST BEING POSTED .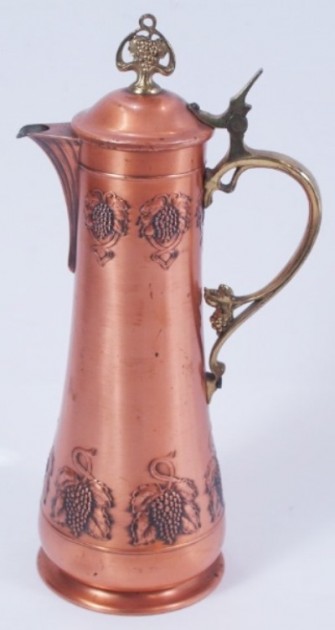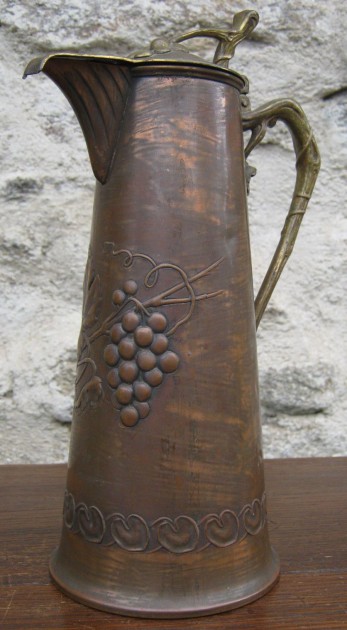 -A VERY-DIFFERENT-CLASS-IS A QUESTION–12 IN-tall
---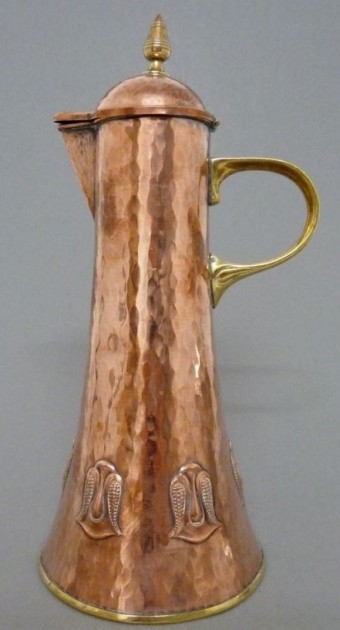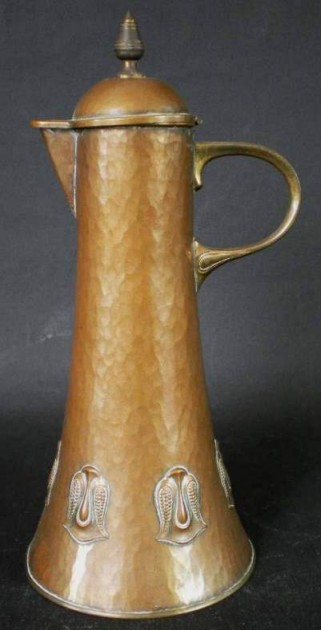 SAME AS ABOVE ONLY OXIDIZED end  

     YOU KNOW THAT TINGLY LITTLE FEELING YOU GET WHEN YOU MET SOMEONE NEW OF THE OPOSSITE SEX, AND REALLY REALLY LIKE THEM ??   THAT IS COMMON SENSE LEAVING YOUR BODY !!