Bayreuth is located in the upper plains region, which also includes the faience factories of Amberg, Ansbach, Sulzbach, and Nurnberg.  There were several owner of this factory and you will find a listing of these owners under the marks section later in this article.  There are two good books on Bayreuth faience Bayreuther Fayencen by Albrecht Miller and Alfred Ziffer and Bayreuther Fayencen Sammlung Burkhardt.  While both of these books are in German they have many colored photographs to look at.
STEIN BODY: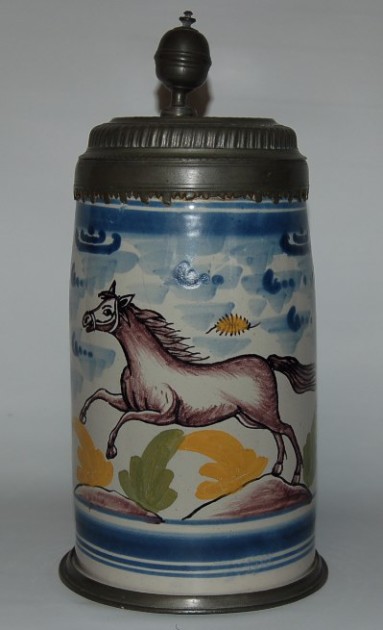 The stein body is typical South German style with a straight side to the body with NO indentation at the top and with a flare at the base of the stein where a foot ring is usually attached.  Figure 1 shows a typical Bayreuth stein.
PEWTER WORK:
As mentioned earlier, the base of the stein usually has a pewter foot ring that goes around the flare at the base of the stein.  These foot ring usually remain attached to the stein due to the flared base, which they wrap around.  Sometime you will find a Bayreuth stein with a full pewter base.  Unlike other South German faience factories which usually have just a pewter lid, most Bayreuth steins will have both a pewter lid and lid ring (like you will find on North German faience), as shown in Figure 1.
STEIN HANDLE: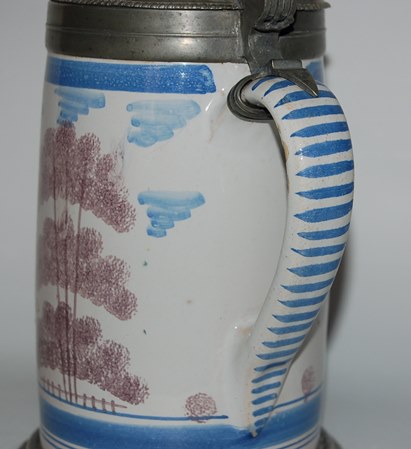 Figure 2 shows a typical handle on a Bayreuth stein.  It is wide and flat like a thick belt, tapered from top to bottom, and has a rounded or slightly pointed end at the lower handle attachment. At one time I thought that this handle was unique to Bayreuth, but after visiting Les Paul and seeing his faience pieces I learned otherwise. Amberg faience has a very similar handle design and you cannot tell the difference between the two faience factories.
MARKS:
Many Bayreuth steins will be found with factory marks.  These marks are specific to the particular owner of the factory and not only do they identify the stein as being produced in Bayreuth but can also date the stein to the owners period. These factory marks are shown in the following list along with the owners and their time period.
Figures 3 – 6 shows these four different factory marks.
No Mark          1716-1728
BK                   1728-1744                   Knoller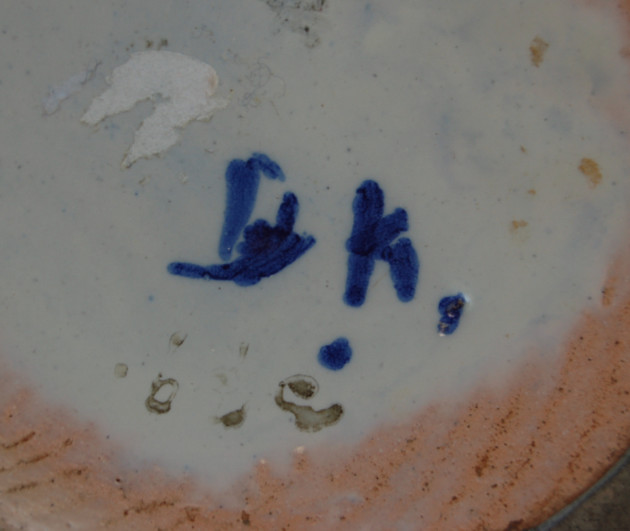 FIGURE 3
.
BFS                 1745-1747                   Frankel and Schreck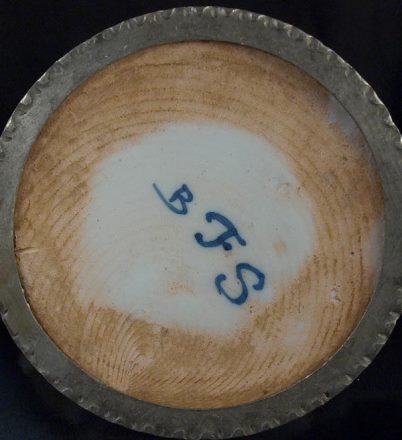 FIGURE 4
BPF                 1747-1760                   Pfeiffer and Frankel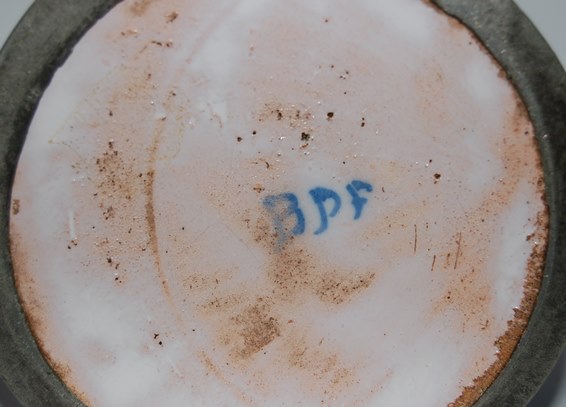 FIGURE 5
BP                   1761-1767                   Pfeiffer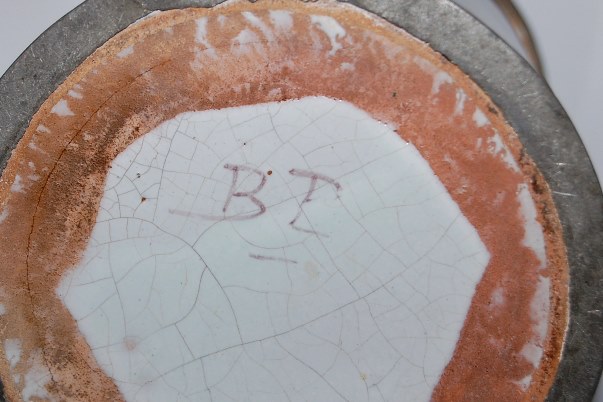 FIGURE 6
BP                   1767-1788                   Pfeiffer heirs
DECORATION: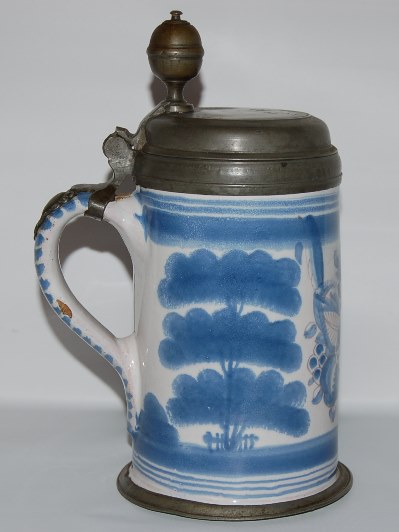 FIGURE 7
On many steins both sides are decorated with sponge painted trees regardless of what the subject matter is of the front scene.  The tree leaves look like they are applied with a sponge and are either 3 or 4 section high. Figure 7 and Figure 8 shows two examples.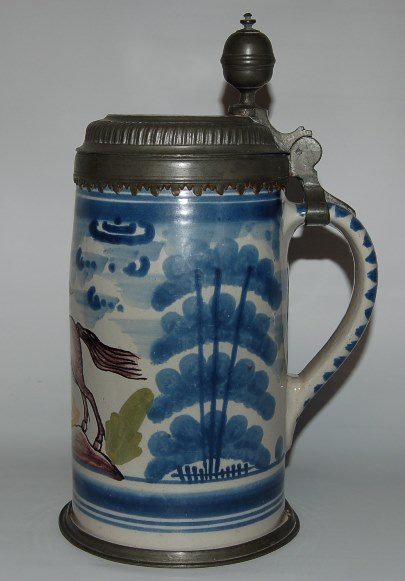 FIGURE 8
Figure 8 is the right side of the stein shown in Figure 1.  This side decoration also appears on the side of many Amberg faience pieces, adding to the difficulty in telling these two factories apart when the stein is not marked on the bottom with a factory mark.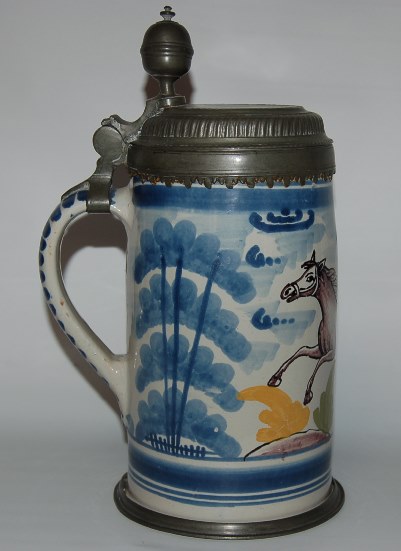 FIGURE 9
A second decoration technique that helps to identify Bayreuth faience is the clouds that appear on either side at the top of the front scene.  They are usually a dot or a circle with two half circles under the dot/circle.  Figure 9 shows an example and is the left side of the stein shown in Figure 1.  You will note that you can also see this in Figure 8.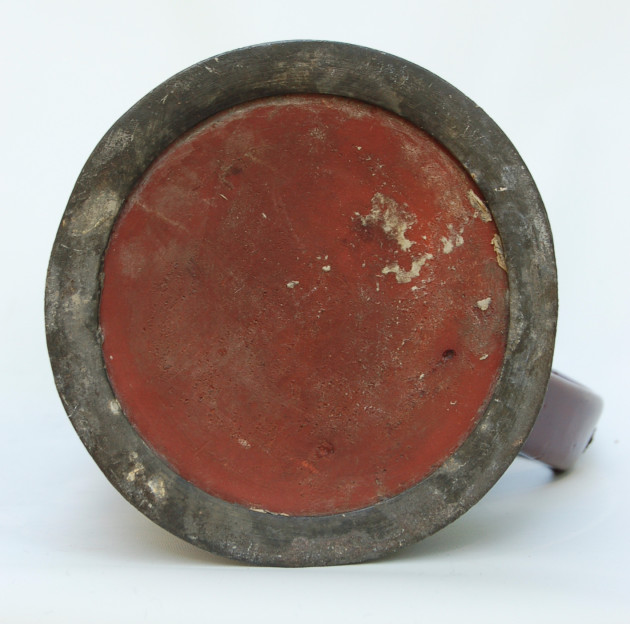 FIGURE 10
Finally, during the Knoller period, Bayreuth produced what is commonly called their brown ware.  These pieces were produced using red clay with a lead glaze, giving the pieces a rich reddish brown appearance.  The bottom of a stein is shown in Figure 10 , ▲which shows the red clay.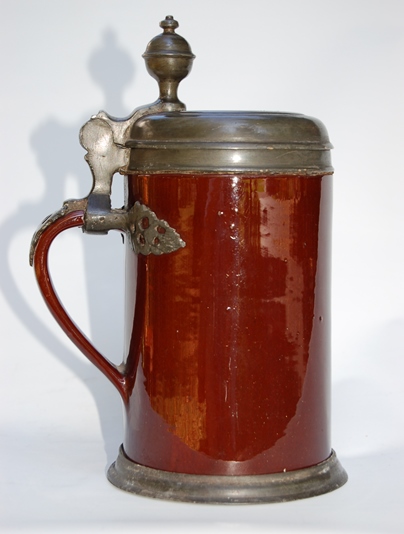 FIGURE 11
The handle of these steins is thin and rectangular and being the same width from top to bottom.  Figure 11 ▲ shows a side view of the handle.  This particular stein is undecorated.  Usually the brown ware pieces are decorated in silver or gold leaf.  Since this decoration is not fired on, the silver or gold is often found to be worn.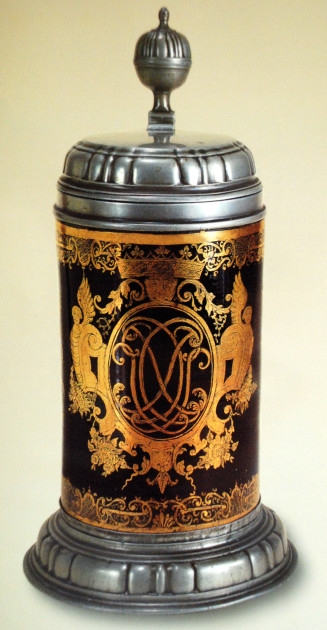 FIGURE 12
Figure 12 shows an example of a gold decorated stein. At the end of this article are several more examples of Bayreuth faience steins.
MORE BAYREUTH FAYENCE  PHOTOS   ▼  ▼  ▼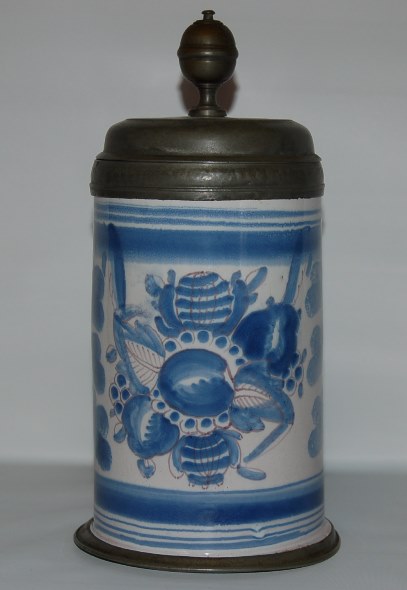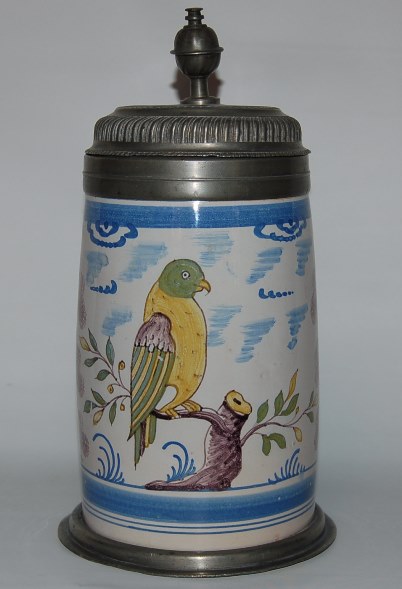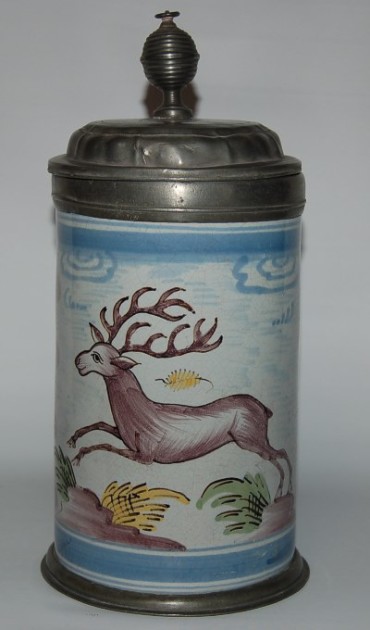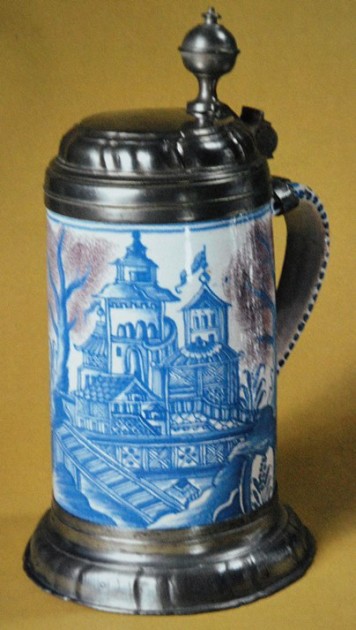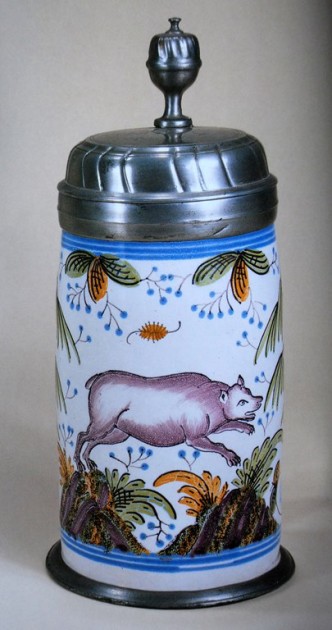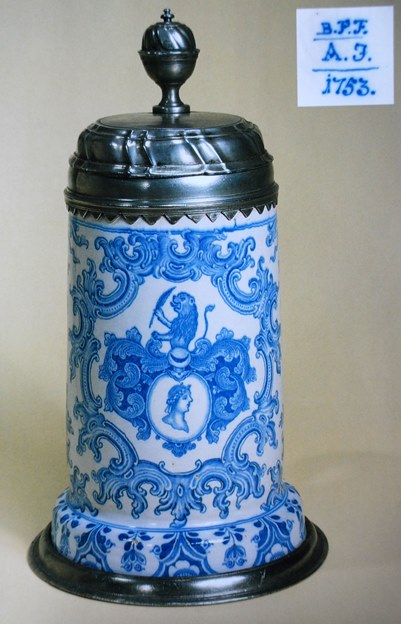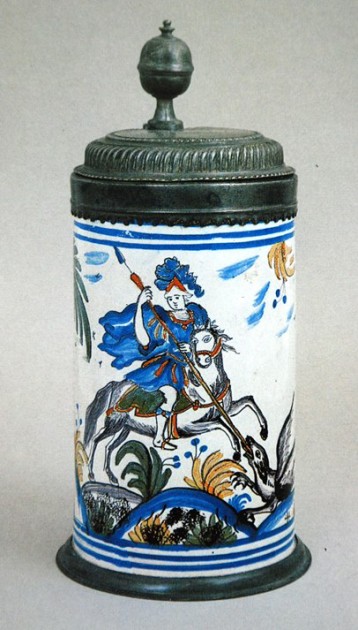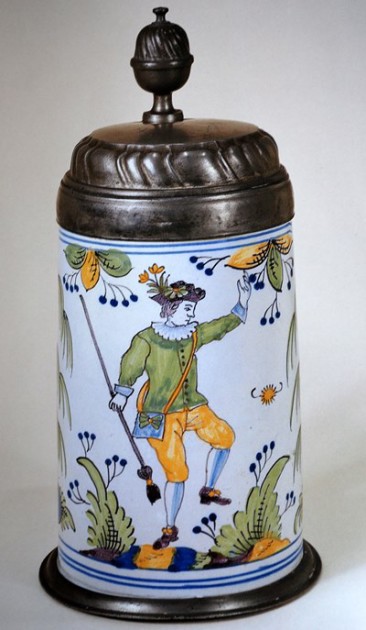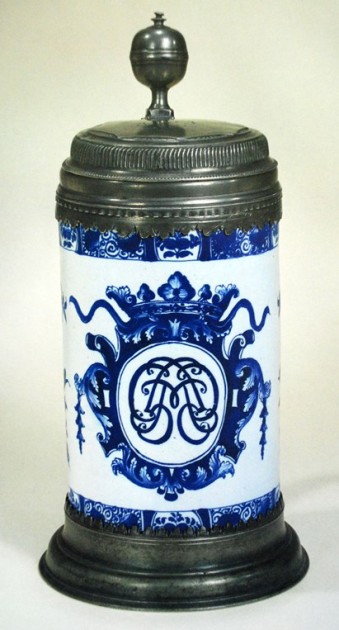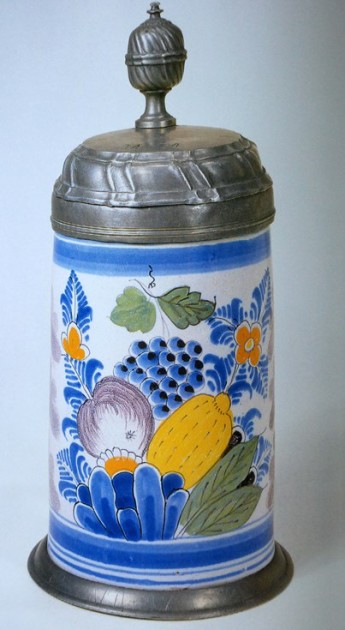 [END – SOK – 22 –  R5]

  "It was a whole lot easier to get older, than to get wiser."