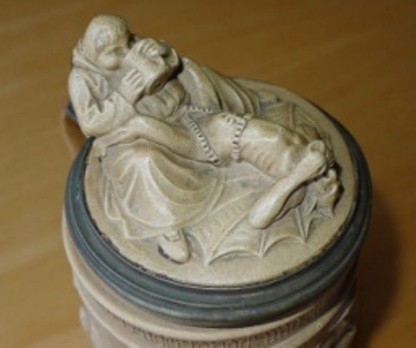 Editor's Notes: I had put this entry in my page on "Beer Stein Misnomers and Myths"  page very early on in the development of this web site:  "STEIN MYTH NO. 1 Is the description of the stein  BELOW ▼  ▼  being called, by most stein auctioneers and lots of collectors: "A monk fornicating with the devil!"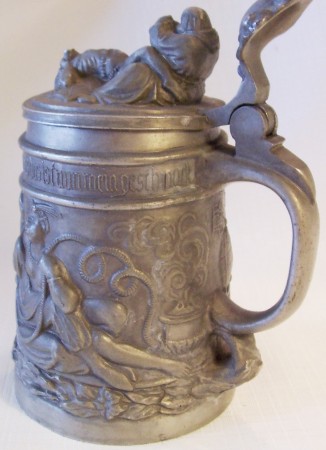 IT JUST IS NOT THAT !  
To  see my original entry:  http://www.steveonsteins.com/beer-stein-dictionary-1
I am now (January 2014) in receipt of a very well done and greatly researched article by Mr. Igor Gofman ,who has graciously allowed me to reprint it for my readers edification. This does totally support my original contention this stein' has really nothing to do with sex between the two individuals on the lid !!  What is also of interest is that this article shows the stein in yet another medium besides pewter and porcelain.  Mr. Gofman, who lives in Russia also advised me that he bought this piece for his friend on eBay from "muddyfunster2001"  in October of 2013 and was happy to pay GBP 338.90  for it.
Also this article was written in Russian and interpreted  later, leaving some of the English rules ignored, but I am certain one can get the vast majority of what Igor was saying.
Steve
    Antique Relief German Pottery Beer Stein  MONK AND DEVIL 
                                                                                                                   by Igor Gofman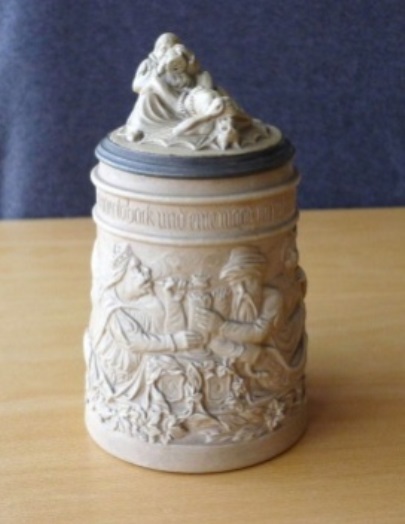 This is an antique first half of the XIX century moulded German pottery relief beer stein.
The stein height is 16.5cm to top of the lid. It is decorated with a characteristic scene in a relief form consisting of four characters occupied with idle pastime. Finishing was carried out by molding of white porcelain mass. (needs clarity)  Stein was burned in the furnace in a ceramic sheaf then. It is quite seldom meeting technology sample. This stein may be considered as a result of the real revolution in West European ceramics history which became invention of white unglazed porcelain (a biscuit) by German chemist Johann Betger in XVIII century.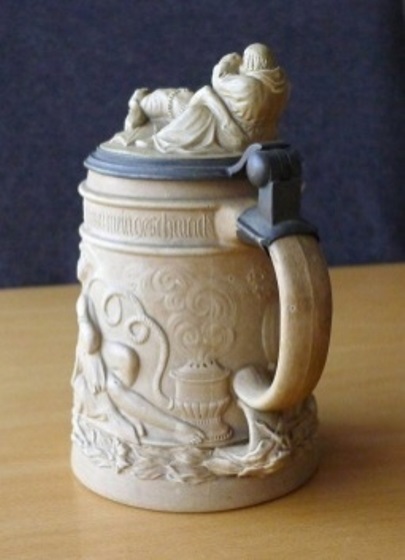 The stein is in excellent condition for its 164 years of life circle.  Over the years it has picked up a couple of minor issues, namely the lid is now quite loose where it attaches to the handle, there is a small chip and an even smaller hairline on the inner rim and a small glaze chip on the monk's head on the lid, but aside from this it is very sound and bright and the minor faults on the rim are obscured by the lid which still sits nice and flush despite being a bit loose. So the stein displays impeccably its unquestionably good quality.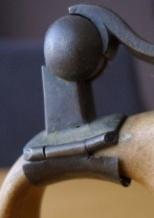 The unglazed body has superbly detailed relief decoration, as does the wonderfully unusual lid which composition is supplemented by the scene representing a friendly beer party of the monk and devil.
The stein decoration quality as well as its condition will undoubtedly make it a pearl of any collection.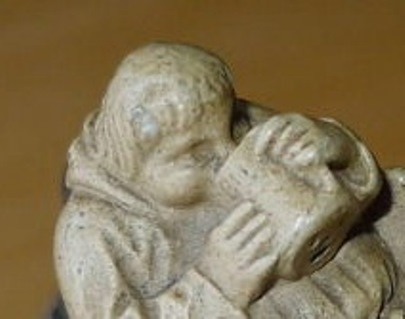 The stein has an inscription in German inside the lid ▼  ▼ which some philologist is to struggle to decipher: "Fur freundlichen E….rung …den…"  But the inscription is clearly dated:  "23 October 1849". It became a key for definition to whom and for what this stein creation is devoted.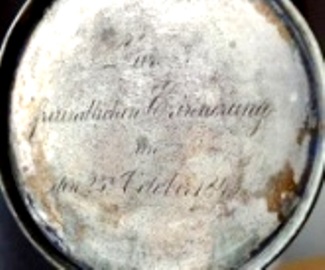 Lid incription ▲
.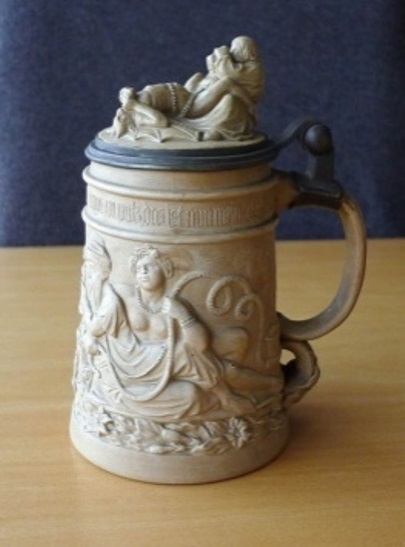 ,
This stein bears Relief Gothic Letters Inscription on a circle which says: "Ein starkes bier, ein biezender toback und eine magd im putz, das ist nun mein geschmack".
This is a well known quote from Johann Wolfgang von Goethe (1749-1832), "Faust" tragedy  part I, which means in translation: "A strong beer, an aromatic tobacco and a maid in her finery, that is definitely my taste". It is absolutely clear now that this stein creation is devoted to 100-year anniversary of Goethe birthday!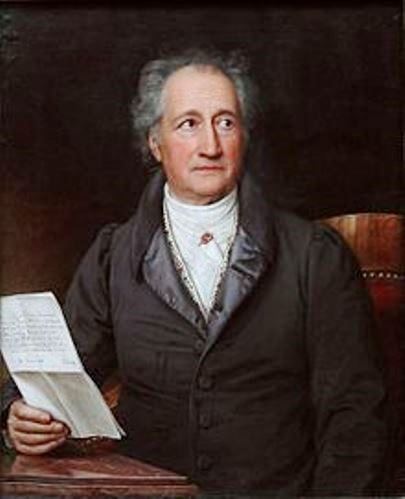 Wolfgang von Goethe
The Jewish "David's Star" and Turkish "Half Moon" are also represented on the relief work under the main scene.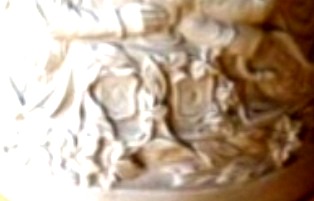 ,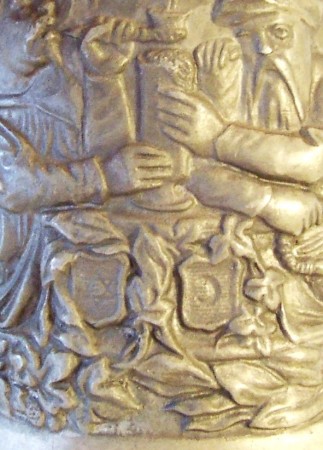 The photo just above ▲ is taken from the pewter version as the symbols are not very distinct on the ceramic one. [two above].
Let's go further but review a bit  now.  So, we have German mid XIX century stein with monk and devil, German frau, Jew, Turk, concubine, quote from "Faust" of Goethe, and also Jewish/Turkish heraldry on it. What could all this mean?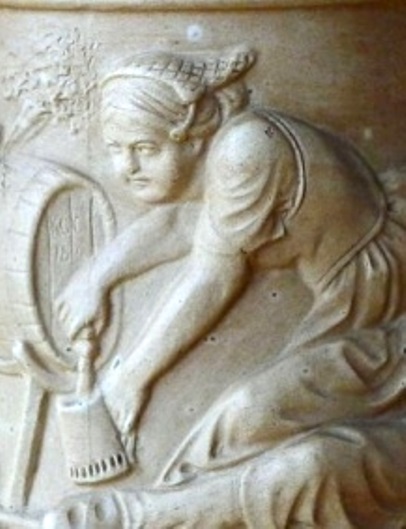 The German Frau is wife of the Jew, who is treating her husband and guests with German beer.
.
The XIX century was the period of mass occurrence of the West European Jewry in the European culture. It was an era of assimilation by Jewry of the European way of life, an era of their influence growth in all activity of the European society and assimilation. "The undoubted Jew is Goethe", said Napoleon. Goethe's mother was a German, his father was a lawyer… The poet deeply respected the Jewish culture, knew  dreena [??] Jewish language. In his office there was a bronze copy of Michelangelo's "Moisey" sculpture. The Medieval image of Faust is not the monk but as a scientist-magician. Image of Faust is not an incidental European perception of those times Jews. It was Christianized image of a Jew. Many educated rabbis were scientists then.
The Turk is visiting the Jew accompanied with his concubine.
Jews appeared in Turkey (then called Serafids [which is also a small conservative sect within the religion] in the mid XV century and prospered  in Turkey for 400 years.
These times are  noted by growing of trust between two nations which shows to the whole world how people of different beliefs, history and circumstances can belong with full confidence to each other, work and harmoniously develop themselves under the banner of one country. The stein release could also consider the 9th anniversary of the well-known message of the Turkish Sultan Abdulmesid of October 2, 1840. He dismissed completely and officially the charge from Jews of Jesus Christ crucifixion: "as", he claimed, "for this purpose there were no powerful proofs". Diplomatic relations between Berlin and Constantinople (modern Istanbul) were established in XVIII century, and trade contracts between two cities were signed in XIX century. Theese events caused mutual migration of citizens between the Ottoman Empire and the German states. The Turkish diaspora in Germany, and especially in Berlin, significantly grew as a result of it. There is a wish at that point to raise a stein and say a toast which is as follows: "Jews and Turks are brothers forever".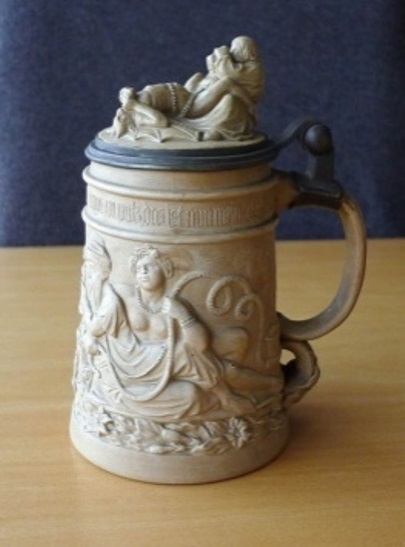 The concubine of Turk is a berber woman.
.
Harems of notable Turks collected  women who come from the most different lands and represented various cultures. And since Islamic laws forbade to conclude free Muslims and free not Muslims in the Islamic state in slavery, women were usually delivered from the outside of the empire.
Some woman were acquired as a war trophy, and others were bought from slave markets. Slaves from Berber of North Africa above all were appreciated for their outstanding sexuality. Great Mansur was the son of one of them.
▼End of XIX century erotic post card with a young berber woman is shown  hereby for example.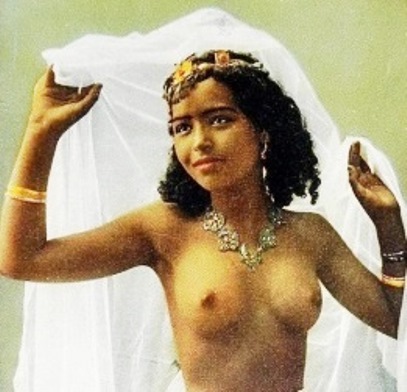 The monk and devil is a symbol of pleasure, cooperation and reconciliation of what would seem irreconcilable, and all these on fertile field of kind German beer, as well as of Goethe Samaritan, Masonic and educational ideas.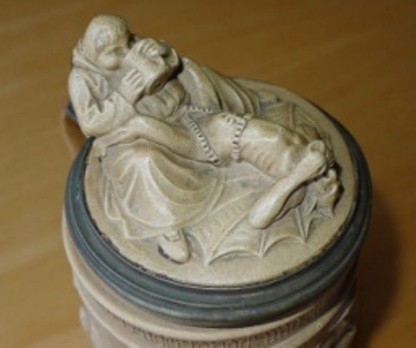 But Goethe himself admitted that: "For all my life I didn't live even four weeks for myself in pleasure. As though all the time I dragged uphill a stone which rolled down then again and back again and it was necessary to drag it up each time".
For sure it was close to personal ability, thoughts and ideas of the artist within the frames of stein he created, but finally he succeed with it, no doubt! The stein is not only a piece of art  devoted to 100-year anniversary of Goethe birthday but incarnates a part of the European history as well.
So, What beer needs to be drunk from this stein?
Köstritzer Schwarzbier certainly!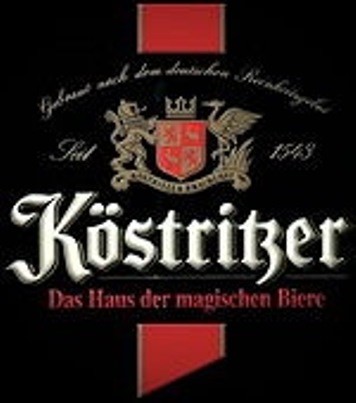 The Köstritzer brewery was founded in 1543, it is located in the city of Bud-Kostritz, Thuringia, and being one of the oldest producers of dark beer in Germany. One of the most known people who drunk Köstritzer Schwarzbier, was Johann Wolfgang von Goethe who supported himself to stay alive with black Köstritzer Schwarzbier when was not able to eat in the period of serious illness … Köstritzer production belongs to the Bitburger Brauerei company since 1991. The volume of annual beer production passed for 100,000,000 L.
One important question still left not answered. Which German factory produced this stein?
The end,
Additional photos  of the pewter version (found most often) below: [EX-FWTD]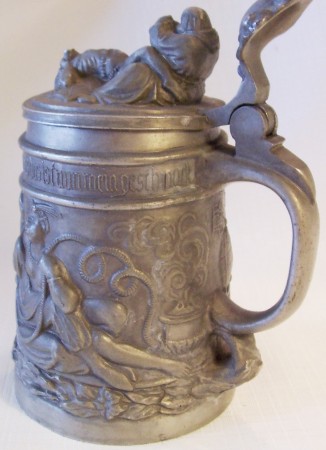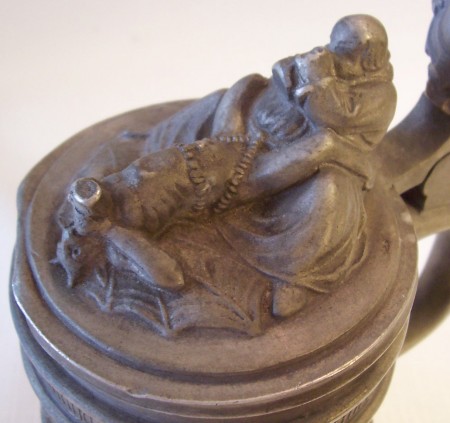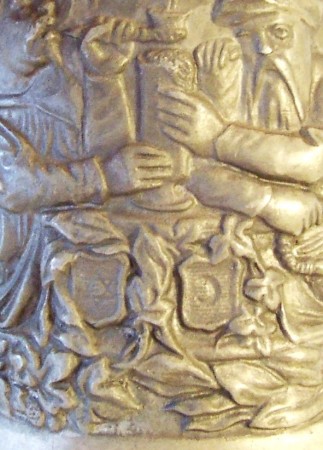 Detail of the two "Coat of Arms."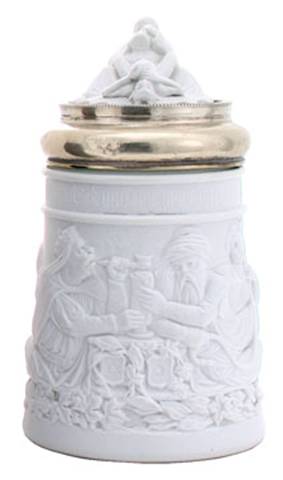 Editor's note: The stein was also made in a parian ware version, shown above. Again an unknown maker and date