A copper-over  plaster wall plaque. Monks brewing-and drinking."   The one on the left uses a small drinking horn. Unknown maker; a very nice go-with.  13-1/2″ [x] 9-1/2″.
 COPPER BODIED  BARREL STEINS  WITH USUALLY BRASS STAVE HOLDERS (BODY RINGS) .OR VISE VERSA
Besides myself and one other member of the Gambrinus Beer Stein Collector's Club there is no one I know locally who actively collect 'Barrel Beer Steins,' and the other collector  has limited himself to just getting pewter examples. So I recently picked up a nice copper piece from his "For sale or trade" table at a recent local meeting.
Yet when I see a collection that anyone has spend time and effort to create and knows all about the various pieces impresses me a lot. My mother and I once visited a collection of "Santa Clauses" in Delaware. The lady must have had over 1,000 Santas from all over the world, different material and all sizes and times made. Now I don't and wouldn't ever collect them BUT I was overwhelmed by the effort put forth. It was a splendid time for both of us.
I have noticed that since my lectures on Copper and Brass steins at various SCI chapter meetings  and Mini-conventions here in the USA, that within the last 10 years or so, interest in the Copper Barrel Steins (see examples far below)  has picked up a bit at the American stein auctions.
For new collectors or especially the home beer brewers like my son, this is an excellent way to have a nice fairly inexpensive collection of some really nice old pieces that will accent your brewing efforts.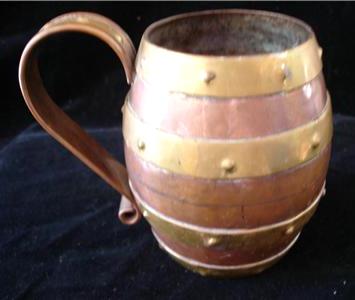 As  stated before almost any country that had copper, hence brass, made these barrel shaped steins and mugs. This one is from  – and marked – "Mexico," perhaps by a relocated German?   Based on the wear to the tin lining, I'd say this was Circa early to mid 1900's. About 6 inches tall.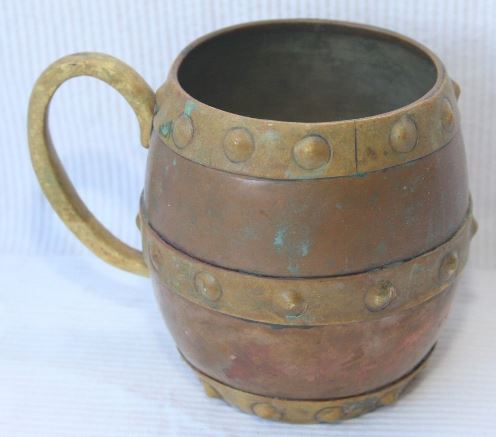 barrel-mug, copper body with brass  rings;  4 inch , made for a "pre-teen" or a female perhaps. This one is unmarked,  and due to the construction of brass stave holders (brass bands, )I do not think it is Mexican.   And as I said  above all most every country in the world made them.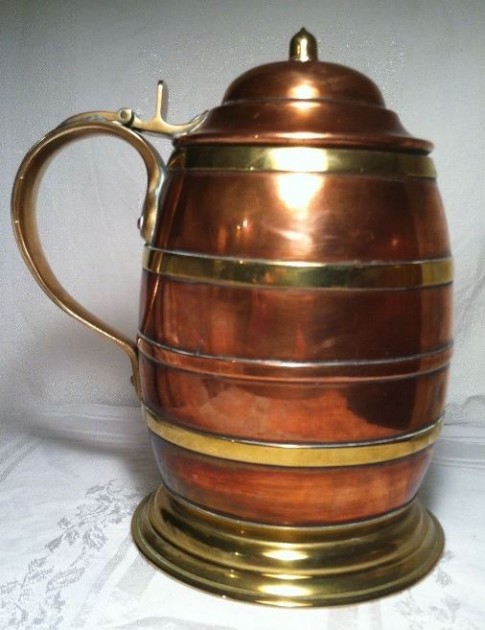 Barrel form ▲ a rather plain sub-set of copper BEER steins;  but several put together make a nice unique display and they come from  lots of different countries., and many. many decades.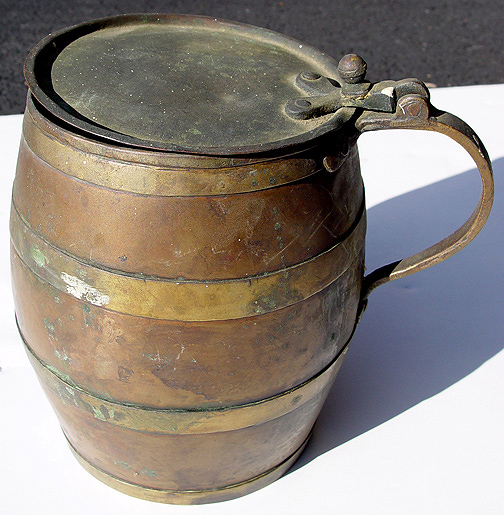 Above ▲. A pre- revolutionary Russian made example. As with most, The lid fits into the body. These were obviously the Russians most favorite type of drinking vessels as one sees a lot of them.
.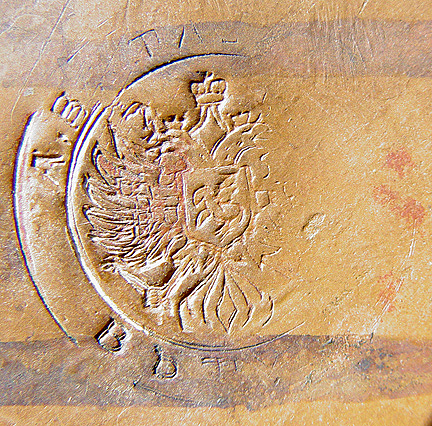 The Imperial Russian Coat of Arms in one shape or another, is found on most of the stamped marks on these steins. Most are not clear to read.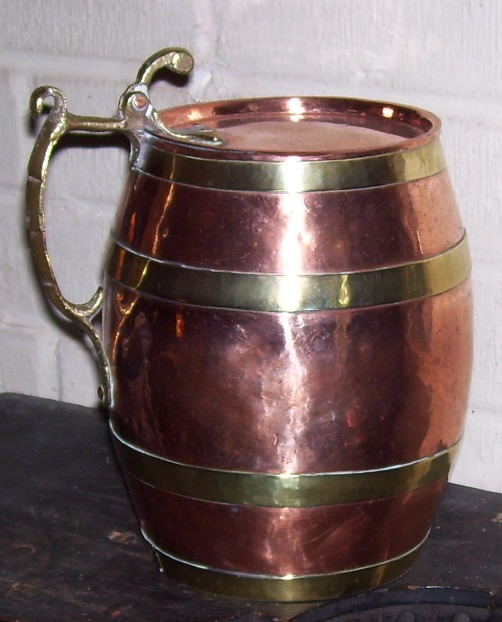 A somewhat different model but still Russian pre-revolution. Cleaned and polished by hand = mine! 
Notice again how the lid fits into the top of both of these Russian steins and not on it. This one shows a more typical type molded brass thumblift.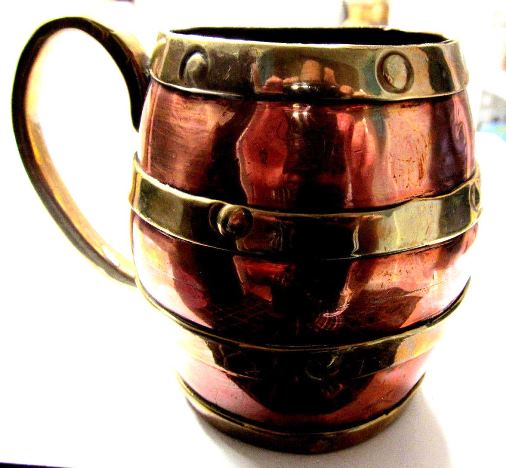 No marks were give with the photo of this piece. I would guess it is Russian just based on its well done thick metal  construction. The simulated flattened rivets add a nice touch.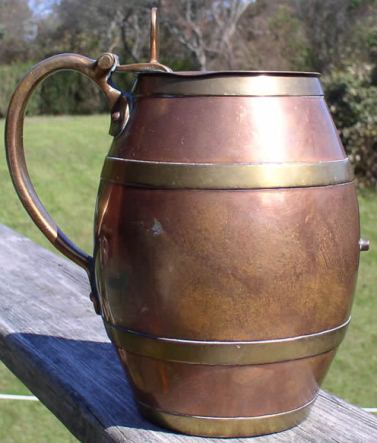 Copper barrel stein. Russian. Ca. 1880 – 1914, with brass stave holders and a small brass" fill hole" plug, now on the front as the barrel is standing upright.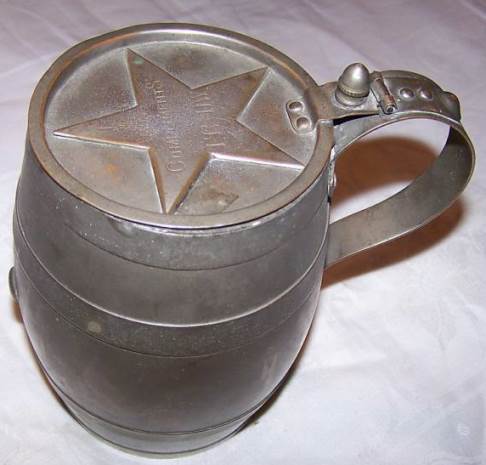 Now having just said that "fill holes" on these are hard to find, here is an American example. Barely visible but there on the mid -section. Very well constructed. It is unusual in that it too has a lid that sits into the steins top (it is the only American example I have seen to do that.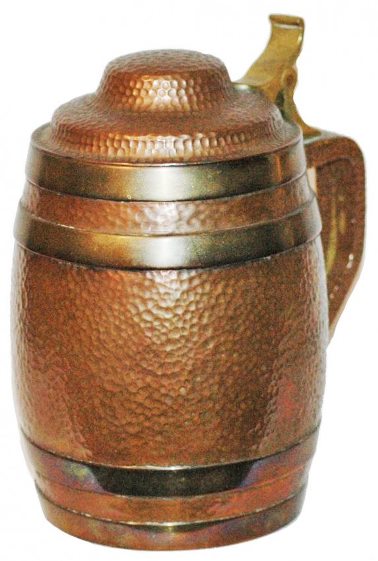 Copper body with brass stave holders. 1L. hand hammered overall. Germany. Ca. 1930-60.  [RFA ]
Copper body with brass stave holders, thumblift and hinge. American made with our Eagle in brass as the finial. Ca. 1920. [FWTD] This piece is shown cleaned and polished just below ▼. What a difference a little "Mass" polish and a few minutes can make!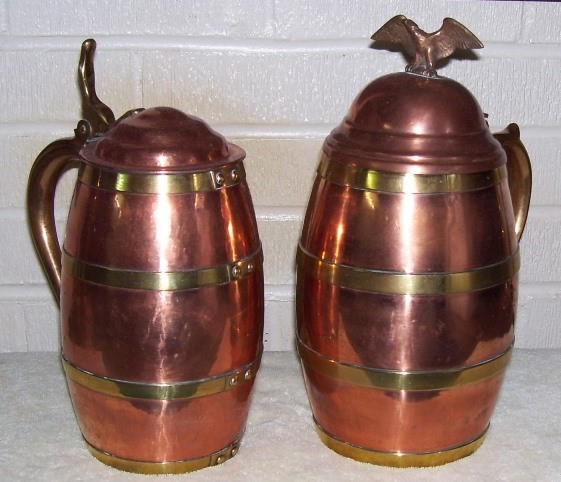 LeftL An American made stein from a brewer's supply company. C. 1900.  Both about one quart capacity.
x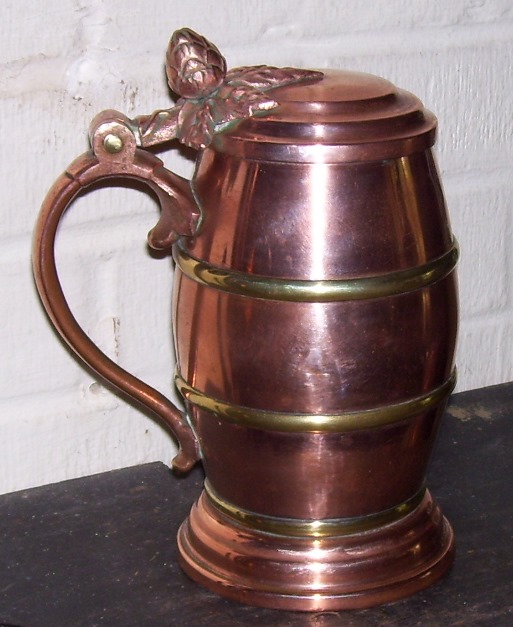 ▲American made, most USA steins have sturdy well made handles usually of brass, however this one is copper; it comes with an interesting molded pomegranate and leaf thumblift   [FWTD}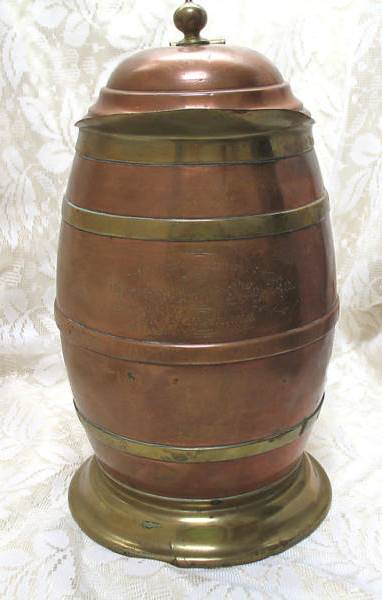 American again with a copper body and brass rings a server.  Marked Goetz Brada Mfg.Co. , Chicago
A very different hinge arrangement for the server  shown  just above ▲.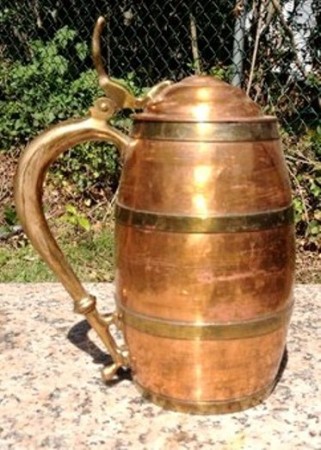 Copper barrel stein body, brass handle and stave supports. One quart  American. Ca 1920.  Shown:  as found [FWTD].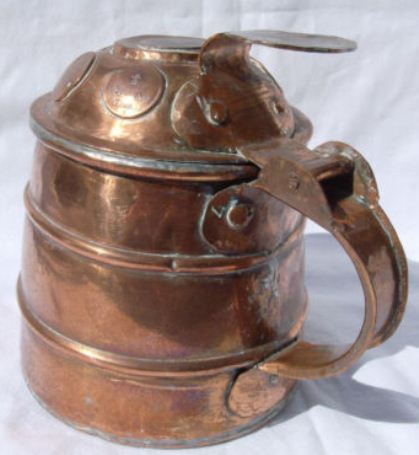 Bohemian Copper barrel stein with small coins placed on its lid. Late 1700's – early 1800's made. 5.6 inch. A lady's [?] coin stein. (Germ: Munzhumpen)
For more on coined beer steins (Munzhumpen) please see: http://www.steveonsteins.com/coined-steins-munzhumpen-and-beakers-munzbecher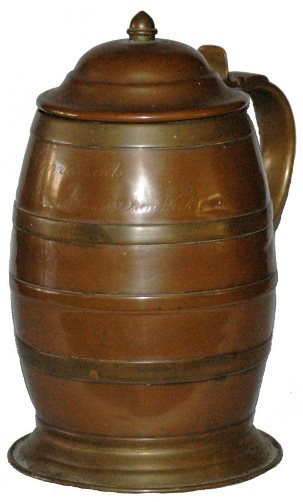 Copper barrel stein, brass stave holders. One liter. European. Ca. 1910's   EX-FWTD]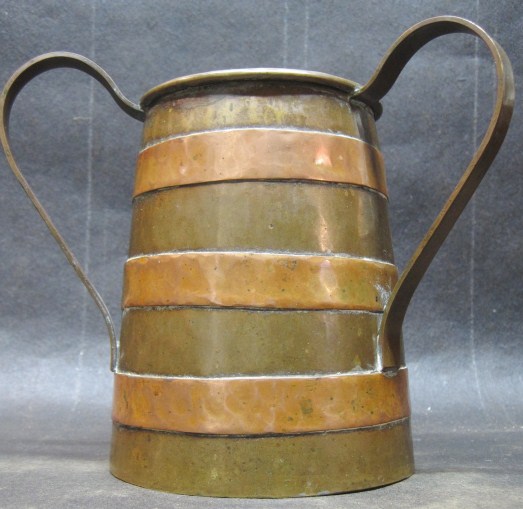 There is really no reason to have the copper stave supports on these "Pass Cups" other than tradition taken from the Barrel Steins. Above  ▲10 inch . Russian, pre-revolutionary.[FWTD] 
Below  ▼ Russian, pre-revolutionary. An entirely different design "Pass Cup", sixe not captured, but  about 10 inch also I assume.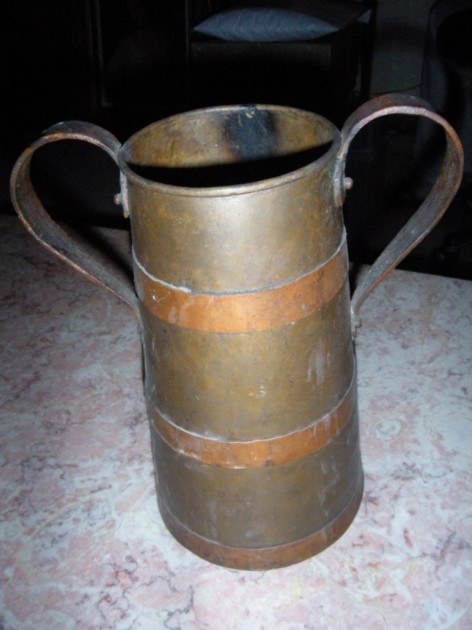 PLATED SILVER, .800SILVER AND STERLING BARREL STEINS;
Sterling silver pint beer mug. English. Engraved: "From Captain Williams Bulkeley on his leaving the Reg. May 1865, to the thirsty souls he leaves behind."
.
See more of "The Last Drop" drinking vessels in the "L" page of this site's Compendium.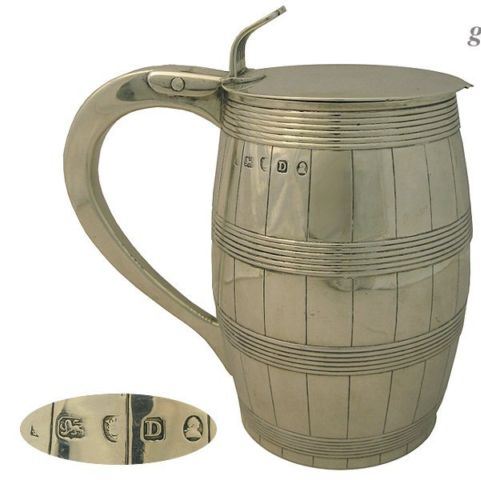 English – Georgian silver tankard. Dated  1799. Bateman was the silver-smith.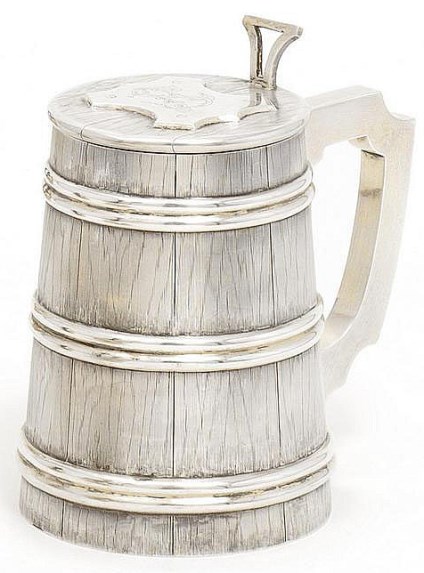 Keg-Shaped 'Walzenkrug' Tankard. Warsaw. 1874.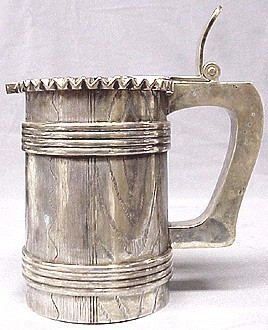 Marked "84" Barrel, Russian,  by Pavel Ovchinikov. Assay mark of 18xx?  Look at how nicely the wood grain is portrayed. [FWTD]
.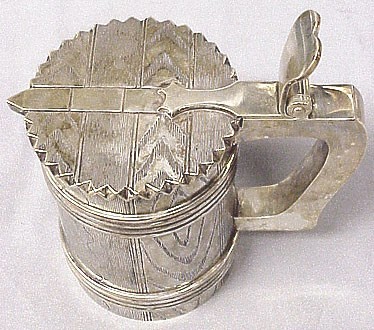 An interesting  design on the lid. Made to  appear as a sliding locking mechanism as found on older Scandinavian wooden pieces, however it is not functional.
.
 Gilded interior and very nice work on the edge of the lid.
END – SP104  – XX  – R5]

" Kids in the back seat cause accidents.   Accidents in the back seat cause kids."