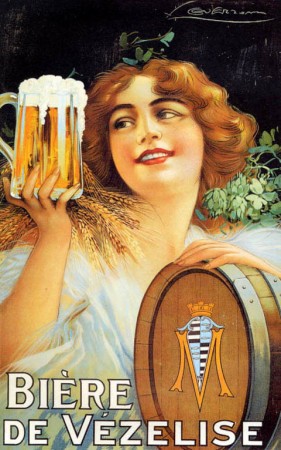 Beer stein myths, and a few misnomers OR: THE BEER STEIN "BULL PUCKIES"  STORIES.
I am going to make a special attempt to clear up and to shed light on those stein descriptions / stories that go with them, that are not true!
STEIN MYTH NO. 1   It is the description of the stein (below) being called,  by most stein auctioneers and lots of collectors: "A monk  fornicating with the devil!"
FOR A RECENT UPDATE AND NEW INFORMATION ON THIS MTYH, PLEASE SEE THE NEW WEB PAGE [1-2014] BY MR. IGOR  GOFMAN  IN THE GUEST WRITER'S SECTION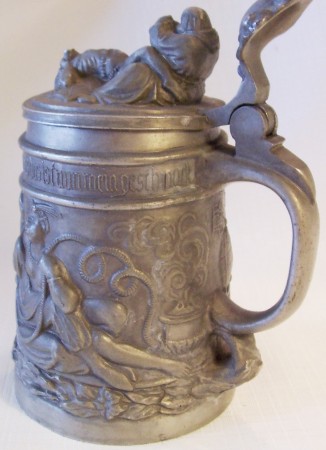 .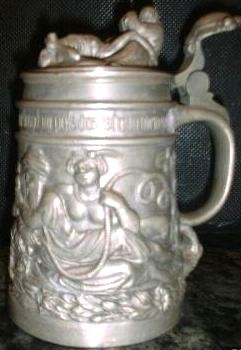 IT JUST IS NOT THAT !
Should anyone wish to look at the lid closer they would find that the monk's robe fits way under the Devil's buttocks, and their mouths are otherwise  preoccupied. See lid detail just below. No sex here people! Just getting "down and dirty" with "der Deiwel" by drinking lots of / too much beer!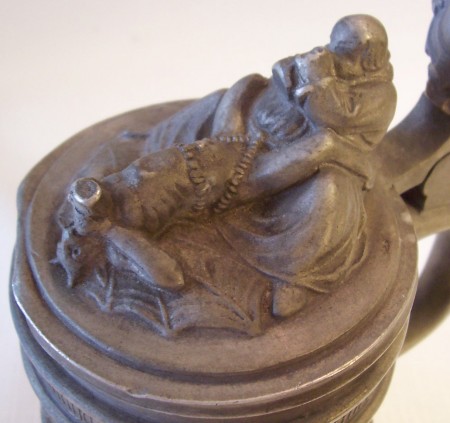 HOWEVER: The scene on the front of this very heavy pewter stein is rather weird. Mr. Barney of the Gambrinus Chapter thinks it is an old unknown Jewish man. There are two small shields under the main scene which are even more confusing.  Under the person who I think is Gambrinus or David is [1] either the Beer-Brewers six sided star,  or [2] the Jewish "Magen David"(Star of David) and under the Arab, a Waxing Crescent Moon.  The stein is Circa 1870, and heavy as hell.  Now having read this (below) about the subject from "Wikipedia"; I think I now have to go along with Mr. Barney's theory. So what do you the reader think?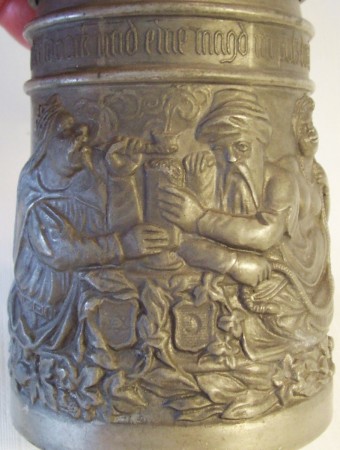 "In the 17th century, the Shield of David as the hexagram began to represent the Jewish commuinty  (sic) generally, when the Jewish quarter of Vienna was formally distinguished from the rest of the city by a boundary stone having the hexagram on one side and the Christian cross on the other. By the 18th century, the Shield appeared to represent the Jewish people in both secular (politics) and religious (synagogue) contexts.[citation needed] Then in the 19th century, it began to signify the Jewish people internationally, when the early Zionist movement adopted it as the symbol of the Jewish people, after the Dreyfus affair in France in the 19th century. From here, other Jewish community organizations adopted it too. In the 20th century, Nazi-Era Germany enacted laws forcing Jews to sew a yellow Shield of David in the form of two overlapping triangles onto their clothing to conspicuously identify themselves, while the leadership carried out its policy of genocide against them during War World 2. With its establishment in 1948, the State of Israel adopted the Shield of David for the Flag of Israel."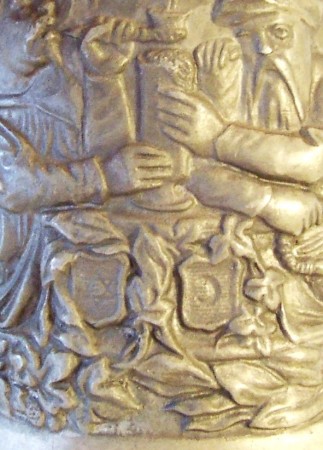 Detail of the two "Coat of Arms."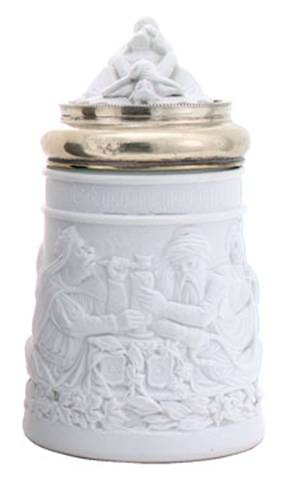 Interesting note: The stein was also made in a parian ware version, shown above. When it sold a few years back, it was not cheap, and I assume that is because the US stein auctioneer called them "fornicating!"  It also sold quite reasonably off the stein room sales' tables at the 2010 SCI Convention (2010) . It's all in the advertising!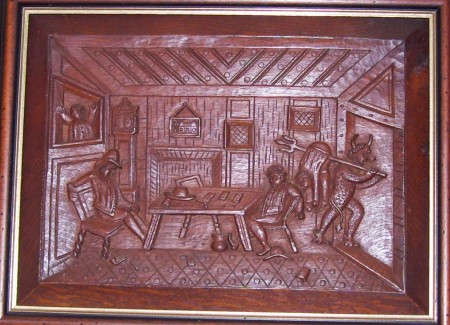 "The Devil" and drinking beer have had a long relationship. Here is a German / Dutch carved wooden panel, Circa 1850,  showing The Devil using a pole to catty out a drunk from a tavern. The clock is showing  midnight.
So why am I doing this? Why go to all the effort to try to correct things almost impossible to change? The only thing I can say is that I'm the type of person that wants information (that certainly includes beer stein info) to be honest and not self-serving!  When I die I wish my epitaph to read: "The one and only thing he ever wanted was a perfect world!"  I believe new stein collectors deserve to have the most reliable information available to them and not the "bull shit" that has been promulgated for the last 45 years (S.C.I. was started in 1965.) That is one of the primary reason why "Beer Stein College" was formed and why it 'was' so successful when it started. It ended up being just too much effort for the organizers as there was so very little appreciation from the SCI members who showed up, and as is usual with that group,  they didn't want to learn anything  just:  "where are the steins for sale?"  and  "what time is lunch?"
STEIN MYTH NO. 2  = These fire place mantel  / ash can display articles,  which are made of  brass  are really beer steins.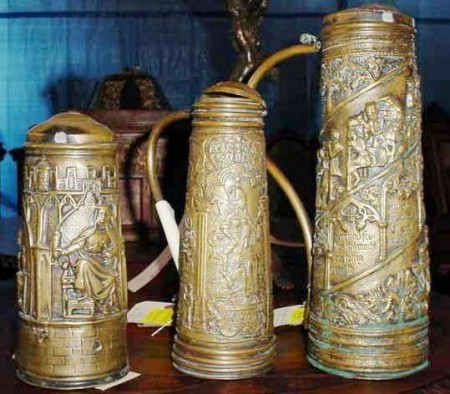 Another really large  stein "Myth" is that these "things" are really beer steins!
One could use the larger ones  as a floor display or on a mantle; please remember the Europeans liked to keep their metal objects shiny and bright, it's only we Americans that are mostly too lazy to shine things up!
They are made of stamped sheet brass and were also used around the fireplaces for storing kindling and / or fireplace ashes .
They have no tinning inside that is normally required / recommended for drinking out of copper and brass as it  makes the liquid in them taste funny! The handles and lids which are now usually found broken (see base of handle on the middle above) are attached by a small amount of solder, usually quite visible (see right above: It has lost its lid due to a poor connection) because of the soldered construction. Most are also incapable of holding liquid, and would leak. due to the seaming arrangement  If one were to fill one of the  really large one  up with any liquid (one gallon of beer weighs 8.6 ponds) the handle would snap right off! That assumes the liquid didn't drain out first through the rotten soldering  job on the asbestos base to the sides! I'd be just a little leery about that aspect too! If you ever did drink out of one of these –there are attorney's looking for you every day on TV!
Yet still, some people (even some prominent New York collectors that should know better!) call them "steins".  These are probably the same type people that call Hermann a Viking! The only connection to beer steins is that the designs were copied from German steins from the late 1800's. Lots of them are V & B, Mettlach designs (as on the right and left ones above) and the larger ones, such as the one shown (below) are from Westerwald stoneware  stein designs. But of course 'The Beer Stein Book' has them shown on one page and lists them as steins   so therefore it (THAT BIBLE OF ALL STEIN BIBLES) must be correct!
.

Large copper "ASH CAN" design was copied from a Westerwald stoneware stein.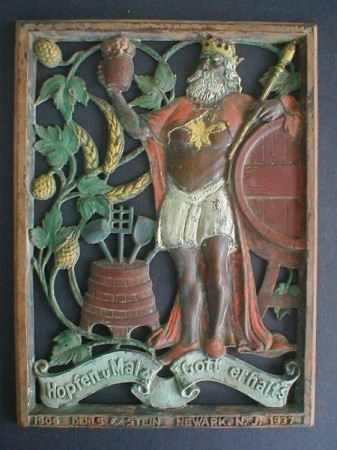 Misnomer No. 1  = Gambrinus is called "The Patron Saint of Beer"! Gambrinus may be the "King  of Beer",  BUT he is not the "Patron Saint of beer ", nor is he even a Patron Saint of anything!
That  Gambrinus is the "Patron Saint" of beer is really a MISNOMER that has been floating around  the world and especially the SCI circle for  quite some time. This (within SCI) is mostly due to David Harr's article in "Prosit" (Winter 2002)  on what certain character stein forms mean.  This misnomer now appears to have originally from SCI's master steinologist (and dear friend) Mike Wald, who was of the Jewish faith and may not have understood the real meaning of [1] the word "Patron" or [2] "Saint",  or [3] the use of the phrase "Patron Saint."
Even Wikipedia qualifies this title by saying: Gambrinus is a legendary King of Flanders, and an "unofficial patron saint"  of beer or beer brewing.

DEFINITION OF PATRON:
1. A person whose support or protection is solicited or acknowledged by the dedication of a book or other work.
DEFINITION OF SAINT:
1. Any of certain persons of exceptional holiness of life, formally recognized as such by the Christian Church, esp. by canonization. 2. a person of great holiness, virtue, or benevolence. 3. a founder, sponsor, or patron, as of a movement or organization.
DEFINITION OF PATRON SAINT.
1. A saint regarded as the special guardian of a person, group, trade, country, etc.
As can be seen above by the rudimentary definitions taken from "Info Please" on the web. Gambrinus could:
[1] not have ever been recognized by the Christian (read Roman Catholic or Orthodox) churches, as Gambrinus was never a real person. He is a legend.
[2] not have been a patron saint "of beer", as "beer" is not a person or group; beer is an inanimate object.
.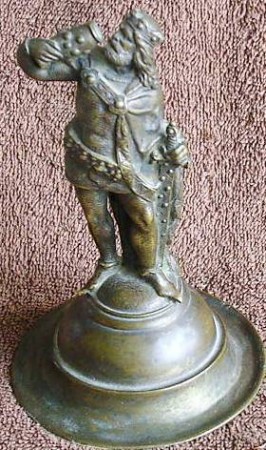 (A brass pokal lid.)
Gambrinus could never have been a patron saint of the beer brewers or beer keg makers or anything beer related due to condition No. 1 (above) alone.
And to beat that already "dead horse": Another definition from "Catholic Online"; What is a patron saint?
"Patron saints are chosen as special protectors or guardians over areas of life. These areas can include occupations, illnesses, churches, countries, causes — anything that is important to us. The earliest records show that people and churches were named after apostles and martyrs as early as the fourth century.
Recently, the popes have named patron saints but patrons can be chosen by other individuals or groups as well. Patron saints are often chosen today because an interest, talent, or event in their lives overlaps with the special area."   (EDITOR'S NOTE : IN OTHER WORDS THEY HAVE HAD TO HAVE BEEN LIVING ! – NOT A LEGEND !)
"For example, Francis of Assisi loved nature and so he is patron of ecologists. Francis de Sales was a writer and so he is patron of journalists and writers. Clare of Assisi was named patron of television because one Christmas when she was too ill to leave her bed she saw and heard Christmas Mass — even though it was taking place miles away." .Angels can also be named as patron saints. A patron saint can help us when we follow the example of that saint's life and when we ask for that saint's intercessory prayers to God.
Some real patron saints of BEER /  BREWERS as seen on the internet:  [1]   Saint Arnold,  Austrian  year 580.  [2]  Arnold (Arnoul) of Soissons, Belgian  (Ca. 1040 – 1087). [3] and there are 100's  more as every city's brewer's guild was allowed to name its preferred saint.
__      MISNOMERS IN SCI LAND ABOUND !!   __
Amber glass – A misnomer – USA beer stein auctioneers long ago started using the wrong word for this color glass. They use the word "amber", which is really a dark yellow. This color of glass is anything but amber! It is usually a light green with jut a trace of yellow. Shown: A Theresienthal so called "amber" glass stein. Ca. 1890.
Blue onion pattern steins  – Another MISNOMER for porcelain steins with patterns as those shown here.The original blue onion design was different. The "onion" pattern was originally named "bulb" pattern.[1]
Below is from:   http://en.wikipedia.org/wiki/Blue_Onion
While modeled closely after a pattern first produced by the Chinese the plates and bowls styled in the Meissen factory in 1740 adopted a feel that was distinctly their own. One of the earliest examples is the blue and white porcelains of the early Ming Dynasty in 1420: Because the flowers and fruits pictured on the original Chinese pattern were unknown to the Meissen painters, they created hybrids that resembled more familiar to Europeans. The so-called "onions" are not onions at all, but, according to historians, are most likely mutations of the peaches and pomegranates modeled on the original Chinese pattern. The whole design is an ingeniously conceived grouping of several floral motifs with stylized peonies and asters in the pattern's center, the stems of which wind in flowing curves around a bamboo stalk.
.
Crest – A MISNOMER (One of the most misused words in stein collecting, next to: "stein.") In heraldry and on beer steins that show such, it is the part of a "Coat of Arms" (SEE BELOW) that rests on top of the helmet, or crown!

It does NOT refer to the whole coat of arms (even if that is published on the SCI web site as being acceptable; it is not!  And the people who continue to use the word incorrectly are looked down upon by purists!) Shown: The "crest" on the above "Coat of Arms" is the two multi-colored  eagle wings, that sit on the top of the helm (helmet)!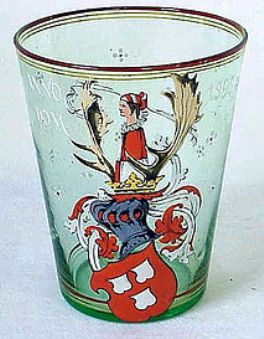 "CODE OF ARMS" = NOT!! as has been seen many times on eBay! It is "Coat of Arms (COA)." A term used in Heraldry that means the full pictorial achievement of a family or organization. It includes the shield, a helm or crown, and crest (that is the item that rests on the helm, or crown), and the mantling.
The use of the word "Crest" in lieu of coat of arms on a beer stein is a mistake! The German name for Coat of Arms is "Wappen." Shown: "COA" for a painter, on an enameled beaker done in the Heckert style, but unsigned.  The "crest" is the person in the red and white cap sitting on top of the crown wearing a red and white cap (always the colors shown on the shield.)
"Etched" pottery,  and metal– A misnomer." The correct word for this type of work shown above, is: "engraved"; which means the design was incised into the pottery (or wood or metal) stein by a tool; or a mold making incised lines that look like they were hand done.  Real "etched" work is done by using acid to make the scene desired and is used on metal and glass! Shown: A very nice hand tool engraved (not  "etched") 11 inch tall server from the Westerwald area.  Circa mid 1700's.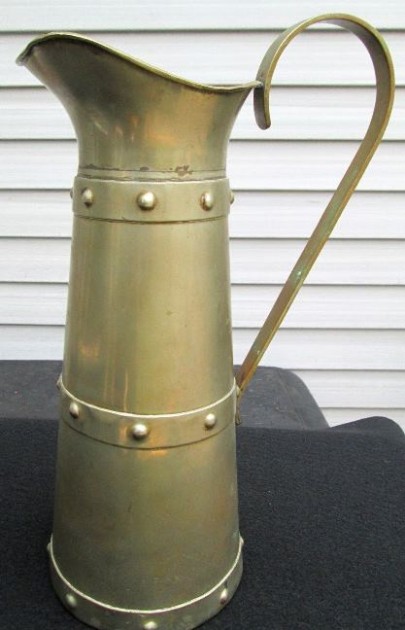 Hand carved –  hand forged –
"Mint" – This applies to coins and stamps only, and anyone using it to decribe a beer  stein that is older than one week  off the assembly line ought to be taken out and shot[!]; this includes  the US stein auctioneers!  Use: "Exceptional",  "Excellent",  or "Very Good" condition, etc, instead of 'mint'  or 'near mint.' It is a worthless phrase!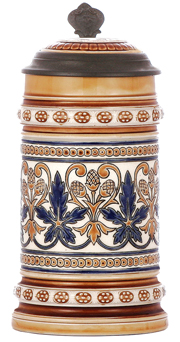 Mosaic steins – The word / term "Mosaic" means a larger picture put together  by using a multitude of small pieces of glass or tile.   These stein, which are incised, have no resemblance to a "Mosaic anything," and I often wonder who coined this misnomer, as it is so far fetched!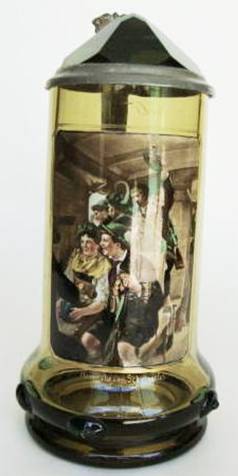 "Prism lid" – Shown: A Tyrolean scene,  "Thereseinthal .5 liter stein, blown glass  with a cut "Prism lid." It is obvious to me that the first person in stein collecting history (a member of SCI Board probably) that coined this word never took physics in school. This looks nothing like a prism, shown below: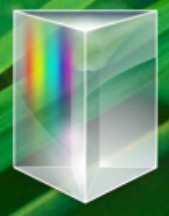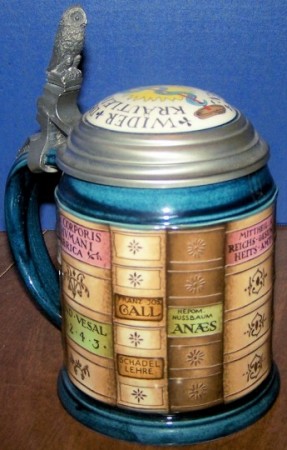 "Book Stein" – Misnomer – A series of steins produced by V & B Mettlach, one for about 8 [?] major occupational classifications, such as Mining, Engineering, Medical, etc.  As each stein shows a group of related titles on different books going around the piece; all related to the occupational type shown on the lid's insert, they should be called "Library Steins!"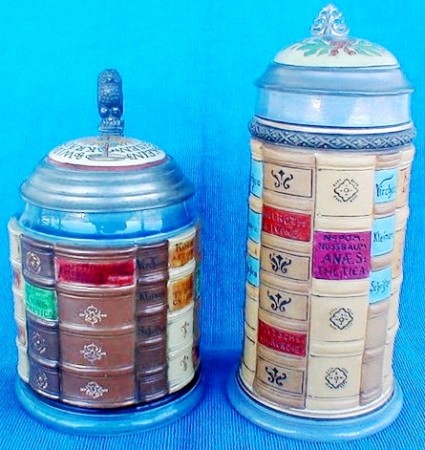 [R – IN PHOTO] A library stein prodUced by "Hanke", next to another V &B.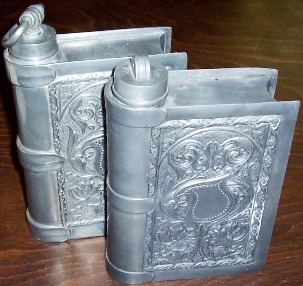 To illustrate my point, this is a photo of two pewter "book flasks," (by Weygang) each being a single book!
.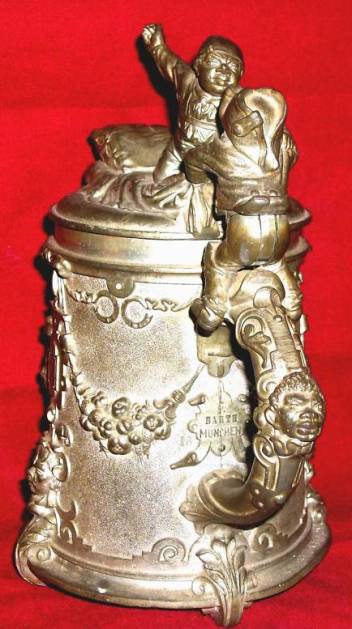 "The Pillow Fight stein" – The last I looked most people had fists at the end of their arms! They are sitting on the pillows, so how this one ever got it's name I have no idea.
Chris Wheeler describes it as such, with it's real name:
Der Deutsche Michel (Michael) is holding off the  French invader, Napoleon III.    See  http://www.steinmarks.co.uk/pages/pv.asp?p=stein744
This stein was made in 1871 to commemorate the German victory over the French in the
Franco-Prussian War of 19 July 1870 – 10 May 1871.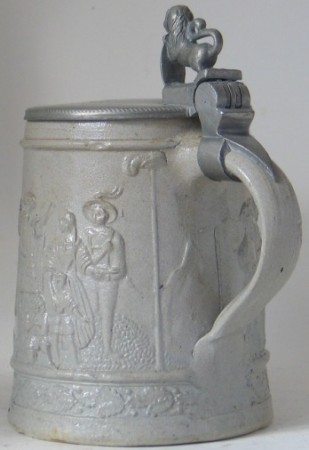 Regensburg  steins –  A "misnomer"that's been around a long time and just will not go away! It pertains to the style of stein shown above.  Most of these all grey, tan or brown stoneware steins were made in the Westerwald around 1860-1880. There were some steins made in Regensburg, but out of imported Westerwald clay.  Their nickname to collectors on the East Coast (DC)  is "Mud Steins.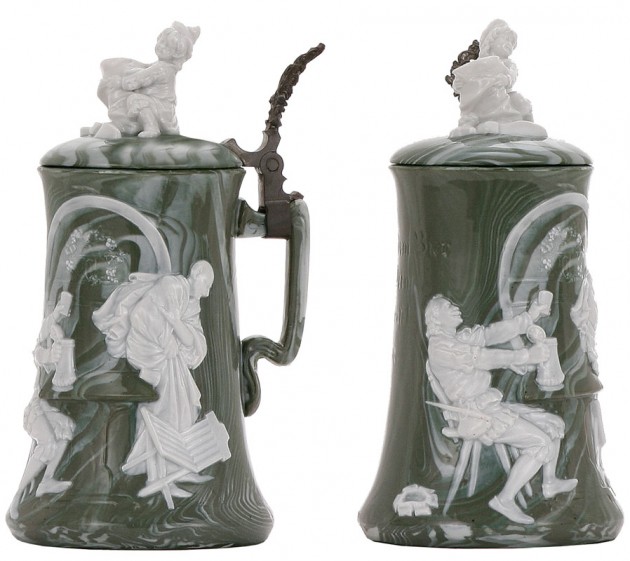 –
Pate-sur-pate — This style shown above (marbleized porcelain, usually green and white) is so called by SCI'ers but it is another misnomer.  Pâte-sur-pâte (a French term meaning "paste on paste") is a method of porcelain decoration in which a relief design is created on an unfired, unglazed body by applying successive layers of white slip (liquid clay) with a brush. The effect is somewhat similar to other types of relief decoration such as Jasperware, but as a mould is not normally used, the artist is able to achieve translucency. Shown: Porcelain stein, .5L, mild relief, with a porcelain lid. As the figures are added and not applied by brush as in the definition above,  these are not real Pate-sur-pate.  [TSACO]
Porcelain, .5 L, Kgl. 4. Chev. Rgt. Konig 3. Esk. Augsburg Munchen 97-99, Reserv. Weber.
Regimental stein – Another  misnomer that's been around a long time and just will not go away! The proper name for these steins is "Reservists" as the German soldiers bought them shortly before going into the reserves. The term Regimental can not apply to all these steins as there were steins made for special units, details, detachments, companies and regiments. The most glaring misnomer comes with the Naval vessel steins the men were assigned to being called a 'Regimental.'
Capacity pegs – A term that has been  used by USA steins auctioneers. IS  this  a misnomer?
NO!  = It is absolutely wrong,;"See Peg Tankards" in Compendium = (Pa-Pi)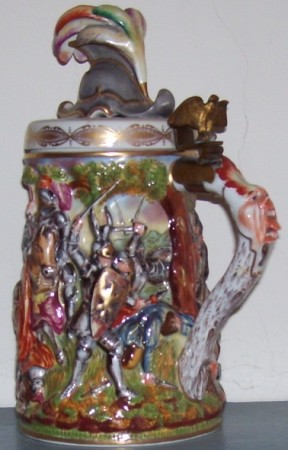 Capo-di-Monte –  Another beer stein misnomer. The steins called this are made out of porcelain with very high relief and brightly colored. BUT –No beer steins were EVER made at the Capo-di-Monte factory! The ones collectors buy now , were for the most part made around Dresden, Germany in the mid to late 1800's. They may or may not have the "Beehive mark" – which further complicates their origin, as that is the symbol for the Vienna porcelain steins of good quality and hand painted scenes, with gold leaf trim.
"Doccia" porcelains steins [see "Caryatid" just below ▼ ▼]  are also called "Capo " by the USA stein auctioneers!  It is a pity to have really good quality items mixed in with what is usually as POS! Shown above ▲: Large one liter, molded relief, from Dresden. Check out the grotesque face on the handle, and the Gilded brass adler thumblift.  [JS]
Caryatid — Female figure used as a support, as in architecture, or as a handle. Shown ▲: This Doccia porcelain stein (in the author's collection) is 8 inches tall and oval in shape like the original ivory piece it was copied from. Being oval it is 4.2 inches wide and 5.2 inches to its longest diameter, the end with the handle.[ FWTD]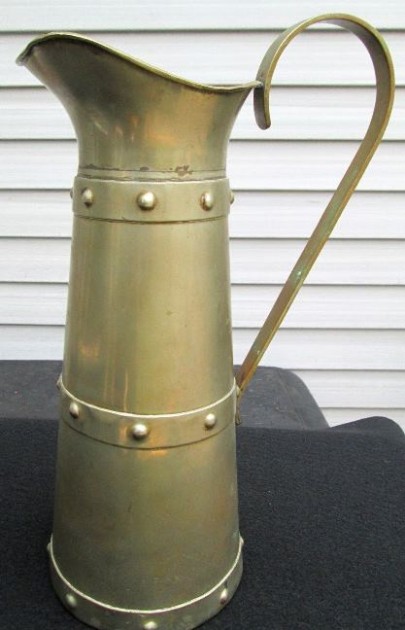 ON AN EBAY AD AS "HAND FORGED"  -WHILE THE 'SECONDARY' DEFINITION ALLOWS A FORGE TO BE A PLACE WHERE METAL IS BEATEN INTO THE DESIRED SHAPE MOST STEINS /  SERVERS LIKE THAT SHOWN  ABOVE ▲WERE MADE OUT OF SHEET METAL AND VERY LITTLE OR NONE  HAND TOOL -BEATING WAS USED JUST SOLDERING OF PREMADE POECES .
AND AT  NO TIME IS HAND CARVED CORRECT.   IF THE WORDS ARE  GOING TO DESCRIBE THE CUTTING OF NAMES,   DATES, ETC INTO THE BODY OR LID  THAT IS "ENGRAVING." 
IT IS ALSO TOYALLY INCORRECT TO CALL THAT PROCESS "ETCHED" EVEN THOUGH SOME NON-EDUCATED MUSEUM EMPLOYEES HAVE BEEN KNOWN TO DO SO  AND 99% OF THE WWW SELLERS ALWAYS GET IT WRONG!!
.
2-14-15   also working OFF SITE ON  stein, vintage & period , unique,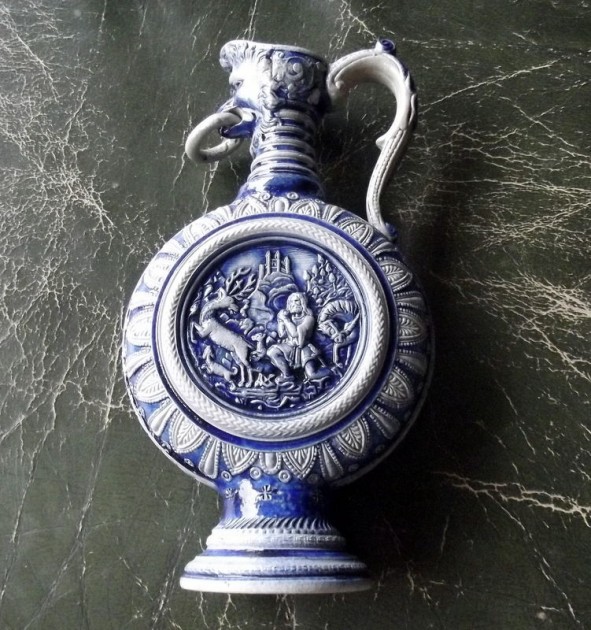 ["ONE OF A KIND"- ON ST. HUBERT'S STONEWARE JUG ]
Mettlach,  castle mark.
Jewish [6 sided] star,
Guild steins,
officer's presents, 
Moser, 
SPIDERS [lithos] , 
VIKINGS ; 
PATINA; 
SILVER KAISER'S CROWN; 
hand carved and hand forged = about a metal stein ,
MARY GREGORY, 
 [END – SNOTOK – 33 – NO R5] 
WISH  TO CONTACT ME?  STEVE (STEPHEN) 

 "The 2015 recession has hit everybody really hard My neighbor got a pre-declined credit card in the mail."