sos-r[Editor's note 6-1-2013l   Anyone interested in Copper, or old mining should enjoy reading this article I did! ~

http://www.rawstory.com/rs/2013/06/01/mes-aynak-afghanistans-buddhist-buried-treasure-faces-destruction/
BRONZE BEER STEINS AND OTHER DRINKING VESSELS:
Steins made out of bronze, an alloy of copper and tin, are extremely hard to find, and when found are "usually" old and expensive, due to the process of making one.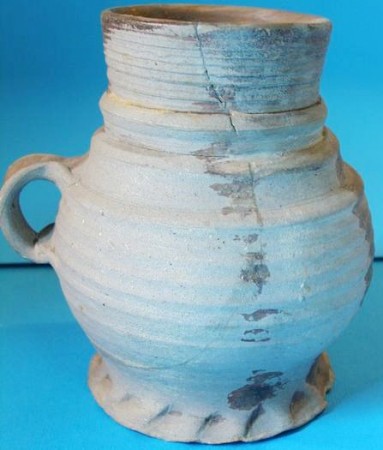 Renaissance  (and very late medieval) beer / water / wine mugs – Shown: A hand thrown stoneware drinking mug typical of those made in Germany around Siegberg, Koln, (Cologne) and in the Netherlands in the late 1400 and 1500's. The Pottery mugs that were used for local drinking are rare to find intact (not restored , most looking at least like the mug above. However some mugs were made in bronze and used by the upper classes for everyday  use. They were still expensive. Remember , that copper was an almost  semi-precious metal back the (bronze being an alloy made of copper and tin ,)
Renaissance [1400 / 1500's] bronze drinking vessels. a couple of nice  examples are shown  ▼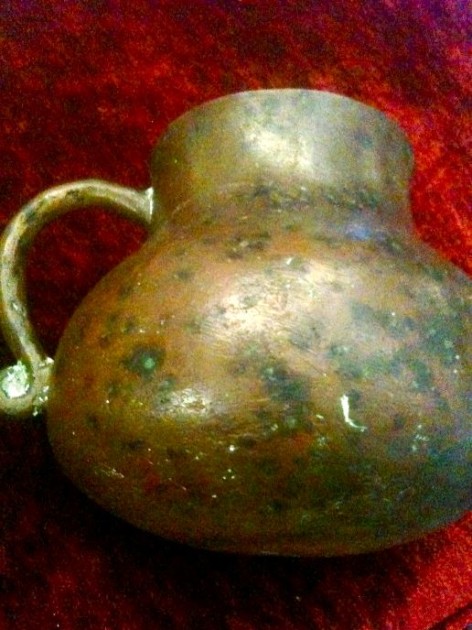 .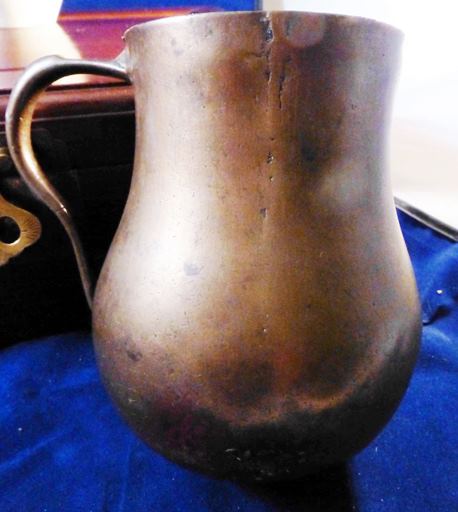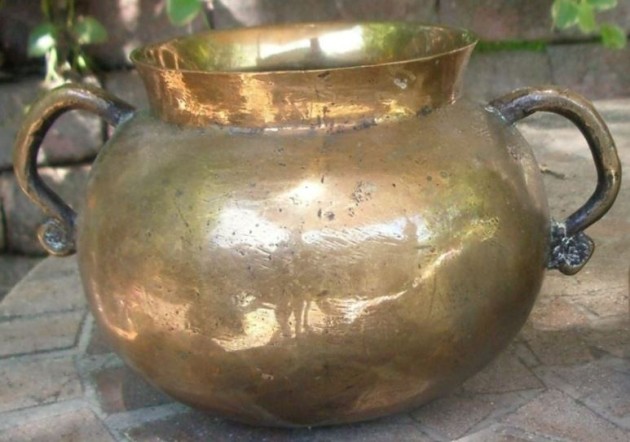 The reader wiil please compare the pig tail handle finial on this pass cup / gruel / soup bowl [?] with the example two above ▲ ▲.
There is a small debate at Smith's Museum and tavern on whether or not this could be a pass cup – I am of the opinion that while this piece might not have been designed specifically for that use, as the lip os larger than it need be, it certainly could and probably was used for that. The handle are well balanced for a quick sip of ale to the thirsty visitor and then passed around the table.!  [FWTD}
To see more on "Pass Cups"  See: http://www.steveonsteins.com/pass-cups-a-short-history-new-12-26-10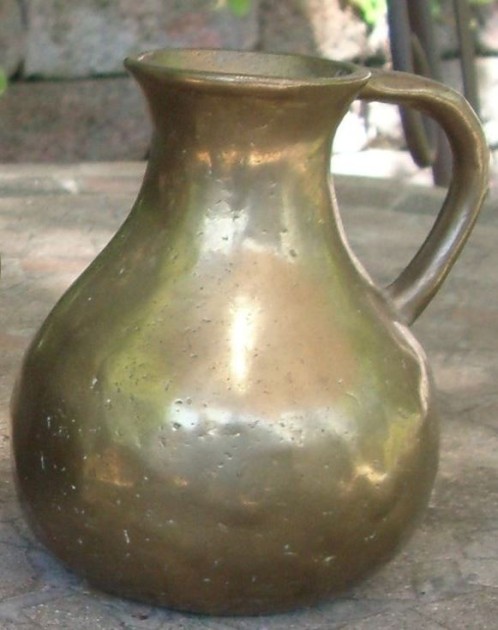 A bronze "towards the end of the renaissance" small bronze wine wine pitcher.   the base is  flattened on this example,  the others above ▲ are somewhat rounded. Two part mold. [FWTD ]
Antique and collectable drinking vessels:drinking vessels:
.The process of adding  less or more tin to the copper and making the shades of bronze range from dark to light (looks golden) makes it a problem for the beginning stein collector in determining real bronze. As bronze is slightly heavier than copper that may give  some indication to collectors, but they should check and rule out the other alternatives (to the weight) as shown and described below. Most so called bronze steins found on the market today are just thick and heavy copper (see the "Hunter on horse" below) that have extreme oxidation.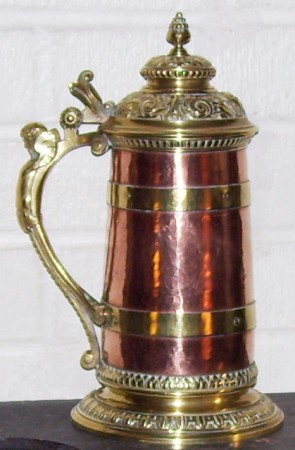 A very handsome but plain stein with bronze base, handle and lid, and a copper body. [FWTD] This stein was made in Austria, Circa 1880, and is the base stein for others that are found with hand painted scenes similar to what the stein auctioneers call "Royal Vienna." (If I can find a photo of one I will post it.)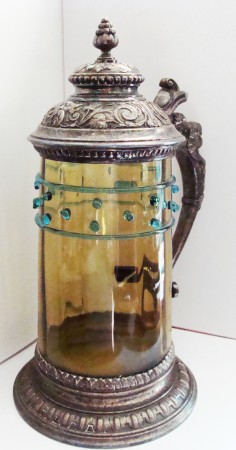 Here is one of the same basic stein with the mounts now being silver plated, with a Theresienthal glass body with blue prunts and ribbing. [JS]
A newer (1950's) bronze tankard from the Kiev, in the Ukraine.[FWTD] The scenes celebrate two of  the city's great monuments.  Malachite stone inserts in both sides of the handles and in the lid.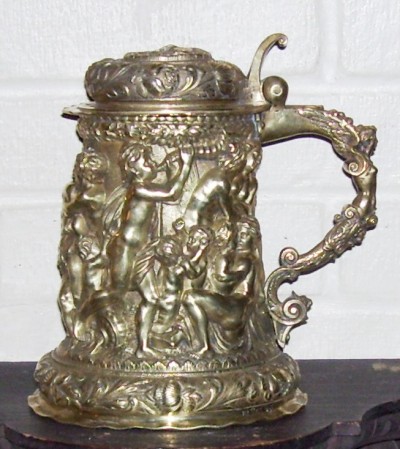 Bronze copy of Dresden's Green Vault's Ivory steins (sans finial.) [FWTD] It was probably made in or around Dresden as an expensive souvenir. See the story under "Silver Tales" this web site.
Bronze copy of a  Saxon / German pewter stein that was produced by many makers in the late 1600's.[FWTD] It has four cast relief scenes from the bible story of "The Prodigal Son." The one shown is the son coming back to and being received by his father. For more info see the Tab, this web sit : "The Prodigal Son's beer stein. An interesting bronze version of an older pewter stein."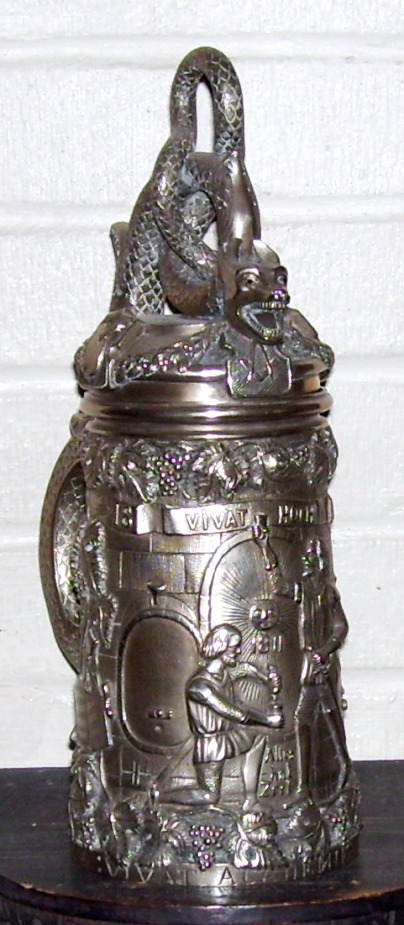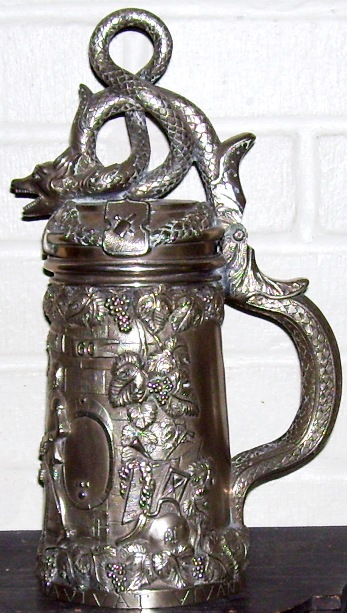 A very heavy 1.5 liter "sand-cast" bronze beer stein.[FWTD] Given as a gift to college professors in 1860 for their assistance in a wine grape blight. The dragon has ruby eyes (not visible on photo.)
The indicator that this 21 inch tall bronze pokal [FWTD] was made in Italy, is the way the 'Coat of Arms" (not really visible in the photo) is shown on this piece, and on another Coat of Arms on an exact piece I have a photo file on.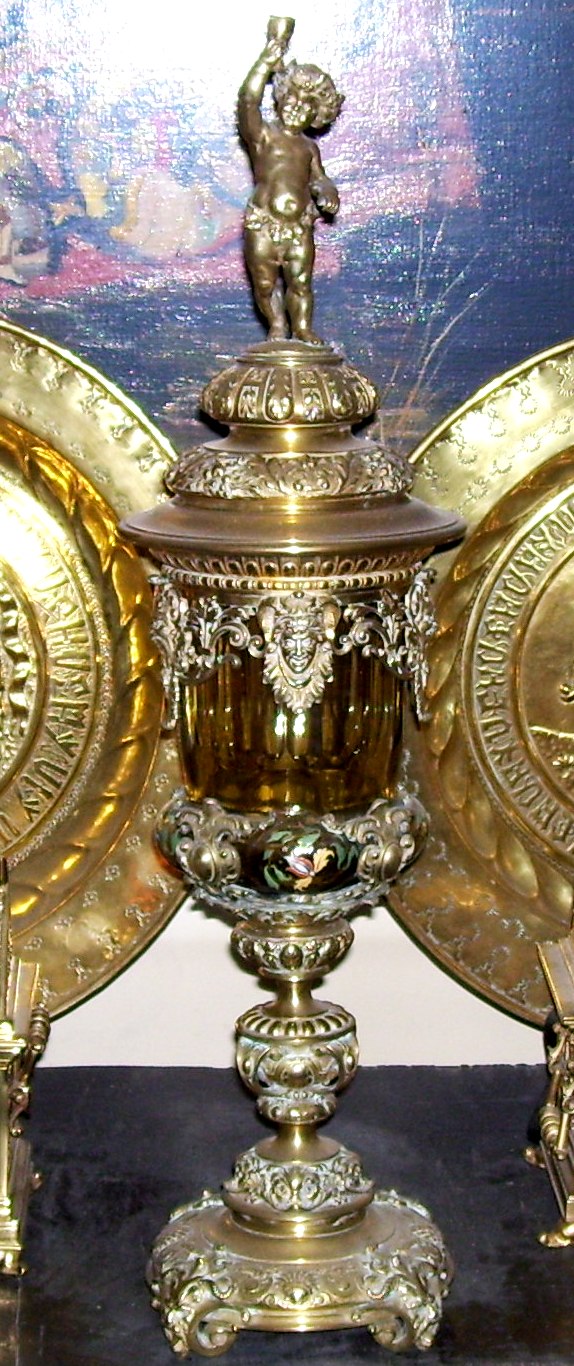 This 25 inch bronze pokal* was probably made in Munich (or Nurnberg) due to the glass being made and decorated  by Theresienthal. The center bottom has the gold lined leaf design that that glass firm was so famous for. Circa 1890.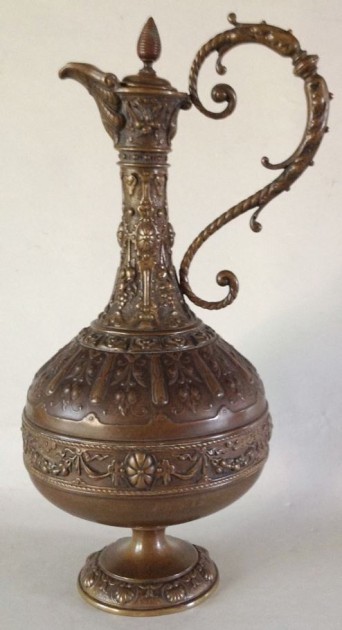 12.5 inch BRONZE (Yes not brass!) wine server from Germany Ca.  1850-  70.  Only Stamped on bottom GESETZLICH GESCHUTZT
JUST LARGE AND HEAVY COPPER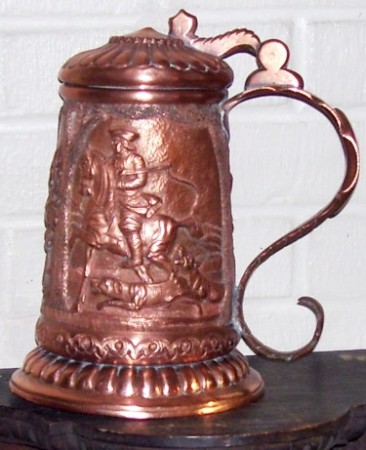 A large, thick and heavy copper stein can be mistaken for bronze too. An excellent chased, relief hunting scene as good as on any silver piece. Austrian- Hungarian. Circa 1850. [FWTD]

LARGE "COPPER CLADS" ARE SOMETIMES CALLED BRONZE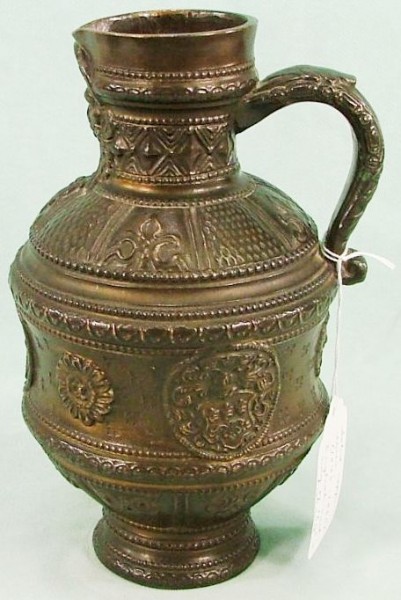 "Copper clad" steins are always German ceramic steins that have a coating of copper put on them by electro-plating. When left to oxidize, in time  the weight of the ceramic body plus the outer copper shell makes them heavy and easily mistaken for bronze. I am of the opinion that these were plated  by an unknown  British firm after importing the steins, especially made for them in Germany. Several dozen examples exist including some copies of Siegburg stoneware piece from the 1500's (See just below), but the idea of "copper clad" beer steins never really caught on. Circa 1890- 1910.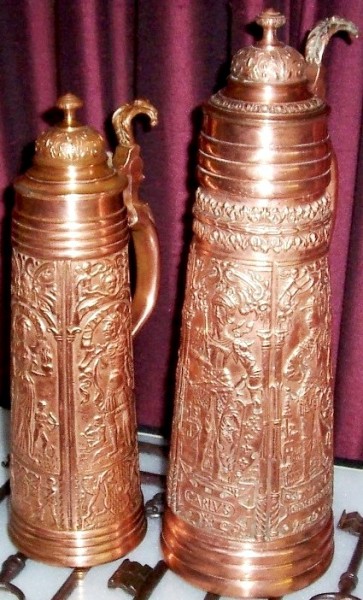 Late 1800's German made copies of 1500's Siegburg steins.[FWTD] Which were then "copper clad"  or "bronzed"  Shined, they look like this.
For a much fuller explanation of this process and more photos please go to:   http://www.steveonsteins.com/copper-clad-beer-steins-draft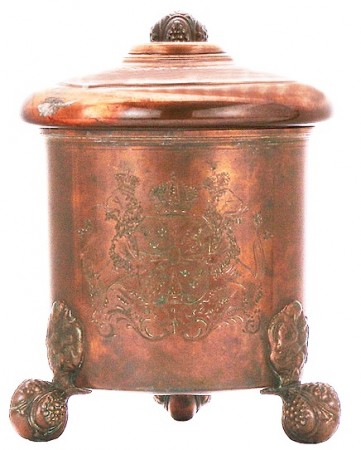 This  "copper plated pewter" stein  might be mistaken for bronze due to the weight. This one is from Stockholm. Sweden; F. Santesson made. The country's Coat of Arms is engraved on the body front. Circa 1890.
BRONZE PLATING WITH ITS PLATING STILL INTACT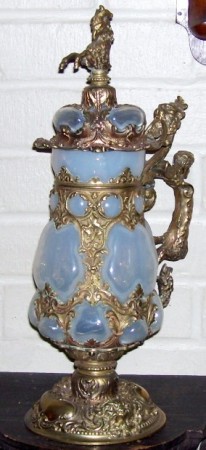 This "well thought of" beer stein (see oil on canvas just below ▼) was bronze plated over copper (or Brittania metal) [FWTD] , as it is a good and sturdy material. Plated pot metal = zinc, which a lot of faux bronze statues were made out of  in this same time period would / will  dent and bend easily. Circa 1880. German. Maker unknown.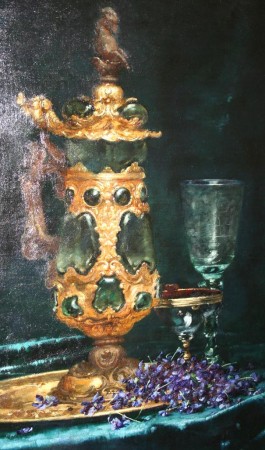 Art work of the above.
WEIGHTED COPPER BASED  STEINS, WITH BRASS MOUNTS AND WORN AWAY SILVER PLATING.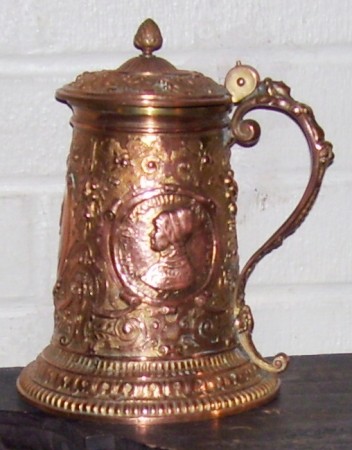 As described just below, but probably made for the Dutch market.[FWTD]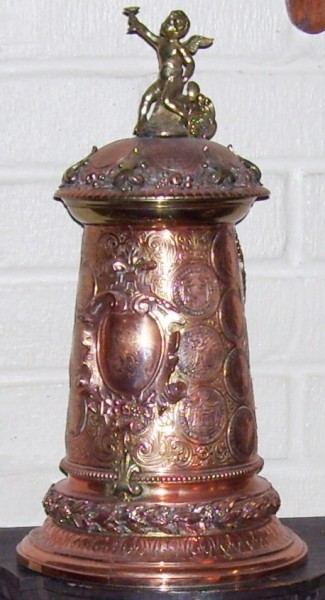 A "faux" coin stein done in copper with brass, and then silver plated. [FWTD]  German. Circa 1870. These are heavy and when the plating  is gone / worn off ( or stripped off!) as on these two examples they can be and often are, called "bronze" by the misinformed.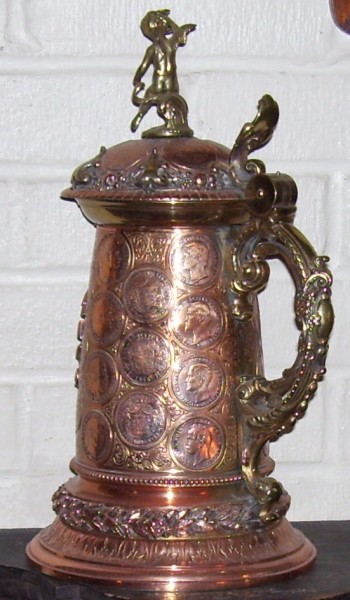 Rear view of the above stein.
MEASURES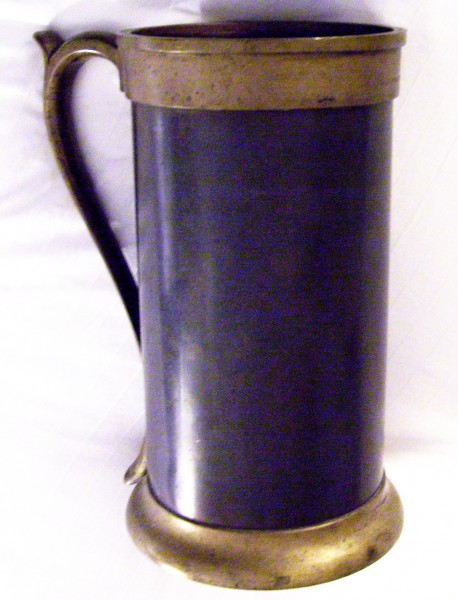 A liquid (beer?) measure. [FWTD]  These were used throughout the world to guarantee quantity. Copper base and rim with a bronze body. State of Ohio; one gallon; Circa 1910. Probably kept at a US brewery for quality control.
Shown below are two other smaller examples of bronze (and copper mounted) measures, essentially the same components. Top comes from Poland – Bottom one  comes from Russia.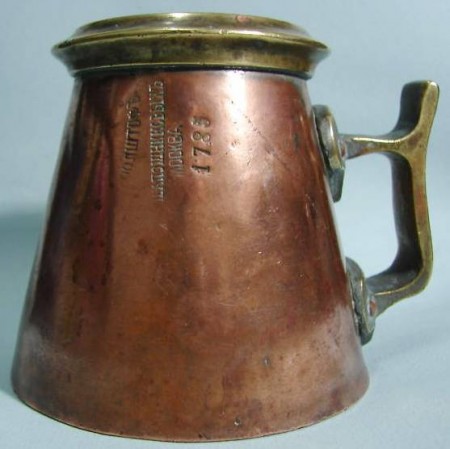 BRONZED LIDS AND STEINS  

"Bronzed" – A plating process that was applied to: [1] pottery beer steins, giving them a copper coating, which when aged, looks like bronze, described above. [2] the copper coated 'spelter' lid inserts on some glass steins, especially on "Hob Nail's"(or as the German's call them "Hedge Hogs.")
STEVE'S SPECIAL NOTE ON THESE LIDS:  DO NOT USE ANYTHING HARDER THAN A LIQUID SOAP AND A SOFT TOOTHBRUSH TO CLEAN THESE!! THE COPPER COATING [ON THE MOLDED SPELTER] COMES OFF QUITE EASILY!!
Also see page: http://www.steveonsteins.com/lid-review-old-and-new-2

A copper clad Westerwald 3 liter relief stoneware stein showing three early Frankish kings: Pipen, Charles Martel, and Charlemagne.
For much more info on these copper clad steins please see page::

http://www.steveonsteins.com/copper-clad-beer-steins-draft
[END – SOK – 27 – no dd]

"Give a person a fish and you feed him for a day. Teach a person to use the Internet and he won't bother you for weeks." [Dumb, hey ?]