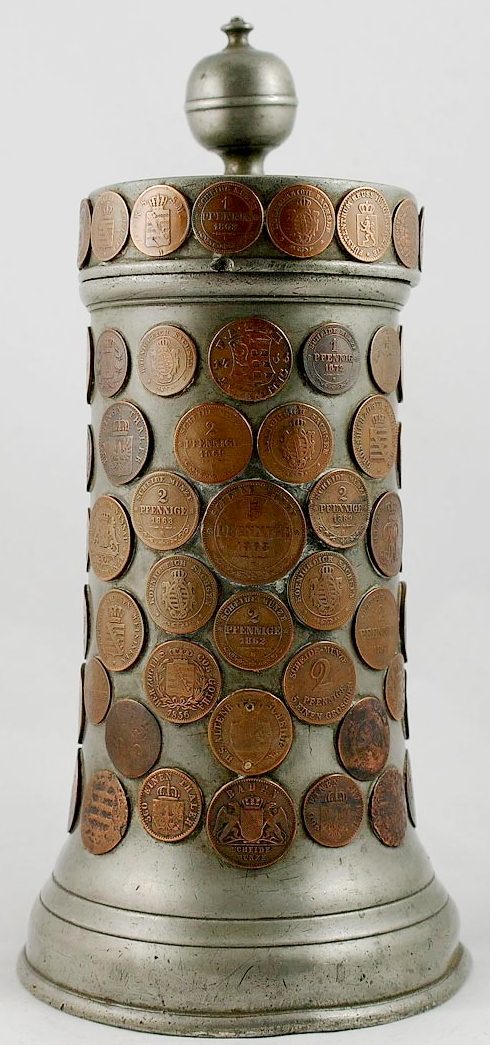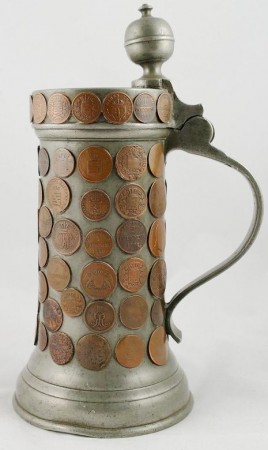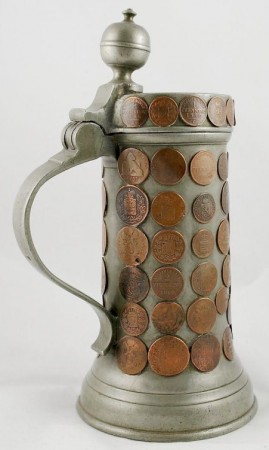 Zinnkrug  –  Münzhumpen 1821. (Comps. eBay's  "langorium") I was the runner up on this one, 2-2013!

The following group of photos is merely a display of coined beer steins, called "Munzhupen" and "Muntzbechers," or "coined beakers." The idea behind this page is only to give the new stein collectors an overview of what may be  found out there in "Stein World."  And as any new collector might surmise, the ones made of .800 or .925 silver are most expensive, but rarely over $20,000. Many true pre-revolutionary Russian steins can be though.

So what is there to say about this subject?  Well first these are some of the most collected category of steins in the "Antiques World" culture, not just the beer stein boys! As stated above, this is most especially true of ones made out of real silver, and not "silver -plated wares"; although the prices some of the larger silver-plated (S/P) ones command is pretty unusual also (see below.) There is a lot of interest in serious coin collectors buying these, as this is an example of  a "cross over" collectable.
Silver plated examples: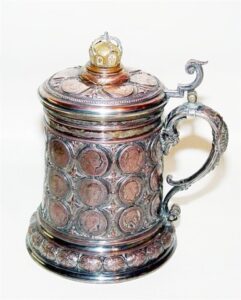 A nice silver-plated example. The Imperial Crown of Germany has lost its small cross on the top of the lid.  This defectis found on says 30 to 50 % of the examples seen; a very vulnerable spot and most likely hit while placing the stein away.  Shown below: What this piece looks like having lost most of it's silver. It may cost about $400-500 in today's market to re-plate this piece. It might be cheaper to have it un-silvered and clean it up as a copper piece and display it that way. .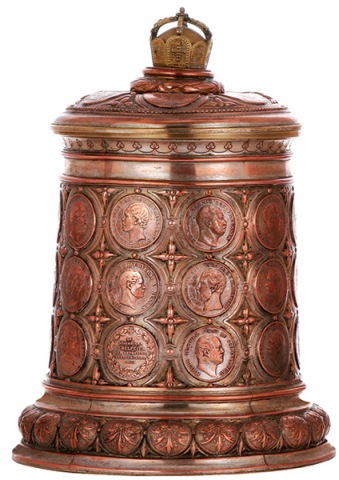 Just as above  but without its silver plating; showing real age cracks to the copper base,  bended copper tends to crack over time -n lots of examples, not just steins.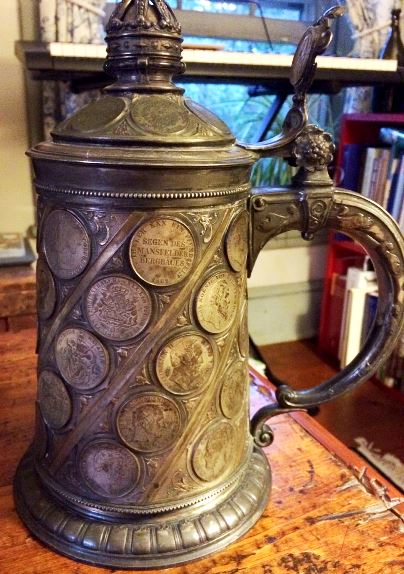 Above – a larger example checking  in at 11 inches, but having lost the little  cross on the top of the crown.
.
PHOTO MISSING 8=8=15
Photos of the crown and the coin in the thumblift.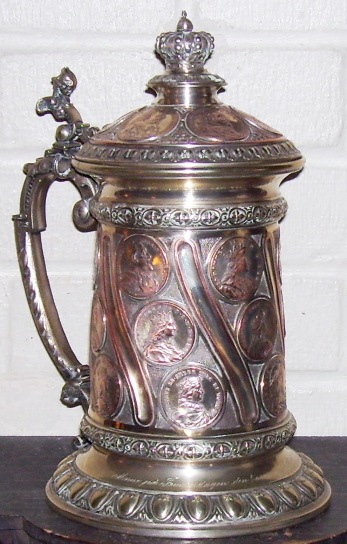 Another crown topped S-P coin stein; Sweden 1896 about a 2 liter. Others from that country have not been seen at all – but I am certain there are some "out there."
This example was also silver-plated long ago and has lost almost all of the plate. This series (there are at least ten) are extremely heavy! When really shinned up the copper base metal  body and lid really makes for a nice display piece. The one shown as I found it, was worm, oxidized, and filthy. Lots of "elbow grease" required to make it presentable. Circa 1870-80.  Photo of cleaned up version below. [FWTD]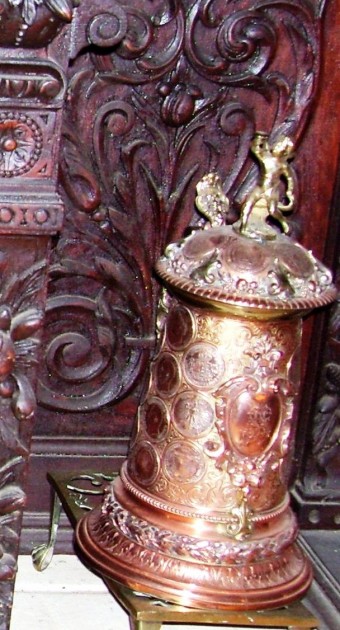 Brass  relief. Approx.  2L. 18 coin  impression, not coins,  grotesques faces and a lion finial. Figural man handle.  [RFA]
It is my observation that the rank order of popular coined pieces seems to be: [a] silver (.800 first as it was a very well liked German custom). then [b] sterling , [c] pewter [the introductory photos are an example of this], [d] silver plated, then [e] real copper (not S/P that has lost it's silver), then [f]a few miscellaneous base materials. Almost anything with real old German coins on it sells for a lot more in Germany than here in the States!
PEWTER:
A 2L Pewter "Muntzhumpen"  with "Germania" as the finial. This one is more popular in Germany than here for obvious reasons.
Of note here new collectors: "the coins" on silver-plated and pewter pieces are [almost] always found to be molded impressions of coins and not the real thing!  Which can be very disappointing if the piece is bought at a mail bid or internet auction, and one not knowing that in advance.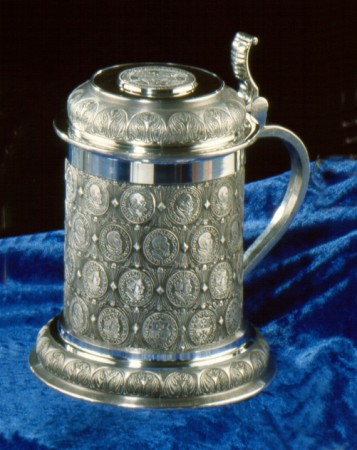 A "new" pewter stein, highly shined with "faux" coins attached.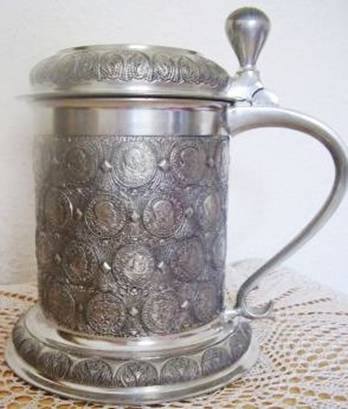 Above and below: two other much newer pewter coin steins.
Pewter stein as above, with a wider brass band and thumblift slightly different, but the body made from the same mold.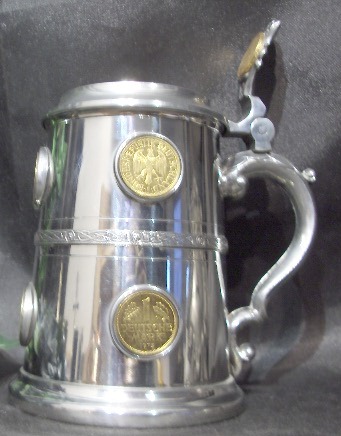 One of the latest entries into the field. An English pewter stein with older gold plated European coins. -Seen on Germ eBay, early 2013: "Prächtiger Zinn Humpen mit Zertifikat gepunzt  –  Hand Crafted in Sheffield England.
.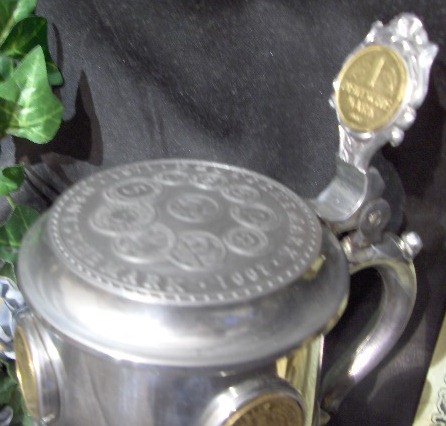 COPPER EXAMPLES: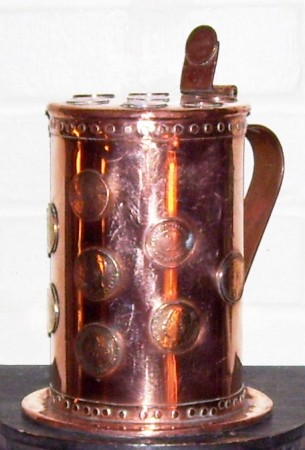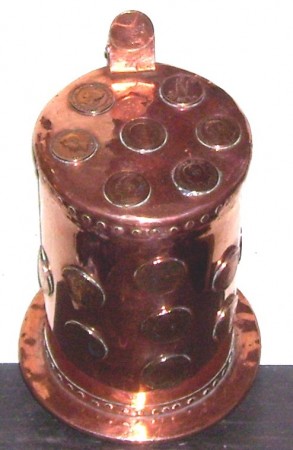 A hand crafted copper stein. See the small coin on the thumblift. Given the design and workmanship, this stein was probably was made by a machinist on a German ship during his service time.[WWII?]  Unfortunately for the world he didn't sign it or leave a notation. [FWTD]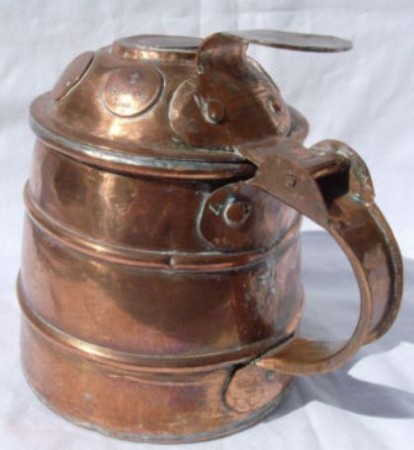 Copper; Bohemian made (the rolled edge of the handle is the give away,) mid 1800's. The dates of the coins, only on the lid, range from 1820 – to 1836.
NEWER  SILVER STEINS: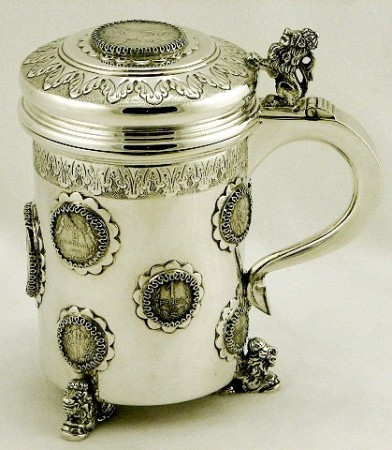 Made for and distributed sometime in the 1980's. by "Rastel" (20th century Stein makers – see this site's Compendium for more info) in Germany.  There were a series of  nine steins. All with older coins in silver mounts on the body; not cut and soldered onto the body like in older versions.  These were just stuck in the fancy silver-soldered on roundels. See ad copy just below: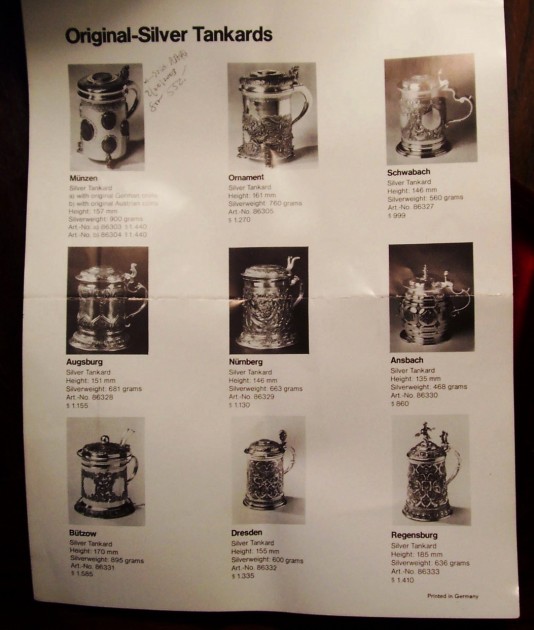 Newer coin tankard – Most likely made by the Rastels' silver steins supplier. This sold for  $1500.00  [+] 22.5%,  at Doyle's Auct. in NYC, 2008 or 2009. If it were truly old one might have to ad a "0" to the selling price.
SOME SILVER COIN BEAKERS: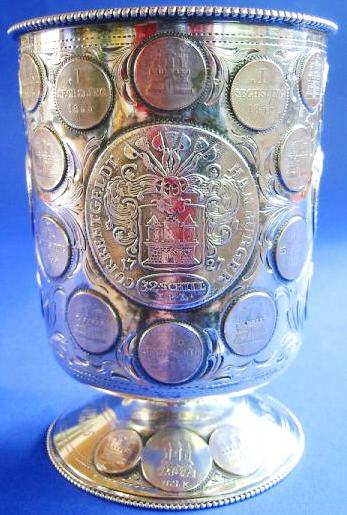 This seven inch beaker  would not have come cheap originally either.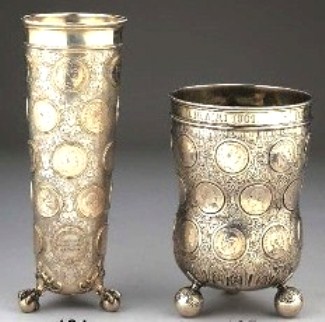 I wish I knew more to tell you all about these two. The photo came from an on-line auction I believe.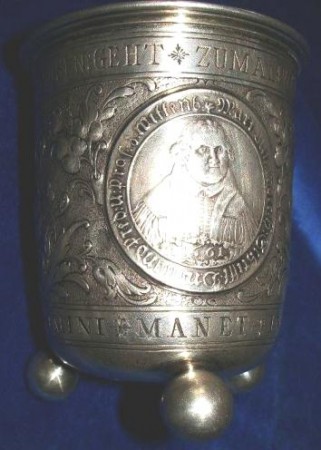 Coined beaker, 3.8 inches. A lot of the older beakers, say the 1600's  and early 1700's), were very tiny, given the price of silver back then.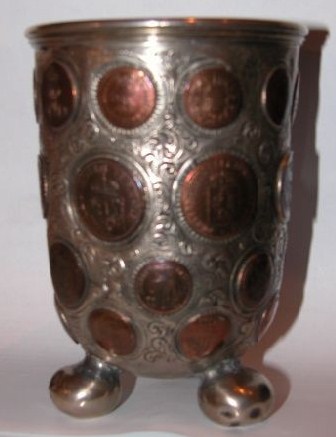 Coin beaker, early. The copper and silver coated (now worn) coins are call" billlon."  The seller wanted 600 British pound sterling back in 2005. WOW!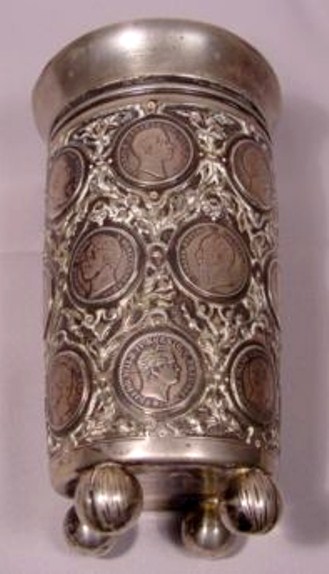 Coin beaker, German, .800 silver. This piece had an added lip which was held (not well) by regular solder when I bought it off eBay. The lip didn't last long in my hands. The point here is to blow up the photos as big as possible, and ask questions!! (In this case I did not!) Still a great little piece as "four footed" beakers are scarce and I did manage to get all the solder off !) [FWTD]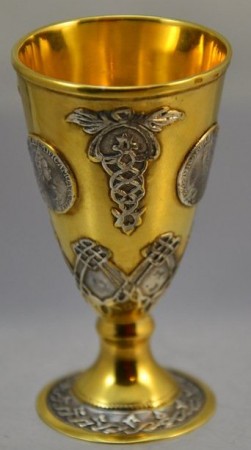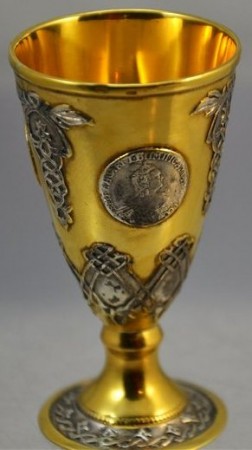 This newer, but attractive, only 2.9 inches tall, wine cup / footed beaker is being sold in Germany now. Older coins of course.
POKALS: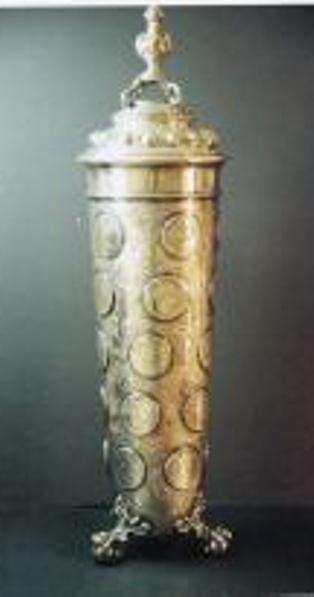 Coined "Pokal"  =at 17.25 inches with 26 coins attached this was a very desirable piece. No real info. Probably German  .800 silver, and Ca. 1850 or so.  [PHOTO = NO ENOUGH PIXELS  – OR TOO FEW "PIXIES?"]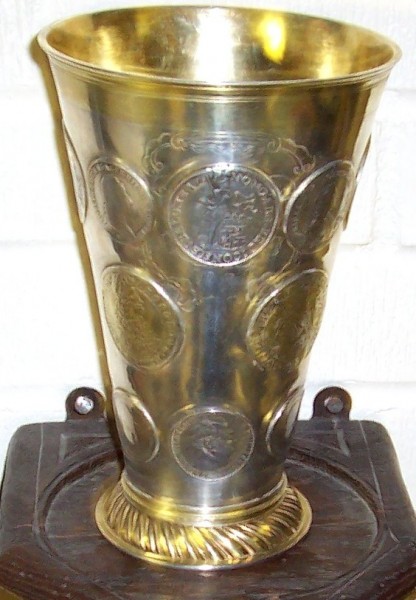 An eight inch tall Baltic (Estonian) silver coin beaker with 18 coins imbedded into the body from four separate eras / places / owners. A larger coin from the 1700's graces the bottom. [FWTD] The earliest coins are from the 1760's. Coin  beakers and coin steins are highly collectable (and very pricey in Europe.)
SOME GREAT 'OLDER' COIN STEINS IN SILVER = THE QUESTION TO BE ASKED ON MOST IS: "DO I HAVE LOTS OF $$,$$$.$$'s?"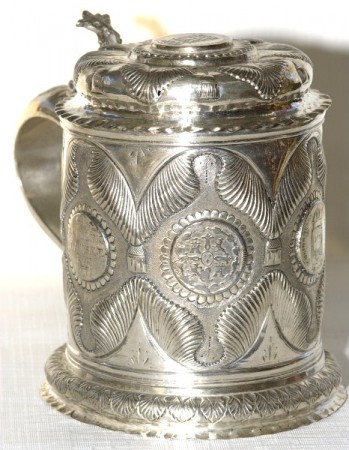 Hand engraved and coined  stein, with Danish coins. This is not thick silver but then I didn't pay much for it = $300.00, as it was totally filthy and the seller thought it was pewter. [FWTD] "Even a blind dog gets a bone now and then!"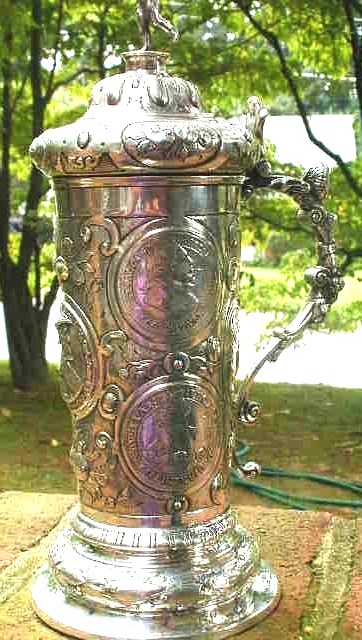 Coined "Roerken," 9.5 inches to top of finial. Made about 1880-1900 in Hanau, Germany with its marks. The coins are from the 1600's. [FWTD]
Hanau was a center of silver production in Germany that was unregulated by Guilds, therefore a "free" city that would mark and produce silver according to the demands of the market. The silversmiths of Hanau specialized in producing reproductions of 16th, 17th and 18th century pieces of silver, mostly of German or French design.
They were considered so skilled, that special orders were often made, with copies of original marks, in order to deceive, and experts today often have problems differentiating Hanau copies from the original items. When pieces were legitimately made for the market, different pseudo-marks were used depending on the company and the country from which the piece being copied originated.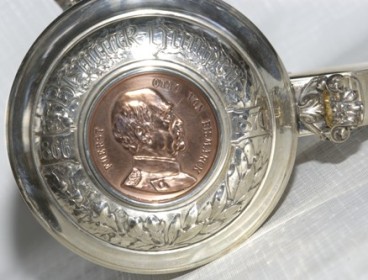 Lid detail of copper medallion on the stein below.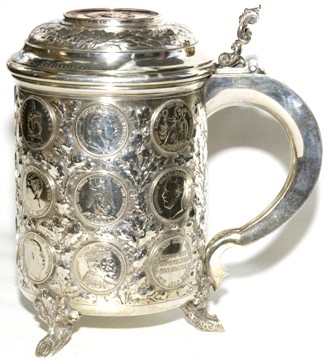 German, marked .800 / crescent / crown. 10 inches tall. Has the large copper plated medallion on lid celebrating Count von Bismark. [FWTD]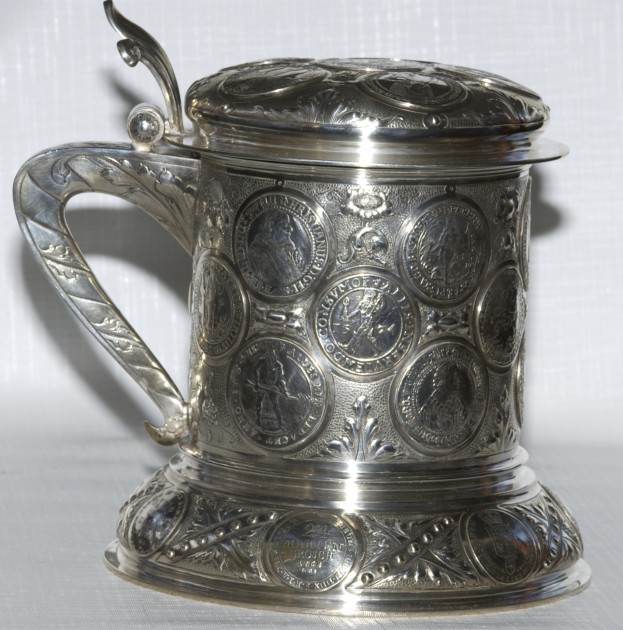 A massive (8.5 inch tall, 8 inch wide base) German, .800 silver stein with 16 large coins on the body, 6 more on the lid and 7 around the base! Circa 1900 – 20. Didn't come cheap but it was sold to me by a Georgetown, DC dealer as a "humidor" as some ambassador he bought it from used it to keep his cigars in it. I kid you not. [FWTD]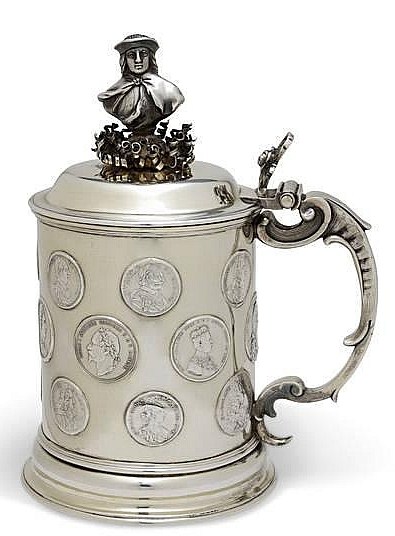 Swedish parcel gilt silver tankard inset with medallions – coins by G. Hammer, Stockholm, 1866  height 9in (22.8cm).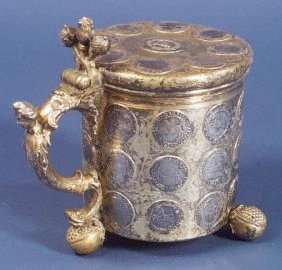 Sorry, no info on this gem. I believe it to be of Baltic States origin.

Coined stein – For sale at Christie's – Dutch,  1700's, Estimate was 5k Euros.  3-2003.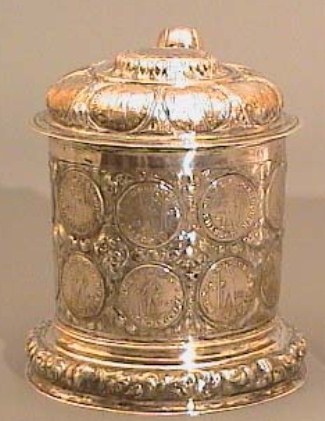 German with a lot of nice work around the coins.  Est. was $6K to 8K's at a J. Vogt's auction. Munich,  Aug. 2002.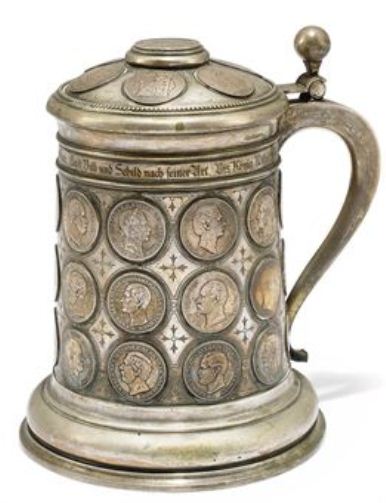 SILVER COIN TANKARD , German , 18th century form, Marked SY & WAGNER, BERLIN, Ca. 1900.  This sold at Christies,  2009  for only $3,453,! Unusually low price as Sy and Wagner were quite famous silversmith and took over the practice of George Hossauer and became the suppliers to the Prussian Royal Court.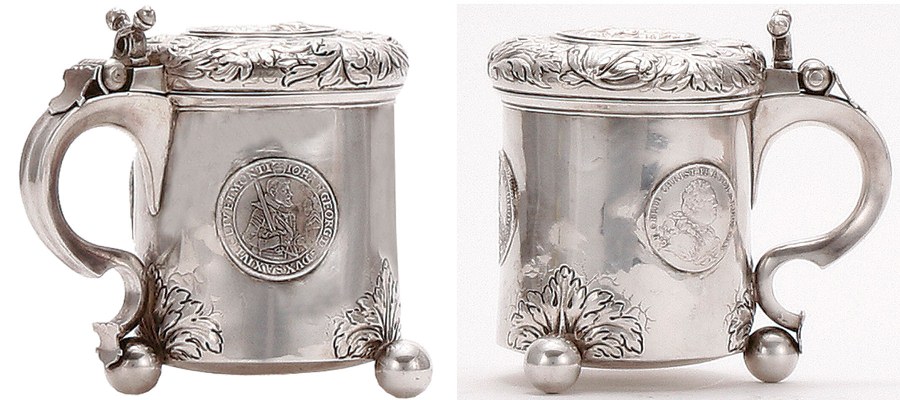 .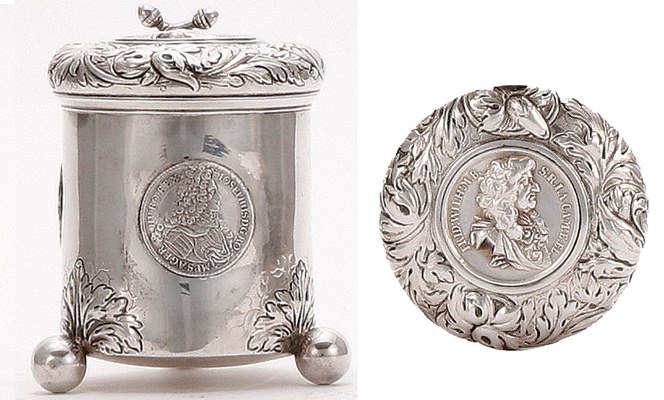 Just a nice little Danish piece,  Ca 1700's [?], probably made for a lady.   [TSACO]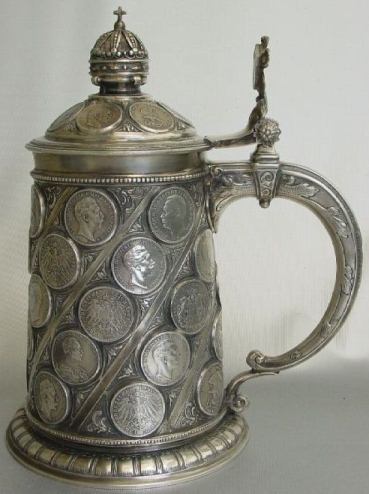 The original .800 silver version of a much copied in silver-plate coin stein. The difference is in the coins that are displayed  on the rows.This one sold cheap [I think] in 2007 for about US  $4,400.00. And dumb ole me didn't bid as I thought it would go much much higher!
Struck hall mark of Riga with a year letter E for 1768. Sized for a lady.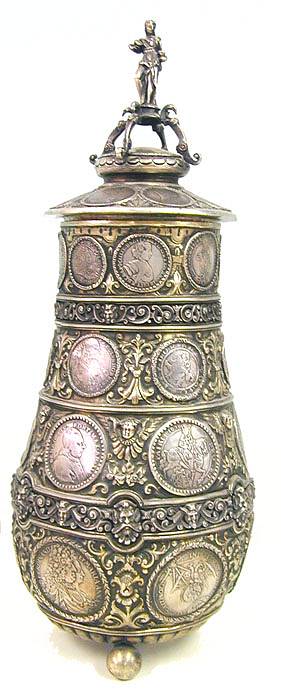 European / Germany [?]. Ca. 1700's. 14.4  inch tall 27 coins  $8,000 to start bid.  7-2004. A very unusual design. Nice detail work though.
.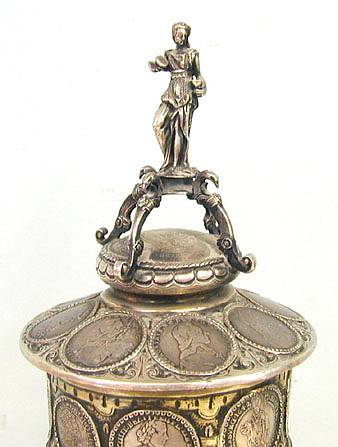 Detail of lid's workmanship.
Henry Lewis, London 1896,  peg – cast iron thumb.[Ed.Questions this] , inscribed to the base "This Tankard Weight 33oz was made to receive 39 coins of English history" – 24cm high,

Gift from  the German Imperial Family to Count Herbert von Bismarck.  (@ GERM AUCT. ) 11-12.  Ht. 28cm. Nine silver coins set into the base, three offset bands of 24 coins total decorate the outer surface. Seven on lid.  Unknown sales price but not a "Buck-98!"

[ AWPD – NOSP  – 53 – R5]

    "If a turtle doesn't have a shell, is he homeless or naked?"