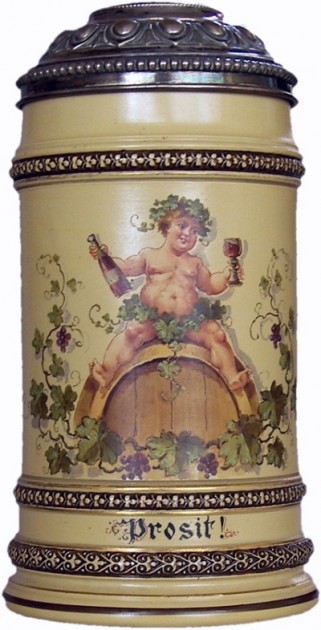 FRIEDR. VAN HAUTEN OF BONN, GERMANY:
A .5 liter V & B, Mettlach, No. 289 stein, decorated by van Hauten, with scene of a young Bacchus. [Walt Vodges collection.]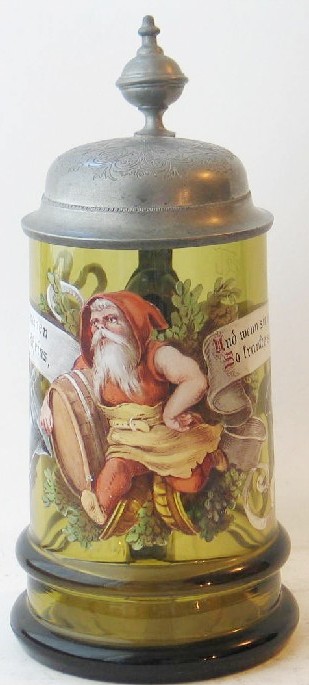 "This stein belongs to my collection called, "From Which To Drink." It is a blown glass stein (most likely Theresienthal glasshütte) with an enameled figure of a gnome or Heinzelmänchen toting a hooped wooden cask (small barrel) tucked firmly under his arm. He wears a light red suit with leather apron and leather shoes. He is surrounded with hops buds and vines, leaving no question about the contents of the cask."
"The verse on the body reads: "Es wohnten die alten Germanen zu beiden Ufern des Rheins. Und wenn sie das letzte getrunken so tranken sie immer noch eins." = "The old Germans lived on both shores of the Rhine. And when they drank the last, they drank another still."
Below: Excerpts from an article published in "Prosit" on F. van Hauten by Walt Vogdes, SCI M.S. (written about the stein above and others.)
"In the June 2003 issue of Prosit Ron Fox and John Lamb wrote about the decorating firm of Friedrich van Hauten of Bonn. The article explains the distinction between the large manufacturing firms – factories – which produced the stein bodies, and the smaller firms which found their niche in decorating or finishing steins, often to fill special orders for well-to-do families or for members of a student association. Large stoneware, porcelain and glass factories produced fully decorated steins by the thousands, and they sold to a broad market. At the same time, they were quite happy to produce blank bodies for the specialist finishing firms who, operating on a smaller scale and were able to devote their attention to the artistry of their products and the desires of their end customer."
"Many of the steins decorated by the van Hauten firm, particularly the glass steins, are instantly recognizable by their heavily enameled scenes or verses,*** usually shown in a medieval style, and their elaborate pewter work. When they departed from their favored medieval style their works may be harder to recognize, especially when fitted with simpler pewter lids. Fortunately, most of their designs on stoneware steins are marked, and we have examples of a number of variations of the trademarks they used."
"The quality of the enameling is quite enough to draw attention to this stein. Looking at it from all angles we discover a van Hauten signature applied at the base of the handle, right where it is attached to the body. This was the first time a van Hauten mark has been noted on a glass piece. This firm produced many steins bearing hand-painted coats-of-arms, decorated to order both for families and for university students. The fancy pewter mounts appearing on almost all of the van Hauten medieval designs are unequaled. When decorating stoneware, Mettlach blank bodies seem to have been the choice."
"The custom-decorated steins depicting coats-of-arms can frequently be traced to noble Germanic families or to historic student societies.***** While the output of the van Hauten decorating firm did not approach the quantities of the large – or even mid-sized – factories, their products were "top shelf" and undoubtedly commanded a high price at the time."
*** Editor's note: I am of the opinion that the designs on the medieval ware pieces were heavy touched up POG's (prints over glaze .) I can see no evidence of originally on these when viewed and studied side by side. (Still . .they are very well done, and attractive!)
***** These were hand enameled.
FOR MUCH MORE INFORMATION ON THIS ARTIST .PLEASE GO TO RON FOX AND JOHN LAMB'S 'S ARTICLE, PUBLISHED IN PROSIT:
http://www.foxauctionsonline.com/Steins%20by%20Friedrich%20van%20Hauten.pdf
MISC. PHOTOS – WITH REALLY NOT MUCH ORDER OF TITLES ▼:
OLD GERMAN SAYINGS / VERSES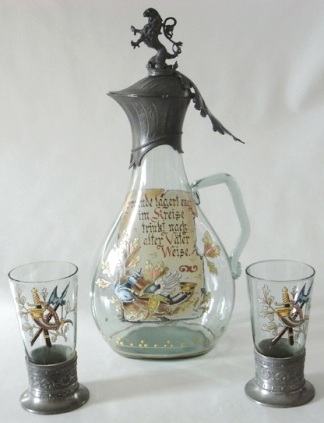 .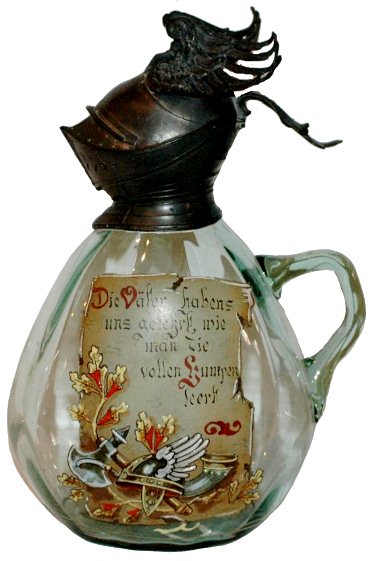 Body decoration appears as above ▲, but it is a different verse! Slightly different body and with a different cap and with a smaller rounded glass handle. [RFA]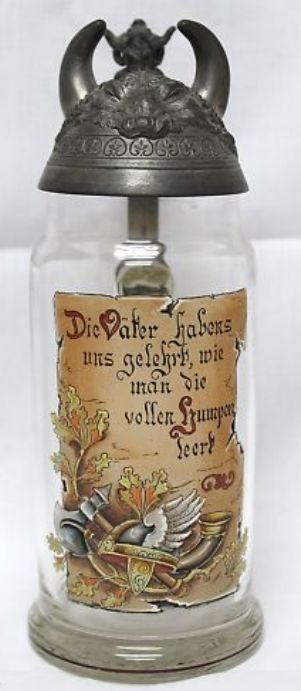 Same verse as just above ▲, and the same "trophy" display at the bottom.
.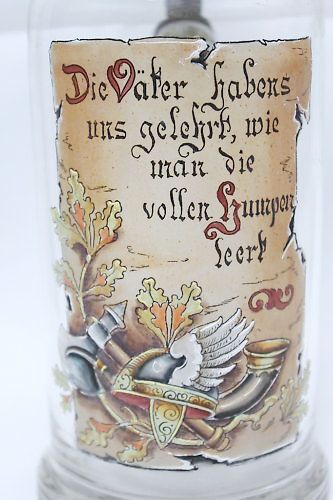 Detail of above decoration showing "Old German" attributes :The drinking horn, a winged helmet and a battle ax.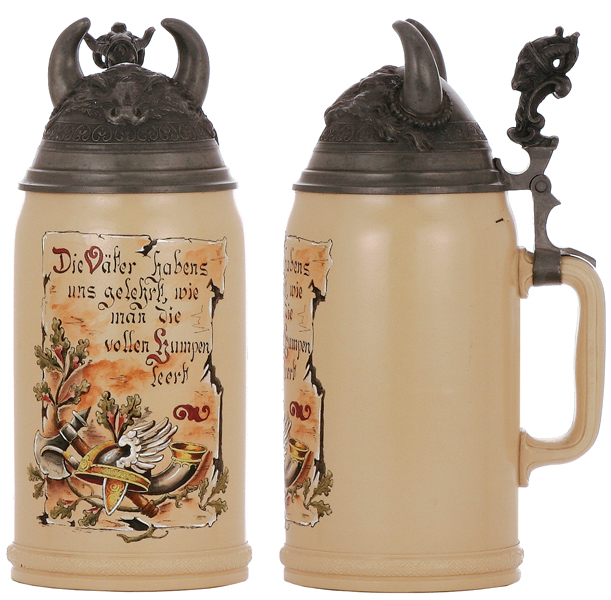 Verse same as just above. This one on a V & B Mettlach stein, 1.0L, 285, [TSACO]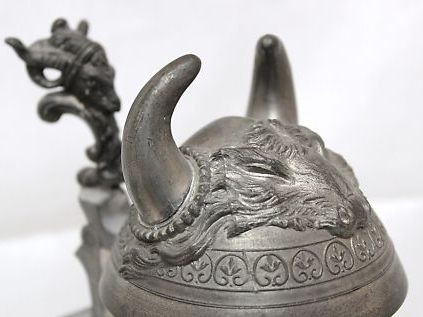 Detail of lid's pewter work. Unknown pewter maker. van Hauten either had his own pewter fabrication shop or he had a master pewterer such as Jos. Lichtinger in Munich, under contract with a stipulation that all the thumblift and cap designs would not be used elsewhere.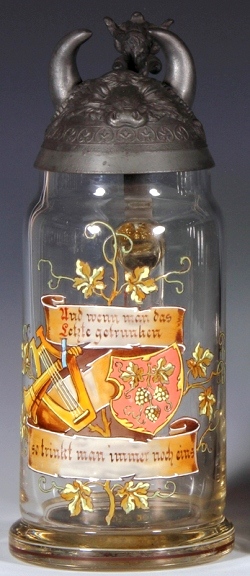 Another version of the same one liter blown glass mold as 5 above ▲, but a different scene.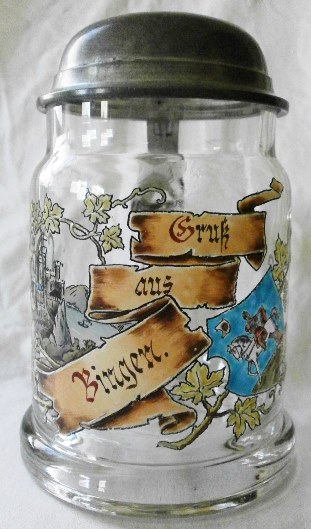 Same body style as above only done in a half liter size.
A one liter wine server. A very different type of decoration design.
COATS OF ARMS ("NOT CRESTS!") – NOT FAMILIES.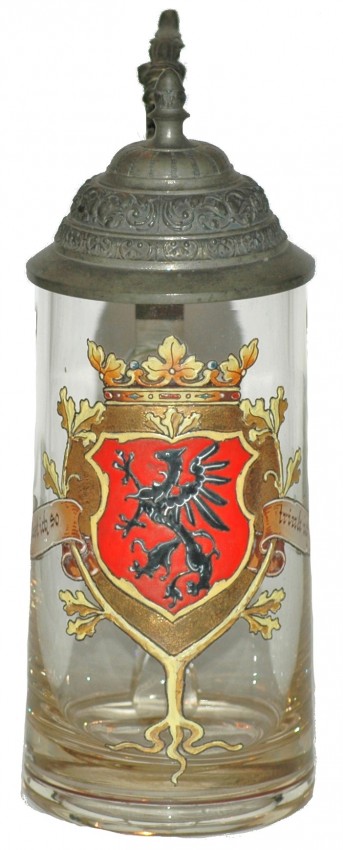 One liter blown glass, enameled by v-H, unknown Arms at present.

FAMILY "COATS OF ARMS" ON V & B METTLACH BLANK STEINS.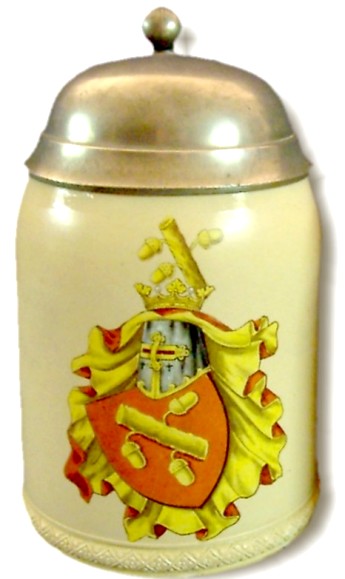 Eichendorff family [FWTD]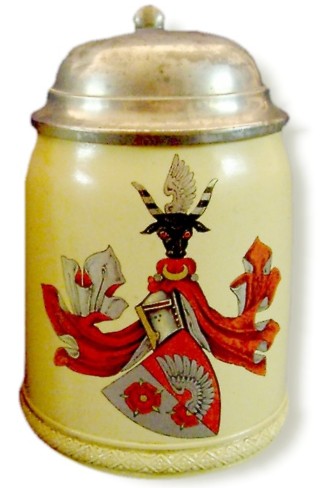 The Luxembourg Royal Family's arms. [FWTD]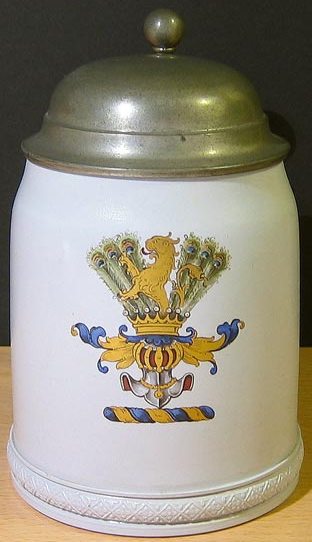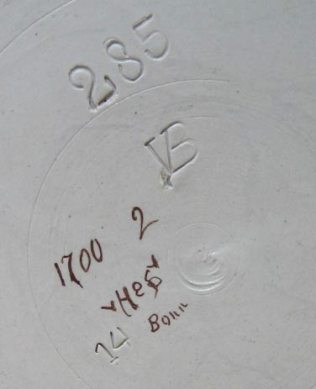 [L] Unknown "arms," but with a "Torse", so most certainly English. [R] The "vH / Bonn"' marks on V &B steins most often appear as such ▲. [FWTD]
STUDENT SOCIETIES – CLUBS, FRATS AND DUELING: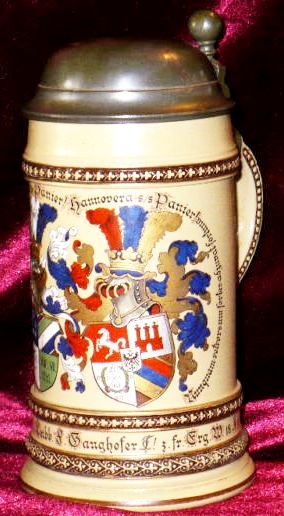 A friend of mine "stole" this one off eBay in early 2011- Dual dueling societies' coat's of arms on a stein are very, very collectible! Not to mention it was decorated by van Hauten's shop, and the stein's body was made by V & B Mettlach. Below: Mark on bottom.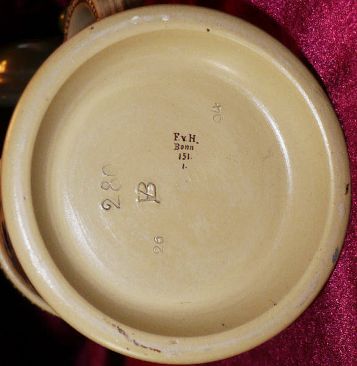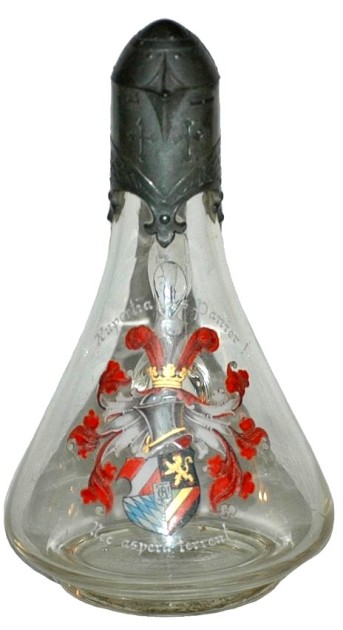 A German university Dueling Society server [RFA]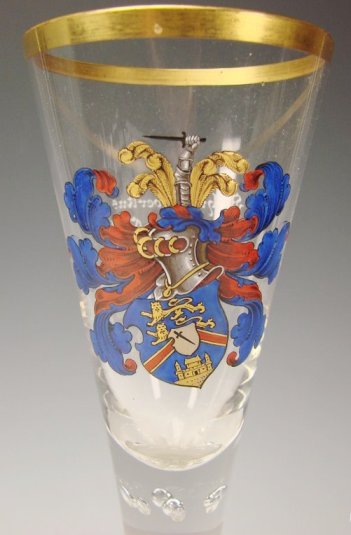 Student society, Detail above▲ A very tall blown glass "flute" at 11 3/4″ and 3 1/4″ diameter across the top. The glass is most likely by Josephinenhütte. (SD)

[RFA]
A singing society. Rounded glass handle,
I think this lid is painted gold and not gilded.
A "van Hauten," smaller server, painted for the Corps Teutonia, one of many 100's ofGerman dueling societies.
[YES, PHOTO STINKS, SORRY, BUT WAS NOT MINE!]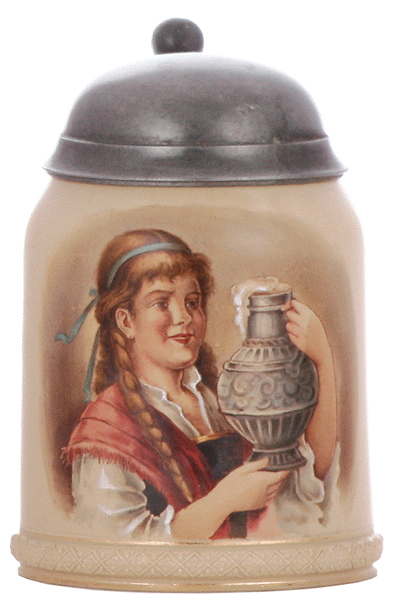 On a V & B Mettlach, .5L, No 284.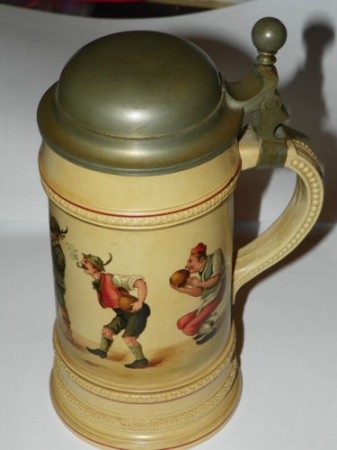 A "kegels stein." A V & B Mettlach #280, hand painted [?] and signed by van Hauten.
ENAMELED ON ROEMERS / BEAKERS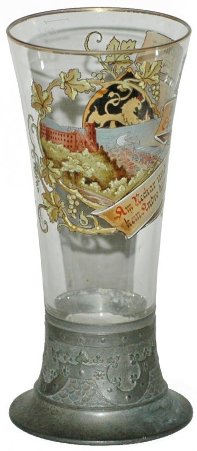 ▲a well done souvenir of Heidelberg. [RFA]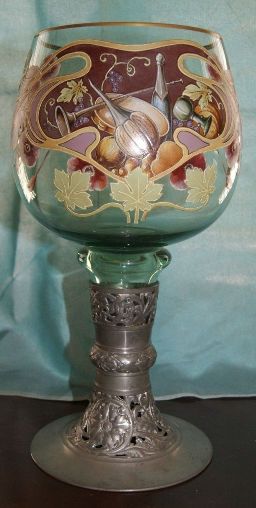 [RFA]

An almost matching server to the beaker just above it. The glass color is probably the same (the standard yellow green for a TH piece), the difference is probably in the photo.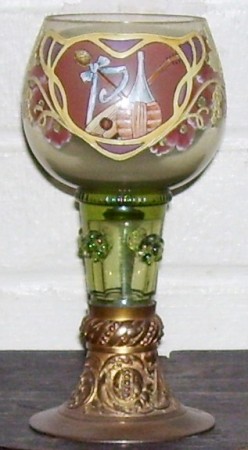 Another closely related Van Hauten enameled roemer, the glass for these were probably supplied by Theresienthal Glashütte [FWTD]
Half liter blown glass stein with almost the same display. 11-10-13 photo missing = stupid GD 'Word Press Program' = it keeps losimg posted photos. I hate word press do not use it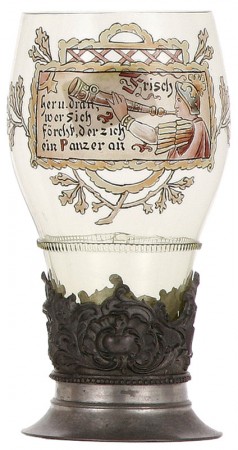 A "Roman" soldier on a "Roemer"!!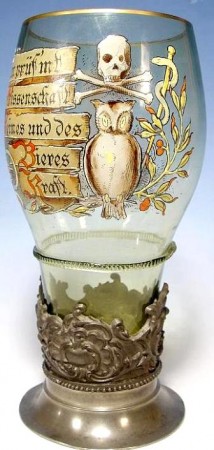 I can't prove this (yet!), but I believe van Hauten' s decorator shop, got most of their glass from Theresienthal and / or Josephinenhütte. Shown: A hand painted roemer with strange medical scenes by "van Hauten."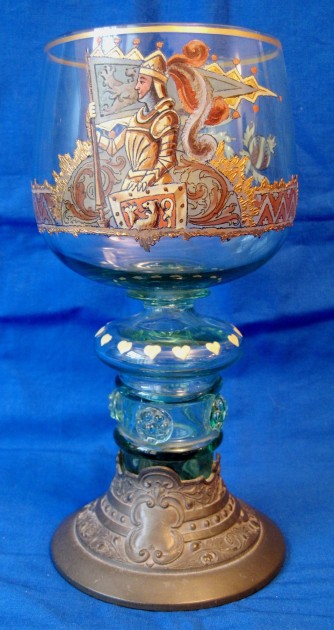 A blown glass Roemer, with scene of plumbed knight, holding a pendant. Very close in design to one of the larger Medieval figure series beer servers shown below, starting about 10 photos down.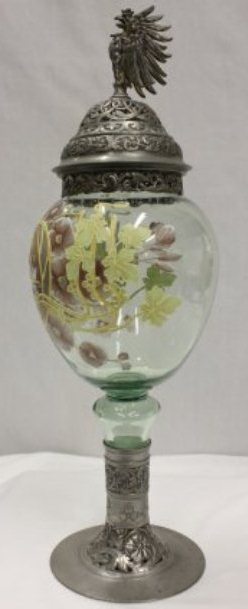 An interesting pokal, I wish I had better photos to work with.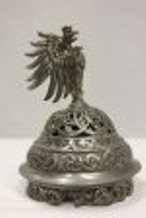 Details of the above pokal.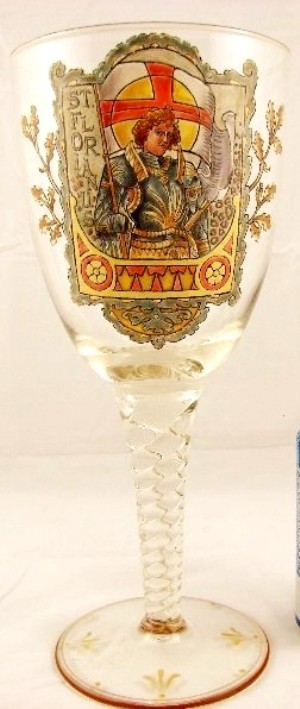 Saint Florian (Patron Saint of Firefighters) on a very tall 'roemer.' The glass was probably made by Josephinenhütte. [FWTD]
FAMOUS PERSONS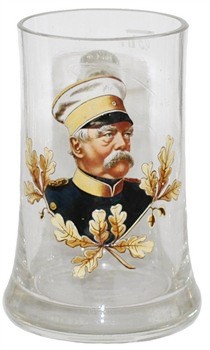 Otto von Bismarck [RFA]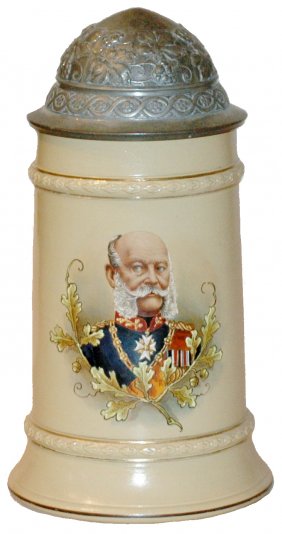 The German Kaiser William I.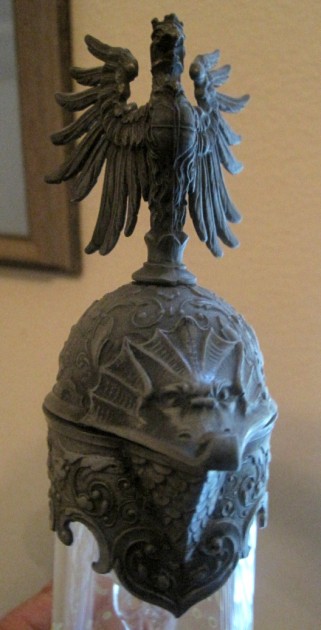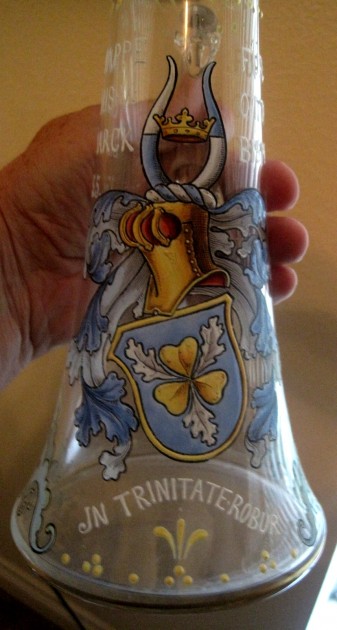 Really close to Bismark's Coat of Arms. Rounded glass handle.
.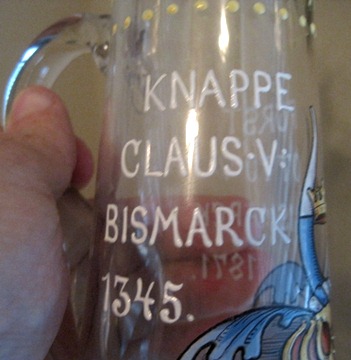 [Photos comps of John Johnson]
MEDIEVAL COURTLY FIGURES – WITH EXCELLENT PEWTER WORK BY AN UNKNOWN PEWTER SMITH.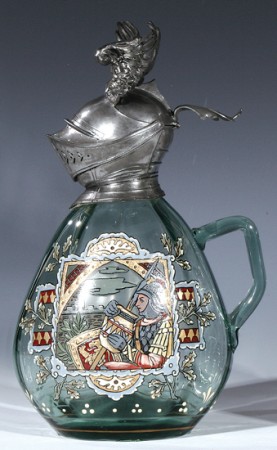 Knight with lance– 1.5 liter. Squared glass handle. (tsaco)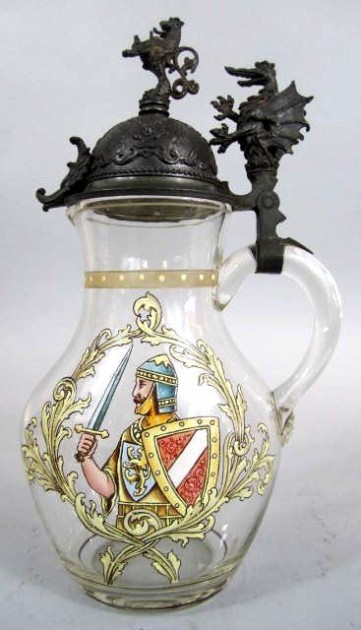 And another, knight with a sword and shield. Rounded glass handle.

Fancy griffin (dragon ?) design with an interlaced scroll, very similar to Scandinavian artwork.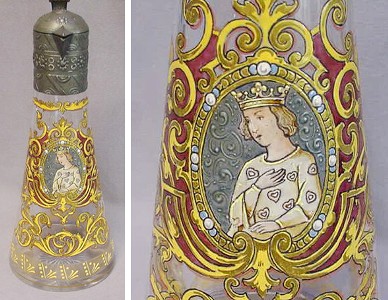 A very young looking king or just royalty.

I am assuming this is a queen. Unknown Arms.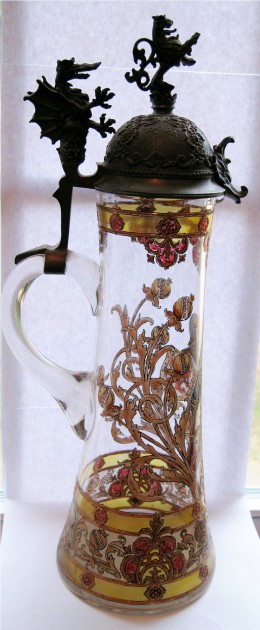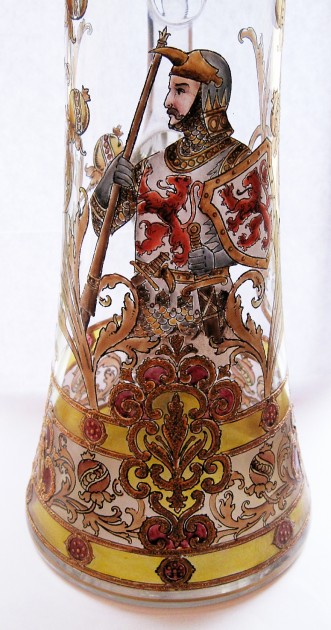 Detail of above ▲: knight with spiked spear, and Bohemia's Coat of Arms .Rounded glass handle.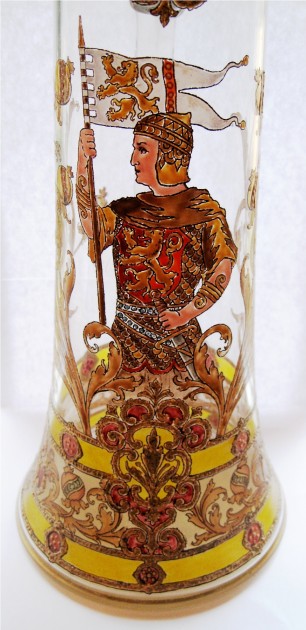 Knight holding his Lord's flag/ pendent. Squared glass handle with button finial.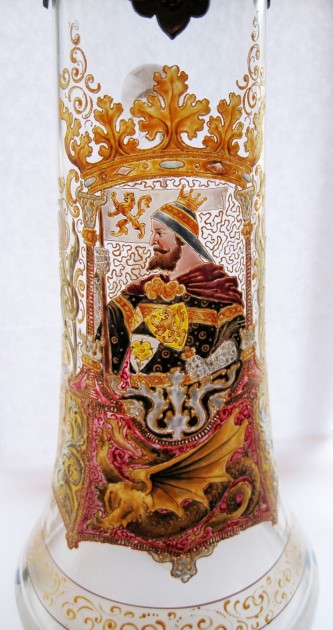 There is a bit of artistic license for this scene. Shows a crowned royal male / a king [?] holding his own standard! With a single griffin wing and foot below. Rounded glass handle.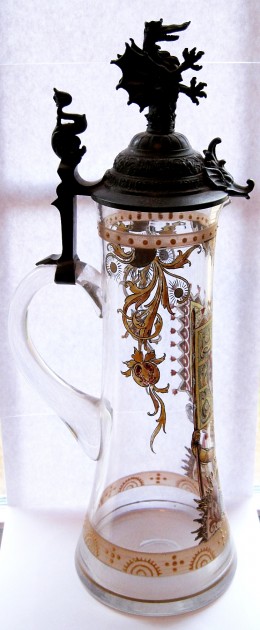 A plumbed knight holding a standard with Bohemia's Lion. Holding his shield with his left hand. Rounded handle


.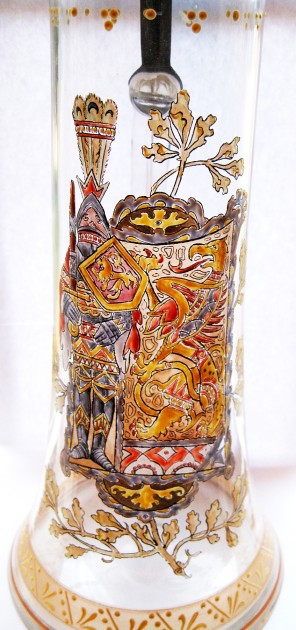 Detail: This one has a very weird looking plumbed knight holding a sheathed sword [!] and shield. The large panel to the viewer's right shows another Griffin with a very elongated neck and body .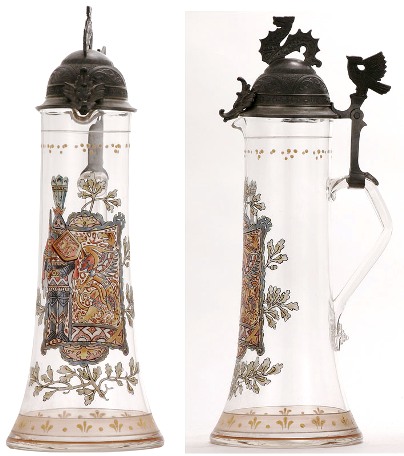 Similar to just above ▲ – but with a different finial on the lid and a different thumblift. Squared glass handle with button finial.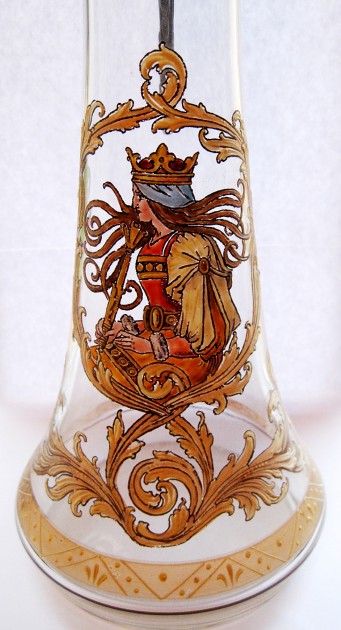 Detail: A queen holding her scepter. With a metal handle!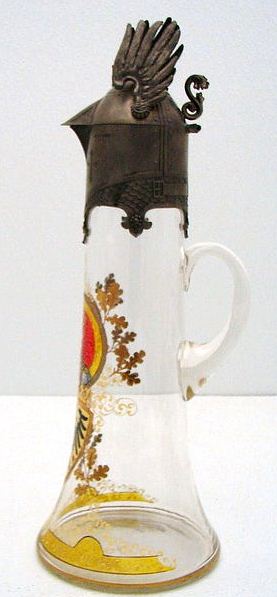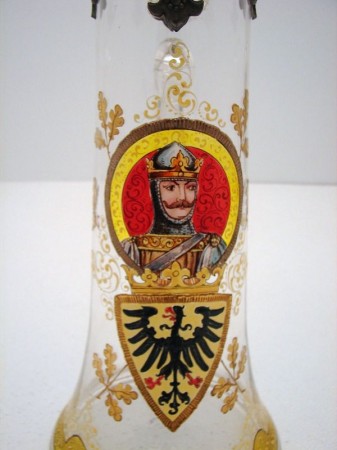 A crowned king's portrait shown just above the old Imperial German spread winged adler, as the Arms.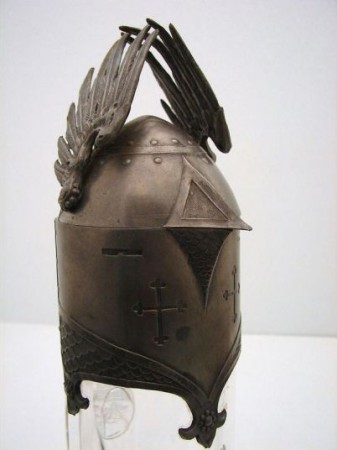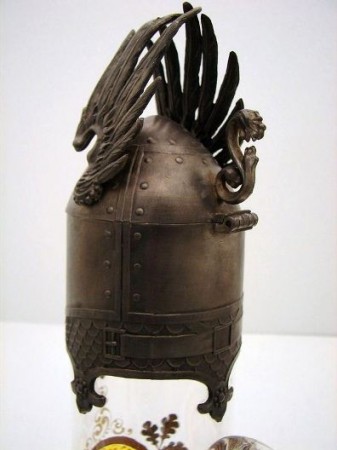 Details of the feathered helmet on the stein just above.

Another different crowned king's portrait shown just above the spread winged Prussian Eagle as the Arms.
OTHER DECORATIONS ON SERVERS


Same design as above, but on a different server's body and different lid looks like a completely different piece! [RFA]

Heidelberg's Perkeo is the figure on the right server. Both smaller servers at only .5 liter [RFA]
Perkeo – A dwarf whose job it was to guard the large barrel of beer in the castle's "keller." Now a well known symbol of the City of Heidelberg. He is seen on almost every souvenir stein produced for that city,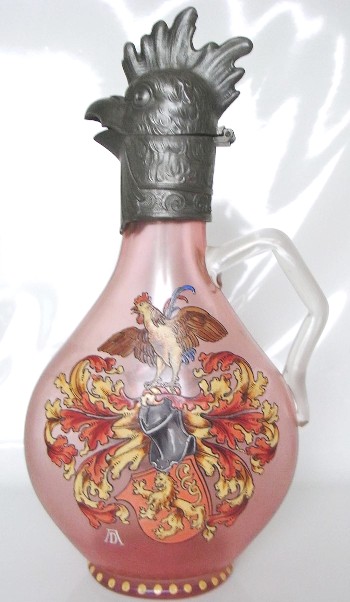 Unusual pewter cap with what I thought surely was a Cockatrice given all the other exotic heads produced by this firm. A cockatrice is a mythical beast, a two-legged dragon with a rooster's head.
But given what is shown on the Crest of these Arms it may just be a damned old rooster.
Some fancy Fleur-de-lis but with applied glass prunts which is an unusual feature for V -H pieces
I'm thinking Cockatrice on this head anyway, a mean looking, beak !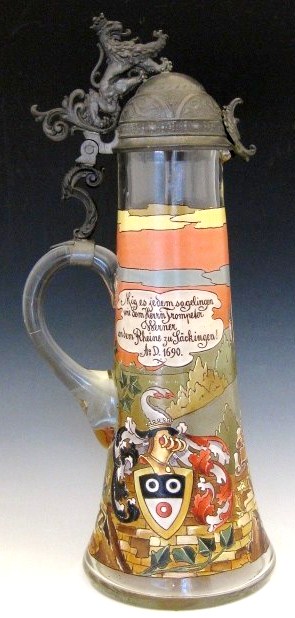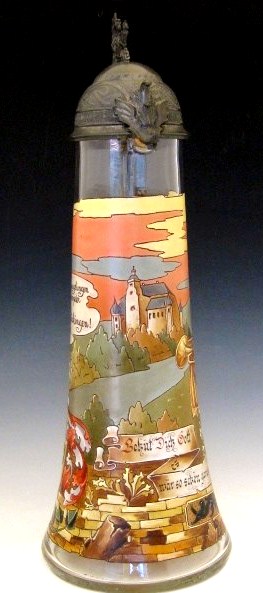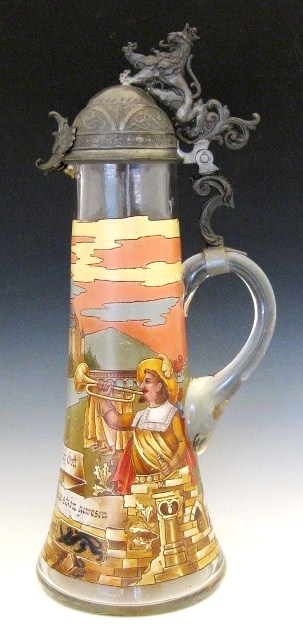 Van Hauten's version of "The Trumpter of Sackingen."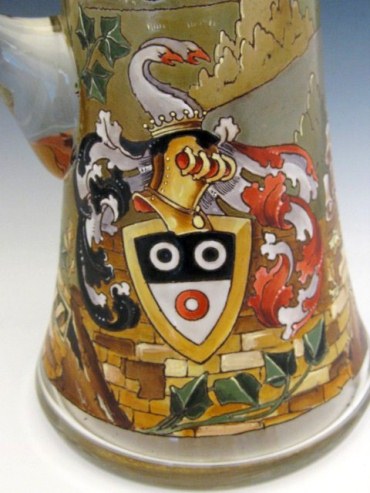 Detail of the above Coat of Arms (Not a crest! The crest is the three swan heads!)
,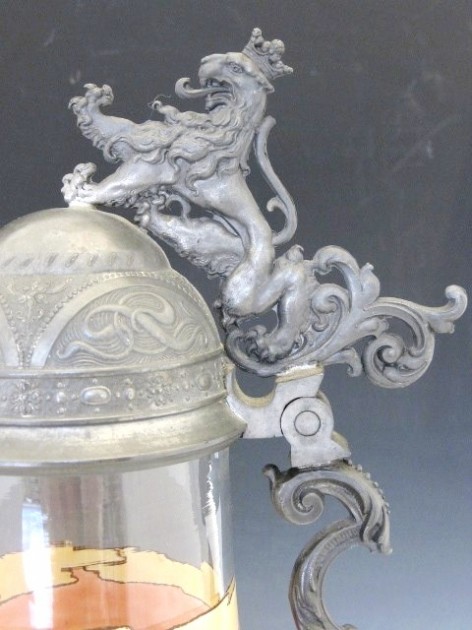 Detail of the unknown pewter master's rampant lion and the adaptive way the handle to hinge attachment was made !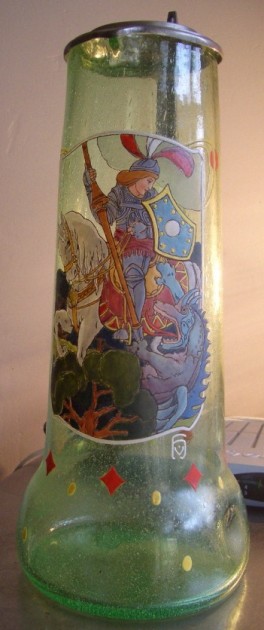 13 inches tall server of St. George and his dragon by van Hauten. A very different body design.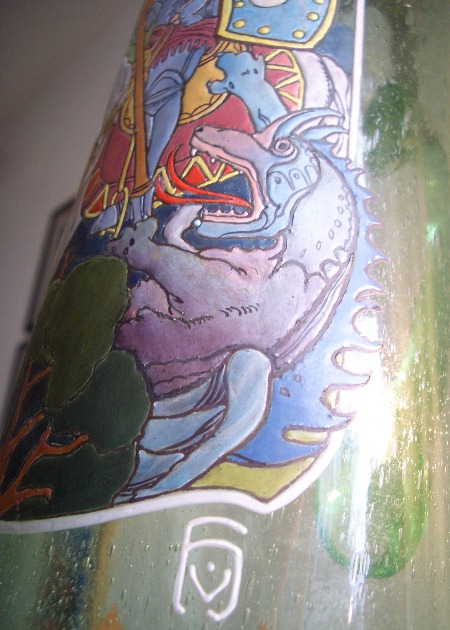 van Hauten's mark on above server. ▲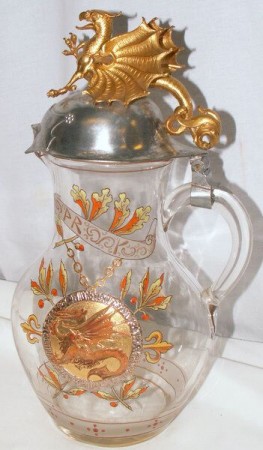 Just about "The Mother of All Lids!" Painting done by van Hauten. Unknown pewter lid maker and this one may be gilded and not paint. Circa 1890. Very scarce.

OTHER "van HAUTEN" DRINKING VESSELS — TAKEN FROM OLD CATALOGS (SOME HAVE VERY POOR PHOTOS!)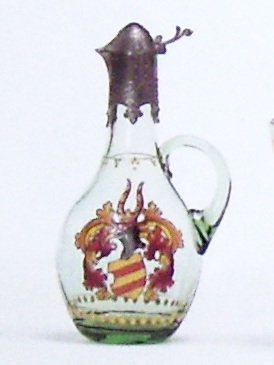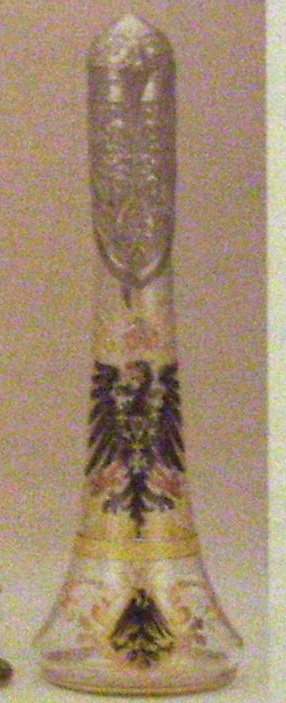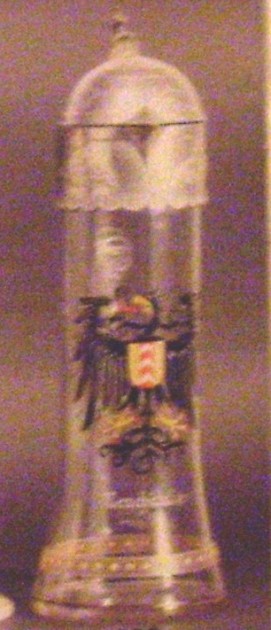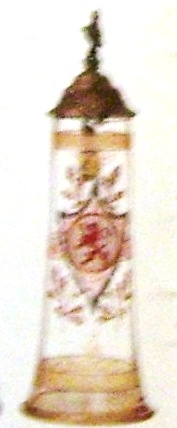 [AWPD – SP104 – 102- R5]

"Alcohol is not the answer, it just makes you forget the question."
xxxxxxxxxxxxxxxxxxxxxxxxxxxxxxxxxxxxxxxxxxxxxxxxxxxxxxxxxxxxxxxxxxxxxxxxxxxxxx