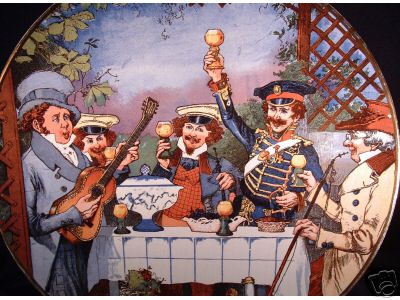 Detail: From a V &B 'Mettlach' wall plaque. Showing a punch bowl on the table and roemers in use all around.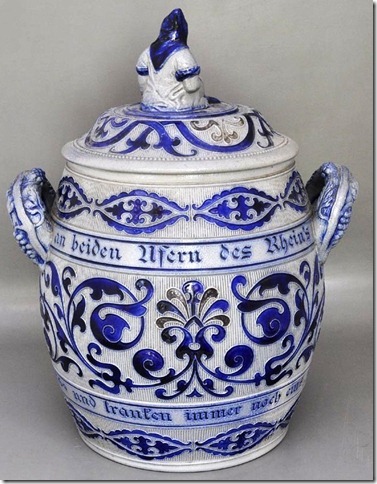 See below for front view and full verse.
If you are thinking of collecting old German made "Punch Bowls," please stop and think at least for a minute.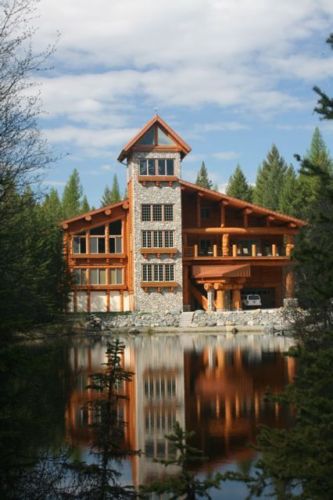 PUNCH BOWLS ARE THE DRINKING VESSEL'S EQUIVALENT OF COOKIE JARS FOR MASSIVELY NEEDED DISPLAY SPACE, SO IF YOU "DO NOT" OWN ONE OF THESE =▲ABOVE .THEN YOU "SHOULD NOT" EVEN BEGIN TO THINK ABOUT COLLECTING "PUNCH BOWLS!"
Steve's note: As far as I know no one has ever done an article / review on these massive displays of German ingenuity. I assume there are collectors for these items out there in the real world, but I have never spoken to one. While most that were made and then sold to the tourist trade have been of the pottery or stoneware varieties, there are several other types which will be shown, and based on the numbers available, "Punsch" or chilled white wines, were very popular drinks in the 1850-1920 period. While you are here on the page, have a look see please.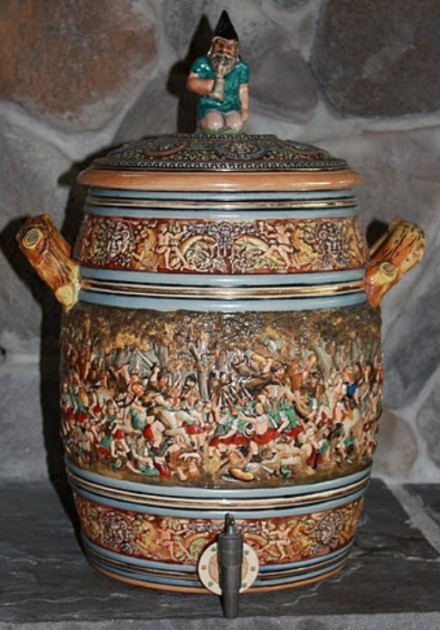 I would like to thank "Sam" for the idea behind doing this subject page. Sam wrote me and asked a question or two about her massive punch bowl / wine keg (by Gerz) showing a scene of Hermann the German doing battle with the Romans.
For her email question and my answers. please see @:
http://www.steveonsteins.com/answers-to-beer-stein-questions-of-interest-3
For the history behind the scene shown on that keg, please see " Hermann's Story" @:
http://www.steveonsteins.com/hermanns-story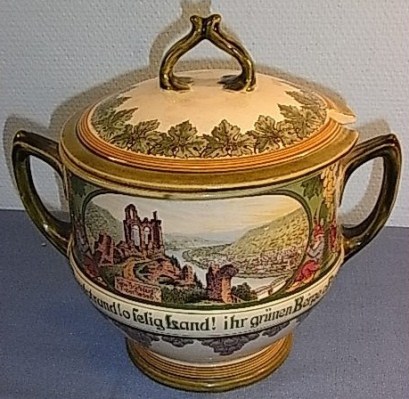 V &B Mettlach PUG puch bowl showing scene of the Old Heidelberg Castle. Lots more V &B's bowls below ▼.
THE ENGLISH DEFINITION OF: "Punch" = A beverage, generally containing a mixture of fruit juice and some other beverage, often alcoholic (especially in Germany where it was mostly wine!)
From Hindi पाँच (pāñć, "five"), because of the drink's original five ingredients (spirits, water, lemon juice, sugar, and spice), from Sanskrit पञ्चन् (páñcan).

GLASS PUNCH / WINE BOWLS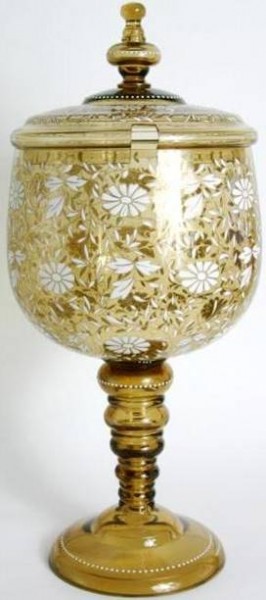 Done in the form of a large roemer, but there is a ladle hole in the lid.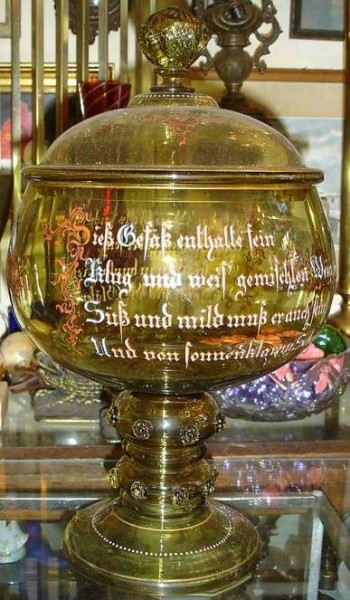 A Roemer shaped wine / punch bowl. 18.5 inches tall. Theresienthal glashütte, Bavaria.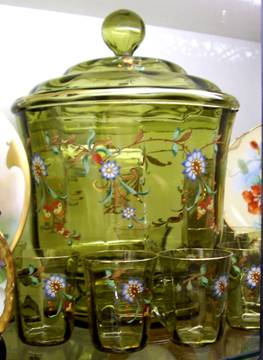 Just a nice "punch" / wine set!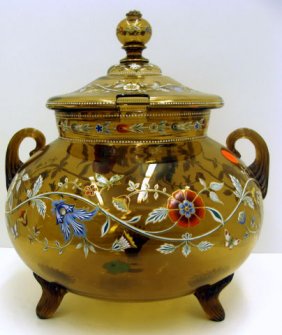 Nicer? Also Theresienthal's work.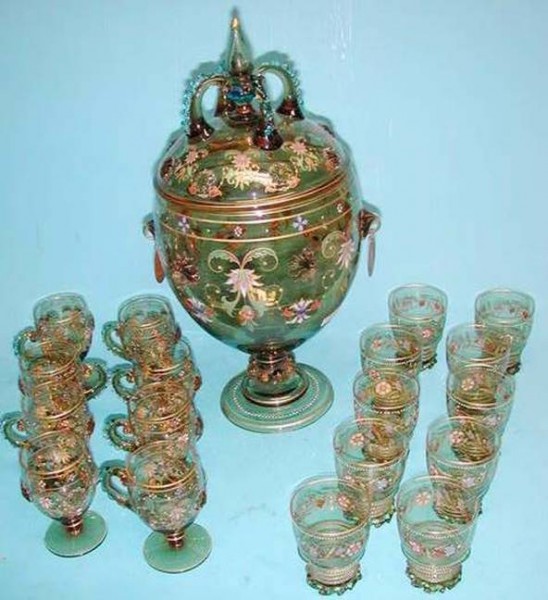 Nicest? Also Theresienthal.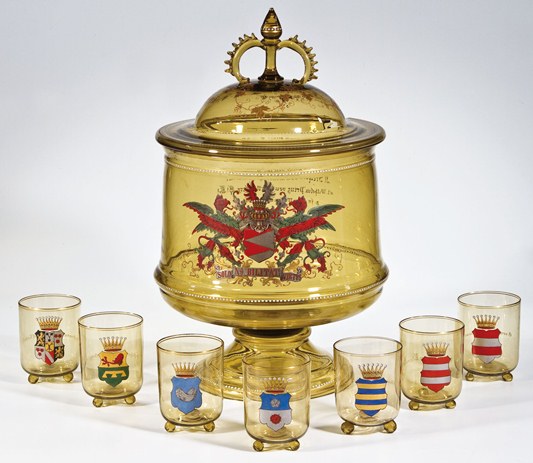 Liking armorials, I am partial to this set ▲by Theresienthal. Very nice enameled work.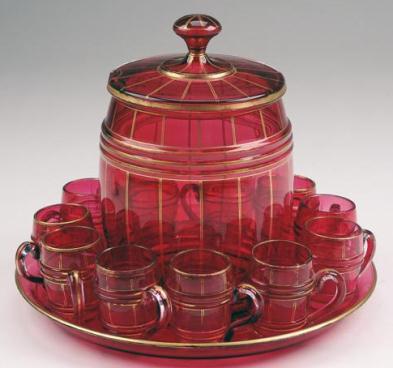 12 In. tall by 9 In. wide. Barrel form [see last photo for another one , more decorative.]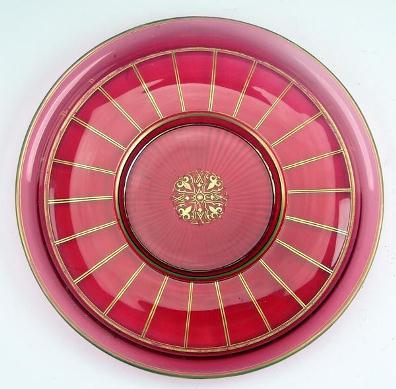 Very nicely done under-plate . Unknown maker, possibly Haida.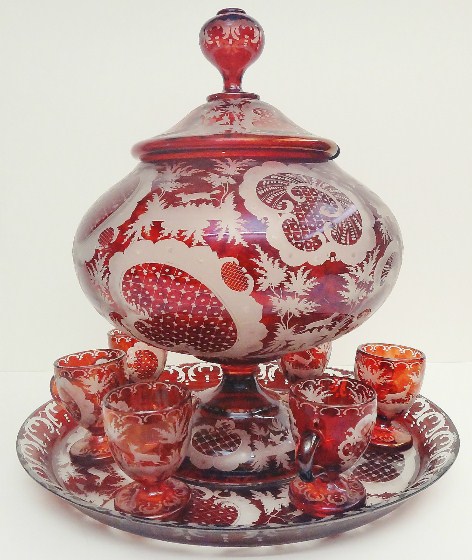 While this Ruby cut-to-clear "Deer in the Forest" design has been around since the mid 1800's on Bohemia wares, I think this one is an early 1920's, Bohemian / German set with it's matching under-plate. It may have had 8 cups when made. When one broke it was usual for the owner to hide the seventh one away!

German Punch ("Punsch" in German) refers to a mixture of several fruit juices and spices, often with wine or liquor added. Punch is popular in Germany and with many Germans who emigrated to America.
The traditional German Christmas often includes a Feuerzangenbowle ("Burnt Punch" or, literally, "Fire Tongs Bowl"). This is a punch made from red wine and flaming rum, poured over a Zuckerhut ("sugar hat"), a large conical sugar cube placed in the "Feuerzange".
[Excerpted from: http://en.wikipedia.org/wiki/Punch_%28drink%29]
POTTERY PUNCH / WINE BOWLS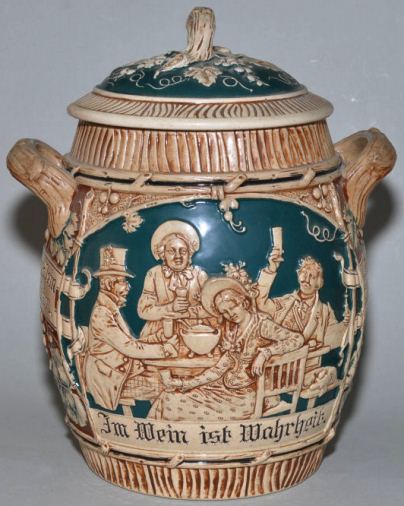 Westerwald pottery molded relief bowl. Circa 1900.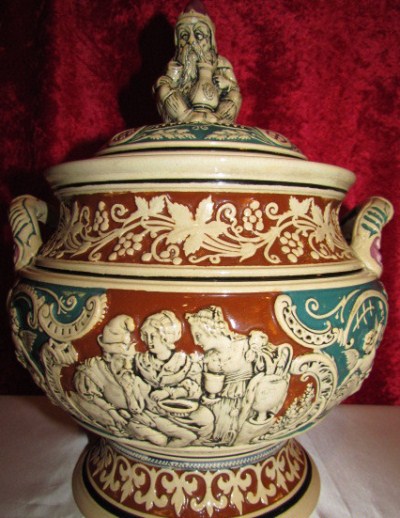 Another Circa 1900.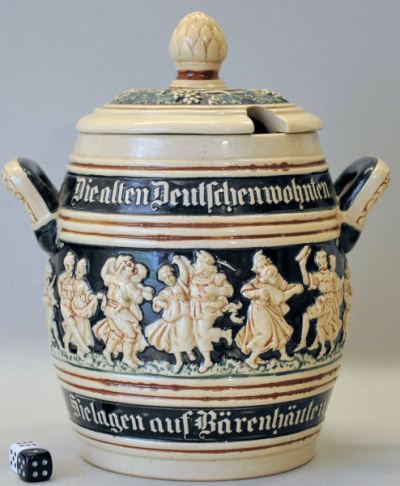 Westerwald pottery relief, dancing scenes from earlier versions, after older prints made by Behrens.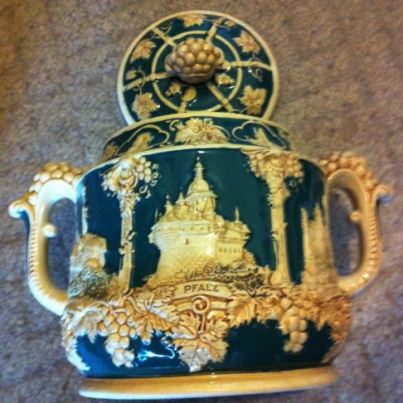 Wick-Werke German pottery. German Rhine castles in relief. (See more below.)
An excerpt from: "A Brief History of Punch" by JB & Pink Squirrel.
[Please see: http://www.lupec.org/documents/punchhistory.html]
The next time you attend a 50th anniversary party or high school prom, think twice about the glorified Kool-Aid in your Dixie Cup. Punch is not a sweet and demure remnant of prohibition-it's a complex and audacious drink that has been quaffed by sailors, explorers, and patriots (as well as Prom Chaperones) for over four centuries.
It is commonly purported that British sailors "discovered" punch – fully formed – in India in the 16th Century. The drink's name derives from the Hindustani (Hindu) word for "five" (roughly transcribed as panch) referring to the five ingredients that first are alleged to have composed the beverage. As usual with both history and recipes, however, the story has many variations. One source [1] asserts that the five ingredients reflect the five distinct elements necessary in punch, those being sweet, sour, bitter, weak, and alcoholic. The ingredients, then, were sugar, a bitter aperitif, lemon juice, beer, and pure alcohol. A second source [2] called for a rather different recipe, however. In this punch, tea, arrack[3], sugar, lemons, and water were the necessary ingredients. A third source provides the following definition:
[Punch] is commonly supposed to come from the Indian word "panch," the Sanskrit word "panchan" and/or the Persian word "panj"- all meaning five, from the fact that this concoction usually is made with five ingredients. But a long note in the Oxford English Dictionary points out that in the 17th century punch was almost certainly pronounced poonch, as it still is in the north of England, and that this being so, its origin from an Indian source is improbable, especially as the number of ingredients does not seem to have been at any time so fixed as to give origin to a name. Moreover, several early references to the word show that punch was particularly a seaman's drink and it is suggested that the name originated, not in India, but on the way thither and may have been a sailor's shortening of puncheon. Punch now is a beverage composed of wine or spirits with hot water, milk or tea, and flavoured with sugar, lemon, some spice or cordial. Of all the spirits which can excellently be used to make a punch (using the word alone one expects it to be hot; if cold, the word is qualified by iced) rum is the one which comes to the mind of the public. And of all fruits, the lime is the most popular. [4]
The original ingredients and source may be unknown, but what is certain is that punch had made its way to the New World. Punch existed in the U.S. before the U.S. was the U.S. References to punch – in letters, menus, and even government documents – are recorded as early as 1682. It was not only a popular drink by this time but also an essential beverage at any sophisticated social affair. One wonders if those sailors knew demure ladies in ballrooms would be drinking punch for the next four centuries.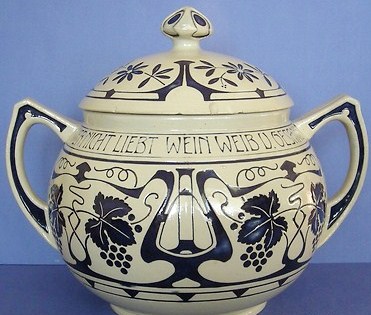 Extremely Art Nouveao. 25 cm.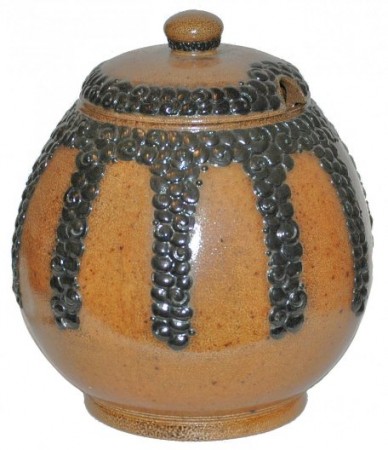 Jugenstil design, and made to look like stoneware. Made by Reinhold – Merkelbach, No. 8082. Designer unknown.
V. & B. METTLACH STONEWARE PUNCH / WINE BOWLS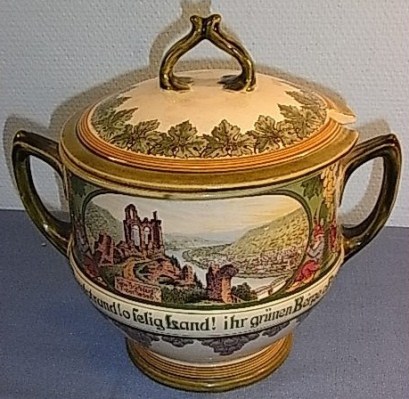 V & B Mettlach made, PUG punch bowl, showing scene of the Old Heidelberg Castle.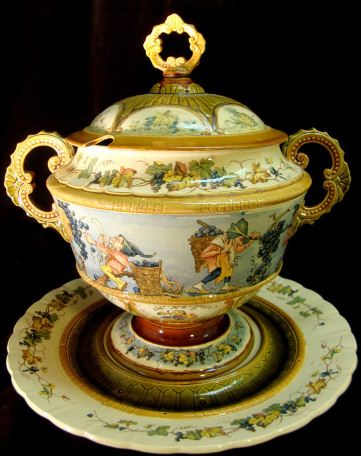 V & B Bowl No. 2339-1028, PUG, with a "Dwarf" take off on the story: "The boys with the grapes."
Please see: http://www.steveonsteins.com/1-3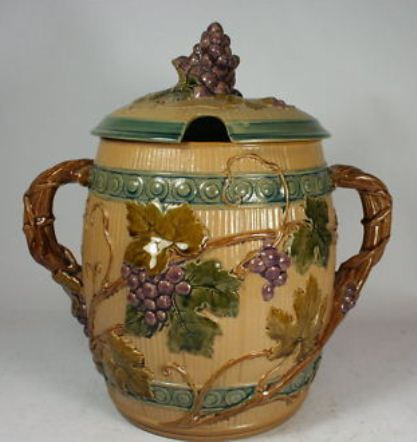 V & B Mettlach bowl, applied relief work. No. 2225.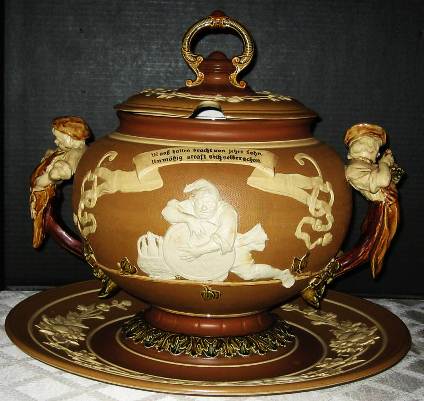 V & B Mettlach bowl No. 2544. Applied relief work.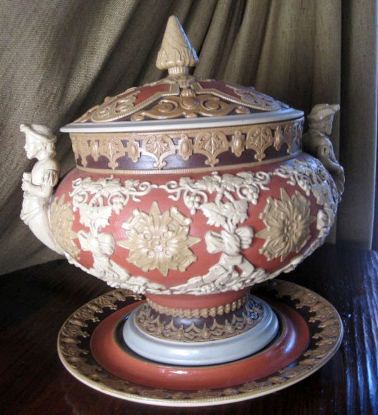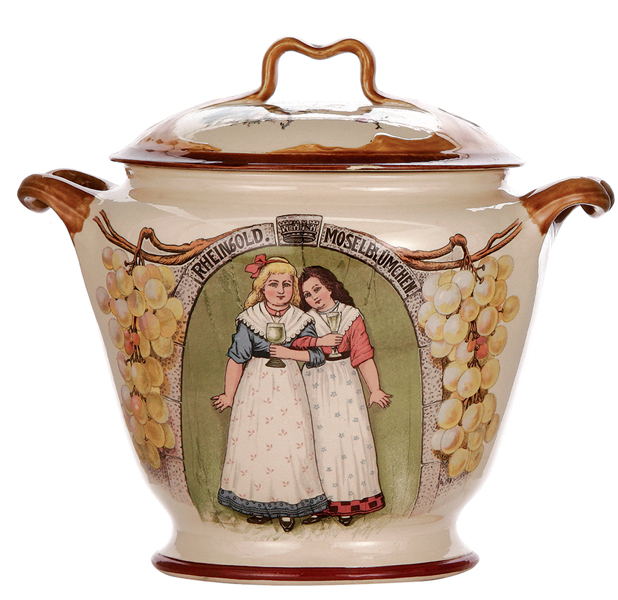 V & B Metlach PUG bowl No. 1371 [2793], [tsaco]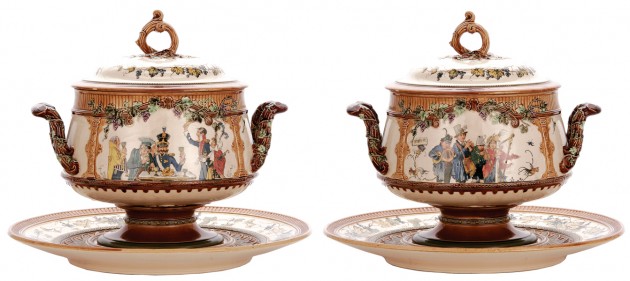 No. 1121 [2633]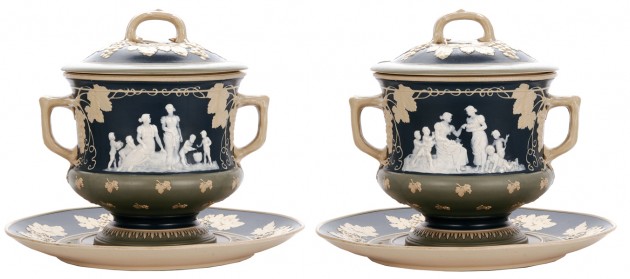 No.2692 – A very nice looking bowl!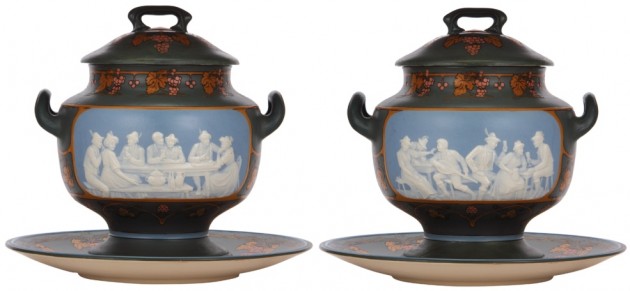 I think, an even nicer V & B Mettlach bowl. 9.4L, No. 2890, cameo & etched, by Stahl,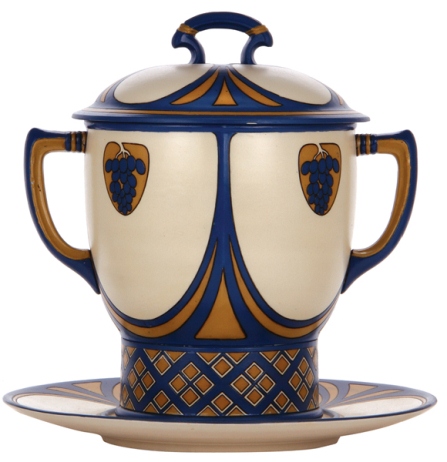 4.5L, V & B Mettlach, 2974, etched, Art Nouveau [tsaco]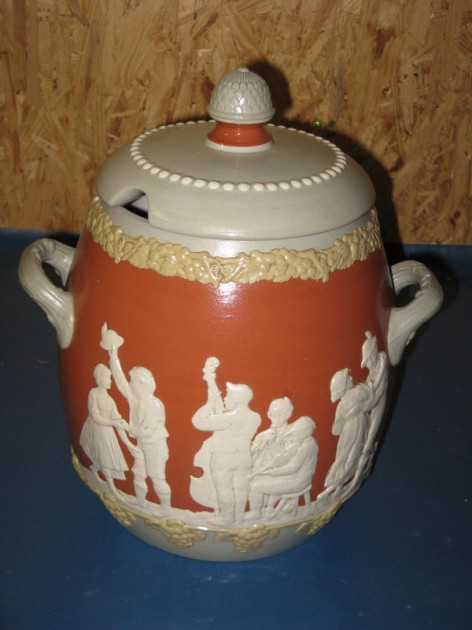 V & B, but marked: WEKARA.
BEST [?] PUNCH RECIPE
Feuerzangenbowle = Flaming Fire Tongs Punch; Feuerzangenbowle is a hot German New Year's or winter punch made with

red wine,

and rum.
Ingredients:
Bowle/Punch
3 bottles of red wine (2-3 liters total)
2 cinnamon sticks
cardamom
allspice
1-2 oranges
1-2 lemons
5 cloves
1 German sugar cone/loaf = [ZUCKERHUT]*
1 bottle of rum
Directions:
1. In a large pot or kettle filled with red wine, add cinnamon sticks, cardamom, and allspice. Cut up the oranges and lemons (optional: make peel spirals), crush fruit to release the juice, and add to the punch along with the cloves. Warm to a steaming mixture. Do not boil!
2. Place a German sugar cone (Zuckerhut, sugar loaf)* on a metal rack/screen or clamped in metal tongs above the warm punch. (Substitute sugar cubes if you can't get a Zuckerhut.) Slowly pour high-proof rum over the Zuckerhut or sugar cubes and let soak for a minute. Carefully light the Zuckerhut or sugar cubes and let the flaming sugar carmelize and drip into the punch mix. Add rum as needed to keep the flame going until the Zuckerhut process is done. Serve the punch hot in mugs or hot-tea glasses. (Note: Traditionally, Feuerzangenbowle was prepared with the Zuckerhut sitting on crossed swords atop the pot.)
*ZUCKERHUT: A German sugar cone or sugar loaf (lit. "sugar hat") is made of compressed Raffinade (refined sugar) in a cone shape. A German description of Raffinade: "Ein Zucker von höchster Reinheit und bester Qualität. Die Raffinade wird aus sehr reinen Zuckerlösungen gewonnen und entspricht hohen Ansprüchen." (A sugar of highest purity and best quality. Raffinade is made from very pure sugar solutions and meets high standards.) If you can't get the real thing, substitute sugar cubes in the recipe above.

SALT-GLAZED STONEWARE PUNCH / WINE BOWLS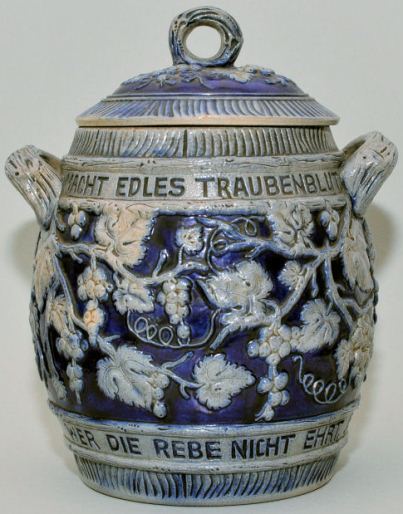 Westerwald stoneware; called "Massive and fast growth (vines)" by an German eBay seller.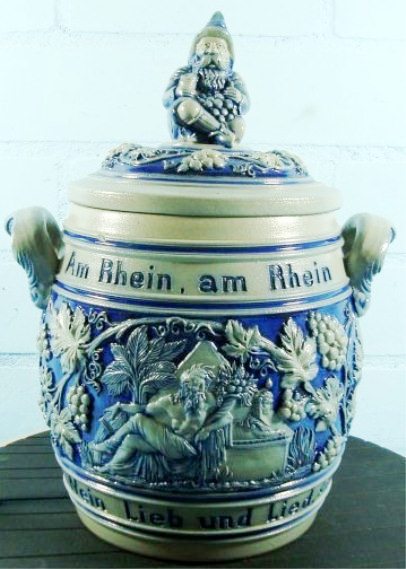 Main scene in light relief of Bacchus holding a cornucopia.
A fine Gerz example with raised relief outlines. (Photo comp of Robin L.) – (Robin would like to beieve the gnome finial is that of Alberich, the German Gnome KIng!)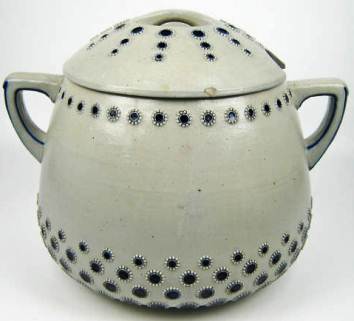 A German Art Deco style punch bowl made out of stoneware.
MISCELLANEOUS MATERIALS – PUNCH / WINE BOWLS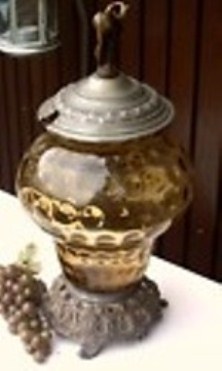 Appears to be Theresienthal glass with a WMF bass and lid, which has lost its silver plating. Ca. 1890.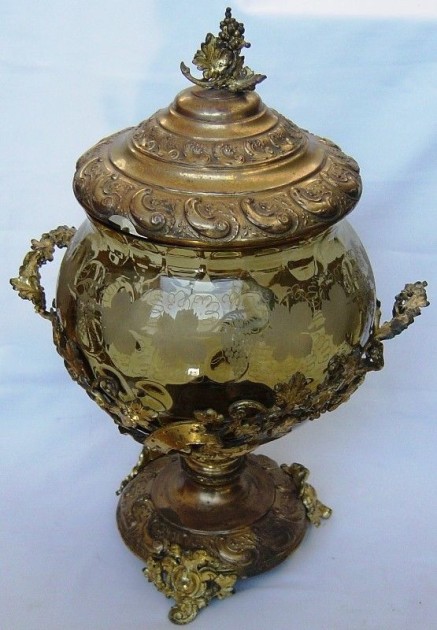 Another but much better looking bowl from WMF, with Theresienthal glass ??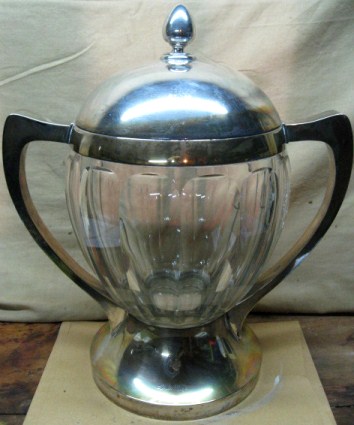 An antique German, silver plated with crystal bowl. Art Deco style. Unknown maker.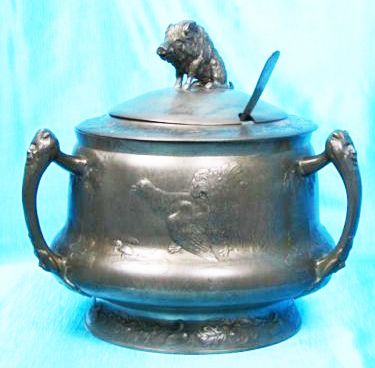 Kayserzinn #4297 = Pewter Punch bowl with boar finial. 15″ tall, to top of finial. The German wild turkey = Auerhahn, is in relief on the side.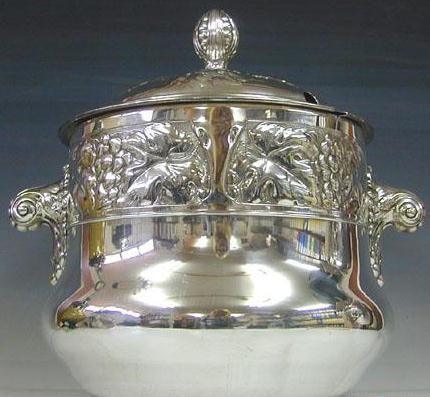 Kayserzinn (maker) -With recently appliedsilver-plate over the pewter.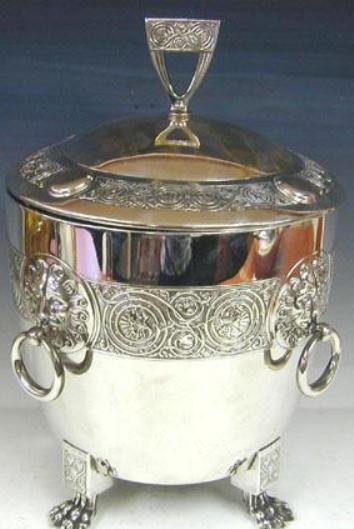 Silver plating over copper, by W.M.F. Circa 1890.
BELOW ▼ ▼ GERMANY'S RETALIATION TO THE USA FOR WORLD WAR II!
(THESE, AND THOSE CHEAP STUPID "CUCKOO" CLOCKS!)
They still sell these pottery relief sets and not too cheaply at every" port-of-call" along the Rhine and Moselle rivers, to the tourists who take them home, display them on a shelf and then never use them. Their children inherit them, try to sell them on eBay for lots of money and go to sleep disappointed!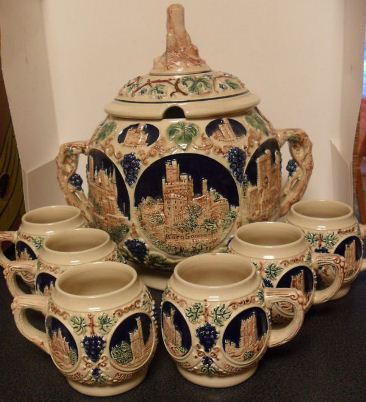 A typical pottery set, made by Gerz in the early 1900's, showing the ancient run down castles that one sees on a Rhine / Mosel River barge tour.
One of the nicer newer souvenir sets, with a different than usual design but still !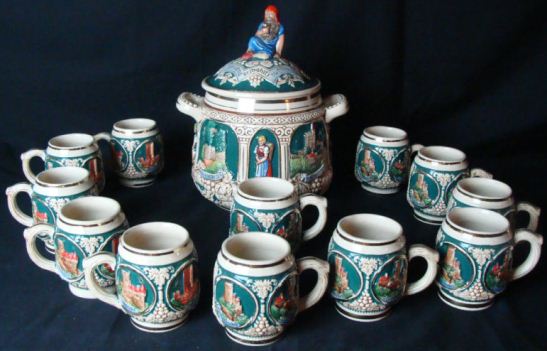 One step up from the other sets shown above. Good coloration and relief detail. Circa 1900.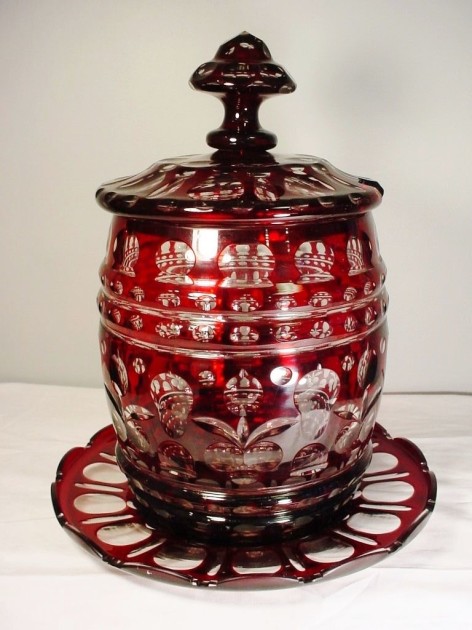 ▲ ▲ The one I'd like to own and I think the prettiest of all I have shown ! Duplicate of one above. But of f course I am partial to ruby stained cut-to-clear pieces and owning about 30 of them (the ruby stained steins – not punch bowls !!) A large punch bowl in barrel form, Bohemian C. 1870 (Unknown firm) Ruby stained and cut to clear . A very nice addition to anyone's collection.
[AWPD – SOK – 46– 5R]


"Eventually you will reach a point when you stop lying about your age, and start bragging about it."