It has been more than two decades since I turned from a collector into "A Collector."

How my life changed because of a little ad in a freebie county paper.
My father was in the Air Force and my family spent my high school years in Great Britain.  My parents collected antiques—quite plentiful in Britain in those days.  And I accompanied them on many of their buying trips, visiting antique shops and sorting through dusty piles.  I used my earnings from mowing lawns, delivering the paper, and bagging groceries to buy swords and other bladed weapons, as well as an occasional chess set.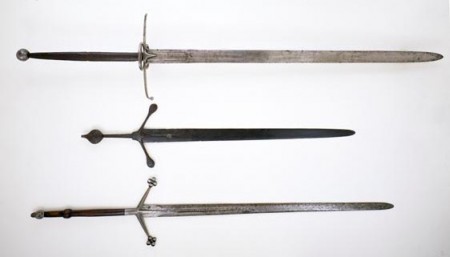 Photo compliments of =   http://www.jimandsandi.com/sword.html
Back in America I had college to attend, so I didn't do much buying.  But in subsequent years I looked for chess sets when I traveled overseas and filled my house with more than a few cheap tourist sets.  I also checked the want ads, though without much success.  The collecting was fun but never terribly serious.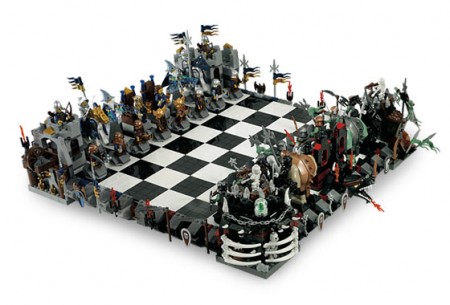 [Editor's note: This NEW chess set "might" even have been a bit extravagant for Mr. Bandow in his early days. However if he liked it, didn't have it already, and had the money, it would be in his collection that day! (His favorite saying when talking to me when I am hesitant about buying something is: "It's only money!") Photo compliments of = http://gadgets.boingboing.net/2008/12/19/lego-castle-giants-c.html]

Then a long time ago—probably 22 or 23 years—a friend gave me one of those free weeklies with a classified ad for some chess sets for sale. I figured, what the heck?  It was placed by a big burly fireman by the name of Steve Smith. He mostly collected beer steins, but often (usually briefly) wandered into other subject areas.  One had been  antique chess sets  (mostly.)  However, he had decided he wanted to get out of them. I bought most of the ones he was selling at that time , and a few months later he wrote me to say that he wanted to unload a few more.
We started "hitting the shops" together on weekends. His girlfriend had no interest in such silliness—she preferred to watch Michael Jordan and the Chicago Bulls in her free time. Spending time antiquing started me looking at better chess sets. I remember the mixture of pleasure and horror when I first spent $1000 on a set, an ivory and ebony Egyptian set.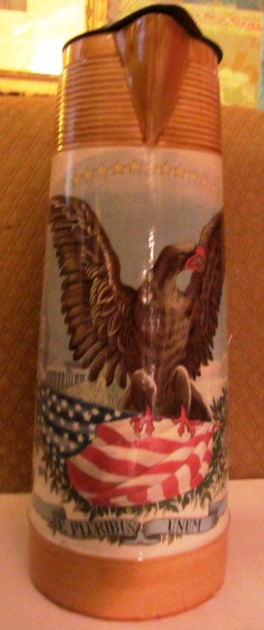 [DB]
2 liter, V & B Mettlach PUG serving stein, made for the American market.

Worse, however, was when I started seeing other items which interested me. . Eagles, hawks, and other raptors. Cigarette cases with military and political themes.  Military art.  Finely illustrated military history books.  And beer steins.
I bought my first stein from Steve. I joked that he dumped his cast-offs on me.  I wasn't after steins per se, but what the steins represented. I first picked up one decorated with a scene of chess players playing the game (BELOW).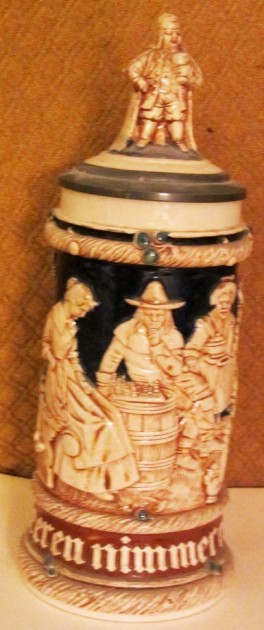 .5 liter pottery relief of chess players by J.W. Remi. That is 'Perkeo' (the famous Heidelberg dwarf) as the finial.
I also bought a couple military steins — German, naturally. From there I started bidding in the USA stein auctions. 
I still was particular, going after the nicest "incised, (not etched !)" V & B Mettlach stein made for chess players, the number 2049 ▼.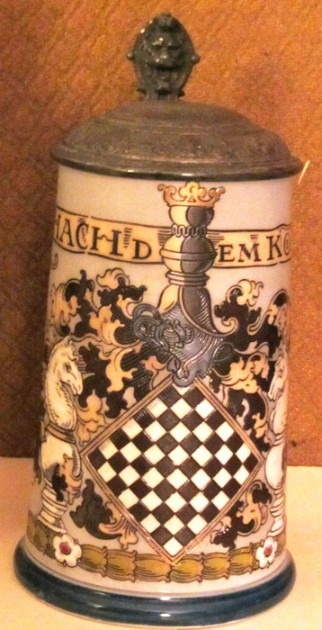 V & B METTLACH .5L, 2049, incised, (not etched !) 
some military ones with unique designs, several different Social Democratic steins (my "real job" is politics)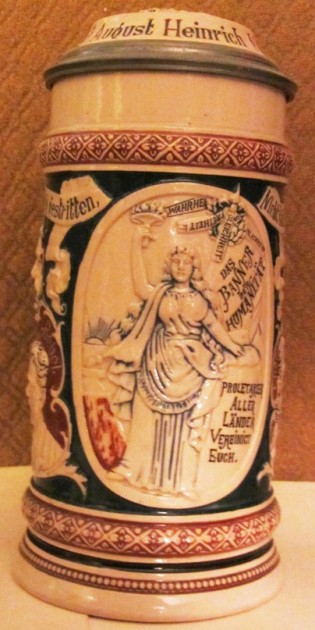 Socialist stein: .5 liter pottery. (Mr. Bandow is to supply some details in the near future.)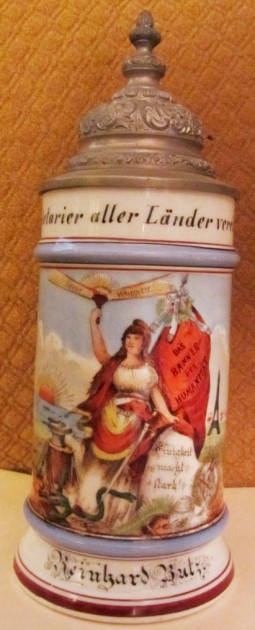 A .5 Liter porcelain stein, the same scene as above , this done in an "Occupational" style  with the name of the owner on the bottom.  Circa 1890.    Mr. Bandow is to supply some details in the near future.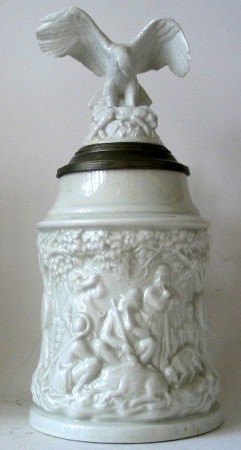 and a few vessels decorated with eagles. [Previously thought to be an early V & b Mettlach.]
(Editor's note: For the correct maker of this stein ▲ and others like it, please see Roy DeSelms's article which I have placed right under this one.)
I still insist that I don't collect beer steins.  And I don't, really.  But I now have a couple dozen.  And when the latest stein auction catalog comes out, I always take a look.
Of course,  I blame my friend.  Surely it's not my fault!   Until I met him I was normal, or at least reasonably so.  Now I seem to spend all my money buying old things which I don't need.  Like beer steins.
But they sure do look nice!
Doug Bandow
[Steve's note. My friend Doug is a world renown "Talking Head"  who flies all around the world giving speeches and always bringing "stuff" back for himself , but never a classy silver beer stein for me!]

 "Das Banner der Humanität, Lassalle, der Freiheits Kämpfer,"  on another Socialist stein.
.5 liter salt-glazed , PUG with enameled touch up. [tsaco]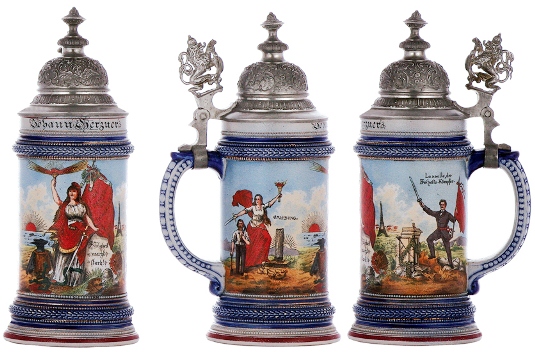 [END – SOK – 09 – R5]


   "Give me ambiguity, or give me something else!"