Corona Octopus Character
>>>>>>>>>>>>>>>>>>>>>>>>>>>>>>>>>>>>>>>>>>>>>>>>>>>>>>>>>>>>>>>>>>
PLEASE NOTE:
I DO NOT DO VALUE ($$$'s) APPRAISALS!

There are way too many variables: condition, location, time of year, present trends in stein collecting, local (and now national) economics; but most of all = prior expectations by the owner, are among the reasons!
I have for over a year now placed these short "notifications" at the bottom of each page! It is now obvious to me the general public never gets that far before wanting to ask me a question on beer stein dollar values. So I have had to move them forward as I am getting tired of copying them and sending them back to people as an answer to their "stein value" questions. This was meant to be an informational web site only.
NOR WILL I KNOWINGLY DO ASSESSMENTS

for the future selling of steins on auction sites such as eBay, etc. Go to the web site for "Stein Collector's International" and click on "Stein Talk," someone there might help you. I just do not have the time! My web site was really started as an informational site for beginning beer stein collectors that would be looking for the info and not the general public. This site has its own search engine [top right on each page!] SO if one puts in "Wood Steins" or "Hand painted steins," it will give one a list of all the pages that has that subject matter within it.
STILL WISH TO CONTACT ME 

ABOUT ANY INFORMATION ON THIS SITE?

  EMAIL:  STEVE (STEPHEN)  =

[email protected]
>>>>>>>>>>>>>>>>>>>>>>>>>>>>>>>>>>>>>>>>>>>>>>>>>>>>>>>>>>>>>>>>>>>>
Jerry Berg , of the "Carolina Steiner's" (and SCI)  recently came to a "Gambrinus Stein (Collecting) Club" meeting held in Maryland  and gave an excellent talk on newer Brewery Character Steins. I asked him if I could publish his well documented handout, and he agreed. Thanks again go to Mr. Berg for all he has  done for beer steins collectors in the USA.
I will provide the chart in it's entirety and then break up the sections for a more readable view. Perhaps some more photos of these character steins will appear when I find them and the time to post them.  (These  chart photos were done from a photo of the hand-out page, which is why they are not as clear as they ought to be.   (sls )
 …………………………………………………………………………………………………………………………………………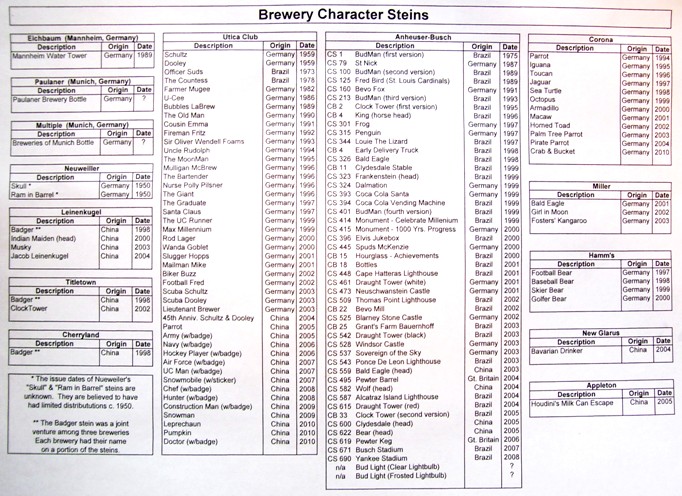 ________________________________________________________________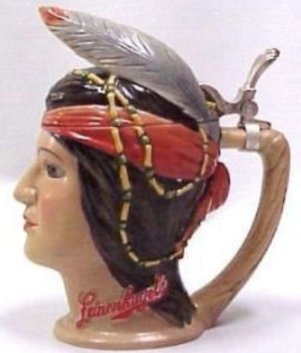 Leinenkugel Indian Maiden character beer stein. (2000)
>>>>>>>>>>>>>>>>>>>>>>>>>>>>>>>>>>>>>>>>>>>>>>>>>>>>>>>>>>>>>>>>>>>>


>>>>>>>>>>>>>>>>>>>>>>>>>>>>>>>>>>>>>>>>>>>>>>>>>>>>>>>>>>>>>>>>>>>>>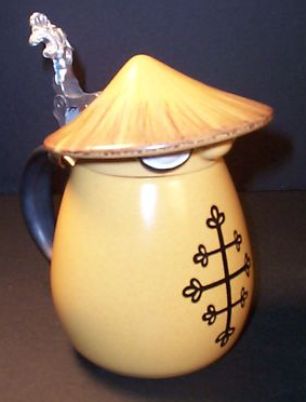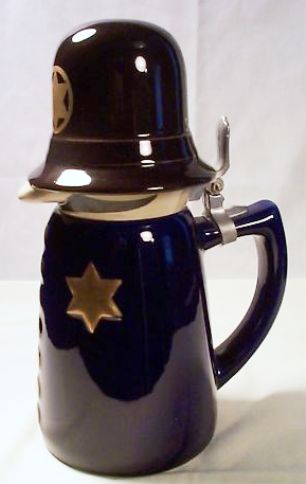 UTICA CLUB'S "U-CEE"  MEETING "OFFICER SUDS"    (1986 AND 1973)
>>>>>>>>>>>>>>>>>>>>>>>>>>>>>>>>>>>>>>>>>>>>>>>>>>>>>>>>>>>>>>>>>>

Also see: http://www.steveonsteins.com/guest-writers-articles-west-end-brewing-company-utica-club-beer-steins-by-john-manning-and-dennis-hunsicker-new-2-6-12
>>>>>>>>>>>>>>>>>>>>>>>>>>>>>>>>>>>>>>>>>>>>>>>>>>><>>>>>>>>>>>>>>>>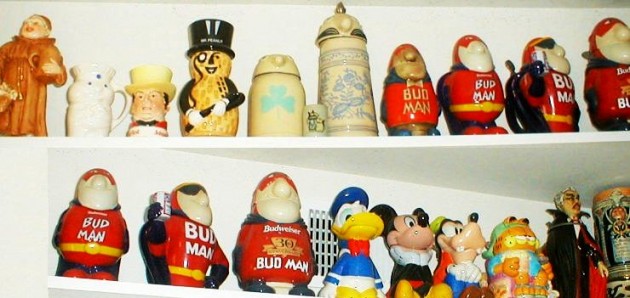 A few of the "Bud Man" varieties available to modern brewery stein collectors.  (WB photo.)
>>>>>>>>>>>>>>>>>>>>>>>>>>>>>>>>>>>>>>>>>>>>>>>>>>>>>>>>>>>>>>>>>>>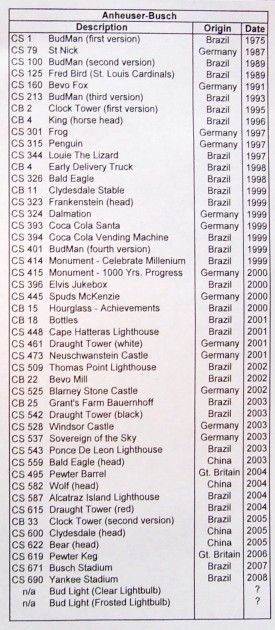 >>>>>>>>>>>>>>>>>>>>>>>>>>>>>>>>>>>>>>>>>>>>>>>>>>>>>>>>>>>>>>>>>>>>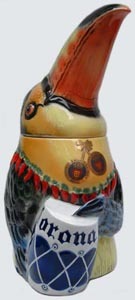 CORONA'S TOUCAN -1996
>>>>>>>>>>>>>>>>>>>>>>>>>>>>>>>>>>>>>>>>>>>>>>>>>>>>>>>>>>>>>>>>>>>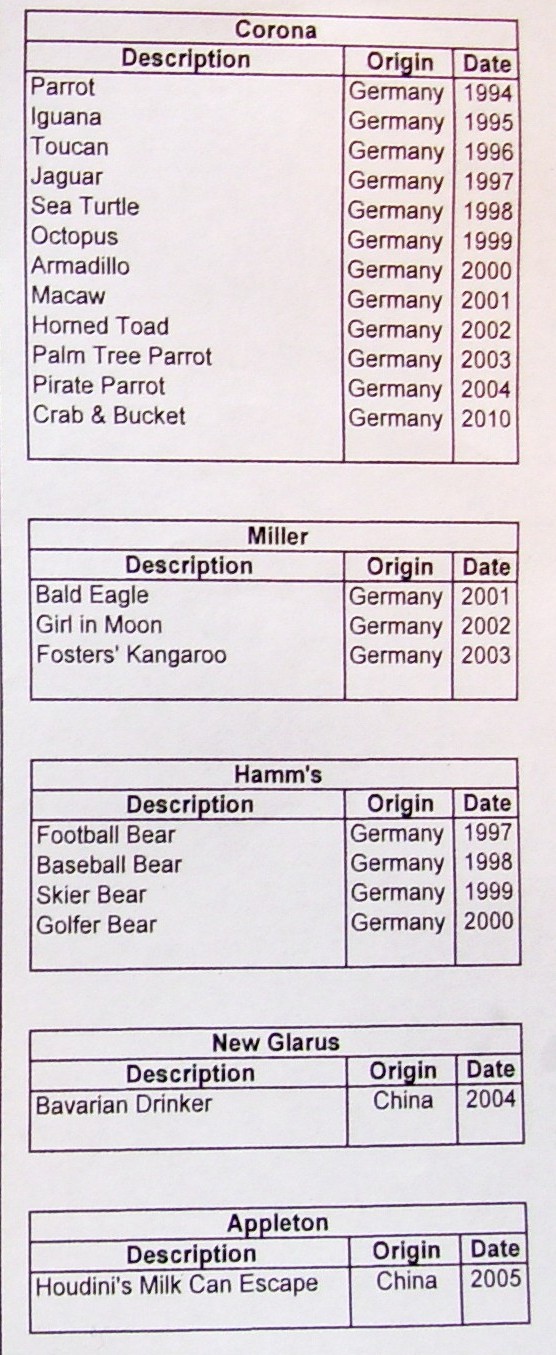 >>>>>>>>>>>>>>>>>>>>>>>>>>>>>>>>>>>>>>>>>>>>>>>>>>>>>>>>>>>>>>>>>>>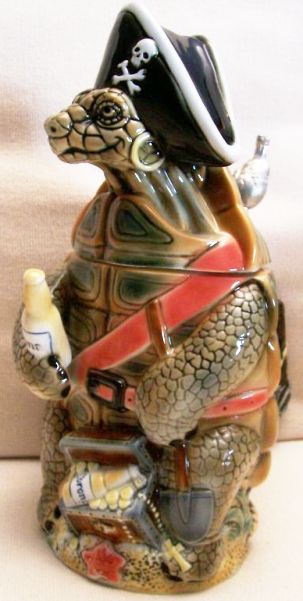 CORONA'S  "SEA TURTLE" – 1998
>>>>>>>>>>>>>>>>>>>>>>>>>>>>>>>>>>>>>>>>>>>>>>>>>>>>>>>>>>>>>>>>>>>>>
[END – SOK – 07 – (+ 15) – R5]
WISH  TO CONTACT ME?  STEVE (STEPHEN)  = [email protected]

  "Some people try to turn back their personal odometers. Not me! I want people to know "why" I look this way."