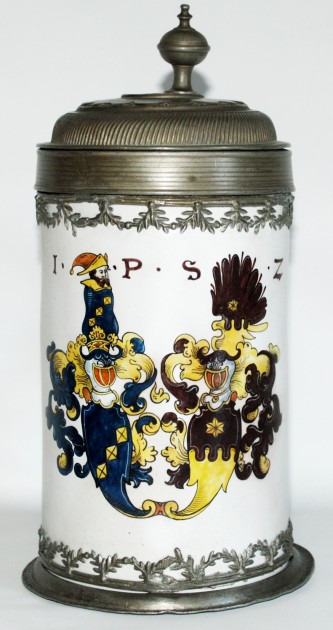 Editor's note: This article and the others were originally published in PROSIT, the magazine of Stein Collector's International. Used with permission of the author, Bill Hamer, a long term good friend of mine; and from Ron Fox, the editor of "PROSIT."

IDENTIFYING FAIENCE STEINS – PART 8 – SCHREZHEIM (1752-1865)
By William Hamer
Schrezheim, like Crailsheim that I wrote about in the last article, is located in the Wurttemberg area of Germany. In my faience database of nearly 9,900 faience steins that have come up for sale, Schrezheim has the most steins at over 1130 pieces. For those looking for more information, there are several books about the Schrezheim factory. The three that I have are: Die Fayencefabrik zu Schrezheim by Hans Erdner (1942), Die Fayencefabrik zu Schrezheim by Hans Erdner and Gert K. Nagel (1972), and Die Schrezheim Sammlung Gert K. Nagel (1985). The text of all these books is Germany, but there are many photos of faience steins to look at and you will often find these books for sale on eBay.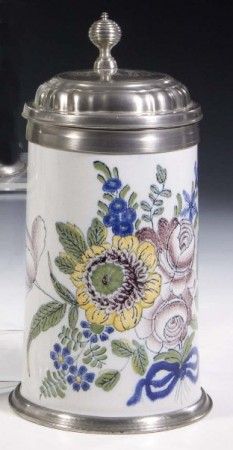 FIGURE 1
STEIN BODY:
The stein body is typical South German style with a straight side to the body with no indentation at the top and with a flare at the base of the stein where a foot ring is usually attached. Figure 1 ▲shows a typical Schrezheim stein with a floral decoration, which is the most common decoration found (almost 65% of the steins are floral).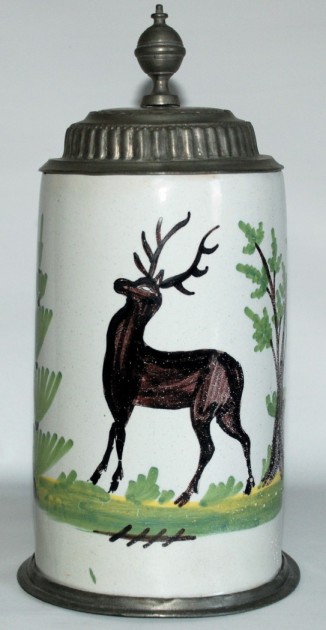 FIGURE 2
PEWTER WORK:
As mentioned earlier, the base of the stein usually has a foot ring that goes around the flared base and because of this design these foot rings usually remain attached to the stein. Usually the top of the stein will only have a lid but just as often you can find a Schrezheim stein with a lid ring, as was the case with Crailsheim stein that I wrote about in my last article. Figure 2 shows a stein with just a lid and Figure 1 shows a stein with a lid ring.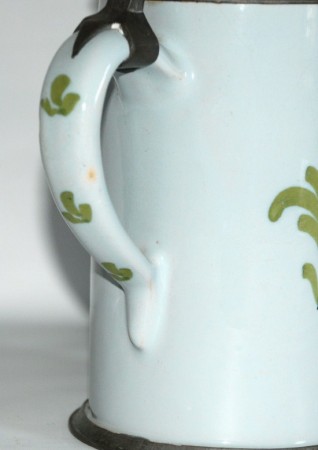 FIGURE 3.

STEIN HANDLE:
Schrezheim handles have a cross section of a D, being flat on the inside and round on the outside. The handle is usually tapered from top to bottom with the lower handle attachment being raised from the stein body and this attachment ends in a rounded point. Figure 3 shows a typical handle.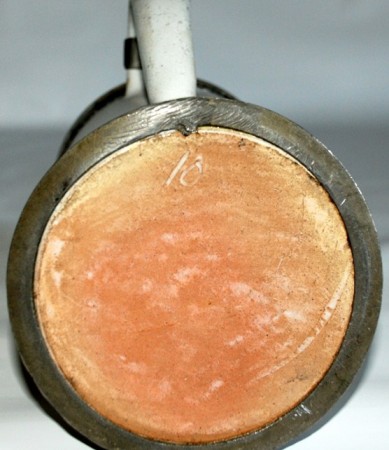 FIGURE 4.

MARKS:
You will usually not find any factory marks on Schrezheim steins. But like Crailsheim steins, Schrezheim steins can be found with numbers or letters scratched into the bottom, as shown in Figure 4 ▲.
You will also find artist letter signatures on some pieces. Figure 5 ▼ shows one of these artist marks.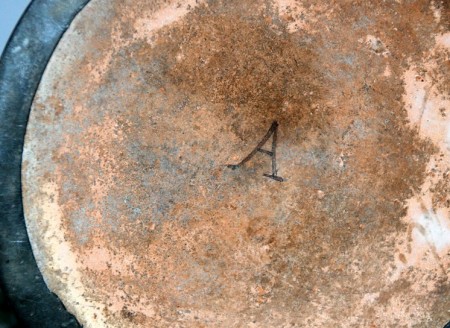 FIGURE 5.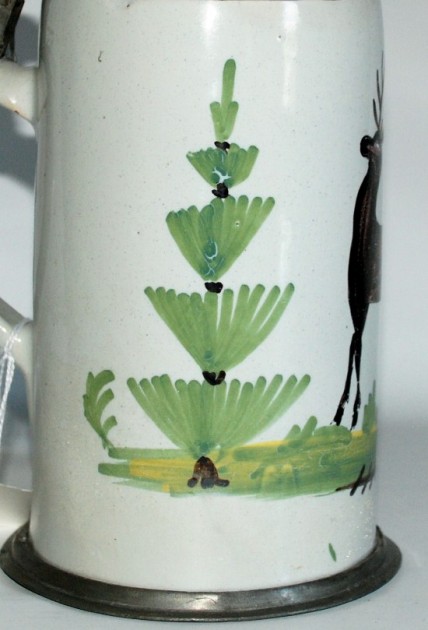 FIGURE 6A.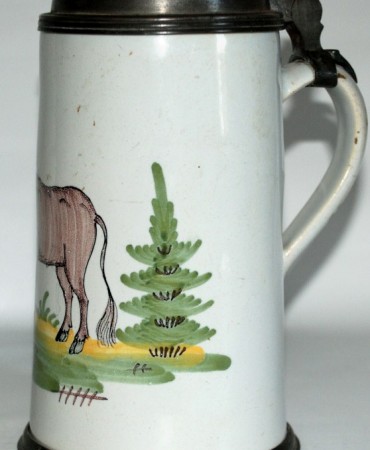 FIGURE 6B

DECORATION:
There are several decorations that can help identify Schrezheim faience steins. First is the pine tree decoration that can be found on the side of the stein. Figure 6A ▲ ▲ and 6B ▲show two examples of what the pine tree looks like. The branches of the pine tree are made using a series of half circles.
The second decoration technique is a horizontal line with 4-8 angled hash marks, as can be seen in Figure 2 above ▲ ▲ ▲. This horizontal line is found on steins with stags, horses, and other animal decorations. Additional photo No. 2 at the end of this article shows an example on a stein with a cow decoration. It can also be seen in Figure 6a above, which is a side view of the stein in photo 2. This stein was also artist signed and that mark is the one shown above ▲ ▲ ▲in Figure 5.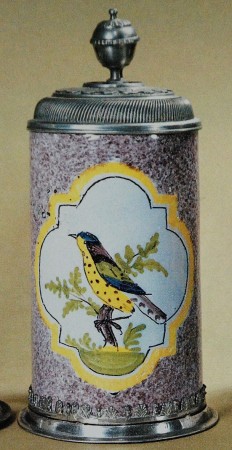 FIGURE 7.

The last decoration used is the cartouche shown in Figure 7 ▲. It has four rounded loops with square corners between each of the rounded loops. The cartouche is usually outlined in yellow and its height is bigger than its width.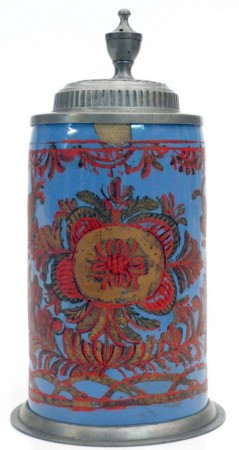 FIGURE 8.
Finally, Schrezheim made steins with colored glazed usually in yellow or turquoise. Most of these steins can be found with a cold painted decoration usually in red and gold. Because this decoration is not fired it is easily scratched and is often found with some or most of the cold painted decoration missing. Figure 8 ▲, shows a cold painted Schrezheim stein where the decoration is still in very good condition.
Two pages (several photos) of Schrezheim steins follow this article. Photos 1-6 (all below ▼) show some common decoration while photos 7-12 show more elaborately decorated steins. Schrezheim had some very skilled artists which decorated their steins using the muffle fired technique. One of these better known artists was Johann Bechdolff and one of his steins is shown in additional photo 12.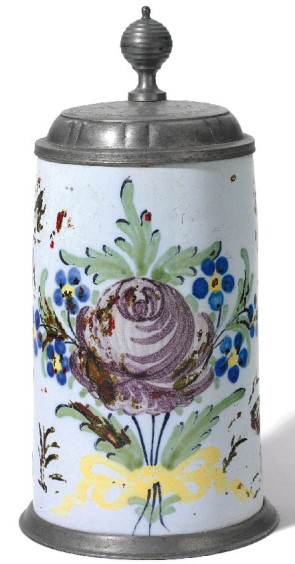 Additional No. 1.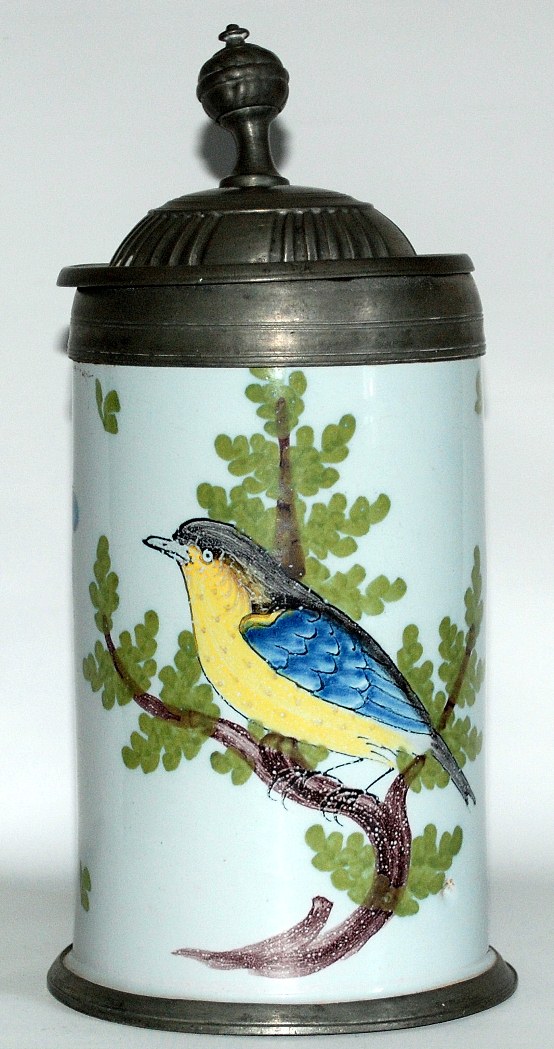 Additional No. 2.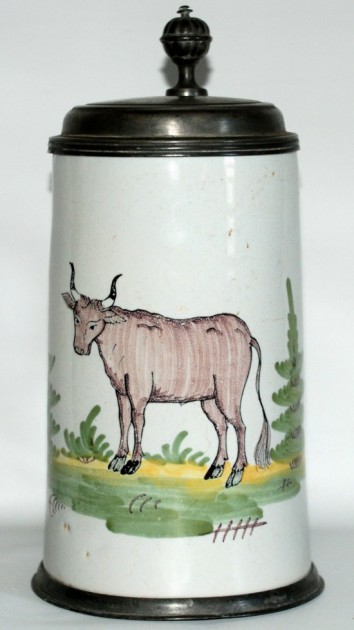 Additional No. 3.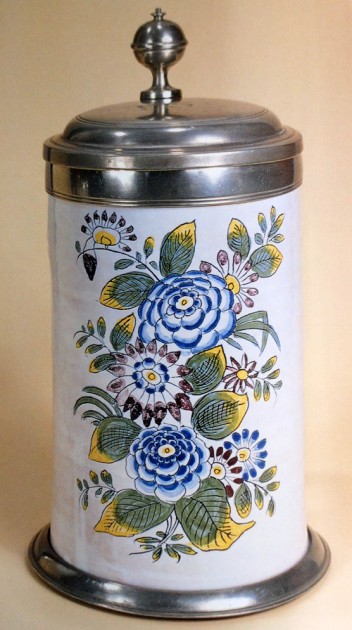 Additional No. 4.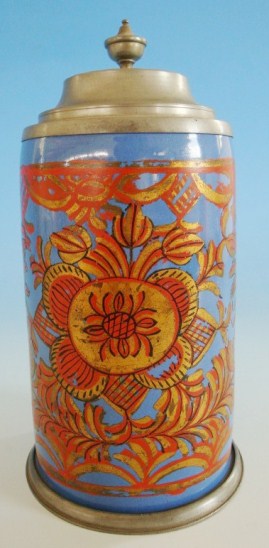 Additional No. 5.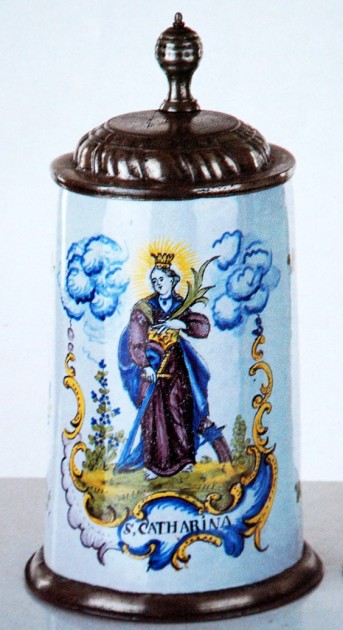 Additional No. 6.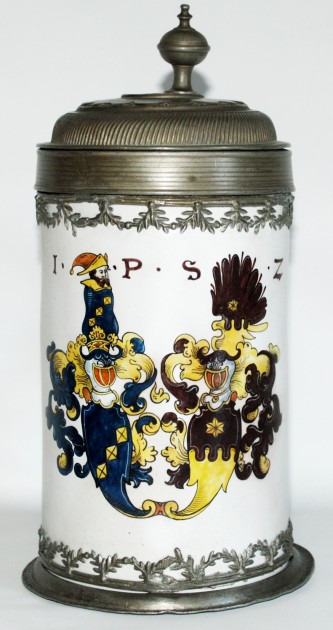 Additional No.7. (Same as the page's header.)

Additional No. 8.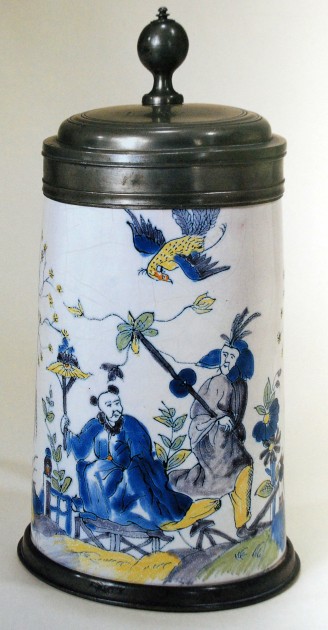 Additional No. 9.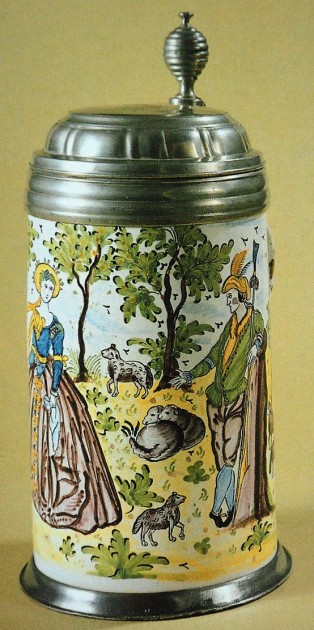 Additional No. 10.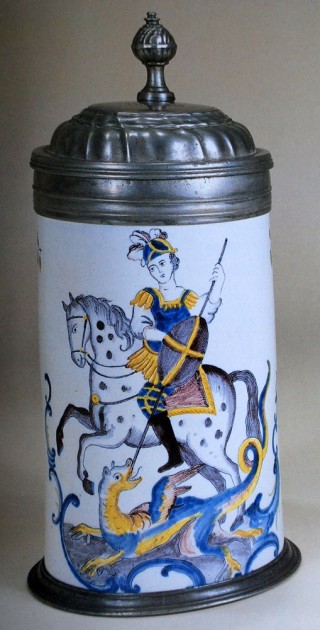 Additional No. 11.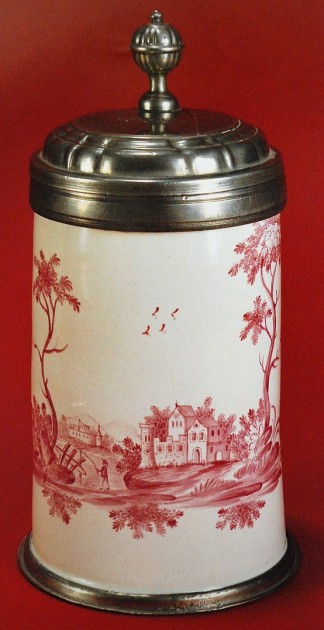 Additional No. 12.

[END – SP104 – 21 – R5]

Some mistakes are too much fun to make only once.