NOTE:  CLEANERS AND POLISHERS ARE NOT THE SAME TO ME  ►  TWO SEPARATE PROCESSES!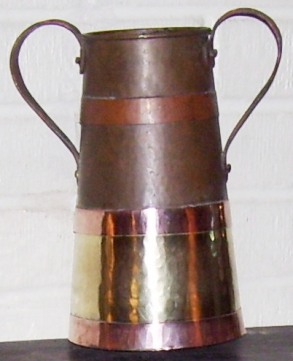 An example of one process described below: A pre-revolutionary Russian brass "pass cup" with copper body rings. I used "King Midas" (a great cleaner, but it is  now KAPUT! = Out of business.) to get the initial oxidation off and then "MAAS" to polish it up. Total time expended: no more than 30 minutes.   If the oxidation doesn't require real heavy duty work, don't use The Twinkle – go straight to "Brasso. "
---
 EDITOR'S NOTE TO MY READERS  ON 12-31-15
  HERE IS A NEW LIST OF RECOMMENED "CLEANERS"   AND POLISHERS    IN HIGHEST RATER ORDER !
 BUT ONLY FOR FOR SOLID COPPER, BRASS, BRASS AND COPPER PLATED  AND BRONZE  
 

 [1] TWINKLE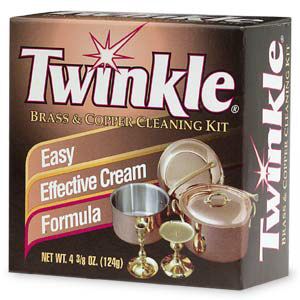 THIS SUFF IS GOOD —  BUT —  IT IS SLOW TO WORK WITH  AND MESSY !! – GETS ALL OVER THE SINK,  IF YOU EVER REALLY WANT TO PISS OFF YOUR WIFE — JUST GET HER KITCHEN SINK AND DISH RACK  DIRTY!!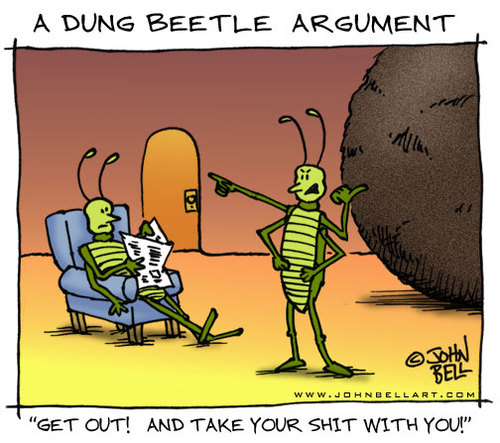 ---
DO NOT USE TWINKLE'S  SILVER CLEANER FOR BRASS, COPPER, COPPER OR BRASS PLATE, OR BRONZE!!
---
   [2]  BRASSO
---
[3]   SIMICROME

---
[4] WENOL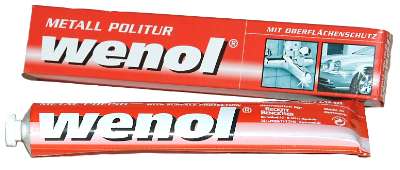 ---
[Editor's note 6-1-2013l   Anyone interested in Copper, or old mining should enjoy reading this article I did! ~

http://www.rawstory.com/rs/2013/06/01/mes-aynak-afghanistans-buddhist-buried-treasure-faces-destruction/
---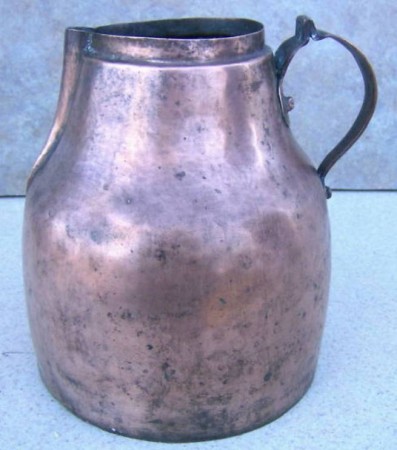 before: An old  Russian pre-revolutionary  all copper beer server, as found,  about 2 liters, [FWTD]
---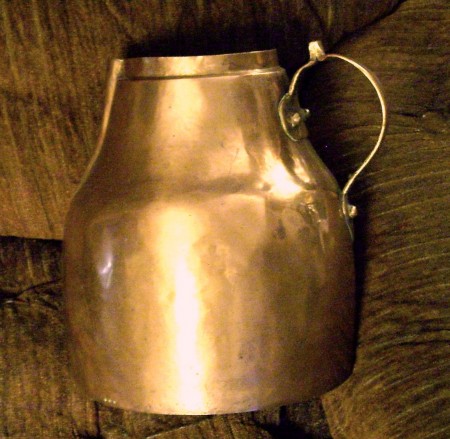 After cleaning  and polishing with items shown above. 
Okay,  let me state right now; I am a firm believer that old beer steins in a modern day display  (especially metal ones) should appear as close to when they were made as possible!!!.
And if you disagree with that statement  . think about how often you wash your car  and why !!
Now there are a couple of exceptions to this "Rule:"    and they all pertain to pewter!
[1] a piece with encrusted layer of oxidized pewter, that one should just leave alone. 
[2] A pewter piece with "real patina" (an aged gloss evenly spread all over the piece.)
 [3] Reservist (Regimentals) stein lids. I knew of a stein collector once who was also a dentist, who would use his drill equipment to shine his "Reservist" lids up. Then they did look " newer and shiny, BUT they also looked like they were "brand -new[!] " and might have been recently replaced by a German pewter-smith or  one of the a stein lid repairers, who all now order new lids from the German pewter lid making companies as the new prepros look about 95% as good as the older versions.
See:  http://www.steveonsteins.com/reservists-regimental-reproductions-1-4
---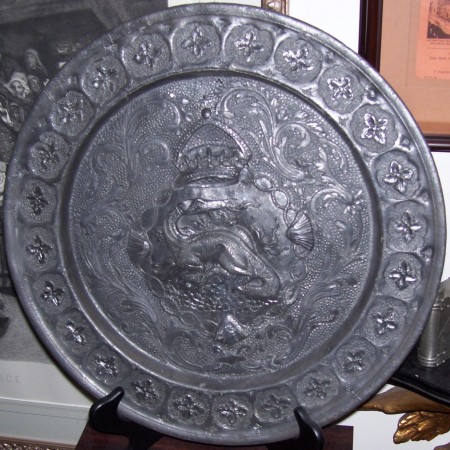 Above: A very heavily encrusted French pewter charger, 16.25 inches wide, from around 1650-90. [FWTD] There is no practical way to polish this piece without destroying its value. One could soak it in Muriatic Acid, then scrape off the gunk and then work on it with steel wool for weeks, and it would still end up looking like aluminum when it was done! Or one could use a "Dremel tool, and grind the layer of encrustation away. This also will make this piece (or any stein) look like aluminum and may ruin the piece by actually grinding too far through the metal and creating holes. So, my answer? Don't mess with it! (See Lotti's article below.)
---
 Over the years I have given lectures about beer steins and collecting them, all around the USA, East of the Mighty Mississippi. Every time (really? yes, every time!) I show one of my shined metal steins I will get the question: "what did you, Steve,  use to shine it up?" As I know this question is coming I always take one of my most dirty pieces with me. It is most often this one shown just below, as at the same time I tell everyone these are not REAL beer steins, regardless that they are listed in "The Beer Stein Book " as such.
Below ▼: This is really a 16 inch tall, brass, Dutch Or Belgium made,  C. 1870-90, stamped, or pressed," display stein"  (for a mantle or hearth ), or an "ash can."The larger ones  as the one shown were also used for storing  kindling for next to the fire place.  One can not possibly drink beer from the larger ones for several reasons; not the least of them would be that when full of beer, the weight of the body would pull the poorly soldered handle right off the damn thing! But the design is a copy of that found on about a  3  liter Westerwald stoneware beer stein. 
These ▼  ▼ (again, pressed / stamped) relief scenes show three famous kings in Europe's Frankish history (that were all from one family) These really big ones most likely were  produced for display as they do look stricking when polished up, but they all also come equipped with an asbestos type material as their base there by being available for fine fireplace ash. 
---



CHARLEMAGNE           CHARLES (THE HAMMER) MARTELL          PIPPEN
I explain in my lectures that once I buy a piece this oxidized and dirty I will test out how bad the corrosion is by using  just a tiny bit of the  "Simicrome" or  "MAAS".
If this doesn't dent the oxidation, then I call in the "Big Guns" = "Twinkel Brass and Copper Cleaner" (also of course good for real Bronze  Steins, (but not "Bronzed Steins" – please, please see  just below and also "bronzed"  in this site's compendium for the difference!)
Used with just a bit of water this stuff (Twinkle) can become a iittle messy when using a toothbrush while trying to get into the cracks and crevices of the relief instead of using the small round pad that comes with it. As said before My "Lady Julia" hates for me to do this in our kitchen, so I resort to using the set tub, which is next to the clothes washer, and of course she then bitchs about that also !
"Twinkle" does a great job, but one might have to do the process a couple of times especially in the areas that are hard to reach. Use a tooth brush or get some mascara applicators  (like Q-tips  but with one flat end and spear tip on the other, all drug stores carry them.) 
NOTEL when using Twinkle,  The copper or brass will come out a much duller color than expected.
WARNING "TWINKLE" IS VERY CAUSTIC. 
WEAR GLOVES WHENEVER YOU USE IT! 
THERE ARE NO WARNING LABELS ON THE CAN OR THE BOX, BUT TAKE IT FROM MY PERSONAL EXPPERIENCE. THIS STUFF CAN BURN YOUR SKIN AND EVEN EAT YOUR FINGERNAILS AWAY !!  DONT TAKE A  CHANCE – PLEASE WEAR  GLOVES!!  
For the inside, which usually is "tinned" (most often some tin remains) I will use  "Soft Scrub" to clean it as it won't hurt the tin if you are gentle and use a hard brush, not a wire one.  
After the "Twinkle" treatment, your stein will be left with some dried green residue, which will simply wash off with hot soapy (as in Palmolive) water  and a tooth brush. I sometimes  use Windex, it can be faster!  Some green area, especially in the cracks will remain but don't worry about it as the next steps will take care of that.  (This does not apply to 1600 and 1700's engraved steins !" Should you be lucky enough to find one ;  and believe me they are out there as very few collector's  knows what they are.  Below will be a special paragraph of what to do to try to clean the   caked on polish on the ancient ones.
Do TWINKLE as many times as you need, BUT: USE REGULAR LIQUID SOAP  and water and wash well and rinse really well! = especially if you ever expect to drink out of it!
---
   ▼   ▼   ▼  EXTREMELY INPORTANT !!
PLEASE DO NOT USE ANY CLEANER ON THE "BRONZED" SPELTER LIDS THAT ARE FOUND ON OLD POTTERY AND GLASS  STEINS (MOSTLY HOBNAILS)  SUCH AS THAT SHOWN JUST ABOVE ▲!
THE COPPER COATING [ON THE MOLDED SPELTER] COMES OFF QUITE EASILYAND YOU'LL BE LEFT WITH AREAS OF GREY METAL SHOWING!  USE WINDEX AND A VERY SOFT TOOTH BRISH OR A "Q TIP."
---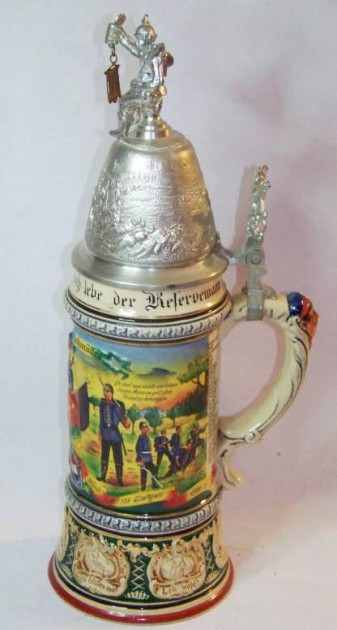 DO NOT SHINE YOUR RESERVIST / REGIMENTAL STEIN;S PEWTER LIDS UP TO LOOK TOO BRIGHT ! 
IT WILL GIVE THE APPEARANCE OF A REPLACED LID !   THIS IS AN AUTHENTIC OLD LID  THAT HAS HAD ALL THE OXIDATION POLISHED OFF, MOST LIKELY BY A WIRE BRUSH / DREMEL. = NOT SUCH A GOOD IDEA.
---
AGAIN A SPECIAL NOTE
  DO NOT USE  LABELED "SILVER POLISHS "ON ANYTING BUT SILVER OR SILVER PLATE. !  
BUT     YOU MAY USE THE WENOL, OR  MAAS,  OR SIMICROME ON MOST ANY METAL INCLUDING SILVER WITHOUT DAMAGING IT.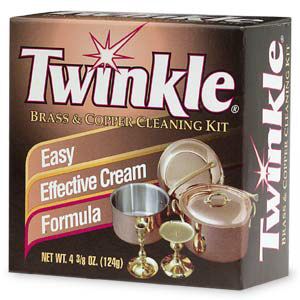 ▼  ▼Another example of the process described: 
Before and after. A Russian beer / wine  server C. 1840. [FWTD]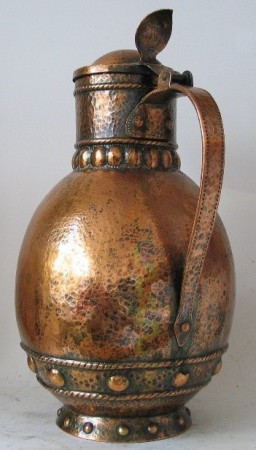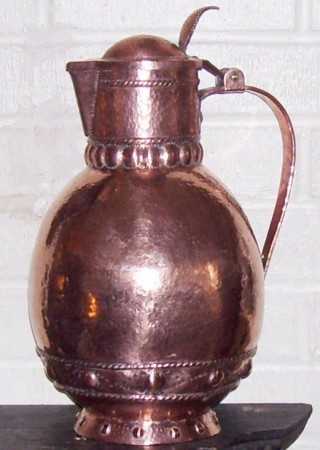 Which ever polish you end up using, you should only need to use a tiny amount of it on each attempted area to be shined!
Using a soft rag (old undershirts are great), a dab about the size of a pencil eraser will do an area of at least 4 [x] 4 inches. The cloth will get filthy dirty black, but don't stop just then, continue for a while longer to get best results. Then using a clean part of the rag, then wipe off  the black residue off the stein. You should use about 3 parts of the rag to make certain all the polish film comes off.
AGAIN: For the inside, which usually is "tinned" (most often some tin remains) I will use "Soft Scrub" to clean it as it  won't hurt the tin. Do as many times as you need, BUT: soap and water it off, and rinse really well!
The final step is to use a DRY hard toothbrush to brush out all the dried polish inside all the cracks and crannies (sometimes a little spit helps! if that bothers you, use WINDEX.Then buff once more with the clean part of the cloth. Good luck.
  NOTE: On a recent trip to Denver I stopped at an ACE hardware store and bought a plastic can of "Brilliant" polish. It worked as a cleaner  under Simicrome and Wenol.  I would rate it about at an 5.5.  ONE HAS RTO RUB A LOT !!
ALSO WHEN AT ACE, I BOUGHT A SMALL BOTTLE OF "FLITZ" DO NOT BOTHER AS ON  A GOOD DAY IT MIGHT RATE IT A FULL 2.0 AS A CLEANER OR A POLISHER COMPARED TO THE ONES ABOVE. PLEASE SAVE YOUR MONEY!!
that I would recommend, and believe me I have tried 90% of them on the market within the last 43 years.
WHERE TO BUY THESE POLISHES  ? = ON THE  WEB @ GOOGLE, [OR] @ ASK .COM , [OR]  @ EBAY.
Also, most big  shopping malls have a William-Sonoma store which sells "Wenol."
---
Do not use any Muratic  acid  (or any other kind)  as it will make the vessel's finish look like just below ▼: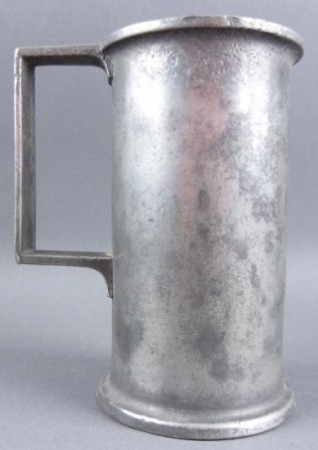 ---
"(SOME OTHER)  THOUGHTS ON PEWTER"
……… by Liselotte Lopez;  A SCI Master Steinologist, awarded  in 1983.
(date of publication unknown – but prior to Jack Rives' death in 1998)
The May issue of the Keysteiners Newsletter brought a mild complaint by Jack (Rives) that we members had not contributed ant written word. What better way to remedy the above than be putting together a little story about pewter and submit it to the resident expert.
When it comes to pewter, I want mine spotlessly clean with a soft cared for appearance. Call it the German background or an ignorance for the called patina, so cherished by some stein collector's. I can't wait to remove dirt and imbedded grim of a century or less and wash the tankard or just the lid in soap and water, using an old toothbrush to get into crevices where dirt likes to hide. I'm not overly fond of tankards that have been artificially aged by dipping them into who knows what, something they did as early as the 1880's .  By now, the entire surface has become pitted and rough looking as opposed to the inside of stein lids or tankards that have seen little use. Immersion on hydrochloric acid will remove this fake patina, a smelly and unpleasant, if not dangerous procedure I will not recommend to anyone. In the past I have been know to undertake this task but not any more – I simply avoid tankards thus treated.
Let's say then that I have come home with a pewter tankard or lid that has been ravaged only by time, not a chemically induced patina. After washing and drying I apply a wadding polish ('NEVERDULL') and polish after drying. The raised pewter surfaces will gleam, the low relief portions not quite so much, making for a pleasant contrast. It's a bonus to discover finely embossed artists names or other small details that would have remained hidden under the dirt/patina layer. I marvel at the excellent molds the makers used and the minute detail and delicacy of designs.
My stein collecting friends have a good time teasing me and can be found in one or the other camp. The first group claims that the patina of the ages should never be removed and I agree. But what constitutes "ages"? Surely one hundred years or less does not qualify for such an exalted term. Most tankards in the ordinary collection today were made from 1870 onwards – give or take some years – they are hardly a century old. I suspect that the collectors in this group find the cleaning such a chore that they wish to avoid it at all costs. It's easy then to claim I "ruined" the thing, whatever I did, as it now looks too new. I say baloney – I improved the appearance.
The second group can see the advantage of nice looking pewter and I have made some converts to my way of thinking. Though they still don't like to clean, they have discovered the hidden details in relief scenes formerly hidden by the lack of cleaning
Machine buffed pewter is a definite "no-no". Nor will I touch or try to improve 2the pewter rims on Mettlach'sinlay lids as a large number of them were artificially aged at the time of their production or a lower grade of pewter was used that oxidized heavily . An acid bath to remove this layer is therefore unthinkable.
Due to a demand for pewter items on the Continent (editor: Europe)  with an antique look, a majority of recently made pewter items in Germany are being artificially darkened, on lids usually inside and out, a dead give away. This is accomplished with IRON III CHLORIDE, a mostly non poisonous and non acid substance. The yellow brown powder in mixed with water at a ratio of 1:20; stronger or weaker solutions require a shorter or longer immersion time
To achieve the patina, the items can be removed from the iron chloride bath when the desired degree of darkness is reached before dipping, the pewter must be cleaned to remove dust, dirt, finger prints or any body oils that would leave the surface spotty. Finest grade steel wool maybe used. The pewter item is to be moved around in the bath in order to avoid bubbles for uneven color. For best results, the mixture should be as weak as possible, a light color, not unlike the color of beer. When the desired color is reached, rinse the item in cold to lukewarm water. If sheen is desired, liquid wax or car wax may be applied. Try not to get splashes on clothing – the stain is permanent
Since all of us live with pewter in one form or another, be it lids, foot-rings, or entire tankards, the question of cleaned versus uncleaned pewter has arisen with each collector  For those wishing to make shiny, new looking pewter darker, I have supplied a recipe. For those who have not given it a thought – you may want to. Clean or oxidized – you know where I stand.  (L.L.)
Editor's Note: Even though Lotti recommended "Neverdull" I don't care for it. It is no where near as effective as the four  listed above, and also very messy.
---
An email about brass beer mugs
On 6/1/2013 11:04 PM, Thomas H wrote:
Hi Thank you for you web site.
I purchase several brass mugs to give 2 boys who are 21.at Christmas.I will get Maas to clean.

My questions is  Can put beer in the container or do they have to lined with anything–if so what should I look for. It is nowhere on the internet–strange
Thank you

Hello Mr H,
  .and thank you for your email and "kudos."
You may drink anything out of brass vessels once washed and cleaned.
However when drinking beer (and I assume wine) the brass will make the liquids taste different.  Lots of people do not like that taste;  But  then again drinking beer out of a pewter or silver stein or mug  makes the beer taste different.  
 
If you don't have an old fashion "Tin-smith" in your neighborhood (and not many do!) I would think  spraying – just the insides of the body  –  with a CLEAR non-toxic Acrylic spray. That at least should hopefully make the situation better.
I'm not recommending this brand or any other .just that any Wal Mart Ace Hardware would have it:
http://www.walmart.com/ip/Mod-Podge-Clear-Matte-Acrylic-Sealer-12-oz/17300139
Steve
---

"Some of us learn from the mistakes of others; the rest of us have to be the others."