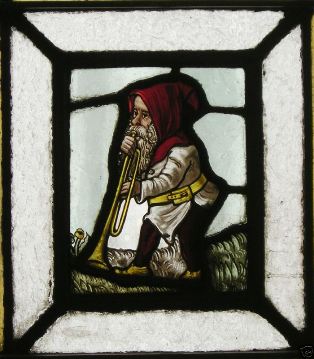 Just a great little stained glass window which would be called a "Go With" when displayed with a collection of old gnome steins.
"Heinzelmänchen": This is the German name for their "secret people."
Please see the in depth article in PROSIT,the magazine of Stein Collector's International  (No. 101), by Floyd Dietlein and Roland Henschen, September 1990.

.
Shown above ▲: A hand decorated by A. Saeltzer,  one liter beer stein. Ca. 1890.
Shown below ▼: An almost  matching one liter,  but un-lidded and different colors everywhere .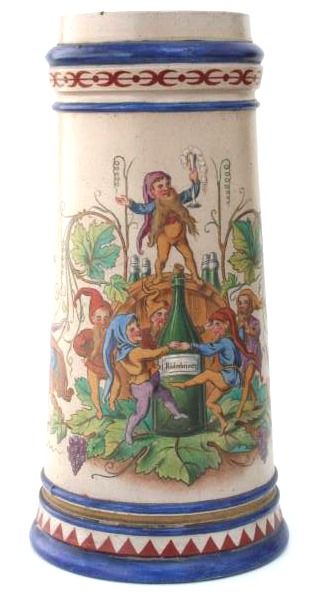 See two other .5 liters, by  Saeltzer far below.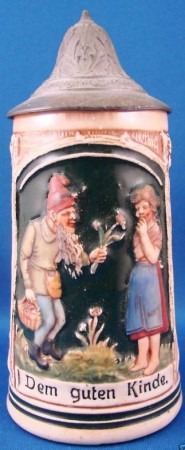 "The Good Child", a Kinder stein. Circa 1910.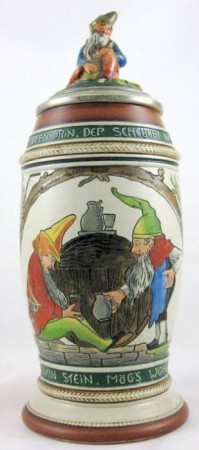 An incised (not etched!) pottery beer stein. Etching is done on glass with acid!
Different versions of another little  pottery relief kinder stein.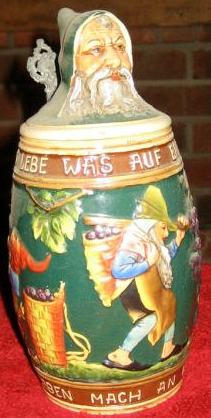 A nicely colored 1 liter pottery stein. Some collectors would call this a "character" stein, incorrectly.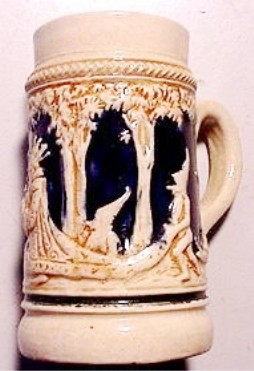 A pottery kinder mug. The real story behind this scene has not been found (heard?)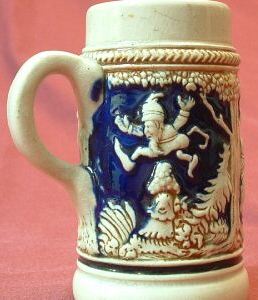 Another scene on a kinder mug that no one can tell what story it is from. Maybe none?
See: http://www.steveonsteins.com/kinder-steins-page-1-13rd-of-article-text-only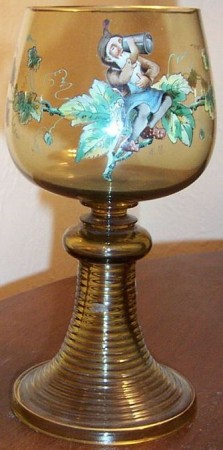 A hand enameled wine roemer, signed "Heckert", a famous glass decorator.
Parts of the set of six V & B Mettlach coasters with gnomes. The real color of the edge rim is closer to the one on the left.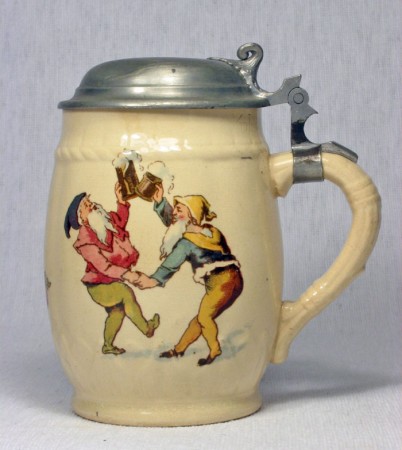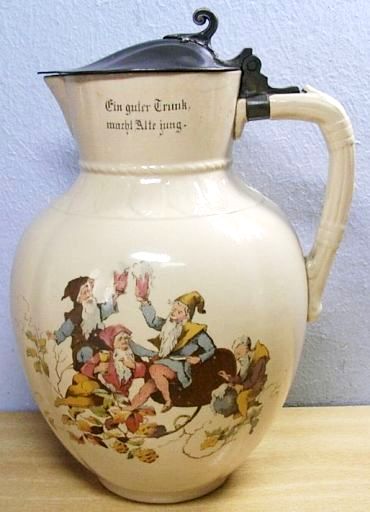 A V & B Mettlach, half liter P.U.G. beer  stein and the matching  2 liter [?] server. Part of a set using the same PUG scenes as on the coaster.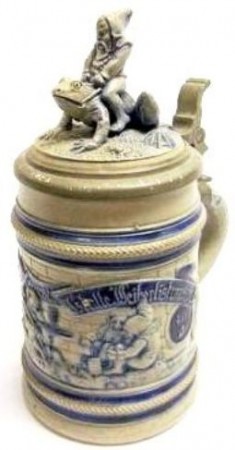 A half liter saltglazed stoneware stein from the Westerwald. I believe to be  Circa 1875.  A very popular beer stein because of that finial.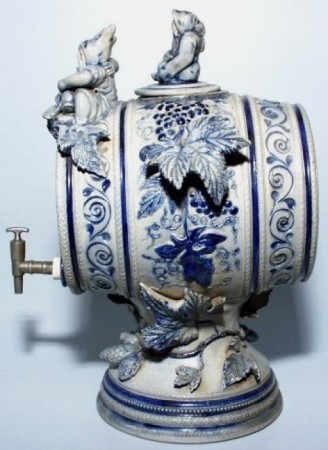 A highly sought after Westerwald stoneware "schnapps server."  Circa 1870-80.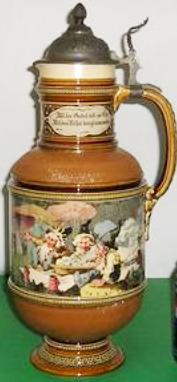 A  V & B Mettlach  P.U.G. serving / master stein.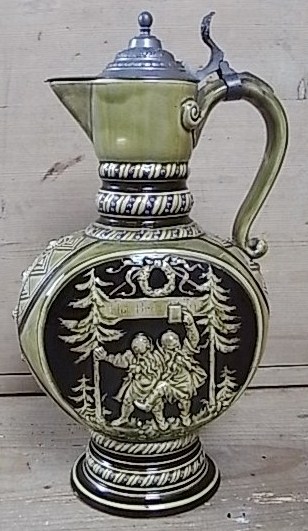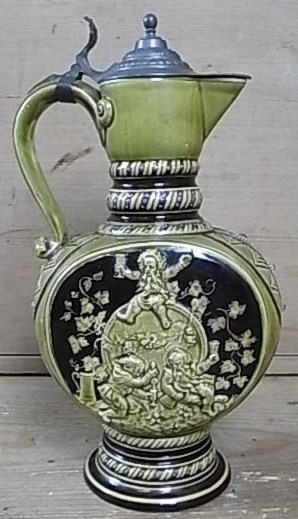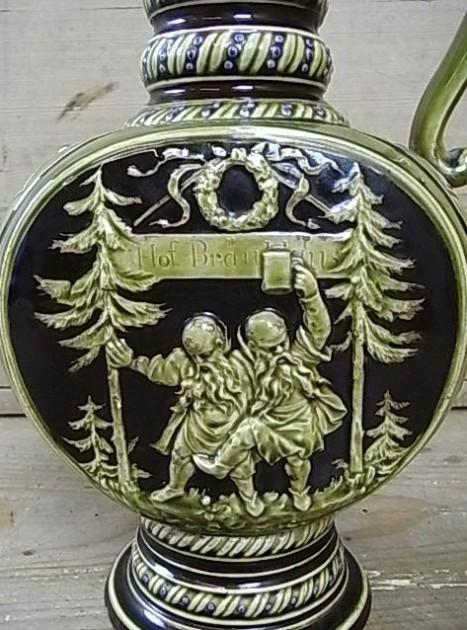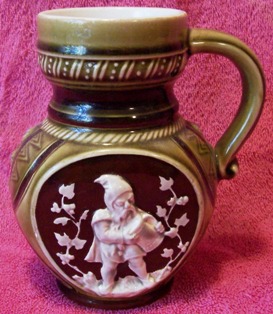 The  small majolica beer mug that with different coloration would go with the server above. These mugs  also come with lids. Circa 1900 -10.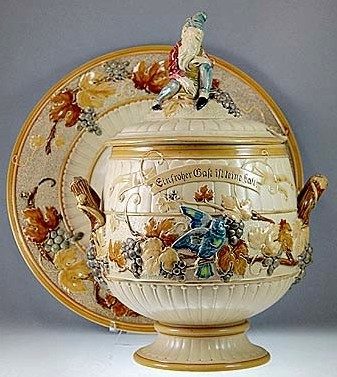 V & B Mettlach relief pottery punch bowl. Gnome sitting on the lid.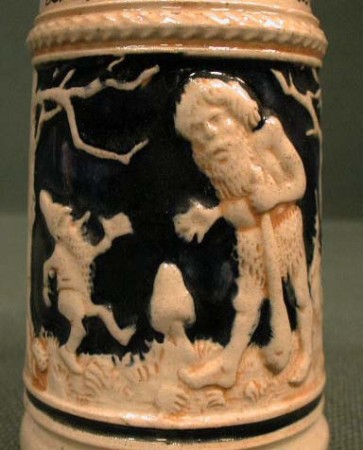 A pottery "kinder mug" showing a gnome talking with a German "Wild-man."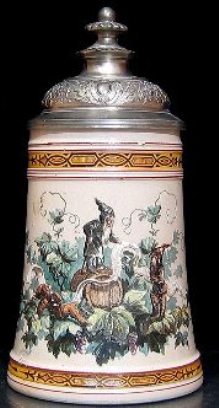 Another great enameled stein decorated by A. Saeltzer. Unknown stein body maker.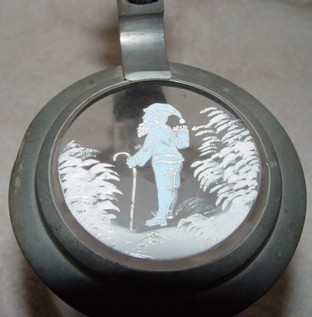 Hand painted gnome on the lid of a glass stein.  Circa 1880.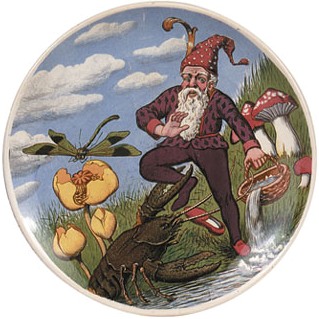 A V &B Mettlach wall plaque.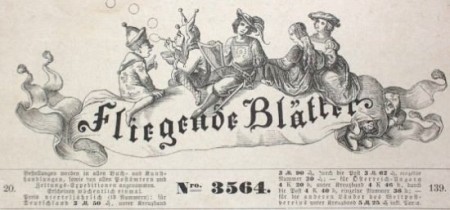 An old German ad – the Heinzelmänchen are hiding within the scroll.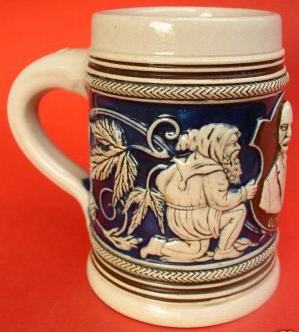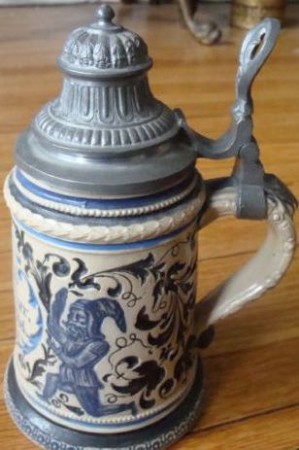 Two examples of  where a German dwarf is used as a cartouche  "supporter", as seen in Heraldry.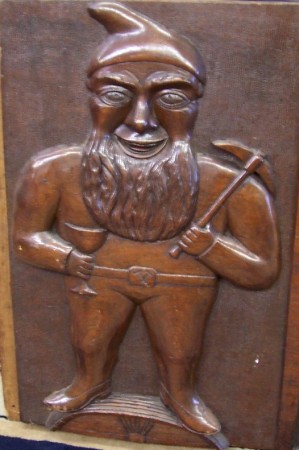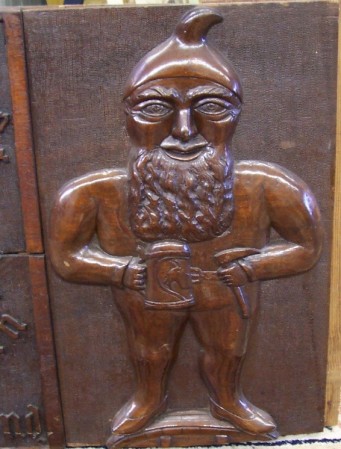 The carved side panels on a very large mirror that once hung in a Miner's Guild Hall. Circa: Early 1800's. [FWTD]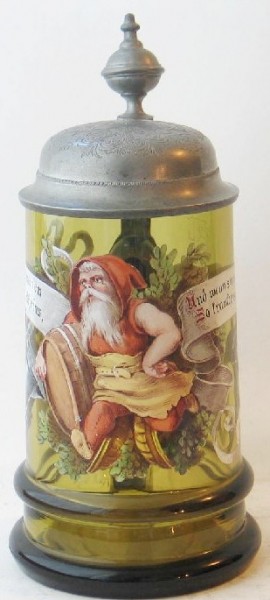 Theresienthal glass, "van Hauten" decorated, and signed. [FWTD]
See: http://www.steveonsteins.com/van-hautens-enameled-big-question-drinking-wares-draft-2-3-2011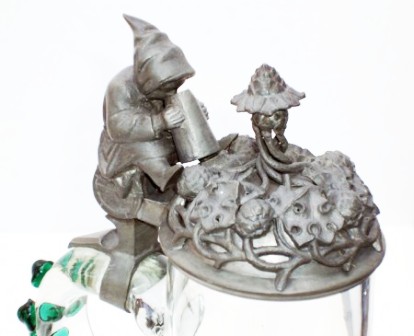 Lid to a large glass beer server (maker unknown to me) always with very large colored "nipple prunts", and the lid is never seen on anything else. Circa: 1885.
V & B METTLACH  (2327-1127) V & B METTLACH  (2327-1175)
Kinder mug scene. A gnome without his cap feeding [?] a squirrel.Two other gnomes are on the right side.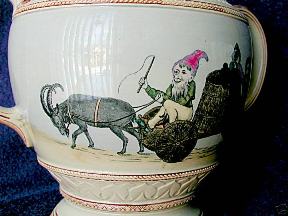 A small German punch bowl, PUG decor -unknown maker.
Some of our little guys celebrating great beer on a " Pabst", Milwaukee mug, (the original brewery was founded in 1844 as The Empire Brewery.)
An incised 1/2 liter stoneware stein by "H-R", a highly collected beer stein maker.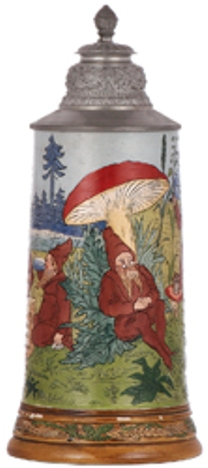 Another incised H-R stein,  No. 526.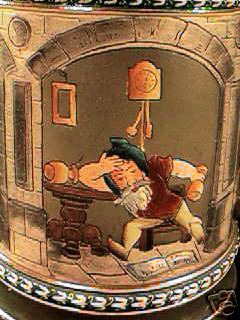 Side detail of a  "Gerz" pottery stein: A gnome who has had his last drop. The time on the clock is past 12!  So the gnome  knows that there will be bad luck, as the devil harasses drinkers at that hour of the morning!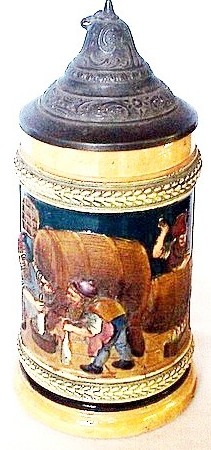 Some wine making gnomes,  3 /10 liter stein. Circa 1900.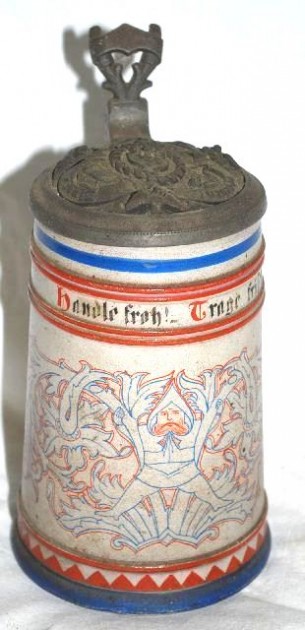 A very unusual decor, .5 liter, done by Saeltzer.
One of a  pair of  early Villeroy & Boch, "Septfontaines", wall plates.
Go to page two please
[END – SOK – 45 – 4D]


  "Nothing is fool-proof to a sufficiently talented fool."