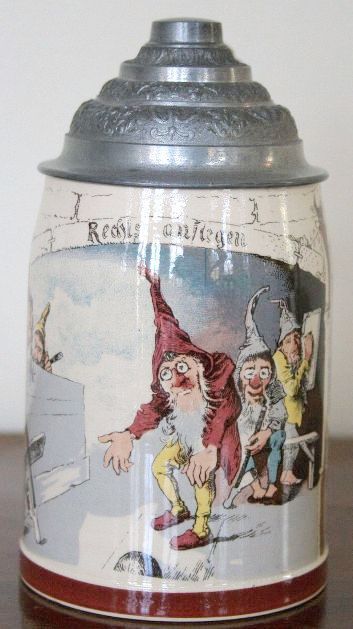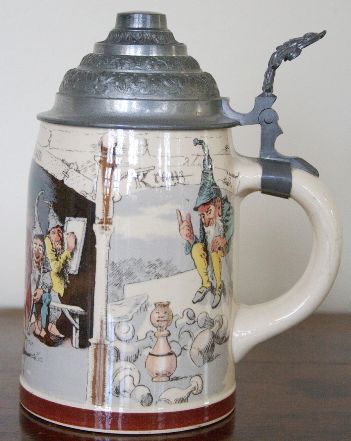 A V &B Mettlach, PUG stein showing gnomes playing one of their favorite games, "Kegels"  or "9 Pins."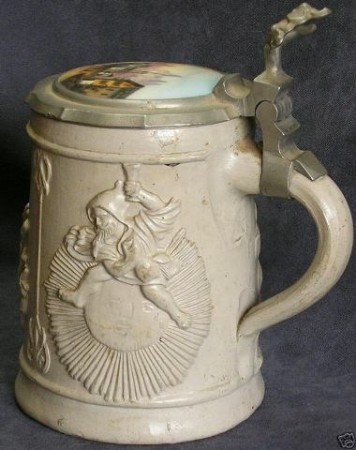 An early (Circa 1865-75) Westerwald (not Regensburg!) salt-glazed stoneware stein. Some stein collectors call these "Mud" steins, which is of course very appropriate!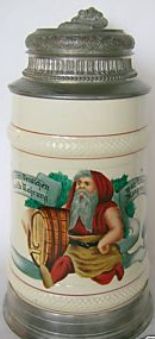 A simple .5 liter porcelain with a pewter base rim though.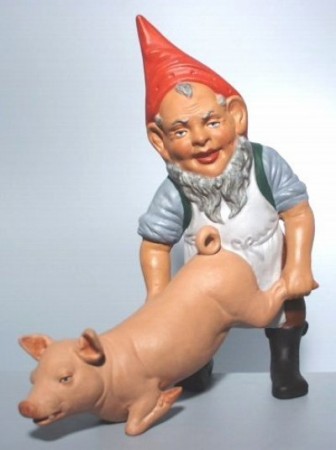 Bored?  Try this at home. But don't let your wife walk in on you, she might get the wrong impression! [From the gnome museum in Germny.]  This is really a butcher gnome trying to get the pig ready to slaughter!  (Yeah right, Smith!)
Lidless stein by Merkelbach and Wick [M & W, Gr.] – part of a Gnome series, see below.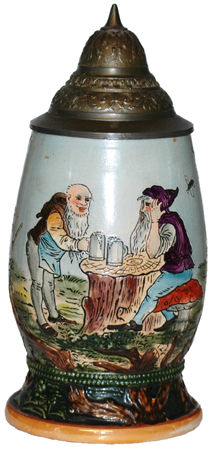 As above but "Mit deckel."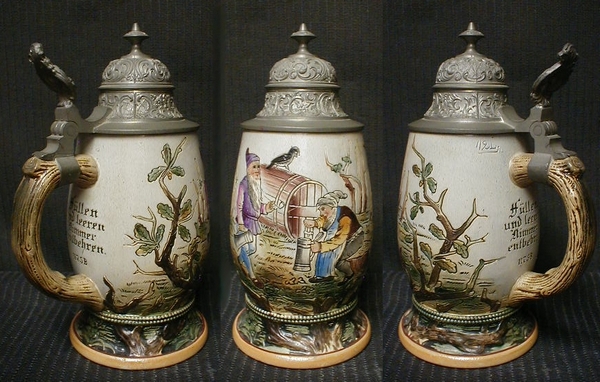 1/2 liter Merkelback & Wick.  [SC]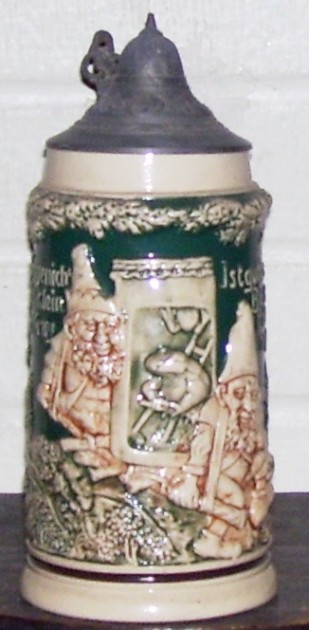 Two gnomes carrying the "weather frog" in a bottle. The position of the frog on the ladder can tell the weather forecast. .5 liter pottery stein.
Same scene as above, but  on a 1/4th liter stein, with an interesting molded tin lid and a tin spade as a thumblift.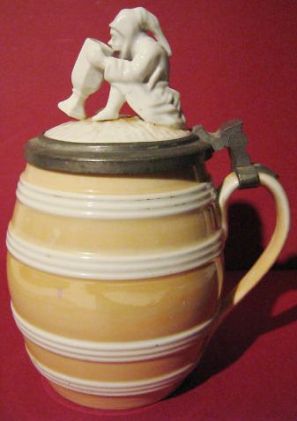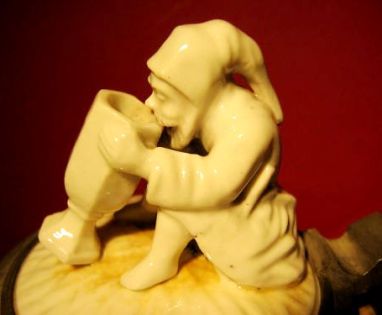 Detail
I think this gnome finial on this .5 l porcelain steins is glazed; while most were left in the parian stage.
.25 liter pottery relief, one of the few that show them eating at a table. It comes in a colored version also.
A well done "true Regensburg"  serving stein.The decor is called "threaded relief" by SCI collectors which implies small threads of "slip" were added to the surface; but the designs were really pressed into the stein by using molds. Circa 1880, but it looks a lot older.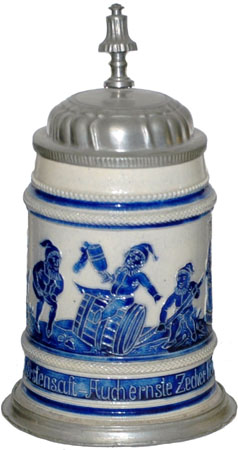 This is close to being the matching stein of the server above, if not it. Looks very well done esp. with the pewter base rim.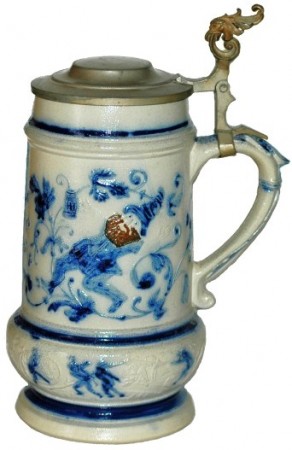 While looking very Germanic, this one liter stoneware stein  was made by the Whites firm in Utica New York. Ca. 1890 1907. As Whites were true American made ceramics there is a large crossover buying market for their products.
Below: these two Kinder mugs show "trolls" – not our fun loving old gnomes or Heinzelmänchen.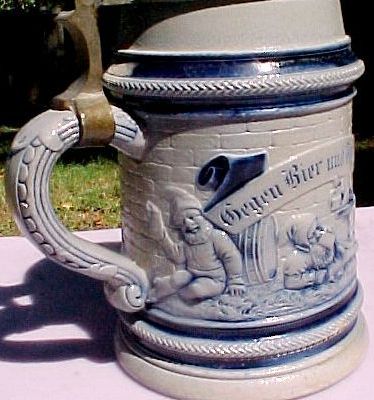 The German / Scandinavian Gnome King "Andvari," being carried on a beer barrel to a waiting party.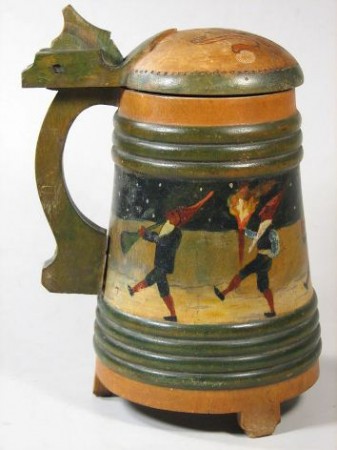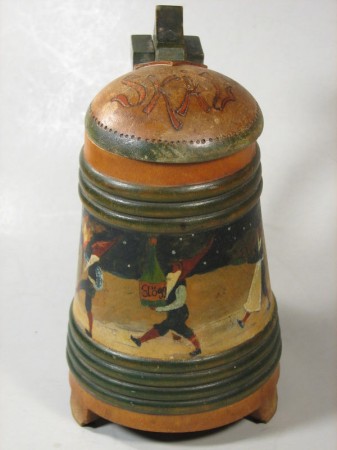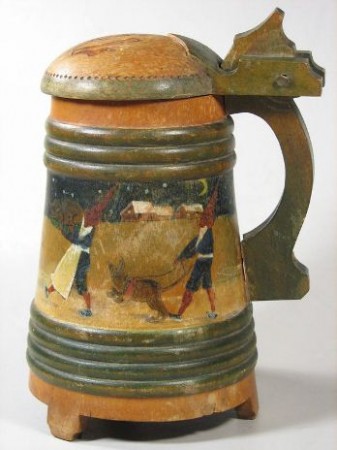 .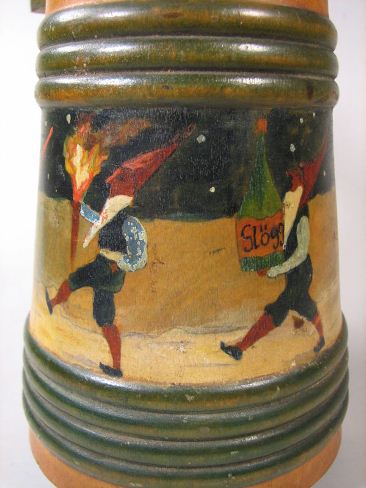 Detail: a very interesting little piece of folk art. 
Along the same line , this time to a New Year's party. Scratch-marked "Stockholm," and not dated, but around 1890- 1910 I think. Hand painted wood.  6.5 inch. Note in detail the champagne bottle is 3 quarters as big as the carrier.

A 1/2 liter copper wheel cut clear glass stein. A gnome pulling a sled, with a gnome thumblift also! Circa 1880.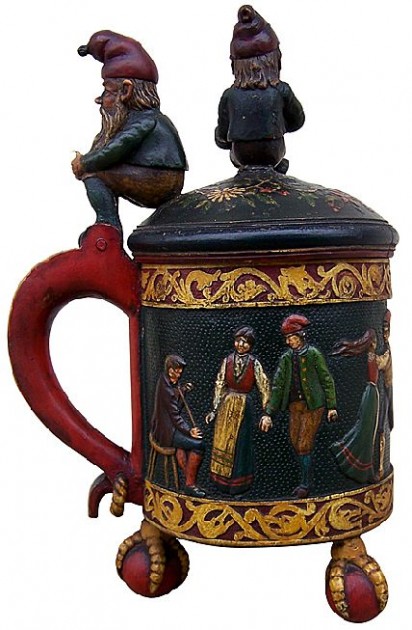 .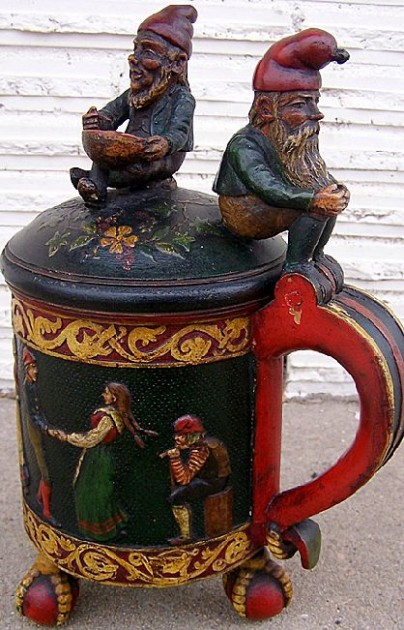 A large = 13.5 inches tall [x] 5.45 inches wide, hand carved and painted Scandinavian wooden tankard with "ball and claw" feet. This is not a "peg" tankard.  Carved body figures with a stippled background. I'll SWAG this to be Circa 1850. The large gnome as the thumblift may be Representative of  "The gnome king: Andvari." Excellent condition. (Comps of J. Johnson = "Mr. Lucky".)
[END – SOK –  23 – NOR5]


  "Obituaries would be a lot more interesting if they told you exactly how the person died!"