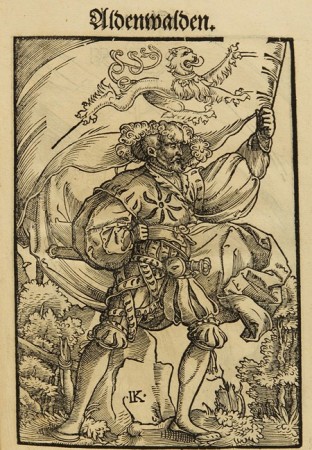 A nice old drawing of a typical Lansquenet standard bearer.  These and the other like prints would be great as a backdrop against steins with these guys on them I would think.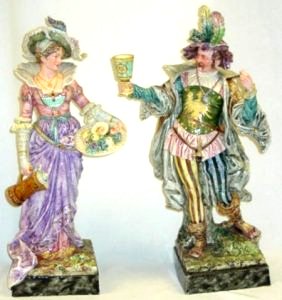 Majolica statuettes , 25.5  inches high, to the top of his feather. He should be holding a wooden halberd or lance with his left hand (most often missing.)
landsknecht
n.
[F., fr. G. landsknecht a foot soldier, also a game of cards introduced by these foot soldiers; land country + knecht boy, servant. See Land, and Knight.]
1. A German foot soldier in foreign service in the 15th and 16th centuries; a soldier of fortune; — a term used in France and Western Europe.
2. A game at cards, vulgarly called lambskinnet.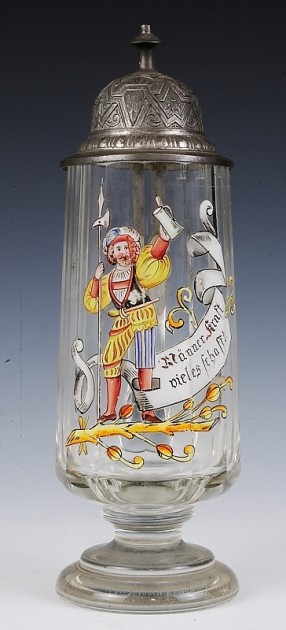 .5 liter  blown clear glass stein. Circa 1880-90.
LANDSKNECHT: A German mercenary foot-soldier of the i6th century. The name (German for "a man of the plains") was given to mark the contrast between the force of these soldiers, formed by von Frundsberg at rthe request of the emperor Maximilian I, about the end of the 15th century, and also the Swiss, "the men of the mountains", at that time the typical mercenary infantry of Europe.
Georg von Frundsberg (1473–1528), is usually referred to as the Father of the Landsknechts (land or country servants), an organization of mercenary soldiers from the lowlands of the Holy Roman Empire. Von Frundsberg and the Landsknechts fought in almost every 16th-century military campaign of the Empire
After the battles of Marignan and Pavia, where the military reputation of the Swiss had been broken, the Swabian landsknechte came to be considered the best fighting troops in Europe.
lans•que•net  – 
  Pronunciation: (lans'ku-net"), [key] —n. landsknecht. lands•knecht Pronunciation: ( Ger. länts'knekht"), [key]
 —n. a European mercenary foot soldier of the 16th century, armed with a pike or halberd. Also, lansquenet.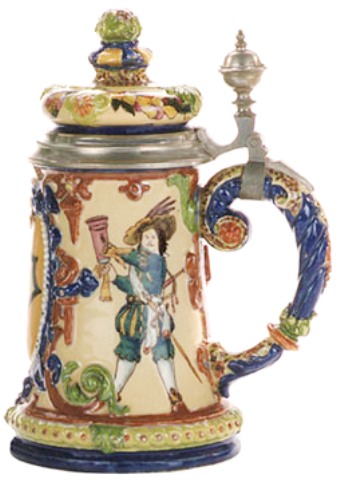 One liter hand painted relief majolica stein. Unknown maker. Austrian probably. Circa 1860-70 [FWTD]. Very well done and super scarce.
.
More on "

Landsknechten":


Though primarily a German force and always the mainstay of imperial armies, they served in organized bodies as mercenaries elsewhere in Europe; in France they fought for the League and for the Protestants indiscriminately. In fact iandsknecht, and more particularly its French corruption lansquenet, became in western Europe a general term for mercenary foot-soldiers. It is owing to the lange Spiesse (long pike or lance), the typical weapon with which they were armed, that the corrupted French form, as well as a German form, Lanzknecht, and an English Lanceknight came into use.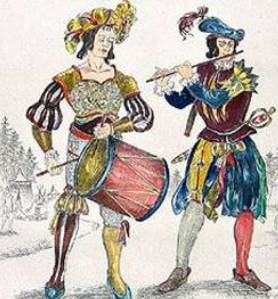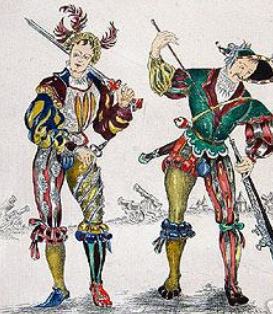 The landsknechts were raised by colonels (Oberst), to whom the emperor issued recruiting commissions corresponding to the English indents; they were organized in regiments made up of a colonel, lieut.-colonel and regimental staff, with a varying number of companies, colors (Fahnlein), commanded by rapt ains (Hauptmann); subaltern officers were lieutenants and ensigns (Fadhnrich). In thus defining the titles and duties of each rank, and in almost every detail of regimental customs and organization, discipline and interior economy, the landsknechts may be considered as the founders of the modern military system on a regimental basis.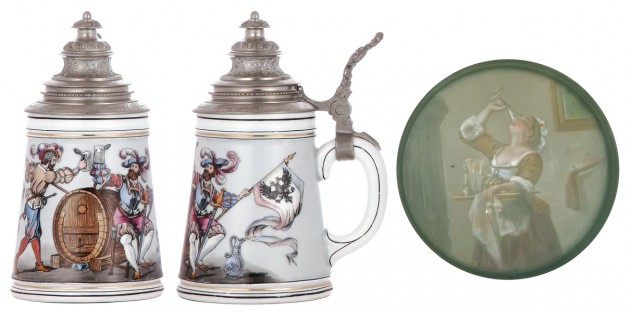 A .5 liter porcelain stein with colored lithophane, showing two duelers on the front. A very impressive stein (and of course not cheap!)  [tsaco]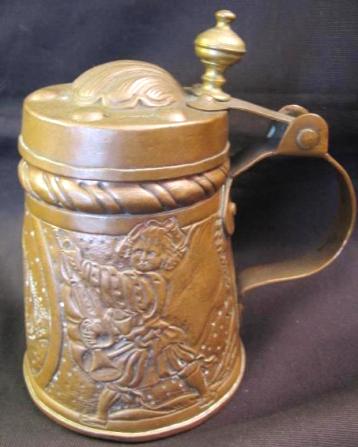 A Lansquenet flag bearer, as a side scene on a Bohemian chased and stippled copper stein. Circa first part of the 19th Century.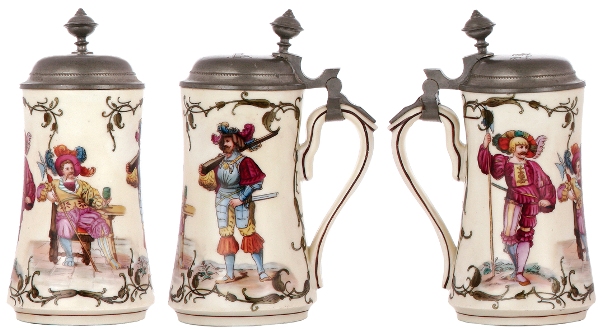 A half liter porcelain stein. Unknown company of manufacture. Circa 1885-95. [tsaco]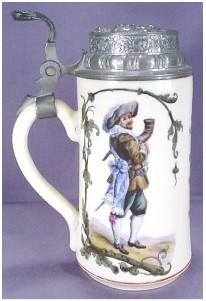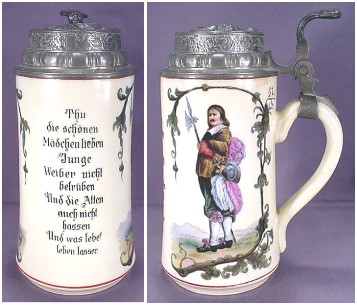 Another .5 liter one  by the same porcelain stein maker.  [SC]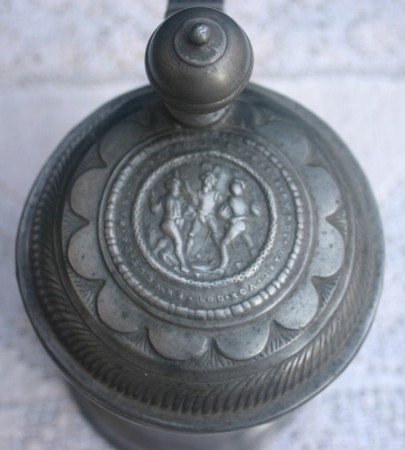 Kind of a messed up pewter body (cleanable, but lots of work), but a neat relief scene on the lid.
.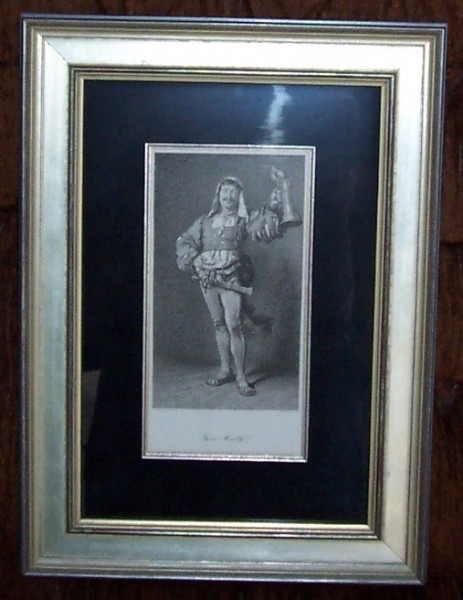 A nice "go with" black and white engraving of a lansquenet drinking from an old pewter server. [FWTD]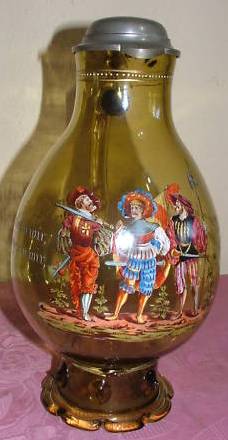 Enameled medieval "Lansquenets" on a large Josephinenhutte, or Theresienthal glass server.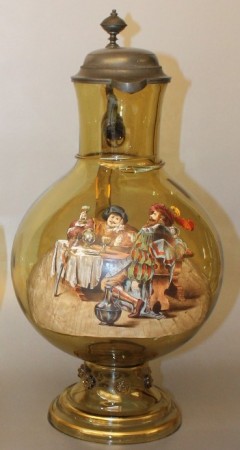 Another of the same vintage and style.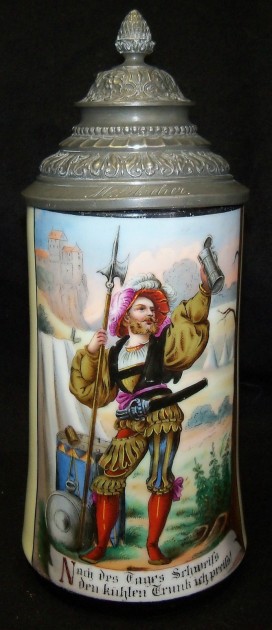 A very well done porcelain half liter Ca. 1890.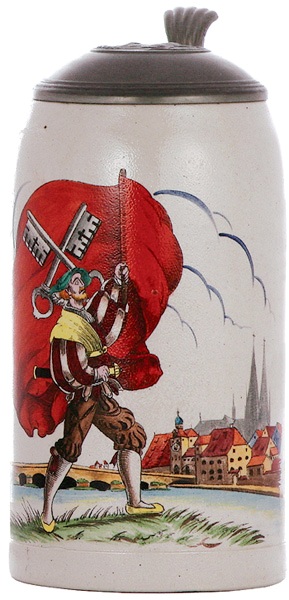 A "standart" bearer, .5 liter stoneware, POG, Circa 1910 -20.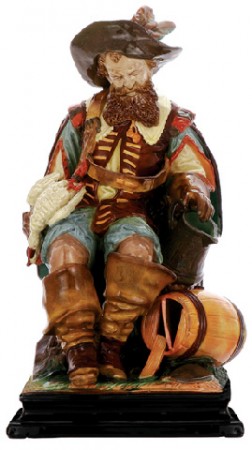 A German majolica statuette showing a empty wooden [?] tankard by his side. Unknown maker and size.
AS SHOWN ON SOME  V & B METTLACH STEINS: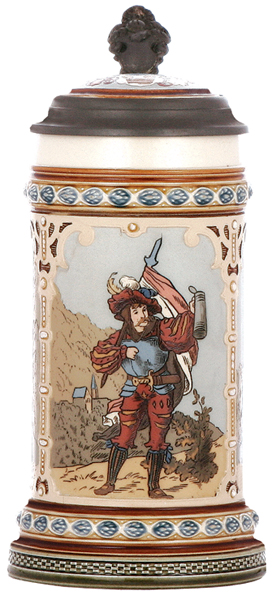 No. 2003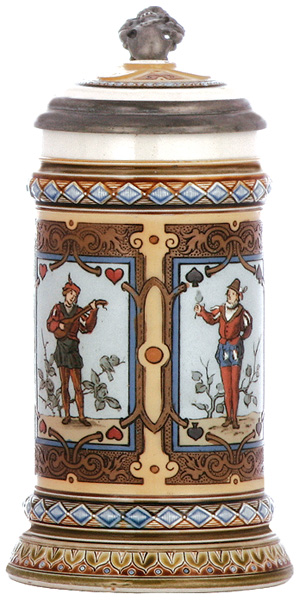 Above: On two V & B Mettlach, incised .5 liter steins.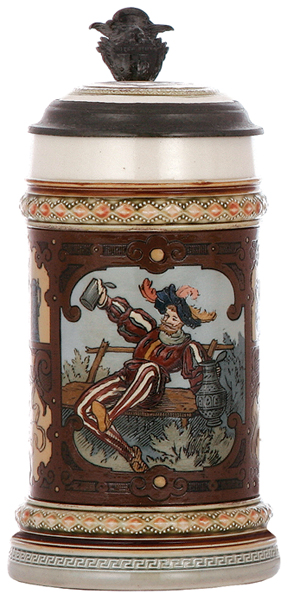 A Lansquenet on V & B Mettlach No. 1796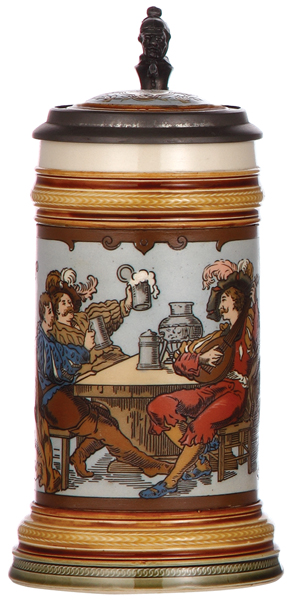 Lansquenet on V & B Mettlach No. 2331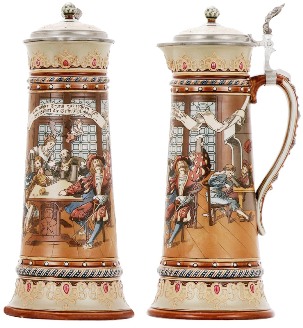 3 liter  V & B Mettlach, No. 2206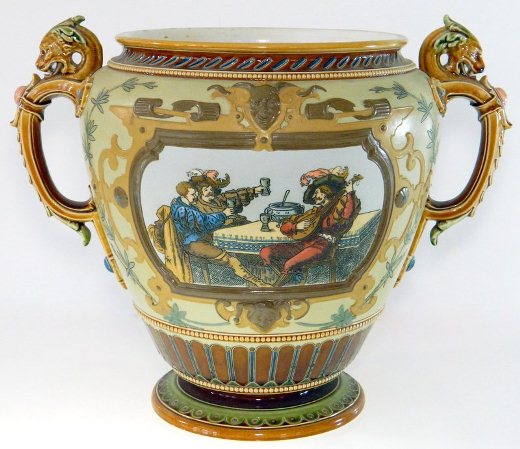 And on V & B Mettlach No. 1859.
[All above V & B Mettlach photos from TSACO.]
OTHER MAKERS: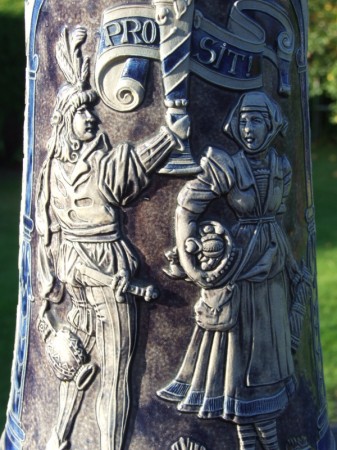 Really great detail on a 1 liter Westwerwald stoneware stein. I wish I could find a pokal such as that one shown. Got one?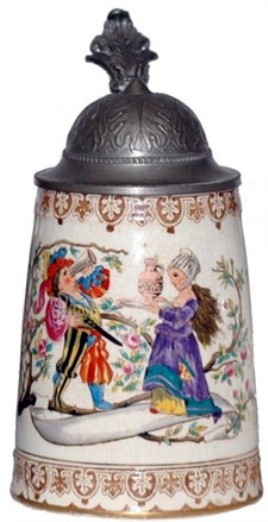 .5 liter,  porcelain, unknown maker, possibly Austrian. Ca. 1890.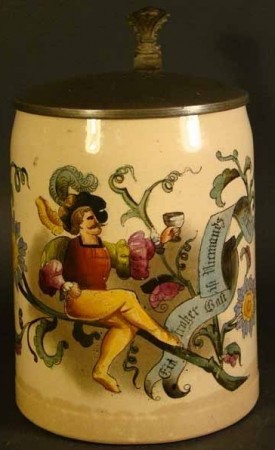 No split or multi- colored pants, but still one of the boys, just enjoying his wine in an old glass roemer. On a .5 liter pottery PUG stein. Ca. 1900.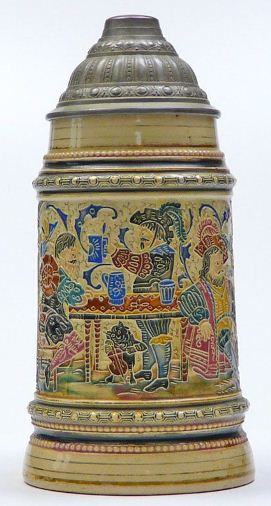 A Diesinger's version.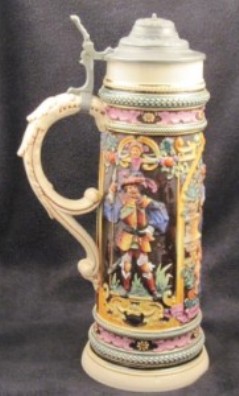 Lansquenet on Gerz stein. No. 866; a 2 liter relief pottery. Ca1890.
.
Lansquenet on Gerz stein No. 866 –  The detail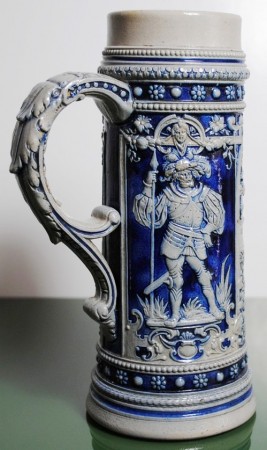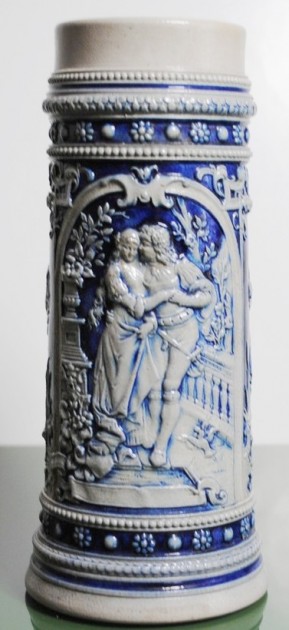 [L] Side panel of Gerz No 866, the salt-glazed stoneware stein  version.-[R] Front panel of same.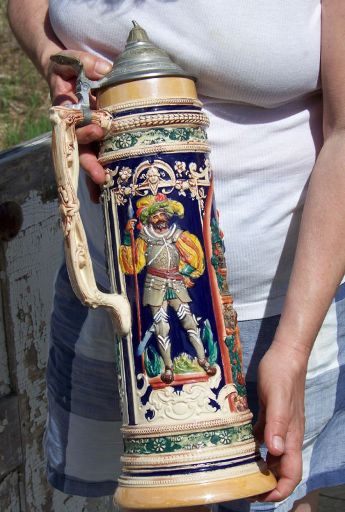 A colored version on a 18 inch stein by Gerz.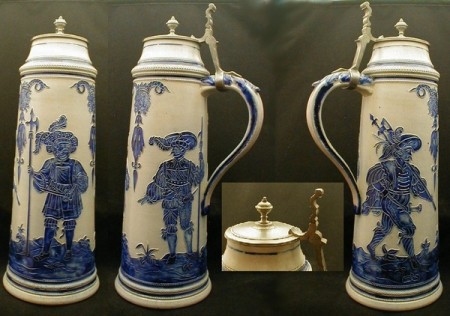 [SC]
.

DETAIL OF ABOVE.
Shown: 13  inches. A 2 liter, Westerwald made,  Ca. 1890. This is called  "threaded relief" or  "threading" design by the SCI'ers. I have no idea how they came up with that name. As it has nothing at all to do with cloth or stitching I would have called it "line relief."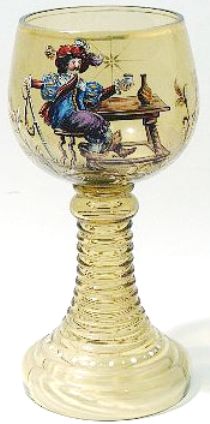 Roemer,  10 inches tall. [FWTD]

An enameled flute –  12 inches tall. Lansquenet with a halberd. Probably Josephinenhütte. Circa 1880.
Another enameled flute, Circa 1900  Unknown maker, perhaps Theresienthal Glas Hutte.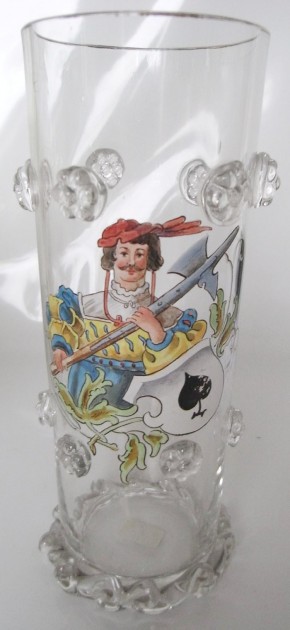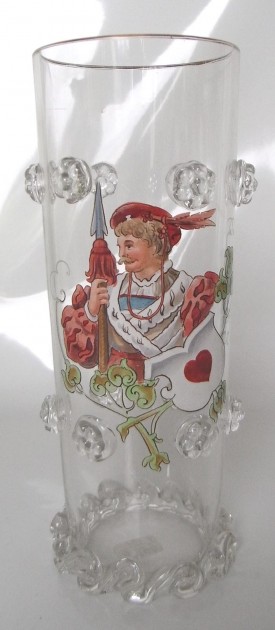 Two "card playing" clear blown enameled glass beakers by Theresienthal. Ca. 1900.
ANOTHER LOST PHOTO BY THIS FUCKING WORD PRESS PROGRAM
. .5 liter blown glass stein. Ca 1890. Another well done Theresienthal item.
For more beautiful Theresienthal glass steins, see: http://www.steveonsteins.com/theresienthal-glass-steins-the-guide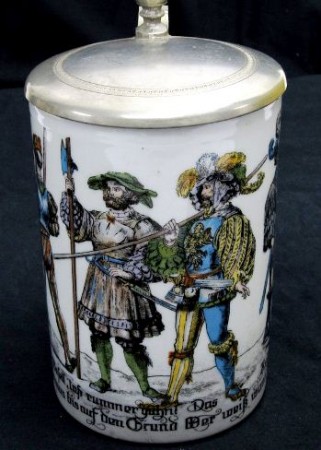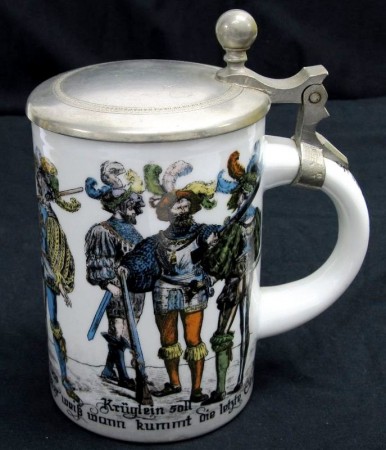 On a 1/2 liter, 'newer' porcelain stein by Kaiser.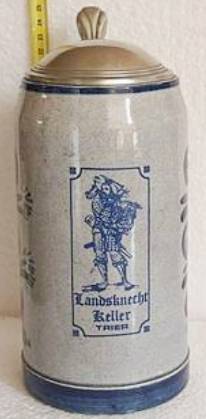 "Landsknecht Keller," one half liter stoneware. 'Newer.'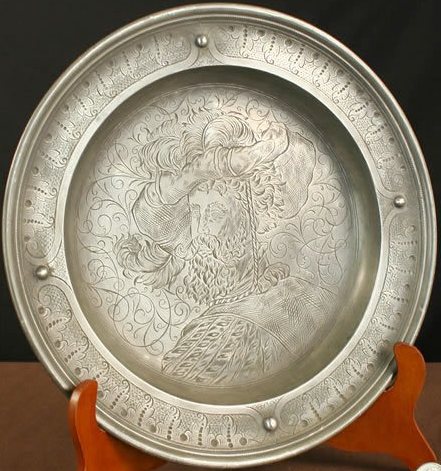 A 12 inch wide, engraved pewter charger.Very nice engraving  but " very new" –  see hook attachment (below), plus no wear what-so-ever, anywhere, front or back.  See: http://www.steveonsteins.com/pewter-rules-for-dummies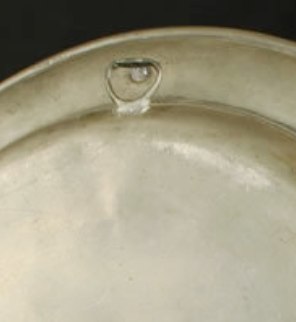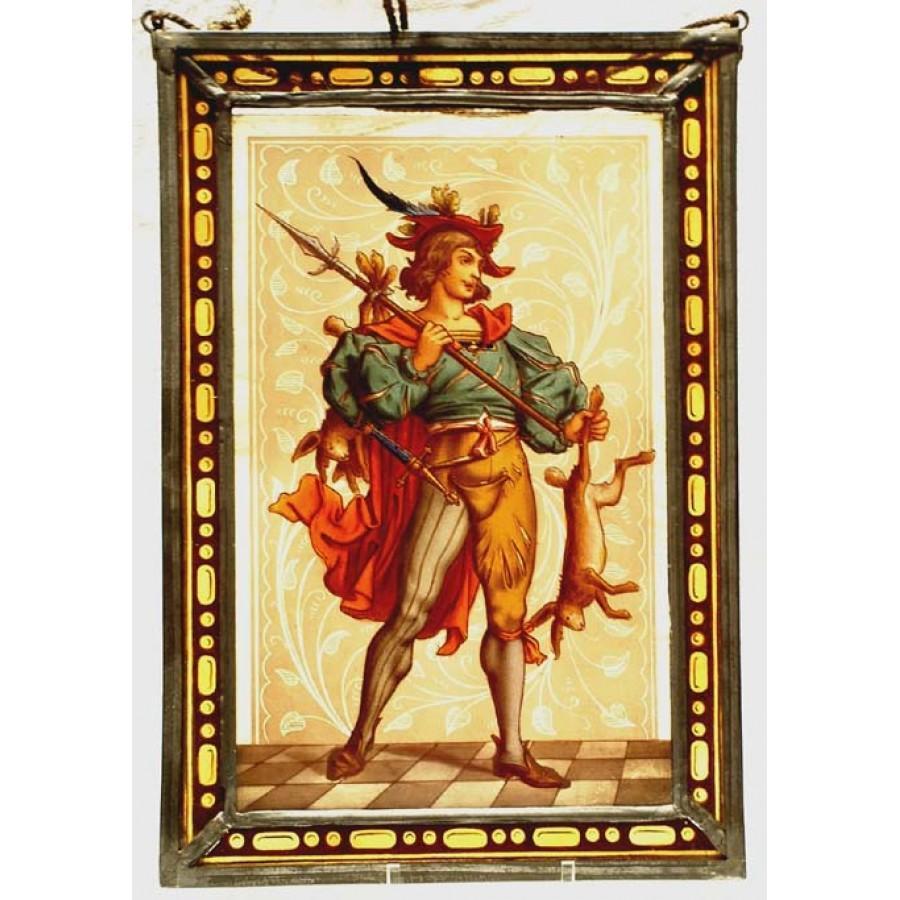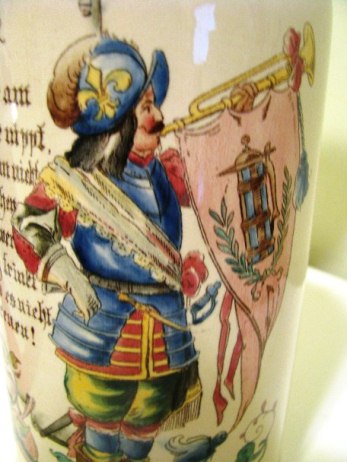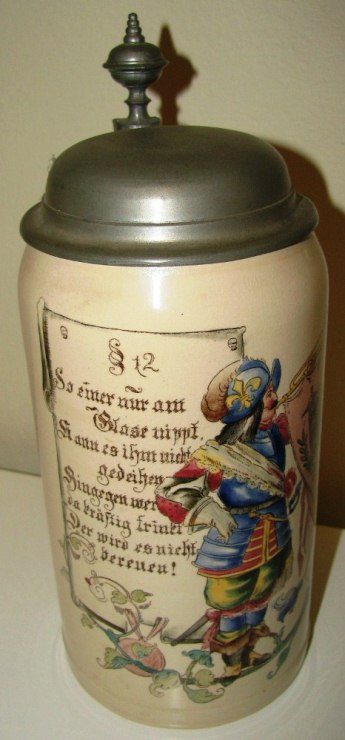 I was in a quandary with the scene and verse on this stein as I thought:  1st, It shows what I would call a Cavalier (French) and not a Landsknecht, with a Fleur-de-lis on his helmet, which was "mostly" a French symbol.  2nd: It was made by Villeroy and Boch, Mettlach, which is located in Germany.   3rd: The verse on it is started with a symbol that means "Paragraph 12", a take off / expansion on "Paragraph 11", a German drinking phrase, and is written in German;  4th: The French used to disdain anything German, especially beer, as their  national drink was a course wine.  5th: The emblem on the standard is of a certain type of wooden stein, commonly seen in Bavaria. [See: http://www.steveonsteins.com/wooden-steins-1-2]
So what type of soldier is this really?  And when was he what he is ? The only thing I can think of right now is that he might a Guard of the Holy Roman Emperor as Charlemagne used both the Imperial Eagle  and a Fleur-de-lis.  See below: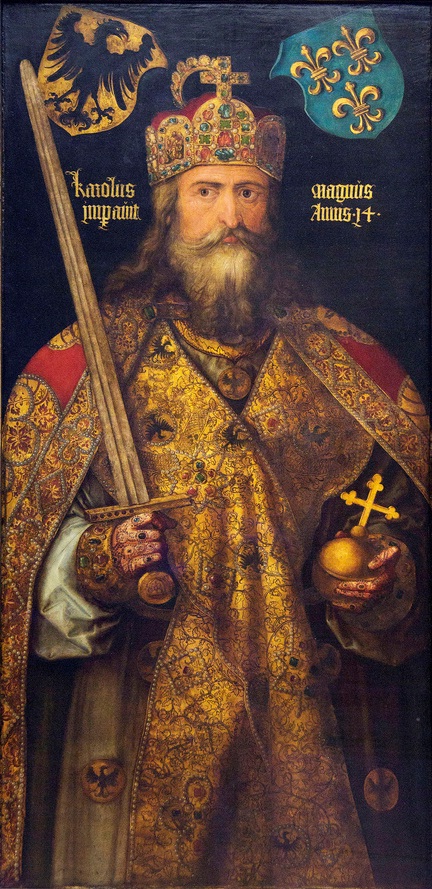 SO. I sent out an email to all my fellow stein researcher friends. The answer was almost immediately supplied by Mr. R W:
Hello Stephen,
 I think I can help you here, since I am not only a German, but also a specialist on antique arms and armour.
The figure shown is the 19th century romantic idea of a German landsknecht. Those Morion-type helmets with the lily on the sides are very common in Germany. The lilies are not seen as heraldic symbols but rather as simple decoration. You do not find them in France at all, since the French had a different relation to the heraldic lily.

The paragraph 12 refers to a set of drinking rules that were quite common at this time, especially with student fraternities.

So it has nothing to do with France or Charlemagne, it is very typical and purely German.
[Name will be acknowledged when permission granted.]
[END – SOK –  51 – 3D]
Have a question?  Just contact me: thevirginian@cox,ne

    "Real stress is when you wake up screaming and you realize you haven't fallen asleep yet."
additional photos to be posted when time allows

▼
14 in. diameter  bronze charger   German Ca. 1870 {FWTD]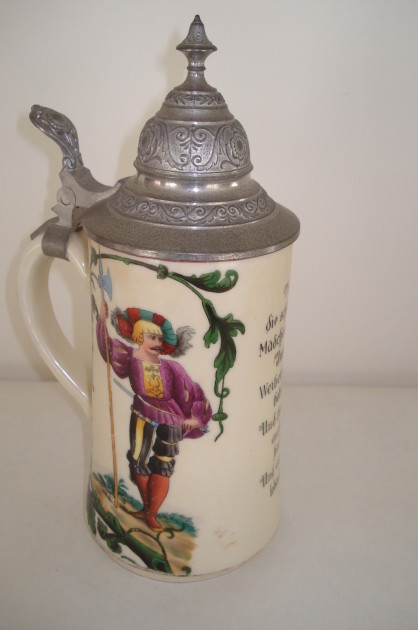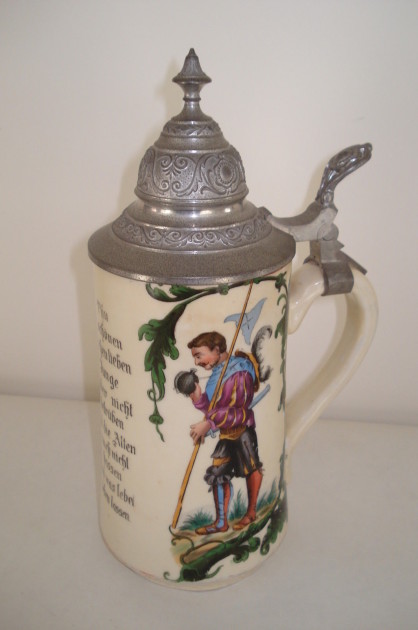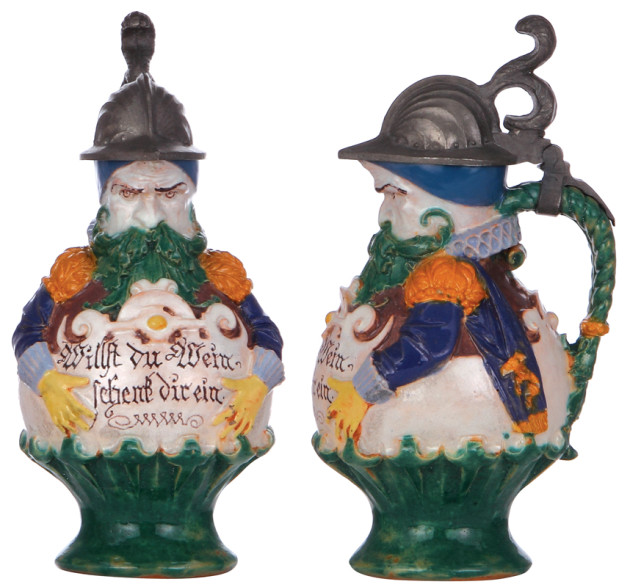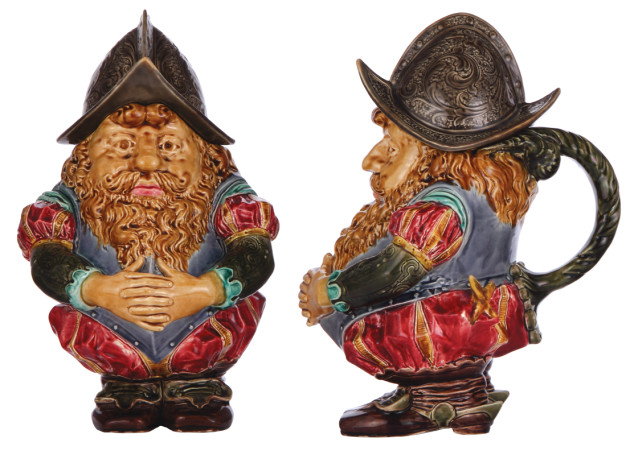 needs darker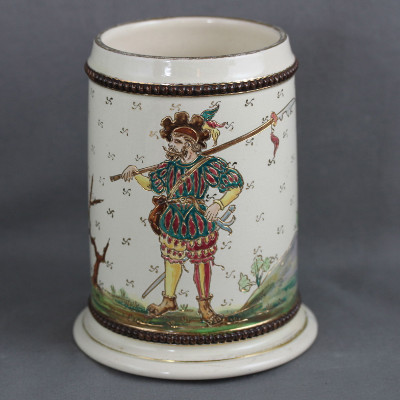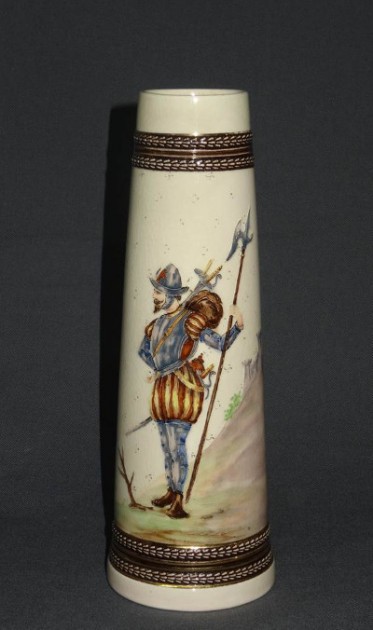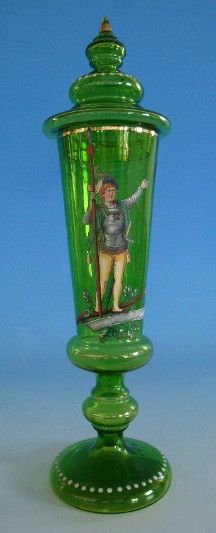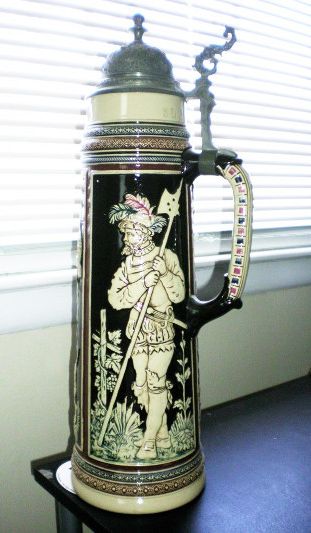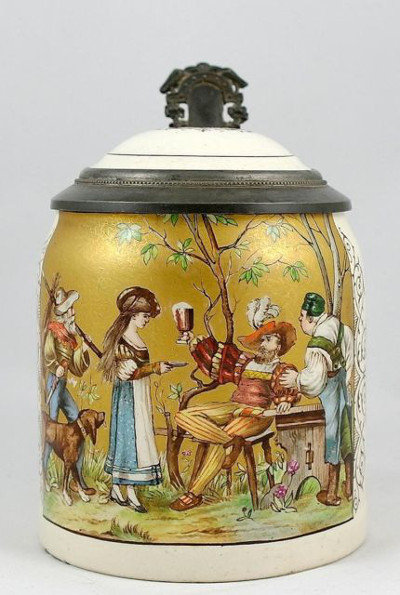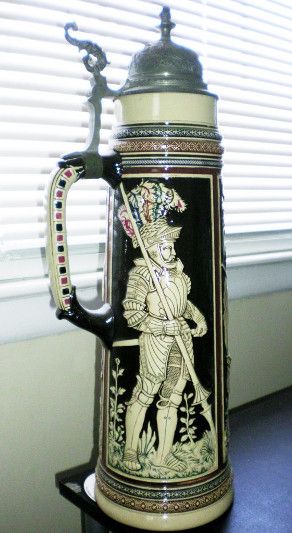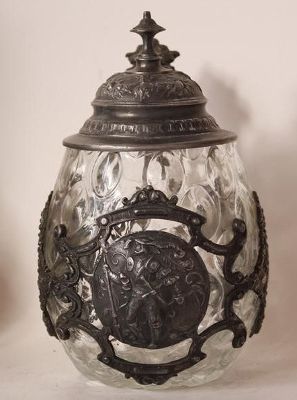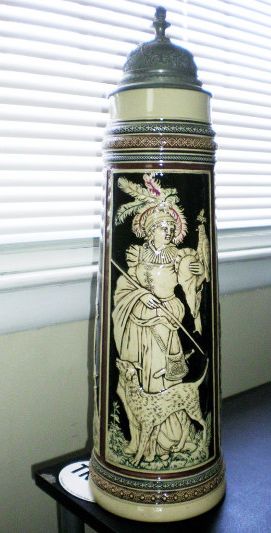 goes with 2 others lans