From "The Dog's Dictionary";
SNIFF: A social custom used to greet other dogs, similar to the human exchange of business cards.
Editor's note: This page is not intended to be some great scholarly work,  just a preview of the steins that are out on the market for the new stein collectors who also are dog owners  and lovers. Most every stein collector I have know has a stein or mug of the breed of dog he owns, and they don't have to be expensive ones, although some like the "Schierhotlz"  porcelain character steins are!
Jan Steen (Dutch, 1625 – 79) Vrolijke huisgezin 'The Merry Party" painted in  1668.
(I have one exactly like that hunting horn (at the window) here in the S M & T. All my neighbors hate that fact every New years Eve!))
ON GLASS VESSELS: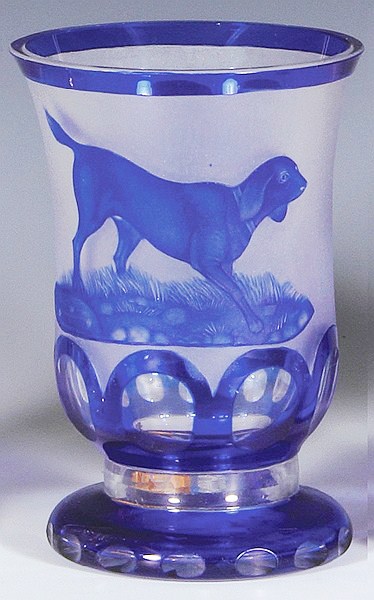 4.5 in. ht., blue on clear overlay, wheel-engraved. Bohemian made, late 1800's. [tsaco]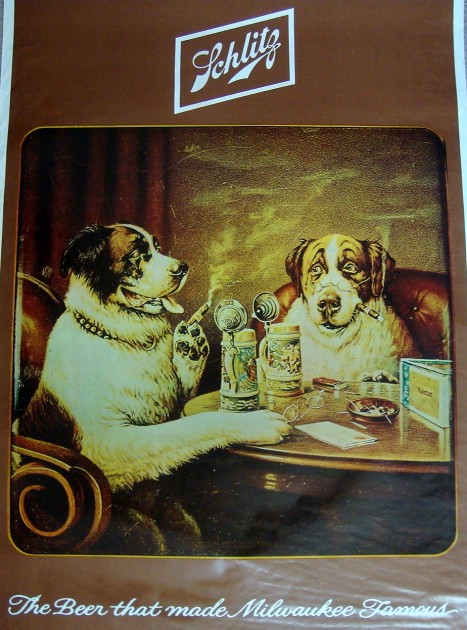 PLAIN OLE ONES WITH SOME "KINDERS" FIRST:   
See: http://www.steveonsteins.com/kinder-steins-page-1-13rd-of-article-text-only

I found it surprising when I was looking for examples of "Kinders" with dogs on them for this page, there are so very few!
1/8th liter pottery relief, made by Diesenger, Adolph – a very collectable stein maker. See: DRGM 154927.

For more info, see: http://www.thepatriotexchange.com/pss/hisfai.htm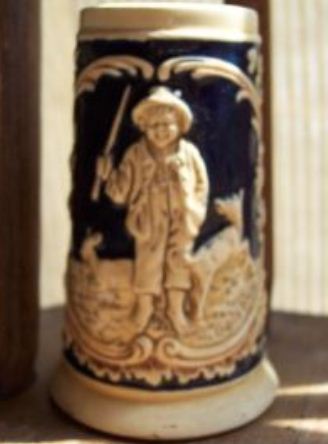 A boy shepard and his dog 1/8th liter by Marzi & Remi. No. 2798.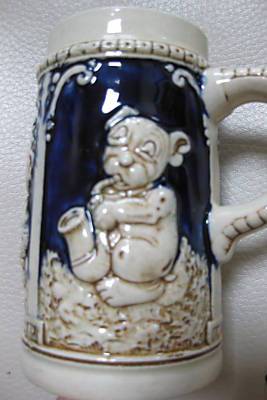 I am assuming that this is a little musical puppy (bull dog ?) A kitten adorns the other side.  1/8 liter pottery.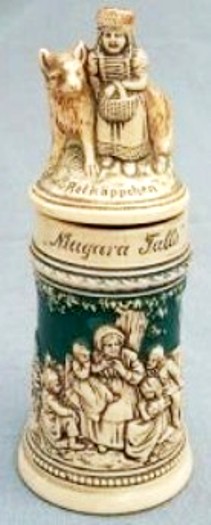 The finial on this kinder stein is not just another little girl and her beloved dog, it is a scene of "Red Riding Hood" and the wolf that would eat her whole later in the fairy tale.  1/8th  liter pottery. Souvenir of Niagara Falls. Ca. 1890.
See: http://www.steveonsteins.com/some-german-fairy-tales-on-kinders-wrk-draft-stdtd-11-27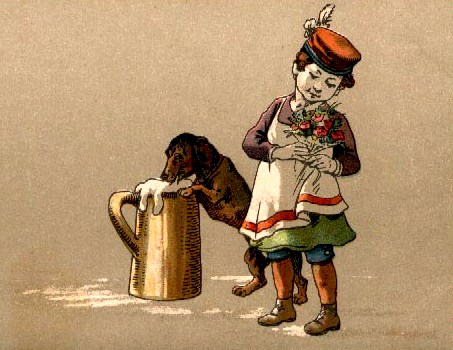 PEOPLE & DOGS  –  SOME ARE SCENES FOUND ON STEINS  HAVE BEEN TAKEN  OFF OLD PRINTS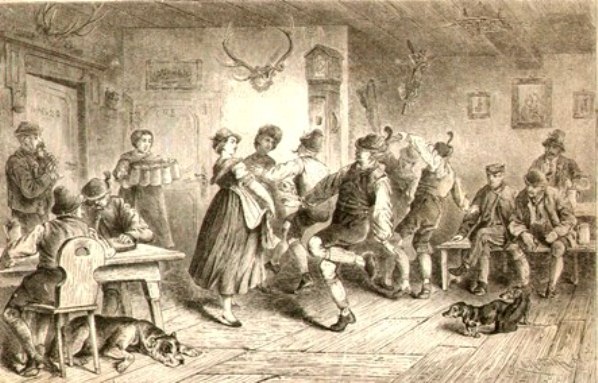 Two on the floor and another under the table on the left.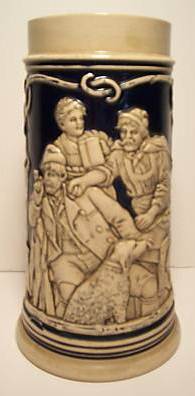 .5L pottery relief lidless stein. Circa 1885.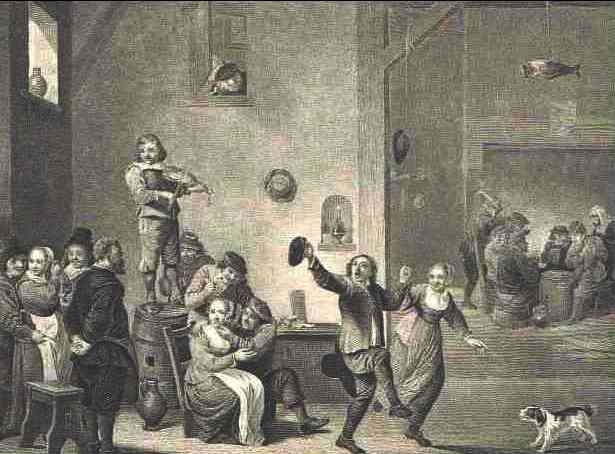 JUST OLD DOGS: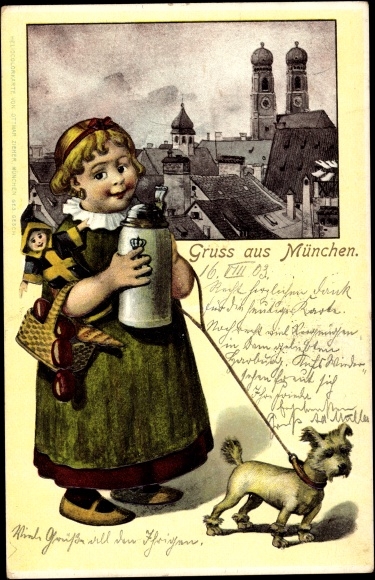 Even back in 1903 it appears kids still liked the little "yappy" mutts. Postcard with the Munich Maid and a German "Schnauzer";  a breed that originated in Germany in the 15th or 16th centuries. The term comes from the German word for "mustache "because of the dog's distinctively bearded snout.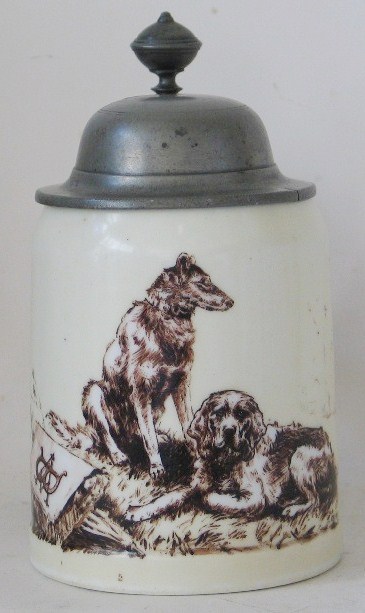 .5 liter PUG unknown maker. Ca. 1890.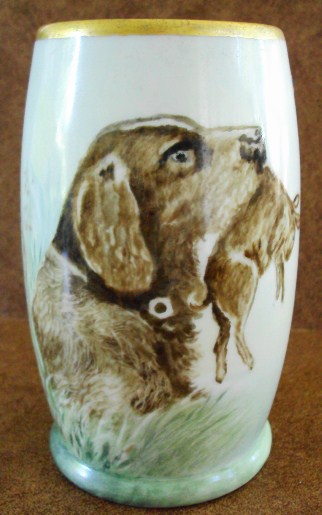 A Limoge (France) beer mug with a dragon form handle ▼ and hand painted dog with his kill. 6 in. tall. Ca. 1891-1914.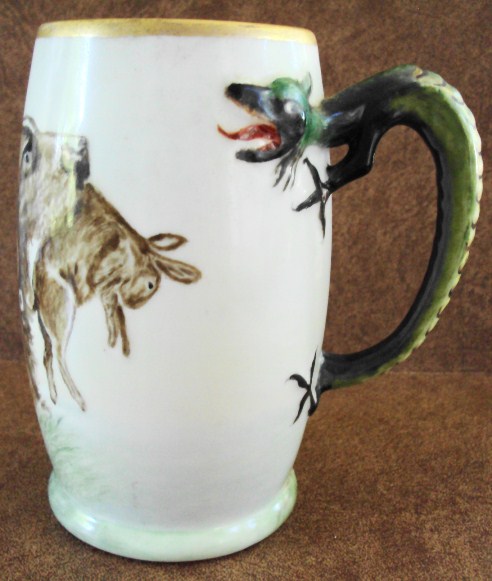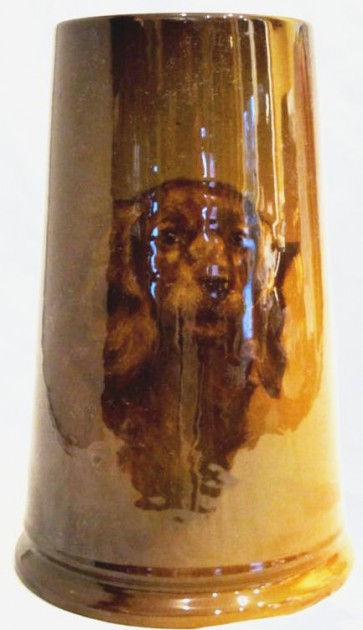 A  Rookwood (American) standard glaze mug with a dog's portrait. Artist: E.T. Hurley.

.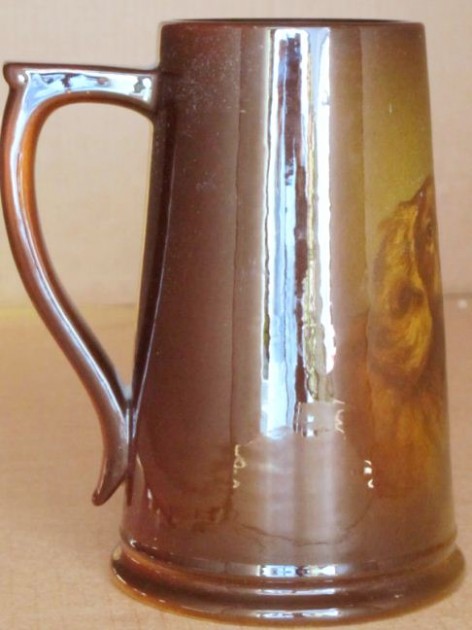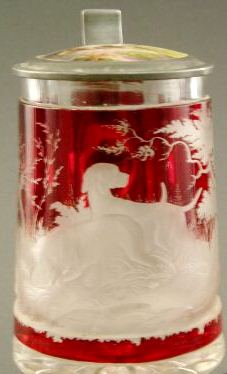 .5 liter. Ruby stained , cut-to-clear. Bohemian. Ca. 1866. Painted porcelain insert in lid.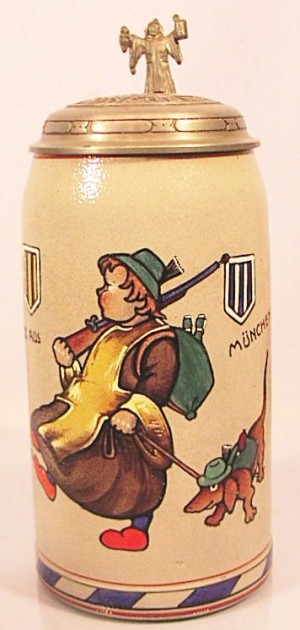 A Munich kid with bier in his knapsack!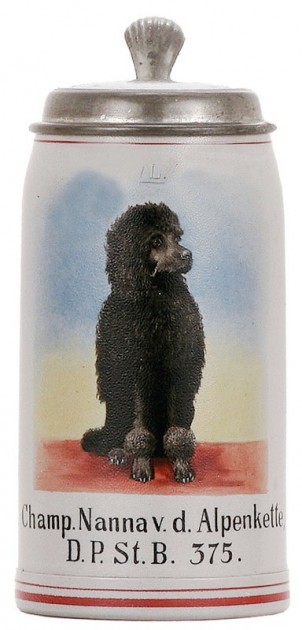 Pewter lid is inscribed: "Deutscher Pudelklub e.V., München 14.4.1912," [tsaco]]
Named to and pictured of, a prize winning poodle! I wonder if her descendants are around in 2013 = 101 years later?

.5 liter stoneware stein from a Poodle owners verein (association), founded in 1896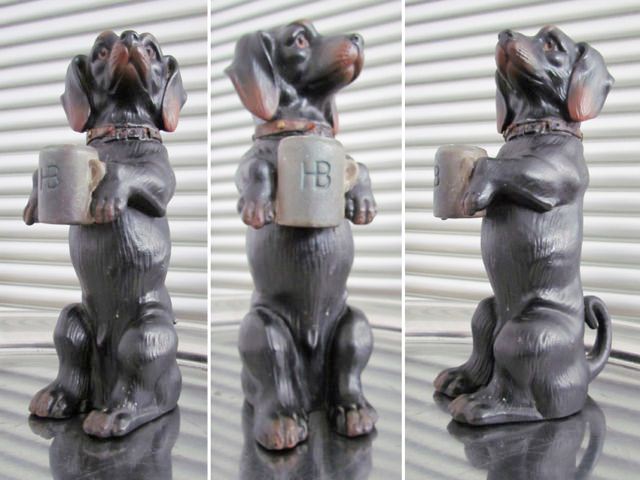 A ceramic Dachshund holding a Hofbrau Haus (Munich) beer mug. 9.2 inches tall Ca. 1900.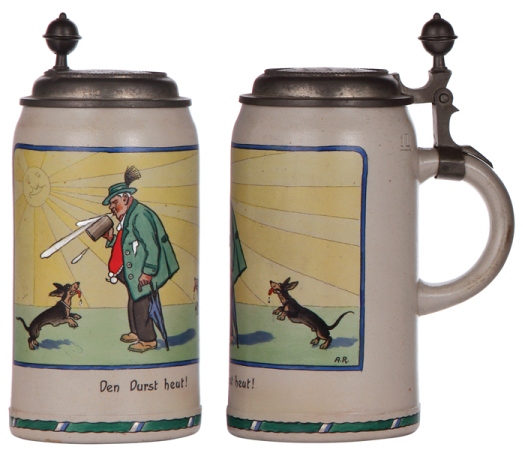 Man with Dachshund and beer on a sunny day. 1.0L. stoneware stein, transfer & enameled. Signed "A.R.," pewter lid. [tsaco]
A.R.= A. Roessler.-See more steins designed by him at "R" in this site's Compendium.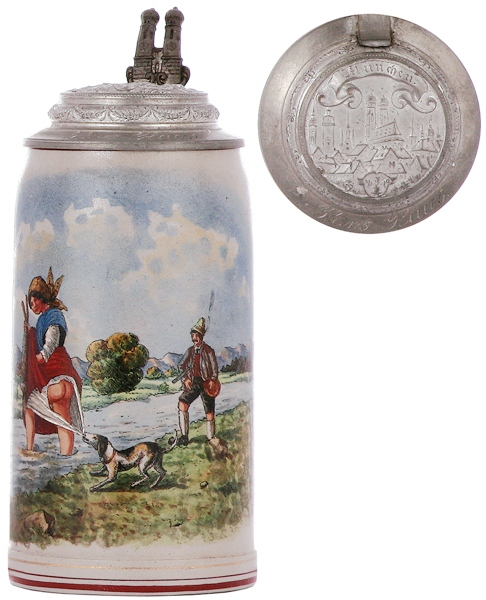 One liter. Ca 1890. Munich scene on the lid. One of my favorite "Dog on steins" scenes. This print (PUG) was used in several different mediums.
See: http://www.steveonsteins.com/in-the-near-future-2-1-3-1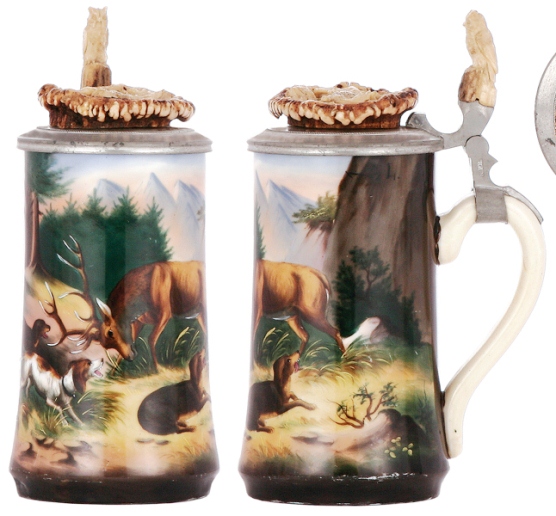 An extremely well done hand painted.5 liter  porcelain stein with a hunting scene and a carved bone of a deer for the lid. This firm is unknown to me but they did really good work. Ca. 1890.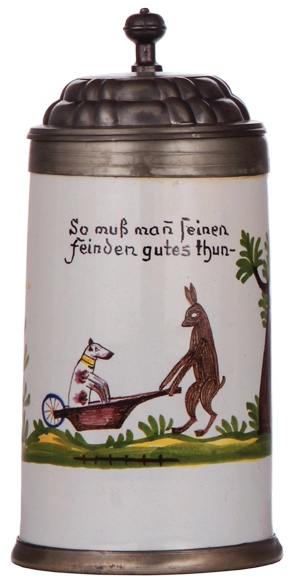 A German Faience stein, 1.0L, late 1900s. A Schrezheimer style Walzenkrug, pewter lid & footring. [tsaco]
For more on Fayence see: http://www.steveonsteins.com/guest-writers-articles-8-identifing-faience-steins-part-1-comparisons-of-north-german-south-german-by-william-hamer-new-1-8-12
"The Jägerstube" – Wood engraving, now in the Salzburger Museum (Austria) -1879.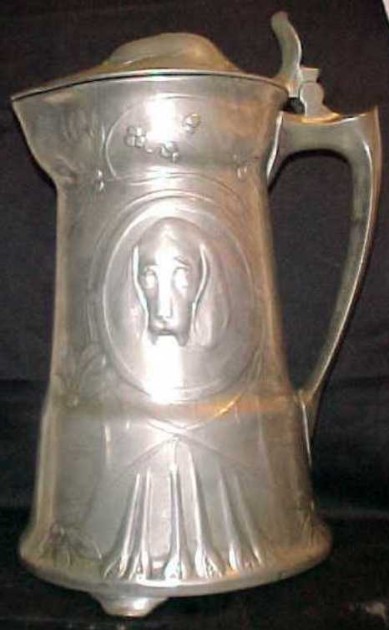 Kayserzinn pewter server No. 4403 (I believe), it may be No. 4404.
#4330 = Beaker with relief animals, 13 inches tall.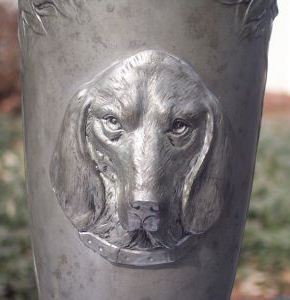 #4330 – Detail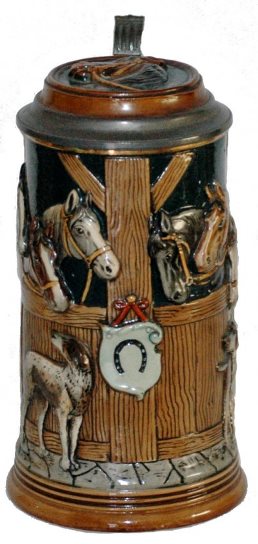 A half liter relief pottery stein. Dogs and horses are always a popular subject. The real reason that Dalmatians and Fire Horses lived together at the fire houses in the late 1800's – early 1900's is that their temperament was just about the same.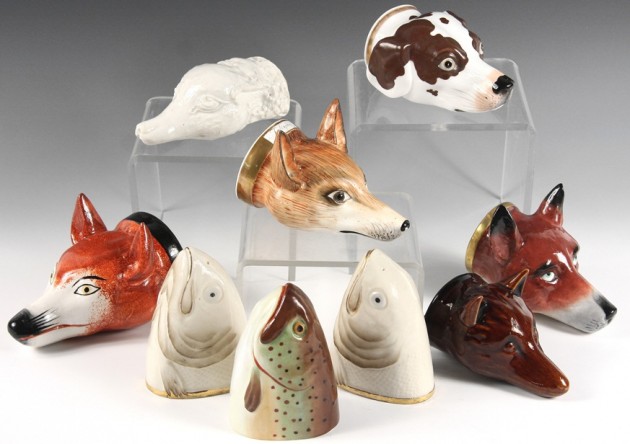 One porcelain dog stirrup cup, top right, amongst a bunch of foxes and fish heads.
A collection of older English porcelain and ceramic "Stirrup Cups." Photo sent to me (10/2011) by Thomaston Place Auction Galleries in Maine.Thanks again!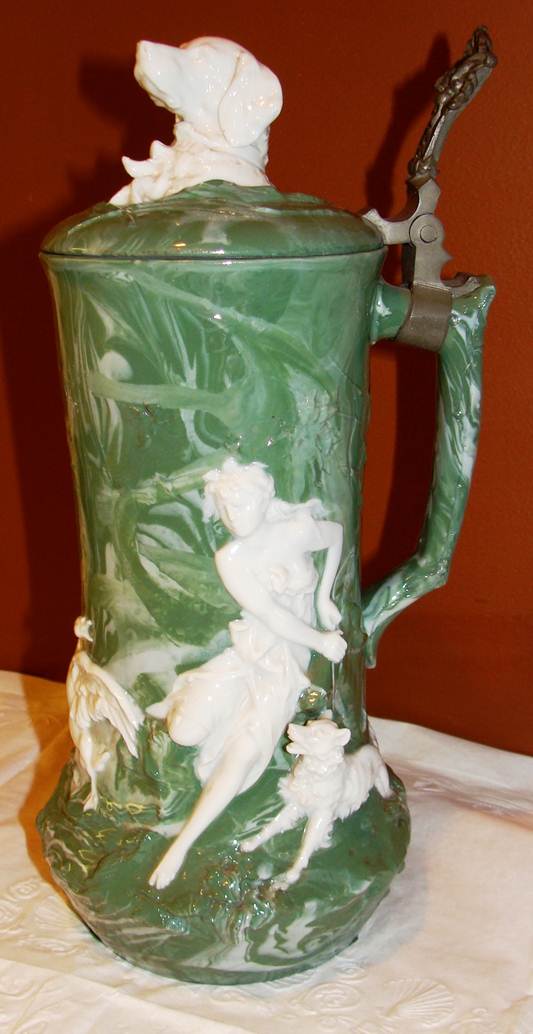 A so called "Pate-sur-pate" (which isn't!  See the definition in this site's Compendium.)
These steins are not cheap when they come to auction in very good condition as lots have a tendency to acquire chips.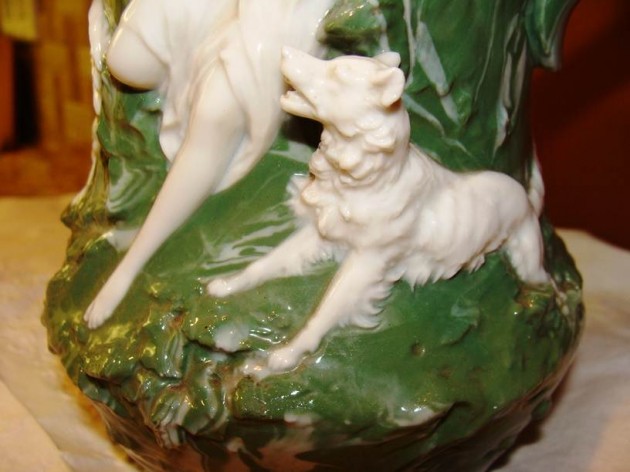 Remarkable detail ▲.
]Photos comp of JS ]
.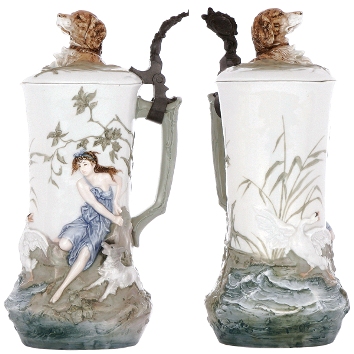 The full colored version of the above▲.  1.0L, relief, porcelain lid, 10.5 ht. This one has tree limbs and tall plants which the others don't show [tsaco]
I do not know if anyone has figured out the maker of these?  Called "Pate-sur-pate", but it is not. As above,  please see the definition in the Compendium.
Shown below ▼,  yet another version. I really like this colored version and I believe it to be scarcer than the others .   [RFA]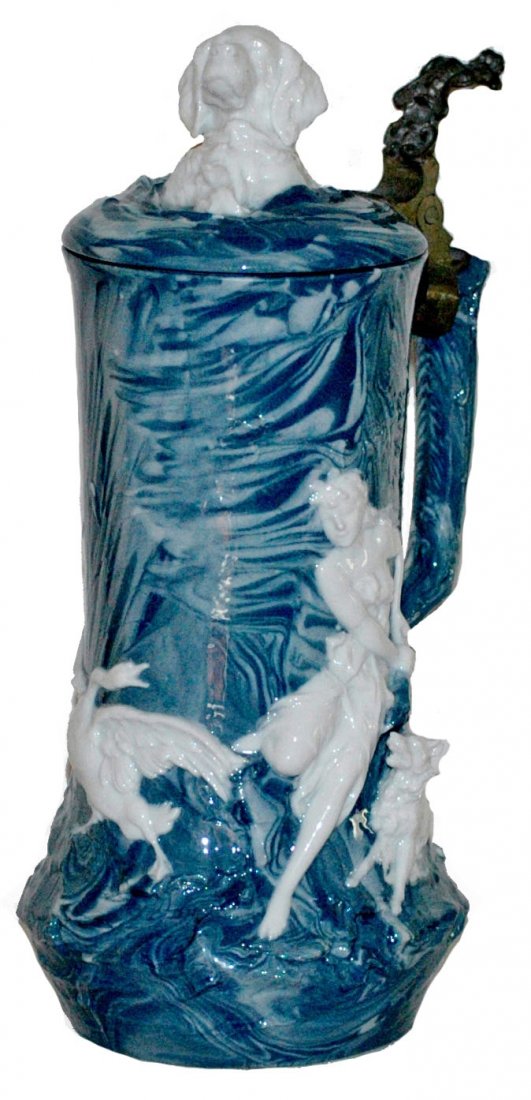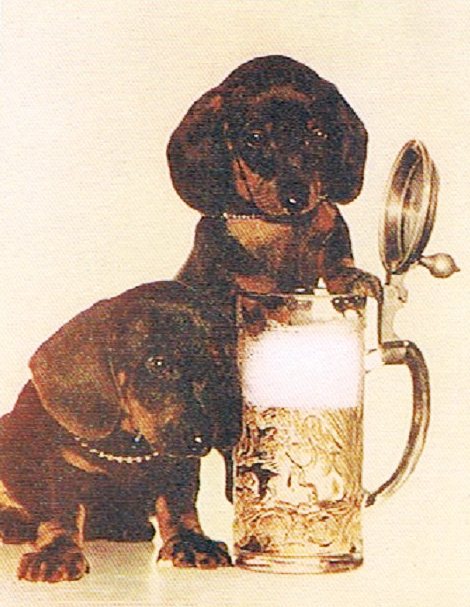 German Dachshunds -= BY FAR THE MOST PHOTO'D AND DRAWN.
An American drinking set: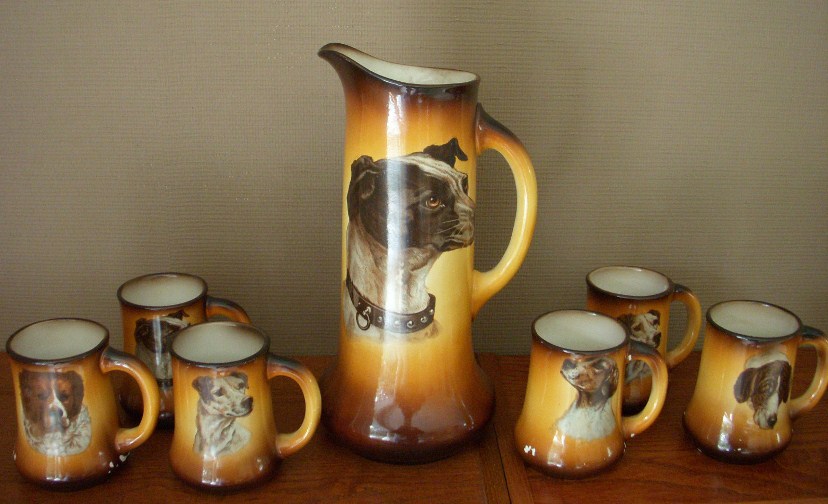 A PUG Beer server with 6 mugs set by Taylor, Smith & Taylor Company of East Liverpool, Ohio, USA. Ca.1908-1915 . No duplication of breeds.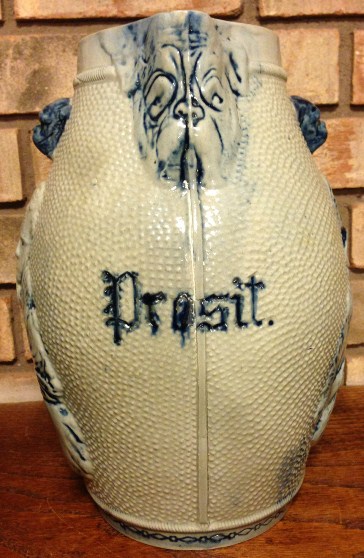 Another American firm, "Whites of Utica" produced this beer jug with a dog's head spout = Bulldog ?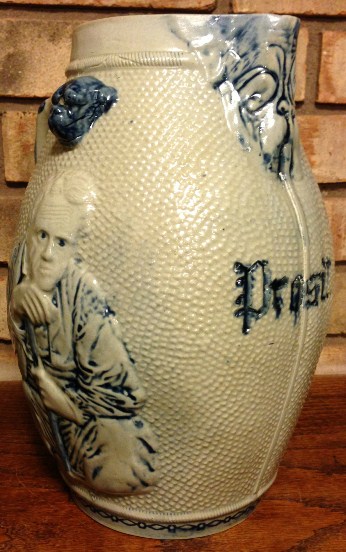 Side view of the spout and showing smaller dog heads in relief on the body.
TO: GOD,
FROM: THE DOG
Dear God: When I get to heaven, can I sit on your couch? Or is it still the same old story?
LIDS (DECKELS) – BELOW  ▼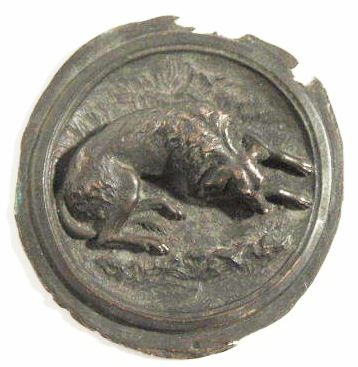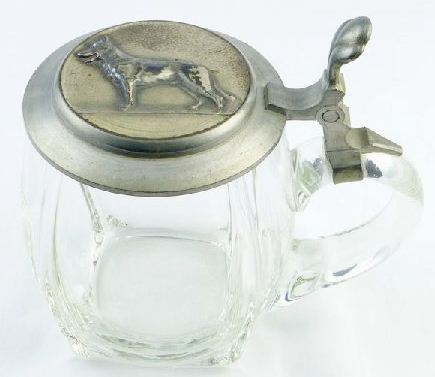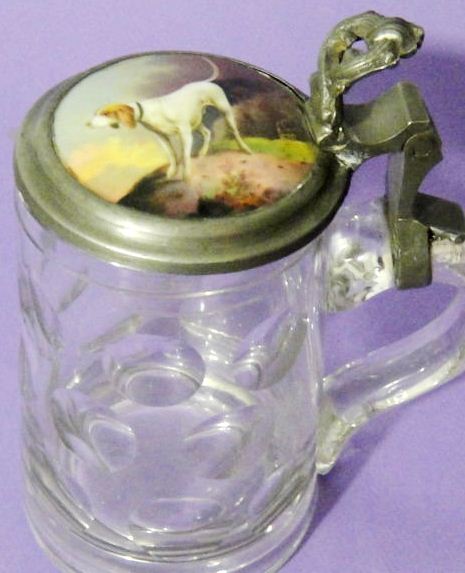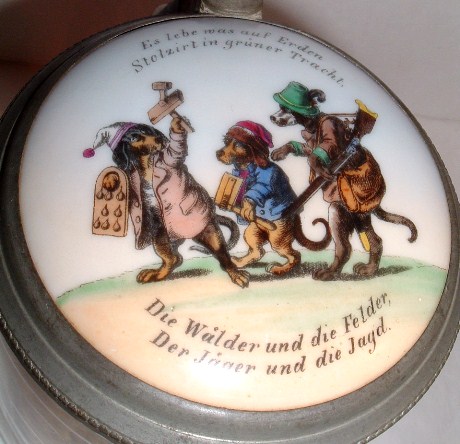 ▲ ▼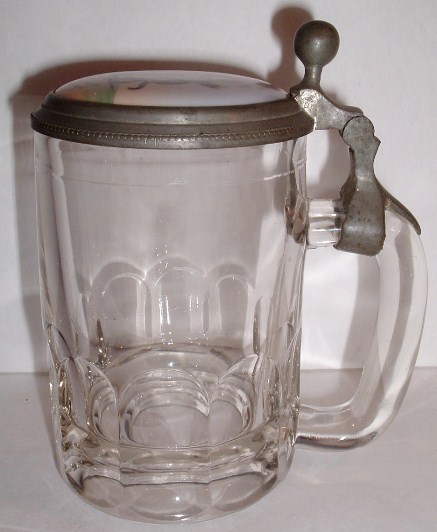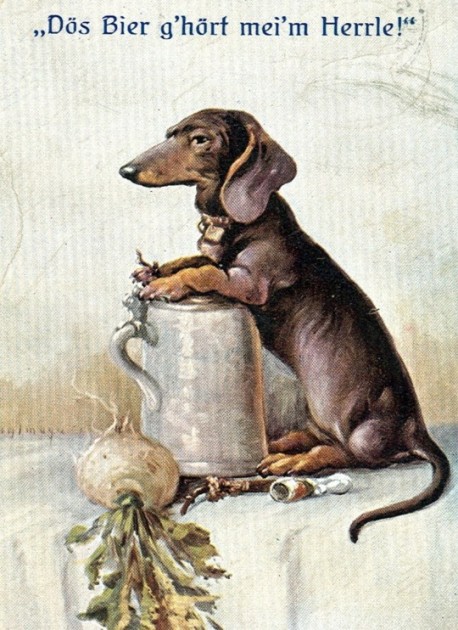 "This beer belongs to my master!"
His dog protecting his beer stein, a pipe, and a BF radish – what more could an old  German gentleman ask for?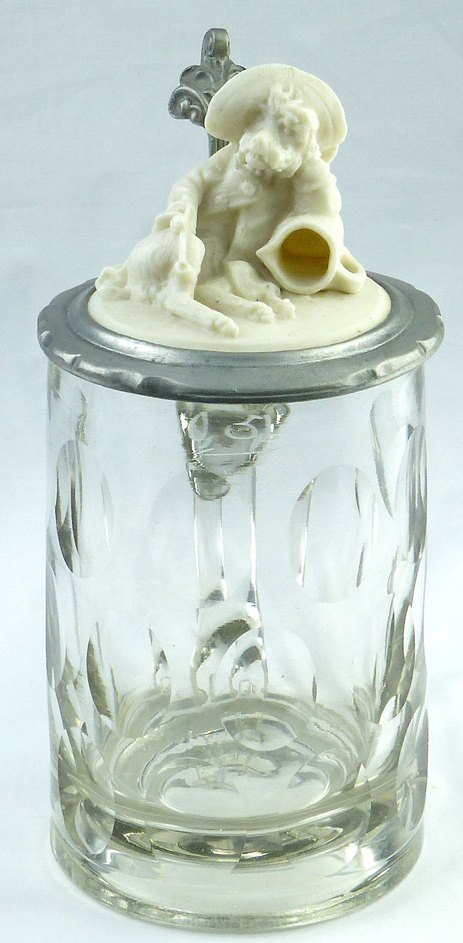 .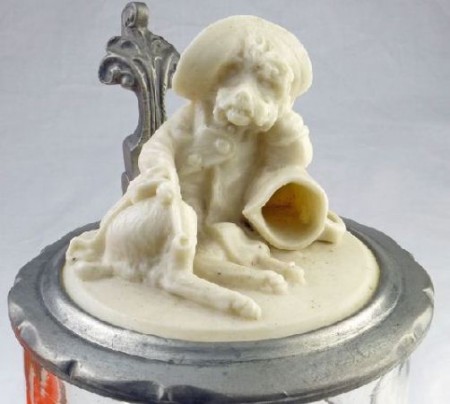 A guy is driving around West "By God" Virginia and he sees a sign in front of a house: "Talking Dog For Sale." He rings the bell and the owner tells him the dog is in the backyard.
The guy goes into the backyard and sees a Labrador Retriever sitting there.
"You talk?" he asks.
"Yep," the Lab replies.
"So, what's your story?"
The Lab looks up and says, "Well, I discovered that I could talk when I was pretty young. I wanted to help the government, so I told the CIA about my gift, and in no time at all they had me jetting from country to country, sitting in rooms with spies and world leaders, because no one figured a dog would be eavesdropping. I was one of their most valuable spies for eight years running.
"But the jetting around really tired me out, and I knew I wasn't getting any younger so I decided to settle down. I signed up for a job at the airport to do some undercover security wandering near suspicious characters and listening in.
"I uncovered some incredible dealings and was awarded a batch of medals. I got married, had a mess of puppies, and now I'm just retired."
The guy is amazed. He goes back in and asks the owner what he wants for the dog.
"Ten dollars," the guy says.
"Ten dollars? This dog is amazing. Why on earth are you selling him so cheap?"
"Because he's a damn liar. He never did any of that stuff!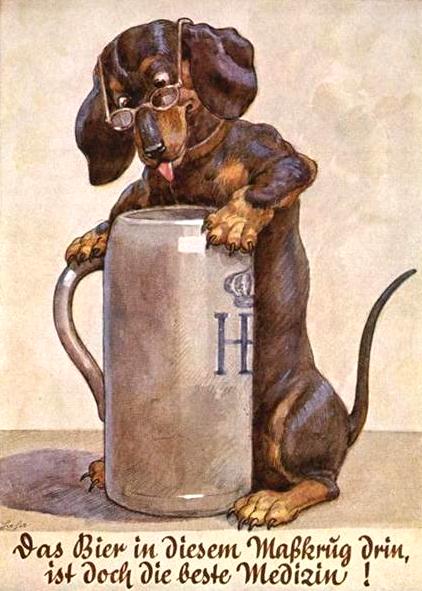 CHARACTER STEINS BELOW ▼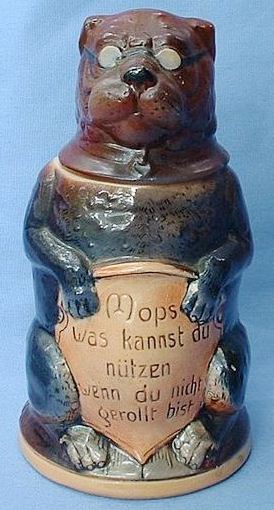 .5 Liter, pottery. A 'Thewalt '(not "The  walt" as seen often on eBay.) A re-issue, Very new ~  Ca. 1950's – 60's  (Per WB).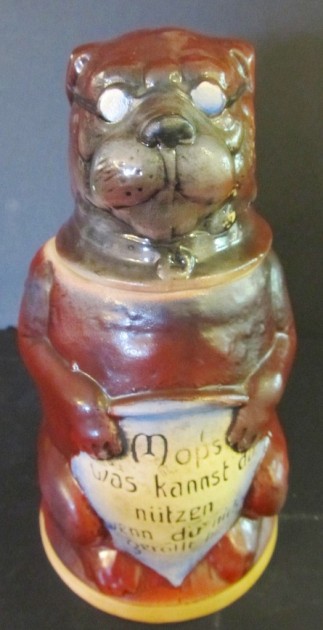 Exact stein as above ▲-  just a different color scheme.
The Gentleman Dog, by Schierholz. Original version. Expensive when found. Lots of great work went into making these.
For firm and mark info: http://www.steinmarks.co.uk/pages/pv.asp?p=stein231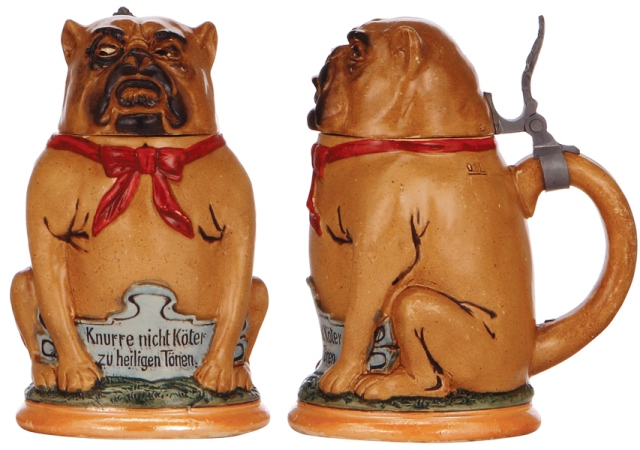 Original pottery .5 liter Bulldog, by??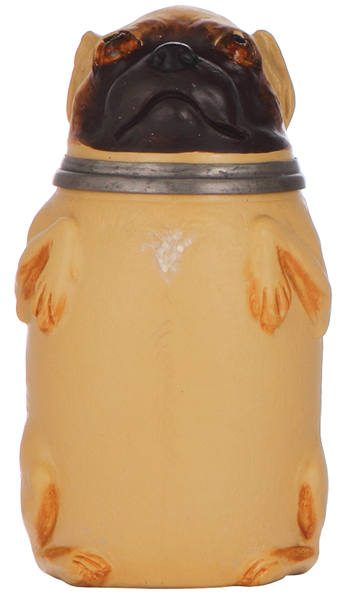 V & B, Mettlach stein, .5L, 2018, character, "Pug Dog," inlaid lid. [tsaco]
TO: GOD,
FROM: THE DOG
Dear God: When I get to Heaven may I have my testicles back?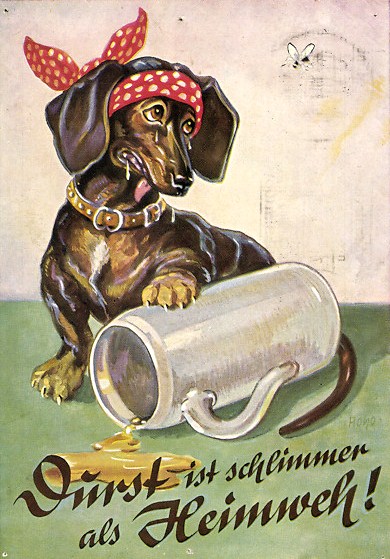 QUASI-CHARACTER   ▼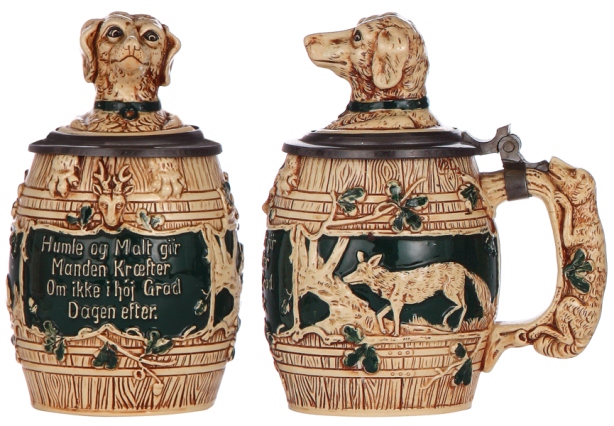 .5 liter pottery relief. Ca. 1885. The handle and the lid's finial is of a dog! Small trophy deer's head above verse. A nice looking barrel style beer stein. 
From the Dog's Dictionary:
THUNDER: This is a signal that the world is coming to an end. Humans remain amazingly calm during thunderstorms, so it is necessary to warn them of the danger by trembling uncontrollably, panting, rolling your eyes wildly and following at their heels.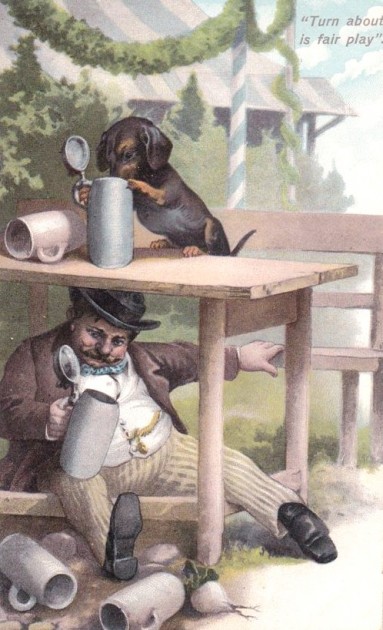 DOGS FOR THE HUNT ▼
A .5 liter V & B Mettlach, PUG.  An older version of the same theme as below▼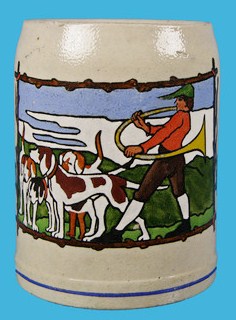 .5 liter stone ware mug with PUG hunting scene.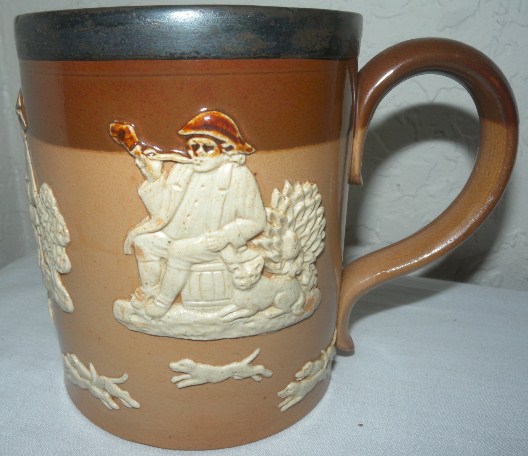 A lot of these mugs and pass cups / tyges made by Royal Doulton have dog formed handles, as on the "Quasi-character"
shown 4 above ▲ ▲ ▲ ▲.
A man tied his Great Dane outside the grocery store and went inside to do some shopping. A little while later another man came over to him and asked if the Great Dane outside was his.
He replied that it was and then the other man said, "Well I'm sorry to tell you this, but I believe my dog just killed your dog."
The owner of the Great Dane looked at him and asked what kind of dog he had, to which he replied that he had a Chihuahua.
The Great Dane's owner looked at the other man as if he'd lost his mind and asked, "How could that be?"
The other man replied, "Well I'm afraid he choked on him!"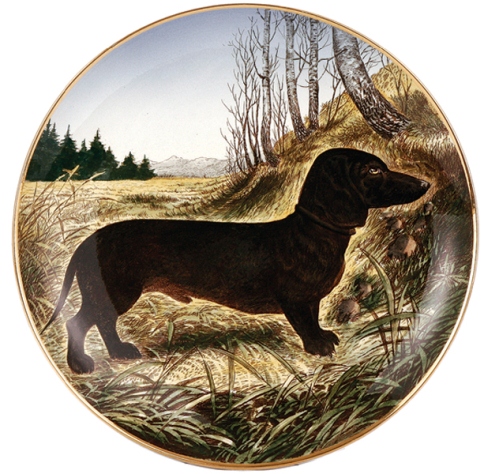 V & B Mettlach plaque, 14.in.  diam.,  #-1044 / 9028, PUG, Dachshund [tsaco]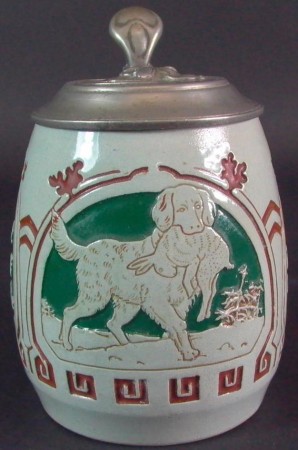 .5 liter stoneware. Made by Thewalt. Jugenstill style.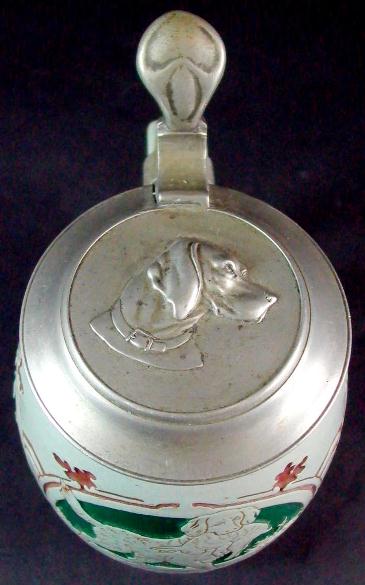 Dog hunting a deer. Marked Reinhold Merkelbach. No 2176. Designed by Ludwig Hohlwein.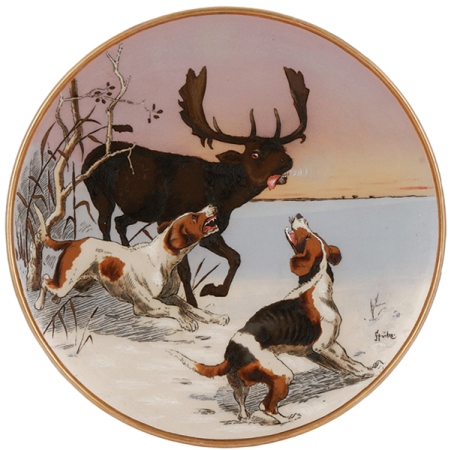 .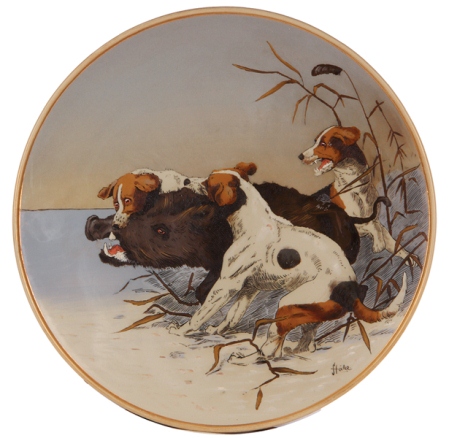 Dog stein collection "go withs." V &B Mettlach incised wall plaques. Also expensive when  found.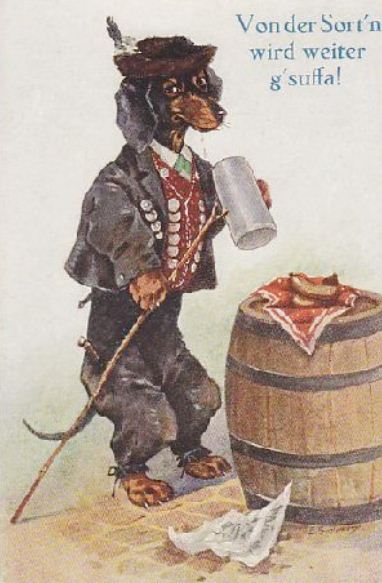 NEW STEINS AND SERIES:
And speaking of new =   When dog food is new and improved tasting, who tests it?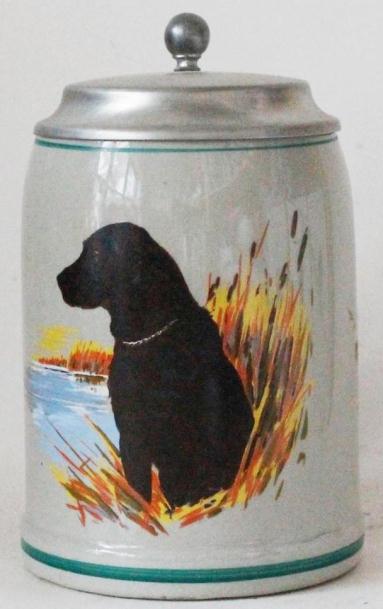 Black lab on .5 liter  new stein.  *** Warning, this breed is deadly!! They will lick you to death.  [Photo comps: eBay's "Beer-stein"]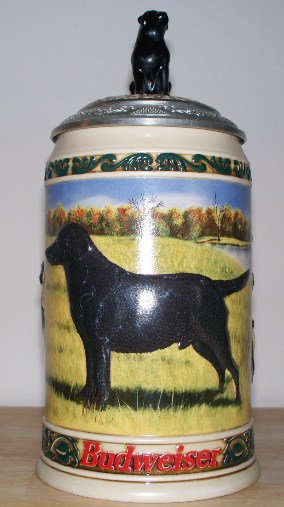 Not to be out done, here is Budweiser 's "Black Lab – A hunter's companion. "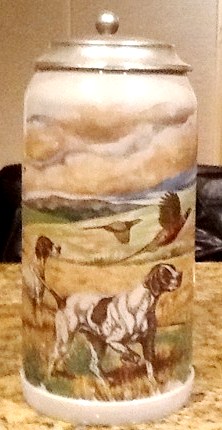 A one liter PUG.  Glued on paper mark ▼.
.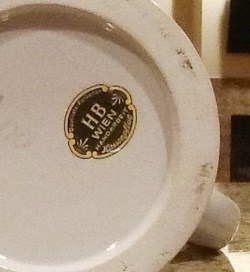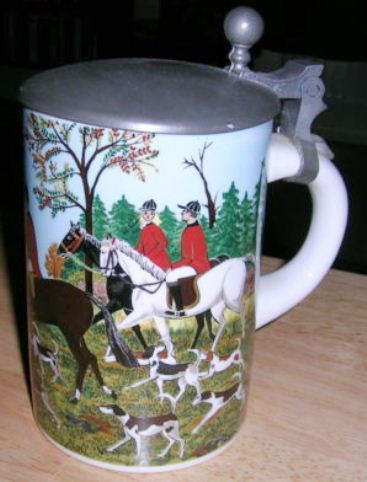 One might notice all three of the new steins above ▲ (Except the BUD one) have a small ball thumblift , but all are by different manufactures. Above ▲ .5 liter porcelain PUG =  So new that the paint is still wet!  And at 200% size, the art work looks even more terrible! Marked underneath with "Jagdszene nach einem Gemalde von Petra Moll".  Approx 5.5″ high.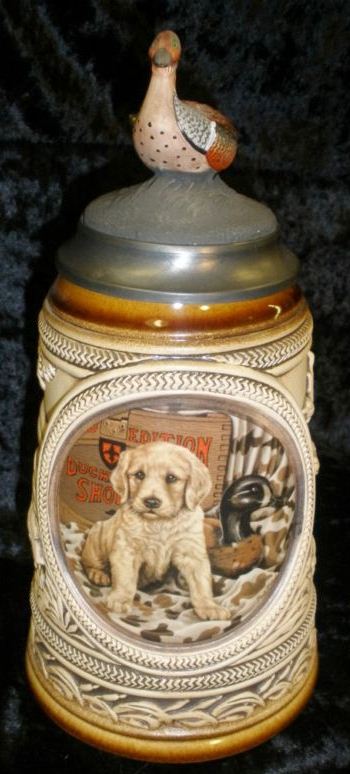 A Budweiser series stein. Cute but also very "New."
A blind man walks into a hardware store with his seeing-eye dog. Very briskly, the man makes his way to the center of the store, and stops. Without hesitation, the man picks his dog up by its leash and begins spin the dog around over his head. Seeing the poor pooch flying around the air, the store managers quickly makes his way over to the blind man. Without pause, the manager asks the gentleman if he can help. Without concern, the blind man replies,
"Nope, just looking around."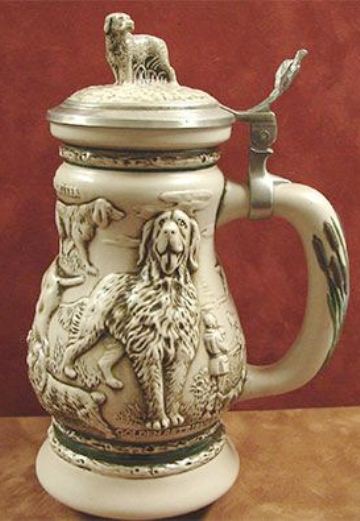 Avon stein, pottery relief – On bottom of stein: "Great Dogs of the Outdoors."
Dogs pictured and labeled  rre English Setter, Brittany Spaniel, Pointer, Weimaraner, Beagle, Cocker Spaniel, Irish Setter and Golden Retriever.  On top is a Labrador Retriever. Pewter lid rim, and has a small flying bird over handle. Numbered xxxxxx.    Made In Brazil. Ceramarte. 1991
Editor's note: Is this the only one ever made in the series? It is however a much better design than the one shown just below▼.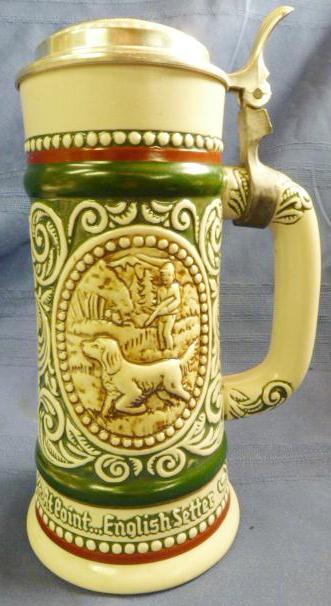 Another Avon stein creation, dated 1978. Avon steins are considered a "2.0" on "The Smith – Paratore Rarity Scale."
See: http://www.steveonsteins.com/rarity-scale-for-beer-steins.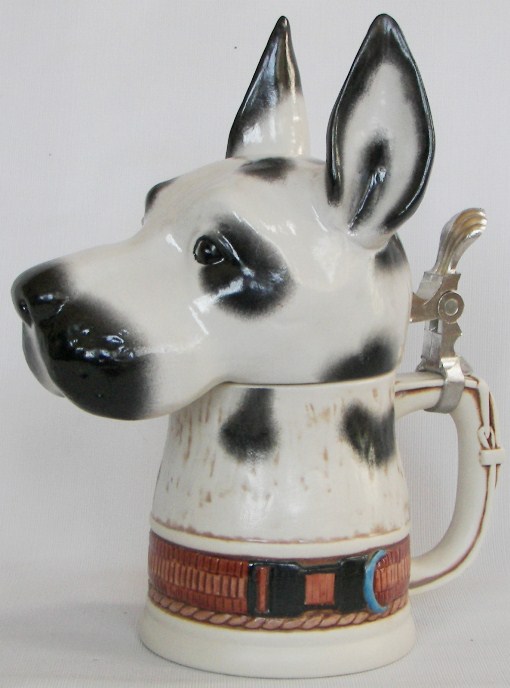 Great Dane Harlequin dog,  character beer stein developed by Domex-Gerz.  9 .5 i n tall to the top of his ears. Limited Edition of 2,000.
These have to be "for display only " as that top would be way to heavy and cumbersome to use and leave open . Below ▼. Another of the series.
.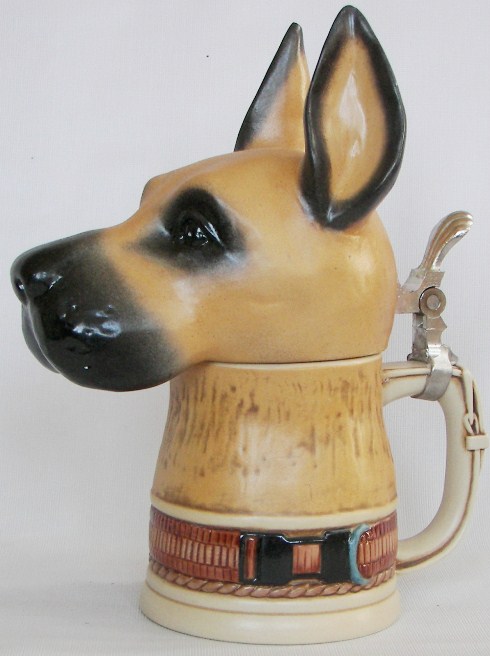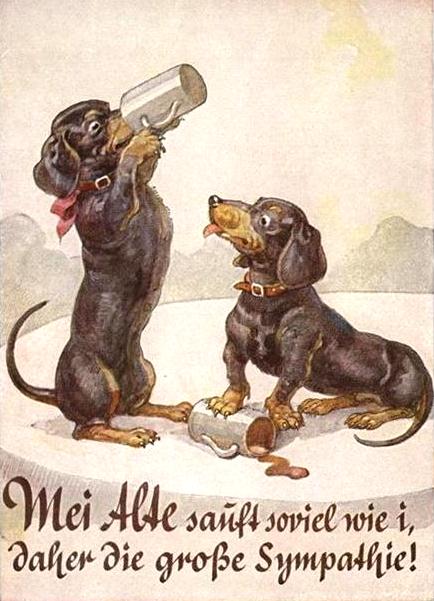 Below▼.  All Bull Dog Character beer steins.
An interesting new series marked Albert Stahl (Limited Edition.) While too large and cumbersome to be used, they are well made and very colorful .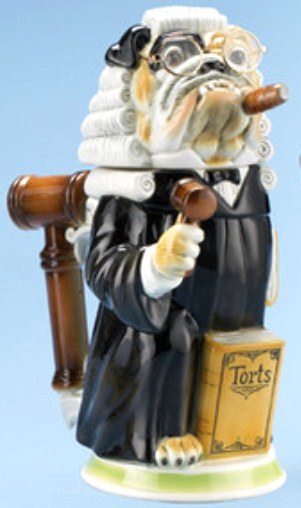 BARRISTER BULLDOG PORCELAIN LIMITED EDITION COLLECTIBLE BEER STEIN #6657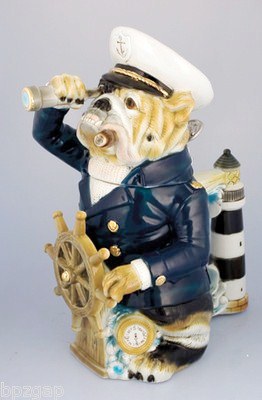 -SEA CAPTAIN BULLDOG LIMITED EDITION COLLECTIBLE BEER STEIN #6656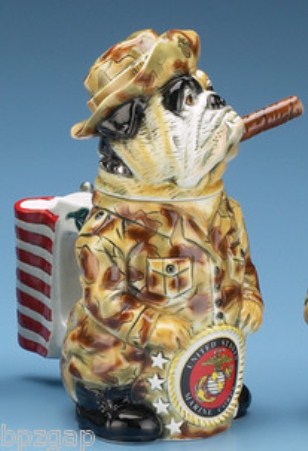 MARINE BULLDOG LIMITED EDITION COLLECTIBLE BEER STEIN #6659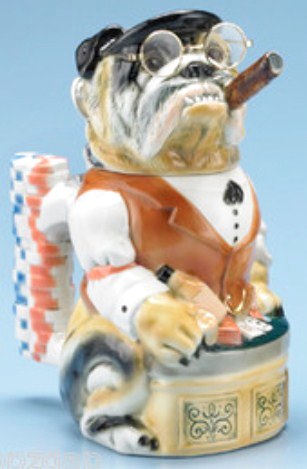 Others Bulldogs in this series are:


I will leave this subject PAGE with a fantastic enameled pokal with the main scene from the fable of St. Huburtus.  Given the two Coats of Arms  – I am pretty certain it was  a wedding present. 14  inches tall. Ca. 1890. [Judy Stuart collection]
For this Saint's story, please see: http://www.steveonsteins.com/when-the-saints-come-marching-in-singing-ein-prosit-ein-prosit-new-12-14-11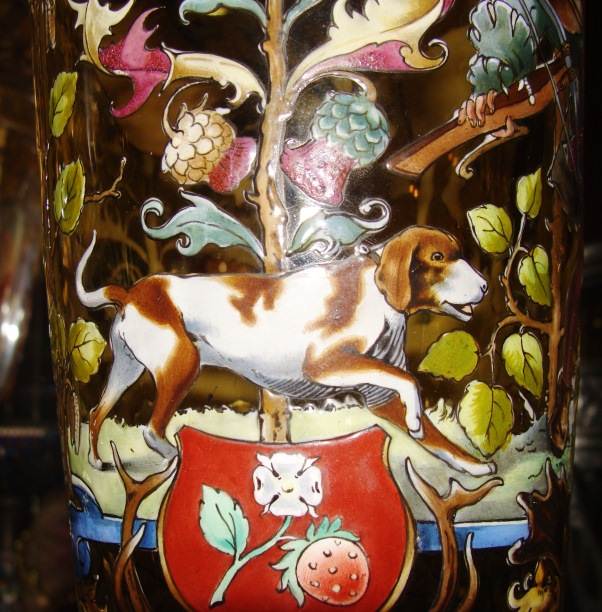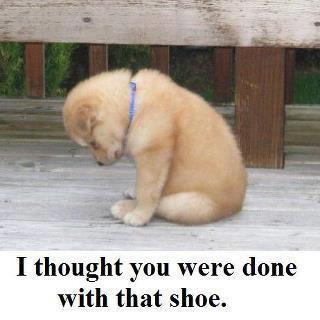 [END – SP104 – 102 – R5]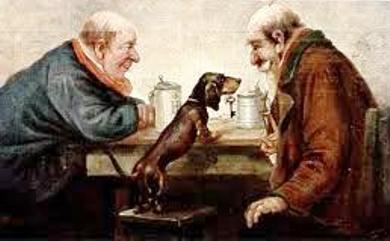 "Want to let me in on the secret?"

  "I'm not a complete idiot! . Some parts have bee missing for years."
 POSTSCRIPT: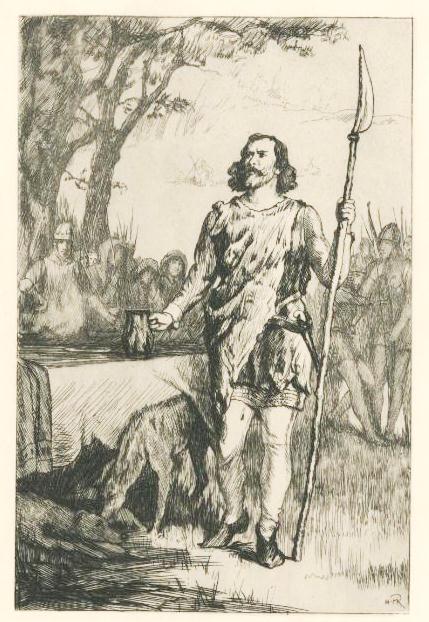 Editor's note: A medieval woodsman (spear hunter) with beer mug and his two greyhounds. Does anyone know what story this print represents?