Shown above: A multi-colored Green man, on a 1/2 liter pottery made by Fritz Thenn (Regensburg) for August Saeltzer's workshop located in Eisenach.
I first became acquainted with the "Wildmen" (German: "Wilder Mann"; and in Old English: "Wodehouse" or "Wodwose") through my study of medieval Heraldry on beer steins. These Wildmen were adopted by some of the Prussian noblemen as supporters for their full achievement in arms.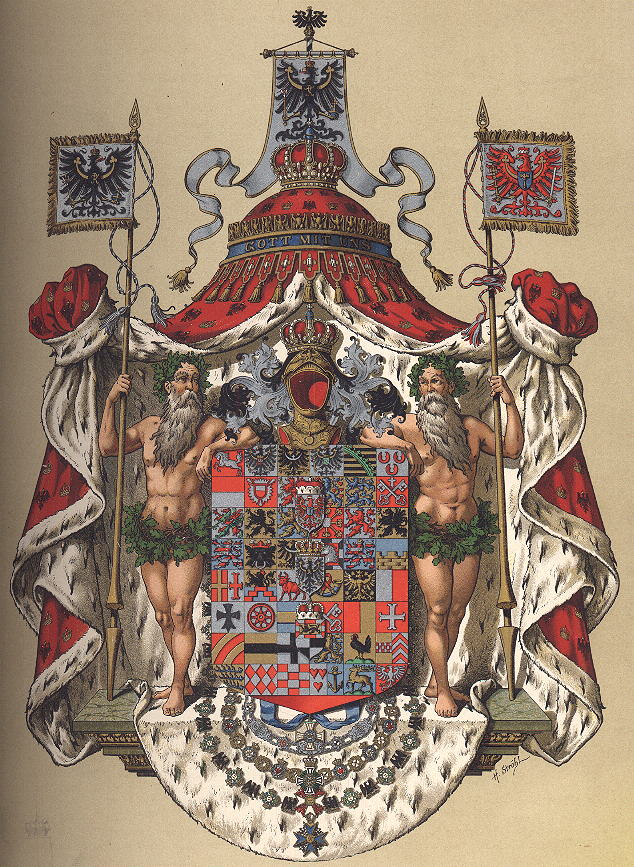 Above: The complete Prussian arms with two "Wildman" supporters.
The "Wildmen", also called "savages" by some scholars, are normally shown in heraldry as being naked except for a garland of leaves around their mid-drift, covering their genitals. Always with a long beard and head hair.
(Note: sometimes the hair is shown as leaves or foliage which establishes a relationship with the pre-medieval "Green Man", see below.)
They are extremely hairy all over their body. They sometimes carry a large wooden club in lieu of the small fir tree. They do have female counter parts and depending on the time period are shown with body hair all over and later with full un-hairy breasts.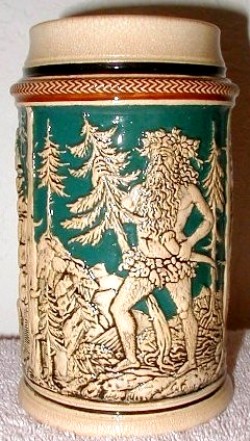 A half liter pottery slip molded unliddded stein. The Wildman carries a foaming drinking horn and there are ferns and mushrooms on the ground next to where he is standing. Made by Dumler and Breiden, form number: 201.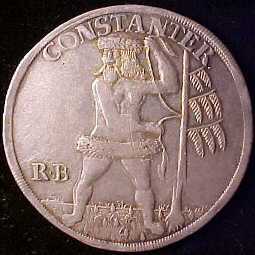 A wildman on a Brunswick-Luneburg -Calenberg 1755,  2.3 Thaler.
"Wildmen" have been used on antique "German" coins and are quite interesting in what they show. The vast majority were minted in Brunswick-Luneburg – Calenberg, which was established as a duchy in 1636. In 1692 the Duke was raised to the rank of Elector, one of the highest officials in the Holy Roman Empire. All denominations of coinage have these shown; Mariengroschen and Thalersalike. (3) 
Sometime the wild men hold what appears to be a fir tree with only the limbs on one side showing, right and left. Some times they are shown holding or leaning on an entirely barren tree. Of interest; they are not shown holding clubs as they are in German heraldry and they do not show up on Prussian coinage. Of interest to me is why these "Wildmen" appeared on "Christian" German coins in the first place. I have yet to find an explanation of this phenomenon. However this strange relationship doesn't appear to have stopped the German Royalty, who by the mid twelfth century had adopted no less than 263 number of coat of arms having the "Wildmen" as supporters, a function that was to continue throughout the later Middle Ages.
Of course the fir tree, or what we call the 'evergreen', was worshiped by the Pagans as it was the tree that never died over the winter months. This practice was later adopted into the Christian religion, especially Germans, who called this favorite tree, literally, "Tannenbaum (fir tree)" which later became their "Weihnachtsbaum" or Christmas tree.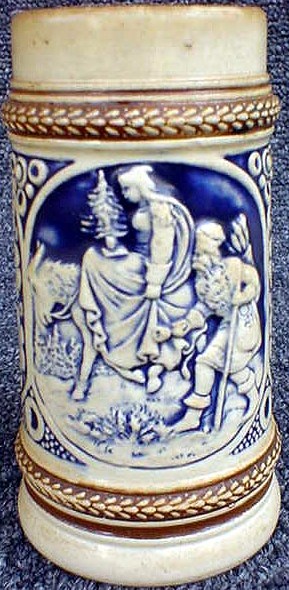 An  1/ 8th liter potter relief kinder-mug with a Christian Joesph and Mary on their ass / donkey.   She carries the very pagan "Evergreen!"
What a difference only 2000 years has made, hey? Left of front panel saying: "Gott hat uns den Durst zum Vergnügen erschaffen" Which means: "God has created the pleasure of thirst for us. "Right of front panel  saying: "Es grünet die Tanne – Es machset das Erz – Gott schenke uns allen –Ein fröhliches Herz", which means: "He greens the tree, He creates all. God grants us all a happy heart."
A  club wielding German "Wildman" talking to a dwarf (called a "gnome" in the USA), on a 1/8th liter pottery kinder mug.
For more info on "kinders"  go to:   http://www.steveonsteins.com/kinder-steins-page-1-13rd-of-article-text-only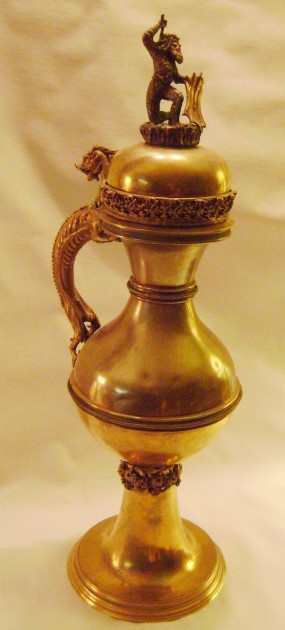 The "Wildman" as the enameled  finial on a 22 inch tall brass replica of the original gilded silver medieval stein now in the MMA's  "Cloisters,"  in NYC. [FWTD]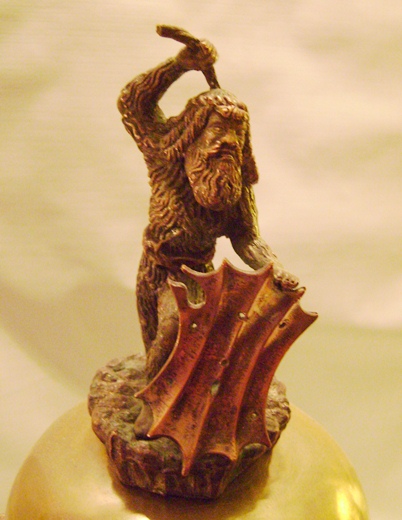 Detail of finial on the above stein. This guy is painted green and brown (not visible in this photo's light.)
AND NOW A FEW WORDS ABOUT  "THE GREEN MAN"

What a full blown "Green Man" should look like: foliage coming out of the top of his head, above his eyes, from the sides of his nose-nostrals, and also out his mouth.
The Green Man: His is the solitary face with foliage usually coming out of his mouth and ears that most recently have been discovered adorning crevices and hard to get to places in medieval churches and cathedrals. It is assumed that both have their beginnings in one of the original European Pagan religion; the one that worshipped the tree spirits or gods, along with the moon and sun goddesses. [Note: It has long been accepted that the application of the name paganus = villager, to non-Christians was due to the fact that it was in the rural districts that the old faiths lingered. This explanation assumes that the use of paganus in this sense arose after the establishment of Christianity as the religion generally accepted in the urban as opposed to the rural districts, and it is usually stated that an edict of the emperor Valentinian of 368 dealing with the religi- paganorum contains the first documentary use of the word in this sense. It has now been shown that the use can be traced much earlier.] (2)
John Matthews in his book; "The Green Man," does say this about the relationship between the "Wildmen" and the Green Man: "Another aspect of the spirit of nature and the wild-wood, whose function is not unlike that of the Green Jack, is the "Wildman." Descriptions of him abound in medieval literature, where he is usually seen as a man who combines human, animal, and sometimes vegetative traits. Usually covered withlong hair or leaves, and always fierce and ungovernable, these strange beings are often shown carrying a club, or even an uprooted tree, with which they will thrash about at the slightest sign of human approach."
"The medieval writers who described these creatures saw them as representatives of nature untamed – beings who had rejected human civilization. They acted as wood wards and the protectors of animals and like the Sumerian hero, Enkidu, they were untamed, speaking the instinctive language of nature with the ease of an animal. They were alternately perceived as admirable and threatening – admirable for their ability to sustain themselves outside the civilized world, and threatening because of the way they guarded their territory against the inroads of the town and city. The green man himself may still be seen in this way; he can be either friendly or aggressive according to how humanity behaves towards the environment" (3)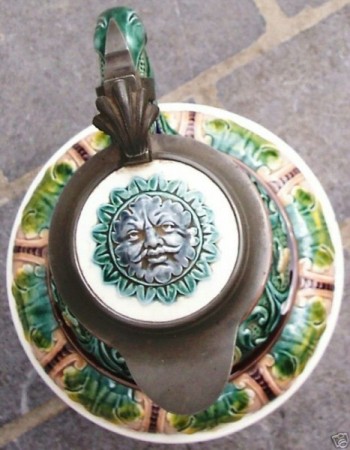 The Green Man on the lid of the Austrian majolica serving stein shown just below.
.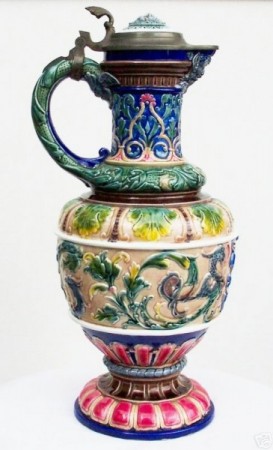 Majolica serving stein. 17.25 inches tall. Probably Austrian. Circa 1870.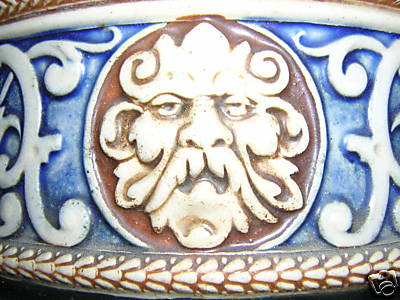 The Green Man decor found on a R. Hanke pottery beer stein. Foliage on the head, ears, cheeks and chin.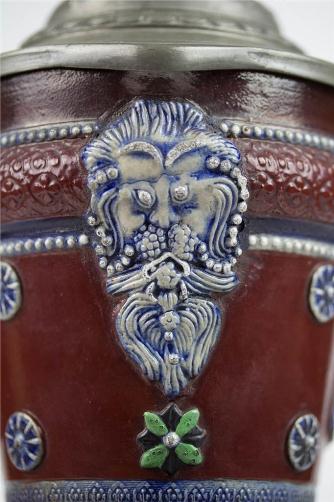 The Green Man on a majolica beer server. A very different approach using the decorator's pearls (the small white dots) on the sides of the face.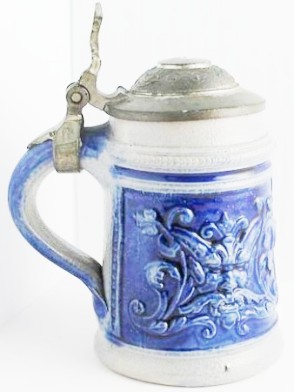 On a Westerwald made stoneware 1/8th liter "kinder stein."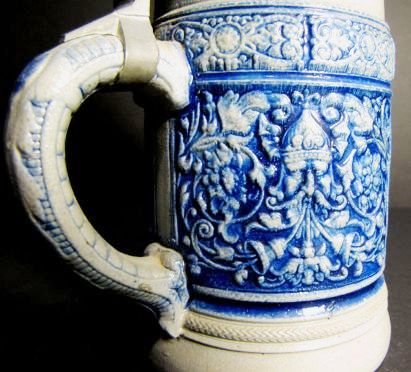 An interesting variant shown on a half liter Westerwald stoneware stein Circa 1885: A Norse (or Baltic States) Green man. That stuff coming out his nose, all  is not his mustache as one might first think. Also notice the winged helmet!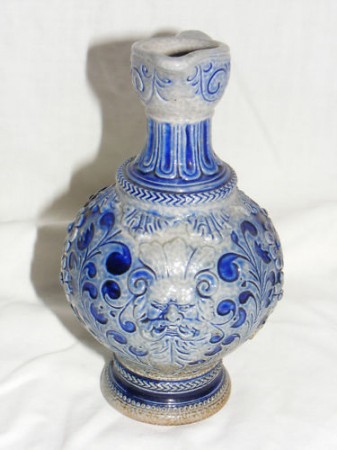 Above and below: Two Green men on Westerwald / Regensburg stoneware pitchers.   Shown here: A 5.5 inch Gerz model. Large leaves out of his head. Circa 1880.
And more information from another source:
The Green Man is often perceived as an ancient Celtic symbol. In Celtic mythology, he is A god of spring and summer. He disappears and returns year after year, century after century, enacting themes of death and resurrection, the ebb and flow of life and creativity.
The Arthurian legend of Sir Gawain, The Green Knight, is a notable image of the Green Man from the Middle Ages. Gawain had a green helmet, green armor, green shield . even a green horse. When he was decapitated, he continued to live.

http://www.ancient-symbols.com/celtic_symbols.html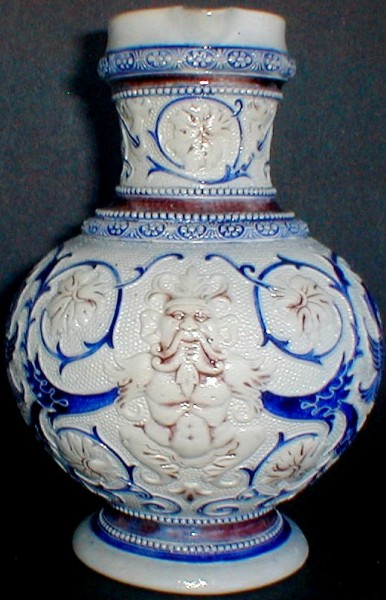 A 2 liter RegensbUrg [?] saltglazed stoneware serving stein with the Green Man as center attraction. Notice the  foliage coming off his head ears and chin . ALL below his mustache. [Comps of WB]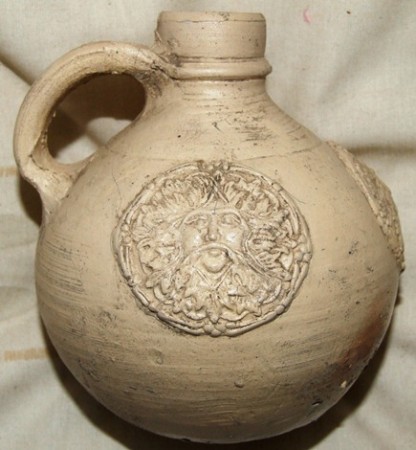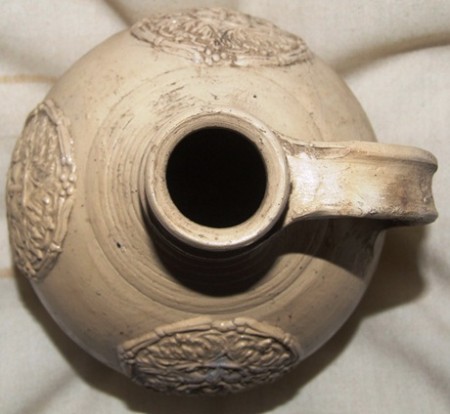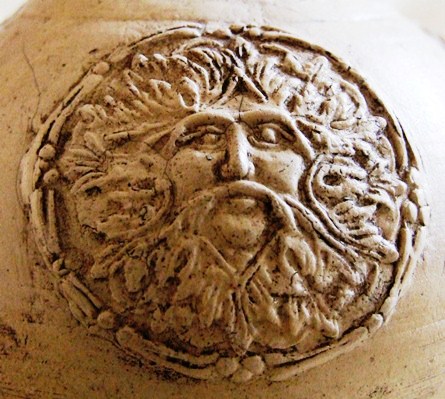 Detail of The Green Man.
Shown above ▲: A German stoneware "pulle"  with three nicely molded roundels of  "The Green Man."  Circa 1560 – 1600,  from Siegberg.  Both this bottle and the Raeren pitcher shown below show the  medieval presence of "The Green Man" still being used  in Germany in the 1500's   [Darren B.]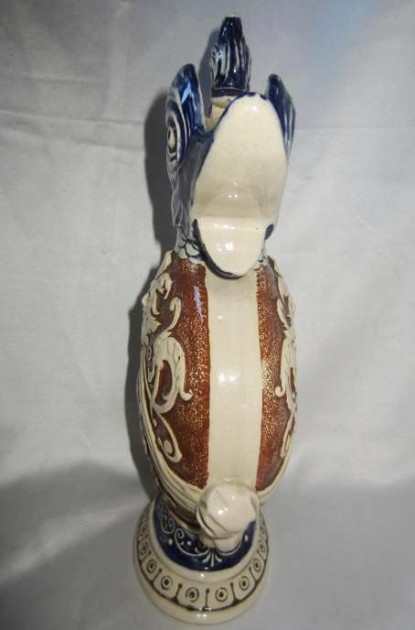 A figural pottery relief wine pitcher with a well done "Green man" on the sides.  10.8 inches tall. Ca. 1890. Note the dragon handle also.
.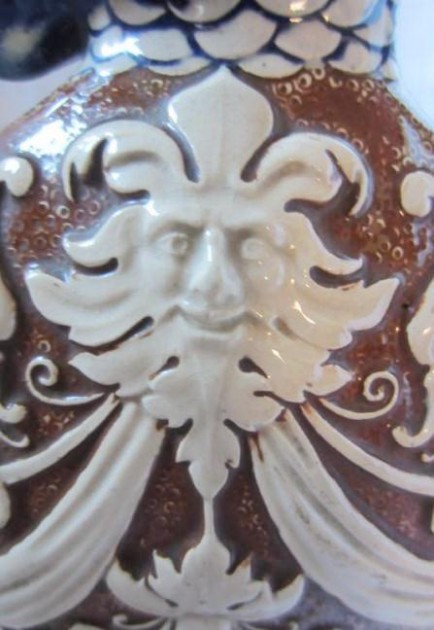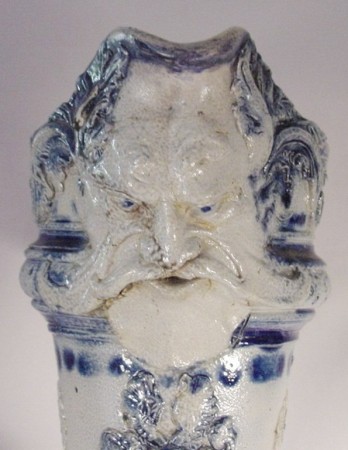 A great example of a late Renaissance Green Man, the spout on a huge, Circa 1620's Raeren stoneware server. Like the one above, he has foliage on only on his chin but also coming from the sides of his nose and his ears too! [FWTD]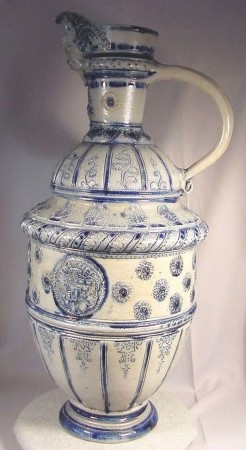 The 26 inch tall Raeren jug. Ca. 1600, showing the photos above.  [FWTD]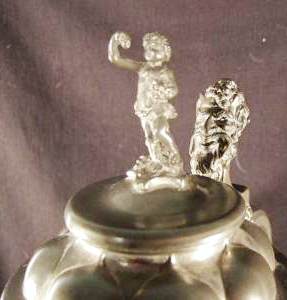 A Green Man as a pewter thumblift.
OTHERS CLOSELY RELATED,  BUT NOT CONSIDERED REAL GREEN MEN: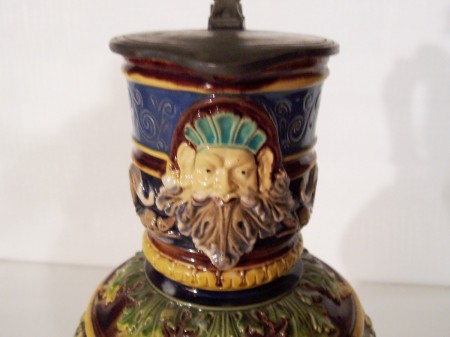 A "modified" Green Man-  with foliage coming only out of his mouth and the green leaves (?) on top of his head. Seen on a 2 liter Austrian majolica serving stein. Circa 1850.[FWTD]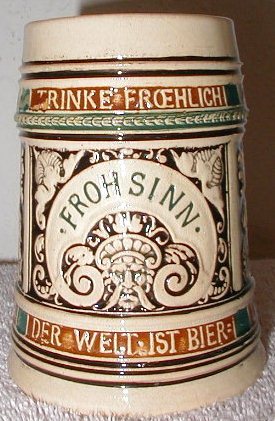 An almost identical "modified" image, on a .25 liter German pottery relief  "kinder mug." Circa 1880.
For more on "kinder mugs and steins," please see: http://www.steveonsteins.com/kinder-steins-page-1-13rd-of-article-text-only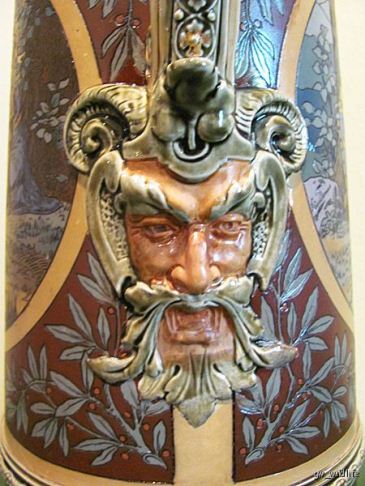 And not to be outdone  V & B Mettlach produced their modified version of the "Green Man" on their 6 liter beer stein called  "Lowengrin's arrival. "   While this is really a grotesque and not "The Green Man; notice the horns on his head and the curved surface plates where his ears should be.  The piece does come with great looking foliage depicted as his mustache and beard.         Detail from:  V & B Mettlach  Mold No.  2455.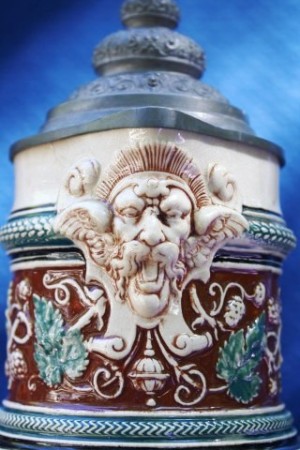 Along the same line as the V & B pieces above ▲, this is not a Wild Man nor a Green Man!  Just another  male grotesque's face. Nice set of wings for ears though. Notice they all have mustaches.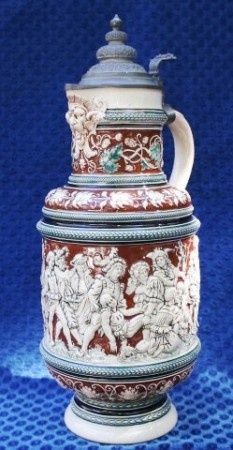 The colorful pottery relief server the grotesque came from.
[END – SOK – 32 – 3D]
WISH  TO CONTACT ME?  

 "Lite": the new way to spell "Light," now with 20% fewer letters!"