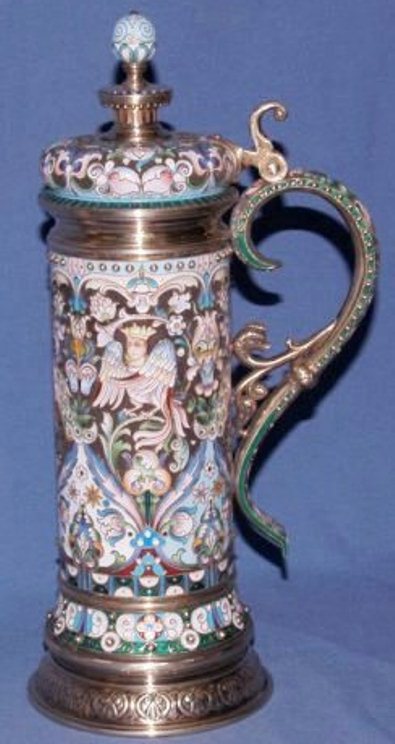 Another" ten" on the scale. An Imperial Russian gilded silver and enamel stein by Paval Ovchinikov in Moscow, late 1800's. One of these (and there are a couple around) was dedicated to Admiral Beatty (English WWI hero ) from the Czar of Russia.
>>>>>>>>>>>>>>>>>>>>>>>>>>>>>>>>>>>>>>>>>>>>>>>>>>>>>>>>>>>>>>>>>>>
EDITOR'S NOTE: Requesting assistance from EBAY, ETSY, AND OTHER WWW ANTIQUES SELLERS;
My web site is not just a blog…my site was created for informational purposes too help combat all the mis-information, misnomers, myths and just out-right "bull crap" that has been promoted about beer steins, etc. for at least the last 100 or so years. I do not mind you using any of my published information, but would you please give my site the proper credit it is due!! 

(www.steveonsteins.com)
I have worked over 6 years providing all this and  as you know it is free! I believe that proper credit is the least you could do;  thereby helping  me promote my site and getting  good information about drinking vessels out to the public,  Thank you very  much;
Stephen L Smith, Editor.
STILL WISH TO CONTACT ME 

ABOUT ANY INFORMATION ON THIS SITE?

 

XXXXXXXXXXXXXXXXXXXXXXXXXXXXXXXXXXXXXXXXXXXXXXXXXXXXXXXXXXXXXX
>>>>>>>>>>>>>>>>>>>>>>>>>>>>>>>>>>>>>>>>>>>>>>>>>>>>>>>>>>>>>>>>>>
"A WORKABLE BEER STEIN RARITY SCALE"
Hello all you beer stein collectors!  Yeah, all you guys and gals "out there" who collect these great little historical drinking objects!
Aren't you tired of seeing that same old verbiage on the auction catalog pages, the ones that only new collectors pay any attention to? The same ones that are violated by their owners in almost every auction catalog?
Do you wish to accurately rate your beer steins to sell or use for inventory purposes? Then try using this "rarity scale", developed by two members of the Gambrinus Chapter of SCI (Norm Parartore and "himself") with now well over 75 years of beer stein collecting experience combined.
……………………………………………………………………………………………………………
"THE  "SMITH –PARATORE 1 to 10 RARITY SCALE" FOR USE IN DESCRIBING AND CATALOGING BEER STEINS AND EUROPEAN DRINKING VESSELS."
Also please note: Scarcity usually has little IF ANY relationship with prices paid for steins; while knowledge and personal appeal have everything to do with what someone pays and acquires!
Norman and I have found that this "one truth" is very hard for new collectors to learn!
These number ratings can of course be further increase a more exact rating  by using a decimal to delineate scarcity within a number range. as in a: "3.3"  or a "7.5."
>>>>>>>>>>>>>>>>>>>>>>>>>>>>>>>>>>>>>>>>>>>>>>>>>>>>>>>>>>>>>>>>>>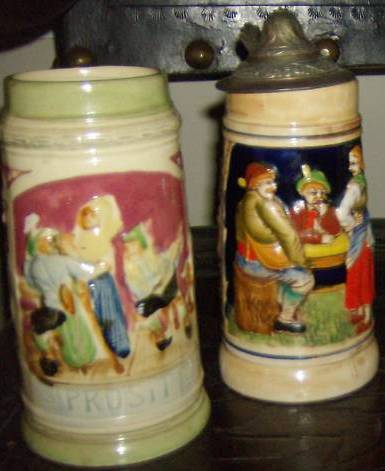 1. Garbage – No detail, cheaply made, and a waste of good clay or glass. Mostly "Jap crap!" This category includes those dumb assed salt and pepper shakers made to look like steins, below ▼. Not even yard sale or flea market material! Donate them to a friend that shoots, for his / her target practice!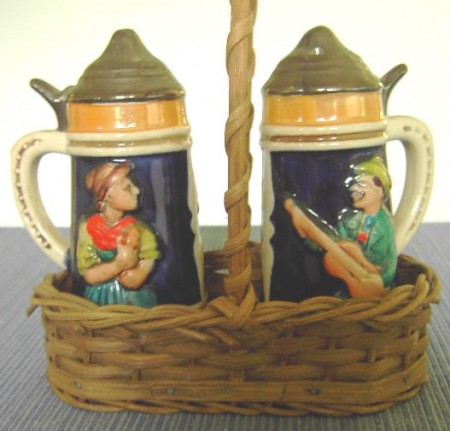 >>>>>>>>>>>>>>>>>>>>>>>>>>>>>>>>>>>>>>>>>>>>>>>>>>>>>>>>>>>>>>>>>>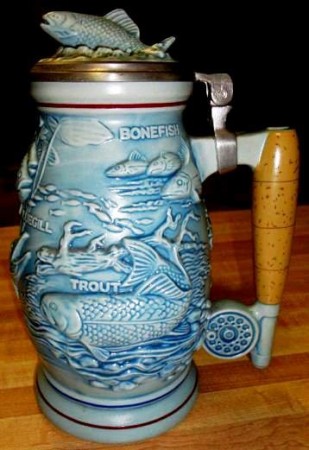 2. Extremely common – Used to decorate home bars, or windowsills, or as gifts. Yard sale stuff, which includes Avon steins (above), Harley Davidson steins, most Franklin Mint sports and fantasy steins (below ▼ ▼), & all  new pottery molded steins with a set-on-lid made at "Betty Sue's Pottery Barn." See just below ▼.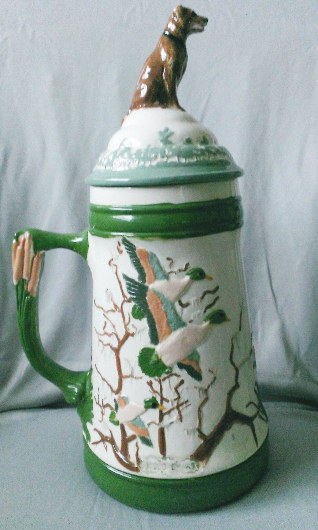 A Betty Sue's Pottery Barn special !
……………………………………………………………………………………………………………………………….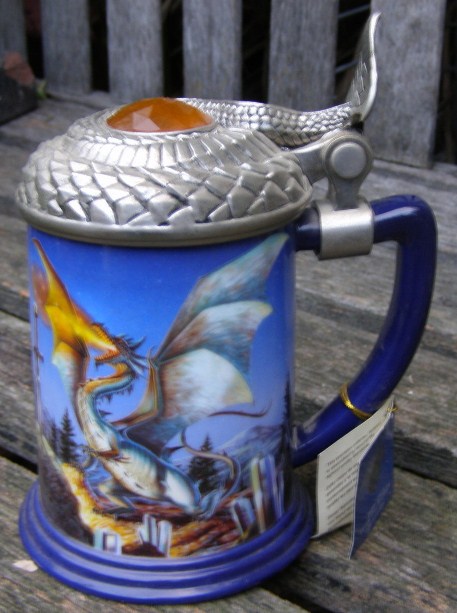 FRANKLIN MINT'S DRAGON STONE, SILVER PLATED GEMSTONE TANKARD.
>>>>>>>>>>>>>>>>>>>>>>>>>>>>>>>>>>>>>>>>>>>>>>>>>>>>>>>>>>>>>>>>>>
3.  Very Common – Seen in one out of three or four USA stein auctions. Beginning stein collectables. Higher quality and older German souvenirs. Includes most "mud steins"(Westerwald and Regensburg monotone stoneware steins, called Modell)in German,  as below ▼ ▼.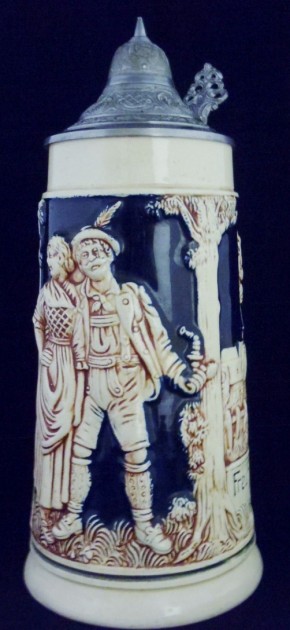 A typical .5 liter old German souvenir stein with a cheap pewter lid. It might get rated as a 3.0 for a very new collector. Seasoned collectors would not even take it down from a shelf at a shop!
………………………………………………………………………………………………………………………………………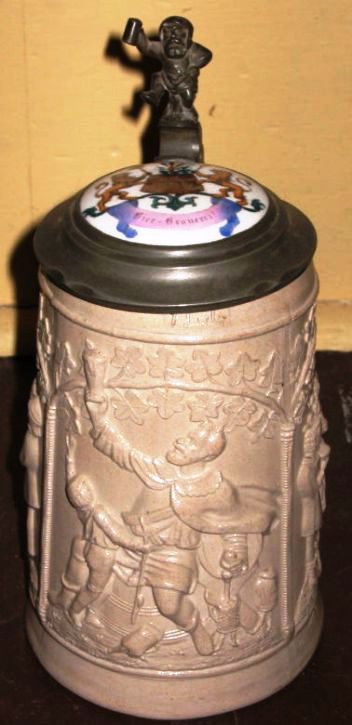 One liter Westerwald "Mud Stein." Gambrinus and the walking steins. One of 20 most interesting of the relief scenes.
This one might rate a 3.7 as it has an original beer brewer's occupational porcelain insert in a scalloped edge pewter lid, along with a gnome thumblift.
>>>>>>>>>>>>>>>>>>>>>>>>>>>>>>>>>>>>>>>>>>>>>>>>>>>>>>>>>>>>>>>>>>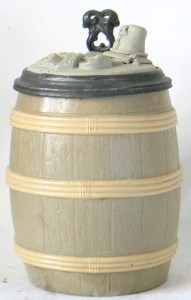 An early bisque lid on a .5 lite, "Relief", V & B Mettlach No. 675. Early 1870's. Might be rated a 4.0.
4. Common – seen fairly often (at least once a year) in U.S stein auctions – collectible and seen in many collections.
…………………………………………………………………………………………………………………………..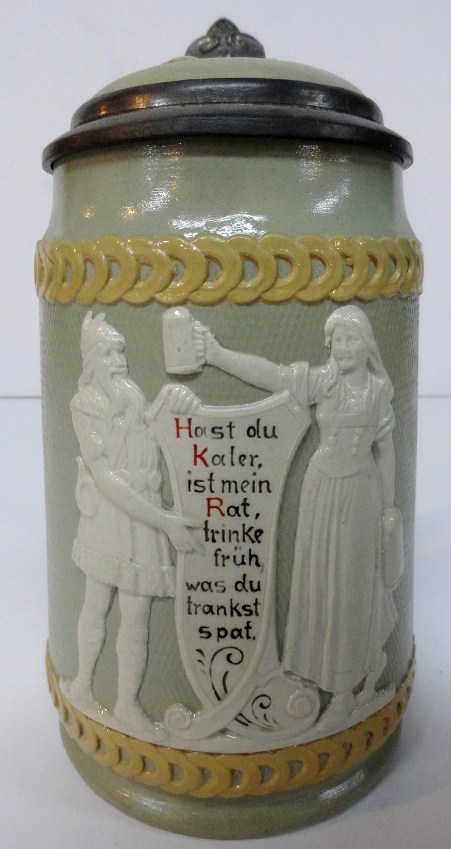 V & B Mettlach No. 2931. A much better relief stein than the barrel above, so this might be rated a 4.5.
>>>>>>>>>>>>>>>>>>>>>>>>>>>>>>>>>>>>>>>>>>>>>>>>>>>>>>>>>>>>>>>>>
5. Not too common –  collectable – seen in U.S. stein auctions every 1 to 3 years. Higher end of all the major stein collecting categories: V & B Mettlach, most Reservist's steins, Characters, Occupational, old (1700- 1800's) stoneware, painted porcelains, and blown and engraved glass.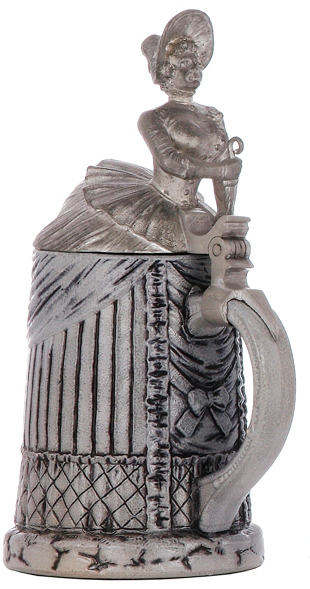 Character. the HR version of "Bustle Lady." Probably about a "5.2."
>>>>>>>>>>>>>>>>>>>>>>>>>>>>>>>>>>>>>>>>>>>>>>>>>>>>>>>>>>>>>>>>>>

6.  Scarce – seen in U.S. auctions once every 3 to 4 years. Special unit Reservist steins, some Royal Viennas, Royal Copenhagens  Dresdens, Meissens, etc. Production (stamped) silver steins and pewter steins in good condition from the 1700's.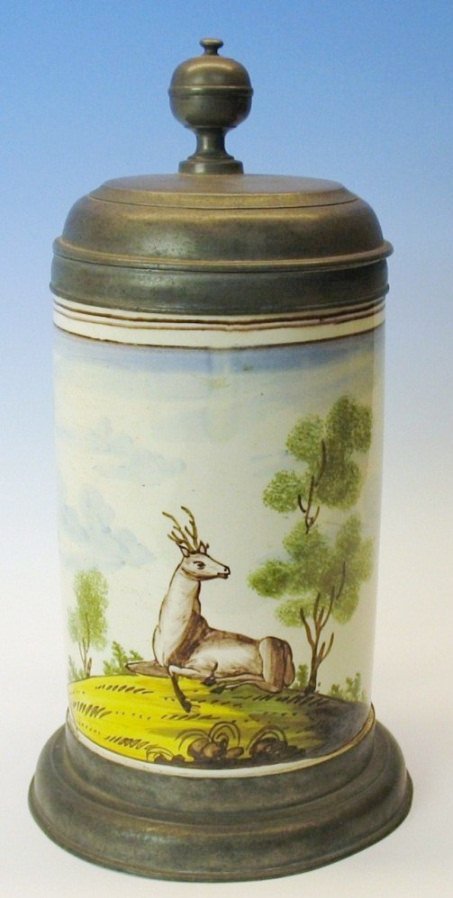 Magdeburg Fayence stein – Ca 1770.  A "6"  on the scale. [FWTD]
For more on Magdeburg please see: http://www.steveonsteins.com/guest-writers-articles-identifing-faience-eng-steins-part-6-magdaburg-fayence-germ-beer-steins-by-william-hamer-1
>>>>>>>>>>>>>>>>>>>>>>>>>>>>>>>>>>>>>>>>>>>>>>>>>>>>>>>>>>>>>>>>>>
7.  Very scarce – seen in U.S. auctions once every 5 to 10 years. High quality and usually large: The finest Messien and Dresden porcelains, ivories, bone and some horn steins. Pewter steins from the 1600's. Entirely hand worked silver pieces.
 .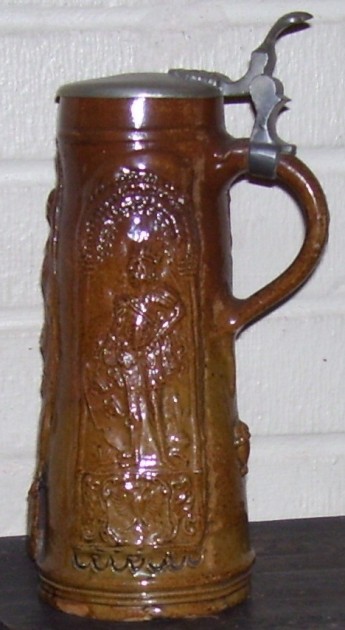 A twice dated 1566 Raeran stoneware stein with three applied panels of mythological heroes.     [FWTD]
…………………………………………………………………………………………………………………………………………..
8.  Rare – seen no more than once a decade – but of a type not acquired for museums, but maybe seen in major beer stein or European drinking vessel collections. Local terminology majors have used the words "World Class" for these type collections – although I'm really not certain what that means.
Three Danish silver steins, all from the late 1600's. Left and right ones are also "Peg Tankards." These would be rated in the mid to high 8's. [FWTD]
…………………………………………………………………………………………………………………………………………
9.  Very rare – best of its type = "Capstones" in major (World Class) collections.
Also one of a kind steins. Local or regional museum quality.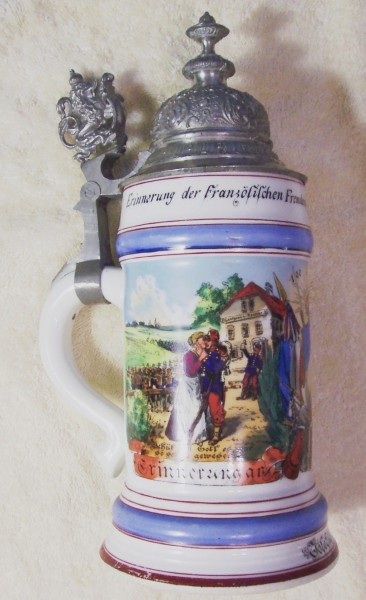 …………………………………………………………,,,,,,,,,,,,,,,,,,,,,,,,………………….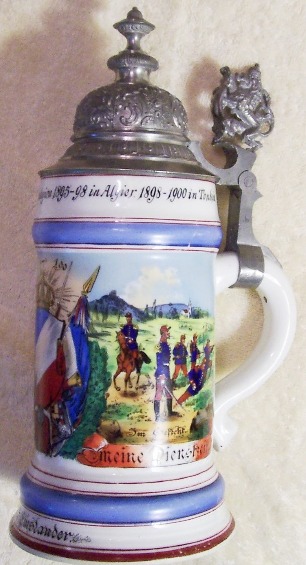 A French Foreign Legion reservist stein – Shown: A possible unique example of a porcelain Reservist's stein made for a Bavarian who served time in the French Foreign Legion, both in Algeria and Tonkin (later called Viet Nam.)  Only one is known to exist. See write up in an early 2012 "Prosit" 
This stein should be considered a "9" as it is not the kind of stein found in National museums (yet) but it is extremely, extremely collectible. [Ex- FWTD]
……………………………………………………………………………………………………………………………………….
10.  Extremely rare – others like it seen in the major museums, or "Masterworks of Art, "(such as "The Monkey Cup" at the Cloisters in NYC.!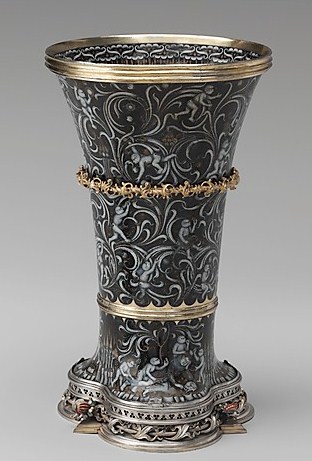 A "10" = The Monkey Cup- circa 1425-50. The MMA Cloister's collection (NYC) .
For more info and complete description on the above ▲, please see: http://www.metmuseum.org/Collections/search-the-collections/70010732
>>>>>>>>>>>>>>>>>>>>>>>>>>>>>>>>>>>>>>>>>>>>>>>>>>>>>>>>
 


    "Indescribable beer steins are best left non-described!"