"Roerkens" are small "pilsner shaped" Northern German (mostly Baltic area) pewter drinking vessels, almost always associated with a Guild!
A premier "Roerkenville" inhabitant is as this one below: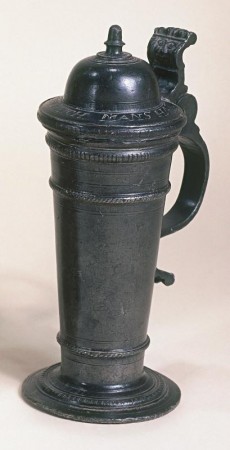 At only 7.25 inches tall, with notched body fillets. Also notched rings on bottom of dome and around the lip of the lid, the lip of the body and a smaller ring  just under it. Two notched rings going around the base. November 2008; the roerken shown above sold at J. Vogt's (Steins) auction, in Munich. The estimated  sales price was 6500 to 8500 "EURO" ($8543 TO $11, 171!)
It sold on the first offering (if some steins didn't sell Vogt would reintroduce them in a later catalog. Herr. Vogt never disclosed his selling prices, therefore  we will assume for discussion sake that it sold at or about or about $8500.00
Why so high $$'s wise, for such a tiny stein?  I will get to that and determine the reasons later in this article.
But first, contrary to the way I usually show items on this web site, I will show several examples of this art form (and it is most definitely is a "form.") These shown are all new, say within the last 50 years and made for personal use or display at a bar, etc. While most new beer stein collectors can not afford an $8,500.00 stein  when they start, I think a grouping of these newer ones would make an interesting "sub-set" in one's collection.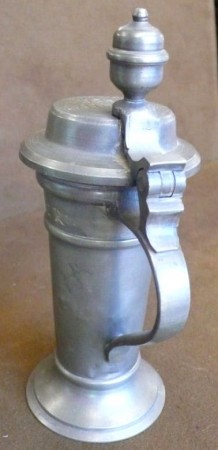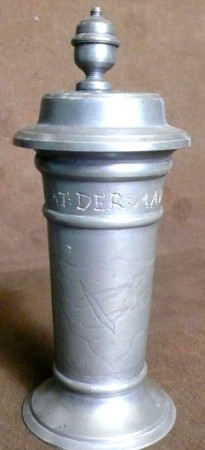 Circa 1950 with staining and light engraving of something indistinct. 6 inches to top of lid which is dated (in the correct manner) "1701."  Indistinguishable marks on the bottom. A nice looking display piece.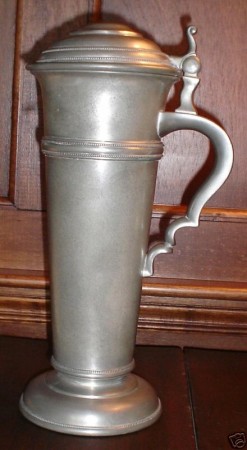 Around the same time period as above I think, 8.5 inch. Sold on eBay in 11 – 06  for $62.00. No info on marks.
This pair sold for $91.00 back in 12-06. Both were advertised as being 18th – 19th century. But I believe both are newer, say within the last 30 to 50 years. One reason I have never seen a base such as on these on a real old one.)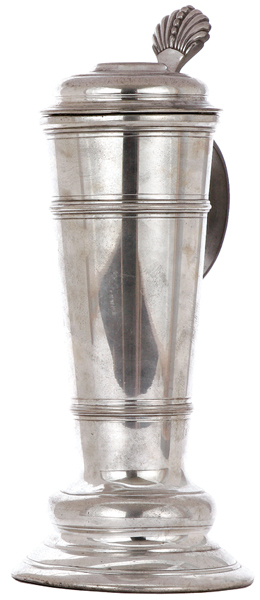 Marked "Reed and Barton" which is an American firm that made steins in silver, silver plate and pewter. They also imported steins such as the one shown = a well made pewter "Roerken" made by F. Santesson in Stockholm. Stamped No. 245. Size is about a 3/4 liter.
 For more on Santessson, please see page: http://www.steveonsteins.com/f-santesssons-till-eulenspiegels-daubenkrug-new-9-6-11
 Another marked "Reed and Barton [#0227]  but made by Santesson.  7.25 inches tall to lid. Circa 1900.
The Coat of Arms (NOT A CREST!) of Norway is engraved  on this body. Engraved eight sided cross on lid. A very nice looking somewhat newer roerken.
Buy steins cheap from Germany? Ha!!
Editor's note   2/14/15 — the below stein  and designation is incorrect, caused by the auctioneer I acquired the photo from ~~~
 it will be taken done shortly   please disregard even reading it!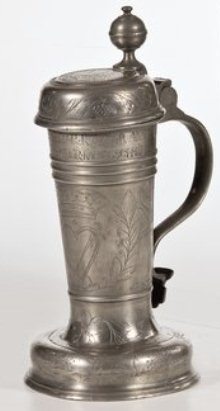 Even some moderately newer (than the 1600- 1700's)  roerkens can put a pinch on one's pocket.
Here above is a very well detailed roerken made by Family Weygang. It is only Ca. 1885, and was made to celebrate a Nail-smith's occupational stein. This stein was estimated to sell at Dr. Fischer's Auction House  in Germany in 11-2011 . for only 150 to 200 Euro.  Looks good,  hey ? [SEE: http://www.steveonsteins.com/future-4-the-famile-weygangs-steins-and-servers]  
So let's pretend that it sells  for the low estimate (things seldom do over there, but you might get lucky.) That 150 euro was $202 the day this was posted. Then the figures would look like this:
THE REAL COST CALCULATIONS ONE MUST TAKE INTO ACCOUNT: 150 € AT THE DAY THIS WAS WRITTEN =  $202.00 
PLUS  VALUE ADDED TAX [VAT]  (their version of a sales tax) = this doesn't applies if item is shipped out of Germany. 
PLUS 26 % SALES COMMISSION = $202  [X] 1 .26  = $254.52
PLUS SHIPPING FROM GERMANY = A MINIMUM OF $30.00 (FOR A MEDIUM SIZED PEWTER STEIN)  [+] $254.52,  SO TOTAL =  $284.52!      ROUNDED UP TO $300.00!
A Steveonsteins' lesson:  When thinking of  buying  steins from Europe, double the presale "low estimate" and change that number to dollars. It comes pretty close to the final total cost to buy that piece . almost always.
NOW –  SOME OF THE AUTHENTIC VERY OLD THINGS: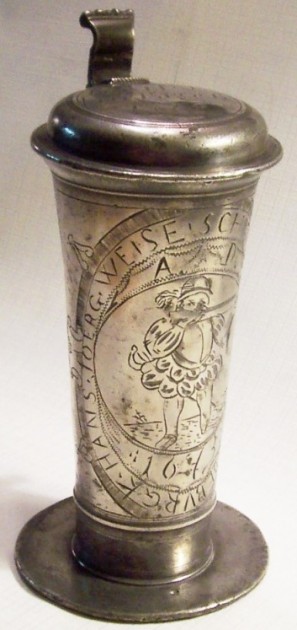 "My first" really antique roerken. What a find!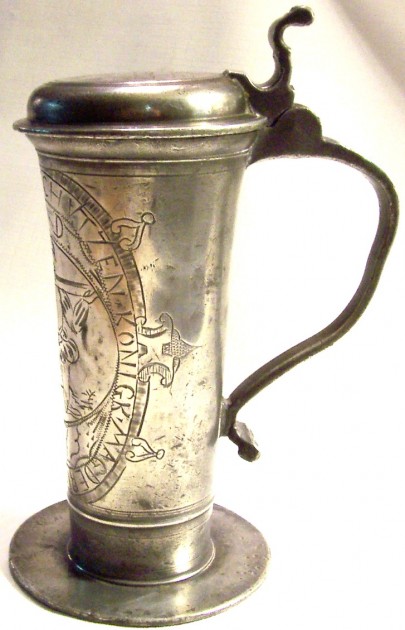 A North German pewter "Roerken." A 9.25 inch shooting prize from the city of Magdaberg engraved with the winner's name and dated "1673."  The large flat base is a dead give away for some of the very old pewter steins. [FWTD]
.
Older pewter Roerkens such as this are "super collectable" in Europe, as are old marksmanship trophies. This stein "should" be rated an 8 (Rare) on the Smith-Paratore rarity scale.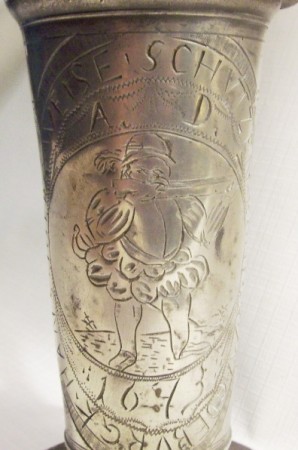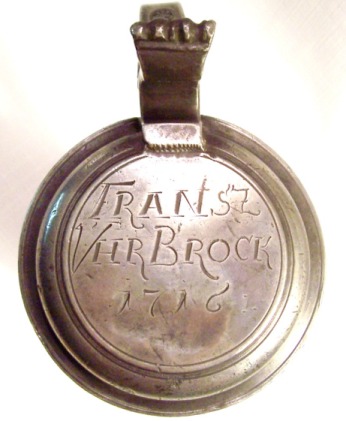 The lid has a later dated presentation = 1716.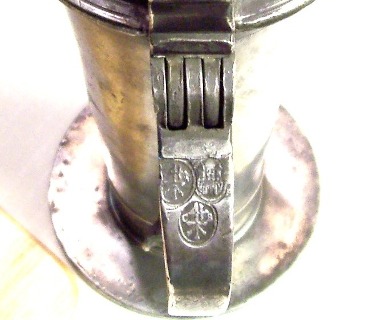 The maker's and Magdaberg city marks.
 My 2nd  ▼= A super scarce occupational "vexerkrug"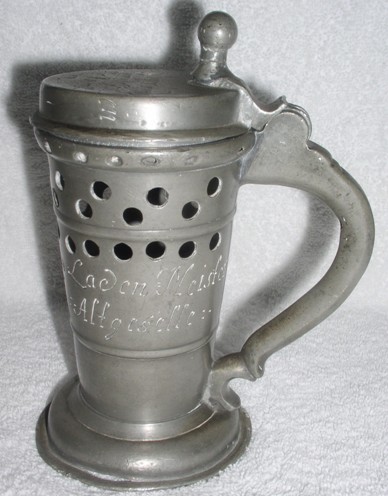 My second roerken. This little guy was  offered to me by a fellow SCI'er. I couldn't get my check book out fast enough!  It comes with a recently restored  ball thumblift and a small restored split in its base.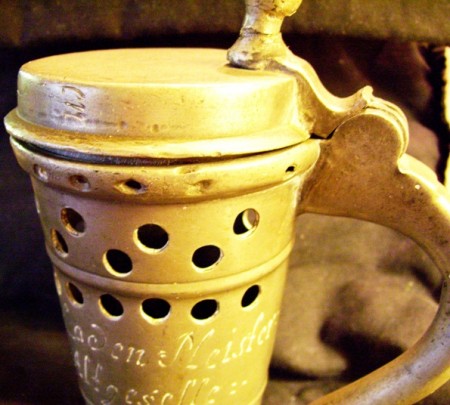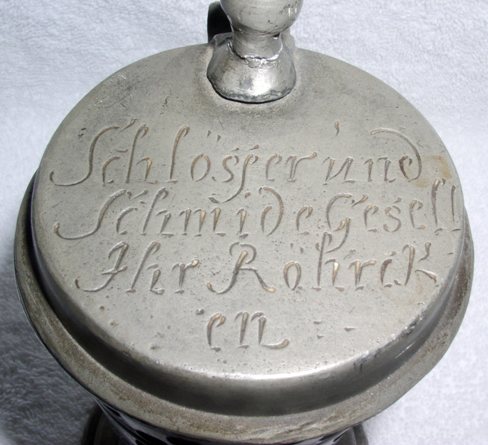 This German pewter "puzzle stein" ("vexerkrug") [FWTD] It has two engraved names on body, with blacksmith tools and items they made such as horseshoes, locks and keys.6 inches tall and dated 1815.
The verse on the stein indicates it was the pewter shop's "Welcome Cup" also, which would have been offered to new customers when they arrived at the shop! These pewter "puzzle" steins are very collectable in Europe! This piece might be rated a 8.O (Rare) on the Smith-Paratore rarity scale. Even higher if older. [FWTD]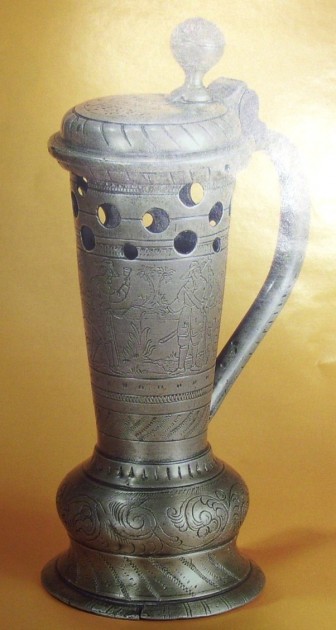 Here is a much nicer example of a "Vexerkrug", dated 1754. – Sold at a J. Vogt Auction (Munich) in 2002.
.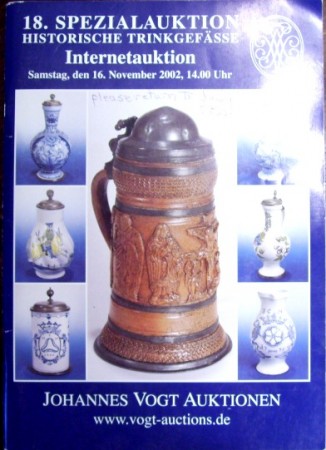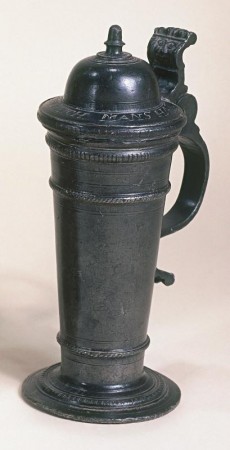 A refresher to the reader; this is the stein shown at the beginning of this article. It sold at or about or about $8,500.00!
Now to Smith's Museum and Tavern's "From Which to Drink" Collection of these guys:
+
The present pewter "Roerken" collection [2014]  in Smith's Museum and Tavern [FWTD]. All are from the 1600's, except the far right = 1815.
From left: 1, Not dated, but late 1600's with brass insert in lid, It has a Guild or trade's mark engraved on the body [unknown which] .

2. 4 , 6 , are Guild steins from an unknown (and not engraved with its symbol as is customary) guild in Rostock, Germany. 1618, 1618, and 1629.
3, is 1692 from the City of  Halteren, Germany  
5,  is a shooting prize, 1673, from the city of Magdeburg, Germany,
All are shown in better detail below: All were purchased off  'eBay' over the last four or so years for about 10 -20 percent of what they would probably sell for in Germany.
The two smaller plates in the rear of the stand are Spanish, late 1600's to early 1700's, and the larger one is French, within the same time period. The two far above are younger.
Rostock  the city of numbers' 2, 4, and 5, above  is not on this Hanseatic League's shipping routes'  Baltic / North Sea map, but is located just to the right of Lubeck.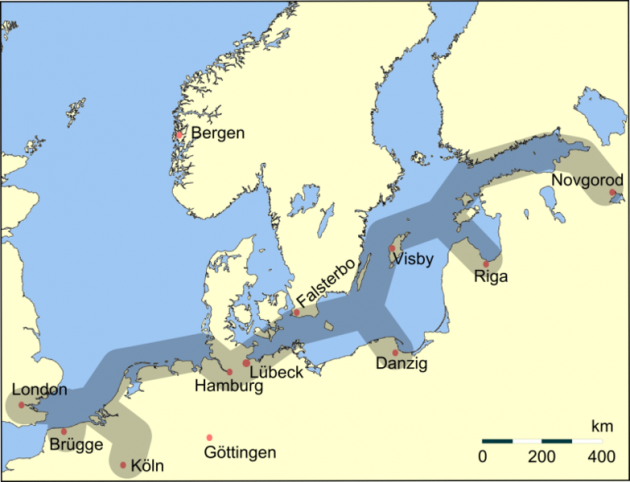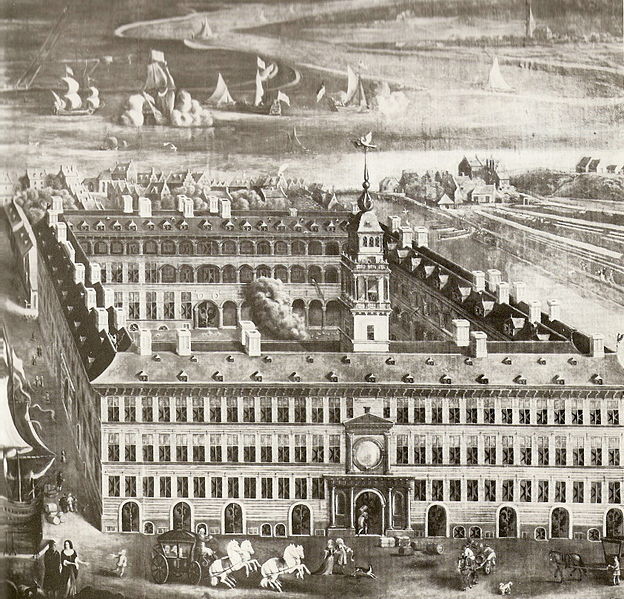 Just one of the Hanseatic League Halls, in one German City. 
 AND SO WHY ARE THESE LITTLE GUYS SO COLLECTABLE ?
Anything related to the "Hanse" are now highly collectable in Germany and the Baltic States. These roerken steins, while made in the early 1600's are reminders of the better trading days  when "The League" made the money for almost all of Northern Europe.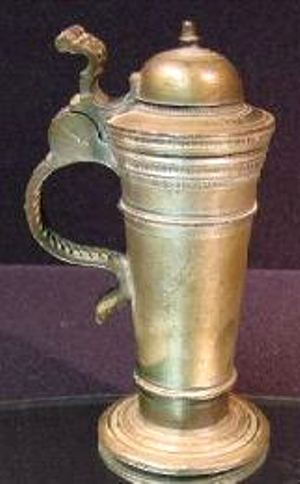 My 3rd roerken – From Rostock, German. Dated 1618. It comes with a molded "herring bone" design on both sides  of the handle and a flat base. Very solid. All four of these shown on this page  are the same size = 7.25 inches tall. 
This is from the same Guild as the one that sold in Vogt's auction, described way above ▲, but in much better condition!
.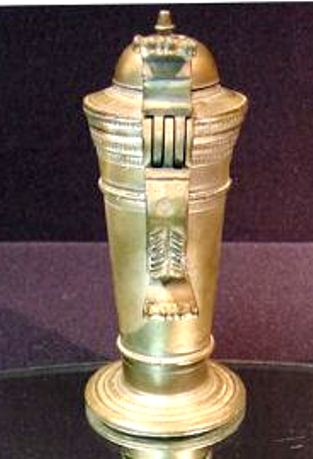 An unknown  guild stein from a long lasting and active guild where every member bought his own take home stein. Heavy for a reason: for making noise by hitting the table with the stein during  a "toasting." The English did this sort of thing also but with very thick glass  base rummers. These are called "Firing Glasses" for the noise they made when hitting the table supposedly sounds like a gun shot!▼
Firing glass –  A small English after dinner = sherry or port wine glass with an extraordinary amount of glass on the base  to keep it from breaking after the drinker slammed it down hard on the table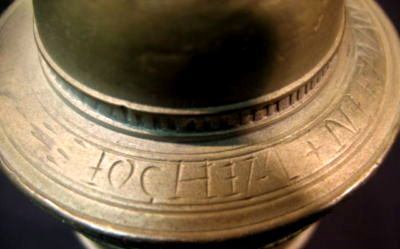 Detail of lid  engraved lettering; rather rustic back then.
My 4th roerken =  May, 2008,  BELOW ▼: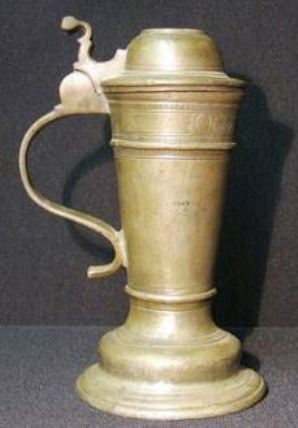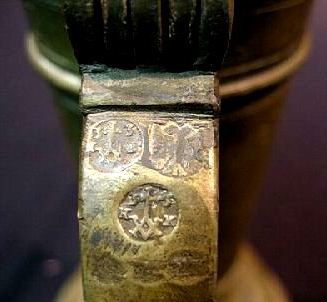 Marks on 4th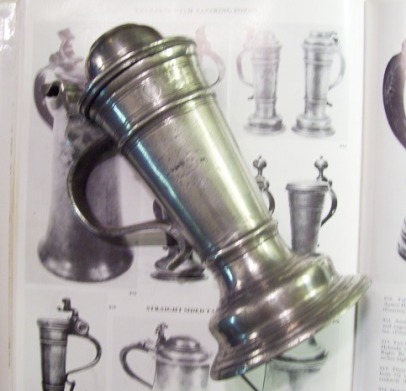 No 4  – The maker's documentation; of an identical stein, shown top right in a pewter book.

To. give the reader some idea what these little guys sell for  in Germany) I was persuaded by a somewhat beginning pewter roerken collector to trade my fourth roerken (above ▲) for this "little" German .800 silver tankard ▼: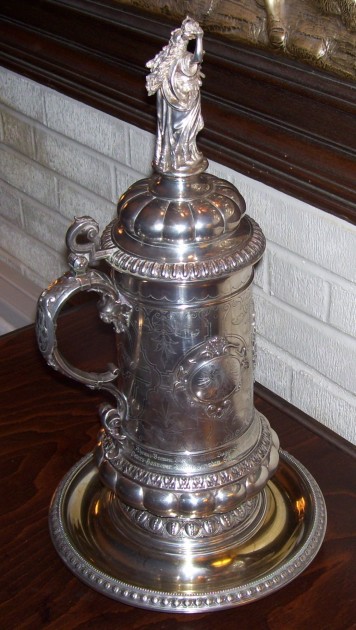 A 20.5 inch tall,  .800 silver stein with matching under plate, by Sy and Wagner, the only appointed Silver-smith to the King of Prussia, at that time period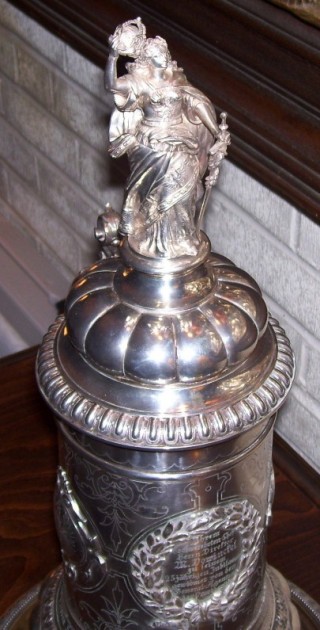 Detail of "Germania" finial and wreathed inscription.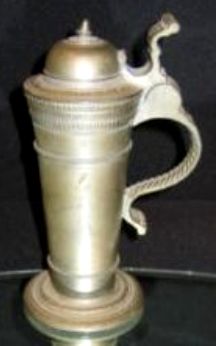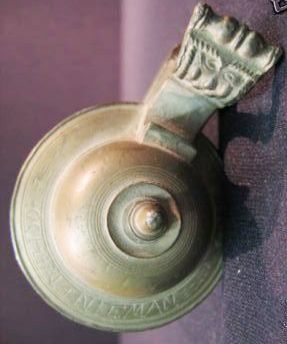 Above ▲ =  my 5th  roemer, 2nd from the same Rostock Guild also.Dated 1618 as was my 3rd. Herring bone pattern on both sides of the handle! Also check out the eyes of face on the thumblif.
The 6th Roerken ▼.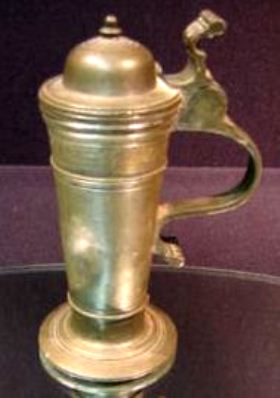 The 3rd from the unknown Rostock Guild.  This has the herring bone pattern only on the outside of the handle.  Same size as the others = 7.5 inches.  Dated  slightly later at 1629 (shown as Z9.)
.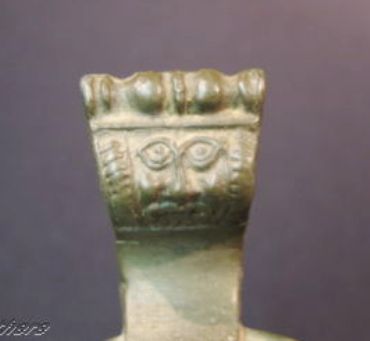 Detail of face on thumblift on "1629"  roerken ▲.The 6th.
The 7th.▼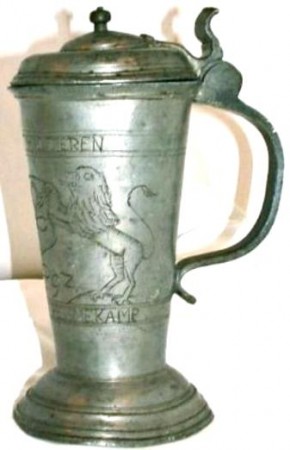 My 7th Roerken started its life in 1692 in the City of  Halteren (Westfalen area of Germany.) At 7.75 inches it is the tallest of all so far. This has an unusual 4 inch wide cone base. The inside of the handle is flat and the outside is a molded floral design going down the entire handle.
Not the best engraving  by an  amateur / the owner (?) of the City of Haltern's Ancient Coat of Arms (which shows a "halter" as a 'canting symbol'  with two lion supporters. The owner's name is engraved under the Arms.
My last one so fae the 8th ; 4-2011.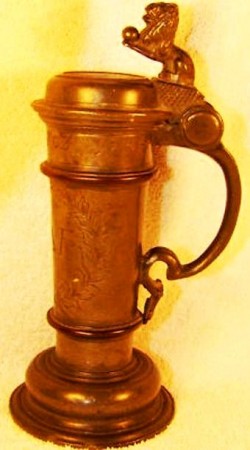 The eBay ad claimed this was Russian but it is not! It is from Lubeck, Germany, also on the Baltic and also a Hanse City. That city's 1600's roerkens mostly have this very distinctive style with the two copper bands / ribs attached to the body and the large cupped base and the twisted inward  bottom of the handle. It stands 7.5 inches tall and is very heavy.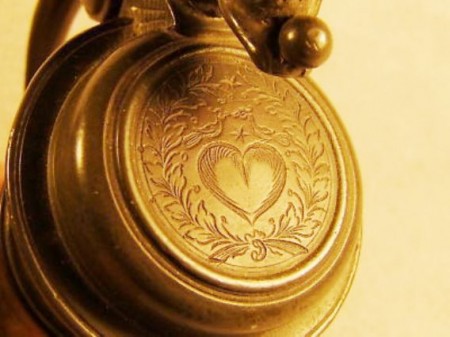 Not a good photo, but this lid has a brass insert with the German LOVE design of  the two doves over a heart engraved on it.
A few roerkens ▼shown in J. Vogt, Munich, auction catalogs.  I will try to capture the pre-sale estimates sometime (should I read these photos I took .)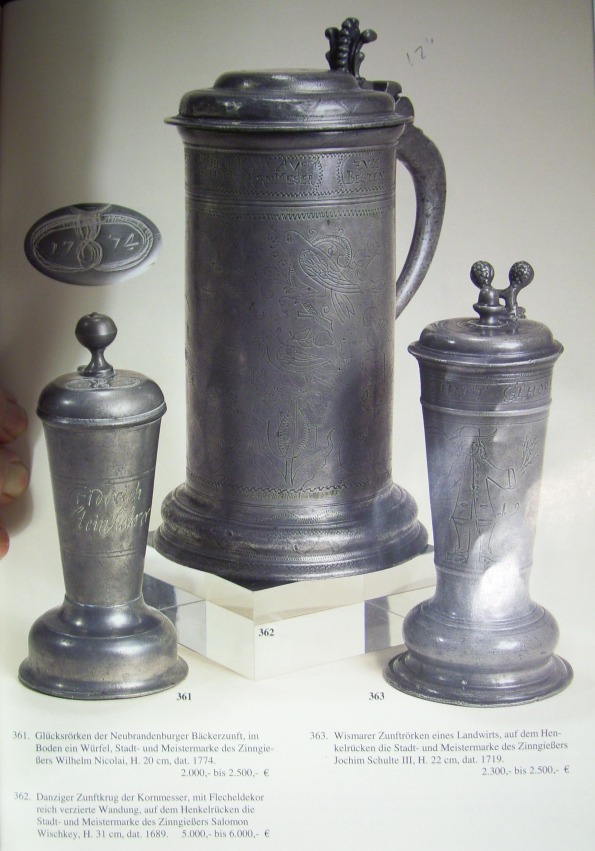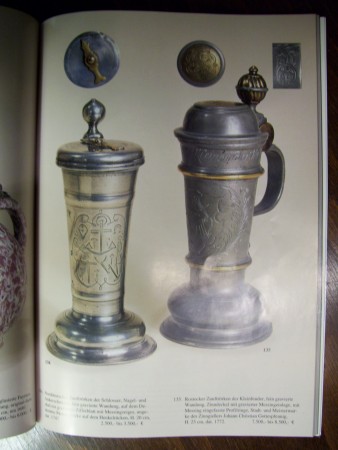 If one looks closely one will see that the two body fillets on the roerken to the right are made of brass. and there is an engraved  brass insert in the lid. Probably Lubeck.
Below ▼ are  a few other interesting Roerken's I have seen recently selling in Germany!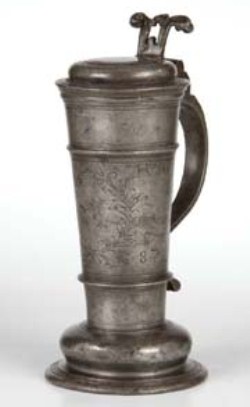 LUBECK "1687" – 8.5 INCHES.  $3742 .00 TO START THE BID.

 8.8 Inch =Dated 1728. Occupational for a WEBER  (WEAVER) – Starting price was  2,300.00 EUROS; at Dr. Fischer's auction, May 2011.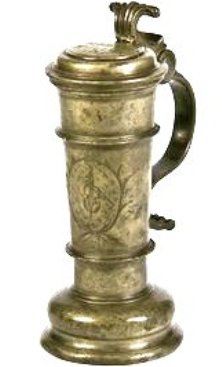 ROERKEN –  4,200 euros . Dtd 1675  Fishers Auktion  5-2011,  LUBECK =  8.4 INCHES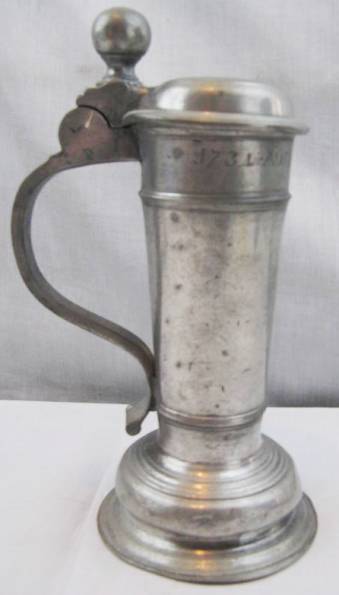 Dated 1677 AND 1734.  It was on German eBay, and I think a steal at  $2083.00.  F. Santesson  (Stockholm) copied this style in later years. 9 inches to the top of ball thumblift. It has two non brass fillets and a darkened top section on the body, and I have no idea why!?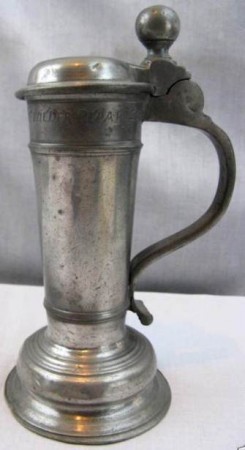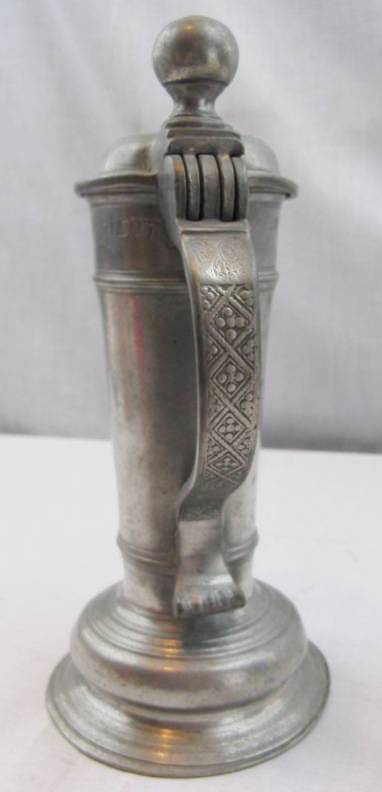 More photos of above ▲,  1677  & 1734.
.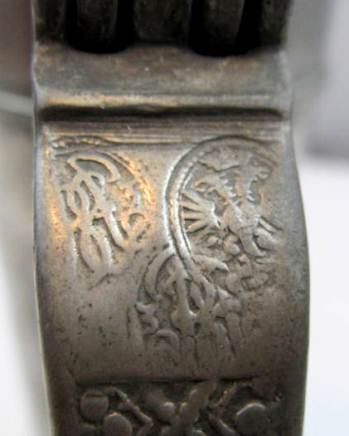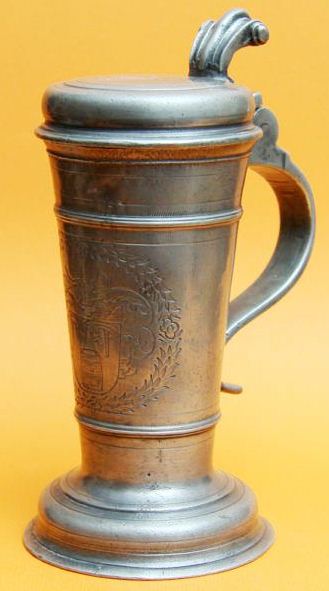 ROERKEN   DTD 1679  – 8.4 INCHES  GERMAN EBAY SELLER WAS  ASKING EURO 2,499.00  WHICH WAS $3,334.51   ON 6-14-13.  HE DIDN'T SHIP TO USA .(Which was good as I was broke!)
 And last, but certainly not least: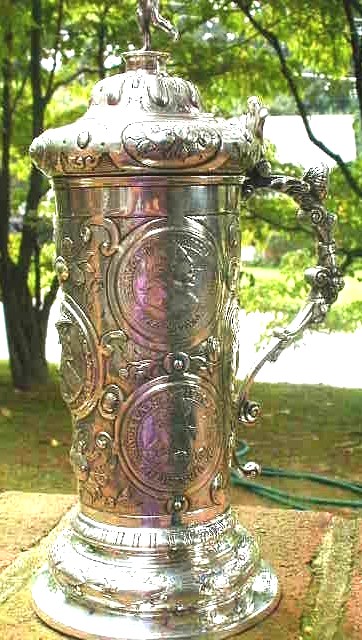 An .800 Silver German coin stein in "Roerken" style, made in Hanau in the late 1800's. [FWTD]
For more coined steins  / vessels, please see: http://www.steveonsteins.com/coined-steins-munzhumpen-and-beakers-munzbecher
[END – SOK –  52 – R5]

    "Ah, being young is beautiful, but being old is comfortable."